The D&D Daily Mobile Edition
June 8,

2015



The LP Industry's #1 News Source - Informing, Educating and Instilling a sense of community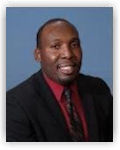 Khristopher Hamlin was named Vice President of Asset Protection for Macy's Northwest Region. Khristopher started his career with Macy's 15 years ago as an Asset Protection Detective within the Mid-Atlantic Region. Khristopher has held many position to include Asset Protection Manager, Special Investigations Unit Manager, District Manager Investigations, District Director Asset Protection and most recently Regional Director Investigations. Khristopher is a graduate of George Mason University where he obtained his Bachelor of Science in Criminal Justice and University of Baltimore where he obtained his Master of Science in Psychology. Khristopher will report to Alisa Dart. Congratulations Khristopher!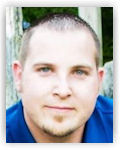 Jacob Gillette was promoted to Director of Loss Prevention Operations for Dick's Sporting Goods. Jacob has been with Dick's Sporting Goods since 2010 where he started as a District Loss Prevention Manager and quickly worked his way up the ranks, earning such titles as Manager of Corporate Safety, Security and Crisis and Corporate Manager of Investigations, his previous title. Jacob has worked in the loss prevention industry for other retailers such as Gap Inc as a District Loss Prevention Manager and The Bon Ton Stores as a Loss Prevention Manager. Congratulations Jacob!

News Brief
Sponsored by WG Security Products, Inc.
"Dollar General satisfied with labor initiative results" in test stores - Shrink's Improving - Realigning Store Ops Structure - Editor's Note: This may explain their roll-out earlier this year of 22 LP jobs - representing the biggest LP roll-out of 2015
According to Todd Vasos, COO and incoming CEO, results at the test stores
"continue to show improvement across performance metrics such as
sales,
shrink
and in-stock.
Dollar General said it is realigning its store operations management structure to optimize the scale in its divisions, regions and districts "to improve accountability and maximize mentorship
while driving stronger more sustainable results," Vasos explained. "While
reducing the average number of stores per district
and optimizing their scale, we have reduced the time our district managers spend driving so they can invest more time mentoring and coaching store managers and developing and strengthening their teams." The changes have been in place since February, "and while still early, our operational structure is
better aligned for field leaders to focus on store standards,"
Vasos noted. He said Dollar General intends to roll the program out to the rest of its stores during the second half of the fiscal year.
supermarketnews.com
New N.C. Law Defines Recovery of Damages for Retailers in ORC Cases

North Carolina passes HB 405 Conspiring in Organized Retail Theft - Recovery of Damages - $5k per day - Effective 1-1-2016
Broadening the remedies and adding a recovery of damages ability for retailers to recoup their expenses.
This law allows retailers to file for $5k per day for ORC offenses and other remedies.
"Chapter 99A. 7 "Civil Remedies for Criminal Actions. Interference With Property.
"§ 99A-1. Recovery of damages for interference with property rights.
Notwithstanding any other provisions of the General Statutes of North Carolina, when personal property is wrongfully taken and carried away from the owner or person in lawful possession of such property without his consent and with the intent to permanently deprive him of the use, possession and enjoyment of said property,
a right of action arises for recovery of actual and punitive damages from any person who has or has had, possession of said property knowing the property to be stolen.

Conspiring in organized retail theft, as defined in Article 16A of Chapter 14 13 of the General Statutes.
Any person who intentionally directs, assists, compensates, or induces another person to violate this section shall be jointly liable.
A court may award to a party who prevails in an action brought pursuant to this section one or more of the following remedies:
(1) Equitable relief.
(2) Compensatory damages as otherwise allowed by State or federal law.
(3) Costs and fees, including reasonable attorneys' fees.
(4) Exemplary damages as otherwise allowed by State or federal law in the amount of f
ive thousand dollars ($5,000) for each day, or portion thereof, that a defendant has acted in violation of subsection (a) of this section.
state.nc.us
Is Nike "Sportswear Company A" Referred to in Indictment? - Nike's Bold Push Into Soccer Entangled It in FIFA Probe
A 161-page indictment made public last week, however, alleges in a
barely veiled reference to Nike that $30 million of the sponsorship pact was paid out through a side deal between the company and a middleman. The middleman used part of that money to pay bribes, the indictment alleges.
A person familiar with the matter confirmed the company is Nike.
Nike isn't named in the indictment, and neither it nor any of its executives have been charged with wrongdoing.
The company said it is cooperating with authorities. The people Nike negotiated with to secure the Brazilian sponsorship now are under scrutiny by law-enforcement authorities, and the bribery allegations against senior officials of FIFA have cast a long shadow over Nike's signature win.
To secure the deal in Brazil,
Nike had to negotiate with a middleman-called Traffic Brazil
-which was the marketing agent for the Brazilian soccer federation, CBF. The owner of Traffic Brazil, Jose Hawilla, whose name also appears as a signatory to the contract, has admitted to crimes including money laundering, fraud and extortion related to the broad soccer probe.
Information accompanying his guilty plea includes a veiled description of the Nike deal.
wsj.com
Five month NYC violent crime spike blamed on Mayor's anti-stop & frisk policy
Although ex-mayor Michael Bloomberg called the program essential for the safety of New Yorkers, the past four years have seen both dramatic reductions in street stops as well as violent crime. Anonymous sources of the New York Daily News, however,
saw a 5-month bump this year as proof that street stops work.
There was a 19.5 percent jump in murder, a 9.2 percent spike in shootings, and 9 percent lift in "shooting incidents" during that period. The Daily News quoted "one high-ranking police source," "one Brooklyn police supervisor," and a "
Bronx officer" all blamed the spike on stop-and-frisk reform
, and others who pointed an accusatory finger at Mayor Bill de Blasio's civil-rights agenda.
Meanwhile, the NYPD now has no choice but to clamp down racial disparities in street stops in order to comply with a federal judge's order in the case of Floyd v. City of New York, forcing police to wear body cameras and submitting to a court monitor.
courthousenews.com
Wal-Mart - 'Winning the future of retail "one customer at a time"
Speaking at Wal-Mart Stores' annual shareholders meeting in Bentonville, Arkansas, president and CEO Doug McMillon told the more than 14,000 assembled associates and shareholders that he is more worried about the enemy within the company than competitors.
The truth is the real villains are lurking within the company," said McMillon. "Our real villains are things like bureaucracy, complacency, a lack of speed, or a lack of passion."
McMillon said Walmart is uniquely positioned to define the future of retail. He challenged the company's more than two million associates to win the future of retail "one customer at a time."
We have strong competitors, but they don't have what we do," McMillon said. "They don't have you - two million associates who want make a difference. Think about the map of our locations. No one else has that incredible network around the world. Now, think about our supply chain and experienced logistics team. I get excited about what our technology team is now capable of. As we add new capabilities and join these unique assets together effectively, we're going to have something special."
chainstoreage.com
Report: Walmart stores not welcome in New York City, says mayor
Ralph Lauren Corp. Reducing Its Headcount - 5% cuts or at least 750 jobs - New Model delivers $100M in annual savings
Began around mid-May and are due to the company's shift to a different operating model. The company expects it will take several months to complete the shift to the new model. For the fourth quarter ended March 28, the company had 25,000 employees, consisting of 15,000 full-time staffers and 10,000 part-time workers. About 15,000 are located in the U.S., with 10,000 located overseas. It was unclear as the shift continues toward completion how many more jobs would be affected. A number of the positions were cut due to redundancies in job responsibilities.
wwd.com
Report: Minority retail employees make less than white colleagues
Black and Latino full-time employees working in retail make about 25 percent less than their white counterparts, according to a report released Tuesday by the public policy group Demos and the NAACP. It also found that black and Hispanic cashiers make about 90 percent of what their white colleagues earn. The paper claimed that retail employers sorted black and Latino retail workers into lower-paid positions and away from supervisory roles. For example: ● Black workers make up 11 percent of the retail labor force but just 6 percent of managers. ● And black and Latino retail sales workers are overrepresented in cashier positions, the lowest-paid position in retail. Ruetschlin and Dedrick Asante-Muhammad believe that retailers have a chance to fix this issue. They recommended a variety of ways to accomplish this.
retailcustomerexperience.com
Nominate an LP of safety superstar in the restaurant industry today - New RLPSA Awards - Deadline is June 19th
The Restaurant Loss Prevention & Security Association (RLPSA) announces the inauguration of two awards of excellence for industry leaders, innovators and those who go the extra mile to serve others. Nominations are now open for the Salute to Excellence Award and the Distinguished Service Award. Winners will be announced at the
36th Annual RLPSA national conference
on August 4.
The Salute to Excellence Award
will recognize an individual or team that exhibits strong leadership, an innovative approach to security, and an effort to go above and beyond daily responsibilities to make a difference in loss prevention and security.
The Distinguished Service Award
will honor an individual or team that demonstrates a commitment to the community or the LP industry through compassionate and caring projects that leave a lasting impact on those they serve. Nominations are now open. Entry forms can be found on the RLPSA website at
www.rlpsa.com
.
Nominations must be submitted no later than Friday, June 19.
d-ddaily.com

Ahold and Delhaize supermarkets "will try to reach merger agreement this month" - This means jobs

Simon Properties held a security meeting last week - more details to follow

Anna's Linens Preparing to File for Bankruptcy

Claire's to add 360 Toys R Us concessions - 219 now - up from 20 a year ago - Editor's Note: An LP Challenge?

Quarterly Same Store Sales Results
Claires Q1 comp's down 2.5%, 1.9 in N.A. & 3.6 in Europe, with net sales down 9.4%

Last week's most popular news article --

Top 30 Cities for Security Guards - based on avg. salary, # of jobs, cost of living


Retail Symposium on Shopping Equity
June 11, 8 am-7 pm, John Jay College of Criminal Justice, NYC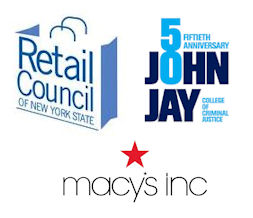 The Retail Council of New York State, in partnership with Macy's, Inc., will host a full-day symposium addressing shopping equity on Thursday, June 11 at the John Jay College of Criminal Justice in New York City. The "Retail Symposium on Shopping Equity" will unite retail executives and community leaders in a direct and engaging discussion about customer racial profiling. This is a fully-sponsored event and free of charge to attendees. With a number of thought-provoking discussions planned for the event, attendees will examine community perspectives, lessons learned, and potential brand impact when it comes to creating a shopping culture in which all customers feel free to shop in a wholly welcoming environment. Click here to register.

In 2014, we spoke with Ted Potrikus, President and CEO, Retail Council of New York State, about the "Customer Bill of Rights" established following a series of high-profile accusations of racial profiling in retail stores that shook the LP industry. Watch our LPNN interview here.

All the news - One place - One Source - One Time
The D&D Daily respects your time
& doesn't filter retail's reality
Report Your News!
(content subject to approval)




IHL: EMV costly, time consuming, out of date for most retailers "The single biggest problem with the EMV mandate is that it is focused on trying to solve last century's problem and completely ignores the reality that retailers are facing today," said Greg Buzek, president, IHL Group. "Twelve years ago when EMV was introduced into Europe it made tremendous sense. Today, it stands in the way of real data security by stealing critical budget away from focusing on the risks that retailers face from online hackers."

According to IHL research, unless the merchant is on the front lines of fraudulent card transactions today (electronics, fuel, mass merchants or companies that sell gift cards for these retailers), the risk of fraudulent cards at the lane is extremely small compared to the other loss prevention and data security issues that retailers face.

According to IHL, the risk of breach of customer data, retailers real concern, is almost entirely mitigated via end-to-end encryption and tokenization of the transactions. Basically, if the card data is never on the retailer's network in any usable manner to hackers, it cannot be exploited. It allows for retailers to lock the doors to the entire house rather than just the front door like EMV and leaving the others open. chainstoreage.com

Walmart CEO outlines omnichannel retail strategy to shareholders, associates "I want us to stop talking about digital and physical retail as if they're two separate things. The customer doesn't think of it that way, and we can't either," McMillon said to the some 14,000 meeting attendees. McMillon's message boils down to one word: Omnichannel. One customer can shop with us in so many different ways - in stores, on their phones, at homes, a pick-up point," he said. "But they just think they're shopping at Walmart, at ASDA, at Sam's Club. Without revealing exact details, McMillon said Walmart will make technology top of mind. That includes not only customer-facing initiatives both online and off, but also an overhaul of the internal technology used by department managers. zdnet.com

CurrentC blocking Apple Pay adoption - Retailers Make More Money - Get More Customer Info & Can Use Their Rewards Program with CurrentC Some of the top 100 merchants are locked into supporting CurrentC, a mobile payment service developed by a coalition of retailers that is expected to launch this year. The terms of that agreement have prevented 19 of the top merchants in the U.S. from signing on to support Apple Pay, because they require exclusive commitment to CurrentC through 2016. Retailers signed on with CurrentC to begin with because the service allows stores to bypass credit card merchant fees while still collecting information about your shopping habits. Unlike Apple Pay, CurrentC doesn't use Near-Field Communication technology-instead, the service links up to your bank account and generates a barcode that the cashier scans. It's not as elegant a solution as Apple Pay, but it gives merchants more data about your transactions and saves them money.

CurrentC is also integrated with a store's rewards program, which Apple Pay doesn't support (though rumor has it Apple is working on that). Twenty-eight of the retailers surveyed by Reuters said the lack of access to customer data in Apple Pay transactions is the reason why they aren't on board with the service. cio.com

70% of breaches are detected by a third-party
46 percent of organizations that have suffered a data breach took more than four months to detect a problem, and more than three months to mitigate the risk. 70 percent of breaches were detected by a third-party, rather than the organization itself. net-security.org

Eataly NYC confirms data breach
It appears that only Eataly's NYC Retail Marketplace was affected, and not the on-premise Eataly NYC restaurants or other global locations, the company said in a statement. Anyone who purchased something at the marketplace between January 16, 2015 and April 2, 2015 could have financial card payment data at-risk. scmagazine.com

Security Tops Reasons to Avoid Android Pay

Vendor Spotlight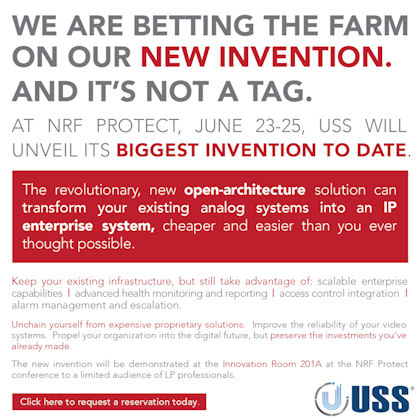 Press Releases

The USS Foundation's Seventh Annual Charity Golf Tournament to be Held at a PGA Grand Slam Course before NRF Protect Conference Kickoff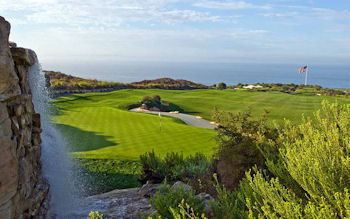 RANCHO CUCAMONGA, Calif., (June 8, 2015) - On June 23, the first day of the NRF Protect 2015 Loss Prevention Conference & Expo, the USS Foundation will host its Seventh Annual Charity Golf Tournament. The event will take place at the world-famous Trump National Golf Club, Los Angeles, which will also host this year's PGA Grand Slam of Golf. All proceeds will go to the programs that benefit disadvantaged children, such as the USS Foundation's much-loved Adopt-a-Bike program.

"This has become of the premier charity event that the LP community participates in, and we are so grateful for the strong support of participants and sponsors" said Brittney Port, program director for the USS Foundation. "Each year we were able to raise more money than before, and use the donations to reach more children who live in difficult circumstances."

According to Port, this year's biggest sponsors are LP Magazine; Contact, Inc.; LP Jobs; Stanley Security; and Diebold. Additionally, Burlington Coat Factory is expected to make a direct donation of $5,000 for the National Center for Missing and Exploited Children at the event.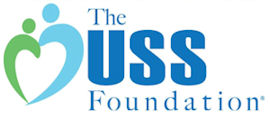 The USS Foundation will provide free transportation to and from the tournament, so that participants can make it to the NRF's Executive Afternoon in time.

The USS Foundation is a non-profit organization dedicated to help children in need. It is known for its Adopt-a-Bike program; holiday meals for low income families; and visits to children recovering from serious illnesses. The USS Foundation is also a proud supporter of the National Center for Missing and Exploited Children.

Registration information for this year's charity golf tournament can be obtained from the USS Foundation's web site: http://www.ussfoundation.org/golf.php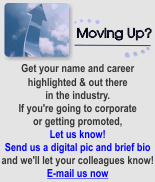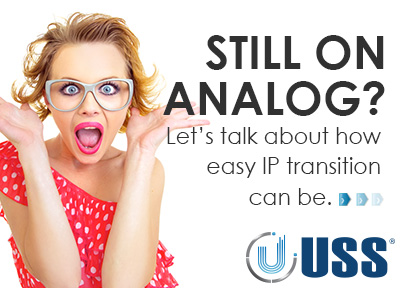 Loss Prevention News Network

Leadership & Development Series:

Dan Doyle, Chief Human Resources Officer, Beall's, Inc.
His story, advice and vision of tomorrow's successful LP executive profile


Newly inducted into the NRF's honorary "Ring of Excellence," Dan Doyle, Chief Human Resources Officer at Beall's Inc., provides his vision of leadership as a 25+ year veteran of the LP industry. Describing loss prevention, at its core, as a "people business," Dan talks about the difference between passion and emotion and how maintaining an even keel helps one navigate the unpredictable nature of the retail business.
---
In this LPNN Quick Take, Amber meets up with Protection 1's Rex Gillette, the VP of National Accounts Retail. Hear from Rex about Protection 1's breaking news and how they keep their staff's skills sharp and in the know.
Solution Providers, have a video or commercial you want to publish? Contact us.



Corporate, Regional and
District LP Teams

Take Your Group-Team Selfie

Show Your Team Pride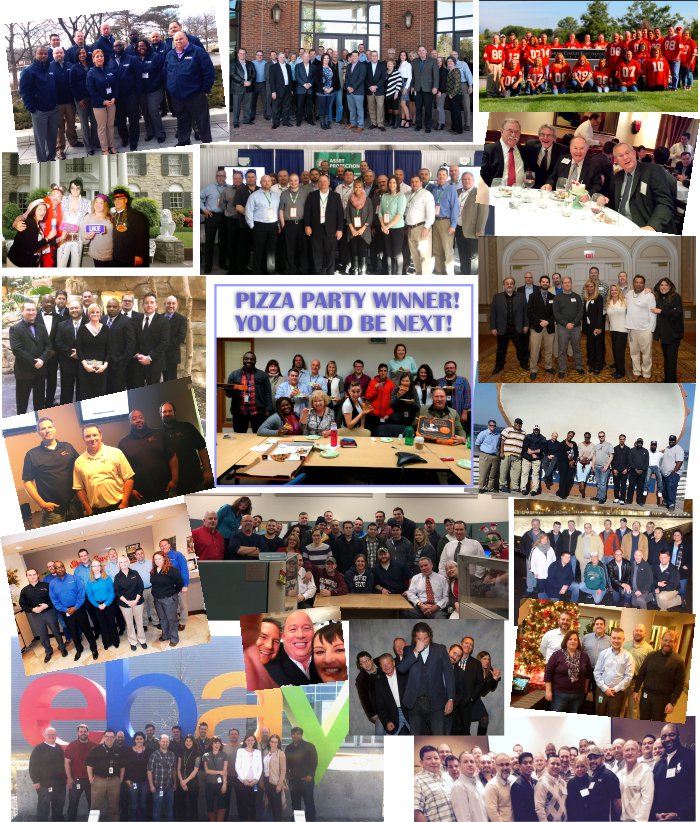 View all the selfies here!

e-commerce

Sponsored by The Zellman Group
Why Same-Day Delivery Is Imperative in E-Commerce According to a news piece from the Wall Street Journal, Amazon (AMZN) won't charge an extra fee of $5.99 for same-day delivery service to its prime members. The idea is to kill two birds with one stone with this new offer. Amazon Prime is a membership program that costs $99 per year. By using this program, Amazon's customers get free shipping on the goods they order from Amazon. The free same-day delivery service will help counter the challenge Amazon faces from upcoming startups who operate with a local team of workers and brick-and-mortar retailers who have an additional advantage, which is instant delivery. Amazon hopes that this new offer would also prompt customers to buy Amazon's prime membership and then stay with Amazon for longer once enrolled. Thus, Amazon would benefit in two different ways with this offer. According to a report from Business Insider's BI Intelligence research service, the US same-day delivery market could grow from $0.10 billion in 2014 to $4.03 billion in 2018 at a CAGR (compound annual growth rate) of 150%. marketrealist.com

8 Ways Mobile Is Reinventing the Point of Sale
The traditional cash register is making way for new technology based on tablets, smartphones and other, sleeker devices. These products open up a range of new capabilities for the retailer and the consumer.

Security - Years ago, products like PayByTouch tried to bring fingerprint authentication into the shopping process, but these deployments met with limited success. Today, however, the fingerprint reader built into Apple's iPhones is a key element of making payments through Apple's mobile wallet. Fingerprint authentication is also coming to Google's Android Pay.

On/Off Switch for Cards - Consumers now have more control over when and how their cards can be used, with the goal of reducing stolen-card fraud at the point of sale. Companies like Discover and BBVA let shoppers deactivate their cards completely when those cards are lost or stolen, and also set other restrictions on which types of purchases can be made.

Easier Gift Card Reloads - Prior to launching its mobile app, Starbucks used to handle card reloads at the register. This doubled the time it took each customer to pay, requiring one transaction to load the card and a second to debit it for the purchase. Its mobile app gave patrons the option of checking their balances and reloading their card accounts while waiting in line.

Mobile Pay-at-the-Table - Restaurants such as Olive Garden are getting more comfortable with putting tablets at the table (the Florida-based Italian restaurant chain expects to have tablets at all 800 of its locations by the end of this year). Patrons can review their bill and pay through the tablet, which lights up to tell the waiter that the table has paid.

View the other four ways here. paymentssource.com

"Fraud is not a person - it is a dynamic grouping of statistics that deviate from the norm."
Stuart B. Levine, CFI, CFCI
CEO, The Zellman Group & Zelligent

ORC News
Sponsored by Security Resources
"Operation T-bone" - Fencing Operations Funneling money to Yemen - Steaks shoplifted leads to 11 stores raided & 242 arrest warrants issued for massive food stamp fraud in Alabama - Funding terrorism? A couple of steaks shoplifted at a Gardendale Walmart three months ago led to the biggest food stamp fraud investigation in Jefferson County's history, and launched 11 simultaneous raids at convenience stores countywide. Led by the Jefferson County District Attorney's Office, teams of law enforcement officers. The officers and agents were armed with 242 arrest warrants and plans to arrest 17 suspects.

The massive probe, dubbed Operation T-bone, targeted those they say have been cheating the food stamp system to the tune of hundreds of thousands of dollars and sending at least some of the profits via wire transfer to Yemen.

The investigation began in February when Gardendale police arrested a man for shoplifting steaks and some other items at Walmart in that city. When they interviewed the suspect, he said he was boosting the items to give to two convenience stores, and he named the stores, authorities said.

Investigators contacted Walmart's Global Investigations Unit in an effort to let them know they would like to attempt to sell property represented to be stolen to those stores, but when they told Walmart the nature of their probe, they learned the conglomerate was already investigating those two convenience stores for EBT fraud. Simply put, they learned, the store owners and managers were using EBT cards that did not belong to them to buy goods in bulk to sell at their stores. ..."

This is huge for us,'' Jefferson County District Attorney Brandon Falls told AL.com. The defendants are accused of buying the government-issued debit cards from those who legally qualified to have them, and then using them to purchase bulk food products to stock their store shelves. The pervasive scheme cheated the food stamp system out of hundreds of thousands of dollars, authorities said. The 19 people arrested were charged with public assistance fraud, fraudulent use of a credit card and theft of property. nydailynews.com f169bbs.com

"Operation Midnight Run" - $1.5M Theft Ring Involving Beer, Tires, Auto Parts, And Beauty Products Busted An organized cargo theft ring spanning New York, New Jersey and Pennsylvania stole $1.5 million in tractor-trailer trucks containing goods including auto parts, face lotions, Guinness and mozzarella cheese and then sold them, state authorities said Friday.

From June 2012 to April of this year, a dozen men conspired to build a network of illicit warehouses and stockrooms filled with stolen goods, driving away with nine trucks and making two purchases of additional products, the state Attorney General's Office said.

The defendants who allegedly stole and fenced the cargo operated the theft ring in New Jersey, New York and Pennsylvania. Twelve men have been indicted on charges they conspired in a $1.5 million series of thefts involving tractor-trailers loaded with clothing, beauty products, auto parts, beer and other cargo, N.J. Acting Attorney General John J. Hoffman announced Friday.

The defendants who allegedly stole and fenced the cargo operated the theft ring in New Jersey, New York and Pennsylvania, according to a release from the Attorney General's Office. The 12 members of the cargo theft ring allegedly worked together in various combinations to steal tractor-trailers containing cargo from New Jersey, New York and Pennsylvania, according to the release.

The ring allegedly rented space at a furniture store in Hillside, which authorities said contained fish oil supplements, Bell bicycle parts, bedding and juices, all from trucks that had been stolen from different locations.

Manus owned warehouse on Midland Avenue in Saddle Brook, N.J. where Corning catalytic converters - stolen on June 20, 2012 and worth more than $120,000 - were recovered. Manus allegedly fenced goods stolen by the ring, buying them himself or finding a buyer, according to the release. At that warehouse, investigators also recovered pallets of beer - including a large amount of Guinness stout - worth more than $23,000, which allegedly were stolen by the theft ring in Easton on June 22, 2012.

The Thursday indictment stems from "Operation Midnight Run," a long-term investigation by the State Police Interstate Theft North Unit, the New Jersey Division of Criminal Justice Specialized Crimes Bureau and the U.S. Department of Homeland Security Border Enforcement Security Task Force.

● The stolen cargo ran the gamut from $120,000 worth of catalytic converters, $165,000 worth of Moroccanoil hair and body products, $152,000 worth of GNC fish oil capsules, $65,000 worth of bedding, more than $77,000 worth of Bell bicycle parts, more than $9,000 worth of Little Hug juices stolen in Passaic, $201,000 worth of clothing, $143,000 worth of Niva skin lotion, $151,000 of Goodyear tires.

"We allege that this ring was stealing hundreds of thousands of dollars in cargo and transporting it through New Jersey on a regular basis so that they could fence the stolen products and reap major profits." patch.com nj.com

ORC Gang member in Saratoga County, N.Y., gets 55 months in fed. prison - $671,183.25 in ORC thefts from Buffalo retailers A 35-year-old Saratoga County man was ordered by U.S. District Judge Richard J. Arcara Friday to serve a 55-month federal prison term and make $671,183.25 in restitution to Buffalo-area retail chains for his role in an organized shoplifting gang that stole hundreds of thousands of dollars in merchandise. Terry Stewart, of the village of Stillwater, was convicted of engaging in a racketeering conspiracy for his role in the gang that shoplifted merchandise from Walmart, Sears, Home Depot, JoAnn Fabrics, Tops and Wegmans stores throughout the Buffalo area. The shoplifters then sold the goods for 25 cents on the dollar to Rico Vendetti of Rochester, who, in turn, sold them on eBay, mainly to out-of-state customers, according to Assistant U.S. Attorney Anthony M. Bruce.

Vendetti is jailed and awaiting sentencing on his felony murder conviction for the death of Homer Marciniak, 78, during a home invasion at Marciniak's Medina home in July 2010, the prosecutors said. Among the items sold on eBay by Vendetti for Stewart and other gang members were breast pumps, whitening strips, cross stitch and needlepoint kits, electric toothbrushes, thumb drives, pet supplements, razors and tool sets, prosecutors said. buffalonews.com

Serial refunders busted at Secaucus Walmart store - outstanding warrants in 6 other locations Temujin Washington, 48, and Sandy R. Allen, 50, were stopped at 4:48 p.m. after trying to return a Slingbox valued at $149 for store credit. Knowing that the item -- a TV streaming device -- was never purchased at the store, Washington and Allen were both charged with theft by deception. According to police, Washington had four outstanding warrants in four separate locations: Clifton for $1,131, Passaic for $372, Totowa for $230 and Woodland Park for $199. Police also said that Allen had two additional outstanding warrants out of Wayne and Paramus totaling $1,641 between the two. nj.com
Do you have an ORC case to share?
Share your ORC news and help the industry grow


Retail Crime News

Sponsored by NuTech National
Security guard at facility pleads guilty to aiding Kentucky bourbon employee theft ring operating for 7 years Leslie Wright, 34, was indicted in May on a felony charge of complicity to receiving stolen property valued at more than $10,000, accused of taking $800 to look the other way while thieves stole 11 stainless steel barrels of spirits from Buffalo Trace Distillery in Frankfort. Prosecutors say a group of people who knew each other through softball formed a theft ring that had been stealing whiskey for at least seven years, making off with liquor from the Buffalo Trace and Wild Turkey distilleries valued at more than $100,000. Nine other people have been charged in the conspiracy. Two have agreed to plead guilty and cooperate with prosecutors. The group relied on workers at the distilleries to aid in their thefts. reuters.com

Applebees Manager Shot and Killed in parking lot in Fayetteville, GA The search for a killer continues in Fayetteville after the manager of an Applebee's restaurant was shot to death inside his car in the parking lot Sunday. As people learned of 27-year-old Gregory Smith's death Sunday night, they began to stop by the restaurant off North Glynn Street with flowers to support his family and loved ones. Police told Channel 2's Liz Artz whatever happened in that parking lot between the gunman and Smith started outside Smith's red BMW. Police said Smith, the restaurant's night manager, was able to make it inside his car before he was fatally shot. Detectives told Artz they found more than one shell casing. Lt. Mike Whitlow said police have confirmed the shooting happened sometime between 2:58 and 3:15 a.m. Sunday. wsbtv.com

Tips sought on shoplifter who hit security guard, fled Gahanna, OH Kohl's The theft of clothing from a store in Gahanna is the crime of the week in the Crime Stoppers program. Shortly before 1:30 p.m. on May 7, a woman entered the Kohl's store at 4865 N. Hamilton Rd. She placed clothes in her cart, then transferred the items to a tote bag and tried to leave the store. Security guards tried to stop her. She struck one of the guards and was able to get away. The merchandise was recovered. Because the woman used force against a guard, the shoplifting was raised to a criminal charge of robbery. Surveillance images can be viewed at www.stopcrime.org dispatch.com


Alsip, IL Man Accused of Stealing $8K in Bras, Panties from Victoria's Secret; hit same store 5 times An Alsip man faces felony theft charges after prosecutors say he stole more than $8,000 in Victoria's Secret bras and panties over the past six weeks from a North Riverside mall. Tyrone M. Jackson, 35, first struck the Victoria's Secret store in the North Riverside Park Mall on April 23, when he made off with 25 pairs of panties and 36 bras valued at $2,090 in total. Jackson struck again on April 30, this time stealing 135 pairs of panties with a retail value of $2,090 from the store, which is at 7501 W. Cermak Road in North Riverside, court records state. He stole 40 "clothing items" valued at $1,045 from the store on May 4 before returning May 15 to steal 50 pairs of panties and 15 bras, valued at $1,650, according to court records. Jackson, who also goes by Tyron and is listed in some court records as 36 years old, was arrested June 5, the same day he stole another 23 bras worth $1,181. chicagotribune.com

New Orleans Police investigates rash of Riverbend Armed Robberies Business owners and employees who work in the Riverbend area are on edge after a rash of armed robberies there. The most recent happened Sunday morning at a gas station. According to nearby store employees, a man robbed Walgreens on South Carrollton Avenue last Saturday. At 6:00 p.m., the man, identified as 26-year-old Earnest Smith, showed up at Sally Beauty Supply with a sawed off shotgun, demanding cash. Smith made away with cash, "Brazilian" hair pieces, boxes of flat irons and two cell phones from employees. A few days prior, police say that Smith was the man responsible for an armed robbery at Subway, where he took money from the cash drawer, before fleeing in an unknown direction. Just after 5 a.m. Sunday, someone held up a clerk at gunpoint, at the Chevron gas station. fox8live.com

Serial Grocery Store Robber in Ohio sentenced to 18 years for Aggravated Robbery and Kidnapping A man convicted of a series of armed robberies of grocery stores throughout Ohio has now been convicted and sentenced to 18 years in prison in Athens County for aggravated robbery and kidnapping. Michael J. Fette, 48, is currently incarcerated at the Lorain Correction Institution in Grafton, Ohio, for convictions from Huron, Logan, Champaign and Knox counties. athensnews.com

Rite Aid Associate assaulted during Robbery in Lexington, KY The Rite Aid on South Broadway was robbed Saturday night, according to Lexington officers. The suspect shoved an employee to the ground when she confronted him. It happened around 11:30 Saturday night. wtvq.com
Kohl's employee sentenced for stealing $11,000 in cash from store in Shakopee, MN A former employee of the Kohl's Department Store in Shakopee received probation and community service time after pleading guilty to stealing nearly $11,000 from the store safe. Mary Sue Kremmin, 46, of Northfield pleaded guilty in Scott County District Court to felony theft. On April 24, Judge Rex Stacey placed her on five years' probation and ordered her to complete 80 hours of community service work. Kremmin must also pay $8,656 in restitution to Kohl's, provide a DNA sample and pay $385 in fines and fees. swnewsmedia.com

Colorado SWAT Team, Looking For Shoplifting Suspect, Blows House To Pieces, Refuses To Pay; Angry homeowner brands cops "thugs" An angry homeowner has branded the police 'thugs' after a SWAT team demolished his house in a hail of bullets and grenades during a hunt for a gunman who was holed up inside. Leo Lech has been left with $250,000 worth of damage to his home in Greenwood, Colorado, following the 20-hour police shootout. He says he told the chief of the Greenwood Village Police Department: 'In any civilized nation ... this is the act of paramilitary thugs,' but he claims that the chief dismissed his comments. The incident unfolded after police and SWAT officers tried to capture Robert Jonathan Seacat, 33, when he was allegedly spotted shoplifting in Aurora on Wednesday. Seacat then opened fire on police when they tried to arrest him a short time later and ran into a random home on Wednesday afternoon. Seacat began a 20-hour stand-off with police and was only taken into custody on Thursday morning. According to police, the SWAT team used chemical agents, flash-bang grenades and a 'breaching ram.' 'There was one gunman with a handgun and they chose to turn this house into something that resembles Osama Bin Laden's compound.' The homeowner had owned the property for two years before giving it to his son, but it is now falling apart. dailymail.co.uk
Judge in CT throws out shoplifter's $600,000 lawsuit vs. The Home Depot A judge Thursday threw out a $600,000 lawsuit brought by a local man who claimed a security guard at the Home Depot in Fairfield used excessive force against him when the guard stopped him from stealing a pair of skylights from the store. Pasquale Raffone, 49, who pleaded no contest to the crime and is currently serving prison time on larceny charges, claimed the guard grabbed and twisted his arm and then falsely told Fairfield police he had confessed to the theft of the skylights on May 19, 2012. But Superior Court Judge Michael Kamp found there was no basis for Raffone's claim. ctnews.com

Londonderry, N.H., police seek thieves behind gift card scam

Four main counterfeit bill manufacturers may slow the flow of fake money in the Columbus, OH

Two skimming gang members busted in Santa Barbara - Mike Vartabedian and Hagop Krikor Soukiassian - Nationality???

Man sought for questioning in $10K Lowe's credit card fraud in Staten Island

Walgreen's Armed Robber Shoved 10-Year-Old Daughter Out of Car During Chase in Springfield, MA

Three Jack In The Box restaurants were Armed robbed Sunday in San Diego

Three Walmart Associates arrest for 'theft by deception' in Augusta, GA; $5-6K in refund fraud

Kitscoty, Alberta, CN Grocery Store Engulfed in Flames

Kay Jewelers in the Hulen Mall, Ft Worth Texas the victim of a $3,699 gold chain Grab and Run

Kay Jewelers in the Yuba Sutter Mall, Yuba City, CA the victim of a $3,199 gold chain Grab and Run

Kay Jewelers in the Temple Mall, Temple, Texas was the victim Saturday evening of a $14,898 Grab and Run


Robberies and Burglaries
• Certified Gas - Glouster, MA - Armed Robbery
• Chevron - New Orleans, LA - Armed Robbery
• Chevron - Melbourne, FL - Armed Robbery
• CVS - Tulsa, OK - Armed Robbery
• CVS - South Cobb, GA - Robbery
• Dollar General - Dayton, OH - Armed Robbery
• Domino's - Pittsburgh, PA - Armed Robbery
• Jack In The Box - San Diego, CA - Armed Robbery
• Kroger - Savannah, GA - Armed Robbery
• Little Millers - Anchorage, AK - Burglary
• Market Place - New Castle, DE -Armed Robbery
• Mike's Food - New Orleans, LA - Armed Robbery
• Paul's Market - Nashville, TN - Armed Robbery/ Clerk shot and killed
• Petro Lube - Dodge City, AL - Attempted Murder of 2 clerks
• Quick Trip - Calhoun Co, SC - Burglary
• Rite Aid - Lexington, KY - Robbery
• Sally Beauty - New Orleans - Armed Robbery
• San Luis Print - San Luis Obispo, CA - Burglary
• Short Stop - Plainville, KS - Armed Robbery/ Clerk shot
• Tilly's - Visalia, CA - Armed Robbery
• United Dairy Farm - Columbus, OH - Shooting
• Walmart - Milford, DE - Armed Robbery/ Theft


Featured Job Listings
Sponsored by NuTech National
Feature Your Job Here For 30 Days -
70% Aren't On the Boards
VP of Security
Comcast
Philadelphia, PA
Comcast
Senior Dir Safety/Food Safety/Hazmat
Sears
Hoffman Estates, IL
Sears Holdings Corp
AP Field Dir - Nationwide
Downing & Downing
United States
Downing & Downing
NEW TODAY LP Director
Goodwill Industries of the Chesapeake, Inc
Baltimore, MD
Goodwill Industries of the Chesapeake, Inc
Director of LP
A'gaci
San Antonio, TX
A'gaci
Director of LP
Lane Bryant
Columbus, OH
LinkedIn
Director of LP
PacSun
Anaheim, CA
PacSun
LP Director
Don Roberto Jewelers
San Clemente, CA
Don Roberto Jewelers
Director, LP Operations
Dick's Sporting Goods
Pittsburgh, PA
Dick's Sporting Goods
Director of AP, Corporate
Dollar General
Nashville, TN
Dollar General
VP Supply Chain, LP & Safety
Ross Stores
Ft. Mill, SC
Ross Stores
Director of Safety
Academy Sports & Outdoors

Houston, TX

Academy Sports & Outdoors


Dir, Pharmacy LP
Rite Aid
Camp Hill, PA
Rite Aid
NEW TODAY Reg Dir AP
Saks Fifth Ave
New York, NY
Saks Fifth Ave
LP Corporate Sr Mgr
JC Penney
Dallas, TX
JC Penney
Corporate LP Mgr
St. John Knits
Irvine, CA
St. John Knits
LP Manager
Dunkin' Brands
Chicago, IL
Dunkin' Brands
ORC Investigator
Kroger
Cincinnati, OH
Kroger
Sr Retail AP Specialist
REI
Bloomington, MN
REI
Supervisor, LP
Ascena Retail Group, Inc
Pataskala, OH
Ascena Retail Group, Inc
Implementation Expert/Project Mgr
LP Software
Worth, IL
LP Software
Sales Representative
NuTech National
Maitland, FL
NuTech National

Limited Time Only - Post Your Multi-Unit LP jobs for FREE - Learn More Here

Daily Job Alerts


Appearing One Day Only
View our Internet Jobs Archives here
Area LP Manager
Ross Stores
Salem, OR
Ross Stores
AP Specialist
7-Eleven
Lawrence, MA
7-Eleven
District LP Manager
Kroger
Memphis, TN
Kroger
LP Specialist
Kroger
Arlington, TX
Kroger
LP Specialist
Ralphs
Compton, CA
Kroger
Dept Mgr LP & Safety
Lowe's
Pottsville, PA
Lowe's
Dept Mgr LP & Safety
Lowe's
Opelousas, LA
Lowe's
Dept Mgr LP & Safety
Lowe's
Easley, SC
Lowe's
AP Manager in Training
Walmart
Niles, IL
Wal-Mart
AP Manager
Sam's Club
Norfolk, VA
Wal-Mart
AP Manager in Training
Walmart
Tyler, TX
Wal-Mart
AP Manager in Training
Walmart
Moore, OK
Wal-Mart
AP Manager in Training
Walmart
Oxford, PA
Wal-Mart
AP Manager in Training
Walmart
Norristown, PA
Wal-Mart
AP Manager in Training
Walmart
Westminster, MD
Wal-Mart
AP Manager in Training
Walmart
Rockwood, TN
Wal-Mart
AP Manager in Training
Walmart
Cottonwood, AZ
Wal-Mart
AP Manager
Sam's Club
Hot Springs, AR
Wal-Mart
LP Manager
Sears
Moreno Valley, CA
Sears Holdings Corp
LP Manager Hrly
Kmart
Columbus, MS
Sears Holdings Corp
LP Manager Hrly
Sears
Cincinnati, OH
Sears Holdings Corp
LP Manager Hrly
Kmart
Sault Sainte Marie, MI
Sears Holdings Corp
DC LP Specialist
Marshalls
Philadelphia, PA
TJX Companies
District LP Mgr
TJ Maxx
Burnsville, MN
TJX Companies
AP Team Leader
Target
New Berlin, WI
Target



Home of the Industry's Original
On the Move

Khristopher Hamlin was named Vice President of Asset Protection for Macy's Northwest Region.
Jacob Gillette was promoted to Director of Loss Prevention Operations for Dick's Sporting Goods.
Jason Shaw, CFI was promoted to Global Loss Prevention Programs Manager for Nike.
Kyle Davidson, CFI was named Asset Protection Manager for Target.
Edwin Colon was named Field Safety Manager for Sears Holdings Corporation.
Jeremiah Villavicencio was named Senior Asset Protection Specialist for Target.
Carlos Flores was named Loss Prevention Agent for Gap Inc.

Post Your New Job or Promotion!
See all the Industry Movement

Your Career
Sponsor this section of the Daily
How to Keep a Talented Team Intact
Having a talented and successful team is more than just finding the right dynamic of people. Once you find the right kind of talent, it's imperative that you keep this group of people together. Ego, ambition and finances may cause some riffs in your team, but here are some ways you can keep them together. Provide choices
Ten Teamwork Killers, And How to Avoid Them There's a reason that organizations want people who are able to work well on a team. It is a hard thing to do, and often leads to failure. Here are some of the biggest causes of teams to fail and how to avoid them. No trust, no success
Last week's most popular articles--

7 Phrases that Will Undermine Your Leadership Communication is at the center of all we do both in our professional and personal lives. Paying attention to your word choices could make all the difference in how you build your reputation and your influence as a leader. Here are some phrases you want to avoid using. Don't "try", just "do"
Everyday Leadership Starts with 'Hello'
What is your morning routine as soon as you get into the office? Do you go right to your desk and check your emails? Do you stop and talk to your team members to see how everyone is doing? As a leader, you have a responsibility to create a positive connection with your team. Just say hello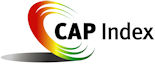 Tip of the Day
Sponsored by Vector Security
Competition is a good thing because it's what has made America so strong. Whether it's competition between companies or between executives, it has a tendency to bring out the best in most people and in most organizations. It leads to innovation, invention, growth and it instills a sense of competition in everything we do that tends to motivate and challenge people to reach beyond their own self-definitions of what they can do or can't do. Without it, progress, which is slow to begin with, would be stifled but, with it, you have inspiration and purpose. The whole key is how you compete in the open market, whether as a company or as an executive, reflecting professional standards and a code of ethics is critical even when your competition isn't. The #1 rule should always be never speak ill of the competition because in actuality it's more of a reflection of who you are and not who they are.
Just a Thought,
Gus





Upcoming Events
---
Recruiting?
Get your job e-mailed to everyone... everyday
Post on our Featured Jobs Board!
Reach your target audience in 2015 every day!
Request our 2015 Media Kit
update account / change e-mail
unsubscribe FEEDBACK
www.downing-downing.com

Advertise With The D&D Daily




36615 Vine Street, Suite 103
Willoughby, OH 44094
440.942.0671
copyright 2009-2019
all rights reserved globally