The D&D Daily Mobile Edition
June 11,

2015



The LP Industry's #1 News Source - Informing, Educating and Instilling a sense of community


Spotlight on Leadership

One Team - One Focus
Doing What's Right for the Customer & the People

Iverify - TransAlarm - Checkview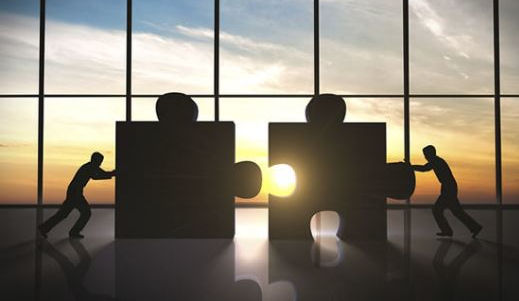 Over the last year, three companies have come together as one with a single, clear objective: To deliver the best and most comprehensive life safety and property protection solutions in North America.

Last June, Iverify purchased TransAlarm and earlier this year, they purchased Checkview.

With a shared DNA, from having been under the same corporate umbrella before their history at Checkview and TransAlarm, the merging of the three actually represents a homecoming of sorts. The teams have worked together before and share the same values and commitment that helped drive Iverify's decision to bring the three together.
With virtually no ramp-up time and unequaled synergies, the merging of the three companies is all about increasing the value to the customer. Combining the teams to better serve the customer with an expanded solution set including Iverify's best-in-class "The I" solution, their real-time interactive remote video and audio protection solutions.

The team is now focused on integrating the best practices of all three companies and increasing the customers touch points while growing the scale of the business in North America; A rarity to see in any merger when most are driven by economies of scale savings, which usually decreases customer touch points.
All three organizations were quite successful on their own and each team's subject matter expertise and commitment to their customer was deeply engrained within their culture. With the same leadership team in place, comprised of security and life safety experts, and teams that see this merger as their opportunity to grow and continue to make a difference, this seamless merger not only makes sense but it also benefits the entire industry.

With rave reviews from established long-term customers that are thrilled to see the teams back together and joining the leader in interactive remote video, the entire management team is truly appreciative of all the support and remain absolutely committed to each and every customer. It's all about driving value to the customer and the people at Iverify who make that happen.


NEW LP Group Selfie




North East Division 1 Global Loss Prevention Team for Staples

Attending the Division 1 Field Leadership Meeting at Foxwoods Resort Casino in Connecticut

"Make More Happen"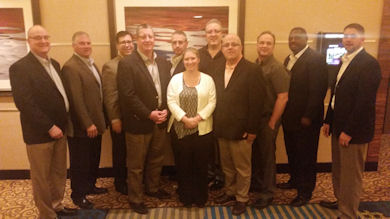 Left to Right: FLPM Jack Dye, FLPM Matt Auger, FLPM Jed Weinstein, Divisional Director Global LP Mike Hannon, FLPM Mark Zibel, LP Ops Auditor Katie Hultman, FLPM Mike Freeley, FLPM Phil Spadaro, FLPM Sean Brown, FLPM Ed Turner

View all the selfies here!
Sponsored by:


---
We still want your Group LP Selfies - So keep them coming retail LP teams!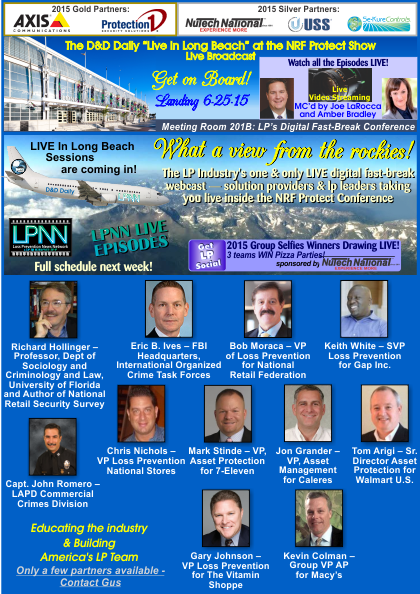 News Brief
Sponsored by WG Security Products, Inc.

Retail Symposium on Shopping

Equity - Today in NYC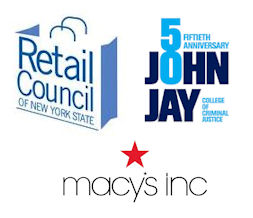 The Retail Council of New York State, in partnership with Macy's, Inc., is hosting a full-day symposium addressing shopping equity today with between 125 to 150 attendees. With retail Loss Prevention executives, academics and community leaders in attendance today, they're having panel discussions and presentations about customer racial profiling, examining it from a community perspective and acknowledging that it's a national issue and not just an LP issue and expands to every aspect of retailing including customer service. They're discussing ways of how it can be indentified and how it can be addressed. There are representatives from both the National Retail Federation and Retail Industry Leaders Association in attendance.

In December 2013, the Retail Council of New York State was instrumental in establishing a "Customer Bill of Rights," which was adopted by several NYC stores after a series of high-profile allegations of racial profiling shook the LP industry. (Watch our LPNN interview on the topic here.) While the Customer Bill of Rights has been helpful in guiding our industry as well as today's discussions in NYC, accusations of racial profiling in retail stores have not gone away. Just last week, four former CVS store detectives filed a lawsuit against the retailer, claiming their bosses ordered them to target black and Hispanic shoppers.

Today's Retail Symposium on Shopping Equity could not be more timely, and we at the Daily fully support everyone involved, as we will continue to report on this critical subject.

See our recap of the NYC Symposium in the Daily tomorrow from Ted Potrikus, President and CEO, Retail Council of New York State.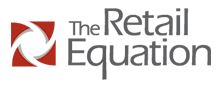 The Retail Equation Adding Value at NRF Protect
The Retail Equation, the industry leader in retail transaction optimization solutions, will present with fellow loss prevention executives during two break-out sessions at the National Retail Federation (NRF) Protect 2015 Loss Prevention Conference and Expo on June 24 at the Long Beach Convention Center:
Exhibitor BIG !deas - High Risk Returns: Store Credits and Other Factors in Fraud
Wednesday, June 24, from 11:30 a.m. to noon.
David Speights, Ph.D., chief data scientist for The Retail Equation, and Peyton Johnston, senior manager of asset protection operations for The Home Depot, will offer insights into the risk factors associated with issuing store credits for returns and how widespread usage may be a key factor of return fraud.

Combatting Return Fraud: A Ten Billion Dollar Problem
Wednesday, June 24, from 4:00-5:00 pm
Bob Walters, senior vice president of sales and marketing for The Retail Equation, and Johnston will moderate a roundtable session taking attendees into the world of return fraud, which represents a $10+ billion loss for the industry, and help attendees consider situations when they're being exploited and what to do to stop the offenders.
Apple retail employees say security bag checking at stores demeaning
Unsealed Court Document Proves that Apple's CEO was Aware of Demeaning Employee Searches at Apple Stores
Tim Cook received complaints on Apple's bag check policy At least two Apple Inc retail store workers complained directly to Chief Executive Tim Cook that the company's policy of checking retail employees' bags as a security precaution was embarrassing and demeaning, according to a court filing made public on Wednesday. The employee complaints, which a judge ordered unsealed, are part of a 2013 lawsuit alleging Apple should compensate employees for the time it takes to conduct the searches. One worker, whose name was blacked out of the court filing, told Cook in a 2012 message that Apple managers "are required to treat 'valued' employees as criminals." Cook forwarded it to top retail and human resources executives with the query: "Is this true?"

HR chief Denise Young Smith then contacted Apple's strategies head Carol Monkowski to suggest the company should change its policy, proposing a suspension of the bag checks for three to six months followed by analysis of whether any more products had been stolen from stores.

In the lawsuit, plaintiffs Amanda Friekin and Dean Pelle alleged that "screenings" or bag searches, designed to discourage theft, are conducted every time sales reps leave the store, including for meal breaks. The lawsuit, filed in US District Court for the Northern District of California, seeks class action status. Lawsuits from within Apple's ranks are rare.

In the 2012 email to Cook, with a subject line "Fearless Feedback from Apple Retail Specialist," the employee said Apple's policy implies the company does not trust its workers. "These procedures are often performed in front of gawking customers," the employee wrote, adding that workers deserve to be treated with the same respect that Apple shows customers.

"If it is simply a deterrent there has to be a more intelligent and respectful way to approach," wrote Denise Young Smith, Apple's vice president of human resources. A hearing in the lawsuit is scheduled for July 2. patantlyapple.com ibnlive.com digitaljournal.com reuters.com

Nike settles $10M suit against Ex-Designers for breaking non-competes - stealing designs - consulting with Adidas to open "knockoff" of Nike's Design Lab Nike has settled a $10 million lawsuit that accused three of its former designers of stealing a "treasure trove" of trade secrets so they could start a footwear design studio for German rival Adidas. An attorney for the designers - Denis Dekovic, Marc Dolce and Mark Miner - said the case against them had been resolved through a confidential settlement, Reuters reports.

Nike sued the three in December for allegedly breaking their non-compete agreements by stealing sensitive documents, including drawings for an unreleased shoe made for one of Nike's sponsored athletes, and then consulting with Adidas to open a "knockoff" of Nike's own design lab. The designers tried to cover their tracks by erasing emails and text messages from their work-issued cellphones and laptops, the suit said.

Adidas had announced in September that it would open an urban footwear design studio in Brooklyn, to be staffed by Dekovic, Dolce and Miner. Nike also claimed that Adidas knew of the non-compete agreements and promised to pay for any legal fallout. cfo.com

Genetic Information Non-Disclosure Act (GINA) held up in federal court against DNA testing in LP investigation in warehouse case Being relatively a new Act this is one of the first cases where DNA testing used in a loss prevention case to determine a suspect was found to be in violation of GINA. The court rejected the employer's argument that the tests did not constitute a request for genetic information within the meaning of GINA because the test performed can only be used for matching samples and not predicting one's propensity for disease. Instead, the judge looked to the plain meaning of GINA, which among other things defines genetic test as "an analysis for human DNA, RNA, chromosomes, proteins or metabolites..." Clearly, the test mandated by the employer fell within this definition. This case should not only leave its mark in the memory of its readers, it also provides a valuable training moment. The lesson for employers with more than 15 employees is that GINA provides yet another legislative proscription which must be considered when hiring, monitoring, and investigating employee behavior. Genetic analysis is not the way to catch employees. jdsupra.com

A malls are secure, but B, C and D malls are scrambling - declining foot traffic - establishing shopping concepts for the Internet age Everyone's testing new approaches: installing fast-fashion chains in anchor spots, adding restaurants, introducing technology upgrades and generally searching for the magic mix between shopping and entertainment that will bring consumers back. Mall owners are welcoming fast-fashion and the younger shoppers they bring in with open arms. Cheap-chic chains are joined in ascendancy by home and furniture stores, taking space that used to go to fashion. "There's a job to be done of reinventing the concept of a shopping mall." wwd.com

J Crew cutting 175 jobs, Makes design team changes J. Crew Group, in a major reorganization triggered by difficulties at its J. Crew brand and recent disappointing financial results, is eliminating 175 jobs from its corporate headquarters. The 175 jobs represent between 12 and 13 percent of the total workforce at the headquarters here. The last time J. Crew had cutbacks was in 2008, primarily involving freezing unfilled positions and related to the Great Recession. The current round of layoffs involves filled and unfilled positions. Other strategic and organizational changes are being made in store operations, production, sourcing, and merchandising. wwd.com

Canadian Tire post Manager, Corporate Security and Loss Prevention based in Oakville, Ontario The Manager of Corporate Security & Loss Prevention is accountable for supporting and assisting in the development and implementation of corporate security policies, standards and programs to increase the safety and security of CTC employees, assets and the brand. taleo.com

L.H. Jewellery Ventures (PANDORA Jewellery) post Inventory and Loss Prevention Manager position in Edmonton, Canada The PANDORA-LHJV Inventory Control and Loss Prevention Manager is responsible for inventory item accuracy and shortage control for franchised locations across Canada. linkedin.com

Bon-Ton Stores to hire 100 for fulfillment center including an LP team in West Jefferson, OH

D.C.-area becoming the Silicon Valley of cybersecurity

Mattress Firm to open 220-240 stores

Men's Wearhouse to operate 300 Macy's tuxedo shops

Aldi to open 45 stores in California in 2016

Gymboree to close 30-40 stores

Quarterly Same Store Sales Results
Men's Warehouse Q1 up 6.8% at Men's Wearhouse, 0.8% at Moores and 7.3% at K&G and decreased 1.5% at Jos. A. Bank with sales up 40.4%
Krispy Kreme Q1 domestic comp's up 5.2% with revenue up 9%
Destination Maternity Q1 down 1.1% with sales down 1.3%
All the news - One place - One Source - One Time
The D&D Daily respects your time
& doesn't filter retail's reality
Report Your News!
(content subject to approval)



The Biggest Cyber Threat Is Inside Your Company - Do you know who's about to go rogue in your business? Data theft by insiders is rampant but usually not discovered until after they've left. Interestingly, although financial gain remains the top motivation for bad behavior, "convenience" ranks a close second - employees ignore the rules because they see them as inconvenient and don't understand the consequences of their actions. Because these threats arise inside the network perimeter, intrusion prevention and detection systems, designed to counter unauthorized access attempts from outside, aren't much use against them. We need something extra.

Over the past decade or so, several approaches have been developed to address the spectrum of insider threats. As well as the obvious things - carefully screen new hires, re-screen everyone periodically, restrict access and permissions to the minimum needed, and have clear policies, reinforced by periodic education and training - two broad groups of processes and technology have emerged: ●Retrospective review: Watch everything that goes on and record every event. ●User Behavior Analysis (UBA): We are all to some degree creatures of habit, and when we decide to behave badly, our patterns of behavior almost always change in detectable ways. cfo.com

Criminals receive 1,425% return on investment from malware attacks This week saw the release of the 2015 Trustwave Global Security Report which has revealed the top cybercrime, data breach and security threat trends from 2014. 2015 Trustwave Global Security Report: Key Highlights Return on investment: Attackers receive an estimated 1,425 percent return on investment for exploit kit and ransomware schemes ($84,100 net revenue for each $5,900 investment) Where victims reside: Half of the compromises Trustwave investigated occurred in the United States. Who criminals target: Retail was the most compromised industry making up 43 percent of Trustwave's investigations followed by food and beverage (13 percent) and hospitality (12 percent). Top assets compromised: 42 percent of investigations were of e-commerce breaches. Forty percent were of point-of-sale (POS) breaches. Data most targeted: In 31 percent of cases Trustwave investigators found attackers targeted payment card track data (up 12 percentage points over 2013). Twenty percent of the time attackers sought either financial credentials or proprietary information. Lack of self-detection: The majority of victims, 81 percent, did not detect breaches themselves. How criminals break in: Weak remote access security and weak passwords tied as the vulnerability most exploited by criminals in 2014. retailfraud.com

CISOs Face 38% Increase in Security Costs Over Next Decade - Report CISOs face a 38% increase in cybersecurity costs over the next decade thanks to poor decision-making over where to target key investments, according to non-profit think tank RAND Corporation. It warned that the threat landscape moves so fast, the effectiveness of security tools can drop as much as 65% over a decade. It advised that the less sexy areas of cybersecurity - security management, automation and policy enforcement - should be focused on for maximum longer-term RoI. infosecurity-magazine.com

75 percent of companies have significant risk exposure

Brookshire Grocery, Publix eye beacon technology - Digital Signage and beacon technology will become the norm Retailers will eventually reinvent the store around digital, mixing hard copy signage with digital signage via beacons. Now that the cost of beacon technology is decreasing, Stites expects more companies to move to digital signage. "You'll see it become the norm," she said. supermarketnews.com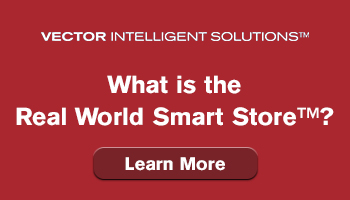 Press Releases


Sysrepublic Achieves Transaction Processing Milestone
Company processes industry-leading 23 billion retail transactions and over 550 million refund transactions, annually
LOS ANGELES & LONDON - Sysrepublic, Inc., a leading developer of analytic software for the retail industry, announced today they are processing over 23 billion retail transactions and over 550 million refund transactions, annually. The company projects those numbers will exceed 25 billion and 600 million, respectively, by the end of 2015.

"We are proud to be trusted by retail organizations of all sizes in the collection of their transaction data," said Chris D'Amore, global sales director for Sysrepublic. "By offering software and services that provide them with a holistic view of their operations, we enable these companies to streamline their operations and enhance their own profitability."

Sysrepublic's suite of software data analytics platforms enable retail organizations to capture millions of data points from all aspects of their retail process.

About Sysrepublic, Inc.
Sysrepublic was founded in 2002, by a combination of IT data analytic and retail experts, and is one of the world's leading retail data analytics companies. Focusing on all aspects of retail operations, Sysrepublic data analytics solutions help retailers maximize profits and reduce loss. Use of the industry's most powerful query engine, and a proprietary retail database structure, allow insight and analysis of retail data that has rarely been available to users in the past. Sysrepublic solutions focus on point-of-sale, supply, inventory, finance, pharmacy, returns, and human resources data to provide a comprehensive analytical view of user actions and process inefficiencies causing loss within the retail environment. The company has offices in Los Angeles, London and Warsaw. Learn more at www.sysrepublic.com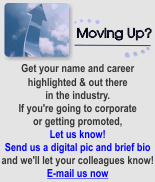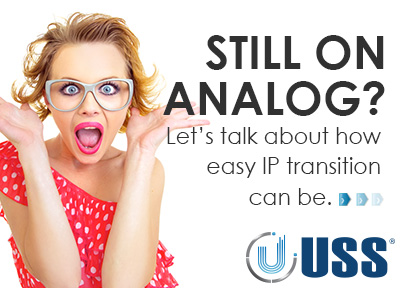 Loss Prevention News Network

Hedgie Bartol, Retail Business Development Manager for Axis Communications - North America, discusses the evolution of the camera and its application in retail loss prevention. As the market leader in network video, Axis offers network video solutions for professional installations, featuring products and solutions based on innovative and open technical platforms. Hedgie tells us why migration strategy is so important for retailers, especially when upgrading from analog to digital IP video technology.

---
In this LPNN Quick Take, MCs Joe and Amber discuss what they love hearing about from service providers at the show. They also talk about the importance of retailers and law enforcement collaborating. Lastly, they share their thoughts on the NRF conference and what is the most valuable takeaway for them.
Solution Providers, have a video or commercial you want to publish? Contact us.


e-commerce

Sponsored by The Zellman Group
Point-of-Sale Card Fraud Predicted to Decrease as Card Not Present and New Account Fraud Increases Javelin announced its first forecast of the relationship between data breaches and fraud and made predictions of what is to come by 2018. Javelin Strategy & Research released 2015 Data Breach Fraud Impact Report, which explores the type of credentials that fraudsters will want to steal, the type of businesses that are most at risk for a data breach, and the magnitude of identity fraud by 2018.

As the United States transitions to EMV, POS fraud will grow less lucrative. Higher-security cards will make counterfeiting substantially more difficult, if not impossible. Additionally, any encrypted or tokenized payment information will make data gained from compromised terminals useless for future POS transactions. Criminals will focus on other areas including card-not-present (CNP) fraud, vulnerable merchants that have been slow to transition to EMV terminals and businesses that store Social Security Numbers that will be of significant value in committing new account and account takeover fraud. businesswire.com

MasterCard goes to war against virtual currencies MasterCard is currently battling against virtual currency by lobbying the U.K. government for additional regulation, according to a report. Virtual currency is a threat to MasterCard's business model, so this is a calculated move on its part. Virtual currency provides an alternative payment model to traditional credit cards, one that bitcoin advocates argue is more secure and private. mobilepaymentstoday.com

A Canadian retailer's web sales soar following a revamping of digital roles Reitmans centralizes more e-commerce functions on a cloud-based platform while pushing others out to brands-and sees web sales rise 64%. internetretailer.com

Facebook Is Handing Out Free Beacons to Retailers Facebook is offering up free beacons to retailers and businesses using its service as part of an update to the company's Place Tips feature originally rolled out in January. Place Tips works by showing Facebook users posts and photos about a specific retailer or business when they open the app within the actual store. The idea is that beacons - small devices that can send a signal to a person's smartphone when they get within a certain proximity - can be used to push information and deals to people while they're in a prime position to make a purchase. recode.net

Retailers urged to invest in new technology to improve the customer experience in-store and online

Alibaba aims to deliver web orders to anywhere in the world within three days

Groceries are the biggest untapped e-commerce opportunity - Business Insider Report says

"Fraud is not a person - it is a dynamic grouping of statistics that deviate from the norm."
Stuart B. Levine, CFI, CFCI
CEO, The Zellman Group & Zelligent


ORC News
Sponsored by Security Resources
Employee, customer accused in $6.7K Lowe's theft ring Authorities told News 2 a clerk pretended to ring up thousands in equipment then allowed an accomplice to walk out the door without paying. Click here to view photos of the stolen items. Dickson investigators said it happened at least six times or more. According to Detective Josh Ethridge, two men were charged in connection to the theft operation at Lowe's in Dickson, 24-year-old Joseph Capps and 32-year-old Justin Alley. "It started off as an employee theft at Lowes. Employees were investigated by loss prevention and we identified a second suspect who doesn't work at Lowe's," Det. Ethridge said. News 2 was shown photos of $6,700 worth of equipment and supplies stolen and ultimately recovered. wkrn.com
Bold theft of 22 guns from Fred Meyer nets man 6 years in prison Of 22 pistols that Mark Reyna stole from a gun case at a Fred Meyer in a bold grab during business hours, 15 are still missing. Authorities have no idea what happened to them and Reyna apparently isn't talking. Reyna was sentenced to six years in federal prison for taking a backpack off one of the shelves of a Fred Meyer in Newberg, using a hammer to pry open the locked gun display and walking out of the store with the guns stashed in the backpack. It was about 9 p.m. on June 18, 2014. "This was a very serious and brazen offense," said Assistant U.S. Attorney Fred Weinhouse, who prosecuted the case. The stolen guns - a mix of 9 millimeter, .40- and .45-caliber pistols -- were valued at $12,000. Reyna admitted to authorities that he stole the firearms with the intent to sell them and had sold several of them before he was arrested. Fred Meyer has since revised its gun security policies to prevent similar thefts in the future, said Melinda Merrill, a company spokeswoman. oregonlive.com
Okaloosa County Sheriff's Office Arrest Two for Using Nonprofit Organization to Steal $500,000 in Merchandise in Destin, FL The Okaloosa County Sheriff's Office has arrested two people in connection with a scheme that resulted in the theft of approximately $500,000 worth of merchandise from a Destin retail store. 56-year old Cedric Fearson of Fort Walton Beach and 37-year old Thelda Jean Kent of Crestview, have both been charged with felony grand theft after investigators say they used a nonprofit organization, "Others of Destin," to steal hundreds of thousands of dollars in merchandise from the Target Store in Destin where Kent was employed. "Others of Destin", which was directed by Fearson, had an ongoing contract with Target Corporation through the Destin store which allowed them to remove certain perishable items from the store for charitable donations. Target Corporation noticed that there were several discrepancies in inventory and how these items were being provided to "Others of Destin". OCSO Investigators worked with members of Target Corporate Security and determined that Kent was adding non-perishable items, such as electronics, to the "Others of Destin" pallet for pick up. Fearson would load the items into a truck and was seen on several occasions unloading items at his personal residence. Kent was also seen removing items from the truck and putting it into her vehicle. Investigators discovered a large amount of the stolen property in Kent's residence following her arrest. Fearson was arrested at the Okaloosa County Jail last night. Kent was arrested on June 4th and stated during an interview with investigators that the scheme she and Fearson were involved in began approximately two years ago. The investigation is continuing. sheriff-okaloosa.org
14 Alleged Gang Members Indicted on Racketeering Charges in Baltimore, MD Fourteen men have been indicted on racketeering and drug trafficking offenses as alleged members of a notorious gang. The 9-count superseding indictment was returned on June 3 and unsealed Wednesday in federal court in Baltimore. The U.S. Attorney's Office says the men are accused of two murders, two attempted murders and three fatal drug overdoses. The indictment says that from at least 2012 to now, the alleged gang members took part in narcotics trafficking, murder, extortion; robbery, and retaliation against a witness or informant. cbslocal.com


Serial thief stealing power tools in Longview, WA Someone has been stealing lots of power tools from Longview stores and now police are hoping a surveillance photo will help them catch him. The man has been caught on video multiple times stealing power tools at local retail stores, according to Detective Tory Shelton with the Longview Police Department. In one image captured on camera on June 1st, he was wearing a dark hooded sweatshirt and jeans, along with a baseball cap. kgw.com
Do you have an ORC case to share?
Share your ORC news and help the industry grow


Retail Crime News

Sponsored by NuTech National
Authorities release frantic 911 calls of Lebanon, TN Mall Shooting Frantic 911 calls were released by authorities after a shooting in the parking lot of a busy mall. "There was like a group of kids out in the parking lot and they started shooting. It was gunshots," said one caller, who said she was near the Children's Place at the Lebanon Premium Outlets Tuesday night around 7 p.m. "All I heard was gunshots and I took off running," said the caller. "I don't even know what just happened." When the dispatcher asked if she was involved, the woman answered, "No, I am not involved but I could have been there. I was right there. I was right there." Now police are working to locate a 22-year-old man wanted for his alleged involvement in the shooting that left two people injured. Keenan Harris is wanted on two counts of aggravated assault after Lebanon police said two groups of people were seen in the far corner of the parking lot in a fight when one person pulled a pistol and fired several rounds. "There were probably about eight, at least eight gunshots, that I heard for sure," the caller told 911. Two people were shot and transported to University Medical Center in Lebanon. Their injuries are not considered life-threatening. wkrn.com

Greensboro, NC Police Investigating Shooting Near Four Seasons Mall Police in Greensboro say they are investigating after two people were shot near Four Seasons Mall Wednesday night. Officers say the shooting happened around 7 p.m. in the 2200 block of Vanstory Street. The call originally came into police as an assault call and officers said when they arrived to the scene, they found two people who had been shot. The victims have not yet been identified and were taken to a local hospital with non-life threatening injuries. wfmynews2.com
18-year-old man stabbed to death at sneaker store in Brooklyn, NY Two stabbings just one block apart in Brooklyn claimed the lives of a pair of teenagers Wednesday night. The teens actually may have known each other, but there is no immediate connection between the incidents. The first incident happened just before 7 p.m. inside a sneaker store on Utica Avenue in Crown Heights. Police say 18-year-old Jamal Joseph, walking with his girlfriend and three other friends, bumped into another teen on the street outside the store. A verbal dispute escalated into a physical one, and authorities say the other teen broke free and ran into the store. Joseph reportedly followed him inside, found him and put him in a headlock. The other teen then pulled a knife and stabbed Joseph multiple times in the neck, back, shoulder, torso and leg. Hours later, 17-year-old John Garrett was stabbed in the chest one block away, on Eastern Parkway, just after 11:30 p.m. He was also rushed to Kings County Hospital, where he later died. He was apparently uncooperative with detectives before his death, and no arrests have been made. 7online.com

Dash cam shows 80-year-old's high-speed chase through Euclid, OH; she has 25 prior arrests Constance Vitantonio, 80, was bright and early for her Wednesday appearance in Willoughby Municipal Court. Euclid Police documented her driving on dash cam the previous Saturday morning just before noon. Police said Vitantonio was behind the wheel of a red car, seen on dash cam video, going more than 90 miles an hour. "I couldn't believe it was happening. I was shocked it actually happened. I thought she was going to stop and talk to us, which is all we really wanted to do in the first place," said Willowick Patrolman Chris Olup. The officer was responding to a shoplifting complaint at the Hallmark Store. He said he knocked on the woman's car window after store employees pointed her out as the suspect. He said instead of rolling down her window, Vitantonio hit reverse, hit another car, nearly hit him and then hit the gas. All hopes of a conversation were lost. The officer said he chased after Vitantonio as she darted in and out of traffic and through several red lights at speeds in excess of 90 miles per hour. His supervisor called off the pursuit in the name of safety. fox8.com
Family Dollar fires LP employee after shoplifter altercation A Family Dollar loss-prevention employee that thwarted a would-be thief is now out of his job, he said. The now-former employee alleges he's also blamed for store damages caused by the thief. Cincinnati police credited Albert Jackson, 51, of Hamilton, with thwarting a Monday theft attempt by Amanda Baker, 31, at the Avondale Family Dollar store. Police said Baker attempted to leave the store where Jackson worked with stolen items concealed in her purse. Jackson intervened, according to police records, and eventually was able to hold Baker down until police arrived. That was after Baker charged at Jackson, sending them both over over a store counter and breaking it, according to Hamilton County Municipal Court records. Baker punched Jackson as she charged at him and knocked multiple shelves over in the process, Jackson told The Enquirer. Jackson alleges that corporate employees from Family Dollar came to the store in the wake of the incident, accused him of putting other workers at risk and fired him. Despite being a loss-prevention employee, Jackson also said he was never trained by Family Dollar in how to actually stop thieves. Baker is currently being held in the Hamilton County Justice Center. She is awaiting trial for a robbery charge in the incident. cincinnati.com
Fraudulent returns cost Macy's more than $7,000: University Heights Macy's security reported a series of thefts at 4:51 p.m. June 3. The crimes occurred between November 2014 and May 2015 and cost the store more than $7,000. The scheme involved a Macy's employee and an accomplice posing as a customer. Police continue to investigate the series of fraudulent returns and have identified suspects in the case. cleveland.com

Two Arrested In $3,500 Credit Card Fraud Case at Dollar General in Denver, NC According to a news release issued by the Lincoln County Sheriff's Office, two suspects attempted to use a cloned credit card at Dollar General on South Highway 16 in Denver while a detective was in the store investigating a similar incident. Detective Richard Calhoun was in the store office viewing surveillance video of $3,500 worth of gift cards purchased on May 20 with fraudulent credit cards when a store employee entered the office and told the detective two males entered the store and attempted to purchase multiple gift cards and groceries with a credit card that had been declined. whky.com

2 women rack up 50 felony charges when credit card fraud scheme ends in arrest in Mesquite, NV At approximately 2 p.m. Friday, Mesquite Police officers responded to the Smith's Food and Drug store on a report of two women acting suspicious near the cash registers, according to a press statement issued by the Mesquite Police Department Tuesday afternoon. After gathering evidence from Smith's grocery store and conducting formal interviews with the women, the Police Department said, officers were able to determine the two were involved in an organized crime scheme using multiple fake and stolen credit cards. The women were attempting to transfer money from the fake credit cards by purchasing gift cards, police said. cedarcityutah.com

Bismarck, ND Dollar Tree Employee Charged with Theft of Customer Credit Information A Dollar Tree store employee in Bismarck is accused of stealing a customer's credit card and going on a shopping spree. 32-year-old Michele Laroche faces felony and misdemeanor theft charges. She faces up to five years in prison. Authorities allege that Laroche took a credit card belonging to a customer and made unauthorized charges. kvrr.com

Same Name, Wrong Person; El Dorado, AR Police arrest the wrong person in $1,000 theft at TJ Maxx An El Dorado woman was taken into custody Wednesday on a warrant in connection to a theft that was reported by a local retailer last month and resulted in the wrongful arrest of a woman with a similar name. Cynthia M. Daniells, 47 was arrested on a misdemeanor warrant for theft of property for her alleged role in the theft of $1,000 worth of merchandise from T.J. Maxx. eldoradonews.com

Cargo Theft: Two charged in theft of over 100 guns from Chicago rail yard
An alleged thief and his fence have been charged in connection with the theft of more than 100 new guns from a freight train that was stopped overnight at a South Side rail yard in April, according to federal authorities. Alexander Peebles, 44, and Warren Gates, 48, were charged in separate criminal complaints stemming from the April 12 robbery of the cargo train at 8000 S. South Chicago Ave., court records show. The train was carrying 318 firearms from the Ruger factory in New Hampshire to Spokane, Wash., and had stopped in Chicago for the night, according to the charges. About 7 a.m. that day, a railroad employee noticed that several locks and seals on the train had been cut open, and police later found bolt cutters and a Ruger magazine in the yard. chicagotribune.com

Cargo Theft: Seized baby food benefits 2 local non-profit agencies in Michigan Heartbeat of Monroe and New Beginnings Mercy House in Ida are benefitting from a semi-truckload of 2,000 cans of stolen baby formula that was recovered and likely headed overseas to support the Islamic State in Iraq and Syria. Both non-profit agencies that serve women in crisis pregnancies recently received more than 200 cans of Enfamil baby formula to give to their clients. The 12.5-ounce cans were part of a semi-truckload of stolen goods confiscated during a routine traffic stop on Wixom Rd. near I- 96 Feb. 16 by Michigan State Police. Authorities arrested a man who was driving the vehicle containing about $ 600,000 worth of goods stolen, including 2½ pallets of baby formula from a Wal- Mart store in Missouri. The driver was believed to be part of an international theft and support campaign involved with providing stolen goods to ISIS forces in the Middle East, said Sgt. Steve Temelko, who heads the Homeland Security Team for the state police at First District Headquarters. monroenews.com
Daytona Beach store's Grand Opening ends with Fire and Building collapse A Daytona Beach Shores swim shop that had just celebrated its grand opening on Wednesday ignited overnight, causing part of the building to collapse. The fire was reported at the Rusty Cat USA on A1A near Silver Beach Avenue late Wednesday night. Police say an officer was patrolling close by when a driver spotted the fire and flagged him down. Two employees were inside of the store, unaware that their store was burning, according to police. No injuries were reported. clickorlando.com
Skimmers found in three Palm Beach gas stations

Skimmer found in Columbia, MD., Credit Union ATM

Naval Exchange at Mayport, Jacksonville, FL tests response with Active Shooter Drill

San Francisco police find giant firearms cache at robbery suspect's home; tied to a Walgreen's Armed Robbery

Duquesne, PA teen charged in robbery spree; hit 5 stores in 16 days

Once Upon a Child employee in Louisville arrested for theft of $6,000 in cash

Man to plead guilty to stealing $193, 000 in credit card scheme

Baylor University Basketball All-Star arrested for shoplifting at Walmart in Waco, TX

Kay Jewelers in the Galleria at Fort Lauderdale, Fort Lauderdale, FL the victim of a Grab and Run, merchandise totaling over $8,000


Robberies and Burglaries
• Boone Square Mini Mall - Berea, KY - Burglary
• Circle K - Cordova, TN - Robbery
• Circle K - Bossier City, LA - Armed Robbery
• Command Tactical - Guntersville, AL - Burglary
• CVS - Dallas, TX - Burglary
• Dollar General - West Mifflin, PA - Robbery
• Dollar General - Bakersfield, CA - Armed Robbery
• Family Dollar - Duquesne, PA - Robbery
• Family Dollar - Amarillo, TX - Armed Robbery
• Family Pharmacy - Apple Valley, CA - Armed Robbery
• Marathon - Lakeland, FL - Armed Robbery / 4 arrested
• Parker's - Statesboro, GA - Armed Robbery
• Peach Mart - Atlanta, GA - Burglary
• Penn Cycle - Woodbury, MN - Burglary
• Rapido Convenience - The Colony, TX - Armed Robbery/ Clerk killed
• Shell - Hoover, AL - Armed Robbery
• UniMart - Duquesne, PA - Robbery
• Valentine Market - Fresno Co, CA - Armed Robbery
• Zarzamora Corner - San Antonio, TX - Armed Robbery


Featured Job Listings
Sponsored by NuTech National
Feature Your Job Here For 30 Days -
70% Aren't On the Boards
VP of Security
Comcast
Philadelphia, PA
Comcast
Senior Dir Safety/Food Safety/Hazmat
Sears
Hoffman Estates, IL
Sears Holdings Corp
AP Field Dir - Nationwide
Downing & Downing
United States
Downing & Downing
LP Director
Goodwill Industries of the Chesapeake, Inc
Baltimore, MD
Goodwill Industries of the Chesapeake, Inc
Director of LP
A'gaci
San Antonio, TX
A'gaci
Director of LP
Lane Bryant
Columbus, OH
LinkedIn
Director of LP
PacSun
Anaheim, CA
PacSun
LP Director
Don Roberto Jewelers
San Clemente, CA
Don Roberto Jewelers
Director of AP, Corporate
Dollar General
Nashville, TN
Dollar General
VP Supply Chain, LP & Safety
Ross Stores
Ft. Mill, SC
Ross Stores
Director of Safety
Academy Sports & Outdoors

Houston, TX

Academy Sports & Outdoors


Dir, Pharmacy LP
Rite Aid
Camp Hill, PA
Rite Aid
Reg Dir AP
Saks Fifth Ave
New York, NY
Saks Fifth Ave
LP Corporate Sr Mgr
JC Penney
Dallas, TX
JC Penney
Corporate LP Mgr
St. John Knits
Irvine, CA
St. John Knits
Regional LP Mgr
Family Dollar
Milwaukee, WI
Family Dollar
Multi Unit LP Mgr
The Great Atlantic & Pacific Tea Co.
New York City
The Great Atlantic & Pacific Tea Co.
LP Manager
Dunkin' Brands
Chicago, IL
Dunkin' Brands
LP Specialist
Alb/Sfy Company
Baton Rouge, LA
Alb/Sfy Company
Supervisor, LP
Ascena Retail Group, Inc
Pataskala, OH
Ascena Retail Group, Inc
Implementation Expert/Project Mgr
LP Software
Worth, IL
LP Software
Sales Representative
NuTech National
Maitland, FL
NuTech National

Limited Time Only - Post Your Multi-Unit LP jobs for FREE - Learn More Here

Daily Job Alerts


Appearing One Day Only
View our Internet Jobs Archives here
LP Manager
Carson's
North Riverside, IL
Bon Ton Stores
Area LP Mgr
JC Penney
Tempe, AZ
JC Penney
LP Manager
JC Penney
Mesquite, TX
JC Penney
LP Supervisor
JC Penney
Alexandria, LA
JC Penney
Store AP Manager
Home Depot
Mount Prospect, IL
Home Depot
Store AP Manager
Home Depot
Washington, DC
Home Depot
LP Specialist
Fred Meyer
University Place, WA
Kroger
LP Specialist
Fred Meyer
Seattle, WA
Kroger
LP Specialist
Fred Meyer
Burien, WA
Kroger
AP Manager in Training
Walmart
Borger, TX
Wal-Mart
AP Manager in Training
Walmart
Bowling Green, KY
Wal-Mart
AP Manager in Training
Walmart
Rapid City, SD
Wal-Mart
AP Manager in Training
Walmart
Hernando, MS
Wal-Mart
AP Manager in Training
Walmart
Pampa, TX
Wal-Mart
AP Manager in Training
Walmart
Modesto, CA
Wal-Mart
AP Manager in Training
Walmart
Stockton, CA
Wal-Mart
AP Manager
Sam's Club
Peoria, IL
Wal-Mart
AP Manager
Sam's Club
Saginaw, MI
Wal-Mart
Market AP Mgr
Walmart
Athens, OH
Wal-Mart
LP Manager Hrly
Kmart
Kingsburg, CA
Sears Holdings Corp
LP Manager Hrly
Sears
Bristol, VA
Sears Holdings Corp
LP Manager Hrly
Sears
Buffalo, NY
Sears Holdings Corp
AP Team Leader
Target
Bend, OR
Target
ETL Assets Protection
Target
Cleveland, OH
Target
Zone AP Manager
Rent-A-Center
New York, NY
Rent-A-Center
Regional LP Manager
Amazon
San Bernardino, CA
Amazon
Area LP Manager
24 Hour Fitness
Carlsbad, CA
24 Hour Fitness



Home of the Industry's Original
On the Move

Diana Lukash was promoted to Regional Loss Prevention Manager for Office Depot.

Post Your New Job or Promotion!
See all the Industry Movement

Your Career
Sponsor this section of the Daily
Optimize Your Performance By Singletasking How do successful people get through each day? They don't just manage their time, they find ways to make the most of it, but they do it all one task at a time. If you're a multi-tasker, stop! Here's why it doesn't work. Brain overload

Zoning Out Can Make You More Productive
What ever happened to daydreaming? Now we are all consumed by our smart devices that we are always keeping ourselves busy and productive. This could actually be hurting our productivity! Letting our minds wander is what helps our creative processes. Give your mind a break

Seven Steps to Getting 'Out of Your Head' and Into the Magic Zone of Peak Performance Our ability to think rationally is what sets us apart from animals. But if you want to perform like an animal, and get into the "zone" you will need to turn that switch off. Here are some tips to do just that. Harness your stress

5 Strategies to Build a Fun Work Culture that's Also Productive Everyone wants to work somewhere fun, because when you love what you do you are more productive. There are several strategies that you can use to keep your employees working hard, but also make the workplace more fun. Here are five of them. Make it a competition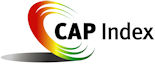 Tip of the Day
Sponsored by Vector Security
Loyalty is one of the most precious values there is and a loyal team that's unified in its goals and objectives, even in defeat, is strong and supportive. Loyal teams can make the largest tasks seem effortless and they create a sense of ownership of family that inspires individual performance and comforts individual failure. Earned slowly and grown daily, loyalty is a commodity no leader can be without because it fuels success, unifies purpose, and gives birth to exceptional performance. Without loyalty, teams splinter and lose focus on the true objectives. It's rare to build a truly loyal team and it's incredibly difficult to keep them together long term with private agendas always pressuring the balance. And yes, even loyal teams require balancing because at the end of the day it's always about personal agendas. Professional sports teams are constantly looking for that balance and the right players to fit as a team and the same holds true in business. With the right team, anything is possible and conversely one team member can destroy the entire balance. So being a team player is important even when you decide not to be.
Just a Thought,
Gus





Upcoming Events
---
Recruiting?
Get your job e-mailed to everyone... everyday
Post on our Featured Jobs Board!
Reach your target audience in 2015 every day!
Request our 2015 Media Kit
update account / change e-mail
unsubscribe FEEDBACK
www.downing-downing.com

Advertise With The D&D Daily




36615 Vine Street, Suite 103
Willoughby, OH 44094
440.942.0671
copyright 2009-2019
all rights reserved globally