The D&D Daily Mobile Edition
June 15,

2015



The LP Industry's #1 News Source - Informing, Educating and Instilling a sense of community



NEW LP Group Selfie





Neighborhood Walmart Asset Protection Field Investigators


"Save Money. Live Better."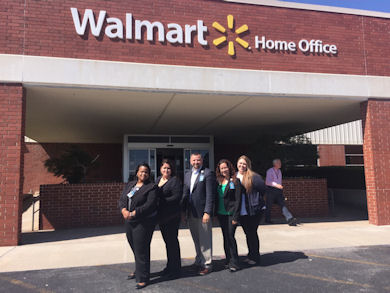 Featured in the picture: Tamara Huggins, Lisa Curry, Angela Padilla, Marcy Comer, and Regional Asset Protection Director, Brian Ducote

View all the selfies here!
Sponsored by:


---
We still want your Group LP Selfies - So keep them coming retail LP teams!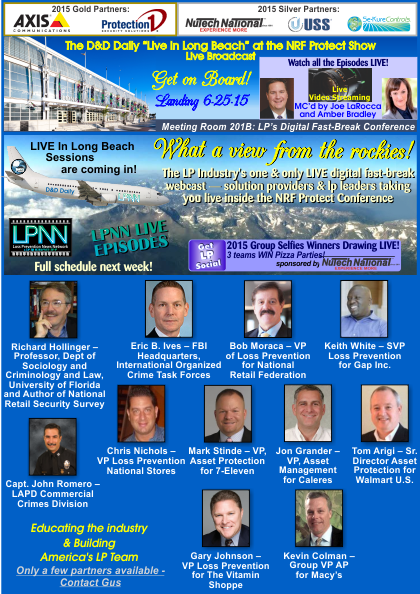 News Brief
Sponsored by WG Security Products, Inc.
NYC's Stop-and-frisk decreasing - But 'Broken Windows' policing continues
Although numbers of stop-and-frisk decrease significantly
the police chief and Mayor have argued the broken windows policing strategy is essential to keeping the city safe.
In 2011, the police conducted 684,330 recorded stops. In 2013, the number was 191,558. This included just 12,495 stops in the three months before Mr. de Blasio took office - not far off the pace set in the new mayor's first year, when 46,235 were stopped. Under Mr. de Blasio, a Democrat, several changes came quickly. He settled the lawsuit against the city concerning stop-and-frisk tactics, eased penalties for low-level marijuana possession and moved to retrain officers, suggesting this would bring them closer to the neighborhoods they serve.
In the first three months of this year, officers conducted 7,135 stops, about half of the total over the same period last year.
nytimes.com
Injured Kroger Employee Can't Sue If Risk Was Obvious: Texas Supreme Court
The Supreme Court of Texas on Friday answered a question certified by the Fifth Circuit in a liability suit against Kroger Texas LP, saying that under state law,
an employee injured on the job cannot recover against his employer if he was fully aware of the injury-causing premises defect.
The ruling provides the Fifth Circuit with guidance on how to proceed in a suit against Kroger, filed by a former employee who broke a leg when he fell while cleaning up a spill at one of the company's stores in Texas. The Fifth Circuit, which had affirmed the dismissal of various negligence claims, had asked the court to clarify a grey area of Texas law governing liability in work-place related injury suits.
The high court ruled Friday that although employers have a duty to maintain their premises in a reasonably safe condition for their employees and warn of concealed dangers, an employee generally cannot recover against an employer for an injury caused by a premises defect of which he was fully aware but that his job duties required him to remedy.
"'The employee's awareness of the defect' does not 'eliminate the employer's duty to maintain a safe workplace,'" the opinion said, "but with respect to premises conditions, that duty is ordinarily satisfied by warning the employee of concealed, unknown dangers; the duty to maintain a reasonably safe workplace generally does not obligate an employer to eliminate or warn of dangerous conditions that are open and obvious or otherwise known to the employee."
Although the court's answer to the certified question was favorable for Kroger,
the opinion also included some discussion that leaves open the possibility for Randy Austin, the injured employee, to pursue a separate claim based on the fact that the store failed to provide him with the necessary tools to clean up the spill
- an oily substance that covered the majority of a men's bathroom.
law360.com
Michael Kors to Pay $4.9M to Settle Deceptive Pricing Suit at Outlet stores
The class-action lawsuit was filed by Tressa Gattinella and Kristin Lengyel in a Manhattan federal court in July 2014, alleging that the company sold products at its outlet stores that featured made-up suggested retail prices. The suggested prices, referred to on tags as the manufacturer's suggested retail price, were said to be fake because the tagged items were made for the Michael Kors outlet stores.
In a court document filed on Friday detailing the proposed settlement - it still requires court approval to be valid - the tags were said to deceive customers into "believing they are purchasing products that were formerly sold or offered at a higher price at main-line retail stores and are now significantly cheaper at the outlet stores." That's because the tags featured both the MSRP as well as "Our Price," the lower outlet price paid by the consumer. In the settlement, the apparel and accessories firm agreed to modify price tags at its U.S. outlet stores. Kors agreed to stop using the MSRP reference and to replace it with the word "Value" on the price tags of goods sold at its outlet stores. Further, it agreed to explain the meaning of the term "Value" to its customers in display signage in the stores.
wwd.com
Food waste can cost up to 4% of retailers revenue
Currently there are many industry initiatives aimed at reducing food waste, such as: ● Use of new technology in sales and demand forecasting (including automatic sales replenishment) which is helping to narrow the gap between forecast and actual sales ● Better inventory management which allows retailers to maintain accurate stock levels ● Improved on-pack labelling and guidelines which helps shoppers to take better care of food at home enabling them to keep food for longer.
Existing technologies, such as barcodes, can also help improve inventory management of fresh and chilled foods. This is achieved by means of adding additional information to a barcode such as batch code, sell by date and other variable data. By encoding additional data within the barcode, the product and its associated data can be scanned throughout the supply chain and in-store through to the point of sale. Using date-coded products throughout the supply chain means product can be shipped and sold in date order.
Encoding dates in the barcode can also prevent out-of-date product being sold at the checkout, as the scanner captures the sell-by date. And in the case of product approaching its 'sell by' date, store management can apply an automatic price discount according to the time left before the product becomes unsaleable. This allows better management of any stock markdowns, encouraging sales rather than wasting food. Of course, additional data stored in the barcode, such as the batch number, can also be used in the event of a food safety incident, helping with the recall.
In France, the authorities have taken a stronger stance with the industry to reduce food waste by introducing legislation requiring supermarkets over 4,000 sq ft to link with a charity by July 2016. Failure to comply could result in a fine or imprisonment.
Moving forward, there will be more progress made in reducing the amount of food wasted, through better forecasting and inventory control. Retailers not only want to be seen to be offering the best range of fresh and chilled products, available when shoppers demand them, but being seen to actively reduce food waste can only enhance the retail brand's reputation with shoppers.
essentialretail.com
Colorado High Court Says Employees Can Be Fired for Off-Duty Marijuana Use
The Colorado Supreme Court ruled Monday that employers can lawfully fire workers for using marijuana outside of work hours, even though the drug is legal in the state, upholding two lower court decisions on the issue. The case, which involved a quadriplegic man who lost his job at Dish Network LLC after testing positive for marijuana in violation of company policy, had been closely watched around the country-especially in states where medical marijuana use is now legal. But in its unanimous 6-0 decision, the state Supreme Court sided with Dish Network, which argued that
marijuana remains illegal under federal law and that employers should be allowed to maintain a drug-free workplace.
The court said the company didn't violate Colorado's lawful activities statute when it fired Mr. Coats.
"The term 'lawful' refers only to those activities that are lawful under both state and federal law," the decision said. "Therefore, employees who engage in an activity such as medical marijuana use that is permitted by state law but unlawful under federal law are not protected by the statute."
wsj.com
Leadership liquidation continues at Lumber Liquidators - CMO leaving - That's 4 'C' level executives left since 60 Minutes aired
Lumber Liquidators former
chief merchandising officer William Schlegel is the latest casualty
of an ongoing management overhaul by company founder and Chairman Tom Sullivan that also
claimed the jobs of the CEO and CFO and Chief Compliance Officer.
Sullivan continues to clean house at the company he founded 20 years ago after a damning report by 60 Minutes raised concerns about the company's product sourcing practices and allegations of circumventing federal laws.
chainstoreage.com
CVS Agrees to Buy Target's Pharmacy Business for $1.9 Billion
CVS Health said on Monday that it had agreed to acquire the pharmacy and clinic businesses of the American retailer Target for about $1.9 billion. Under the terms,
CVS would acquire more than 1,600 pharmacies from Target in 47 states and operate them under the CVS brand name in Target stores
. CVS will also operate branded pharmacies in new Target stores that offer pharmacy services. CVS said it planned to rebrand about 80 clinic locations previously operated by Target under the MinuteClinic name, adding that they would be part of its plan to operate 1,500 clinics by 2017. CVS and Target also plan to develop five to 10 small stores over a two-year period after the deal closes. These would be branded as TargetExpress and include a CVS pharmacy.
nytimes.com
German grocer Lidl plans U.S. expansion, HQ in Arlington County, Virginia - Do they staff a Dir. LP job & team? Aldi's 'arch rival'
Lidl, which operates nearly 10,000 stores in 26 countries, will also open a regional headquarters and distribution center facility in Spotsylvania County, Virginia. The retailer is privately held by the family-owned Schwarz Group. Virginia Governor Terry McAuliffe said Lidl will spend $202 million in Virginia.
The headquarters will have 500 employees and the distribution center 200 employees.
The company keeps a lid on prices by buying narrow ranges of private-label products in bulk, giving it immense bargaining power with suppliers.
chainstoreage.com
wsj.com
Hudson's Bay Company acquires Dusseldorf-based Metro's department store group Galeria Kaufhof and its Belgian subsidiary Inno
As a result of the acquisition, HBC will have: ● 464 Locations Worldwide, 8 Leading Banners ● C$13 (9.0 euros) Billion in Revenue(1) ● Pro Forma Sales by Market: 44% US; 31% Germany 23% Canada, 2% Belgium ● Strong Management Teams in North America and Europe. HBC is taking over 1
03 GALERIA Kaufhof stores in Germany
from METRO GROUP, including 59 properties in prime inner-city locations that are part of the GALERIA Real Estate portfolio. As part of the transaction, HBC is also acquiring 1
6 Sportarena stores, 16 GALERIA Inno department stores located in Belgium
, as well as various logistics centres, warehouses and other properties, and the long-standing GALERIA Kaufhof head office in Cologne.
businesswire.com
Quarterly Same Store Sales Results
Toys R Us Q1 domestic comp's down 2.3%, international up 1.2% with net sales down 0.9%
Last week's most popular news article --


27th Annual Retail Theft Survey Reports over 1.2 Million Shoplifters and Dishonest Employees Are Apprehended by Just 25 Large U.S. Retailers in 2014
Over 1.2 million shoplifters and dishonest employees were apprehended in 2014 by just 25 large retailers who recovered over $225 million from these thieves, according to the 27th Annual Retail Theft Survey conducted by Jack L. Hayes International, the leading loss prevention and inventory shrinkage control consulting firm. See full press release below.
businesswire.com

"Securing Your Global Supply Chain"

September 9th-10th, 2015 - Dallas, Texas

Fossil Corporate Headquarters -
Richardson, TX

The International Supply Chain Protection Organization would like to announce that registration is now open for its 2015 conference - "Securing Your Global Supply Chain". The two day cargo theft summit will be addressing topics related to supply chain security, industry theft trends and investigations. There will be a wide range of speakers from both private sector and public law enforcement, speaking on topics that are currently affecting the global supply chain. The event will also provide a great venue to network with global industry peers, law enforcement, and select vendors. ISCPO members, transportation/supply chain, asset protection/loss prevention professionals and any other interested parties should consider attending.

Cost:
There are three registration fee options.
● Loss Prevention/Supply Chain/Transportation Professionals - $125.00
● ISCPO Members - $75.00
● Law Enforcement/Student - $25.00

For more information, including a list of speakers, hotel recommendations, meals and a full agenda, click here.
All the news - One place - One Source - One Time
The D&D Daily respects your time
& doesn't filter retail's reality
Report Your News!
(content subject to approval)




Data Breach at Fred's discount chain - Malware secretly installed on POS systems Fred's Inc., a discount general merchandise and pharmacy chain that operates 650 stores in more than a dozen states, disclosed today that it is investigating a potential credit card breach. Multiple financial institutions have reported a pattern of fraud on customer cards indicating that Fred's was the latest victim of card-stealing malware secretly installed on point-of-sale systems at checkout lanes. Sources said it was unclear how many Fred's locations were affected, but that the pattern of fraudulent charges traced back to Fred's stores across the company's footprint in the midwest and south, including Alabama, Arkansas, Georgia, Indiana, Kentucky, Louisiana, Mississippi, Tennessee and Texas. krebsonsecurity.com

3 things retailers should know to ensure a smooth EMV migration Oct. 1, 2015 has been designated as the official EMV liability shift date set by the major U.S. card brands. While the process will take some time and effort to complete, it also provides a golden opportunity for the U.S. payments industry to revamp old systems, strengthen the security of their payment ecosystem and pave the way for future technologies. In order to help ensure a smooth transition, retailers should keep a keen eye on the following factors.

1. First and foremost, migrating from magnetic-stripe card technology to EMV will have an impact on merchant businesses. Decisions that retailer make will impact whether or not this experience is fun or frustrating for customers. If done in the right way, the transition can be seamless and entertaining. If employees are not trained or the terminal is installed improperly, there could be some disruptions at first.

2. Secondly, EMV alone will not eliminate all fraud seen in the market today, but it will make card present transactions more secure. So, when retailers examine their payment systems to make all systems more secure, they should look at all aspects of their security infrastructure and not just their point-of-sale terminals.

3. Thirdly, while retailers are migrating to EMV technology, they should make sure their payment infrastructure is flexible for future technologies. Take the opportunity to consider a more holistic approach to the next generation of payments while investing the resources into system upgrades for EMV. chainstoreage.com

29% of C-suite executives surveyed say they "know for a fact" their network is presently being attacked A survey of 350 C-suite executives by cybersecurity analytics company RedSeal found while 60% of respondents said they could "beyond a reasonable doubt" assure their boards the company was secure, 86% said there were gaps in their ability to see and understand all that was happening inside their networks. The report found 29% said they "know for a fact" their network is presently being attacked. It's remarkable how many executives say their networks are secure-until we drill down into the issue, and it becomes obvious not only that there are vulnerabilities, but also that many organizations have no idea where those weak spots are." wsj.com

Walmart combines physical and digital in new Neighborhood Market store The small format Neighborhood Market store is designed to appeal to convenience oriented shopper and to take that concept to a higher level the store features a fuel center with multiple pumps and a tiny convenience store with a highly edit merchandise assortment. Inside the main store, Walmart made a notable change to the layout by breaking the gondola runs that stretch from the front of the store to the rear to create a mini-action alley that bisects the store. There is also a small section at the front of the store in the food section where lower profile fixtures are filled with organic and gluten free products. In terms of signing, Walmart was very aggressive in promoting its omnichannel capabilities. On virtually every endcap throughout the store and with several freestanding navigational signs Walmart called out its buy online, pick up in stores capabilities. Employees even wore bright orange shirts touting the Walmart Pick up option. chainstoreage.com

Microsoft to Update Army And Air Force Exchange Service's Point-of-Sale Systems AAFES intends for the new POS systems to deliver customized offerings to customers using data collected across sales channels. executivebiz.com

Why Facebook is giving retailers free beacons - It's all about 'Place Tip' When a consumer is within the beacon's range, the social network will place information about that store above the news feed on his smartphone. When a consumer is within range of a store's beacon and looks at Facebook on his smartphone, above his news feed he'll see what the social network calls a Place Tip, which is information about the business, such as its business hours, popular items, upcoming events or other information that it has shared on the social network. internetretailer.com

Mall of America plans to add mall-wide Wi-Fi by holidays The service is expected to debut around the same time as the mall's first smartphone app. As well, mall officials are exploring pickup services and enhanced valet parking options that may also be ready by the holidays. Southdale Center, Ridgedale Center and the Twin Cities Premium Outlets all provide it. So does the West Edmonton Mall, the even larger mall in Canada that's owned by the same company as the Mall of America. startribune.com

Apple Pay launching in the UK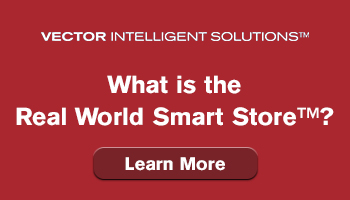 Vendor Spotlight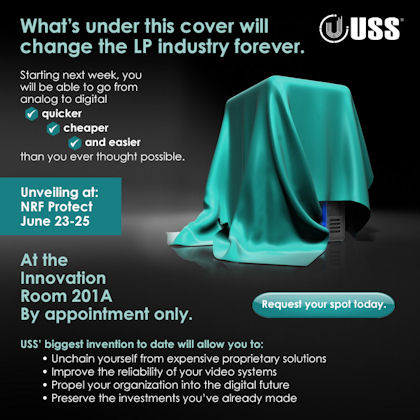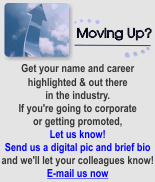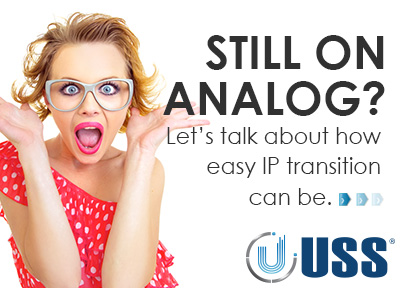 Loss Prevention News Network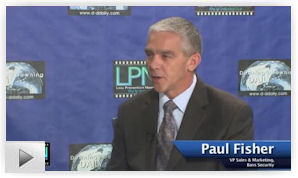 Paul Fisher, VP Sales and Marketing for Bass Security, tells us how core values of accountability, continuous improvement and teamwork helped Bass Security grow from a small locksmith business in 1975 to a well-rounded leader in the retail security industry. As North America's only one-touch solution for loss prevention, new construction and facilities, Bass Security serves over 50 Fortune-500 companies and over 79% of the top retailers in North America.

---
In this LPNN Quick Take, Joe and Amber talk with Denny Dansak, Senior Corp. Manager, ORC for The Kroger, Co. Denny briefly discusses the partnership on the case that won his team the NRF's Law Enforcement Retail Partnership Award. This 13-month investigation was initiated by Kroger, which partnered with the LA County Sheriff's Department and the FBI to help solve the case.
Solution Providers, have a video or commercial you want to publish? Contact us.


e-commerce

Sponsored by The Zellman Group
'Global marketplaces to own 39% of online retail market in 2020' Global marketplaces such as Amazon, eBay and Alibaba will own almost 40% of the global online retail market within five years. At least, that's what retailers from all over the world expect to happen. A new study gives more insights in the rise of global marketplace and how retailers can compete with them. The study, called "Rise of the Global Marketplaces", was conducted by the Ecommerce Foundation and Nyenrode Business University. They interviewed 243 retailers and 43 retail consultants from all over the world about marketplaces such as Amazon, eBay and Alibaba. So, what to do about these enormous marketplaces who seem to get only bigger and bigger? If you ask retailers this question, they answer by saying they should focus on specific customer segments, improving their customer services, and focus on specific markets and/or products. Reducing prices or investing in online stores is not seen as a viable option. Another way to keep on surviving as a retailer is by cooperating with marketplaces and selling products through them. Complete ignoring market players or simply exiting the market due to the competition isn't something most retailers would suggest. ecommercenews.eu

What Googles Entrance to M-Commerce Means for Merchants According to a report by The Wall Street Journal, Google's gearing up to enter the mobile commerce game. The search giant will begin showing buy buttons in mobile search pages which will redirect clickers to Google's own product page where the purchase can be configured and even completed using stored payment information. Google's reportedly working with a small number of pilot retailers including Macy's and buttons will appear with a small percentage of commercial search traffic. Though the product may be fulfilled by retailers, Google will own the landing page and checkout experience. While this could be an exciting new ad format and customer acquisition tactic for retailers, and though it affects only paid search results, it's a major threat to a brand's relationship with its customer. Handing over customer experience to Google eliminates the ability to cross-sell, upsell, surprise and delight and build an email or social list to remarket to. alleywatch.com

"Fraud is not a person - it is a dynamic grouping of statistics that deviate from the norm."
Stuart B. Levine, CFI, CFCI
CEO, The Zellman Group & Zelligent


ORC News
Sponsored by Security Resources
Cook County Regional Organized Crime Task Force - Walgreens ORC Team & police bust "extensive" theft ring - stole hundreds of thousands in plastic materials from more than a dozen companies - Shipping Tons to China The Northbrook-based corporation Organized Retail Crime Department, along with organized-crime investigators from Chicago Police, busted an "extensive" theft ring that had stolen thousands of dollars in plastic materials from more than a dozen companies and the United States Postal Service, police said in a statement. The plastic items (mostly totes, pallets, trays and other things used to move merchandise around) were traced to a warehouse at 1435 W. Exchange Ave., in the Back of the Yards neighborhood. There, they were "reduced to very small plastic pieces with the use of heavy machinery" then sold and shipped to China, police said. "It is likely that tons of stolen plastic has already been shipped," the police statement said.

The owner of that building cooperated with the investigation, police said, and hundreds of thousands of dollars worth of stolen plastic - belonging to major corporations like Walgreens, Pepsico, Jewel-Osco, Turano Baking Company, Aunt Millie's Bakeries and CVS Pharmacy, in addition to USPS - were recovered and are being returned to their original owners.

The investigation was prompted when Walgreens noticed a spike in thefts throughout its Midwest facilities, including Chicago. Tens of thousands of dollars of its plastic totes had been stolen, according to police.

"Property theft is a serious issue that all retailers face and it is something we investigate aggressively. This investigation is a great example of how through the Cook County Regional Organized Crime Task Force companies can work with the Chicago Police Department and other law enforcement agencies to address issues that affect the entire community. We thank the police officers and retail investigators that worked diligently together on this investigation," said Jerry Biggs, Director of Organized Retail Crime at Walgreens. dnainfo.com

East Coast Fraudulent Credit Card Ring busted in New Albany, Miss. The Mississippi Highway Patrol and New Albany Police Department think they have uncovered a national credit card fraud operation. In this case where six people were arrested. Police say they loaded around $4,000 in gift cards from the Lowe's in Tupelo and tried to do the same thing at the Lowe's in New Albany. A clerk there noticed the information didn't match up with one of those who was arrested. So far, the police don't know how many people had their information stolen. "Right now, there's only been a couple that we been able to find in the northeast Mississippi area, but there again, there are some other aspects that the federal agents are trying to help us with to determine exactly what the scope is," said Robertson. wtva.com

Small Retailer in Minnesota facing Large shoplifting problems Shoplifting headaches are nothing new to retailers big or small, but a case at Patina, the upscale Twin Cities gift boutique, illustrates how tricky the problem can be to resolve. The Star Tribune reports on the arrest of a Minneapolis man last week who, Patina employees say, worked with accomplices on more than half-a-dozen thefts over the past several months. He hasn't entered a plea. The total losses - generally in the form of pricey blankets - totaled only about $5,000. Co-founder Christine Ward said that the man struck one of her clerks who challenged him, then threw rocks at the car of a customer who tried to follow him. There also were frustrations with the police: Ward said the St. Paul and Minneapolis departments didn't seem to share information about the crimes, and cops generally responded too late to catch the alleged thieves. bizjournals.com

June 3rd two male suspects hit Nordstrom's King of Prussia Mall - $3,000 to $5,000 denim clothing fled in blue Chrysler minivan
Do you have an ORC case to share?
Share your ORC news and help the industry grow


Retail Crime News

Sponsored by NuTech National
Fired Security Guard shoots, kills female museum employee in Coral Ridge Mall Friday evening Police in a small town just outside of Iowa City have arrested a North Liberty, Iowa man and charged him with first-degree murder in Friday night's shooting death of a woman at the Coral Ridge Mall. Twenty-two-year-old Alexander Kozak, a mall security guard who was fired earlier in the day, is accused of shooting 20-year-old Andrea Farrington three times in the back around 7:30 p.m. She died at University of Iowa Hospitals and Clinics in Iowa City. Farrington worked at the Children's Museum welcome center in the mall. Kozak allegedly went home, got a gun and returned to the mall. Johnson County Attorney Janet Lyness said Saturday that Farrington and Kozak knew each other through both working at the mall but would not give details of their relationship. Lyness declined to elaborate on a motive for the shooting. Kozak told police he went back to the mall planning to kill the woman. Kozak, who was married in September, displayed disturbing behavior towards the blond haired, blue-eyed Farrington, a cousin of the victim said. He'd leave notes on Farrington's car, often stared at her at work and would "just be scary and weird," Savanna Dayton told the Iowa City Press-Citizen. chicagotribune.com nydailynews.com

Elderly man found murdered at Walmart store Sunday morning in Rockford, IL 72-year-old Harland Dascher Jr. was found bleeding with multiple stab wounds at a Walmart parking lot around 2AM. Police say they have no suspects in custody at this time and the investigation is ongoing. cbs12.com

Jewelry store owner duct-taped in Point Reyes Station, CA Armed Robbery Three armed robbers bound a jewelry store owner with duct tape in Point Reyes Station on Saturday morning before ransacking the store and fleeing, authorities said. The brazen crime in the quaint Marin County community began around 11:15 a.m. when a man walked into the store at 1101 Shoreline Highway and asked the owner to look at some diamonds, said Lt. Scott Anderson of the Marin County Sheriff's Office. Two other men then entered the store, and one of them pointed a black semi-automatic handgun at the owner, forcing him into a back room, Anderson said. The robbers duct-taped the man's hands and feet, took his cell phone and then stole jewelry from the store's display cases and a safe. sfgate.com

Walmart Employee killed in Zhanjiang, China attempting to stop a Shoplifter A female store clerk at a Walmart supermarket outlet in Zhanjiang, in China's Guangdong province was murdered after she tried to stop a man from stealing. She spotted the shoplifter stealing some food items and went forward to confront him in the incident on Jun 11. While trying to run away, the man grabbed a knife from a shelf and slit the store clerk's throat, NetEase reported. Medical staff arrived shortly after, and the woman was pronounced dead at the scene asiaone.com

Houston No. 1 in US in armored car, bank takeover robberies In 2013, 120 banks were robbed around Houston, one every three days. Last year the number dipped slightly to 100, while nearly 4,000 banks, savings and loans and credit unions were held up nationwide, according to FBI statistics. heraldcourier.com

Suspect Chokes Out Police Dog, But K-9 Doesn't Lose Battle With Walmart Robber in Fort Myers, FL Authorities say a police dog was choked out by a robbery suspect, but still managed to help make the arrest. The News-Press of Fort Myers reports deputies responded to an attempted robbery at a Wal-Mart Friday evening. The suspect, 25-year-old Liferein Lenord Bell, managed to flee the store. A police helicopter and K-9 deputies were able to locate Bell hiding in a bush. When a K-9 named Kilo attempted to catch him, Bell choked the dog until he passed out. As deputies struggled with Bell, Kilo woke up and bit the man's arm. Deputies were able to restrain him and take him into custody. Bell has been charged with theft among other charges. Kilo suffered cuts to his left eye and nose but has since returned to duty. inquisitr.com
Police K9 caught Burglary Suspect stealing bike from Target store in East Portland, OR A man burglarizing a Portland Target store tried to get away from officers at the scene on a bicycle he stole from the store, according to police. Police responded to the Mall 205 store at 3:15 a.m. Sunday. Officers arrived, requested a K-9 unit and set a perimeter around the store. Police said the suspect, later identified as 26-year-old Lance Gonzalez, rode out of the back of the store on a bicycle he took from Target. Gonzalez jumped off the bike at Southeast 92nd Avenue and Mill Street as officers pursued him. The K-9 caught him and Gonzalez was taken into custody. Gonzalez was booked in the Multnomah County Jail on charges of burglary, theft and interfering with a peace officer. kptv.com

Suspects caught on camera robbing Metro PCS store, setting it on fire in Detroit, MI Two men were caught on camera robbing a Metro PCS store and then setting it on fire on Detroit's east side. The thieves came in through the air vents in the ceiling, and within minutes, one of them got their hands on a rifle. One of the suspects got spooked, and got stuck trying to get back into the ceiling. After 20 minutes, the second man jumped in the store with a duffle bag, he started filling it with anything he could, mainly old cell phones. Once they got out of there, they doused the store in gasoline and lit the place on fire. wxyz.com
Cape Coral, FL Police looking for two grand theft suspects who hit Walmart for $3,000 in merchandise Cape Coral Police are asking for help to identify two grand theft suspects. On June 10, two black males entered the Wal-Mart on Del Prado Boulevard S. at around 3:05 a.m. The suspects loaded two shopping carts with a variety of merchandise, including groceries, 5 HP branded notebook bundles, one Dell branded computer and passed all points of sale and left the premises (unknown vehicle, unknown direction of travel). The total value of the stolen merchandise was in excess of $3,000.00. news-press.com
Numerous agencies respond to Valley Mall, Hagerstown, MD for 'Crisis-Situation' Drill In what might have been the largest one of its kind, police agencies from across the county, as well as fire and emergency medical personnel, came together at Valley Mall Sunday evening for a training exercise to assess their ability to deal with a "crisis situation." Police started departing from a staging area in the parking lot of Petco near the mall shortly after 7 p.m., and the exercise was expected to be completed by 9 p.m., according to Sgt. Jim Holsinger of the Washington County Sheriff's Office. Reporters were not allowed to view the exercise inside the mall in order to keep the tactics used a secret. It was unknown what type of situation was being simulated. Holsinger said the only people who knew about the scenario were the authorities who planned it. Washington County Sheriff Douglas W. Mullendore said in a news release that such exercises are needed to maintain skills among police and other authorities so lives and property will be protected in "active aggressive situations." heraldmailmedia.com
77 arrested in shoplifting crackdown Operation Lightfingers - in Sydey, AU

Philadelphia Police Seeking ATM Gang hitting ATM's all around the city

Skimmers found on ATM'S in Detroit, MI

Mother - Son store owners - Exquisite Boutique busted selling fakes in Orangeburg, S.C.

Woman Accused of Stealing 131 Underwear Garments From Wal-Mart in Cobb County, GA

Man charged in thefts at Kohl's at Green Acres Mall, theft and possession of criminal tools

Athens, GA woman arrested for shoplifting, battery and possession of tools; attempt to pepper spray Belk Loss Prevention agent

Zales Outlet in Williamsburg, VA hit wit a Grab and Run, merchandise valued at $1,850


Robberies and Burglaries
• Arby's - Flint, MI - Armed Robbery
• Cash 4 Gold - Bakersfield, CA - Armed Robbery
• Circle K - Mobile, AL - Shooting
• Cirilla's - Norton Shores, MI - Armed Robbery
• Dollar General - Detroit, MI - Armed Robbery
• Dollar General - Thomaston, GA - Armed Robbery / 3rd in 3 months
• Dollar General - Tulsa, OK - Armed Robbery
• Exxon - Richmond, VA - Armed Robbery
• Family Dollar - Colorado Springs, CO - Armed Robbery
• KFC - Vacaville, CA - Armed Robbery
• Liberty - Columbus, GA - Armed Robbery
• Neighborhood Mart - Waterloo, IA - Armed Robbery
• Quick Food Mart - Wilkes Barre, PA - Armed Robbery
• Rite Aid - Springfield, VT - Robbery w/ hypodermic needle
• Rite Aid - Pittsburgh, PA - Burglary
• Shell - Knoxville, TN - Robbery
• Turkey Hill - Wilkes-Barre, PA - Armed Robbery
• Valero - Port St Lucie, FL - Burglary
• Walgreens - Ocala, FL - Armed Robbery
• Woodland's Pharmacy - Woodland, CA - Robbery
• 7-Eleven - Mechanicsville, MD - Armed Robbery


Featured Job Listings
Sponsored by NuTech National
Feature Your Job Here For 30 Days -
70% Aren't On the Boards
VP of Security
Comcast
Philadelphia, PA
Comcast
Senior Dir Safety/Food Safety/Hazmat
Sears
Hoffman Estates, IL
Sears Holdings Corp
AP Field Dir - Nationwide
Downing & Downing
United States
Downing & Downing
LP Director
Goodwill Industries of the Chesapeake, Inc
Baltimore, MD
Goodwill Industries of the Chesapeake, Inc
Director of LP
A'gaci
San Antonio, TX
A'gaci
Director of LP
Lane Bryant
Columbus, OH
LinkedIn
Director of LP
PacSun
Anaheim, CA
PacSun
LP Director
Don Roberto Jewelers
San Clemente, CA
Don Roberto Jewelers
Director of AP, Corporate
Dollar General
Nashville, TN
Dollar General
VP Supply Chain, LP & Safety
Ross Stores
Ft. Mill, SC
Ross Stores
Director of Safety
Academy Sports & Outdoors

Houston, TX

Academy Sports & Outdoors


Dir, Pharmacy LP
Rite Aid
Camp Hill, PA
Rite Aid
Reg Dir AP
Saks Fifth Ave
New York, NY
Saks Fifth Ave
LP Corporate Sr Mgr
JC Penney
Dallas, TX
JC Penney
Corporate LP Mgr
St. John Knits
Irvine, CA
St. John Knits
Mgr, Corp Security & LP
Canadian Tire
Oakville, ON
Canadian Tire
Regional LP Mgr
Family Dollar
Milwaukee, WI
Family Dollar
Multi Unit LP Mgr
The Great Atlantic & Pacific Tea Co.
New York City
The Great Atlantic & Pacific Tea Co.
LP Manager
Dunkin' Brands
Chicago, IL
Dunkin' Brands
LP Specialist
Alb/Sfy Company
Baton Rouge, LA
Alb/Sfy Company
Supervisor, LP
Ascena Retail Group, Inc
Pataskala, OH
Ascena Retail Group, Inc
Implementation Expert/Project Mgr
LP Software
Worth, IL
LP Software
Sales Representative
NuTech National
Maitland, FL
NuTech National

Limited Time Only - Post Your Multi-Unit LP jobs for FREE - Learn More Here

Daily Job Alerts


Appearing One Day Only
View our Internet Jobs Archives here
LP Manager
JC Penney
Wayne, NJ
JC Penney
Dept Mgr LP & Safety
Lowe's
Granite City, IL
Lowe's
Dept Mgr LP & Safety
Lowe's
Florence, SC
Lowe's
Dept Mgr LP & Safety
Lowe's
Gaithersburg, MD
Lowe's
Dept Mgr LP & Safety
Lowe's
Hillsboro, OH
Lowe's
AP Manager in Training
Walmart
Stockton, CA
Wal-Mart
AP Manager in Training
Walmart
Springfield, IL
Wal-Mart
AP Manager Non Metro
Walmart
Carlinville, IL
Wal-Mart
AP Manager in Training
Walmart
Scottsbluff, NE
Wal-Mart
AP Manager in Training
Walmart
Pennsville, NJ
Wal-Mart
AP Manager in Training
Walmart
Ottawa, OH
Wal-Mart
AP Manager in Training
Walmart
Jacksonville, AL
Wal-Mart
AP Manager in Training
Walmart
Paintsville, KY
Wal-Mart
LP Manager Hrly
Kmart
Concord, NC
Sears Holdings Corp
LP Manager Hrly
Kmart
La Crosse, WI
Sears Holdings Corp
LP Manager Hrly
Sears
Brooklyn Ctr, MN
Sears Holdings Corp
LP Manager
Sears
Saugus, MA
Sears Holdings Corp
ETL Assets Protection
Target
Oswego, IL
Target
District LP Manager
Marshalls
Tigard, OR
TJX Companies
AP/LP Manager
Macy's
Houston, TX
Macy's
AP/LP Manager
Macy's
Camp Hill, PA
Macy's
AP Manager
BJ's Wholesale Club
Revere, MA
BJ's Wholesale Club



Home of the Industry's Original
On the Move

Derrick Scroggins was named Area Loss Prevention Manager for Harbor Freight Tools.
Christopher Shea was promoted to Market Asset & Profit Protection Manager for Sears, Roebuck & Co.

Post Your New Job or Promotion!
See all the Industry Movement

Your Career
Sponsor this section of the Daily
The 10 (and a Half) Commandments of Leadership If you want to unlock your true potential and be as great a leader as possible, then you must first start by being aware of what kind of leader you are now. Here are some directions to help you become the leader you want to be on both the inside and out. Make it count
Absorb These 8 Important Concepts to Become a Great Leader Leadership is a skill that can be constantly developed and honed over a period of time. There is always room to become a better and more efficient leader. Here are eight important concepts that will help you be an even better leader. No loose lips
Last week's most popular articles--

7 Ways to Increase Your Charisma
What happens when you leave a positive and long-lasting impression on someone? The world just opens up to you, and the possibilities are endless. This talent is defined as "charisma" and it can be quite easy to learn and develop, and there lies great power in having this trait. Be alert
7 Elements of a Great Company Culture Your company's culture could make the difference between success and your employees wanting to jump ship. Building a strong culture allows you to stand apart from the competition and certainly makes work easier. Here are must-haves in your culture. Cool space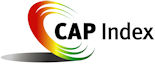 Tip of the Day
Sponsored by Vector Security
We've all got great ideas and plans. The problem lies in putting them together, rolling them out and maximizing speed to market. Making it happen quickly and efficiently - that's the key to success. The first obstacle is always fear of risk. Making an idea a reality requires risk taking and sometimes you've just got to make it happen if your inner self, or the bird on your shoulder, tells you it's the right thing to do. I was writing this e-newsletter for a year before one morning in 2010, on March 25, I walked in and just said hey we're doing it. Yes, I was absolutely fearful of all the critics and naysayers, but I took the risk and made it happen. There will always be torpedoes in the water and sometimes they hit. But to make things happen you've got to jump in the water and swim as fast as you can.
Just a Thought,
Gus





Upcoming Events
---
Recruiting?
Get your job e-mailed to everyone... everyday
Post on our Featured Jobs Board!
Reach your target audience in 2015 every day!
Request our 2015 Media Kit
update account / change e-mail
unsubscribe FEEDBACK
www.downing-downing.com

Advertise With The D&D Daily




36615 Vine Street, Suite 103
Willoughby, OH 44094
440.942.0671
copyright 2009-2019
all rights reserved globally