NRF LP Advisory Council conference planning committee works year round to deliver the most value to the industry's best and brightest and this year they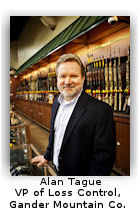 delivered. Led by Alan Tague, the committee's chairman and Vice President of Loss Control for Gander Mountain, this committee works year round with the entire NRF team on helping to orchestrate the speakers and content for the three days of sessions. The hundreds of hours invested in making sure the attendees, fellow senior LP executives and solution providers alike, are educated, informed, entertained, and come together as a community is an absolute huge commitment for every single committee member and especially for all of the NRF team members. The committee's voluntary work usually goes by unnoticed and underappreciated. As it is a monumental task and responsibility that each year dozens of senior LP executives take part in, we at the Daily merely wanted to take a moment to recognize them and thank them for this voluntary effort. We all know the difficulties and strains of voluntary assignments and to be able to orchestrate such a task is a feat. One that deserves recognition. So on behalf of the Daily we'd like to thank Alan Tague and his committee members:

2013 NRF Conference Planning Committee

Chairman:
• Alan Tague - VP, Loss Control, Gander Mountain Company
Vice Chairs:
• Steve Ippolito – Director, Loss Prevention, The Talbots Inc.
• Kelly Gorman – VP Loss Prevention, Petco Animal Supplies
Members:
• Richard Mellor - VP, Loss Prevention, National Retail Federation
• Gary Johnson - VP, Loss Prevention, Vitamin Shoppe, Inc.
• Dan Faketty - VP, Asset Protection, Winn-Dixie
• Melissa Mitchell - Director, Loss Prevention and Inventory Control, LifeWay Christian Resources
• Stephen Scott - Director, Loss Prevention, Tractor Supply Company
• Ned Ludlow - Vice President, Loss Prevention, Williams-Sonoma Inc.
• David Shugan - Director, Loss Prevention, Carter's, Inc.
• Gregg Smith - Director, Loss Prevention, The Children's Place Retail Stores Inc.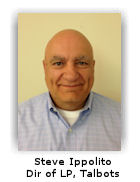 We would also like to formally announce Steve Ippolito, Director of Loss Prevention for Talbots as the new Chairperson for the NRF LP Advisory Council's conference planning committee. Alan Tague will move on to a leadership role as Vice Chair to the NRF LP Advisory Committee. Thanks Alan and good luck to Steve. And for those that Steve will be calling on over the next year, remember, it takes a community to grow individually.

Italian designers Dolce and Gabbana convicted of tax evasion. Fashion designers Domenico Dolce and Stefano Gabbana were handed a 20-month suspended prison sentence and a heavy fine on Wednesday for hiding hundreds of millions of euros from the Italian tax authorities. The design duo, who are nearly as famous as the stars they dress, were not present in court in Milan and will lodge an appeal against their conviction on charges that they have always denied. Public prosecutor Gaetano Ruta had asked for a two-and-a-half year jail term. However, the two designers will have to pay 500,000 euros as a first installment of a fine that could reach 10 million euros ($13.4 million). (Source wsj.com)
7-Eleven Cracks Down on Franchisees After Federal Authorities Seize 14 Stores
The corporate office of 7-Eleven told its 5,600 franchise owners of the chain's convenience stores on Thursday that it was requiring an internal review of personnel files after federal authorities seized 14 stores in New York and Virginia this week that employed undocumented workers in a "modern-day plantation system." In the letter to franchise owners sent on Thursday, 7-Eleven's chief operating officer and executive vice president, Darren Rebelez, explained that field consultants and market managers will conduct reviews on site to evaluate compliance. Incorrect or incomplete I-9 forms could result in fines from governmental agencies of $110 to $1,100 per I-9 form, Rebelez told franchise owners. "More importantly, you could face criminal liability if you are found to have knowingly employed individuals who are not authorized or eligible to work in the United States," he said. Franchise owners have until the end of June to conduct internal I-9 reviews and field consultants will visit stores starting July 1, Rebelez said. A spokeswoman for 7-Eleven previously said it "will take aggressive actions to audit the employment status of all its franchisees' employees" and pledged full cooperation with the federal probe. After initial court appearances by eight of the nine defendants, they were ordered to be held without bail. Their next court appearances are scheduled for July 15. (Source yahoo.com)

Pilot Flying J senior management was aware of fuel rebate scheme in the millions Senior Sales Director says in his plea agreement that Pilot Flying J senior management were aware of fraud scheme that saved the company millions and increased the sales teams commission. "[Stinnett] knew his actions were dishonest. His actions were done out of loyalty to Pilot for the purpose of increasing the company's profitability and members of Pilot senior management were aware of the rebate reduction scheme," the unsealed plea agreement states. According to WKYC-TV, federal authorities are perhaps working their way up the ladder of Pilot Flying J corporate management. As CSNews Online reported, CEO Jimmy Haslam has repeatedly denied he had any involvement in the rebate fraud. (Source csnews.com)

Claims Against Retailers Prompt FTC Investigation of Patent Trolls The head of the Federal Trade Commission today said she plans to launch an investigation into "patent trolls," and cited frivolous lawsuits against retailers as part of the reason for the probe. Lawsuits are no longer filed primarily against IT firms," Chairwoman Edith Ramirez said. "Retailers and financial services providers that incorporate software into their products and services are now common targets. Even hotels and coffee shops are not immune." "Many retailers and small businesses are now finding themselves victims," Ramirez told the group. Statistics show that 50 percent of patent troll suits are now filed against companies outside traditional high-tech fields, with retailers the most common target." Patent trolls are firms that buy old, obscure patents from inventors, then make millions by threatening to sue companies that use the technology involved unless they pay a licensing fee (Source nrf.com)

EEOC criminal background check rules face test in court cases against Dollar General and BMW Remember the Equal Employment Opportunity Commission's strong warning to companies about the problems that could arise from the use of employee criminal background checks? The agency has planted the flag on two federal lawsuits that claim the practice resulted in discrimination against workers. The Chicago case is based on discrimination charges filed by two rejected black applicants for jobs at Dollar Store locations. The EEOC alleges that Dollar General conditions all of its job offers on criminal background checks, which results in a disparate impact against blacks. According to the EEOC, one of the applicants who had filed a charge with EEOC was given a conditional employment offer, although she had disclosed a six-year-old conviction for possession of a controlled substance. Her application also showed that she had previously worked for another discount retailer as a cashier-stocker for four years. Nevertheless, her job offer was allegedly revoked because Dollar General's practice was to use her type of conviction as a disqualification factor for 10 years. (Source hrmorning.com)

Warrantless email snooping banned in Texas as Gov. signs law requiring law enforcement to obtain warrant to read e-mails Texas has become the first state in the nation to require law enforcement to obtain a warrant to read people's email, and privacy advocates are hoping the move will help quicken the passage of a similar proposal in Congress. While the Lone Star state is the first, it is unlikely to be the last to pass such a law. The California Legislature is considering a bill barring warrantless email surveillance and snooping on messages and profile information stored on social networking sites like Facebook and Twitter. (Source csoonline.com)

The UK releases its "Crimes against businesses: Detailed findings from the 2012 Commercial Victimisation Survey" covering the retail sector in the UK This is the second release of data from the 2012 Commercial Victimisation Survey (CVS), which further examines the extent of crime against businesses in England and Wales. The CVS was a recommendation from the National Statistician's review of crime statistics to address the significant gap in crime statistics that existed for crimes against businesses, not covered by either of the two main sources of data on crime in the UK. The 2012 CVS was a premises-based survey focused on four industry sectors: manufacturing, wholesale and retail, transportation and storage, and accommodation and food. (Source gov.uk)

Judges Order California to Free Prisoners - Watch out retailers! The three federal judges wrote in a 51-page order that regardless of any existing local laws, the governor must immediately take steps to release prisoners, perhaps by expanding good-behavior time credits that would allow inmates to finish their sentences early. Judges said they expected the prison capacity to be down to 137 percent — roughly 110,000 inmates — by the end of the year. The prisons are currently at 150 percent capacity, nearly 10,000 short of the order, according to the state. Two years ago, the Supreme Court ruled that the current state prison system amounted to cruel and unusual punishment and demanded changes to improve health and living conditions for prisoners. (Source nytimes.com)

"Operation in Our Sites" seizes more than 1,700 domains since June 2010 breaching intellectual property rights Under the program, implemented by the nation's first and only IP czar Victoria Espinel, federal authorities are taking .com, .org, and .net domains under the same civil-seizure law the government invokes to seize brick-and-mortar drug houses, bank accounts, and other property tied to alleged illegal activity. The feds are able to seize the domains because VeriSign — which controls the .net and .com names, and the Public Interest Registry, which runs .org — are U.S.-based organizations. Under U.S. civil forfeiture laws, the person losing the property has to prove that the items were not used to commit crimes. After the domain names have been seized, they are processed for forfeiture to the United States. The Operation has resulted in 14 arrests and over $3 million seized," Espinel wrote in the report that was delivered today to Congress and President Barack Obama. (Source wired.com)
Owner of German telecommunications company pleads guilty in U.S. Fed court to tens of millions in losses he caused in telephone fraud/hacking Pleading guilty or his role in a sophisticated hacking scheme that used telephone lines of large corporations around the world to make unauthorized calls to international chat lines costing firms ten of millions in losses. Authorities, citing court documents and statements, said Uelpenich, 44 – who was arrested in January 2012 – conspired with others to profit by causing unauthorized calls to be made to Revenue Share Numbers, which are also known as international premium numbers and offer services like adult entertainment on a cost-per-minute basis. The scheme, authorities said, involved theft of cell phone service or theft through a process known as "PBX hacking," in which hackers invaded telephone systems of businesses and placed calls to those systems in an attempt to identify phone extensions not in use. The phone systems, which were illegally reprogrammed by hackers, were used to make long distance calls that were charged back to the victim corporations, creating virtually "free" telephone lines. The "free" lines phoned Revenue Share Numbers controlled by defendant Uelpenich and others, authorities said. (Source nj.com)

GSI Commerce enters a new era as eBay Enterprise The name change heralds the immersion of GSI as a more deeply integrated part of the overall technology and services of eBay, offering retailers a broader range of multichannel capabilities. "We're delivering our clients greater omnichannel capabilities," he said in a blog post today. "For example, we expect that by the end of 2013 more than 30 of our clients will have stores on the eBay Marketplaces platform, creating an additional distribution channel to help grow their businesses. Also, by the end of this year, we expect PayPal coverage to extend to over 90% of our client volume. (Source internetretailer.com)

U.S. security expert says surveillance cameras can be hacked Craig Heffner, a former software developer with the National Security Administration who now works for a private security firm, said he discovered the previously unreported bugs in digital video surveillance equipment from firms including Cisco Systems Inc, D-Link Corp and TRENDnet. It's a significant threat," he said in an interview. "Somebody could potentially access a camera and view it. Or they could also use it as a pivot point, an initial foothold, to get into the network and start attacking internal systems." (Source yahoo.com)

Only in the movies - Bronx "6 Wild" gang busted hitting drug dealers twice a month since 2011 Authorities have arrested eleven men who were allegedly part of a Bronx gang that committed violent robberies of drug dealers then posted photos of their spoils on Facebook. The men, ages 19 to 24, were part of the 6 Wild group that operates in Morrisania, and committed at least two robberies a month from June 2011 to June 2013. Under gang leaders' direction, a female would befriend the intended victim in advance of the planned robberies and learn what she could about drugs, money and the best time to strike. Then, on the day of a robbery, the same female associate helped the robbers gain entry, in some cases texting the robbers from inside the target location. The robbers carried stolen bags by designers Gucci and Louis Vuitton to the robbery locations in order to transport the loot. (Source gothamist.com)

GPS tracks down man stealing $500,000 in wine in tractor trailer theft Miami man almost got away with $500,000 of imported wine, but a GPS unit inside a 53-foot semitrailer led authorities straight to the suspect, according to a Florida Highway Patrol arrest report. (Source sun-sentinel.com)

STA and TSA Team Up to Put Safety First
Since 2010, the Spokane Transit Authority and Transportation Security Administration team have been working together to keep safety a priority among US citizens. On Friday two federal officers, the TSA K9 team, and two STA officers will roam the STA plaza and park and rides throughout the county to work on enhancing security, part of the Visible Intermodal Prevention and Response. The goal of the VIPR teams is to "enhance security by working in mass transit, aviation, rail, maritime and other transportation modes alongside state and local law enforcement agencies during major events or as a random deterrent," says TSA spokesperson Lorie Dankers. Patrolling the park and rides will give security officers a chance to become familiar with how many people are on board the vehicles and the way these vehicles are designed. It is unknown what the officers are looking for and which busses will be visited. (Source privateofficernews.com)

Quarterly Same Store Sales Results

CarMax 1Q up 17% with revenue up 19%
Pier 1 Imports 1Q up 6% with revenue up 9.3%
Darden Restaurants 4Q up 2.2% with revenue up 11% (Olive Garden, Longhorn, and Red Lobster)


Retail Crime News
---
Florida man sentenced in Counterfeit China-made Gillette razors scam; over $400,000 ordered in restitution. Jeffery Telsey was accused of selling counterfeit Gillette razor blades, imported from China, to a regional retail store in Grand Rapids and other businesses across the nation. U.S. District Judge Janet T. Neff sentenced the defendant to 30 months custody followed by three years of supervised release. Telsey was ordered to pay $400,506.17 in restitution and a $25,000 fine. In January 2008, Homeland Security Investigations learned that counterfeit Gillette Mach3 razor refills were being distributed through Meijer Stores. Meijer Stores conducted a company-wide recall of the Gillette razorblades to confiscate the counterfeit product. (Source broadcasteverywhere.com)

2 men sentenced - 30 days in jail - for wearing masks in Va. theater and causing a panic Two 20-year-old Norfolk men will each spend 30 days in jail for wearing clown masks in a Virginia Beach theater and scaring patrons. Prosecutors say Newton and Washington caused a panic when they walked into the Regal Columbus theater on Oct. 8, 2012, wearing clown masks. The incident occurred just months after a gunman killed 12 people and injured 70 others at a theater in Colorado. Media outlets report that the charges were reduced Tuesday to misdemeanor disorderly conduct. Each 20-year-old Norfolk man was sentenced to six months in jail with five months suspended. (Source seattlepi.com)

2 armed robberies early Friday in Lexington might be linked Two Lexington gas station convenience stores were robbed at gunpoint early Friday, and similar items were stolen from store. (Source kentucky.com)

Suspect in 5 armed robberies in Ft. Myers, FL., turns himself in "I think the constant pressure got to him, because he knew we were looking for him," Yates said. He had left his fingerprints at one robbery and shot a customer at another. He's being looked at for five different robberies in the county at primarily gas stations. (Source abc-7.com)

Reward Offered For Info On Hard Rock Hotel & Casino Warehouse Burglary The burglars made off with Apple TV3 Network Players, JVC and Vivitar Camcorders, 32" Samsung TVs, WII Gaming Systems and hundreds of cases of premium liquor from the Seminole, FL., Hard Rock Hotel & Casino warehouse. The truck was later found abandoned. (Source cbslocal.com)

U.S. Marshalls arrest 3rd suspect in York, PA jewelry store shooting. A third suspect has been arrested for a York County jewelry store heist last summer where both the store owner and a robber were shot. Jesse A. Brewer, 38, of Queens, N.Y., was taken into custody in New York City by U.S. Marshals on Thursday, according to York Area Regional police. Brewer has been charged with the July 12 robbery at White Jewelers in York Township, as well as the attempted homicide of store owner John White. Police said he is the third and final actor involved in the heist. The store owner, John White, was wounded by gunshots to his left arm, chest, and stomach. (Source wgal.com)
Suspect sought in Houston dollar store robbery Crime Stoppers of Houston and investigators with the Harris County Sheriff's Office are searching for a male suspect responsible for a recent aggravated robbery at an area dollar store. Surveillance video shows the suspect hiding in the back storage room until a female victim, mopping the floors, enters the frame. The suspect approaches the victim wielding a handgun and demands cash from the store's safe. The suspect then led the victims into a back storage room, where they remained as he fled the scene. (Source click2houston.com)
Springfield shoplifter stealing shoes pulls a gun on a JC Penney LP Agent. A Springfield man is facing charges after allegedly pulling a gun on a store employee after being busted for shoplifting. Police say they used surveillance video to identify and arrest Robert L. Ruffner Jr., 32, now charged with 1st degree Robbery and Theft. Ruffner tried to steal two boxes of Nike brand tennis shoes from the JC Penney store at the Battlefield Mall on Saturday, June 15. The Loss Prevention agent tried to stop him between exit doors grabbing his arm, Ruffner displayed a gun and pointed it at the employee's chin. The agent told police Ruffner then said, "I don't wanna hurt you man." The agent let go, and put his hands in the air. Police caught up with Ruffner on Tuesday and say he was wearing the same stolen shoes at the time of the arrest. Police then found two black CO2 BB pistols. (Source ky3.com)

Grab and run jewelry thief hit a second store in Johnstown, Pennsylvania. As reported on June 17th, Shane Neisner was arrested after stealing a $6000 ring from the Littman Jewelers in the Galleria Mall. Now it has been reported that Neisner was also responsible for the theft of a $4000 ring stolen from Sears in the same mall. Neisner was apprehended after selling the $6000 for $300 dollars. He only got $100 for the $4000 ring. (Source wjactv.com)

Blood evidence in an air vent leads to convenience store arrest. Palm Beach County Sheriff's Office has arrested Aaron Taylor for a convenience store burglary based on blood evidence found in an air vent that Taylor had crawled through. Taylor, a convicted felon had his DNA already in the criminal database. (Source sun-sentinel.com)

Shoplifter in Tehma County, California destroys the inside of a Police car. Nevin Smith was arrested for shoplifting by the Tehama County Sheriff for stealing a few items from the Sunshine Food and Gas station. Smith was being charged with burglary and placed inside the patrol car. Smith resisted, then once inside the car kicked the door panels doing damage to the vehicle. Smith now faces additional charges of resisting arrest and felony vandalism, bail was set at $68,000. (Source redbluffdailynews.com)

Oklahoma Man steals a 50 inch TV from Walmart, then offers residents money to hide him from Police. Edmond Police responded to the theft of a television from the Walmart store. Police saw two suspects in a vehicle leaving the Walmart parking lot and attempted to stop it, but the suspects failed to yield. The suspects stopped their truck, one stayed in the truck and was quickly arrested the other ran into the home of three females, offering them money to hide him from police. When they refused the suspect ran from the home but was arrested after a short foot chase. (Source edmondsun.com)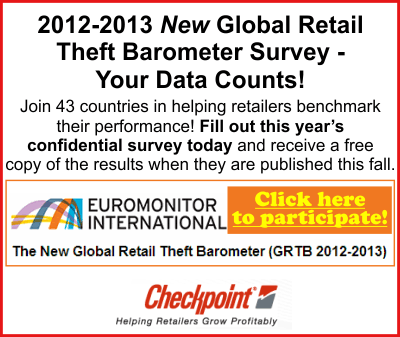 To investigate ORC effectively, think beyond the norm
By Jennifer Overstreet

Solving organized retail crime cases sometimes requires a little outside-the-box thinking. Rather than a boots on the ground approach, you'll probably need spreadsheets, reports, lots of data and a convincing presentation to law enforcement.

On a panel at NRF's Loss Prevention Conference & EXPO, Mark McClain, Director, Global Investigations, Walmart Stores, Inc.; Gail Morris, Regional Loss Prevention Manager, Williams-Sonoma; and Tony Sheppard, National Manager, ORC Unit, CVS Caremark shared some tips and insights about how to use various tools to solve ORC cases.
A few years ago, Williams-Sonoma noticed something fishy going on with their $80 salt shakers and equally expensive pepper mills. Multiple returns to multiple credit cards belonging to the same two people were popping up in several stores. Nobody had seen a crime being committed, but Morris was able to piece together data from various systems to build multiple spreadsheets and reports that, when put together, revealed the extent of the crimes and possible next targets. These were no small-time crooks. The criminals had hit 39 states and 500+ malls. This was their full-time job and they were responsible for hundreds of thousands of dollars of thefts over a three-year period. Armed with a slew of data and reports, Morris presented the case to a task force and worked in partnership with them through the investigation and up to the arrest.

This "Salt and Pepper Caper", as it became known, is an illustration of successfully using the tools at your disposal to crack a difficult case. But many times, it's difficult to get a convincing case together and get law enforcement to take it on. McClain shared a few tips for working ORC cases successfully:
| | |
| --- | --- |
| 1. | Know the tools available to you. Be aware of the data available to you from point of sale reporting, SQL queries, gift card history and other sources. You'll have to follow the data. |
| 2. | Think outside your store. It's likely that you're not the only store being targeted, so pool your resources and your information. Other retailers might be able to provide tools, technology and even expertise or skills you don't have on your own team. |
| 3. | Evaluate and elevate the capabilities of your team. A lot of the work it takes to solve an ORC case is behind a desk analyzing data, so having someone on your team or working with a partner who understands data analysis, statistics and predictive analysis is helpful. |
| 4. | Build and retain partnerships. This is one thing you can't do from the office. Get to know those in law enforcement and fellow retailers so you won't be starting from scratch when you need help. |
Pawn Shop Owner and Theft Ring Leader plead guilty in Federal Court in Charleston; $1 Million in stolen goods. Eugene Walter Jones the owner of Patriot Pawn faces a maximum of five years in prison, although he won't be sentenced for a few months. Jones signed a plea agreement with federal prosecutors three weeks ago that binds him to also cooperate with investigators. There are still several co-defendants in the case. Jones was the leader of the conspiracy that went on between 2007 and 2012. "eBay notified the U.S. Secret Service they believed Jones was selling stolen goods," Assistant U.S. Attorney Rhett DeHart said. Jones recruited shoplifters to steal different products, including vacuum cleaners, computer software and kitchen appliances, from stores that included Lowe's, Walmart and Home Depot. (Source postandcourier.com)

Fifth Suspect in $218,000 Macy's Gift Card Scheme Arrested The alleged ringleader of a Macy's gift card scheme that targeted 41 stores, including the Montclair Plaza location, has been nabbed in Las Vegas. Duenas was wanted in connection with the alleged theft of gift cards valued at $218,000 from Macy's stores across California, authorities said. Authorities have been searching for him since 2012. (Source claremont-laverne.patch.com)

Hair extensions the focus of another burglary in Baltimore. Video surveillance captured the latest smash and grab of human hair extensions form the Beauty Island store in Baltimore County. The front window of the store was smashed out and Police believe the suspects got away with 80 packages of human hair extensions valued at $20 to $100 per item. (Source abc2news.com)
Getaway driver jumps out with gun threatening employees in pursuit
A man grabbed an armful of slacks of rack and runs to an awaiting car. Two employees started chasing him only to be threatened by gun wielding getaway car driver in Charlotte, N.C., "Social Status" retail store. (Source wbtv.com)

ORC San Antonio man busted for hitting various Target stores throughout San Antonio Man identified as 31-year-old Daniel Rodriguez accused of targeting Target stores in a series of shoplifting cases that began in April. San Antonio police said someone stole electronics on at least five different occasions from various Target stores throughout the city. An arrest warrant affidavit stated that in several cases, witnesses reported seeing the shoplifter drive off in a white van with the words, "Spa Pro," on the side. (Source ksat.com)
Police arrest 3 on ORC theft charges in Longview, TX., Wal-Mart Three men were jailed Thursday on theft charges after Kilgore police say they were shoplifting together. Kilgore police responded to a theft call shortly after 8 p.m. Monday at Walmart in the 1200 block of Stone Road where the store's loss prevention associates had detained the men. Police arrested Jonathan Stanley Allen, 18, and Justin Jordan, 18, both of Gladewater and Aaron Michael Duncan, 19, of Kilgore. The men are being held on $2,500 bond each on charges of organized retail theft. (Source news-journal.com)


ORC? Mahoning, PA., police seek pair of Walmart shoplifting suspects Mahoning Township police have charged three people in connection with a May 7 shoplifting at the township Walmart. Two of the suspects also are charged with an attempted theft Tuesday at the store. Only one of the three has been arrested. (Source mcall.com)

Boxstuffers hit Toys R Us in Burbank
Three men were arrested after allegedly stealing thousands of dollars worth of Pokemon and Yu-Gi-Oh! trading cards from the Toys R Us in Burbank. On Firday noght the three entered the store to buy a Little Tikes basketball hoop that was stuffed with 105 packs of Pokemon, Yu-Gi-Oh!, Magic and Kaijudo trading cards and four sets of ear buds. In their truck, police discovered a second basketball hoop box filled with $3,900 worth of stolen trading cards and other Toys R Us items. (Source burbankleader.com)

ORC male duo busted hitting Target stores in Detroit Livonia police arrested a pair of men Monday evening they say are wanted in connection with several shoplifting incidents at Target stores across Metro Detroit. Police were called to the Target at 29451 Plymouth Road after security at the store saw two men leave the store with a cart full of merchandise. The cart contained duffel bags full of ink cartridges. After examining some of the ink cartridges, police and Target determined that some were from another Target store. It was determined, with the help of Target security, that the men were wanted in connection with up to 15 retail frauds at other Metro Detroit Target stores. (Source hometownlife.com)

Gainesville PD arrests 3 men trying to recruit homeless men to steal cellphones from Wal-Mart Three men were arrested Monday night after they were accused of trying to persuade homeless men to steal cellphones from Wal-Mart. A Wal-Mart loss-prevention officer alerted GPD that another man was trying to make a suspicious cellphone purchase, and officers traced the scheme back to the three suspects. (Source alligator.org)

One of an ORC trio gets max+ jail sentence for $100,000 coupon fraud and price switching scheme at Wal-Mart in Jackson, MI. She and two others were accused of working together to use coupon fraud and improper price matching to bilk the Walmart on W. Michigan Avenue of what detectives earlier estimated was more than $100,000 in merchandise. The Blackman-Leoni Township Department of Public Safety seized and cataloged hundreds of items worth about $30,000 and acquired during about a month-long period. These were then returned to Walmart. Those who perpetrated the fraud would go to the store three or four times a day. Walmart security staff watched hours and hours of surveillance tape and brought detectives possible suspects. Working with Detective Robert Shrock, the suspects were identified, and police searched two homes. In one of the homes, officers found a make-shift store in the basement. (Source mlive.com)
Two sentenced in Lafayette in credit card fraud scheme Both men were charged with conspiracy to possess counterfeit credit cards after they were caught in September using fake cards to purchase Wal-Mart gift cards and sentenced Wed. to 10 months in federal prison. (Source theadvocate.com)

The Dallas Sheriff's Department is hosting a "roundtable" discussion on Organized Retail Theft and its economic impact on state and local governments. A presentation by Charlie Tyner, Div LP Manager for Kroger, followed by an open table dialogue on retail theft. Refreshments will be provided by the National Retail Federation. The cost is FREE.
July 22, 2013
8:30 am - 11:30 am
Dallas County Sheriff's Academy,
Bill Priest Building
1402 Corinth St. Dallas, TX 75215

Contact training for more information and to register
at 214-653-3496