The D&D Daily Mobile Edition
July 10,

2015



The LP Industry's #1 News Source - Informing, Educating and Instilling a sense of community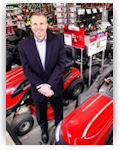 Will Powell - former LP executive - promoted to CEO & President at Sears Hometown and Outlet Stores, Inc. Will was previously Chief Operating Officer for Sears Hometown and Outlet Stores. He has been with Sears Holdings Corp. since 2003, when he joined the organization as Director, Loss Prevention Operations. Prior to that, Will held other senior-level loss prevention roles, including Director of Corporate and Distribution Loss Prevention for Office Max and Regional Manager, Loss Prevention and Safety for Builders Square. He holds a Bachelor of Science degree in Business Administration with a concentration in Finance and Management from the University of Richmond - Robins School of Business. Congratulations, Will!

News Brief
Sponsored by WG Security Products, Inc.
Isn't It Time to Stop Selling Confederate Flags?
With South Carolina's decision yesterday and now Republicans backing off allowing them at national cemeteries isn't time retailers rethink the issue of even stocking them on their shelves. Given the consumer backlash we've seen on mere t-shirts with controversial symbols, it's time the entire retail industry consider taking a stance on the most inflammatory and racially driven symbol of all - the confederate flag. With Wal-Mart, Amazon, Sears, and eBay deciding not to sell Confederate flags, wouldn't it be great if the entire retail industry took the stance and ended this. It's time this nation and its retailers wiped out any and all forms and symbols of a time that represented our darkest moment in history as a nation. Is anyone even discussing it? Just a thought
Report says NYPD's stop-and-frisk strategy still has problems - Undercounting Stops - does that create risk for retailers?
New York Police Department Is Undercounting Street Stops, Report Says. Some New York City police officers have been stopping people for questioning but not documenting the encounters as required, calling into doubt the official accounting of a significant decline in stop-and-frisk activity, according to the first report of the federal monitor overseeing the Police Department. The finding is included in an 87-page report that was filed on Thursday morning in Federal District Court in Manhattan by the monitor, Peter L. Zimroth, who was assigned to carry out the court's orders after its 2013 decision finding the department's stop-and-frisk tactics to be unconstitutional.
The report also addresses new training and revisions to the policies that guide how stops are used, as well as the court's call for greater involvement of supervisors in making sure stops are constitutional and free of racial bias, and the use of body cameras.
The revelation about undercounted stops reflects the challenges city police leaders face in altering officer behavior and repairing tears in police-community relations. To address problems in how stops are being conducted, the department needs accurate measurements - a task that has proved to be challenging for the Police Department.
nytimes.com
Wal-Mart Pays $5M To Settle Sales Tax Class Action and change return policy
Plaintiffs in a proposed class action accusing Wal-Mart Stores Inc. of shortchanging customers by applying lower sales tax rates to refunds urged an Ohio federal judge Wednesday to approve a settlement in which the retailer will reimburse the proposed class $5 million worth of store credit and change its return policy. The $5 million settlement fund will cover attorney costs and provide each potential class member with a gift card worth at least $3, but potentially up to $15 depending on the class size, redeemable at any Wal-Mart or Sam's Club store, according to the settlement agreement.
Wal-Mart also promised to implement an electronic system that will automatically calculate the applicable sales tax refund when an item is returned to a store with a different tax rate than where it was purchased by Nov. 1, 2016, according to the deal.
Ohio allows counties to levy additional sales taxes, and after Brandewie and Newbrough each made several purchases at Wal-Mart then returned them to other locations, they were not given their full refunds. All of the discrepancies described in the complaint were for less than $1.
law360.com
Bad news and good news in June sales
Although overall sales suffered a year-over-year decline in June 2015, retailers can take solace in the fact the consumers who were shopping spent more money. According to RetailNext's Retail Performance Pulse report,
June experienced a 3.3% year-over-year increase in sales per shopper, one of the strongest performances in any month of 2015 so far
.
However, sales declined 6.1% and store traffic decreased 9.1%. In addition, transactions fell 7.7%. Sales per shopper managed to rise due to a 0.4% increase in conversion rate and 1.9% increase in average transaction value.
The strongest day for most metrics in June occurred the Saturday before Father's Day, June 20. The lowest sales per shopper and conversion performance occurred Saturday, July 4. Excluding the July 4 holiday, the lowest conversion and sales per shopper occurred Monday, June 12.
chainstoreage.com
June Same Store Sales Results

Gap Inc. comp's down 1%, Gap Global: down 5%, Banana Republic Global up 1%, Old Navy Global up 1%
All the news - One place - One Source - One Time
The D&D Daily respects your time
& doesn't filter retail's reality
Report Your News!
(content subject to approval)




New digital screens boost sales and security at IGA stores A digital advertising system designed to boost retail sales and fight shoplifting will make its debut at a large independent Quebec supermarket next week. Designed and developed by Montreal-based Integral Security Solutions, the Impax Media system revolves around double-sided, high-definition digital monitors. Mounted on retractable gates near checkout counters, the monitors display branded ad content and customized messaging such as news, recipes and in-store promotions that shoppers can watch while waiting at the checkout. When lowered, the monitors block access to closed checkout lanes.

"Our system is first and foremost a loss prevention device that deters people from exiting where they shouldn't," explained company president Stephen Kucer. "It also helps to increase spontaneous purchases by creating a want and demand among people in the checkout line, which is the holy grail for advertisers because they have a captive audience for nearly three minutes on average." An added bonus, noted Kucer, is that there's no purchase or installation costs for merchants.

Revenues will instead be generated from the ad sales to national marketers who Kucer said are eager to display their wares in the 12 segments that will be displayed on the monitors in repeating three-minute loops.

"Blocking closed lanes with monitors that display ads will be a nice change from having to use chains and shopping carts." canadiangrocer.com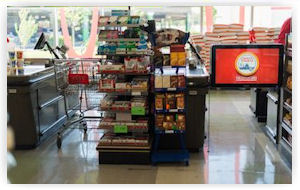 IoE's strongest customer-facing tool in a retailer's arsenal - is digital signage The number of endpoint solutions available to retailers combined with the IoE can help retailers make more informed decisions to tailor the customer experience -- and the strongest customer-facing tool in a retailer's arsenal is digital signage, given it can be tailored in real-time to maximize profits. According to the International Data Corp., the use of digital signage in retail outlets will grow from $6 billion in 2013 to $27.5 billion in 2018 for a 35.7 percent five-year compound annual growth rate, showing the importance brand outlets place on digital signage and their interactive capabilities.

76 percent of consumers have entered a site because the sign was interesting, while an additional 75 percent of consumers have told friends about a store simply because they were impressed by the signage. Finally, 68 percent of Americans made purchases of a product or service because of the appealing nature of the digital signage.

Some of the technologies that interact with digital signage through the IoE to deliver the tailored customer experience expected include integrated camera and beacon technologies. retailcustomerexperience.com

21.5 million SSNs stolen in second OPM breach, along with fingerprints and background info - On Background Checks - Is Your Provider Protected? The second data breach at the U.S. Office of Personnel Management (OPM) compromised the background forms and Social Security Numbers (SSNs) of 19.7 million individuals, as well as 1.1 million fingerprints. With background forms listing a hefty amount of personal information, an additional 1.8 million non-applicants, including spouses or cohabitants, had SSNs compromised as well, OPM wrote on its website. Most had undergone background investigations through OPM in 2000 or later. SF-86, SF-85 and SF-85P forms were included in the compromised data, along with findings from background interviews and usernames and passwords applicants used to fill out their forms. The prior breach affected 4.2 million current and former federal government employees, and data breach notifications were already sent to all victims. How does this impact the industry conducting background investigations long term? And are the retailers really investigating their third party provider's security measures? scmagazine.com

Competition, Omnichannel Costs Have Execs Losing Sleep The risk is that companies get set too much in one way of doing things or one direction, in a way that does not [give] them enough flexibility to react to things as they emerge," added Hana Ben-Shabat, a retail consultant at A.T. Kearney. "Things are changing every day. There are new technologies, things you can do with technologies, ways you can attract consumers. All these things are changing. Going forward, flexibility is really going to be the name of the game." wwd.com

CIOs Will Have to Defend Cybersecurity Policies in Court and maybe in Congress Time to lawyer up, CIOs. CIOs generally should expect to be sued in increasing numbers over cybersecurity issues, one attorney says. Key to a good defense will be to demonstrate a methodical, attentive approach to conceiving, installing, monitoring and adapting cybersecurity measures. Although CIOs may be sued, they may not be judged liable if they can show proof of carrying out these fiduciary responsibilities. CIOs and other C-level executives will increasingly be held accountable in court and other public venues. Michael Kingston, CIO at Neiman Marcus Group, testified to Congress in 2014 about a breach at the retailer. Beth Jacob, former CIO at Target Corp., did not testify about that retailer's 2013 breach of 40 million customer accounts, but Target CFO John Mulligan did. Ms. Jacob ultimately resigned from Target last year. wsj.com

Threat intelligence survey: 43 percent only share info internally While 43 percent of security professionals said that they only share information about threats they discover at work internally, a much larger showing, 81 percent, called for more government-to-private sector sharing, a new survey said. Organizations likely chose to keeping threat intelligence to themselves because "people are unwilling to expose sensitive information about their company, therefore restricting the sharing of intelligence to only those parties it trusts," the survey explained. The report also argued, however, that there are still ways to share threat intelligence without exposing confidential data, including disclosing hash values, domain names and suspicious IP addresses to outside parties that might also be vulnerable to similar threats. While 43 percent of respondents said they shared threat intelligence only within the organization, 40.2 percent said they would share such information with "trusted peers" or the "closed community." Around 20 percent of participants said they shared threat intelligence with the government sector, and only 7.6 percent (25 respondents) said they publicly shared threat intelligence. scmagazine.com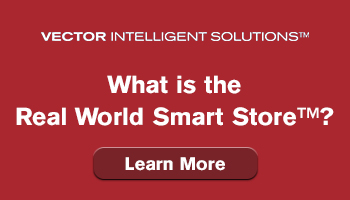 Op/Ed



4 Reasons Why Customer Counting Should Be Part Of Your Loss Prevention Solution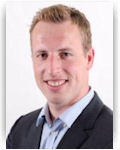 By Wouter Ubbels
Manager Channel Sales & Partner Network Americas, Nedap Retail

Customer counting or visitor management are usually not the first words that come to mind when thinking about loss prevention.

However, customer counting is a powerful tool for keeping costs down and clients coming back while reducing losses at the same time.

Insights into your peak times and customer numbers allow you to understand better and cater to their needs, adjust your staff on the floor and even measure the effectiveness of specific marketing campaigns.

Here are some of the ways you can use visitor management to delight your guests:

Identify Your Store's Peak Hours

At the end of the day, knowing how much revenue you made today is not enough. You need to understand how many people came into your shop, at what times they visited, and how long they stayed.

Visitor counting enables you to see patterns in your shopper's behavior. For example, identifying peak times is incredibly important. Let's say your employees take their lunch hour at 12:30 pm. But your store gets the most foot traffic every weekday between 11:30 am and 1 pm. You need to make sure you have enough salespeople on the floor to assist customers and checkout personnel to avoid long wait times. That means you need to space out your employee's lunch break to accommodate your customer's needs.

Manage Your Staff Efficiently

According to an Ernst & Young study, most essential to the "survival [of any business] in the current tough retail environment is labor flexibility -- that is, not the total number of hours per week, but the distribution of those hours throughout the week."

But how do you know how to achieve this flexibility and strike the right balance? Too many employees on the floor that leaves staff bored and possibly frustrated because they do not have high enough commissions. Too few employees on the schedule and they become overworked while your customers lack attention.

Visitor counting can allow you to see the regular patterns and plan just the right amount of employees for every shift. Customers can easily find a salesperson and get the attention they deserve. And, the staff is in a better frame of mind and able to give better, more attentive service.

Increase The Dwell Time In Your Store

How long do customers typically spend in your store? Visitor counting can give you some insights about when they come in and when they leave. We all know that the longer customers spend in a store, the more money they are likely to spend. Industry analysts at PathIntelligence determined that if you can increase a customer's dwell time by 1 percent, you will see a 1.3 percent increase in your sales.

Calculating your current average dwell time can allow you to make physical changes to your shop, and see if you can coax customers into hanging around a little longer. These changes can create a more enjoyable, relaxing experience for your clients; make a visit to your store an anticipated leisure activity.

Measure The Effectiveness Of Your Marketing Campaigns

In the past, marketing was more art than science, but with increased data tracking abilities, we can get a much more accurate idea of how our marketing efforts are paying off.

Measuring the number of visitors in your store, and comparing them against the timing of local ad campaigns can help you identify and duplicate your marketing wins. For instance, if you use proximity advertising on mobile platforms, you'll be able to see right away whether your ad was effective.

Conclusion

Make sure that every system in your business is working for you, in every way possible. By discovering the customer experience benefits of visitor counting, you can not only keep your business safer but also help it grow.

Want to learn more about which must-have features your loss prevention solution should have? Download our eBook here.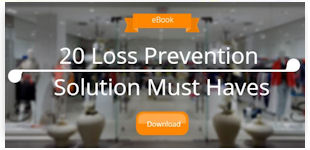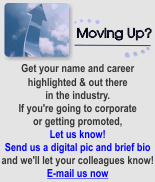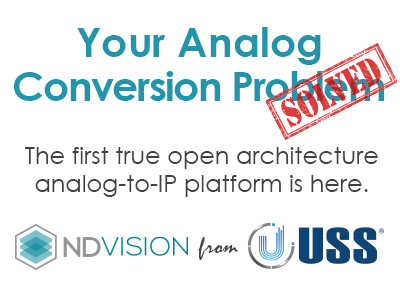 New Perspectives
on the National Retail
Security Survey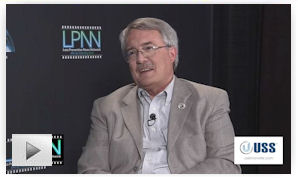 Filmed live on June 25th at NRF Protect
Dr. Richard Hollinger, criminology professor at the University of Florida and lead author of the National Retail Security Survey, sits down with LPNN for a candid discussion on the latest findings from the industry-benchmarking annual study on retail loss. According to the 2015 NRSS, inventory shrink averaged 1.38% of retail sales, or $44 billion - with shoplifting accounting for the largest portion of reported shrink, surpassing internal theft for the first time ever. Dr. Hollinger talks about the challenges of quantifying ORC, the emergence of data analytics, the possibility of body cameras on retail employees, and the surprising fact that many LP departments are reporting budget increases for the first time in years.
Solution Providers, have a video or commercial you want to publish? Contact us.

Canadian Push
Sponsored by Vector Security
Top Canadian Retailers by Sales-Per-Square-Foot On a sales-per-square-foot basis nobody can beat Apple Inc. stores in Canada, a distinction that makes it one of the most sought-after retailers by landlords, according to a new survey. At the bottom of the list of the top 35 retailers in 2013 is Target Canada, although the now-bankrupt retailer was at a disadvantage because it was only in Canada for part of that year. Using data from Ryerson University's Centre for the Study of Commercial Activity, real estate research company CBRE Canada looked at the Top 100 retailers in Canada by gross sales for 2013 and then ranked them based on sales per square foot, establishing how effective they are in their space and how much malls owners will vie to get them to locate on their property. financialpost.com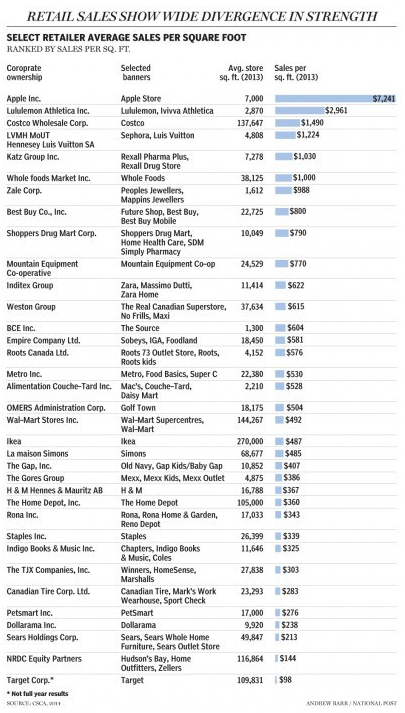 Loblaw averts strike at 60 Ontario stores, 12,000 employees, with amended agreement All active full-time and part-time employees on the payroll as of the date of ratification will receive a lump sum bonus of $1,500 and $750, respectively, according to the documents. All other active part-time employees on the payroll as of the date of ratification will receive a lump sum of $350. The other major change is in wage progression. Among the changes - employees will make 40 cents on year six, as compared to 30 cents in the rejected offer, the Globe reports. sartech.ca

Opening of new McArthurGlen Designer Outlet mall causes major traffic problems at Vancouver Airport - Poor Security Planning Significant traffic problems for passengers trying to make their flights at YVR were caused by a shopping frenzy at a newly opened mall. People lined up early, waiting for the 10 a.m. opening of the new McArthurGlen Designer Outlet near the Vancouver Airport. But the crush of shoppers created such a traffic nightmare along Grant McConachie Way that people trying to get to YVR were stuck in bumper-to-bumper traffic. Security and additional barricades had to be put in place to corral the hordes of shoppers. globalnews.ca

Closure of landmark Mills department store in Halifax blamed on 'street people' by former owner/entrepreneur The previous owner of Mills department store in Halifax says homeless people make it difficult to succeed on the "dangerous" street. "The street people down there are getting aggressive," said Mickey MacDonald, who owned the landmark store from 2007 to 2012. MacDonald, a successful entrepreneur and president of Micco Companies, said people shopping downtown risk threats and aggressive behaviour. "It used to be a place where people would go and hang out down there and used to feel safe. Now it's becoming more dangerous, especially at certain times of the day," he said. "People are getting a little bit fearful of some of the people who are down there." MacDonald, who owns several pieces of property downtown including the building that used to house Mills, wants to see more police officers downtown, and said construction is taking up prime parking spots. cbc.ca

Nine West stores caught in bankruptcy protection One of Canada's largest shoe sellers has filed for bankruptcy protection as the slumping dollar nips at the heels of Canadian retailers. Sherson Group Inc., which owns 48 Nine West shoe stores, and holds the Canadian rights to brands such as Anne Klein, Bandolino, Easy Spirit and Enzo Angiolini, sought protection from creditors as it tries to restructure the business. theglobeandmail.com

Beer sales to hit Toronto grocery shelves by December - But wine lags behind A report in the Toronto Star indicates that Clark's recommendations for changes to wine sales in Ontario won't be complete until November, which would mean that it's unlikely wine would get onto grocery store shelves until mid 2016 or later. Trade regulations are one of the chief obstacles delaying reform of wine sales, which means it's still unclear what exactly will happen to the existing 268 licences to sell Canadian wine outside of the LCBO. blogto.com

N.B. convenience stores call for crackdown on illegal smoke sales - claims 24% sold are illegal - want tougher penalties

Save-On-Foods to open 40 new stores in Manitoba, Saskatchewan - LP Jobs!

Ashley Furniture HomeStores to open 16 locations in Ontario & Alberta

Manulife Bank to Install 830 ATMs in Canadian Stores

Promenades St-Bruno jewelry store heist caught on video Five men were being sought after a robbery at a Longueuil jewelry store and security cameras recorded it all. Longueuil police said four of the men broke into the Monaco shop Wednesday night at the Promenades St Bruno shortly after closing time. They smashed display cases, took jewelry and took off in a vehicle driven by a 5th person. Two employees were attacked with pepper spray. cbc.ca

Police looking for suspect in Quebec after fatal shooting in Vaughan café Two weeks after a double homicide at a Vaughan café, police are looking for the suspect in Quebec, saying a man clearly shown in surveillance video may have come from out of province before the unusual rush-hour killing. Police also said Moka Espresso Bar and Gelato, where the man opened fire on June 24, was home to a gambling operation. theglobeandmail.com

Stolen one-of-a-kind, $13,000 Custom-made Bike Returned to shop by Port Coquitlam RCMP It's a one-of-a-kind, carbon-fibre road bicycle and hope was fading that it wouldn't be recovered after it disappeared in a June 17 break-in at the Cap's Westwood Cycle store in Port Coquitlam. But last weekend, the $13,000 bike that was mysteriously taken from the showroom of the store was handed back to the business by the Coquitlam RCMP. theprovince.com

Prepaid Credit Card Scams On Rise, Canadians Losing Millions Fraudsters have found a quick, convenient, and easy-to-disguise way to swindle cash out of unsuspecting Canadians: they demand their victims pay up using prepaid credit cards. "The [financial] loss is just incredible. There's just so much of this happening," says Robert Rochefort with the Canadian Anti-Fraud Centre. ​Sometimes scammers call saying you owe money to the tax man and if you don't pay now, you're going to jail.. Then they instruct their victims to pay via prepaid cards, a type of credit card with a set amount of funds that are purchased in stores and used for transactions like buying goods online and paying bills. Fraudsters direct victims to give them the numbered codes on the cards, giving them access and - poof - the money is gone. huffingtonpost.ca

Montrealers are Worried that the New STM Opus Card Reader can be Hacked Montrealers are rejoicing this morning after finding out that you can buy a device which will allow you to reload your opus cards from home. It's no wonder people are happy, reloading a card can be a nightmare. No more running to the nearest station in a panic and no more waiting in seemingly endless lines. Sounds pretty good right? Or does it? Well as it turns out, you have voiced your concerns and it's worth exploring the value of this new "convenience". mtlblog.com

e-commerce

Sponsored by The Zellman Group
Toys 'R' Us brings American e-commerce biz in-house Toys 'R' Us has been vocal about growing its US$1.2 billion e-commerce business in 2015, and now Toysrus.com, Babiesrus.com and FAO.com are in line for some changes as the New Jersey-based retailer brings its domestic e-commerce operations in-house. The new online shopping experiences are set to launch by the end of summer 2016. TRU says the move provides flexibility for growth and the ability to quickly respond to changing customer dynamics, especially as the toy retailer continues to compete with Amazon, Target and Walmart for online eyeballs and sales. In doing so, Toys 'R' Us will manage and control all aspects of its e-commerce platform, which has been in the hands of a third-party provider for the past nine years. kidscreen.com

American Express debuts competitor to PayPal
The online checkout space keeps getting more crowded. American Express on Thursday launched Amex Express Checkout, an alternative online payment method that its U.S. card members can use to check out and pay on partnering websites and apps. Unlike other online payments tools currently in the marketplace, Amex Express Checkout does not require a card member to create or manage a new account. The new service is currently available only at BarkBox, Burberry, Ledbury, Newegg, Sabon, Ticketmaster, and Warby Parker. But it is expected to be available in the coming months on websites for Avis Car Rental, Banana Republic, Cole Haan, Hulu, Gap, Intermix, Old Navy, PopSugar Must Have, Rocketmiles, 1-800-flowers.com and other merchants. chainstoreage.com

MasterCard's plan to win the mobile wallet wars

Mcommerce sales growth for physical goods outpaces all other categories: report

Walmart offers $3 grocery pickup option in Ottawa

"Fraud is not a person - it is a dynamic grouping of statistics that deviate from the norm."
Stuart B. Levine, CFI, CFCI
CEO, The Zellman Group & Zelligent


ORC News
Sponsored by Security Resources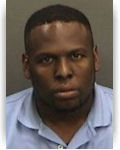 Organized Cargo Theft investigation nets five arrests, one warrant, and recovery of $300,000 in Bloomingdales, Macy's merchandise A former deputy and preacher is one of five people arrested in a sting on an organized cargo theft ring that stole hundreds of thousands of merchandise from Macy's and Bloomingdale's. A joint investigation conducted by the Polk County Sheriff's Office and Florida Highway Patrol, with assistance from the Tampa Police Department and Hillsborough County Sheriff's Office, focusing on organized cargo thefts resulted in five arrests during June & July 2015. A sixth suspect was positively identified and currently has a warrant for his arrest. During the investigation, the PCSO Organized Retail Crime task force was notified by Macy's Asset Protection Investigators that they suspected merchandise was being stolen between the distribution center and retail stores. PCSO notified FHP, as part of the ongoing joint cargo theft task force between the two agencies, and an investigation ensued.

Alexander Nealy of Plant City - a former preacher, DeSoto County Sheriff's deputy and Titusville and Cocoa Police officer - was identified as a suspect. Nealy and two of his accomplices were employed as tractor-trailer drivers for SalSon Logistics, a trucking contractor for Macy's providing product distribution throughout the state of Florida. The Polk County Sheriff's Office said Nealy and his accomplices would open boxes meant for the stores, pull out merchandise and reseal the boxes. Detectives served a search warrant on a storage unit in Ybor City belonging to Nealy, during which they found 272 boxes of stolen Macy's merchandise, valued at approximately $72,500. Detectives served two additional search warrants at storage units in Tampa belonging to Nealy - there they found 392 boxes of Macy's merchandise, valued at approximately $135,800, and over $59,000 worth of Bloomingdale's merchandise, for a total of $267,900 worth of stolen merchandise. Nealy was arrested at his church on June 25 for Felony Cargo Theft. wtsp.com baynews9.com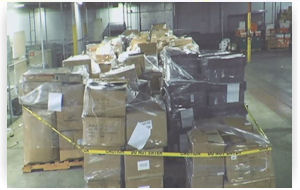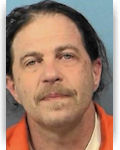 Man convicted in $2 million Toys R Us Lego theft charged with burglary in Lombard - He's at it again Florida man who several years ago was charged with stealing $2 million worth of Lego sets has landed in the DuPage County Jail for allegedly stealing paint brushes. DuPage prosecutors said Thursday they have charged Ignatius M. Pollara, 49, of Tamarac, Fla., with felony burglary after he was caught stealing brushes from a Hobby Lobby in Lombard on July 3rd. Prosecutors said authorities had been tipped that Pollara would be traveling to Illinois from Florida, and he was apprehended with the brushes hidden in his pants near the small of his back as he left the store on Roosevelt Road. Pollara made headlines in 2012 when he, his 70-year-old mother and another man were charged in the big money, multistate theft of Lego toys from Toys R Us in Broward County, Fla. They had hit 139 stores in 27 states. chicagotribune.com

Irvine Police Believe Four iPad Thieves Stole from 20 California Stores and stores in Oregon and Washington Irvine cops thought they were closing in on thieves who made off with 17 iPads from the Target store at Irvine Spectrum, but now the four people in custody are believed to have pulled similar thefts at 20 California stores and more than a dozen in Oregon and Washington, the department announced Thursday afternoon. Isaiah Woods, 21, of Sun Valley; Vernon Hill, 20, of Ethrata, Washington; Victory Rogers, 25, of Southwestern Burien, Washington; and a male juvenile were arrested Wednesday. Further investigation linked the foursome to 20 similar crimes across California, from Lathrop to San Diego, as well as more than a dozen more in Oregon and Washington, according to Emami, who added the thefts of iPads and other electronics occurred in Target, Walmart and Best Buy stores. Irvine Police worked "in close partnership" with the Ventura and Los Angeles police departments and gave "special thanks" to Target special investigators and Walmart loss prevention for their cooperation and assistance in the investigation, Emami said. ocweekly.com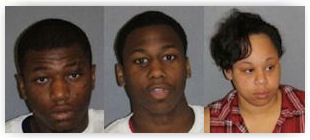 SAPD: Home where $500K of stolen goods seized like 'Amazon warehouse' You might have recently bought some stolen items and not have known it, according to the San Antonio Police Department. If you bought something online from a local vendor or from a flea market, police said there's a chance it was stolen, after half a million dollars in stolen merchandize was seized by police Wednesday. San Antonio police worked the scene for hours, seizing all of the stolen items. Police said the inside of the house was more like a warehouse for Amazon.com than a residence. A two-month long investigation led to the discovery of $500,000 of stolen goods in the garage and home, and the arrest of alleged facilitator, 38-year-old James Cross.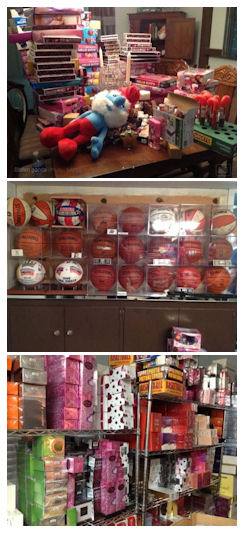 San Antonio police said they believe Cross was paying robbers and thieves to steal from stores like Macy's and Walmart, and possible he even had help from employees of those stores. Cross would then turn around and sell the items online or at the Eisenhower Flea Market in San Antonio, said police. A second search warrant was also executed at the flea market Wednesday, an police said additional stolen items were found there. Among the items seized were perfumes, electronics and other items, like basketballs, including even signed memorabilia. Police said Cross is facing a felony charge of possession of stolen property, and there could be more charges in the future. Police expect to make more arrests of people connected to this case. kens5.com
Middle Tennessee police search for 4 suspects in Victoria's Secret theft Four suspects caught on camera stealing over $4,000 in Victoria's Secret merchandise are being sought by Murfreesboro police. The suspects entered store at The Avenue on Wednesday just after 2 p.m. Store surveillance cameras show the four looking at merchandise before they each grab T-shirts, hooded sweatshirts, and pants before running from the store. "It was a very quick snatch-and-grab type operation, but it was clear these individuals had been in the store before," said Murfreesboro police spokesman Sgt. Kyle Evans. Police are hoping the video will be the key in tracking the shoplifters down. wate.com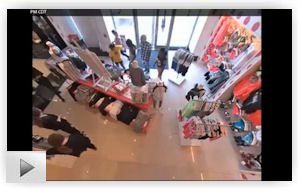 Egg Harbor Police seeking suspect in $400 Razor theft at CVS Township police are asking the public to help identify a woman wanted for a suspected strong-arm robbery of shaving products from the CVS Pharmacy on Tilton Road in the Bargaintown section of the township June 25. The suspect was confronted by a store employee and a struggle over the bag ensued. Following the struggle, the suspect was able to secure possession of the stolen property and exit the store. shorenewstoday.com

Organized Theft Ring stealing cartons of cigarettes from Walgreens in Manatee and Collier Co, FL The North Port Police Department is asking for the public's help in finding two suspects who are stealing hundreds of dollars worth of cigarette cartons. Police say Toney Wayne Gwin, 52, and Rickey Emanuel Hayes, 55, are distracting store clerks and stealing the cigarettes. The thefts have taken place north into Manatee County and south into Collier County. mysuncoast.com

Lawn mower thief busted at Home Depot in Kingsport, TN An early morning incident at Home Depot has landed a man in jail, according to Kingsport police, as he was caught while attempting to steal push mowers, then fled to hide in bushes and he claimed he was asleep. Police responded to the business finding a dismantled Toro push mower outside a gate. A second dismantled mower was located in another section of the parking lot. They were each valued at $300. timesnews.net

Man, 77, bought $50K in "stolen" items for makeshift store

Do you have an ORC case to share?
Share your ORC news and help the industry grow

Retail Crime News

$17.5M+ Multi-state cargo theft ring busted in Louisville, Ky. Eight people - five of whom are from Louisville - are accused of stealing tractor-trailers and painting over identifying logos in a scheme to steal merchandise valued at tens of millions of dollars, the Justice Department announced Thursday. The southern Indiana district of the U.S. Attorney's Office, an agency of the DOJ, announced a 23-count indictment against the eight people accused of stealing products ranging from electronics and appliances to cosmetics and baby formula.

Prosecutors say that the alleged thieves would follow the trucks from various distribution facilities until the drivers would stop to rest or refuel. The men would then steal the trucks and drive to a nearby location, where they would attach the trailer to their own tractor and abandon the stolen tractor. Frequently, they would paint over logos on the stolen trailers, the release says, in an effort to evade police.

The value of goods stolen in or transported through the southern district of Indiana alone exceeds $17.5 million, according to a DOJ release. wave3.com

20 charged in Bronx 44,000 carton cigarette-smuggling probe Prosecutors say the man who ran the operation would have cigarettes come in from Virginia and then resell them to small stores in New York City. Authorities allege he managed shoppers who would purchase the cigarettes and then drive them to a storage facility in the Bronx. myfoxdc.com

Verizon Wireless Robbery was an Inside Job in Cleveland, OH A North Olmsted woman and her former roommate are accused of conspiring to rob the West Side cellphone store where she worked. Hanes walked into the store and held employees at gunpoint, according to court records. Police said he stole $2,100. cleveland.com

3 Chicago residents arrested for credit card fraud at Best Buy in Holland, MI The suspects, two males and a female, were arrested Tuesday, July 7, after sheriff's deputies were called to Best Buy. The suspects drove away before deputies arrived at the store, but were stopped on U.S. 31. In the vehicle, investigators found numerous stolen credit cards that had been electronically altered or cloned. The trio also had items from stores located along West Michigan's coast from Ottawa County to Chicago. The dollar amount of the fraud is still being calculated, Bennett said. mlive.com

Phone scam leader Sahil Patel gets over 14 years in prison, but H-1B visa, Green Card holders continue to get duped Sahil Patel, the notorious Indian American leader of a gang that operated for at least two years through an intricate phone scam that specialized in getting personal information of victims based in the United States, then terrorizing them through phone calls with threat to either have them arrested or deported if they don't pay money to federal government agencies, was sentenced to over 14 years in prison, on Wednesday, in New York City. There is no record of how much money was taken from victims, or how many victims there actually are - as many cases go unreported - but Patel was sentenced Wednesday in Manhattan for wire fraud conspiracy and other charges. americanbazaaronline.com

Kansas City, MO Thieves haul off items after crashing truck through clothing store Thieves smashed a pickup truck through the front of an east Kansas City clothing store, hauling off what they could. Kansas City police were called to New York Fashion at 42nd Street and Blue Parkway about 4:15 a.m. Friday. Witnesses told investigators that a red pickup truck backed into the front of the store twice. Two men were seen loading up the pickup. kmbc.com

Bank Employee and her boyfriend arrested for stealing $112,000 from an ATM in Ladysmith, WI Two people, including an employee, have been charged with stealing $112,400 from an ATM at a Ladysmith bank. Jacquelyn L. Farrell, 22, and Richard J. Bianco Jr., 23, both of Ladysmith, are each charged with a felony count of being party to theft from a financial institution. Wells Fargo Bank officials reported that $112,400 was removed from the bank's ATM at 3:34 a.m. on June 2, and that the machine's alarm had been deactivated by an employee code that belonged to Farrell. Two security cameras in the area had also been spray painted. Farrell told police she and Bianco, her boyfriend, went to the bank to steal money and that she wore a bandanna and sunglasses into the lobby while Bianco waited outside in a vehicle. She said she deactivated the alarm and took an estimated $90,000. Farrell said Bianco dropped her off at her residence and left to bury the money and she had not heard from him since. leadertelegram.com

Manhattan Beach, CA Police arrest credit card thief who charged more than $150,000, targeting surfers According to the MBPD, Jordan Adams allegedly accessed vehicles while victims surfed in Manhattan Beach by finding their hidden keys on the outside of the vehicles. Adams is accused of immediately using the victims' credit cards at a local bank, Target, Best Buy and Macy's Stores totally $150,000 and an additional $40,000 worth of declined charges. The thefts were reported from November 30, 2014 and March 21. tbrnews.com

Three More Defendants from Georgia Sentenced in Boise, ID Credit Card Fraud Scheme Three suspects were each sentenced this week in United States District Court for their roles in a credit card scheme that targeted local retailers in October 2014. Each of the thieves was ordered to pay $22,679.54 in restitution and sentenced to up to 6 years in prison. justice.gov

Wichita police caution ATM customers to beware of "skimming" devices

Jones County, GA Sheriff Looking for Credit Card Fraud Suspect

Logan City, UT Police investigating Credit Card Fraud at Old Navy

Luzerne County, PA Officials train for active shooter scenarios

Rapid City, SD woman pulls gun on Loss Prevention Officer

3 suspects allegedly set fire to Burbank, CA liquor store after robbing it

Scheels Sporting Goods employee steals $3,300 in goods from store in Lincoln, NE

Hero NYC sanitation worker who thwarted Manhattan convenience store robbery honored by Mayor de Blasio and sanitation commissioner


Robberies and Burglaries
● ABC – Kingsport, VA – Robbery
● Aim and Defend – Lowell, NC - Burglary
● Auto Zone – Palm Bay, FL – Armed Robbery
● Check Into Cash – Atlanta, GA – Armed Robbery
● Dollar General – Aberdeen, MD – Robbery
● Family Dollar – Ocala, FL – Armed Robbery
● Fas Mart – Spotsylvania, VA – Armed Robbery
● Joy Food - Durham, NC – Armed Robbery / Shooting
● Lucky Stop – Denison, TX – Robbery
● O'Reilly's – San Antonio, TX – Robbery
● Payless Shoe - Milwaukee, WI – Armed Robbery
● Sevan Mini – Burbank, CA – Robbery/ Arson
● Sprint – DeKalb Co, GA – Burglary
● Stripes – Laredo, TX – Armed Robbery
● Tedeschis – Newton, MA – Armed Robbery/ Assault
● Verizon – Cleveland, OH – Robbery/ Employee Theft
● Walgreens – Clark Co, OR – Burglary
● 7-Eleven – Huntingtown, MD – Armed Robbery

Featured Job Listings
Sponsored by NuTech National
Feature Your Job Here For 30 Days -
70% Aren't On the Boards
Director Fraud & ORC
Lowe's
Mooresville, NC
Lowe's
VP of Security
Comcast
Philadelphia, PA
Comcast
Senior Dir Safety/Food Safety/Hazmat
Sears
Hoffman Estates, IL
Sears Holdings Corp
Territory LP Dir.
Burlington Stores
Los Angeles, CA
Burlington Stores
Director of LP
SUPERVALU
Bowie, MD
SUPERVALU
LP Director
Goodwill Industries of the Chesapeake, Inc
Baltimore, MD
Goodwill Industries of the Chesapeake, Inc
Dir. of Security/LP
Estee Lauder
Los Angeles, CA
Estee Lauder
Director of LP
A'gaci
San Antonio, TX
A'gaci
Director of LP
Lane Bryant
Columbus, OH
LinkedIn
Director of LP
PacSun
Anaheim, CA
PacSun
VP Supply Chain, LP & Safety
Ross Stores
Ft. Mill, SC
Ross Stores
Dir, Pharmacy LP
Rite Aid
Camp Hill, PA
Rite Aid
LP Corporate Sr Mgr
JC Penney
Dallas, TX
JC Penney
Corporate LP Mgr
St. John Knits
Irvine, CA
St. John Knits
Mgr, Corp Security & LP
Canadian Tire
Oakville, ON
Canadian TireRegional LP Mgr
Victoria's Secret
Los Angeles, CA
L Brands
Market ORC Investigator
Victoria's Secret
San Francisco, CA
L Brands
District LP Mgr
Dick's Sporting Goods
Phoenix, AZ
Dick's Sporting Goods
LP Mgr
Dick's Sporting Goods
Wheaton, MD
Dick's Sporting Goods
Regional LP Mgr
Family Dollar
Milwaukee, WI
Family Dollar
Multi Unit LP Mgr
The Great Atlantic & Pacific Tea Co.
New York City
The Great Atlantic & Pacific Tea Co.
Implementation Expert/Project Mgr
LP Software
Worth, IL
LP Software
Sales Representative
NuTech National
Maitland, FL
NuTech National

Limited Time Only - Post Your Multi-Unit LP jobs for FREE - Learn More Here

Daily Job Alerts


Appearing One Day Only
View our Internet Jobs Archives here
Regional LP Manager
DSW Inc.
Alpharetta, GA
DSW Inc.
Regional LP Manager
Eddie Bauer
Philadelphia, PA
Eddie Bauer
AP District Manager
Rite Aid
Martinez, CA
Rite Aid
LP Manager
Bloomingdale's
Willow Grove, PA
Bloomingdale's
AP/LP Manager
Macy's
New York, NY
Macy's
AP/LP Manager
Macy's
Raleigh, NC
Macy's
LP Manager
JC Penney
Henderson, NV
JC Penney
LP Supervisor
JC Penney
Alexandria, LA
JC Penney
LP Supervisor
Burlington Coat Factory
Memphis, TN
Burlington Coat Factory
LP Supervisor
Burlington Coat Factory
Shreveport, LA
Burlington Coat Factory
AP Team Leader
Target
Joplin, MO
Target
AP Team Leader
Target
Baltimore, MD
Target
ETL Assets Protection
Target
Anne Arundle Co., MD
Target
ETL Assets Protection
Target
Falls Church, VA
Target
AP Manager in Training
Walmart
Princeton, IN
Wal-Mart
AP Manager in Training
Walmart
Devine, TX
Wal-Mart
AP Manager in Training
Walmart
Taylorville, IL
Wal-Mart
LP Manager Hrly
Kmart
Dubois, PA
Sears Holdings Corp
LP Manager Hrly
Kmart
Franklin, NC
Sears Holdings Corp
Dept Mgr LP & Safety
Lowe's
Las Vegas, NV
Lowe's
Dept Mgr LP & Safety
Lowe's
Columbia, MD
Lowe's
Dept Mgr LP & Safety
Lowe's
New Carrollton, MD
Lowe's
Dept Mgr LP & Safety
Lowe's
Brooklyn, NY
Lowe's
Dept Mgr LP & Safety
Lowe's
Hicksville, NY
Lowe's



Home of the Industry's Original
On the Move

Will Powell was promoted to CEO & President for Sears Hometown and Outlet Stores, Inc.
Michael Toledo, CFI was named Loss Prevention Manager for Apple Inc.

Post Your New Job or Promotion!
See all the Industry Movement


Your Career
Sponsor this section of the Daily
Why a Friendly Reconnection Can Boost Your Career Before you start cleaning out your Facebook friend list, think about your network. That high school friend you haven't seen since graduation could have the valuable idea or connection you have been searching for. (Reconnect with your dormant ties now!)

How to Become Inspired and Engaged
Nobody else is in charge of keeping you motivated, it's all up to you. Managers have to make sure employees are engaged and inspired, but if you're waiting on a manager to do so, start by changing yourself. Follow these rules, and find your own inspiration. (Rely more on yourself)

The Curse of the B Team
A team of all B players can be tough to manage, but a few changes here and there can turn those B's into A's. It starts with developing the skills and experience needed to lead the team, and then finding the right person to do so. (Developing your B team takes time, so start now)

The 10 Things High Engagement Does for You Highly engaged employees will not only be happier, but also successful. When you know what you are doing and how it leads to the success of the company, you are engaged. But what does it do for you? Here are 10 things it is helping you with. (Double the success rate!)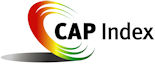 Tip of the Day
Sponsored by Vector Security
Turn Yourself Around

Seems like we spend most of our time just managing and dealing with the issues, problems, and dysfunctions on our own teams as opposed to staying focused on our external or internal customers. And the issue is we all have customers to service whether you're a retailer or vendor and in that regard nothing separates us. As a service provider our number one objective should always be delivering unparalleled customer service. And how many of us really do just that? Very few I submit. And in this writers opinion it's because of human nature. It's human nature to avoid conflict and take the path of least resistance and quite frankly getting lost in the dynamics of our teams is a lot easier then facing the expectations, demands, and criticisms of our customers. After all, at the end of the day the customers are the ones who truly know our weaknesses and have first hand knowledge of our failures. And who do you know wants to face that eight to twelve hours a day? So the human nature of avoidance kicks in and gravity forces us to face inwards and get lost in the daily battle of team dynamics and the associated social politics. Meanwhile our back is to the customer and true progress grinds to a halt. Certainly managing a team requires significant time but the message here is quite simple, and one that this writer has to remind himself of every day: The more you face your customer and focus your efforts on simply adding value to their efforts the more successful you'll be.

Just a Thought,
Gus





Upcoming Events
---
Recruiting?
Get your job e-mailed to everyone... everyday
Post on our Featured Jobs Board!
Reach your target audience in 2015 every day!
Request our 2015 Media Kit
update account / change e-mail
unsubscribe FEEDBACK
www.downing-downing.com

Advertise With The D&D Daily




36615 Vine Street, Suite 103
Willoughby, OH 44094
440.942.0671
copyright 2009-2019
all rights reserved globally