The D&D Daily Mobile Edition
LP, AP & IT Security's #1 News Source


---
Moving Up
Sponsored by Agilence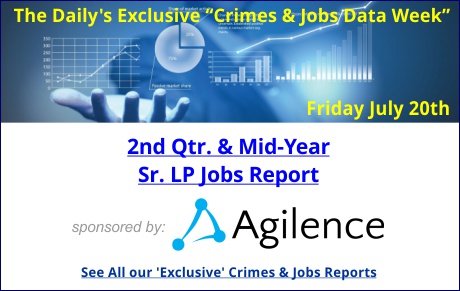 ---
Top Industry News

Build-A-Bear was forced to shut down its 'Pay Your Age' deal
After huge crowds and 'madness' overtook stores across the US
Build-A-Bear was forced to shut down a deal that allowed customers to "pay their age" for bears after chaos overtook malls across the United States.

On Thursday, Build-A-Bear was set to celebrate "Pay Your Age Day" in the US, Canada, and the UK. Customers had the chance to purchase a stuffed animal and pay only their age for the day. Kids were able to pay just a few dollars for stuffed bears, while adults' fees were capped at $29. The bears usually fall in the $20-$35 range.

However, the event had to be cut short after stores descended into "madness."

"Per local authorities, we cannot accept additional Guests at our locations due to crowds and safety concerns," Build-A-Bear posted on Facebook at 11 a.m. ET. "We have closed lines in our U.S. and Canada stores. We understand some Guests are disappointed and we will reach out directly as soon as possible." businessinsider.com
Avigilon's President & COO, James Henderson Wins Canada's Top 40 Under 40® Award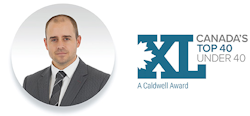 Avigilon Corporation ("Avigilon"), a Motorola Solutions company, is pleased to announce that James Henderson, Avigilon's President and Chief Operating Officer, has been selected as a recipient of Canada's Top 40 Under 40® Award for 2018.

Considered the country's most coveted award for young business leaders, Canada's Top 40 Under 40 annually recognizes the exceptional achievements of 40 outstanding Canadian leaders and innovators under the age of 40 who are making significant impacts on their organizations and in their communities.

James was selected from over 800 nominees by an independent, cross-national Advisory Board, based on four key criteria: Vision & Innovation; Leadership; Impact & Influence; and Social Responsibility. Since joining Avigilon in 2011, James has been instrumental in the company's rapid growth and continued success. Under his leadership, Avigilon has expanded its market presence, brand awareness, and corporate profile, to become a globally recognized leader in the security industry. avigilon.com

Fashion retailer Scalpers partners with Nedap for international RFID roll-out
Nedap today announced that the Spanish fashion retailer Scalpers has selected Nedap as their technology partner for the RFID roll-out to their 150 stores. Nedap will provide its !D Cloud software platform and the RFID hardware to enable the complete traceability of Scalpers' inventory and raise the retailer's stock accuracy. The RFID roll-out to all stores will be completed within two months.

Alfonso Vivancos, CEO at Scalpers, explains: "RFID is the first step in our digitalization process and essentially it is the pillar for our future growth strategy. Scalpers is a fast growing fashion retailer and it is our ambition to become top of mind globally in menswear fashion. But we realize that this can only be achieved if our operations have a solid foundation and the inventory data we work with is accurate."

Nedap's !D Cloud software suite is a Software-as-a-Service solution specifically developed for retail RFID applications. It offers retailers the quickest route to implement RFID and improve their in-store stock accuracy to over 98%. Real-time insights into the stock levels and the exact location of each item also enables the successful introduction of Omni channel services. nedap-retail.com

Facing "a new era of catastrophes," book by Wharton profs offers tips for business leaders
Wharton's Howard Kunreuther and Michael Useem's recent book Mastering Catastrophic Risk: How Companies are Coping with Disruption dives into the ways top companies have rebounded after their own worst-case scenarios. "The 'unthinkable' has gone from not being on anyone's radar screen to now being central," says Useem. "But to think about it, you need tools, and wisdom."

For firms large and small, with each day comes a new possibility for disruption. Perhaps there's a natural disaster, a terrorist incident, or an economy-wide shock, like the 2008 U.S. financial crisis. Threats can emerge within a firm's own walls, or through a government regulation, or even come in the form of a technological breakthrough—overturning business models that have been in place for years.

No matter the cause, there's little doubt about the trend: The country, and world, face "a new era of catastrophes," says Howard Kunreuther, the James G. Dinan Professor at the Wharton School and co-director of the Wharton Risk Management and Decision Processes Center. Kunreuther, along with Michael Useem, the William and Jacalyn Egan Professor of Management at the Wharton School and the director of the school's Center for Leadership and Change Management, recently published Mastering Catastrophic Risk: How Companies are Coping with Disruption. The book showcases what Useem calls the "hidden story" within S&P 500 companies that have ramped up risk-management after being overcome by their own worst-case scenarios, including catastrophes like the 9/11 terrorist attacks, Hurricane Katrina in 2005, the financial crisis of 2008-09, and the Japanese earthquake and tsunami in 2011.

"We wanted to find out what's going on, in-depth, inside these companies," Useem says. "Seeing this happen repeatedly to others is causing companies to double down on their own risk management."

Kunreuther and Useem end their book with a "mission-critical checklist" as a means of "transforming deliberative thinking into deliberative action." homelandsecuritynewswire.com

7 Fast-Food Chains to End 'No Poach' Deals That Lock Down Low-Wage Workers
Seven major restaurant chains, including Arby's, Carl's Jr., McDonald's and Jimmy John's, have agreed to drop a hiring practice that critics say may be keeping tens of thousands of fast-food workers locked in low-wage jobs.

Under agreements with Washington State announced on Thursday, the companies — Auntie Anne's, Buffalo Wild Wings and Cinnabon are the others — have pledged to remove so-called no-poach clauses from their contracts with franchisees.

The provisions prohibit workers at, for example, one Carl's Jr. franchise from going to another Carl's Jr. They do not stop those workers from taking jobs at restaurants run by a different chain.

In addition to stripping the clauses from existing franchise contracts in Washington, the seven chains have also vowed not to enforce them nationwide — a move that affects workers at tens of thousands of stores. The clauses cannot be included in new and renewed deals either.

"Not all are as cooperative as these seven have been." nytimes.com

Editor's Note: All it takes in today's political environment is the hint of a nationwide investigation and some media coverage and corporate America shakes. This to will drive wages and benefits up.

California Shopping Centers Are Spying for an ICE Contractor
A company that operates 46 shopping centers up and down California has been providing sensitive information collected by automated license plate readers (ALPRs) to Vigilant Solutions, a surveillance technology vendor that in turn sells location data to Immigrations & Customs Enforcement.

The Irvine Company—a real estate company that operates malls and mini-malls in Irvine, La Jolla, Newport Beach, Redwood City, San Jose, Santa Clara and Sunnyvale—has been conducting the ALPR surveillance since just before Christmas 2016, according to an ALPR Usage and Privacy Policy published on its website (archived version). The policy does not say which of its shopping centers use the technology, only disclosing that the company and its contractors operates ALPRs at "one or more" of its locations.

Update 10:45 a.m., July 11, 2018: The Irvine Company has disclosed the three shopping centers are Irvine Spectrum Center, Fashion Island, and The Marketplace. The local police departments are the Irvine, Newport Beach, and Tustin police departments.

Update 7:30 p.m. July 10, 2018: The Irvine Company provided The Verge with the following response.

"Irvine Company is a customer of Vigilant Solutions. Vigilant employs ALPR technology at our three Orange County regional shopping centers. Vigilant is required by contract, and have assured us, that ALPR data collected at these locations is only shared with local police departments as part of their efforts to keep the local community safe."

In December 2017, ICE signed a contract with Vigilant Solutions to access its license-plate reader database. Data from Irvine Company's malls directly feeds into Vigilant Solutions' database system, according to the policy. This could mean that ICE can spy on mall visitors without their knowledge and receive near-real-time alerts when a targeted vehicle is spotted in a shopping center's parking lot. eff.org

Judge Rules California Employers May Allow ICE Access Without Warrant
Companies must still notify workers before an I9 inspections
California employers will not be penalized for allowing federal immigration enforcement agents without a judicial warrant or subpoena to access their worksites and review employee records after a federal district court temporarily blocked the state from enforcing a key provision of a controversial 2017 law.

Judge John Mendez of the U.S. District Court of the Eastern District of California approved the Justice Department's request for a preliminary injunction against sections of the Immigrant Worker Protection Act, signed into law in October 2017. The court determined that most of the law, which went into effect Jan. 1, was pre-empted by federal statute, but it left in place a provision that requires employers to notify employees and their labor unions before and after Form I-9 inspections.

Assemblyman David Chiu, D-San Francisco, the chief sponsor of the bill that became the law, said that it "provided employers with clarity about what to do when ICE [Immigration and Customs Enforcement] agents target their places of business with indiscriminate raids."

Until further notice, employers will not violate state law if they grant access to ICE agents without a warrant or subpoena or allow those agents to access employee records. However, employers may still choose to require a warrant before admitting enforcement agents or before granting records access.

The court also blocked a section of the law limiting an employer's ability to reverify the legal work status of employees. Current federal law requires employers to conduct reverification before an employee's existing work authorization expires.

Employers continue to be subject to requirements to notify employees 72 hours before receiving a Notice of Inspection and to provide written notice of the results of the inspection within 72 hours after it has ended. shrm.org

The True Value of Trade Associations
Which retailers spend the most on lobbying?
5 of the Top 10 Are Trade Associations
Last year, the National Retail Federation spent $12.9 million on lobbying efforts. Walmart and CVS shelled out $6.9 million and $6.4 million respectively. These trade groups and companies were the the top retail sector spenders on lobbying in 2017. Last year Walmart had 62 lobbyists, Target 20, and Amazon hired 94.

Collectively, spending by retailers and retail trade groups totaled $58.1 million in 2017, a significant increase from the $46.1 million spent the year prior, according to data collected through Open Secrets, an arm of the Center for Responsive Politics that produces a database on lobbying spending.

Overall, the retail industry lobbies primarily on trade policy, taxes, antitrust and labor and workplace laws. Many retailers are a part of trade groups like the NRF and the Retail Industry Leaders Association, both of which are consistent top spenders and rally around broad consensus issues like the new tax bill, e-commerce taxes and trade. But individual corporations have bulked up their lobbying efforts in recent years — especially Amazon.

Amazon made one of the biggest lobbying leaps last year — spending a whopping $13 million, up from $11.5 million the year prior.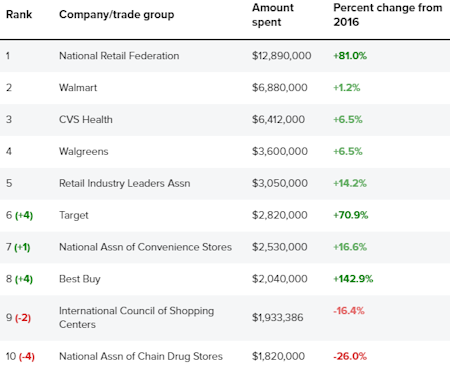 The retail industry has won several major public policy fights over the last year, including the passing of the new tax bill, which notably does not include the previously proposed border adjustment tax that stood to hurt retailers' bottom lines. The existential threats posed by that issue rallied together retailers in a way that public policy issues rarely do. Historically, many left their political positions on legislation up to trade groups.

While RILA's spend only increased 14.2%, NRF's spend rose a whopping 81%. When asked whether the rise indicated a strategic shift for the organization, NRF Senior Vice President of government relations David French told Retail Dive it "reflected a concurrence of first term of the new administration, a very robust legislative agenda and extraordinary, even existential, threats for the industry. All the things going on at once meant that we needed to raise and spend a lot more money." retaildive.com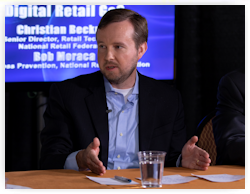 Editor's Note: Earlier this year the NRF hired Christian Beckner as the new Sr. Director of Retail Technology and his back ground makes this a brilliant move by the NRF. As Christian joins the NRF after having spent four years as Deputy Director at the Center for Cyber and Homeland Security at George Washington University and six years as a Staff Member and Associate Staff Director with the U.S. Senate Homeland Security and Government Affairs Committee.

Hear Christian talk about the NRF's Technology efforts in The Daily's LPNN upcoming episode filmed at 'Live in Dallas at NRF Protect'

'Live in Dallas at NRF Protect' - episode schedule being released next week.

Video surveillance equipment market growing
Growth in the global professional video surveillance equipment market accelerated in 2017, and is forecasted to continue growing in 2018, according the latest IHS Markit research.

The world market for professional video surveillance equipment grew by 9.3 percent in 2017, IHS found, a much higher rate of growth than in 2016 (3.9 percent) and 2015 (1.9 percent).

Global demand for security cameras grew rapidly in 2017, but average prices continued to fall. "Nevertheless, revenue grew in most countries," said Cropley. "Two of the fastest-growing country markets were Brazil and India. A major factor behind the growth in both countries was increased spending by private retail and commercial organizations on HD CCTV systems used to prevent crime."

Accounting for 44 percent of all global revenue, the Chinese professional video surveillance equipment market grew by 14.7 percent, while the world market excluding China grew just 5.5 percent.

● Overall, 62 percent of all security cameras shipped in 2017 were network cameras.

● Deep-learning-enabled recorders and servers, a new category this year, are an important element in powering what many expect to be the next generation of video analytics using artificial intelligence. They accounted for just 1 percent of global market revenues in 2017. securitysystemsnews.com

Rite Aid Booted, Walgreens Stuck In Suit Over Failed Merger
Rite Aid Corp. can duck a proposed class action alleging it misled investors while trying to clear antitrust hurdles that ultimately dampened a $17.2 billion takeover bid by Walgreens, a Pennsylvania federal judge said on Wednesday, but Walgreens may still be liable.

U.S. District Judge John E. Jones III said statements made by Rite Aid and several of its top brass amid mounting pressure from regulators could be classified as protected forward-looking statements, opinions or corporate optimism. But he left Walgreens Boots Alliance Inc. on the hook, calling its executives' assurances "reckless," given the circumstances. law360.com

What HR is Instructing Industry-Wide
Viewpoint: 6 Steps for Responding Properly to Workplace Disruptions
In today's political environment, disruptions are occurring more frequently. An unsuspecting employer can quickly find itself on the wrong side of a hot-button issue and in the middle of a workplace disruption. Disruptions often become news events and are a favorite tool of labor unions and other protest groups.

They can lead to legal problems, as protestors often are trained to dupe ill-prepared managers into breaking the law, such as by goading managers into threatening to fire them. It also often leads to lost work time and revenue. Furthermore, a disruption can destroy customer relationships and hurt a company's image. And if you respond poorly, it can cost you the trust of your team and harm employee morale and engagement.

That's why managers need some simple, practical tools for properly responding to these situations. Here is a six-step model to help companies respond effectively to a workplace disruption:

1. Prepare. Make sure your managers know your corporate guidelines and protocol for responding to a disruption. Often, your loss prevention or security team will lead this work. This includes things like understanding who to call and drafting simple "holding statements" for the media and others. Also, make sure your managers know and have marked your property lines and have secured schedules, lists and other sensitive documents.

2. Do no harm. A workplace disruption can be emotional. Protestors often count on this as a way to get more publicity for their cause. During a disruption, protestors may try to provoke a company leader into becoming the next YouTube sensation. They may call out managers or make outrageous claims about the company. It is human nature for leaders to try to defend the reputations of the company and team they care about.

Protestors count on these natural emotions to take over. Leaders must learn to remain calm and resist the urge to debate or fight back during a workplace disruption. They shouldn't get baited into taking an action that will reflect badly on them—and the company—forever. They should avoid making statements on camera or taking any action to physically restrain a protestor. Leaders must project calm, control and concern. shrm.org Continued on page 2


Arizona Limits Liability for Hiring Ex-Offenders

Sexual Harassment Legislative Updates
● New York Mandates Anti-Sexual Harassment Policy & Training
● Maryland Disclosing Sexual Harassment in the Workplace Act

Ban the Box Legislative Updates
● Massachusetts Modifies Ban-the-Box Law
● Washington Bans the Box
● California: San Francisco Amends Ban-the-Box Law

Finance Execs Fearful of Spending Tax-Cut Proceeds

After admitting to using N-word, Schnatter steps down as Papa John's chairman

Back-to-School and College spending to reach $82.8 billion

Old Navy Rolls Out BOPIS Nationwide

Sears Cuts 200 at Corporate Offices


Quarterly Results
Canada's Aritzia Q1 comp's up 10.9%, net revenue up 15.1%
Burberry Q1 comp's up 3%
---

---

---


---
eBay Global Asset Protection

Partnerning with Retailers Offensively Against Crime and Theft (PROACT), since 2007

Alabama man indicted for $22 Million dollars in stolen computers which were sold on eBay
An Alabama computer store owner was indicted last month for allegedly defrauding the government's Computers for Learning program, an initiative in which federal agencies donate used computer equipment to schools in need.

According to the Justice Department, Steven Mays, 50, of Athens, Alabama, joined the CFL program in 2007 as a representative of Dwight Baptist Academy, a parochial school in Dwight, Illinois.

For over a decade, Mays—under several aliases—solicited and accepted computer equipment on behalf of the school. In total, that equipment originally cost the government more than $22 million. He then told school administrators that the equipment was in poor condition and needed to be repaired before it could be used.

According to the indictment, Mays accepted far more equipment than he told the school about, which he then sold in his Alabama store—Mays Computer Company—and online through eBay. Read more

For further information on PROACT, email inquiries to PROACT@eBay.com.

---

---
Spotlight on Intellicheck
Intellicheck's Retail ID Technology Solutions Defeat Fraud
Innovative Technology Solutions Stop Criminal Use of Fraudulent IDs
When it comes to getting the right fraud prevention solution working for you, time is of the essence. The epidemic in incidents of data breaches and resulting surge in fraud reached a historic high in 2017 creating losses that amounted to $16.8 billion according to Javelin Strategy & Research.

The picture isn't any brighter in 2018 as the impact of existing and new data breaches continues to have a dramatic effect on the bottom line. It's not just the initial revenue loss that has retailers concerned. Numerous studies show consumers closing accounts, changing stores and reducing their payment card usage in response to fraud. Those same studies show consumers don't blame the fraudsters, they blame the retailer.



Intellicheck's Retail ID products have proven 99.9% effective in identity authentication, preventing transactional fraud including fraudulent account openings, account take overs, card not present fraud, gift card fraud, cash off card, and fraudulent check transactions. These state-of-the-art technology solutions are equally effective in preventing buy online and pick up in store (BOPIS) and non-receipted return fraud.

How does it work? At the point of sale, online or on mobile devices, a customers' ID is instantly authenticated with a scan or photo of the image of the barcoded driver license or government issued ID. But, Intellicheck does much more than scan the ID, it authenticates it. The advanced core technology powering Intellicheck's retail technology solutions scan more than 250 unique DMV barcode formats from every state, all Canadian provinces and most Mexican states and accesses the industry's most up-to-date proprietary database to authenticate a shopper's identification credential. Seamless, frictionless, real-time results mean no frustrating customer delays and costly bottom line losses.

Intellicheck's cutting-edge Retail ID SaaS technology solutions are proven weapons in combating fraud. Retail ID product solutions are preventing fraud for Fortune 100 and Fortune 500 retailers including nationally recognized department stores, jewelry, furniture, and tools and equipment retailers across the country. For every transaction, online, mobile or POS, Retail ID presents a new level of transaction safety, preventing fraudulent retail purchases while providing a more engaging customer experience with an easy, quick process that enhances consumer confidence.

For more information visit www.intellicheck.com or call 516-992-1900.
---

---

Online Macy's Shopper Lodges Data Breach Suit
Macy's was hit with a proposed class action in Alabama federal court Tuesday alleging that its "lackadaisical, cavalier, reckless and negligent" approach to protecting shoppers' personal information opened the door for a recent data breach that compromised online customer accounts.

"Defendant failed to implement and maintain reasonable security procedures and practices appropriate to the nature and scope of the information compromised in the data breach," the suit says. "The ramifications of defendant's failure to keep class members' data secure are severe." law360.com

Answers to Board Questions Should Educate, Engage
A new report, Cyber Board Communications & Metrics – Challenging Questions from the Boardroom, conducted by Kudelski Security in conjunction with its Client Advisory Council (CAC) found that despite improved communication methods to better inform nontechnical executive leaders, CISOs continue to struggle in conveying cyber risk to their boards of directors.

Board awareness has long been identified as a need across all industries. Boards need to better understand the cyber challenges their organizations face, which demands that they have confidence in their CISOs. Yet the CAC research confirmed its hypothesis that CISOs need to better communicate so that what they convey to both their counterparts and their boards about programs and initiatives is meaningful.

CISOs spend an average of 10-20 hours preparing their responses to the often asked question, "Are we secure?" The report found that time spend does not translate to conveying information clearly, so it also sets forth ways to help CISOs measure and report on security priorities and increase organizational support for security initiatives by looking at the top questions CISOs face. infosecuritymagazine.com

200,000 White Hats - Earned $31M YTD
White Hat Hackers Earn $1,500 to $20,000 For Finding Bugs
Critical Vulns Bounty Payouts Double Over 2017
As of June, a total of $31 million has been awarded to security researchers for this year - already a big jump from the $11.7 million awarded for the entire 2017.

Bug bounty programs are paying more money to more hackers, more of whom are discovering severe vulnerabilities: As of June, a total of $31 million has been awarded to security researchers for this year – already a big jump from the $11.7 million awarded for the entire 2017.

Over the past year, 116 bug reports were valued at over $10,000, with organizations offering up to $250,000 for severe flaws discovered. The numbers come from HackerOne's "Hacker-Powered Security Report 2018," in which analysts pulled data from 78,275 vulnerability reports submitted by ethical hackers to more than 1,000 organizations via HackerOne's bug bounty platform.

All of the volume numbers have increased tremendously," says HackerOne CEO Marten Mickos. "But they have been trending like this for the past three years. The direction is clear."

About 60% of organizations on HackerOne pay an average of $1,500 for critical vulnerabilities. In general, the average bounty for critical flaws is $2,041, a 6% increase year-over-year. The average award for a critical bug increased 33% to $20,000 for the highest awarding programs.

White-hat hackers have resolved 27,000 vulnerabilities in the past 12 months, according to HackerOne, currently the world's largest bug bounty and vulnerability disclosure platform, which connects organizations with a community of about 200,000 ethical hackers.

Editor's Note: In a population of 200,000 I wonder how many are wearing both hats or how many have, sitting at their computer on a Friday or Saturday night, have pondered the question: Should I or shouldn't I? So ultimately who's watching the white hats? darkreading.com computerweekly.com

Beware blockchain security blindspots, warns RSA
RSA warns that security teams could be left blind to cyber attack because many traditional Siem tools are unable to baseline the 'new normal' behaviours associated with blockchain and could allow hackers to gain entry to corporate networks.

As with any new technology, Aleem said cyber attackers will look for vulnerabilities in how businesses implement blockchain, adding that any disruption or security breach due to a blockchain-related vulnerability could have a serious impact on operations.

While blockchain technology itself is inherently secure, we've seen numerous cryptocurrency trading apps, processing providers, wallets and exchanges successfully breached, as hackers manage to breach implementations with lax security measures," he said.

Aleem recommends that organisations should take a "business-driven approach" to this new risk to ensure that advancement in one respect does not create risks elsewhere that could hinder long-term progress. computerweekly.com

New Cyber Center Opens at Augusta University in Georgia
University partners with state on $100 million Georgia Cyber Center for cybersecurity education and research.

Data Breach Legislative Updates
● South Dakota Data Breach Notification
● Colorado Amends Data Breach Notification Law
● Alabama Data Breach Notification Act
● Arizona Expands Data Breach Law
● Louisiana Amends Data Breach Law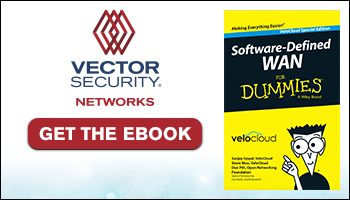 ---

---


Intelligent Video.
What's Your Store Showing You?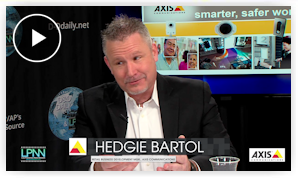 Network surveillance technologies continue to revolutionize the way retail professionals work with not just loss prevention, but also with store optimization, operational efficiencies, and enhancements to the overall customer experience. Hedgie Bartol, Retail Business Development Manager for Axis Communications, tells us how new advancements in intelligent devices and deep learning technology can provide business intelligence that helps LP/AP professionals drive results beyond shrink, safety, and security.

---
Learn about WG Security's
'Undefeatable' EAS Tags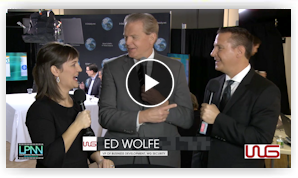 Ed Wolfe, Vice President of Business Development for WG Security, tells us how WG has reduced shrink in some high-theft stores by up to 60% and why EAS technology is still a strong deterrent to shoplifting.
---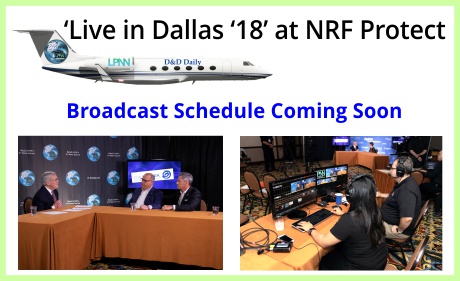 ---

---

---

---
e-commerce
Sponsored by The Zellman Group

How Does Friendly Fraud Vary Across Industries?
Ethoca recently conducted a survey of 775 businesses from various industries (including issuers), asking them to indicate the percentage of chargebacks caused by friendly fraud (or false claims). The results were illuminating, but not entirely surprising given what we already know about this growing threat.
Roughly 1 in 3 surveyed said that friendly fraud accounted for less than 25 percent of their chargebacks. Any instance of friendly fraud is incredibly damaging to issuers, merchants and cardholders alike. False declines, customer frustration caused by unnecessary friction, and needless lost revenue and time are all the result of this now avoidable problem.

Most alarming was that roughly 1 in 5 of those surveyed stated that friendly fraud accounted for more than 88 percent of their chargebacks. And for many, these rates continue to increase.

Digital Goods & Services
The nature of digital goods such as music and movie streaming makes them particularly susceptible to friendly fraud. A lot of friendly fraud in this category is benign—cardholders disputing charges because they simply don't recognize them. It comes from an honest mistake, yet the consequences have a downstream ripple effect that's anything but friendly to the ecosystem at large.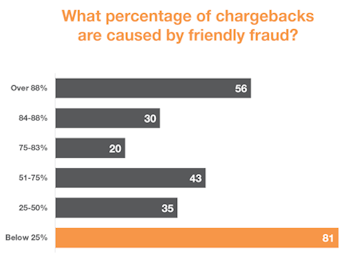 Card issuers will often write off disputed digital goods purchases because their value is so low compared to the cost of initiating a chargeback. However, that can unintentionally exacerbate the problem because it teaches cardholders to assume they can easily and quickly erase any unwanted or unfamiliar charges for digital goods on their cards by just disputing them. The other unintended consequence of this activity is that with higher incurred losses due to write-offs, card issuers will tighten fraud rules, resulting in higher false declines. Read more at cardnotpresent.com

An unsafe counterfeit, with a side order of ID theft
Since being set up in 2014, the City of London Police's Intellectual Property Unit (PIPCU) has taken 50,000 infringing website offline, mostly selling counterfeit clothing and accessories.

Aside from the risks posed by the counterfeit goods themselves, which are often poor quality and could pose a fire risk for example, the sites themselves can be unsafe and leave purchasers exposed to viruses, malware and identity theft, says PIPCU.

"The sheer number of website takedowns should act as a warning online shoppers that there's more at stake when it's a fake," says the unit's temporary Detective Chief Inspector Nicholas Court. "When consumers make purchases on illicit sites, they are unknowingly handing over their personal and payment details to criminals who often use these to commit further crime."

Last December, Action Fraud, the UK's national fraud and cyber reporting centre, said it had received over 15,000 reports linked to identity crime between April 2016 and March 2017. It also said there had been 400 reported cases in two years where a person's identity had been stolen and used to open websites that had been directly linked to counterfeit online purchases. securingindustry.com


"Fraud is not a person - it is a dynamic grouping of statistics that deviate from the norm."
Stuart B. Levine, CFI, CFCI
CEO, The Zellman Group & Zelligent
---
ORC News
Sponsored by Auror

Port Arthur Police: UPS employee steals packages worth more than $100,000; Samsung or Apple phones valued at between $400 and $1,100 each
Port Arthur Police say a man working at a UPS Hub stole packages worth over $100,000. According to a probable cause affidavit, Matthew Thai Pham is accused of taking cargo destine for a local AT&T store. Pham is accused of taking multiple boxes, some containing Samsung or Apple phones valued at between $400 and $1,100 each and other stolen boxes had accessory watches. In all, the stolen cargo is worth $100,193. 12newsnow.com

Charleston, SC: Suspect arrested for $40K Northwoods Mall jewelry theft 3 years after crime
The North Charleston Police Department arrested Brandon Romaine Smith Wednesday morning on charges of grand larceny and burglary for a 2015 jewelry theft. Police say the Summerville man stole approximately $40,000 worth of merchandise from the Northwoods Mall. Police say Smith broke into the mall by smashing out the front glass. Police say he then smashed the glass to get into the Diamond and Gold Depot, then used bolt cutters to open the three display cases . He stole $40,000 worth of jewelry, according to the NCPD. abcnews4.com

Batesville, AR: Man accused of defrauding Walmart stores across AR, MO
A man faces burglary and theft charges after police say he scammed Walmart stores from Arkansas to Missouri. An Independence County Judge found probable cause Tuesday to arrest 36-year-old Florian Muntean. Surveillance video showed the suspect purchasing laptop computers and "conducting a scam while checking out and not fully paying for the merchandise by taking back some of the money while the cashier was distracted," the affidavit stated. An audit of the cash register showed it to be short $1,900. Sims told Headley he later heard from Walmart Asset Protection in Farmington, MO, that they had stopped a man who had refunded two laptop computers purchased at the Batesville store. Further investigation, according to the affidavit, revealed that Muntean and several others had conducted similar "thefts by scam" at Walmart stores in Arkansas and other states. wmcactionnews5.com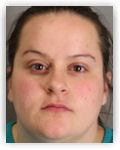 Port Arthur, TX: Claire's employee indicted on charge of stealing $7,000 in money, jewelry
Investigators say Sheena Marie Guill, 28, of Port Arthur, worked at Claire's in Central Mall. The indictment accuses Guill of taking bank deposits and merchandise totaling more than $7,000. The bank deposits amounted to more than $6,300, according to the indictment, which is a State Jail Felony. kfdm.com

Racine, WI: Repeat Offender stealing $1,000 of Red Bull from Racine County stores
A 28-year-old Cory T. Naber is facing charges after allegedly stealing Red Bull energy drinks from several different stores in Racine county. Naber is accused of stealing several dozen 12-packs of the energy drink — close to $1,000 worth. In May, he allegedly stole the Red Bull from stores in Burlington, Caledonia and Mount Pleasant. Naber is considered a repeat offender for theft and felony bail jumping. fox6now.com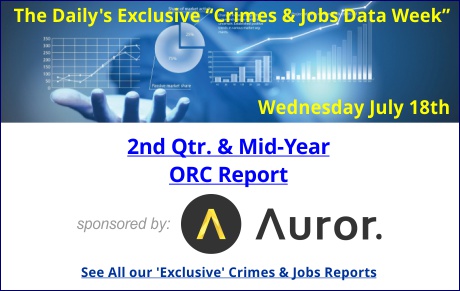 Submit your ORC Association News

Visit the ORC Resource Center

---
Retail Crime News

Shootings & Deaths
Des Moines, IA: Muffler Shop Owner shoots and kills Burglar
Police have identified a suspected burglar, as well as the business owner who shot and killed him outside the business in southern Des Moines. Police say 37-year-old Amund Haarstad, was killed Wednesday morning at Kraft 5 Star Muffler. Investigators believe Haarstad was loading items from the business into a stolen truck when the repair shop owner, 67-year-old Thomas Kraft, arrived for work. Police say Haarstad confronted Kraft instead of fleeing, and that Kraft shot Haarstad. kfgo.com

Newport News, VA: Man accused of shooting at 7-Eleven clerk arrested
---
Robberies & Thefts
Academy Sports manager fired weeks after intercepting gun thief suspect in Florida store
A sporting goods store employee, who last month helped catch a suspect allegedly trying to swipe a weapon, was suspended and later lost his job at the Florida business following the incident, his lawyer said. Dean Crouch, 32, was working at the Academy Sports store in Tallahassee on June 29 when robbery suspect Jason White allegedly tried to steal a gun, the Tallahassee Democrat reported. After White reportedly tried to flee with the stolen firearm he'd requested to see, Crouch stepped in and ultimately detained him. Crouch, an assistant manager at the store, was nearby when the incident occurred and heard employees yelling "stop that guy," his attorney, Ryan Hobbs, told Fox News. While police made their way to the scene, the suspect was relocated to an office at the business, he said.

Hobbs said the suspect had attempted to make off with a .40 caliber handgun and matching ammunition. The suspect also allegedly stole two weapons from a pawn shop earlier the same day, police said. Hobbs claimed his client was placed on suspension in the days after the incident amid a policy that prohibits employees from placing their hands on customers while they're in the store. Crouch lost his job on Tuesday, he said, adding that his client had been "suspended and terminated for preventing this thief from stealing this weapon." "Academy has decided to, instead of treating him like a hero he is, they terminated his employment effective immediately because he put his hands on Mr. White," Hobbs told the Tallahassee Democrat. foxnews.com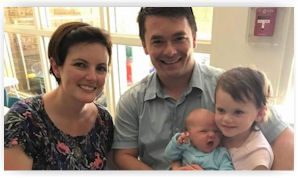 Cedar Rapids, IA: 40 People swarm C-Store in Flash Rob
A mob of up to 40 people swarmed a Casey's General Store in Cedar Rapids, stealing and destroying property in a just a few short minutes in what appears to be an organized effort. The crime occurred around 10:30 p.m. July 3 following a fireworks show at Ellis Harbor at 1532 Ellis Boulevard Northwest. Police released the dramatic footage Monday and are asking the public assistance in identifying the people involved. In just a minute and a half, the video shows a large group of people entering the Casey's and cramming into different areas of the store. Suddenly, everyone grabs items and run out the door — knocking over displays and throwing items. A couple employees attempt to stop the mass theft but are overwhelmed by the crowd, as seen in the video. Police say one juvenile has been arrested, but they're seeking the public's help in identifying others involved. desmoinesregister.com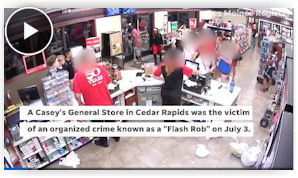 South Tucson, AZ: Restaurant workers take down knife-wielding robbery suspect
Two people were stabbed while stopping a robbery at a landmark in South Tucson Wednesday afternoon, according to police. Police said it happened around 1:30 p.m. at Mi Nidito Restaurant. Officers said Jerry Evans Madril, armed with a knife, entered the restaurant and demanded money. Workers in the store were not intimidated and fought back. Two employees were slashed, but are expected to make a full recovery. wtol.com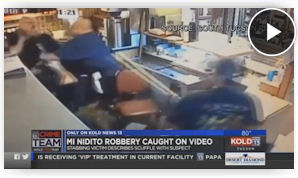 Manteca, CA: Detectives arrest suspect in New York Diamonds failed burglary; store damage of $700

Jared The Galleria of Jewelry in the Keystone Crossing, Indianapolis, IN reported an Attempted Burglary on 7/10, no loss

Jared The Galleria of Jewelry in the Northlake Mall, Charlotte, NC reported a Grab & Run on 7/10, item valued at $2,999

Kay Jewelers in the Citrus Plaza, Redlands, CA reported an Armed Robbery on 7/8, items valued at $113,000, no injuries

Kay Jewelers in the Olive Place, Albemarle, NC reported a Grab & Run on 7/11, item valued at $3,399

Piercing Pagoda in the Uniontown Mall, Uniontown, PA reported a Grab & Run on 7/10, item valued at $499

Zales in the Fayette Mall, Lexington, KY reported a Grab & Run on 7/11, item valued at $8,100

Zales at 417 5th Ave, Ney York, NY reported a Grab & Run on 7/10, item valued at $2,059
---
Credit Card Fraud

Actress Demi Moore's AMEX card stolen, accused suspect goes on $169,000 shopping spree
Federal prosecutors are going after David Matthew Read for allegedly reporting Moore's credit card missing and requesting a new one back in March, then spending nearly $200,000 on items before Moore's assistant called American Express to report questionable activity later that month. The prosecutor could also identify Read on Saks Fifth Avenue security footage after he spent approximately $16,249.80 at the store. He also allegedly purchased $3,748.73 worth of merchandise at a Nordstrom store — where he was also identified by store footage — and hit up two other Nordstrom locations before racking up his whooping $169,764.73 bill. pagesix.com
---
Fire & Arson
Phoenix, AZ: Safeway store destroyed in Fire
Right in the middle of some monsoon storms, it was intense, massive fire with a smoke plume seen across the Valley, a raging inferno destroys a Safeway in Phoenix. The fire was reported in the back room of the store just after 6 p.m. on Wednesday near 35th and Northern avenues. An employee of the store had reportedly called 9-1-1. No injuries were reported in the blaze and fire officials say, "it's too early to determine the cause of the fire or if weather played a factor in the roof collapse." azfamily.com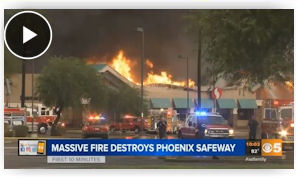 Jacksonville, FL: Walmart fire under investigation, Men's underwear aisle goes up in flames
---
Sentencings & Charges
Reading, PA: Woman admits to being Get-Away Driver in C-Store Robbery; sentenced to 42 months in prison

Robberies and Burglaries
Sponsored by Scarsdale Security Systems
• AT&T – Tulsa, OK – Burglary
• Books-A-Million – Gainesville, FL – Burglary
• C-Store – Gainesville, FL- Burglary
• C- Store – Syracuse, NY – Armed Robbery
• C- Store – Amarillo, TX – Armed Robbery
• Casey General – Cedar Rapids, IA – Robbery
• Domino's – Westfield, IN – Armed Robbery
• GameStop – Gainesville, FL – Burglary
• Gas Station – Green Bay, WI – Armed Robbery
• Grocery – North Philadelphia, PA – Armed Robbery
• Liquor Store – Fargo, ND – Armed Robbery
• Liquor Store – Madison, WI – Robbery
• Kay Jewelers – Redlands, CA – Armed Robbery
• Muffler Shop – Des Moines, IA – Burglary (suspect shot & killed)
• Paradise Spas – Minot, ND – Burglary
• Restaurant – South Tucson, AZ – Armed Robbery
• Thrift Shop – Kansas City, MO – Burglary
• Tobacco Shop – Kings Mountain, NC – Armed Robbery
• Video Store – Town of Wallkill, NY – Armed Robbery
• Walgreens – Colorado Springs, CO – Burglary
• Walgreens – Champaign, IL – Armed Robbery
Daily Totals:
• 13 robberies
• 8 burglaries
• 1 shooting
• 1 killing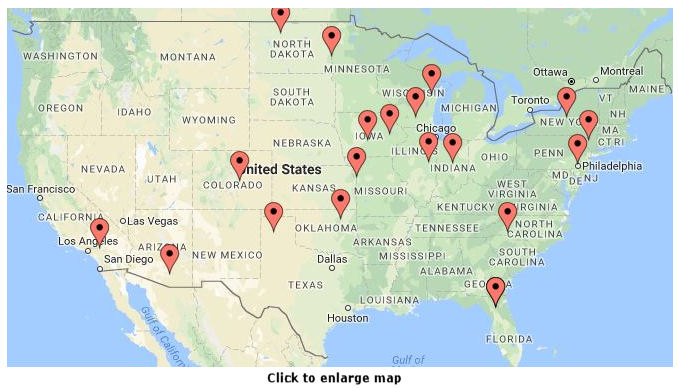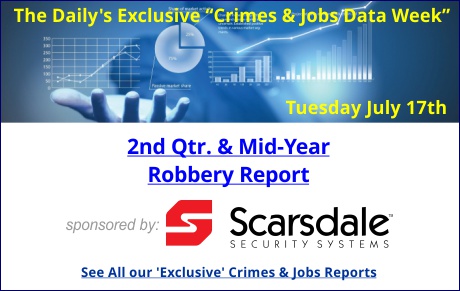 ---


---
Home of the Industry's Original
On the Move

None to report
Submit Your New Hires/Promotions
or New Position
See all the Industry Movement
---


---
Featured Job Listings
Feature Your Job Here For 30 Days -
70% Aren't On the Boards

Featured Job Spotlights
---


Vice President, Asset Protection
Columbus, OH
Oversees and directs all Asset Protection related functions for a Corporate Office, multi-state distribution centers and large retail store network. Responsible for enterprise direction and strategy as it pertains to Asset Protection with a goal of minimizing shrink, reducing loss and maximizing security and associate safety...



Sr. Director Loss Prevention
Goodlettsville, TN
The Sr. Director of Loss Prevention will have full responsibility for implementation of loss prevention and shrink reduction initiatives for all stores. This position will require leadership integration with store operations, shrink improvement, merchandising, supply chain, information technology, finance and other groups...


Financial Analyst (Internal Fraud)
Anaheim, CA
This role is responsible for investigating internal fraud and Cast Privilege abuse at the Disneyland Resort, across all lines of business including but not limited to: merchandise, food & beverage, rooms, ticketing, and employee privileges. Specific investigative tasks will vary but may include: reviewing exception reporting to identify potential fraud trends, conducting in-depth point-of-sale research, reviewing camera surveillance, performing integrity shops and observations, interviewing employees, representing the Company at grievances and unemployment hearings, and partnering with law enforcement as needed...



Regional Loss Prevention Manager
Englewood, CO
The Regional Loss Prevention Manager is responsible for protecting the assets of the company utilizing existing LP and Store Operations processes. This position is part of the Loss Prevention Department and reports to the Director of Loss Prevention...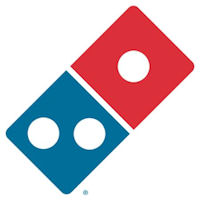 Regional Safety & Loss Prevention Specialist
Baltimore, MD
The Safety and Loss Prevention Specialist is a subject matter expert responsible for partnering with both our corporate TUSA stores and franchise store operations to improve the safety and training processes...

Area Loss Prevention Specialist
Boston/Springfield

We are currently looking for an Area Loss Prevention Specialist to join our team in the Boston / Springfield area. This position is responsible for conducting employee investigations, responding to and providing guidance during critical incidents, and assessing new/current retail store locations...

Area Loss Prevention Specialist
Jacksonville, FL

We are currently looking for an Area Loss Prevention Specialist to join our team in Jacksonville, FL. This position is responsible for conducting employee investigations, responding to and providing guidance during critical incidents, and assessing new retail store locations...

Area Loss Prevention Specialist
San Francisco Bay Area

We are currently looking for an Area Loss Prevention Specialist to join our team in San Francisco Bay Area. This position is responsible for conducting employee investigations, responding to and providing guidance during critical incidents, and assessing new/current retail store locations...

District LP Manager Stores
Orlando, FL
As a District LP Manager, you'll lead several of our multi-million dollar stores to drive sales and deliver operational excellence. You'll control expenses and payroll budgets, handle personnel issues, merchandising, loss prevention and overall supervision of Store Managers in your District...

Featured Jobs
---
• Sephora - VP, Internal Controls, San Francisco, CA
• T-Mobile Express Stores - LP Operations Manager, East Brunswick, NJ
• TGS Management - Director of Asset Protection, Denver, CO
• 10 Spot/MadRag - Director of Loss Prevention - Retail, North Bergen, NJ
• Sears Holdings Management Corporation - Director, Safety Operations, Hoffman Estates, IL
• Nordstrom - National Director, Investigations (Loss Prevention), Seattle, WA
• Walmart - Director of Safety & Compliance - Sam's, Bentonville, AR
• Gulfstream Goodwill - Director of Safety, Risk Management & LP, Palm Beach FL
• GOAT - Director of Loss Prevention & Security, Los Angeles, CA
• Goodwill of the Olympics & Rainier Region - Vice President of Human Resources, Safety, Loss Prevention & Security, Tacoma, WA
• Ross Stores - Director of Organizational Safety and Security, Dublin, CA
• Walt Disney Company - Vice President, Information Security, New York, NY
• Gymboree - Director, Inventory Control, Dixon, CA
• Living Spaces - Director of Safety, California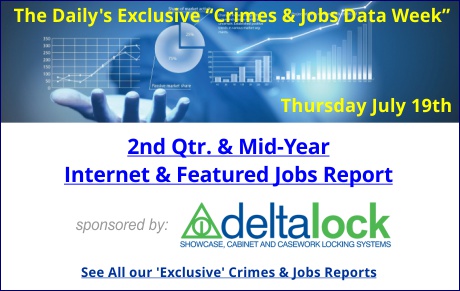 ---


---
Daily Jobs
Appearing One Day Only
View our Internet Jobs Archives here


Sponsor this section of the Daily
---



---
Your Career

Teamwork Makes the Dream Work
Here's how you can motivate your team and keep them engaged!
Why the World Cup is the Perfect Place to Learn What the Best Teams Do
The World Cup is a great showcase of sport talent, but it also provides any leader or team manager some insight as to what makes a team great and successful. The World Cup champion isn't the most talented, but the team with the strongest cohesive unit. Here's some lessons any team can implement just by watching the World Cup. Managers matter

7 Inexpensive, Yet Effective, Approaches to Team Building
Many companies pay money to have experts come in and perform team-building exercises with their staff, but this isn't the only way to build unity in your organization. There are so many different approaches you can use to encourage teamwork, and here are seven inexpensive and very successful ideas. Get out and walk

Want to Motivate Your Team? Do These 4 Things
I'm sure you've heard the phrase "actions speak louder than words", but it's especially true if you're trying to motivate and inspire your team. To motivate others efficiently, you must first be motivated yourself. Here are some great subtle actions you can use to help get your team inspired and engaged in their work. Team lunch

7 Actions for Leaders Who Want Top Performing Teams
In order to get top performance from your team members, you need the right mix of ingredients in your workplace: right initiatives, high employee engagement, matching chemistry and culture with other staff. All of this together will help boost productivity and performance in your team. Here's what you can do. Reward results
---


---
Submit Your Group LP Selfie and Group Vendor Selfies Today!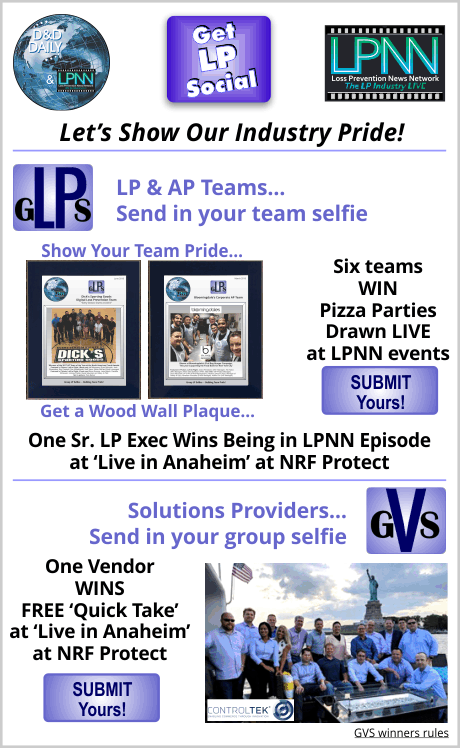 ---
---
Tip of the Day
Sponsored by Vector Security Networks

Sometimes you have to lose in order to win long term. Picking your battles is an art that many never acquire, but those that do are usually two steps ahead of you. So while the loss may seem to set you back, regroup and focus two steps ahead because that's where the winner of the last battle is. And remember always lose with dignity and win with humility.
Just a Thought,
Gus



(content subject to approval)
---
---
Upcoming Events
---
Recruiting?
Get your job e-mailed to everyone... everyday
Post on our Featured Jobs Board!
---
Reach your target audience in 2018 every day!
Request our 2018 Media Kit
---
Not getting the Daily?
Is it ending up in your spam folder?
Please make sure to add d-ddaily@downing-downing.com to your contact list, address book, trusted sender list, and/or company whitelist to ensure you receive our newsletter.
Want to know how? Read Here


36615 Vine Street, Suite 103
Willoughby, OH 44094
440.942.0671
copyright 2009-2019
all rights reserved globally