The D&D Daily Mobile Edition
July 14,

2015



The LP Industry's #1 News Source - Informing, Educating and Instilling a sense of community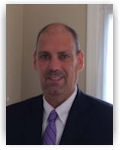 Bobby DeAgostino was named Regional Vice President for Family Dollar. A former LP Executive at Home Depot, Bobby has worked in the loss prevention/operations industry for over twenty years. Bobby was part of the Home Depot team for over five years, holding such positions as Regional Asset Protection Manager and Regional Director of Operations. Bobby's most current role was as Store Team Leader for Target. He was also a part of the loss prevention team for Sears Holdings Corp as a Divisional Loss Prevention Manager. He earned his Bachelors of Science degree in Administration of Justice from Penn State University. Congratulations Bobby!

News Brief
Sponsored by WG Security Products, Inc.

2015 Retail Industry Background Screening Benchmarking
Report Released
The third annual retail benchmarking report from GIS was designed to help retailers determine how their background screening and hiring programs compare to their competitors' by canvassing a broad selection of retailers and delving into their thought processes and procedures. This year's report identifies biggest hiring challenges (finding and hiring qualified employees), why retailers run checks (for a safer work environment) and when background checks are performed (generally upon conditional offer, not before). The report also provides information on specifics of certain checks: years of addresses used for criminal history searches, whether aliases are searched, types of drug tests, etc.
Below are some highlights from the report. To request your copy of the full report, click here.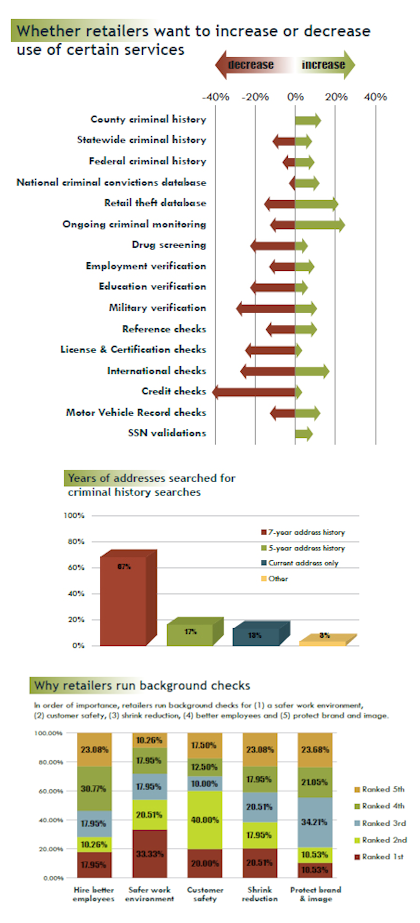 Europe's biggest LP conference to open in Amsterdam Retail Fraud – Amsterdam on 16th September, organized by Retail Knowledge, will be Europe's first pan European Omni channel loss prevention conference. Designed as a pan European loss prevention conference, Retail Fraud – Amsterdam is a response to the changing geography of retail risk and loss prevention," explains Retail Knowledge Founder Paul Bessant. "The conference seeks to identify the current and future challenges European retailers, online and offline, are facing and to provide the tools LP teams need in order to robustly defend their businesses against those threats. By bringing together top retailers, experts, academics and law enforcement agencies from across Europe and beyond, we hope to create a hotbed of truly international expertise and collaboration."

"Since 2002, Retail Fraud – London has grown to become the largest in Europe, with 82% of the UK's top 250 retailers attending this year, including representatives from every single one of the top ten UK retailers – an historic first for any European LP conference. Retail Fraud conferences have also been established in other major retail centres including Leicester, Dublin, Oslo, Cape Town and Dubai.

And now Retail Fraud brings their international expertise to the U.S. in NYC on September 24th with the D&D Daily as their exclusive media partner. Stay tuned for more of their story, history, and behind the scenes information as we at the Daily seek to bring you the LP information and executives who are impacting the LP industry worldwide. Register for Retail Fraud - New York here. retailfraud.com


Armani Accused Of Retaliating Against Bias Whistleblower Giorgio Armani Corp. was hit with a discrimination suit Friday in New York federal court by a former sales associate who alleges a manager violated the New York Human Rights Act by firing her after she alleged the store discriminated against African-American and Hispanic customers. Norma Moreno said the company failed to address her complaints that general manager Barbara Camozzi had discriminated against minority employees and customers. She also said her termination from Armani in December was attributed to poor performance while it in fact resulted from discrimination because she's Hispanic.

Moreno and two African-American employees at the Madison Avenue store in New York City complained in October that Camozzi refused to serve African-American and Hispanic customers and would guard the cash register while these customers were present, according to the complaint. law360.com

Understanding Upcoming FDA Food Safety Rules In 2011, President Obama signed the Food Safety Modernization Act (FSMA) into law, giving the Food and Drug Administration (FDA) the tools to strengthen the food safety system. While the rules are still being finalized, there is a general outline of what the FDA will be doing and requiring. The biggest change is in focus: from reacting to food safety problems to preventing food safety problems. Under FSMA, the new mandates and authorities of the FDA include: ● Requiring preventive controls across the food supply; ● Increased inspections and records access; ● Imported food safety requirements; ● Mandatory recall authority for all food products; and ● Integration and enhanced partnerships. csnews.com

Wal-Mart sued over denying health insurance to gay worker's wife A Wal-Mart Stores Inc employee sued the retailer on Tuesday, saying its prior policy of denying health insurance benefits to the spouses of gay employees violated gender discrimination laws. The lawsuit, filed in U.S. District Court in Boston, seeks nationwide class-action status. Wal-Mart, the largest private U.S. employer, began offering health insurance benefits to same-sex spouses last year, after the Supreme Court in 2013 struck down part of the Defense of Marriage Act that denied federal benefits to married gay couples. Jackie Cote, an office manager who has worked at Walmart stores in Maine and Massachusetts since 1999, said in the lawsuit that her wife, Diana Smithson, developed cancer in 2012 and that the denial of insurance led to $150,000 in medical debt, hampering her recovery. Cote and Smithson were married in Massachusetts in 2004, the same year a court ruling made the state the first in the country to allow gay nuptials. When Cote brought her claims to the U.S. Equal Employment Opportunity Commission, Wal-Mart said federal anti-discrimination laws did not apply to lesbian, gay, bisexual and transgender employees, so it did not have to offer benefits to their spouses. Cote's lawsuit called the policy a form of gender discrimination because the wife of a male employee would receive health insurance, and even after the 2014 change, Wal-Mart workers still live with the uncertainty of losing spousal coverage. reuters.com

Whataburger restaurant chain takes stand against Texas' new open carry law An iconic Texas restaurant chain will not allow the open carrying of guns on its properties, and industry experts say other restaurants will likely take the same stand against a new state law legalizing the practice in many public places. Whataburger - with some 780 locations in 10 states - has drawn a mix of praise and rebuke since making the announcement this month, including a prediction of boycotts from one of the state's leading advocates for gun rights. In an open letter on the company's website, Whataburger president and CEO Preston Atkinson said many employees and customers are "uncomfortable being around someone with a visible firearm." He described himself as an avid hunter with a concealed-carry license and noted that patrons licensed to carry concealed handguns will still be able to do so in Whataburger. yahoo.com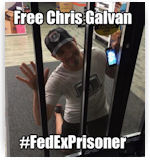 Man says he was stuck inside FedEx store for hours A San Antonio man says he was trapped inside a FedEx store for more than two hours this weekend because employees forgot he was still inside when they locked up. So what did he do - he made hysterical videos of course. Chris Galvan ran into the north-side FedEx store right before 9 p.m. on Saturday, a few minutes before it was going to close, needing to print off a few flyers and papers. When Chris went to the counter to say he was ready to print no one was there. The doors were locked and Chris was stuck inside with only a phone to keep him busy. "I knew I had to pass the time and I was delirious so I started taking videos, jumping jacks and sleeping and walking around doing funny stuff," said Chris. Chris called another 24 hour FedEx store for help. Employees there got in touch with the store manager who let Chris out around 11:30 at night, more than two hours after he first got trapped. kens5.com

Real Shoplifters (with cartoon faces) Star in UK Department Store's Latest Ad Harvey Nichols just did what we think must be a first for a retailer -- it put footage of real life shoplifters into an ad campaign. English ad agency Adam & Eve/DDB took the real life CCTV films of people stealing from the British department store and made them entertaining. It achieved this by disguising the criminals' faces with animated heads that give them the expressions of classic cartoon thieves. The ad, which promotes the retailer's new Rewards App, ends with the line "Love Freebies? Get them legally." creativityonline.com
Jacksonville, Fla., doubles bond amounts and issues stiffer penalties for repeat shoplifting offenders

California State lawmakers considering proposal to rein in Calif. law enforcement seizures

World's largest mall slated for 2016 opening - The Mall of Qatar - 4.2M-sq.-ft. with 400 shops

Dollar Tree plans 1.4M sq.-ft. Spartanburg, South Carolina distribution center

UK retail sales sees strongest gain in 18 months in June

Bealls opens new concept stores in Florida

Books-A-Million Inc. agrees to go private in $21M deal

Publix Warns Customers of Fake Coupon on Social Media Sites

Greek bailout deal would opens stores on Sunday, creating 300K new jobs

Quarterly Same Store Sales Results
Canada's Alimentation Couche-Tard Q4 U.S. comp's up 5.2%, 3% in Europe, 3.8% in Canada (includes The Pantry's results)

All the news - One place - One Source - One Time
The D&D Daily respects your time
& doesn't filter retail's reality

Report Your News!
(content subject to approval)




Up To 60,000 Canadians Affected By Possible Walmart Credit Card Data Breach - Third Party Provider Hacked - Are You Using PNI Digital Media? Walmart Canada has taken down the website for its online photo processing service following a possible data breach that may have compromised customers' credit card numbers. Visitors to WalmartCanadaPhotoCentre.ca are being greeted with a notice that the site has been taken offline. Robertson said Walmart has no reason to believe that in-store customers or online customers of the main Walmart.ca site were affected. The photocentre website is operated by Vancouver-based PNI Digital Media, which specializes in websites for retailers. Staff at PNI were unable to confirm the breach on Monday, saying the company would address the issue at a later time. huffingtonpost.ca

The Why (Not Just The Where) Of Beacons - Ownership - Control - Personalized - Respectful They're all trying to make sure that customers can get the most of the experience when they're there. The issue of digital ownership — the question of who owns the mobile engagement opportunity that beacons provide. "We believe that if you buy a beacon or you integrate firmware into your component to make it a beacon, you should own that engagement with your customers when they're at your place. You should decide which applications have access to the beacon signal.

There are many un-secured beacons out there today. That means that once you buy and install one of those beacons, you physically own it, but you don't digitally own it. Basically, you've bought infrastructure that others can access without authorization." "it was important for whoever's buying the infrastructure to have control of what the experience should be for the customers and users at that location. That control allows them to decide what partners and applications get access to participate in that customer experience." The aforementioned digital ownership allows retailers to protect consumers, making sure that customers are given what they need and that others are not taking advantage of their locations.

What Hunter views as one of the most interesting things happening in retail right now is that the store conforms to the consumer when he or she is inside of it: a phenomenon that can be beneficial to both parties. Instead of just trying to communicate with the consumer by sending the first message that pops up on his or her phone, maybe they can guide the consumer experience via a loyalty program of which he or she is a member — make it more nuanced and personalized, while still initiated by the consumer's presence at a location." pymnts.com

CFOs are not confident about their level of security CFOs' long-term outlook for the North American economy remains strong despite their weakening confidence in their own companies' prospects, according to Deloitte. Lower expectations for growth in revenue, earnings, and domestic hiring appear to be behind this declining sentiment. From an internal standpoint, attracting and retaining finance talent remains an ongoing issue. More than 70 percent of CFOs cite initial shortages of consultative, partnering, analytical and technical skills among staff. Crisis preparedness is another issue weighing on CFOs this quarter, with cyber-security attacks cited as the most threatening potential crisis. "People resourcing has become a problem for businesses. The knowledge of cyber security threats and countermeasures is inadequate due to shortage of experienced professionals." Almost one-fourth of CFOs say they are insufficiently prepared for an attack and only 10 percent feel well-prepared. net-security.org

Merging or Buying another retailer - New Cyber Gang 'Morpho' goes after corporate IP during mergers & acquisitions Symantec has identified a group of cybercriminals, whom they've named "Morpho," as targeting corporate intellectual property for financial gains. Morpho goes after research documents produced by civilian firms across a wide variety of industries. In 2013, the companies hit tended to be technology companies, then Morpho began going after legal and pharmaceutical firms. What all these companies have in common is that they're publicly listed, and most are in the Fortune 200. Another common thread is that attacks often occur after the corporation has been in the news as a result of possible merger and acquisition activity, he added. There's been no signs on the Dark Web of criminals trying to sell this information on the black market. We think a group of people is deliberately stealing this information for some sort of insider trading in the financial markets," he said. To attack the companies, Morpho uses watering holes -- compromised websites known to be visited by people working in the target companies. They could be hackers for hire, ready to go to work for anyone motivated enough to hire them, he said. cio.com

Cybersecurity Spending to Hit $170Bn by 2020
The worldwide cybersecurity market is set to be worth $75.4 billion in 2015, according to Visiongain—a number that is expected to reach $101 billion in 2018 (Gartner) and $170 billion by 2020 (MarketsandMarkets), translating to a CAGR of 9.8% from 2015 to 2020. Meanwhile, North America and Europe are the biggest markets. According to IDC, the main areas for growth are security analytics (SIEM) (10%); threat intelligence (10%); mobile security (18%); and cloud security (50%). infosecurity-magazine.com

User Names and Passwords Soon to Be Obsolete Traditional one-step passwords are now being matched with alternative methods using biometric technologies such as fingerprint recognition and two-step device verification. Within the next few years we are likely to see many more consumers embracing these and other alternative methods." Companies that build the most trust with consumers will be able to access more consumer data, use analytics to unlock more value from that data, and offer more revenue-generating services and applications leveraging Internet of Things opportunities." infosecurity-magazine.com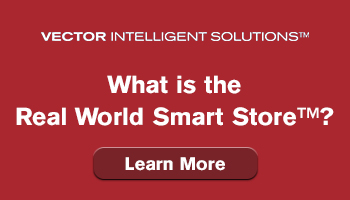 Vendor Spotlight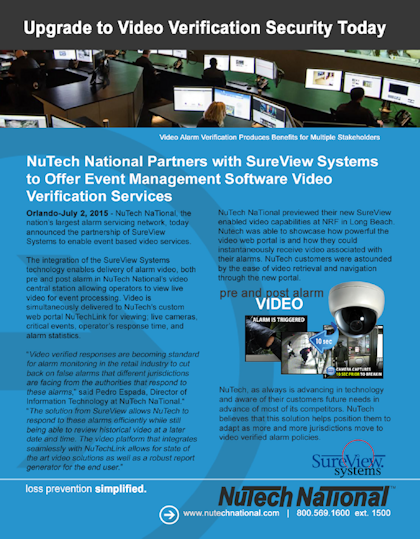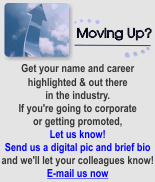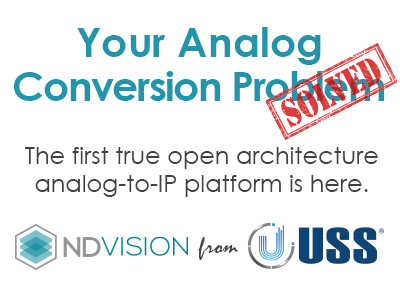 "Live in Long Beach"
at NRF Protect 2015
Opening Comments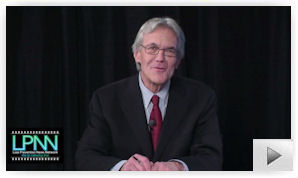 Gus Downing

, Publisher and Editor of the D&D Daily, kicks off our "Live in Long Beach" broadcast - filmed live on June 25th at the NRF Protect Conference & Expo in Long Beach, CA. Gus provides an introduction to the day's program, featuring industry leaders, retailers and solution providers talking about the hot topics in LP. From video analytics, to civil unrest, workplace violence, leadership development, the National Retail Security Survey results, Law Enforcement Collaboration, and ORC, these interviews feature valuable information designed to help you and your career.

Stay tuned to the Daily in the coming weeks and months as we re-broadcast each episode in order, including all the MC fun in between!



---
LPNN's dynamic duo takes the mic once again for another D&D Daily LIVE broadcast! MCs Joe LaRocca, VP & Senior Advisor, Loss Prevention, RetaiLPartners, and Amber Bradley, Owner & Brand Strategist, Calibration, LLC, are back for more off-the-cuff, unfiltered fun, taking viewers along the ride for our six-hour nonstop broadcast. Joe and Amber preview what's to come from "Live in Long Beach" at NRF Protect 2015.
Solution Providers, have a video or commercial you want to publish? Contact us.


2014 LP Team Group Selfie Review

Showcasing each team in order!

Your Team - Your Pride



Macy's Western Florida Loss Prevention Team

"Making MAGIC!"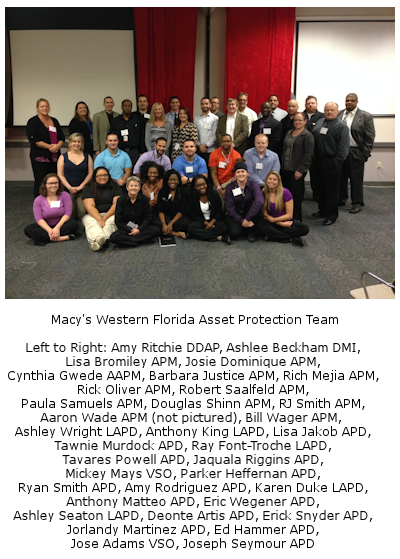 *Published on November 7, 2014

View all the selfies here.
Send us your Group LP Selfie!

Sponsored by:


---
e-commerce

Sponsored by The Zellman Group
Malvertising reaches record levels in June
Malvertising campaigns have reached more users than ever before, reported security firm Invincea yesterday, with many brand-name websites affected. The criminals actually bid for the prime advertising slots, though they probably pay for them with stolen credit card numbers. Then they use zero-day Adobe exploits to install clickfraud, botnet, ransomware, and banking Trojan malware. And the attackers don't stop with just one type of infection, he added. "We have seen instances where the initial infection delivers clickfraud malware and then, say, two days later, it will encrypt the hard disk," he said. The websites themselves were not hacked and, for the most part, the publishers were unaware of the malicious activity, according to Belcher, as the criminals got in through the advertising networks. Another tactic that is becoming more common with attackers is that of "sleeper" malware, which lies dormant after download for 14 hours or longer, in order to evade network sandboxes looking for suspicious activity. csoonline.com

By the Numbers: Amazon vs. Alibaba, the ecommerce giants According to an infographic compiled by international courier ParcelHero, while Amazon ships 3 million packages a day, Alibaba ships 12 million. Another interesting factoid: On Cyber Monday, America's great ecommerce shopping day, Amazon processed 37 million orders. On Singles Day, an annual shopping holiday in China created by Alibaba itself, Alibaba processed 278 million orders. For both Alibaba and Amazon, delivering packages is only one part of multi-pronged business models, and so while Alibaba delivers more packages than Amazon, Amazon is the larger company by revenue. Last year, Jeff Bezos' company raked in almost $89 billion in sales and Jack Ma's ecommerce platform took in a bit over $12 billion. Have a look at this infographic for a more in depth look at the Amazon-Alibaba faceoff. entrepreneur.com
"Fraud is not a person - it is a dynamic grouping of statistics that deviate from the norm."
Stuart B. Levine, CFI, CFCI
CEO, The Zellman Group & Zelligent


ORC News
Sponsored by Security Resources
Foley, Alabama Police working to curb creative shoplifting; legislation on booster bags It's no secret that Foley has become a shopping destination in the last several years. Recent additions like Academy Sports add to the already bustling Tanger Outlets and other shopping centers dotting the city. But with attractive merchandise comes people with sticky fingers looking for something free and that's where these so-call "booster bags" come into play. "Anybody that works in the retail business for any amount of time is going to find or come up on one of these at some point in their career," Captain David White said. White said that the bags have been an issue for some time, but there has been an increase in their usage in recent years. "If you possess one of these, you possess it because you're trying to do something illegal. I mean, there's no reason for anybody to have this without wanting to shoplift something," White said. myfoxal.com
South Florida couple hits Stein Mart on multiple occasions Sixty-two-year-old Patricia Echemendia and 45-year-old Neil Echemendia were arrested on June 23 by Aventura Police. Police said the duo targeted a Stein Mart, off of 199th Street and Biscayne Boulevard, on multiple occasions. During their heists, they were caught on surveillance video footage as Neil would steal several pricey watches, while Patricia played the role of lookout. "Initially, the female is seen ... select some items off the sales rack," said Aventura Detective Anna Howell. "She places the items inside of her purse at the same time the male is walking around [and] he selects a box. He usually always selects watches." wsvn.com
Tractor Supply power tool thieves Caught In Salina, KS A pair of alleged shoplifters from the Wichita area were caught in Salina. Police said that Derek Henson of Wichita stole two Dewalt drills from the Salina Tractor Supply store Friday night. After being confronted by an employee, Henson fled with the drills in a car driven by 40-year-old Angela Hall. The car was located a short time later at the Salina Sam's Club. The drills, valued at $960 were recovered and Henson and Hall were arrested. ksal.com

Nearly 500 Bottles of Nail Polish stolen from Sally's Beauty in Attleboro, MA Two alleged shoplifters were arrested Sunday with 460 bottles of nail polish valued at $3,820 in a stolen vehicle police alleged was used as the getaway car. Police found the car in South Attleboro, shortly after a witness from Sally's Beauty Supply in South Attleboro Square saw the alleged shoplifters drive away. The suspects were arrested at about 1:15 p.m. walking on nearby streets. Over $100 in nail polish allegedly stolen from the store was recovered in the car and police were still trying to determine the source of the other nail polish. thesunchronicle.com

10 years of shoplifting and drugs - man's latest shoplifting charge: 23 T-shirts from Dick's Sporting Goods in West Springfield, MA It wasn't the 23 T-shirts allegedly stolen from Dick's Sporting Goods that got James M. Elliott sent back to jail last week. The West Springfield store was just the latest victim of a decade-long, four-state shoplifting and larceny spree driven by the defendant's heroin addiction, Judge Charles V. Groce III said during a July 10 hearing in Springfield District Court. Citing Elliott's record of convictions in California, New Jersey, New York and Massachusetts, Groce said the 39-year-old Northampton man shows no sign of curbing his drug abuse or criminal behavior. masslive.com

Marshall, TX., police busts ORC duo credit social media postings

North Little Rock, AR woman arrested for $1,000 theft at Walmart
Do you have an ORC case to share?
Share your ORC news and help the industry grow

Retail Crime News

Overland, MO Police investigating; Armed Security guard shot at fleeing Shoplifter at Schnucks This past Saturday night a shooting occurred on the parking lot of a Schnucks grocery store located on Overland Plaza. The shooting was the result of an encounter between an alleged shoplifters and an armed security officer for the store. Police say the suspect, a woman in her 30's was approached by the security officer about several stolen items, when she jumped into a white Ford Explorer and drove it in reverse at the security officer. The officer fired one shot at the vehicle striking the rear of the SUV. fox2now.com
Eastland Mall shooting to send teen to youth prison in Columbus, OH A 17-year-old boy will spend at least one year in a state youth prison after admitting on Monday that he fired shots that injured two people at Eastland Mall last summer. Isaiah King was 16 when he pulled a gun during an argument between rival gang members in the mall on July 25. dispatch.com

Pasco, WA Police and Fire investigating Griggs Department Store fire; tied to 18 other possible arsons Three fires that broke out early Monday in Pasco may be connected to more than a dozen blazes intentionally set around the city in recent weeks. "They fit the profile of the arsons we have had recently," said David Ferguson, Pasco battalion fire chief. "We believe there's somewhere between 15 to 18 (fires) that are connected," he said. "That's just based on the geographic area and the types of fire." The fires have burned dumpsters, sheds, fields and fences. Pasco Police are investigating a fire set over the Fourth of July weekend inside Griggs Department Store, Ferguson said. A person is suspected of throwing lit firework into a box of boot liners, causing a small fire and smoke to fill up the store. tri-cityherald.com

Two Tiffany burglar's busted with $1M in jewelry in Manhasset Saturday at 4:44 a.m. Nassau County Police have arrested two men for Burglary that occurred in Manhasset on Saturday, July 11, 2015 at 4:44 am. Police responded to an alarm at Tiffany & Co. located at 1980 Northern Boulevard. Upon arrival police observed Vitalii Trufanov, 40, on the roof of the building. He had in possession assorted jewelry and watches valued in excess of one million dollars. They found his accomplice, Evgenii Zakhapov inside the store. Editor's Note: Are they Russians or Romanians? newsli.com

Sam's Club former assistant op's mgr. admits to $40k theft scheme in Norristown - pleads guilty Between Dec. 10, 2009 and Jan. 18, 2011, according to the arrest affidavit, Bray conducted 54 returns of high-price items, such as furniture, televisions and other electronics. Bray, detectives said, used his managerial permission rights to conduct a refund using the override or return without receipt option in the electronic journal. After the refund was completed, Bray purchased the product that was returned, however the re-purchase of the product was at a lower price than it was originally purchased for, according to court papers. Bray then took cash out of the register drawer representing the difference between the "return" price and "re-purchase" price, according to the arrest affidavit. montgomerynews.com

Pennsylvania State Police arrest 2 in $26,000 Credit Card Fraud; focused on Grove City Outlets The 2 Florida men were charged with access device fraud, identity theft and operating a corrupt organization. Police later searched a hotel room at the Holiday Inn Express, where the suspects had been staying for several days, as well as a rental car. Police recovered approximately 118 fraudulent credit cards containing stolen account information and more than $26,000 worth of retail merchandise and retail gift cards suspected to have been purchased using the stolen cards. wytv.com

Omaha, NE Police arrest suspect in 6 Pharmacy Robberies at CVS and Walmart Omaha police have connected a man to several recent pharmacy robberies thanks to some help from Crime Stoppers tips. Stephen Glow, 23, was taken into custody after a Walmart Pharmacy robbery on Friday. In an arrest affidavit, police stated they compared security footage and received multiple tips before linking Glow to the robberies. wowt.com


Woman w/ Russian Passport selling fake diamonds in several States Using a Russian passport for identification, sold a pendant in an antique store which later turned out to be Moissanite, rather than diamond, and was paid $3,300 by check. When the store owner discovered that it was Moissanite rather than a diamond shortly after the suspect left the store, the owner contacted her bank down the street to stop payment on the check, only to find the check had already been cashed. The suspect has reportedly carried out similar sales in numerous other states in the last two years, including in NJ, PA, FL, MD, IL and NY. If you have information, contact Detective Kevin Heffernan of the Acton, MA Police Department at 978-929-7522

Canada: Toronto Police arrest man in $19,000 bike theft Toronto police have arrested a man after the theft of a racing bike worth more than $19,000. According to police, a man removed a high-end road-racing bicycle that was attached to a parked vehicle in the St. Clair Ave. and Mt. Pleasant Rd. area at 8:56 p.m. on June 26. The bike, a custom-made Vitess Bespoke, is valued at $19,097. omnifeed.com

UK: Sixteen arrested after Aberdeen, Scotland shoplifting crackdown Sixteen people have been arrested and charged after a crackdown on shoplifting in Aberdeen. Officers carried out the two-day operation in the city centre on Monday and Tuesday this week. In addition, a 16-year-old girl was also arrested and charged over an alleged assault in the city centre last night. City Centre Inspector Lorna Ferguson said: "Crimes against retailers have wide-ranging consequences for businesses and we will continue to be visible in the city centre and work alongside our partners in the retail trade to reduce and prevent crimes of theft by shoplifting. eveningexpress.co.uk

Credit card fraud suspect also person of interest in recent homicide in Little Rock, AR

Owner of Watertown, CT Jewelry store was robbed, beaten

Hattiesburg, MD Police investigating 12 Commercial Burglaries.

Probation, restitution ordered in $1,300 burglary at Lockport, NY Bon Ton

Thief Steals Food, TVs, Video Games, DVDs, Diapers, Baby Formula from a Philadelphia Daycare

Bass Pro Shop employee steals $600 worth of Knives in Fort Myers, FL

Giant Food shoplifting suspect identified in $650 theft in Maxatawny Twp, PA

Bench warrant issued for Santa Clara, CA Police Officer after court no-show for shoplifting charge

$1 Million Reward for the return of the Ruby Slippers

Doughnut Store Owner Declines to Press Charges Against Singer Ariana Grande



Robberies and Burglaries
● A&A Market - Manchester, NH - Armed Robbery
● AT&T – Apple Valley, CA – Armed Robbery
● Butters Quick Shop – Bladen Co, SC – Armed Robbery
● Cefco – Harker Hts, TX – Armed Robbery
● Cumberland Farms – Manchester, NH – Armed Robbery
● CVS – Owego, NY - Armed Robbery
● CVS – Wilmington, DE – Armed Robbery
● Discount Mart – Leesburg, VA – Burglary
● Dollar General – Fort Wayne, IN – Armed Robbery
● Domino's – Westerville, OH – Armed Robbery
● Jon's Jewelers – Watertown, CT – Robbery/ Owner beaten
● Kum and Go – Jonesboro, AR – Armed Robbery
● Leo Mart – Harker Hts, TX – Armed Robbery
● Mike's – Portsmouth, VA - Armed Robbery
● Rite Aid – Gloucester Co, NJ – Armed Robbery
● Shell – Lancaster Co, SC – Armed Robbery
● Steak 'n Shake – Columbus, OH – Armed Robbery
● Subway – Fort Wayne, IN – Armed Robbery
● Super K Conv. – Houston, TX – Armed Robbery / Clerk shoots 2


Featured Job Listings
Sponsored by NuTech National
Feature Your Job Here For 30 Days -
70% Aren't On the Boards
Director Fraud & ORC
Lowe's
Mooresville, NC
Lowe's
VP of Security
Comcast
Philadelphia, PA
Comcast
Senior Dir Safety/Food Safety/Hazmat
Sears
Hoffman Estates, IL
Sears Holdings Corp
Territory LP Dir.
Burlington Stores
Los Angeles, CA
Burlington Stores
Director of LP
SUPERVALU
Bowie, MD
SUPERVALU
LP Director
Goodwill Industries of the Chesapeake, Inc
Baltimore, MD
Goodwill Industries of the Chesapeake, Inc
Dir. of Security/LP
Estee Lauder
Los Angeles, CA
Estee Lauder
Director of LP
A'gaci
San Antonio, TX
A'gaci
Director of LP
Lane Bryant
Columbus, OH
LinkedIn
Director of LP
PacSun
Anaheim, CA
PacSun
VP Supply Chain, LP & Safety
Ross Stores
Ft. Mill, SC
Ross Stores
Dir, Pharmacy LP
Rite Aid
Camp Hill, PA
Rite Aid
LP Corporate Sr Mgr
JC Penney
Dallas, TX
JC Penney
Corporate LP Mgr
St. John Knits
Irvine, CA
St. John Knits
Mgr, Corp Security & LP
Canadian Tire
Oakville, ON
Canadian TireRegional LP Mgr
Victoria's Secret
Los Angeles, CA
L Brands
Market ORC Investigator
Victoria's Secret
San Francisco, CA
L Brands
District LP Mgr
Dick's Sporting Goods
Phoenix, AZ
Dick's Sporting Goods
LP Mgr
Dick's Sporting Goods
Wheaton, MD
Dick's Sporting Goods
Regional LP Mgr
Family Dollar
Milwaukee, WI
Family Dollar
Regional LP Mgr
Family Dollar
Philadelphia, PA
Family Dollar
Multi Unit LP Mgr
The Great Atlantic & Pacific Tea Co.
New York City
The Great Atlantic & Pacific Tea Co.
Implementation Expert/Project Mgr
LP Software
Worth, IL
LP Software
Sales Representative
NuTech National
Maitland, FL
NuTech National

Limited Time Only - Post Your Multi-Unit LP jobs for FREE - Learn More Here

Daily Job Alerts


Appearing One Day Only
View our Internet Jobs Archives here
LP Manager
CVS Health
White Plains, NY
CVS Health
Safety & Security Team Lead
IKEA
Seattle, WA
IKEA
District LP Mgr
JC Penney
Salt Lake City, UT
JC Penney
Store LP Mgr
Kohl's
Green Valley, NV
Kohl's
District G LP Specialist
Kroger
North Chesterfield, VA
Kroger
Dept Mgr LP & Safety
Lowe's
Fort Worth, TX
Lowe's
Dept Mgr LP & Safety
Lowe's
Laurinburg, NC
Lowe's
Dept Mgr LP & Safety
Lowe's
Glenville, NY
Lowe's
Dept Mgr LP & Safety
Lowe's
Thomaston, ME
Lowe's
Dept Mgr LP & Safety
Lowe's
Salisbury, NC
Lowe's
AP Manager in Training
Walmart
Greenwood, SC
Wal-Mart
AP Manager in Training
Walmart
North Vernon, IN
Wal-Mart
AP Manager in Training
Walmart
Hamburg, PA
Wal-Mart
AP Manager in Training
Walmart
Huntington, IN
Wal-Mart
AP Manager in Training
Walmart
Lexington, NE
Wal-Mart
AP Manager in Training
Walmart
Norwalk, CT
Wal-Mart
AP Manager
Sam's Club
Pensacola, FL
Wal-Mart
AP Manager
Sam's Club
West Mifflin, PA
Wal-Mart
LP Mgr
Kmart
Charleston, WV
Sears Holdings Corp
LP Mgr Hrly
Kmart
Clio, MI
Sears Holdings Corp
LP Mgr Hrly
Kmart
Alamogordo, NM
Sears Holdings Corp
LP Mgr Hrly
Sears
Frederick, MD
Sears Holdings Corp
LP Mgr Hrly
Kmart
Towanda, PA
Sears Holdings Corp
LP Mgr Hrly
Kmart
Waupaca, WI
Sears Holdings Corp
LP Mgr Hrly
Kmart
North Augusta, SC
Sears Holdings Corp
Safety Mgr
Walgreens
Deerfield, IL
Walgreens
AP Mgr
EZCORP
Austin, TX
LinkedIn



Home of the Industry's Original
On the Move

Bobby DeAgostino was named Regional Vice President for Family Dollar.
Tracey Phillips was named Area Loss Prevention Manager for Charlotte Russe.
Miguel Simon was promoted to East Regional Security Manager for Gucci America, Inc./Kering.
Ron Clark was promoted to Southeast District Security Manager for Gucci America, Inc./Kering.
Ivan Chavarria was named Loss Prevention Lead for Sephora.

Post Your New Job or Promotion!
See all the Industry Movement


Your Career
Sponsor this section of the Daily
30 Quick Tips for Becoming More Productive Being focused and staying productive requires extreme determination and thought. To really make progress in your work loads, and get the most out of your time, here are some fast tips to becoming more productive. If you don't need it, get rid of it

Reclaim 60 Minutes a Day Right Now with these 10 Tips What would you do with an extra hour each day? Here are some tips that could help you reclaim an hour each day over the next 60 days. The trick is knowing how you are spending your time and prioritizing what's truly important. Schedule time on the web

Just Hearing Your Phone Buzz Hurts Your Productivity Even if your phone is lying just out of reach, screen-side down, it can still distract you. The familiar buzz of a new message, email or social media notification can pull our attention away just enough to affect your performance. Set it to silent

The Key Steps to Managing a Heavy Workload As a leader, you're often dealing with pressing concerns while trying to promote growth and development. The piles of work get bigger, while your time seems to shrink. Here are some tips on time management that can make it easier. Learn from procrastination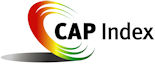 Tip of the Day
Sponsored by Vector Security
Handling the big question – Why did you leave? is the hardest of them all if, in fact, your departure was involuntary. Like Bum Phillips, the old Houston Oilers coach, once said at a luncheon I attended, "There's two types of coaches – those that have been fired and those who are waiting to be fired." And quite frankly he was almost dead-on as over 70% of executives will face involuntary departures from an employer during their career. The best position to take is one of absolute straightforwardness. Be open – be honest – and be reflective right from the beginning. But get it over quick and deal with it right at the beginning of the interview and don't make it a long-winded response. Certainly review it – rehearse it – make sure it answers the question. But get it out of the way and move on in your own mind. Look to the future and leave it behind you.

Just a Thought,
Gus





Upcoming Events
---
Recruiting?
Get your job e-mailed to everyone... everyday
Post on our Featured Jobs Board!
Reach your target audience in 2015 every day!
Request our 2015 Media Kit
update account / change e-mail
unsubscribe FEEDBACK
www.downing-downing.com

Advertise With The D&D Daily




36615 Vine Street, Suite 103
Willoughby, OH 44094
440.942.0671
copyright 2009-2019
all rights reserved globally