The D&D Daily Mobile Edition
LP, AP & IT Security's #1 News Source


---
Group LP Selfies
See all the selfies here

2018 GLPS - Group LP Selfies
Your Team - Your Pride - Our Industry
Building Industry Pride - One Team Selfie at a Time
At Home "Gets LP Social"

Play Ball! At Home's LP Team Takes In A Rangers Game After Enjoying A Free Jimmy John's Party!
Winner of D&D Daily's
'Group LP Selfie' Competition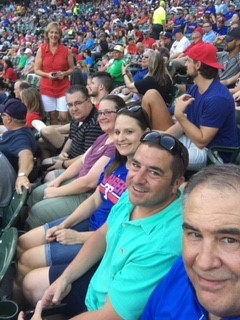 Pictured (from the foreground back): Rick Beardsley, Bob Burns, Heather Muscanere, Jen Zervas & Todd Egan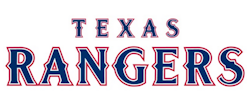 ---
At Home's Winning Photo!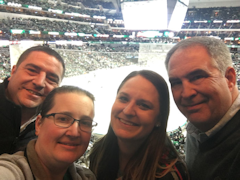 Click to see image above enlarged
At Home's Loss Prevention Team took in a Texas Rangers game last Thursday following their free Jimmy John's Party courtesy of the D&D Daily, as one of three winners selected in a random drawing at our "Live in Dallas" at NRF Protect 2018 live broadcast last month.

The winning photo was submitted back in February by Rick Beardsley, Director of Loss Prevention and Safety, At Home. Thanks again to the At Home Loss Prevention Team for their participation!
---
Submit Your Group LP Selfie and Group Vendor Selfies Today!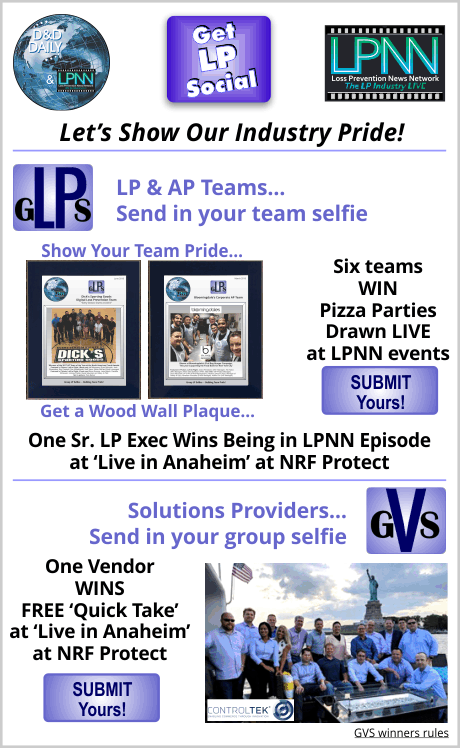 ---
Moving Up

Sponsored by
Agilence

Jochen Koedijk named Chief Marketing Officer for ADT
ADT Inc., a leading provider of security and automation solutions for homes and businesses, today announced that Jochen Koedijk has joined the company as its Chief Marketing Officer. Koedijk joins ADT from Chewy.com where he served as the Vice President, Marketing. Reporting directly to ADT President Jim DeVries, Koedijk will be responsible for delivering innovative digital and brand marketing strategies and initiatives that drive profitable business growth.

Previous to Chewy.com, Jochen held roles at Amazon and Electronic Arts. During his time at Amazon, he led worldwide Social Media and New Channel Advertising, overseeing a cross-functional team of more than 70 people and achieving triple digit year-over-year growth. As a member of Electronic Arts' digital business unit leadership team, Jochen led in-house global performance marketing operations for the company's Console, PC, and Mobile games business lines. Congratulations Jochen! Read more in today's Vendor Spotlight column below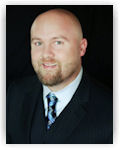 Brent Smerczynski promoted to Corporate Asset Protection Manager - Operations, Safety & Regulatory Compliance for 7-Eleven
Brent was previously the Corporate Asset Protection Manager - Operations & Investigations for the retailer for over two years before this promotion. He's been with 7-Eleven since 2013 when he started as a Corporate AP Manager - Operations. He's held other asset protection, operations and safety positions with Home Depot such as District Operations Manager, District AP Manager and District Safety Manager. Brent earned his Bachelors of Science in Industrial Safety and his Masters in Safety Education from University of Central Oklahoma. Congratulations Brent!

---
Top Industry News

How a warehouse fire sparked company-wide innovation at Gap

With 1.3 million square feet of warehouse reduced to rubble, executives had to problem-solve on the fly, transforming the 50-year-old company's culture.

At 10:30 p.m. on Monday, August 29, 2016, Jim Young had just gotten home after a long day on the factory floor when he received the call he had been dreading his entire life.

Gap's largest distribution center in Fishkill, New York, was engulfed in flames. As regional general manager, Young was the first person to hear the news from a staffer on duty. In his three decades at Gap - which owns Banana Republic, Athleta, and Old Navy in addition to its namesake brand - Young had led employees through hundreds of fire drills. But no amount of disaster training could prepare him for the photo that popped up on his phone showing his workplace ablaze.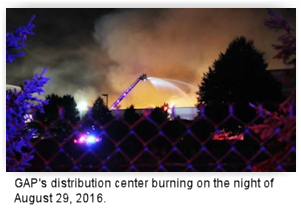 Miraculously, although half a million square feet burned down that night and another half a million was damaged by smoke, no one was reported missing or hurt. Young didn't believe it. He asked four separate people to do head counts. "I heard the same thing from loss prevention, our maintenance team, and our operations team," Young says. "The fire was in a far part of the facility and everyone was out of there in five minutes. I'm glad we've taken disaster training so seriously, because this could have very easily led to fatalities."

The cause of the fire is still a mystery. The investigation is ongoing, but early police reports suggest the fire was set intentionally. Gap Inc. and the Bureau of Alcohol, Tobacco, Firearms, and Explosives recently raised their joint reward to $25,000 for anybody who comes forward with information connected to the incident.

The night of the fire was harrowing for Young. When he drove back to the warehouse, more than a 100 firefighters from 20 departments across three counties had been dispatched to battle the flames. But it was only the beginning of a two-year-long odyssey to get Gap back on track after the disaster. With Black Friday and the holiday season around the corner, Gap's senior leadership - Young, along with his direct boss, supply chain head Shawn Curran, and CEO Art Peck - had to figure out how to cope with the lost merchandise and get orders out to customers. They had to respond to the 1,300 Fishkill workers who worried they would be jobless for months. Then there was the work of rebuilding the facility.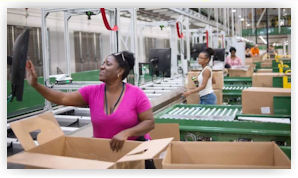 But through this process of solving one problem after another, something interesting happened: A wave of innovation began to sweep through the entire corporation. On the fly, managers like Young were forced to invent more efficient ways of running the business. The company quickly piloted more powerful technology that would speed up operations and make up for the lost productivity, and then implemented this new machinery in other distribution centers. Today, two years later, Gap is able to get a higher volume of clothes to customers more efficiently than ever before. fastcompany.com

Rising Risks: More intense flash floods hit overdeveloped real estate, destroying Main Street USA
Flash floods are getting worse, due in large part to real estate development covering natural vegetation and replacing it with impervious surfaces such as concrete and asphalt. One historic town in Maryland is struggling to adapt to its wet new reality after two 1,000-year floods in a three-year period. cnbc.com
---
Vector Security Debuts Storefront Concept in Canfield, Ohio

Customers can demo and experience the protection and convenience of security and home automation solutions.

Vector Security, Inc., the leading provider of intelligent mobile security and home automation solutions, and the nation's fourth largest security company, recently debuted its new storefront concept in Canfield, Ohio. The location is home to the company's largest installed customer base in that state.

The storefront offers customers the opportunity to touch, feel and demo security and home automation solutions offered by Vector Security via a Customer Experience Area that features products such as security control panels, indoor and outdoor video cameras, doorbell cameras, lights, thermostats, and other smart home devices. Real windows and doors show how sensors and contacts work and how alarms can be triggered. Read more here.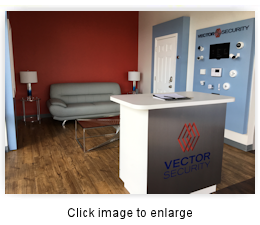 ---
Massachusetts Package Stores Association Partners with Intellicheck to Offer Age ID


Intellicheck (NYSE AMERICAN: IDN), an industry leader in identification authentication solutions, today announced a partnership with the Massachusetts Package Stores Association. The not-for-profit trade organization will be partnering with Intellicheck to make Age ID available to its hundreds of members throughout the state. Age ID authenticates driver licenses and other forms of identification to prevent the use of altered and fake IDs when making age restricted product purchases.

Massachusetts Package Stores Association Executive Director and General Counsel Robert Mellion said fraudulent IDs are a serious problem. Read more here.
---
Nomination Request for N.E. Loss Prevention Awards
Submission Deadline Aug. 17th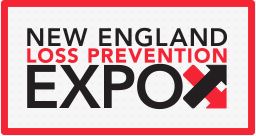 We are currently requesting nominations for the 2018 Loss Prevention Awards which are to be presented at this year's New England Loss Prevention Expo scheduled for Thursday, September 13th at the DCU Center in Worcester. The awards are designed to recognize individuals in the loss prevention industry and within law enforcement who go above and beyond in their efforts to curb retail crime.

Please click here for this year's nomination form which includes the names and descriptions of the three award categories. If you know of a LP staffer or LE officer that should be considered for this honor, please let us know by completing the nomination form and submitting it via email to info@retailersma.org or via fax at 617-523-4321. The deadline for submission is Friday, August 17th.

Please direct any questions or concerns to RAM General Counsel, Ryan Kearney, at rkearney@retailersma.org or 617-523-1900.
---
Retail Fraud Volume and Cost Increase Sharply Year-On-Year
Retailers say successful fraudulent transactions are up nearly 30% over 2017
Today, LexisNexis® Risk Solutions released its comprehensive 2018 True Cost of Fraud report, for the retail sector. Findings show fraud is escalating at an unprecedented pace in an industry already operating on very thin margins.

The LexisNexis Fraud Multiplier, which measures the cost for each dollar of fraud loss, found that this year, every dollar of fraud cost merchants $2.94, up from $2.77 a year ago, a 6 percent increase. The report also found the volume of successful and thwarted fraudulent attempts rising steeply at the companies surveyed - from a monthly average of 238 to 306 successful fraudulent transactions, year-on-year, and from 257 to 313 prevented fraudulent transactions.

Mobile commerce continues to be the sector most susceptible to fraud, particularly with identity fraud. Mid- to large-size mobile commerce merchants that sell digital goods see 39 percent of the fraud losses from identity theft, including synthetic identities. Though these merchants appear to have shown signs of investing in fraud prevention solutions in the past year, many still struggle with identity fraud. This is likely due to the types of solutions that these merchants are implementing. prnewswire.com
Five-Finger Discount: A Look at Pennsylvania's 3-Strikes Law for Retail Theft
Rep. Dan Miller, D-Allegheny County, and Rep. Madeleine Dean, D-Montgomery County, have introduced a bill that would eliminate the three strikes provision for retail theft. Under the bill introduced by Miller and Dean, retail theft would only be graded as a felony if the value of the items stolen exceeded $1,000 or involved the theft of a firearm or a motor vehicle. The highest a retail theft incident could be graded otherwise would be a misdemeanor. "It is our belief that the goals of public safety, accountability and restitution can be served under existing retail theft misdemeanor grading," Miller and Dean wrote in a co-sponsorship letter for House Bill 2098. The two wrote that many retail thefts are committed by people dealing with substance use issues and many are committed by women. Between 2010 and 2016, the number of women charged with retail theft in Cumberland County more than doubled, according to court records.

In 2015, there were more than 350 retail theft charges in Cumberland County, according to court records. Nearly half of those cases were graded as a felony, court records show. "[T]he impact of felony charge can severely impede our shared goals of long-term sobriety, reintegration and independence," Miller and Dean wrote. "Simply put, a third degree felony for a tube of toothpaste while in the midst of drug addiction is an unwarranted and unhelpful barrier to a productive life." House Bill 2098 was introduced in February and sent to the House Judiciary Committee where it has not been brought up for a vote. If the bill is not approved and signed into law by the end of the year, it will have to be reintroduced during the next legislative session. The bill has nine co-sponsors excluding Miller and Dean. All of the bill's co-sponsors are Democrats, according to legislative records. cumberlink.com

UK: Gig economy behind retail staff theft?
Britain's 'gig economy' could be a reason for a new wave of internal dishonesty in the retail sector, it's suggested. Financial pressures on workers and the perceived low risk of getting caught have been highlighted as tell-tale trigger points for theft by staff, according to research among loss prevention and HR people who interviewed a growing number of employees in relation to internal theft and fraud during 2017.

Research by Wicklander-Zulawski EU (WZ), the trainers of loss prevention (LP) and HR people in non-confrontational interview techniques, points to 85 per cent of cases financial pressures as the catalyst to staff dishonesty. Meanwhile according to the latest figures from the trade body the British Retail Consortium (BRC), internal theft has risen by more than a third in the last 12 months.

In the WZ study, around 40 per cent of those dismissed said that the lower risk of getting caught was a motivation, another symptom of the so-called gig economy where high staff turnover is the norm. A quarter of those interviewed said peer pressure led them astray, but in one instance, external gang pressure was cited, which echoes growing concerns over violence and aggression against retail staff, as reported by the BRC, the Association of Convenience Stores (ACS) and shop workers union USDAW alike.

Although external theft – shoplifting – is perceived to be the main reason for store losses, internal dishonesty by those in positions of trust often involves greater values of loss over a longer time. In 16 per cent of cases it was assistant managers who were dismissed for theft/fraud, while the research found that 13 per cent of store managers left under a cloud. Those surveyed also said that there were other motivations to steal including 25 per cent of retail staff that felt a sense of entitlement and a further 20 per cent said they stole 'in lieu of a pay rise or promotion.' Others believed there were 'no real consequences' for stealing before they were caught by the increasing use of retail technologies. professionalsecurity.co.uk

UK: Police spark outrage for advising shop workers
to arrest 'dangerous' thieves themselves
Several police forces have outlined out how employees can take the law into their own hands if they "reasonably suspect" somebody of committing a crime. It comes after figures revealed shoplifting had risen by almost a third in the past decade, yet the majority of police forces refuse to attend incidents if the goods stolen are worth less than £200 ($262 USD). Victims are instead told to report the crime online via the non-emergency number 101 for "intelligence" only, which means it probably won't be investigated. But Chief Executive of the Association of Convenience Stores, James Lowman, warns that many retailers are at "risk of abuse and violence" for challenging offenders. The British Retail Consortium said it was "plainly unacceptable" that more than 50 workers were injured every day. express.co.uk
---
Retail exec bonuses on the rise, reversing five-year trend
Improved year-over-year retail growth in 2017 has contributed to a dramatic reversal in payouts for retail executives.

The percentage of retail executives who received targeted bonus amounts nearly doubled in 2018, according to new research from Korn Ferry. The study found that in 2018, 29% of retail corporate executives had bonus payouts of at least 100% of their targeted bonuses. In 2017, only 15% of retail executives received at least 100% of their target bonus.

Conversely, the percentage of retail executives who received no bonuses took a fairly dramatic drop year-over-year, with only 5% receiving no bonus in 2018, compared to 29% receiving no bonus in 2017.

Korn Ferry conducted an analysis of 65 North American retailers, with median annual sales of approximately $5.2 billion representing approximately 5.5 million employees. chainstoreage.com

Only three retailers make the cut in annual workplace survey
A wholesale club giant, a well-regarded regional supermarket chain and a coffee giant rank among the nation's highest-rated workplaces. Costco Wholesale Club and Publix Super Markets nabbed the No. 5 and No. 19 spots respectively on the annual Top-Rated Workplaces: The 50 Best ranking by job site Indeed. The top spot was taken by Facebook. Starbucks was No. 23. (The ranking is based on overall ratings and reviews on Indeed of the companies featured on this year's Fortune 500 list.) chainstoreage.com

"I can't thank you enough"
5-year-old gets new arm at the Home Depot
The prosthesis is one of about 120 that John "Jack" Longo, a Home Depot hardware sales associate who lives in Crownsville, has fabricated and donated to children and adults with missing hands and limbs over the past year and a half.

When Longo heard about E-NABLE, an online community that connects volunteers with 3-D printers to people in need of prostheses, he was fascinated. He got permission from Dremel and the Home Depot store manager, downloaded the additional technology required and sent a test prosthetic pros to E-NABLE for the organization to review for quality.

The Home Depot, which sells Dremel tools, started stocking Dremel 3-D printers about 2½ years ago.

Most of the donations were sent off to E-NABLE for distribution, so Longo and his Home Depot colleagues didn't get to see the reactions of the recipients. Getting to watch five-year-old Bradley Goloski try on the arm was special, store manager Laura Gibson said.

"I can't thank you enough," Bradley's grandfather said. washingtonpost.com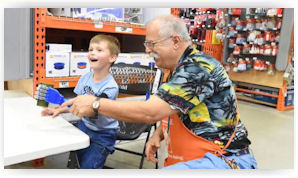 Just Released: NRF PROTECT 2018 Official Recap Video

Columbus, Ohio area Chipotle closes after 170 customers get sick

Furniture seller Heritage Home files for bankruptcy

Credit-Card Backlash Mounts as Kroger Weighs Expanding Visa Ban

TGS Management Director of Asset Protection job posting was removed from website

Nordstrom - National Director, Investigations (Loss Prevention) job is no longer available according to website


Quarterly Results
Rent-A-Center Q2 comp's up 3.7%, revenue down 3.2%
Steve Madden Q2 comp's up 1.6%, net sales up 8.5%
Ralph Lauren Q1 North American comp's down 3%, revenue down 2%

All the News - One Place - One Source - One Time
The D&D Daily respects your time
and doesn't filter retail's reality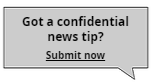 ---

---

---
---
Spotlight on
ADT/Protection 1
ADT Names Jochen Koedijk as New Chief Marketing Officer
Former Amazon and Chewy.com Executive Brings Deep Digital Marketing Experience and Innovative Approaches To Help Drive ADT's Continued Growth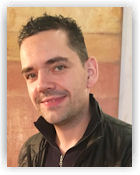 BOCA RATON, Fla., July 30, 2018 - ADT Inc. (NYSE: ADT), a leading provider of security and automation solutions for homes and businesses, today announced that Jochen Koedijk has joined the company as its Chief Marketing Officer. Koedijk joins ADT from Chewy.com where he served as the Vice President, Marketing. Reporting directly to ADT President Jim DeVries, Koedijk will be responsible for delivering innovative digital and brand marketing strategies and initiatives that drive profitable business growth.

Previous to Chewy.com, Jochen held roles at Amazon and Electronic Arts. During his time at Amazon, he led worldwide Social Media and New Channel Advertising, overseeing a cross-functional team of more than 70 people and achieving triple digit year-over-year growth. As a member of Electronic Arts' digital business unit leadership team, Jochen led in-house global performance marketing operations for the company's Console, PC, and Mobile games business lines.

"Customer retention and lead-generation is significantly driven by digital engagement, and Jochen's leadership experience with world-class organizations such as Amazon, Chewy, and Electronic Arts is an immediate asset to our organization," said DeVries. "Jochen is a marketing innovator, and we're excited for him to build upon the ADT brand for our next generation of customers."

"Given the tremendous innovation in the home security and automation space, I couldn't think of a better time to join ADT, North America's most recognizable security leader," said Koedijk. "I look forward to collaborating with my colleagues to continue providing world-class customer service and scaling our business through new

and disruptive channels."

Koedijk holds his degrees in Business Administration and Social Sciences from the VU University in Amsterdam, NL.

Read more here.
---

---

Retail Cyber Intelligence Sharing Center (R-CISC) Forms Advisory Council
The council brings together members of the merchant community
to provide education on cybersecurity issues facing the industries.

Washington, DC – The Retail Cyber Intelligence Sharing Center (R-CISC), home of the Retail ISAC, has formed its Advisory Council. The R-CISC Advisory Council gathers together leading trade associations representing merchant industries, key R-CISC Associate members including industry stakeholders and government agencies, to provide a broader perspective across priorities and visibility on key cybersecurity issues.

The Advisory Council comes together with the joint goal of having a unified voice for merchants in the cybersecurity space. The organizations will collaborate on educational resources, building trust in the community and other initiatives.

The group hosted its inaugural meeting in Washington, DC last month. Organizations in attendance included a few of the members, the Food Marketing Institute (FMI), Deloitte, National Restaurant Association, National Retail Federation (NRF), and the Retail Industry Leaders Association (RILA). The Advisory Council is continuing to grow to include other members from government agencies, cybersecurity experts and other merchant trade associations. Read more here
---
Russian National Sentenced to 70 Months For $4 Million Debit Card Fraud
Crew of 5 Bought Hundreds of Thousands of Dollars of Goods from Calif. Retail Stores, Then Returned Them for Cash and Gift Cards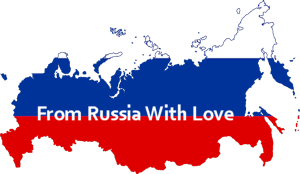 A Russian national responsible for a debit card fraud scheme that cost his victims over $4.1 million in losses and drove one company out of business has been sentenced to 70 months in federal prison.

Mikhail Malykhin, 36, will also forfeit about $1.3 million in cash, more than $22,000 in gift cards, several gold bars, and a 1966 Ford Mustang that the FBI previously seized from him.

Five associates of Malykhin - four Russian and one identified only as East European - used the fraudulent cards to buy hundreds of thousands of dollars worth of electronic goods, expensive furniture, and other big-ticket items from retail stores in California.

In several cases, the associates then returned the fraudulently purchased goods for cash or for gift cards. Malykhin himself, who was the head of what prosecutors have described as a Russian organized crime syndicate, got to keep his share of the luxury goods, cash, and debit cards.

All five of his associates were subsequently arrested and sentenced to periods ranging from one year to three years in federal prison. darkreading.com

Hackers targeting software supply chains, US report warns
Cyber espionage by China, Russia and Iran
Software supply chain infiltration has already threatened the critical infrastructure sector and could threaten other sectors as well, according to a report by the US National Counterintelligence and Security Center (NCSC).

"Foreign intelligence services – and threat actors working on their behalf – continue to represent the most persistent and pervasive cyber intelligence threat," said the Foreign economic espionage in cyberspace report.

The report said China, Russia and Iran "stand out as three of the most capable and active cyber actors tied to economic espionage", highlighting several cyber operations based in the three countries that have threatened US firms and interests. computerweekly.com

1.3M online fashion shoppers exposed after breach at UK ecommerce provider
Customers of a number of UK clothing and accessories websites have had their personal information exposed following a security breach at an IT services provider that they were sharing.

Brands such as Jaded London, AX Paris, Elle Belle Attire, Perfect Handbags, DLSB (Dirty Little Style Bitch), and Traffic People entrusted web development and ecommerce company Fashion Nexus to help them build an online store.

Unfortunately, something went wrong (Fashion Nexus, and its sister company White Room Solutions, refuses to say what), and white hat hacker Taylor Ralston was able to access a server containing a shared database containing personal details of the online clothing stores' customers.

In all, the exposed information contains personal information of approximately 1.3 million users, including MD5-hashed passwords, password, salts, names, dates of birth, email addresses, phone numbers, and other data. There is no indication that payment card information was put at risk. grahamcluley.com

Homeland Security creates anti-hacking center to protect industries

UnityPoint Health warns of potential data breach impacting 1.4M patients

Poll: 20% of US Adults Have Considered Infosec Careers

---
Tom's Tek Tip
by Tom Meehan, CFI
Sponsored by Controltek

Tired of Scrolling?
When you're on the web and you want to scroll down, you don't have to click on the little arrows or use your mouse's scroll wheel. Just use the space bar. Hitting the spacebar will scroll down one full page in any web browser. To scroll up, just hit shift + space bar. This is an easy time saver.

---

Harnessing the Power
of Social Media
Bob Oberosler, Group VP of AP, Rite Aid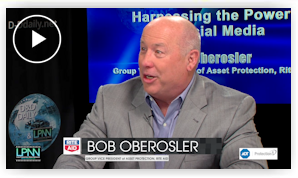 As retailers cope with limited budgets in this digital age, how is LP evolving and how do we continue to improve performance with what appears to be decreasing resources?

Bob Oberosler, Group Vice President of Asset Protection for Rite Aid, shares where he thinks the industry is going and how LP/AP teams can harness the power of social media, crowd sourcing, and artificial intelligence to fight retail crime and reduce shrink.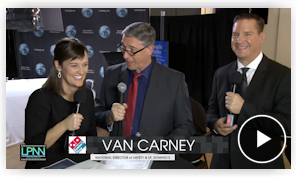 Van Carney, National Director of Safety and Loss Prevention for Domino's, and board member for the RLPSA, tells us what's new at this year's annual conference in Dallas, how RLPSA's regional CONNECT events developed, and why retailers should get involved.
---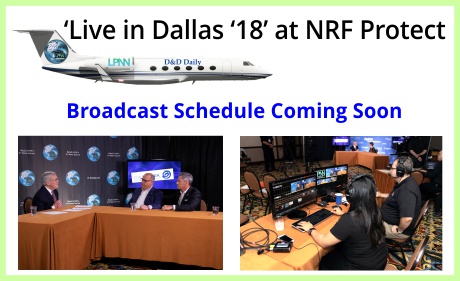 ---

---
e-commerce
Sponsored by The Zellman Group

On Amazon, Fake Products Plague Smaller Brands
Counterfeiters hijack companies' own listings with low-quality products and cut-rate prices


Amazon.com Inc. has made it easy for small brands to sell their products to large numbers of customers, but that has also enabled some counterfeiters to cut into their business.

Amazon said it prohibits the sale of counterfeit products. "We invest heavily to protect the integrity of our stores," a spokeswoman said in a statement, and "will continue to aggressively pursue those who harm our customer and seller experience."

Counterfeiters, though, have been able to exploit Amazon's drive to increase the site's selection and offer lower prices. The company has made the process to list products on its website simple—sellers can register with little more than a business name, email and address, phone number, credit card, ID and bank account—but that also has allowed impostors to create ersatz versions of hot-selling items, according to small brands and seller consultants.

When retailers log into Amazon's website for sellers, most product pages have a button next to the item that makes it easy for someone to list the same product. That strategy works well for consumers and Amazon on widely distributed items like shampoo and sneakers because it increases competition and that usually leads to lower prices for consumers.

Most small brands, however, are closely held and harder to get access to outside of authorized distribution. So, in some cases, counterfeiters are listing their versions of hot-selling items on the same page and at lower prices.
Amazon's pricing algorithms see the lower price and then assigns the default "add to cart" option to the counterfeiter, elbowing brands out of selling their own goods.


"The reality is this is a cat-and-mouse game," said James Thomson, a brand consultant with Buy Box Experts. "You have to find a way to remove more and more of the cheaters. As soon as [Amazon] closes one loophole, somebody else finds another loophole."

The surge in successful new brands on Amazon has helped fuel the counterfeiter problems, consultants say. While the problem is hard to quantify, sellers and consultants who work with them say it has become common.

Amazon has said its platform has helped millions of small businesses start new products. More than half of sales on its site, by unit, now are from independent merchants, including those who sell their own brands. Those transactions typically are more profitable to Amazon than selling its own stock, because it takes a roughly 15% cut and avoids inventory costs.

The Amazon spokeswoman said that less than 0.1% of site page views were flagged for potential infringements, and that the company investigated and takes action on 95% of brand-registered products within eight hours. The company also has developed algorithms and other systems to identify fraud.

Still, fakes continue to pop up. wsj.com


WHITE PAPER: Insider Hacks: How to Catch and Prosecute Fraudsters

Retailers using sophisticated fraud fighting tools keep fraud losses to a minimum but are often reluctant to pursue criminal charges. In fact, only 20 percent of professionals in the fraud prevention space are actively prosecuting those that steal from them online. Because the majority of hackers link to organized crime-rings, law enforcement is highly interested in prosecuting cybercrime. Retailers can provide evidence to bring fraudsters to justice and send a message to underground fraud rings.

Read this white paper to learn about:

● Why it is important to prosecute
● How to investigate and build a case
● Determining jurisdiction and how to approach law enforcement
● First-hand success stories with catching and prosecuting fraudsters kount.com
"Fraud is not a person - it is a dynamic grouping of statistics that deviate from the norm."
Stuart B. Levine, CFI, CFCI
CEO, The Zellman Group & Zelligent
---

---
ORC News
Sponsored by Auror

Oxford, MS: 2 more people have pleaded Guilty in a Federal Investigation into stolen trailers full of merchandise in Mississippi
Two more people have pleaded guilty in a federal investigation into stolen trailers full of merchandise in Mississippi. Bryan Lucas, 31, and Demetrius Nelms, 46, both of Memphis, entered the guilty pleas in U.S. District Court. They are among six people accused in a conspiracy to steal trailers at truck stops in Mississippi, Tennessee and other states. Among locations where trailers were stolen in Mississippi included Fulton, Oakland, Hickory Flat, Baldwyn and Okolona. The merchandise was driven to a warehouse in Nashville and unloaded before being transported to Michigan. The items taken included personal hygiene products, food, motor oil and antifreeze. wtva.com

Update: Vail, CO: Vail shoplifters back in court; pair allegedly stashed $20,000 of stolen stuff in their rented economy car
Alan Badasack Phongboupha, 27, of Thornton, made his first appearance Monday, July 30, before District Court Judge Russell Granger. He is charged with second-degree burglary, theft, criminal impersonation and criminal possession of identification. He did not enter a plea and is scheduled to be back before Granger for a Monday, Aug. 27, hearing. Bounkhong Phongboupha, 39, of Pinole, California, was with Alan during the alleged crime spree and is scheduled to appear Wednesday, Aug. 8, before District Court Judge Paul Dunkelman on identical charges. vailydaily.com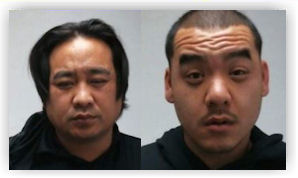 Auburn, MA: 3 indicted in $1,500 theft of tools from Home Depot
Three people have been indicted in connection with the theft of nearly $1,500 worth of tools and batteries June 25 from the Home Depot store in Auburn. A Worcester County grand jury handed up indictments Friday in Worcester Superior Court against Casey Queenan, 38, of 85 Day St., Fitchburg; Carlos Toledo, 44, of Springfield; and Kayla Ptak, 28, of 29 Sunrise Drive in the Baldwinville section of Templeton. Investigators said the three were arrested June 25 after loss prevention employees at the Home Depot on Washington Street in Auburn called Auburn police to report that they were watching two men, later identified as Mr. Queenan and Mr. Toledo, who were known to them from past thefts of power tools. telegram.com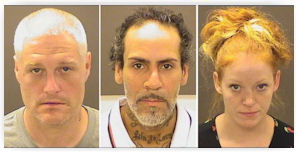 South Brunswick, NJ: Police arrested a 51-year-old man involved with a trio of teen shoplifters
South Brunswick Police arrested a 51-year-old Monmouth Junction man who they say was involved with a trio of teen juveniles who were shoplifting from local businesses in the area. The three teens are all from Monmouth Junction, as well. The shoplifting has been going on for the past three months, police said. The local businesses estimated the value of the stolen property was over $1,000 over that time period. patch.com
Dayton, OH: Robbery suspect flees with $4,000 of prescription drugs from Rite Aid

Richland County, SC: Pressure Washer and Drills among the $1,300 of merchandise stolen from Lowe's

Freehold Township, NJ: Two women charged with $800 Burglary of Plants and Lawn Ornaments from Brock Farms

Submit your ORC Association News

Visit the ORC Resource Center

---
Retail Crime News

Shootings & Deaths
Kern County, CA: Deadly shooting outside East Bakersfield FoodMaxx
Adam Malik Cook, 21, of Bakersfield, was shot in the 6000 block of Niles Street, according to Kern County coroner. The shooting happened near the FoodMaxx located on the corner of Niles Street and Fairfax Road around midnight. Cook and two other victims were taken to the hospital by private vehicle before deputies arrived. Cook died at the hospital. The other two victims are being treated for non life-threatening injuries, according to KCSO. Officials have not released suspect information. kget.com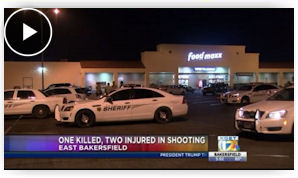 Eldorado, GA: C- Store owner shot and killed in Tift County
The Georgia Bureau of Investigation has confirmed one person was found dead after a shooting in Tift County Monday afternoon. According to the GBI, the store owner was found dead inside the store after what appears to be a robbery at the Eldorado Food Mart at US 41 South and Omega-Eldorado Road. tucsonnewsnow.com

Richland, WA: Gunman fired one shot in crowded WinCo grocery store; woman seriously hurt
At about 7:30 Monday night, authorities received multiple calls for a shooting at the crowded store. Richland Police confirmed there was a shooting inside the store and they have arrested a 45 year-old man from Umatilla County. Police say the gunman put his gun down and waited for police to arrive and arrest him. Medics rushed a woman to a nearby hospital with serious injuries and confirmed there was only one injured person in the shooting. komonews.com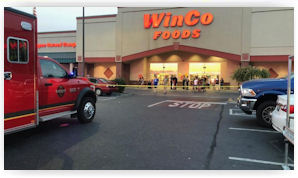 Dickson County, TN: 3 of 4 men Arrest in Dollar General shooting in Tennessee City
A massive search is still underway for a man suspected in a shooting at Dollar General who led police on a chase and fled. The Dickson County Sheriff's Office said one person was injured in the shooting at Dollar General at 4610 Highway 70 late Monday afternoon. The suspects have been identified by the Dickson County Sheriff's Office. Damario Davis, Derrick Watson, and Tiara Long were taken into custody, charged with facilitation of especially aggravated robbery, and currently held in the Dickson County Jail. The shooter was identified as Sean Caldwell,19, and has warrants obtained for attempted first degree murder, he remains at large. fox17.com

---
Robberies & Thefts
Orange County, FL: 17 Weapons recovered following Gun Shop Burglary, 5 Teens Arrested
Orange County deputies arrested five men Saturday morning after the group stole 18 firearms from SWUB Tactical, a gun store in DeBary. The suspects were all from Orange County, including 19-year old Jaquez Tuijay Smith. The other four suspects ranged in ages between 15 to 17-years old. At 3 a.m. on Saturday, the group used bricks to break into the store and smash locked cases containing handguns, shotguns as well as AR-10 and AR-15 rifles, totaling a combined value of nearly $15,000. orlandosentinel.com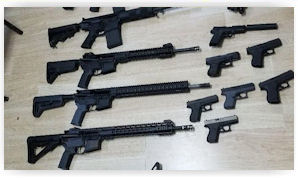 Columbia, MD: 11 year old Boy charged in C-Store Burglary
An 11-year-old boy was arrested after allegedly trying to break into Cradlerock Food Mart, on Cradlerock Way, at 12:35 a.m. on July 28, according to police reports. The boy was charged with burglary. No entry was gained to the store and nothing was stolen. foxbaltimore.com

Tysons, VA: Police Officer Kicked In Face By Fleeing Tysons Corner Shoplifter
A shoplifters' attempt to flee led to an officer getting kicked in the face at Tysons Corner Center Friday evening, police say. After stopping the group, one of them tried to run away. As officers took her into custody, she kicked one officer. Kareemah Samuels, 18, of Washington D.C., was charged with petit larceny and obstruction of justice, while an assault on law enforcement charge is pending. patch.com

San Antonio, TX: Man arrested for stealing a Shark from the San Antonio Aquarium; wrapped in a blanket in a baby carriage
The almost cartoon-like heist, which the local police initially thought was a hoax, played out on Saturday afternoon in San Antonio Aquarium, as it was packed with unsuspecting visitors. CCTV footage shows a man pulling the small shark out of the basin, carrying it to the back room and returning with something, apparently the said shark, covered in a thick blanket in a bucket. The man is then seen putting the bucket inside a baby stroller and leaving the aquarium, accompanied by a man and a woman, thought to be his accomplices. rt.com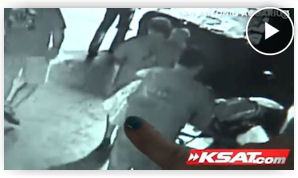 UK: Kidderminster, England: Escaped Shoplifter crashes through the ceiling at Aldi
Police were called to the supermarket in Kidderminster on Sunday morning after staff members detained the suspect following his painful fall. The man had earlier been caught stealing but tried to make his daring escape after asking to use the store's toilet. Security cameras then captured the moment he plummeted around 10ft to the shop floor just as one worker moves a shocked customer out of the way. dailystar.co.uk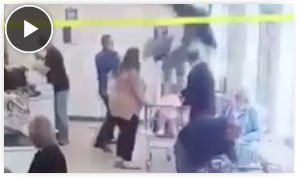 Hesperia, CA: Suspected shoplifter pulls gun on Target Loss Prevention staff

Fayetteville, NC: 7 charged in robbery spree at 5 Cellphone stores

Santa Fe, NM: Grocery Store Butcher BODY SLAMS Armed Robbery suspect

Dan's Discount Pawn reported a Distraction Theft on 7/24, item valued at $800

Kay Jewelers in the Tanglewood Pavillion, Elizabeth City, NC reported an Armed Robbery on 7/28, items valued at over $250,000

Kay Jewelers in the Charleston Town Center, Charleston, WV reported a Grab & Run on 7/27, item valued at $2,299

Jared on 14 Mile in Madison Heights, MI reported a Grab & Run on 7/29, item valued at $8,699

Peoples Jewellers in the Village Green Mall, Vernon BC. CN reported a Burglary on 7/27

Piercing Pagoda in the Tacoma Mall, Tacoma, WA reported a Grab & Run on 7/27, item valued at $1,119

Piercing Pagoda in the Woodland Hills Mall, Tulsa, OK reported a Grab & Run on 7/26, item valued at $2,316

Kay Outlet in the Napa Premium Outlets, Napa, CA reported an Attempted Burglary on 7/28, store damage only

Zales Outlet in the Sunset Valley Village, Austin, TX reported an Attempted Burglary on 7/29, no loss

---
Sentencings & Charges
Washoe County, NV: Reno Man Sentenced To 48 Years In Prison After String Of Armed C-Store Robberies

Robberies and Burglaries
Sponsored by Scarsdale Security Systems
• Auto Parts – Anchorage, AK – Burglary
• C-Store – Hermiston, OR – Armed Robbery
• C-Store – Waterloo, IA – Burglary
• CVS – Atlanta, GA – Burglary
• Dollar General – Janesville, WI – Burglary
• Grocery Store – Corinth, MS – Burglary
• Grocery Store – Santa Fe, NM – Armed Robbery
• Gun Shop – Verona, NY – Burglary
• Gun Shop – DeBary, FL – Burglary
• Home Center – Freehold Township, NJ - Burglary
• Ice Cream Store – Trenton, MI – Burglary
• Kay Jewelers – Napa, CA – Burglary
• Kay Jewelers - Elizabeth City, NC – Armed Robbery
• Lowe's – Richland County, SC – Burglary
• Meat Market – Seymour, IN – Burglary
• Popeye's – Nashville, TN – Burglary
• Restaurant – Warner Robins, GA – Armed Robbery
• Rite Aid – Dayton, OH – Robbery
• Zales – Austin, TX - Burglary
• 7-Eleven – Chesterfield, VA – Armed Robbery
Daily Totals:
• 6 robberies
• 14 burglaries
• 0 shootings
• 0 killings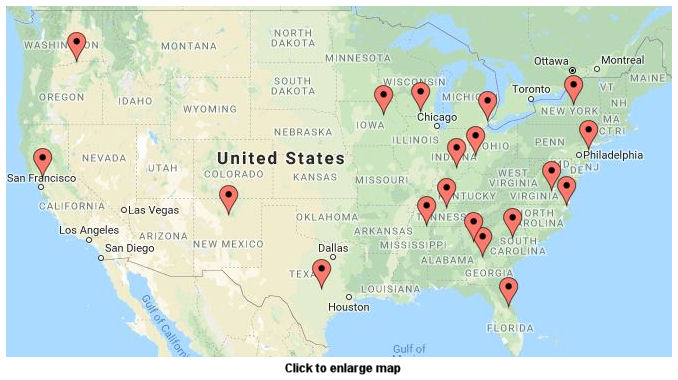 ---

---
Home of the Industry's Original
On the Move

| | |
| --- | --- |
| | Nate Pearson named Manager, Global Security for General Mills |
| | Nicole Garcea, CFI named District Loss Prevention Manager for TJX Companies |
| | Lisa McCarrick named Loss Prevention for Amazon |
Submit Your New Hires/Promotions
or New Position
See all the Industry Movement
---

---

---

---
Featured Job Listings
Sponsored by Delta Lock
Feature Your Job Here For 30 Days -
70% Aren't On the Boards

Featured Job Spotlights
---


Vice President, Asset Protection
Columbus, OH
Oversees and directs all Asset Protection related functions for a Corporate Office, multi-state distribution centers and large retail store network. Responsible for enterprise direction and strategy as it pertains to Asset Protection with a goal of minimizing shrink, reducing loss and maximizing security and associate safety...



Vice President Loss Prevention
Memphis, TN
The Vice President Loss Prevention is responsible for providing direction, development and leadership to Loss Prevention, Safety, Security and Audit teams for corporate, distribution centers and the field...


Director of North America Digital Risk & Control
Beaverton, OR
As the Director of North America Digital Risk & Control, you will provide leadership for payment risk mitigation in our digital business including fraud risk management. You will be responsible for ensuring our resources and capabilities are properly aligned to the execution of key priorities, as you develop and implement ecommerce risk management strategies to appropriate tolerance levels based on advanced data analytics and trends...



Director, Risk Management and Safety
Los Angeles, CA
To protect the company's global assets and property from risk of loss via the purchase of insurance and by implementing a global risk management program in the most cost efficient and effective manner...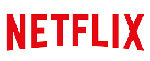 Director of Data Privacy and Security, Legal
Los Angeles, California
As Netflix continues to grow and expand, we are looking for a talented team member to join the Data Privacy and Security Legal team to provide support on privacy and data security compliance matters. The position will report to the Global Director of Data Privacy and Security, and will work in an ongoing and collaborative way with relevant Legal, Security and Public Policy groups in carrying out her or his responsibilities...



Financial Analyst (Internal Fraud)
Anaheim, CA
This role is responsible for investigating internal fraud and Cast Privilege abuse at the Disneyland Resort, across all lines of business including but not limited to: merchandise, food & beverage, rooms, ticketing, and employee privileges. Specific investigative tasks will vary but may include: reviewing exception reporting to identify potential fraud trends, conducting in-depth point-of-sale research, reviewing camera surveillance, performing integrity shops and observations, interviewing employees, representing the Company at grievances and unemployment hearings, and partnering with law enforcement as needed...



Regional Loss Prevention Manager
Pacific Northwest
Job responsibilities include, but are not limited to the following:
● Conducts internal investigations related to theft, business abuse, and safety violations by conducting interviews, determining course of action, and writing reports.
● Formal interview training, i.e. Wicklander-Zulawski or Reid Techniques...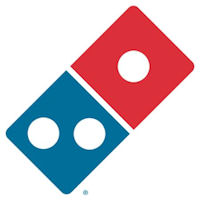 Regional Safety & Loss Prevention Specialist
Baltimore, MD
The Safety and Loss Prevention Specialist is a subject matter expert responsible for partnering with both our corporate TUSA stores and franchise store operations to improve the safety and training processes...

Area Loss Prevention Specialist
Boston/Springfield

We are currently looking for an Area Loss Prevention Specialist to join our team in the Boston / Springfield area. This position is responsible for conducting employee investigations, responding to and providing guidance during critical incidents, and assessing new/current retail store locations...

Area Loss Prevention Specialist
Jacksonville, FL

We are currently looking for an Area Loss Prevention Specialist to join our team in Jacksonville, FL. This position is responsible for conducting employee investigations, responding to and providing guidance during critical incidents, and assessing new retail store locations...

Area Loss Prevention Specialist
San Francisco Bay Area

We are currently looking for an Area Loss Prevention Specialist to join our team in San Francisco Bay Area. This position is responsible for conducting employee investigations, responding to and providing guidance during critical incidents, and assessing new/current retail store locations...

Featured Jobs
---
• Sephora - VP, Internal Controls, San Francisco, CA
• Food Lion - Director of Asset Protection, Salisbury, NC
• PwC - Director of Defense Operations, Various locations
• Whataburger - Director Risk Management, San Antonio, TX
• Ahold Delhaize USA - Manager | Corporate Investigations - Retail Business Service, Salisbury, NC
• T-Mobile Express Stores - LP Operations Manager, East Brunswick, NJ
• MadRag Clothing Store - Director of Loss Prevention, North Bergen, NJ
• Sears Holdings Management Corporation - Director, Safety Operations, Hoffman Estates, IL
• Walmart - Director of Safety & Compliance - Sam's, Bentonville, AR
• GOAT - Director of Loss Prevention & Security, Los Angeles, CA
• Goodwill of the Olympics & Rainier Region - Vice President of Human Resources, Safety, Loss Prevention & Security, Tacoma, WA
• Ross Stores - Director of Organizational Safety and Security, Dublin, CA
• Walt Disney Company - Vice President, Information Security, New York, NY
• Gymboree - Director, Inventory Control, Dixon, CA
• Living Spaces - Director of Safety, California

---

---

---
Daily Jobs
Appearing One Day Only
View our Internet Jobs Archives here


Sponsor this section of the Daily
---

---

---
Your Career

Learn from "The Greatest Showman", Elon Musk and the Trapped Thai Soccer Coach on How to Be a Great Leader

The Greatest Showman: Leadership Skills Everyone Should Follow
If you haven't seen this fantastic movie about PT Barnum yet, you should. Not only is it full of music and a wonderful cast of characters, but there are numerous leadership lessons one can learn from. Fail, get up, start over

Want to Be a Great Leader? Learn From the 25-Year-Old Soccer Coach Trapped in a Thai Cave for 3 Weeks
While we all marveled at the complexity of the rescue mission of the Thai soccer team trapped in the cave for 18 days, there's more we can learn from the ordeal: Coach "Ek" showed true leadership when his team needed it the most. Own your mistakes

Elon Musk Shows How to Be a Great Leader with What He calls His 'Single Best Piece of Advice'
In an interview Elon Musk dropped what he calls his 'single best piece of advice' for improving oneself. It's what makes him a great leader, and can help you become a great one too. Feedback loop

The 4 Secrets of Truly Great Leadership
You don't have to be a born great leader. Anyone can become great with practice and developing certain habits. To be a great leader, you have to master the "art of leadership" and make sure you develop these four habits that will help you become the truly great and effective leader your team needs. Get your team excited
---

---

---

---
Tip of the Day
Sponsored by Vector Security Networks

Getting advice from trusted friends, family members, co-workers and former bosses is always a great thing to do and, quite frankly, it can help you to see more clearly. But remember, at the end of the day it's your decision to make and it's your decision that you have to live with. Your friends, co-workers, and former bosses won't be living with the consequences, but your family will be. So you've got to be more sensitive to their advice. Advice is easy to give, hard to follow and almost impossible to live up to. And everyone has a lot of advice to give; it's the easiest thing to give. Just remember, at 5 a.m. after all the advice has been given, the mirror may be where the answer lies.
Just a Thought,
Gus



(content subject to approval)
---
---
Upcoming Events
---
Recruiting?
Get your job e-mailed to everyone... everyday
Post on our Featured Jobs Board!
---
Reach your target audience in 2018 every day!
Request our 2018 Media Kit
---
Not getting the Daily?
Is it ending up in your spam folder?
Please make sure to add d-ddaily@downing-downing.com to your contact list, address book, trusted sender list, and/or company whitelist to ensure you receive our newsletter.
Want to know how? Read Here


36615 Vine Street, Suite 103
Willoughby, OH 44094
440.942.0671
copyright 2009-2019
all rights reserved globally