The D&D Daily Mobile Edition
August 5,

2015



The LP Industry's #1 News Source - Informing, Educating and Instilling a sense of community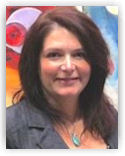 Jen Drake, CFI was named Loss Prevention Manager, Walmart Logistics for Walmart Canada. In this new national role for the company, Jen will provide oversight of Loss Prevention strategies across their Walmart Canada's supply chain network as well as ensure that all systems, procedures and controls are in place to minimize the company's exposure to unnecessary shrinkage, accidents, regulatory compliance, quality assurance, criminal matters and issues related to profit loss. Jen's 12+ years of asset protection experience comes from her background as a Group Manager of Assets Protection Operations for Target in Canada, Director of Resource Protection for West 49, and a Manager of Resource Protection for Roots. She earned her Bachelor of Arts degree from University of Ottawa. Congratulations Jen!

News Brief
Sponsored by WG Security Products, Inc.
Big Bucks: Retail's Top Earners - Former LP Executive Comes in Fourth in U.S. The top 25 included chief executive officers, chairmen, presidents, and executive vice presidents who collectively earned $347 million in 2014, with the top 10 earners bringing in nearly $200 million in total. Taking the top spot was Carol Meyrowitz, ceo of The TJX Cos. Inc. with $28.7 million in total 2014 compensation. Brian Cornell, chairman and ceo of Target Corp., took the number-two spot with a close $28.2 million. And L Brands Inc.'s Les Wexner was third with earnings of $24.1 million.

J.C. Penney Co. Inc.'s Marvin Ellison, president and ceo-designee, was next on the list with total compensation of $19.6 million while Wal-Mart's Gregory Foran, executive vice president, took the number five position with $19.5 million. Pay amounts and titles were for the most recent fiscal year reported to the Securities and Exchange Commission. Editor's Note: Marvin Ellison is the most successful former Loss Prevention executive in retail history. And he is the perfect example of what one can accomplish if driven to succeed. wwd.com


Global Card Fraud Losses Reach $16.31 Billion - Will Exceed $35 Billion in 2020 According to The Nilson Report Fraud losses incurred by banks and merchants on all credit, debit, and prepaid general purpose and private label payment cards issued worldwide reached $16.31 billion last year when global card volume totaled $28.844 trillion. This means that for every $100 in volume, 5.65¢ was fraudulent. Fraud, which grew by 19%, outpaced volume, which grew by 15%. Fraud losses occurred from counterfeiting, card not present (CNP), fraudulent application, lost & stolen, card not received, and other much smaller categories according to The Nilson Report, the top trade newsletter covering the card and mobile payment industries.

When measuring only the global general purpose brands - UnionPay, Visa, MasterCard, JCB, Discover/Diners, and American Express, total volume was $23.777 trillion, up 14.8%, and fraud losses were $15.45 billion, up 18.5%.

The U.S. accounted for 48.2% or $7.86 billion of gross card fraud losses worldwide, while generating only 21.4% or $6.187 trillion of total volume. U.S. fraud losses equaled 12.75¢ for every $100 in total volume last year. Fraud in all other regions combined was only 3.73¢ per $100. businesswire.com

Another New - Apple Security Bag-Check Wage Suit Fires Up In Philly - Separate from the California 12,000 class action suit Former Apple Inc. employees launched a putative class action Monday over alleged state minimum wage violations, telling a Philadelphia County court that the technology giant does not compensate hourly workers for the time they spend going through security checks during each shift.

Plaintiffs Natasha Franklin and Julian Coleman contend that Apple's policy of requiring employees to undergo regular security inspections of their personal bags and packages whenever they leave the premises, to prevent internal theft, violates the Pennsylvania Minimum Wage Act because hourly employees are forced to wait several minutes while "off the clock" to comply with the "tech checks."

When the plaintiffs worked as hourly employees at one of Apple's nine Pennsylvania retail locations, they were required, per Apple policy, to clock out before undergoing a mandatory security check whenever they left for a meal break or when their shifts ended, the suit says. They claim that on average, the checks required about 5 to 7 minutes to complete after they clocked out for meal breaks and approximately 7 to 10 minutes after clocking out at the end of a shift.

Apple is violating state law by requiring hourly employees to spend uncompensated time on completing these security checks - which often includes waiting for others to be checked first -or risk being fired, the suit says. law360.com

Can Social Media Make Your Company More Ethical? Many companies have for years taken advantage of social media for marketing, customer-service, and customer-intelligence purposes. But "social media" and "compliance" are rarely in the same sentence - except when the former leads to a breach of the latter.

The Network, which doesn't sell any social media technology tools but does offer training on how to use social media responsibly, wants to change that mindset. One key point is that just as companies engage successfully with customers through Facebook and Twitter, they can accomplish the same results internally.

"A compliance practitioner's customer base is the employees," says Tom Fox, an independent attorney and compliance expert who consults with The Network. "You can use those same tools to bring to them a new or different learning experience, rather than me as a lawyer saying 'here is the company's code of conduct, now read it.' It drives into the company's DNA the message of doing business ethically and in compliance with laws like the Foreign Corrupt Practices Act." Plus, he points out, social media are cost-effective communication channels.

"If you're trying to make ethics and compliance top of mind all the time with your employees, you're not likely to achieve that if you leave out social media as a vehicle," Moriarty says. "Employees are using it so much that you'd have a huge hole in your communications program."

Regarding the potential for sensitive company information to leak out, it's not really much of an issue when it comes to most compliance-related communications. "It is information that you would certainly be willing, or even happy, to have the public know you're talking about inside your company," says Fox.

Social media can help drive compliance in a variety of ways. For example, says Fox, "It is certainly appropriate for a CFO to use it to communicate to the sales force the rules of revenue recognition that are set by accounting regulators, so that they don't do inappropriate things to rev up their numbers at the end of a quarter."

But if a company distributes information to employees through, say Twitter, won't a lot of them - especially those who follow hundreds of other Twitter users and haven't set up a specific feed for company communications - miss the message? "No," says Fox. "No medium should be the medium you use. It's one among many mediums you use." cfo.com

Tackling new cargo theft tactics - Fake Trucking Companies Fake trucking companies are but the latest twist to the tactics being used by criminals to steal cargo, according to Scott Cornell, director of the Specialty Investigations Group (SIG) at Travelers Insurance - twists that now include using residential homes to store ill-gotten freight. As a result, he recommends that shippers, brokers, and even fellow motor carriers alike are being encouraged to practice more due diligence when contracting for truck capacity these days. fleetowner.com

ATM Skimming Up 174% - It's 'Exploding" nationwide Matters are so grave that leading ATM maker NCR on July 23 issued an alert to its customers that said, "NCR is tracking an increasing frequency of card skimming attacks in both the U.S. and in Mexico." Credit reporting group FICO has reported that attacks on ATMs on bank property jumped 174% year on year in the first part of 2015. Attacks on non bank machines jumped 315% in the same period. An NCR spokesperson said that direct losses globally due to ATM skimming is $3 billion. thestreet.com

Preliminary Approval Granted In Lawsuit Involving Alleged Sales Tax Refunds For Less Than the Full Amount of Sales Tax Paid at Wal-Mart or Sam's Club The United States District Court for the Northern District of Ohio has granted preliminary approval to a proposed settlement in a class action lawsuit claiming that when items purchased from Wal-Mart or Sam's Club retail locations, or on-line from Walmart.com or Samsclub.com were returned to a location different than the location of purchase, the amount of sales tax refunded or credited was, at times, less than the full amount of sales tax paid at the time the product was purchased. marketwatch.com

Vitamin Shoppe eliminates 20 home office executives - including VP LP position in cost savings move

Saks Fifth Ave posted NYC Director of Asset Protection position for their Flagship store

Starting salaries grow in importance for retail staff One-fifth of retail workers starting out in 2015 cited their starting salary as a top factor in attracting them to the job, compared to 9% in 2012. essentialretail.com

Hudson's Bay, fastest growing retailer in US

JCP in omnichannel overdrive with Target, Home Depot hires

Neiman Marcus Group files for IPO a decade after it was taken private

Keeping it simple: Target to rebrand CityTarget & TargetExpress stores as Target

Meijer opens two new stores & plans to open two to three new Wisconsin locations per year through 2019

Quarterly Same Store Sales Results
Boot Barn Q1 comp's up 5.6% with net sales up 16.4%
Papa John's Q2 North American comp's up 5.5% with sales up 4.8%
Canada's Indigo Books & Music Q1 - Indigo & Chapters up 5.3%, Coles & IndigoSpirit down 1%, with sales up 2.3%
Wendy's Q2 North America comp's up 2.2% with sales down 3.3% due to sales of company restaurants
Vitamin Shoppe Q2 comp's down 0.6% with total net sales up 5.3%
Ralph Lauren Q1 retail comp's down 2% with retail sales up 3%, total net revenues down 5%
Lumber Liquidators Q2 comp's down 10% with net sales down 5.8%





GO PRO with IMPACT 2015!
October 5 - 7, 2015!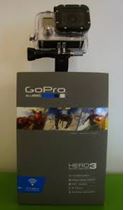 Over 200 LP professionals collaborating to learn today's innovative crime prevention research and prevention methods!

LPRC Members Click Here to register.

Not a Member of LPRC? Click Here for more info.

Register for the conference before Aug 15 for a chance to win a GO PRO! If you have already registered you are in the drawing.

Winner will be selected at our Tuesday Night Event Oct 6!

All the news - One place - One Source - One Time
The D&D Daily respects your time
& doesn't filter retail's reality

Report Your News!
(content subject to approval)




The Latest Guidance on Cybersecurity
Risk consultancy Protiviti hosted a panel discussion last Thursday in New York featuring its own experts and an agent from the Federal Bureau of Investigation to discuss the state of play on cybersecurity, and what companies can do to best protect themselves.

Their first message: Assume you've already been hacked, and prepare mitigation strategies. The key, he said, is to investigate and find out whether the breach was successful. Almost 100% of the time the hackers have reached administrator-level access to a company's system by the time it's detected. "Look at companies as the victim" of the attack.

Richard Jacobs, an assistant special agent-in-charge at the cyber branch of the FBI's New York office, said that though a lot of investment is made in ring-fencing servers from intruders, internal employees are the biggest risk for a company's cybersecurity. A hacker seeking to phish a company only needs one employee to click on a link to gain access, he said. "The biggest vector...is the client side." wsj.com

Mobile Fraud Outpacing Online & In-Store Fraud - First Time Ever The rate of mobile fraud is highest on Android devices, according to new data from Kount, Inc., released today at the Kount Fraud360 World Tour event in San Francisco, with mobile fraud also outpacing that of online and in-store fraud for the first time this year. The company analyzed over 100 million transactions across various devices from its customer base of thousands of merchants across all retail categories from 2011 to June of 2015. The data also shows that average transaction amounts on iOS mobile devices are greater than those made from Android devices. prnewswire.com

Neiman Marcus Trashes 7th Circ. Ruling on Data Breach Liability, Asks For Rehearing The retailer said the appellate panel's ruling contradicted Supreme Court precedent and "enhanced the complaint with speculation," allowing plaintiffs to sue over injuries such as identity theft or credit card fraud that have neither happened nor are imminent. The ruling "threatens to erode standing requirements" and could "shape the law of standing in such cases for years to come," Neiman Marcus said.

The plaintiffs in the case sued Neiman Marcus in March 2014, saying the retailer cut corners on security measures that could have prevented or mitigated the 2013 breach that affected 350,000 customers and didn't give them timely notice of the attack. The retailer exposed them to both fraudulent charges and an increased risk of identity theft, the complaint says.

U.S. District Judge James B. Zagel tossed the suit in September, saying he wasn't convinced that unauthorized charges for which the plaintiffs would be reimbursed qualified as injuries sufficient for standing.

On appeal, the plaintiffs contended at oral arguments in January that the lower court set an unreasonably high bar for victims of retail data breaches to show they suffered concrete injuries such as unauthorized charges.

The Seventh Circuit agreed, ruling in July to overturn Judge Zagel's decision. The appellate court said preventive costs cardholders might incur such as credit monitoring subscriptions and replacement card fees "easily" qualify as concrete injuries, and that Neiman Marcus would not have provided free credit monitoring to customers who shopped at the retailer during 2013 if it didn't expect repercussions from the breach.

The retailer bemoaned the appeals panel's use of its offer of free credit monitoring against it. Neiman Marcus said the court had wrongly "twisted" its action and created "an unfortunate disincentive" for companies to offer such precautions in the future. law360.com

Retailers reiterate support for Friendly Wi-Fi Scheme in UK In July 2014 the Registered Digital Institute (RDI) launched the accreditation scheme, allowing businesses which offer Wi-Fi services on their premises the opportunity to prove they have met the minimum requirements in filtering out access to pornographic and child sex abuse material via their networks. essentialretail.com

Researchers Turn Square Reader Into Credit Card Skimmer in Under 10 Minutes These systems pose uncharted security challenges, according to the researchers, because in order to achieve their low cost and size, manufacturers have to make compromises, including using lower quality components and relying on direct interactions with smartphones by design, which potentially allows merchants to use other apps when swiping the credit card. "That could potentially be a recipe for disaster." omnifeed.com

Target pilots beacons in 50 stores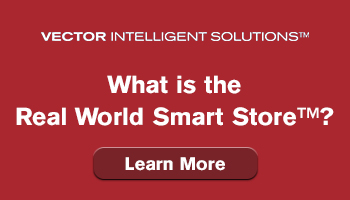 Vendor Spotlight


Back-To-School: What That Means For Your Loss Prevention
"Back to School" means big business for any retailer from electronics to office supplies as well as shoes, backpacks and apparel. The average family with school-aged children is planning to spend $630.36 on electronics, apparel and other school needs this year, according to NRF's Back-to-School Spending Survey conducted by Prosper Insights & Analytics. For families with college kids, this number is even higher.

So, inventory is high, the crowds are large and the opportunity for thieves even bigger. Some even call the months of July, August, and September the "super shoplift season."

With school starting anywhere from the middle of August to mid-September, businesses are busy running special sales. While last year most back-to-school shoppers took more time to prepare, the survey indicates that this year 37% of the back-to-college shoppers are planning to procrastinate until 3-4 weeks before school start this year. Families with school-age children are waiting even longer to buy supplies. This means more customers in the store at the same time.

However, whenever there are significant sales and many customers, there are also many opportunities for shoplifting and employee theft. Here are some actionable tips how you can prepare your business from a loss prevention standpoint:

Seize Every Opportunity To Remind Employees Of Your Shoplifting Policies

Schedule store-wide or departmental meetings before the rush begins to remind every single employee of your policy towards shoplifting. If you don't have a policy regulating how each member of your organization should conduct themselves when facing a shoplifting or fraud situation, you should develop one as quickly as possible.

It should outline who is authorized to approach suspected thieves, what the protocol is for your security guards, and how you will deal with employee theft and sweethearting. If you have an EAS systems in place that does not automatically monitor its status, include a daily testing protocol as well.

Consider Increasing Your Tagging Levels

Most retailers that are using RF-based EAS solutions have a low tagging level of 20-40% of their high-value and most likely-to-be-stolen merchandise. However, by increasing the number of products that have a security label on them will help deter thieves as well as make your store overall more safe.

Getting Back On Track After Summer Vacations

Summer is vacation time and for many that means planning trips with their families, visiting friends or just getting out of the daily grind and onto some warm sandy beaches. But this also means, that the week before and after the vacation, employees are distracted with their preparations or having a hard time finding their rhythm again. And, while this is natural, it helps to be aware of it and plan around it. The Loss Prevention Foundation suggests having a simple, direct and goal-oriented summer plan in place.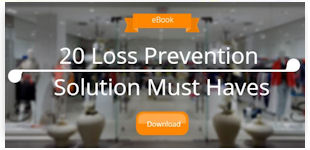 Use Back-To-School As A Test Phase For The Holiday Season

Once the "Back To School" event is behind you, you will be gearing up for the busy holiday season! You can use this smaller-scale craziness as a test-run for your upcoming months. Keep a log of activities and their successes and outcomes and analyze what measures bore fruit and which need improvements. This way you are better prepared once November hits.

What Is Your Back-To-School Strategy?

Have you found a way to fight shoplifting in this busy time that was particularly successful? Or maybe you have tried something that did not go as planned? Please share with us and your peers here - we would love to continue the discussion.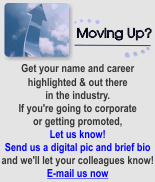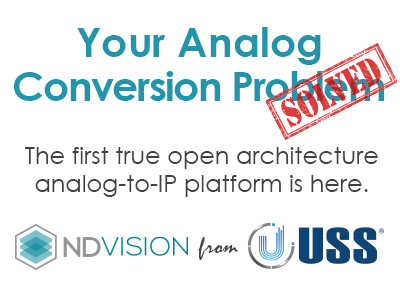 For more than 31 years, NuTech National has set the pace for innovation and excellence, serving major retail chains across the nation with the industry's largest network of sales, service, installation and alarm monitoring. Greg DeTardo, Founder and President of NuTech National, and Tonya Prive, Director of Sales, talk about the latest features and services the company has rolled out over the past year in this LPNN interview. From NuTech Link 6.0, their latest retail management security software - to their Depot Services - to Smart Retail Alert and Employee Watch, learn how NuTech sets itself apart from other alarm companies.
---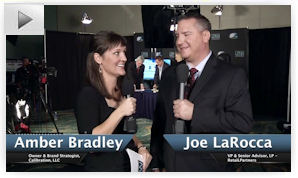 MCs Joe LaRocca and Amber Bradley take a serious look at the latest National Retail Security Survey, discussing the study's most surprising findings, the benefits it brings retailers, and the evolution of the LP industry over the past 10 or so years.

Solution Providers, have a video or commercial you want to publish? Contact us.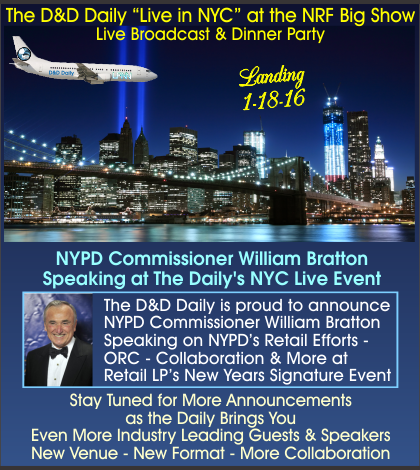 Restaurant Loss Prevention & Security Association News

RLPSA: Cures for the Vegas "Flu," Cement Shoes and the Winner is...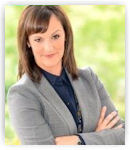 By Amber Bradley,
Calibration Marketing
Nothing cures a case of the Vegas "flu" like an outstanding keynote address and Eric Boles, president of the The Game Changers, didn't disappoint during the Restaurant Loss Prevention Security Association's (RLPSA) day two of its annual conference in Las Vegas this week.
Boles' session, "Leading Change in the New Reality," was more about lighting a fire in attendees' hearts to reevaluate their own perspectives, than just your typical "motivational" speech. Boles brought a passion and energy to the stage that was contagious.
In Boles' presentation, he listed four things that get in our way of progress:
1. Thinking we're ok the way we are.
2. The fear of the unknown.
3. The fear of failure.
4. The fear of rejection.
He also raised questions that made attendees think, such as:
- "When is the last time you had butterflies? If you can't remember, it's been too long! What are you doing to improve your life?"
- "How do you define failure? Reevaluate how you define "trying" by replacing "trying" with "training." Training means it's not always going to work out and it's ok! Training means you're perfecting something as a skill and it's ok to keep working on it."
Boles gave the audience an immediate takeaway about how to adapt to new realities by implementing an "Informal Frequent Feedback" method of asking people how you're doing on a specific task on a scale of 1 to 10. The key is not to debate the answer, but to ask a new question: What would it take to get it to 10?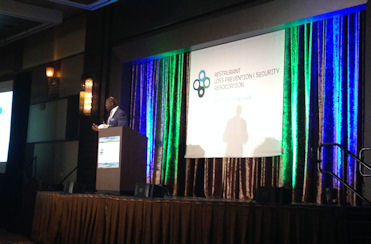 Day 2 Keynote Speaker Eric Boles, President of The Game Changers, inspires attendees with his session "Leading Change in the New Reality."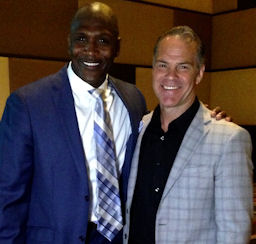 Keynote Speaker Eric Boles with
Jim Forlenza, Executive Director, RLPSA.
Step Right Up for Your Ticket to Safety
With RLPSA's evolving focus on safety content, day two's general session, "Ticket to Safety - What you Need to Know About Your Safety Programs" by Linda Zaziski, Safety Director National Operations, Little Caesar's Enterprises, and Mike Keeler, Head of Safety, Bloomin' Brands, included some shocking methods of training associates about safety as well as helpful resources for those tackling safety in their organizations. For details on their suggestions, search Twitter for #RLPSA2015.

Day two rounded out with sessions covering:
- The Investigative Interviewing Method from Gene Ferraro, Chief Ethics Officer, Convercent, Inc.
- Restaurant Risk Management: Workers Comp from Lynn MacGill, Senior VP, Marsh Risk Consulting
- Conceal Carry Laws - How to Develop a National Approach by Stacy Fulco and Nicole Milos, Attorneys from Cremer Spina LLC

A popular and valuable breakout session was the law enforcement panel discussion featuring Captain Lori Bender, Houston Police Department, Robbery division; Monetta Dardanis, Detective, Las Vegas Metropolitan Police Department, RAPP; James Christie, Supervisory Special Agent, FBI; and John Gregg, Regional Director, Safety & Loss Prevention for Domino's.

Cement Shoes
RLPSA's main event transported attendees to a time when cement shoes and sleeping with the fish were common place at the dinner event sponsored by FireKing at the Las Vegas Mob Museum. Attendees took a self-guided tour of the museum and enjoyed a relaxed dinner, while dining with flapper ladies and local mob bosses.

The highlight of the event was the much-anticipated announcement of RLPSA's brand new Salute to Excellence Award winner. The committee had a difficult decision among these finalists:

| | |
| --- | --- |
| ● | Team Domino's |
| ● | Mike Keller, Panera Bread |
| ● | Chalak Mitra, Mitra QSR |
| ● | Jennifer Schaefer, McDonald's |
And the winner is...
It was RLPSA's honor and privilege to award the first ever Salute to Excellence award to Jennifer Schaefer, Regional Security Manager, McDonald's Corporation.

Schaefer has had an exceptional career within the restaurant industry thus far including notable accomplishments:

| | |
| --- | --- |
| ● | Playing a critical role in driving US Security's Rebranding strategy including coordination of system-wide messaging and communications. |
| ● | Designed, tested and launched a US Security Screensaver for all company computers aligned with October's National Crime Prevention Month. |
| ● | Redesigned and launched the US Security Website as a "one-stop-shop" to obtain information related to the protection of McD restaurants, business, and Brand with over 4,000 hits in Q4. |
Schaefer was also a 2014 recipient of the McDonald's Presidents Award (top 1% in the company), Midwest Region's Director's Leadership Award, Exceptional Woman of Ohio Award, and US Operations STAR Award. In her spare time Schaefer volunteers at the Ronald McDonald House.

Congratulations, Jennifer!

We look forward to seeing you all next year at the 37th Annual RLPSA Conference July 24 - 27, 2016 in San Antonio, Texas at the La Cantera Hills Resort! Visit www.rlpsa.com for more information and to subscribe to our new blog!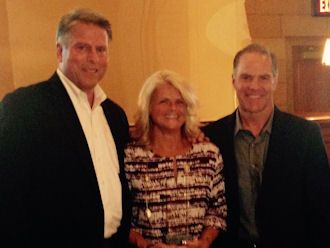 RLPSA "Salute to Excellence" award winner
Jennifer Schaefer, Regional Security Mgr,
McDonald's Corp. (center), with Rob Holm (left)
and Jim Forlenza (right).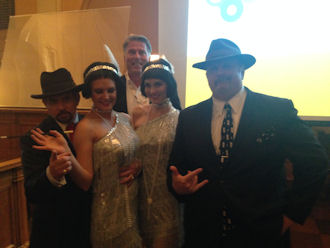 Rob Holm, Senior Director, US Safety & Security, US Operations, McDonald's USA, - and newly named President of RLPSA - photo bombing some mobsters.


2014's GLPS's - Group LP Selfie's

Your Team - Your Pride - Our Industry
One Selfie at a Time

Super Kmart #4059 Loss Prevention Team - Taylor, MI

"Building a culture, through safety and shrink"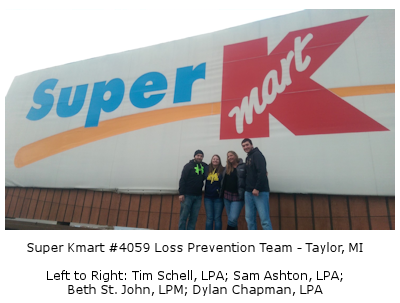 *Published on November 19, 2014
Show Your Industry Your Group LP Selfie

Building the LP/AP Industry One
Selfie at a Time
---
View all the selfies here.
Send us your Group LP Selfie!

Sponsored by:



e-commerce

Sponsored by The Zellman Group
6 Ways Retailers Can Prepare Now for Increased Holiday Ecommerce Fraud
During the heightened holiday shopping season, retailers do not have the time to manually review transactions for fraud. They also do not want to risk incorrectly labeling trusted customers as fraudulent and either reject their transaction add additional steps to the transaction, which will turn customers away due to inconvenience. There are several holiday shopping trends ecommerce merchants should be aware of to ensure fraudsters don't disrupt customers' holiday cheer. These include:

Increase in mobile usage
During the 2014 Cyber Week, from Thanksgiving Day through Cyber Monday, mobile accounted for 39 percent of all transactions. For the 2015 holiday season, it's predicted that this number will surpass 50 percent. Consumers are far more comfortable shopping on mobile devices than they were even a year ago and often overlook security risks, and that trust will continue to grow.

Major shopping holidays prior to Black Friday
Generally, as ecommerce merchants prepare for the holiday season, they tend to put off ramping up fraud prevention until it's too close to the holidays. However, given the new (and early) shopping days, new cybersecurity strategies should be put in place in July or August to be prepared as soon as possible and work out any kinks in fraud prevention systems.

Profile existing customer base
Retailers should consider how well they know their customers and their associated behavior. In doing so, they can identify good transactions as opposed to bad ones so risks can be recognized and mitigated as they arise.

Review 2014 holiday season
Holiday shopping in 2014 saw an uptick in ecommerce sales and with that the greater potential for fraud. Retailers should understand that initial reviews and recommended security strategies from last year don't necessarily get taken into account right away.

Create a custom holiday strategy
During the holiday season, transactions will be significantly higher than the rest of the year (as will cybercrime attempts), so ecommerce merchants should make their fraud analysis as close to real-time as possible, rather than reviewing a few times a day or week.

Tighten up existing security
Retailers should proactively identify new cybersecurity functionalities released in the past twelve months that can be added to existing portfolios. This might include new types of functionality or new rules that can be built upon to improve performance and prevent fraud. multichannelmerchant.com

China to Plant Internet Police in Major Internet Firms, Websites China is planning to set up "network security offices" in major Internet companies and for websites so authorities can move more quickly against illegal online behaviour, the Ministry of Public Security said in a statement. China's control over the Internet is set to expand. In a bid to better police local websites, the country's security forces are establishing offices at the biggest online firms in the country. csoonline.com

Shutterfly Asks ILL. Fed. Judge To Nix Facial Recognition template Class Action - Biometric Information Privacy Act

"Fraud is not a person - it is a dynamic grouping of statistics that deviate from the norm."
Stuart B. Levine, CFI, CFCI
CEO, The Zellman Group & Zelligent

ORC News
Sponsored by NEDAP
UK: Shoplifter used de-tagging magnet to steal 1,000 designer bags including Lulu Guinness then sold them on eBay for $375,000 A woman made more than $375,000 by selling stolen designer handbags online over a period of 4 years. Anna Hindmarsh, 40, used a de-tagging device to remove magnetic security tags from more than 1,000 handbags from high-end brands including Lulu Guinness and Radley. Hindmarsh, from Chipping Norton, Oxfordshire, was ordered to pay back more than $223,600 after being convicted of theft and fraud at Manchester's Minshull Street Crown Court. A search of her home uncovered information relating to eBay accounts in her name, which revealed the paper trail of hundreds of illicit sales. dailymail.co.uk

Women accused of stealing $14K in iPhones from Titusville Walmart Two women broke the display case and put 20 iPhones into a purse and left the stores in Titusville, Fla. Police are searching for the suspects. wftv.com

Shoplifting glasses nationwide problem
Gainesville Police want you to keep an eye out for two women seen in surveillance video swiping thousands of dollars' worth of eyeglass frames. One woman is seen in the video putting several pairs of glasses up her shirt before walking out of a store at Lakeshore Mall. Back in April, Gainesville had a similar theft. In that case, a man and woman were seen stealing eyeglasses. Other local jurisdictions have had their share of people shoplifting eyeglasses. Police said it's happening nationwide all because of the latest fad. It's stylish these days to wear glasses, even if you have perfect vision. "It's the new fad and what we see, with school starting back, people are going out and looking for these items," said Sgt. Kevin Holbrook with Gainesville Police. myfoxatlanta.com

Shoplifter dressed as Wal-Mart employee, Conway, SC Police ask for help On Friday July 31 Conway Police responded to a report of shoplifting that occurred at Wal-Mart on July 29th and 31. Walmart reported that on both dates a store employee found the fire exit door alarm was activated in a back room. She went to check it out and discovered an unsecured door with a shopping cart just outside of the door. The surveillance footage was reviewed and the suspect is a man and was dressed as a Wal-Mart employee. The unknown suspect grabbed a shopping cart, a plastic tote, and then walked to the electronics department and places several items in the cart and exits the business thru the fire exit door. wbtw.com
Three Huntsville, TX men indicted for Organized Retail Theft According to police reports, two men were observed stealing two PlayStation 4 video game consoles valued at more than $800 from Target in the 200 block of Interstate 45 South on Jan. 22. The suspects were caught on video running out of the store with two large boxes. Officers with the Huntsville Police Department recognized two of the suspects from the video. itemonline.com
Do you have an ORC case to share?
Share your ORC news and help the industry grow

Retail Crime News

Sponsored by Security Resources
Police Investigate Armed Robbery at North Reno Home Depot; shots fired Police are investigating an armed robbery that occurred late Tuesday afternoon at a Home Depot in north Reno. Police say the unidentified suspect walked into the Northtowne Lane store around 4 p.m., and was stopped by security after he allegedly shoplifted some unknown items. Police say the suspect fired three shots from his revolver while scuffling with security, before he was taken into custody by police. No one was hurt during the incident. The store was temporarily closed, but is now back open to customers. ktvn.com
$240 Walmart Shoplifter now facing Attempted Murder of a Police Officer in Knox County, KY Barbourville, KY Police responded to a shoplifting complaint at Walmart Saturday. Officials say Jennifer Wheat, 30, tried to leave the store with two car batteries worth about $240. Officers say she pushed past the store manager and drove off. Police say she kept driving when officers tried to pull her over, reaching speeds of over 100 mph. Police say during the chase, Wheat crashed into two patrol cars, hitting one of them head on. Officers finally stopped Wheat using a pit maneuver and took her into custody. One police officer was taken to the hospital for treatment of injuries. lex18.com

7 SuperTarget Employees under investigation for theft in Victorville, CA; charges dropped on 4 of 7 An alleged seven-employee theft conspiracy at the Hesperia SuperTarget was resolved this week, with charges ultimately dismissed against four of the workers. The dismissals signaled the end of a case filed in January 2014, the culmination of a two-month internal investigation. The probe began in October 2013 after Asset Protection staff at SuperTarget "discovered a multi-employee theft conspiracy while conducting an investigation on an unrelated incident," authorities said. The investigation determined thousands of dollars worth of merchandise was stolen, and San Bernardino County Sheriff's detectives were contacted to assist in the probe. Surveillance video, inventory analysis and employee interviews helped officials identify seven employees who were alleged to be involved in the theft, authorities said. vvdailypress.com

Man accused of attacking women near the Florida Mall arrested The man deputies say attacked a woman at a shoe store near the Florida Mall will face a judge Wednesday morning. Deputies say 54-year-old Richard Whitehouse was arrested Tuesday night after someone recognized him from a surveillance video. Officials say Whitehouse is accused of attacking and robbing two women. Investigators say Whitehouse grabbed a female employee of the House of Shoes on Crystal Clear Lane by the hair, forced her into the bathroom and robbed her phone and some cash from the register. Deputies say Whitehouse attacked another woman the next day in the Doctor Phillip's area. myfoxorlando.com
Rushville, NE woman accused of hitting mall employee while fleeing shoplifting A 33-year-old Rushville woman faces charges after she allegedly struck a Monument Mall employee with her vehicle while attempting to flee after an alleged shoplifting. Cassie Owen has been cited on charges, including theft by shoplifting, assault, child restraint violation and no proof of insurance, Capt. Tony Straub said Tuesday. The employee was not injured. starherald.com

Error in Police Report and Witness No-Shows give a Serial Shoplifter in Albuquerque a Big Break A man accused of shoplifting at an Albuquerque Home Depot five times in the last four weeks is arguably one of New Mexico's 'boomerang thugs' -- escaping justice time and time again. Adam Sedillo is just 25-years-old, yet he's already been named in nearly a dozen shoplifting cases since 2009. He made his first court appearance on Tuesday in connection to the Home Depot case. Albuquerque police reviewed surveillance video at the store, near Coors and Quail, which showed Sedillo inside on 5 different dates in July. They said he used tools from the store to remove security devices from other tools before concealing them in a backpack. The value of the stolen merchandise was $3,500. Court records prove that Sedillo was involved in another eight shoplifting cases dating back to 2009. Of those cases, seven were dismissed. In some cases, a witness failed to show or was uncooperative. In another, a Walmart LP Agent was assaulted during a failed apprehension, the cases was dismissed because a finalized police report was not filed in time to meet court deadlines. kob.com
Upper Darby, PA woman accused of Setting up KFC/Taco Bell heist A Darby Borough woman and her nephew are facing robbery and conspiracy charges for allegedly orchestrating a holdup of the fast food restaurant where she worked as a manager. It was after closing and Dalton was working with another employee when she said the man threatened to kill them if they didn't give him money. He made off with $2,800 cash in a bank deposit bag. "She admitted that she set up the robbery with her nephew," Chitwood said. "She (allegedly) said she got $1,000 on her end for it." delcotimes.com

Employee at Tobacco Alley in Meyersdale, PA steals $50,000 in Lottery Tickets Police say surveillance video shows Porter tearing lottery tickets from a dispenser, scratching them off and throwing away the non-winning numbers. This one instance, police say, was while Porter was working alone in July. According to the criminal complaint Roth submitted a written statement to police, claiming Porter stole more than $17,000 worth of lottery tickets in June and July alone. In all, police say Porter stole $48,999.26 in lottery tickets... Guessing she didn't win. wjactv.com

Warren, OH man sentenced for three Akron Armed Robberies in four days; hit same Family Dollar twice A Warren man will spend eight years in prison for a four-day robbery spree in Akron capped off by a stand-off with police. Beason admitted to committing robberies in Akron between May 14 and May 17. The spree began with an attempted robbery at the Family Dollar store on North Arlington Street. He put a gun on the counter, demanded money and ran away. The next day, Beason went back to the same Family Dollar store and requested two packs of cigarettes. When the cashier rang up the sale, Beason demanded money and said he had a gun. cleveland.com

Massive identity theft ring uncovered in Salt Lake, UT Salt Lake City Police are investigating one case of identity theft that involves hundreds of victims and tens of thousands of dollars. Police traced the fraud to an Ogden man identified as Paul Angelo Valencia, 30, with a long history of similar crimes. Officers from the Salt Lake City Police Financial Crimes Unit have arrested Valencia at a downtown hotel and confiscated thousands of documents with a search warrant. Found in the search: stolen and bogus bank and credit cars, personal and business checks, phony social security cards, property tax notices, insurance forms, credit card applications and other stolen mail. good4utah.com

UK: Heroic Shoppers try and Stop Smash-and-Grab Motorbike Jewelry Robbers Armed with Axes This is the jaw-dropping moment a gang of axe-wielding men on motorbikes made a shocking raid on a jewelers - as brave shoppers tried to take them on. The alleged raid took place at 10.50am this morning at a Winsor Bishop store on London Street, Norwich. In the video, three men are seen making their getaway from the shop, which has several windows smashed in. Onlookers watched on, fearful to confront the men because they appeared to be holding weapons including an axe and a hammer. However as they made their getaway, one man bravely chased them in a bid to carry out vigilante justice. mirror.co.uk
Fake waiter skims credit card for shopping spree in Salt Lake City

4 arrested in Milford, CT shoplifting at Sears and JC Penney; 1 found in stolen car

Detroit: 3 men sentenced to life in prison for deadly shooting of Clinton Township party store owner

Suspect Arrested for Robbery After Kicking Raley's Security Guard in the Groin

Farmer Brothers Coffee employee in Moline, IL steals $24,000 in cash and up to $100,000 in product

UK: Dyfed Powys Police in Wales investigating a $19,000 Jewelry store Distraction Theft


Robberies and Burglaries
● B-Quick - Starkville, MS - Armed Robbery
● CoGo - Dormont, PA - Armed Robbery
● Currency Exchange - Chicago, IL - Employee Theft $3,300
● CVS - Kissimmee, FL - Robbery
● CVS - Bloomington, MN - Burglary
● CVS - Zionsville, IN - Armed Robbery
● Dollar General - Galesburg, MI - Armed Robbery
● Dollar General - Dallas, TX - Armed Robber / wanted on murder charges
● Dollar General - Lauderdale, MS - Robbery
● Kangaroo Express- Hopkinsville, KY - Armed Robbery
● La Quinta Inn - Tulsa, OK - Armed Robbery
● Metro PCS - Fort Worth, TX - Armed Robbery
● Mobile - Manchester, NH - Armed Robbery
● Shop-N-Go - Wilmington, NC - Armed Robbery
● Tigermart - Nashville, TN - Armed Robbery
● Walgreens - Broken Arrow, OK - Armed Robbery
● 7-Eleven - St Louis, MO - Armed Robbery
● 7-Eleven - Rochester, NY - Armed Robbery


Featured Job Listings
Sponsored by NuTech National
Feature Your Job Here For 30 Days -
70% Aren't On the Boards
Dir of AP, Global Ecommerce
Ralph Lauren
Greensboro, NC
Ralph Lauren
Dir AP
Saks Fifth Ave

New York, NY
Saks Fifth Ave


Territory LP Dir.
Burlington Stores
Los Angeles, CA
Burlington Stores
Dir. of Security/LP
Estee Lauder
Los Angeles, CA
Estee Lauder
Director of LP
A'gaci
San Antonio, TX
A'gaci
Director of LP
Lane Bryant
Columbus, OH
LinkedIn
Director of LP
PacSun
Anaheim, CA
PacSun
VP Supply Chain, LP & Safety
Ross Stores
Ft. Mill, SC
Ross Stores
Regional LP Mgr
Dollar General
Morgantown, WV
Dollar General
Regional LP Mgr
Dollar General
Pittsburgh, PA
Dollar General
Regional LP Mgr
Victoria's Secret
Los Angeles, CA
L Brands
Regional LP Mgr
Family Dollar
Philadelphia, PA
Family Dollar
Implementation Expert/Project Mgr
LP Software
Worth, IL
LP Software
Sales Representative
NuTech National
Maitland, FL
NuTech National

Limited Time Only - Post Your Multi-Unit LP jobs for FREE - Learn More Here

Daily Job Alerts


Appearing One Day Only
View our Internet Jobs Archives here
LP Manager
Younkers
Omaha, NE
The Bon Ton Stores
Regional LP Mgr
CVS Health
Los Angeles, CA
CVS Health
LP Manager
JC Penney
Laredo, TX
JC Penney
Dept Mgr LP & Safety
Lowe's
McMinnville, OR
Lowe's
Dept Mgr LP & Safety
Lowe's
Bartonsville, PA
Lowe's
Dept Mgr LP & Safety
Lowe's
Severn, MD
Lowe's
AP Manager in Training
Walmart
North East, MD
Wal-Mart
AP Manager in Training
Walmart
Sioux Falls, SD
Wal-Mart
AP Manager in Training
Walmart
Crystal Lake, IL
Wal-Mart
AP Manager in Training
Walmart
Aberdeen, SD
Wal-Mart
LP Manager Hrly
Kmart
Virginia, MN
Sears Holdings Corp
LP Manager Hrly
Kmart
Burlington, WA
Sears Holdings Corp
LP Manager Hrly
Kmart
West Chester, PA
Sears Holdings Corp
LP Manager
Sears
Media, PA
Sears Holdings Corp
LP Manager
Sears
Willow Grove, PA
Sears Holdings Corp
AP Team Leader
Target
Mesa, AZ
Target
ETL Assets Protection
Target
Phoenix, AZ
Target
District LP Mgr
TJX Companies
Massachusetts
TJX Companies
Mgr of LP: Physical Security & Investigations
TJX Companies
Framingham, MA
TJX Companies
AP/LP Mgr
Macy's
Redding, CA
Macy's
Regional LP Mgr
Art Van Furniture
Bolingbrook, IL
Art Van Furniture



Home of the Industry's Original
On the Move

Jen Drake, CFI was named Loss Prevention Manager, Walmart Logistics for Walmart Canada.
Anthony Villanueva was promoted to Territory Operations Manager for The Home Depot.

Post Your New Job or Promotion!
See all the Industry Movement


Your Career
Sponsor this section of the Daily
9 Surprising Traits of Truly Phenomenal Bosses There are many good bosses in the workplace, but what it takes to be considered "phenomenal" lies not only in what your team sees you do, but what you get done behind the scenes as well. Here are some traits that make up bosses that are truly outstanding. Forgive and forget

Simple Leadership Advice for New Managers Many people who step into new leadership roles fine that it's not as easy as they think. It can take some time to find your footing and learn how to manage a team. Remember what skills and qualities got you the job in the first place and follow these strategies and you'll do just fine. Be yourself

10 Things Successful Leaders Remember When Things Go Wrong You may have everything planned to a T, a phenomenal team, and a solid plan to reach your goals. When things go wrong, it not only tests your ability to handle the challenge, it tests your leadership ability. Here are some things to remember through your next storm. Keep an upbeat attitude

The One Trait that Every 'Superboss' Needs Reaching 'superboss' status is no easy feat. It requires tactical mentoring and a heightened ability for generating talent. Incredible leaders like Oprah Winfrey and Jon Stewart all share one 'superboss' quality. They are superb in building talent. Here's how you too can perfect this talent. Push to the limits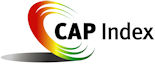 Tip of the Day
Sponsored by Vector Security
Being too close to the trees to see the forest is an expression that also fits not appreciating the role you play on your own team. With the needs of the day seemingly always taking priority, it's difficult for some to step back and truly see the value you can add to your own team. Realizing it and accepting the responsibility as a team member is half the battle. But doing something with it and truly adding value is what helps the team win the game. Every group, every department is in fact a team and every member plays a vital role towards the success and the survival of that team. That's why that old expression - One for all and all for one - took such a hold in literature. Because it is that simple. The hard part is taking responsibility for it.

Just a Thought,
Gus





Upcoming Events
---
Recruiting?
Get your job e-mailed to everyone... everyday
Post on our Featured Jobs Board!
Reach your target audience in 2015 every day!
Request our 2015 Media Kit
update account / change e-mail
unsubscribe FEEDBACK
www.downing-downing.com

Advertise With The D&D Daily




36615 Vine Street, Suite 103
Willoughby, OH 44094
440.942.0671
copyright 2009-2019
all rights reserved globally