The D&D Daily Mobile Edition
LP, AP & IT Security's #1 News Source

---
Top Industry News

CA Prop. 47 Impact - Coverage brought to you by ALTO Alliance
"It's not even a revolving door. They're not even ending up in jail."
Retailers Express Frustration Over Prop. 47 Realities


While brazen, big-ticket losses may make national news, business owners still have to watch out for small-scale crimes. With the changes California's Proposition 47 made to the criminal justice system in 2014, grocery and hardware store owners said they have seen a rise in theft, but the measures they take to deter "external shrink" — theft by the public, in retailer jargon — are paying for themselves.

"We're probably getting hit every single day and we just don't know it," said Ian Williams, store manager at Fresno Ag & Hardware.

Among other things, increases in basic shoplifting are directly to due to the decrease in penalties, according to Steven Wright, assistant district attorney for Fresno County.

Proposition 47 was approved by voters in 2014 to turn non-violent drug and theft crimes worth below $950 from felonies into misdemeanors. Before, the district attorneys had discretion over those charges, according to Wright.

"It's not even a revolving door," Wright said. "They're not even ending up in jail. There's nothing to stop this cycle of criminality."

When Maricela Macedo, manager at State Foods Supermarket in Sanger, calls the police about criminals caught stealing, all police can do is fill out what is called a PC-837 form for a private person arrest.

"I don't think it's getting better," Macedo said. "Unfortunately the people that are stealing from us have already been through the judicial system."

The other thing police can do is fill out a PC-602 citation for trespassing. The criminal is then not allowed to be in the store for 30 days, but after that, storeowners can do nothing.

What's more, criminals often know the law and what it takes to stay under the $950 threshold for felony charges. "When Prop 47 did get passed, they knew exactly how much they could steal without facing serious time or getting in trouble," Williams said.

Following major robberies at Apple and Lululemon, Fresno Police contracted with those companies to provide security in the form of off-duty officers. Officers will show up in uniform with a squad car for just over $58 an hour. They can only make arrests as private citizens, but they have access to police communications, and the mere sight of an officer is a major deterrent. But the price of physical security can be expensive. thebusinessjournal.com

---
Taking it Public - It's Getting Dirty
The curious case of the fired Barnes & Noble CEO Demos Parneros
In an example of not going gentle into that good night, Barnes & Noble's ex-CEO has let loose on the company, airing the bookseller's dirty laundry, according to a lawsuit fighting what he considers his undeserved dismissal.

Demos Parneros claims he was pushed out at the troubled retailer by Leonard Riggio, its "volatile founder who refuses to relinquish control," in a complaint filed in Manhattan federal court on Tuesday.

The language the company used in announcing his ouster also was "false but would be read as reporting that Parneros had engaged in serious sexual misconduct," the lawsuit claimed.

The suit does elaborate on accusations of sexual harassment by Parneros. In discussing a hotel in Quebec, with an executive assistant, the suit claims Riggio accused Parneros of showing the woman the hotel on his computer and describing it as "the kind of place where 'you would put out.'" It also mentioned an incident in which he discussed how tall he was with the assistant, and "allegedly stood back to back with her."

Parneros denied making the off-color comment, and that "such a phrase was not an expression he ever used," according to the suit. He also denied being back-to-back with the woman and said instead he stood shoulder-to-shoulder with her.

The disgraced CEO's lawsuit paints a picture of a failing company ruled by a mercurial founder who is still driving board decisions and "frequently engaged in inappropriate and unprofessional conduct." Parneros leaves nothing on the table, alleging in the suit that Riggio repeatedly disparaged Parneros' predecessor, with terms such as "SOB," "creep," "m----rf-----r," "slime bag" and "bad guy."

The suit also alleged that Riggio referred to a vice president of merchandising as a "fat pig," and asked, "'How can someone who looks like her have any taste? Just look at her.'"

In his suit, Parneros claimed that Riggio and the board told him last August that he would receive an additional $1.4 million for his strong performance, though the company never followed through. He is suing for severance of $4 million in cash, plus equity, and other compensation he has lost because of his termination, in addition to punitive and compensatory damages for "mental anguish, emotional distress, humiliation and damage to reputation."

Parneros' lawsuit seems to have pushed the company to specifically spell out, rather than imply, that he was fired for sexual harassment. abcnews.go.com

The Story Gets Deeper – They Always Do
Who Wants to Buy Barnes & Noble?
A lawsuit filed by the struggling retailer's former CEO reveals deep problems—and a potential suitor.

Can things get worse for Barnes & Noble? In 2018, it comes across as a silly question. Its stock price sits at five dollars. Its high-profile attempts to compete with Amazon in e-commerce and e-books have been expensive failures. It has had four CEOs in the past five years, a period in which it has closed stores and laid off staff, including 1,800 in February.

Parneros alleges that he was pushed out after a deal to sell the company to an unnamed buyer fell through, and that Barnes & Noble covered it up by bringing bogus charges of sexual harassment and bullying against him.

Parneros's filing is apparently designed to generate a settlement and should be taken with a grain of salt. Still, its contents are damning. It portrays a company in dire straits being presided over by a longtime chairman, the 76-year-old Len Riggio, who spends his time berating subordinates. While Riggio has presented himself as the heart and soul of the company, the lawsuit depicts him as an albatross. It shows that the company is struggling in every conceivable aspect of its business, which means that finding a new CEO—let alone a buyer capable of turning the company around—will be exceedingly difficult.

Many in publishing seem to believe that only Indigo could do the job of reviving Barnes & Noble. The company's current situation—declining revenue, an aging chairman, and an apparently toxic corporate culture—isn't great. Riggio has traditionally stepped in to grab the reins in times of trouble. But after firing four CEOs in five years, Riggio's problem might be staring back at him in the mirror. newrepublic.com

---
Amazon, in rare political response, calls Bernie Sanders' claims of poor worker conditions 'inaccurate and misleading'
Amazon just rejected criticism by Sen. Bernie Sanders, saying his repeated claims of poor worker conditions in its fulfillment centers are "inaccurate and misleading."

"We have been in regular contact with his office and have offered several opportunities for Senator Sanders and his team to tour one of our fulfillment centers," the company said in a blog post Wednesday. "To date he has still not seen an FC for himself."

Sanders has been dinging Amazon on Twitter and in public statements for months, claiming the company doesn't pay its lower-level employees a fair wage. He recently issued a call for Amazon employees to share their experiences in a form that asks, "Have you used public assistance, such as food stamps, Medicaid or subsidized housing, in order to make ends meet?"

It's something of a rare public response for Amazon. It has been largely silent amid repeated public attacks by President Donald Trump on the company and CEO Jeff Bezos, who also owns The Washington Post. Trump has attacked Amazon for how the company pays taxes and its payments to the U.S. Postal Service.

"While Senator Sanders plays politics and makes misleading accusations, we are expending real money and effort upskilling people," Amazon said in the blog post. "No one knows what it's like to work in one of our fulfillment centers better than the skilled and dedicated people who do it every day. That's why we are encouraging all employees to take Senator Sanders up on his request and respond with their actual experience."

Sanders, in a statement sent to CNBC, reiterated claims that Amazon workers are forced to rely on government programs. Amazon, he said, "has been less than forthcoming with information about their employment practices." cnbc.com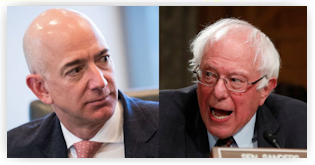 'Pizza Teams' and 'Working Backward Documents'
Amazon's VP of Global Supply Chain Shares Leadership Secrets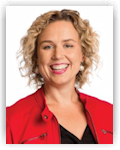 Much has and will continue to be written about Amazon and its next big thing, because whatever it is, we know it's coming. But, what's expected of the "Amazonians," as they're called, who show up to work every day to deliver on the company's famous Flywheel philosophy? What is expected of Amazon's executive leaders to deliver on its promise of faster, cheaper, better? According to Alexis DePree, VP of global supply chain, customer fulfillment at Amazon, an Ivy League educated and infectiously passionate retail luminary in her own right, her answer is roll-off-the-tongue simple: complete, unwavering customer obsession combined with solid leadership principles and methodologies.

INSIDE DEPREE'S LEADERSHIP PRINCIPLES & METHODOLOGIES

Jeff Bezos is known for implementing his "Flywheel" philosophy as the company's major tenet. The Flywheel philosophy is a cycle in which a company cuts prices to attract customers, which increases sales and attracts more customers, which allows the company to benefit from economies of scale, until, ultimately, the company can cut prices again. Undoubtedly, there are several principles and methodologies Amazon's leaders practice and preach to fuel the Flywheel philosophy.

"Everyone assumes there are special tips or tricks to Amazon's magic formula," explains DePree. "It probably sounds sophomoric, but here's the secret — we are completely customer-obsessed. And, it's our customer obsession combined with rock solid leadership principles and methodologies, such as pizza teams and working backward documents, for example, that help us find new ways to innovate."

DePree explains that a pizza team is one such methodology. When she and her team are working on something innovative on which they need to move quickly — when they're being intentionally scrappy — they have no more people in the room than she can feed with two pizzas.

That brings us to one of DePree's constructive principles, the working backward document, which helps her team envision the goal first and craft the processes second. retailsupplychaininsights.com

---
Carpentersville, IL: Family of man killed in 2016 computer store robbery sues owner, says security guard used excessive force
Relatives of a man shot and killed during a 2016 robbery of a Carpentersville computer repair shop have sued the store owner, arguing a security guard used excessive force by continuing a chase beyond the crime scene. Kenyon Slater, 37, of Chicago was shot and killed after police say he robbed Oscarin's Computer Inc., on the 1600 block of Ravine Lane, the night of Sept. 7. Attorney Adam Smestad filed the lawsuit on behalf of Leane Snowden, Slater's mother, against store owner Oscar Torres Loredo and Michael Napoles-Suarez, whom the suit describes as a security guard. Smestad said he was not trying to defend armed robbery but stressed there are situations in which lethal force can legally be used and this was not one of them. dailyherald.com

Dick's Says Under Armour, New Gun-Sales Policy Dragged on Results
Dick's Sporting Goods Inc. said weaker sales of Under Armour Inc. apparel and a decision to pull back from the hunting business dragged on the retailer's latest quarterly results. Dick's tightened its policy on gun sales after 17 people were killed in a February shooting at a Parkland, Fla., high school. The retailer halted sales of any firearms to people under age 21 at all of its 845 Dick's and Field & Stream stores and stopped selling assault-style weapons at Field & Stream. wsj.com

Sears Stock Rallies After Amazon Deal Gives Its Stores a Surprise Boost
Back in May, Sears announced that it had cut a deal with Amazon to receive shipment of tires bought on the e-tailer's site and install them for customers. The ailing department store chain's shares jumped 38 percent in the week that followed. With mostly bad news pummeling Sears' stock price this summer, the company was no doubt pleased to see that its announced expansion of the ship-to-store program from 47 initial stores to all Sears Auto Centers in the U.S. worked the same magic. Sears shares shot up as much as 23 percent to $1.37 a share on Tuesday. fortune.com

Kroger and Instacart Expand Convenient, Same-Day Grocery Delivery
The Kroger Co., America's largest supermarket retailer, and Instacart, the North American leader in online groceries and one of the fastest growing companies in e-commerce, announced today a national partnership expansion, bringing the signature same-day delivery experience to 75 additional Kroger Family of Stores markets throughout the United States by late October. The expansion will grow Kroger and Instacart's nationwide footprint by 50 percent, making the delivery service available through more than 1,600 stores. prnewswire.com

Publix to build $400M distribution center in North Carolina, create 1000 jobs

Walmart to build $41M fulfillment center in Bullitt County, KY, creating 400 jobs

American Eagle plans 50 to 80 new Aerie stores

DSW Inc. to close Town Shoes brand and 38 stores in Canada by January

Founded in 1854, Midwest department store chain Carson's closes


Quarterly Results
Tilly's Q2 comp's up 4.4%, net sales up 13.4%
Dollar General Q2 comp's up 3.7%, net sales up 10.6%
Dollar Tree Q2 comp's up 3.7%, Family Dollar comp's flat, enterprise comp's up 1.8%
Guess Q2 Americas Retail comp's up 3%, America's wholesale sales up 4.9%, Europe comp's up 5%,
Asia up 17%, net revenue up 13.7%
Abercrombie & Fitch Q2 comp's up 3%, net sales up 8%
Hollister up 4%
Abercrombie up 2%
Burlington Stores Q2 comp's up 2.9%, total sales up 9.9%
Signet Jewelers Q2 comp's up 1.7%, total sales up 1.5%
James Allen up 25.3%
Piercing Pagoda up 11.5%
Zales up 7.1%
Jared up 1.2%
Peoples up 0.2%
Kay down 2.1%
Regional banners down 10.5%
Michael's Q2 comp's down 0.4%, net sales down 1.8%
Kirkland's Q2 comp's down 3.9%, net sales up 1.7%

Anti-Counterfeit & Currency Expo
November 6-8 - Las Vegas, NV
Anti-Counterfeit & Currency Conference is a completely free-to-attend program for loss prevention, asset protection, operations and treasury professionals. This two-day, free-to-attend program provides invaluable insights on how retailers can drive efficiencies across cash management operations, enhance security and reduce cash shrinkage.

With participation from 100+ exhibitors, 2,000+ attendees, and 60+ speakers from companies including McDonald's, Shoe Carnival, Tidel, Glory, SUZOHAPP and Fifth Third Bank, this is a not-to-be-missed event.

Attend this November to gain priceless insights from retailers and suppliers on the industry's toughest challenges and most exciting innovations.

Don't delay; secure your free delegate pass today!
All the News - One Place - One Source - One Time
The D&D Daily respects your time
and doesn't filter retail's reality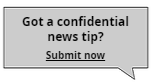 ---

---

---
---
eBay Global Asset Protection

Partnerning with Retailers Offensively Against Crime and Theft (PROACT), since 2007

Idaho raids result in several arrests for the sale of counterfeit phones through eBay, among other online retailers
Ten Idaho residents, including members of a Treasure Valley family, have been indicted on federal charges for an alleged decade-long counterfeit phone selling scheme.

Prosecutors say the defendants sold counterfeit Apple and Samsung phones and devices on Amazon, eBay and on their own websites from January 2008 through earlier this month.

The defendants are charged with 34 counts of crimes including mail fraud and money laundering. Read more

For further information on PROACT, email inquiries to PROACT@eBay.com.

---

---
Spotlight on Genetec

Join the Genetec Retail Security Discussion at the 2018 Retail Leadership Summit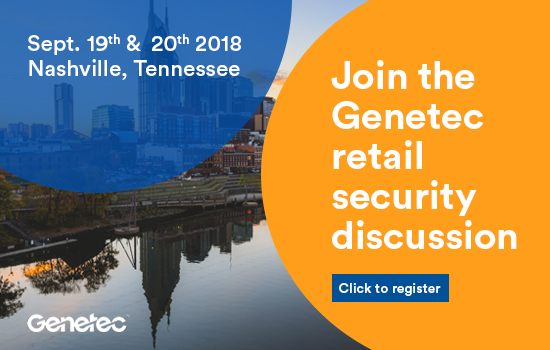 Are you looking to make more informed decisions in order to create the ideal retail environment in your store(s)?

We invite you to attend our annual Retail Leadership Summit which will be taking place in Nashville from September 19 - 20 at the Hutton Hotel. This event is an exclusive, invitation-only, function geared towards senior leaders who are responsible for store optimization, customer experience, as well as those responsible for their organizations physical security and loss prevention efforts.



Please complete the online registration form and we'll get back to you to confirm your attendance.

We look forward to seeing you in Nashville!
---

---

How to Maintain Cybersecurity Across All Your Devices
Network administrators are under significant and increasing pressure to make sure their networks are designed and operated securely. So it's important they have the right knowledge and tools to manage cybersecurity throughout the life cycle of the system. In this post, we'll explore cybersecurity best practices specific to managing their network devices as well as how device management software can empower administrators to efficiently achieve their cybersecurity goals.

As the sheer numbers of network devices continue to grow, so too does the workload of network administrators. Often, this not only adds to already stretched work and time schedules, but it can potentially result in compromising security. Recent Axis field tests compared the time required to carry out some basic device management tasks on a network of 200 cameras. These basic tasks - installing add-on applications (ACAPs), upgrading firmware, configuring devices and hardening devices - took 106 hours to complete when manually using a camera web interface. However, the time required was reduced to just 30 minutes when using device management software.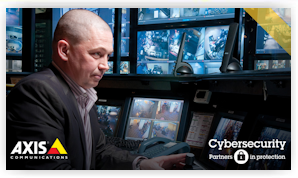 Constantly seek awareness of the vulnerabilities your business faces
Broadly speaking, businesses should approach cybersecurity readiness in two steps. Awareness is step one. If your business is not aware of potential cybervulnerabilities, threats and issues, it will have difficulty preventing them. This requires businesses to adopt a continuous learning and improvement mentality. It is about continually educating yourself and embracing a good cybersecurity culture within your organization. In this context, suppliers need to work according to clear vulnerability management policies, processes and best practices.

Get help to mitigate the risks
Step two is mitigation: once aware of a potential problem, what can your business do to resolve it? Assuming a business cannot fix something by itself, outside support and assistance is often required. A good starting point when selecting vendors and partners is to look at those that have a track record of cybermaturity. Typically, these are ones that understand threats and ways to counter those threats, have control over their own offerings, properly apply best practice routines when needed, are open and transparent and provide long-term support of patching firmware for the products you selected. Furthermore, and maybe just as important, these organizations can offer tools that enable you to apply the proper security controls needed to mitigate cyberthreats through device hardening and device management, for example. securitymagazine.com

What the CFO's are Reading:
Small Companies Carry Greatest Cyber-Risk
In the survey, conducted by Switchfast, an IT consulting and security outsourcing firm, 35% of the employee group, but a disturbing 51% of the executives, said they were convinced that their business was not a target for cyber-criminals.

Such complacency with respect to cybersecurity is a notable risk, according to Switchfast. Calling the devil-may-care attitude a "common misperception," the firm notes in its survey report that small businesses are prime targets for hackers because of their size.

Large companies make headlines when cyber-criminals strike. At the same time, they have dedicated IT and security staff to vigilantly do battle with wrongdoers. That makes smaller companies more vulnerable. cfo.com

PCI Council: Threats Facing Small Merchants: A New Tool to Help
Alongside updated educational resources, the new tool aims to educate small merchants on their payment security posture.

Small merchants continue to be a primary target for cybercriminals. According to the Verizon Data Breach Investigations Report, 61% of breached organizations surveyed were small businesses. These highly-targeted businesses often do not have the technical knowledge needed to effectively manage security against these attacks- which is why today the PCI Security Standards Council is announcing the launch of updated educational resources and a new tool aimed at helping small business owners protect their customer's payment card data. pcisecuritystandards.org

Interactive PDF: National Cyber Security Workforce Framework
The National Initiative for Cybersecurity Education (NICE) Cybersecurity Workforce Framework provides a blueprint to categorize, organize, and describe cybersecurity work into Categories, Specialty Areas, Work Roles, tasks, and knowledge, skills, and abilities (KSAs). The NICE Framework provides a common language to speak about cybersecurity roles and jobs. niccs.us-cert.gov

Click here to view the interactive PDF

Connecticut Man Who Hacked into More Than 200 Celebrity Apple iCloud Accounts Sentenced to 8 Months in Prison
A North Branford man was sentenced Wednesday to eight months in federal prison for his role in the "celebgate" hack into the accounts of celebrities including Jennifer Lawrence. George Garofano, 26, was one of several hackers to admit involvement in the scheme, which leaked hundreds of intimate photos of female celebrities onto the internet.

According to the government, Garofano engaged in a phishing scheme that gave him illegal access to more than 200 Apple iCloud accounts. From April 2013 through October 2014, Garofano obtained usernames and passwords for iCloud accounts.

He admitted that he sent emails to victims that appeared to be from security accounts of Apple and encouraged the victims to send him their usernames and passwords, or to enter them on a third-party website where he would later retrieve them, according to the government. courant.com

Air Canada mobile app breach affects 20,000 people

Dunkin' Donuts customers can now place orders via Alexa
---
---

---

---
e-commerce
Sponsored by The Zellman Group

Do You Know Your Chargeback Ratio?
Your chargeback ratio should be taken seriously. Even a minor, temporary change in this number can push you over your chargeback threshold, which is the highest chargeback-to-transaction ratio considered acceptable by the card network. Breaching the threshold often leads to higher fees, more restrictions, and the risk of being blacklisted by processors.

So, how do you find your chargeback ratio? And how can you keep your total under control?

The standard chargeback threshold for both Visa and Mastercard is 1 percent of your total transaction volume—but only for the volume associated with that particular card network. In other words, instead of having just one chargeback ratio across the board, you have a different figure for each individual card brand you process. And yes, it's quite possible to be well under the threshold for one network, while breaching your threshold on another.

To make things even more complicated, each company employs a different formula to calculate your chargeback ratio. For example, Visa takes the number of chargebacks and divides it by the total number of transactions in the same month, whereas Mastercard takes the number of chargebacks and divides it by the total number of transactions from the previous month.

True, Visa and Mastercard policies enforce a maximum chargeback ratio of 1 percent. Acquiring and issuing banks, on the other hand, are free to enforce stricter rules if they want to...and most of them want to.

Of course, the bank also has the option to be lenient under certain circumstances. Nevertheless, if your chargeback ratio is consistently at or near the thresholds, you're in danger.

In the end, the best way to keep your chargeback ratio low is a sustained commitment to chargeback reduction and prevention. cardnotpresent.com

Retailers will grow online revenue by focusing on...
Most (91%) retailers expected e-commerce revenue gains in the first half of 2018. These will be driven by customer experience, personalization and mobile initiatives, according to the "H1 2018 E-commerce Performance Indicators and Confidence (EPIC) Report," from SLI Systems.

When asked about their most important initiative, 25% of respondents claimed customer experience was on top of their list. This was followed by advertising or paid search (16%), and replatforming (15%). However, retailers across the board believe that personalization is the key to customer engagement and conversion. Almost half (42%) of retailers will deliver offers triggered by online behavior to delver a more personalized experience. chainstoreage.com

DHL unit tests program to manage returns of cross-border e-commerce
Charles Brewer, CEO of DHL eCommerce, said today that the program, which began about a month ago, is being tested in both directions on the U.S.-United Kingdom and U.S.-Australia trade lanes. The plan is for the unit to cover all aspects of cross-border returns, including a straight return to the product seller, consolidation of return shipments at the warehouse and distribution center level, disposal of low-value returned items, and the recovery, repair and repurposing of returns deemed to have a shelf life. dcvelocity.com

Download this Kount WHITE PAPER:
Fraud Prevention Industry Benchmarks: 2018 Report

Amazon launches Prime Book Box subscription service for children's books

43 online sellers of fake University of Arkansas merchandise ordered to pay

"Fraud is not a person - it is a dynamic grouping of statistics that deviate from the norm."
Stuart B. Levine, CFI, CFCI
CEO, The Zellman Group & Zelligent
---

---
ORC News
Sponsored by Auror

2018 Cook County Regional Organized Crime Conference -
Sept. 5-6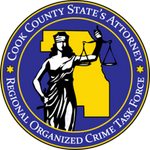 The 2018 annual CCROC conference will be held September 5-6, 2018 at the McDonald's Campus in Oakbrook, IL. Guest speakers include Cook County State's Attorney Kim Foxx, Chicago PD Superintendent Eddie Johnson, and FBI Special Agent in Charge Jeffrey Sallet. Some of the topics include bank fraud, active shooter, interrogation techniques and cyber trends - among many other.

Registration fee of only $90 includes breakfast, lunch, snacks for two days, parking, and all speakers and networking opportunities. If you have any questions contact David.Williams@cookcountyil.gov

Click here to register online

Knox County, TN: Two arrested, C-store closed after raid by Knox County Sheriff's office
A Mechanicsville convenience store is closed and its owner is behind bars after a raid by the Knox County Sheriff's Office on Wednesday. Shortly before noon, KCSO cruisers and unmarked cars converged on Al's Market and Deli on University Avenue. Detectives armed with a search warrant seized stolen goods, two guns, $2,000 in cash and a vehicle, according to a news release from the sheriff's office. Members of KCSO's Organized Retail Crime Unit arrested Mohammed Jalal Issa, the owner of the store, and Rashad Srour. The pair face charges of felony theft, computer crimes and food-stamp fraud. The raid is the latest in a series of similar stings conducted on local businesses by the Organized Retail Crime Unit. The task force partners with retailers — Kroger, in this case — to crack down on businesses that authorities say perpetuate a cycle of shoplifting and drug abuse. knoxnews.com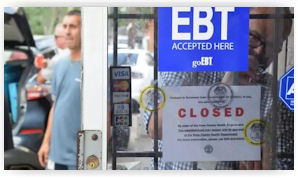 Minneapolis, MN: Robbery crew made off with at least $69,000 in pills from Twin Cities Walgreens in monthslong spree
Federal prosecutors have charged an Indianapolis man they say is part of a "robbery crew" that stole at least $69,000 worth of narcotics during a string of heists at Walgreens pharmacies across the Twin Cities and in Kansas since April. Authorities arrested Michael Iman White in Indiana last week, almost a month after White and two other suspects allegedly held an Edina pharmacist at gunpoint and filled two large bags with $51,000 of pills. According to a criminal complaint signed by FBI special agent Christopher Langert, White, 19, and the two other men allegedly waited until all customers left the pharmacy at 6975 York Ave. before zip-tying two employees and ordering the pharmacist to unlock cabinets and a time-delay safe concealing the medications. startribune.com

Bethel Township, PA: Man charged with theft of 58 cans of Baby Formula from Weis Market; found during traffic stop
A man suspected of stealing 58 cans of infant formula after a traffic stop on Interstate 78 in Bethel Township is facing charges after an investigation by state police. Russell Leasure, 39, was observed on surveillance camera footage committing retail theft of 20 12-ounce cans of Similac worth $319 from the Weis Market in Upper Allen Township, Cumberland County, at 12:56 p.m. Aug. 6, the same day of the traffic stop, state police at Jonestown said. ldnews.com

Marshall, MO: Police seeking suspects in high dollar Walmart electronics theft
The Marshall Police Department is seeking the public's assistance for information on the identity of the men or vehicle captured on surveillance at the Marshall Walmart. It was reported that at approximately 6:55 a.m. Friday, Aug. 24, unknown individuals stole a large amount of electronic equipment and office supplies from the retail store. marshallnews.com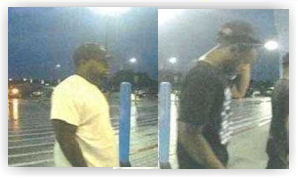 Clinton, NJ: Home Depot Associate accused of theft in $11,000 refund scam
A Clinton woman is facing a felony theft charge after making 64 fraudulent merchandise returns at Home Depot. Angela K. Jones, 46, is charged with first-degree theft, a class C felony. A preliminary hearing is scheduled for 8:30 a.m. Sept. 18. The order on initial appearance states Jones was ordered to be released under the supervision of the Seventh Judicial Department of Correctional Services on such terms set by the supervising officer.

Home Depot Loss Prevention officers reported Jones, an employee, stole in excess of $10,700 from the business while she worked. Home Depot loss prevention officers provided videos, photographs and printed receipts showing each theft transaction. Jones stated for the past 5 1/2 years she was employed as a Home Depot pro desk supervisor. Jones admitted she made numerous fraudulent merchandise returns and then credited her personal credit and debit cards with the stolen money. The investigation concluded from Nov. 2017 to Feb. 2018 that Jones made a total of 64 fraudulent merchandise returns totaling $11,985.31. clintonherald.com

Brookfield, WI: Sears Associate charged with stealing $3,700; fraudulent returns
Kyle T. Elkins, 22, was charged on Aug. 28 in Waukesha County Circuit Court with theft in a business setting. He faces 3½ years in prison if convicted. Brookfield Police began investigating when store security personnel alerted them March 13. Two other employees had already been arrested and security staff told police a third was now implicated. He stated Elkins stole approximately $3,700. Elkins had been doing multiple fraudulent activities throughout his employment at Sears. Elkins, who started working for Sears around August 2017, allegedly fraudulently obtained rewards points for an account by fraudulently returning items and keeping them and issuing himself gift cards. jsonline.com

Update: Maple Grove, MN: Pharmacist Pleads Guilty to Theft of over 20,000 pills
A Pharmacist from Maple Grove who pleaded guilty to charges he tried to steal drugs from the pharmacies where he worked was sentenced Wednesday. Jeffrey Flynn Grothaus, 49, entered guilty pleas in July to four counts of felony theft by swindle. He received concurrent sentences, meaning he will serve 120 days in the Hennepin County Workhouse, to be served as work release if eligible. And he is approved for electronic home monitoring after serving 50 days. He will also serve three years of supervised probation, though he may be discharged after two years if recommended. kstp.com

Update: Somerset, KY: Shoplifter sentenced to 3 years; 'Project Shop Loss'
Samantha Marie Matthews, 41, of Somerset, was sentenced to three years in prison for second-degree unlawful access to a computer and felony bail jumping. According to Dalton, Matthews made a fraudulent return at Walmart in January 2017. That July she failed to appear in court. Dalton stated the case was prosecuted under Project Shop Loss, the program sponsored by the City of Somerset to curtail retail loss from theft. somerset-kentucky.com

Simi Valley, CA: 4 Women arrest as they fled Kohl's with $1,200 in merchandise

Submit your ORC Association News

Visit the ORC Resource Center

---
Retail Crime News

Shootings & Deaths
Hamilton Heights, Manhattan, NY: Papa John's Pizza deliveryman fatally shot outside store
A Papa John's Pizza deliveryman was shot and killed in front of the store where he worked late Wednesday.
Jose Alvarado, 37, was found unconscious and unresponsive at about 10:30 p.m. with a gunshot wound to the head outside the Papa John's Pizza restaurant on Amsterdam Avenue and West 145 Street, police said. He was taken to the hospital where he was pronounced dead. Alvarado, an employee at Papa John's, had just returned from making a delivery when an individual walked up and shot him, according to authorities. Police said Alvarado was not robbed during the incident. They are looking for a motive to the attack. No arrests have been made as police continue to investigate. pix11.com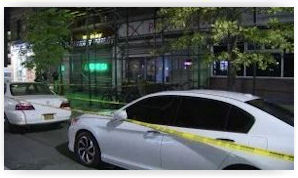 ---
Robberies, Incidents & Thefts
Colorado Spring, CO: Wild spree overnight could be connected to crime ring involving 40 teens
"It took out the checking counter, it took out all the display cases, it took out a good chunk of the roof." said a witness, became the latest victim of a crime ring involving dozens of teens Wednesday morning. Police believe the teens drove a stolen car into the building in an attempted smash-and-grab robbery at the dispensary off Platte Avenue and Chelton Road, where the Jeep was so deeply encased in the building, firefighters had to tear apart the roof to get it out.

The dramatic smash and grab attempt was only one stop in a wild night that saw police responding to multiple locations as the teens committed one crime after another. The events of late Tuesday night through early Wednesday morning began at a Famous Footwear on 3080 N. Powers Blvd., where a Jeep smashed through the storefront, scattering shoeboxes across the room and leaving display cases in disarray. Police say the group made an unsuccessful attempt at cracking open a safe, then left with a bunch of shoes. kktv.com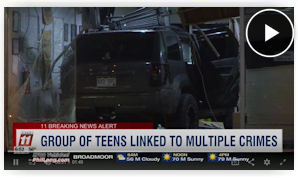 Forestville, MD: Suspect stabs man, threatens woman with knife outside Target
Shoppers at a Target in Forestville, Maryland, saw a suspect stab a man before holding a woman at knifepoint outside the store Wednesday, police say. Prince George's County Police Officer Irving Estime said he was inside the store on Donnell Drive when he saw a man with a knife who had just stabbed another man about 12 p.m. The suspect then threatened a woman with the knife outside the store and held the weapon to her throat.

Estime ordered the suspect to drop the knife and let go of her. As more officers rushed to the scene, the officer continued to keep the suspect's attention, which allowed the other officers to use a Taser on the suspect, police said. Police arrested the suspect and said the woman was not hurt. The man stabbed inside the store was stable, police said. The suspect and the victims all knew each other, according to police. nbcwashington.com
Lake Park, FL: Owners and Employee of 'Just Fishing Tackle' store accused of Robbery and Kidnapping
The detective said that on Aug. 16, Daniel Friedman and his son Eric, called the suspect about the stolen fishing reel. The suspect and another man showed up to the store that afternoon. Upon entering the store, PBSO says Eric Friedman confronted the suspect about the theft. According to the detective, the suspect and Daniel Friedman began to fight and Daniel Friedman produced a shotgun. PBSO says the suspects were held against their will at gunpoint. The suspects told the detective that they were beaten and forced at gunpoint to hand over their cell phones, $1,180 in cash and their wallets. wptv.com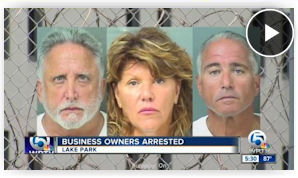 San Antonio, TX: Sheraton Hotel Engineer swindled the hotel out of $150,000 with fake receipts

Philadelphia, PA: String of 7-Eleven robberies has Police looking for possible connections

Birmingham, AL: Two Tuscaloosa Men Indicted for Series of Tuscaloosa County Armed Store Robberies

Roseville, CA: Police See Alarming Increase in 'Grab and Go' Robberies; 15 this year

---
Arson & Fire
Seaford, DE: 16 year old charged in $3M Family Dollar Arson
A Delaware teen is accused of starting a fire at a Family Dollar store that caused an estimated $3 million in damages. Harry Miller with the State Fire Marshal's Office tells news outlets that the 16-year-old boy was charged Wednesday in connection with Monday's arson. Miller says the evening fire at the Seaford store destroyed the entire building and everything inside. One employee was treated for smoke inhalation, but no other injuries have been reported. The teen is charged with one count of felony arson and four counts of felony reckless endangering. Investigators haven't said how he was identified. He was released to his parents. The fire is still under investigation, and more charges may be added. medfordbeacon.com

---
Cargo Theft
Durban, South Africa: 5 Men Arrested for Cargo Theft; 3,700 pounds of Industrial Flour

---
Sentencings & Charges
Thornton, CO: Bloods Street Gang members sentenced for stealing 56 guns from Cabela's
Federal prosecutors in Colorado say three members of a gang have been sentenced to prison time for stealing 56 guns from Cabela's in Thornton. According to court records, they were Bloods street gang members and distributed the guns to other members. Prosecutors said the men pleaded guilty early in the year and were sentenced between April and this month. According to records Kendall Crockett was sentenced to 80 months in prison, Darnell Hudgens was sentenced to 57 months and Giavanni Edward Miles was sentenced to 70 months. Prosecutors say Hudgens, Miles and another suspect broke into the Cabela's in August 2017 and filled backpacks with guns. Crockett drove them away. denverpost.com

Odessa, TX: Man sentenced to 20 years for Big Lots Armed Robbery
On Tuesday, an Ector County Jury found Michael Stoglin guilty of the August 2017 aggravated robbery at Big Lots in Odessa. On Wednesday evening, the jury sentenced Stoglin to 20 years in prison. The sentencing was made after a robbery that occurred on August 26, 2017. Officers with OPD responded to Big Lots on Andrews Highway for a call of a robbery. When police arrived on scene they learned that three male subjects all wearing masks had entered the business and demanded money while firing a single shot.

The suspects then fled the scene with an undisclosed amount of cash. Police then learned that a fourth suspect was the driver of a vehicle involved. They also learned that the suspects had purchased the same masks used in the robbery from a CVS Pharmacy. cbs7.com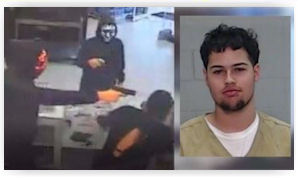 Madison Heights, MI: No active jail time Pharmacy Burglar convicted in $3,000 medication theft

Oakland County, MI: 3 men charged in string of Bank, Gun Shop Robberies across Oakland County
---

---
Home of the Industry's Original
On the Move

None to report.
Submit Your New Hires/Promotions
or New Position
See all the Industry Movement
---

---

---
Featured Job Listings
Sponsored by Delta Lock
Feature Your Job Here For 30 Days -
70% Aren't On the Boards

Featured Job Spotlights
---


Vice President, Asset Protection
Columbus, OH
Oversees and directs all Asset Protection related functions for a Corporate Office, multi-state distribution centers and large retail store network. Responsible for enterprise direction and strategy as it pertains to Asset Protection with a goal of minimizing shrink, reducing loss and maximizing security and associate safety...


Vice President, Loss Prevention
Houston, TX
This pyramid head position is responsible for developing and leading this company's shrinkage reduction efforts and integrating these efforts throughout the entire organization...


Vice President, Asset Protection
New York, NY
The Vice President (VP) of Asset Protection is responsible for developing, coordinating, and leading the execution of all asset protection and risk management programs. Included in these responsibilities is the leadership of investigations and fraud mitigation teams to improve bottom line results...

Director Loss Prevention
Irvine, CA
The Director of Loss Prevention at Tillys builds and implements policies, programs, and procedures that control risk, reduce shrink and protect the employees and assets. The director is responsible for leading and developing LP team members in the corporate, retail, and distribution centers...


Asset Protection & Fraud Manager
Westchester, IL
We offer you the challenging opportunity of Asset Protection and Fraud Manager. This position will support Corporate and Field Asset Protection functions including protective systems, vendor management, Incident Call Center; commerce and point of sale fraud systems; as well as other investigative/ administrative duties as needed...


Project Coordinator (LP Technology)
Dublin, CA
Provides support for all types of LP technology installation projects, (e.g. new stores, upgrades, remodels, maintenance/repair, etc.). Serves as the point of contact on all projects as assigned, interfacing with vendors, field management, and various corporate teams...


Project Lead (LP Technology)
Dublin, CA
The Lead, Project Coordinator facilitates the development, implementation, and ongoing execution of multiple Loss Prevention technology projects, programs and systems. This is accomplished by leading projects from concept to completion, acting as a subject matter expert, and working effectively with internal partners (i.e. Store Operations, Store Planning, IT, HR, Logistics, Purchasing, etc.) and external resources (i.e. vendors, service providers, etc.) to drive results, and monitoring to ensure all projects meet scope, timeline, and budget needs...




Asset Protection Analyst
Norcross, GA
AP Analyst based in Norcross, GA reporting to the Director of Asset Protection. This high-visibility role will be responsible for business-wide security administration, multiple fraud detection programs and functional communication...



Regional Loss Prevention Manager
Sacramento, CA
● Develops and implements shrink reduction strategies and action plans for their coverage region and for individual stores as needed
● Creates and conducts training sessions at the regional, district, and store level to educate and bring awareness to loss prevention and shrink related topics...



Regional Loss Prevention Manager
Atlanta, GA
● Develops and implements shrink reduction strategies and action plans for their coverage region and for individual stores as needed
● Creates and conducts training sessions at the regional, district, and store level to educate and bring awareness to loss prevention and shrink related topics...


Asset Protection District Manager
Chicago, IL
The Asset Protection District Manager will lead the District in shrink reduction and profit maximization efforts. The position will proactively seek to bring economic value to the company, promoting profitable sales and world class customer service while ensuring a safe place to work and shop...


Regional Loss Prevention Manager
Pacific Northwest
Job responsibilities include, but are not limited to the following:
● Conducts internal investigations related to theft, business abuse, and safety violations by conducting interviews, determining course of action, and writing reports.
● Formal interview training, i.e. Wicklander-Zulawski or Reid Techniques...

Featured Jobs
---
• Conn's Home Plus - Director of LP, Inventory Control & Fraud, Spring, TX
• Gulfstream Goodwill Industries - Director of Safety, West Palm Beach, FL
• Clarins - Director Security, Loss Prevention and Safety, Orangeburg, NY
• Guess - Director, Risk Management and Safety, Los Angeles, CA
• Nike - Director of North America Digital Risk & Control, Beaverton, OR
• Netflix - Director of Data Privacy and Security, Legal - Los Angeles, CA
• DSW Inc. - Director, Loss Prevention, Columbus, OH
• Check Into Cash - Director, Safety and Security, Cleveland, TN
• Food Lion - Director of Asset Protection, Salisbury, NC
• Whataburger - Director Risk Management, San Antonio, TX
• Ahold Delhaize USA - Manager | Corporate Investigations - Retail Business Service, Salisbury, NC
• T-Mobile Express Stores - LP Operations Manager, East Brunswick, NJ
• Walmart - Director of Safety & Compliance - Sam's, Bentonville, AR
• GOAT - Director of Loss Prevention & Security, Los Angeles, CA
• belk - Director of IT Security, Charlotte, NC
• Ross Stores - Director of Organizational Safety and Security, Dublin, CA
• Gymboree - Director, Inventory Control, Dixon, CA
• Living Spaces - Director of Safety, California

---

---

---
Daily Jobs
Appearing One Day Only
View our Internet Jobs Archives here


Sponsor this section of the Daily
---

---

---
Submit Your Group LP Selfie and Group Vendor Selfies Today!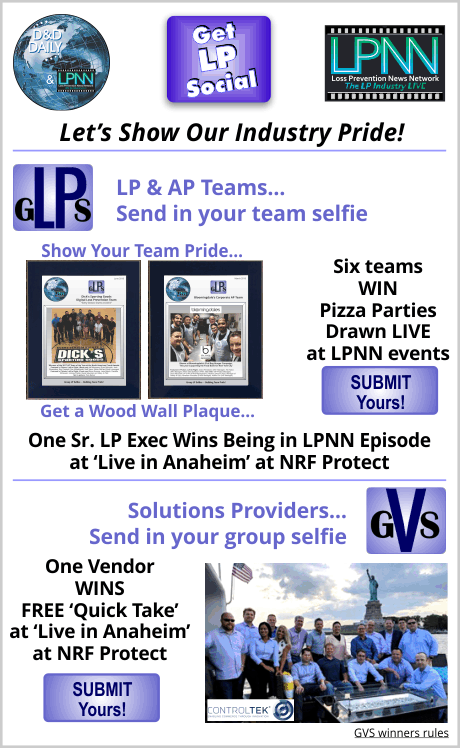 ---
Your Career

Increase Productivity by Taking Time Off,
Monotasking, Sleeping and Listening to Podcasts

8 Productivity Tips You've Never Heard Of
Entrepreneur Network partner Ben Angel knows a thing or two on how to boost productivity and increase your focus through little-known strategies and tips. Follow him around New York City as he reveals 8 tips on how to increase your work performance. Listen to podcasts

Why Taking Time Off From Work Is Good for Your Productivity
All work and no play can be bad for your career. If you have any vacation time to use, go ahead and take some time off! Not only will it help you boost your productivity but it can also help your leadership style and work smarter. Busy vs. Productive

18 Proven Ways to Stay Focused that Increase Productivity
Productivity doesn't happen by accident. Getting done all the things you want to do requires planning and a steady supply of focus and motivation. Here's how you can stay focused and amp up your productivity every day. Give monotasking a try

The Simple Productivity-Boosting Method You're Probably Overlooking
How many of us have sacrificed a few hours of sleep to catch up on emails, or handle seemingly urgent tasks. Here's one thing you can do to get quality sleep and increase your productivity the next day. All about the sheets
---

---

---

---
Tip of the Day
Sponsored by Vector Security Networks

The difference between success and failure is in the planning and the execution. Taking something from a thought or idea to a reality can be a long and painful process lined with failures and detractors. But a great idea is only as good as the plan you have to bring it to life and the execution everyone delivers to give it a life. Because without the two the great idea never existed. As one "C" level executive once told me - He never saw a bad great idea as it was always the failed plan to roll it out and the poor execution that killed it.
Just a Thought,
Gus



(content subject to approval)
---
---
Upcoming Events
---
Recruiting?
Get your job e-mailed to everyone... everyday
Post on our Featured Jobs Board!
---
Reach your target audience in 2018 every day!
Request our 2018 Media Kit
---
Not getting the Daily?
Is it ending up in your spam folder?
Please make sure to add d-ddaily@downing-downing.com to your contact list, address book, trusted sender list, and/or company whitelist to ensure you receive our newsletter.
Want to know how? Read Here


36615 Vine Street, Suite 103
Willoughby, OH 44094
440.942.0671
copyright 2009-2019
all rights reserved globally