The D&D Daily Mobile Edition
September 1,

2015



The LP Industry's #1 News Source - Informing, Educating and Instilling a sense of community




Here are the 9 Executives 'Moving Up' as reported in the Daily in August
Dollar General promoted Amelia Kennedy to Director - Corporate Asset Protection.
Loss Prevention Research Council promoted Jessi Dudley to Operations Manager.
Mattel, Inc. named Ron Smith Director, Global Physical Security & Compliance.
Rite Aid promoted Brandan Mehaffie to Director Pharmacy Asset Protection.
Saks Fifth Avenue promoted Wallace Phillips, CFI to to Director Asset Protection.
Sears Holdings Corporation named Ernie Deyle Senior Director of Safety & Enterprise Resiliency.
USS named Steve Sell New Chief Marketing Officer.
Walmart Canada named Jen Drake, CFI Loss Prevention Manager, Walmart Logistics.
Walmart Canada promoted Brad Baker promoted to Senior Director, Field Implementation.

Steven Bova was named Director of Asset Protection for Taco Bell. Steven was previously the Director - Partner and Asset Protection for Starbucks and had been with the retailer since 2002. Before that he was a District Loss Prevention Manager for Lord and Taylor. Congratulations Steven!


Kent Oda, Retired LAPD Detective III comes out of retirement: Named Vice President, Business Development for Select Systems Technology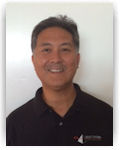 In May 2012, Detective III Kent Oda honorably retired from the Los Angeles Police Department with over 26 years. He was the Department's public/private partnership coordinator for LEAPS (Law Enforcement and Private Security) for 10 years (a public/private partnership program between law enforcement and security guard companies). In addition, Kent held a Board of Directors position on its non-profit board.

In 2009, he was one of the founding members of the Los Angeles Area Organized Retail Crimes Association known as LAAORCA, along with Captain Bill Williams, LAPD, who also shared Kent's vision of building a relationship between law enforcement and retailers. Kent served as the LAAORCA program coordinator for three years for the Department. LAAORCA currently has over 2,100 members representing over 330 companies and over 130 law enforcement agencies. In 2011, Kent was named one of the "Most Influential People in Security," for his work on LAAORCA.

Kent has experience in shop lift detail and was a mall foot beat officer in the San Fernando Valley, juvenile car officer, school car and a crime suppression unit known as SPU (Special Problems Unit-Surveillance crime suppression). Five years after graduating from the academy, Kent was assigned to Van Nuys Division Area detectives where he investigated thefts and commercial burglaries. He has worked in nearly every crime specific assignment.

Kent was recruited by Bunco-Forgery, a specialized detective division where he investigated financial crimes. Also, Kent was a member of the International Association Financial Crimes Investigators, and served as an advisor on the Southern California Chapter Board. He also worked major fraud investigations where cases begin at $300,000. He became a subject matter expert in Commercial Theft/Burglary, Juvenile Crime, Auto Theft and Forgery related crime.

In addition, Kent was a skilled administrator and was an adjutant for 6 commanding officers, in Bunco-Forgery, Financial Crimes, and Commercial Crimes Divisions.

Kent continues to share his expertise and his passion in how to create and manage public/private partnerships for law enforcement to help retailers.

*Official press release from Select Systems Technology to be published.

News Brief
Sponsored by WG Security Products, Inc.
Workplace Disputes: Early Intervention Key to Heading Off Violence - 404 workplace homicides in 2013 Workplace violence, as classified by the Occupational Safety and Health Administration (OSHA) covers a range of behavior, including threats or verbal abuse. By that standard, nearly 2 million Americans report feeling victimized in work situations annually, it says. There were 404 workplace homicides in 2013, the most recent year for which statistics are available, according to the Bureau of Labor Statistics' Census of Fatal Occupational Injuries. Colleagues and former coworkers were responsible for only 74 of the 2013 killings, trailing behind robbers, relatives or domestic partners and other assailants. Experts, say early intervention and thoroughly preparing a workforce to deal with difficult co-workers is key to preventing more run-of-the-mill workplace disputes from escalating.

Companies must provide training on behavioral warning signs to their employees and provide them with a secure and anonymous vehicle by which they can report their concerns to management. "This training should stress that the company cannot provide a safe environment if they are not made aware of concerns about the disturbing and disruptive behavior of others," he said. "At that point the company has the duty to investigate the concerns and develop an appropriate plan." Companies also need to realize
that firing a difficult employee may not be the end of the matter. oshatoday.com

Building Business Value in Loss Prevention
As growing risks, emerging technology and omnichannel models create new opportunities, more retailers understand the value of what AP and LP bring to the table. That was a rallying cry at the National Retail Federation (NRF) Protect 2015 event in June and highlighted by Joe Toth, vice president, loss prevention, at Guess?, Inc. and David Johnston, senior director, loss prevention, at Dunkin' Brands, Inc. In their presentation, "Making the Shift - Transitioning Loss Prevention from a Support Role into a True Business Driver," the two LP executives led a roundtable that spotlighted how colleagues can:

● Use their department's unique skills to expand into a broader spectrum of the business;
● Enhance AD and LP departments' overall value; and
● Evolve to play a larger role in the profitability of the organization. Full article securitymagazine.com

LAPD Begins Rollout of Body-Camera Program
The city plans to eventually outfit 7,000 Los Angeles Police Department officers with body cameras. On Monday, officers in San Fernando Valley received training and hit the streets with the chest-mounted cameras. The city has acquired 850 body cameras using $1.5 million in private donations, City News Service reported. It will cost $10 million to outfit the entire LAPD.

New York, Chicago, and Seattle are among the cities that have initiated programs to introduce body cameras but only New Orleans and Albuquerque have full-body camera programs in place, according to an Aug. 13 report by the Huffington Post. courthousenews.com

Wal-Mart Can't Hide From Mexican Bribery Suit, 8th Circ. Told The investors argued that the evidence they've submitted, including Wal-Mart's investigatory documents, is enough to beat the retailer's attempt to dismiss the suit, rejecting Wal-Mart's argument that they didn't prove that a majority of the board members knew about the bribes at the retailer's Wal-Mex subsidiary or that they faced personal liability. Plaintiffs have attached to their complaint critical Wal-Mart documents and emails from the Walmex investigation that create a paper trail reaching all the way up to Wal-Mart's board of directors." law360.com

Kohl's Can't Get Rid Of Fair Credit Reporting Act Suit, Ex-Employee Tells Court - used ambiguous and misleading language to obtain credit reports Coleman alleges Kohl's performed illegal background and credit checks on her before her employment with the retailer between October 2012 and June 2013. Coleman asserts that Kohl's employment application conceals the authorization for these background checks within heaps of impenetrable legalese. "Moreover, the confusing nature of the forms, including the fact that plaintiff was required to sign multiple forms at the same time, only compounded plaintiff's confusion surrounding the forms and their resultant unlawful nature," Coleman said. law360.com

K-VA-T Food Stores Implements vbInSight Corporate Reporting Solution K-VA-T Food Stores has implemented vbInSight by Balance Innovations as its corporate reporting solution. K-VA-T is a regional, family-owned supermarket chain that operates 103 stores in Kentucky, Virginia and Tennessee under the Food City and Super Dollar banners. vbInSight is a web-based corporate reporting application for retail operations, loss prevention, audit, and treasury departments. It provides K-VA-T with immediate access, via alerts, to individual and aggregate bookkeeper and cashier data regarding all tender types. sys-con.com

Macy's: "We will roll out Backstage rapidly"
If the initial wave of stores proves successful, additional real estate will be sought, typically existing, freestanding sites rather than malls that could have been vacated by another retailer. Backstage discounts range from 20 to 80 percent off regular prices, and the vast majority of the merchandise is bought from the market. There are a smattering of clearance items and nothing is manufactured specifically for Backstage, though that could change in the future. Some of the merchandise, primarily cosmetics and Sunglass Hut, is full-priced. The Sheepshead Bay store is 30,000 square feet over two levels, and on the site of a former Loehmann's location. wwd.com

California Lawmakers Approve Equal-Pay Measure California lawmakers gave final approval on Monday to legislation that seeks to ensure equal compensation for women in the workplace by prohibiting employers from paying differing wages to employees who do "substantially similar work." The legislation would prohibit retaliation against employees who inquire about their colleagues' salaries. It also would allow an employee to challenge pay based on the rate that other employees of the same company receive at different locations. And it would require employers to show that pay rates are based on factors other than gender. wsj.com

New Texas Cargo Theft Law Goes Into Effect Today - Offenders can now get life in prison for cargo theft of $200K and above A new law in effect Tuesday, Sept. 1, establishes the theft of truck, rail or container cargo as a specific offense and imposes escalating fines and punishment based on the value of the goods. Sen. Judith Zaffirini, D-Laredo, has said that cargo theft by organized crime rings has become a very serious problem in the state, as well as nationwide. She put the losses to the state at $23 million between 2012 and 2014. Zaffirini told lawmakers earlier this year that cargo theft is a growing problem nationwide accounting for an estimated loss of $10 billion to $25 billion per year. According to FreightWatch International, in 2013 Texas ranked behind only California in the number of cargo thefts. Florida, Georgia and Illinois rounded out the top five. The new law authorizes felony charges for offenders, which range from six months behind bars for loads valued at a minimum of $1,500 to as much as life in prison for loads valued at more than $200,000. Any damage to the truck or trailer would also be included in the value of the load. Offenders are defined as anyone who "knowingly or intentionally conducts, promotes or facilitates an activity" involving the receipt, possession, concealment, storage, barter, sale, abandonment or disposal of stolen cargo. Texas joins Georgia in adopting rules that make cargo theft a specific crime with stiff punishment for offenders. landlinemag.com

Smaller retailers scrambling to meet Oct. 1st EMV Deadline - 60-70% of consumers will have chip cards by end of year Credit cards with new, higher security electronic chips are beginning to show up in consumer wallets. But for smaller retailers, that switch to a more secure credit card system comes with a cost. Merchants must have equipment in place by October 1 to handle chip card transactions or run the risk of paying for any fraud transactions themselves. After October 1st, if a customer offers a chip card in payment and the retailer uses the old-fashioned "magnetic swipe" to record the sale, the retailer assumes any risk for fraud. Some of the national companies that issue credit cards estimate 60 to 70 percent of consumers will have a card with an electronic chip by the end of the year. Some of the larger retailers, like Target, already have equipment in place to process transactions with the newer cards. But smaller retailers said they don't have those resources and will be scrambling in the next few weeks to get ready by the liability deadline. kcrg.com

Forever 21 may be hitting the wall - looking to downsize its biggest stores Brian Tunick, an analyst with RBC Capital Markets, estimates that excluding newly opened or closed stores Forever 21's sales have been running negative for the past 12 months. After several years of fantastic results," Mr. Tunick said, "they are facing some of the same struggles that other teen retailers are facing." Sounding out landlords about downsizing some of its biggest stores. The retailer, which has 720 stores and plans to open 100 more this year, has also struggled with large stores in Europe. wsj.com

Aon post Director Corporate Security & Loss Prevention in Dallas, TX. - An Outsource Security & LP position Aon Risk Solutions, the global risk management business of Aon plc (NYSE: AON), is the worldwide leader in risk advice and insurance broking. We have a career opportunity for a Director of Corporate Security & Loss Prevention to work for Aon, but will be outsourced to our client to work on site. This is in the Dallas area. The Director of Corporate Security & loss Prevention will support our Aon Global Risk Consulting group.

This position is responsible for creating, implementing, maintaining and monitoring security and loss prevention policies and programs designed to promote a safe and secure environment for employees and guests and to ensure protection of company assets. The position will proactively interact with hotel operating units, executive management and various administrative levels to establish, promote and recommend solutions for preventing and reducing loss or injury to employees, guests and assets. linkedin.com

Shopping as simple as taking pictures with Neiman Marcus' new app Neiman Marcus is expanding its 3-D app called Snap. Find. Shop. to include all categories within the store. The state of the art visual search technology allows the NM app users to simply snap an image of any women's and men's fashion and accessories, beauty, children's and home items and instantly be provided with all close matching products currently available from www.neimanmarcus.com. First to market in the luxury sector, Neiman Marcus offers users visual search from both real-life items and printed images - with no need for cropping, category definition, or search refinement. From "snap" to "shop" these items are then purchasable at the exact moment of capture. retailingtoday.com

No Shake Up at Belk's after buy out by Sycamore

Staples, Office Depot Certify Compliance With FTC Information Request for merger

Kroger has jobs for 20,000 veterans

Hudson Trail Outfitters closing all stores


Quarterly Same Store Sales Results
Canada's Alimentation Couche-Tard Q1 U.S. comp's up 5.1%, Europe up 1.3%, Canada up 2.3%
Dollar Tree Q2 comp's up 2.7% with sales up 48% (Family Dollar purchase)
All the news - One place - One Source - One Time
The D&D Daily respects your time
& doesn't filter retail's reality

Report Your News!
(content subject to approval)



Hackers hit pizza chain through POS vendor - TransformPOS Village Pizza & Pub, a two-store local pizza chain headquartered in Elgin, Illinois, was notified on July 27 of a security breach by TransformPOS, the company that provides its POS payment card processing system. An unauthorized person used malware to gain access to Village Pizza's transaction information as it was being routed through the TransformPOS system. While Transform POS' investigators were not able to forensically assess whether unauthorized access or acquisition of cardholder data actually took place at Village Pizza, the retailer is asking customers who used a debit or credit card between April 23 and Aug. 2, 2015 to check for unauthorized activity. TransformPOS has retained an outside forensic investigation firm to conduct an investigation, and law enforcement has been notified. chainstoreage.com

CEOs Failing to Grasp Information Security Risk
Despite a continuing string of high-profile information security breaches, many organizations' leadership teams still have a very poor understanding of their own susceptibility to similar failures, asserts a research note from leading analyst Ovum. Yet he argues that there is a lack of planning regarding how to react when these events occur. Moreover, he suggests that because the majority of security breaches are attributable to failure of process, rather than of technology, organizations need to take an end-to-end, business-focused view of their security planning and response. infosecurity-magazine.com

FBI issues supplier scam warning to businesses
The scam is targeted at businesses that deal with international suppliers. Criminals will compromise legitimate email accounts through social engineering or other means, and request financial transfers form the victims. Because the email accounts are legitimate (or at least they look legit), and the victim is often used to international payments, these scams are having a moderate to high degree of success. The FBI says there has been a 270 percent increase in the number of identified victims since January 2015.

Instances of supplier scams have been reported hitting all 50 states, as well as 79 other countries. While most of the scammed transfers have been reported going a number of different locations across the globe, the majority of the transfers are going to banks located in China and Hong Kong. "Victims report being contacted by fraudsters, who typically identify themselves as lawyers or representatives of law firms and claim to be handling confidential or time-sensitive matters. This contact may be made via either phone or e-mail. Victims may be pressured by the fraudster to act quickly or secretly in handling the transfer of funds," the PSA adds. csoonline.com

FBI: Savvy, Crafty Wire Transfer Fraud is Booming - Over $1b - Hitting Retailers As Well The FBI is warning that business email compromise (BEC) has resulted in actual and attempted losses of more than a billion dollars to businesses worldwide. The financial fraud tactic-which the Feds say is "more sophisticated than any similar scam the FBI has seen before"-centers on social engineering tactics that target company accountants with emails purporting to be from their superiors and the CEO. It first appeared in the wild around 2013, but has really taken off since then. The average individual loss is about $6,000, and the average loss to BEC victims is $130,000. Editor's Note: This has hit a number of retailers. With a couple actually wiring the funds. infosecurity-magazine.com

Ransomware Soars 127%
Ransomware levels have soared by more than 120% over the past year as hackers grow ever more determined and attacks are carried out on an industrial scale, according to Intel Security. Virtual currencies like Bitcoin and anonymizing networks such as Tor have helped the cyber-criminals stay hidden from law enforcement - "making it commercially viable and spurring unexpectedly high growth." infosecurity-magazine.com

CIOs Landing Board Seats as More Companies Seek Tech Insight As companies continue to rely on technology to invent new business models and remake old ones, CIOs are being sought out for director seats. ArcBest Corp., Autoliv Inc., Lowe's Cos Inc., Winnebago Industries Inc. and Zions Bancorporation have added CIOs to their boards since February. wsj.com

Fitting rooms offer retailers rare glimpse into consumer behavior, LP insights Retailers are overlooking a quintessential focal point in the path to purchase, and underutilising a pool of untapped data on offer. According to new research by Indyme, a customer engagement and loss prevention specialist, consumers who use the fitting room are three times more likely to purchase than those who don't. As such a crucial location in the path to purchase, it is surprising that retailers are not taking advantage of the rich data stream that fitting rooms can provide. By installing a fitting room management system, retailers can now detect presence in the fitting room, allow customers to request assistance, log theft events, calculate store traffic conversion to fitting room utilisation as well as the time spent in the fitting room and much, much more. Occupancy data can also be used a powerful tool to aid loss prevention activities in store by monitoring unusual consumer activity, for example, the time spent in a fitting room. In addition, prompt fitting room inspections when a fitting room is empty encourages the rapid detection of removed tags, increases the opportunity for security personnel to identify suspects in store and promotes tidy, shopper-friendly facilities. retailtimes.co.uk

106 of top 200 largest specialty softgoods retailers in North America use either Aptos or Oracle POS systems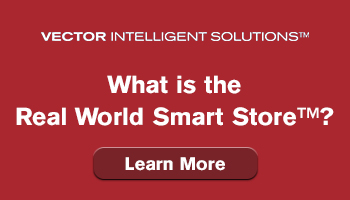 Press Releases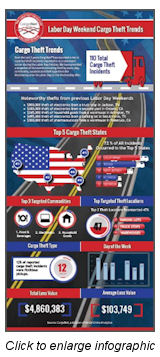 JERSEY CITY, N.J., September 1, 2015 - Make sure your cargo is safe this Labor Day weekend! CargoNet examined statistics from the Wednesday before and the Wednesday after the Labor Day weekend and found that in the last three years, 110 cargo thefts were reported during this week. In that time period, California and Texas reported the most cargo theft, but CargoNet spotted significant losses in New Jersey, Florida, Georgia, and Illinois, too.

Cargo theft was most often committed while cargo sat in parking lots, truck stops, and warehouses. In 2014, 27 percent of cargo theft in this week occurred on Thursday, which indicates that truck drivers took Friday off for a long weekend. Across all three years, Sunday experienced the most cargo theft.

Twenty percent of cargo thefts were of food and beverages, but electronics was the most costly category - $2.12 million despite only 12 percent of losses. Fictitious pickups were 12 percent of all cargo theft losses during this time period. In total, CargoNet recorded more than $4.8 million in cargo stolen, with an average loss value of just over $100,00 per theft. (VIEW INFOGRAPHIC)

| | |
| --- | --- |
| ● | $800,000 theft of electronics from a truck stop in Jackson, Tennessee |
| ● | $680,000 theft of electronics from a secured yard in Ontario, California |
| ● | $245,000 theft of household goods from a warehouse in Arlington, Texas |
| ● | $495,000 theft of electronics from a parking lot in San Antonio, Texas |
| ● | $300,000 theft of pharmaceuticals from a warehouse in Temecula, California |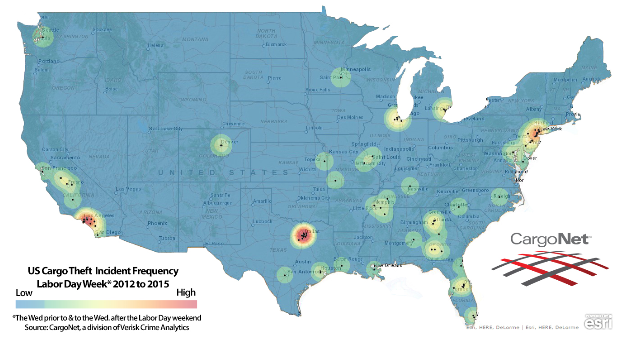 CargoNet is a division of Verisk Crime Analytics, a Verisk Analytics business.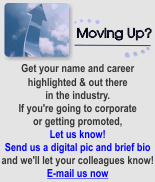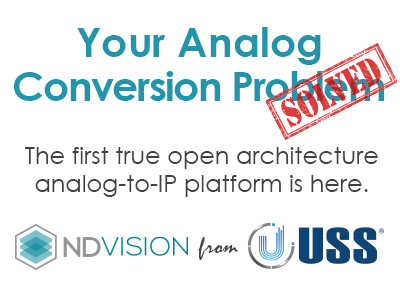 Managing the Change Process from Loss Prevention to Asset Protection
Transforming to 'Omni AP'
Kevin Colman, Group VP of AP, Macy's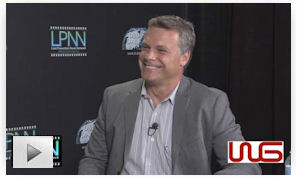 Macy's is not only the largest department store chain in the U.S., but it is now also the 7th largest online retailer. To keep pace with the rapidly changing business model, Macy's Asset Protection team has reinvented itself to address the many challenges that cybersecurity and omni-channel retailing presents. Kevin Colman, Group Vice President of Asset Protection for Macy's, tells us about the department's transformation to 'Omni AP', where protecting the brand and increasing profits is just as important as preventing shrink.
---
2015 Group LP Selfie Awards

Pizza Party Drawing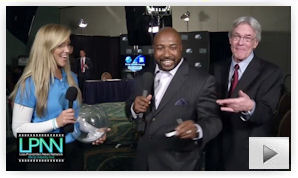 Brian Broadus, VP of Loss Prevention for Mattress Firm, does the honor of drawing three winners for the D&D Daily's 'Group LP Selfie' Competition - sponsored by NuTech National. Join Tonya Prive from NuTech and Gus Downing to see which three LP teams won a free pizza party. (We promise this wasn't staged!)
Solution Providers, have a video or commercial you want to publish? Contact us.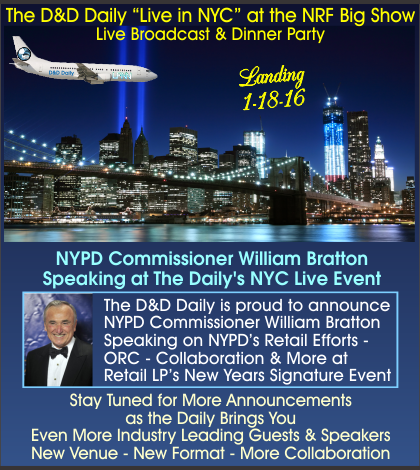 Corporate Meeting Coming Up?
Getting your team together?
Send us your new one!

Have some FUN and take a Group LP Selfie

Top of the Daily!

Hang a plaque on your office wall
Win a pizza party!

Your LP Team Pride...
Let's Build our Industry
1 Group Selfie at a Time!

Win one of six pizza parties
chosen LIVE at our LPNN Shoots!

---

e-commerce

Sponsored by The Zellman Group
Interpol Battles Bitcoin Crime With Own Cryptocurrency No matter how hard mainstream bitcoin enthusiasts work to give the digital currency a good name, there's always going to be another bitcoin criminal to slander its reputation. And with more transactions going online - bitcoin included - it's getting harder to keep up with the pace of cybercrime. That's why INTERPOL created an international anti-cybercrime center to develop its own digital currency to help battle crime that's committed using cryptocurrencies like bitcoin. Known as the INTERPOL Global Complex for Innovation (IGCI), which opened last month in Singapore, the facility marks the organization's first foray into an official center to research cybersecurity issues. INTERPOL also plans to use its own technology to develop a digital currency to be used for testing purposes. Because bitcoin, digital currency and cybercrime matters are getting increasingly more difficult to tackle for authorities, having help from the private sector might generate some real-world solution to tackle the security matters that impact both the private and public sectors. pymnts.com

Consumers using e-commerce to shop the world
UPS' most recent "Pulse of the Online Shopper" survey, conducted by comScore, says that the web continues to break down borders worldwide. Among respondents who said they make at two or more online purchases in a typical three-month period, 24% went to sites outside their home countries to shop-and half those sites were in the United States. In the U.S. 54% of shoppers have bought from a foreign site. UPS says that shipping across borders is set to explode in the next five years, growing to $330 billion by 2020 from $80 billion in 2014. retaildive.com

Fraudsters increasingly use credentials stolen from data breaches Digital identities are being exploited on a routine basis by sophisticated cybercriminals, a new study shows. The report unveils that increasingly sophisticated attackers were increasingly targeting diverse data sets to effectively stitch together consumers' credentials. And new account creation continued to be at high risk as fraudsters use stolen credentials harvested from massive breaches. Further, fraudsters were either replaying stolen identities using proxies, device and location spoofing to cloak a true digital identity or piggy-backing on top of users' session with malware or man-in-the-middle attacks. thepaypers.com

Apple Pay, Samsung Pay and Android Pay Offer Speed and Security at Checkout

"Fraud is not a person - it is a dynamic grouping of statistics that deviate from the norm."
Stuart B. Levine, CFI, CFCI
CEO, The Zellman Group & Zelligent


ORC News
Sponsored by NEDAP
Las Vegas, NV: Declined debit card at Toys R Us leads to ID theft ring Toys may be more than child's play, according to the U.S. Postal Service. A purchase at Toys R Us helped to bring down this ID theft ring. "He went to use a fraudulent credit card at a Toys R Us," said U.S. Postal Inspector Adam Fascio. "The purchase was declined; however, I guess he really liked what he was buying because he took out his personal debit card and bought the goods anyway." Postal inspectors were able to link the declined card and the personal debit card to track the ID thieves. Chase Bank recognized a pattern of fraudulent accounts being opened. "Someone was opening up credit cards and taking over people's existing credit card accounts," Fascio said. The credit cards linked to those accounts were being sent to the same New York address. "Turned out that it was a vacant apartment," Fascio said. "However, this particular building, to get in, you needed an electronic ID card." From surveillance tape, investigators were able to identify two of the three suspects in this case. Sixty victims had their accounts compromised, with more than $60,000 in damages. news3lv.com
Olympia, WA: Police nab $17,000 shoplifting suspect hitting 3 Home Depot stores Olympia Police arrested a 30-year-old Lakewood man last week after he allegedly attempted to steal more than $2,000 in merchandise from the Home Depot on Fones Road. Michael Charles Laughlin, who has since made an appearance at Thurston County Superior Court, faces charges of second-degree robbery and retail theft with extenuating circumstances. Laughlin and an accomplice also are accused of attempting to steal nearly $17,000 in merchandise from Home Depot stores in Tumwater, Gig Harbor and Federal Way, according to Olympia police. theolympian.com

Grandville, MI: Four busted in $8,000 Cabela's ORC Investigation The leader of a group who stole from Cabela's and quickly returned the pilfered items for gift cards to support heroin habits was sentenced today to prison. Over the course of three weeks, they stole an estimated $8,000 in merchandise, which was then returned to Cabela's for in-store credit, court records show. More than 45 gift cards were then sold to area pawn shops or on the streets, netting the group about $3,900. Gift cards were sold for 50 cents on the dollar, court documents show. wzzm13.com

Braintree, MA: Three wanted for Theft/ Robbery/ and Assault at Nordstrom; $2,000 in merchandise stolen Police are looking for three suspects who are accused of stealing earrings from a store at the South Shore Plaza. On Saturday, the suspects entered Nordstrom and stole several pairs of earrings according to police. While being watched by loss prevention, the first suspect approached the loss prevention associate assaulted and threatened to shoot him. After the assault, the three suspects remained inside the store and continued to steal clothing valued over $2,000. patch.com
Athens, GA: 75 pairs of Sexy Cheeky panties stolen from Victoria's Secret in the Georgia Square Mall An employee of Victoria's Secret at the Georgia Square mall reported shoplifters on Saturday stole 75 pairs of Sexy Cheeky panties altogether valued at $1,087, Athens-Clarke County police said. The panties were stolen from a two-tiered display table, police said, the top level of which provided concealment for the thieves as they cleaned out the bottom tier. The same thieves are thought responsible for a similar theft that occurred at the store two weeks earlier. onlineathens.com

Foley, AL: Foley Police said that shoplifting arrests over the weekend have led to more charges from other recent theft cases They believe one suspect was involved in three separate thefts from Walmart stores totaling more than $5,000. They're asking for your help identifying some of his accomplices. Police said more than $2,500 worth of stolen merchandise was taken from the store and was recovered. About $800 worth of goods was recovered from the Gulf Shores store. As the investigation continued, police found reason to tie Lee to another shoplifting case on August 8, 2015 where more than $2,000 in merchandise was taken. myfoxal.com
Hudson, WI: Two men wanted for Burglary and Grab & Run thefts at Verizon stores Hudson Police were first called at 5:28 p.m. Saturday to Verizon Wireless for a report of a stolen tablet. Two hours later the same suspects showed up a different Verizon location, but did not enter the store. At 4:40am Police responded to a burglary alarm at that same Verizon store. The front door glass was smashed and wireless speakers from a display were stolen. hudsonstarobserver.com
Terrell, TX: Police observe 3 unloading a Walmart cart at Waffle House; recovered $800 in stolen merchandise "The officer observed two males, an adult and a youth, and a female behind the Waffle House unloading a Walmart cart full of merchandise", Capt. Sansom said. "The officer made contact and began a routine investigation into their suspicious conduct," he said. "The adult subjects both showed active warrants. After officers reviewed Walmart's surveillance system, Police determined that the juvenile played an active role in the theft. Both adult suspects were arrested for organized retail theft. terrelltribune.com

Davie, FL: Home Depot employee charged with Burglary of nearly $6,000 of merchandise Seven break-ins that happened in July and August were recorded on store surveillance videos and showed a man scaling a garden department fence or items being tossed over it while the store was closed. Davidson Sylne, 31, of Fort Lauderdale, a father of three young children, told Davie police he committed the thefts because he "needed the money," police said. Stolen merchandise included power washers, drills and other products valued at $5,997. On Sunday, officers and K-9 arrived at the store at 12:18 a.m. to investigate an alarm and found Sylne hiding in the garden department, where a bag of tools valued at $930 were in a garbage bag next to a fence, according to Leon. sun-sentinel.com
Do you have an ORC case to share?
Share your ORC news and help the industry grow

Retail Crime News

Sponsored by Security Resources
Raleigh, NC: Fatal shooting at Check Cashing business could be linked to earlier shooting Police are searching for the suspect in a fatal shooting at Mr. Pawn Check Cashing in Raleigh. They said the case is likely related to another shooting earlier in the day. The suspect has been sighted in the Brentwood area. The victim was identified as the store owner, 64-year-old Thomas Melvin Durant. Police said the suspect was seen getting into a blue BMW. They said the car is similar to one used in a shooting earlier in the day on New Bern Avenue. wral.com
Johannesburg, SA: Two Armed Robbery suspects killed during raid on Armored Car at Clearwater Mall Two suspected robbers are believed to have been killed in a shootout with police officers during the failed robbery of a cash-in-transit vehicle at Clearwater Mall' west of Johannesburg' on Tuesday morning. timeslive.co.za

Jewelry Store Robberies - Dallas Task Force Helps Put Violent Criminals Behind Bars Two Texas men who committed violent jewelry store robberies in the Dallas/Fort Worth area were recently sentenced to lengthy prison terms thanks to an FBI-led task force that helped bring them to justice. The case is a classic example of local and federal law enforcement officers working together to make their communities safer. For a seven-month period between 2013 and 2014, Michael Demon Jackson and Mark D. Whitfield robbed numerous jewelry stores at gunpoint, in part to feed their heroin habits. Last May, after pleading guilty to the crimes, Jackson was sentenced to 594 months in federal prison, just shy of 50 years. In June, Whitfield received a 309-month prison term.

The pair targeted jewelry stores in shopping malls without good security and where female sales clerks worked alone. Whitfield would enter the store pretending to be a customer interested in making a purchase. When the clerk opened the display case, Jackson came in brandishing a gun. He would push the clerks to the ground, put the gun to the back of their heads, and threaten to kill them," said Noe Camacho, a Dallas Police Department detective on the task force. "It was very traumatic for the victims." fbi.gov

West Hempfield, PA: Three Kmart employees charged with felony theft West Hempfield police made three arrests on Aug. 27 stemming from multiple thefts over the course of several months at a Lancaster Kmart. Police said Adiaris Diaz-Alvarado, 31, of Lancaster, Carman M. Kaylor, 39, of Columbia and a 16-year-old girl from Columbia, have been charged with various felonies as a result of the arrests. The suspects stole merchandise over a three-month period as well as under-ringing merchandise totaling more than $5,000 in loss to the store. pennlive.com

Bridgeport, CT: Man pleads guilty to the 2014 Smash & Grab Stamford Jewelry store Robbery; $250,000 in Rolex Watches Brian Moore, pleaded guilty before a U.S. District Judge in Bridgeport for his role in a smash-and-grab robbery of a Stamford jewelry store in November 2014. On Nov. 26, 2014, three of Moore's accomplices, armed with hammers, entered Sidney Thomas Jewelers, in the Stamford Town Center Mall, during regular business hours. The accomplices used the hammers to smash open a jewelry display case and removed more than $250,000 worth of Rolex watches. The three then fled, one of Moore's accomplices, Richard Mathew Bailey, was caught and apprehended inside the mall while fleeing. wtnh.com

12 Busted by Somerset County Prosecutor's Office in Alleged 'Gypsy Travelers' Scam Ring An affidavit from March alleges that the group, known as "Gypsy Travelers" who are frequently of Romanian or Eastern European descent, is a criminal racketeering enterprise that targeted the elderly and others for theft through deceptive conduct. Authorities allege that phony slip-and-falls were staged at a number of businesses throughout the Tri-State area. The total amount of the fraudulent claims exceeded $150,000.00 of which the defendants netted approximately $36,000.00 from the scheme, authorities said. While many of the claims were denied by weary insurance adjusters, other claims were negotiated and settled, authorities said. republishan.com

Greenville, NC: Two men arrested in fake bomb scare at Greenville, Mall Officers say 19 year old Matthew Jonna-Lloyd Ross and 21 year old Scott Nelson Reynolds, told shoppers there was a bomb in the building and videotaped the encounter to get their reactions. Officers responded to a call at 3 Monday afternoon and were told that three men were approaching people in the mall. The third person was interviewed and released. Ross and Reynolds each face one felony charge of Making a False Bomb Threat one charge of Felony Conspiracy. They were booked into the Pitt County Detention Center Monday evening. wcti12.com

Durant, OK: Lowe's Arsonist sentenced to Probation A man from Mead, OK who was accused of setting a fire at Lowe's in March while he had his 5-year-old child with him, has been sentenced. Korey Lee Marx has been sentenced to seven years probation, for first degree arson and endangering human life during arson. kxii.com

Baltimore, MD: Howard County Police strike against Tractor Trailer theft ring With the conviction of a Brooklyn Park man on theft and burglary charges last week, prosecutors said that the Howard County Police Department has put a major dent in a tractor trailer theft ring that operated in Howard and surrounding counties. At the conclusion of a four-day trial last week, a jury convicted Adam Gensler, Sr., 32, on one count of theft over $100,000. In July, a Glen Burnie man was also convicted of similar charges. Police caught the two men "red-handed" in the waning hours of July 12, 2014. In the days leading to the theft of a tractor trailer loaded with potatoes from the parking lot of Capital Produce Company. Yaeger told the jury that Gopshes stole the tractor trailer in Jessup and drove it to a secluded industrial lot in South Baltimore, where Gensler and others could strip down the expensive rig, valued at over $100,000, for its tires, parts and scrap metal. baltimoresun.com

Nevada, MO: Burglar wearing a blue unitard and cowboy boots breaks into Subway A burglar wearing a blue full-body unitard and cowboy boots broke into a Missouri subway but left empty handed after failing to crack open a safe. Nevada police are still searching for the suspect who forced his way through a drive-thru window at the restaurant around 3.45am last Sunday. Surveillance video captured the would-be thief during the burglary as he came through the window and for several minutes desperately tried to open the safe. At one point, the suspect repeatedly kicks the handles on the safe before eventually leaving. dailymail.co.uk
Credit card skimming continues to run rampant in Tampa bay

Jackson, TN: Aloha Pools employee charged with $10,800 theft of property

Boardman, OH: PetSmart employee charged with felony theft, $4,200

Vineland, NJ: Walmart associate charged with theft of over $1,700

Stamford, CT: Woman jailed on robbery charge after grappling with Lord and Taylor security

Moscow, ID: Man found dead behind Tri County Outfitters store

Naples, FL: Man attempts to steal $500 worth of wine and a backpack from Walmart

Fairfield, CT: Police Arrest NY Man for 2012 Grab & Run Theft of a $30,000 Rolex Henry C Reid Jewelers

Sheboygan, WI: Man arrested in Grab & Run jewelry theft at Memorial Mall; Police recover several rings from unknown stores

Kay Jewelers in the Stoneridge Mall, Pleasanton, CA, on August 21, the store was the victim of an Armed Robbery

Fred Meyer Jewelers in Portland, OR was the victim of a Grab & Run on Saturday, merchandise valued at $11,695

Zales in Tulsa, OK was hit Sunday afternoon with a Grab & Run, merchandise valued at $2,669


Robberies and Burglaries
● AM/PM - Vancouver, WA - Armed Robbery
● Boost Mobile - Loudoun Co, VA - Robbery
● BP - Detroit, MI - Armed Robbery/ 1 killed
● Castle Rental and Pawn - Harrison, AR - Burglary
● Circle K - Oklahoma City, OK - Robbery
● Cold Stone Creamery - Arlington, VA - Burglary
● Dollar & Extra - Arlington, VA - Burglary
● Dollar General - Wichita Falls, TX - Burglary
● Dollar General - Jones Co, MS - Armed Robbery
● Dollar Tree - Levittown, NY - Robbery
● Domino's - Platteville, WI - Robbery
● Get 2 Go - Fort Wayne, IN - Armed Robbery
● Giant Food - Lake Ridge, VA - Armed Robbery / PNC Bank
● Kwik Serve - Sparks, NV - Armed Robbery
● Moto Mart - Murphysboro, IL - Armed Robbery
● OB Cellular - Pembroke Pines, FL - Burglary
● Parker City Pharmacy - Seguin, TX - Burglary/ 3rd this year
● Pizza Hut - Corpus Christi, TX - Armed Robbery
● Raceway - Tremont Twp, PA - Armed Robbery
● Shell - Strongsville, OH - Armed Robbery
● Shopko - Spokane Valley, WA - Theft/ Robbery
● Subway - Grand Rapids, MI - Armed Robbery


Featured Job Listings
Sponsored by NuTech National
Feature Your Job Here For 30 Days -
70% Aren't On the Boards
VP of Sales/Client Relations
More details coming soon
Confidential - Retained Search
Nationwide
Gus Downing
LP Director
Wireless Advocate
Seattle, WA
Wireless Advocate
Dir Safety AP Solutions
Walgreens
Deerfield, IL
Walgreens
Dir of AP, Global Ecommerce
Ralph Lauren
Greensboro, NC
Ralph Lauren
Dir AP
Saks Fifth Ave

New York, NY
Saks Fifth Ave


Territory LP Dir.
Burlington Stores
Los Angeles, CA
Burlington Stores
Dir. of Security/LP
Estee Lauder
Los Angeles, CA
Estee Lauder
Director of LP
Pacific Sunwear
Anaheim, CA
Pacific Sunwear
VP Supply Chain, LP & Safety
Ross Stores
Ft. Mill, SC
Ross Stores
LP Dist. Mgr
Supervalu
Bowie, MD
Supervalu
Sales Representative
NuTech National
Maitland, FL
NuTech National

Limited Time Only - Post Your Multi-Unit LP jobs for FREE - Learn More Here
Daily Job Alerts


Appearing One Day Only
View our Internet Jobs Archives here
Regional LP Mgr
AutoZone
Pittsburgh, PA
AutoZone
AP & Safety Sr Specialist
Cabela's
Bowling Green, KY
Cabela's
AP Specialist
Cabela's
Union Gap, WA
Cabela's
LP Supply Chain Mgr
JCPenney
Lathrop, CA
JCPenney
LP Manager
JCPenney
Citrus Heights, CA
JCPenney
ORC Market Investigator
Victoria's Secret
Washington, DC
Lbrands
ORC Market Investigator
Victoria's Secret
Chicago, IL
Lbrands
Dept Mgr LP & Safety
Lowe's
Gaffney, SC
Lowe's
Dept Mgr LP & Safety
Lowe's
Southington, CT
Lowe's
Dept Mgr LP & Safety
Lowe's
Weaverville, NC
Lowe's
LP Manager Hrly
Kmart
Atascadero, CA
Sears Holdings Corp
LP Manager
Sears
Hyannis, MA
Sears Holdings Corp
LP Manager Hrly
Sears
Santa Cruz, CA
Sears Holdings Corp
Multi Unit LP Mgr
Kmart
Springfield, IL
Sears Holdings Corp
LP Manager
Kmart
New York, NY
Sears Holdings Corp
LP Manager
Kmart
Wall, NJ
Sears Holdings Corp
Multi Unit LP Mgr
Sears
Thousand Oaks, CA
Sears Holdings Corp
LP Manager
Kangaroo Express
South Atlantic
Kangaroo Express
AP Manager in Training
Walmart
North Chesterfield, VA
Wal-Mart
AP Manager in Training
Walmart
Dayton, OH
Wal-Mart
AP Manager in Training
Walmart
Pagosa Springs, CO
Wal-Mart
AP Manager in Training
Walmart
Huntsville, AL
Wal-Mart
AP Manager in Training
Walmart
Bloomingdale, IL
Wal-Mart



Home of the Industry's Original
On the Move

Steven Bova was named Director of Asset Protection for Taco Bell.

Kent Oda, Retired LAPD Detective III, was named Vice President, Business Development for Select Systems Technology.




Josh Hopeman was named Project Manager/Implementation Specialist for LP Software, Inc.
Post Your New Job or Promotion!
See all the Industry Movement


Your Career
Sponsor this section of the Daily
How to Lead Collaboratively
No leader rises above everyone else. The best leaders find success and achieve great things by standing right beside other people. Leaders don't lead alone. Through this collaboration, we find success and growth. Here's how you can lead alongside others. Achieve more

How Personal Values Make You a Better Leader In order to be a truly great leader you need to hold your team, and yourself, accountable to a set of personal values. These values affect the decisions we make, and how successful the organization and people become. Find out how this retail CEO uses his values and mission to make a difference. Shared goal

7 Steps to Go From an Ordinary to Extraordinary Leader There is always a desire to go from being good to becoming great. What can we do to step up our game? How can we make a bigger impact? How can we get to that next level? Here are some steps you can take to turn yourself into an extraordinary leader! Serve others

Five False Beliefs That Keep Managers from Becoming Leaders There are some ancient beliefs that managers have to be tough and in charge, but these are all not true. These beliefs will actually hinder your ability to become a great leader. Avoid following these five false beliefs so that you can be build a trusting team and boost their mojo levels. Build a human workplace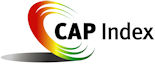 Tip of the Day
Sponsored by Vector Security
Looking at one's career should be viewed as a long-term investment tool that maximizes the individual's return on their efforts. Similar to any other investment strategy, a career is the building blocks for retirement. However, as most studies show, job satisfaction and recognition is as important and in some studies more important than monetary rewards. So how one reaches a balance is the key and making sure you challenge yourself about them periodically is wise.

Just a Thought,
Gus





Upcoming Events
---
Recruiting?
Get your job e-mailed to everyone... everyday
Post on our Featured Jobs Board!
Reach your target audience in 2015 every day!
Request our 2015 Media Kit
update account / change e-mail
unsubscribe FEEDBACK
www.downing-downing.com

Advertise With The D&D Daily




36615 Vine Street, Suite 103
Willoughby, OH 44094
440.942.0671
copyright 2009-2019
all rights reserved globally