The D&D Daily Mobile Edition
September 11,

2015



The LP Industry's #1 News Source - Informing, Educating and Instilling a sense of community



News Brief
Sponsored by WG Security Products, Inc.
New York Today: A Day to Remember
Today is the 14th anniversary of the Sept. 11 terror attacks. Events are scheduled throughout the day and across the city to pay tribute to those who died and honor the emergency workers. At the National September 11 Memorial & Museum downtown, a moment of silence began the ceremonies at 8:46 a.m., the minute the first plane hit the towers. Families of victims then began reading the names of those who were killed. nytimes.com

Off-price retailer Century 21 Department Store remembers 9/11 and city with mural - Right across the street where it actually happened
The storefront of Century 21 Department Stores' flagship in lower Manhattan has been given a stunning makeover to honor the city and in remembrance of the 9/11 terrorist attack.

The off-price retailer has partnered once again with internally famous street artist Thierry Guetta (commonly referred to as Mr. Brainwash), who has painted a vibrant mural on a 65-sq.-ft. by 225-sq.-ft. wall on the flagship's façade. The store is in the financial district and close to where the World Trade Center once stood. The mural depicts painted images of iconic NYC sights and sceneries. It also includes an oversized hashtag that reads: #NYCISBEAUTIFUL. (The artist also painted a mural last year for the retailer.)

"This isn't just about New York; when 9/11 happened the whole world was watching. We wanted to do something that is a representation of the city's resilience and diverse beauty, of the strength of the community - that shows we won't forget and remind us to give love on this day and every day," said Mr. Brainwash. He painted a similar mural last for the store. chainstoreage.com
After last week's security guard attack on customer, protestors & Black Lives Matter shut down Whole Foods in Oakland
A protest at Whole Foods where people blocked check stands prompted the store to shut down early Thursday. The protest comes a week after a male customer was badly injured in a confrontation with a security guard. There were no arrests inside or outside the store.
More than a dozen protesters went inside the market at 230 Bay Place near Lake Merritt about 5:30 p.m. and stood in front of all but at least two checkout stands for about an hour as customers, police and store officials watched.

Outside, civil rights attorney John Burris, who is representing the injured male customer, said the armed security guard should face criminal charges for what he called an excessive attack. People have been prosecuted for less," said Burris, who was not affiliated with the outside picket and inside protest. Burris declined to name his client, saying he wants to remain anonymous and is recovering from a concussion, facial fracture and subsequent surgery resulting from the Sept. 3 incident.

Whole Foods Market officials fired the security guard the day after the incident, then cut ties with the security firm, Concord-based Admiral Security Services Inc. A new firm, A.G.S. Private Security of Contra Costa, which uses unarmed guards, is now patrolling the market.
Its guards, along with two Oakland police officers, watched as protesters blocked several stands and customers were directed to two stands that remained open. Police said it was up to store management to decide to put a stop to the protest.

Present at the protest was the Whole Foods Community Group, a newly-formed organization, as well as labor activists and local Black Lives Matter movement leader Cat Brooks, an organizer of the check stand blockade.

Authorities Thursday said the security guard confronted the customer after he apparently hit a store employee. The investigation, however, is not complete. contracostatimes.com
Retail's $1.7 Trillion Counterfeit Problem
According to the OECD (Organisation for Economic Co-Operation And Development) the value of the international counterfeit good market was around $250 billion in 2007. The more pessimistic International Chamber of Commerce clocked that figure in at $650 billion in 2008 - and estimated that by 2015 that value would have swelled to $1.7 trillion. If that more pessimistic figure turns out to be correct, counterfeit goods will account for 2 percent of the world's total economic output. "The whole business has just exploded," said Jeffrey Hardy, head of the anti-counterfeiting program at ICC. "And it goes way beyond music and Gucci bags." Far beyond, as it turns out, and in highly terrifying ways. Getting a faux Tiffany engagement ring may be something of a bummer and a future embarrassment for one's descendants on "Antiques Roadshow," but one is highly unlikely to die from such a mishap. However, counterfeiting extends into every imaginable good; some of the more concerning examples include smartphones and chargers, substandard appliances, motorcycle helmets, prescription drugs and knock-off auto parts. "If you can make it, they can fake it," Bob Barcheisi, president of the International AntiCounterfeiting Coalition, told Consumer Reports. pymnts.com

LPRC/WALMART Annual AP Meeting
Recently, Dr. Read Hayes visited Walmart Headquarters in Bentonville, Arkansas to shoot a video for their annual meeting. He discussed offender deterrence and how Walmart is using this concept to improve in-store technologies. The video is also being viewed globally by employees through Walmart TV.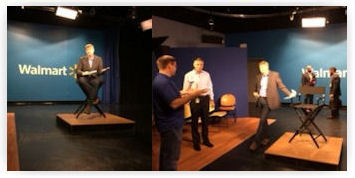 State-of-the-Art Demo Lab Connects Worldwide Users Through Strategic Partnership
Pelco by Schneider Electric today announced that they have opened their second world-class demo room with integration power players, Avaya and Siemon, providing a powerful, fully integrated experience, as well as 24/7 access to the companies' top-line video security products, systems and solutions. mynewsletterbuilder.com

IntelliCorp Named to 2015 Workforce Magazine Hot List of Top Background Checking Providers
Intellicorp Records, Inc., a Verisk Analytics business (Nasdaq:VRSK), has been named to Workforce magazine's 2015 Hot List of Background Checking Providers. This year marks IntelliCorp's ninth consecutive appearance on the list, which is published annually. Accredited through the National Association of Professional Background Screeners (NAPBS), IntelliCorp provides validated criminal searches and a wide variety of employment screening solutions. businesswire.com

New FDA Rules Tighten Food Safety Requirements - implementing the Food Safety Modernization Act
For the first time will require U.S. food manufacturers to develop and implement detailed plans to prevent foodborne illness. The seven major rules that comprise the law-all due to be finalized next year-are aimed at modernizing food-manufacturing processes after a wave of deadly outbreaks in the past decade stemming from contaminated fruit, spinach, peanut butter and other products.

The rules finalized Thursday, which apply to foods for humans, pets and livestock, require companies to draw up and implement written plans for keeping food safe. Companies must identify hazards in manufacturing, measures to reduce the risk of contamination and methods to verify that the controls are working. The FDA is empowered to access a company's food-safety plans and take action if it fails to comply with the rules. wsj.com

17 retailers start overnight deliveries with Google Express

Target experiencing supply chain troubles due to new initiatives

GameStop accepting Apple and Android Pay


Quarterly Same Store Sales Results
Restoration Hardware Q2 comp's up 16% with revenue up 17%
Mattress Firm Q2 comp's up 2.8% with net sales up 61.2%
The Gymboree Corp. Q2 comp's up 2% with sales up 3.5%
Canada's Reitmans Q2 comp's up 1.7% with sales down 2.1%
Kroger Q2 comp's including fuel up 1.3% with total sales up 0.9%
99 Cents Only Stores Q2 comp's down 1.9% with net sales up 6.6%



The Pope's Visit - What it means to the security industry (Part 3)
Secret Service Taking Lead Role in Pope's Safety During U.S. Trip - 'National Special Security Event' - Agency Director Personally Involved
Joseph Clancy spent 27 years as a Secret Service officer before retiring in 2011 as a highly respected agent. But after returning last year as director of an agency embarrassed by recent scandals and lapses in judgment, he's taken a hands-on approach to numerous important issues, including the upcoming visit of Pope Francis. The pope's visit has been designated by the Department of Homeland Security as a National Special Security Event. "So Secret Service will take the lead role in that," Clancy said. "We've traveled to Rome. I've traveled personally, as well as the two detail leaders for that visit, to get a firsthand look at how the security for the Vatican works around this pope." Clancy said the preparation for the trip has been a team effort. He gave no details about the makeup of the team except to say, "We've met with Vatican security both over there and here in this country." As far as the Washington leg of the visit, Clancy said, "We're working very closely here in Washington with Chief Lanier and the Metropolitan Police Department." The pontiff arrives at Joint Base Andrews Sept. 22, and departs from Philadelphia for Rome Sept. 27.

According to a press release from the Dep. of Homeland Security, "The Secret Service does not force businesses to close during NSSE events or during any other protective functions. The City of Philadelphia has repeatedly stated that it will be open for business during this event. The Secret Service has taken unprecedented steps to work with local area business owners to help facilitate keeping the businesses in Center City Philadelphia open, and within the past month, Secret Service agents have begun to meet personally with business owners, residents, and others whose buildings have been identified to be within the secure zone. As with all large scale security events, specific details are still in progress. However, agents will continue to have an open dialogue with those within the secure perimeter." wtop.com secretservice.gov

Feds vetting businesses along pope route in secret, expert says
It's likely the U.S Intelligence Community - consisting of agencies like the FBI, CIA, and NSA - is looking into employees and owners of Philadelphia businesses that sit along the route of Pope Francis, according to a risk and insurance public entity expert at Aon. Businesses are most susceptible to the secret background checks as the pope's path will most likely avoid residential areas. Some businesses may experience expected or unexpected interruption of usual activity depending on what routes were planned for the pope - and whether those routes change on short notice. bizjournals.com

The Pope's Private Army - Interesting facts about the Vatican's 500-year-old 'Swiss Guard'
Formed in 1506 and often called the "smallest army in the world" or the "Pope's army", the Swiss Guard have had a rich and storied history. Their main duty is to protect the pope and ensure his safety. In total, there are only 110 Swiss Guards. Every Swiss Guard has to pass the Swiss army training to qualify. After recruitment, they have to undergo further training in self-defense. The Swiss Guards receive a thorough and rigorous firearms training as well. They are trained on a wide-variety of modern weaponry: pistols, rifles, submachine guns. Just before Christmas 2014, Pope Francis sacked the head of the Swiss Guard - Daniel Anrig - because he found the commander's manner overly strict, harsh and militaristic. It's rumoured that the pope was particularly displeased that guardsmen were ordered to stand watch for hours without breaks. Vatican insiders say that after one early morning encounter with a weary trooper, Francis urged the sentry to have a seat while he fetched him a cappuccino. The pontiff has since been seen shaking hands with the ornately attired bodyguards as he passes their Vatican guardhouses. militaryhistorynow.com quora.com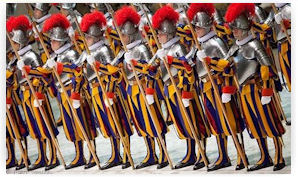 All the news - One place - One Source - One Time
The D&D Daily respects your time
& doesn't filter retail's reality

Report Your News!
(content subject to approval)



PayPal News

Farrington Gurney man steals more than 7,000 pounds ($10,800) from his uncle via a PayPal account
The European PayPal Global Asset Protection Investigations team investigated Bradley Thomas John Roberts, 18 of The Crescent, Farrington Gurney, who stole a total of 7,565.39 pounds ($11,673.13) from his uncle between June 9 and July 9 of this year. The teenager was given a 12-week prison sentence, suspended for 24 months, and 140 hours of unpaid work, which he must complete within 12 months.

For further information on PayPal GAP Team, email inquiries to lawenforcement@paypal.com.


Is The Big Business Of Cybersecurity Paying Off?
From data breaches to cyber fraud, malware attacks to email phishing - cybersecurity threats are everywhere and no one seems to be immune. But even as cybersecurity quickly transforms into its own big business industry, there's plenty of companies and individuals who continue to end up the losing side of the deal. Research from British insurance company Lloyd's found the damages of cyber attacks and hacks are costing businesses roughly $400 billion a year; other forecasts suggest the figure is actually closer to at least $500 billion.

Global Cybersecurity Spending Hits $77 Billion
It's clear many businesses are sparring no expense when it comes to protecting themselves and their customers from being hit by a cybersecurity attack. According to market research firm Gartner, an estimated $77 billion may be funneled toward cybersecurity efforts this year, with the figure expected to rise to $170 billion by 2020. This jump represents an almost 10 percent growth rate in the amount of money companies around the world are pouring into their digital security efforts.

Cybercriminals Rack Up Billions
Just as the money going into cybersecurity continues to grow, so do the profits hackers are making from their cybercriminal activities. But these cyber attackers are not just in it for the data, as security firm Kaspersky Lab found nearly $1 billion was stolen from 100 different financial institutions throughout the U.S., Russia, Ukraine, Europe and China over a two-year period. Over the past 15 months, ransomware scams - where hackers threaten permanent destruction to files and other sensitive information if a ransom is not paid - have alone cost $18 million. The FBI confirmed, on average, more than $1 million is paid each month to hackers by those hoping to recover computers from ransomeware threats.

In a survey of 510 companies conducted by analytics firm Neustar earlier this year, nearly one-third said they lose more than $100,000 in revenue per hour while distributed denial of service attacks (DDoS) attacks are going on. In these circumstances, hackers threaten to render a company's website useless by jamming the site with traffic if their targets don't pay up.

Cyber Attacks Going Mobile
Mobile security is a hot area for growth in the cybersecurity landscape, which is no surprise considering 16 million mobile devices worldwide were estimated to have been infected with some type of malicious software last year. The figure, provided by Alcatel-Lucent's Motive Security Labs, shows how hackers are capitalizing on a new channel where sensitive corporate and customer data are left vulnerable to threats and breaches. The market for mobile security is expected to reach $5.75 billion by 2019 at an estimated compound annual growth rate of 30 percent from 2014 to 2019, according to research from Markets and Markets. pymnts.com

91% of Americans concerned about backdoor data access

One in Two iPhones Runs Old, Insecure OS Version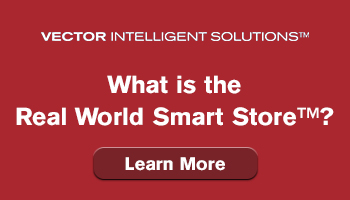 Restaurant Loss Prevention and Security Association News

From the Desk... of Rob Holm, RLPSA President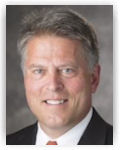 Hello Everyone. As the incoming President for RLPSA, I would like to first thank all of the membership and solution providers who participated in our recent annual conference. It was because of your presence and contributions that made it a huge success. I would also like to take this moment to thank our past Board members for their hard work and commitment to their various roles and responsibilities over the past year. I have been honored to work with a group of talented individuals who are dedicated and engaged in promoting the restaurant loss prevention, safety and security professions. I am equally honored and eager to work with our new Board - a group of motivated individuals with great minds and enthusiasm. I consider myself very fortunate to have this opportunity to represent our members and our industry and will work hard to meet your expectations.
We have a lot to be proud of at RLPSA. Over the last year we continued to experience record growth - in both membership and our conference - while continuing to add new services and activities that allow us to gain further respect in the LP/Security & Safety communities. 2015 has seen us add the Law Enforcement workshops, the RLPSA Salute to Excellence Award, greater web content and a myriad of information through strategically selected surveys. We also introduced our first webinar and blog.
Over the next year, your Board will focus on engaging not only our membership, but also our entire LP/Security & Safety networks - including our solution provider partners. In doing so, we can further create synergies that benefit us all and truly make us Smarter. Together. We will continue to expand our member services, increase our visibility, and provide the best quality conference programming anywhere. Keep an eye on our ever-changing website for news, updates and fresh information!
I would appreciate hearing from you and encourage you to reach out to me, any of our Board members or staff. I look forward to continuing the tradition of hard working leaders that have helped grow RLPSA. I wish you all great success in the coming year.
- Rob Holm, RLPSA President
For more information, and clips of educational sessions from the 2015 Annual Conference, please visit www.RLPSA.com. Also check out our Day 1 and Day 2 event recaps published in the Daily.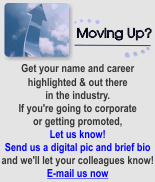 Workplace Violence:
How to Defuse and Protect

Gary Johnson, VP of Loss Prevention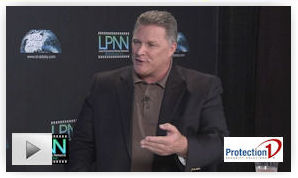 Workplace violence is more than active shooter situations and flash mobs, but any act or threat that jeopardizes an employee's personal safety. According to research, some 2 million U.S. workers are victims of workplace violence each year, and retailers are no different. With the ongoing threat of violent criminals, hostile customers and disgruntled employees, learn from senior LP exec Gary Johnson why retailers should implement workplace violence programs, how they can identify and defuse unsafe situations and what role LP has in the process.
---
Joe LaRocca is joined by Ed Wolfe from WG Security and Sgt. Jim Ostojic of the Polk County Sheriff's Office in this LPNN Quick Take. As one of the leading pioneers of ORC training programs, Sgt. Ostojic tells us what drew him to the field, why partnerships are key to solving big cases and how retailers can get involved with FLAORCA.
Solution Providers, have a video or commercial you want to publish? Contact us.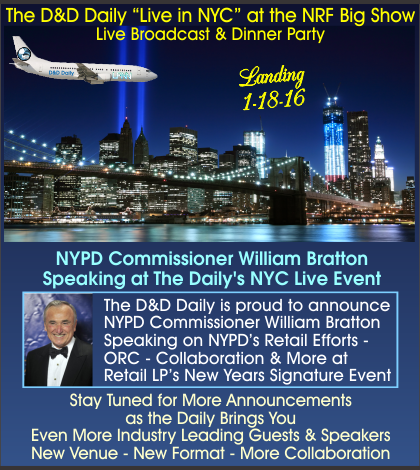 Canadian Push
Sponsored by Vector Security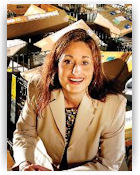 Retail Council of Canada honours Rita Estwick of Canada Post with Loss Prevention Lifetime Achievement Award
TORONTO, ON, September 9, 2015: Retail Council of Canada (RCC) announced today that Rita Estwick, Director of Security Strategy at Canada Post, will be the recipient of the inaugural Loss Prevention Lifetime Achievement Award.

Throughout her career at Canada Post, Rita has established strategic partnerships with both the business and law enforcement communities. She has placed an important focus on information-sharing and preventative strategies to support risk and fraud reduction. Highly regarded for her ground-breaking efforts in the retail LP community, Rita is a frequent speaker at educational conferences. She has been twice recognized on the cover of Canadian Security Magazine.

"We are proud to present our inaugural Retail Loss Prevention Lifetime Achievement Award to Rita Estwick. Rita is not only a true pioneer and mentor within the loss prevention community, she is also a highly engaged member of Retail Council of Canada," said Diane J. Brisebois, President & CEO, Retail Council of Canada. "Throughout her career, Rita has proven to be a visionary leader, dedicated to fighting fraud and educating both the public and the retail industry. I can think of no one more deserving of this special honour."

"I am delighted to recognize my peer Rita Estwick for her commitment to fostering education and innovation in the LP community. Personally, I have long regarded Rita as a trusted advisor," said Rui Rodrigues, National Director of Loss Prevention at Staples Canada and Chair of Retail Council of Canada's Loss Prevention Advisory Committee. "The recipient selection process was completely peer-driven, and I could not be more thrilled with the outcome."

This special presentation will take place at Retail Council of Canada's 2015 Retail Loss Prevention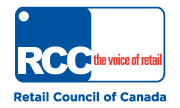 Conference, September 16th at the International Centre in Mississauga. Media are invited to attend the conference. For full agenda information, visit RCCLPconference.ca retailcouncil.org

Low prices, large selection lure Canadian shoppers to American supermarkets
Western New Yorkers are well aware the region's shopping malls and restaurants are filled with Canadian visitors, but a significant segment of Canadian consumers cross the border to visit our grocery stores, too. Just as someone from West Seneca might make the 30-minute trip to Trader Joe's in Amherst to find the prices and varieties of food they like, consumers along the Ontario border make similarly short treks to Buffalo Niagara to do the same.

Cross-border shoppers are attracted by the lower prices and the broader selection of products available south of the border. But as the value of the Canadian dollar has recently fallen to about 76 cents U.S., border-crossing numbers also have declined, a fact that worries American grocers who have enjoyed a built-in consumer buffer at their border stores. Spokespeople from Western New York's two largest supermarkets said Canadian shoppers make up a sizable portion of their clientele at stores near the Canadian border.

Food prices in general are volatile, affected by everything from weather conditions, livestock diseases and gas prices to feed prices, labor costs, taxes and currency fluctuations. But Canada has some very specific other factors at play - particularly government market controls. Since the 1970s, Canada's dairy market has been tightly controlled and regulated by the Canadian Dairy Commission. Under its "supply-management" program, prices are determined by the costs of production rather than by what the market is willing to pay, and supply is determined not by demand but by a regulated quota system that limits how much each farm is allowed to produce. buffalonews.com

Free Half-Day Fraud Seminar in Vancouver on Sept. 22nd. - Brought to you by Kount
The Fraud 360 World Tour will be landing in Vancouver on September 22 at the Hyatt Regency Hotel, 655 Burrard Street. Kount brings this half-day, free seminar to you with discussions about payments, fraud trends, and best practices standards that you can adapt to your business. In addition, complimentary breakfast and lunch will be provided. Register quickly because seating is limited. retail-insider.com

Saks Fifth Ave to open first two stores Feb. 18th & Feb. 25th in Toronto
Saks will open up to eight Canadian locations, focusing on Toronto, Montreal, Vancouver and possibly Calgary. Saks will feature 'food halls' in its Canadian stores, and it has confirmed that Pusateri's Fine Foods will operate within its first two Toronto locations. Saks recently indicated that it has secured most of its desired flagship brands for its Toronto Eaton Centre location, despite Holt Renfrew's luxury dominance. With Eaton Centre to be their Flagship store in Canada. retail-insider.com

Starbucks worker sues for $1m after alleged supervisor attack
A former Starbucks employee is suing the franchise in Canada in a $1million lawsuit, after an alleged attack from a colleague. Shannon Mishimagi said she was scheduled to work under a supervisor, prior to complaining about him to her management. Having claimed he had physically assaulted her, she said that Starbucks Canada failed to uphold their duty to make employees feel safe in the workplace. The allegations in the statement of claim state that the 23-year-old was "physically assaulted, verbally abused, and was physically threatened multiple times" by Gurjaspreet Jolly, her supervisor. Despite raising concerns, the Ryerson University student said she was still required to work alongside Jolly. hrgrapevine.com

Conducting secure business in the Cloud
With so many businesses moving part or all of their operations to the Cloud, there can sometimes be more questions than answers. Whether it's third-party solutions for surveillance, access control or storage through Security as a Service (SaaS), or an organization's desire to maintain its own data in the Cloud, there are important issues that need to be addressed. Cory Freed, senior corporate counsel with Microsoft Canada, is part of a team of lawyers who negotiate Cloud computing agreements with Microsoft Canada's largest public sector and enterprise customers. canadiansecuritymag.com

Bitcoin Exchange Coinbase Steps into Canada

Shop.ca to Test Drone Delivery Service

Sears to close in two Ottawa Valley towns


Retail Fast Facts: August 2015

Highlights:
Total monthly retail sales changed by 3.7 per cent over the comparable month last year.
Total sales excluding food, automotive and gasoline changed by 4.5 per cent over the comparable month last year. Read more

Toronto, CN: Filipina woman arrested in Toronto for alleged airline ticket fraud
Police in Toronto, arrested a Filipina woman on fraud charges after she pretended to be an authorized travel agent, sold flights to the Philippines, but never gave clients the tickets they paid for. She was arrested in Toronto on Thursday, August 27, facing a total of 18 charges including multiple counts of fraud over $5,000, unauthorized use of credit card data, and false pretense over $5,000. inquirer.net

Mississauga man faces charges in Regina over alleged credit card fraud
A southern Ontario man is facing charges in Regina and possibly other Canadian cities after an investigation into fraudulent use of credit cards. Police in the Saskatchewan capital say they answered calls last week from two hotels about someone using a fake credit card to book rooms. A suspect was arrested and investigators say a search of both rooms turned up evidence of fraudulent use of credit card information as well as identity theft. Ronnie Grant Sinclair, a 53-year-old resident of Mississauga, faces a total of 21 charges. Eighteen of them are for the unauthorized use of credit card data. cp24.com

Holyrood RCMP Search for Suspect in 3 C-store thefts

Steinbach RCMP seeking identify of a man who is believed to involved in multiple thefts and frauds in Steinbach

e-commerce

Sponsored by The Zellman Group
MasterCard Busts Myths Of The Omnichannel Consumer
According to "The Retail CMO's Guide to the Omnishopper," a report released yesterday (Sept. 9) by MasterCard, eight out of 10 global shoppers' purchase decisions are informed by a digital device, the preponderance of which has turned the average consumer into a patient, skilled, value-seeking missile. That's not to say that modern retail consumption begins and ends online. On the contrary, digital devices are primarily only one component of the overall shopping experience in a retail landscape where in-store sales still account for more than nine-tenths of all spending. Exactly as the name implies, the omnishopper is a consumer whose reach is not limited to any one channel; rather, his or her transactional journey covers a wide swath of information and product sources - often simultaneously. Retailers who seek to earn the business of the modern omnishopper have to get on their level (or levels, as it were) -and not all of them are succeeding in that regard.

Built upon survey data from thousands of shoppers around the world combined with transaction-based insights from its own company, MasterCard's "Retail CMO's Guide to the Omnishopper" provides a number of insights that can help retailers keep pace with the increasing savvy of the multi-faceted consumer. Here are some of their findings:

Mono-channel and the analog shopper are history...but (and more recently) so is omnichannel marketing. It's the consumer who has access to all available methods of purchase; each will let the retailer know through his or her behavior which one(s) he or she prefers - not the other way around.

ECommerce is here to stay, but it's far from the mountaintop; worldwide, its portion of total retail sales remains below 10 percent. Where eCommerce is really making waves is in the path to purchase, where its stake stands at a robust 80 percent. pymnts.com

Commerce Goes Mobile, Global and Breached
Would-be cybercriminals, the report found, usually try to "replay" identities that have been stolen using any number of methods to cloak their own efforts, including "piggybacking" on user sessions via malware or other malevolent technologies. Therein lies a problem: As mobile use in payments grows, accounting for more than 31 percent of transactions, and 20 million new devices are employed on its networks monthly, opportunities for fraud grow in lockstep. Regionally speaking, the United States, the United Kingdom and Germany are the Top 3 countries for attack originations. Rounding out the Top 5 places for originations, in the second quarter, were the Dominican Republic and India. And in those areas, among criminals looking to glom off financial institutions, payment and login attacks took precedence over online, new account fraud - and, notes the white paper, criminals are "targeting diverse data sets to effectively stitch together the consumers' credentials." Within the retail industry, there were 36 million attacks detected in eCommerce, which shakes out to a 20 percent increase over the previous year, with roughly $1 billion to as much as $3 billion in losses being stopped. Cross-border transactions are also seeing a spike in fraudulent activity, as according to the report "it is hard for businesses to know the true digital identities of the customers." pymtns.com

Officials Push for 'Real-Time' Mobile Payment Tech
The Federal Reserve has been nudging industry players toward faster payments for some time. A task force of 300 banking, consumer, retail and tech professionals have been meeting since April to try to devise a faster, safer alternative to the current system. FIS already has a system called PayNet, which hopes to become one of the "rails" over which billions in future real-time payments travel. Meanwhile, several big U.S. banks have formed another group called The Clearing House, which is working on its own real-time system. It would be accessible to anyone and payments would move "near instantaneously," a spokesman said. abcnews.go.com

U.K. retailer Primark comes to Boston but won't go online

"Fraud is not a person - it is a dynamic grouping of statistics that deviate from the norm."
Stuart B. Levine, CFI, CFCI
CEO, The Zellman Group & Zelligent

ORC News
Sponsored by NEDAP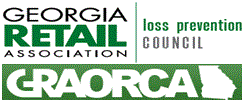 August 19th, 2015: A Great Day In the Battle Against ORC In GA!

By Chad McManus, Regional Loss Prevention Manager for T-Mobile

The Georgia Retail Association Organized Retail Crime Alliance (GRAORCA), held its fifth annual conference at Americas Mart in downtown Atlanta. Over 450 of the Region's top Retail Security, Law Enforcement and Industry Vendor professionals came together for a full day of networking, training and info sharing.

As has been the tradition for the last several years, the 2015 GRAORCA Retail Crime Conference started the day by paying tribute to Georgia fallen officers with the Gwinnett County Sheriffs Honor Guard and the Georgia Public Safety Pipe Band. After the moving tribute, a moment of silence and the pledge of allegiance, Atlanta Police Department's Chief George Turner kicked off the day by sharing his department's vision on how important partnerships are between the private sector and law enforcement in driving down the crime rate in the city of Atlanta. The next distinguished guest to take the stage was Vic Reynolds, Cobb County's District Attorney. Mr. Reynolds continued to echo this sentiment by stressing that no retailer (large or small) is immune to Organized Retail Crime, and the need to partner with each other is imperative. Both Chief Turner and D.A. Reynolds also participated in a special presentation by OfficeMax/Office Depot involving multiple jurisdictions who worked together to identify and arrest a major ORC ring in the Atlanta area through the GRAORCA partnership.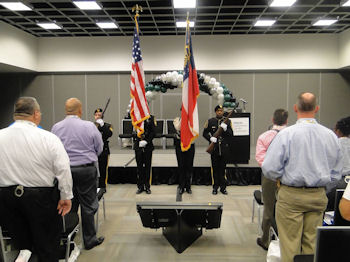 The Conference Agenda was jam packed and here are a few highlights of the break-outs and general sessions the attendees were able to attend:

● A Leadership Panel discussion, led by Deputy Chief Darryl Tolleson (Atlanta PD), and other distinguished guests including Home Depot Vice President of Asset Protection Shawn Blankenship, gave the crowd an opportunity to hear it "from the top", how important it is to communicate a clear message to your teams so that they can effectively support the fight against ORC.

● The Loss Prevention Research Council, led by Dr. Read Hayes, was on hand as well to take the audience through a session on applying a scientific approach to deterrence techniques as well as best practices for identifying and interviewing potential ORC boosters in order to get to the source of the issue more quickly.

● Other breakout sessions included - At Risk Adult Crimes, Workplace Violence from Within, Chip and Pin Card Security, and Emerging Technologies in ORC.

Probably the most anticipated session of the conference was held at the end of the day - the "Booster Offender Panel". Four "actual" boosters provided the audience with a detailed perspective on how they select their targets, what motivates them to steal and what deters them from an attempt. This was a first of its kind session for many of the attendees and the audience was very receptive, inquisitive and full of questions for the offenders.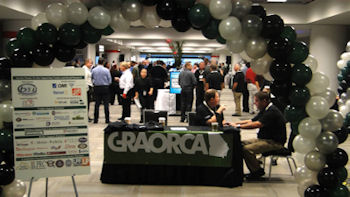 At the conclusion of the conference, as always the attendees checked their raffle tickets for some great prizes donated by many of the key sponsors for the 2015 Conference. All proceeds from the raffle purchases were provided to Care for Cops Fallen Officers Fund. Members of the Georgia Retail Association Loss Prevention Council also announced news of a brand new partnership with the Criminal Justice Department of Kennesaw State University. As part of the mission of continuing education, a scholarship fund was set up to help students interested in pursuing a Loss Prevention career. There was also a special presentation made by GRAORCA for the Partnership of the Year award. The GRAORCA Partnership of the Year Award was created to recognize a Loss Prevention Professional and Law Enforcement Officer whose investigation has made a positive impact to help protect their company, the community, and industry. The award winners demonstrated a collaborative effort of joint planning, joint implementation, and a dynamic relationship based on mutually agreed objectives and common goals. This year's award was presented to Rory Stallard from The Home Depot, Patrick Fairley from Toy's 'R Us, and Detective Jennie Garner from the DeKalb County Police department for their collaboration and exceptional case work resulting in a successful ORC case closure.

In conclusion, the 2015 GRAORCA Retail Crime Conference was the highest attended event in the 5 year history. The Georgia Retail Association and Georgia Retail Association Loss Prevention Council would like to thank all the vendors, attendees, and support partners for a great event and we are all looking forward to seeing what the 2016 annual conference brings to the state of Georgia.
For more information on the event, including additional pictures and sponsor listing please visit www.graorca.org.

Naperville, IL: Man gets prison for part in Apple store fraud
The last of three New York men charged earlier this year with trying to use phony or stolen identification to obtain merchandise from the Apple store in downtown Naperville was sentenced Wednesday to prison for his part in that crime. Naperville police reports indicated the man, Richie D. Bengochea, had 16 counterfeit driver's licenses and four stolen credit cards in his possession at the time of his arrest. Bengochea, of Brooklyn, N.Y., pleaded guilty Wednesday to an amended, felony charge of possession of a fraudulent identification card. Court records showed three similar charges, as well as four felony counts of identity theft, were dismissed in exchange for that plea. chicagotribune.com

Aventura, FL: Woman flees Saks OFF 5th; caught on surveillance video stealing $35K in handbags Police are searching for a woman who stole a number of expensive designer bags from a department store, Monday. Surveillance video from a Saks Fifth Avenue OFF 5th store on 187th Street and Biscayne Boulevard caught the crook entering and making off with 13 designer bags just after 10:30 p.m. She was spotted looking at the purses before she placed them on her shoulders and walked out through the front door. wsvn.com
Baton Rouge, LA: 3 felony theft suspects took $4K worth of Macy's merchandise Baton Rouge Police detectives are searching for two men and one woman, who they believe took approximately $4,000 worth of Macy's merchandise from the Cortana Mall location on Aug. 31. According to police, the female suspect distracted employees while the two male suspects gathered the merchandise. nola.com
Aurora, IL: Five members of Southwest Side family charged with shoplifting
Five members of a Southwest Side family, including two minors, have been charged with shoplifting from 16 stores at a west suburban mall last week. Police spotted five people stealing various items from numerous stores Sept. 4 at the Chicago Premium Outlet Mall in Aurora. The officers followed the suspects and saw them stashing the merchandise in an SUV. Members of the Community Oriented Policing Unit confronted the family and eventually recovered about $3,200 in merchandise. suntimes.com

Memphis, TN: Dillard's shoplifter nabbed with 27 pairs of sunglasses
A man is in jail after he was accused of shoplifting 27 pairs of high end sunglasses from a Dillard's store in the 2700 block of North Germantown Parkway on Wednesday. A Dillard's loss prevention representative told police that 44-year-old James Fleming walked behind the counter, opened the display case, and stole several pairs of Rayban sunglasses. He put them in a Dillard's bag and ran through the store. According to the police report, the representative and a witness caught Fleming after a chase. The sunglasses were worth a total of $4,646. wmcactionnews5.com

Sioux City, IA: One of 3 men sentenced to 10 years for $11,000 truck tire theft
A Sioux City man was sentenced Thursday to 10 years in prison for his role in the attempted theft of $11,000 worth of truck tires. siouxcityjournal.com
Do you have an ORC case to share?
Share your ORC news and help the industry grow

Retail Crime News

Sponsored by Security Resources
Beaver Dam, WI: 17-year-old Jared Spencer, charged in shooting at Fleet Farm store
17-year-old boy, facing a number of charges following a shooting that occurred at the Fleet Farm store on July 15th was in court for his preliminary hearing Thursday, September 10th. On July 15th, Police arrived at the store to find the Assistant Manager had been in the wrist and shoulder while trying to apprehend a suspect stealing ammunition from the store. fox6now.com

Lexington, KY: Police Officer hit by car while chasing shoplifter
An officer was struck by a vehicle Friday while he was pursuing a shoplifting suspect who led him on a chase from the Speedway on North Broadway and Seventh Street. The officer was chasing the suspect who left the Speedway gas station and ran to a getaway vehicle. Another man was in that car. The officer was struck as the car pulled off. The officer eventually walked back to the Speedway to finish his paperwork. He was being checked out by paramedics at the scene. wkyt.com

New York City Police Focus on Fraud Involving Credit Cards
The undercover investigators arranged to meet at a hotel near Grand Central Terminal around the lunchtime rush on Wednesday. They were looking for men they believed had used stolen credit card information to go on a shopping spree, spending about $18,000 on 16 transactions, mostly on luxury designer shoes. A courier arrived with what the police say the men expected to be their latest purchase. Instead, officers at the Grand Hyatt Hotel on East 42nd Street arrested two men, both British citizens who were in New York on student visas. During the episode, a plainclothes officer also slammed another man to the ground. It turned out he was not involved in the scheme. Rather, he was James Blake, a retired professional tennis player in the city for the United States Open. The highly publicized instance of mistaken identity - which led to public apologies from city leaders and put the police officer who detained him on desk duty, has also highlighted, however accidentally, the New York Police Department's considerable efforts to thwart the growing issue of credit card fraud. nytimes.com

Columbia, MO: man sentenced to 7 years in $114,000 ID theft scam
Federal prosecutors say Michael Spears, 37, of Columbia, was sentenced Thursday and ordered to pay $114,127 in restitution. Prosecutors say Spears stole mail, opened bank accounts with fake identifications and passed fraudulent checks in Webster County, and elsewhere. He also created fake companies to conceal the fraudulent checks. At least 12 co-conspirators committed similar crimes as part of the scheme. Some sold cattle and used financial information from the checks to make counterfeit checks. abc17news.com

Miami, FL: Jewelry store robbers caught on surveillance at second store; $250,000 of jewelry stolen from Burt's Jewelers
Surveillance video shows three men who are believed to have robbed a jewelry store last month in Miami-Dade County. Police said video from a store at 1205 NE 163rd St. shows three men walking around the shop while making hand and head signals at each other before they left without purchasing anything. Police believe the men are the same people who robbed Burt's Jewelers, at 1676 Miami Gardens Drive, two days later. local10.com

Orange Co, CA: ATF Blames Six-Person Crew for Rash of Gun Store Burglaries
Burglaries of a couple gun stores in Fountain Valley had police calling in the federal Bureau of Alcohol, Tobacco and Firearms for assistance, but now comes word the net widened due to similar thefts in Placentia and Yorba Linda--as well as the posting of a $10,000 reward for information leading to the arrest and conviction of six suspects linked to the heists. ocweeklyr.com

Ionia Co, MI: The Michigan State Police and the Ionia County Sheriff's Office are investigating reports of fraudulent credit card activity
Numerous Ionia County residents' credit card information appears to have been compromised. The investigation is ongoing, but investigators believe the credit card information may have been compromised at pay at the pump gas pumps in the Ionia area. cedarspringspost.com

Myrtle Beach, SC: Three women were arrested after authorities said the trio tried to take nearly $300 worth of underwear from a Wal-Mart store, according to a police report
Dominique Nicole Nance, 19, Keyana Lenette Burris, 18, and Shionna Marie Myers, 18, are each charged with one count of shoplifting $2,000 or less. Police said the employee showed them surveillance video of the women taking a total of 25 pairs of panties from the ladies department, totaling about $269. myrtlebeachonline.com

Kay Jewelers Outlet in the Woodbury Commons, Central Valley, NY was the victim of a Armed Robbery at 7:50pm Thursday night
The lone gunman forced the Associates to fill his backpack with $165,000 in Rolex watches. No one was injured in the incident.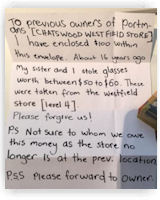 Australia: Reformed shoplifter proves it's never too late to right a wrong
They cost Australian retailers billions of dollars each year, and we pay more at the till as a result. But two former shoplifters have done a good turn, sending a heartfelt apology note to the retailer they stole from more than a decade ago - along with cash to cover the cost of the goods, with interest. news.com

Owensboro, KY: Person Shot at outside McDonalds

St Petersburg, FL: Skimming device found on pump at BP station

Bangkok, Thailand: Two Chinese nationals arrested at airport; attempting to flee with a $ 275,000, 6 carat diamond stolen from a Jewelry show


Robberies and Burglaries
● Cal- Ranch - Flagstaff, AZ - Burglary
● Cleveland Armory - Cleveland, OH - Burglary
● CVS - Morgantown, WV - Armed Robbery
● Dollar General - Tahoka, TX - Robbery
● Duck's - LaGrange, IN - Armed Robbery
● Fastrac - Utica, NY - Armed Robbery
● Fueland - New Kensington, PA - Burglary
● Game Exchange - Hamden, CT - Robbery
● J&R Appliance - Fresno, CA - Burglary
● Kahler Pharmacy - Toledo, OH - Armed Robbery
● LuLu Food Mart - Warner Robins, GA- Armed Robbery/ Clerk shot and killed
● Mac's - Nanaimo, BC - Armed Robbery
● Raceway - Shreveport, LA - Armed Robbery
● Shell - Conroe, TX - Armed Robbery
● Southern - Shelby, NC - Shooting
● TJ Maxx - San Mateo, CA - Burglary
● Twin Variety - Calgary, AB - Robbery
● US Cellular - Mount Airy, NC - Burglary
● Verizon - Tewksbury, MA - Armed Robbery
● Walgreens - Independence, MO - Robbery
● Warsaw Wireless - Harrison Twp, OH - Armed Robbery


Featured Job Listings
Sponsored by NuTech National
Feature Your Job Here For 30 Days -
70% Aren't On the Boards
VP of Sales/Client Relations
More details coming soon
Confidential - Retained Search
Nationwide
Gus Downing
Dir LP (Western Canada)
Walmart Canada
Calgary, CA
Walmart Canada
Dir LP
Cracker Barrel
Lebanon, TN
Cracker Barrel
LP Director
Wireless Advocate
Seattle, WA
Wireless Advocate
Dir Safety AP Solutions
Walgreens
Deerfield, IL
Walgreens
Dir of AP, Global Ecommerce
Ralph Lauren
Greensboro, NC
Ralph Lauren
Dir AP
Saks Fifth Ave

New York, NY
Saks Fifth Ave


Territory LP Dir.
Burlington Stores
Los Angeles, CA
Burlington Stores
Dir. of Security/LP
Estee Lauder
Los Angeles, CA
Estee Lauder
Director of LP
Pacific Sunwear
Anaheim, CA
Pacific Sunwear
VP Supply Chain, LP & Safety
Ross Stores
Ft. Mill, SC
Ross Stores
Regional LP Mgr
Tractor Supply Co.
Baltimore, MD
Tractor Supply Co.
Sales Representative
NuTech National
Maitland, FL
NuTech National

Limited Time Only - Post Your Multi-Unit LP jobs for FREE - Learn More Here
Daily Job Alerts


Appearing One Day Only
View our Internet Jobs Archives here
Area LP Mgr in Training
Ross Stores
La Mesa, CA
Ross Stores
LP Supervisor
Burlington Coat Factory
Independence, MO
Burlington Coat Factory
AP Manager
BJ's Wholesale Club
Deer Park, NY
BJ's Wholesale Club
Store LP Manager
Kohl's
Westchase, TX
Kohl's
Dist LP Manager
Kohl's
Antelope, CA
Kohl's
Dept Mgr LP & Safety
Lowe's
Graysville, AL
Lowe's
Dept Mgr LP & Safety
Lowe's
Washington, MO
Lowe's
Senior LP Specialist
Ralphs
Compton, CA
Kroger
LP Manager Hrly
Kmart
Rome, GA
Sears Holdings Corp
LP Manager Hrly
Kmart
South Lake Tahoe, CA
Sears Holdings Corp
Area AP Manager
All facilities
London, KY
Wal-Mart
Market AP Mgr
Walmart
Valley Stream, NY
Wal-Mart
AP Mgr in Training
Walmart
Mount Dora, FL
Wal-Mart
AP Mgr in Training
Walmart
Chapel Hill, NC
Wal-Mart
AP Field Mgr
Stop&Shop
White Plains, NY
Stop&Shop
LP Manager
Amazon
Kent, WA
Amazon
District LP Manager
Nike
Gonzales, LA
Nike


Home of the Industry's Original
On the Move

| | |
| --- | --- |
| | Maya Sydner was promoted to Regional Loss Prevention Director for Ross Stores, Inc. |
Post Your New Job or Promotion!
See all the Industry Movement


Your Career
Sponsor this section of the Daily
The Secret to Getting a Great Start To Your Day How you start your day can set the tone for how your whole day will go. If you eat a good breakfast, your performance will be higher, and if you get enough sleep, you will feel more energized. Start your day off right with these tips. Jump start your brain

True Grit: Your Secret to Success
When reaching for success and fulfilling your dreams, your dreams can only take you so far. You have to have the perseverance, the grit to make those dreams a reality. Here is what it takes to truly have grit. With grit, you can do anything

21 Positive Quotes that Will Powerfully Influence Your Life and Work Life is all about growing: we grow in our skills and in looking at the opportunities around us, good or bad. Having a positive mind will help form a positive attitude. Here are some quotes to help build positivity in your life. "Keep your face to the sunshine"

5 Ways to Establish a 'Quick Win' Culture in Your Company We all want to have a success story, but it involves patience, persistence and using your quick wins to help shape your progress. Here is how you can use quick wins in your company. Tell a story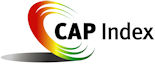 Tip of the Day
Sponsored by Vector Security
Perception becomes reality slowly on a macro level and it's difficult to change it if it's incorrect or doesn't portray the truth. It's the same reason law enforcement separates witnesses to ensure clarity and truth. The group mind becomes influenced by opinion and agendas and distorts the true reality. One can only rely on daily vigilance based on doing what's right to hopefully impact the individuals one works with on a daily basis to carry the experience forward and be witness to what is right.


Just a Thought,
Gus





Upcoming Events
---
Recruiting?
Get your job e-mailed to everyone... everyday
Post on our Featured Jobs Board!
Reach your target audience in 2015 every day!
Request our 2015 Media Kit
update account / change e-mail
unsubscribe FEEDBACK
www.downing-downing.com

Advertise With The D&D Daily




36615 Vine Street, Suite 103
Willoughby, OH 44094
440.942.0671
copyright 2009-2019
all rights reserved globally