The D&D Daily Mobile Edition
September 14,

2015



The LP Industry's #1 News Source - Informing, Educating and Instilling a sense of community



Moving Up
Sponsored by Stanley Security
See all "Moving Ups" Here
Ray Cloud was promoted to Senior Vice President, Loss Prevention for Ross Stores, Inc. Ray was previously the Group Vice President for Loss Prevention for the retailer and has been with Ross Stores, Inc since 2008, starting as the VP of LP. Ray has worked in loss prevention for other retailers such as Target as a Group Assets Protection Team Leader, and Marshall Fields as a Regional LP Manager. Ray earned his Bachelors of Science degree in Criminal Justice from Wayne State University. Congratulations Ray!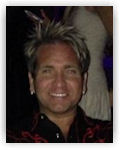 Michael Staines, CFI was named Director of Loss Prevention for South Moon Under. South Moon Under is a fashion retailer and has 22 store locations in Maryland, Virginia, DC, New Jersey, Pennsylvania and Connecticut. Michael was previously an RLPM on the East Coast for Lucky Brand and has held other loss prevention leadership roles such as Senior Regional Loss Prevention Manager for Jos. A. Bank Clothiers and Director of Loss Prevention for Downtown Locker Room. Congratulations Michael!


2015's GLPS's – Group LP Selfie's
Your Team – Your Pride – Our Industry
One Team at a Time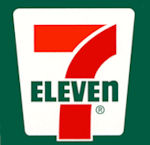 Corporate 7-Eleven Asset Protection Team
and Family Members
Participate in the Dallas Heart Walk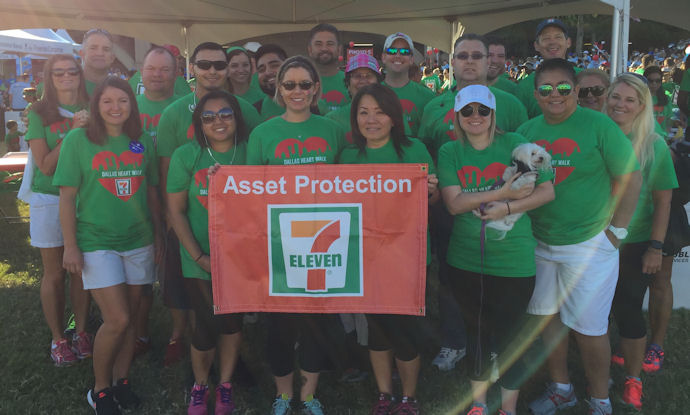 This Saturday, the Corporate 7-Eleven Asset Protection Team and many of their family members joined over 70,000 participants in the largest national American Heart Association walk in Dallas, Texas. This annual event raises awareness about heart health and the need for exercise and diet. #7Eleven #DallasHeartWalk


Share Your Team's Selfie & Let's Build Industry Pride

And have some fun in the process & Maybe win a Pizza Party
---
Sponsored By

View all the selfies here.
Send us your Group LP Selfie!


News Brief
Sponsored by WG Security Products, Inc.
Credit card fraud is 30% of "all felony crimes" &
is driving shootings & homicides in NYC

-

Police Commissioner dedicates 250 people to combat credit card fraud
Credit card fraud is not only one of the most popular types of financial crime, it is quickly becoming one of the most popular crimes period. This has led William Bratton, commissioner of the New York Police Department, to make some big changes as reported by the New York Times:

"To combat these trends, Mr. Bratton said on Thursday that his department had dedicated some 250 people in a financial crimes unit to investigating such cases. It was a move, he said, that was "reflective of the growing cybercrime problem, financial fraud, identity theft problem that we're experiencing in this city and indeed the country is experiencing." "We spend a lot of time and effort on it because it constitutes so much of the felony crime being committed, not just in Manhattan," Mr. Bratton said, noting that he had met earlier in the day with the Manhattan district attorney, Cyrus R. Vance Jr., to discuss cybercrime. He added that 30 percent of the felony crime reported in Manhattan "involves financial fraud, theft, of this type."

"Mr. Bratton said that such frauds increasingly involve criminal street gangs, which have been "migrating from selling drugs to the lucrative and less dangerous world of larceny, particularly by fraud, credit cards." Those gangs brought the tactics they had relied on in hustling narcotics to their dealings with stolen credit card data.

"It is driving shootings, no question," said Robert K. Boyce, the chief of detectives. The conflicts arise from disputes over control of the illicit marketplace, police officials said. "We have homicides over credit cards," Chief Boyce said. "So, it is a problem."

Just like Wall Street's appeal to math and science majors, credit fraud represents an economically appealing "career change" for career criminals. Hopefully the migration to EMV and the adoption of tokenization and end-to-end encryption technologies can make it slightly less appealing over time. paymentsjournal.com nytimes.com

60 seconds interview... Corin Dennison, Director, Profit Protection at adidas Group What will be the biggest changes in the next three years? Consumer habits, risk and technology. Whilst there will always be a demand for a 'high street' presence to touch and feel product, e-commerce is seeing the fastest growth and we have to move and be effective in this area. Social media and the habits of the 'new millennials' will dictate the risk and our response to it.

What are the 5 biggest issues in LP? Shrinking budgets and tighter margins will always make life harder, whilst training and education is the only way to develop. Trained resource is an issue now for many corporates and 'LP poaching' is far more common which may be good for the individual but not always good for the organization. And finally future proofing our environment to keep pace with technology.

What trends do you see right now? At present the internal risk is what keeps me awake at night, both within the retail and corporate environments. None of us are immune as corporates to the internal threat and whilst we should always be mindful of those that come in and out of our doors, in my opinion the greater risk comes from those closest to us. PoS fraud, logistics theft and procurement fraud are all significant issues and Loss Prevention covers all these areas. retailfraud.com
Show Don't Tell: How Leaders
Need to Drive Compliance
Most employees take their cues as to how seriously they should take ethics and compliance by looking at how seriously their managers and the top leaders of the organization approach the subject. That makes it incumbent for companies to make sure the message isn't just being told to everyone, but being acted upon by those at the highest levels of the operation, said compliance executives at two big companies.
Al Rosa, chief compliance director and senior executive counsel at General Electric said the way managers and executives act has the most influence on employee behavior-in part because leaders hold great sway over employees because they set their salaries, promote them and give them recognition for jobs well done. "As a result of this we spend a significant portion of our time in compliance on the concept of getting leaders proactively engaged," he said. "We want leaders to participate directly, to do it and not delegate it. We've got to get them personally involved to set an example for integrity." wsj.com

Branderro Launches Organized Retail Crime (ORC) Detection Platform
Retail technology start-up, Branderro, LLC, today announced the release of its flagship solution, Branderro LP. Built exclusively for Loss Prevention and Law Enforcement professionals, the innovative platform monitors online sales activity in unauthorized channels, across thousands of online sources, and millions of online interactions.

Our powerful and unique platform is changing the way Loss Prevention and Law Enforcement professionals will discover, analyze, and detect Organized Retail Crime(ORC). By monitoring millions of online interactions every day, and unifying the data for unmatched visualizations, Branderro LP™ enables Loss Prevention to see activity they otherwise would have missed," said John Snyder, Senior Vice President, Business Development.

Branderro, LLC has roots in the analysis of the secondary gift card market - a market that retailers attempt to monitor for fraudulent activity. Throughout the development of Branderro LP™, Branderro consulted with leading LP experts, and drew on its vast experience in online fraud reporting in order to bring their unmatched solution to market. digitaljournal.com

Barnes & Noble Says SEC Probing Worker Confidentiality Pact
Barnes & Noble Inc. on Thursday said the U.S. Securities and Exchange Commission is probing its previous use of employee confidentiality agreements in light of Dodd-Frank Act provisions that bar companies from restricting workers from blowing the whistle to the agency about suspected wrongdoing.

The disclosure, made in a quarterly report to investors, came in addition to a previously announced SEC investigation into the company's July 29, 2013, earnings restatement and a separate matter involving a former employee's allegations that the bookseller had improperly allocated information technology expenses between its retail and Nook e-reader businesses. law360.com

Abercrombie, Hollister Reach $10M Deal Over Unwanted Texts
Clothing retailers Abercrombie & Fitch Co. and Hollister Co. have reached a $10 million settlement with a group of consumers who claim the companies violated the federal Telephone Consumer Protection Act by sending unsolicited text messages to their mobile phones, according to a proposal submitted in Florida federal court Thursday. law360.com

Harvard Business Review: Retailers "customer-centric strategies" aren't making big strides
"Many customer-centric strategies fail during execution because they were designed for the boardroom not for the customer-facing employee." "It is time to bridge the executive-employee gap with an integrated approach, linking strategy and vision, organizational alignment, change management, employee training and empowerment, with measurements."

A new study reveals nearly two thirds of companies are getting ready to put a customer-centric strategy in place within the next two years to ensure that the consumer is the focal point, and nearly half, 43 percent, want the strategy established within a year or less. retailcustomerexperience.com

VISA Says Only 1 in 5 Cards Ready For October 1 EMV Shift
As retailers spend billions to upgrade their point of sale terminals to accept new "chip" cards before the October 1st liability shift deadline, the nation's largest card network acknowledged that a staggering number of magnetic "swipe" cards have not been replaced with new cards. The most recent numbers announced by VISA indicate that less than one-fifth (18%) of their 720 million debit and credit cards as of July contain a new embedded chip and will be ready for the October 1st EMV shift. rila.org

NRF seeks reversal of joint employer ruling
The National Retail Federation (NRF) is not backing down from its opposition to an expanded definition of "joint employer." The NRF is publicly asking Congress to pass legislation introduced this week that would reverse a recent National Labor Relations Board ruling that significantly broadens the definition of a joint employer. According to the NRF, the move would unfairly make companies that work with franchise locations or subcontractors responsible for actions they do not control. Under guidelines followed for more than 30 years, the NLRB held that a company had to have direct control of the actions of a franchisee or subcontractor in order to be considered a joint employer. Under its August ruling in a case involving the waste management company Browning Ferris Industries, the board said a company could be considered a joint employer even if it had only indirect or potential control. chainstoreage.com

Report: Chico's considers private equity sale

Quicksilver gets bankruptcy approval, closing 27 stores

Imports surge at West Coast ports, busy 3 months of shipping ahead

Gucci Sisters Shake Tax Evasion Charges


Quarterly Same Store Sales Results
Lululemon Q2 comp's up 6% with net revenue up 16%
Canada's Le Chateau Q2 comp's down 3.9% with sales down 7.3%


Last week's most popular news article --
Why Marvin Ellison, a former LP executive, was hired as J.C. Penny's new CEO - Direct from the CEO who hired him In an interview with Women's World Daily retiring CEO Mike Ullman talked about J.C. Penney and why he hired Marvin Ellison as his predecessor and gives some unique insights on why Marvin's been so successful and what CEO's look for in executives. Interesting read for anyone wanting to learn about what traits and characteristics CEO's look for and how some succeed.

WWD: You were instrumental in recruiting Marvin Ellison from Home Depot to be Penney's ceo. Why was he your choice?

M.U.: We kissed a lot of frogs but when Marvin sat down at the desk, within five minutes, I said, "You're the guy." He said, "What do you mean?" I said, "First of all, you care about the people, you explained to me in five minutes what you did to turn around the [Home Depot] business with the people. It was total common sense and it was exactly what we needed." One of the things he said was that two-thirds of the people were in the back of the house and one-third in front. So Marvin reversed it. Ninety percent of the people who come into Home Depot are mad as hell. Something is broke. Sales associates when they meet someone have to say, "What project are you working on today?" That's very different from, "Hi. How are you? Can I help you?" Customers always say no to that. If you ask what project you are working on today, it changes the attitude of the associate and changes the attitude of the customer. There was also this 40-page report the store manager got every Monday morning. Marvin changed it to three pages. He has done a lot of the same things for us. He's a common-sense guy, but he is uberbright. He cares about people and he is a really good judge of talent. wwd.com

Sixth Annual C.L.E.A.R. Training Conference Coming Oct. 11-15
- Register today!
The Coalition of Law Enforcement and Retail (C.L.E.A.R.), would like to invite you to our upcoming 6th annual training conference. This year's conference will be held at the Baltimore Marriott Inner Harbor at Camden Yards, on October 11-15, 2015. We are offering one free registration for each 5 paid attendees from the same company or agency. C.L.E.A.R. is made up of law enforcement and retail loss prevention professionals, who are dedicated to creating partnerships to combat this international problem, and has no paid staff. Be sure to get your room reservations by September 20th, to insure you get the conference rate.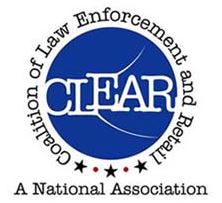 Training topics include:

● Mobile Surveillance
● Law Enforcement & Loss Prevention Case Preparation for Successful Prosecution
● Gift Card Fraud
● Credit Card Fraud
● Case Study - Wicklander-Zulawski
● Building an ORCA
● Civil Unrest Preparation and Retail Business Recovery
● Current Trends in ORC - Panel Discussion
● Jewelers Security Alliance
● Legislative Update
● National Perspective to the ORC Problem and Response - Gus Downing
● The Loss Prevention Foundation - Gene Smith
● Rental Car Security Group Partnerships
● Robbery Prevention and Response

For full agenda details and registration information, go to: www.clearusa.org

The Coalition of Law Enforcement and Retail was formed in November 2008 by a group of Law Enforcement and Retail Loss Prevention professionals that saw the need for the formation of a partnership.

If you have questions, please feel free to contact Curt Crum at 208-570-6232, or Mitzi Perry at 727-893-7592. You can also visit the C.L.E.A.R. website at www.clearusa.org.

All the news - One place - One Source - One Time
The D&D Daily respects your time
& doesn't filter retail's reality

Report Your News!
(content subject to approval)



CVS Confirms 3rd-Party Vendor Hack from July, Alerts Customers - Photo sites for CVS, Rite Aid & Wal-Mart Canada still shut down
CVS said Friday investigators have confirmed that the company that manages their photo website was indeed hacked this summer, possibly resulting in the theft of some CVS customer information. The photo website of the nation's second-largest drugstore chain has been shut down since July after the breach was detected. The photo sites of Rite Aid, Costco and Wal-Mart Canada also were affected in the breach. CVS Health Corp. said it started contacting potentially-affected customers on Friday. A spokesman for the Woonsocket, Rhode Island-based company wouldn't say how many customers were being notified, or comment beyond the note to consumers posted on CVS' photo website. The Rite Aid and Wal-Mart Canada sites also remained down Friday afternoon, while the Costco site has restarted limited operations.

Staples Inc., the parent company of Canada-based PNI Digital Media, which manages all of the sites, says that based on its investigation so far, it appears that the hackers breached PNI's computer systems and used malware to capture user information on the company's servers. But it says that there's no sign that hackers accessed user photos or pin numbers. nbcnews.com

Intelligence Start-Up Goes Behind Enemy Lines to Get Ahead of Hackers - "The need for such intelligence has never been greater"
For the last eight years, iSight has been quietly assembling what may be the largest private team of experts in a nascent business called threat intelligence. Of the company's 311 employees, 243 are so-called cyberintelligence professionals, a statistic that executives there say would rank iSight, if it were a government-run cyberintelligence agency, among the 10 largest in the world, though that statistic is impossible to verify given the secretive nature of these operations.

ISight analysts spend their days digging around the underground web, piecing together hackers' intentions, targets and techniques to provide their clients with information like warnings of imminent attacks and the latest tools and techniques being used to break into computer networks. The company's focus is what John P. Watters, iSight's chief executive, calls "left of boom," which is military jargon for the moment before an explosive device detonates.

ISight goes straight to the enemy. Its analysts - many of them fluent in Russian, Mandarin, Portuguese or 21 other languages - infiltrate the underground, where they watch criminals putting their schemes together and selling their tools. nytimes.com

Report: Business-targeted cyber attacks on the rise - Targeting POS Systems in stores
Symantec has recently reported that three out of five cyber attacks target small and medium-sized businesses, favoring point-of-sale systems at brick and mortar stores.

But 94% of these attacks, which seek merchant and customer information, are preventable, according to Visa. Most cyber attacks involve low to moderate hacking ability, targeting weak passwords or remote access portals that are left open, the company said.

"If a merchant is using a company that is QIR- [qualified integrator reseller] certified, they can be much more confident that their point-of-sale network is properly secured," "More integrator vendors need to get the certification, and more merchants should use them." drugstorenews.com

80% of global shoppers informed
by digital device
Eight out of 10 global shoppers' purchase decisions are now informed by a digital device, with consumers saying they are smarter shoppers and getting more value than before. While in-store sales still account for more than nine-tenths of all retail spending, the result is a more focused in-store shopper buying from a narrower list of unique stores than in years past, the report finds.

Consumers Want Specific Inventory, and a Seamless Experience Accessing It: Today's shoppers know what they want. The top frustration - cited by 73% of respondents - is items not being in stock, underscoring the importance of inventory management for retailers. chainstoreage.com

ShopKeep offers free EMV readers to qualifying merchants in advance of October 1 deadline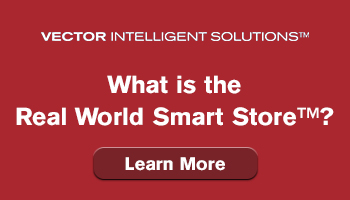 Vendor Spotlight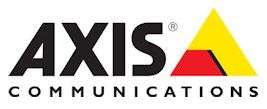 Axis expands successful PTZ dome offering with advanced features for entry-level surveillance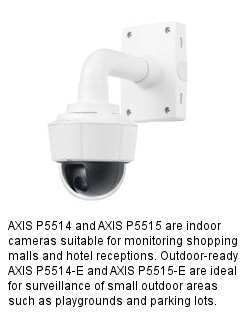 AXIS P5514/-E and AXIS P5515/-E Pan/Tilt/Zoom (PTZ) Dome Network Cameras offer HDTV image quality, improved light sensitivity and increased video analytics performance.
Axis Communications, the global leader in network video, strengthens its successful family of AXIS P55 PTZ Dome Network Cameras with the launch of four new entry-level HDTV models. "Our PTZ portfolio continues to expand, addressing a variety of end user needs, including mission-critical, mid-range, live streaming and now entry-level applications," said Fredrik Nilsson, general manager, Axis Communications, Inc. "AXIS P55 Series has been one of the most popular camera families because it is cost-effective and dependable. The addition of two new indoor and two outdoor models provides users with even more options and increased performance."

AXIS P5514 is ideal for indoor video surveillance applications, such as small industries, shopping malls and hotel receptions, with HDTV 720p resolution, 12x optical zoom and IP51 protection against dust. The AXIS P5515 model offers the same zoom performance and dust protection with HDTV 1080p resolution for even greater image detail.

AXIS P5514-E is an IP66-protected outdoor camera that is resistant to water, wind and snow. Its HDTV 720p resolution and 12x zoom makes it perfect for monitoring small outdoor areas such as playgrounds, parking lots, car dealerships and more. With HDTV 1080p version, AXIS P5515-E offers a higher resolution as well as 12x zoom and IP66 protection, making it resilient in tough outdoor environments.

Compared to previous generations of the cameras, the new AXIS P55 network camera models provide increased analytics performance. Built-in intelligent functionalities include audio detection and Advanced Gatekeeper, allowing the cameras to detect an object in a specified area and zoom in on it. With support for AXIS Camera Application Platform, other video analytics applications can be easily downloaded to the cameras.

Read more here.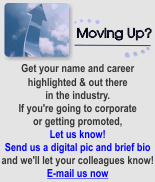 Developing Tomorrow's
LP Leaders, Today
John Voytilla, VP Global LP & Safety,
Office Depot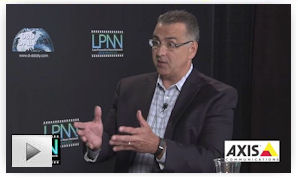 Do you have an individual development plan? Who knows about it, and how do you talk to others about your plan? John Voytilla, VP Global Loss Prevention & Safety, Office Depot, shares some ideas and strategies for developing LP leaders and preparing them for the next stage in their careers in this LPNN interview. John tells us why leaders should strive for authenticity over perfection, how declaring your goals can help hold yourself accountable to others, and how corporate roles and field roles, not just in LP, can better prepare you for taking on increased responsibilities in your organization.
---
Scott Ihrig, Director of Sales for USS, talks with Amber and Joe about the revolutionary new technology unveiled by USS at this year's NRF Protect. Learn how their NDVision solution simplifies the conversion from analog to IP video, and how USS gives back through the charity work done by the USS Foundation.

Solution Providers, have a video or commercial you want to publish? Contact us.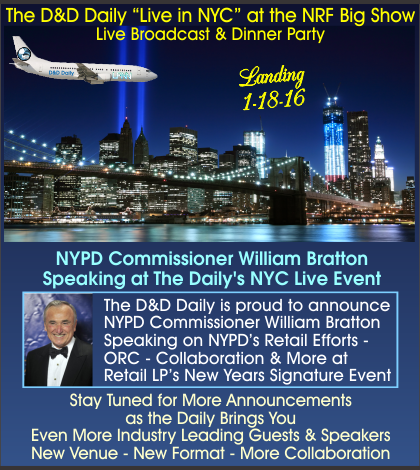 e-commerce

Sponsored by The Zellman Group
E-commerce technology: Lots of growth and consolidation
Online retailers are ratcheting up investments in key e-commerce technology and services as they look to improve website performance and keep shoppers coming back for more. Retailer clients for the 310 e-commerce technology vendors ranked in the Leading Vendors to the Top 1000 grew collectively by 4.8% across 30 categories to 14,328 in 2015 from 13,675 (some of which appear in multiple categories) in 2014. But some categories grew much faster, such as e-commerce platform, which was the fastest-growing vendor category with a customer base that grew 20.1% to 508 retailers in 2015. Mobile commerce technology grew the next-fastest at 19.2% to 236, followed by customer service software at 15.6% to 252 merchants and online advertising at 15.1% to 856 e-retailers. The fifth fastest-growing vendor category, website testing/optimization, grew by 8.8% to 432 clients among Top 1000 retailers. internetretailer.com

eBay unveils a more merchant-friendly
rating system
The changes, announced Thursday at an eBay Seller Summit in San Jose, Calif., mean retailers that sell on eBay no longer will be penalized in their ratings for routine returns and exchanges and for late shipments beyond their control. The new rules take effect Feb. 20. The new standards put control back in the hands of sellers and eliminate worries about problems that are out of sellers' control. internetretailer.com

Android Pay requires users to enable
a secure lock screen
Google's Android Pay has started requiring that users have a secure lock screen setup in order to use the mobile payment service. While this is not a massive inconvenience for the most part, it is something to be aware of. Those with a fingerprint sensor enabled as secure lock option, this is not an issue. For those without a fingerprint sensor in their phone, they have to choose between the PIN, password, or pattern options. Google is also taking this requirement seriously, saying that they will wipe the Android Pay account of all cards if someone tries and sign-in but do not setup a secure lock screen. thepaypers.com

Hudson's Bay grows online sales 30% in Q2

PacSun's web sales grow by 7% in Q2, but total sales fall

Consumers Push Mobile Shopping Needle Forward - Mcommerce up 18% in Q2

Jet.com brings a new type of shopper online

"Fraud is not a person - it is a dynamic grouping of statistics that deviate from the norm."
Stuart B. Levine, CFI, CFCI
CEO, The Zellman Group & Zelligent


ORC News
Sponsored by NEDAP
4 members labeled by police as "Chinese Mafia" busted in West Virginia with over 100 fake credit cards - Getting jobs in Chinese restaurants
Four men from New York and Massachusetts were arrested last week, after police said they were caught red-handed with more than a hundred fake credit cards and merchandise they bought using stolen card information. Investigators call the four, the "Chinese Mafia".

We found over 100 cards, and each of these cards represents a different potential victim," said Barboursville Police Det. Greg Lucas. Barboursville Police said the four men, Tianli Yang, Xiongfu Yang, Ming Chen, Mei Bao Lu, were all from New England and part of a big crime ring.

They said their plan was to work at Chinese restaurants in the area, specifically Charleston, use a pocket device to skim your cards and steal information to make fake cards for big purchases for things like gift cards. myinforms.com

Asheboro, N.C.: Three Brooklyn, N.Y., men part of "Cell in Worldwide Credit Card Scam Operation" busted in North Carolina
Capt. Derrick Hill, with the Randolph County Sheriff's Office, said the vice unit went on Sept. 4 with a search warrant to an apartment at 4131 Bentley Drive in Randleman where a marijuana grow operation had been reported. Inside the apartment, the officers located credit-card embossing equipment and at least 200 fraudulent credit cards with worldwide identifications.

Hill said the number of charges, the number of names and the international addresses lead detectives to believe that these men were just a small cell of multiple, perhaps thousands, of cells in small towns where fraudulent credit cards are being created.

Detectives located stacks of credit cards that were found to have stolen account information embossed onto the cards along with the suspects' names. Hill said the number of charges, the amount of money involved and the international connections are expected to trigger a federal investigation. courier-tribune.com


Norwalk, CT: Home Goods apprehends 2 believed to be
tied to $20,000 in theft
A shoplifting incident at Home Goods led to a foot chase across I-95 Sunday, Norwalk Police said. Home Goods security personnel told police that they had a suspected female shoplifter in custody, but that her male companion had escaped on foot. Interstate traffic was stopped and Norwalk Police officers crossed the highway on foot, according to police reports; the male suspect was located hiding under a truck in a plant nursery. According to police, Home Goods security holds Carole Anderson and Kevin Talbert responsible for an estimated $20,000 worth of stolen merchandise over an unspecified period of time. thehour.com

Two Dallas women were arrested Sept. 1 for Organized Retail theft in Montgomery County
A deputy was dispatched to the 3000 block of College Park in reference to two shoplifters that had been detained. Once on scene, the deputy made contact with loss prevention and was advised that the women had entered the store and allegedly took several items. They then reportedly concealed them and left the store without making any attempt to pay for said items. yourhoustonnews.com

Asset Protection agent at Best Buy lets buddy swipe 2 big-screen TVs
Best Buy customer Jose Harlet Frias rolled two large-screen TVs worth $1,500 each out of a Kissimmee store after his buddy helped him land a big discount. Frias only paid for candy. Osceola County Sheriff's Office detectives recently arrested Best Buy employee Gustavo Andres Ramos-Sanchez and Frias, saying they worked together during the Sept. 2 theft. It happened at the store on W. Osceola Parkway, where Ramos-Sanchez worked in "asset protection position," a statement from the Sheriff's Office said. Sanchez, 20, is charged with two counts of retail and two counts of trafficking in stolen property. Frias, 21, is charged with two counts of retail theft, two counts of dealing in stolen property and one count of violating a pawn-broker law. orlandosentinel.com

Fort Smith, AR Police Search For Two After $1,500 Felony Walmart Theft
An employee at Walmart told police that a white man wearing a grey Spiro bulldogs hoodie stole the items, which included three televisions and miscellaneous apparel. swtimes.com

Hadley, MA: Alleged repeat Dyson vacuum thief arrested
Mateusz Hadjuk, 23, of Granby, was arrested at 7:04 p.m. Friday and charged with two counts of larceny over $250. On separate occasions, Hadjuk allegedly took two Dyson vacuum cleaners from Wal-Mart totaling $698, police said. gazettenet.com
Do you have an ORC case to share?
Share your ORC news and help the industry grow

Retail Crime News

Sponsored by Security Resources
Police Identify Suspect Fatally Shot at Washington DC's Union Station
Police identified a man fatally shot by a security officer at Washington's Union Station after an apparent domestic dispute Friday, and the man's family mourned his death even as they raised questions Sunday about the security guard's actions that led to his death. District of Columbia police said the dead suspect was 57-year-old William Thomas Wilson Jr. of southeast Washington. Wilson was shot by a security officer Friday, and investigators said he had stabbed and wounded a woman. Wilson was chased and fatally shot after police said he pointed his knife at a security guard and lunged forward. The violence Friday frightened commuters already wary on the 14th anniversary of the Sept. 11, 2001 terror attacks. The incident sent some people running for safety, while others hid amid the initial confusion about what was happening. nydailynews.com
Palm Desert, CA: Shoplifter who died at Westfield Palm Desert Mall identified Authorities are attempting to determine how a man, who was reportedly involved in shoplifting merchandise, suddenly died near the parking structure at the Westfield Mall in Palm Desert, a sheriff's sergeant said Sunday. Authorities have identified the person found dead at Westfield mall as 30-year-old Ernest Uriquidez, Jr.. Retail loss prevention officers tried to detain the man, but he fled the location. The loss prevention officers did not chase the man after he ran from the area. kesq.com
Ogden, UT: Shoplifter killed in traffic accident; crashed his truck while fleeing with stolen beer
Cline said that about 10:35 p.m. Saturday, two males allegedly entered the 7-Eleven in Ogden and took beer without paying. The suspects jumped into a white pickup truck and sped away, clipping another vehicle as they left. About five minutes later, the same pickup crashed after failing to negotiate a sharp curve. The truck hit a guardrail, ejecting its occupants. Paramedics pronounced Hernandez dead at the scene; the second man was rushed to an undisclosed local hospital. sltrib.com


Target stabbing case heads toward Dismissal as Defendant is Deemed Incompetent
For six years, the double-murder case against a schizophrenic accused of swinging a knife in each hand in a random attack on an elderly couple at the Mount Dora Target has been trapped in a loop of psychiatric evaluations and court hearings. But time has all but run out for those who wanted to see Jonathan Levy prosecuted for the brutal assault on Philip Heintzen, 80, and his wife, Sandra, 69, in the Target parking lot off U.S. Highway 441. Defense attorneys have said Levy committed the April 2009 assault gripped by delusion, but after years of care he remains unfit for trial. Now, with the clock to try the case ticking down, Levy is on course for commitment to a long-term treatment facility as the courts close the criminal case. orlandosentinel.com

Wilkes-Barre PA: Man allegedly threatens to shoot Sheetz employees and Security Guard
Over the weekend, as police say a man threatened to kill the store's employees and assaulted a Sheetz security guard. the incident happened at 5:45 a.m. Saturday as the suspect, identified as Darshon Isaac, 21, of Wilkes-Barre, allegedly threatened to shoot Sheetz employees. Police officers saw the suspect "yell at, threaten and push a security guard," police said. In addition, four witnesses told officers that Isaac had come into the store earlier that same morning, placed an order, became belligerent and threatened to punch, spit at and shoot store employees. When the suspect returned a short time later, he again threatened to shoot employees, saying "no one would miss them." witnesses told police. pennlive.com

FBI joins local Law Enforcement in 3 states seeking Female Jewelry Store Robber
The approaches are strikingly similar: Robber enters a jewelry store, whips out a gun and forces employees into the back before taking off with merchandise. In each of three recent robberies, the thief was described as a woman who allegedly tied up store employees before loading up on valuables. The robberies occurred in three states, at three different franchises, between early August and early September. Authorities in Georgia, South Carolina and Florida are investigating whether there are connections between the three. cnn.com
Swansea, MA: Police searching for suspects in Jewelry store distraction theft
Police are asking for the public's help in identifying two men accused of stealing jewelry from the Swansea Mall. According to police, two men entered the City Jewelers in the mall around 1:45 p.m. on Sunday. Police said one man distracted an employee while the other stole a large amount of jewelry. At last check, inventory of the store had not yet been completed and it is unknown how much was stolen. wpri.com
Jewelry heist follows widespread pattern; Court papers detail link to Detroit gang in 30 Smash-and-Grabs
On a late January evening, a handful of men sauntered into the local Jared The Galleria of Jewelry store, pulled out hammers and starting smashing glass. Two of the three men snatched diamonds and jewelry from the cases, while the other one lifted an entire case off the table. Dropping their hammers, they walked out of the store as nonchalantly as they came in. Investigators believed they met up after the heist in the nearby Target parking lot, taking off in separate vehicles after dumping their stolen getaway car in the lot. This particular type of robbery has been seen all over the country in recent years, and court documents tie a particular group of individuals to these robberies from the East Coast to Wisconsin. The crew has ties to the Red Wings gang in Detroit and is believed to be responsible for at least 30 smash-and-grab robberies dating back at least a year, according to court documents. journalgazette.net
New Mexico Supreme Court ruling addresses warrantless arrests
The ruling came in an Albuquerque shoplifting case that started in 2010, when Ernest Paananen allegedly slipped flashlights under his jacket at Sportsman's Warehouse, then walked past cash registers without paying. The store's loss prevention agent stopped him, did a pat-down and took items from his pockets. Then he called the Albuquerque Police Department, and Paananen waited. APD officers arrested Paananen on a shoplifting charge and searched the backpack he had checked at the door, finding hypodermic needles and a small amount of a tarry substance that field-tested positive for heroin. In 2012, 2nd Judicial District Judge Jacqueline Flores suppressed both the physical evidence and statements by Paananen, a decision upheld by the New Mexico Court of Appeals. The court deemed the arrest warrantless and without the emergency circumstances and thus the subsequent search unlawful under the state constitution. abqjournal.com

Two more plead not guilty in Nigerian scam case in Gulfport, MS
The indictment alleges the investigation began after Customs and Border Patrol agents began intercepting packages containing millions of dollars in fake checks and U.S. Postal money orders. Homeland Security Investigations agents followed the trail and reportedly unraveled scams conducted via the Internet and through emails. Agents claim they seized $3.1 million in bogus money from Franzen's home in 2012 and nearly $2 million in fake money from the home of White and Barnard in 2013. sunherald.com

Police are searching for 4 women who robbed a children's clothing store
Officials say the 4 suspects walked into The Children's Place in the River Plaza Shopping Center around 7:15pm last Saturday. They allegedly stole more than $2,000 worth of merchandise. news12.com

Ft. Myers., Fla.: Traffic stop leads to two arrests for fake credit card operation

Carlsbad, CA: Shoppers evacuated Saturday due to suspicious device at Carlsbad mall

Waterloo,ON, CN: 14 year old faces several charges in Dollarama blaze, loss over $500,000

Huntington Beach, CA: Police find burglary suspect on Grocery store roof

Arcadia, CA: El Monte man jailed following JC Penney shoe robbery

Watertown, NY: A man steals nearly $500 of merchandise from the Sears store in Salmon Run Mall

Los Gatos, CA: Two arrested for 2012 Blacy's Jewelers Armed Robbery

Kay Jewelers in the Oak Park Center, Oak Park Heights, MN was the victim of a Grab & Run on Saturday afternoon, $7,558 of merchandise was stolen


Robberies and Burglaries
● ACE Hardware - Toledo, OH - Burglary/ Roof Top
● Big Bear - Kitchner, ON, CN - Armed Robbery
● Bud's Country - Thompson, CT - Armed Robbery
● CVS - Tiverton, RI - Armed Robbery
● Drive-In Liquors - Colorado Springs, CO - Armed Robbery/ Shots fired
● Family Dollar - Holyoke, MA - Robbery
● Family Dollar - Greenville, SC - Armed Robbery
● Indian Land AT&T - Lancaster, SC - Burglary
● Minute Plus - Overland Park, KS - Armed Robbery
● Mocha Moose - Casper, WY - Armed Robbery
● MS Food - Valdosta, GA - Armed Robbery
● My Place Fashion - Detroit, MI - Burglary
● Nature's Grocer - Vernon, CT - Armed Robbery
● Nice N Easy - Rome, NY - Armed Robbery
● Quik Trip - Tulsa, OK - Shooting
● Rite Aid - Chicopee, MA - Armed Robbery
● Valero - Buffalo, NY - Armed Robbery/ Assault
● Walgreens - Miami, FL - Armed Robbery
● Walgreens - Holly Springs, GA - Armed Robbery
● Walgreens - Charles Town, WV - Armed Robbery
● 7-Eleven - Portsmouth, VA - Armed Robbery


Featured Job Listings
Sponsored by NuTech National
Feature Your Job Here For 30 Days -
70% Aren't On the Boards
VP of Sales/Client Relations
More details coming soon
Confidential - Retained Search
Nationwide
Gus Downing
Dir LP (Western Canada)
Walmart Canada
Calgary, CA
Walmart Canada
Dir LP
Cracker Barrel
Lebanon, TN
Cracker Barrel
LP Director
Wireless Advocate
Seattle, WA
Wireless Advocate
Dir Safety AP Solutions
Walgreens
Deerfield, IL
Walgreens
Dir of AP, Global Ecommerce
Ralph Lauren
Greensboro, NC
Ralph Lauren
Dir AP
Saks Fifth Ave

New York, NY
Saks Fifth Ave


Territory LP Dir.
Burlington Stores
Los Angeles, CA
Burlington Stores
Dir. of Security/LP
Estee Lauder
Los Angeles, CA
Estee Lauder
Director of LP
Pacific Sunwear
Anaheim, CA
Pacific Sunwear
VP Supply Chain, LP & Safety
Ross Stores
Ft. Mill, SC
Ross Stores
Regional LP Mgr
Tractor Supply Co.
Baltimore, MD
Tractor Supply Co.
Sales Representative
NuTech National
Maitland, FL
NuTech National

Limited Time Only - Post Your Multi-Unit LP jobs for FREE - Learn More Here
Daily Job Alerts


Appearing One Day Only
View our Internet Jobs Archives here
Retail AP & Safety Mgr
Cabela's
Hazelwood, MO
Cabela's
AP Manager
BJ's Wholesale Club
Pembroke Pines, FL
BJ's Wholesale Club
AP Manager
BJ's Wholesale Club
Flemington, NJ
BJ's Wholesale Club
AP Team Leader
Target
Brooksville, FL
Target
Regional LP Manager
GameStop
Seattle, WA
GameStop
Regional LP Manager
Family Dollar
Birmingham, AL
Family Dollar
Environmental Health & Safety Supervisor
Wolverine Worldwide
Rockford, MI
Wolverine Worldwide
District Operations Mgr
JCPenney
Williamsville, NY
JCPenney
Dept Mgr LP & Safety
Lowe's
Flower Mound, TX
Lowe's
Dept Mgr LP & Safety
Lowe's
Philadelphia, PA
Lowe's
Dept Mgr LP & Safety
Lowe's
Bradenton, FL
Lowe's
LP Manager Hrly
Kmart
Gas City, IN
Sears Holdings Corp
Multi Unit LP Manager
Kmart
Greenwood, SC
Sears Holdings Corp
LP Manager
Sears
San Bruno, CA
Sears Holdings Corp
LP Manager Hrly
Kmart
Bridgeville, PA
Sears Holdings Corp
AP Manager in Training
Walmart
Stilwell, OK
Wal-Mart
AP Manager in Training
Walmart
West Haven, CT
Wal-Mart
AP Manager in Training
Walmart
Waterloo, IL
Wal-Mart
LP Mgr II
The Exchange
Utah
The Exchange


Home of the Industry's Original
On the Move

| | |
| --- | --- |
| | Ray Cloud was promoted to Senior Vice President, Loss Prevention for Ross Stores, Inc. |
| | Michael Staines, CFI was named Director of Loss Prevention for South Moon Under. |
| | Derek Brashier was promoted to Manager of Safety and Security Operations - Retail Campus for Bass Pro Shops. |
| | Nathan Bradfield, CFI was promoted to Senior Corporate Investigator for Lowe's. |
| | Daniel Robles was named Asset Protection Investigator for Abercrombie & Fitch. |
Post Your New Job or Promotion!
See all the Industry Movement


Your Career
Sponsor this section of the Daily
6 Ways for Leaders to Make Their Messages Resonate To get your point across, and your message heard, you don't need to yell. As a leader, your voice speaks much louder than the words you're saying. In order to make sure your voice is clearly resonating your message and goals, use these tips. No room for misinterpretation

How I Learned to Step Back and Give My Team Real Power To be a really great leader, you don't have to be involved in every decision, attend every meeting, and have every employee go to you for approval. The best way to move forward is to give power to your people. Stop going in circles




Last week's most popular articles--



21 Positive Quotes that Will Powerfully Influence Your Life and Work Life is all about growing: we grow in our skills and in looking at the opportunities around us, good or bad. Having a positive mind will help form a positive attitude. Here are some quotes to help build positivity in your life. "Keep your face to the sunshine"

5 Tips for Gracefully Accepting Constructive Criticism Improving our skills and abilities not only helps us grow personally but professionally as well, but how do we know which areas need improvement? Although we may not like our flaws pointed out, feedback is something we should accept with open arms, and ears. Here are some ways you can make the most of receiving criticism. Be a mirror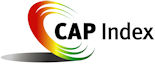 Tip of the Day
Sponsored by Vector Security
Being too close to the trees to see the forest is an expression that also fits not appreciating the role you play on your own team. With the needs of the day seemingly always taking priority, it's difficult for some to step back and truly see the value you can add to your own team. Realizing it and accepting the responsibility as a team member is half the battle. But doing something with it and truly adding value is what helps the team win the game. Every group, every department is in fact a team and every member plays a vital role towards the success and the survival of that team. That's why that old expression - One for all and all for one - took such a hold in literature. Because it is that simple. The hard part is taking responsibility for it.

Just a Thought,
Gus





Upcoming Events
---
Recruiting?
Get your job e-mailed to everyone... everyday
Post on our Featured Jobs Board!
Reach your target audience in 2015 every day!
Request our 2015 Media Kit
update account / change e-mail
unsubscribe FEEDBACK
www.downing-downing.com

Advertise With The D&D Daily




36615 Vine Street, Suite 103
Willoughby, OH 44094
440.942.0671
copyright 2009-2019
all rights reserved globally