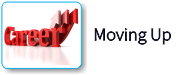 ---
Lowers Risk Group Appoints Jon Groussman, Noted Authority on Crime Risk Management, Corporate Security and Loss Prevention, to Lead New Consulting Practice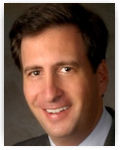 Former CAP Index President will serve as Executive Vice President to lead expert witness and security and liability consulting, evaluation and analysis for Lowers Risk Group.

Enterprise risk management company, Lowers Risk Group, today announces the appointment of Jon Groussman, an experienced and recognized authority on corporate security management, as Executive Vice President, Consulting Practice. In this role, Groussman will lead Lowers Risk Group's new consulting practice to provide a broad range of crime-related consulting, expert witness, and litigation support services for companies and their security and risk management leaders, and legal counsel. prweb.com

Don Wuchter, CFI promoted to International Director of Loss Prevention for Sherwin-Williams
Don has been with Sherwin-Williams for nearly 14 years. Prior to his promotion to International Director of Loss Prevention, he held various positions within the company, from Eastern Division Loss Prevention Specialist (Northeast US and Canada) for over 8 years to Director Loss Prevention (Eastern Division - The Americas Group) for over 2 years to Director of Loss Prevention (Midwest Division - The Americas Group) for over 3 years. Before that, he was a District Loss Prevention Manager for Ollie's Bargain Outlet. Congratulations, Don!

See All the Executives 'Moving Up' Here

Submit Your New Corporate Hires/Promotions or New Position



---

2019 GLPS - Group LP Selfies
Your Team - Your Pride - Our Industry
Building Industry Pride - One Team Selfie at a Time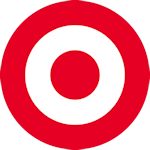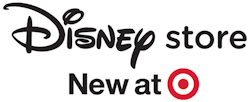 Target – Group 391 AP Leadership Team

During Target's Fall National Meeting, the AP team met Mickey & Minnie as they got ready to welcome guests to the Disney Store at Target!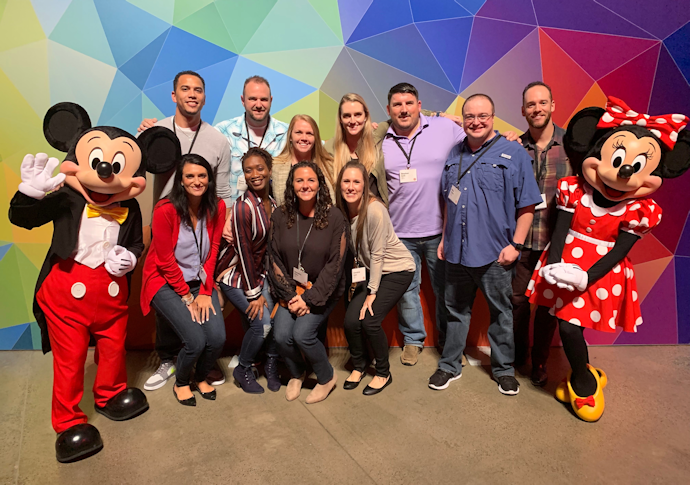 Top Row – Jay Harwell, Travis Metcalf, Kelly Woods, Christen Finkbeiner, Stephen Smith, Mike Aldridge, Nick Barnett

Bottom Row – Kayla Sanson, Shandricka Jackson, Christine Bristol, Christina Baker

Thanks to Mike Aldridge, Business Partner / Investigator / Assets Protection at Target, for submitting this GLPS
---
Hey LP/AP Teams,
Got a picture of your team on your cell phone?
Send it to us!
---


---

When levees break: How retailers are preparing for a riskier natural world
Fearsome weather events puts some 26,000 stores at risk to climate-based calamities
With climate change predicted to increase risks from natural disasters like floods, hurricanes and wildfires, retailers likely face more operational disruption in the future. Media coverage and tumultuous seasons have increased the interest among retailers in planning for disasters, say those who work in business resilience and risk management. After years of shrugging off disaster planning, many are now starting to take a closer look at managing stores through events and protecting their supply chains from existential threats from the climate.

"This isn't a cool topic," Damian Walch, a managing director of risk intelligence with Deloitte, said. "It's not something that retailers have traditionally thought about." But, he adds, "extreme weather events are increasing. So more and more retailers are saying, 'We have to do something.'"

26,000 stores at risk

Thousands of stores across the industry lie in the path of hurricanes and flood zones as well as coastal areas expected to experience sea level rises in the coming decades.

More specifically, retailers have some 1,900 facilities exposed to hurricanes and typhoons, another 6,770 exposed to rises in sea level and more than 17,000 exposed to floods, according to data provided to Retail Dive by Four Twenty Seven, a climate risk data firm recently acquired by Moody's.

Walmart — perhaps unsurprisingly given that it's the world's largest retailer by revenue — faces the most risk, with 14% of its global facilities exposed to hurricanes and 16% to floods, according to Four Twenty Seven. retaildive.com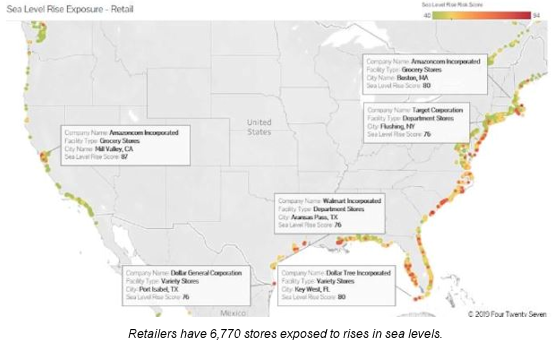 NYPD and New York City Police Foundation Unveil New Crime Stoppers Mobile App
The NYPD launched a free smartphone app for use on Apple iOS and Android devices to anonymously report crimes to the Crime Stoppers program.

"The community is New York City's best crime fighting resource and the mobile Crime Stoppers app is our newest tool to deepen our partnership with witnesses who provide anonymous tips that help us solve crimes," said Chief Dermot Shea, NYPD Chief of Detectives.

The new CS-NYC mobile app allows investigators to more easily receive quality tips with attached images, documents, and videos. Other benefits include the ability for the investigator to engage in safe, private two-way dialog with the tipster—a new feature that was previously impossible through text messaging alone. securitymagazine.com

Governor Abbott Releases Texas Safety Action Report
Preventing Mass Shootings - Texas Releases Strategies
Following weeks of meetings with nearly 50 experts in the aftermath of tragedies across the state, Governor Greg Abbott today unveiled the Texas Safety Action Report. The Governor's report elaborates on the Executive Orders issued last week that are intended to bolster the public safety coordination that can prevent mass shootings. The Texas Safety Action Report also provides additional ideas for the Texas Legislature and state agencies to consider that can make our communities safer while also respecting the Constitution.

Read Governor Abbott's full Texas Safety Action Report

Cannabis Industry: SAFE Banking Act Set For Floor Vote in U.S. House this month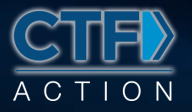 The SAFE Banking Act aims to address the lack of access to banking experienced by lawful cannabis businesses operating in states with existing cannabis regulatory structures. The bill would prevent banking regulators from penalizing banks and their employees for providing financial services to state-legal cannabis businesses, reducing the uncertainty and risk that deters many banks from working with cannabis businesses. The SAFE Banking Act is a critical next step in achieving the transparency and regulatory compliance required for the long-term health and safety of the cannabis industry. ctfaction.com

New Study Reveals Fairtrade Is Gaining Trust And Traction
Fairtrade America – an independent, third party certification that betters the lives of farmers and workers in developing countries – today revealed key highlights from its biennial GlobeScan Fairtrade Consumer Insights report. Study results point to trust and overall favorable perceptions of Fairtrade certified brands and products, as well as increased recognition of the Fairtrade seal.

Millennial shoppers are key to driving growth and demand for Fairtrade certified goods. Millennial consumers are outspending other generations when it comes to food and beverages, demonstrating a willingness to pay more for items that align with their values. prnewswire.com

UK: 2,870 stores shut down in first half of 2019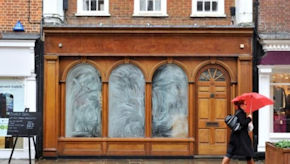 This is the highest figure since records began and equates to around 16 shops closed every day.

However, a total of 1634 stores opened in the same period, up 4% year-on-year. This results in a net closure of 1234 stores on Britain's top 500 high streets.

Fashion retailers saw the biggest declines, driven by a high number of CVAs and administrations. retailgazette.co.uk

Charleston, WV: Gabriel Bros. sued by man allegedly injured when Loss Prevention specialist struck him in pursuit of shoplifter
A Kanawha County man is suing a discount store over allegations he was injured when a lp specialist knocked him over while in pursuit of a suspected shoplifter. Jerry Lewallen filed a complaint in Kanawha Circuit Court against Gabriel Bros. Inc. and John Doe, individually and in his capacity as employee of Gabriel Bros. Inc., alleging negligence. The plaintiff alleges Gabriel Bros. breached its duty of care by allowing employees to act in a negligent and careless manner. wvrecord.com

UPS To Pay $8.4M To Resolve Overcharging Federal Agencies from 2007 to 2014

Can You Believe This One?
Vancouver: One Doctor's Answer to Drug Deaths: Opioid Vending Machines

California Bill Treats Contractors as Employees

J Crew Spinning Off Madewell - as they file for IPO

Forever 21 to close at least 100 stores in Bankruptcy


Quarterly Results
J Crew Q2 comp's down 1%, sales down 7%

Last week's #1 article --

---

---
Spotlight on
S-Tron

Purple Heart Veteran & S-TRON Warehouse Logistics Manager Receives Gift of a Lifetime: A Mortgage-Free Home on Long Island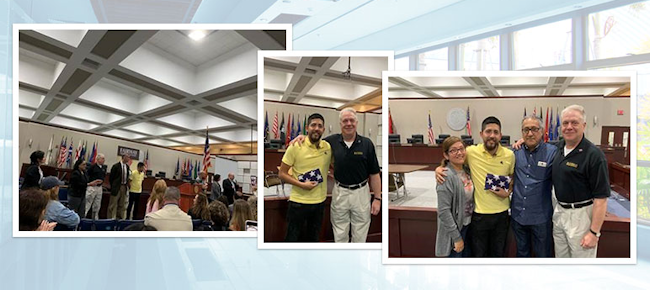 Pictured center, left to right, are Kevin Palacios, Warehouse Logistics Manager at S-TRON,
and Pete Matchull, President of S-TRON.

Kevin Palacios, the Warehouse Logistics Manager for S-TRON, received a gift he never could have expected on Tuesday, June 25, 2019. The Fairway Foundation gave this twice-injured, Purple Heart vet the well-deserved gift of a mortgage-free home.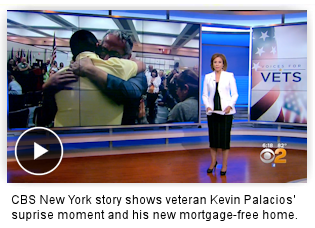 Steve Probst with Fairway Independent Mortgage Corp. said that the Fairway Foundation spent the last five years raising the $200,000 necessary to make this dream come true. The home was fully furnished and completely renovated.

Volunteers of the Foundation realize how incredibly difficult it is for our veterans to re-integrate into society after careers in the military and for many, the desire to own a home is simply a dream. Our military service members don't make huge salaries and need a place to live when they return home. Many of these veterans need special accommodations for injuries they received resulting from their military duty.

Palacios, a single father, admitted that finding housing has been difficult since getting out of the military in 2012. Wendy Lepkoff, a board member of the National Association of Remodeling Industry, explained that giving a free house to someone such as Palacios is just one way Americans can thank veterans for their sacrifice to our country. Kevin, we thank you for your service and that of millions of other military veterans.
Click here to see what makes S-TRON different
---


The strictest consumer-privacy law in the U.S.
California Lawmakers Pass Only Minor Changes to Privacy Measure
Only 26% Highly Prepared - 55% Said They'll Be Ready
California legislators adjourned for the year on Friday without watering down a sweeping privacy law set to take effect in January, although they passed a handful of amendments intended to clarify parts of the legislation. Companies that have no physical presence in the state might still be subject to the law if they have a website that serves Californians.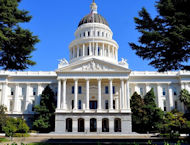 On Friday, lawmakers approved several amendments. One would clarify that the statute doesn't apply to certain vehicle information shared between automobile manufacturers and dealers. Another says the law excludes information collected from companies' employees and job applicants.

Gov. Gavin Newsom, a Democrat, has until Oct. 13 to sign the bills.

Just 26% of businesses said they felt highly prepared for the CCPA and 55% of organizations said they would be ready for the law by January 2020,

"Companies have to come to peace with things not being clear and this not being a perfect statute," said Alysa Hutnik, a partner at Kelley Drye & Warren LLP who advises companies on how to comply with the law. cybersecurity.cmail20.com

What the CFO's are reading:
Is Data Security Risk Crowding Out Other Priorities?
Research into finance executives' concerns consistently finds that they're prioritizing the safety of data above all other matters.

It may be difficult to judge whether contemporary CFOs' tight focus on data privacy and security is a value-add or a strictly defensive posture that limits their engagement in value-add activities. Either way, study after study shows that among the multitude of concerns finance chiefs must grapple with today, it's become their chief one.

Most recently, management consulting firm Protiviti surveyed 817 CFOs and other finance leaders worldwide, asking them to prioritize 40 different aspects of finance. Participants rated each aspect on a 10-point scale. More than 8 in 10 (84%) of them rated data privacy/security an 8, 9, or 10. Next on the list was enhanced data analytics (79%).

CFOs' strong attention to this risk takes into account their awareness that data breaches are commonplace today as well as a lack of confidence in their ability to drive adequate defenses, according to Protiviti.

Unlike their handling of other financial-related risks and controls, Protiviti noted, finance leaders typically rely on others — i.e., IT and security teams — to articulate and implement specific controls for and protections against cyber-risk. cfo.com

Cyber & Compliance Due Diligence in the M&A World
Compliance Glitches First on that list is insufficient due diligence. In the best of worlds, acquirers would conduct every element of the process thoroughly. Today, they're more likely than before to cut corners. Crowe calls it the "shrinking report syndrome."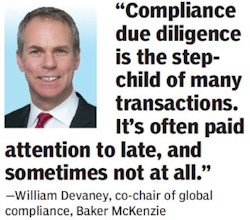 Shockingly, a big failure on the due diligence front is investigating whether the target company is compliant with applicable regulations. In a recent study by law firm Baker McKenzie, based on interviews with more than 300 corporate leaders and legal advisers, 56% of them expressed regret that they had dedicated too little effort to the task.

Cyber Diligence For obvious reasons, the importance of evaluating a target's technology is surging, with no end to the trend in sight. That applies not only to IT infrastructure but also to software and apps used in operations.

A target's data privacy and cybersecurity profile should, of course, be a due diligence priority. As data breaches continue to make big headlines, investigating a target's data protections and its compliance with data privacy laws is crucial.

One of the latest and largest breaches is a cautionary tale. The U.K.'s privacy regulator—the Information Commissioner's Office (ICO) — in July fined Marriott International $123 million for a breach of Starwood Hotels & Resorts' guest reservation database, in violation of the European Union's General Data Protection Regulation (GDPR).

The ICO said Marriott hadn't conducted proper due diligence when it acquired Starwood in 2016. Even though the hackers had breached Starwood's systems two years before the acquisition, Marriott didn't discover it until 2018. cfo.com

From Russia With Love:
Ukrainian Fin7 Hacking Gang Ring Leader Pleads Guilty in Fed Court - Stole 15M Payment Cards
Fedir Hladyr, 34, pleaded guilty last week to conspiracy to commit wire fraud, which carries a maximum 20-year prison sentence, and conspiracy to commit computer hacking, which carries up to a five-year penalty, according to the court documents. He also agreed to pay up $2.5 million in restitution. Hladyr remains in federal custody in Washington. His attorney, Arkady Bukh, says that his sentencing will likely take place next year.

At its height, the FIN7 group sent hundreds of spear-phishing emails that targeted hospitality businesses, casinos and restaurant chains in order to steal credit card data, according to federal prosecutors. The gang allegedly stole at least 15 million payment card records from U.S. businesses, resulting in over $100 million in losses over three years.

Dozens of hackers worked for FIN7 between August 2015 and January 2018, prosecutors say. Hladyr held the title of systems administrator for the gang's front company, which called itself Combi Security, according to court documents.

One of Hladyr's main responsibilities was overseeing the command-and-control servers FIN7 used to deliver the malware that would help steal the credit card data from companies and point-of-sale machines.

FIN7 targeted dozen of business, including the restaurant chains Arby's, Chili's, Chipotle Mexican Grill, Jason's Deli, Red Robin Gourmet Burgers, Sonic Drive-In and Taco John's, according to the FBI.

Through a network of hackers mostly in Eastern Europe, the gang created spear-phishing emails designed to resemble legitimate messages, such as catering orders or reservation details. Those emails often contained malicious attachments, which, if opened, infected the company's computers, according to security analysts. govinfosecurity.com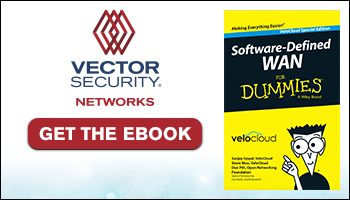 LPNN On Location with Hanwha Techwin America
Jordan Rivchun, Leader, Retail Solutions & Strategy, Hanwha Techwin America
with LPNN MC Amber Bradley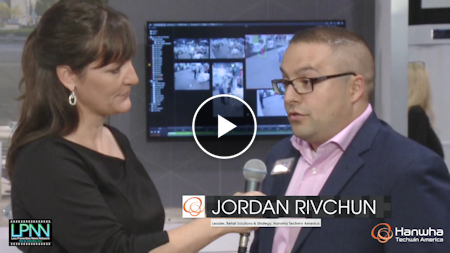 Hanwha Techwin America is a global Fortune 500 company and one of the fastest growing security companies in the world, with manufacturing facilities in South Korea and Vietnam.

Driven by customer-led product design and development, Hanwha offers video surveillance products including network cameras, storage devices and video management systems founded on world-class optical design, manufacturing and image processing technologies.

In this video, Jordan Rivchun tells us about the new solutions Hanwha is bringing to the market, and how his past experience on the retail side of the business helps him translate exactly what LP practitioners are looking for when it comes to in-store technology.

Learn more at www.hanwhasecurity.com



---



---

E-commerce a top target for bot attacks
305% increase in attacks in online marketplaces
Fraudsters are using bot attacks to target new account creation transactions, in an attempt to test and build online identities for monetary gain. E-commerce were a major target, seeing a 305% increase in bot attacks on new account creations—specifically in online marketplaces, virtual gift card companies, and ridesharing sites.

"Easy to deploy, these bot attacks are an effective method in which to test, validate or build synthetic identities," Moody said. "In the report we found that fraudsters are using these automated attacks for a myriad of purposes; in media, fraudsters are using bots to sign-up for mass new media accounts to take advantage of free trials and bonuses that can then be sold on for profit."

With everyone attached to their smartphones, mobile attacks have become a no-brainer for cybercriminals. Globally, attacks on mobile apps increased by 148%, with social media and gaming organizations as the main targets, the report found.

Organizations must use a layered approach to cybersecurity if they want to remain protected, the report found. This solution requires high-level digital identity intelligence, physical identity, and authentication capabilities that help companies meet regulatory requirements, improve customer experience, and locate evolving fraud. techrepublic.com

Why FedEx ditched Amazon and is throwing itself into powering Walmart's e-commerce aspirations
When FedEx dumped Amazon, which accounted for less than 1.3% of FedEx's 2018 revenue, the shipping giant underlined the opportunities available for online retailers outside of Amazon. The Seattle-based retailer accounts for 49% of e-commerce. Outside of Amazon, the e-commerce industry in the US hosts No. 2 player eBay, big-box retailers like Walmart and Target, emerging platforms like Shopify and Wish, and others. That's where FedEx is focusing.

The non-Amazon e-commerce field is fragmented, but provides a massive growth opportunity — 12% CAGR from now to 2026, Carere said. Walmart, for its part, has also focused its e-commerce strategy on attracting a multitude of brands, as seen by its acquisitions of companies like Moosejaw, Bonobos, and Jet.com.

Along with moving the majority of Walmart's online shipments, FedEx is rolling out Office locations in 500 Walmart stores nationwide where customers can print, ship, and pick up deliveries — a move that analysts said gives an edge to Walmart against Amazon. businessinsider.com

Amazon wants to double its Locker program - Adding 1,000 New Lockers Monthly
Losing FedEx partnership hurts. At the moment, Amazon has fewer than 10,000 lockers located in US convenience stores, apartments and universities, the person said, so the plans point to an aggressive expansion.

Part of Amazon's work to speed shipments and achieve its goal of one-day Prime shipping in the US. With a larger footprint of lockers, Amazon delivery workers will be able to drop off dozens of packages at once, instead of one at a time at individual addresses. Plus, the expansion could help Amazon build its logistics network to make up for FedEx's decision to stop delivering the retailer's US packages. cnet.com

33 Ways to Use Artificial Intelligence in E-commerce
---
---

Richmond,KY: Police arrest 39 in Operation Broken Cart
Over the course of three days, the Richmond Police Department in a joint operation with local retail loss prevention personnel, nabbed more than 30 people committing theft and other criminal offenses. Police officers were able to recover more than $2,000 worth of stolen merchandise and arrested 39 people over Sept. 10, 11 and 12. Over the course of the operation, RPD worked closely with loss prevention personnel and members of the Kentucky Organized Retail Crime Association to achieve exceptional results. "It was our mission to make an impact in our community by showing zero tolerance to shoplifting and other crimes that derive from theft," a press release from RPD said. richmondregister.com

Greenfield, WI: Men charged in Best Buy burglary, believed to be part of larger crime ring
According to court documents, Michael Durkins, Jason Harris, Richard Listenbee and Kentrell Steppes are all facing charges for burglary. Court documents state the four men stole $19,000 of merchandise from Best Buy near 76th and Layton on September 8 around 4 a.m. Police say they responded to the store for a burglary alarm and saw a white van pulling out from behind the business. Officers attempted to stop the van, but it drove off. Eventually police were able to stop the car. Inside, they found two City of Milwaukee garbage bins, tools, clothes and electronic equipment. According to the criminal complaint, the men were caught on surveillance camera at Best Buy grabbing items and putting them into the garbage cans. The men are from Illinois and Indiana. They face more than 12 years in prison. Steppes faces an additional charge of fleeing an officer. cbs58.com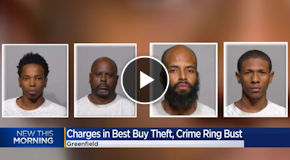 Tallahassee, FL: Former Walgreens Pharmacy Technician stole $16K worth of medication
The Tallahassee Police Department said it arrested a former Walgreens technician, who stole more than $16,000 worth of medications from the pharmacy over a period of a year, on Wednesday. According to a probable cause statement filed October 15, 2018, the manager of the Walgreens on 2913 Mahan Drive told police on August 25, 2018, that Anna Silva had been stealing from the store since March 2017. Silva was hired as a pharmacy technician on March 3, 2017, the affidavit said. Walgreens' loss prevention was consulted, and its internal investigation showed discrepancies in inventory happened on days when Silva was working in the pharmacy. wctv.tv

Sioux Falls, SD: Two charged with grand theft after allegedly using taco seasoning packets to fool self-checkout
The 2 me were seen scanning the UPC code on a Great Value Taco Seasoning packet, valued at .44, between the product and the scanner. The two were accused of using the same practice 18 times, paying $154 for $2,400 worth of merchandise. argusleader.com

Auckland, New Zealand;: Lingerie, knives, raincoat among items allegedly taken in $9265 shoplifting spree

---

REGISTER NOW: NCORCA Symposium Set for Oct. 9 in Roseville, CA
Big thanks to this year's sponsors (pictured below) for the annual NCORCA Symposium scheduled for Oct 9th in Roseville, Ca. Our sponsors allow us to keep this event FREE for law enforcement and Retail Loss Prevention. We hope to see you there. Click here to register!

-Written by Connie Ribble, Board Member for NCORCA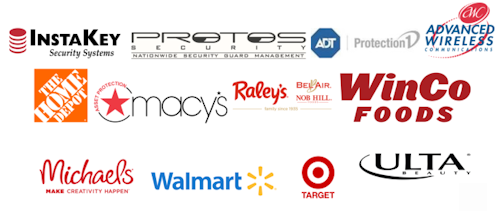 Shootings & Deaths
Gainesville, FL: Police investigating shooting in Walmart parking lot
Gainesville police are investigating a shooting Sunday night near a Walmart that sent an unknown number of people to the hospital, according to a social media post by the shopping plaza. The shooting, which took place in the parking lot of the Walmart at Butler Plaza, stemmed from an attempted robbery. The shooter has been apprehended by police, the post stated. "All those involved and injured (all non-life-threatening) were either taken into custody or to the hospital," the post states. tampabay.com

New Orleans, LA: Two plead guilty in slaying of gas station clerk caught on video
---
Robberies, Incidents & Thefts
Atlanta, GA: A former NFL player is accused of destroying his business to make it look like a hate crime burglary
A former NFL player is facing criminal charges after he allegedly destroyed his business near Atlanta to make it look like a hate crime burglary, police said. Edawn Louis Coughman, 31, was arrested Thursday and charged with false report of a crime, insurance fraud and concealing a license plate, police said in a statement.

Coughman spent four seasons in the NFL. He played for several teams, including the Washington Redskins, the Dallas Cowboys and the Arizona Cardinals, CNN affiliate WSB reported. Officers first responded to the scene after a caller reported that someone inside Create & Bake Pizza and Coughman's Creamery was damaging the business. The witness also reported the suspect was driving a black car without a license plate.

Authorities confronted Coughman, the owner of the business, after they saw him driving the described vehicle nearby, police said. They noticed "several televisions in the bed of the truck and inside the cab," some of which were "still attached to the brackets with damaged drywall," police said. cnn.com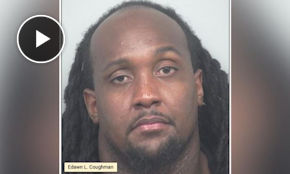 Man handed store clerk robbery note, waited for police
Officers arriving at the 7-Eleven at 140 Main St. detained the man in the store before speaking with a store clerk. The clerk showed officers a piece of paper the man handed her which said "This is a robbery, turn over all your cash." After handing the clerk his note, the man sat on the floor and said he was waiting for law enforcement to arrive, the report said. indexjournal.com

Tulsa, OK: 2 arrested for leading police on chase in stolen vehicle after $250 shoplifting of steak and crab

Madison, WI: Two Texas men arrested after caught attaching skimming device to pump at Madison gas station

Phoenix, AZ: Police need your help finding jewelry thief who hit west Phoenix store
---
C
ounterfeit
Michael Kors takes on the flea markets
Michael Kors is taking its battle against counterfeits to the flea markets. Three defendants are being taken to task for the operation of a flea market with a reputation for being a haven for illegal fashion knockoffs, including infringing and counterfeit Michael Kors products. The topic is one of the key areas of concerned featuring in the forthcoming Luxury Law Summit New York. globallegalpost.com

ICE raid at Oakland Raiders game targets unauthorized NFL apparel; $11,000 in fake merchandise seized


• Auto Parts – Kennewick, WA – Burglary
• C-Store – Jefferson County, MO – Burglary
• C-Store – Omaha, NE – Robbery
• CVS – Kokomo, IN – Robbery
• Dollar General – Woodstock, GA – Armed Robbery
• Gas Station – Iowa City, IA – Robbery
• Gas Station – Corpus Christi, TX – Armed Robbery
• Gas Station – New Orleans, LA – Armed Robbery
• Guns – Corry, PA – Burglary
• Jewelry – Florence, SC – Robbery
• Jewelry - Lone Tree, CO – Robbery
• Jewelry - Houston, TX – Robbery
• Jewelry – Round Rock, TX – Robbery
• Jewelry - San Bernardino, CA – Robbery
• Liquor – Oswego, IL – Burglary
• Lyft – Fresno, CA – Armed Robbery
• Restaurant – Colorado Springs, CO – Burglary
• Restaurant – Phoenix, AZ – Robbery
• Restaurant – Visalia, CA – Armed Robbery
• 7-Eleven – Greenwood, IN – Armed Robbery
• 7-Eleven – San Antonio, TX – Robbery
Daily Totals:
• 16 robberies
• 5 burglaries
• 0 shootings
• 0 killed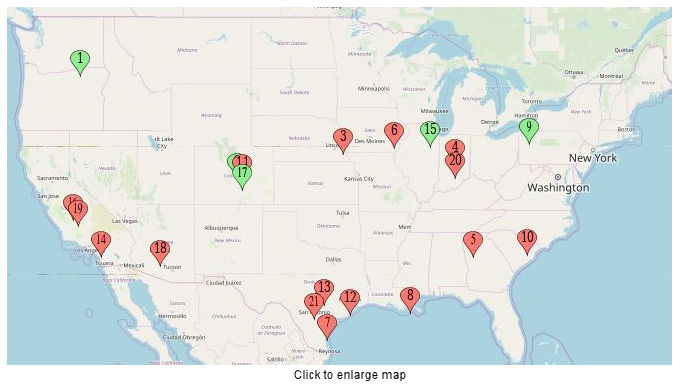 ---
Brandon Stuart named District Loss Prevention Manager for NAPA Auto Parts
Temia Balogun promoted to Territory Loss Prevention Director for Burlington Stores, Inc.
Brad Hayes named Regional Loss Prevention Manager for Sports Direct (UK)
Scott Barnfield promoted to European Security Operations Centre Specialist for TJX Europe
Jacob Soha, CFI named Fraud Prevention and Detection analyst for SoFi
Lewis Tillman named Market Auditor/Investigator for Family Dollar
Collin D'Anna named Executive Team Leader - Assets Protection for Target
Submit Your New Hires/Promotions
or New Position
See all the Industry Movement




Feature Your Job Here For 30 Days -
70% Aren't On the Boards
Post your job listing
---

Featured Job Spotlights

Houston, TX
Oversee organized retail crime (ORC) interactions within a defined region, execute against ORC initiatives and respond to cases involving executive protection, critical incidents, threat analysis, and threat assessments. Identify, exploit and lead investigations related to ORC and other assigned investigations...
Wawa, PA
The Manager of Loss Prevention and Security serves as the subject matter expert in the area of Loss Prevention and Physical Security for the Company with focus on developing and driving solutions that will create an optimum associate and customer experience in a safe and secure environment...

Profit Protection Analyst
Corte Madera, CA
As a Profit Protection Analyst, you should have strong analytical skills, be a quick learner, and drive to innovate with both technology and processes...

Featured Jobs
---
JOB TITLE
COMPANY
CITY/STATE
DATE ADDED

Vice President
VP Risk Management

Simon Property Group

Indianapolis, IN

Feb. 25
VP Loss Prevention

Williams-Sonoma Inc.

San Francisco, CA

April 4

Senior Director
Sr. Dir. Cyber Security Engineering & Operations
Staples
Framingham, MA
June 4
Sr. Dir. Internal Audit & Inventory Control
Tuesday Morning
Dallas, TX
July 12

Director
Dir. Security
Acreage Holdings
New York
Aug. 20

Al J Schneider Company

Louisville, KY

Sept. 12

Dir. Loss Prevention
Bi-Mart
Eugene, OR
Aug. 13
Dir. Internal Audit
Cracker Barrel
Lebanon, TN
Aug. 27
Dir. Asset Protection

Dollar General

Goodlettsville, TN

March 18
Zone AP Director
Dollar Tree Stores
Las Vegas, NV
Aug. 22
Dir. Global Protective Services
Electronic Arts
Redwood City, CA
Aug. 16
Dir. Investigations & Incident Management
Electronic Arts
Redwood City, CA
Aug. 16
Associate Dir. Security & LP
GOAT
Los Angeles, CA
June 18

Goodwill/Easter Seals Minn.

Minneapolis, St. Paul, Bloomington, MN

Sept. 12
Dir. Environmental Health & Safety
Goodwill Greater NY & Northern NJ
New York/New Jersey
June 18
Dir. AP & Investigations
Herbalife Nutrition
Winston-Salem, NC
Aug. 20
Dir. Loss Prevention
Lovesac
Stamford, CT
Aug. 12
Global Safety Dir.
McDonald's
Chicago, IL
July 24
Dir. Internal Audit
Michaels
Irving, TX
July 12
Dir. of Security Operations

Neiman Marcus Group

Irving, TX

April 2
Dir. Loss Prevention
Petco
San Diego, CA
Aug. 22
Dir. Loss Prevention
TCC Wireless
Carol Stream, IL
Aug. 27
Dir. Loss Prevention
Uniqlo
New York, NY
Aug. 12
Dir. Enterprise Security
US Cellular
Chicago, IL
June 13
Corp. Security Dir., Americas Region
VF Corporation
Denver, CO
Aug. 22
Dir. Global Security and Safety

Visa

New York, NY

Feb. 25
Dir. International Security
Walmart
Bentonville, AR
Aug. 28

Corporate/Senior Manager
Sr. LP Program Manager, Amazon Books & Amazon Go
Amazon
Seattle, WA
Aug. 22
Corporate Security Manager
Apple
Santa Clara Valley, VA
Sept. 10
Corp. LP
Manager
James Avery Artisan Jewelery
Kerrville, TX
July 26
Sr. Mgr. Corp. Security and Fire/Life Safety
Ross Stores
Dublin, CA
Aug. 15
Senior Manager Safety & Security
Verizon

Alpharetta, GA

Sept. 3
Corporate Security Mgr.
VF Corporation
Denver, CO
June 18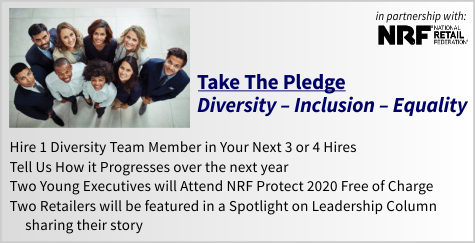 ---

In preparing for any interview or meeting, I would suggest that, not only do you educate yourself about the potential employer, but that you study their competitor as well, because not only do these executives know their business, the good ones will know their competitors business even better. And if you show them you've taken the time to really learn their business and the number one thing that impacts them beyond the customer which is their competitor, then they'll be impressed that you went to that effort. And at the end of the day you'll learn an entire channel of trade.
Just a Thought,
Gus




(content subject to approval)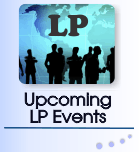 ---
Recruiting?
Get your job e-mailed to everyone... everyday
Post on our Featured Jobs Board!
Not getting the Daily?
Is it ending up in your spam folder?
Please make sure to add d-ddaily@downing-downing.com to your contact list, address book, trusted sender list, and/or company whitelist to ensure you receive our newsletter.
Want to know how? Read Here


36615 Vine Street, Suite 103
Willoughby, OH 44094
440.942.0671
copyright 2009-2019
all rights reserved globally