The D&D Daily Mobile Edition
September 22,

2014



The LP Industry's #1 News Source - Informing, Educating and Instilling a sense of community


Spotlight on Leadership

New President of USS Announced: Doug McHose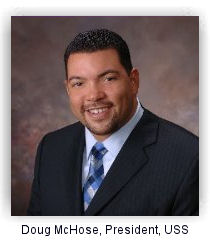 RANCHO CUCAMONGA, Calif., (September 22, 2014) - For the first time in the company's 19-year history, USS has appointed a new president. Doug McHose, who has most recently served as senior vice president of operations at Marshalls, has joined the company to take the new leadership position, while USS' founder Adel Sayegh remains CEO.

"This is a very exciting time for USS," said Sayegh. "We have grown so much, so rapidly, and we continue to expand at a frantic pace. Doug has a very impressive track record of leading operations of world-class retailers, and he is exactly the right person to lead USS in its next stage of growth."

McHose has established a strong reputation for revitalizing public and privately-held organizations and increasing their market share. At Marshals, he was noted for achieving leading top-line performance for his 26-state zone of 340 locations, and creating a leadership pipeline that resulted in 70% in-house promotions. He grew up as a leader at Best Buy during that company's explosive growth, where he advanced rapidly from a general manager to a territory vice president. He also served as senior vice president of operations at Shopko and Blockbuster, and consulted retail chains in Russia and India.

"I am thrilled to be a part of USS - such an innovative company that has clearly differentiated itself with both its products and people," said McHose. "From its inception, USS has been the privately-held David battling two publically-traded Goliaths in the LP industry, and has succeeded in becoming a major player. Now the runway is clear for a tremendous take off."

"The key quality I recognized in Doug is his ability to establish a culture of success at all levels," said Denise Canfield, USS' executive vice president. "He has shown to be exceptionally good at focusing organizations at individual customer needs, which aligns perfectly with USS' philosophy of 'customer first.' We are very excited to have him on board."

McHose's appointment is seen by industry insiders as a sign that USS has matured into a heavy-hitter in the LP world. After establishing itself as a leading innovator of EAS technologies, the company has been rapidly expanding in the Physical Security arena and boosting its capabilities in RFID. With a new president at its helm for the first time in the company's history, USS is positioned for an entirely new level of growth.


News Brief
Sponsored by WG Security Products, Inc.

Juan Ospina, CFI was promoted to Senior Regional Loss Prevention Manager - US for Michael Kors. All of the US district and regional LP managers will report to Juan in this new role. He has been with Michael Kors for over two years, starting as a Regional Loss Prevention Manager, and has helped the department to grow and develop. Before joining the Michael Kors team, Juan was the District Manager of Asset Protection for Polo Ralph Lauren, Regional Loss Prevention Manager for New York & Company, Asset Protection Manager for Circuit City, Regional Investigator for Ann Taylor and Loss Prevention Manager for Nordstrom. Congratulations Juan!
World's 2nd largest retailer - Tesco - investigating huge accounting error - Four senior execs suspended after overstating profit by $409 million U.K. supermarket chain Tesco has suspended four senior executives and called in outside auditors and legal counsel to investigate a 250 million pound ($408.8 million) overstatement of the retailer's forecast first-half profit. Tesco's newly installed chief executive, Dave Lewis, said on Monday that the company has uncovered a "serious" accounting issue. The issue involved the early booking of commercial income and delayed booking of costs, the company said, triggering a third profit warning in three months. Tesco, which has done a preliminary investigation into its U.K. food business, said it hasn't ruled out illegal activity but would wait until the results of the investigation are known. Mr. Lewis said he became aware of the accounting issue on Friday when an "informed" employee went to the company's general counsel. (Source wsj.com)

Sheplers alerts customers concerning data breach Frisco, TX-based Sheplers, a multi-channel western-wear retailer, has determined that their payment systems suffered a security breach in which hackers gained access to their systems and some of their customers' payment card information was exposed. With the assistance of a leading computer security firm, Sheplers is continuing the investigation into the incident, and are cooperating with law enforcement in their efforts to find the criminals responsible. Although the investigation continues, at the present time, the company believes it is safe to use payment cards at Sheplers. The information to date indicates that the breach potentially impacts customers who used payment cards at Sheplers' retail locations between June 11, 2014, and September 4, 2014. At this time, they do not believe that this incident affected their online webstore. (Source gsnmagazine.com)

Report: Sears needs $4 billion to avoid 2016 collapse - CEO's $400-million loan isn't enough A $400 million loan Eddie Lampert, the CEO and largest shareholder of Sears Holdings Corp., is making to Sears this month reportedly is only enough to last the struggling retailer for three months. According to Bloomberg, global ratings agency Fitch Ratings is projecting that Sears will need $4 billion in capital to avoid running out of cash altogether in 2016. Sears had negative free cash flow of $1.5 billion in 2013 and had enough cash on hand to last about seven more months prior to Lampert's loan. According to a Bloomberg research note, Sears may need to sell additional debt, continue asset divestitures or both if it wants to reduce costs while also building its brands. (Source chainstoreage.com)

Court overturns $1-million RadioShack receipt settlement A class-action settlement RadioShack Corp. reached with consumers that offered them $10 vouchers as compensation for printing their credit and debit card expiration dates on receipts has reportedly been overturned by the 7th U.S. Circuit Court of Appeals in Chicago. According to Reuters, a panel of three federal judges said the total $1 million settlement is too small considering the amount of legal fees that must be paid. The judges also said that the possibility of RadioShack going bankrupt, which would prevent plaintiffs from collecting anything, may have hastened them into accepting an unfair settlement while the company is open. In addition, the judges said many vouchers may never be redeemed, further reducing the settlement's value. (Source chainstoreage.com)



Ultrasonic CEO resurfaces in China, denies taking off with retailer's cash - "Whole matter is a misunderstanding" The missing chief executive of embattled German-listed Chinese shoe maker Ultrasonic AG has resurfaced in China to deny absconding with millions of dollars of company money, telling local media he had been travelling and lost his phone. CEO Wu Qingyong, who was dismissed last week after his abrupt disappearance, separately told an Ultrasonic executive he would return to the company and give back any funds, the firm said in a statement on Monday. It added, however, that its supervisory board had been unable to contact Wu directly. In a video interview with Chinese news outlet Sina, posted late on Sunday, Wu said the whole matter was a misunderstanding and that he had simply been on holiday with his grandson and had lost his mobile phone. "Rumours say that I took more than a billion (yuan). This is pure rumour. No such thing has happened. The company's financial situation remains normal," Wu said. (Source reuters.com)

Research reveals growing concern about fraud threat to multichannel and online retailers A new Transactis-Retail Knowledge survey of leading loss prevention professionals shows that 88% see retailers placing a greater focus on fraudulent goods lost in transit (GLIT) claims than they were two years ago, and the same proportion view returns fraud as a similar or greater risk. The research also indicates that lost deliveries and returns fraud is no isolated problem: 81% of the experts surveyed see a correlation between GLIT and other types of loss, while 94% see a link between any opportunist fraud and other types of fraudulent activity. (Source realwire.com)

Checkpoint Systems Implements RFID at Inditex Distribution Centers Checkpoint Systems, Inc., a leading global supplier of merchandise availability solutions for the retail industry, has been selected by the Inditex Group to implement Radio Frequency Identification (RFID) technology into its distribution centers. Inditex's RFID implementation project was recently unveiled by Chairman and CEO Pablo Isla at the company's Annual General Meeting. Checkpoint provides the massive item-level encoding solution of RFID labels at Inditex distribution centers for garments in boxes, pallets and hanging items at a speed in line with Inditex's logistics needs. Checkpoint's solution also enables Inditex to automate the sending of garments from the distribution centers to the stores, avoiding any possible packing mistakes in quantity, model, size or color. (Source businesswire.com)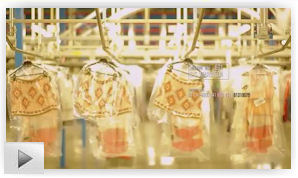 The Case for Digital Watermarking - A new product identifier Digital watermarking allows the same data as a traditional UPC bar code, as well as additional information, to be embedded in a product's package label. This data is invisible to the human eye and can be replicated many times on all surfaces of the package. Digital watermarks can be printed without special equipment, meaning virtually all current package label printers can reproduce them. The embedded digital bar code data is easily detected by smartphone cameras and some imaging-based bar code scanners using the appropriate decoding software. Loss prevention is also improved with invisible bar codes because, unlike traditional printed bar codes, they can't be seen or reproduced - making it impossible for criminals to print bar codes of cheaper items and apply them to more expensive items in the store. Brand authentication against counterfeits can also be enabled. (Source nrf.com)

'As economy weakens, shoplifting soars' - Column by Police Captain on psychology behind retail crime Why do so many give in to the temptation of trying to get 'something for nothing?' Some experts believe that a majority of shoplifters choose to believe that it is a victimless crime. There is a segment of the population that wrongly believes that because many large retailers work a certain amount of acceptable loss through shoplifting into their yearly budgets that these losses are "covered" and they aren't hurting anyone. Some believe that these large companies take advantage of the general public and they are just "taking a little back" in retaliation. In fact, the larger the losses these companies experience, the higher the retail prices climb while they are forced to scale back on the workforce they employ. The fewer employees that a store can afford to have manning the floors means that many fewer pairs of eyes watching for incidents of shoplifting; and the vicious cycle continues. On top of those consequences, shoplifting overburdens the police who have to deal with these issues, and puts a strain on the court systems and our jails. It is estimated that these offenders are caught only once out of every 48 times they shoplift, and even then they are turned over to the police only around 50% of the time. (Source romeobserver.com)

September is National Preparedness Month - Ways retailers can get involved Retail loss prevention teams work diligently throughout the year to prepare their employees for all kinds of disasters. They have a sharp focus on implementing emergency plans to keep employees and customers safe, possible opportunities for giving back to communities after disaster strikes and proper procedures to open doors for business at the right time. Disaster preparedness is a year-round effort, but September is an important opportunity to engage with FEMA during its "Be Disaster Aware, Take Action to Prepare" initiative throughout National Preparedness Month. (Source nrf.com)

1 in 3 companies do not have a written information security policy

Panasonic Unveils 'Virtual Site Manager'- a remote LP solution for restaurants

First Weekend iPhone Sales Top 10 Million, Set New Record

Halloween-related spending to top $11 billion, according to study

Man dies after pinned by equipment at Supervalu Distribution Center in Hopkins, MN

PCI Council highlights new retail security practices at annual meeting

Stolen Medical Records Sold in Bulk for $6.40 apiece
Last week's most popular news article --
TJ Maxx, Marshalls to pay $2.8M for improper hazardous waste disposal in Calif.
A judge has ordered the owner of T.J. Maxx, Marshalls and HomeGoods to pay $2.8 million to settle allegations more than 280 of its stores in California improperly disposed of hazardous waste. (Source mynews4.com)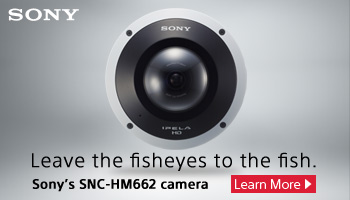 All the news - One place - One Source - One Time
The D&D Daily respects your time
& doesn't filter retail's reality
Report Your News!
(content subject to approval)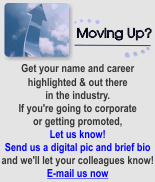 Charming Charlie's Loss Prevention & Safety Team

"Reducing Shrink one
Color at a Time!"

Loss Prevention News Network

"Live in Ft. Lauderdale at the NRF Show 2014"
ORC Roundtable
A National Update
In this national update on ORC, hear from five of the leading experts on this growing threat to the LP industry and the latest efforts to combat it. Denny Dansak, Sr. Corp. Mgr. ORC, The Kroger Co.; Nelson Harrah, Dir. of ORC, Gap Inc.; Tony Sheppard, National Mgr., ORC Unit, CVS Caremark; Debra Lussier, Sr. Mgr., Investigations, The Home Depot; and Scott Sanford, Dir. of Investigations & Training, Barnes & Noble Inc., discuss the link between online fraud and brick-and-mortar crimes, the impact of state ORC laws, and the mounting national effort of ORC associations that are helping to bridge the gap.
LPNN Quick Take #17
In this LPNN Quick Take, Amber Virgillo, Ed Wolfe, VP Business Development for WG Security Products, and Mike Liberatore, Sr. Director, Administration, Asset Protection for Hudson's Bay Corp., discuss Mike's session at the NRF show. He explains the tabletop exercise they performed including the fictitious situation at a mall and how they involved the audience step-by-step. The main takeaway from the session was to have an active-shooter protocol in place.




Joan Manson

Sponsored By:



Bass Security



Sponsored By:



Keith White & Michael Nelson

Sponsored By:


Dan Faketty and Professor Bob Hanson

Sponsored By:


The NRF's LP Legislative Committee, a National Update





Jeff Fulmer & Jon Gold


Sponsored By:



Preparing - Training - Responding to the Active Shooter



Rich Mellor


Sponsored By:


Cyber Security's Increasing Impact on Retail & the Role of Loss Prevention

Tom Litchford
Sponsored By:


Click here for upcoming episodes

Solution Providers, have a video or commercial you want to publish? Contact us.

e-commerce

Sponsored by The Zellman Group
More mobile devices mean more opportunities for fraud As more consumers and employees use their smartphones and tablets, the risk of fraud stemming from those devices increase for small- and medium-sized businesses, warns a new report from Javelin Strategy & Research. Its "SMB Payments Fraud Report" offers a wide-ranging view of fraud threats faced not only by businesses but also financial institutions, which are advised not to include links in their e-mails to customers lest consumers be duped by criminals sending similar messages in attempts to steal identifying details. The report states that 2% of "micro and small business"—those with between $100,000 and $10 million in annual revenue—have experienced payment fraud via mobile devices within the past year. The Javelin report talks up the potential of biometrics to reduce the risk of mobile fraud. (Source internetretailer.com)

BlackBerry Expands E-Payments On Heels Of Apple Pay Joining the chorus of other mobile e-payment debuts, BlackBerry Limited said it is expanding its mobile payment options for users of its messenger service BBM, which includes a new version of e-wallet BBM Money and integration with global airtime remittance company TransferTo. BBM Money will now be available on Android and iOS and can be used at participating retail locations and e-commerce sites. The service was first introduced early last year exclusively to BlackBerry users. TransferTo allows users to send airtime, i.e. prepaid mobile credit, via BBM to other users in over 100 countries. (Source investors.com)

e-Commerce giant Alibaba debuts with biggest IPO in Wall Street history

Amazon outbids Google for '.buy' domain name, paying $4.6 billion

Amazon workers in Germany go on strike over pay
"Fraud is not a person - it is a dynamic grouping of statistics that deviate from the norm."
Stuart B. Levine, CFI, CFCI
CEO, The Zellman Group & Zellman Fraudnet


ORC News
Sponsored by Security Resources
8th Annual New England Organized Retail Crime Symposium and Trade Show - DCU Center Worcester, MA, September 18, 2014
Recap by Kevin M Plante, LPC
Chairman of the Retailers Association of MA loss prevention committee
Approximately 300 Loss Prevention, Law Enforcement and solutions provider professionals converged on the DCU Center in Worcester, MA, for the 8th Annual New England Organized Retail Crime Symposium and Trade Show. One of the best speaking line ups were in place and more than 25 solutions providers filled the trade show area showing everything from surveillance equipment to merchandise protection items to radios – access control items to point of sale safeguarding systems.

Hosted by the Retail Associations of the six New England states, the event was planned and coordinated by the Loss Prevention Committee board of the Retailers Association of MA. The board consists of Kevin Plante, LPC of CVS Health (Chair), Brendan Fitzgerald of BJ's Wholesale Club, Shannon Lenahan of Wegman's, Jason Adams of Apple, and Andrea Shea and Ryan Kearney, both of The Retailers Association of MA. Plante also served as Master of Ceremonies for the event.

Joe LaRocca, Founder of RetaiLPartners and loss prevention industry icon opened the session for the 8th consecutive time with a review of some of the stats and facts surrounding ORC. Joe mentioned that the figure is likely underreported at $112 Billion in shrinkage worldwide, in part due to how people classify shrinkage – noting that fraud, data breaches, intellectual property loss and cargo theft can also be attributed to ORC but are reported out separately. Joe talked about how every entity is susceptible to data breaches and showed us where to get more information on the subject. Joe wrapped up his opening by talking about newer and future technology that will be used by retailers and gave food for thought for the participants on how to protect themselves, but also ensure the technology is implemented appropriately.

Our second speaker was TJ Flynn, Market Investigations Senior Manager with JC Penney. TJ outlined not only how JC Penney went about putting together its ORC program, but gave tips on how to socialize it and looking for that first big case to help make the impact to the organization. Flynn also talked about some of the training that his organization puts investigators through and some of the strategies that JC Penney uses to interview an ORC suspect right at the time of apprehension. TJ's presentation certainly provided a lot of great guidance and framework for any organization looking to start their own ORC investigations group within their company and food for thought to enhance your program if you already have one.

Our next speaker was Jay Bartholomew, Unit Chief for the Major Theft Investigations Unit at the FBI in Washington, DC. Bartholomew talked about the ties ORC has to other major issues such as narcotics and terrorism, but also stressed the importance of partnering and continued training on the subject. He also put into perspective when to consider using federal law enforcement for help as opposed to local or state level law enforcement and reviewed some of the US code violations that could be used to prosecute someone as part of a larger criminal enterprise. He also warned of the shift states are taking to raise felony levels and shifts federal law enforcement is taking on priorities for investigation.

Next, Kevin Plante parlayed a brief update on the state of NEORCA, the New England Organized Retail Crime Alliance, which was launched at last year's event. Plante talked about some of the enhancements being made to the site and how all New England states are involved in the sharing of information not only at retailer level, but at law enforcement level. If you work as a retail loss prevention professional or a law enforcement officer in New England or near New England, it is strongly recommended that you get a FREE membership to NEORCA by visiting www.neorca.org.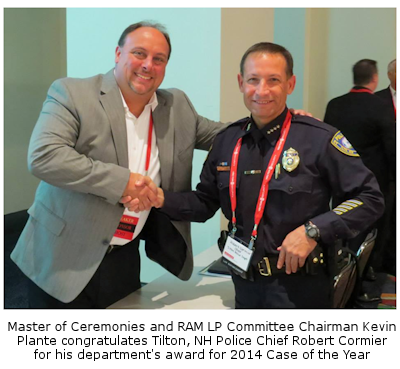 Next, Brendan Fitzgerald presented the NE ORC Symposium and Trade Show annual awards. They were:
Law Enforcement Officers of the Year – Peabody, MA law enforcement representatives Detective Ralph Scopa and Officer John Nelson for their long history of investigating and solving major ORC crimes on the North Shore of Massachusetts.
Loss Prevention Person of the Year – CVS Health ORC Manager Stefanie Mangiante for her work in and around New England closing some very substantial cases that involved multiple jurisdictions and multiple retailers.
2014 Case of the Year – Tilton, NH police department, led by Chief Robert Cormier, for investigating and arresting a crew of people from PA / OH on counterfeiting charges. This group was passing counterfeit checks and using stolen identities. Those suspects were also involved in a payroll check cashier scheme valued at more than $250K. At the time of apprehension, the suspects also had hundreds of unused stolen identifications in their possession. This likely saved countless people the aggravation of having their stolen identities used for fraud purposes.
After a delicious lunch that included time to visit with our solutions providers in the vendor hall, Polk County Florida Sergeant Jim Ostojic keynoted our event by conducting a step by step presentation on what Polk County has done to create and promote the partnership between law enforcement and retail loss prevention. Ostojic first found out about ORC when he stumbled into a case that resulted in the arrest of numerous individuals and was valued between $60MM and $100MM! Ostojic outlined some of the other major cases that were investigated by this task force, how it transformed from an long term investigation mentality to a rapid response team that has both law enforcement officers and loss prevention personnel on it that are considered equals on the team. The Sergeant also talked about some of the challenges his team has overcome and some of the creative ideas that the team has implemented to get staffing, budget dollars and move partnerships with prosecutors forward. Ostojic also challenged all attendees to "do what you say you'll do" when it comes to partnering. Ostojic has presented many times around the country and will be continuing to train law enforcement groups as time moves forward.

Following Sergeant Ostojic's presentation, Chris McDonald and Gary Moncur from Compass US added another dimension to the symposium when they presented ideas on how to further one's professional career. This development session was told through the experiences of these two seasoned professionals, not only what they did to further their careers but how they choose people for their organization, how they constantly strategize their agendas into that of other senior executives in their organization while all keeping a perspective that loss prevention is support to the overall Operations organization. Chris and Gary also talked about how not to get stuck "in the box" and showed us all how that is easy to do! Tips and tricks on how to consider the job market, what to consider if you really want to get to an elevated position in a company and things you could be doing that is NOT getting you promoted. Loss prevention and law enforcement professionals alike walked away with action items they could do TODAY to progress their careers.

Our final speaker was Malay Kundu, CEO from Stoplift Checkout Vision Systems. Kundu walked us through some examples of how people can steal through self checkouts and had video examples of people circumventing self check out systems or circumventing the devices all together. Kundu informed the attendees about some of the technology that is built into the systems as well as some ways video analytics could assist in notifying store personnel of potential theft. Kundu also cautioned this loss prevention and law enforcement group that a larger issue is frustrating the honest customer and how sometimes self checkout systems can inadvertently cause loss. Malay attributed the technology in self checkout to that of a flip phone and predicted that future iterations of self checkout will be much more advanced and would better compare to that of a smart phone.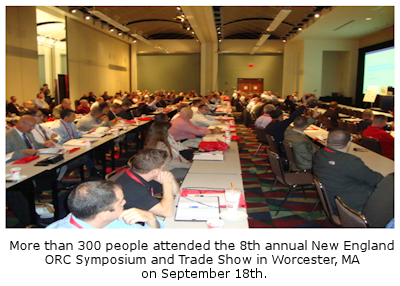 At the conclusion of the symposium, we raffled off a pair of two way radios from AC Radio, a certified brick from Fenway Park courtesy of Vector Security, two Go Pro cameras donated by the hosts of the symposium and two Loss Prevention Foundation scholarships – one from Alere eScreen and the other from Verisk Retail.

The event would not have been possible without the support of our sponsors – NRF, RILA, BJ's Wholesale Club, CVS Health, Staples, Macy's, Rite Aid and Wegmans. The event was a success due to the commitment of our speakers and the RAM Loss Prevention committee cannot thank them enough! Our solutions providers and attendees brought everything together to make the day one of the best symposiums that New England has seen to date!
Spanish Judge Indicts 9 Persons for Cyber Fraud, theft of $45 Million A Spanish judge charged nine people with fraud Sunday for allegedly participating in the theft of $45 million after a massive hacking of a bank's card payments system. Judge Eloy Velasco of Spain's National Court said the suspects include seven Romanians and two Spaniards, who allegedly fraudulently extracted money from ATM's in February 2013. The judge said there was evidence the suspects belonged to an international criminal organization that also laundered money and took part in credit card fraud. Velasco said the cash extractions were perpetrated on a global scale and are linked to eight hackers in the United States who penetrated the security system of a company that handled an Omani bank's card payments operations. Access code numbers were distributed by the hackers to cyber thieves around the world who made 34,000 cash extractions in 23 countries within a space of 13 hours, the court statement said. Authorities in the United States calculated that $45 million were stolen, making it one of the biggest heists in the 20th century. (Source abcnews.go.com)

Federal Authorities Charge Man In Philadelphia Area Theft Ring Federal authorities have charged a man with being part of a theft ring that preyed on people who left wallets and purses in their cars at parks, gyms and ball fields all over the Philadelphia area. The US Attorney's office has charged 25-year-old Kyle Jones with conspiracy and bank fraud. They say he and unidentified co-conspirators stole licenses, check books, debit and credit cards from the unsuspecting victims, mostly women, and then used the stolen IDs to cash stolen checks at TD banks in Bucks County, South Jersey and Delaware. All told, prosecutors say, the group stole $120,000. The federal information in which Jones is charged details a well-organized system. Jones and accomplices allegedly cashed the checks at drive-through windows, in rented cars with fake or obscured license plates. The information makes clear that Jones was not the ringleader, but was paid for his work. (Source cbslocal.com)

Interpol op nets $50 Million fake goods across Asia Operation Real was conducted by police and customs agencies across 10 countries – Cambodia, China, Fiji, Hong Kong, India, Indonesia, Philippines, South Korea, Thailand and Vietnam. The operation resulted in the seizure of nearly one million fake or illicit products, including alcohol, cigarettes, cosmetics, clothing and electrical goods, Interpol said in a statement today. More than 660 individuals have been arrested or placed under investigation. An organized criminal group operating a factory producing fake cosmetics and packaging was dismantled in China, where 589 individuals were arrested and US$37 million in illicit goods were recovered. The fake cosmetics were found to contain high levels of mercury, which can be toxic to humans. A factory and logistics chain for distributing illicit cigarettes was also demolished. In Vietnam, some 690 counterfeit items were seized from street hawkers and retail shops, including more than US$3 million worth of illicit electronics. Authorities in Hong Kong discovered false compartments in container trucks, leading to the discovery of more than 600 smuggled electronic products. In South Korea, raids at retail shops, market stalls, checkpoints led to the seizure of some 500,000 counterfeit clothing items. (Source themalaysianinsider.com)
Ex-NBA Star Rex Chapman Arrested For Shoplifting $14k From Apple Store Retired NBA star Rex Chapman has been arrested and accused of stealing $14,000 worth of Apple products from a Scottsdale, Arizona Apple store. Chapman, whose professional career began in 1988 with the Charlotte Hornets and was followed by stints with the Miami Heat and the Washington Bullets, reportedly picked up the merchandise in the store and attempted to make it look like he was paying for them via self-checkout. Scottsdale police representative Sgt. Mark Clark says that Rex proceeded to leave the store with the items and took them to a local pawn shop, where he sold them for cash. Chapman allegedly stole the items over the course of seven different trips to the store. (Source inquisitr.com)
Trio stuffed suitcases, duffel bags with stolen Sawgrass Mills goods in Sunrise FL They had a taste for fashion, went only to designer stores, and never paid for the merchandise they selected, Sunrise police said. A trio of ex-convicts with long histories of thefts is accused of stealing nearly $40,000 in merchandise from the Sawgrass Mills mall. Carlos Enrique Taramona, 44, and Samantha Jesus, 24, are accused of methodically shoplifting from several stores in the mall, according to arrest reports. (Source sun-sentinel.com)
Do you have an ORC case to share?
Share your ORC news and help the industry grow


Retail Crime News

Sponsored by NuTech National
Suffolk, VA Furniture store owner shot dead
The owner of Carter's Furniture Inc. in Suffolk was found dead early Monday morning. Diana Klink, spokeswoman for the City of Suffolk, said police responded to a call of a shooting in the 200 block of East Washington Street, near Franklin Street, shortly after 1 a.m. Klink said officers found 82-year-old Donald Carter with a gunshot wound to his lower body. Carter was unresponsive at the scene and Suffolk Fire & Rescue personnel transported him to Sentara Obici Hospital where he was pronounced dead a short time later. (Source wavy.com)

Savannah, GA Police arrest 1 suspect and search for 2 after shooting near Savannah Centre A man remains in critical condition after a shooting on Savannah's southside on Saturday. Savannah-Chatham Metropolitan Police Department officers are looking for two suspects involved in a shooting that happened around 4 p.m. on Saturday near the 200 block of Stephenson Avenue according to SCMPD spokesman Julian Miller. The suspects involved in the incident left the scene in a Blue Ford Expedition but stopped and left the vehicle fleeing on foot near the Savannah Centre where TJ Maxx and Toys "R" Us are located. (Source wtoc.com)

Shooting outside a Target store in Sandy Springs, GA leaves 1 person injured One man is in stable condition at Grady Memorial Hospital after being shot in both the back and the arm outside a Target store Sunday night. The shooting took place just after 6 p.m. in the parking lot outside the store at The Prado shopping center in the 5600 block of Roswell Road. Monday morning, Sandy Springs Police identified the victim as 27-year-old Mario Ross. Police spokesperson Forrest Bohannon said investigators believe robbery was the motive for the shooting. (Source 11alive.com)
Walmart Loss Prevention Associate stabbed during a stop in Birmingham Birmingham Police responded to a stabbing at a Wal-mart on Parkway East in the Roebuck area on Friday. Lt. Scott Thurmond says Wal-mart loss prevention detained an adult male shoplifter. He says the accused shoplifter stabbed a loss prevention employee in the shoulder with a pair of scissors. Authorities say the victim sought treatment at a local hospital. Police say the other loss prevention employees were able to detain the suspect until police arrived. (Source myfoxal.com)
Gang robs security guard outside Berlin, Germany Apple shop Police are hunting for a gang that robbed a security guard as he was picking up cash from Germany's biggest Apple's store. Berlin police spokesman Rene Rodemann says three masked men threatened the guard with a firearm Saturday and forced him to hand over a cash container before escaping in a dark sedan. (Source wtvq.com)

Chicago Police investigate another high-end store smash-and-grab robbery Chicago police are investigating a robbery at a high-end store in the Old Town neighborhood. The security alarm went off at Luxury Garage Sale just after 5 a.m. Monday, in 1600 block of North Wells Street. Police arrived to find a front window knocked out, glass on the ground and a purse from the store on the sidewalk. Owners are still trying to figure out all that was taken. (Source wgntv.com)

Two Teens Arrested Following Robbery at Calallen, TX Walmart Two teenagers are in jail after they tried to rob a Wal-mart store in Calallen. According to police, the two teens we're allegedly stealing merchandise just after midnight when they were stopped by an employee. Police say both suspected thieves threatened to stab and shoot the worker. Police were called and when the officer showed up, he spotted a green Expedition leaving the store. He stopped the truck and inside the vehicle, the officer found the stolen merchandise along with a 16-year-old female, who police say had a knife. Police also arrested 17-year old Armando Sanchez. Inside the vehicle, police also found 45 caliber hand gun. The teens were both arrested and now face aggravated robbery charges. (Source kiiitv.com)

Charleston Police investigating a attempted robbery at a jewelry store in Kanawha City, West Virginia

Greensboro, NC Police investigating jewelry store robbery

Police seeking 2 in Henderson, NV jewelry store heist

Attempted Roof Top Burglary at Kay Jewelers, Dadeland Mall, Miami, Florida, no merchandise was stolen

Zales in Springfield, IL hit Saturday afternoon with a $37,000 Grab and Run; pair of 2 caret diamond rings stolen

Bethlehem, PA man accused of cutting security tags off Radio Shack merchandise in retail theft scheme

Robberies and Burglaries
● Brothers - Albany, GA - Armed Robbery
● CVS - Wilmington, NC - Armed Robbery
● CVS - Holbrook, MA - Armed Robbery
● CVS - Columbia, SC - Armed Robbery
● Dollar General - Polk, Co, FL - Armed Robbery
● EZ Mart - Kalamazoo, MI - Armed Robbery - suspect arrested
● Family Dollar - Tulsa, OK - Armed Robbery - suspect arrested
● Gotta Habit - San Marcos, TX - Armed Robbery/ Shooting - clerk in critical condition
● Kaimuki Longs Drugs - Honolulu, HI - Armed Robbery
● Petro Canada - Lac La Briche, Edmonton, CA - Armed Robbery
● Pride - Springfield, MA - Armed Robbery
● Sam's Food - Gardner, MA - Armed Robbery
● Toys R US - North Haven, NH - Burglary
● Walgreens - Lansing, MI - Armed Robbery

Vendor Spotlight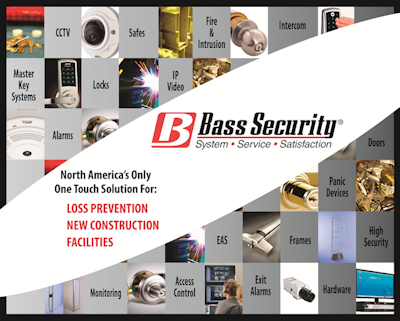 79% of retailers trust Bass Security Services, Inc... shouldn't you?
From a small locksmith business in Ohio, Bass Security Services, Inc. has grown over the last 35 years to become an extremely well-rounded industry leader. We've done this by embracing new technologies, hiring employees who are solution-oriented and experienced in the unique security needs of specific industries and acquiring companies which manufacture products valued for their features and quality.

Click here to learn more and join the demanding corporations that trust Bass Security Services, Inc.

888-774-3400 │ www.bass-security.com

Featured Job Listings
Sponsored by Cam Connections
Feature Your Job Here For 30 Days -
70% Aren't On the Boards
Group VP of LP
Retained Search
New York, NY
Gus Downing
ORC Investigations Mgr
The Home Depot
Atlanta, GA
The Home Depot
Director Digital LP
Nike
Portland, OR
Nike
Regional LP & Safety Director
Younkers
Okemos, MI
The Bon Ton Stores
Sr Manager of LP
Dunkin' Brands
Dallas, TX
Dunkin' Brands
Sr LP Analyst
Dunkin' Brands
Canton, MA
Dunkin' Brands
Corporate Investigator
Confidential
San Francisco Bay, CA
Confidential
DC LP Manager
Brookstone
Mexico, MO
Brookstone
Regional LP Manager
The Vitamin Shoppe
Chicago, IL
The Vitamin Shoppe
National Account Manager
Vector Security, Inc
TBD
Vector Security, Inc
AP Manager
Ralph Lauren
New York, NY
Ralph Lauren
LP Agent
JONS Markets
Los Angeles, CA
JONS Markets
AP Analyst
Bi-Lo Holdings
Baldwin, FL
Bi-Lo Holdings
AP Specialist
Bi-Lo Holdings
Savannah/Augusta, GA
Bi-Lo Holdings
Bilingual AP Specialist
Bi-Lo Holdings
Miami, FL
Bi-Lo Holdings
AP Associate
Ralph Lauren
Orlando, FL
Ralph Lauren
LP Investigator
Lamps Plus
Chatsworth, CA
Lamps Plus
LP Investigator
Tom Thumb
Dallas, TX
Safeway
National Account Mgr
Confidential
Northeast
Downing & Downing

Limited Time Only - Post Your Multi-Unit LP jobs for FREE - Learn More Here

Daily Job Alerts


Sponsored by Cam Connections
Appearing One Day Only
View our Internet Jobs Archives here
LP Manager
Amazon
Breinigsville, PA
Amazon
Regional LP Manager
CVS Caremark
Ventura, CA
CVS Caremark
AP Manager - Waterworks
HD Supply
St Louis, MO
HD Supply
LP Supervisor
JC Penney
Las Vegas, NV
JC Penney
LP Supervisor
JC Penney
Waldorf, MD
JC Penney
LP Supervisor
JC Penney
Auburn, NY
JC Penney
AP Manager
Home Depot
Houston, TX
Home Depot
Dept Mgr LP & Safety
Lowe's
Maple Shade, NJ
Lowe's
Dept Mgr LP & Safety
Lowe's
Spartanburg, SC
Lowe's
Dept Mgr LP & Safety
Lowe's
Ormand Beach, FL
Lowe's
AP Manager in Training
Walmart
Ephraim, UT
Walmart
Multi Unit LP Manager
Kmart
London, KY
Sears Holdings Corp
LP Manager Hrly
Kmart
Muskogee, OK
Sears Holdings Corp
LP Manager Hrly
Kmart
Devils Lake, ND
Sears Holdings Corp
LP Manager
Sears
Hurst, TX
Sears Holdings Corp
LP Manager Hrly
Sears
Enfield, CT
Sears Holdings Corp
LP Manager Hrly
Kmart
Chicago, IL
Sears Holdings Corp
AP Team Leader
Target
Schenectady, NY
Target
ETL Assets Protection
Target
Cincinnati, OH
Target


Home of the Industry's Original
On the Move

Juan Ospina, CFI was promoted to Senior Regional Loss Prevention Manager - US for Michael Kors.
Darryl Rabel, CFI was named Asset Protection District Manager for Rite Aid.
Andre LaFond was promoted to Asset Protection Manager for Stein Mart.
Nayab Khan was promoted to Team Leader Security & Loss Prevention Executive for Metro Cash and Carry.
Post Your New Job or Promotion!
See all the Industry Movement

Your Career
Sponsor this section of the Daily
Why Success is a Conscious Decision. Made By You You make your own opportunities for success, it's not up to anyone else to push you. It's up to you to work hard and dedicate yourself to accomplish your goals. Keep mentally strong and focus on success with these tips. (Failure's not an option)

5 Things You Need to Do to Get the Promotion You Deserve In today's workplace it may take a little more than your talent and great performance to get ahead. Promotions can passed over, but if you're doing these five things, it can be yours. (Promote yourself)


Last week's most popular articles--
Things Successful People Won't Do
Success is as much about what you shouldn't be doing as it is about what you should be doing. If you're allowing people to take away your moment of victory, that's not being successful. Avoid these nine things so you can increase your performance! (Forgive and Forget)

The Hidden Advantages of Being the Least Experienced Person in the Room You may think that not having experience would automatically make you the low man on the totem pole, but there is some hidden value in this. Being the new person has advantages, and here are the reasons why. (Great ideas)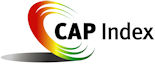 Tip of the Day
Sponsored by Vector Security
In preparing for any interview or meeting, I would suggest that, not only do you educate yourself about the potential employer, but that you study their competitor as well, because not only do these executives know their business, the good ones will know their competitors business even better. And if you show them you've taken the time to really learn their business and the number one thing that impacts them beyond the customer which is their competitor, then they'll be impressed that you went to that effort. And at the end of the day you'll learn an entire channel of trade.

Just a Thought,
Gus Downing






Upcoming Events

UTORCA Training Event
September 23-24, 2014
Lehi, UT

ASIS Seminar
September 29-October 2, 2014
Atlanta, GA

WSORCA Annual Training Conference
October 8, 2014
Tacoma, WA

LPRC Impact Conference
October 13-15, 2014
Gainesville, FL

CLEAR Fifth Annual Training Conference
October 13-16, 2014
San Diego Marriott-Mission Valley, CA

Northeast Regional Conference on LP
October 28, 2014
Monroe Twp, NJ
---
Recruiting?
Get your job e-mailed to everyone... everyday
Post on our Featured Jobs Board!
Reach your target audience in 2014 every day!
Request our 2014 Media Kit
update account / change e-mail
unsubscribe FEEDBACK
www.downing-downing.com

Advertise With The D&D Daily




36615 Vine Street, Suite 103
Willoughby, OH 44094
440.942.0671
copyright 2009-2019
all rights reserved globally