The D&D Daily Mobile Edition
September 22,

2015



The LP Industry's #1 News Source - Informing, Educating and Instilling a sense of community



ORC Leaders - Their Perspective
Sponsored by Nedap Retail
Ice in His Veins ... Literally
An Interview with John Matas, VP Asset Protection/ Investigations & ORC, Macy's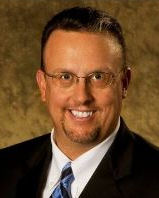 By Amber Bradley

If you ask John Matas what has taught him the most about leadership, he'll tell you ice hockey, specifically coaching ice hockey at different levels. John has coached high school ice hockey for more than 18 years; the man has ice in his veins, literally. It seems that quality makes him a perfect candidate for becoming one of the nation's leading voices on asset protection, investigations and tackling organized retail crime.

Dramatic Changes
John Matas, CFE, CFI, has been Vice President Asset Protection/Investigations & ORC (Organized Retail Crime) at Macy's, Inc. since 2009. He also deals with asset protection and employee theft in Macy's more than 700 stores. With over 30 years of experience in the security field, John has been described as an energetic, smart, and inspiring leader.

Always eager to speak out about the state of ORC and ORC activists today, John says ORC isn't a new phenomenon. But, he says, he has seen dramatic changes in the "techniques" used by organized criminals over the past few years. He contributes these changes to the expanded ability of ORC operator's access to omni-channel commerce and the continued ability to fence merchandise easily and anonymously.

Cat and Mouse
John admits that all retailers face a "constantly evolving environment" as they try to not only service, but also protect, their customers. Organized crime rings today include cybercrime, fraudulent gift cards and credit cards, identity theft, website hacking, even the use of robots that continually enter account numbers into computers until they find ones that work. "The availability and expertise of the technical resources available to the criminal community is amazing. It's a never-ending game of cat and mouse," says John.

The LP professional has a tough job staying ahead of the bad guys. John points out that it is very important to stay relevant in this ever-changing field. Security personnel must understand the new computing and network technology and try to use reverse engineering in order stay one step ahead of the criminals. In the long run, developing offensive maneuvers gets much better results than reacting defensively.

John warns that without resources and legislation, the future growth of ORC activities will be detrimental to the retail sector. ORC's reach is growing rapidly. "It is not just a bunch of shoplifters hitting retailers. These criminals are part of individual conspiracy operations that use retailers as their means for theft, fraud, counterfeiting, and money laundering activities." John believes that the negative impact of ORC is under-calculated, citing that industry numbers are reported based on participating retailers' feedback. "What about all those retailers that aren't reporting theft loss, especially the types of loss not typically associated with ORC such as fraud, brand counterfeiting, cyber activity, identity theft, etc.?" he asks.

"Past cyber-breach of some major companies, though underrepresented in the reported numbers, need to be included in the overall ORC impact since the loss of customer data will inevitably be used as a vehicle for fraud. The retail industry represents about 25% of the nation's workforce and the nominal Gross Domestic Product. Do the math, but who would have thought that close to a full percentage point of our annual GDP is lost to the ORC phenomena." says John. He adds federal and local law enforcement struggle with the cost to investigate and prosecute ORC activity when compared to other types of crimes.

John's Wish List
John believes the damage to reputations/brands and the loss of dollars have significant implications for retail organizations. There are actions that can be taken to address the problems associated with ORC and its far-reaching arms of criminal activity. John Matas has a wish list of actions he would like to see taken regarding ORC.

Here's John's Wish list:

| | |
| --- | --- |
| 1. | Adoption of official federal legislation concerning ORC that are enforced at all levels. |
| 2. | Understanding on the part of legislatures about the true financial impact of ORC on the retail community. Knowing the impact retail, and subsequently ORC loss has on the economy, legislators could earmark funding for federal and state law enforcement to attack and curtail ORC operations. |
| 3. | Creation of a master national ORCA network and database that would organize information held by the 30 or so regional anti-ORC consortiums now operating nationwide. This super-database would provide clarity and insight on ORC activity nationwide - not just at the regional level. |
Working ORC investigations at the state level is not enough. He points out, for example, that New York and California do not have ORC legislation passed. In some areas, discussions and actions are taking place only at the regional level. There really needs to be concerted effort at the national level.



John and Chris DeSantis, his Director of ORC at Macy's, are at the forefront of retail efforts to fend off and prosecute ORC operations and operators. John loves what he does and urges others who have a passion for investigations to learn about ORC and get active in identifying and deterring ORC activities. Training and experience are great teachers. He suggests that those entering the loss prevention field should find a mentor who can help them better understand the leadership impact their jobs have within each retailer. "Calculating the myriad of ORC and collecting counterintelligence in the marketplace through collaboration, legislation and technology are the tools we continue to develop in retailer efforts to attack ORC," says John.

Moving Up
Sponsored by Stanley Security
See all "Moving Ups" Here

Michael Mell was promoted to Senior Director, National Design - East for Se-Kure Controls. Mike has been instrumental in working with retail display manufacturers, fixture houses, catalog resellers and hardware chains to provide retail security solutions for 12 years. In his new role he will oversee the Visual Display Division and will be responsible for business development, marketing and product strategy. Mike is a graduate of Northern Illinois University. Congratulations Michael!

News Brief
Sponsored by WG Security Products, Inc.


Retail Fraud - New York
Conference Sells Out

New York Goes Global
Retail Fraud - New York has been created to give US retailers easy access to international expertise in the business of loss prevention.

By bringing together top retailers, experts, academics and law enforcement agencies drawn from not only the US but also more widely from the rest of the world, we hope to create a hotbed of truly international expertise and collaboration, to discuss and promote best practice and to ever more effectively work together to fight crime. Retailers attending Retail Fraud - New York can expect to see presentations from an international array of leading experts offering new and exciting viewpoints and concepts.

This is the world's leading provider of LP conferences all over the world. Connecting Loss Prevention executives in this digital age is critical when considering the international growth most U.S. retailers are embarking on. By developing relationships with these colleagues across the globe it allows you access information and resources that you normally wouldn't have exposure to. It's a great opportunity to expand your network and truly go global in this shrinking world where technology puts them right next door at the end of an email.

Editor's Note: Certainly the content will be important and well worth the attendance. However, the networking opportunity in this particular model will be even more important, especially for those already engaged in their international expansion plans and for those that are part of or a division of international retailers.

It's a great accomplishment to have a "full house" and the team at Retail Fraud should be congratulated on their efforts. As the world is getting smaller - the LP industry is going Global! We'll be attending and we hope to see you there.
Threatened Wal-Mart Employees Have the Right to Stand Their Ground - Five LP employees law suit
Wal-Mart employees can't be fired for refusing to stand-down when confronted with a violent customer threatening imminent harm, Utah's highest court ruled. The case, a wrongful termination lawsuit brought by five employees, asked under what situations do employees of Wal-Mart Stores Inc. have the right not to withdraw from a violent situation and disobey company policy of non-resistance.

The five employees suing Wal-Mart handled loss-prevention at two Wal-Mart locations, investigating and preventing theft of merchandise. They were fired for violating a company policy that requires workers to withdraw from potentially violent confrontations and call law enforcement.

The question in the case was whether the right of self-defense in Utah provides a basis for a wrongful discharge claim. The fired employees claimed that they properly exercised their right to defend themselves. Lawyers for Wal-Mart said that the company has a stronger interest in discouraging employee vigilantism, enforcing its policy of "deescalation and non-confrontation" and deterring workers from flouting it.

In a decision handed down Thursday, the Utah Supreme Court, citing the Utah Constitution's right of self-defense and the state's "Stand Your Ground" statute, disagreed with the company.

Although we acknowledge that Wal-Mart's interest in regulating its workforce is important, we conclude that there is a clear and substantial public policy in Utah favoring the right of self-defense....[T]hat policy is of sufficient magnitude to qualify as a substantial public policy exception to the at-will employment doctrine, but only under the narrow circumstances where an employee cannot withdraw and faces imminent serious bodily injury.

Randy Hargrove, a spokesman for Wal-Mart, told Law Blog the court's decision "sets a bad precedent" for businesses and their customers. wsj.com

Retailer's Guide to Defending Against Workplace Violence - Violence is Leading Cause of Workers Death in Retail - 85% Involve Crime
Violence is a leading cause of workplace deaths in the last 15 years and causes 48 percent of worker deaths in the retail industry, according to the Bureau of Labor Statistics. According to the Bureau of Labor Statistics, in 2013, 85 percent of retail industry workplace violence involved some sort of crime. The rest may occur because a customer targeted a store or employee, an employee attacked coworkers or the company, or domestic or gang violence followed an employee to work. Moreover, violence may not always mean physical violence. The Occupational Safety and Health Administration defines violence to include intimidating and threatening conduct, and California recently passing a law that targets "abusive" behavior.

Whatever its source, when violence occurs at a retailer, the media and government enforcement agencies pay close attention. OSHA is ready to enforce the broad "General Duty Clause" requirement that every employer provide a workplace that is "free from recognized hazards that are causing or are likely to cause death or serious physical harm" to the employer's employees.

1. Conduct a hazard assessment of physical security and employee vulnerabilities at work.
2. Implement engineering and administrative controls.
3. Develop a comprehensive workplace violence policy.
4. Train and empower employees (and even visitors). oshatoday.com

Manhattan Retailers Prep for Pope Francis' First U.S. Visit
The city has not revealed the cost of arranging for Pope Francis' 38-hour New York City stay, or its expected economic impact, either positive or negative. Aside from Secret Service agents making the rounds inspecting area stores for Pope Francis' safety and warnings of the impending security check points, staffers at stores on Fifth Avenue are getting ready for what the city has said will be the greatest number of street closures in New York City history. Representatives of stores including Michael Kors, Façonnable, Banana Republic, Cole Haan and Zara said they planned to close a few hours early Thursday afternoon in advance of the pontiff's evening prayers at St. Patrick's Cathedral. A/X Armani Exchange and Salvatore Ferragamo are among those taking a wait-and-see approach.

Staff at Saks Fifth Avenue, Topshop, H&M and Uniqlo insisted they will keep normal business hours and Thursday night's Saks-sponsored Purple Purse charity event at the Oak Bar at the Plaza hotel with Kerry Washington and Tommy and Dee Hilfiger.

But it's not only Midtown that the pontiff's visit will impact. Pope Francis is covering a large portion of the city, on Friday alone traveling from his Upper East Side nuncio to address 170 world leaders at the United Nations' General Assembly, followed by a trip to the 9/11 Memorial and Museum downtown before a late afternoon visit to Our Lady Queen of the Angels School in East Harlem. En route to Madison Square Garden, the pope mobile will cruise past 80,000-plus ticketed fans in Central Park. By Saturday, the gridlock and traffic delays should ease, since the pope will be jetting off to Philadelphia.

The Secret Service is taking the lead on setting up security measures for the pope with support from the Federal Bureau of Investigation and the New York Police Department, said New York City Mayor Bill de Blasio, during a press conference Monday. The U.S. Department of Homeland Security, Swiss Guards and Italian Carabinieri are also said to be involved. The extent of the manpower dedicated to the New York leg of the pope's trip, and the expense, has yet to be revealed. Staffers at Aritzia, Façonable and a few other Fifth Avenue stores within blocks of St. Patrick's Cathedral said Secret Service agents have started to do sweeps of their stores, as well as the upper floors of their respective buildings.

When the last pope came, there were snipers on the rooftops of every building, about seven helicopters overhead and the streets were just shut down. All these buildings have a lot of security guards but there will be cops out here like you can't even believe," he said. wwd.com
Pope Francis, 'People's Pope,' Is Security Teams' Headache - the largest mobilizations of security officers in American history
The United States - a pilgrimage that poses one of the biggest security challenges of his two-and-a-half-year papacy. "The crowds throw things," Mr. Clancy, who took over as the head of the Secret Service last October, said in an interview. "They throw flags, dolls and, obviously, babies towards him. It's difficult because we don't want our agents to overreact. He doesn't want to see an overreaction, either, but you don't want to miss anything."

When Francis arrives in the United States on Tuesday for a five-day visit, the Secret Service will take the lead in what is considered by national security experts to be excruciatingly difficult: protecting a pope who does not want to stay in his popemobile.

The Secret Service will not discuss how many agents and police officers will take part in protecting Francis during the trip, which will include stops in Washington, New York and Philadelphia. But with crowds expected to number in the hundreds of thousands, federal officials say it will be among the largest mobilizations of security officers in American history.

To try to protect Francis, officials will be taking several unusual measures:
Large holding pens will be erected along the pope's motorcade routes for onlookers who have been screened for weapons and explosives. No selfie sticks will be allowed near the pope.

Francis will bring his own security detail, led by Domenico Giani, the inspector general of the Vatican police and security. His security team also includes members of the Swiss Guards, the 500-year-old army of men who take an oath to protect the pontiff. The Secret Service, aware that the Argentine pope is not a fluent English speaker, will always have an agent nearby who speaks Spanish.

To prepare for the pope's interaction with crowds, the Secret Service held special training sessions for its agents at its campus in rural Maryland. nytimes.com
Pope Francis' U.S. Visit Snarls Delivery Businesses
The papal visit will also have a big impact on e-commerce. An estimated 404,000 packages, or 1.3% of total U.S. volume, are at risk of delay in the affected areas. United Parcel Service Inc. told its customers that it will suspend pickups and deliveries in parts of the three cities--impacting a total of 28 ZIP Codes--during the pontiff's visit because of the cities' stringent security measures. FedEx Corp. said it won't cancel service, but warned customers of service delays and disruptions in a wider area totaling 1,210 ZIP Codes.

The U.S. Postal Service also warned of suspended deliveries in parts of Philadelphia and other delays, and said it would remove mailboxes along Pope Francis' travel route "in the interest of safety and security."
Last week, New York City Police Commissioner William Bratton said that the pontiff's visit, combined with a meeting of the U.N. General Assembly and other events, presents New York with the largest security challenge it has ever faced.

It will be one of the biggest disruptions to regional delivery company Eastern Connection since the Sept. 11, 2001, terrorist attacks. wsj.com

Police: Terrorists may impersonate emergency responders during Pope's visit
Federal law enforcement authorities are quite concerned over the possibility that impostors could breach the security around the Pope while he's visiting the U.S. Since early last week, several federal and state agencies have sent law enforcement bulletins out to authorities in Virginia, Washington DC and Pennsylvania warning that Pope Francis's security perimeter could be entered by terrorists wearing first responder uniforms including EMT's, firefighters, law enforcement or private security guards.

A recent alert also acknowledged that uniforms from emergency agencies have been stolen, lost, misplaced or mishandled and that they are also easy to purchase at any uniform supplier's website with little or no credential verification.

Additional concerns noted in the bulletins were also the uptick in emergency vehicle look-alikes that have crossed the U.S.-Mexico borders in recent years including police and sheriff patrol vehicles and ambulances. According to one official, if Hollywood can create believable replicas of emergency vehicles, so can terrorists. It is essential that all first responders carry picture credentials and that law enforcement verify questions uniforms or identification. privatesecurityofficer.org nbcnews.com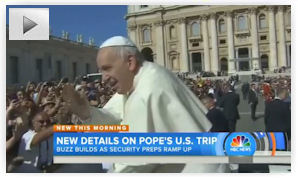 6,000 NYPD officers on duty to protect Pope Francis

Who will pay for the Pope's visits to D.C., New York, and Philadelphia?

OSHA fines Pier 1 Imports $86,100 for safety violations at area warehouses
In a news release issued Monday, OSHA said it cited the Fort Worth-based home furnishings retailer for two serious violations at its Fort Worth distribution center on Trinity Boulevard. According to the citations, forklift operators "were not trained, evaluated and certified by persons who have the knowledge, training and experience to train them, exposing the employees ... to hazards. A third serious violation was cited at the the company's Mansfield location on Heritage Parkway involving damaged storage racks that exposed employees to "falling objects and struck-by hazards." oshatoday.com

UK: Harrods forced to pay $28,000 to terminated Security Guard; stopped colleagues from carrying coffee cups through the store
A former Irish Guardsman who claimed that a Harrods director and her PA launched a witch-hunt to have him sacked as a security guard after he stopped them carrying coffee through the luxury department store has been awarded £18,000 by an employment tribunal. John Perrett said he was following health and safety rules when he stopped the merchandise manager Caroline Lyons, and assistant Chloe Marsh, from carrying the beverages into the store - an act that is against company policy. He said the women were rude and aggressive and tried to intimidate him by saying they were getting the coffee for the HR and Retail Director, Sarah Andrews. He was later dismissed from his $1,425-a-week job for gross misconduct. theguardian.com

Judge approves sale of 95 A&P stores to Acme, Stop & Shop


Quarterly Same Store Sales Results
CarMax Q2 comp's up 4.6% with net sales up 7.9%
AutoZone Q4 comp's up 4.5% with net sales up 7.9%
All the News - One Place - One Source - One Time
The D&D Daily respects your time & doesn't filter retail's reality
Report Your News!
(content subject to approval)



RILA refutes claims of retailers lagging in EMV compliance
The Retail Industry Leaders Alliance (RILA) is refuting public claims about retailers lagging behind banks and card networks in transitioning to EMV compliance. Randy Vanderhook, executive director of the Smart Card Alliance, said in a San Diego Union Tribune article that although consumers have largely been issued EMV-compliant chip cards, retailers have not been activating terminals or completing chip migration.

"Retailers are making a multi-billion dollar investment to protect customers and reduce credit card fraud," said Brian Dodge, executive VP of RILA. "Unfortunately, the claims being presented by the financial services industry represent an attempt to mislead reporters and consumers, rather than provide the facts surrounding the upcoming Oct. 1 liability shift." chainstoreage.com

RILA urges chip and PIN
The upcoming Oct. 1 deadline for retailers to accept EMV-compliant, chip-based payment cards or face increased fraud liability mandates that retailers read card information stored in chips. However, the mandate does not specify whether the card be further verified by a PIN number or customer signature, and the Retail Industry Leaders Association (RILA) has a clear preference.

American banks and credit unions are predominantly issuing cards that only require a customer signature, rather than an accompanying PIN number, to verify the transaction. In Canada, Europe and the rest of the industrialized world, chip and PIN is the norm.

RILA argues that the PIN adds an extra layer of security, and makes it even more difficult, if not impossible, for cybercriminals to replicate counterfeit cards. chainstoreage.com

Cyber-risk Knowledge Gap Widens Between C-Suite and IT
When it comes to alerting C-suite executives about cyber-risk, IT and security professionals are still doing a terrible job, bogged down in technical jargon and a lack of business context. The problem starts with the monopolization of the risk management function by IT and security consultants. According to a survey of large and medium-sized businesses in the UK, board level ownership of cyber risk numbers just 19.4 percent, and only 16.6 percent place cyber risk in the top five on the risk register, despite the severity a realization of cyber risk poses. infosecurity-magazine.com

Webinar: How Saks Fifth Avenue saved millions in energy costs
Learn how Saks Fifth Avenue reduced its energy use by 23% and saved millions of dollars - with no adverse impact on the customer experience - at a Webinar on Thursday, September 24, 2015, at 2 p.m. (EST). Hear first-hand how Saks is adding to its bottom line by reduced energy consumption. Gary Levitan, senior manager of energy and utilities for Saks' parent Hudson's Bay Company will explain how the retailer used data to win budget approval for energy efficiency projects - and build longer-term energy plans. Click here for more information and to register. chainstoreage.com

Pizza Hut testing beacon technology at all 1,471 locations in China
Yum Brands subsidiary Pizza Hut is using devices from global beacon technology provider Sensoro at all 1,471 locations in mainland China through Sept. 23. While currently Pizza Hut has only announced a test of Sensoro beacon technology in Chinese stores, the technology could well find its way to U.S. locations in the future. Retailers and consumers in China are generally ahead of their U.S. counterparts when it comes to using beacons, making China a good location for initial testing. chainstoreage.com

Nearly Half of Federal Agencies Were Targets of Insider Threats in the Last Year, Despite Formal Prevention Programs

Windows devices account for 80% of malware infections via mobile networks

Debit cards lag credit cards in EMV migration, putting banks at risk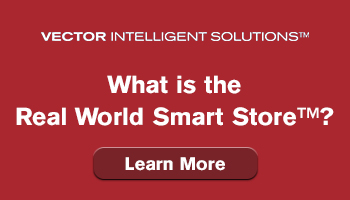 Vendor Spotlight

Southern Imperial Introduces New Corporate Brand


Rockford, IL: Southern Imperial, Inc., a leading designer and manufacturer of fixture and display solutions for the retail industry, is pleased to announce a new brand campaign currently underway. The new brand identity and logo design reinforces the company's rich history while simultaneously reflecting the exciting operational and cultural changes occurring within the company today.

The key element of the brand campaign is the new corporate logo. The solid blue "S" reflects the reliability and trust that Southern Imperial has built over its 50-year history. The integrated, green "I" provides a fresh representation of the extensive offering of innovative solutions the company provides.

"We are extremely excited about the changes at Southern Imperial, and the opportunity we have to create and deliver exceptional value to all our customers," said Steven Vandemore, CEO and President of Southern Imperial. "Our new corporate brand delivers a modern, approachable identity that reflects not only our progression as a company but also our lasting commitment to providing a best-in-class product and service experience."

About Southern Imperial, Inc.
Southern Imperial, Inc. of Rockford, IL, with factories in Centerville, GA and Xiamen, China, is one of the industry's leading designers and manufacturers of store fixture hardware and retail display solutions - delivering proven results and influencing point-of-purchase for the nation's top retailers and their suppliers. For more information about Southern Imperial, visit www.southernimperial.com or call toll free (800) 747-4665.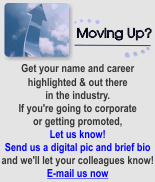 Building Effective Public-Private Sector Partnerships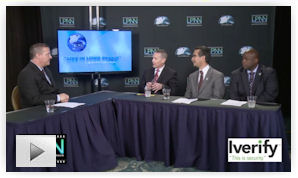 With ORC losses estimated at $30+ billion per year, retailers and law enforcement agencies have been increasingly working together through public-private partnerships to collaborate, share intelligence and enhance investigative results. In this LPNN interview moderated by Joe LaRocca, RetaiLPartners, hear from three distinguished law enforcement partners who are involved in these efforts: Eric Ives, Unit Chief, International Organized Crime Task Forces, FBI; and Cpt. John Romero and Det. Joe Hopkins of the LAPD Commercial Crimes Division. Learn how the LAPD is addressing cybercrime, how LAAORCA has helped retailers solve major cases, and how to best engage law enforcement at the local, state and federal levels.
---
'Live in Long Beach' Sendoff

LPNN Quick Take #17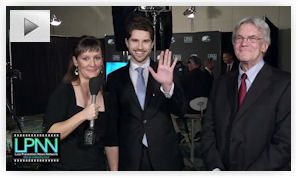 Amber Bradley, Calibration, LLC and Gus Downing and Mike Crissman of the D&D Daily, sign off from "Live in Long Beach" at NRF Protect 2015. Thanks to all the sponsors who helped make the event possible and all the LP leaders who participated in interviews throughout the day. We hope these sessions have helped add value to you and your career (click here to watch any episodes you missed).

Thanks for watching and we'll see you at our next live LPNN broadcast in NYC in January 2016!
Solution Providers, have a video or commercial you want to publish? Contact us.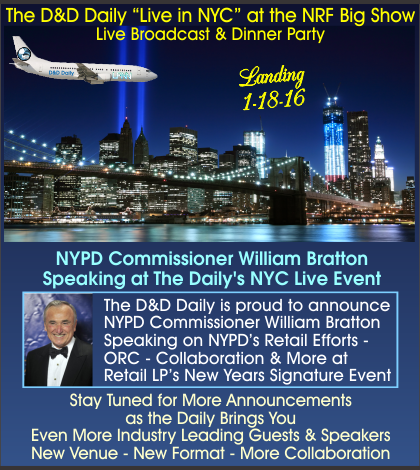 e-commerce

Sponsored by The Zellman Group
Report: EMV will double online retail fraud
A new survey reinforces what many already know: EMV makes in-store fraud much harder, but it drives would-be criminals online. Based on the experience of other predominantly English-speaking nations that switched to EMV-compliant payment cards, terminals and processors, online retail fraud will more than double in the U.S.

In comparison, online retail fraud rose 100% in Canada and Australia, and 89% in the U.K., in the first three years after those countries switched to EMV compliance. Trustev expects in-store fraud in the U.S. will drop greatly at retailers who upgrade to EMV-compliant terminals. However, online fraud will dramatically grow as criminals shift their fraudulent activities online, where chip-based cards offer no additional protection against fraud. chainstoreage.com

Who Commits Online Advertising Fraud and How to Stop It
It's easy to jump to the conclusion that thieves are the only ones committing fraud. But that's far from the reality. Every day, innocent consumers unknowingly commit several forms of online fraud. Perhaps you're a fraudster, too. Before jumping to too many conclusions, let's look at some of the more infamous fraudsters:

1. Click Farms - These click farms employ hordes of underpaid workers armed with active social media profiles. Since these are real people, it's very hard to identify them without looking closely into their activity.
2. Traffic Brokers - Some traffic brokers knowingly purchase traffic generated by a bot farm, and then sell it to unsuspecting advertisers and publishers.
3. Internet Bots - Bad bots do quite the opposite of the good bots. These bots are usually part of a botnet (more on that in a moment), which performs illegal or questionable activity.
4. Botnets - Botnets, or groups of bad bot-infected computers, form a network of infected zombie-computers that are controlled by cybercriminals looking to carry out illegal plans on your behalf.
5. Fraudulent Affiliates - In many circumstances, affiliates make a set commission for each lead they generate on behalf of the advertiser or brand. Fraudsters recognize it's easier to copy them versus trying to join them, creeping on unsuspecting affiliate marketers and clients alike. business2community.com

Banks still in search for the right consumer authentication technology for mobile and online customers
Banks have been on a mission to find the right technology to verify mobile and online customers in a way that is secure, yet quick and painless for the consumer. According to speakers at the Finovate Fall conference, many banks have rolled out voice, fingerprint, iris, and facial recognition software during 2014 and 2015. Solutions are needed more than ever, given the rise of mobile banking and the amount of personally identifiable information that has been stolen or is openly available on the internet for fraudsters. The different approaches in the industry show how unsettled this market still is, and how individual methods of verifying identity have their strengths and weaknesses. And fraudsters have been able to tie stolen identities to their own biometrics. They steal bank customers' identity information (data breaches make this data readily available), buy a new iPhone, and call their bank to authorize the loading of the stolen identity onto the new device. thepaypers.com

Mobile Payments Remain Rare This Holiday Season
eMarketer estimates that 22.6 million people in the US will use a mobile device to pay for a transaction at the point of sale (POS) this year. That's up 41.7% over 2014, and eMarketer expects even faster growth next year. But it still only accounts for 12.7% of smartphone users. emarketer.com

China's E-commerce Grows 30.4% in H1

Three Questions Retailers Must Ask Before Buying Into Buy Buttons

"Fraud is not a person - it is a dynamic grouping of statistics that deviate from the norm."
Stuart B. Levine, CFI, CFCI
CEO, The Zellman Group & Zelligent


ORC News
Sponsored by NEDAP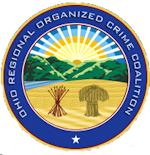 ORC and partnership between Retailers and Law Enforcement dominates the stage at the 4th annual OROCC conference
The Ohio Regional Organized Crime Coalition (OROCC) hosted its 4th annual Retail Crime conference on Friday, September 18th, 2015 at the Columbus Police Academy. The event was attended by over 175 law enforcement and retail loss prevention professionals.

The event featured presentations from: Sgt. Jim Ostojic from Polk County Sheriff's Office who created a proactive task force that makes fighting ORC a main priority, Lt. Tarik Sheppard of the NYPD Grand Larceny Analytical unit who overcomes local state law challenges by following ORC to the gateway crimes that develops, Brian Lacy of Columbus Police and the Ohio Organized Crime Task Force who emphasized the heroin epidemic and it's role into ORC.

The breakout sessions were headlined by Dennis Dansak, Senior Corporate ORC Manager that highlighted the connection between ORC and terrorism, Jerry Biggs of Walgreen on a case study of ORC, local prosecutors David Phillips from Union County on how to gift wrap your case to get prosecutor's attention, and Robert Tobias on the process and trends of moving forward with these cases.

The conference was supported by P & G, Open online, CEC, USS, Stanley and Vector Security as well as DSW, Kroger, Meijer, Walmart, Giant Eagle, and Panera.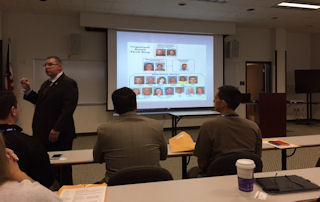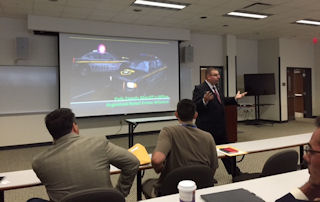 Sgt. Jim Ostojic, Polk County Sheriff's Office, gives a presentation on fighting
ORC with help from his proactive task force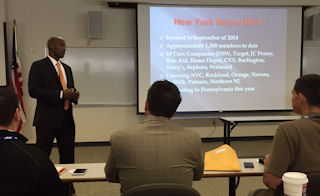 Lt. Tarik Sheppard, NYPD Grand Larceny Analytical Unit discusses the New York Metro ORCA to an attentive audience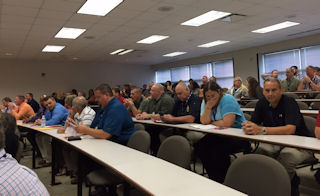 Attendees of the conference received valuable information on combating ORC with the help of retail/law enforcement partnerships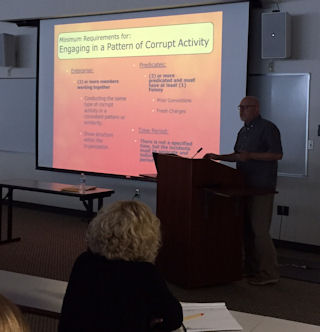 Brian Lacy, Columbus Police and Ohio Organized Crime Task Force provides information about the current heroin epidemic and its ties to organized retail crime

Secaucus, NJ: Philadelphia Woman charged with $5,000 shoplifting spree at Marshalls; her 10th arrest
A Philadelphia woman with a lengthy record of shoplifting in Pennsylvania has been arrested again - this time in Secaucus. Patricia Reddy, 50, was arrested at the Marshalls store in Secaucus on Friday, along with two others, after attempting to steal over $5,000 worth of merchandise, court documents state. During the court hearing, it was revealed that Reddy's nine prior arrests in Pennsylvania were all related to merchandise theft. During her arrest, Reddy provided police with a fake name, address and date of birth, the criminal complaint states. Also charged with shoplifting were Shafia Rice and Randolph McMickens. The three attempted to leave the Mill Creek store with several suits and two carpets, according to the complaint. Reddy was charged with hindering apprehension, shoplifting and conspiring with another to shoplift. nj.com

Charleston, WV: 2 Mexican men admit to traveling to WV to pick up Fraudulent Credit Cards
Authorities said two Mexican men have admitted to traveling to West Virginia in order to pick up fraudulent credit cards they planned on using to make various purchases. Marco Carrillo, 22, and Luis Vasquez, 24, both of Sonora, Mexico pleaded guilty on Monday in Charleston to conspiring to commit credit card fraud. The two admitted that they traveled to Charleston, WV from Mexico to pick up a package at Federal Express that contained 100 fraudulent credit cards. Carrillo and Vasquez admitted that they intended to use the fraudulent cards to buy electronic goods and gift cards. The package containing the cards was intercepted by Federal Express and turned over to law enforcement agents prior to Carrillo and Vasquez picking it up. When the two arrived to pick up the package, they were arrested by agents from the United States Secret Service and Homeland Security Investigations. The two men face up to five years in prison. wowktv.com

Lockport, NY: Police arrest 2 in a $2,000 Identity Theft scam
A Lockport duo are being accused of opening and using a fraudulent credit card. State police say 37-year-old Daniel L. Gonzales and 45-year-old Molly A. Heiser were arrested when a credit card was opened in the name of a former acquaintance. Both Gonzales and Heiser allegedly used the card to make purchases totaling more than $2,000. They have been charged with identity theft and grand larceny. wivb.com
North Londonderry, MD: Two arrested for $2,100 theft from Walmart
Joshua Eicher, 26, and Angela Britt, 32, both of Baltimore, Md., were charged with retail theft and conspiracy to commit retail theft after police determined they had taken $2,100 worth of merchandise from WalMart. Britt's vehicle was pulled over for a traffic signal device violation as it left the store at 1:26 a.m. Monday, police said. ldnews.com

Clermont, FL: Woman nabbed while trying to steal $700 in merchandise from Target
A 29-year-old woman is charged with shoving and scratching a Target loss prevention officer who reportedly nabbed on Sunday her as she tried to walk out the door with a toy drone and about 40 other items she hadn't purchased. When Clermont police pulled up to Target, a store employee was holding onto Brandi Britton, who was thrashing around. The employee said he caught up to Britton and asked her to come with him to the asset protection office, but she refused. At that point, she started struggling with the employee and left several scratches on his forearm. Authorities reported that Britton's cart contained about $700-worth of merchandise, including a toy drone. orlandosentinel.com

Mt Juliet, TN: 4 Belk shoplifters arrested after short pursuit; $440 in merchandise recovered
Two adults and two teens wanted for allegedly shoplifting from a Mt. Juliet store Sunday were taken into custody after leading police on a short pursuit. Police were called to Belk at the Providence Marketplace around 5:30 p.m. after an employee reported a group of shoplifters inside the store. According to a release, the four were working together to actively conceal store merchandise in bags while in the fitting rooms. Police said $440 of stolen items from Belk was recovered inside the car. wkrn.com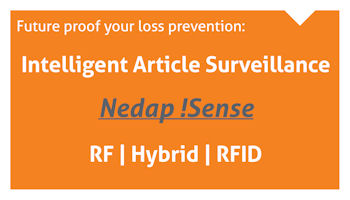 Do you have an ORC case to share?
Share your ORC news and help the industry grow

Retail Crime News

Sponsored by Security Resources
Sandy City, CA: 2 Police Officers wounded, 2 Suspects Dead in shooting at Northern California Target
Police officers fatally shot two individuals in a gun fight in the parking lot of the Target store in Edgewater Shopping Center in Sand City on Monday. Around 3:30 p.m., two Sand City police officers attempted to serve warrants on two individuals when the suspects opened fire and began a fire fight with the two police. Both officers were wounded in the gunfight and both suspects were killed, Sand City Police Chief Brian Ferrante and District Attorney Dean Flippo announced in a joint media briefing Monday afternoon at the scene. "After the officers confronted them, the suspects opened fire," said Ferrante. "Both officers injured were transported to the hospital via ambulance and are in stable condition." Ferrante said the officers knew the suspects and knew they had outstanding warrants. "Fortunately no innocent bystanders were involved," Ferrante said. pressdemocrat.com
Cobb Co, GA: Woman robbed, shot outside Sports Authority late Monday evening
Cobb County Police said early Tuesday they are looking for two or three men in a stolen black Ford F150 in connection with Monday night's armed robbery and shooting outside the Sports Authority on Cobb Parkway near Akers Mill Road. The victim is a 37-year-old woman from Atlanta who was shot in the mouth with a BB gun as she walked to her car in the parking lot just after 9 p.m., according to Cobb County Police. Police said the victim's injuries are not considered life-threatening. A police spokesman said the armed robbers tried to grab her purse. Police said the truck was stolen from Atlanta the day before, on Sunday. 11alive.com
Kansas City, MO: BP Clerk attempts to electronic lock armed shoplifting suspect inside store; Suspect fires shots into the door to break glass
A suspected thief shot his way out of a Kansas City gas station Sunday night after a clerk locked him in, police said. The incident happened about 9 p.m. at a gas station at 63rd Street and Prospect Avenue. According to a police report, a man came into the gas station, bought some items and tried to shoplift some more. The clerk spotted the unusual activity and then locked the store's front door from inside his glass-encased counter. Police said the suspect first pointed the gun at the clerk, but then turned around and shot out the glass in the door so that he could run away. Police said locking a suspected shoplifter in a store is a risky thing to do. "I think that is an individual decision made by the employees and the business owners that work there," said Capt. Tye Grant, of the Kansas City Police Department. He said someone's life isn't worth the minimal amount of merchandise a thief might take from the store. kmbc.com
Clarksville, TN: Door locking system nabs liquor store thief
A Clarksville woman was arrested for allegedly attempting to shoplift from a local liquor store. Police were called to Mulligan's on Sept. 18 for a shoplifting call. The caller said the suspect, Ina Tucker, was seen concealing two bottles of tequila in a bag and then attempted to leave the store with the merchandise. Once past the point of sale, the employees activated a door locking system which trapped Tucker in the foyer of the business. Police said Tucker admitted to taking the liquor bottles, which were found in her bag. "Due to Mulligan's door locking system, a thief was caught red handed," said Officer Natalie Hall, PIO for the Clarksville Police Department. clarksvillenow.com

Houston, TX: Willowbrook Mall arrest video goes viral as bystanders question treatment of suspect
Viral video shows a heated incident involving law enforcement Saturday night at the Willowbrook Mall. Now the family of an arrested man is calling for charges dropped. A Harris County Deputy stopped 22-year-old Jesse Valdez for riding a "mini Segway" electric scooter in the Willowbrook mall Saturday night, Sept. 19. Minutes later, the deputy had Valdez handcuffed and pinned to the ground with a taser against his back as mall security brought in police dogs to quell the concerned crowd. Constable Mark Herman said Valdez was detained for disorderly conduct and arrested on charges of resisting arrest, a class A misdemeanor. abc13.com

Lincoln, NE: ATM Smash & Grab at Walgreens, store front destroyed
Lincoln Police are looking for three suspects in a burglary that happened Tuesday morning just before 2 a.m. at the Walgreens near 70th and Pioneers. Police say a white van without license plates backed into the store front of the Walgreens twice, shattering the store front glass and loosening an ATM. They say that's when three men in masks got out, stole the ATM and fled the scene. A Walgreens employee was there at the time. She was not injured. Officials say this is the seventh ATM robbery in Lincoln this year. klkntv.com
Hillsboro, OH: Pharmacy tech charged with theft; used elderly customer's card for groceries
A pharmacy technician is facing two first-degree misdemeanors after allegedly using an elderly customer's debit card to purchase groceries. The victim reported that after picking up a prescription at a local pharmacy's drive-thru, he realized "once he got home (that) he did not have his bank debit/credit card," as stated in an affidavit. The victim called the pharmacy and was told the card was not located, she checked the online account and found that the card had been used for $72.85 worth of groceries, the affidavit stated. timesgazette.com

Florida trio charged with dozens of counts of identity theft in Alabama
Three Florida men have been arrested on multiple identity theft charges after a multi-agency investigation. Ivan Acosta, 43, of Orlando is charged with 40 counts of identity theft, Edrey Cabrera, 38, has 36 counts and Jorge Arnedo, 44, is facing 11 counts. Cabrera and Arnedo are also from Orlando. The trio was arrested by Montgomery police and returned to Houston County to face charges. "The investigation is ongoing it's very preliminary at this time," said Will Glover, the Dothan Police Criminal Investigations lieutenant. This has been a five-month-long investigation. So far police have identified 87 victims, and there are a number of charges still pending. Police say the suspects used stolen credit card information to purchase prepaid cards. Then they used the prepaid cards to make purchases. wsfa.com
Richmond, BC, CN: People's Jewelers the victim of an early morning Burglary
On September 20, 2015, at approximately 5:07 AM, two subjects committed a Burglary at a People's store in Richmond, BC. The subjects gained entry to the store by busting the lock on the side door. Once inside the store, the subjects broke the showcases open and removed the contents inside.

Dothan, AL: Dothan Police Officers among victims in ID theft ring which led to 87 charges

Portland, OR: Prescott man and woman accused in credit card fraud spree arrested

Robberies and Burglaries
● Bucky's Express - La Vista, NE - Armed Robbery
● Casey's General - Fargo, ND - Armed Robbery
● Chesapeake Gun Shop - Stevensville, MD - Burglary
● Circle K - New Orleans, LA - Armed Robbery
● CVS - Virginia Beach, VA - Armed Robbery
● CVS - Goleta, CA - Armed Robbery
● Dollar General - New Hanover, NC - Armed Robbery
● Everything Mobile - Spartanburg, SC - Burglary
● Fast Mart - Lincoln, NE - Armed Robbery
● Mac's - Pembroke, ON, CN - Robbery
● Martin's - Elkhart, IN- Armed Robbery
● Monster - Rochester, NH - Armed Robbery
● Pizza Hut - Flagler, Co, FL - Armed Robbery
● Propst Superette - Hickory, NC - Armed Robbery
● Rite Aid - Lincoln City, OR - Armed Robbery
● Valero - Houston, TX- Burglary
● Walmart - St Charles, MO - Robbery/ 2 arrested


Featured Job Listings
Sponsored by NuTech National
Feature Your Job Here For 30 Days -
70% Aren't On the Boards
VP of Sales/Client Relations
More details coming soon
Confidential - Retained Search
Nationwide
Gus Downing
Dir LP
Pier 1 Imports
Fort Worth, TX
Pier 1 Imports
LP Dir
BevMo
Concord, CA
BevMo
Dir LP
Lane Bryant
Columbus, OH
Lane Bryant
Dir LP (Western Canada)
Walmart Canada
Calgary, CA
Walmart Canada
Dir LP
Cracker Barrel
Lebanon, TN
Cracker Barrel
Dir Safety AP Solutions
Walgreens
Deerfield, IL
Walgreens
Dir of AP, Global Ecommerce
Ralph Lauren
Greensboro, NC
Ralph Lauren
Dir AP
Saks Fifth Ave

New York, NY
Saks Fifth Ave


Territory LP Dir.
Burlington Stores
Los Angeles, CA
Burlington Stores
Dir. of Security
Estee Lauder
El Segundo, CA
Estee Lauder
Director of LP
Pacific Sunwear
Anaheim, CA
Pacific Sunwear
VP Supply Chain, LP & Safety
Ross Stores
Ft. Mill, SC
Ross Stores
NEW TODAY Regional LP Mgr
Tillys
Irvine, CA
Tillys
Regional LP Mgr
Tractor Supply Co.
Baltimore, MD
Tractor Supply Co.
Sales Representative
NuTech National
Maitland, FL
NuTech National

Limited Time Only - Post Your Multi-Unit LP jobs for FREE - Learn More Here
Daily Job Alerts


Appearing One Day Only
View our Internet Jobs Archives here
AP Mgr
BJ's Wholesale Club
Richmond, VA
BJ's Wholesale Club
AP Mgr
BJ's Wholesale Club
Chesapeake, VA
BJ's Wholesale Club
AP Mgr
Home Depot
Akron, OH
Home Depot
LP Specialist
H-E-B
Edinburg, TX
H-E-B
LP Supervisor
JCPenney
Barboursville, WV
JCPenney
Dept Mgr LP & Safety
Lowe's
Starkville, MS
Lowe's
Dept Mgr LP & Safety
Lowe's
Mason, OH
Lowe's
ETL Assets Protection
Target
Nassau County, NY
Target
AP Team Leader
Target
Orlando, FL
Target
LP Manager Hrly
Kmart
Garden City, MI
Sears Holdings Corp
LP Manager Hrly
Kmart
Palatka, FL
Sears Holdings Corp
LP Manager Hrly
Sears
Cedar Rapids, IA
Sears Holdings Corp
LP Manager Hrly
Kmart
Franklin, PA
Sears Holdings Corp
LP Manager Hrly
Kmart
Clinton, MD
Sears Holdings Corp
LP Manager Hrly
Kmart
Carlisle, PA
Sears Holdings Corp
LP Manager Hrly
Kmart
Springboro, OH
Sears Holdings Corp
AP Manager in Training
Walmart
Williston, ND
Wal-Mart
Market AP Mgr
Walmart
Ware, MA
Wal-Mart
AP Manager in Training
Walmart
Hammonton, NJ
Wal-Mart
AP Manager in Training
Walmart
Rio Grande, NJ
Wal-Mart
AP Manager in Training
Walmart
Heath, OH
Wal-Mart
District Mgr AP Investigations
Macy's
San Antonio, TX
Macy's


Home of the Industry's Original
On the Move

Michael Mell

was promoted to Senior Director, National Design - East for Se-Kure Controls.
Post Your New Job or Promotion!
See all the Industry Movement


Your Career
Sponsor this section of the Daily
Five Character Traits of Innovation Leaders Becoming a leader innovation requires learning as you go, and sometimes seeing your important actions get lost in the hustle and bustle of daily living. An innovative leader is built upon a foundation of self-awareness and insight into how you cause change in your world. Here are some characteristics to emulate. See the future

What it Takes to Learn to Be a Leader
Leadership is a skill and can be taught to those who may not think they have what it takes to lead. The more you step outside of your comfort zone and ask questions, the stronger a leader you will become. Use these tips to help unlock your inner leader. Work at it

5 Simple Ways to Be a Good Boss No Matter how Busy You Are The key to being a great leader is to not lose sight of what is important, no matter how much you have to do. Keeping a positive environment and your employees engaged, shouldn't fall to the wayside so follow these strategies to stay in touch with those around you even when life gets hectic. Talk it out

Leadership Lessons from The Queen
Her Majesty the Queen is Britain's longest reigning monarch, and she's been a remarkable leader because of her dedication to serve the people of Britain and the commonwealth. Here are some takeaways we can all learn from the Queen on how to be a great leader. No grumbling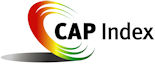 Tip of the Day
Sponsored by Vector Security
Change is the only constant. Embracing it and dealing with it, while absolutely necessary, can be a daunting task that is difficult for everyone. Psychologists believe that humans strive to eliminate fear by avoiding change when, in fact, change can be the best thing for us. Those that run to it usually are in front and those that avoid it, most of the time end up in the rear.

Just a Thought,
Gus





Upcoming Events
---
Recruiting?
Get your job e-mailed to everyone... everyday
Post on our Featured Jobs Board!
Reach your target audience in 2015 every day!
Request our 2015 Media Kit
update account / change e-mail
unsubscribe FEEDBACK
www.downing-downing.com

Advertise With The D&D Daily




36615 Vine Street, Suite 103
Willoughby, OH 44094
440.942.0671
copyright 2009-2019
all rights reserved globally