The D&D Daily Mobile Edition
September 25,

2014



The LP Industry's #1 News Source - Informing, Educating and Instilling a sense of community


News Brief
Sponsored by WG Security Products, Inc.
Pilot Flying J's former president target of federal fuel rebate fraud investigation In early August, Mark Hazelwood received a target letter, the official form federal prosecutors send to let an individual know they are the target of an investigation and that prosecutors have substantial evidence linking them to the crime. The federal investigation into Pilot Flying J culminated in a raid on the company's Knoxville headquarters in April 2013. Pilot Flying J has cooperated with the federal investigation. In July, the company reached an agreement with the U.S. Attorney's office that will allow it to avoid prosecution. Over the two-year term of the agreement, in addition to paying the monetary penalty, which the government has set at $92 million consistent with the U.S. Sentencing Guidelines, the company also commits to keep the government advised of the status of its internal compliance program, which it voluntarily initiated immediately following the execution of the warrant last year. Pilot Flying J is a family-owned business that operates more than 650 retail locations and is the largest operator of travel centers and travel plazas in North America. (Source csnews.com)

"Ramp up of fraud much greater than Target's" in first three weeks after Home Depot's breach One executive with a large card issuer on the West Coast, who asked not to be named, tells Information Security Media Group that fraud losses have been "significant" following the breach. "The ramp up of fraud in the first three weeks has been much greater than what we saw from Target Corp., Michaels and Neiman Marcus," the executive says. "The fraud we are currently seeing is occurring on cards specifically related to Home Depot, and not cross-contaminated by the other big breaches." What is making the breach scenario worse for consumers is the level of detailed information that was sold on online hacker forums, Buzzard says. "It has enabled criminals to have a more powerful set of parameters to work with, like first and last name, cities and states close to where the legitimate cardholder may live, ZIP codes - anything that can make social-engineering attacks more convincing is always a bad scenario for consumers." The Department of Homeland Security has issued a new warning to retailers, saying that the previously unseen malware - now dubbed Mozart - used in the Home Depot breach appears to have been heavily customized for that retailer's environment, The Wall Street Journal reports. (Source govinfosecurity.com)

Federal security agencies warned retailers Wednesday - Hack was customized specifically for HD's environment The warnings came in a report by the Department of Homeland Security that drew on findings gathered by the Secret Service, which is investigating the breach. The software appeared to be customized for the home improvement retailer's systems. While it was designed to steal credit card numbers and accomplish the same goals as computer code deployed in other giant breaches, at each turn it carried out its mission in slightly different ways to evade security gear, one of the people said. It used file names that blended in with legitimate filenames and are unique to Home Depot's technology, Home Depot said. (Source wsj.com)

Jimmy Johns reports data breach at 216 locations Jimmy Johns says approximately 216 stores appear to be affected. There are 23 locations in Illinois affected by this security breach, 16 are in the Chicago area, including four city locations, mainly on the North Side. While the investigation is ongoing, it appears that customers' credit and debit card data was compromised after an intruder stole log-in credentials from Jimmy John's point-of-sale vendor and used these stolen credentials to remotely access the point-of-sale systems at some corporate and franchised locations between June 16, 2014 and September 5, 2014. The security compromise has been contained, and customers can use their credit and debit cards securely at Jimmy John's stores. (Source wgntv.com) (Source krebsonsecurity.com)
FBI Warns of Rise in Disgruntled Employees Stealing Data The Federal Bureau of Investigation issued a warning to U.S. companies Tuesday about a recent spike in the number of disgruntled employees stealing company information sometimes to try to extort money from their old bosses. There has been an increase in computer network exploitation and disruption by disgruntled and/or former employees,'' the FBI and Department of Homeland Security wrote in the computer security bulletin. Such employees have led to "several significant FBI investigations in which individuals used their access to destroy data, steal proprietary software, obtain customer information, purchase unauthorized goods and services using customer accounts, and gain a competitive edge at a new company,'' the bulletin continued. It noted a frequent means of stealing information was using cloud storage accounts and personal email, and that, in some case, s terminated employees maintained access to the company's system remotely. (Source wsj.com)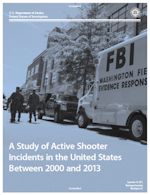 FBI Confirms Sharp Rise in Active Shooter Incidents Since 2000 - Get FBI Report Here - 45% happened in offices or stores There were, on average, 16.4 such shootings a year from 2007 to 2013, compared with an average of 6.4 shootings annually from 2000 to 2006. In the past 13 years, 486 people have been killed in such shootings, with 366 of the deaths in the past seven years. In all, the study looked at 160 shootings since 2000. (Shootings tied to domestic violence and gangs were not included.) Many of the sprees ended before the police arrived, the report said. In 44 of the 64 cases in which the F.B.I. was able to determine the length of the shooting, the gunfire lasted less than five minutes. Twenty-three shootings ended in less than two minutes. In 64 of the 160 total cases, the gunmen committed suicide. In 21 of 45 shootings in which officers confronted the gunmen, nine officers were killed and 28 were wounded. Four officers were killed in ambushes, and in three cases, armed security guards who were not law enforcement officers were killed. In two other shootings, two unarmed security officers were killed and two were wounded. Roughly 45 percent of the shootings occurred in offices or stores, and about 25 percent at schools or universities. Other sites included military bases, government offices, homes, places of worship and medical facilities. In 24 of the 160 shootings, the gunmen attacked more than one location. Mass shootings occurred in all but 10 states. (Source nytimes.com) (Source fbi.gov)

Data breaches becoming 'ubiquitous' as 43% of companies report incidents As data breaches make headlines worldwide, Experian Data Breach Resolution released on Wednesday a new study with the Ponemon Institute on data breach preparedness. The second annual study - "Is Your Company Ready for a Big Data Breach?" - found that executives are concerned about the effectiveness of their data breach response, despite taking the basic steps to be prepared. While more organizations have data breach preparedness on their radar and have developed a response plan, a majority of companies are not putting the support and resources behind having it truly be effective," said Michael Bruemmer, VP, Experian Data Breach Resolution. "A checklist response plan alone doesn't mean you're prepared. There should be an incident response team in place that practices the plan and ongoing investment from the C-suite to ensure technologies are up-to-date, external breach experts are secured and selection of an identity protection product for affected customers is determined prior to an incident to ensure a quick and smooth response." (Source drugstorenews.com

How Apple Pay Could Change the Retail World
The reason: The payment details stored in the more than 800 million user accounts in Apple's iTunes store, and the tens of millions of phones that will soon be in the hands of consumers around the world. As a result, Apple Pay may prove to have a significant impact on retailers, enterprises and financial institutions. Apple's decision to adopt near field communication (NFC) for its payment system is likely to be a huge boost for the technology. Retailers who may have been hesitant to invest in NFC-capable registers will be secure Relevant Products/Services in the knowledge that 10 million consumers are carrying the technology in their pockets, and 90 percent of smartphones worldwide will now be equipped with NFC chips. Additionally, the mobile payments market is expected to reach $1 trillion by 2017. (Source toptechnews.com)

Non-compete complete with ADT: TycoIS woos small business after 9-29 When TycoIS's non-compete agreement with ADT expires next week, the integrator is poised to expand its small business footprint with the launch of a new HD IP camera line that's bundled with a security assessment, a mobile app and flexible financing options. "The price point, quality and remote access are key [components] of the offering," Mark Bomber, TycoIS director of commercial marketing, told Security Systems News. TycoIS and ADT split into two separately traded companies as part of a spin off first announced in September of 2011. As part of that deal, ADT and TycoIS had a non-compete agreement whereby ADT could only do business with commercial entities smaller than 7,500 square feet, and TycoIS could only do business with commercial entities larger than 7,500 square feet. That line of demarcation will disappear when the non-compete expires on Sept. 29. (Source securitysystemsnews.com)

Legislative Update - Congress holding EEOC's feet to the fire in fight to offer employers limited protections in use of criminal background history

Convenience stores & gas stations lost 250 million dollars to credit and debit card fraud last year

PetSmart cuts 176 jobs yesterday - 31 positions in LP as well

Ulta beauty to open 100 stores a year next 5 years

GameStop to add 25,000 seasonal employees

Cargo theft down 16% from June to August with average loss $182,115 - also down 16% Food/Drinks were the most commonly hijacked cargo, with 34 reported incidents – roughly 19 percent of the total thefts for the quarter. Electronics accounted for 32 reported thefts (18 percent of the total) and Home/Garden accounted for 24 reported thefts (13 percent). California re-emerged as the top hotspot for cargo thefts, with 36 reported incidents. Florida followed with 34 incidents, while Texas (27 thefts), Georgia (14 thefts) and Illinois (13 thefts) rounded out the Top 5. (Source landlinemag.com)

New UK group forms to set standards to measure & manage business crime in retail A national organisation has been established to set a new standard by which business crime can be measured and managed in town centres and to reduce its impact on the UK's high streets. The Association of Business Crime Partnerships Limited (ABCP) has come together with the Midland Regional Crime Initiative (MRCI) to set up a new organisation, the National Association of Business Crime Partnerships Limited (NABCP). It will support accredited Business Crime Reduction Partnerships (BCRPs) to reduce the impact and cost of crime which affects businesses, their staff, customers and the local community. Tim Edwards, vice chairman of the Retail Loss Prevention Fashion Forum, a collective of heads of loss prevention for some of the High Street's biggest fashion brands, said: "This development is long overdue, but we are delighted to support the establishment of the national body representing the interests of business crime partnerships and setting a benchmark standard of what good should look like." (Source retailfraud.com)

Apple's privacy push - throws retailers iBeacons a curve ball Randomizing MAC addresses every time it connects with Wi-Fi means new smart phone users won't be tracked when they re-enter a store. (Source internetretailer.com)

The real cost of rejecting job applicants
One of the hidden challenges of retail recruitment is rejecting applicants who could be existing or future customers. And to extend that thought - in an industry as small as loss prevention these candidates will pop up later in your career and a few may even be the ones hiring the next time you see them! Retail recruiters, HR executives, and yes even LP executives often face the difficult task of sifting thousands or hundreds of applications for a relatively small number of job vacancies. Naturally, they'll focus on identifying the right people but many will overlook the unsuccessful candidates. Some of these people won't even get told they didn't get the job, whilst others will receive little more than a cursory email with no explanation of why they weren't chosen. But think about this. If someone has applied to your company, they probably did so because they like and admire your brand. They may have been your customer for many years. They might even be amongst your best advocates. So what's likely to happen if you give them an awful experience when they apply for a job? It might change their perception of your company. It could even alienate them against your brand and maybe even you. It's important to understand that your recruitment process is an opportunity to showcase your brand and to directly interact with applicants who may be current or potential customers. Ultimately, if you're not going to offer them a job, you can still give them a positive brand experience. Keep them informed about the different stages of their application; give them feedback from any assessments and interviews they've undertaken; be polite and considerate in your communications; be respectful and sympathetic if you have to turn them down and thank them for their interest and their time. Our simple message is: don't alienate your job applicants. Give them a positive experience at all stages of the recruitment process and you'll not only find the right candidates for your roles, you'll also help your bottom line by retaining your existing customers and hopefully winning some new ones along the way. (Source theretailbulletin.com)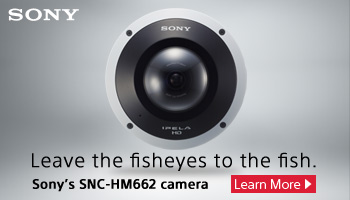 All the news - One place - One Source - One Time
The D&D Daily respects your time
& doesn't filter retail's reality
Report Your News!
(content subject to approval)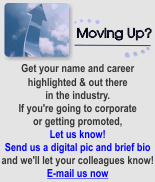 Loss Prevention News Network

"Live in Ft. Lauderdale at the NRF Show 2014"
ORC Roundtable
A National Update
In this national update on ORC, hear from five of the leading experts on this growing threat to the LP industry and the latest efforts to combat it. Denny Dansak, Sr. Corp. Mgr. ORC, The Kroger Co.; Nelson Harrah, Dir. of ORC, Gap Inc.; Tony Sheppard, National Mgr., ORC Unit, CVS Caremark; Debra Lussier, Sr. Mgr., Investigations, The Home Depot; and Scott Sanford, Dir. of Investigations & Training, Barnes & Noble Inc., discuss the link between online fraud and brick-and-mortar crimes, the impact of state ORC laws, and the mounting national effort of ORC associations that are helping to bridge the gap.
LPNN Quick Take #17
In this LPNN Quick Take, Amber Virgillo, Ed Wolfe, VP Business Development for WG Security Products, and Mike Liberatore, Sr. Director, Administration, Asset Protection for Hudson's Bay Corp., discuss Mike's session at the NRF show. He explains the tabletop exercise they performed including the fictitious situation at a mall and how they involved the audience step-by-step. The main takeaway from the session was to have an active-shooter protocol in place.




Joan Manson

Sponsored By:



Bass Security



Sponsored By:



Keith White & Michael Nelson

Sponsored By:


Dan Faketty and Professor Bob Hanson

Sponsored By:


The NRF's LP Legislative Committee, a National Update





Jeff Fulmer & Jon Gold


Sponsored By:



Preparing - Training - Responding to the Active Shooter



Rich Mellor


Sponsored By:


Cyber Security's Increasing Impact on Retail & the Role of Loss Prevention

Tom Litchford
Sponsored By:


Click here for upcoming episodes

Solution Providers, have a video or commercial you want to publish? Contact us.

e-commerce

Sponsored by The Zellman Group
EU Cracks Down On Mobile Payments
The European Union Council of Ministers is preparing to toughen the rules for all mobile and digital payments, according to a report in Computing.co.uk. According to the report, "The Payment Services Directive in the EU, drafted by the Council of Ministers' presidency, recommends that the regulations should mandate 'strong customer authentication' over a range of digital payment schemes, including 'sensitive payment data to be used in a wallet solution.'" (
Source pymnts.com
)
Apple Pay Could Fuel iPhone Attacks, Say Experts
Apple Pay, the new contactless payment system that relies on the company's iPhone and the device owner's fingerprint, could spark a wave of attacks against Apple users who, up until now, have been relatively immune to mobile threats. Apple Pay could take pressure off of retailers and shift it to Apple iPhone users who will be using their devices as a wallet, said Aaron Cherrington, a senior cyberthreat intelligence analyst at FireEye. Merchants that use NFC payments will only have a transaction number and token, rather than the valuable credit card number that thieves covet, said Cherrington in his analysis of Apple's payment system. Thieves will need to find new ways to get at the sensitive data needed to create fraudulent credit cards once the new payment terminals are rolled out and become increasingly used, Cherrington said. Attackers could target vulnerabilities in third-party apps or create malware to record keystrokes and other data input into the iPhone, he said. (
Source crn.com
)
Survey explores upcoming priorities for online retailers
"Fraud is not a person - it is a dynamic grouping of statistics that deviate from the norm."
Stuart B. Levine, CFI, CFCI
CEO, The Zellman Group & Zellman Fraudnet

National Retail Federation

NRF Provides Retailers Guidance on EMV Deployment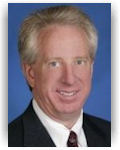 By Tom Litchford
While the retail industry focuses on safeguarding consumer payment data through advanced technologies such as point-to-point encryption, tokenization and methods of cardholder authentication that go beyond current Payment Card Industry Security Standards Council requirements, the major credit card companies are continuing their efforts to deploy their proprietary EMV technology.

Even though the Europay, MasterCard and Visa system is nothing new (it was developed more than 20 years ago), the card companies insist that it is a necessary and logical step for U.S. consumers and retailers to take. This push is similar to the card companies' insistence on flawed rules set by the PCI standards.

As deployed throughout most of the world, EMV replaces the magnetic stripe on credit cards with an embedded microchip and the signature with a personal identification number. But as proposed for the United States, most banks would offer cards with only the chip and not the PIN essential to confirming that the card is being used by a legitimate cardholder.

NRF has emphasized that if the industry is required to move to EMV, then both the chip and PIN are necessary, preferably in a non-proprietary system, and that chip and PIN is only a small step toward improved card security.

Regardless of EMV's ability – or lack thereof – to protect sensitive consumer data, the card industry plans to roll out these cards in 2015. With them will come new rules mandating more liability for data breaches on retailers if they are not equipped to accept the cards. Like it or not, EMV is coming and retailers and merchants need to be prepared.

With that, NRF partnered with the EMV Migration Forum recently to host a webinar to educate retailers on when and how to enable the acceptance of the new EMV cards. The webinar provides resources on the global use of chip cards, the status of the U.S. migration, considerations for making the decision to accept chip payments, and tools to begin project planning for chip card acceptance implementation.


Click to watch a recap of Merchant Considerations for U.S. Chip Migration.

ORC News
Sponsored by Security Resources
Roseville, CA Police and NCORCA fight organized crime and promote safe shopping environments Hundreds of retail loss-prevention experts and law enforcement representatives from throughout northern California are meeting in Roseville today to discuss fraud, shoplifting, and other organized retail crimes that drive up costs for businesses and customers alike. In 2011, the Roseville Police Department helped start the Northern California Organized Retail Crime Association (NCORCA). The organization has grown to 270 members, including retail loss-prevention professionals and law enforcement agencies from the Sacramento Valley to the Oregon border. The members share information regularly about organized shoplifting crews, robbery series, and frequent or emerging fraud schemes. Roseville Police volunteer Al Moody has been the coordinator for the association since its inception. NCORCA's annual symposium meets from 9:30 a.m. to 3:15 p.m. Wednesday, September 24, at the Maidu Community Center, 1550 Maidu Drive in Roseville. Featured speakers include Roseville Police Chief Daniel Hahn; Placer County District Attorney Scott Owen; Robert Hill of the U.S. Drug Enforcement Administration; Special Agent Anitra Chiles of the USDA, who will talk about food stamp fraud; Wes Drone of the FBI on cybercrimes; and Greg Brumley and Paul LeBlanc of OuterWall and CoinStar. (Source placercountyonline.com)

Feds bust fraud ring responsible for theft of U.S. Treasury checks in Atlanta A federal grand jury has indicted 19 people accused in a scheme to steal and cash U.S. Treasury checks and to use fraudulently obtained credit cards. The U.S. attorney's office in Atlanta says between June 2012 and September 2014 the defendants worked together to steal the checks from various sources, including the U.S. mail. According to a 62-count federal indictment, the suspects stole the checks from agencies such as the U.S. Postal Service, IRS and Social Security Administration, and then cashed them. Investigators said the checks were issued to people entitled to refunds, social security, disability payments and pension benefits. The checks ranged from several hundred dollars to more than $110,000. The indictment says the conspirators created fake IDs to cash the checks at banks, as well as stores such as Walmart, Kroger and Publix. It also said the suspects fraudulently obtained credit cards and used them to buy thousands of dollars of merchandise. (Source cbs46.com)

Detroit area ORC Hearing delayed for trio charged with shoplifting A preliminary examination for three men charged with stealing more than $4,000 in electronics from a Westland store has been adjourned in 18th District Court until Oct. 2. The 3 are all facing charges of unarmed robbery, organized retail crime, conspiracy to commit retail fraud and first-degree retail fraud. Not guilty pleas were entered for all three and bond was set at $100,000 cash. Westland Police were contacted Sept. 6 by loss prevention staff at the store about three men allegedly working as a team shoplifting. Police said the men obtained keys to a cabinet holding expensive electronics items. The three men were attempting to flee when officers arrived and detained them, according to police. Described only as out-of-state residents, the trio is also accused of stealing more than $3,000 in electronics from a Taylor, MI Kohl's store. (Source hometownlife.com)

Sears employee in Richmond Hts, OH admitted to $40,000 theft A Sears employee was charged with grand theft from the store Sept. 19. Reports say the Richmond Heights man, 25, was seen stealing $5,500 on surveillance video and admitted to a $40,000 theft. The incident is under investigation. (Source cleveland.com)

Webb Co. TX Sheriff's Office arrests two for more than $50000 of diesel fuel/credit card fraud
Do you have an ORC case to share?
Share your ORC news and help the industry grow


Retail Crime News

Sponsored by NuTech National
Ohio Jury Finds Officers Justified in Wal-Mart Shooting An Ohio grand jury found officers' actions were justified in August's fatal shooting of a man holding an air rifle at a Wal-Mart store, a special prosecutor said Wednesday, a decision the man's family said left them "disgusted. (Source wsj.com)

How do you stop a Cyber-Criminal? Think like one 'Hacker school' at the Univ. of Southern Maine. In his lab at the University of Southern Maine, Charles Largay asks his classroom to identify the biggest difference between the Home Depot and Target breaches. In the war on cybercrime, his students are the next generation of cops on the beat. And Prof. Charles Largay is the wise old detective training them. (Source cbsnews.com)
O'Charley's Restaurant employee in Springfield, OH charged for stealing customer card numbers An O'Charley's restaurant worker accused of stealing customer credit card numbers appeared in court on Wednesday for felony theft charges. Five people who dined at the Springfield O'Charley's reported that their credit card numbers had been stolen at the restaurant in March. Authorities say 22-year-old Briaghna Peters waited on all five victims. Peters, of Fairfield, was arrested on Sept. 17. She claimed an unidentified person was paying her to retrieve the credit card information, court documents state. Dining at O'Charley's in March was the only purchase the five victims had in common, which is how investigators connected Peters to the theft, according to court documents. Peters employment has been terminated, according to an O'Charley's representative. (Source fox19.com)
'Don't make me use this,' knife-wielding woman says in robbery at Lord & Taylor in Wayne, NJ A woman threatened a security guard with a knife and pepper spray during a robbery at the Willowbrook Mall's Lord and Taylor store Wednesday, police said. The woman grabbed two Marc Jacobs laptop cases along with a Betsy Johnson handbag and walked out of the store shortly after 11 a.m., according to township police. A security guard stopped her and tried to get her to come back into the store, but she refused. When store security approached, she pulled a knife and a pepper spray, police said. "Don't make me use this," she told the guard before escaping in a 2007 gold Cadillac CTS, according to a police. (Source nj.com)

Two men hit Walmart store for 6 computers & left through emergency door in Oakwood, Ga.

4 being charged in stolen credit card scam hitting Dollar General and Walmart stores in Londonderry Township, Pa.

19 member fraud ring indicted in Atlanta that used fake ID doc's to request replacement CC's from Wal-Mart & Sam's Club

Pharmacy robbery linked to drug overdose in western Minnesota

Police uniforms may be among stolen items during dry cleaners burglary in Houston

Wakulla, FL County Sheriff Seeks Suspect in Retail Theft Case

Repeat thief who stole from Naperville, IL Goodwill sentenced; in and out of jail since 1994

Bangkok, Thailand destroys 690,000 counterfeit and pirated goods at the Crime Suppression Division

Robberies and Burglaries
● Andy's Tobacco - Palestine, TX - Burglary - roof cut $9k in Cigarettes stolen
● Circle K - Iberia Parish, LA - Armed Robbery
● Circle K - Rutland, VT - Armed Robbery
● Dollar General - Bay Minette, AL - Armed Robbery - juvenile charged as Adult
● Dollar General - Savannah, GA - Armed Robbery - 2 former felons indicted
● Family Dollar - Little Rock, AR - Armed Robbery
● Scotchman - Surfside Beach, SC - Armed Robbery
● Tim Hortons - Niagara Falls, NY - Armed Robbery
● Uni-Mart - Bradford, PA - Armed Robbery
● 7-Eleven - Orlando, FL - Armed Robbery - 2 stores hit in 30 minutes
● 98 Cent Store - Fresno, CA - Armed Robbery

Vendor Spotlight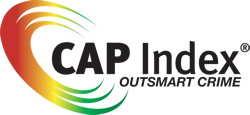 Metrics Matter: CAP Recognized by ASIS Report as the Objective Crime Forecasting Metric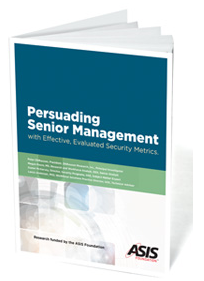 The ASIS Foundation recently released a comprehensive research report designed to create a best practices tool for benchmarking security metrics and demonstrating organizational ROI. Dozens of researchers and consultants as well as almost 300 security professionals who participated in an online survey contributed to the report.

In arriving at their many recommendations, ASIS recognized the importance of employing objective crime risk data in establishing effective security metrics. Throughout the report, only CAP Index's information is referenced as an objective crime risk forecasting resource relied upon by industry leaders to build actionable security metrics.

"We are honored that the only source of crime risk data cited in this groundbreaking report comes from CAP Index," said Steven K. Aurand, co-founder and CEO of CAP Index. "We have always actively supported individual companies as well as professional organizations like ASIS as they strive to optimize security solutions. Our ongoing work with the American Bankers Association, the Food Marketing Institute, the Loss Prevention Research Council, and the Restaurant Loss Prevention & Security Association promotes the exact goal recommended in the ASIS report to include objective metrics in any security-related decision-making process."

Click here to download the report overview.


Attending ASIS? Stop by CAP Index's booth (#3637) to discuss your risk assessment goals and find out what others across your industry are utilizing.

Featured Job Listings
Sponsored by Cam Connections
Feature Your Job Here For 30 Days -
70% Aren't On the Boards
Group VP of LP
Retained Search
New York, NY
Gus Downing
ORC Investigations Mgr
The Home Depot
Atlanta, GA
The Home Depot
Director Digital LP
Nike
Portland, OR
Nike
Regional LP & Safety Director
Younkers
Okemos, MI
The Bon Ton Stores
Sr Manager of LP
Dunkin' Brands
Dallas, TX
Dunkin' Brands
Sr LP Analyst
Dunkin' Brands
Canton, MA
Dunkin' Brands
Corporate Investigator
Confidential
San Francisco Bay, CA
Confidential
DC LP Manager
Brookstone
Mexico, MO
Brookstone
Regional LP Manager
The Vitamin Shoppe
Chicago, IL
The Vitamin Shoppe
National Account Manager
Vector Security, Inc
TBD
Vector Security, Inc
LP Agent
JONS Markets
Los Angeles, CA
JONS Markets
Bilingual AP Specialist
Bi-Lo Holdings
Miami, FL
Bi-Lo Holdings
AP Associate
Ralph Lauren
Orlando, FL
Ralph Lauren
LP Investigator
Lamps Plus
Chatsworth, CA
Lamps Plus
LP Investigator
Tom Thumb
Dallas, TX
Safeway
National Account Mgr
Confidential
Northeast
Downing & Downing

Limited Time Only - Post Your Multi-Unit LP jobs for FREE - Learn More Here

Daily Job Alerts


Sponsored by Cam Connections
Appearing One Day Only
View our Internet Jobs Archives here
AP Manager
Cabela's
Berlin, MA
Cabela's
Dept Mgr LP & Safety
Lowe's
Wood Village, OR
Lowe's
AP Manager
Sam's Club
Gulfport, MS
Wal-Mart
AP Manager
Sam's Club
Baton Rouge, LA
Wal-Mart
AP Manager in Training
Walmart
Ville Platte, LA
Wal-Mart
AP Manager in Training
Walmart
Port Saint Lucie, FL
Wal-Mart
AP Manager in Training
Walmart
Baltimore, MD
Wal-Mart
AP Manager in Training
Walmart
Medford, OR
Wal-Mart
AP Manager in Training
Walmart
Greece, NY
Wal-Mart
LP Manager
Sears
White Plains, NY
Sears Holdings Corp
Multi Unit LP Manager
Kmart
Toms River, NJ
Sears Holdings Corp
LP Lead
Sears Canada
Thornhill, ON, Canada
Workopolis
LP Lead
Sears Canada
Prince George, BC, Canada
Workopolis


Home of the Industry's Original
On the Move

None to report.
Post Your New Job or Promotion!
See all the Industry Movement

Your Career
Sponsor this section of the Daily
5 Signs You Need to Work on Your Leadership Skills Everyone can keep getting better at something, whether it's a skill, an interest, or even leadership, abilities are meant to be enhanced and honed. Here are some signs you're not a natural-born leader, but there are opportunities for improvement! (Neglect quality time)

To Build Your Strongest Team, Don't Hire Your Clones Many developing leaders start out with a goal of making an army of workers who are just like them, but it's not effective if you want a team who can accomplish big goals. To build your best team, follow these rules. (Differences are good)

To Build Influence, Master How You Enter a Room Leadership is about presence as much as it is experience or skill level. If you can't show people you care, or that you can keep your cool under pressure, how will you earn followers? All of this starts with how you enter a room. Look for these behavioral clues. (Unconscious cues)

5 Tips for New Team Leaders
Being a successful leader, when you haven't had a lot of experience, comes from being open to learning and knowing that you need to take action when the going gets tough. It will be a tough road, but new leaders will get the hang of it. Here are some tips to help you. (Ask questions)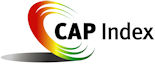 Tip of the Day
Sponsored by Vector Security
The worst question to hear from an employer is "What are your salary expectations?" The best answer is not to give one. Most don't do well with this question and tend to shoot for the moon at the beginning and that's exactly the wrong time to even try. Certainly the employer is trying to determine if they can afford you, but really they're trying to see how realistic you are and how committed you are to their position. Going into the interview, you already know their range and if they can afford you. So play it smart and wait for an offer before you even think about your number, because at the end of the day it's all about how much they want you and how much you want them that drives the right number for both of you.

Just a Thought,
Gus Downing






Upcoming Events

ASIS Seminar
September 29-October 2, 2014
Atlanta, GA

WSORCA Annual Training Conference
October 8, 2014
Tacoma, WA

LPRC Impact Conference
October 13-15, 2014
Gainesville, FL

CLEAR Fifth Annual Training Conference
October 13-16, 2014
San Diego Marriott-Mission Valley, CA

Northeast Regional Conference on LP
October 28, 2014
Monroe Twp, NJ
---
Recruiting?
Get your job e-mailed to everyone... everyday
Post on our Featured Jobs Board!
Reach your target audience in 2014 every day!
Request our 2014 Media Kit
update account / change e-mail
unsubscribe FEEDBACK
www.downing-downing.com

Advertise With The D&D Daily




36615 Vine Street, Suite 103
Willoughby, OH 44094
440.942.0671
copyright 2009-2019
all rights reserved globally