The D&D Daily Mobile Edition
LP, AP & IT Security's #1 News Source

---
Top Industry News

Loss Prevention Holiday Prep, Make Your List, and Check it Twice!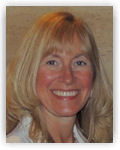 By Catherine Walsh, Senior Vice President and General Manager, Loss Prevention, Tyco Retail Solutions

Pretty soon consumers will be humming festive tunes as the holidays get closer. For some retailers, the prep seems to begin immediately after the holidays end. There's lots to do when it comes to making sure plans are in place for a safe and profitable season. A key element of success hinges on hiring the right seasonal staff and training them well in advance, as retailers incur losses around the holidays that can affect the entire year. All the more reason why Loss Prevention (LP) tasks need to move to the top of the holiday prep list.



From an LP perspective, the fast-paced holiday season can be overwhelming for store associates. Shrink during the holidays can bring a whole new set of challenges as huge amounts of merchandise are purchased via multiple channels and touchpoints, and stores are filled with the hustle and bustle of holiday shoppers. In fact, the 10 busiest shopping days of the 2018 holiday season account for nearly 45% of the season's total traffic, according to ShopperTrak. sensormatic.com

Listen: Your Customer is Your Best Resource with Tony D'Onofrio of TD Insights
The convergence of online and physical retail has shaken up the industry's landscape, but nowhere has this been more apparent than in the evolution of the customer. As brands learn to thrive in a digital medium, customers take a more active role as brand ambassadors; how will brands capitalize on more connected consumers?
To help us make sense of this shake up, we spoke to 30-year industry veteran Tony D'Onofrio from TD insights.

He talked about how his "early retirement" lead him to TD insights, how the digital wave is permanently transforming the industry, and how consumer patterns have shifted overtime. Tony also goes into detail about how a focus on user experience and brand awareness can help keep a brand alive and competitive. marketscale.com



ADT Showcases New Services, Solutions and Expanded National Accounts Capabilities at GSX 2018
ADT, Inc. (NYSE:ADT), a leading provider of security and automation solutions for homes and businesses, is showcasing its expanded enterprise-level security solutions, advanced integration capabilities and enhanced cyber security services at the GSX conference (formerly ASIS) in Las Vegas this week. ADT will also highlight the increased enterprise solutions capabilities that the acquisitions it has made over the past year have brought to the company. nasdaq.com



Axis Communications Showcases Latest Innovations at the Global Security Exchange
In its continued vision to innovate for a smarter, safer world, Axis Communications announced a new innovation for discreet corner surveillance and its latest innovations in bullet cameras and multidirectional cameras will be showcased at the Global Security Exchange (GSX) tradeshow in Las Vegas, NV, September 25-27. businesswire.com



Florida Division of Alcoholic Beverages and Tobacco's Bureau of Law Enforcement Adopts Intellicheck's Age ID to Hamper Underage Drinking
The Alcoholic Beverages & Tobacco (ABT) Bureau of Law Enforcement, an agency of the State of Florida, is using Intellicheck's (NYSE AMERICAN: IDN) Age ID® to boost its efforts to prevent underage drinking and advance the enforcement of laws that make it illegal to sell alcoholic beverages to minors. Age ID is an industry leading SaaS technology solution that authenticates driver licenses and other forms of identification to prevent the use of altered and fake IDs. intellicheck.com

---
Selling 183 Tons of Fraudulently Labeled Crab Meat to Grocery Stores
Seafood Processor Pleads Guilty to Selling Millions of Dollars of Falsely Labeled Blue Crab
James R. Casey of Poquoson, Virginia, pleaded guilty today in federal court in Newport News, Virginia, on charges that he led a lucrative conspiracy to falsely label millions of dollars worth of foreign crab meat as "Product of USA."

Casey was the owner and President of Casey's Seafood Inc., a wholesale processor of crab meat and other seafood. He pleaded guilty to conspiring with others to substitute foreign crab meat for Atlantic blue crab and, as part of the plea, admitted to falsely labeling more than 183 tons of crab meat, which was then sold to grocery stores and independent retailers.

As part of the guilty plea, Casey further admitted that beginning at least as early as 2010, and continuing through June 17, 2015, he directed company employees to unpack foreign crab meat from his suppliers' containers, comingle it with domestic blue crab and/or other types of crab, and re-pack that crab meat into Casey's Seafood containers, all of which were labeled "Product of USA."

A significant decline in Atlantic blue crab (Callinectes sapidus) harvests that began in 2010 made it increasingly expensive to purchase live Atlantic blue crab and increasingly difficult to profit from the labor-intensive process of picking meat from live-harvested blue crab. He also bought distressed crab meat reaching it's best sell by dates and instructed employees to repackage it and had employees replace labels Product of China with Product of USA labels. Faces 5 years in prison and half the gross gain of the offense. justice.gov

Prepare for EEOC Onsite Visits
Companies have pending Equal Employment Opportunity Commission (EEOC) charges against them should be ready for the possibility of an EEOC onsite visit and should turn the visit into an opportunity to show how the company complies with anti-discrimination laws.

A site visit to follow up on an EEOC charge signals that this is not a run-of-the-mill investigation, noted Barry Hartstein, an attorney with Littler in Chicago. It means the EEOC has a heightened interest in that charge. Onsite visits are particularly likely if more than one person has filed charges with the EEOC on the same issue in the same location.

To reduce the chances of receiving an onsite visit, employers should provide a detailed position statement, or response to the EEOC's charge, with supporting documentation and should answer EEOC requests for information, said Scott Fanning, an attorney with Fisher Phillips in Chicago. shrm.org

How Trump Is Being Protected in New York (and What It May Cost)
Most of the world's leaders are descending on New York City this week for the annual United Nations General Assembly, but only one of them has a residence atop Trump Tower.

President Trump returned Sunday to his hometown. As the city was bracing for gridlock, the F.B.I., Secret Service and New York Police Department were preparing to safeguard visiting dignitaries and also Mr. Trump, who planned to stay in his penthouse.

Dump trucks on hand - There are nearly 50 dump trucks filled with sand on the street, according to city officials. Earlier this week, at least 17 of them had lined Fifth Avenue between 55th and 57th Streets.

Block the streets - The General Assembly typically creates traffic jams. At one point during the two-week session, the police said, 189 motorcades are expected to cross Manhattan in a single day.

Mr. Trump's choice to stay at Trump Tower has added to the snarl. This year, 55th Street from Sixth to Madison Avenues, and 56th Street between Fifth and Sixth Avenues, are among the streets closed to vehicular traffic.

Prepare for protests - There are 67 protests planned during the assembly.

Now get ready for the bill - It costs about $308,000 a day to protect Mr. Trump at his New York home. Local businesses in 2017 said sales dropped by 40 percent as foot and car traffic ground to a halt behind barricades and checkpoints.

The General Assembly protective detail has cost between $20 million and $30 million in past years. In the past, the federal government has reimbursed that money.

"There are many ways we'll be keeping people safe," James P. O'Neill, the police commissioner, said in a statement. "And there will be much the public will see, and much the public will not see." nytimes.com

Whistleblower Says Online Retailer Hid $3M in Abandoned Gift Card Balances
A Delaware jury took little more than a hour to find Overstock.com guilty of concealing nearly $3 million in abandoned gift card balances from Delaware's revenue agency, after a six-day whistleblower trial that could lead to a treble damages sanction.

The verdict late Thursday capped a five-year litigation effort by Grant & Eisenhofer PA that, in cooperation with the state Department of Justice, already had produced $25 million to $30 million in unpaid "escheat" turnovers and penalties from other retail card issuers who settled before trial.

William Sean French, a former employee of the the card company, CardFact Ltd., later Card Compliant LLC, disclosed the scheme and served throughout as the official "relator" under the state's whistleblower law. The trial covered unpaid escheat claims from 2004 to 2007, with additional allegations involving undisclosed, abandoned assets the period from 2008 to 2012 pending. law360.com

California Legislative Information - Bill Eliminating Bail
SB-10 Pretrial release or detention: pretrial services
This bill would, as of October 1, 2019, repeal existing laws regarding bail and require that any remaining references to bail refer to the procedures specified in the bill.

This bill would require, commencing October 1, 2019, persons arrested and detained to be subject to a pretrial risk assessment conducted by Pretrial Assessment Services.

The bill would require a person arrested or detained for a misdemeanor, except as specified, to be booked and released without being required to submit to a risk assessment by Pretrial Assessment Services. The bill would authorize Pretrial Assessment Services to release a person assessed as being a low risk, as defined, on his or her own recognizance, as specified. The bill would additionally require a superior court to adopt a rule authorizing Pretrial Assessment Services to release persons assessed as being a medium risk, as defined, on his or her own recognizance.

The bill would require the victim of the crime to be given notice of the arraignment by the prosecution and a chance to be heard on the matter of the defendant's custody status. ca.gov

Big Lots' Allegedly Dirty Floor Blamed For Woman's Slip And Fall Injuries
A California state court jury heard opening statements on Tuesday in a premises liability lawsuit filed against Big Lots Inc. by a woman seeking to hold the retail chain responsible for injuries she alleges she suffered after slipping on dirt in a checkout aisle.

Diana Higgins claims she sustained shoulder and neck injuries requiring two surgeries in 2016, when a patch of dirt supposedly sent her stumbling into a soda display shelf. Her attorney, Jillian Hayes of CaseyGerry, told jurors during her opening statement the accident occurred due to Big Lots' lack of a corporate policy to ensure their floors are regularly swept. cvn.com

Dov Charney ordered to pay $19.5M over American Apparel suit
The Delaware Supreme Court on Monday affirmed a Dec. 17, 2017, ruling that American Apparel founder Dov Charney must pay hedge fund Standard General $19.5 million. That figure is the principal amount of a loan from 2014 when the hedge fund was working to help Charney retake control of the retailer, excluding accrued interest. Charney had appealed the earlier ruling by the Chancery Court in Delaware. retaildive.com

Verizon Launches Early-Retirement Program to Trim Workforce
Buyout offers sent to management as well as staffers
Verizon Communications Inc., looking to trim its workforce, has offered early-retirement packages to thousands of staffers, including all of its management employees as part of a broader cost-cutting effort.

The largest U.S. wireless carrier by subscribers on Monday offered voluntary severance packages that include three weeks' pay for each year of service, the first such offer in at least 13 years, a spokesman said. He said the package was more "employee friendly" than prior offers.

The move is part of a broad, multiyear $10 billion cost-cutting effort at Verizon that has been led by new Chief Executive Hans Vestberg. Frontline sales employees were excluded from the offer. wsj.com

Companies offer workers more benefits instead of pay increases
Best Buy began offering four weeks of paid time off to full- and part-time employees to take care of family members. The move is part of a broader movement by businesses to expand benefits to workers in lieu of wage hikes. While pay has increased in recent months, it has been largely offset by inflation. retailwire.com

Beware of Hurricane Florence Relief Scams
If you're thinking of donating money to help victims of Hurricane Florence, please do your research on the charitable entity before giving: A slew of new domains apparently related to Hurricane Florence relief efforts are now accepting donations on behalf of victims without much accountability for how the money will be spent. krebsonsecurity.com

Associated Grocers reposts Director of Risk Management job - Baton Rouge, LA

Director of Organizational Safety and Security for Ross Stores job taken down

Survey Shows How C-Stores Are Responding to Disruption

Nike CEO cites Kaepernick ad for sales increase

Recall issued for ground beef sold at Safeway, Target, Sam's Club, death reported

Owner of Connecticut and New York Pizza Restaurants Pleads Guilty to $122K Federal Tax Charge

Anti-Counterfeit & Currency Expo
November 6-8 - Las Vegas, NV

Anti-Counterfeit & Currency Conference is a completely free-to-attend program for loss prevention, asset protection, operations and treasury professionals. This two-day, free-to-attend program provides invaluable insights on how retailers can drive efficiencies across cash management operations, enhance security and reduce cash shrinkage.

With participation from 100+ exhibitors, 2,000+ attendees, and 60+ speakers from companies including McDonald's, Shoe Carnival, Tidel, Glory, SUZOHAPP and Fifth Third Bank, this is a not-to-be-missed event.

Attend this November to gain priceless insights from retailers and suppliers on the industry's toughest challenges and most exciting innovations.

Don't delay; secure your free delegate pass today!
---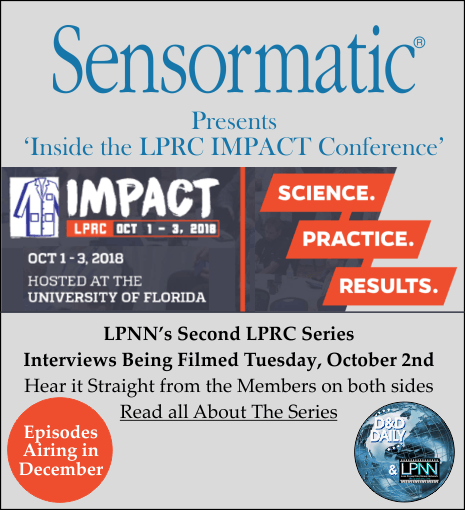 ---

---

---
---
Spotlight on Agilence
---

---

Payment Security Compliance drops for the first time in six years
Retail leads other sectors in PCI compliance
After documenting improvements in Payment Card Industry Data Security Standard (PCI DSS) compliance over the past six years (2010 – 2016), Verizon's 2018 Payment Security Report (PSR) now reveals a concerning downward trend with companies failing compliance assessments and perhaps, more importantly, not maintaining - full compliance.

The Payment Card Industry Data Security Standard (PCI DSS) helps businesses that offer card payment facilities protect their payment systems from breaches and theft of cardholder data. PCI DSS compliance has been shown (via the Verizon Data Breach Investigations Report series) to help protect payment systems from both data breaches and theft of cardholder data, so this trend is alarming.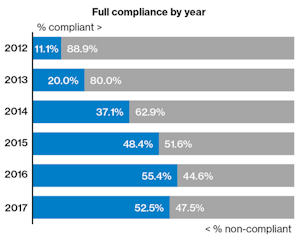 Data gathered by Verizon's PCI DSS qualified security assessors (QSAs) during 2017 demonstrates that PCI compliance is decreasing amongst global businesses, with only 52.4 percent of organizations maintaining full compliance in 2017, compared to 55.4 percent in 2016. Regional differences are highlighted, demonstrating that companies in the Asia-Pacific region are more likely to achieve full compliance at 77.8 percent, compared to those based in Europe (46.4 percent) and the Americas (39.7 percent). These differences can be attributed to the timing of geographical compliance rollout strategies, cultural appreciation of awards/recognition, or the maturity of IT systems.

By business sector, IT services remain on top when it comes to compliance, with over three-quarters of organizations (77.8 percent) achieving full status. Retail (56.3 percent) and financial services (47.9 percent) were significantly ahead of hospitality organizations (38.5 percent), which demonstrated the lowest compliance sustainability. With businesses often leveraging PCI DSS compliance efforts to meet the security requirements of data protection regulations, such as the European Data Protection Regulation (GDPR), this gap between the various business sectors that deal with electronic payments on a daily basis is significant. yahoo.com

Cyber-Shoplifting a Factor in Merchants' $19.4B Chargeback Losses
A new study found merchants shouldered nearly two-thirds of $31 billion in chargeback costs last year -though some experts estimate annual chargebacks surpass $80 billion - hindering profitability even as major retailers have recorded robust sales growth. Other researchers noted that chargeback policy abuse, a form of cyber-shoplifting, was three times more prevalent in 2017, and card-not-present (CNP) merchants face 34% more of this "friendly fraud" than their brick-and-mortar counterparts.

After a year of record store closings, merchants have risen to the challenge of consumers' Amazon-driven expectations of instant gratification; today, big-box retailers such as Target and Walmart are experiencing their best sales growth in over a decade. Yet the specter of chargebacks has become a growing concern, as new data shows merchants and issuers lose an additional $1.50 in fees and costs for every $1 in disputed transactions. Of the $31 billion in chargebacks cited in the recent study, issuers were responsible for $11.6 billion while merchants took a $19.4 billion hit. Nearly half (45%) of all consumers filed at least one dispute in 2017, and 25% filed two or more. Not only did policy abuse/friendly fraud rise threefold last year, but it also "increased notably in terms of the sophistication of attack methods." businessinsider.com

Microsoft president says tech companies are "first line of defense" in cybersecurity
Cybersecurity is "job one" for businesses, consumers and governments around the world today, and technology companies are "the first line of defense," according to Microsoft president Brad Smith.

"The security engineers who work at our company – we have 3,500 of them – are the first responders when things go wrong. It has fundamentally changed the role we need to play and really elevated the responsibility we need to fulfill," Smith said Monday on "CBS This Morning." cbsnews.com

Chinese police arrest 21 over data theft at Alibaba's delivery arm
Chinese police on Friday arrested 21 suspects in connection with the theft of customer information from Alibaba Group Holding's logistics affiliate Cainiao Network, state news agency Xinhua reported. More than 10 million pieces of client data - including user names, phone numbers and parcel tracking numbers - were stolen from Cainiao, which provides logistics support to Alibaba's Taobao e-commerce platform, the report said. economictimes.com

Director, Information Systems Security, Domino's - job based in Ann Arbor, MI

FireEye CEO: 'Every cyberattack is related to geopolitical conditions'

Facial recognition scanners at nine airports found 1,300 immigrants overstayed visas in 2017

Walmart Further Empowers Employees with New Suite of Mobile Apps
---
Canadian Connections
Sponsored by Vector Security Network
Circle K Central Canada LP Division Receives ISCPP Business of the Year Award
Sean Sportun, manager of security and loss prevention for Circle K-Central Canada, said on LinkedIn that he and his team are honoured and proud to receive this prestigious International Society of Crime Prevention Practitioners award as the Business Of The Year for their crime prevention programs. Under Sportun's leadership, Circle K has implemented StreetART and other programs that have reduced crime and boosted revenue. Read more here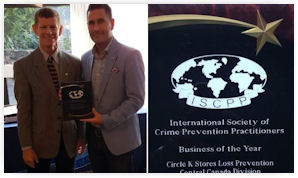 ---
'There's no deterrent'
Former loss prevention officer speaks about shoplifting policies
Blames hands-off approach for encouraging thieves
The man, who requested his identity not be revealed, now has a new job but worked undercover in department stores, grocery stores and pharmacies to stop shoplifters. "When I was working I was catching every four hours," he said. "I was catching two a day, minimum.".

The man said in some cases catching a shoplifter means using physical force, work he said was dangerous but necessary. He said store policies which prohibit physical intervention with suspected thieves only encourage shoplifting.

"There's no stopping it," he said. "If you're going to have a hands-off policy and say, 'excuse me, sir can I please have that back' you're just wanting them to steal because there's no deterrent."

University of Winnipeg criminal justice professor Michael Weinrath agrees. He said those policies could also make it more difficult for police to get to the bottom of thefts.

"Are they organized criminals who are selling these things online, are they meth addicts who need some sort of treatment. We need to know more about these individuals but if we don't have any intervention from the security staff then we're not going to find anything out," said Weinrath.

The former loss prevention officer thinks stores need to do more to send a message to shoplifters. Weinrath said a mix of restorative justice, addictions treatment and time in custody for repeat offenders is needed to curb thefts. ctvnews.com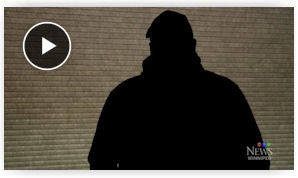 Stealing to sell, not to eat: Pilfered meats, cheeses being resold
'Organized crime' rising, some store owners seeing five theft attempts per day
Theft is on the rise in Winnipeg and grocery store owners are feeling the losses. Munther Zeid, owner and manager of Winnipeg's Food Fare chain, says he thought he had shoplifting under control. But two years ago it started amping up again.

He says he's seeing up to five theft attempts a day — and those are just by the people he's catching. The increase in theft isn't the only change he's noticed in his store this year. Zeid says he and other grocers in the city are seeing shoplifting shift into what he calls organized crime.

While household products are often stolen, the most common items being taken from these stores are meats and cheeses, Zeid said, but he doesn't think the thieves are taking the items to feed themselves.

Winnipeg police agree with Zeid when he says the food is being stolen for resale. "A lot of these thefts are for resale, not for consumption," said Const. Jay Murray. cbc.ca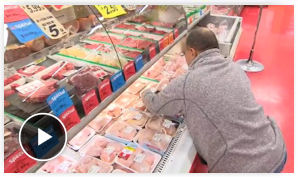 Ontario Pharmacists Are Staging Fake Robberies So They Can Sell "Stolen" Fentanyl On The Streets
The pharmacist pictured, who's name is Waseem Shaheen, had coordinated the entire robbery in order to conceal his own dealing of fentanyl on the streets.

An audio recording was leaked by the man on the phone call with Shaheen, in which Shaneen requested for someone to come to the store and pretend to rob the spot. Once the "robber" had left with the opioids on the planned day of the heist, the Ottawa pharmacist phoned the police claiming he had been robbed of "everything." What had been "taken" in actuality was at least 5,000 fentanyl patches.

While the "robbery" had been done on October 26th of 2014, the fentanyl and opioid crisis has only gotten worse in the four years since. The video exposes that the drug crisis isn't necessarily only a product of drug dealers, the silk road or some unknown evil. Rather, it could likely be your neighbourhood pharmacist looking to cash in on an epidemic that's killing thousands. narcity.com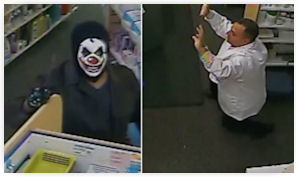 Liquor Marts not alone in dealing with retail theft
The Crown corporation said it has experienced a $200,000 increase in lost product due to liquor theft over the past 12 months compared to the previous 12-month period, blaming the spike on shoplifters who become brazen and dangerous when confronted. Total losses account for about 0.2 per cent of annual sales.

According to the Retail Council of Canada, the losses suffered by Manitoba Liquor Marts are actually lower than the national average. It said most businesses lose an average of about two per cent of annual sales to shoplifting which amounts to a total of $5 billion in losses due to theft for the retail sector across the country. It's not only liquor marts. Cantor's Grocery owner Ed Cantor said losses due to shoplifting at his store have increased 5 per cent this year compared to last year. ctvnews.ca
---
Why Canada's pot legalization won't stop black-market sales
Many buyers of illegal pot will have little incentive to switch to legal weed, expected to be more expensive and less available because of strict regulations on sales. If the price difference allows the black market to compete, that will hamper the public benefits of legalization — legitimate investment, job creation and tax revenue — and complicate efforts to stamp out crime associated with illegal drug trafficking. financialpost.com

Ontario Set to Unveil Retail Cannabis Rules This Week

Shoppers Drug Mart gets medical pot license from Health Canada

Legal pot sales could reach $1 billion in fourth quarter: StatCan

Click here to read more about the retail cannabis roll-out in the Daily's Special Report
---
Tornado, Blackout Aftermath in Canada
Suppliers restocking area stores as residents throw out spoiled foodstuffs
Sobeys making $50,000 donation to Ottawa Food Bank
Armies of food suppliers were clocking extra hours to ensure that supplies of perishable items would stay safe during a two-day-long blackout, while organizing armies of shipping trucks to beef up deliveries to grocery stores across the national capital area.

Sobeys said it was making a $50,000 donation to the Ottawa Food Bank in order to help replenish food levels at the charitable organization. Gumbs said Loblaw is also working with the Ottawa Food Bank to help it replenish its reserves. Several Loblaw stores are also accepting donations for the Red Cross to aid victims affected by the tornadoes. edmontonsun.com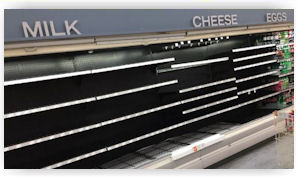 Canada Store Openings
● Danish Retailer 'Change' Plans 10 Canadian Stores for 2019
● Icebreaker Merino Wool Continues 'TouchLab' Retail Expansion in Canada
● New Sleep Country location opens in the Bloor Annex area of Toronto
● Pot retailers announce stores in Manitoba, including cannabis 'superstore' in St. Vital
● Vancouver-Based Women's Retailer 'The Latest Scoop' Expands to Toronto
● New HomeSense store opening in Whitby

Instacart to transform Toronto office into tech hub, hire 200 people

RCMP investigates after servers of bankrupt retailer NCIX allegedly offered for sale with data intact

Canada Post strike averted for now as carriers say they'll keep talking

Le Château Reports Improved Second Quarter Results

Empire to acquire Canadian grocer Farm Boy for $618M

Scarborough, ON: 19-year-old man killed in shooting behind strip mall
Police have identified a man who was found shot to death in Scarborough on Tuesday night. Officers were called to a strip mall in the area of Sheppard Avenue East and Brimley Road just after 9:30 p.m. The victim was located behind one of the buildings suffering from obvious signs of trauma and was pronounced dead at the scene. Police identified him as Jago Anderson, 19, of Toronto. Investigators are searching for a dark-coloured newer-model SUV which was seen fleeing the area, eastbound on Sheppard Avenue. 680news.com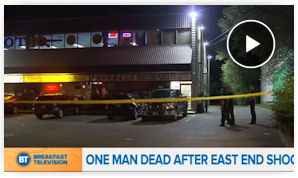 'We don't feel safe here anymore'
Edmonton store owner shuttering shop after brazen robbery
Days after his store in northwest Edmonton was robbed, the owner of a coin shop said he's had enough, and he's closing the business. On Wednesday at about 3:30 p.m., the shop was targeted by three armed robbers. Police said the three people entered the store and forced an employee to hand over antique coins and currency notes "of significant value." After losing most of the sellable products in the shop, the store's owner isn't comfortable running a business in the area. He said the shop he's closing is the longest-running coin and stamp shop in the city. ctvnews.ca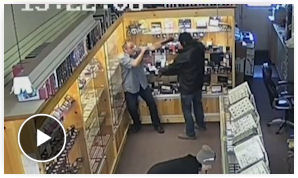 One hospitalized, two in custody after shooting at South Keys Shopping Centre

Thieves target customers during liquor mart robberies in Winnipeg

Kingston, ON: Chronic shoplifter sentenced to six months in jail

---
Robberies & Burglaries



● C-Store - Waterloo, ON - Armed Robbery
● C-Store - Windsor, ON - Armed Robbery
● Coin Store - Edmonton, AB - Armed Robbery

---

---
---

---

---
e-commerce
Sponsored by The Zellman Group

New Guide Empowers E-Commerce Merchants to Fight Back Against Fraud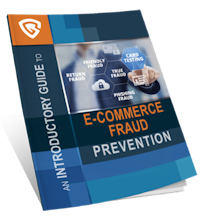 Chargeback Gurus, an industry leader in chargeback and fraud mitigation services, has released a new guide, An Introductory Guide to E-Commerce Fraud Prevention, to help e-commerce and other card-not-present merchants protect themselves from credit card fraud. Fraud is a significant and growing threat for e-commerce businesses—especially during peak holiday times, when merchants can face up to 2 to 3 times more fraud than usual. Online fraud jumped up 33% in 2016, with total fraud losses that year calculated at $6.7 billion. Some analysts expect that figure to rise to $7.2 billion by 2020.

The guide covers five main types of e-commerce fraud—true fraud, friendly fraud, phishing (account takeover fraud), refund fraud and card testing—and offers effective tools and strategies to combat each of them. "Prevention is crucial," said Suresh Dakshina, President of Chargeback Gurus. "Merchants today are stuck in a bind where they must make every effort to detect and avoid fraud and chargebacks, while being careful not to overzealously decline legitimate transactions or allow the costs of fraud prevention to harm their profitability."

Finding this delicate balance can be challenging for most businesses, who may feel worried or overwhelmed that prevention can be tedious and expensive, and may lower sales. These are all valid concerns, but according to Dakshina, "merchants can now feel empowered to fight back against fraud and chargebacks effectively without having to worry about time, resources or expensive tools. This was our primary goal in creating this new guide." Get the eGuide now. prweb.com

Retailers must 'mind the generation gap' when combating fraud
We recently surveyed more than 5,500 consumers and 500 businesses worldwide to gain a better understanding of the investments companies are making in customer recognition and fraud risk mitigation, as well as consumers' thoughts about online security procedures. In our 2018 Global Fraud and Identity report, we shared our findings about consumer tolerance toward these protocols, which varied by age.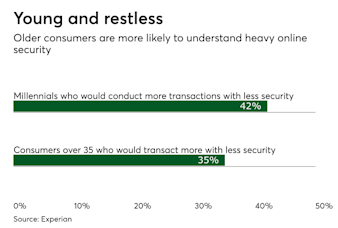 Out of all consumers surveyed, 42 percent of millennials said they would conduct more online transactions if there weren't so many security hurdles to overcome, versus 30 percent of those who are 35 and older. Based on this research, we concluded that younger consumers are generally less tolerant of security hurdles and are more inclined to engage online if there was less friction.

The challenge here for businesses is to create a good balance between providing a positive experience for consumers while having efficient security measures that protect them from potential data breaches. However, it's hard to find just one solution that is well suited for all consumers due to the varying degree of tolerance toward security. paymentssource.com

Walmart's online grocery service hits two big milestones

Forter Raises $50 Million Series D To Fight Online Fraudsters

eBay to help UK Wolverhampton traders build online shops

"Fraud is not a person - it is a dynamic grouping of statistics that deviate from the norm."
Stuart B. Levine, CFI, CFCI
CEO, The Zellman Group & Zelligent
---

---
ORC News
Sponsored by Auror

Eight Members of Organized Fraud Ring "Free Band Gang" in Detroit Indicted
Hitting Walmart Stores Across the U.S. For Millions Over 3 Years
In 9 Hours the Gang Made $100,000
A federal grand jury charged eight members of an organized fraud ring based in Detroit with conspiracy to commit wire fraud, conspiracy to commit money laundering, and aggravated identity theft in a twenty-three count indictment.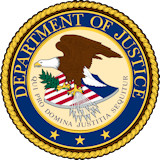 The defendants are members and/or associates of an organized fraud ring known as the "Free Band Gang." Members of the fraud ring obtained stolen credit card accounts in bulk through various sources, including "dump" sites on the internet. The stolen accounts were then pressed on the front of counterfeit cards to create cloned credit cards. Free Band Gang members traveled to Walmart stores throughout the United States where they purchased $500 gift cards using the cloned credit cards without the authorization — or knowledge — of the true accountholder. Free Band Gang members often purchased a hundred thousand dollars or more in gift cards in a single day using the cloned credit cards and returned to Michigan with the gift cards which they sold for cash to launder the proceeds. The scheme lasted for nearly three years and resulted in millions in losses.

"In the span of nine hours, two of these defendants allegedly traveled to ten Walmart stores in and around Bentonville, Arkansas, used three counterfeit credit cards, and made over $100,000.00 in fraudulent purchases," stated United States Attorney Matthew Schneider. "This was not uncommon for this group. Over three years, the defendants stole millions of dollars in an organized, calculated scheme. Because Michigan is a national leader in identity theft, we are literally working day and night to break up these fraud rings and put the perpetrators where they belong: in federal prison." justice.gov

Cincinnati, OH: Group bought BMWs, widescreen TVs, totaling over $100,000 with unactivated Credit Cards scheme
Five Cincinnatians have been charged after police said used unactivated credit cards to buy thousands of dollars worth of alcohol, electronics and cars from businesses in Ohio and Kentucky. Police said suspects would buy merchandise and when cashing out, used a credit card that had not been loaded or activated. When the card did not go through, the suspects called an accomplice who pretended to work for the financial institution that issued the card, who would then give clerks a code to make the transaction go through. Greenhills Police said the amount stolen "will easily exceed $100,000." The information to learn how to force these transactions is available on the Internet, police said. whio.com

Summit County, UT: Walmart thief flees with $54,000 in Cellphones
This week, early Monday morning, a suspect robbed the Wal-Mart of thousands of dollars worth of merchandise and fled before deputies arrived. Surveillance footage showed the suspect was an African-American woman, in a white and black hoodie, who left in a black car. An inventory later showed the store was missing over $54,000 in merchandise. Sheriff's Lt. Andrew Wright said the suspect made off with 60 to 70 cell phones. He said, though, the thief didn't accomplish much, because an activation process has to take place for the phones to work. kpcw.com

Chattanooga, TN: TJ Maxx Grab & Run thief hit same store 3 times in one day; nearly $3,000
Police responded on a shoplifting at the T.J. Maxx at 2200 Hamilton Place Blvd. A manager said he observed an unknown black male walk into the store, grab an arm full of clothes, run past all points of sale, and run out the door. The suspect stole $1,705 worth of merchandise. Less than five hours later, the same thief hit the same store in exactly the same manner. This time he got away with $1,200 worth of merchandise. Police said there was a third incident involving the same thief. chattanoogan.com

Barboursville, WV: Walmart shoplifter busted with $800 of merchandise, gave false information to Police

Dayton, OH: Man steal over $500 of merchandise from Goodwill store

Submit your ORC Association News

Visit the ORC Resource Center

---
Retail Crime News

Shootings & Deaths
Stanford, NY: NY State Trooper shoots, kills suspect during a menacing call at a Restaurant/Shop
On September 25, 2018, at approximately 11:00 a.m., State Police were dispatched to a menacing call at 6063 State Route 82 in the town of Stanford. During the call, a State Police member discharged a Division-issued firearm, striking the suspect at the scene. The investigation into the shooting is currently ongoing. nyspnews.com

Greenville County, SC: Grocery store owner attacked, kidnapped; wife shot
Deputies say the owner of a grocery store chain was attacked and kidnapped and his wife was shot by five masked men. Sergeant Ryan Flood, a spokesman with the Greenville County Sheriff's Office, said W.E. Willis -- the owner of W.E. Willis Grocery store -- was at the business between 4 and 5 a.m. Tuesday before the store opened. Willis was reportedly in the parking lot when he was met by five masked men, who brutally attacked him. The suspects then forced Willis into his car and drove to his home.

Flood said when deputies arrived at Willis' home, they found Willis and his wife tied up in the home. His wife was also found shot. Willis and his wife, Patricia were both taken to a nearby hospital for treatment. Patricia Willis was in critical condition as of Tuesday afternoon. Willis' home was ransacked and the suspects reportedly left in Willis' car. wspa.com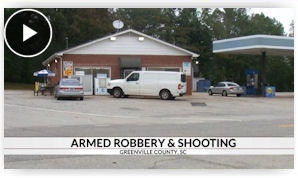 Memphis, TN: US Marshals searching for suspect wanted for murder of C-Store Clerk in 2015
The U.S. Marshals are looking for a murder and robbery suspect. Investigators say Christan Hall is responsible for the murder of 30-year-old Khaled Khayet in June of 2015. Khayet was working at Zorro Mart on East Shelby Road the night of his murder. Marico Vales and Antonio Jones are both in custody in relation to the crime. wmcactionnews5.com

---
Robberies, Incidents & Thefts
San Francisco, CA: Bay Area Apple stores blitzed and robbed 9 times in 1 month
Can authorities stop it? These mob-style robberies have occurred at least nine times at six Bay Area Apple stores over the span of a month, from late August to late September. In that time, thieves have pilfered at least $281,000 worth of iPhones, iPads and other Apple devices. Few arrests have been made.

Though the tactics are similar, police have yet to conclude that the same suspects are responsible for the recent string of thefts. The operation usually goes something like this: A handful of hooded individuals storm an Apple store. They unplug and gather as much merchandise as they can in a few seconds, then run to a getaway vehicle idling out front as customers and security guards look on.

Since mid-May there have been at least 21 run-and-grab thefts at Apple stores in California, with losses exceeding $850,000 since the start of the year, KGO reported. A possible deterrent to thieves may be the presence of uniformed officers, San Francisco Police Officers Association President Tony Montoya told KGO. Though Apple stores have been targeted from the North Bay to the South Bay, San Francisco stores, which have uniformed officers onsite, have not been recently hit. beaumontenterprise.com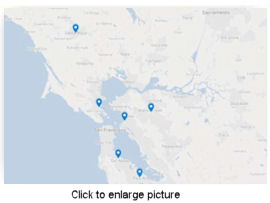 Indianapolis, IN: Police investigating Armed Robbery at Jared's in Keystone Crossing
A popular jewelry store shut down for the day after a violent robbery Monday night. Three men entered the Jared jewelry store at Keystone Crossing around 8:30 p.m. One person in the store suffered injuries after being attacked by one of the suspects. The three men got away with an unspecified amount of merchandise. Jared stayed closed Tuesday to clean up and take inventory to determine what's missing. The trio stayed in the store for about a half-hour, taking off just before 9 p.m. Monday. wthr.com

San Antonio, TX: Police, Crime Stoppers release image of overnight IHOP Armed Robbers
San Antonio police and Crime Stoppers have released an image of two suspects responsible for an overnight robbery at a Northwest Side restaurant. The robbery occurred Sept. 17 around 3:30 a.m. at an IHOP located in the 12700 block of Interstate 10 West near De Zavala Road. ksat.com

Broken Arrow, OK: Police say passing of State Questions 780, 781 are linked to spike in theft
Police said an increase in theft is correlated with State Question 780 and 781 that went into effect July 1, 2017. The new law changed certain nonviolent drug and theft-related crimes from felonies to misdemeanors. Officer James Koch said they know this is a problem in Broken Arrow and continue to see car break-ins and shoplifting crimes spike across their city. Before, if someone stole more than $500 worth of items it was a felony. Now, it has to be more than a $1,000 worth of items, otherwise it's still a misdemeanor. ktul.com

New Zealand: Shoplifting all in the family - Grandma racks up more than 100 convictions
The matriarch of a family shoplifting syndicate has been sent to prison after racking up more than 100 convictions. From homewares to bank cards, and trolleys full of food, Rawinia Andrews stole it all. And then she got caught. Andrews, 40, was sentenced at the Hamilton District Court on Monday after earlier pleading guilty to 13 dishonesty offences and one charge of assault. She now has about 102 convictions under her belt - almost half of those are for shoplifting. stuff.co.nz

Nigeria: Nigerian Navy and Maritime Administration Launch Rescue Mission For 12 Kidnapped Cargo Ship Crew Members

Solon, OH: Falling Pants Prevent 7-Eleven Red Bull Theft

Jared in the Keystone Crossing, Indianapolis, IN reported an Armed Robbery on 9/24, items valued at over $300,000

Jared Jewelry Boutique in the Columbia Mall, Columbia, MD reported a Grab & Run on 9/25, item valued at $2,299

Kay Jewelers in the Sears Town Mall, Leominster, MA reported a Grab & Run on 9/24, item valued at $10,699 (recovered)

Kay Outlet in the Opry Mills Mall, Nashville, TN reported a Grab & Run on 9/25, item valued at $3,599
---
Sentencings, Indictments & Charges
Linn County, IA: Woman faces 1st degree Murder charge after intentionally driving over man in Dollar General parking lot
It was no accident that a driver ran into and killed a bicyclist last month in the parking lot of a Dollar General store in Central City, according to the Linn County Sheriff's Office. Melinda Kay Lawrence, 59, intentionally aimed her Buick at the bike being ridden by Jeffrey Alan Scott, 54, about 11 p.m. Aug. 30. She was arrested Tuesday afternoon and faces charges of first-degree murder, homicide by vehicle and leaving the scene of a fatal accident. A friend of the victim told authorities Lawrence believed Scott had stolen from her, and so she had been stalking him. thegazette.com

Raleigh, NC: C- store clerk charged in death of suspected Robber
A Raleigh convenience store clerk has been charged in the July shooting death of a man he said tried to rob the store. A Wake County grand jury on Monday indicted Ramy Ramsis Hanna, 47, on a charge of voluntary manslaughter. The body of Derrick Malik Wiley, 21, was found on July 14. Investigators said Wiley was a suspect in a robbery of a Mini Mart. Hanna exchanged gunfire with the robber, police said. Wiley was found with a gunshot wound to his leg. wral.com

Colorado Springs, CO: 2nd man found Guilty of Murder of Auto Shop owner

Harrison County, WV: Speedway Armed Robber sentenced to 5 to 18 years; the 52 year old man has already been incarcerated for 23 years

Bangor, ME: Milford Man Pleads Guilty to Armed Robbery Charges

Robberies and Burglaries
Sponsored by Scarsdale Security Systems
• C-Store – Etna, ME – Armed Robbery
• C-Store – Newton, TX – Armed Robbery
• C-Store – Slidell, LA – Robbery
• C-Store – Madison Heights, VA – Armed Robbery
• C-Store – Pueblo, CO – Armed Robbery
• C-Store – Roanoke Rapids, NC – Armed Robbery/Employee shot
• C-Store – Rochester, NY – Armed Robbery
• C-Store – San Antonio, TX – Robbery
• Dollar General – Americus, GA – Armed Robbery
• Family Dollar – San Antonio, TX – Armed Robbery
• Grocery – Greenville, SC – Armed Robbery/ Kidnapping/Shooting
• Gun Shop – North Las Vegas, NV – Burglary
• Jewelry Store – Indianapolis, IN – Armed Robbery
• Marijuana Dispensary – Colorado Springs, CO – Burglary
• Nail Salon – Huntington, WV – Robbery
• Restaurant – West Jordan, UT – Robbery
Daily Totals:
• 14 robberies
• 2 burglaries
• 2 shootings
• 0 killings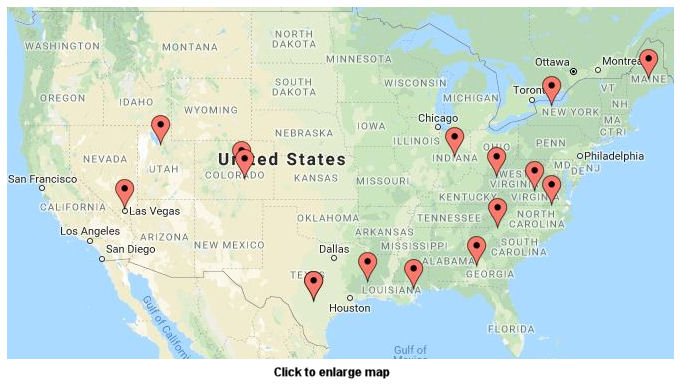 ---

---
Home of the Industry's Original
On the Move

None to report
Submit Your New Hires/Promotions
or New Position
See all the Industry Movement
---

---

---

---
Featured Job Listings
Sponsored by Delta Lock
Feature Your Job Here For 30 Days -
70% Aren't On the Boards

Featured Job Spotlights
---

Director Loss Prevention
Irvine, CA
The Director of Loss Prevention at Tillys builds and implements policies, programs, and procedures that control risk, reduce shrink and protect the employees and assets. The director is responsible for leading and developing LP team members in the corporate, retail, and distribution centers...


Vice President, Chief Information Security Officer
Grapevine, TX
The Chief Information Security Officer (CISO) is the GameStop executive responsible for leading our global information security organization and will have officer level fiduciary responsibility...


Vice President, Asset Protection
Columbus, OH
Oversees and directs all Asset Protection related functions for a Corporate Office, multi-state distribution centers and large retail store network. Responsible for enterprise direction and strategy as it pertains to Asset Protection with a goal of minimizing shrink, reducing loss and maximizing security and associate safety...


Vice President, Loss Prevention
Houston, TX
This pyramid head position is responsible for developing and leading this company's shrinkage reduction efforts and integrating these efforts throughout the entire organization...


Project Coordinator (LP Technology)
Dublin, CA
Provides support for all types of LP technology installation projects, (e.g. new stores, upgrades, remodels, maintenance/repair, etc.). Serves as the point of contact on all projects as assigned, interfacing with vendors, field management, and various corporate teams...


Project Lead (LP Technology)
Dublin, CA
The Lead, Project Coordinator facilitates the development, implementation, and ongoing execution of multiple Loss Prevention technology projects, programs and systems. This is accomplished by leading projects from concept to completion, acting as a subject matter expert, and working effectively with internal partners (i.e. Store Operations, Store Planning, IT, HR, Logistics, Purchasing, etc.) and external resources (i.e. vendors, service providers, etc.) to drive results, and monitoring to ensure all projects meet scope, timeline, and budget needs...


Regional Asset Protection Manager
Harrisburg/State College, PA
The Regional Asset Protection Manager will lead their region in Shrink Reduction, Asset Protection and Safety efforts through an in-depth understanding of the overall business, effective partnerships and by directing the region with integrity and professionalism...

Loss Prevention Market Specialist
Jacksonville, FL
To monitor store locations to detect, investigate and resolve internal and external situations and circumstances that could lead to or result in losses to the company. All actions and conduct within the scope of the position must be performed according to performance standards set by Burke's policies, procedures and Code of Ethics...


Loss Prevention/Asset Protection Investigator
Boston, MA
Responsibilities will include but are not limited to:
● Protect the assets of the store as well as the associates and visitors.
● Maintain surveillance of the store via CCTV and conduct physical inspections including perimeter checks...




Asset Protection Analyst
Norcross, GA
AP Analyst based in Norcross, GA reporting to the Director of Asset Protection. This high-visibility role will be responsible for business-wide security administration, multiple fraud detection programs and functional communication...



Regional Loss Prevention Manager
Sacramento, CA
● Develops and implements shrink reduction strategies and action plans for their coverage region and for individual stores as needed
● Creates and conducts training sessions at the regional, district, and store level to educate and bring awareness to loss prevention and shrink related topics...



Regional Loss Prevention Manager
Atlanta, GA
● Develops and implements shrink reduction strategies and action plans for their coverage region and for individual stores as needed
● Creates and conducts training sessions at the regional, district, and store level to educate and bring awareness to loss prevention and shrink related topics...


Asset Protection District Manager
Chicago, IL
The Asset Protection District Manager will lead the District in shrink reduction and profit maximization efforts. The position will proactively seek to bring economic value to the company, promoting profitable sales and world class customer service while ensuring a safe place to work and shop...

Featured Jobs
---
• Domino's - Director, Information Systems Security, Ann Arbor, MI
• Associated Grocers - Director of Risk Management, Baton Rouge, LA
• American Express - Dir-Global Security Operations Center, Phoenix, AZ
• rue21 - Director of Loss Prevention, Warrendale, PA
• Michaels - Director - DC and Artistree LP & Safety, Irving, TX
• MedMen - Associate Director of Security and Safety, Culver City, CA
• MedMen - Associate Director of Investigations, Culver City, CA
• Nike - Senior Director - Nike Direct Retail Operations & Risk Control, Beaverton, OR
• Domino's - Director, Safety Supply Chain Services, Ann Arbor, MI
• Conn's Home Plus - Director of LP, Inventory Control & Fraud, Spring, TX
• Gulfstream Goodwill Industries - Director of Safety, West Palm Beach, FL
• Clarins - Director Security, Loss Prevention and Safety, Orangeburg, NY
• Guess - Director, Risk Management and Safety, Los Angeles, CA
• Netflix - Director of Data Privacy and Security, Legal - Los Angeles, CA
• DSW Inc. - Director, Loss Prevention, Columbus, OH
• Food Lion - Director of Asset Protection, Salisbury, NC
• Whataburger - Director Risk Management, San Antonio, TX
• Ahold Delhaize USA - Manager | Corporate Investigations - Retail Business Service, Salisbury, NC
• T-Mobile Express Stores - LP Operations Manager, East Brunswick, NJ
• belk - Director of IT Security, Charlotte, NC
• Gymboree - Director, Inventory Control, Dixon, CA
• Living Spaces - Director of Safety, California
• Kings - LP Investigator - Northern New Jersey

---

---

---
Daily Jobs
Appearing One Day Only
View our Internet Jobs Archives here


Sponsor this section of the Daily
---
Submit Your Group LP Selfie and Group Vendor Selfies Today!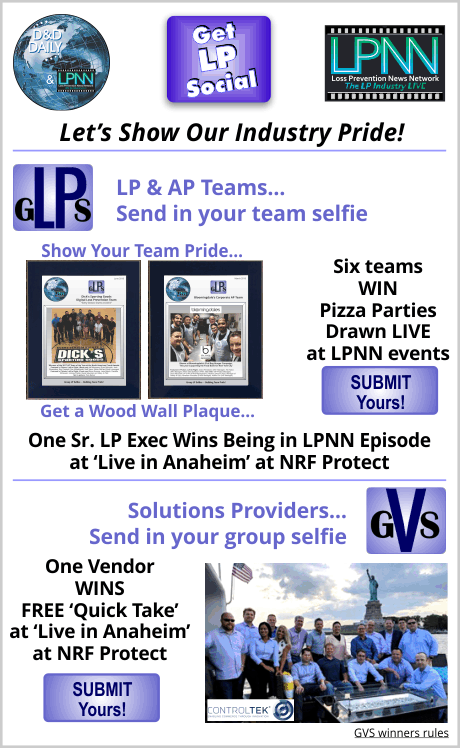 ---

---

---
Your Career

Building a Positive, Committed Company Culture

How to Build a Positive, Powerful Culture
A strong, positive company culture has limitless potential to attract and retain top talent and make work easier for everyone involved. Of course, cultures don't happen by accident, they are built thoughtfully by leaders with a vision. Here's how you can build a powerful culture too. Have the right people

Five Ways to Cultivate a Positive Company Culture
Creating a productive and positive workplace culture starts from the top. An organization's leader must lead by example every day, so here are five tried and true ways leaders can do just that. Shout out

Four Ways to Meaningfully Create a Creative, Committed Workplace Culture
To enable a creative and dedicated workplace culture you need to promote motivation that is meaningful to each individual working there. Through positive recognition, you can foster a meaningful environment of collaboration. Tap into passions

5 Things Leaders Can Start Doing Today to Improve Culture
Every company wants to create a happy and healthy workplace for their team, but few have the time and resources. If you start with these small changes, you'll see a big impact. Volunteering
---

---

---

---
Tip of the Day
Sponsored by Vector Security Networks

Speed Kills! As the old expression goes, so does the pace of today's world. With technology leashing us forward and mobile coming at the speed of light, no one can slow down. The problem then becomes focus and concentration. Multitasking, while impossible to avoid, leads to a reduction in quality and quality is what every senior executive must be focused on. So the next time you're running fast, just take one second and think about was the service you just delivered quality service.

Just a Thought,
Gus



(content subject to approval)
---
---
Upcoming Events
---
Recruiting?
Get your job e-mailed to everyone... everyday
Post on our Featured Jobs Board!
---
Reach your target audience in 2018 every day!
Request our 2018 Media Kit
---
Not getting the Daily?
Is it ending up in your spam folder?
Please make sure to add d-ddaily@downing-downing.com to your contact list, address book, trusted sender list, and/or company whitelist to ensure you receive our newsletter.
Want to know how? Read Here


36615 Vine Street, Suite 103
Willoughby, OH 44094
440.942.0671
copyright 2009-2019
all rights reserved globally