The D&D Daily Mobile Edition
September 29,

2015



The LP Industry's #1 News Source - Informing, Educating and Instilling a sense of community



News Brief
Sponsored by WG Security Products, Inc.
Identity theft affected 17.6M, cost $15.4B in 2014: Justice Dept.
The Department of Justice's Bureau of Justice Statistics announced over the weekend that figures for 2014 suggest an estimated 17.6 million Americans older than 16 had their personal information compromised at least once during the last calendar year.

Eighty-six percent of the 17.6 million Americans who had their identity compromised during the last year said fraudsters tried to open up credit card or bank accounts in their name soon after. In all, the Justice Department said the total financial loss stemming from identity theft in 2014 was $15.4 billion, down significantly from 2012's figure of $24.7 billion. washingtontimes.com

The FBI's 2014 Crime in the United States annual report
Today, the FBI is releasing the 2014 edition of its annual report Crime in the United States, a statistical compilation of offense, arrest, and police employee data reported voluntarily by law enforcement agencies that participate in the Bureau's Uniform Crime Reporting (UCR) Program.

There were an estimated 8,277,829 property crimes (burglaries, larceny-thefts, and motor vehicle thefts) reported by law enforcement. Financial losses suffered by victims of these crimes were calculated at approximately $14.3 billion.

Larceny-theft accounted for 70.8 percent of all property crimes reported, burglary for 20.9 percent, and motor vehicle theft for 8.3 percent.

Police made an estimated 11,205,833 arrests during 2014—498,666 for violent crimes, and 1,553,980 for property crimes. More than 73 percent of those arrested during 2014 were male.

The highest number of arrests was for drug abuse violations (1,561,231), followed by larceny-theft (1,238,190) and driving under the influence (1,117,852). fbi.gov

Employers Turn to Surveillance to Curb Employee Risk
More employers are turning to worker surveillance, which can take the form of criminal background checks, oversight of how and when a worker is accessing company systems and, in some cases, monitoring phone calls, emails and social media communications.

Using a software program called Identrix, Mr. Krantz and his team can continuously check public records for everything from DUIs to bankruptcies, and alert officials when something happens to an employee that creates a potential risk.

For companies wanting to dig deeper, products such as the Scout system sold by security firm Stroz Fridberg use algorithms to see how people use language and any changes in how they use it. Psycholinguistics can help companies track changes in employee behavior or mood, help to identify workers who are committing wrongdoing or spot those who may be heading down a path toward violence, espionage or other wrongdoing.

Being able to check a worker's emails over time, and compare the language used in them, along with information from human resources and other departments, can help shed additional light into what is happening, said Mr. Weber. "Our goal is to be able to approach the use and analysis of electronic communications in an efficient and scientific manner and take a lot of discretion out of it," he said. wsj.com

Ex-Foot Locker marketing director asks for leniency in prison sentence for approving $350,000 in false bills scheme
Former Foot Locker Inc. in-store-marketing director Kathleen Smith was one of two people who admitted in Manhattan federal court in May to conspiracy charges stemming from what authorities characterized as an $18 million bank-fraud and kickback scheme hatched by coconspirator Latchmee "Robbie" Mahato's shuttered G3 Displays business. Two other G3 executives have also pled guilty.

Smith's lawyer, Joseph Depa Jr., urged a New York federal court in a letter docketed Monday to ignore a guideline range of 27 to 33 months and give Smith a noncustodial sentence, saying that the $350,000 of losses she was responsible for pale in comparison to the total size of the scheme - which the government has said caused over $18 million in total losses.

In its own sentencing submission Monday, the government - which refers to Mahato's company as G3K - asked the judge to stick with a sentence in the guidelines range. Smith faces a maximum sentence of 20 years, but sentencing guidelines call for closer to 2-1/2 years. law360.com

Three National Auto managers sued for stealing customer info from password-protected software then erasing the program and going to work at competitor National Auto launched the suit in October, alleging that three managers and a lead salesperson were lured by Automart Nationwide Inc. into taking National Auto customer information from a password-protected software program then erasing the program from National Auto's computers in exchange for job offers at Automart.

Lo and his wife, purchasing manager Ching Gloria Lin, used their top-level access to a software program known as UQAuto to poach customer contact information, order history, auto part prices and company sales statistics. They were aided in their quest by accounting manager Li-Yun Ivory Kuo and salesperson Marisol Lara, who also took positions with Automart.

An Illinois federal judge has refused to dismiss National Auto Parts Inc.'s suit accusing them of stealing trade secrets and defecting to a competitor, saying the auto parts supplier sufficiently alleged they violated their duty of loyalty. law360.com

VP Asset Protection and Global Facilities position posted for lululemon at their Store Support Center - Vancouver, BC
The VP Asset Protection (AP) and Global Facilities will be responsible for leading enterprise wide Asset Protection, business continuity management and global facilities.

The lululemon culture is created by extraordinary people who are inherently genuine, compassionate, and inspirational. For this reason, our approach to risk management seeks to leverage the inherent goodness of our people. Rather than simply enforcing a set of controls that, we strive to empower our people to act in harmony with each other and our guests. This is not to suggest that controls are not necessary, this is only to say that they are secondary to the role that our people and culture play in Asset Protection and risk mitigation.

With over 302 stores in North America, Australia, and New Zealand, doing an annual volume of $1.37B U.S. lululemon.com

Asset Protection Director position posted for - Eastern Region in Lanham, Maryland for Albertsons Safeway
The Operations Department has an opening for a Director of Security/Loss Prevention. This position is located in the Eastern Region in Lanham, Maryland. Provide positive/proactive leadership, and instruction in the area of Security/Loss Prevention. Promote the workable, realistic Loss Prevention programs that foster a safe shopping and working environment for our customers and associates as well as protecting company assets. This will be accomplished while preventing crime and loss to the company through policies and procedures, use of technology, strategies and training programs within the scope of Albertson's core values, while working closely with Operations and Division level associates.

With 3 to 5 LP Managers/LP Representatives reporting directly to the position. safeway.apply2jobs.com

Five mistakes retailers will make this holiday shopping season
1. Ignoring omnichannel integration
Eighty-four percent of people currently use electronic devices to research or buy products, and those individuals are 40% more likely to go through with an e-commerce sale than their less tech-savvy counterparts, according to a Deloitte study. An integrated purchasing experience across in-store, online and mobile touchpoints is what your customers will be looking for this holiday season.

2. Putting data protection on the back burner
Shoppers will not be the only group on the move this winter. The holidays are a busy time for fraudsters and cyber criminals in search of vulnerable credit card data. Form a project team to collaborate with your payments partner on needed upgrades to your existing payments technology and train your staff members on the changes so they can alleviate customer concerns.

3. Going into the season without a backup plan
Today's technology can make it easy to forget that no solution is ever 100% perfect. Retailers reacting to online platforms that freeze or crash, POS servers shutting down and mobile apps experiencing traffic overloads run risk of losing sales.

4. Dismissing gift card redemption
Consumers spend more than $100 billion on gift cards each year and online gift card usage is growing at an annual rate of 29%.

5.Waiting until Black Friday
Merchants need to be ready well before then. From EMV-readiness, to training consumer-facing staff, all of the strategies above should be implemented by Black Wednesday at the very least with the legwork done much farther in advance. chainstoreage.com

Rumors continue about deep job cuts at Wal-Mart, Sam's Club HQ
Rumored corporate layoffs at Wal-Mart and Sam's Club offices in Bentonville persist, with five sources each telling The City Wire on Wednesday (Sept. 23) that the retail giant will begin handing out pink slips as early as this Friday and continue through the fiscal quarter which ends Oct. 31. thecitywire.com

Best Buy tests robot at New York store
The electronics retailer this past week began testing a 350-square-foot vending machine on steroids. Inside its glass walls, a robotic yellow arm, which the company named Chloe, retrieves merchandise that customers order from touch screens. In just a half-minute, Chloe can scoot around and pick out a customer's request from rows of about 15,000 DVDs, CDs, video games and even some tech accessories, such as Beats headphones and chargers. Customers at that store in Manhattan's Chelsea neighborhood can make a purchase without ever having to interact with a person. startribune.com

Man Armed With Knife Breached Security at JFK Airport to Try to Meet Pope, Prosecutors Say
Hours after Pope Francis left New York's John F. Kennedy International Airport for Philadelphia, a man armed with a knife breached security hoping to "give the pope his business card," prosecutors said today. Chris Cannella, 39, a retired New York City firefighter, was driving a black Chevy Tahoe -- similar to Secret Service cars -- and pretending to be part of a VIP motorcade when he made it onto the tarmac Saturday night, according to court records. abcnews.com

Sources: $100 million for Pope security during U.S. visit

20,000 Security Management Professionals Convene at ASIS International 61st Annual Seminar and Exhibits
More than 20,000 security management professionals from more than 90 countries will meet at the ASIS International Annual Seminar and Exhibits (ASIS 2015) to acquire the latest intelligence, strategies, and resources required to manage risk across the enterprise, protecting life, property and information. ASIS International (ASIS) is the largest membership organization for security management professionals that crosses industry sectors, embracing every discipline along the security spectrum from operational to cybersecurity. Click here to see a video recap from Day 1 of the Conference. globalnewswire.com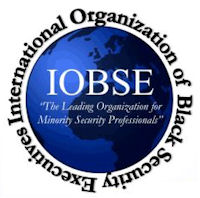 IOBSE Hosts Fall Reception and Panel Discussion at ASIS International Conference
The International Organization of Black Security Executives (IOBSE) will host a sponsored session today, Tuesday, September 29th, at the ASIS International conference in Anaheim, California. The panel discussion titled "How to Advance a Security Management Career in a Diverse Global Business Environment" will take place from 4:30-5:30 pm in Room 203B in the Anaheim Convention Center. "Explore how black and other diverse security professionals can effectively navigate and excel in a corporate environment. Discuss practical solutions to the unique challenges that diverse security professionals must overcome to be successful in the business world." Following the session, IOBSE will host their Annual Networking Reception from 6-8 pm at the Anaheim Marriott, Grand Ballroom G & H. Click here to read the IOBSE's quarterly newsletter for a message from IOBSE President Don Knox, a recap of their annual Spring Conference, and more announcements and news from the leading organization for minority security professionals. iobse.org

A&P to lay off 319 employees at corporate office

Retailers to open 3,900 new stores in Peru by 2020
All the News - One Place - One Source - One Time
The D&D Daily respects your time & doesn't filter retail's reality
Report Your News!
(content subject to approval)


eBay News

eBay GAP Team works with South Yorkshire police to arrest suspect selling stolen designer shoes. Gets four and a half years.
A Sheffield crook who sold stolen designer shoes and fake watches and boots on eBay has been jailed for four-and-a-half years. Johnson handled goods stolen from 'professionally planned' break-ins at two warehouses as well as selling and advertising counterfeit watches.

Read more here

For further information on PROACT, email inquiries to PROACT@eBay.com.
eBay Direct - Click Here - (notify - info - questions)



EMV Only One Part of the Data Security Debate
NRF believes they also need to replace the fraud-prone signatures used to approve transactions with a far more secure personal identification number, or PIN. But most major retailers are making the move to EMV already, and most of the industry will follow along in time.

Meanwhile on Capitol Hill, Congress is considering legislation that would govern how businesses notify consumers when card data is breached. NRF supports creation of a single federal law that would replace the 47 state laws currently on the books so consumers would know what to expect no matter where a breach happens.

Another NRF-backed bill possibly coming up for a vote would make it easier for companies to share information about cyber crimes in order to better secure their data.

And here at NRF headquarters, we will hold an interactive data breach simulation and seminar that will bring in-house attorneys from retail companies across the country together in Washington.
All of these activities truly indicate that the problem of data security is too big to be solved by any one solution. nrf.com

As Online Data Theft Escalates, Banks Look to Retailers to Bear the Losses
As the size and scope of such attacks at retailers has grown, so have the losses, which have been largely shouldered by financial institutions. Now some small banks and others want Home Depot and those companies that suffer data breaches to pay.

One front of the battle is a federal lawsuit winding through the courts, filed by a number of small community banks and credit unions that contend Home Depot long ignored internal and external warnings from security experts that its systems were vulnerable to attack. A similar lawsuit against Target claims that its security protocols were "so deficient that the breach continued for nearly three weeks while Target failed to even notice it." That lawsuit was given class-action status this month by a federal judge in Minnesota.

After Thursday, retailers that have not upgraded their systems to read the new chip-enabled cards will be liable for any charges from counterfeit cards. "Essentially, whoever has the lower level of security will be the one who will be responsible for the unauthorized transaction."

For now, that's likely to remain the banks. By some estimates, only 19 percent of credit and debit cards in circulation will be chip-enabled by the deadline. "It cuts both ways," Mr. Johnson acknowledged. "If we don't deploy the chip cards, we maintain the liability that we have currently." nytimes.com

Over 200 million chip-enabled payment cards issued in the U.S. - Costs Retailers $8.65B for Upgrading Terminals
In an effort to reduce counterfeit and credit card fraud more than 200 million payment cards have been issued with embedded computer chips in the U.S., ahead of a Oct. 1 deadline for the switch to such cards, according to the Smart Card Alliance. The Alliance expects to issue 600 million chip-enabled cards by 2015. The total number of payment cards in the U.S. stands at approximately 1.2 billion, which includes credit, debit, charge and other forms of payment cards.

U.S. retailers are investing $8.65 billion for upgrading their payment terminals and some including Target Corp (TGT.N) are prepared to accept the new cards. It is not entirely clear at the moment how many U.S. retailers have upgraded their payment terminals.

Research and consulting firm Aite Group estimates U.S. online card fraud will more than double to $6.6 billion from $3.3 billion between 2015 and 2018. reuters.com

Chip-card conversion has retailers anxious -
Backlog of retailers waiting to be certified to perform transactions
Only about half of the nation's 12 million payment terminals will be upgraded by Thursday. Visa and others have said it will take another two to three more years before up to 70% of transactions are made at a chip terminal, and possibly four to five years to reach 90%. "The October 1st deadline is like having cold water splashed in your face for retailers, even though the card companies and the banks are all painting this rosy picture about the conversion," said Avivah Litan, an analyst at Gartner. "Well, it's not so rosy. People are not telling all the details of the chaos in the background." Some restaurant chains complained they were facing a six-month to nine-month delay in getting new payment terminals certified to perform transactions. She also said retailers now are being told by banks and card processors to store receipts that have been signed digitally by their customers for purchases. "Having the stores save the receipts themselves is almost like going back to the stone ages." csoonline.com

EMV Struggle: 7 Lessons from Europe - Experts Say U.S. selected wrong EMV approach
Security Experts Warn U.S. Needs Flexible Deadlines, Better Education. Based on the lessons learned from EMV rollouts in various European countries, experts say there are multiple strategies that card brands could - and should - be applying to encourage and accelerate U.S. adoption.

1. Pay More Attention to Education U.S. EMV rollout delay can be ascribed, in large part, to card issuers failing to do "a better job of educating merchants and cardholders about the migration," especially for small and medium-size businesses who "don't fully understand what the EMV rollout means for them."

Education must also be tailored to a second group of merchants: the ones who have crunched the EMV migration numbers and found that the likely fraud losses they would have to absorb would cost less than the expense of upgrading to new terminals, training staff and demonstrating compliance. Of course, education alone likely won't entice these holdouts to migrate.

It's time for U.S. card brands to get serious about educating cardholders. "It should not be underestimated how much the cardholder has to do with the migration. It is a significant part, and I don't think in the U.S. they have even started on that side of things."

2. Adopt Rolling Deadlines To make the U.S. EMV migration succeed, Comben also recommends that U.S. card brands embrace the "carrot and stick" playbook that card associations used when rolling out EMV in Europe. "What we have seen here is an incremental shift of the liability date, where the message is: 'That was the date, but here's another date, which is six months away, and between now and then, we'll give you a breakdown every month of what it would have cost you if the mandate had actually been in force."

3. Fraud Won't Disappear 4. EMV Can Be Defeated EMV cards can be cloned - via so-called "chip and skim attacks" - and used to commit "card present" fraud that makes it look like the cardholder was responsible for a transaction. EMV terminals can be defeated using Bluetooth or malicious smartcards when manufacturers insecurely implement the EMV standard.

5. Expect Fraudsters to Shift Focus "You can expect an initial displacement of fraud in stores to online fraud - and also to thefts from the mail, if there are mass card reissues - followed by a push to make customers more liable for fraud when the bank says that a chip card was used."

6. Mourn Lost U.S. Chip-and-PIN Opportunity The widespread belief among security experts that the U.S. selected the wrong EMV approach will likely precipitate questions of whether the country should next adopt chip and PIN, or else something entirely new. Wills argues that it's time for the card industry to rethink its entire approach. "EMV is essentially 1980s security technology being applied to 21st-century criminality," he says. "The real answer to this is to migrate away from cards completely; but that's a longer discussion." govinfosecurity.com

New Trend - First ever forum named "Omni-Channel Loss Prevention Forum" formed in UK - Combining Online Forum with Supply Chain Forum
A group of major retailers and logistics providers have formed a community to fight online fraud and reduce goods lost in transit. The Omni-Channel Loss Prevention Forum, is the latest addition to ORIS Forums, and has been formed by the combination of two existing forums and includes members such as Next, John Lewis, Shop Direct, Wilko, Selfridges, River Island, Matalan, Office Depot, ebay, JD Sports, New Look, Asda, Yodel, Hermes, UK Mail and ByBox. The two existing forums are the Online and Mail Order Retail Loss Prevention Forum and the Logistics and Supply Chain Forum. logisticsmanager.com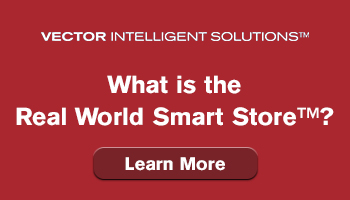 Vendor Spotlight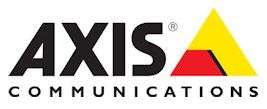 Axis Introduces Video Analytics with Reliable, Easy-to-Install AXIS Guard Suite for Enhanced Video Surveillance Efficiency
AXIS Guard Suite is a series of robust video analytics applications that quickly turn Axis network cameras into smart security systems, allowing a more proactive approach to video surveillance. Ideal for medium-sized installations, this easy-to-install and affordable solution provides efficient surveillance of commercial, industrial and public areas.
CHELMSFORD, Mass. - Axis Communications, the market leader in network video, introduces AXIS Guard Suite of video analytics applications, expanding its portfolio for video surveillance solutions with an easy-to-install video analytics offering. The applications complement Axis' range of network camera solutions and are easily integrated with leading video management systems (VMS). AXIS Guard Suite will be featured at ASIS International in the Axis booth #1713 in Anaheim, California on September 28-30.

"For decades, security was primarily used for deterrence, but technological advancements in image quality and processing power gave video a forensic value. Now, video analytics have taken us to the next step: proactive security and business intelligence," said Fredrik Nilsson, general manager, Axis Communications, Inc. "AXIS Guard Suite is a reliable solution ideal for use in low-traffic areas, such as after-hours monitoring of retail shops and offices, parking lots and other unattended areas."

AXIS Guard Suite provides robust detection as video analysis is performed directly on the camera's uncompressed video stream and is supported by AXIS False Alarm Filtering technology for reliability. The AXIS Guard Suite offers three applications:

| | |
| --- | --- |
| ● | AXIS Motion Guard for general motion detection, typically on premises that are supposed to be empty after hours, e.g. parking lots, construction sites, etc. |
| ● | AXIS Fence Guard for protection of a fenced-off area by detecting attempts to climb or sabotage the fence |
| ● | AXIS Loitering Guard for detecting suspicious behavior in semi-public areas where loitering may pose a security issue |
Read more here.

Video and more information: http://www.axis.com/products/axis-guard-suite

Press Release

The Loss Prevention Foundation (LPF) Announces New Board and Academic Members
Additional members to broaden industry perspective and help support future endeavors
Matthews, NC (Sept. 29th, 2015) - The Loss Prevention Foundation (LPF) announced the selection of its newest board members to assist in governing and providing strategic direction for the Foundation at its recent board meeting.

The following individuals have accepted the nomination and have been approved by the board to serve on the Foundation's Board of Directors:

● Lisa Labruno, Sr. Vice President Retail Operations, Retail Industry Leaders Association (RILA)

● Allan Watters, Sr, Vice President Asset Protection, Sports Authority

"The Foundation continues to strive for a broad range of industry perspectives so we can serve the loss prevention/asset protection industry in an informed and comprehensive manner," said Gene Smith, LPC, president of The Loss Prevention Foundation. "These leaders have proven that they have tremendous industry vision and have clearly demonstrated their commitment to improving the loss prevention industry through supporting education."

Each of these new board members has clearly demonstrated their support for industry-specific loss prevention certification. They are personally committed to obtaining the LPC designation and each of them has a passion for improving our professional perception as an industry and feel professional certification is a critical step in achieving that goal.

"The Foundation continues to amass strong retail support for its mission - educating the loss prevention industry by providing challenging and convenient resources such as our LPQ and LPC certification programs," said Frank Johns, LPC, chairman of The Loss Prevention Foundation. "Each of these professionals brings a unique perspective as a result of their extensive expertise in loss prevention and asset protection."

The board also approved the following member to the academic committee:

● Kevin Whiteacre, PhD - Chair, Associate Professor - Department of Sociology and Criminal Justice - University of Indianapolis

"Kevin has clearly demonstrated his commitment to elevating our profession by his recent implementation of a loss prevention concentration. Partnering with LPF on that project clearly demonstrated his genuine support in our continued efforts to develop educational standards, industry specific curriculums and strategies to increase the level of awareness for our profession", said LPF president, Gene Smith, LPC.

The LPF academic committee includes university representatives from across the United States and the United Kingdom and provides academic guidance to the organization. Work includes developing strategies on how the foundation can complement higher education, reviewing certification coursework content, and advising LPF staff on outreach to two and four year college students.

For a complete list of board members and academic committee members, visit our site: LPF Board of Directors and LPF Academic Committee.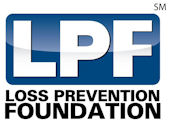 About The Loss Prevention Foundation:
The Loss Prevention Foundation (LPF) is a not-for-profit 501 c (6) organization founded in 2006, by industry leading professionals to serve the loss prevention /asset protection industry. An international leader in educating and certifying loss prevention and asset protection professionals, LPF is responsible for administering the industry's only internationally sanctioned LP credentials: LPQualified (LPQ) and LPCertified (LPC). With 24/7 online educational resources and a professional membership program, the LPF is able to educate the industry like no other organization of its kind, in the world. LPF is also focused on driving more talent to the industry from colleges, universities, military and law enforcement through its Academic Retail Partnership Program and its Hire A Vet Program. For more information, visit www.losspreventionfoundation.org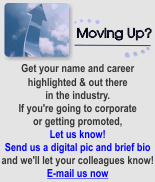 U-Tip - The Two Minute Tip

Brad Reeves, Sr. Manager of Asset Protection, Five Below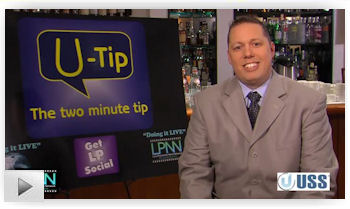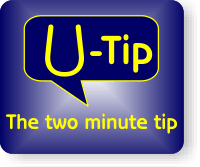 Brad Reeves, Senior Manager of Asset Protection for Five Below, talks about developing a strategy to create great teams in this "U-Tip" video. Anyone can hire employees. But hiring employees who have excellent growth potential and are highly talented is a learned skill. Brad breaks down the process into three core areas - identifying talent, training/development, and performance management. Learn how positive reinforcement and creating a culture of development can help you find the best fit for any position you are looking to fill.
Sponsored By:




One little piece of advice could make all the difference in someone's career.

Want to share your own U-Tip? Email us here.
Solution Providers, have a video or commercial you want to publish? Contact us.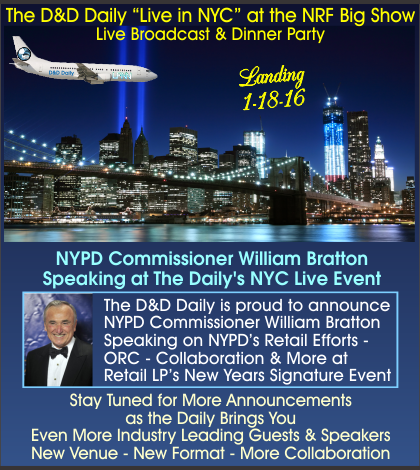 e-commerce

Sponsored by The Zellman Group
Online Merchants Impacted by EMV Payment Changes
October 1st represents the deadline for most merchants to accept Europay, MasterCard, and Visa (EMV) chip-equipped credit cards at their terminals. Should a merchant only process payments with the familiar magnetic stripe reader, and end up taking a counterfeit card, liability for that transaction falls upon the merchant. At first glance ecommerce pros may see this as an issue for only their brick-and-mortar counterparts. However, several industry leaders told EcommerceBytes of how the shift to EMV on the physical side could bode ill for online sellers. Payment processing businesses like PayPal and Square have been working to inform and prepare their customer bases for the forthcoming EMV shift. A PayPal spokesperson noted the company's outreach began earlier this year, providing US merchants with information to facilitate the shift. Near-field communication, or NFC, is the technology enabling contactless payment methods. Such advances in technology offer opportunities beyond the expected legitimate uses. Industry professionals at security-oriented firms like LexisNexis and Kount warn of the unintended yet potential consequence of EMV technology prompting criminals to shift focus to more online crime. Regarding the move by merchants to properly-implemented EMV processes and their effect at reducing fraud, Press noted, "EMV, is likely, however, to have the opposite effect on Card Not Present (CNP) fraud, such as ecommerce. Experience in other countries has shown that when fraudsters can no longer use stolen credentials in the store, they will switch their efforts to CNP." ecommercebytes.com

Going abroad: How retailers can navigate international e-commerce
E-commerce can get complicated when it goes overseas. Some products can't be sold in certain markets; payment preferences differ; and with taxes, trade duties, customs and shipping issues, actually getting the product to the customer can be a big problem. About 7% of U.S. retail e-commerce sales resulted from overseas markets last year, according to eMarketer, or about $20 billion, and that that total is expected to grow to reach 16% of U.S. retail sales by 2020. Since the web eliminates borders for shoppers in all but the most restrictive regimes, companies should check their existing website traffic for international interest. Strong traffic from a certain country or region may indicate that it's a good market for an international push. Retailers must be prepared for fluctuations in currency markets, and also accommodate local payment preferences. Shipping and logistics are the biggest hurdles for retailers wishing to sell internationally without physical storefronts. Certain products lend themselves to international shipping better than others. retaildive.com

Are Sound Waves The Future Of Mobile Payments?

Report: Aussie smartphone users forecast a cashless future

Samsung Pay launches in U.S.

"Fraud is not a person - it is a dynamic grouping of statistics that deviate from the norm."
Stuart B. Levine, CFI, CFCI
CEO, The Zellman Group & Zelligent

ORC News
Sponsored by NEDAP
Winston-Salem PD Hosts Inaugural North Carolina ORC Investigators Conference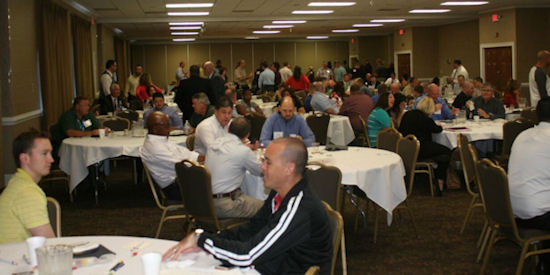 By Investigator Stephen Horsley,
Winston-Salem Police Department

On September 16, 2015 the Winston-Salem Police Department hosted the inaugural 2015 NORTH CAROLINA ORGANIZED RETAIL CRIME INVESTIGATORS CONFERENCE, which was held at the Village Inn Event Center, in Clemmons NC. Donations to assist were made by Sheetz, Local Wal-Mart, and Target, personnel from CVS and the Greensboro Police Department, TW Garner Food Company, and Burroughs Wellcome Fund.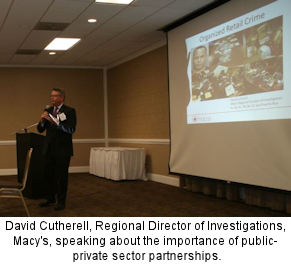 The event was attended by retailers, loss prevention agents, prosecutors, and law enforcement officers from North Carolina and around the country. There were 20 law enforcement agencies and 30 businesses from 9 states represented.

The topics covered by state and national speakers were, "The Important of Partnership between the Private and Public Sector in Organized Retail Crime Cases," by David Cutherell of Macy's; "How to Create and Accomplish a Successful Organized Retail Crime Task Force," by Lt. Jim Ostojic of the Polk County Sheriff's Office; "Dismantling an Organized Retail Crime Criminal Enterprise (Case Study)," by Brendan "Ben" Dugan of Walgreens; "Interviewing a Booster," by Rory Stallard of Home Depot; "The High Point Police Department Larceny Initiative," by Lt. Tracy Perry of the High Point Department; and "Local ORC Groups/ North Carolina Organized Retail Crime Investigators Association (NCORCIA)," by Inv. Stephen Horsley of the Winston-Salem Police Department.

The opening address was given by Chief Barry Rountree of the Winston-Salem Police Department, with the Winston-Salem Police Department Honor Guard presenting the national anthem to start the conference.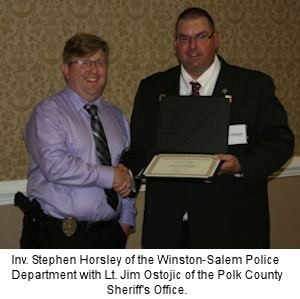 The feedback received from the Conference was outstanding with requests for the conference to continue next year; which is being planned. We are hoping for around the same time next year.

"Stephen, I just wanted to take a moment to thank you for everything that you did to host this for all of us. You pulled together some great speakers and I feel it was important for all of us. Your dedication and passion really showed, as I can imagine the effort it took to pull such a great conference together. It is the few like you that make a huge difference in bridging the gaps b/t retail and LE." -Richard Allen, Regional Loss Prevention, Sally Beauty Supply/Cosmo Prof

"Stephen, Thank you for your hard work in putting this together. It was great seeing such a huge turnout the first time around. I really enjoyed the conference (I know other retailers did also) and look forward to working with you." -Luis Loayza, Macy's


Ringleader of $24M identity theft ring gets 15 years
Federal authorities say that the sentencing of a woman on Friday brings to an end a huge $24 million scheme in which 10 women from Alabama and Georgia stole more than 9,000 identities from the U.S. Army, several Alabama state agencies and Georgia companies and used them to defraud the government through falsified tax returns. Keisha Lanier, who the U.S. Attorney's Office prosecuted as the ringleader of the operation, was sentenced to 15 years in prison to be followed by three years of supervised release. She was also ordered to forfeit $5,811,406. montgomeryadvertiser.com

Shenandoah, PA: Couple face charges for credit card fraud of more than $140K
Police said that, in their West Oak Street home, the two had a credit card embosser and magnetic stripe card reader-writer and used the items to make counterfeit credit cards. Valentine and Aker made credit cards using fraudulently obtained credit card information to create counterfeit credit cards under alias names for their own personal use. During the 11 months the crimes were being committed, police said the two used the fake credit cards to make purchases totaling $145,866.59 at stores in Schuylkill, Luzerne, Dauphin and other counties throughout Pennsylvania. republicanherald.com

Brandon, FL: $104K worth of bikes stolen from King Cycles shop
Detectives are looking for thieves who stole $104,000 worth of bicycles and other items from King Cycles shop in Brandon. Around 11:35 p.m. Sunday, suspects forced their way into the shop at 733 Lumsden Road and took 30 to 35 mountain bikes and other merchandise, according to the Hillsborough County Sheriff's Office. The suspects fled the scene, possibly using a box truck or trailer, detectives say. fox13news.com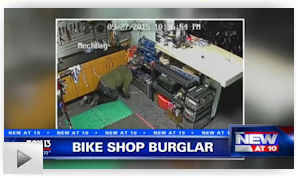 Moultrie, GA: Walmart Shoplifter arrested after $8,200 shopping spree
An employee at Wal-Mart reported a theft on Saturday. Police and store security confronted Ashlen Divon Brown as he was walking out of the store, Moultrie Police Department reports said. Stolen merchandise, including LG Bluetooth headphones, a wrist watch and earrings, were recovered, police said. The merchandise was valued at $8,264. moultrieobserver.com

Sebring, FL: Four charged with $400 theft from Walmart
Two men and two women were arrested after a Walmart security employee saw them leaving the store without paying for about $400 of merchandise. The subjects were observed concealing electronics, clothing and health and beauty products. When security employees attempted to detain the suspects, one suspect ran, but was later arrested. highlandstoday.com
Do you have an ORC case to share?
Share your ORC news and help the industry grow

Retail Crime News

Sponsored by Security Resources
Police ID victim of brazen shooting at Vancouver strip mall
The man gunned down in the parking lot of a busy Vancouver strip mall Sunday afternoon has been identified as a 30-year-old from Ontario. Police found the victim's body in the front passenger seat of a white Toyota Camry after responding to reports of gunfire near Oak Street and King Edward around 2 p.m. On Monday, police confirmed the deceased is Duy Ly Nguyen. It's unclear whether he has any criminal history and how long he's been in B.C., but more details are expected to be released later in the day. Authorities do believe the shooting was targeted, and likely tied to ongoing gang conflict. Police said it's fortunate that no other people, vehicles or businesses appear to have been hit by stray bullets. ctvnews.ca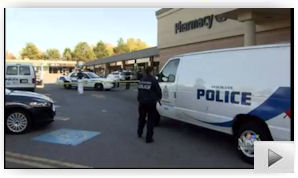 Boca Raton, FL: FBI, Boca police to hold news conference on unsolved 2007 Town Center mall slayings
The FBI and the Boca Raton Police Department are scheduled to hold a news conference Tuesday about the unsolved 2007 slayings of Nancy and Joey Bochicchio at the Town Center mall. A spokesman for the regional office of the FBI said Monday that the agencies are announcing an increased reward and a "new investigative update" in connection to the Bochicchio murders. Nancy Bochicchio, 47, and her daughter, Joey, 7, were killed on Dec. 12, 2007. Security guards at the Town Center mall found their bodies inside a still-idling SUV. Police said at the time the mother and daughter had been snatched from the mall at gunpoint, robbed and killed. The killer forced Nancy Bochicchio to withdraw $500 from an ATM before shooting the Bochicchios. According to a news report, the two were found bound with plastic ties and handcuffs. Police are offering a $350,000 reward for information leading to the arrest of the killer or killers. sun-sentinel.com

Atlanta, GA: FBI cracks down on metro Atlanta gangs
Gang activity has soared to new heights in metro Atlanta. The FBI reports that nearly every national gang has a presence in the area. So what does that mean for you in your neighborhood? "These are criminal organizations, they are in the business of committing crimes because that's how they make money," FBI Special Agent James Hurley said. Hurley works to dismantle the presence of gangs in metro Atlanta, but it's no easy task. "Atlanta has a presence of almost every national gang. MS-13, Bloods, Crypts, and Gangster Disciples. There are approximately 20,000 gang members in metro Atlanta, but with no statewide database, it's believed to be a much larger problem. In a joint law enforcement effort, the FBI recently took out 75 members of the MS-13 gang in Gwinnett County, a gang based out of El Salvador. Hurley said there are over 160 safe street gang task forces nationwide cracking down on the problem, seven of which are in the state of Georgia. wtoc.com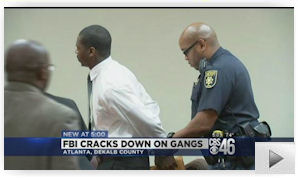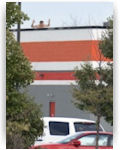 Suicidal shoplifting suspect removed from store's roof
For about two hours, traffic on U.S. 27 south of Fort Wayne was diverted and people in the Southtown Crossing plaza waited while Fort Wayne police officers tried to get a suspected shoplifter off the roof of an auto-parts store. Around 1:40 p.m. a man and woman were stopped by Walmart loss prevention staff after a report of a shoplifting in progress. The pair fled, and the woman was detained. But the man fled across the parking lot, scampering up onto the roof of the Auto Zone, southeast of the Walmart. At some time during the incident, the man communicated to police he had a gun and was suicidal, according to Officer Mike Joyner, Fort Wayne police spokesman. Around 3:30 p.m., officers with the Fort Wayne Police Department's Emergency Services Team stormed onto the roof, used a distraction device and then fired less-than-lethal rounds at the man, taking him into custody. He was lowered from the roof using the ladder on a Fort Wayne Fire Department truck. journalgazette.com

Great Falls, MO: Columbia Falls furniture store fire may have been arson
Officials investigating the fire that destroyed a Columbia Falls furniture store on Sunday morning say that early findings indicate the fire may have been intentionally set. Emergency personnel responded to the fire at Melby's Home Interiors at around 5:40 a.m. on Sunday. There were no reported injuries. krtv.com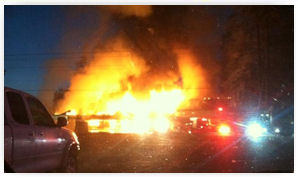 GPS jammers recovered from cargo thieves, says FreightWatch
The Georgia Bureau of Investigation (GBI) recently recovered GPS jamming technology after executing a search warrant in relation to a suspected cargo theft - the fourth such jamming device confiscated in the past 14 months in the southeastern U.S., noted supply chain security company FreightWatch International. The firm added that a well-known group of Cuban cargo thieves operating along the eastern seaboard are using GPS jammers to derail tracking and tracing efforts of their heists.
FWI noted that investigations led by the GBI with cooperation from the Miami-Dade County Cargo Theft Task Force so far resulted in four Cuban cargo thieves being charged and extradited from Miami, FL, with five other states also awaiting extradition. fleetowner.com

Studio City, CA: Drone Plus store hit for the third time
A California drone store is becoming a repeated target for thieves. The Drones Plus store in Studio City was robbed for the third time in as many months on Monday. Thieves walked away with $35,000 of drones and other items. The owner had spent $10,000 on reinforced steel bars, which thieves were able to blast through with a blowtorch in just seconds. Back in August, thieves took at least $20,000, and in July, they walked away with $7,000. The owner believes it is the same group targeting his store. He is now planning on hiring an armed security guard to secure the store at night. wwmt.com

Detroit, MI: Three men accused of spending counterfeit bills at suburban Detroit Ikea, Meijer and Home Depot stores
Three men are accused in federal court of using counterfeit money to shop at several major retailers in suburban Detroit. Carlton Mitchell and Corey Harris each were arraigned in Detroit federal court Sunday, charged with passing counterfeit obligations. The U.S. Secret Service first was alerted to the case when a loss-prevention officer at a Home Depot in Warren. A license plate number gathered by store employees led investigators to a car rented. Two of the suspects later passed fake $100 and $20 bills at IKEA in Canton Township and Meijer in Westland. mlive.com

Hartford, CT: Dozens of trucks head up I-91 in
Convoy of Caring to help Foodshare
Dozens of trucks hit the road on Tuesday morning for an annual campaign to feed the hungry in the Greater Hartford area. Several companies in the food industry took part in the 21-mile drive from Rocky Hill to Foodshare's distribution center in Bloomfield in an effort to demonstrate their commitment to fighting hunger in Greater Hartford. Here's just a short list of participating companies; Big Y, BJ's Wholesale Club, C&S Wholesale, Coca Cola, Howley Bread Group (Panera), Ocean State Job Lot, Pepsi Beverages Co., Price Rite, Sam's Club, ShopRite, Stop & Shop, Walmart and Whole Foods. nbcconnecticut.com
Zales in Marlborough, MA was the victim of a Distraction Theft
Saturday afternoon, 2 males possibly with a showcase key got away with nearly $25,000 in merchandise.

Albuquerque, N.M., Retail parking lot robberies spiking all summer - especially in last week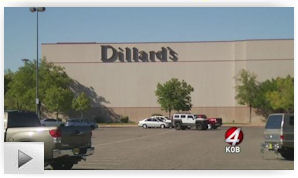 Amherst, Mass., police warn of ATM skimming devices

Attempted Burglary at Kay Jewelers in the Lake Square Mall, Leesburg, Florida


Robberies and Burglaries
● AT&T - Marion, IL - Burglary
● Bottle Barn - Fargo, ND - Armed Robbery
● Circle K - Boardman, OH - Armed Robbery
● CVS - Indianapolis, IN - Robbery
● CVS -Madison Hts, VA - Armed Robbery
● Dollar General - Meridian, MS - Armed Robbery (VIDEO)
● Dollar General - Gulfport, MS - Armed Robbery
● Family Video - Kenosha, WI - Robbery
● Fiesta - Houston, TX - Robbery
● GT Express - Greenville, SC - Armed Robbery
● Kwik Stop - Hialeah, FL - Armed Robbery
● Stop N Pick - Bradenton, FL - Armed Robbery
● Variety Mart - Eden, NC - Armed Robbery
● Verizon - Martinez, CA - Burglary
● Walgreens - Green Bay, WI - Robbery


Featured Job Listings
Sponsored by NuTech National
Feature Your Job Here For 30 Days -
70% Aren't On the Boards
VP of Sales/Client Relations
More details coming soon
Confidential - Retained Search
Nationwide
Gus Downing
NEW TODAY VP AP & Global Facilities
lululemon athletica
Vancouver, BC, Canada
lululemon athletica
NEW TODAY Dir AP
Safeway
Lanham, MD
Safeway
Dir AP
99 Cents Only Stores
Commerce, CA
99 Cents Only Stores
Reg Dir LP
Sears

Hoffman Estates, IL
Sears Holdings Corp
Dir LP
Pier 1 Imports
Fort Worth, TX
Pier 1 Imports
LP Dir
BevMo
Concord, CA
BevMo
Dir LP
Lane Bryant
Columbus, OH
Lane Bryant
Dir LP (Western Canada)
Walmart Canada
Calgary, CA
Walmart Canada
Dir LP
Cracker Barrel
Lebanon, TN
Cracker Barrel
Dir Safety AP Solutions
Walgreens
Deerfield, IL
Walgreens
Dir of AP, Global Ecommerce
Ralph Lauren
Greensboro, NC
Ralph Lauren
Dir AP
Saks Fifth Ave

New York, NY
Saks Fifth Ave


Territory LP Dir.
Burlington Stores
Los Angeles, CA
Burlington Stores
Dir. of Security
Estee Lauder
El Segundo, CA
Estee Lauder
Director of LP
Pacific Sunwear
Anaheim, CA
Pacific Sunwear
VP Supply Chain, LP & Safety
Ross Stores
Ft. Mill, SC
Ross Stores
Regional LP Mgr
Tillys
Bay Area, CA
Tillys
Regional LP Mgr
Tractor Supply Co.
Baltimore, MD
Tractor Supply Co.
Sales Representative
NuTech National
Maitland, FL
NuTech National
Loss Prevention Openings
Downing & Downing
Nationwide
Karl Glatt

Limited Time Only - Post Your Multi-Unit LP jobs for FREE - Learn More Here
Daily Job Alerts


Appearing One Day Only
View our Internet Jobs Archives here
LP Supervisor
Burlington Coat Factory
Cincinnati, OH
Burlington Coat Factory
AP Sr. Spec
Cabela's
Lexington, KY
Cabela's
Store AP Mgr
Home Depot
Tigard, OR
Home Depot
District 6 LP Specialist
Kroger
Peoria, IL
Kroger
Area LP Mgr
Lowe's
San Francisco, CA
Lowe's
Dept LP Mgr & Safety
Lowe's
Vallejo, CA
Lowe's
AP Dist Mgr
Rite Aid
Shreveport, LA
Rite Aid
AP Mgr
Sam's Club
Wesley Chapel, FL
Wal-Mart
Market AP Mgr
Walmart
Bristol, VA
Wal-Mart
Market AP Mgr
Walmart
Pontotoc, MS
Wal-Mart
AP Mgr in Training
Walmart
Medford, WI
Wal-Mart
AP Mgr in Training
Walmart
Albany, GA
Wal-Mart
AP Mgr in Training
Walmart
La Porte, IN
Wal-Mart
AP Mgr in Training
Walmart
Clayton, NC
Wal-Mart
AP Mgr in Training
Walmart
Graham, TX
Wal-Mart
AP Mgr in Training
Walmart
Hazelhurst, MS
Wal-Mart
AP Mgr in Training
Walmart
Tampa, FL
Wal-Mart
AP Mgr in Training
Walmart
Paoli, IN
Wal-Mart
LP Mgr Hrly
Kmart
Virginia, MN
Sears Holdings Corp
Multi Unit LP Mgr
Sears
Beavercreek, OH
Sears Holdings Corp
LP Mgr Hrly
Kmart
Richmond, IN
Sears Holdings Corp
LP Mgr
Sears
Orlando, FL
Sears Holdings Corp
AP Manager
Walgreens
Sacramento, CA
Walgreens


Home of the Industry's Original
On the Move

| | |
| --- | --- |
| | Daniel Rodriguez Caban was named Regional Loss Prevention Manager for T-Mobile. |
| | Kathleen Avariano was named Loss Prevention Manager for Hermes of Paris. |
Post Your New Job or Promotion!
See all the Industry Movement


Your Career
Sponsor this section of the Daily
6 Things True Leaders Do
When you move into a leadership role, the value you are able to provide for the organization isn't as obvious, and you may find yourself wondering what exactly you accomplished today. Being in a leadership position means going from being a "doer" to a "true leader." Here are some ways you can make a smooth transition. Problem-solving

Want to Be a Better Leader? Break Out the Guitar To improve your leadership skills, don't just look to the most successful people in books, get involved in music as well! Research shows that those who learn how to play an instrument and use those skills in a band develop strong leadership skills. Here are some tips that you can learn from musicians. Standing tall

Leaders Who Embody These 9 Practices Will Gain Loyalty To effectively lead an organization, you want to set an example for others to follow. If you conduct yourself in the right manner, people will want to support your vision and help you achieve your goals. Your attitude is the one thing you can control, so practice these qualities to garner support. Be early

Leading Outside Your Comfort Zone
Being able to step outside of your comfort zone has direct benefits for your employees. They are able to work within their comfort zone and in turn, be more productive. The ability to act in the best interest of your organization will not only earn you trust and loyalty, you may just learn something new about yourself or your company. Progression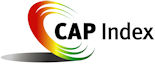 Tip of the Day
Sponsored by Vector Security
Perception becomes reality slowly on a macro level and it's difficult to change it if it's incorrect or doesn't portray the truth. It's the same reason law enforcement separates witnesses to ensure clarity and truth. The group mind becomes influenced by opinion and agendas and distorts the true reality. One can only rely on daily vigilance based on doing what's right to hopefully impact the individuals one works with on a daily basis to carry the experience forward and be witness to what is right.

Just a Thought,
Gus





Upcoming Events
---
Recruiting?
Get your job e-mailed to everyone... everyday
Post on our Featured Jobs Board!
Reach your target audience in 2015 every day!
Request our 2015 Media Kit
update account / change e-mail
unsubscribe FEEDBACK
www.downing-downing.com

Advertise With The D&D Daily




36615 Vine Street, Suite 103
Willoughby, OH 44094
440.942.0671
copyright 2009-2019
all rights reserved globally