The D&D Daily Mobile Edition
September 30,

2015



The LP Industry's #1 News Source - Informing, Educating and Instilling a sense of community



History of ORC Associations -
Their History and Stories
Sponsored by Nedap
History of NCORCA (Northern California Organized Retail Crime Association)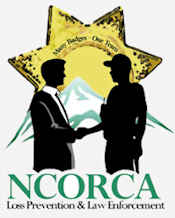 Written by Al Moody, Crime Prevention Programs - Coordinator
NCORCA/Inter-Faith Task Force/InfraGard - Sacramento
City of Roseville Police Department
The Northern California Organized Retail Crime Association (NCORCA) was founded in 2010 by the City of Roseville, California Police Department and a core group of Retail Loss Prevention Managers. The initial goal of the group was for retail establishments and local law enforcement to partner in reducing organized retail crime. The boundaries of NCORCA have grown to include crimes along Interstate 80 between Sparks, NV and San Francisco as well as Interstate 5 between Fresno, CA and the Oregon border.

The group stays organized through monthly newsletters that provide new trends in organized retail crime as well as educational tips to reduce retail theft both internally and externally. Both Retailers and Law Enforcement issue alerts via CrimeDex to share criminal incidents. NCORCA is also on the forefront of developing a Crime Lab to share current criminal activities with the goal of solving crimes that impact Retailers and Law Enforcement and to expedite prosecution.

Current membership continues to grow with over 300 Retailers and Law Enforcement members. Prospective NCORCA members can apply via "CrimeDex.com". For more information about NCORCA contact "NCORCA Coordinator" Al Moody and Roseville Police "Detective" Ryan Bal at amoody@roseville.ca.us.

The co-founders are Ryan Bal (Detective - RPD) and Al Moody (retired retail executive / volunteer).

NCORCA Board of Directors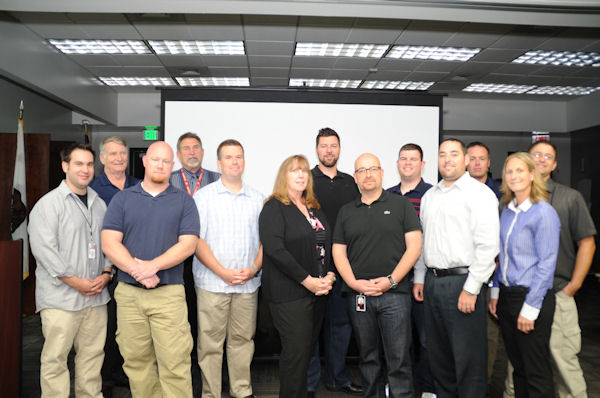 Featured in this picture (left to right):
Jason Rudolph, Al Moody, Lee Fraiser, Tim Sands, Kelby Newton, Deborah Lanford, Tyson Roberts, Denver Floyd, Taylor Magaziner, John McCallister, Sean Smith, Heidi Harman and Ryan Bal

News Brief
Sponsored by WG Security Products, Inc.
Merchants are scrambling as fraud cost shift to retailers tomorrow
Starting tomorrow, the merchants will have to foot the bill for the transactions if they haven't upgraded their payment terminals to accept new, more secure cards. Behind the scenes, though, the risks of card fraud are shifting. Under timetables announced by card networks Visa Inc. and MasterCard Inc., most card issuers starting Thursday are expected to immediately start passing certain fraudulent transaction costs onto retailers that don't have the capability to process the chip-based cards, industry executives said.

Many smaller merchants won't have the technology ready in time. Only about 19% of merchants will have the equipment to accept the chip cards by the end of the year, according to Mercator Advisory Group, a consulting firm. Heartland Payment Systems Inc estimates that about 150,000 of their 180,000 merchant customers, aren't ready to accept chip cards.

Despite the new rules, card issuers will continue to bear the cost of fraud stemming from counterfeit cards that contain data stolen from nonchip cards. A recent report from Mercator estimates that 58% of credit cards will be chip-enabled by the end of 2015. Banks are also now issuing chips on debit cards as well. wsj.com

Who's ready for EMV?
The mandate for retailers to accept chip-enabled, EMV-compliant payment cards starts Oct. 1. But how ready an individual retailer is may depend on what type of retailer they are. At least that's according to a new study from The Strawhecker Group (TSG), which shows that a leading 69% of shoe stores and 59% of department stores have EMV-ready POS terminals. On the lower end of the spectrum, 24% of bookstores and 23% of stationery stores have EMV-ready terminals. Previous TSG research shows that 27% of all retailers will be EMV-ready by Oct. 1. "It makes sense that certain retail merchant types are more ready than others for the liability shift, as some are much more likely to potentially see fraudulent transactions," said Mike Strawhecker, principal at TSG. "While many retailers have not yet upgraded their terminals, big-box merchants such as Walmart and Target are ready for Oct. 1." The sample was based on a minimum of 75 current credit and debit card-accepting merchants in the U.S. per retail category. chainstoreage.com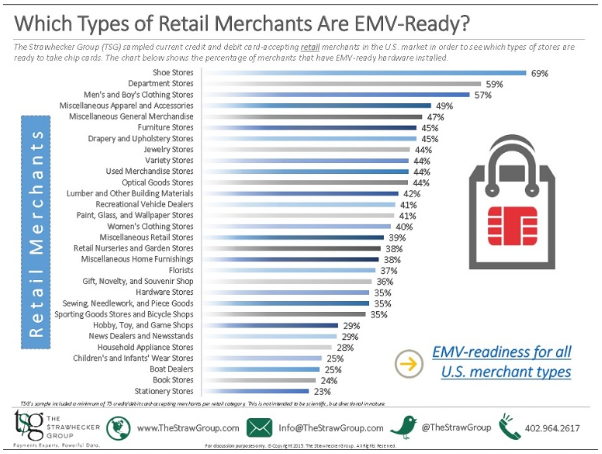 Crime Rings Often Behind Skimming Attacks
Credit unions hit by ATM skimmers are likely victims of multi-tier crime rings recruiting young people online and paying them for their efforts, according to a defense attorney specializing in Internet crime and technology law. Skimming outbreaks, such as the recent one in Wisconsin, which involved over a dozen devices, are often part of bigger criminal enterprises.

Skimmers often don't know each other personally; the recruiting is often via the Internet, she said. "The people tend to go after 18- to 25-year-old women who are college kids," she added. Sometimes people enter the fray after dating someone who knows higher-end criminals, she said. Strickler said criminals even pay people $20 or $40 to assemble a skimming device and then sell or mail them.

"It's a pyramid scheme where the lower guys are making $800 while the guys in [other countries] are making billions of dollars in 10 minutes," she said. "You work at McDonald's for minimum wage, making nothing," she said. "Go ahead and use this device and scan everybody's credit card for a day. Do it for a day and I'll give you $500. That's hard to say no to." cutimes.com

Three Questions for Managing Third-Party Risk
In light of increased outsourcing and third-party involvement in day-to-day business operations, financial management functions in all organizations play an important role in third-party risk management programs.

By asking themselves the following three questions related to third-party risk exposure, financial officers can gain meaningful insight into their company's third-party risk management efforts that can help them to better manage risk and improve financial management decisions. 1) Does our company have a full inventory of its contracts and agreements? 2) How do we know that our relationships comply with the agreements in place? 3) How do we identify all relevant third parties and manage the overall effort?

As organizations work to effectively manage the risks associated with third-party relationships, their financial functions are applying a more thoughtful approach to better risk management. cfo.com

Hudson's Bay Company to consolidate & re-organize - cutting 265 corporate and headquarters employees in North America to save $75M
As part of the broader initiative, HBC will enhance existing technology, while also accelerating the consolidation of all corporate IT to one common platform across all banners. In addition, HBC will establish new centers of excellence for the CRM, creative, and HR functions, complementing existing centers of excellence like digital and IT. The retailer will also consolidate key business functions to enable more productive and efficient operations, as well as refocus resources on customer-facing aspects of the business. HBC also plans to realign resources in business functions to match current and future business strategy while investing in areas that will drive growth.

The $75 million in savings is in addition to the $100 million in savings being attained through synergies via the acquisition of Saks Fifth Avenue in 2013. Editor's Note: The consolidation process between Saks Fifth Ave., Hudson's Bay and Lord & Taylor begins. retailingtoday.com wwd.com

Don Jobe, Division Vice President of Asset Protection for Hudson's Bay in Canada is retiring after 24 years of service. Congratulations Don
The recent round of cuts at HBC this week did impact a "few" AP positions according to our sources. Additionally, we were told that the DVP of AP position will not be replaced. However this is unconfirmed.

Hudson's Bay Company Completes Acquisition of GALERIA Holding, Germany's leading department store chain with 41 stores
With the Acquisition, HBC has an international retail platform with over 460 locations across 8 leading banners in 4 countries, and operates the leading department store banners in Canada, Germany, and Belgium, in addition to its iconic banners Saks Fifth Avenue, Lord & Taylor, and Saks OFF 5TH in the United States. businesswire.com

Holiday sales to increase between 3.5% and 4%, slower than last year's 5.2% growth
Deloitte tends to be one of the first to share its predictions about holiday sales and consumer behavior so its outlook is closely observed. The firm's forecast of 3.5% to 4% growth is solid, but not spectacular as economic forces that would normally augur well for robust growth are offset by negative factors elsewhere. retailingtoday.com

LinkedIn connections: Trade secret or a good idea?
Do employers have rights in relation to contacts built up on the popular corporate social media site? Yes they do according to law suits. csoonline.com

Former NYC Police Commissioner Ray Kelly opens up on terrorism, cybersecurity concerns on Day 2 at ASIS 2015
There is perhaps no greater authority to speak to the threats our nation faces from terrorists than former New York Police Commissioner Ray Kelly. Having served two different stints as police commissioner from 1992 to 1994 and 2002 to 2013, Kelly is one of the most recognizable law enforcement officials in the country and was on the front lines in responding to both the 1993 bombing of the World Trade Center and later the 9/11 terror attacks. In a keynote address at ASIS 2015 on Tuesday, Kelly said he believes a cyber terrorist attack is inevitable, adding that there is a strong need to grow the security field and recruit the right talent. Click here to see a video recap from Day 2 of the conference. securityinfowatch.com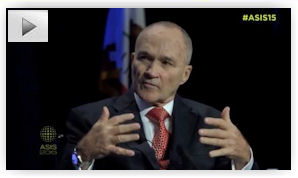 Quarterly Same Store Sales Results
Pier 1 Q2 comp's up 2.5% with sales up 2.7% ( They're looking for a Dir LP)

Sixth Annual C.L.E.A.R. Training Conference Coming Oct. 11-15 - Register today!
The Coalition of Law Enforcement and Retail (C.L.E.A.R.), would like to invite you to our upcoming 6th annual training conference. This year's conference will be held at the Baltimore Marriott Inner Harbor at Camden Yards, on October 11-15, 2015. We are offering one free registration for each 5 paid attendees from the same company or agency. C.L.E.A.R. is made up of law enforcement and retail loss prevention professionals, who are dedicated to creating partnerships to combat this international problem, and has no paid staff.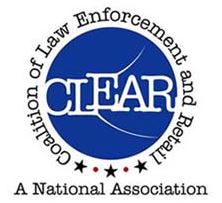 Training topics include:

● Mobile Surveillance
● Law Enforcement & Loss Prevention Case Preparation for Successful Prosecution
● Gift Card Fraud
● Credit Card Fraud
● Case Study - Wicklander-Zulawski
● Building an ORCA
● Civil Unrest Preparation and Retail Business Recovery
● Current Trends in ORC - Panel Discussion
● Jewelers Security Alliance
● Legislative Update
● National Perspective to the ORC Problem and Response - Gus Downing
● The Loss Prevention Foundation - Gene Smith
● Rental Car Security Group Partnerships
● Robbery Prevention and Response

For full agenda details and registration information, go to: www.clearusa.org

The Coalition of Law Enforcement and Retail was formed in November 2008 by a group of Law Enforcement and Retail Loss Prevention professionals that saw the need for the formation of a partnership.

If you have questions, please feel free to contact Curt Crum at 208-570-6232, or Mitzi Perry at 727-893-7592. You can also visit the C.L.E.A.R. website at www.clearusa.org.
All the News - One Place - One Source - One Time
The D&D Daily respects your time & doesn't filter retail's reality
Report Your News!
(content subject to approval)




Credit Card Issuers Not Ready for EMV Either
A press release from MasterCard this morning says that only 40% of their issued cards have chips for EMV. The tone of the release, in our humble opinion, is designed to put a positive spin on otherwise dismal news. And, the statement that only 26% of merchants are ready is perhaps the lowest quote I have seen and seems included to portray card issuers in a more positive light-, as in, we're more ready than the merchants. Disappointing in the max! See full press release pointofsale.com

Retail group rips chip-card conversion expense, pushes for PIN security
The top attorney for the powerful National Retail Federation blasted banks and credit card companies on Tuesday for problems and costs with the massive ongoing U.S. rollout of computer chip cards and chip card readers.

Mallory Duncan, general counsel for the NRF, said computer chip cards will initially require customers to provide a signature, instead of a distinct PIN (personal identification number), which won't eliminate online and phone fraud with a stolen or lost chip card.

He also said the financial burden -- now in the tens of billions of dollars -- of making the transition to chip card technology unfairly rests mainly with retailers, not banks and credit card providers.

"We and our customers should not bear the burden for flaws in a 50-year-old [magnetic card] system," Duncan said in a conference call with reporters on Tuesday. The transition to chip cards and chip terminals has "been all stick and no carrot and [the technology] doesn't work... We would like it to work and we want a secure payment system." The NRF is the largest retail association in the world, with 18,000 members. csoonline.com

PCI Security Standards Council - PAYMENT CARD INDUSTRY ISSUES NEW GUIDANCE TO HELP ORGANIZATIONS RESPOND TO DATA BREACHES
Developed in collaboration with the Payment Card Industry (PCI) Forensic Investigators (PFI) community, Responding to a Data Breach: A How-to Guide for Incident Management provides merchants and service providers with key recommendations for being prepared to react quickly if a breach is suspected, and specifically what to do contain damage, and facilitate an effective investigation.

At its annual North America Community Meeting in Vancouver this week, the PCI Security Standards Council will discuss these best practices in the context of today's threat and breach landscape, along with other standards and resources the industry is developing to help businesses protect their customer payment data. pcisecuritystandards.org

Russian Hacker Gets 4.5 Years For Computer Fraud & Causing $500M in losses
A Russian man was sentenced to four and a half years in prison for his part in the distribution of malicious Citadel software, which has infected 11 million computers worldwide and has caused $500 million in losses, federal prosecutors said Tuesday. Federal prosecutors said in 2012, Belorossov downloaded a version of Citadel, referred to as a "banking trojan" and designed to steal online banking credentials, credit card information and other personal information, and used it to remotely access 7,000 computers from which he gleaned financial information. law360.com

Trump Hotels Confirms POS Malware Breach
Forensic Investigation Has Not 'Conclusively Determined' Card Data Exfiltrated, Misused. The hotel chain bearing 2016 U.S. presidential candidate Donald Trump's name has confirmed that its point-of-sale systems were infected by malware for more than a year. The confirmation comes about three months after the hotel chain said it was investigating reports that its POS systems had been breached. The Trump Hotel Collection, in an undated "legal notice of potential security incident" posted on its website, now warns that POS systems at seven hotels that it manages - in Chicago, Honolulu, Las Vegas, New York, Miami and Toronto - were infected with malware, potentially affecting an unspecified number of customers. "Payment card data - including payment card account number, card expiration date, security code, and cardholder name - of individuals who used a payment card at the hotel between May 19, 2014, and June 2, 2015, may have been affected," databreachtoday.com

European businesses warned of online fraud threat as US shifts to EMV
Global Risk Technologies, a technology company specialising in chargeback compliance, is warning online merchants that the rollout of chip and PIN card protection (EMV) in the United States is set to cause a major shift in credit card fraud to card-not-present (CNP) transactions in the UK and Europe.

The difference now is that fraudsters have nowhere else to turn besides the established online ecommerce markets in Europe. According to FICO, the US accounted for an incredible 47% of the fraudulent cross-border transactions on UK debit cards in 2014. As the US increases its physical card security, the full force of stolen card monetisation will move online to CNP fraud, ignoring international borders." retailfraud.com

Walgreens ahead of the curve on new chip-and-PIN payment tech
Credit cards with "EMV chips" are now being accepted at all of the more than 8,200 Walgreens retail stores nationwide, ahead of the Oct. 1 deadline for retailers to begin accepting the new cards, Walgreens announced Tuesday. Most major retailers, including Walgreens, will be equipped to accept PINs or signatures and are urging card issuers to offer customers chip-and-PIN technology. drugstorenews.com

Five retail IT trends for holiday 2015
Verizon Enterprise Solutions has identified five key IT trends that will impact retail during the 2015 holiday season. Black Friday moves down
During 2014, consumer traffic spiked less on Black Friday and Cyber Monday than in years past, and Dupre sees that trend intensifying this year. E-commerce - Everyone is doing it
Dupre also identified a continuing shift to e-commerce, including both desktop and mobile customers. Retailers need to follow steps to take advantage of the increased customer intimacy provided by e-commerce. Who wants home delivery? One growing trend that will keep customers coming into stores is the rising popularity of buy-online-pickup-in-store (BOPIS) transactions. In particular, customers now expect BOPIS and same-day delivery." The holiday data blend Big Data is just as, if not more crucial, during the holiday season than it is during the rest of the year. Dupre sees retailers using a new Big Data holiday tactic, however. Tis the season for IT knowledge As retail operations on both the back and front ends become more technology-oriented, even seasonal holiday workers will have to come on board with more IT capabilities than they had in the past. chainstoreage.com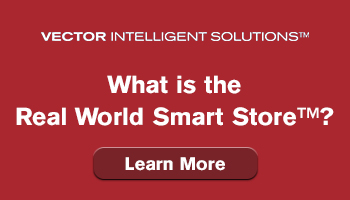 Vendor Spotlight



Agilence Marks the Conclusion of another Successful User Forum
100 percent growth in attendance year over year signifies the increasing interaction of the Agilence Community
MOUNT LAUREL, NJ, September 30, 2015 - Agilence, Inc., the leading provider of cloud-based reporting solutions for operations and loss prevention, today announced the successful conclusion of their second annual User Forum at the Franklin Institute in Philadelphia, PA. 35 attendees from 17 different clients gathered to exchange success stories, learn new tips and tricks, share unique uses of the application, and network with like-minded professionals.

Agilence's CEO Russ Hawkins had this to say of the event, "Collaboration is vital to the advancement of loss prevention and operations. By bringing our users together we have created a community of sharing and learning that will enable each of our clients to stay ahead of industry trends and make the most of the 20/20 application."

The Forum featured a keynote presentation which discussed the future of data analytics, and what is possible for retailers today if they take advantage of all the data at their disposal. There were also presentations by multiple users, as well as breakout sessions to discuss industry developments and best practices.

"This was a great event and a fun two days for me. It was nice to see how my peers are using the application in unique ways by bringing in multiple data feeds and sharing the results with different departments. Moving forward I think loss prevention can become the hub for all data analytics within a company, and it was reassuring knowing that other Retail 20/20 users feel the same way," said Gregg Smith, Sr. Director of Asset Protection, Five Below.

The common theme flowing through the entire User Forum was the idea of working with different departments within your own organization, making the most of the data at hand to improve every aspect of the business. Attendees also had the opportunity to help drive a discussion around the future of Retail 20/20, and voted on the priority level of planned functionality improvements.

Jeremy Shultz, AP Analyst, Brookshire Grocery Company said, "Karla and I have taken a lot away from this year's User Forum. It was great to meet other users from around the country and to share stories about the different ways we utilize Retail 20/20. It was also nice to see what's on the horizon with Agilence, and to have a say in the direction of the software."

"I've spent many years working in HR and I walked away from the User Forum thinking 'Wow, what an amazing group of people,'" said Joe Sherman, Director of Loss Prevention, Au Bon Pain. "The Agilence team is comprised of smart, passionate, and respectful individuals, and the user group is filled with many talented professionals striving to make loss prevention more effective within their own organizations."

About Agilence
Agilence (www.agilenceinc.com) is the industry leader in data analytics and reporting solutions for operations and loss prevention. Agilence develops its cloud based 20/20 solution for retail, food and beverage, and pharmacy markets. 20/20 is a highly flexible and powerful application that provides organizations with a complete view of their business, empowering them to make informed decisions faster, to increase efficiency and improve profit margins across the enterprise. Agilence, Inc. is headquartered in Mount Laurel, NJ. To learn more about Agilence, please email sales@agilenceinc.com or call 856-366-1200.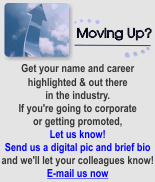 U-Tip - The Two Minute Tip
Karl Langhorst, Corp. Director of Loss Prevention, The Kroger Co.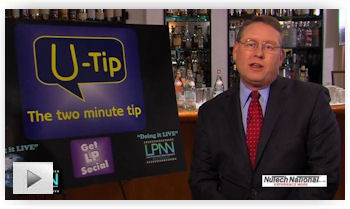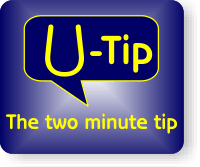 Karl Langhorst, Corporate Director, Loss Prevention for The Kroger Co., shares some thoughts on what has helped him continue to grow in his career in this "U-Tip." Too often, loss prevention organizations are viewed as obstacles to new ideas or sales initiatives. Karl talks about the importance of being a team player by finding a way to say YES. In addition to your responsibilities as an LP professional to analyze risks and protect the company, you should also find a way to help support the business and help drive sales. Karl also explains how a college degree and industry certifications can help you move ahead in your LP career.
Sponsored By:






One little piece of advice could make all the difference in someone's career.

Want to share your own U-Tip? Email us here.
Solution Providers, have a video or commercial you want to publish? Contact us.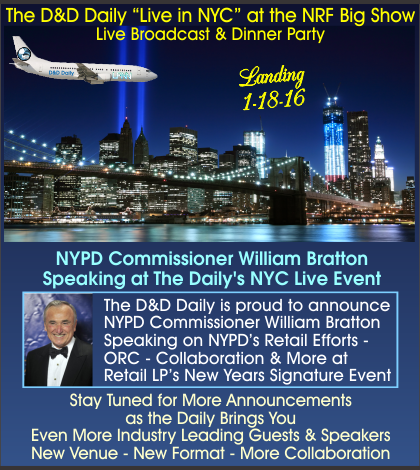 e-commerce

Sponsored by The Zellman Group
Online just got more intense with new price-match policy from Target just ahead of prime holiday shopping season
Beginning Oct. 1, Target will price-match the websites of 29 major retailers in stores and for purchases from their website. retailingtoday.com

Amazon tests crowd-sourced delivery model 'Flex' - Uber like model - Could be a security challenge?
To qualify to deliver packages for Amazon, drivers must provide their own car, own an Android smartphone, and pass a background check. Amazon bills Flex as a way for workers to "be your boss" by setting the hours they want to work. The service is now available only in Seattle (and only to members of Amazon's Prime Now same-day delivery service), but the company expects to roll it out to other cities where Prime Now is offered, including Manhattan, Baltimore, Miami, Dallas, and Chicago. retailingtoday.com

Report: Online returns are a big problem
TrueShip data shows that about one-third of all products purchased online are returned by consumers. Of these returns, almost one-quarter (23%) are due to the wrong item being shipped. Another 22% of e-commerce returns results from a product looking and appearing different when it arrives than it did online. A further 22% of e-commerce returns are due to a damaged item being received. This means in total, 67% of all returned online purchases are the fault of the retailer and not the customer. 82% of consumers will not shop again at an online store with difficult returns. chainstoreage.com

Security still top concern of online shoppers
When evaluating whether to purchase goods from a retailer online, security is the top most concern of one quarter of shoppers, new research from Worldpay reveals. Conducted in partnership with KAE Marketing Intelligence Limited, the survey polled 3,500 online shoppers in 14 countries and analyzed 350 top retail sites.

Results show that for one-quarter of online shoppers, seeing payment authentication and digital certificate logos displayed prominently on a retail site's homepage is the single most reassuring element in the purchasing process. Forty-six percent of consumers globally admit this would help address their concerns.

Transparency around security is particularly important in China, where 70 percent of shoppers said they feel more secure shopping when payment authentication and certificate logos are clearly displayed, indicating that this simple measure will go a long way in addressing the misgivings of online customers.

Shoppers also want security transparency when retailers store personal and payment details. Thirty-one percent of shoppers worldwide say they don't want a retail website to store their payment details, and South Koreans and Australians are most averse to the idea with over 50 percent saying they don't want this information stored online. enterpriseinnovation.net

How Phones Are Taking Over Ecommerce - top retailers generating 50% of sales from mobile

What does Walmart's grocery ecommerce expansion mean?

"Fraud is not a person - it is a dynamic grouping of statistics that deviate from the norm."
Stuart B. Levine, CFI, CFCI
CEO, The Zellman Group & Zelligent


ORC News
Sponsored by NEDAP
Naperville, IL: Police say 4 women stole 180 items from Walmart
Three women from Chicago's South Side and one from Minnesota remained Tuesday in DuPage County Jail in Wheaton, after Naperville police said they loaded two shopping carts with 180 pieces of merchandise, valued at over $500 and then walked out of a store without paying for the goods. Naperville police arrested the women at 9:42 p.m. Friday at the Walmart SuperCenter, in the far west-central part of Naperville. Court records showed Williams-Hart was arrested only nine days earlier on Sept. 16 by police in Lombard, following an incident inside The Gap store in the Yorktown Mall. She was charged with burglary and possession of burglary tools in that matter. chicagotribune.com

Morehead City, NC: Police investigate $100,000 theft at Boat Dealer
Morehead City Police officers are investigating a major theft. "We're looking anywhere from $75 ($75,000) to about $100,000 worth of equipment that was stolen," Lt. Kelly Guthrie said. The items were stolen from fourteen boats at a local boat dealer and repair shop. The thieves struck overnight Sunday into Monday. Owners at Starling Marine called police when they arrived Monday morning. Officials say they believe whoever is responsible parked behind a neighboring shopping center, cut a path through some woods and then broke through a security fence in the back. "...Electronics, fishing poles, personal items, there was one that had what they call a fighting chair that was taken off of one of the boats," Lt. Kelly Guthrie said. The chair stolen was worth about $10,000 to $15,000 alone. Dave Harvell of Carteret County is among those with items stolen. wcti12.com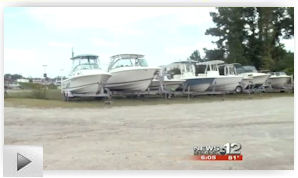 Monett, MO: Man surrenders for smash-and-grab handgun thefts at Monett pawn shop
A pawn shop burglary suspect is in jail after he surrendered to Monett police. Police say a man broke into Monett Gun and Pawn on Sunday night and stole 20 handguns worth more than $10,000. The police chief said the man returned several of those guns when he surrendered, but some are still missing. Police responded to a burglar alarm about midnight on Sunday and found the front door glass broken. Police say the burglary used a hammer to smash gun display cases and take the handguns, which are various makes and calibers. ky3.com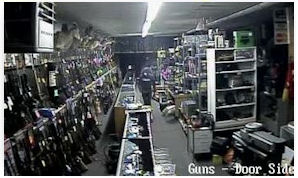 St. Petersburg, FL: Suspect sought in theft of shirts at Macy's
St. Petersburg police are seeking the public's help in locating the suspect in the thefts of 10 Polo shirts from Tyrone Square Mall. Police say the male suspect entered Macy's on Saturday, around 7:30 and took the shirts - worth more than $700 - on hangers off a rack and fled the store. tbo.com
Do you have an ORC case to share?
Share your ORC news and help the industry grow

Retail Crime News

Sponsored by Security Resources
Columbia, SC: Officer Dies in Richland Mall Shooting
Forest Acres Police Chief Gene Sealy says one of his officers was killed Wednesday morning during a struggle with a suspect at an area mall. Sealy confirmed at a noon news conference that 32-year-old Greg Alia, a seven-year veteran of the police force, had died. "Our hearts are broken," Sealy said. "Forest Acres is a small community, small police department. We're one big family." Sealy said Alia and other officers were responding to a call just before 8 a.m. of a suspicious person in the parking lot of the Richland Mall. When officers arrived, they found 34-year-old Jarvis Hall, who they reported ran away from them and near the mall.

Sealy says Alia confronted the individual, there was a struggle, and he was shot. At a news conference several hours after the Wednesday shooting, Forest Acres police Chief Gene Sealy said the suspect is being questioned. Police did not detail any charges against the man and did not take questions at the news conference. wltx.com abcnews.go.com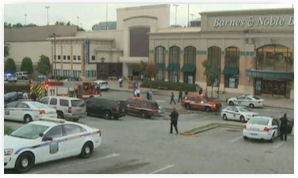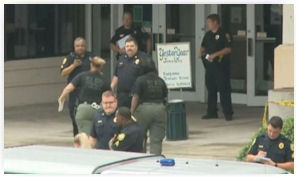 Conyers, GA: Goodwill Employee shot and killed outside of her store in Rockdale, Co, GA; suspect killed by WV State Troopers in traffic stop
Investigators believe a 28-year-old man shot his former co-worker outside a Rockdale County Goodwill store, then drove nearly 500 miles away to West Virginia, where he was killed in a shootout with police. Brandon Lamar Johnson, a DeKalb County resident, was shot to death by West Virginia State Police, the Rockdale Sheriff's Office said late Tuesday afternoon. Johnson exited his vehicle after being pursued by West Virginia police and pointed a gun at troopers. The victim, Pamela Yvonne Harmon, 57, had worked at the Goodwill store for 11 years, and had previously worked with Johnson, but no possible motive was released. ajc.com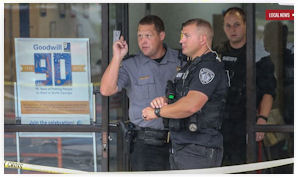 St. Louis, MO: Midas Muffler eases the pain of an Employee who was shot Friday night attending a Cardinal's baseball game
A suspect was arrested Tuesday in the shooting downtown of Christopher Sanna which has left him possibly paralyzed. Sanna was shot about 10:30 p.m. Friday, he and his siblings had been at the Cardinals game to celebrate his mother's 60th birthday. Christopher Sanna said the company he works for, Midas, is planning to outfit him with a handicapped-accessible van and allow him to keep his job. "I ran their number one shop for the past three years," he said. stltoday.com

Las Vegas: Police seek 2 people after fatal Wal-Mart parking lot beating
Metro Police are searching for a man and woman they described as persons of interest in connection with the fatal beating of a 72-year-old man Wednesday in a central valley Wal-Mart parking lot. lasvegassun.com

Yucca Valley, CA: Home Depot shoplifter steals power tools, pulls gun to escape
A shoplifter turned a $350 power-tool theft into an armed robbery when he threatened a Home Depot security guard before escaping, sheriff's officials say. The holdup happened at 10:40 a.m. Monday, Sept. 28, at the home improvement store at 58705 Twentynine Palms Highway. The unidentified thief tried to sneak out a back emergency door when a store security associate confronted him. "The suspect told the associate he had a gun, and the associate backed away," sheriff's officials said in a written statement. "The ... suspect fled into the open desert." Deputies found the power tools lying in the desert but couldn't find the robber. pe.com

Chicago, IL: Wicker Park store robbed of several remote controlled drones
The owner of a store in Wicker Park says robbers smashed his front window with a stone early Tuesday morning and several remote control helicopters were stolen. Stan Mistiewicz says a large, masonry-type stone was used to smash the window of his store around 5:30 a.m. Mistiewicz says he has surveillance video of the robbery and is offering a $1,000 reward leading to the arrest of the robber. abc7chicago.com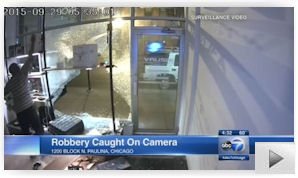 Wilkes-Barre, PA: Kmart Jewelry thief/ serial Burglar sentenced yesterday to 5 to 10 years
In 2013, prosecutors say, Donald Thomas entered the Kmart in Wilkes-Barre Township and loaded up a garbage can, wire cutters and a crow bar into a cart. Thomas then went to the jewelry section where he used the cutters to snip a wire that held a jewelry display case to the counter and put the case inside the garbage can, stealing an estimated $7,559 in merchandise. Thomas was also charged with several home evasions, stealing over $25,000 of items. citizensvoice.com

Montreal, CN: Molotov cocktail sets back of Saint-Laurent store on fire
A molotov cocktail was hurled through the back of a store in Little Italy, causing a fire. It happened around 2:50 a.m. Tuesday at the corner of Saint-Laurent Boulevard and Mozart Avenue East.Arson fire behind a building, corner St-Laurent / Mozart. Under investigation by police. Yesterday, Authorities found two molotov cocktails at the scene. One of them was still intact. or-politics.com

Fairfield, CT: Police probe $15,000 Inventory Shortage at a Liquor Store
The owner reported Monday that he discovered that since last January, a total of $14,625 is missing from register receipts through voided transactions and sales not being entered into the register. fairfieldcitizenonline.com

Northwood, IA: BP Station Employee accused of $13,000 cash theft

Centerville, UT: Ace Hardware Associate punched, shoplifter now facing 3 felony charges

Columbus, GA: Police seeking the ID of several Credit card fraud suspects


Robberies and Burglaries
● AT&T - Marion, IL - Burglary
● Battery Mart - Apple Valley, CA - Burglary
● Bench Racers - Rayburn, PA - Robbery
● Bottle Barn - Fargo, ND - Armed Robbery
● Cellular Solution - Hillsboro, OH - Burglary
● Circle K - Douglas, Co, FL - Armed Robbery
● Citgo - Gwinnett Co, GA - Robbery
● Dollar General - Greencastle, PA - Robbery
● Dollar General - Dothan, AL - Armed Robbery/ 2 arrested
● Dollar General - Meridian, MS - Armed Robbery
● Dollar General - Osgood, IN - Robbery/ Cashier assaulted
● Family Drug - Broken Arrow, OK - Armed Robbery
● Marathon - Columbus, IN - Armed Robbery
● Spirit Shop - Fargo, ND - Armed Robbery
● Varano's Warehouse - Mount Carmel, IN - Burglary
● Ventura Grocers - Upper Kensington, PA - Burglary
● Verizon - Chipley, FL - Burglary
● Wicker Park - Chicago, IL - Burglary
● 7-Eleven - Norfolk, VA - Armed Robbery
● 7-Eleven - Baltimore, MD - Armed Robbery/ same guy 2 days in a row


Featured Job Listings
Sponsored by NuTech National
Feature Your Job Here For 30 Days -
70% Aren't On the Boards
VP of Sales/Client Relations
More details coming soon
Confidential - Retained Search
Nationwide
Gus Downing
VP AP & Global Facilities
lululemon athletica
Vancouver, BC, Canada
lululemon athletica
Dir AP
Safeway
Lanham, MD
Safeway
Dir AP
99 Cents Only Stores
Commerce, CA
99 Cents Only Stores
Reg Dir LP
Sears

Hoffman Estates, IL
Sears Holdings Corp
Dir LP
Pier 1 Imports
Fort Worth, TX
Pier 1 Imports
LP Dir
BevMo
Concord, CA
BevMo
Dir LP
Lane Bryant
Columbus, OH
Lane Bryant
Dir LP (Western Canada)
Walmart Canada
Calgary, CA
Walmart Canada
Dir LP
Cracker Barrel
Lebanon, TN
Cracker Barrel
Dir Safety AP Solutions
Walgreens
Deerfield, IL
Walgreens
Dir of AP, Global Ecommerce
Ralph Lauren
Greensboro, NC
Ralph Lauren
Dir AP
Saks Fifth Ave

New York, NY
Saks Fifth Ave


Territory LP Dir.
Burlington Stores
Los Angeles, CA
Burlington Stores
Dir. of Security
Estee Lauder
El Segundo, CA
Estee Lauder
Director of LP
Pacific Sunwear
Anaheim, CA
Pacific Sunwear
VP Supply Chain, LP & Safety
Ross Stores
Ft. Mill, SC
Ross Stores
Regional LP Mgr
Tillys
Bay Area, CA
Tillys
Regional LP Mgr
Tractor Supply Co.
Baltimore, MD
Tractor Supply Co.
Sales Representative
NuTech National
Maitland, FL
NuTech National
Loss Prevention Openings
Downing & Downing
Nationwide
Karl Glatt

Limited Time Only - Post Your Multi-Unit LP jobs for FREE - Learn More Here
Daily Job Alerts


Appearing One Day Only
View our Internet Jobs Archives here
LP Supervisor
Burlington Coat Factory
Brooklyn, NY
Burlington Coat Factory
LP Specialist
H-E-B
Spring, TX
H-E-B
LP Supervisor
JCPenney
Bismarck, ND
JCPenney
LP Supervisor
JCPenney
Biloxi, MS
JCPenney
LP Supervisor
JCPenney
Hayward, CA
JCPenney
Dept Mgr LP & Safety
Lowe's
Hoover, AL
Lowe's
LP Mgr in Training
Kmart
Gaithersburg, MD
Sears Holdings Corp
LP Mgr
Kmart
Rosedale, NY
Sears Holdings Corp
LP Mgr in Training
Kmart
Silver Spring, MD
Sears Holdings Corp
Sr. Regional LP Mgr
Sephora
San Francisco, CA
Sephora
Store AP Mgr
Home Depot
Brentwood, OR
Home Depot
AP Team Leader
Target
Pensacola, FL
Target
AP Mgr in Training
Walmart
Noblesville, IN
Wal-Mart
AP Mgr in Training
Walmart
Horn Lake, MS
Wal-Mart
Area AP Mgr
All facilities
Sanger, TX
Wal-Mart
Mgr AP
Walmart
Terrell, TX
Wal-Mart
AP Mgr in Training
Walmart
Lewisburg, PA
Wal-Mart
AP/LP Mgr
Macy's
West Valley, UT
Macy's
AP/LP Mgr
Macy's
Hagerstown, MD
Macy's


Home of the Industry's Original
On the Move

None to report.
Post Your New Job or Promotion!
See all the Industry Movement


Your Career
Sponsor this section of the Daily
3 Ways to Multitask Well (Even Though Your Brain Hates It) Research tells us that taking on more than one task at a time can lower our performance, but if you have to multitask, here's how to do it well. Use these three tips to take on multiple tasks and not worry about sacrificing quality. Offline vs. online

What You Can Do on Sunday to Make Monday More Manageable Do you dread Mondays? It could be because projects are piled high and your to-do lists are out of control. However, if you take a little time on Sunday to prepare and plan, you can find that the start of your work week is not so bad. Don't start with stress

Why 11 A.M. Coffee Makes You More Productive Most people drink their cup of joe first thing in the morning, but science is saying that pushing your coffee fix back until 11 A.M. can help you focus even more. Here are some other reasons why you can drink your coffee later. Your body already gets a morning boost

3 Activities You Should Be Segmenting Time for to Boost Productivity When it comes to being productive on the computer, there are a million distractions stacked against you. Setting aside certain amounts of time to focus on specific tasks can help you keep focus and maintain productivity. Here's how you can use segmentation to stay on track. Black Hole of Browsing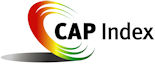 Tip of the Day
Sponsored by Vector Security
Are you going beyond your job appraisal? Every year, executives face that one moment in time when corporate America tells you how you've done and most live within its boundaries all year long. Exceeding at your job is, by definition, going beyond it and the only way to move up is by doing just that. With increased job scopes and responsibilities, it may seem almost impossible to do except for those who believe anything is possible. Are you going beyond?

Just a Thought,
Gus





Upcoming Events
---
Recruiting?
Get your job e-mailed to everyone... everyday
Post on our Featured Jobs Board!
Reach your target audience in 2015 every day!
Request our 2015 Media Kit
update account / change e-mail
unsubscribe FEEDBACK
www.downing-downing.com

Advertise With The D&D Daily




36615 Vine Street, Suite 103
Willoughby, OH 44094
440.942.0671
copyright 2009-2019
all rights reserved globally