The D&D Daily Mobile Edition
October 1,

2015



The LP Industry's #1 News Source - Informing, Educating and Instilling a sense of community



Moving Up
See all "Moving Ups" Here
Here are the 18 Executives 'Moving Up' as reported in the Daily in September.
24 Hour Fitness promoted Mike Nagyhazy to Senior Director, Loss Prevention.
99 Cents Only Stores named Larry Carroll Vice President of Asset Protection.
Apple Inc. promoted David Lu, CFI to Senior Loss Prevention Manager.
Caribou Coffee named Steve Bryant Sr. Manager Profit and Protection.
Dick's Sporting Goods named Steven Morand, CFI Corporate Manager of Investigations.
Family Dollar promoted Henry Johnson to Regional Vice President, Store Operations.
Merchants Distributors named Joe Pfeifer, CFI Director of Loss Prevention & Safety.
Outerwall, Inc. promoted LeeRoy Hegwood, CFE, CFI, EnCE to Sr. Manager, Loss Prevention and Forensics.
Rastelli Food Groups, Inc. named Laura Morris Corporate Asset Protection Management.
Regis Corporation promoted Murray Sinclair to AVP of Asset Protection.
Ross Stores, Inc promoted Ray Cloud to Senior Vice President, Loss Prevention.
Se-Kure Controls promoted Michael Mell to Senior Director, National Design – East.
Select Systems Technology named Kent Oda Vice President, Business Development.
South Moon Under named Michael Staines, CFI to Director of Loss Prevention.
Taco Bell named Steven Boya Director of Asset Protection.
Target promoted Mike Andreotti to Director, Assets Protection, Field Operations.
The Disney Store promoted Bryant McAnnally, CFI to Senior Manager, Loss Prevention.
Wireless Advocates named Jack Gehrke Director of Loss Prevention.

2015's GVS - Group Vendor Selfies
Pride in Partnership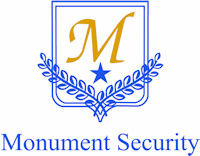 Monument Security's
Group Vendor Selfie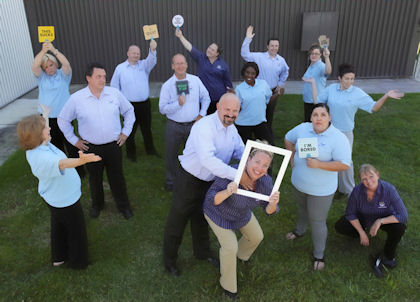 Monument Security is a national provider of loss prevention agents, investigative services, and security guards. We maintain the same local customer service and the highest standards that our clients have come to expect throughout the United States. With Monument Security you have the confidence of knowing our management teams have the experience to rise to every security challenge you face, while at the same time you have the comfort of partnering with an organization that takes your security as personally as you do. Visit us at www.monumentsecurity.com.

---
Retail LP Teams, send us your new Group LP Selfies!

Have some fun, show your team pride, get a plaque, and maybe win some free pizza!
News Brief
Sponsored by WG Security Products, Inc.
Wal-Mart to cut "hundreds" of headquarters employees as early as Friday
Wal-Mart Stores Inc. is planning a round of layoffs as early as Friday that would affect hundreds of employees at its headquarters in Arkansas. Fewer than 500 workers are expected to lose their jobs at the world's largest retailer, the Journal said. Some Wal-Mart department directors were told to cancel travel this week or make sure they come to the office on Friday, the report said, citing another person who spoke with the Wal-Mart employees. businessinsider.com

Wal-Mart to Trim HQ Positions - To include 'senior manager positions'
The latest move has the retailer reportedly planning hundreds of job cuts at its Bentonville, Ark., headquarters starting as early as next week. The nature of all the jobs could not be learned, but is said to include senior manager positions. The retail giant has about 19,000 employees at its headquarters. wwd.com

New York Police Rolls Out New 'Use-of-Force' Rule - Will Document Virtually All Instances of Force
For the first time in its modern history, the New York Police Department is establishing explicit guidelines - backed by a sweeping new tracking system - for using and documenting force. Every police officer will have to detail virtually every instance when force is used not only in an arrest but also in other encounters with the public, including the sort of brief, violent detention and release that occurs routinely on the street and, in the case of the retired tennis star James Blake, is captured on video.

For the first time, the NYPD's patrol guide will define all levels of force that an officer might use in encounters; prohibit force used to punish or retaliate; and set up guidelines for determining the "reasonableness" of using force, according to NYPD documents. Additionally, a single use-of-force report will be used to better analyze incidents, and a formal hierarchies has been set to investigate complaints of excessive force.

The new rules for the New York Police Department are to be announced on Thursday by Commissioner William J. Bratton after more than a year of consideration by top police officials. They coincide with a rollout of 900 new Taser stun guns to patrol officers, until now carried only by some supervisors and by officers from the elite Emergency Service Unit. nytimes.com wsj.com

Dollar General fined $169,000 for blocked emergency doors, electrical boxes - DG initiates company wide safety training
Dollar General Corp. has been issued fines of $169,000 for safety hazards allegedly found at two of the retailer's West Virginia stores, the U.S. Occupational Safety and Health Administration said. The stores in Madison and West Milford, West Virginia, received citations for blocked emergency exit doors and blocked electrical breaker boxes, which made it "unsafe for employees to control lights, coolers and air conditioners," OSHA said Monday in a statement.

OSHA said Dollar General stores nationwide have been inspected more than 70 times and received more than 40 citations since 2009, including previous citations for blocked exits and electrical panels. "Dollar General's negligence in protecting employees from these hazards despite the number of times they have been brought to the company's attention is alarming."

Goodlettsville, Tennessee-based Dollar General said in a statement that it "is taking immediate actions to address and remedy cited violations at" the West Virginia stores, as well as to provide safety training for all Dollar General stores in 43 states. businessinsurance.com

Attorney Hired After Burlington Coat Factory store Shoplifting Suspect Dies in Custody - Looking for CCTV Footage at Other Stores
The family of a teenage shoplifting suspect who died in Indianapolis police custody after complaining of breathing problems has hired an attorney to investigate the events leading up to his death. Marion County's coroner said an autopsy showed 18-year-old Terrell Day died of a heart attack in the back of an ambulance Saturday after twice complaining about having breathing problems.

Police said Day had pulled a handgun during a shoplifting incident at a Burlington Coat Factory store and was arrested after officers found him near a handgun in a grassy area not far from that store.

Nathaniel Lee, an attorney representing Day's family, said questions remain unanswered in the teen's death. He began his investigation Tuesday by visiting area stores in search of surveillance footage of Day's arrest. abcnews.go.com isurfpuducah.com rapidnewsnetwork.com

CVS Hit With Two Class Wage Suits In Fla., Calif.
The Florida suit claims that CVS Pharmacy Inc. required employees to clock out before they exceed 40 hours of work per week but required them to continue working. The California action alleges CVS Pharmacy, CVS Caremark and other company entities failed to provide accurate itemized wage statements in violation of state law, noting that the amount in controversy is expected to exceed $5 million, not counting interest and costs. law360.com

American Apparel Beats $120M Pair Of Ex-CEO's Attacks
American Apparel Inc. defeated two lawsuits Wednesday in California state court by former CEO Dov Charney, a $100 million suit alleging it conspired with hedge fund Standard General LP and others to oust him and a $20 million defamation complaint.

The ruling by Los Angeles Superior Court Judge Terry A. Green resolves only two complaints in a tangle of litigation between the clothing company and its founder related to Charney's termination last year. In both cases, defendants moved to strike the complaint based on California's anti-SLAPP statute, arguing that Charney was suing over acts of free speech and couldn't demonstrate a probability of prevailing. law360.com

Radio Shack wins approval to move forward with 1,700 stores in bankruptcy court
A Delaware bankruptcy judge on Wednesday agreed to confirm the RadioShack Corp. estate's Chapter 11 plan after also giving the thumbs-up to a settlement between the debtor and unsecured creditors and lenders Standard General LP and Wells Fargo Bank NA that put to rest a fight threatening to derail the liquidation strategy.

The decision also signals an end to the main phase of RadioShack's case, a proceeding that Judge Shannon called "very challenging." "You preserved as much of the business as you could and as many jobs as you could," Judge Shannon said from the bench to the attorney's. law360.com

OSHA Inspecting 40 Percent of Reported Injuries - New Reporting Requirements
OSHA's new reporting requirements began on January 1, 2015. Under these requirements, employers in federal OSHA jurisdiction are required to report to OSHA any work-related fatality or any work-related injury resulting in an employee being formally admitted to the hospital or any work-related amputation or loss of an eye. Since the implementation of these new requirements, OSHA estimates that it is receiving 200 to 250 reported incidents each week.

According to OSHA, roughly 40 percent of those reported injury cases are resulting in an on-site inspection by the agency. In about 50 percent of the cases OSHA is instituting the "rapid response investigation" and sending the employer a letter requesting additional information about the incident and the employer's corrective actions. In roughly 10 percent of the cases, no agency action is taken either because the event was not reportable under the new requirements or OSHA does not have jurisdiction. oshatoday.com

What It Takes to Make Behavior-Based Safety Work

Rite Aid Sept. same stores sales up 1.5% with sales up 1.8%

ASIS 2015 Conference - Day 3 Video Recap
All the News - One Place - One Source - One Time
The D&D Daily respects your time & doesn't filter retail's reality
Report Your News!
(content subject to approval)



Kmart suffers privacy breach
Retailer, Kmart Australia has asked the Australian Federal Police to investigate a security breach of its customer online product order system on Tuesday. Customers took to Facebook to express their displeasure over the breach, where hackers gained access to customers' names, emails, delivery and billing addresses, telephone numbers and product purchase details. The retail group was adamant that no credit card or other payment details had been compromised or accessed. csoonline.com

Bank Bets Americans Can Remember Another PIN
First Niagara issues chip card that requires a personal identification number; others have opted for a signature, citing convenience and they believe it is better for customers. wsj.com

Chips, Dips and Tips: 5 Potential Problems With New Credit Cards - #1 is longer lines
The biggest change is behavioral. Instead of swiping a chip credit card, customers must now insert the end of the card with the chip into a card reader and then, after waiting several seconds, complete the purchase with a signature or a four-digit PIN. This procedure has been dubbed the "dip."

Some experts say that could be the biggest source of first-day headaches, as shoppers and cashiers get used to the new process. But there may be a few other hiccups along the way. Here are five areas where the new technology could cause problems on "chip deadline day" and in the early days of its adoption: Prepare for longer lines - Some people are experiencing a 20 second wait times with these chips."

Retailers who have met the deadline will likely add cashiers to compensate for possible delays, and some may even create cash-only lines. But because many merchants and banks didn't upgrade by the deadline, there will be a mix of swiping and dipping. It may take additional time for customers to figure out whether they have to swipe the old way or insert the new way, depending on the machine and depending on their card, which could cause further delays. nbcnews.com

Shift To Chipped Cards A Boon For Banks More Than Retailers
While banks and other credit card issuers expect the amount of money they spend reimbursing credit card fraud victims to decrease because of the change, retailers have objected to the costs associated with replacing all of the credit card terminals in the U.S. and to a shift in fraud liability that could see them on the hook for the first time if a customer's account security is breached.

"For the banks, at the end of the day, this is only good. This only means less fraud for them," she said.

Beginning Thursday, that liability standard will largely stay unchanged - except in instances where a consumer attempts to use a chip-enabled card but the retailer is not capable of processing the payment in that way. In those instances, the retailer will be on the hook.

Retailers have not been as welcoming of the change. Part of that reluctance has to do with the liability shift, but the biggest factor in their opposition is cost.

The National Retail Federation projects that it will cost between $30 billion and $35 billion to replace all existing credit card terminals with chip-card readers around the country, a figure that includes not just retailers, but doctors' offices, taxis and any other business that accepts credit cards. law360.com

EMV: Who's ready? Where's the PIN
Retailers are further along in the conversion process than credit card companies. However, in many cases, credit card companies have been unable to grant the necessary software and payment terminal certifications to stores fast enough to meet their own deadlines. Since retailers can't use the chip-reading terminals until they are certified by the card companies, many have them in their stores but haven't turned them on. Until then, customers will have to continue swiping their cards.

In talking with members, NRF has found that many retailers are taking further action beyond implementing chip cards to protect consumers' financial data. In addition to installing chip-reading terminals, many are voluntarily implementing data encryption and other means to safeguard the payment authorization process. Experts say data encryption/tokenization will do more to protect shoppers' financial data than U.S.-style EMV cards, so retailers are working to cover every base.

The transition to chip-and-signature cards is still only a half measure. NRF and the retail industry have called for chip-and-PIN cards. nrf.com

Visa: It's the chip, not the PIN
As chip-based EMV cards become the payment norm for retailers, Visa continues to assert that PINs and even signatures are unnecessary security measures in a rapidly evolving payments landscape.

In a conference call, Visa executives explained why the company is taking the view that not only is PIN verification not a major concern, but neither is obtaining the customer's signature.

"More than 60% of U.S. payment card transactions do not use any signature or PIN, and we expect that trend to continue," said Stephanie Ericksen, VP of risk products for Visa.

This figure includes transactions of up to $25 in most retail categories and up to $50 in some everyday categories, such as grocery.

Ericksen cited supporting figures from other countries that use a chip and PIN authentication standard, rather than the chip-and-signature standard that will be mainly used in the U.S. For example, in Australia and Canada, contactless card payments of up to $100 do not require a PIN. The U.K. also recently increased the no-PIN limit on contactless card payments to 30 pounds, or about $40.

Mark Nelsen, senior VP of risk products and business intelligence at Visa, said biometrics are also reducing the need for PIN or signature verification of chip card transactions. chainstoreage.com

Master Card: U.S. Move to Chip Cards on Track - Only 30% Have Them
The Payments Security Task Force (PST), comprised of 8 financial institutions reported that 30 percent of their U.S. consumer credit and debit cards contain EMV chips as of June 30. These issuers represent approximately 50 percent of U.S. payment card volume. According to the forecast, the number of chip cards in the U.S. from these issuers will to grow to 60 percent by the end of this year, expanding to 98 percent by the end of 2017. businesswire.com

NRF: Life will continue with EMV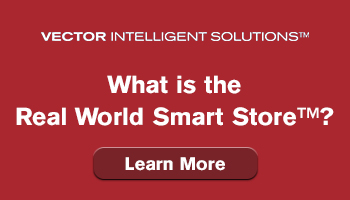 Op/Ed

Roadmap for New LP Executives

Part 8: Define Your Platform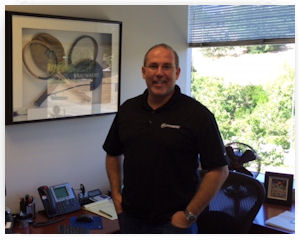 By Mike Nagyhazy
Senior Director of Loss Prevention,
24 Hour Fitness

Questions or comments can be emailed to mnagyhazy@24hourfit.com
One of the most exciting things about being a Loss Prevention Executive, besides constantly working alongside various people and personalities, is assessing and implementing your physical security platform. This takes a lot of time, a lot of homework, utilizing your business relationships (both internally and externally), and usually involves a healthy chunk of capital. Determining the physical security structure is not a one-size-fits-all fix. It really should be tailored to the needs of your company, and realistic for your department to oversee. Now we're not going to go into detail about locks, keys, cores, etc. For the most part, an interchangeable core is an interchangeable core. Get a quality platform that's scalable, cost-effective, and don't get too wrapped up in the minutia there.

Let's talk CCTV strategy for a little while. This is, by far, typically the most expensive portion of a standard physical security platform. It's also very easy to get wrapped up in the "bells and whistles" and bright, shiny objects within this arena. The first thing that should be assessed is, what are you solving for, with your CCTV platform? Is it deterring external theft, internal theft, injuries/lawsuits, critical incidents, protecting diamonds, cash or daycare centers? In many cases, the answer could be "YES!" to most of these. Start by prioritizing what you want/need your CCTV platform to do for you, and go from there. Involve a few different vendors who do this daily for various customers, and let them pitch a solution that they feel would meet your needs. Why not ask for help and get suggestions or ideas that you may not have thought of?

Once you have your strategy in-mind, don't be shy to ask vendors to set-up a "Try-Buy". A Try-Buy is essentially an agreement that you make with a vendor to try a specific piece of technology, or platform for a specific amount of time (30 days, 60 days, 90 days) before you potentially buy it. This allows you to test specific items, learn about the technology, and truly see if it's a good solution for your environment. It's also extremely inexpensive, initially, and you only pay for the "solution" should you decide to keep it. If not, the vendor removes it after the negotiated time frame, with minimal investment to you - maybe a few dollars for installation labor, at most.

So you've figured out your strategy, completed a few Try-Buys from various vendors, and you know what direction you're going to take with the technology. My recommendation, once you've taken the right executive partners to share your strategy, is to involve someone from your Procurement/Purchasing department, in order to help you with the pricing. Procurement usually purchases items from forks to forklifts - cameras shouldn't be too taxing on them! Guide the Procurement Rep. on what you're after and what vendors to contact. Let them take a large stab at the pricing, and remember that numerous vendors bidding, combined with a bulk purchase (volume!) equals best pricing for you! Making the smaller, individual purchases are costly in all ways; your time, Procurement's time for POs, vendor paperwork being processed, shipping costs, etc. It's just too many touches for a few thousand dollars. Get the quantity pricing every time, if you have the capital at your exposure. Hopefully this gives you a good start to making the best decisions possible!

Read the Introduction and Parts 1-7 here

Vendor Spotlight




Putting Dispensers on Lockdown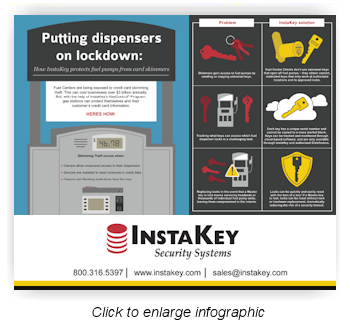 Fuel Centers are being exposed to credit card skimming theft nationwide. This can cost businesses over $3 billion annually! Gas station owners can protect themselves and their customer's credit card information with InstaKey's Fuel Dispenser Lock Program.

View this graphical representation to learn how implementing KeyControl® into your fuel dispensers can be a cost-effective and time saving solution to credit card skimming concerns.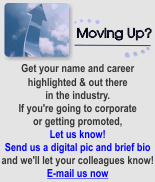 U-Tip - The Two Minute Tip
Joe Troy, Sr. Manager, Loss Prevention Operations, J. Crew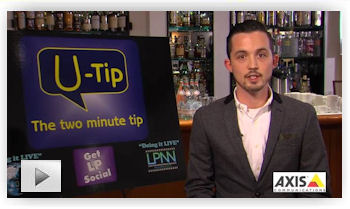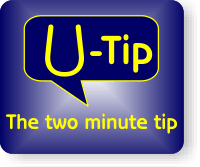 Joe Troy, Sr. Manager of Loss Prevention Operations for J. Crew, offers some advice on social media in this "U-Tip" video. Social media has become an everyday part of our lives, both personally and professionally. Whether you're using it for an investigation or to keep up with friends and colleagues, it can play a critical role in your future movement throughout the industry. Know the laws that govern social media, as they are changing everyday. Know if and to what extent you're allowed to use social media for an investigation. Don't post anything proprietary. Treat your LinkedIn profile like a public resume. Perception is reality.
Sponsored By:




One little piece of advice could make all the difference in someone's career.

Want to share your own U-Tip? Email us here.
Solution Providers, have a video or commercial you want to publish? Contact us.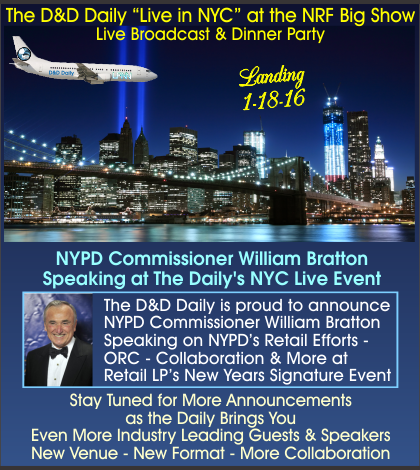 e-commerce

Sponsored by The Zellman Group
Fraud-Related Operational Expenses Top $10 Million for Digital Merchants
In addition to typical fraud costs, such as the loss of goods and chargeback fees, merchants that sell digital goods each spend an average of $10.1 million every year on fraud-related costs, and spending will likely increase in the coming months, according to a new study. The Impact of Fraud and Chargeback Management on Operations study-conducted by Javelin-discovered that nearly 3 in 4 merchants dealing in both digital and physical goods say fraud and chargebacks have a major financial impact, accounting for 13 to 20 percent of their operational budgets each year. Sellers of physical goods report spending 14 percent of their budget on fraud-related costs, and hybrid merchants who sell both digital and physical goods spend 13 percent. As the United States transitions to EMV technology, which uses chip-embedded cards, fraud related to card counterfeiting will be practically eliminated. Despite this, online and mobile fraud costs will grow considerably as fraudsters continue to overwhelm merchants in less-secure CNP channels. prnewswire.com

Is online fraud about to spike?
Retailers can expect a doubling of online card fraud because criminals will turn to e-commerce to get around a tougher in-store card-payment system set to take effect Thursday, says consulting firm Aite Group. "People who make their living by copying credit cards will no longer be able to do so or will find it significantly harder to do," Reitblat says. "We already see chatter on the deepest, darkest parts of the Internet where the criminals are starting their own education and training on transitioning to online fraud." E-commerce fraud spiked in the United Kingdom, Australia, Brazil and Canada after those countries started using microchip cards that required personal identification numbers s) for authentication, according to Aite Group, a consulting firm focusing on the financial services industry. Online fraud is the U.S. is estimated at $3.4 billion a year. internetretailer.com

Digital channels will influence 64% of holiday purchases

Study shows wide adoption of mobile banking app among US consumers

Wal-Mart wants a bigger cart in the online grocery aisle

Slow delivery equals slow death in ecommerce

"Fraud is not a person - it is a dynamic grouping of statistics that deviate from the norm."
Stuart B. Levine, CFI, CFCI
CEO, The Zellman Group & Zelligent


ORC News
Sponsored by NEDAP
Catawba Co, NC: Organized Retail Crime Ring sold $12 million in stolen drugs, beauty products
A 66-year-old Catawba County man was sentenced to eight years in prison this week for what prosecutors said was his role as the leader of an organized retail crime ring. The ring sold and distributed at least $12 million in stolen over-the-counter drugs and health-and-beauty products, Acting U.S. Attorney Jill Westmoreland Rose said. In April 2014, a federal jury convicted Terrell resident Steve Hale of interstate transportation of stolen goods conspiracy, interstate transportation of stolen goods, making false statements on income tax forms, failure to collect employee income and FICA taxes, and obstruction of justice. As part of his sentencing, Hale also was ordered to pay a $3,100 special assessment, forfeit a sports boat and $332,195 in seized funds, and pay restitution to his victims. Hale was the last of eight defendants convicted and sentenced in "Operation Cash Back," a multi-agency investigation that began in September 2010. His co-defendants were previously sentenced to prison terms ranging from 1 1/2 to seven years. Investigators seized $29,000 in cash, 20 motor vehicles and two real estate properties and obtained forfeiture money judgments of $7 million. charlotteobserver.com

Nampa, Idaho: Police arrest 2 in multi-state credit card fraud scheme & recovered $27k in merchandise
Police said they were dispatched on Monday to the 16000 block of Marketplace Boulevard after. They said two people bought more than $6,000 in merchandise from a store in the area. Loss-prevention staff monitored the transaction and identified the purchasers as the two suspects in fraudulent credit card use at the Nampa store's affiliate in Pocatello.

Police said that by the time officers arrived, the suspects had moved on to a sporting goods store. Police said the two were defrauding that store of more than $2,800 in merchandise.

Police said the suspects' car was identified in a parking lot, and they arrested 32-year-old Alberto Miguel Torres-Castillo of Virginia and 32-year-old Zuatney Gonzalez of Florida. Officers said they seized 15 stolen or counterfeited credit cards from Torres-Castillo and 24 stolen or counterfeited credit cards from Gonzalez. Police said they also recovered more than $19,000 of merchandise purchased with the fraudulent credit cards in Pocatello, Meridian, Twin Falls, Idaho Falls and Bellevue Wash. The investigation is on going. ktvb.com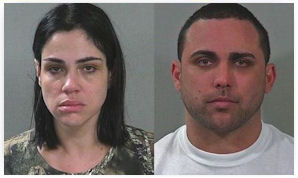 Costa Mesa, CA: Bloomingdale's Smash & Grab at South Coast Plaza; $100,000 in Gucci goods stolen
Three hours before dawn Wednesday, a trio of cars and a U-Haul truck rolled through the darkness into a South Coast Plaza parking lot, stopping just east of a glass door leading to Bloomingdale's department store. Wearing hooded sweatshirts to hide their identities, eight to 10 people then piled out of the vehicles, smashed through the glass and - bypassing products from Tory Burch and Burberry and even diamond necklaces - stocked up on Gucci purses, expensive watches and jewelry. After about five minutes, police said, the crew got back in their vehicles carrying bags filled with about $100,000 worth of accessories before fleeing into the night. South Coast Plaza security officers followed the U-Haul for a short time as it drove out of the parking lot, said Costa Mesa Police Lt. Greg Scott. Police believe the bandits made their escape northbound on the 405 freeway. ocregister.com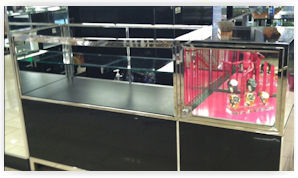 Millburn, NJ : Salvatore Ferragamo store hit for $7,150 in merchandise
On Sept. 22, police were called to the mall's Salvatore Ferragamo store on a theft report. Store personnel reported a female and male, both described as in their 20s, entered the store and the female asked to try on a pair of boots. The salesman went to the stockroom and upon returning saw both the man and woman had left. According to police, a review of the store's surveillance videotape showed the couple concealing four handbags and two belts, valued at $7,150, in a Bloomingdale's shopping bag and running out of the store. northjersey.com

Cottage Grove, WI: Traffic Stop leads to Felony Theft charge; nearly $3,400 in Home Depot & Woodman's merchandise recovered
A traffic stop in the Village of Cottage Grove Wednesday afternoon resulted in the recovery of thousands of dollars in stolen merchandise according to a release from the Dane County Sheriff's Office. Authorities say a deputy initiated a traffic stop for improper plates just after 2:00 p.m. They say the driver, 25-year-old Andrew Galica of Milwaukee had a suspended license. Authorities say Galica consented to a search of his vehicle. The deputy said the search of Galica's vehicle revealed a number of power tools still in the original boxes and an excessive amount of unopened bottles of alcohol. Galica admitted to stealing $2392 worth of power tools from Home Depot and $900 worth of liquor from Woodman's. nbc15.com

Millburn, NJ Saks Fifth Ave. at Short Hills apprehends man with $845 of cologne
Police were called to the Saks Fifth Avenue store at the mall Sept. 27 on a report of a shoplifter in custody. Saks personnel reported Derick Rollins, 56, of East Orange, was observed concealing several men's fragrances valued at $845 and leaving the store without paying. Police arrested Rollins and charged him with shoplifting. He was turned over to the Livingston Police Department on an active shoplifting warrant. northjersey.com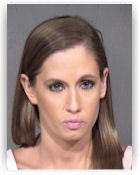 Phoenix mom caught shoplifting $250 of Legos, child found home alone
A Phoenix mother was arrested Monday after admitting to stealing $253 worth of Legos from Target. Court documents show Leigh Turner was with her 8-year-old daughter when she shoplifted the Lego products from the store. Store security was able to get her license plate number, and officers responded to the home. When they arrived they found Turner's 8-year-old daughter home by herself. After police read Turner her rights, she admitted to stealing the Legos. She also admitted to pawning them at a children's thrift store for money. Turner was arrested on shoplifting and endangerment charges. abc15.com

UK: Gang of professional thieves jailed thanks to sharp eyed B&Q cashier
The three men travelled from London to the South West to carry out a series of raids on the DIY stores in which they removed toilet units from their boxes and filled them up with more valuable items. They then wheeled them through the checkout, paying just $80 for the toilet while stealing $3,000 worth of smoke alarms and Yale locks. The gang all came from Kent and South London and two of them have previously carried out identical thefts at other stores around Britain, Exeter Crown Court were told. They were part of a wider scam which is thought to have cost B&Q tens of thousands of dollars and they were caught after staff were alerted to be vigilant. They struck three times in the West Country, stealing more than $3,000 worth of goods at Launceston and fleeing empty handed at Newton Abbot when a member of staff became suspicious. They were caught when a quick witted cashier at the Exmouth branch of B&Q noticed the hand holds on the side of a large box had not been pushed in and that tape appeared to have been re-sealed. exeterexpressandecho.co.uk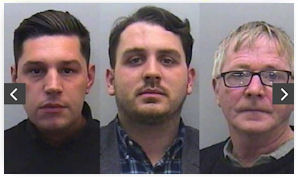 Do you have an ORC case to share?
Share your ORC news and help the industry grow

Retail Crime News

Sponsored by Security Resources
Coeur d'Alene, Idaho: Super 1 Foods Shoplifter Death Caused by Meth Toxicity
A Sandpoint man who struggled with a loss-prevention officer outside a Coeur d'Alene grocery store in June died because of complications from methamphetamine toxicity, a coroner's report said. Kootenai County Coroner Warren Keene on Tuesday released a report classifying Andrew M. Dearmin's death an accident. Dearmin, who was allegedly shoplifting on June 17, fled from the Super 1 Foods store at Kathleen Avenue and U.S. 95. A store employee pursued him. Dearmin was caught and held by the employee. He wasn't breathing when police arrived on scene. cdapress.com

Kent, WA: Police investigating a fatal shooting in Target parking lot
Shoppers in Kent will be able to get their cars that were blocked by a murder scene in a Target store parking lot. The fatal shooting happened in a strip mall parking lot at 104th Avenue Southeast at 7 p.m. Wednesday night. Officials released surveillance images of a suspect vehicle involved in the shooting. According to police, there was some sort of confrontation and a man in the Corolla opened fire on the SUV. The 23-year-old Kent man inside the SUV was killed and the vehicle rolled into several others. A dog inside the SUV was unharmed. According to witnesses, there appeared to be two suspects inside the fleeing Corolla. There is no description of the suspects. A shopper who was inside the store when the gunfire erupted explained what he happened. While police investigated, two dozen cars belonging to shoppers remained trapped inside an active crime scene. As of 11:30 p.m. Wednesday, many were still waiting to get their cars. kirotv.com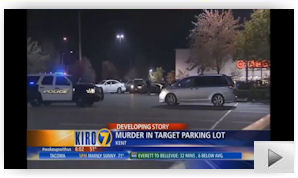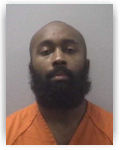 Forest Acres, SC: Man charged with murder in shooting death of police officer at South Carolina mall
The Forest Acres Police Department is mourning the loss of one of its officers, who was shot and killed Wednesday morning inside Richland Mall. Officer Greg Alia, 32, was shot to death after responding to a report of a suspicious person just before 8 a.m. at the mall at Forest Drive and Beltline Boulevard. Jarvis Hall, a 34-year-old Eastover man, was taken into custody shortly afterward. He was charged late Wednesday with murder. The State Law Enforcement Division is investigating, at the request of Forest Acres. It has been more than four decades since a Forest Acres police officer last was shot and killed on duty. kentucky.com

Miami, FL: Security Guard Shoots Shoplifter
stealing Beer Outside Price Choice Market
An attempted robber was hospitalized after a security guard shot him outside a Miami grocery store early Thursday, officials said. The incident happened at the Price Choice Foodmarket on Northeast 2nd Avenue. According to Miami Police officials, the suspect was trying to steal beer when he was spotted by the guard. The guard chased him down the street to the area of N. Miami Avenue and 17th Street, where the guard opened fire. The unidentified suspect was shot in the arm and taken to Jackson Memorial Hospital in stable condition. nbcmiami.com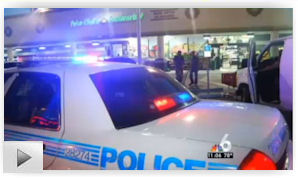 Crystal Lake, IL: Nelson's Jewelry Burglar arrested
Edward Mendoza, 49, was charged with one count of burglary, a Class 2 felony, according to a statement from Crystal Lake police. On Sept. 26, officers responded to an alarm at Nelson's Jewelry, located at 1 Crystal Lake Plaza, and discovered that several pieces of jewelry were taken from display cases, police said. suntimes.com

Boise, ID: Two Defendants from Georgia Sentenced in Credit Card Fraud Scheme
Rakeen Anderson, 32, of Atlanta, Georgia and Jean Estinville, 27, of Lawrenceville, Georgia, were sentenced today in United States District Court for their roles in a credit card scheme that targeted local retailers in October 2014, U.S. Rakeen Anderson was sentenced to 18 months in prison for conspiracy to commit wire fraud. The Judge also ordered Anderson to pay $22,679.54 in restitution, along with the other co-defendants, and to forfeit $49,953.41 in cash proceeds from the offense. He pleaded guilty on May 27, 2015. justice.gov

Whitehall, PA: Serial shoplifter caught at Lehigh Valley Mall
A man suspected of stealing watches and sneakers for more than a month from stores at the Lehigh Valley Mall was caught Tuesday, but not before putting up a fight, according to court records. Police said Jose O. Rivera, 37, of Allentown stole watches from Macy's on Aug. 11, 14 and 17, and sneakers from J.C. Penney on Aug. 26 and Sept. 23. During the Aug. 17 theft, Rivera allegedly pulled a small folding knife on an employee. mcall.com

Ontelaunee Township, PA: Sheetz employee busted for stealing $7,700
On Friday night, Police were called to Sheetz by assistant store manager Brett Thomas, who discovered the theft. Thomas said Mary Richards came to work earlier that evening in uniform even though it was her day off. Richards went to the back room, where the safe is located and then left the store, saying she had left her ID badge in the car. She did not return. Thomas later noticed the safe door was open and two money bags were missing. He determined the amount missing was $7,717.Thomas showed Police security video that revealed Richards opening the safe and placing the money bags in her purse. readingeagle.com

Edmonton, KY: Subway employee indicted for theft of over $5,000
An Edmonton woman has been indicted by the Metcalfe Circuit Court on 10 counts of theft by unlawful taking or disposition. According to the indictment, Christina Hoffman-Smith, 21, of Edmonton, stole a total of $5,018.50 from Subway of Edmonton between April 9 ,2015 and April 29, 2015. Five of the counts were theft by unlawful taking or disposition,$500 or more but under $10,000, and are a Class D felony. wbko.com

Royersford, PA: Target employee sentenced to 90 days in prison for stealing over $2,200 in cash from register
A Royersford man was sentenced to county prison after he pleaded guilty to taking money from the register at his place of work. Michael Shalkowski, 20, of Royersford, pleaded to felony theft by unlawful taking. He was sentenced to three months and 12 days already served to 23 months in prison. He was also assigned two years of consecutive probation and ordered to pay $2,200 in restitution to Target. timesherald.com

Rhinelander, WI: Pawz N Clawz Store Manager
accused of stealing $6,850 of merchandise
A 39-year-old Rhinelander woman has been accused of stealing $6,850.42 worth of merchandise from a pet store while she was managing the business. April A. Peter made her initial court appearance Sept. 28. She is charged with the class H felony of theft of movable property. The store owner wanted to report a theft by an employee. He told the officer that evidence of the alleged thefts came to light during an unemployment appeal hearing. She said she would write down information about her unpaid purchases on pieces of paper and put them in a three-ring binder in the store's office. The owner said Peter did not have permission to do this. rivernewsonline.com

Cedar Rapids, IA: New York man guilty of selling fake goods, facing 10 years & $2M fine
A New York man has pleaded guilty in federal court to selling fake goods in Cedar Rapids. The U.S. Attorney's Office for the Northern District of Iowa says 57-year-old Yahya Jawad of Binghamton, New York pleaded guilty on Tuesday to one count of trafficking in counterfeit goods. Court records say Jawad was selling counterfeit merchandise at a "Clearance Sale" in Cedar Rapids on January 9. Police officers say they bought three items at the sale that were counterfeit. They were a pair of headphones that were being sold as "Beats Audio" headphones and two purses, one being sold as a "Michael Kors" purse and the other a "Louis Vuitton" handbag. The officers say they seized other counterfeit items, including more headphones, more purses and clothing items after determining the first three items were fake. kwwl.com

Deerfield Beach, FL: $4,000 Rolex Grab & Run

Exeter Twp, PA: Man scuffles with Target Loss Prevention officer; long criminal history

Marlborough, MA: Man charged with taking upskirt pictures at Target

Hamilton, ON, CN: Church lady's shoplifter rage earns a stern judicial sermon

South Africa: Bloemfontein Celtic Football (soccer) Chairman Max Tshabalala urges fans not to buy counterfeit club merchandise


Robberies and Burglaries
● Ameritex - San Antonio, TX - Armed Robbery/ clerk shot
● Asian Supermarket - Akron, OH - Armed Robbery / 3x in 1 months
● Class Jewelers - Deerfield Beach, FL - Robbery
● CVS - Newport News, VA - Robbery
● Dadu Market - Morristown, TN - Burglary
● Kangaroo - Rome, GA - Armed Robbery
● Kathy's - Chesterton, IN - Burglary
● Monett Pawn & Gun - Cassvile, MO - Burglary
● Nelson's Jewelry - Crystal Lake, IL - Burglary / arrested
● Rite Aid - Bellevue, WA - Armed Robbery
● Sherman's Apothecary - Salinas, CA - Armed Robbery
● Stripes - Lawton, OK - Robbery
● T-Mobile - Paramus, NJ - Armed Robbery/ 3rd arrest
● Turkey Hill - Ephrata, PA - Robbery
● Valero - Morristown, TN - Burglary
● Verizon - Atlanta, GA - Armed Robbery
● Waffle House - Rome, GA - Armed Robbery


Featured Job Listings
Sponsored by NuTech National
Feature Your Job Here For 30 Days -
70% Aren't On the Boards
VP of Sales/Client Relations
More details coming soon
Confidential - Retained Search
Nationwide
Gus Downing
VP AP & Global Facilities
lululemon athletica
Vancouver, BC, Canada
lululemon athletica
Dir AP
Safeway
Lanham, MD
Safeway
Dir AP
99 Cents Only Stores
Commerce, CA
99 Cents Only Stores
Reg Dir LP
Sears

Hoffman Estates, IL
Sears Holdings Corp
Dir LP
Pier 1 Imports
Fort Worth, TX
Pier 1 Imports
LP Dir
BevMo
Concord, CA
BevMo
Dir LP
Lane Bryant
Columbus, OH
Lane Bryant
Dir LP (Western Canada)
Walmart Canada
Calgary, CA
Walmart Canada
Dir LP
Cracker Barrel
Lebanon, TN
Cracker Barrel
Dir Safety AP Solutions
Walgreens
Deerfield, IL
Walgreens
Dir of AP, Global Ecommerce
Ralph Lauren
Greensboro, NC
Ralph Lauren
Dir AP
Saks Fifth Ave

New York, NY
Saks Fifth Ave


Territory LP Dir.
Burlington Stores
Los Angeles, CA
Burlington Stores
Dir. of Security
Estee Lauder
El Segundo, CA
Estee Lauder
Director of LP
Pacific Sunwear
Anaheim, CA
Pacific Sunwear
VP Supply Chain, LP & Safety
Ross Stores
Ft. Mill, SC
Ross Stores
Regional LP Mgr
Tillys
Bay Area, CA
Tillys
Regional LP Mgr
Tractor Supply Co.
Baltimore, MD
Tractor Supply Co.
Sales Representative
NuTech National
Maitland, FL
NuTech National
Loss Prevention Openings
Downing & Downing
Nationwide
Karl Glatt

Limited Time Only - Post Your Multi-Unit LP jobs for FREE - Learn More Here
Daily Job Alerts


Appearing One Day Only
View our Internet Jobs Archives here
Area LP Mgr in training
Ross Stores
Houston, TX
Ross Stores
LP Supervisor
Burlington Coat Factory
Cheektowaga, NY
Burlington Coat Factory
AP Ops Business Partner
Cabela's
Sidney, NE
Cabela's
AP & Safety Sr Specialist
Cabela's
Lone Tree, CO
Cabela's
AP Manager - Vermont Area
Price Chopper
Schenectady, NY
Price Chopper
LP Manager
Wireless Vision
Bloomfield Hills, MI
Wireless Vision
Zone Mgr, LP & Safety
Lumber Liquidators
Pomona, CA
Lumber Liquidators
Zone Mgr, LP & Safety
Lumber Liquidators
Sandston, VA
Lumber Liquidators
LP Supervisor
JCPenney
Cypress, TX
JCPenney
LP Specialist
Fry's Food Stores
Tolleson, AZ
Kroger
LP Specialist
Fred Meyer
Bothell, WA
Kroger
LP Specialist
Fred Meyer
Oregon City, OR
Kroger
LP Mgr
NAPA
Albany, NY
NAPA
LP Manager Hrly
Kmart
Towanda, PA
Sears Holdings Corp
LP Manager
Kmart
Sacramento, CA
Sears Holdings Corp
LP Manager Hrly
Kmart
Moline, IL
Sears Holdings Corp
Regional AP Sr Mgr
Walmart
Saddle Brook, NJ
Wal-Mart
AP Manager in Training
Walmart
San Bernardino, CA
Wal-Mart
AP Manager in Training
Walmart
Omaha, NE
Wal-Mart
AP Manager in Training
Walmart
Hamilton, NJ
Wal-Mart
AP Manager in Training
Walmart
Greenville, PA
Wal-Mart
AP Manager in Training
Walmart
Randallstown, MD
Wal-Mart
AP Manager in Training
Walmart
Middlefield, OH
Wal-Mart
LP Manager
Century 21 Dept Stores
Brooklyn, NY
Century 21 Dept Stores


Home of the Industry's Original
On the Move

| | |
| --- | --- |
| | Daniel Bambas was named Area Asset Protection Coordinator for Stein Mart. |
| | Doreen Pavese, CFI was named Regional Loss Prevention Manager for bebe stores. |
Post Your New Job or Promotion!
See all the Industry Movement


Your Career
Sponsor this section of the Daily
3 Proven Ways to Help You Achieve Your Goals Reaching success isn't easy. Having the ability to be consistent enough to stick out the challenges and turn your dreams into reality is quite difficult. Only through hard work and determination will you reach your goals. Here are three proven methods that will help you on your journey. Focus on one habit

The Many Ways Being Kind Leads to Success Oftentimes it feels near impossible to focus on the positive, especially when it feels like everything is going wrong around us. But there are ways to take control and build up the positivity around you. One of the most effective ways is to use the Law of Attraction. Get what you give

How to Dig Deep When Things Get Tough
Just when you feel like you can't go anymore, you need to dig deep inside yourself and pull out that last bit of determination. Whether you're on the last leg of a marathon or the final page of a project, the ability to fight through and keep on trucking. Here are some techniques to help you persevere. Create an enemy

8 of the Best Secrets to Self-Improvement
You are the only one who has control of your choices, your successes, your life. No matter how much you complain about your situation, unless you take control and take action, nothing will change. Follow these eight pieces of advice to improve yourself. Accept yourself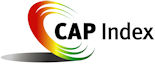 Tip of the Day
Sponsored by Vector Security
No matter what you do, there's always two sides in every stadium, both supported by their beliefs, convictions and opinions and both equally opposed in their desire to win. While winning is everyone's objective, how you play the game is in actuality more important. Regardless of how the other side plays, one must always remember that afterwards regardless of the win or loss everyone respects the one who played like a professional and gave it their best.

Just a Thought,
Gus





Upcoming Events
---
Recruiting?
Get your job e-mailed to everyone... everyday
Post on our Featured Jobs Board!
Reach your target audience in 2015 every day!
Request our 2015 Media Kit
update account / change e-mail
unsubscribe FEEDBACK
www.downing-downing.com

Advertise With The D&D Daily




36615 Vine Street, Suite 103
Willoughby, OH 44094
440.942.0671
copyright 2009-2019
all rights reserved globally