The D&D Daily Mobile Edition
LP, AP & IT Security's #1 News Source

---

---
---
Moving Up

Sponsored by
Agilence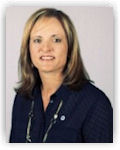 Janice Dziuk named Director, Retail Sales US West for Tyco Retail Solutions
Janice was previously the Regional Sales Director for Johnson Controls for over a year. She's held other positions for solution providers including Tyco Integrated Security as Strategic Account Manager and ADT as National Account Manager. Janice earned her Bachelor of Science in Physical Education and Biology and her Masters of Science in Physical Education from Texas Christian University. Congratulations, Janice!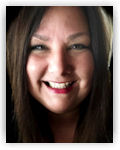 Jennifer Gray named Director of Safety and Compliance for Sam's Club
Jennifer was previously the Regional Safety Manager for Walmart Transportation for over six years. She's held other roles for Walmart stores including Sr. Divisional Director/Operations Regulatory Compliance, Director of General Liability and Workers Compensation, Workers Compensation/General Liability Claims Manager, Workers Compensation Adjuster and Sales Associate/Department Manager. Jennifer earned her Bachelors of Business Administration in Marketing/Economics and Personnel Management from Arkansas Tech University. Congratulations, Jennifer!


Lorna Ryan promoted to Senior Manager, Internal Audit & Control for Sephora
Previously, Lorna was the Internal Control Manager for Sephora Americas for over a year before taking this new role. She's held other roles throughout her nine years of work experience, including Management Consultant for CrossCountry Consulting, Audit Senior for KPMG Ireland and Retail Sales Consultant for Next Group PLC. She earned her Bachelors of Commerce and her Masters degree in Accounting from National University of Ireland, Galway. Congratulations, Lorna!

---
Top Industry News

J.C. Penney names former Joann Stores chief Jill Soltau new CEO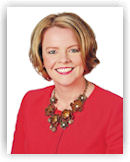 J.C. Penney's search for new chief executive officer led it to select the first woman to head the 116-year-old department store chain.

The Plano-based retailer on Tuesday named Jill Soltau, 51, as chief executive officer. She joins Penney from JoAnn Stores, a fabric and crafts company of 850 locations in 49 states, where she was president and CEO.

The 30-year retail veteran takes the reins at Penney on Oct. 15 with the company's stock trading at historic lows, under $2 a share. The embattled Penney has been without a CEO since May when Marvin Ellison left to become CEO at home improvement chain Lowe's. Two other C-suite executives have since exited as well. dallasnews.com

Job Posted Sep. 28th: VP, Asset Protection for J.C. Penney - Based in Dallas, TX

3 massive problems J.C. Penney's new CEO must solve

Fate or Coincidence?
JCP's Former & Current CEO Both Sat on Either Side of President Trump
During a Roundtable Meeting with Retail CEOs Last Year
Back in February 2017, chief executives from several major U.S. retailers, including Target Corp., Best Buy Co. and Gap Inc., met with President Donald Trump in the White House to lobby against a then-proposed border tax plan that would hurt have retailer profits.

In our research this morning, we noticed a funny coincidence about the seating arrangement at the meeting. As you can see below, the President sat between J.C. Penney's former CEO Marvin Ellison, now at Lowe's, and Penney's newly announced CEO Jill Soltau, then with Jo-Ann Stores. Just an interesting picture we thought we'd share! wsj.com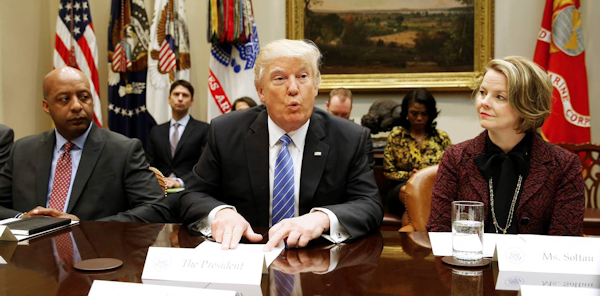 ---
DETEX Wins Most Improved Safety Program Award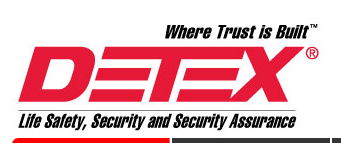 DETEX Corporation, a leading manufacturer and supplier of life safety and security door hardware equipment for commercial buildings, was presented a safety award for "The Most Improved Safety Program" from Safety First Consulting on September 26, 2018.

"We are extremely proud of DETEX Corporation's leadership and hard work through a challenging period of expansion and growth to establish and continuously improve their safety program," says Robert Box, President of Safety First Consulting. "Out of all our clients this year, DETEX stands alone with regard to the speed and effectiveness they have identified and resolved potential safety hazards." Read more in today's Vendor Spotlight column below.

---
How to Manage Lone Worker Safety in a Dynamic World
Employees who are out of sight cannot be out of mind
Lone workers are defined by The Health and Safety Executive as individuals who work by themselves without close or direct supervision, and are often exposed to, and more vulnerable to, risks that many office-based workers may not experience. Examples of these types of jobs include security staff, maintenance and healthcare workers, utility professionals and more, but some organizations broaden this definition to include remote, home-based workers and employees who work alone, separately from others or outside normal work hours.

There are 53 million lone workers across Europe, America and Canada, accounting for around 15 percent of the overall workforce, according to Berg Insight. With advances in technology continuing to facilitate and improve mobile and remote working capabilities, this is a trend that we can expect to grow.

Security leaders should develop communication, safety and risk management strategies that not only protect these types of employees, but also nurture their unique ability to conduct business and support growth.

Lone workers should be equipped with location-aware mobile applications that facilitate two-way communications directly with safety operators in the event or anticipation of a wide range of scenarios. Some mobile applications even allow these workers to set "safe corridors" that report location information back to a centralized security team – if the worker moves outside the corridor, it will automatically trigger a notification that requests confirmation of their safety.

Likewise, it's important for employers to utilize location-aware technology to quickly find and communicate with their lone workers at all times, regardless of where they are in the world. securitymagazine.com

'Is this what it has come to?': Shopper spots security tags on MEAT as supermarkets try and crackdown on self-service theft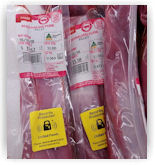 A picture of pre-packaged meat with a security tag attached at Coles Supermarket in Australia has divided social media. 'Has it come to this?' asked the stunned shopper who posted the image on Reddit.

The picture of Coles brand pork fillet shows the meat in a see-thru plastic bag with a bright yellow security tag. The images comes on the back of a boom in self-service checkouts which have reportedly resulted in an increase in theft.

Users quickly debated the meaning of the security tag which is often used on high-priced electrical and beauty products. 'Usually the illusion of security is just as effective as real security and far cheaper,' one user wrote. dailymail.co.uk

Ticketmaster, Live Nation In Cahoots With Scalpers: Suit
Ticketmaster LLC is secretly working with scalpers to "cash in twice" on the event tickets it sells — getting a fee for the original purchase and then another cut on the resale market — a putative class action filed Friday in California federal court alleges. Plaintiff Allen Lee's suit, which also names Ticketmaster parent Live Nation Entertainment Inc. as a defendant, alleges the company colludes with the scalpers who buy up mass quantities of concert or sports tickets from its website because it gets a second fee when those tickets are hawked to new buyers on one of its resale sites. law360.com

Ross to settle $4.9M lawsuit over 'deceptive' price tags
Ross Stores customers suing the off-price retailer for what they said were "deceptive" and "misleading" pricing practices in a class action lawsuit have asked the United States District Court for the Central District of California in Los Angeles to approve a $4.9 million settlement, which the retailer has agreed to, according to court documents. retaildive.com

---
RLPSA Announces LPRC Partnership, RLPSA CONNECT at Domino's and Upcoming Webinar Calendar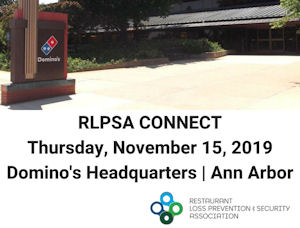 The Restaurant Loss Prevention & Security Association (RLPSA) is proud to announce its new partnership with the Loss Prevention Research Council (LPRC), designed to bring even more value to RLPSA's members. The RLPSA is also announcing its latest schedule of upcoming events including membership discussions and webinars, as well as the next RLPSA CONNECT event.

RLPSA is holding its next RLPSA CONNECT event November 15 at Domino's World Headquarters in Ann Arbor, Michigan. This free, one-day powerhouse workshop includes sessions on partnering with local and federal law enforcement, how to discover the truth from your employees, training on active shooters, and more.

Click here to see the complete list of events and full press release here.
Despite The Recent Bankruptcy and Layoffs,
Toys 'R' Us Might Be Making A Comeback
The auction which aimed to sell off assets for toys and games retailer Toys 'R' Us has been cancelled as part of a potential move to revamp the brand and revive the business.

According to court papers which were filed earlier this week, and reported on by the Wall Street Journal, the lenders currently in control of the business - who previously "pulled the plug" on the retailer's reorganisation earlier this year - have cancelled the sale of the assets as they believe that the Toys 'R' Us and Babies 'R' Us brands are strong enough to survive.

The decision comes despite the fact that some of the assets - which include website domains, registry lists and, in a devastatingly sad turn of events for children who frequently visited the stores, Geoffrey the Giraffe - received "qualified bids". nintendolife.com

Walmart expands test of pickup-only grocery store concept
Walmart is seeking approval to open a pickup-only grocery store in a former Dominick's store in the suburbs of Chicago in spring 2019. Standalone pickup facilities have been tested near Walmart's headquarters in Bentonville and with a location in Metairie, LA, but the proposed facility - called Walmart Pickup - appears significantly larger at 41,700-square-feet.

Walmart has significantly ramped up investments in pickup and delivery options. At the end of Q2, Walmart U.S. had more than 1,800 grocery pickup locations, more than 320 stores offering grocery delivery and more than 325 pickup towers, which focus on general merchandise. Grocery delivery is expected to reach 40 percent of the U.S. population by year-end. retailwire.com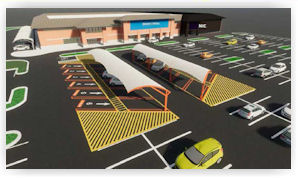 BOPIS: Design Challenge
Is BOPIS best when it's done outside the store?
A recent survey from WD Partners shows that consumers don't want to go into a store for BOPIS and widely prefer pick-up options outside of the store.

The 1,500 respondents were asked about their views on eight different BOPIS concepts. Those found most appealing and scoring the highest in purchase intent do not require consumers to go inside the store.

The number one tested concept was a drive-thru experience, receiving a 57 percent purchase intent score. The incredibly close second-ranked concept was a combined retailer pick-up "center," such as a "locker" system, to retrieve items you ordered from multiple retailers all in one convenient location in the parking lot. retailwire.com wdwayfind.com

Will the Kroger/Walgreens pilot lead to something really big?
Kroger and Walgreens have announced a new pilot program that brings together the convenience of shopping on the supermarket's website with customer pickup at 13 local Walgreens in Northern Kentucky. Items from Kroger's private label lines, including its Simple Truth organic brand, will also be stocked in Walgreens as part of the test.

The connection between the grocery and pharmacy giants will undoubtedly lead to speculation as to where it might lead in the future. Will the pilot prove successful and be rolled out across the country? Would the two consider a merger or, perhaps, a deal similar to Target and CVS whereby Walgreens locates its pharmacies in Kroger's stores? retailwire.com

NRF forecasts holiday sales will increase between 4.3 and 4.8 percent
The National Retail Federation announced today that it expects holiday retail sales in November and December - excluding automobiles, gasoline and restaurants - to increase between 4.3 and 4.8 percent over 2017 for a total of $717.45 billion to $720.89 billion. The forecast compares with an average annual increase of 3.9 percent over the past five years.

"Our forecast reflects the overall strength of the industry," NRF President and CEO Matthew Shay said. "Thanks to a healthy economy and strong consumer confidence, we believe that this holiday season will continue to reflect the growth we've seen over the past year. While there is concern about the impacts of an escalating trade war, we are optimistic that the pace of economic activity will continue to increase through the end of the year." nrf.com

Shares of retailers drop on worries they'll have to raise wages, just like Amazon

New Brookstone owners plan to keep airport retail stores open

Mattress Firm planning bankruptcy filing as soon as this week

Natural Disasters Deal a Blow to Japan's September Retail Sales

Southeastern Grocers Donates Nearly $400,000 for Hurricane Relief Efforts

Women in retail among Fortune's 'Most Powerful'
---

---

---
Spotlight on
DETEX
DETEX Wins Most Improved Safety Program Award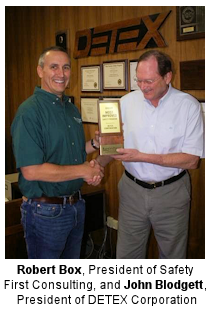 DETEX Corporation, a leading manufacturer and supplier of life safety and security door hardware equipment for commercial buildings, was presented a safety award for "The Most Improved Safety Program" from Safety First Consulting on September 26, 2018.

"We are extremely proud of DETEX Corporation's leadership and hard work through a challenging period of expansion and growth to establish and continuously improve their safety program," says Robert Box, President of Safety First Consulting. "Out of all our clients this year, DETEX stands alone with regard to the speed and effectiveness they have identified and resolved potential safety hazards."

DETEX Corporation, established in 1923, is headquartered in New Braunfels, Texas where the main production facility is located.

"People are what make DETEX Corporation a leader in what we do, and investing in a safe workplace is an investment in our employees' well-being," says John Blodgett, President, DETEX Corporation. "By establishing a firm foundation of a solid safety program, we are better positioned for growth and continued excellent service to our customers."

"The award is a reflection of the hard work and commitment DETEX leadership and employees put forth to enhance safety efforts while improving efficiency," said Box. "We are happy for the DETEX family in attaining this fantastic accomplishment."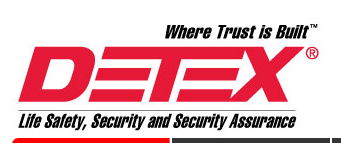 ABOUT DETEX
Detex Corporation, Inc., through its subsidiaries, designs, manufactures, and markets life safety and security door hardware for commercial buildings. The company also provides integrated door security systems, such as door control systems and components. In addition, it offers safety, security, and risk management solutions, which include proximity-based systems for guard tour verification and other data acquisition tasks; TopGuard Patrol, a guard tour reporting software for GCS data acquisition units; watchclocks; and quartz watchclocks. Further, the company provides optical and mechanical turnstiles, such as full height turnstiles and tailgate detection systems; door management alarms, including pushbuttons/key switches, annunciators, and accessories; tailgate detection products; and annunciators. It sells and services its products through a network of authorized distributors. The company was founded in 1923 and is based in New Braunfels, Texas.

ABOUT SAFETY FIRST CONSULTING
Safety First Consulting helps businesses identify OSHA compliance issues in their workplaces, manage their safety programs, and we become accountable for the results. In addition to offering custom written safety programs for companies, Safety First Consulting provides required safety training, industrial hygiene sampling, noise sampling, and workplace inspections.
---

---

Three Security Lessons to Keep in Mind During the R-CISC Summit
By Heather Howland, VP of Marketing, Preempt



It's never been more important for retailers to harden their cybersecurity posture - especially given the documented trend of intensified attacks on retailers during the rapidly-approaching holiday season. We're excited to attend the 2018 Retail Cyber Intelligence Summit in Denver and look forward to learning from and sharing perspective with the R-CISC community, including some of the top retail companies in the world.

At Preempt, we work with numerous retail companies, including brands like Charlotte Russe and Scotts Miracle-Gro, and we place tremendous importance on closely following the needs of our retail partners and customers. Many of the challenges facing retail are unique across industries. Here are three key areas to keep in mind:

Expect increased interest in retail from malicious actors during the holiday season.
The retail industry's seasonal nature means hackers have particular times where they know disguising their activity is easier than others. We already know that attacks against retailers are on the rise, and a July report found that U.S. retailers lead the world in data breaches.

Retail enterprises represent unique target for attackers, given the wealth of real-time personal data many maintain around customers, as well as complex supplier and partner relationships.

Shifting assets to cloud shouldn't mean a weaker security posture.
Retailers are increasingly shifting assets to the cloud, in an effort to improve operations, increase visibility into the supply chain and overall business, and scale at greater speeds, among other reasons. Analyst firm Markets and Markets estimates the size of the retail cloud market will grow to more than $28 billion in 2021, up from approximately $11 billion in 2016. As organizations move to the cloud, they often sacrifice visibility and security, with cybersecurity solutions increasingly siloed. Retailers beware: with complex IT environments, a transition to cloud should not mean losing visibility, access or control.

Education is key: Every member of your organization should be cyber aware.
Every employee is on the frontline of your organization when it comes to cybersecurity. With phishing, malware and stolen credentials on the rise, you need to equip your organization's personnel, and not just security or IT, with an understanding of the rapidly evolving threat landscape. Invest in training and education, particularly with the holiday season approaching. r-cisc.org

The Massive Facebook Hack May Have Spread Further Than Facebook
The social network's Single Sign-On feature was easily exploited
Last Friday's Facebook hack affecting 50 million users drew all the condemnation and blame you'd expect from another high-profile security breach, but the attack wasn't merely confined to Facebook. Many of the third-party apps that people log into via Facebook were potentially caught up in the mess as well.

By exploiting the social network's code and obtaining access tokens to commandeer Facebook profiles without a password, hackers made ample use of Facebook's Single Sign-On (SSO) feature and potentially scores of data stored on different websites.

SSO is the easy and increasingly common way to log into apps like Spotify, Tinder and Airbnb with your Facebook profile, in lieu of creating multiple passwords for every account. It's a quick and convenient method for managing multiple passwords, but it can also make those accounts more susceptible to hacks, as last Friday's episode illustrated. popularmechanics.com

When Security Researchers Pose as Cybercrooks, Who Can Tell the Difference?
A ridiculous number of companies are exposing some or all of their proprietary and customer data by putting it in the cloud without any kind of authentication needed to read, alter or destroy it. When cybercriminals are the first to discover these missteps, usually the outcome is a demand for money in return for the stolen data. But when these screw-ups are unearthed by security professionals seeking to make a name for themselves, the resulting publicity often can leave the breached organization wishing they'd instead been quietly extorted by anonymous crooks. krebsonsecurity.com

Voice Phishing Scams Are Getting More Clever
Most of us have been trained to be wary of clicking on links and attachments that arrive in emails unexpected, but it's easy to forget scam artists are constantly dreaming up innovations that put a new shine on old-fashioned telephone-based phishing scams. Think you're too smart to fall for one? Think again: Even technology experts are getting taken in by some of the more recent schemes (or very nearly). krebsonsecurity.com

10 Tactics For Teaching Cybersecurity Best Practices To Your Whole Company

Employees Share Average of 6 Passwords With Co-Workers
---
Canadian Connections
Sponsored by Vector Security Network
Walmart District LP Manager Fined Tens of Thousands of Dollars
Admitted to Selling Contaminated Food After Fort McMurray Wildfire
Walmart Canada and its district loss prevention manager were fined $20,000 each after pleading guilty Monday to 10 charges of selling contaminated food following the May 2016 Fort McMurray wildfire. The retailer has also agreed to donate $130,000 to the Red Cross.

Walmart and Kenyon admitted to displaying, storing and selling food that was not fit for human consumption after the wildfire. The food included pickles, beef jerky, spices, pretzels, mints, stuffing mixes, vinegar, salad dressings, corn starch and yeast.

In accepting the guilty plea, Judge Charles Gardner told court he hoped it would deter future offenders and protect vulnerable populations such as people recovering from large-scale disasters.

Outside the Walmart on Monday, customers said they were disappointed to hear the company would sell products that were potentially unsafe. cbc.ca
---
Ontario government announces cannabis retail rules
The Ontario government says it will not put a cap on pot shops when it starts licensing and regulating the province's private cannabis retail marketplace.

The Progressive Conservative government says a bill set to be introduced Thursday will appoint the Alcohol and Gaming Commission of Ontario as regulator for the marketplace, giving it the power to grant -- and potentially revoke -- licences as well as enforce provincial rules on cannabis sales. Breaching provincial rules on cannabis sales would preclude someone from ever obtaining a licence in the future, it said.

The province said Wednesday that anyone looking to open a pot shop will have to apply for both a retail-operator licence and a retail store authorization for each potential location.

The government announced last month that it would sell recreational cannabis online when pot is legalized in October, with private retail stores to follow next year. ctvnews.ca

Canada: The Path to Cannabis Legalization
The Private Retail Sales Model
The previous government had planned to implement a retail model similar to the Liquor Control Board of Ontario called the Ontario Cannabis Stores (OCS). However, on Aug. 13, the new government announced that it would introduce a model for the sale of cannabis that includes an online retail channel by the OCS as of Oct. 17 and a private retail sales model for licensed retailers by April 1, 2019.

It has also been announced that municipalities will be given a short period of time to opt out of cannabis retailers within their boundaries. More information on opting out has yet to be provided. What also remains unclear is whether cannabis retailers will be restricted in their proximity to schools.

Impairment Isn't Acceptable at Work

Educators and employers can continue to take the position that impairment at school or in the workplace is not acceptable. The legal access regime described above does not provide anyone in Ontario with a legal right to consume or possess cannabis on school premises or to be impaired at school without any recourse to the school or employer. If a student or an employee is a medical cannabis user, the matter will be treated like any other accommodation of a disability. Smoking and vaping will be subject to applicable legislation. shrm.org

Ontario could see up to 1,000 private pot shops after cannabis legalization

Many Sask. pot stores won't be ready to open on legalization day
---
U.S.-Canada Trade Deal: The Retail Impact
Shopping online? Canadians can thank new trade deal for $150 duty-free limit
Canada, the United States and Mexico have signed a new free trade agreement that may benefit a lot of Canadian consumers wanting to shop online. The new deal, called United States-Mexico-Canada Agreement (USMCA), raises Canada's duty-free level from C$20 to C$150. It also raises the sales tax from C$20 to C$40. globalnews.ca

Canadians shouldn't bet on lower dairy prices under new trade deal

Canadian Tire Responds to New United States Mexico Canada Agreement
---
Canada Store Openings
● West Kelowna to get a HomeSense store
● Louis Vuitton Marks 35 Years in Canada with Standalone Store Expansion
● Danier' Opening Stores into New Markets as it Expands Nationally


Amazon plans third Metro Vancouver fulfillment centre; 700 full-time jobs

Lululemon turns to tech to stay ahead of the field


Winnipeg, MB: 3 people charged in Winnipeg Liquor Mart thefts worth $29K
Two men and a teenage girl have been charged in connection with 55 Liquor Mart thefts after police pulled over a stolen car in Winnipeg. A 21-year-old man is charged with possession of goods obtained by crime and seven thefts from Liquor Mart stores where $3,900 in merchandise was stolen. A 19-year-old man is charged with possession of goods obtained by crime, mischief, and 10 thefts from Liquor Mart outlets where $6,400 in merchandise was taken. A 16-year-old girl is charged with possession of goods obtained by crime, failure to comply with court orders and 38 thefts from Liquor Mart stores where $18,500 in merchandise was stolen. cbc.ca

(Update) Ottawa: Two 16-year-old boys accused of shooting 15-year-old near South Keys Shopping Centre
Two 16-year-old boys are facing numerous weapons charges after a 15-year-old boy was shot in broad daylight near the South Keys Shopping Centre on Saturday. A 15-year-old boy was found with a serious, but non-life threatening gunshot wound. The two teens were arrested at the mall. cbc.ca

Hillsburgh, ON: ATM stolen after pickup smashes through store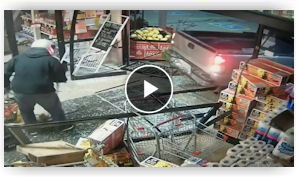 Dartmouth, MA: Man charged with arson after fire set to clothing at Winners

---
Robberies & Burglaries

●

C-Store - Peterborough, ON - Armed Robbery
● Grocery Store - Calgary, AB - Armed Robbery
● Undisclosed Business - La Loche, SK - Armed Robbery
● 7-Eleven - Calgary, AB - Robbery

---

---

---
e-commerce
Sponsored by The Zellman Group

Fraud attacks on retailers rose 13% in 2017
Digital goods fraud attack rate increased 167%
Fraud attacks increased by 13% in 2017, according to the 2018 Fraud Attack Index from Forter. The report noted a 31% increase in account takeovers as of the third quarter of last year. Policy abuse, also known as compliance abuse — wherein merchants are cheated through coupons, discount codes, reward programs or multiple accounts — rose 93% in the later quarters of 2017. Return abuse saw a 119% rise in last year's fourth quarter.

Among key categories, from Q1 2017 to Q1 2018: digital good — which include gift cards, e-books, music, gaming and business-oriented services like hosting and software solutions — saw a fraud attack rate increase of 167%. Meanwhile, fraud attacks on electronics rose 66%, food and beverage increased 60%, jewelry and luxury products rose 38%, and apparel and accessories went up 7%, Forter reported. retaildive.com

Formjacking attacks spike as Magecart sets sites on ecommerce
Threat actors have shown a major uptick in formjacking attacks targeting e-commerce sites with researchers blocking nearly a quarter million attempts since mid-August 2018.

Formjacking is an attack in which malicious JavaScript code designed to steal payment card information along with other data from payment forms is injected into the checkout web pages of e-commerce sites.

Although this is not a new technique, researchers noted attacks have increased dramatically with Symantec researchers saying they are blocking an average of 6,368 attempts daily as threat actors like Magecart is target large e-commerce businesses like Ticketmaster, British Airways, and Newegg.

Magecart has been active since at least 2015 and injects web-based card skimmers onto websites to steal payment card data and other sensitive information from online payment forms. scmagazine.com

Raleigh-based e-retailer appears in court on criminal contempt charges
The owner of a Raleigh based e-commerce site was in court Monday accused of criminal contempt after the attorney general says he violated a judge's order by taking money without the court's permission from his company's accounts that he was supposed to use to pay back victims.

Caleb Udophia ran the online retail business eRummagers -- a website that accrued hundreds of complaints customers and garnered an "F" rating from the Better Business Bureau. In court, Udophia was ordered by a judge to refund money to over 1,400 people who the state of North Carolina says were victimized by eRummagers. The state claims the refunds haven't taken place and charges that Udophia is taking money from the company's accounts and spending it on gym memberships, nightclubs, travel and groceries. cbs17.com

Younkers returns as online retailer, some hope stores return to Michigan

Kroger customers can pick up their online orders at Walgreens

Walmart Acquires Plus-Size E-Commerce Fashion Retailer Eloquii

"Fraud is not a person - it is a dynamic grouping of statistics that deviate from the norm."
Stuart B. Levine, CFI, CFCI
CEO, The Zellman Group & Zelligent
---
ORC News
Sponsored by Auror

Midlothian, IL: Cache of 400 Guns Is Recovered After Theft From Memphis UPS Facility
One of the largest gun heists investigated by ATF
A suspect has been arrested in one of the largest gun heists that the Bureau of Alcohol, Tobacco, Firearms and Explosives has ever investigated, the agency said, while a second suspect has been identified but remains at large in the Chicago area. A cache of nearly 400 guns was recovered in Midlothian, Ill., a suburb of Chicago, shortly after the firearms were stolen from a United Parcel Service Inc. distribution facility in Memphis, Tenn, authorities said. Taveyan Turnbo, 18, was arrested in connection with the alleged theft and appeared in U.S. District Court in Illinois on Tuesday afternoon. Roland Jackson, 24, remains at large, according to ATF, which is offering a reward of up to $5,000 for information on his whereabouts.

The alleged theft occurred Sunday in the early morning hours. According to a criminal complaint filed in federal court, the two suspects are accused of stealing Ruger .22 caliber and .380 caliber firearms that were being shipped from the company's factory in North Carolina through UPS to Dallas, Texas. Sometime between 3:00 a.m. and 4:00 a.m., officials say, the two men drove a U-Haul van onto the lot of UPS's Memphis distribution center and stole three pallets of weapons containing more than 360 firearms. A spokesman for UPS said the company "was informed that the vehicle and merchandise have been recovered." wsj.com

Los Angeles, CA: Smash & Grab thieves steal over $100,000 of merchandise on Melrose Ave
The search is on for a team of smash-and-grab robbers who made off with thousands of dollars in streetwear and other merchandise from two West Hollywood stores. The two burglaries happened just a day apart on Melrose Avenue. Surveillance video shows the burglars using a series of tools - first bolt cutters, then a motorized saw and finally a sledgehammer - to break open the front door of one store. Cellphone video from a witness at another store shows them carrying out merchandise and fleeing in a hurry in two getaway cars. The two stores they hit were BAPE and Cool Kicks LA. The owner of one store said the store alarm went off, but the burglars were in and out within minutes, making off with possibly more than $100,000 worth of clothing. abc7.com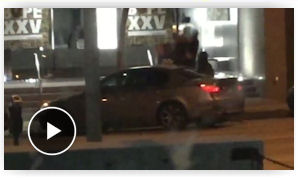 Bellevue, WA: Harley Davidson Motorcycle thieves tied to Organized Theft Ring
The video shows two men scoping out the bikes earlier that morning. The men don't have their faces covered. A third man comes and cuts the cord securing the bikes. Before the suspects steal the bikes, they leave and return in motorcycle gear, with their faces covered. Detectives don't know if the men cloned the keys or how they got the bikes started. They do think the thieves are part of an organized crime ring. The thieves are on the phone during the theft taking photos of the bikes and texting, investigators think they might be talking to a buyer on the other end. The stolen motorcycles are used and worth a total of about $30,000. kiro7.com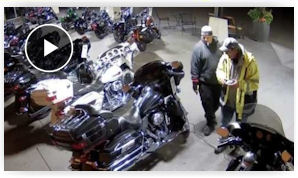 Ripon, CA: 3 women arrested in $3,000 Walgreens theft
Three people are arrested for shoplifting in Ripon and officers believe they are tied to other crimes. Investigators say the three suspects stole about $3,000 worth of items from a Walgreens store on Jack Tone Road on Monday. When they were taken into custody, officers say they found all of the women had warrants – all theft related. Police believe the trio are linked to other thefts that same day in Lathrop and Stockton. cbslocal.com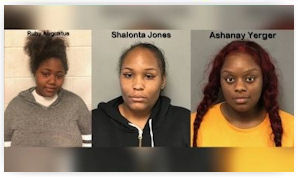 Bethlehem Township, PA: Man swipes more than $2,800 in baby formula from Walmart
11 separate trips over 3-week period
A Philadelphia man is facing shoplifting charges after store security allegedly spotted him stealing 11 backpacks full of baby formula over a roughly three-week span. Bethlehem Township police charged Anthony Fuentes-Rodriguez with a single misdemeanor count of retail theft in connection with the alleged string of thefts from the Walmart off Route 191. District Judge Jacqueline Taschner arraigned the 31-year-old Saturday morning, setting bail at $15,000. wfmz.com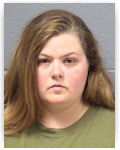 Joliet, IL: Menard's thief arrested; facing 4 additional Felony Theft charges
Catherine Burson, 38, was apprehended by Menard's Loss Prevention for concealing several items into her purse. Now, Burson is being held on a $60,000 bond in Will County. Burson also faces three felony theft cases and one felony retail theft case in Kendall County. She was most recently charged in May with the retail theft and is scheduled to return to court for the case Oct. 12. theherald-news.com

Franklin County, PA: $1,200 in merchandise stolen from Victoria's Secret in the Chambersburg Mall

Trumbull, CT: 3 Target Shoplifters arrested for theft of television and X-Box Headphones

Submit your ORC Association News

Visit the ORC Resource Center

---
Retail Crime News

Shootings & Deaths
Update: Hobart, IN: Police Search For Suspect In Shooting Outside Indiana Walmart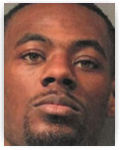 Police are searching for a man who was charged with attempted murder in a gang-related shooting Sunday night that left two people wounded outside of a Walmart store in Hobart, Indiana. Alex Hughes, 26, of Gary, Indiana, was charged with felony counts of attempted murder, aggravated battery and criminal gang activity, according Hobart Police.

Officers responded about 7:30 p.m. to a call of an active shooter at the Walmart at 2936 E. 79th Ave., police said. After noticing a gang rival inside the Walmart, Hughes went to his car, grabbed a gun and ambushed the 25-year-old Gary man outside of the store, police said. During the attack, Hughes fired shots that struck the man and his 9-year-old son, who remains in critical condition. A friend of the man who was wounded then returned fire at Hughes, police said. wbbm780.radio.com

Palm Beach Gardens, FL: Arrest made in fatal Gardens beating outside Stein Mart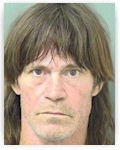 Palm Beach Gardens police have arrested the man they say beat 77-year-old Bernard Leonard Fairman to death last month at a Palm Beach Gardens shopping plaza. Danny Michael Harrigan, 50, of Riviera Beach, was booked late Tuesday into the Palm Beach County Jail on first-degree murder, robbery and aggravated battery charges in the Sept. 11 attack outside the Stein Mart clothing store. palmbeachpost.com

Houston, TX: Pregnant mother claims self-defense in boyfriend's death at Willowbrook Mall
A pregnant woman accused of killing her boyfriend after chasing him down in the parking lot of Willowbrook Mall told witnesses she acted out of self-defense, a state prosecutor said in Harris County Probable Cause court. Emily Rose Orbe, 32, is being held in the county jail on $100,000 bond. Police say that Orbe and her 40-year-old boyfriend were fighting inside the mall in northwest Houston before an altercation spilled out to the parking lot. Around 8:30 p.m. Monday at the mall, Orbe got in a Dodge SUV and chased her boyfriend, who was on a motorcycle, a prosecutor said Wednesday morning in Harris County Probable Cause Court. As she chased the boyfriend, a witness said she could hear Orbe screaming for help and telling bystanders to call police. She hit the motorcycle, causing her boyfriend to fall off, authorities said. lmtonline.com

---
Robberies, Incidents & Thefts
Virginia Beach, VA: 3 Armed Robbers flee Harris Teeter, victim found shot inside store
Police are looking for three suspects from an attempted robbery at the Harris Teeter, located on Ferrell Parkway. According to police, three black men entered the grocery store on Wednesday morning around 12:45 a.m. and attempted to rob the store. The robbery was unsuccessful and the suspects left on foot. Responding police officers located a man inside the store, suffering from a non-life threatening gunshot wound. The victim was transported to a local hospital for treatment. All three male suspects were wearing dark clothing and masks on their faces. Police say one man was armed with a gun. wtkr.com
Miami- Dade, FL: Customer films Armed Robbery of McDonald's
The robbery was reported the night of Sept. 21 at the McDonald's at 11575 Quail Roost Drive. According to an incident report, two men, who had their faces covered with their hoodies, walked up to the drive-thru window, pointed guns at the employee and demanded money from the register. Police said the employee handed the thieves the register tray, which contained $706.10. A customer who was parked in the drive-thru line recorded the incident on his cellphone and posted it on social media. local10.com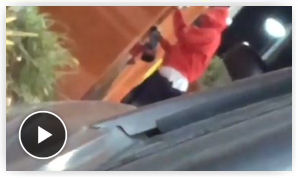 Port Orange, FL: Man tried to buy 8-year-old girl from mother at Florida Walmart
An 81-year-old Florida man attempted to buy an 8-year-old girl from her mother for $200,000 at a Port Orange Walmart, police said. Hellmuth Kolb was arrested Saturday on charges of simple battery and false imprisonment. Police said a woman was sitting with her daughter on a bench inside the Walmart when Kolb approached, asked if she was married and started bidding on her daughter. The woman said she got up to leave, but Kolb grabbed her daughter and kissed her daughter's wrist. According to an arrest report, the woman left with her daughter and alerted store security. wsbtv.com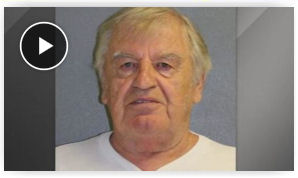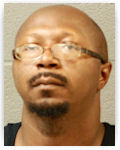 Boonville, MO: Suspect may be linked to Family Dollar and Dollar General Armed Robberies in Colorado



Mayfield Heights, OH: Micro Center Shoplifter arrested after running through school recess

Las Vegas, NV: Man arrested for theft of two puppies from Petland

London, England: Moped gang smashes into Yves Saint Laurent shop and steals handbags worth thousands

Cotswolds, England: Fur shop owner is forced to close her store after being bombarded with 1,000 hate messages and death threats

Piercing Pagoda in the Southcenter Mall, Tukwila, WA reported a Burglary on 9/30, items valued at $4,049

Piercing Pagoda in the Auburn Mall, Auburn, MA reported an Attempted Burglary on 10/1, no loss

Zales in the Colonial Pinnacle at Tutwiler, Birmingham, AL reported a Burglary on 10/2, items valued at $13,521

Zales in the Parks of Arlington, Arlington, TX reported a Grab & Run on 10/1, items valued at $5,379

Robberies and Burglaries
Sponsored by Scarsdale Security Systems
• C-Store - East Hollywood, CA – Armed Robbery
• C-Store – Tulsa, OK – Armed Robbery
• C-Store – Atlanta, GA – Armed Robbery (Food Mart)
• C-Store – Atlanta, GA – Armed Robbery (Hollywood Rd)
• C-Store – Atlanta, GA – Armed Robbery
• C-Store – Bronx, NY – Burglary
• Circle K – Oklahoma City, OK – Armed Robbery
• Clothing (BAPE)- Los Angeles, CA – Burglary
• Family Dollar – Parachute, CO – Armed Robbery
• Family Dollar – Fruita, CO – Armed Robbery
• Family Dollar – Providence, RI – Armed Robbery
• Grocery – Milford, CT – Robbery
• Harley Davidson – Bellevue, WA – Burglary
• Ice Cream – Crossville, TN – Burglary
• Jewelry – Tukwila, WA – Burglary
• Jewelry – Birmingham, AL – Burglary
• KFC – Tulsa, OK – Armed Robbery
• Liquor Store – Brighton, MA – Armed Robbery
• McDonald's – Miami, FL – Armed Robbery
• McDonald's Tulsa, OK – Armed Robbery
• Pharmacy – Detroit, MI (McNichol's) – Burglary
• Pharmacy – Detroit, MI (Westside) - Burglary
• Pharmacy – Wayne, MI – Armed Robbery
• Rite Aid – San Diego, CA (Mira Mesa) – Burglary
• Rite Aid – San Diego, CA (Peñasquitos) – Burglary
• Shoe Store (Cool Kicks LA) – Los Angeles, CA – Burglary
• Sonic – Tulsa, OK – Armed Robbery
• Subway – Tulsa, OK – Armed Robbery
Daily Totals:
• 17 robberies
• 11 burglaries
• 0 shootings
• 0 killings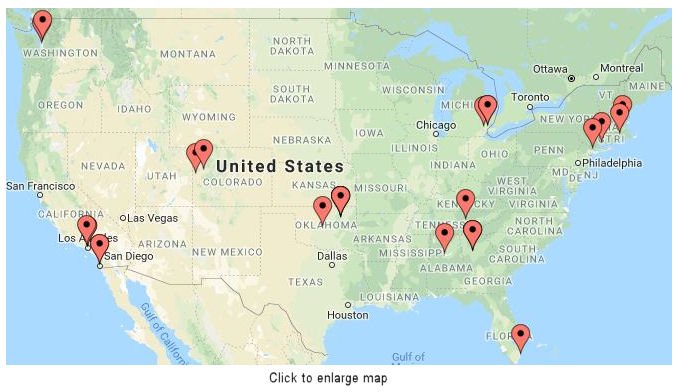 ---

---
Home of the Industry's Original
On the Move

None to report.
Submit Your New Hires/Promotions
or New Position
See all the Industry Movement
---

---

---

---
Featured Job Listings
Sponsored by Delta Lock
Feature Your Job Here For 30 Days -
70% Aren't On the Boards

Featured Job Spotlights
---

Director Loss Prevention
Irvine, CA
The Director of Loss Prevention at Tillys builds and implements policies, programs, and procedures that control risk, reduce shrink and protect the employees and assets. The director is responsible for leading and developing LP team members in the corporate, retail, and distribution centers...

VP, Asset Protection
Dallas, TX
As the Vice President of Asset Protection you will provide leadership and direction in the development, implementation and monitoring of effective, coordinated programs to reduce the possibility of internal and external theft, to reduce shrinkage, to ensure physical protection of associates, customers and Company assets, and to investigate losses...


Vice President, Chief Information Security Officer
Grapevine, TX
The Chief Information Security Officer (CISO) is the GameStop executive responsible for leading our global information security organization and will have officer level fiduciary responsibility...


Vice President, Asset Protection
Columbus, OH
Oversees and directs all Asset Protection related functions for a Corporate Office, multi-state distribution centers and large retail store network. Responsible for enterprise direction and strategy as it pertains to Asset Protection with a goal of minimizing shrink, reducing loss and maximizing security and associate safety...


Vice President, Loss Prevention
Houston, TX
This pyramid head position is responsible for developing and leading this company's shrinkage reduction efforts and integrating these efforts throughout the entire organization...


Project Coordinator (LP Technology)
Dublin, CA
Provides support for all types of LP technology installation projects, (e.g. new stores, upgrades, remodels, maintenance/repair, etc.). Serves as the point of contact on all projects as assigned, interfacing with vendors, field management, and various corporate teams...


Project Lead (LP Technology)
Dublin, CA
The Lead, Project Coordinator facilitates the development, implementation, and ongoing execution of multiple Loss Prevention technology projects, programs and systems. This is accomplished by leading projects from concept to completion, acting as a subject matter expert, and working effectively with internal partners (i.e. Store Operations, Store Planning, IT, HR, Logistics, Purchasing, etc.) and external resources (i.e. vendors, service providers, etc.) to drive results, and monitoring to ensure all projects meet scope, timeline, and budget needs...


Regional Loss Prevention Manager
Baltimore MD
This position is responsible for managing all aspects of loss prevention for a geographic area to reduce and control shortage and other financial losses in 120 to 140 company stores. The coverage areas average $550 million in sales revenue and $3.5 million in shrink losses annually...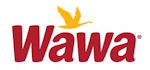 Loss Prevention Investigator
Wawa, PA
The Loss Prevention Investigator is responsible for utilizing proper investigative techniques and act as the primary liaison with field operations management. Conducts investigations into cash losses, deposit shortages, associate theft, overall shrinkage, and other matters...

Regional Asset Protection Manager
Harrisburg/State College, PA
The Regional Asset Protection Manager will lead their region in Shrink Reduction, Asset Protection and Safety efforts through an in-depth understanding of the overall business, effective partnerships and by directing the region with integrity and professionalism...

Loss Prevention Market Specialist
Jacksonville, FL
To monitor store locations to detect, investigate and resolve internal and external situations and circumstances that could lead to or result in losses to the company. All actions and conduct within the scope of the position must be performed according to performance standards set by Burke's policies, procedures and Code of Ethics...


Loss Prevention/Asset Protection Investigator
Boston, MA
Responsibilities will include but are not limited to:
● Protect the assets of the store as well as the associates and visitors.
● Maintain surveillance of the store via CCTV and conduct physical inspections including perimeter checks...




Asset Protection Analyst
Norcross, GA
AP Analyst based in Norcross, GA reporting to the Director of Asset Protection. This high-visibility role will be responsible for business-wide security administration, multiple fraud detection programs and functional communication...

Featured Jobs
---
• Domino's - Director, Information Systems Security, Ann Arbor, MI
• Associated Grocers - Director of Risk Management, Baton Rouge, LA
• American Express - Dir-Global Security Operations Center, Phoenix, AZ
• rue21 - Director of Loss Prevention, Warrendale, PA
• MedMen - Associate Director of Security and Safety, Culver City, CA
• MedMen - Associate Director of Investigations, Culver City, CA
• Nike - Senior Director - Nike Direct Retail Operations & Risk Control, Beaverton, OR
• Domino's - Director, Safety Supply Chain Services, Ann Arbor, MI
• Conn's Home Plus - Director of LP, Inventory Control & Fraud, Spring, TX
• Gulfstream Goodwill Industries - Director of Safety, West Palm Beach, FL
• Clarins - Director Security, Loss Prevention and Safety, Orangeburg, NY
• Guess - Director, Risk Management and Safety, Los Angeles, CA
• Netflix - Director of Data Privacy and Security, Legal - Los Angeles, CA
• DSW Inc. - Director, Loss Prevention, Columbus, OH
• Food Lion - Director of Asset Protection, Salisbury, NC
• Ahold Delhaize USA - Manager | Corporate Investigations - Retail Business Service, Salisbury, NC
• T-Mobile Express Stores - LP Operations Manager, East Brunswick, NJ
• Gymboree - Director, Inventory Control, Dixon, CA
• Living Spaces - Director of Safety, California
• Kings - LP Investigator - Northern New Jersey

---

---

---
Daily Jobs
Appearing One Day Only
View our Internet Jobs Archives here


Sponsor this section of the Daily
---

---

---
Submit Your Group LP Selfie and
Group Vendor Selfie Today!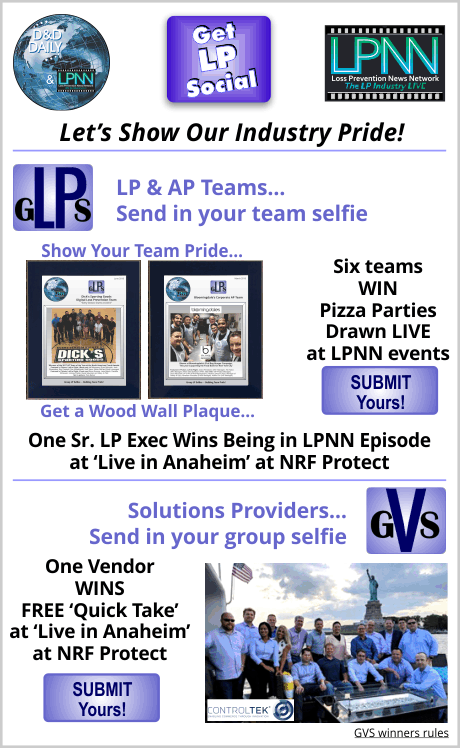 ---
Your Career

Mentorship Tips: Get As Much FaceTime As Possible, How to Find a Free Mentor, Do Your Research

4 Ways to Make the Most Out of a Mentorship
Getting a mentor is one thing, but making the most out the relationship is another. Mentors are a wealth of knowledge, valuable advice and knowing how to take advantage of all they have to offer will help you in your career. Here's some tips on how to make the most out of your mentorship. Carve out time to talk

You Need a Mentor. Here's Where to Find One for Free
While we all know that working with a mentor can increase your chances of success during your career journey, we might not know the reasons why. Here's why everyone should have a mentor, and how you can find one for free. Use social media to your advantage

4 Tips For A Successful Mentor-Mentee Relationship
Like any other relationship, a mentor-mentee relationship has to work from both sides. The mentor 's role is to provide guidance and the mentee is to learn and maintain contact. There are three key factors that will ensure the success of the mentor-mentee relationship for both parties. Research first

4 Rules to Keep In Mind When Looking for a Mentor
Finding the right mentor can be quite the confusing avenue to navigate. Who should you reach out to? How do you make that first connection? In this video, you'll find all the answers you need to help you find the right mentor for you and how to build the mentorship. Never ask "Can I pick your brain?"
---

---

---

---
Tip of the Day
Sponsored by Vector Security Networks

"Build the field and they'll come to play!" An expression that many never truly understand or practice. Especially in today's world where we're all expected to do more with less and corporate America has tightened the budgets to the levels most of us have never seen before. Having faith that your performance will bring promotions, increased salaries, and new jobs is very difficult in today's climate. But we all have to keep the faith and do our best every day regardless. Because at the end, it's what defines us and sooner or later our positive actions will pay off.

Just a Thought,
Gus



(content subject to approval)
---
---
Upcoming Events
---
Recruiting?
Get your job e-mailed to everyone... everyday
Post on our Featured Jobs Board!
---
Reach your target audience in 2018 every day!
Request our 2018 Media Kit
---
Not getting the Daily?
Is it ending up in your spam folder?
Please make sure to add d-ddaily@downing-downing.com to your contact list, address book, trusted sender list, and/or company whitelist to ensure you receive our newsletter.
Want to know how? Read Here


36615 Vine Street, Suite 103
Willoughby, OH 44094
440.942.0671
copyright 2009-2019
all rights reserved globally