The D&D Daily Mobile Edition
October 5,

2015



The LP Industry's #1 News Source - Informing, Educating and Instilling a sense of community



History of ORC Associations -
Their History and Stories
Sponsored by Nedap
Articles - ORC Associations

History of Northern Nevada Organized
Retail Crime Alliance (NNORCA)
By Dennis Rodrigue, Crime Prevention Officer, Sparks Police Department
In 2008, the Sparks Police Department, along with a network of Loss Prevention/Asset Protection Managers and Supervisors, created a partnership in Northern Nevada. This partnership was named the A.L.E.R.T. (Area Law Enforcement & Retailers Team) program. The goal of the network was designed to share information about the criminal elements that target the theft of retail products from the stores in the Reno/ Sparks area and surrounding communities.

As a network, the retailers share their experiences about criminals, active crime sprees and what trends they are seeing, and pass this on to other retailers, down the block, across town, and even regionally. Sharing the tricks of the trade, being used by today's criminals, and finding ways to reduce these thefts by pinpointing the criminals and their behaviors.

Monthly meetings were established to share information and discuss any issues relevant to the Retail Loss Prevention/Law Enforcement. These meetings are held the 2nd Wednesday of every month at the Sparks Police Department. Along with these meetings, there has been the sharing of information via E-mail, as events occurred.

In the spring of 2009, the A.L.E.R.T. program consisted of 20 retail participants. As of September 1, 2014, there are over 250 retail, security director and law enforcement contacts spanning no less than 4 states. Due to the growth of the A.L.E.R.T. program and the need for an up to date means of instantaneously sharing information, the concept of converting the A.L.E.R.T. program over to the Northern Nevada Organized Retail Crime Alliance (NNORCA) was formed.

As the A.L.E.R.T. program converts over to the Northern Nevada Organized Retail Crime Alliance (NNORCA) it will continue serving retailers and security directors who partner with law enforcement, state wide, to aim at reducing property crimes, keeping shoppers safer and lessening their chances of becoming victims. NNORCA has been formed to reach out to all Nevada law enforcement agencies and corporate retail partners, realizing the need to combine efforts to combat the growing problem of Organized Retail Crime (ORC).

A NNORCA website has been developed to allow NNORCA members to share intelligence relating to the businesses and communities we serve (www.NNORCA.org). This shared information includes, but is not limited to, crimes of organized theft, robberies, counterfeiting, check and credit card fraud, prescription fraud, identity theft and other scams. In short, any type of organized crime may be shared through this site.

NNORCA is a statewide crime-fighting partnership focused on the issues relevant to Northern Nevada communities. This alliance allows retailers and law enforcement to communicate about criminal activity impacting businesses on a real-time basis realizing the need to combine efforts to combat the growing problem of Organized Retail Crime (ORC).

The NNORCA website will not only enable members to communicate about these crimes, but it will also save the information in a written and mapped format, searchable by crime and suspect type. This gives all members the ability to search the website to connect cases and establish patterns and trends. In addition, members may upload photographs and crime bulletins to share with the NNORCA community.

"The use of the task force approach to combating crime, coupled with successful partnerships within industry, is seen by the FBI as one of the most effective and efficient tools by which to identify, disrupt and dismantle any criminal enterprise. That strategy is working." - Dave Johnson, Section Chief, Criminal Investigation Division, FBI

News Brief
Sponsored by WG Security Products, Inc.
Active Shooter Exercises Increasing Nationwide - A Call to Action
In the last three months there's been a significant increase in the number of active shooter exercises across North America. From schools, colleges, military bases, malls, shopping centers, municipalities, and even Church's are staging exercises. We counted over 30 in the last three months alone that were reported in the news. But yet we haven't heard of one retailer staging an exercise at their corporate office or facilities. Nor have we heard of a national effort on the part of the nations retailers calling for a standardized training program for the millions of associates and customers that shop and work in the stores. Certainly the exercises at the malls and strip centers are focused on this population. But we haven't seen any of the trade associations or larger retailers take a lead here and try to truly make a difference. Maybe its time for the retail industry to get involved and provide a standardized training and awareness program. Just a thought.

U.S. Leads World in Mass Shootings
The U.S. represents less than 5% of the 7.3 billion global population but accounted for 31% of global mass shooters 1966 to 2012, more than any other country. The 90 killers who carried out mass shootings in the U.S. amounted to five times as many as the next highest country.

Mr. Lankford, who collected information on mass killings from law enforcement reports, scholarly articles and news articles, found that mass shooters in the U.S. were much more likely to strike at school and workplace settings, and to use multiple weapons compared with the other countries in the study, more that 170 in all. wsj.com

What will we see in January 2016?
Given the historic job cuts we just saw at a number of retailers over the last month, which this writer has never seen before at this time of year, and the fact that online buying is climbing faster than anyone could have imagined, what will the holiday season bring the brick and mortars? Last weeks Deloitte survey showed "solid" but slower holiday sales then last year and hopefully hitting 3.5% to 4% growth and others showing only a 2.4% growth. Is this optimistic and what will the NRF predict?

The fact is no one knows what this holiday season will bring. But one thing is certain. Online sales will grow, with some saying by as much as 30%, and take a huge bite out of the stores. The question is how big the bite is. And the problem is does it lead to a bloody January and more job cuts? The answer is - yes it will.

So the only real question is how many? And the resolution is: each executive has to make sure they're truly adding value well beyond their job description and going well beyond the over used phrase "adding value." This is the time to reinvent yourself and your position. Making sure you put yourself in a position where, when the job cuts come they say, how can we work around this for this executive because we've got to keep them on the team. Volunteer for anything you can. Expand your comfort zone and take some risks. You just might be surprised.

Department of Justice Builds Strategy to Battle Counterfeits, Cyber Crime
The Justice Department said Friday it will build on past initiatives aimed at cracking down on intellectual property crimes with the rollout of a collaborative strategy with the business community and third-party marketplaces.

As part of the new strategy, the FBI will partner with third-party marketplaces to ensure they have the right analytical tools and techniques to fight cyber attacks and counterfeiting on their Web sites, and also serve as a bridge between brand owners and third-party marketplaces to combat counterfeits. Justice will also award $3.2 million in grants to state and local law enforcement agencies in 10 jurisdictions to help bolster enforcement.

The launch comes at a time of major proliferation of counterfeits and cyber attacks against the public and private sector. Federal officials made 7,922 seizures of counterfeit apparel and accessories - making it the top commodity classification - valued at $113.6 million, in fiscal year 2014, according to the latest government data. Authorities seized $1.2 billion worth of counterfeit products in the fiscal year.

Officials said the new strategy will help law enforcement and companies "better identify, prioritize and disrupt the manufacturing, distribution, advertising and sale of counterfeit products."

The FBI and other partners of the National Intellectual Property Rights Coordination Center will then investigate alleged crimes, which would be prosecuted by the Department of Justice. The Office of Justice Programs Intellectual Property Enforcement Program also launched a new intellectual property Web site, justice.gov/iptf, to provide resources to companies fighting counterfeiting and other cyber crimes. wwd.com

Shopko to pay $750,000 to convicted shoplifter who suffered skull fractures & brain damage - 'Excessive Force'
He was convicted of stealing two pairs of miniature scissors from Shopko. In November 2008, Richard "Dave" Moore suffered several skull fractures and a brain injury when he was thrown to the ground by a Shopko loss-prevention officer outside the retailer's store in Omaha.

Friday afternoon, a jury of 12 Douglas County residents ordered Shopko to pay $750,000 to Moore in a civil lawsuit Moore brought alleging that Shopko employees used excessive force.

According to court records and Schicker's account: Two Shopko loss-prevention employees who monitored surveillance cameras for shoplifters said they saw Moore pocket a pair of eyebrow scissors and a pair of nose-hair scissors. Both are roughly the size of tweezers. One has pointy edges; the other has rounded edges. After Moore left the store, two Shopko loss-prevention workers, Wesley Ludlow and Clef Haworth, confronted him. Ludlow stepped in Moore's path, and Moore walked into him. Accounts varied from there. Ludlow testified that he spoke with Moore and asked Moore to accompany him back inside the store. Others said an altercation ensued immediately. However long it took, Moore threw up his hands after Ludlow tried to grab him and refused his requests to go back in the store, Schicker said. Moore then threw his hands down by his side. Ludlow and Haworth tried to subdue Moore.

Schicker said Ludlow, who weighed more than 250 pounds, essentially "hurled" the 150-pound Moore to the ground. Ludlow testified that he acted in self-defense - out of fear that Moore, who was resisting, might use the small scissors to stab or gouge him.

The Omaha man, 53 at the time, struck his head on the pavement. He suffered several skull fractures, bleeding on the brain and two black eyes. During his stay in the hospital, doctors diagnosed him with a traumatic brain injury - one that continues to cause problems with his thought process and memory.

At trial this week, Shopko defended the actions of its employees. Neither Ludlow nor Haworth was sued personally. Any verdict, if upheld, would be paid by Shopko. omaha.com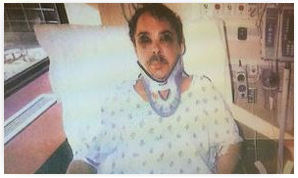 Costco Fights For 2nd Circ. Appeal Of Tiffany Counterfeit Win - Judge Rules Costco Was Counterfeiting
Costco Wholesale Corp. urged the Second Circuit Thursday to deny Tiffany & Co.'s bid to dismiss Costco's appeal of a lower court's judgment that it sold counterfeit jewelry, saying facts pertinent to its counterclaims are still in dispute and cannot be resolved post-trial.

On Sept. 8, U.S. District Judge Laura Taylor Swain sided decisively with the jeweler, citing a study that found nine out of 10 consumers view Tiffany as a brand identifier rather than a generic term. Judge Swain also found Costco liable for the more serious count of counterfeiting, and that "no rational finder of fact could conclude that Costco acted in good faith in adopting the Tiffany mark." law360.com

'American Dream Meadownlands' - Opening summer 2017 - Lots of LP & Guard Jobs & What a Camera System to Bid On!
The Owner of North America's two largest malls - Building a 2.9M sq. ft. mega mall in East Rutherford, N.J.
The Ghermezian family and its company, Triple Five, already own two of the largest retail and entertainment complexes in the world: the 4.2-million-square-foot Mall of America near Minneapolis and the 5.2-million-square-foot West Edmonton Mall in Canada.

A Toys "R" Us three-level, 55,000-square-foot store will be an anchor for 500 stores, including Saks Fifth Avenue, Lord & Taylor and Hermes, as well as restaurants and other attractions in a multilevel building that will be more than a half-mile long.

The project will also be home to a 300-foot-tall Ferris wheel, also include both North America's largest indoor amusement park and largest indoor water park, the first indoor ski hill in the Western Hemisphere, and the world's steepest roller coaster and tallest twin-body water slides. The $5 billion enterprise described by Mr. Ghermezian would require a daily gusher of customers to be financially viable, and he estimates that the complex will attract more than 40 million visitors a year. nytimes.com

Sam's Club will be reducing layers of management, impacting a small number of associates
In her note, Brewer also said Sam's Club jobs were among those announced by Walmart. drugstorenews.com

Verizon Retailer To Pay $1.3M To Settle OT Class Action
We R Wireless Inc., a New Jersey-based Verizon Wireless retailer, has agreed to pay $1.3 million to end a collective action alleging it misclassified employees as exempt from the Fair Labor Standards Act's overtime requirements. The money would be made available to more than 1,200 sales associates and sales managers in 10 states. The lawsuit, filed last May, alleged that We R Wireless willfully misclassified store representatives and store managers as exempt and failed to pay them overtime pay for all hours worked beyond 40 hours in a workweek. law360.com

Educating and training the next generation of drone pilots in the Security Sector - Supply Chain LP & Solution Providers Should Consider
Unmanned Vehicle University (UVU), is the first University in the world licensed to grant Doctorate of Science Degrees in Unmanned Systems, Masters of Science Degrees in Unmanned Vehicle Systems Engineering, and a Professional Certificate in Unmanned Aircraft Systems Project Management.

The University's goal is to educate and train the next generation of drone pilots in the security sector (and beyond) to make sure that they are prepared and properly trained to profit from drones capabilities once approved for use by the FAA. UVU's mission is to be "the World's Best Provider of Unmanned Systems Education & Training."

Security is just one of 300 commercial applications - albeit a critical one, that covers the spectrum between national and private security. securitymagazine.com

Inspections are Not All Equal: OSHA Develops Tiered Inspection System
OSHA announced this week a shift in how it will evaluate inspections, recognizing that inspections are not all equal and that more-complex inspections deserve more weight. The complexity of an inspection affects the amount of time, manpower and other resources required by OSHA and this new tiered inspection system will reflect this complexity. Under the new system, "Enforcement Units" will be assigned to an inspection; the simplest inspection will be one unit and the most complex inspection could be as many as nine units. Dr. Michaels believes that this will allow OSHA to focus on "more impactful inspections" rather than the number of inspection completed each year. oshatoday.com

American Apparel files for bankruptcy ahead of restructuring

Smart & Final Stores to buy 36 Haggen stores

Another retailer hit with "Phantom" discounts in outlet stores class action law suit - Columbia Sportswear

Ross Stores opening 6 stores October 10th

Wireless Companies Update Anti-Theft Tools


Last week's most popular news article --

Video shows Indy teen arrest before dying in police custody
All the News - One Place - One Source - One Time
The D&D Daily respects your time & doesn't filter retail's reality
Report Your News!
(content subject to approval)




Will the breaches let up? "The light at the end of the tunnel is not a way out, it's an oncoming train"
Market for Stolen Data Is Hotbed of Innovation
"There has never been such a glut of stolen information out there," Mr. Krebs said Sunday. "One of the interesting things that comes out of all this, is innovation," he said at the Gartner Symposium ITxpo 2015, which began Sunday and is expected to draw thousands of CIOs and business technology professionals.

There's a huge gap between physical security of a network and the effort that goes into compliance, and hackers are highly adept at exploiting this perception-reality disconnect. He said the market for stolen credit card data is an example of how the dark Web is becoming more innovative and professional.

The assumption is that the arrival of a new generation of more secure cards will make life harder for criminals, and that they will have to milk the current cards, and their weak protections, for all they are worth. Mr. Krebs says that explanation makes sense, but reflects an incomplete understanding of the problem.

The spike in breaches "has everything to do with the innovation coming out of the underground, and broadly available software that allows bad guys to hijack (point of sale systems) remotely," Mr. Krebs said.

It isn't enough to create more POS malware and execute more breaches. The bad guys, as Mr. Krebs refers to the criminals waging attacks on retailers and businesses, face a highly competitive market and are innovating at the business level as well as at the technology level. "Bad guys have to actually sell," he says.

To that end, criminals with stolen data for sale are building loyalty programs to spur repeat business from end-user criminals who buy stolen credit card data and use the information to buy goods that can be resold for hard cash. They are using analytics to understand the preferences of their buyers, who may like cards from a particular bank or geographic area. They may offer a money back guarantee on cards that don't work, then try to sell the buyer another batch of cards, perhaps with a 30% discount for a group of more than 500.

Mr. Krebs said street gangs such as the Bloods and the Crips, more often associated with drug dealing, are taking up credit card fraud, renting vans and driving up and down the Eastern seaboard using stolen credit card data to buy goods that can be resold for cash. wsj.com

Study: Are retailers ready for IoT? Most retailers have no idea how IoT will impact their operations!
According to a new survey from RSR Research, "The Internet of Things in Retail - Great Expectations," 42% of surveyed retailers strongly agree and another 38% agree that IoT will drastically change the way companies do business in the next three years. IoT is generally as a network of "smart" devices with Internet connectivity that can automate many retail functions, such as ordering products or sending alerts when they need repair or replacement. In addition, similar percentages of respondents strongly agree (39%) or agree (41%) IoT will have a dramatic impact on consumer products in the next three years. 33% of retailers said "My company has no idea how IoT will impact our own operations in the next three years." chainstoreage.com

Retail security bashing lobby group ABA admits data breach
The American Bankers Association, the lobby group that has taken a leading role in lambasting retailers over lax data security, has admitted that email addresses and passwords used to make purchases or register for events through its online shopping cart have been compromised. The ABA has warned users that the detail of up to 6,400 members have been posted online by unidentified hackers.

The breach is a huge embarrassment for the pressure group, which has been a leading advocate for the imposition of tighter security controls at retailer groups. News of the break-in emerged as the Association was trumpeting its participation in October's National Cybersecurity Awareness Month campaign organised by the US Department of Homeleand Security and the National Cyber Security Alliance. finextra.com

Insider Threat detection - Joining up HR and IT helps with training and revealing insider threat indicators
Recent research that caught my eye revealed that a majority of employees in the UK, US, Germany and Australia believe HR should take on a bigger role in IT security. This includes things like training, disciplinary action, and vetting of candidates for new roles with the company. The value of HR: The threat of malicious behaviour or accidental damage caused by staff is also very much front-of-mind for CIOs and security bosses. Staff error is in fact a bigger source of breaches (26%) than malicious insiders (10%) or organised crime (23%), according to PwC's 2015 Information Security Breaches Survey.

How can HR help reduce these risks? Well fundamentally by becoming a department of "We" as opposed to IT's reputation as a department of "No". This means fostering a corporate culture where employees enjoy working there, believe in the company's core values and respect and value their colleagues. There are things IT and HR should be discussing together now which can result in quicker wins. The first is for HR to vet candidates for all roles in order to weed out any who may represent a malicious or accidental inside threat.

IT should also be approaching HR to take on more of the workload when it comes to staff training and awareness raising programmes. The security department will need to share its expertise on the kinds of things that need to be included on such courses. But HR has a valuable role to play in communicating this in a compelling manner, and managing the courses as effectively as possible.

Similarly, HR could do more to help create, communicate and enforce IT policy. cio.co.uk

Millennials Are Cyber-Slackers When it Comes to Security
Blame the wisdom that comes only with age: Millennials are the least likely generation to actively protect their data, despite being the most concerned with their cybersecurity. infosecurity-magazine.com

FBI Seeks High School Students for Cyber Jobs
The FBI wants to recruit high school kids for its fight against cybercrime before they find private-sector jobs or fail background checks for smoking pot. wsj.com

Omnichannel comes of age with new index
The National Retail Federation and e-digital consultancy FitforCommerce have launched a first-of-its-kind Omnichannel Retail Index to help retailers benchmark against industry best practices.

This first-of-its-kind bi-annual report, examines 120 retailers across multiple categories and their use of omnichannel strategies across Web, mobile and store. A variety of strategies that align back-end systems to provide a consistent front-end experience across all channels, including buy online pick up in store, real-time inventory availability and mobile optimized websites.

The establishment of this index, especially with the leading retail trade organization as a founding partner, demonstrates that the age of omnichannel has truly arrived. chainstoreage.com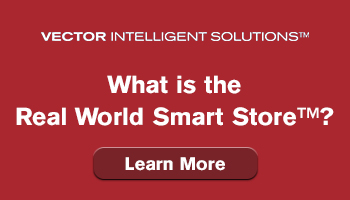 Vendor Spotlight


Intelligent Article Surveillance
One of the most important concerns when implementing an electronic article surveillance (EAS) solution for your retail stores is to strike the right balance between effectiveness and customer friendliness of the system - so you deter shoplifters, not customers!

At Nedap, we understand this balancing act: Our RF and RFID article surveillance solutions combine the latest, innovative technology available with a sleek, unobtrusive design that seamlessly blends into the decor of your store and helps you create a pleasant and welcoming atmosphere.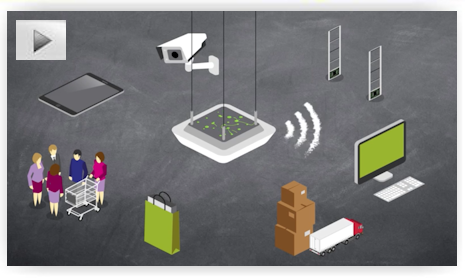 Experience shows that losses can be reduced by more than 40% with an electronic article surveillance system, which leads to an extremely quick return on investment within a few months. Intelligent article surveillance, however, can cut your shrinkage by another 20%.

Next generation article surveillance

| | |
| --- | --- |
| > | Protect your investment. Nedap solutions offer a guaranteed simple upgrade path to RFID. |
| > | Fight organized crime effectively. Notify your staff discreetly when people enter the store with booster bags. |
| > | Empower your employees and make them part of the solution. e.g., show your guards a picture or movie of the person who triggered an alarm. |
| > | Know more, sell more. Actionable data for compliance overview and identification of best practice and high-risk stores. |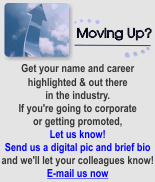 "Live in NYC" 2015
Event Kickoff
Live from New York, it's the D&D Daily! MCs Joe LaRocca (VP & Senior Advisor, Loss Prevention, RetaiLPartners) and Amber Virgillo (Brand Strategist, Calibration, LLC) kickoff our marathon 7-hour broadcast - filmed live from downtown NYC on January 12, 2015, during the NRF Big Show. Amber and Joe give us a quick preview of what's to come in a jam-packed day full of informative and entertaining interviews on timely topics with leaders of the LP industry.
Solution Providers, have a video or commercial you want to publish? Contact us.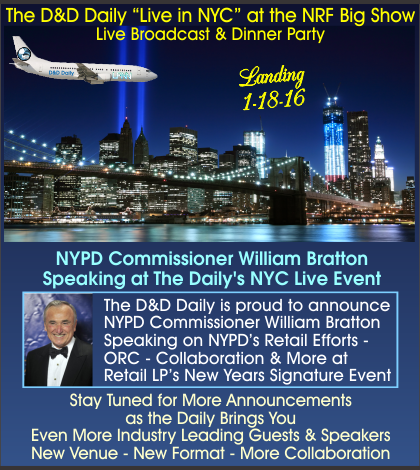 e-commerce

Sponsored by The Zellman Group
Survey: No online option means no customers
A new survey of U.S. and Canadian consumers from MasterCard, "The Psyche of Shopping," shows that consumers have purposely chosen not to buy something when a retailer did not have an online payment option (68%), a mobile payment option (19%), or an in-app payment option (14%).

In addition, North American consumers cited security as the top reason for not shopping, online or via mobile app (50%), followed by discomfort with sharing payment information online or on mobile (49%). Moreover, males are more likely to express concerns about security (58% compared to 45% of females) and being uncomfortable with sharing their payment information online/via mobile (55% compared to 46%). chainstoreage.com

Report: Credit Cards Exert Online Dominance in U.S., Consumers Still Skittish of Mobile Wallets
In the TSYS 2015 Consumer Payment Choice Study, 43 percent of American shoppers said they prefer to use credit cards when online shopping compared with 30 percent who chose debit cards, 14 percent who identified PayPal and 3 percent who preferred cash. The Columbus, Ga.-based company broke out online travel spending from online shopping, where the results were slightly different (36 percent chose credit cards, 17 percent preferred debit and only 2 percent used PayPal).

Mobile wallets, which have been touted and have floundered for years, have gotten a shot in the arm in the past year with the introduction of Apple Pay, Android Pay and Samsung Pay. But, according to the survey results, consumers are still not sold. Only 8 percent have loaded credit card information into a mobile device or application for the purpose of making a purchase. Twenty-seven percent said they will never load a credit card into a mobile wallet and an additional 19 percent said they are not likely to do so. cardnotpresent.com

E-commerce grew 20% for Costco in '15 -20 times faster than store sales -
Nearing $5B

Betting on e-commerce pays off for Ashley Stewart

"Fraud is not a person - it is a dynamic grouping of statistics that deviate from the norm."
Stuart B. Levine, CFI, CFCI
CEO, The Zellman Group & Zelligent


ORC News
Sponsored by NEDAP
Hempfield TWP., PA: ORC Duo stealing from Macy's at Westmoreland Mall and selling them at Plato's Closet
In late September, a man and woman entered his store with jeans, tennis shoes and other clothing. The items, according to state police, were stolen. But Canut, the store owner, didn't know that until he got a call from a witness. That witness watched the man and woman tear the price tags from the clothing while standing in the Greengate Centre parking lot. They then walked across the lot and into Plato's Closet. The witness got their license plate, notified the store and called police. State police say the two worked together, allegedly stealing clothes from Macy's at Westmoreland Mall, then trying to sell them to Plato's Closet. State police are confident they know who the two poeple are and say charges are imminent. wtae.com

Des Moines, IA: Sprint store robbed of $31,500 worth of cellphones
Armed robbers took more than $31,500 worth of cellphones from a Sprint store on Sunday. Officers arrived at the Sprint store in the 500 block of East 14th Street around 4:10 p.m., minutes after three robbers fled the store with the cellphones and cash. Two employees were in a dark back room when police arrived and initially, officers cuffed them. After police figured out they were employees and took off the handcuffs, one started having a seizure and medics were called. The story unfolded that an hour earlier, one of the robbers had been in the store just before closing time looking at phones. The robber returned with two other people after store-close, pretending to look around, when they pulled bandanas over their faces. One pulled a gray handgun and demanded what was inside the cash register, $557.11. One of the robbers, a woman, told the employees to unplug any security cameras, but they were out of reach. Another demanded to be taken to the storage room where cellphones were kept. They unlocked all of the cabinets and put $31,500 worth of phones into a bag. desmoinesregister.com

Clarksville, TN: Felony Lane Gang Caught Using Stolen ID at Same Bank Where Victim Worked
But the standard Felony Lane scam didn't go textbook smooth for Detra Lapaglia and Kayla Taylor recently. According to reports, the two women were taken into custody in late September after trying and failing to cash a stolen check with a stolen ID. According to the report, on September 21, Lapaglia and Taylor attempted to cash the check using an ID at the Clarksville bank. The teller, however, immediately, knew something was up. The ID the women were claiming to use - it actually belonged to a woman who worked at the very same bank branch. The teller already knew her co-worker had had her ID jacked in May. browardpalmbeach.com

Columbus, OH: Tips sought in cart load theft at Toys R US
Two women entered the Toys R Us store at 1400 Gemini Place about 1:30 p.m. on Aug. 4. They loaded items in a cart, then pushed the cart out the front doors without paying for the merchandise. Among the stolen items: five Lego remote-control cars, two Lego City sets and a karaoke machine. The items were valued at more than $1,700. dispatch.com

Albuquerque, NM: Shoplifter pulls knife on JC Penney Loss Prevention Agent, stealing $763 in Sunglasses
A man accused of stealing hundreds of dollar of sunglasses, allegedly pulled a knife on store security after being confronted. Albuquerque police were dispatched to the JC Penney store on Friday in response to a felony shoplifting incident. According to the store's loss prevention department, Omar Reed, 28, took $763 worth of sunglasses from the store. Police say when Reed was confronted outside of the store by loss prevention he threw the glasses and stated he had a knife. Loss prevention was able to grab Reed before he could take the knife out from his waist band. Reed was issued a criminal trespass notification and arrested for felony shoplifting and aggravated assault with a deadly weapon. kob.com

ORC Ring Busted in Pheonix Hitting Lowe's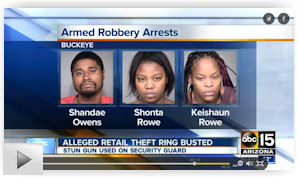 Do you have an ORC case to share?
Share your ORC news and help the industry grow

Retail Crime News

Sponsored by Security Resources
Toledo, OH: Six charged in shooting at Franklin Park Mall
Toledo police have charged six people for inducing panic and aggravated rioting after a man was shot just outside Franklin Park Mall. Tikei Benton was shot in the foot during the altercation Sept. 25. No one has been charged for shooting and none of the suspects has been arrested. Police did not say what was the motive for the shooting. The shooting was reported Sept. 25 at 1:08 p.m. and caused several nearby schools to go into lockdown. During the incident, an uninvolved mall patron was knocked to the ground and suffered a broken hip, according to court records. toledoblade.com

Dallas, TX: Police Investigate Shooting Outside Southwest Center Mall
A shooting at a shopping center in south Oak Cliff has workers on edge. According to police, a man was shot outside an entrance of Southwest Center Mall located at 3662 West Camp Wisdom Road. He was transported to the Methodist Central Hospital in serious condition. Dallas police responded to the scene just after 11 a.m. After being shot outside the mall, witnesses say the victim ran inside to get help. nbcdfw.com
City of Industry, CA: Suspect arrested after shooting at Deputies behind Fry's Electronics
A suspect was taken into custody after shooting at deputies in the City of Industry early Saturday morning. The trouble started with a disturbance call from an employee of a nearby business at the 13400 block of Crossroads Parkway around 11:30 p.m. Friday, officials said. The employee reported a man acting strangely outside of his vehicle. The 41-year-old male suspect left and was later spotted near the 60 Freeway, forcing officials to close both sides for precautionary reasons, authorities said. A nearby mobile home park was also evacuated. The suspect was arrested after an exchange of gunfire with deputies behind a Fry's Electronics store. Officials said it took about three hours to detain the man before the shootout. A weapon was recovered at the scene. No deputies were injured in the shooting. abc7.com

Kansas City, MO: Reported Zales jewelry store burglary leads to police chase in Northland; 3 people taken into custody
Three people were taken into custody early Saturday morning after a police pursuit ended in Parkville. Kansas City police said the chase started after officers responded to a reported burglary at Zales jewelry store at Zona Rosa. Police pursued ended near Fourth Street and Highway 9 in Parkville, when three people in the vehicle jumped out and ran. They were taken into custody with the help from K-9 officers. Police are still investigating. kmbc.com

Fairlawn, OH: Walmart manager steals $117,000 in cash, not heard from since Sunday
A Walmart night manager is accused of stealing more than $100,000 from the store. Nicholas Sibbio, 36, of Stow, is charged with fourth-degree felony theft. He is not in police custody and a warrant was issued Sunday for his arrest. Sibbio stole $117,850 Sunday from a safe in the store, court records say. Surveillance video showed him stuffing the cash in Walmart bags. He walked out of the store with the money several hours before his shift was scheduled to end, according to court records. He has not been seen or heard from since, police said. cleveland.com

Detroit, MI: SUV crashes into Dollar General in failed smash-and-grab
The SUV was used in the incident at 3:27 a.m. at the Dollar General. According to Detroit police, after crashing their vehicle, the suspects forced open the gate and front door of the store. They located the store's safe and strapped a chain around it, trying to pull it to the street. But the chain snapped and the suspects left the safe where it was and fled eastbound on Joy, police said. No one was hurt, nothing was taken, and the suspects remain at large. detroitnews.com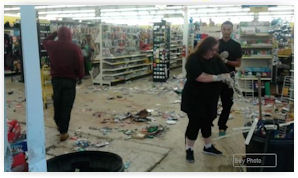 Atlanta, GA: Police investigate 2 smash-and-grabs overnight
Police first said they received a report of a break-in at Exclusive Game men's clothing store in Buckhead just before 4 a.m. Monday. The boutique on Peachtree Road boasts celebrity clientele on its website. It's still unclear what the thieves took from the store. Police are also investigating a smash-and-grab at Creative Approach in Midtown. The digital device store has been broken into twice before, store employees said. wsbtv.com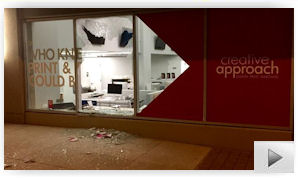 Australia: Thieves smash car through doors of Doncaster East shopping centre, before robbing shop and destroying ATM
Thieves have deliberately smashed a car into the glass doors of a shopping centre in Melbourne this morning. At 5.30am this morning a 4WD ploughed into the Doncaster East shopping centre on Reynolds Road. The thieves first targeted a jewellery store, stealing a number of items, before driving through the complex in search of an ATM. The robbers then rammed an ATM but were unable to remove any cash. They then reversed their way out of the shopping centre and drove off. Video from inside the shopping centre showed extensive damage inside the shopping centre. 9news.com.au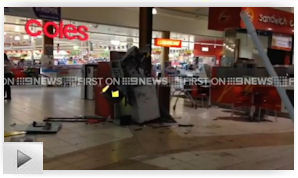 Woman steals rare $9K dress and uploads photo of herself wearing it on Instagram
If you choose to do the crime, you may want to find ways to keep it discrete. A woman in Houston, Texas committed a crime and felt the need to show it off to her social media followers. According to the Houston Chronicle, Tashuana Green was a serial thief who had a knack for stealing high-end clothes from stores at Houston's Galleria. In September, security noticed that a rare dress was missing from the Louis Vuitton store. The dress retailed for $9,400. Days after the theft, employees at the store received a tip that the dress could be found. Green, 35, decided to post a picture of herself wearing the dress on her Instagram page. Authorities were notified and she was eventually arrested. Since 2011, Green has faced theft charges of high-end merchandise. She was charged with stealing a $3K purse out of Chanel and stole two more purses, which totaled $5,250 one month later. Green has since posted a $15K bond after being arrested on theft charges in relation to the Louis Vuitton dress. rollingout.com

Kay Jewelers in the West County Center, St. Louis, MO, was hit with a Glass Lift theft Saturday evening by 2 men at 8:15pm
The suspect got away with over $21,000 in merchandise

Kay's Outlet in Queenstown, MD was hit by a 4 man Distraction Team Saturday afternoon, merchandise valued at nearly $1,000

Kay Jewelers in Willow Grove Park, Willow Grove, PA was the victim of a Grab & Run, merchandise valued at $2,399

Kay Jewelers in the Valley Mall, Phoenix, AZ was the victim of a Grab & Run, merchandise valued at $2,099

Jared Vault in the Ontario Mills Mall, Ontario, California was hit with a Grab & Run of a store tablet, the item was recovered

Wilmington, NC: Man sentenced to 7 years, Robbery w/ Box Cutter and Injured a Sherfiff's Deputy


Robberies and Burglaries
● Citgo - Rome, GA - Armed Robbery
● Creative Approach - Atlanta, GA - Burglary
● CVS - Tulsa, OK - Armed Robbery
● CVS - Newport News, VA - Armed Robbery
● Dairy Mart - Lexington, KY - Armed Robbery
● Dollar General - Detroit, MI - Burglary
● Family Dollar - Tulsa, OK - Armed Robbery
● Exclusive Game - Atlanta, GA - Burglary
● EZ Pawn - Edgewater, CO - Armed Robbery
● Fefi's - Altoona, PA - Robbery
● Harbor Freight - Carson City, NV - Armed Robbery
● Metro PCS - New Orleans, LA - Armed Robbery
● Quick Track - Arlington, TX - Burglary/ ATM
● Rite Aid - Portsmouth, VA - Armed Robbery
● Sprint - Des Moines, IA -Armed Robbery/ employee injured
● Sprint - Garden Grove, CA - Burglary
● Stripes - Corpus Christi, TX - Shooting/ Clerk killed
● Subway - Coram, NY - Armed Robbery/ 2x over weekend
● Super Mercado - Grand Rapids, MI - Armed Robbery
● Texaco - San Antonio, TX - Armed Robbery
● Turkey Hill - Nanticoke, PA - Armed Robbery
● Valero - San Antonio, TX - Armed Robbery
● Verizon - Jasper, NC - Armed Robbery
● Walgreens - Greenfield, IN - Robbery
● 7-Eleven - Pike Co, KY - Robbery/ Assault


Featured Job Listings
Sponsored by NuTech National
Feature Your Job Here For 30 Days -
70% Aren't On the Boards
VP of Sales/Client Relations
More details coming soon
Confidential - Retained Search
Nationwide
Gus Downing
VP AP & Global Facilities
lululemon athletica
Vancouver, BC, Canada
lululemon athletica
Dir AP
Safeway
Lanham, MD
Safeway
Dir AP
99 Cents Only Stores
Commerce, CA
99 Cents Only Stores
Reg Dir LP
Sears

Hoffman Estates, IL
Sears Holdings Corp
Dir LP
Pier 1 Imports
Fort Worth, TX
Pier 1 Imports
LP Dir
BevMo
Concord, CA
BevMo
Dir LP
Lane Bryant
Columbus, OH
Lane Bryant
Dir LP (Western Canada)
Walmart Canada
Calgary, CA
Walmart Canada
Dir LP
Cracker Barrel
Lebanon, TN
Cracker Barrel
Dir Safety AP Solutions
Walgreens
Deerfield, IL
Walgreens
Dir of AP, Global Ecommerce
Ralph Lauren
Greensboro, NC
Ralph Lauren
Dir AP
Saks Fifth Ave

New York, NY
Saks Fifth Ave


Territory LP Dir.
Burlington Stores
Los Angeles, CA
Burlington Stores
Dir. of Security
Estee Lauder
El Segundo, CA
Estee Lauder
Director of LP
Pacific Sunwear
Anaheim, CA
Pacific Sunwear
Regional LP Mgr
Tillys
Bay Area, CA
Tillys
Sales Representative
NuTech National
Maitland, FL
NuTech National
Loss Prevention Openings
Downing & Downing
Nationwide
Karl Glatt

Limited Time Only - Post Your Multi-Unit LP jobs for FREE - Learn More Here
Daily Job Alerts


Appearing One Day Only
View our Internet Jobs Archives here
AP Team Leader
Target
Tucson, AZ
Target
Area LP Mgr
JCPenney
Las Vegas, NV
JCPenney
Dist LP Mgr
Kohl's
Spring Valley, SC
Kohl's
LP Specialist
King Soopers
Loveland, CO
Kroger
LP Manager
Fred Meyer
Eagle River, AK
Kroger
LP Specialist
King Soopers
Cheyenne, WY
Kroger
Dept Mgr LP & Safety
Lowe's
Papillion, NE
Lowe's
LP Manager Hrly
Sears
Bourbonnais, IL
Sears Holdings Corp
LP Manager
Kmart
Bohemia, NY
Sears Holdings Corp
LP Manager Hrly
Kmart
Adrian, MI
Sears Holdings Corp
AP Manager in Training
Walmart
Anthem, AZ
Wal-Mart
AP Manager in Training
Walmart
Wasco, CA
Wal-Mart
AP Manager in Training
Walmart
Thibodaux, LA
Wal-Mart
AP Manager in Training
Walmart
Jackson, TN
Wal-Mart
AP Manager in Training
Walmart
East Ridge, TN
Wal-Mart
Regional LP Mgr
Spencer's Gifts
Chicago, IL
Spencer's Gifts


Home of the Industry's Original
On the Move

| | |
| --- | --- |
| | Ben Thomas was named Area Loss Prevention Manager for HEB. |
| | Anton Williams was named District Asset Protection Manager for The Sports Authority. |
| | Steven Panarelli was named District Manager of Asset Protection for Abercrombie & Fitch. |
Post Your New Job or Promotion!
See all the Industry Movement


Your Career
Sponsor this section of the Daily
Mentorship vs. Sponsorship, and How to Maximize Both While mentors and sponsors serve different purposes, their end goal is still the same: to help you achieve your goals and to support you while you are on that journey. You may not know who your sponsors are, but they are the ones helping you become visible, and your mentors are the ones guiding you on your path to success. They can open doors

3 Reasons You Need a Mentor, Even If You Don't Think So A good mentor/mentee relationship is vital for all leaders to achieve their goals and reach greater success, no matter their age or experience. Here are some of the benefits that come from having a mentor guide you and provide you with advice. Wider networks



Last week's most popular articles--



8 of the Best Secrets to Self-Improvement You are the only one who has control of your choices, your successes, your life. No matter how much you complain about your situation, unless you take control and take action, nothing will change. Follow these eight pieces of advice to improve yourself. Accept yourself

Why 11 A.M. Coffee Makes You More Productive Most people drink their cup of joe first thing in the morning, but science is saying that pushing your coffee fix back until 11 A.M. can help you focus even more. Here are some other reasons why you can drink your coffee later. Your body already gets a morning boost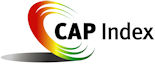 Tip of the Day
Sponsored by Vector Security
Passion is a trait that can't be bought and paid for. Either it exists or it doesn't and corporate America thrives on passion. It's the one trait that is worth its weight in gold. If you've got it, show it. If you don't, try to find it every day because it is a game changer and it will fuel your tomorrow.

Just a Thought,
Gus





Upcoming Events
---
Recruiting?
Get your job e-mailed to everyone... everyday
Post on our Featured Jobs Board!
Reach your target audience in 2015 every day!
Request our 2015 Media Kit
update account / change e-mail
unsubscribe FEEDBACK
www.downing-downing.com

Advertise With The D&D Daily




36615 Vine Street, Suite 103
Willoughby, OH 44094
440.942.0671
copyright 2009-2019
all rights reserved globally