The D&D Daily Mobile Edition
LP, AP & IT Security's #1 News Source

---
Moving Up

Sponsored by
Agilence

Celia T. Besore named Executive Director of The Monitoring Association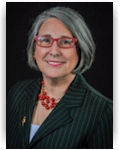 Next month, Celia T. Besore, MBA, CAE will become the new executive director of The Monitoring Association. An astute executive and dynamic strategist, Besore has established a solid career of success representing national associations and members, nurturing key alliances, and influencing and inspiring change through advocacy, education, and professional opportunities.

Besore, previously executive director of the National Association of Hispanic Nurses as well as a former member of the board of directors of the American Society of Association Executives (ASAE), is well-recognized for expertise in delivering strong revenues, generating growth, driving turnarounds, and building organizational value in diverse sectors, including healthcare, electronic security, packaging, and trade association management. Congratulations, Celia! Read more

---
Top Industry News

Brosnan Risk Consultants & Johnson Controls co-sponsor LPRC Golf Outing
Funds Donated to Gainesville PD's B.O.L.D. Program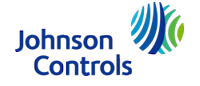 Brosnan Risk Consultants and Johnson Controls co-sponsored Monday's LPRC Annual Golf Outing. At the conclusion of the outing, the Brosnan and JCI team invited John W. Alexander Jr., Executive Director at Gainesville Police Department, representing the B.O.L.D. Program, to speak to the golfers about the program, and receive a donation of money raised via the golf outing (see picture below).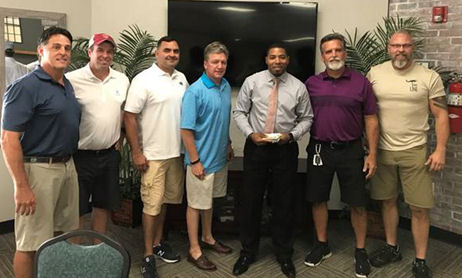 Pictured (from left to right): John O'Connor, COO Brosnan Risk; Ned McCauley, Director Strategic Accounts, JCI Tyco; Rick Munoz, VP Retail Asset Protection, Brosnan Risk; Edmund Hartnett, President, Brosnan Risk; John W. Alexander Jr., Gainesville Police Department B.O.L.D.; Jeff Powers, Powers Consulting; Eric White, Account Executive, JCI Tyco
B.O.L.D.'s Program Vision
The Brave Overt Leaders of Distinction (B.O.L.D.) Program was started in 2010 to provide assistance to young men previously between the ages of 16-24 who needed professional guidance in addressing their life situations and circumstances.

The B.O.L.D. program drives to create a community-based organization that is rooted in the theory of empowerment by creating learning experiences and providing services that cultivate growth and nurtures development to change lives.

The B.O.L.D. staff is driven to connect program members with opportunities that allow them to experience an individual and group process, ethical behavior, leadership, civic duties and responsibilities that enhance social and community cultures.

The B.O.L.D. program's members are guided and encouraged to achieve their educational and career goals.
---
'Project Safe Neighborhoods'
Evidenced-Based Program - Sound Familiar?
Combating Violent Crime
Justice Department Awards More Than $30 Million to 'Project Safe Neighborhoods' to Combat Violent Crime
An Evidence-Based Program - Crime Gun Intelligence Centers (CGIC)
Should the LPRC Strategically Share Select Reports with Specific Law Enforcement Groups?
Attorney General Sessions today commemorated the reinvigoration of Project Safe Neighborhoods (PSN), the centerpiece of the Department of Justice's violent crime reduction efforts. In support of the Department's PSN programs throughout the country, the Attorney General also announced awards of almost $28 million in grant funding to combat violent crime through PSN and another $3 million for training and technical assistance to develop and implement violent crime reduction strategies and enhance services and resources for victims of violent crime. Over the past year, the Department has partnered with all levels of law enforcement, local organizations, and members of the community to reduce violent crime and make American neighborhoods safer.

"Project Safe Neighborhoods is a proven program with demonstrated results," Attorney General Jeff Sessions said. "We know that the most effective strategy to reduce violent crime is based on sound policing policies that have proven effective over many years, which includes being targeted and responsive to community needs.

PSN is an evidence-based program proven to be effective at reducing violent crime. Through PSN, a broad spectrum of stakeholders work together to identify the most pressing violent crime problems in the community and develop comprehensive solutions to address them.

Through the enhanced PSN, the Department is targeting the most violent criminals in the most violent areas, utilizing policing tools that did not exist even a few years ago. Tools like crime gun intelligence centers (CGIC), which combine intelligence from gunshot detection systems, ballistics, gun tracing, and good old-fashioned police work, help to develop real-time leads on the "traffickers and trigger pullers" who are fueling the violence in their communities. By using modern technologies and cutting-edge police work, the Justice Department is deploying resources strategically to provide the greatest return on our community-based anti-violence efforts. justice.gov

Editor's Note: Will this help the retail industry's increase in violence and robbery rates? Which peaked in 2015 along with the beginning of the opoiod epidemic push, and has not returned to pre 2015 levels.

What impact will this program have on retail crime as it all begins in the neighborhoods of America. As they talk about deploying resources more strategically supported by gun detection and gun tracing, will this have an impact on armed retail robbery crews and ORC crews. How are they integrating these crimes or are they just not being addressed? As is the case so often.

Maybe the LPRC should strategically share some of their evidence based research projects with select law enforcement groups in a managed setting. Because the FBI Crime Index just does not represent or document the retail industry's true crime stats or problems and for that matter while the NRSS does a great job, that model is somewhat limited by it's voluntary and relatively small sampling size that's compiled once annually. Where as the LPRC is an ongoing collaborative effort from virtually all of the stake holders.

Where as the LPRC research reports are wider in scope, more inclusive, and detailed. Driving more data and value and hopefully fueling law enforcement at a perfect time when they're rolling out a new program nationwide. If we could get involved and integrated within the program at least as a sub section it might make an incredible impact. That is if the Board, Leadership and members of the LPRC can agree on how to deliver the data.

We've had this problem for ever and there has never been a vehicle or effort that could quantify, prove, and possibly solve the governments inability to measure and adequately apply the resources for retail violent crimes. Just a thought. - Gus Downing

---
Retailer's Alert: Philly Not Prosecuting Retail Theft Cases
Philadelphia DA Larry Krasner - Withdrawing All Retail Theft Cases Once They Reach Philadelphia Municipal Courts?
After Krasner was elected the new District Attorney of Philadelphia this year he released a memo in February stating that he would be changing the grading of retail thefts from misdemeanor's, or felonies for 3rd or subsequent offenses, to summery (non criminal) offenses, going against the Pennsylvania crime code statutes... However, since that said policy change has gone into effect all retail theft cases are now actually being automatically withdrawn by the DA's office, and not even prosecuted as summery offenses, as stated in the policy change.

That's right... That means retail theft cases are no longer even being prosecuted under Larry Krasner. He has found a back door way to help his campaign of "ending mass incarceration", without the public even realizing what he is doing behind closed doors at the DA's office to achieve that goal.

Carol Temin from the DA's office has been contacted for comment. Once they respond we'll post it.

Read released memo from Philadelphia's DA's Office this past February on attached PDF. - Submitted by Loss Prevention executive

Target Customer Who Shot at Shoplifter in Las Vegas Acquitted Of Attempted Murder
But Guilty of Carrying a Concealed Weapon Without a Permit, a felony, But Not Guilty of 7 Other Counts
Video surveillance outside the store at 4100 Blue Diamond Road showed Howard pulling out his handgun after security guards tried to apprehend a suspected shoplifter who was exiting the store. Howard fired two shots as the suspect backed his SUV at him and drove away.

Howard, then 44, and his family had just finished shopping at the store on June 16, 2016, when they noticed a scuffle between a shoplifting suspect and the store's loss-prevention officers, he said.

When Metropolitan Police Department officers arrived at the scene, "Howard began immediately excitedly uttering, without being asked any questions, that he had thought the man had just robbed the Target and (Howard) was trying to protect people," a police report stated.

The man who scuffled with the security officer was described in the police report as a "repeat offender" but never was arrested or charged in the incident. reviewjournal.com

Relatives of woman/employee fatally shot by LAPD officer at Trader Joe's
file wrongful death claim with City
The claims, which allege excessive force, wrongful death and other violations, are a necessary step before suing in the courts.

Los Angeles Police Department has not provided the family with all of the videos surrounding the shooting. "The city has forced us to file the claims to take steps to get questions answered about how their daughter was killed," Taylor said. LAPD says they've released all the video that captures the moments when the two officers fired their weapons.

Corado was killed on July 21, after two police officers pursued a suspect who had shot his grandmother in South L.A. and taken a young woman hostage. The suspect, identified by police as Gene Evin Atkins, led the officers on a lengthy chase with the hostage in his grandmother's car. He parked the car outside the Trader Joe's and ran toward the store, which was crowded with Saturday afternoon shoppers.

The suspect fired his gun at the officers, who fired back. An officer's bullet struck Corado in the arm and passed through her body, fatally wounding her. Another bullet hit the suspect in the arm, but he held shoppers and employees hostage inside the store for three hours before surrendering.

The LAPD has released video and audio clips in two batches, to comply with a new policy requiring recordings to be made public within 45 days of shootings by police officers.

The edited releases, like others under the policy, contain voice overs by LAPD officials and are stitched together from footage that includes body cam and dash cam recordings and 911 calls, to form a coherent narrative. The editing has been criticized by Corado's attorneys and others as a public relations effort to shape the story favorably for the LAPD. latimes.com

Fork Over Passwords or Pay the Price, New Zealand Tells Travelers
Travelers entering New Zealand who refuse to disclose passwords for their digital devices during forced searches could face prosecution and fines of more than $3,000, a move that border officials said Tuesday made the country the first to impose such penalties.

Border officials, he said, believe the new fine is an "appropriate remedy" aimed at balancing individuals' privacy and national security. Once a password was supplied, "preliminary searches" would be carried out with a traveler's phone or computer set to flight mode, and officers would explore only files saved to the device, not website histories or any information uploaded to cloud-based storage. nytimes.com

AvantGuard Monitoring Reports Large-Scale False Alarms as a Result of Presidential Alert
During the Presidential Alert system test on October 3, 2018, the emergency monitoring industry saw an unprecedented influx of inbound signals from both security and PERS device users. The loud tone produced by devices that received the alert coincidentally matched the frequencies monitored by some security glass-break sensors, causing the sensors to trigger alarms that were reported to monitoring centers nationwide. sdmmag.com

---
Amazon's Ripple Effect
DOL Employment Numbers vs. NRF Numbers
8 Years of Job Gains, Unemployment Lowest Since 1969
Amazon's $15 Announcement & Low Unemployment Impacting Retailers
Workers at the bottom of the earnings ladder are seeing particularly strong growth: Amazon announced this week that it would raise the minimum wage for all of its employees in the United States to at least $15 an hour.

Amy Glaser heard the Amazon news on television while preparing for a meeting with a rival e-commerce firm. Ms. Glaser, a senior vice president at the staffing firm Adecco, helps companies hire for the holiday season, a task that Amazon had just made even more difficult.

"There was definitely a feeling of concern," Ms. Glaser said. "It puts increased pressure on them in a market where they already knew they were going to have to make significant adjustments on wages."

"The demand for workers is higher than ever and the supply just isn't out there right now," Ms. Glaser said.

Florence affected a smaller part of the country than last year's storms did, and hit at a time in the month when it was less likely to disrupt data collection or measurement. Still, the storm could help explain the slowdown in job growth in September. The retail and hospitality sectors, which are particularly sensitive to bad weather, cut a combined 37,000 jobs. nytimes.com

Bernie Sanders to McDonald's: Raise your minimum wage to $15
Sen. Bernie Sanders on Thursday called for McDonald's to follow the lead of Amazon and Disney, and pay their restaurant workers at least $15 per hour.

Sanders also wrote that many McDonald's workers need assistance such as food stamps, Medicaid, and public housing in order to survive. businessinsider.com

The unemployment rate has fallen to a 48-year low, and it's terrifying news for Walmart, McDonald's, and JCPenney

September retail jobs increase more than 25,000 over 2017
Retail industry employment in September increased by 25,600 jobs unadjusted over the same time last year despite a seasonally adjusted drop of 23,600 jobs from August, the National Retail Federation said today. The numbers exclude automobile dealers, gasoline stations and restaurants. Overall, U.S. businesses added 134,000 jobs over August, the Labor Department said.

"I think we can safely ignore the decline from August because that was largely the result of the aftermath of Hurricane Florence, which affected both the retail sector and leisure/hospitality" NRF Chief Economist Jack Kleinhenz said. "More importantly, we know we have a large number of unfilled retail jobs with a record level of openings in the industry." nrf.com

---
What the CEOs Read
The Future of Shopping Centers Is Happening...in Edina?
This past spring the most promising & even "radical" stories about the future of shopping centers emerged from Southdale Center
Southdale itself will be reconceived as a "healthy lifestyle village where people shop, live, work, entertain, socialize and exercise, visit their doctor and relax at the spa." "This project with Life Time is part of a larger vision for Southdale Center – to create a connected community epicenter. With new nearby apartments, the recently opened Hennepin County Service Center, a hotel coming soon, and this athletic resort on the way, Southdale is realizing that vision."

Note that nowhere in these announcements appears the word "retail." Instead, the focus of the "new Southdale" will be on enhancing the health and well-being of its clientele and residents. therobinreport.com

Order Online at Kroger & Pick Up at 13 Walgreens - New joint omnichannel concept
Editor's Note: Think about the battle lines being developed. CVS is inside Target and now Kroger is delivering at Walgreens. What strange bed-fellows does Omni create.

Here we Go - Let the Stoning Begin
First Retail Pot Shops in Massachusetts Approved by Commission
Cannabis Control Commission issued four final recreational marijuana licenses to two companies. The two stores are in Northampton and Leicester. bostonglobe.com

Vice President Asset Protection posted for BJ's Wholesale Club in Westborough, MA
BJ's Wholesale Club was the first retailer to introduce the warehouse club concept in the northeastern United States. Today, we're a multibillion dollar operation with more than 200 clubs in 16 states from Maine to Florida.

Reporting to the SVP Internal Audit & Asset Protection, the Vice President Asset Protection is primarily responsible for overseeing and validating all corporate Asset Protection, security, and theft reduction procedures within the field and home office. The VP, Asset Protection interacts continuously with the Asset Protection Directors, Regional Asset Protection Managers and Club management to talk through issues related to protecting company's assets, mitigating theft and conducting investigations. The VP, Asset Protection partners with business owners throughout the Field and Home Office to identify opportunities to reduce shrink, streamline processes and recommend potential solutions. This role is a subject matter expert in all asset protection-related technical skills, including CCTV, alarms, POS and Refund analytics, investigations and case management. bjs.com

Director, Loss Prevention and Claims For Hyatt Corporate Office - Global Position in Chicago, IL
Responsibility for All Loss Prevention Programs and Claims Management Globally.

Other Duties: Claims Management, Litigation Management, Occupational Health, Claims Reduction Project, Operations and Security support, Emergency and Crisis Response, Loss Prevention Training and Public Relations support. Management of 12 Managers and vendors (about 40 FTE) including Third Party Claims Administrator, Insurance Broker Claim Advocacy, Guest and Employee Loss Prevention, Fire Life Safety and International Region resources. All Loss Prevention Programs and Claims Management Globally.

● One of the 6 Priority Risk for Hyatt and as presented annually to the Board
● Maintaining brand standards across over 750 hotels in almost 60 countries
● Workplace safety for about 100,000 colleagues globally. hyatt.com

Mattress Firm files chapter 11 - Plans 700 Closures - 200 Within Days

Sedano's teams with tech firm to launch 1st "robotic supermarket"

Sears Closing 13 More Stores Before Holidays

Seafood Wholesaler to Retailers - Cameron Fisheries Office Mgr. Embezzles $91K Gets 1 Yr Prison in LA


Quarterly Results
Costco Q4 comp's up 9.5%, sales up 5%, full yr comp's up 9.5%, e-commerce up 32.2%, sales up 9.7%
---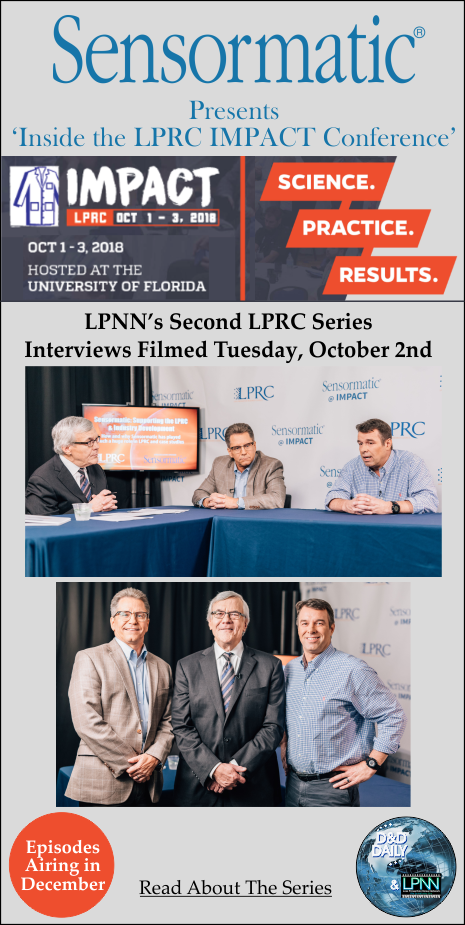 ---
---

---

---
Spotlight on S-Tron
S-Tron Verified as a Veteran Owned Small Business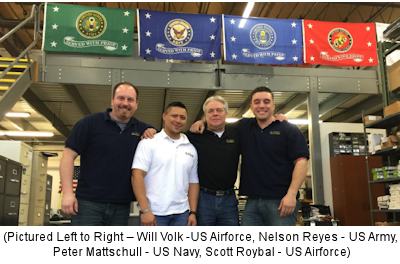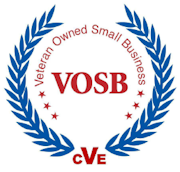 We are thrilled to announce that S-TRON has been verified by the U.S. Department of Veterans Affairs (VA) and the Center for Verification and Evaluation (CVE) as a Veteran Owned Small Business (VOSB). We have always been proud of our connection to the US Military. We hire Veterans whenever possible and over 25% of our staff is former US Military including Owner, Steven P. Dunn and President, Peter Mattschull.

"It was an honor to have served our nation in the US Navy and now it is a privilege to serve some of the top businesses in America. We look forward to growing our client base to include government entities."

Steve P. Dunn
Owner, CEO
US Navy Veteran

S-TRON is a National Provider of Electronic Security Equipment, Service, Design and Installations. We are Licensed by the NYS Dept of State License No. 12000079391.
---

---

October - National Cybersecurity Awareness Month
Secretary Kirstjen M. Nielsen Kicks Off National Cybersecurity Awareness Month
Tuesday, Department of Homeland Security Secretary Kirstjen M. Nielsen kicked off National Cybersecurity Awareness Month (NCSAM), with a conversation at the Washington Post's Cybersecurity Summit. Secretary Nielsen discussed DHS's continued efforts to secure our nation's election systems and combat the threats to our cyberspace. dhs.gov

Click here to watch the full conversation.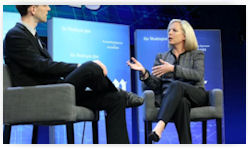 GDPR Report Card: Some Early Gains but More Work Ahead
US Companies Spending Millions on GDPR - More than Anybody
US companies paid the most, to date, to meet the EU's General Data Protection Regulation, according to a recent study, but UK companies made greater progress in achieving compliance goals.

The May 25 deadline to comply with the European Union's new General Data Protection Regulation (GDPR) has come and gone, and the question on many security and privacy professionals' minds is: How did we do? In June 2018, Dimensional Research conducted a new survey, following on the heels of a 2017 study of 200 privacy professionals, this time with 600 IT and privacy professionals in the US, UK, and EU (non-UK), to get some answers.

As it turns out, US and UK companies made some compliance gains in the 10 months that passed between the two surveys, but not nearly enough to make it to the finish line at scale. When it came down to the wire, UK companies made greater progress than US companies; US companies went from 4% fully compliant in 2017 to 12% compliant in 2018, while UK companies went from 3% fully compliant in 2017 to 21% compliant in 2018. The 2018 survey report sheds light on several interesting aspects of GDPR compliance, including the main drivers to comply, budget spending, challenges, and a glimpse of what post-deadline life entails. Let's take a look.

Compliance Efforts Were Fueled by Meeting Customer Expectations

US Companies Paid the Most to Comply with GDPR
In the 2017 survey, 83% of the US privacy professionals surveyed expected GDPR spending to be at least $100,000, compared with 69% of UK companies that expected to spend the same amount. In reality, based on the 2018 survey, 68% of respondents across regions reported spending more than six figures on GDPR compliance. US respondents had significantly higher GDPR budgets, with many spending in the millions.

● 25% of US companies spent over $1 million, compared with10% UK and 7% EU.
● 10% of US companies spent over $2.5 million, compared with 2% UK and 3% EU.
● Across all regions, a larger percentage of companies that are not in highly regulated industries plan to spend over $1 million more by the end of 2018 (15%) than companies that are highly regulated (12%).

A Majority Are Positive about GDPR's Impact on Business
The good news is that companies realize that the effort and expense will have a positive effect on their businesses and process was well worth the investment. darkreading.com

How to Work with Hackers to Make Your Company More Secure
For most ethical hackers, including myself, hacking doesn't feel like work. We're a community of puzzle-solvers – curious and eager to share the vulnerabilities we uncover that can have repercussions for your company and your customers.

Many major enterprises – including, Google, Facebook and automaker GM – understand the value of the hacker community and already employ bug bounty programs, which offer payment ranging from small amounts of cash or a t-shirt to potential payouts in the thousands to hackers who discover vulnerabilities. Google recently expanded its program to include techniques that target its abuse and spam programs. This past spring on the heels of the Cambridge Analytica scandal, Facebook launched a data abuse bounty to reward reports of misuse of data by app developers.

By embracing the diverse community of hackers and tapping into their passion, you can significantly reduce your company's risk profile too. With that in mind, following are some tips, insights and best practices for engaging with the hacker community:

Why Community Matters: There is a diverse group of hackers globally, all of whom focus on different types of vulnerabilities – from website weaknesses to network and infrastructure security. That diversity can work to your benefit. The varied skill set will impact the types of bugs you'll find. A good bounty program will ask what data you are trying to protect. Having a wide scope helps secure that data.

Engaging Effectively: Respect You can set up an effective hacker-engagement program if you understand that hackers want to be treated with respect and dignity, and that they want to be paid for their time – or at least acknowledged for their contribution. Don't ignore someone who reports a vulnerability or respond with a lawyer – that's a sure path to never having vulnerabilities reported to your company.

Engaging Effectively: Communication Perhaps more than anything, hackers want a clear line of communication and an easy-to-find point of contact within your organization at any time of day or night – whether it's a CISO, developers or an in-house IT security person. As hackers, when we find a vulnerability, we search across the Internet to see which organizations might be affected.

Communicate after the fact as well. After you've patched a reported vulnerability, re-test to verify it has been fixed, and engage with the hacker again to make sure they test it as well to make sure they can't get around any of the current fixes you put in place.

Finally, if you've never engaged with the community or are unsure of how to get started, try to leverage a bug bounty platform as much as possible – one with a good reputation among security researchers such as HackerOne, BugCrowd or Sinack.

Technology is moving faster than our ability to secure it. Tapping the collective wisdom of the hacker community is an important tool in any security arsenal. securitymagazine.com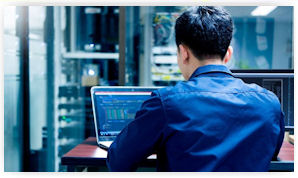 Apps are gateway to business data for cyber attackers
Application security is becoming increasingly important because apps are often the main way cyber attackers are getting into corporate networks, a threat researcher warns.

Protecting applications is a critical task for security professionals because most cyber attacks are now at the application layer, according to Ray Pompon, principal threat research evangelist at F5 Labs.

A global survey by F5 Labs found that 34% of organisations polled identified web applications that they considered to be mission critical and that, on average, organisations were using 765 applications to enable them to function on a day-to-day basis. computerweekly.com
---

---

---

---
e-commerce
Sponsored by The Zellman Group

"A foot race with the behemoth, Amazon Go"
Frictionless Checkout at 3,000 C-Store locations in 2019
Skip Adds New Retailers, Commits to Being in 3,000 Stores in 2019… Ahead of Amazon
Skip announces plans to beat Amazon Go with providing Frictionless Checkout to 3,000 locations in 2019. Skip is now contracted to begin rolling out immediately into several new banners such as Jiffy Trip and Rapid Refill. Skip also has signed contracts slotted for execution on the horizon that collectively amount to well over the 3,000 store goal.

The interest in Frictionless Checkout in the C-Store industry is undeniable. It serves a perfect solution to both end users and retail owners alike. The more difficult aspect is execution, and getting the solution live in stores. At Skip, the operations and client success teams have been able to leverage the company's 3 years of experience rolling out their product in the grocery industry to streamline a simple process with minimal implementation requirements to their C-Store clients. That process, along with the fact that Skip's solution requires far less infrastructure, bodes well for their race to market against competitive solutions like Amazon Go and other computer vision, "grab and go," heavy infrastructure models. prnewswire.com

EBay Demands Amazon Reveal Sales Haul From Alleged Poaching
Ebay Accuses Amazon of Global Scheme to Poach Merchants
Ebay demanded that Amazon.com Inc. reveal the sales gained in an alleged global multiyear operation to infiltrate EBay and lure merchants away to the e-commerce giant's marketplace, according to documents reviewed by Bloomberg.

EBay has accused Amazon of poaching sellers on its site around the world by infiltrating and using EBay's member-to-member email system. The San Jose, California-based company said the alleged practice, first reported earlier this week, violates its terms of service as well as California's Comprehensive Computer Data Access and Fraud Act. bloomberg.com

The online food industry grew 26.5% in 2017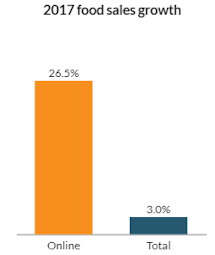 Top Luxury Brands Grew 23.8% in 2017

Target stores double as online fulfillment centers

Report: Amazon captures 30% of online grocery spending

Amazon, Retailers Redo Packaging to Trim Waste in Online Boom

Medici Ventures fights counterfeit wine problem with the blockchain

"Fraud is not a person - it is a dynamic grouping of statistics that deviate from the norm."
Stuart B. Levine, CFI, CFCI
CEO, The Zellman Group & Zelligent
---

---
ORC News
Sponsored by Auror

Darin Fredrickson & AZORCA's ORC Basic Surveillance Training
October 23-24, 2018 in Phoenix, AZ (Limited Spots Available)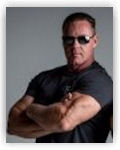 This course is specific to ORC investigations, yet provides the fundamentals of physical surveillance that can be applied to any criminal or civil investigation in the U.S., and subject to U.S. laws. This course follows the surveillance principles and strategies outlined in Darin Fredrickson's best-selling book the "Fundamentals of Physical Surveillance" written with Raymond Siljander, and published by Charles C. Thomas Publisher.

Darin has conducted surveillance for over two decades in the public and private sector, and has investigated ORC for the past 12 years. At the completion of this 2-day classroom and field course students will: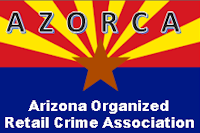 1) Learn how to implement covert physical and electronic surveillance (mobile and foot)
2) Understand how a retail or law enforcement investigator may use physical surveillance to further an ORC investigation
3) Understand the legal aspects of physical and electronic surveillance
4) Understand the uses of visual aids and photographic equipment in a covert surveillance investigation

The 2-day course is offered at $975 and limited to 12 students. AZORCA members can save $300 by using coupon "AZORCA".

Law Enforcement personnel are encouraged to sign up. If you have questions email me at darin@teamguardian.us or call me at 602-908-7447. Register for the class here: Master Surveillance Live 3-Day Course.

---
San Antonio, TX: James Avery employee arrested for allegedly pawning nearly $18,000 of stolen jewelry
For about half a year, Velvet Vargas was pawning jewelry from the James Avery store she worked at, making thousands of dollars. Police were first notified on Aug. 14 when the store manager suspected 20-year-old Vargas had jewelry on her that was unaccounted for on the store's records. According to Loss Prevention, employees have to buy any jewelry from the home store and Vargas allegedly had no purchases. Pawn histories state her first pawn of the jewelry was made on December 6, 2017, less than a month after she began working at the store. Further investigation revealed she had sold the stolen jewelry to 17 different pawnshops from December 2017 until July 2018. She allegedly sold it at a total value of $17,777. Jewelry from 13 of the pawn shops has been recovered by police. foxsanantonio.com

Evanston, IL: Man steals $500 in merchandise from Home Depot; flashes gun at Loss Prevention
More than $500 worth of merchandise was stolen from Home Depot in southwest Evanston on Wednesday evening. At 6:24 p.m., a 61-year-old male Evanston resident removed merchandise from the store, at 2201 Oakton St., and passed the last point of sale, said Evanston Police Cmdr. Ryan Glew.

The man then encountered a loss prevention officer. "He said 'I have a gun' and reached into his waistband," Glew said. "He also struck the loss prevention officer in the head, causing injury." Glew said the man knew he was being approached by an on-duty loss prevention officer. He was arrested a block and a half away on Oakton Street on three felony counts, Glew said: aggravated robbery, aggravated battery of a loss prevention agent and felony retail theft. dailynorthwestern.com

Crisp County, GA: Deputy arrests three wanted for Belk's felony shoplifting in Centerville
Three wanted for shoplifting in Centerville were arrested in Cordele Tuesday. The Crisp County Sheriff's Office says that 23-year-old Sire Nabe, 19-year-old Demarkevious Drayton and a 17-year-old were arrested after a traffic stop made just before 3:30 Tuesday afternoon. Nabe faces charges of fleeing or attempting to elude a police officer and felony shoplifting. Drayton and the 17-year-old face felony shoplifting charges as well. Centerville Police Department issued warrants for these suspects after they fled from officers and shoplifted from Belk's in Centerville. wfxl.com

Kenton, OH: Walmart shoplifter steals tote and 67 other items of merchandise
An employee at Walmart reported a theft from the store. According to the Kenton Police report, the employee recognized the man from several prior thefts that the he had committed in the store. The man, 59 year old Timothy Clark, put a large plastic tote into a shopping cart and then proceeded to fill the tote with sixty seven more merchandise items. Timothy then pushed the cart full of items past the cash resisters and he was in the process of going out the door of the business when employees attempted to stop him. Timothy left the shopping cart and items and walked quickly to a waiting car in the lot. The car was stopped by officers as it was pulling away and Mr. Clark was taken into custody and held on a charge of theft. wktn.com

Knoxville, TN: A career criminal with more than 60 prior convictions has added another 29 felony convictions to his record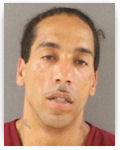 After a 4-day trial, Curtis Burnside was convicted of 12 counts of burglary and 17 counts of felony theft. That makes a total of 93 felony convictions for Burnside. According to the District Attorney's office, Burnside was convicted of committing more than 30 separate offenses against businesses in Knoxville during a five-month crime spree. Surveillance video of captured Burnside stealing a TV from Walmart. We're told he stole from Walmart 12 separate times. He stole from several other stores totaling more than $16,000 worth of merchandise. Burnside faces 12 years in prison for each burglary count and six years for each felony theft count. wate.com

Orland Park, IL: Warrant issued for Pearl Vision thief stealing over $6,000 of Designer Sunglasses; 7 prior Felony Retail Thefts
A warrant was issued for a Chicago woman on a felony retail theft charge. An Orland Park detective told the Tracey Forrest, 49, went into Pearle Vision on May 26. She allegedly selected 21 pairs of designer sunglasses and left the store. Forrest came back on June 3, when she was recognized by employees, the detective said. The employees called Orland Park police. Forrest allegedly gave fake names to officers when they arrived at the store. The total value of the sunglasses was $6,009. The prosecutor said that Forrest has seven prior felonies for retail theft. patch.com

Minneapolis, MN: Shoplifter attempts to steal $5,900 of merchandise from Nordstrom's in Mall of America
An 18-year-old Columbia Heights woman with an eye for designer handbags was arrested, accused of attempting to steal a $5,900 handbag at a Mall of America department store. The suspect was arrested during the early morning hours of Sept. 24, a week after she was suspected of concealing the handbag and exiting the mall's Nordstrom store, according to Bloomington Police Cmdr. Kevin Herman. hometownsource.com

Selinsgrove, PA: Former Lowe's employee busted for $1K theft of merchandise

Submit your ORC Association News

Visit the ORC Resource Center

---
Retail Crime News

Shootings & Deaths

Robberies and Burglaries
Sponsored by Scarsdale Security Systems
• Antiques Store – Angels Camp, CA – Burglary/ Arson
• C-Store – Commerce City, CO – Armed Robbery
• C- Store – Stockton, CA – Robbery
• C-Store – Morristown, VT – Armed Robbery
• C-Store – Port Jervis, NY – Robbery/ Assault
• Cellphone – San Diego, CA – Robbery
• Cellphone – Newport News, VA – Burglary
• Family Dollar – Superior, WI – Armed Robbery
• Grocery – Hartford, CT – Armed Robbery
• Grocery – Little Rock, AR – Robbery
• Hot Topic – Henrico County, VA – Armed Robbery
• Liquor Store – Shreveport, LA – Armed Robbery
• Liquor Store – Richfield Springs, NY – Burglary
• Little Caesars – Pennsauken, NJ – Armed Robbery
• McDonald's - Orlando, FL – Armed Robbery
• Macy's – Pasadena, CA – Armed Robbery
• Meat Market – Plains Township, PA – Burglary
• Pet Store – Lake George, NY – Burglary
• Restaurant – San Antonio, TX – Robbery
• Shoe Store – Newark, NJ - Robbery/ Assault
• T-Mobile – Grass Valley, CA – Armed Robbery
• Walgreens – Houston, TX – Armed Robbery
• Walgreens – Portage, MI – Robbery
• 7-Eleven – Colorado Springs, CO – Armed Robbery (E. Pikes Peak)
• 7-Eleven – Colorado Springs, CO – Armed Robbery (Murray Blvd)
Daily Totals:
• 20 robberies
• 5 burglaries
• 0 shootings
• 0 killings
Weekly Totals:
• 91 robberies
• 35 burglaries
• 2 shootings
• 0 killings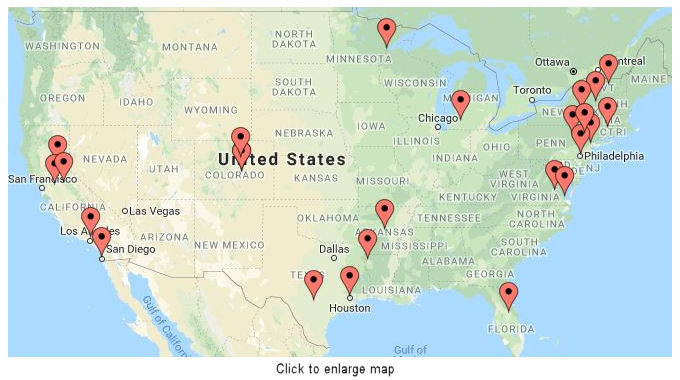 ---

---
Home of the Industry's Original
On the Move

None to report.
Submit Your New Hires/Promotions
or New Position
See all the Industry Movement
---
---

---

---
Featured Job Listings
Sponsored by Delta Lock
Feature Your Job Here For 30 Days -
70% Aren't On the Boards

Featured Job Spotlights
---

Director Loss Prevention
Irvine, CA
The Director of Loss Prevention at Tillys builds and implements policies, programs, and procedures that control risk, reduce shrink and protect the employees and assets. The director is responsible for leading and developing LP team members in the corporate, retail, and distribution centers...


VP Asset Protection
Westborough, MA
Reporting to the SVP Internal Audit & Asset Protection, the Vice President Asset Protection is primarily responsible for overseeing and validating all corporate Asset Protection, security, and theft reduction procedures within the field and home office...

VP, Asset Protection
Dallas, TX
As the Vice President of Asset Protection you will provide leadership and direction in the development, implementation and monitoring of effective, coordinated programs to reduce the possibility of internal and external theft, to reduce shrinkage, to ensure physical protection of associates, customers and Company assets, and to investigate losses...


Vice President, Chief Information Security Officer
Grapevine, TX
The Chief Information Security Officer (CISO) is the GameStop executive responsible for leading our global information security organization and will have officer level fiduciary responsibility...


Vice President, Asset Protection
Columbus, OH
Oversees and directs all Asset Protection related functions for a Corporate Office, multi-state distribution centers and large retail store network. Responsible for enterprise direction and strategy as it pertains to Asset Protection with a goal of minimizing shrink, reducing loss and maximizing security and associate safety...


Vice President, Loss Prevention
Houston, TX
This pyramid head position is responsible for developing and leading this company's shrinkage reduction efforts and integrating these efforts throughout the entire organization...



Global Manager of Environmental Health and Safety
Austin, TX
● Establish goals for EHS performance and implement effective EHS systems to ensure continuous improvement
● Provide oversite to Regional Environmental Health and Safety Administrators and Global Risk Leadership on EHS matters with a focus on environmental issues...

Project Coordinator (LP Technology)
Dublin, CA
Provides support for all types of LP technology installation projects, (e.g. new stores, upgrades, remodels, maintenance/repair, etc.). Serves as the point of contact on all projects as assigned, interfacing with vendors, field management, and various corporate teams...


Project Lead (LP Technology)
Dublin, CA
The Lead, Project Coordinator facilitates the development, implementation, and ongoing execution of multiple Loss Prevention technology projects, programs and systems. This is accomplished by leading projects from concept to completion, acting as a subject matter expert, and working effectively with internal partners (i.e. Store Operations, Store Planning, IT, HR, Logistics, Purchasing, etc.) and external resources (i.e. vendors, service providers, etc.) to drive results, and monitoring to ensure all projects meet scope, timeline, and budget needs...


Regional Loss Prevention Manager
Baltimore MD
This position is responsible for managing all aspects of loss prevention for a geographic area to reduce and control shortage and other financial losses in 120 to 140 company stores. The coverage areas average $550 million in sales revenue and $3.5 million in shrink losses annually...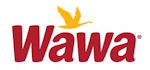 Loss Prevention Investigator
Wawa, PA
The Loss Prevention Investigator is responsible for utilizing proper investigative techniques and act as the primary liaison with field operations management. Conducts investigations into cash losses, deposit shortages, associate theft, overall shrinkage, and other matters...

Regional Asset Protection Manager
Harrisburg/State College, PA
The Regional Asset Protection Manager will lead their region in Shrink Reduction, Asset Protection and Safety efforts through an in-depth understanding of the overall business, effective partnerships and by directing the region with integrity and professionalism...

Loss Prevention Market Specialist
Jacksonville, FL
To monitor store locations to detect, investigate and resolve internal and external situations and circumstances that could lead to or result in losses to the company. All actions and conduct within the scope of the position must be performed according to performance standards set by Burke's policies, procedures and Code of Ethics...


Loss Prevention/Asset Protection Investigator
Boston, MA
Responsibilities will include but are not limited to:
● Protect the assets of the store as well as the associates and visitors.
● Maintain surveillance of the store via CCTV and conduct physical inspections including perimeter checks...




Asset Protection Analyst
Norcross, GA
AP Analyst based in Norcross, GA reporting to the Director of Asset Protection. This high-visibility role will be responsible for business-wide security administration, multiple fraud detection programs and functional communication...

Featured Jobs
---
• Hyatt - Director, Loss Prevention and Claims, Chicago, IL
• Dollar General - Director of Loss Prevention - Orlando, FL, Goodlettsville, TN
• Domino's - Director, Information Systems Security, Ann Arbor, MI
• Associated Grocers - Director of Risk Management, Baton Rouge, LA
• American Express - Dir-Global Security Operations Center, Phoenix, AZ
• rue21 - Director of Loss Prevention, Warrendale, PA
• MedMen - Director of Safety, Culver City, CA
• Nike - Senior Director - Nike Direct Retail Operations & Risk Control, Beaverton, OR
• Domino's - Director, Safety Supply Chain Services, Ann Arbor, MI
• Conn's Home Plus - Director of LP, Inventory Control & Fraud, Spring, TX
• Gulfstream Goodwill Industries - Director of Safety, West Palm Beach, FL
• Clarins - Director Security, Loss Prevention and Safety, Orangeburg, NY
• Guess - Director, Risk Management and Safety, Los Angeles, CA
• Netflix - Director of Data Privacy and Security, Legal - Los Angeles, CA
• DSW Inc. - Director, Loss Prevention, Columbus, OH
• Food Lion - Director of Asset Protection, Salisbury, NC
• Ahold Delhaize USA - Manager | Corporate Investigations - Retail Business Service, Salisbury, NC
• T-Mobile Express Stores - LP Operations Manager, East Brunswick, NJ
• Gymboree - Director, Inventory Control, Dixon, CA
• Living Spaces - Director of Safety, California
• Kings - LP Investigator - Northern New Jersey

---

---

---
Daily Jobs
Appearing One Day Only
View our Internet Jobs Archives here


Sponsor this section of the Daily
---

---

---
Submit Your Group LP Selfie and
Group Vendor Selfie Today!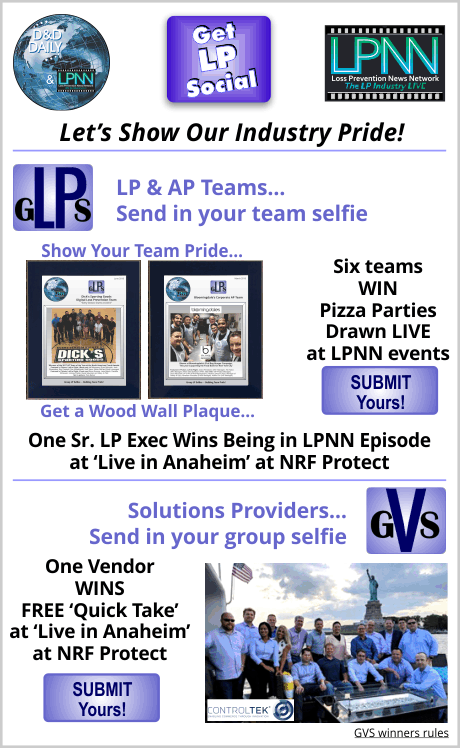 ---
Your Career

Great Leadership: Have Courage, 10 Important Skill-sets, Pete Rose's Leadership Lessons, Walk the Talk

As a Leader, Be as Courageous as You Can
Courage can be a hard quality to define. The dictionary definition goes hand in hand with "fearlessness" but having courage as a leader is so much more: it requires you to confront challenges, own up to your mistakes and stand up when needed. Use courage wisely

Leadership Lessons from Baseball's Greatest Hitter, Pete Rose
This writer and Pete Rose sat next to each other on a flight, and shared some interesting insights as to what makes a great leader, and lessons all leaders (even those not in athletics) can learn and apply to their roles. Never forget who helped you to the top

10 Important Skills All Good Leaders Share
All leaders want to be great, but sometimes the better word choice is simply good. You focus on the good you can do for your team, organization and those they serve. Here are some important skill-sets all good leaders possess and demonstrate to their team. Teach others how to lead

How Can You Tell When a Leader Truly Walks the Talk? You'll See 5 Inspiring Things Happen Daily
Unconventional bosses that "walk the talk" of leadership are instilling human value and developing human centered workplaces. Here's how they inspire their team and bring out the best in others. Listen
---

---

---
Tip of the Day
Sponsored by Vector Security Networks

Having strong relationships with your business partners is critical if you're to be successful. Regardless of how good you are at your job, without strong relationships your value decreases significantly and in some cases almost disappears. Developing those relationships can be extremely difficult because at times they're driven by factors outside of your control, by personal likes and dislikes, by personal agendas, by your own successes and failures, and by your own approach to each individual. Relationships are the absolute key to success and they should drive most of what you do each and every day. Viewing your business partners as "internal customers" might help in this daily task that so many take lightly. By applying the same customer service principles one would use with an external customer to your internal customer, or your business partner, you might find surprising results.

Just a Thought,
Gus



(content subject to approval)
---
---
Upcoming Events
---
Recruiting?
Get your job e-mailed to everyone... everyday
Post on our Featured Jobs Board!
---
Reach your target audience in 2018 every day!
Request our 2018 Media Kit
---
Not getting the Daily?
Is it ending up in your spam folder?
Please make sure to add d-ddaily@downing-downing.com to your contact list, address book, trusted sender list, and/or company whitelist to ensure you receive our newsletter.
Want to know how? Read Here


36615 Vine Street, Suite 103
Willoughby, OH 44094
440.942.0671
copyright 2009-2019
all rights reserved globally