The D&D Daily Mobile Edition
October 10,

2014



The LP Industry's #1 News Source - Informing, Educating and Instilling a sense of community


News Brief
Sponsored by WG Security Products, Inc.

Kroger Hosts 4th Annual
EBR Conference

28 Executives From 19 Retailers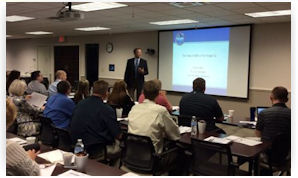 In early October, The Kroger Co. Loss Prevention Team hosted the 4th annual EBR Group conference, attended by 28 representatives from 19 companies. The EBR Group is a body of retailers that utilize exception based reporting as a tool for their business. The conference presented opportunities for networking and idea sharing. The keynote speech was delivered by Wally Walker, Kroger Sr. Manager of Investigations, on the value that exception based reporting provides to The Kroger Co. The conference included presentations of queries, discussions on emerging processes in Retail, building LP analytical skill sets, and ways that exception based reporting can add value to an organization. Next year's conference will be hosted by Sephora and held in San Francisco. Submitted by Peggy Merschbach, The Kroger Co., MAX/LPA Transaction Monitoring Manager.
Dairy Queen Data Breach - Third Party Vendor Compromised - 'Backoff' (The Back Door) POS Malware Impacts 395 Stores On Thursday, the Minneapolis-based Dairy Queen confirmed a data breach that impacts 395 stores. The fast food chain says that the source of the breach itself is the same family of POS malware that gained attention earlier this summer after an advisory from the US Secret Service made the rounds. The malware is called Backoff, and according to Dairy Queen's statement, it compromised payment card data at 396 stores. Dairy Queen has published a list of stores that were impacted, sorted by state, along with the dates that the malware was actively collecting data. Based on the details, the malware was active between August 1 and September 23. An investigation into the incident revealed that a third-party vendor's compromised account credentials were used to access systems at some locations, but details as to who the vendor was or what their credentials were used for remains unknown. (Source csoonline.com)

G.H. Bass & Co. finds data capture device on cash register in Orlando store The company said it "discovered that an unauthorized person had connected a small data capture device to one of the cash registers in its store on International Drive in Orlando [Fla.]." The device recorded information from payment cards, including cardholders' names, card numbers, expiration dates, verification codes and e-mail addresses, if they were provided. (Source wwd.com)

Retailers present a top target for cyber criminals
Retailers represent the main target of web attacks, beating financial institutions, according to a new analysis from Imperva. Imperva finds that 48.1% of those attacks targeted retail applications. In second place were financial institutions, at 10.0%. Overall, criminals on the web have become more active, suggests the report. (Source internetretailer.com)

Here Comes Amazon Brick-And-Mortar - Opening First-Ever physical NYC Store for holidays The store, which the report described as an experiment, is slated to open in time for the holiday shopping season. It will serve as a mini-warehouse, with limited inventory for same-day delivery within New York City, product returns and exchanges, and pickups of online orders, according to the report. (Source chainstoreage.com) (Source geekwire.com)

Ross Dress For Less posts Sr. Director, Field Loss Prevention position 11 hours ago on LinkedIn The Sr. Loss Prevention Director is responsible for protecting the assets of the company by consistently delivering the four Loss Prevention Key Objectives. This is accomplished by effectively managing the Developing Great Teams and Partnerships, Mitigating Theft and Fraud, Maintaining Safe and Secure Environments, and Minimizing Operational Shortage. Sr. LP Directors will also be responsible for the consistent execution of LP systems, processes, tools, technology and LP programs. (Source linkedin.com)

Restoration Hardware posts LinkedIn posting for Director, Loss Prevention Restoration Hardware is one of the fastest growing and most innovative luxury brands in the home furnishings marketplace. The perfect candidate will have an immediate connection to our Core Values (People, Service, Quality and Innovation). This candidate will be extremely flexible and enjoy a "startup" mentality and environment that changes day to day and will "assume positive intentions" at all times. Candidates who are personable, open to learning, collaborate well with others and have a positive attitude, and are more apt to saying "yes" or "we will find a way" (rather than "no" or "that's impossible") will be at the top of our list. (Source linkedin.com)

Director of Corporate Security & Loss Prevention for LaQuinta Inns & Suites posted on LinkedIn

Macy's Herald Square Evacuated After Fire Broke Out Macy's Herald Square was back in business at about 1 p.m. today , after a small fire broke out on the loading dock forcing customers and workers to evacuate the store and triggering a massive presence of fire fighters at the scene. Macy's turned the fans on reverse to help clear out the smoke. No injuries were indicated. (Source wwd.com)

Russian faces more charges in point-of-sale hacking case Roman Valeryevich Seleznev was arrested at an airport in the Maldives in July by U.S. Secret Service agents and then flown to Guam, according to an Associated Press report. He is reportedly the son of a Russian lawmaker, Valery Seleznev. He and the gang are alleged to have made millions of dollars through the sale of more than 2 million credit card numbers. The attacks caused millions of dollars in damages to merchants and banks, the superseding indictment reads. (Source csoonline.com)

ICSC: Holiday sales to increase 4%; strongest gain in three years with hiring up 7.3% Holiday hiring, another strong indicator of holiday sales, is forecasted to be up with seasonal employment at shopping centers expected to rise by 7.3% to 794,258 jobs. (Source chainstoreage.com)

Retailers Seek Port Labor Accord to Avoid Holiday Delays The National Retail Federation urged workers and management of West Coast ports to reach a new labor agreement and avoid delaying holiday shipments. "The failure to reach an agreement is now having a significant impact on port operations and contributing to port congestion in significant and damaging ways," the federation said yesterday in a letter. "We are deeply troubled by the fact that no apparent progress has been made in the negotiations since August." West Coast ports, led by facilities in Los Angeles and Long Beach, California, are the crucial entry points for merchandise from Asia. Retailers want assurances there will be no labor disruption through November, when most shipments are complete for their busiest season at year-end, according to the letter, sent to Robert McEllrath, president of the International Longshore & Warehouse Union, and James McKenna, chairman and chief executive officer of the Pacific Maritime Association, representing employers. (Source bloomberg.com)

UK - Online Sales of Counterfeit Goods Up 15%

Family Dollar's profits tumble 66% amid store closings, price competition


September Same Store Sales Results

Zumiez up 6.6%
L Brands up 6% with net sales up 9%
Cato up 5% with total sales up 9%
SteinMart up 4.9% with total sales up 6.5%
The Buckle up 2.2% with net sales up 4.1%
Fred's up 0.2% with total sales up 3.3%
Gap flat with net sales up 1%

Quarterly Same Store Sales Results

Family Dollar Q4 up 0.3% with total net sales up 4.5%
Destination Maternity Q4 down 5% with net sales down 5%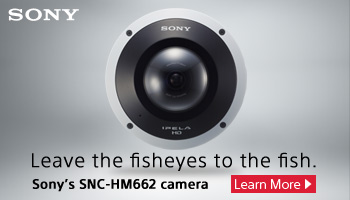 All the news - One place - One Source - One Time
The D&D Daily respects your time
& doesn't filter retail's reality
Report Your News!
(content subject to approval)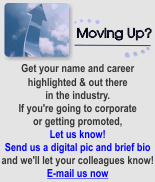 Loss Prevention News Network

"Live in Ft. Lauderdale at the NRF Show 2014"
"Managing the Change Process"
Stan Welch, VP of LP, JCPenney

Episode Sponsored By:


Stan Welch, LPC, VP of Loss Prevention for JCPenney, shares with us the top lessons he's learned throughout his long career as a leader in the LP industry. Over the last 19 years, Stan has been promoted six times with three different retailers, demonstrating his understanding in leading the "change process" that takes place whenever one changes jobs, gets promoted or deals with the fluctuations of the retail market. Learn how JCPenney has developed future leaders in its own LP team and the skills sought when selecting top talent.
Closing Remarks
Wrapping up the D&D Daily and LPNN's live broadcast from the NRF's LP Conference, MCs Joe LaRocca and Amber Virgillo reunite for an epic send-off from Ft. Lauderdale, Florida. Also hear final thoughts from Gus Downing, Publisher and Editor of the Daily, on this historical event - full of relevant, timely interviews, with information to help prepare you to lead tomorrow. Thank you to everyone who participated and helped make this great event possible, especially our sponsors!




Place your ad in the
D&D Daily!

Have your services or products seen by Loss Prevention Executives all over North America and add value to your organization!

For more details, contact Gus



Joan Manson

Sponsored By:



Bass Security



Sponsored By:



Keith White & Michael Nelson

Sponsored By:


Dan Faketty and Professor Bob Hanson

Sponsored By:


The NRF's LP Legislative Committee, a National Update





Jeff Fulmer & Jon Gold


Sponsored By:


Preparing - Training - Responding to the Active Shooter



Rich Mellor


Sponsored By:


Cyber Security's Increasing Impact on Retail & the Role of Loss Prevention

Tom Litchford
Sponsored By:


Click here for upcoming episodes

Solution Providers, have a video or commercial you want to publish? Contact us.

e-commerce

Sponsored by The Zellman Group
PayPal spin-off to open door wider for Apple Pay, NFC
A Javelin executive at the Mobile Shopping Summit 2014 said PayPal's split with eBay would provide an opportunity for Apple Pay and NFC to drive adoption. The executive's "Mobile Wallet - State of the Union" session looked at new data showing consumer support of mobile wallet solutions and a worldwide, leading support for NFC payments. The next step will be for NFC to woo MCX merchants to gain momentum. "The number one brand is PayPal," said Mary Monahan, executive vice president of mobile at Javelin Strategy and Research, San Francisco. "They have 152 million active accounts, and we know they will be splitting with eBay next year. "I can tell you that whenever you have a big action like that, no matter how good you are, it takes a company's mind off of what's going on," she said. "They'll be busy doing the split, and that's going to allow other players to move ahead." (
Source mobilecommercedaily.com
)
Online research is the new window shopping, according to Google
One-third of all shopping searches on Google occur between 10 p.m. and 4 a.m., because shopping no longer stops when the malls close. Content supports those searches, as retailers want to show examples of how the latest features in the newest Lexus work, how Western boots are worn, or how kitchen mixers work. Online has become the new window shopping experience, per the Holiday Shopper Intentions research conducted by Google and Ipsos MediaCT. Consumers go online to research products and check for local store availability at retailers like Anthropologie, Nordstrom, Macy's and others, but they also increasingly tune into YouTube or Pinterest for ideas. (
Source mediapost.com
)
Holiday Outlook Rosy for Online Retailers - sales to increase 8-11% over 2013
The Art Of Cyberwar - Amazing Images Created From Attacks On Banks
Russia: A massive frontier of e-commerce potential
"Fraud is not a person - it is a dynamic grouping of statistics that deviate from the norm."
Stuart B. Levine, CFI, CFCI
CEO, The Zellman Group & Zellman Fraudnet

Canadian Push
Sponsored by Vector Security
ISIS Planned Attack TARGET - Unnamed Canadian Mall An NBC News report says Canadian authorities have heard would-be terrorists discussing potential ISIS-inspired "knife and gun" attacks against Canadian and US targets in Canada. The report quotes unidentified US intelligence officials. NBC says the targets were in public places and crowded streets. RCMP Commissioner Bob Paulson said the force has about 63 active security investigations on 90 suspected extremists who intend to join fights abroad or who have returned to Canada. "The attitude and the policy of ISIS is not really high tech sabotage or terrorism, their position has always been to use low tech, you know someone like that going to a mall, shooting and stabbing people. It's different. It's terrorism of course, but it's terrorism diffused, low tech, a bunch of guys going to a mall and killing a handful of people and or going to another public place and hurting people. Al-Qaeda preferred the big spectacular terrorist act, a mega explosion. ISIS is much smarter because it can inspire their followers or their potential followers by simply saying do something small for the cause, go and kill somebody, go and cut somebody's head off," he says. (Source news1130.com)

Retail giants Walmart, Sears and Lowe's are suffering in Canada - Target's Not Alone - The Canadian Squeeze Walmart Canada Corp., Target Canada Corp., Sears Canada Inc. and Lowe's Canada - all large-format retailers with origins in the U.S. - are either posting diminishing returns or operating losses, says a new state of the retail industry report from Desjardins Securities analyst Keith Howlett. Same-store sales at Walmart Canada have declined in six of the last seven quarters, with just a 0.2% rise in the most recent quarter. Home improvement chain Lowe's has had strong recent same-store sales growth, but that's been in part due to the closure and conversion of Rona's big-box stores, and the retailer is still losing money as it heads into its eighth year of operations in Canada. In the meantime, multiple smaller Canadian chains including Reitmans Ltd., Le Chateau Inc., Danier Leather Inc. and Bikini Village Inc. have been struggling and reducing store count as they compete with stronger players such as Gap Inc., Joe Fresh and H&M. In the last two years, retailers including Best Buy and sister chain Future Shop, Toys R Us Canada, Staples and Indigo Books & Music have also closed some stores in favour of opening smaller locations and reducing overall square footage while they focus on building up their online sales channels. (Source financialpost.com)

Canadians spending across the border balloons to $8 billion in 2012 - Representing 1% to 2% of Total Canadian Retail Sales Cross-border shopping may have soared between 2006 and 2012, according to a Statistics Canada report released Wednesday, but at least one senior Canadian economist believes the falling dollar will reverse that trend. (Source thestar.com)

Target CEO says every store in Canada needs to do better

Canadian Tire Getting Aggressive - Goal: "Take Other People's Business"

UK footwear retailer Clarks to grow from 13 to 50 Canadian stores

Boutique Jacob gets another court extension, seeks to survive as smaller chain
The future of money in Canada is digital - Future of money = digital & mobile

Fresno man leaves resume after robbing CVS Pharmacy
Canada's "Combating Counterfeit Products Act" passes latest hurdle Canada's Combating Counterfeit Products Act is inching closer to reality, passing its third reading in Parliament late last week. Brian Isaac, partner at Smart & Biggar Fetherstonhaugh, has welcomed the move, noting: "While some concerns have been raised regarding the provisions of Bill C-8, reform of Canada's anti-counterfeiting laws is overdue and the anti-counterfeiting community in Canada welcomes the apparent renewed interest in the issue by the government of Canada." World Trademark Review has previously reported on the bill, which was introduced in March 2013 and would amend the Copyright Act and the Trademarks Act to add new civil and criminal remedies and new border measures in both acts. Specifically, the enactment would:
● create new civil causes of action with respect to activities that sustain commercial activity in infringing copies and counterfeit trademarked goods;
● create new criminal offences for trademark counterfeiting that are analogous to existing offences in the Copyright Act;
● create new criminal offences prohibiting the possession or export of infringing copies or counterfeit trademarked goods, packaging or labels;
● enact new border enforcement measures enabling customs officers to detain goods that they suspect infringe copyright or trademark rights and allowing them to share information relating to the detained goods with rights owners who have filed a request for assistance, in order to give the rights owners a reasonable opportunity to pursue a remedy in court;
● exempt the importation and exportation of copies and goods by an individual for their personal use from the application of the border measures; and
● add the offences set out in the Copyright Act and the Trademarks Act to the list of offences set out in the Criminal Code for the investigation of which police may seek judicial authorisation to use a wiretap. (Source worldtrademarkreview.com)
Trial begins for man charged in mass shooting, double murder at Eaton Centre The man accused of murdering two people in a mass shooting at Toronto's busy Eaton Centre is in court today facing a jury at the first day of his trial. Christopher Husbands is facing two counts of first-degree murder and five counts of aggravated assault – one for each person injured by the spray of bullets fired in the middle of the mall's crowded food court back in June 2012. One of the injured was a 13-year-old boy who was shot in the head but recovered from his wounds. A pregnant woman who was desperately trying to flee the mall after the shots rang out was trampled by the crowd. For that, the suspect is also facing one count of criminal negligence causing bodily harm Husbands, who was 23 at the time the shooting took place, has pleaded not guilty to all charges and will defend his case in the coming weeks at the downtown Toronto courthouse where the trial is taking place. Husbands is also facing two multi-million dollar civil lawsuits from the families of the deceased, 22-year-old Nixon Nirmalendran and 24-year-old Ahmed Hassan. The lawsuit also names Hamilton and Toronto police, Eaton Centre owner Cadillac Fairview Corp. and the province. (Source cp24.com)

Police bust $200K shoplifting ring operating out of a few houses in Vancouver They have recovered more than $200,000 in stolen high-end clothing. Police say at about 8 p.m. on Oct. 2 they executed a search warrant at a home on Fremlin Street near East 41 Avenue following an investigation into an organized retail crime group. They believe that the organizers contracted out retail thieves who would steal high-end clothing. Those items were then brought to that home and then organized, advertised on various Internet sites and sold on the underground black market. As many as 20 people per hour were seen coming and going from the home, with many arriving in luxury vehicles to take away their stolen bargains. Police say they will be requesting charges of possession of property obtained by crime over $5,000 against three people and they have also seized three vehicles believed to have been used to transport the goods. (Source globalnews.ca)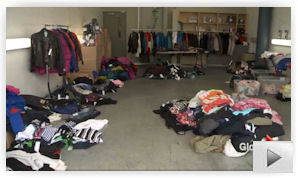 Charges laid after dramatic RCMP chase east of Swift Current, Saskatchewan RCMP in Swift Current have laid a slew of charges against a Calgary man who allegedly led police on a high-speed chase in a stolen car. David Lee Little, 38, faces nine charges, including robbery, assault causing bodily harm, flight from police, dangerous driving and assaulting a police officer with a weapon. Mounties say a man robbed a store in Swift Current, then pulled a 77-year-old woman from her car and drove away with the vehicle Monday morning. (Source ctvnews.ca)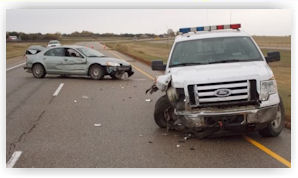 Halton Police arrest a Toronto man for numerous fraud-related charges A Toronto man has been arrested for credit card fraud and mail theft, said Halton Regional Police on Monday. Investigations found fraudulent credit card applications had been completed online, using stolen personal information. After the credit cards were approved, they were mailed to the unknowing victims' addresses where they were intercepted moments after delivery. Once the credit cards were taken, they were used to buy thousands of dollars of merchandise in unauthorized credit. (Source torontoobserver.ca)

Retail Fast Facts: September 2014

Highlights:
● Total monthly retail sales changed by 6.6 per cent over the comparable month last year.
● Total sales excluding food, automotive and gasoline changed by 6.4 per cent over the comparable month last year. (Source retailcouncil.org)



ORC News
Sponsored by Security Resources
Counterfeit Credit Card Ring Suspects Were Heavily Armed - Connected to Data Breaches Police made more arrests in a counterfeit card ring that targeted local stores. A no-knock warrant at a southeast Boise home early Thursday morning, yielded a machine to manufacture fake credit cards, along with dozens of guns, including military-grade assault rifles. This bust came weeks after one alleged member of the ring, 30-year-old Giraldo Nelson of Miramar, Florida, was arrested for using counterfeit cards in Boise. Police say he bought about $12,000 in gift cards at a number of retail stores. The credit card information used on the counterfeit cards was stolen during one of the recent corporate data breaches. Recent breaches have hit consumers who shop at Target, Albertsons, Home Depot and other stores, although police declined to specify which breach the account info in this case came from. Curt Crum, special services manager for the criminal investigations division, said credit card crimes have been on the uptick in the area. Earlier in the week, 12 people from Atlanta, Georgia were arrested and charged in a similar scheme. Almost weekly, we're seeing crews from around the country show up in our area," Crum said. "The trend is is for people who were involved in street crimes violent crime have turned to this kind of crime, but unfortunately they bring that same mentality with them as they come to our area," he said. (Source ktvb.com) (Source cityofboise.org)

Victoria's Secret panties are big on black market
Not happy with just fantasizing about sexy lingerie, a number of "shoppers" at Victoria's Secret here are slipping out the door with all kinds of slinky underthings. On Oct. 3, $1,184 worth of leopard bras and boy short underwear were stolen from the store at 1499 Boston Post Road, Fairfield, CT. The manager said two women ran out with two large shopping bags stuffed with $659 worth of bras and $525 worth of panties. It's apparently becoming an all-too-familiar occurrence, police said. (Source ctpost.com)

'Low Level Mobster' charged with Organized crime targeting stores in Naperville, IL A reputed, lower-level mobster is in jail as part of an ongoing investigation into alleged organized crime activity targeting retailers in Naperville and nearby communities. Naperville police on Thursday would not comment on their involvement in the case, in which thousands of dollars worth of merchandise was allegedly stolen last year from at least nine area retail shops. One of the suspects, convicted syndicated gambling operator Anthony Giannone, remained Thursday in DuPage County Jail on $250,000 bail. He was arrested Monday in northwest suburban Rosemont. Giannone, 51, lives on the 2500 block of Sagamore Circle in Aurora. He faces trial on a felony charge of theft of stolen property worth more than $500 but less than $10,000, according to records on file in DuPage County Circuit Court in Wheaton. (Source suntimes.com)

Thousands of Dollars in High-End Purses, Wallets Stolen in Beverly Hills High-end wallets and purses worth thousands of dollars have been stolen from Beverly Hills boutiques in recent months, and police are asking for the public's help in locating a suspect caught on surveillance video. Beverly Hills police said the man has been targeting exclusive retail stores, and usually strikes around lunchtime. He typically has a shopping bag already with him when he enters the shop, and uses it to hide the items he is shoplifting. After he loads the loot into his bag, he "calmly walks out," Beverly Hills Police Sgt. Max Subin said. (Source nbclosangeles.com)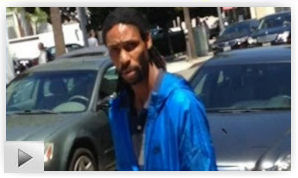 Counterfeit Credit Card Gang Busted by Broward Sheriff's Office Deputies Broward Sheriff's Office deputies busted thee people whom they're calling a counterfeit crew who used phony credit cards at ATMs in Weston. The three suspects were caught withdrawing bundles of cash using the fake cards, albeit not in a very conspicuous fashion. All told, the trio was allegedly caught with 140 counterfeit bank cards and what the BSO is calling "tens of thousands of dollars" in cash. (Source browardpalmbeach.com)

Utica, NY Police, Loss Prevention team catch eight shoplifters Utica police and Walmart loss prevention employees arrest eight people for shoplifting. The arrests took place at the Walmart on Horatio Street. (Source wktv.com)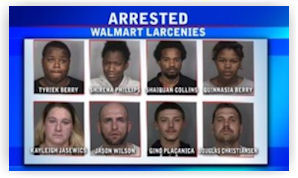 Do you have an ORC case to share?
Share your ORC news and help the industry grow


Retail Crime News

Sponsored by NuTech National
Levi's store employee injured in Armed Robbery at Orlando Premium Outlets An employee was beaten and robbed at the Orlando Premium Outlets, according to the Orange County Sheriff's Office. Deputies said two robbers, one of whom was armed with a gun, entered through the back door of the Levis retail store on Vineland Avenue just before 5 a.m. Friday. Investigators said there were several employees in the store at the time of the robbery, but the assailants only injured one employee. He was transported to Dr. Phillips Hospital with a head injury. The robbers initially identified themselves as employees, deputies said. They stole an undisclosed amount of cash. (Source wesh.com)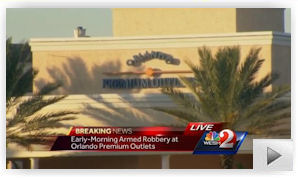 UK: Dramatic daylight Jewelry store Smash-and-Grab in Bristol, England A broad daylight smash-and-grab raid has been captured in amazing camera footage - as office workers stroll past. Four masked men armed with baseball bats pull up outside a jewelers in Bristol and smash the windows before grabbing handfuls of Rolex watches. Nearby, two suited office workers walk past the scene as if nothing is wrong. After less than a minute, the gang carry thousands of pounds worth of loot back into a car and speed off. (Source mirror.co.uk)
Employee accused of stealing $10,000 in tech from Walgreens headquarters Deerfield police arrested on Sept. 21 an Elgin man who is accused of stealing more than $10,000 worth of property from a Walgreen's corporate office. The case began with Lincolnshire police contacting Deerfield, giving them a tip about a Walgreen's employee they believed had been stealing and reselling company electronics since May. Officers spoke with the suspect, Christopher J. Moraitis, 32, of 925B Carriage Way, unit 20, in Elgin; in his apartment, they allegedly found thermal label printers, laptops, scan guns, scrap metal and drug paraphernalia. He also led them to an Elgin storage unit, which the report indicates was "almost completely filled with routers, phones, scan guns, docking ports, other Walgreen's items." (Source suntimes.com)

Security Guard in Pittsburgh Thwarts Attempted Theft Of $37K Rolex

Charges Against One Suspect Dropped in Polo Ralph Lauren Theft Case

One indicted in Waco, TX Harbor Freight Robbery and Assault on employees

Man charged in Tiffin, OH Walmart-Supercenter Arson

Foot Locker employee admits to robbing Clinton, MD store twice

Shopping-Center Security Shoots, Kills Carjacker in DeKalb, GA

Bay Co, FL Sheriff's Deputies Searching for Stolen Credit Card Suspect

Kay Jewelers in the Central Mall, Port Arthur Texas the victim of a $7,799 diamond ring Grab-and-Run

Robberies and Burglaries
● BP - Dane, WI - Armed Robbery
● Circle K - Mesa, AZ - Armed Robbery
● Cumberland Farms - Naugatuck, CT - Armed Robbery - 2 charged
● CVS - Greenville, NC - Armed Robbery
● Dollar General - Raleigh Co, WV - Armed Robbery
● Dollar General - Marshall, TX - Armed Robbery - video released
● Family Dollar - Houston, TX - Burglary
● Family Dollar - Dayton, OH - Burglary
● Mancusso Motorcycles - Houston, TX - Burglary
● Savoy Jewelers - Sault Ste Marie, ON - Theft
● Shell - Houston, TX - Robbery - clerk hides on the roof
● Shoppers Drug Mart - Sault Ste Marie, ON - Theft
● Subway - Virginia Beach, VA - Burglary
● Walgreens - Tulsa, OK - Armed Robbery - man sentenced to 15 years
● 7-Eleven - Santa Clarita, CA - Armed Robbery

Vendor Spotlight


Your Trusted Partner for Comprehensive Security Solutions

Providing Security Solutions throughout the United States, Canada and Puerto Rico.
SECURITY RESOURCES is a leading national security firm providing security guard and investigative solutions with proven performance and quick response. Our extensive industry experience managing over 900 security officers through our own offices helped us to build a proprietary national security network from the ground up. For your national or local security needs, gain the Security Resources Advantage.

POWER to respond quickly to real-time events

FLEXIBILITY to expand and contract the guard force as realized in response to needs

CONSISTENCY across multiple locations through standardized communication and a proven process



Featured Job Listings
Sponsored by Cam Connections
Feature Your Job Here For 30 Days -
70% Aren't On the Boards
Group VP of LP
Retained Search
New York, NY
Gus Downing
Director of LP
The Children's Place
Secaucus, NJ
The Children's Place
Director of LP
Performance Food Group
Richmond, VA/Denver, CO
Performance Food Group
ORC Investigations Mgr
The Home Depot
Atlanta, GA
The Home Depot
Regional Director, AP
Rite Aid
NY Metro, NY
Rite Aid
Corporate Investigator
Confidential
San Francisco Bay, CA
Confidential
DC LP Manager
Brookstone
Mexico, MO
Brookstone
National Account Manager
Vector Security, Inc
TBD
Vector Security, Inc
LP Agent
JONS Markets
Los Angeles, CA
JONS Markets
Bilingual AP Specialist
Bi-Lo Holdings
Miami, FL
Bi-Lo Holdings
AP Associate
Ralph Lauren
Orlando, FL
Ralph Lauren
LP Investigator
Lamps Plus
Chatsworth, CA
Lamps Plus
LP Investigator
Tom Thumb
Dallas, TX
Safeway
National Account Mgr
Confidential
Northeast
Downing & Downing

Limited Time Only - Post Your Multi-Unit LP jobs for FREE - Learn More Here

Daily Job Alerts


Sponsored by Cam Connections
Appearing One Day Only
View our Internet Jobs Archives here
Regional LP Manager
CVS Health
Tucson, AZ
CVS Health
Area Manager AP
Walmart
Bentonville, AR
Wal-Mart
AP Manager Non Metro
Walmart
Lake Wales, FL
Wal-Mart
AP Manager in Training
Walmart
Layton, UT
Wal-Mart
AP Manager in Training
Walmart
Patterson, CA
Wal-Mart
AP Manager in Training
Walmart
Westerville, OH
Wal-Mart
AP Manager in Training
Walmart
Ennis, TX
Wal-Mart
AP Manager in Training
Walmart
Columbus, NE
Wal-Mart
AP Manager in Training
Walmart
Live Oak, FL
Wal-Mart
LP Manager Hrly
Kmart
Prince Frederick, MD
Sears Holdings Corp
ETL Assets Protection
Target
Oswego, IL
Target
LP Manager
Macy's
Lake Grove, NY
Macy's
LP Manager
Macy's
Wayne, NJ
Macy's
LP Manager
Macy's
Springfield, OH
Macy's
LP Manager
Macy's
Dover, DE
Macy's
LP Manager
Bloomingdale's
Chevy Chase, MD
Bloomingdale's
LP Manager
Bloomingdale's
Chicago, IL
Bloomingdale's
LP Manager
Bloomingdale's
King of Prussia, PA
Bloomingdale's
Dept Mgr LP & Safety
Lowe's
S. Clarksville, TN
Lowe's
LP Supervisor
Petco
Mira Loma, CA
Petco


Home of the Industry's Original
On the Move

Tom Ellis was named Regional Loss Prevention Manager for Dollar General.
Doug George was named Asset Protection Manager for Saks Fifth Avenue.
Mike Saphos was promoted to Shrink Control Manager for The Paradies Shops.
Eric Tullis was promoted to District Loss Prevention/Safety Manager for The Paradies Shops.
Billy Childers was named Loss Prevention/Safety Operations Manager for The Paradies Shops.
Post Your New Job or Promotion!
See all the Industry Movement

Your Career
Sponsor this section of the Daily
9 Ways Leaders Insult Their Employees
You have the skills, and the experience to lead your team to success but if you're not respecting your employees, you won't go very far. The key is having self-awareness to know when you've crossed the line and how it will affect those around you. Be mindful of these common insults to employees. (Don't be a hypocrite)

An Infographic Every Boss Should Read
Everyone knows that if your team is happy and loves what they do, they will get more work done. If you kill their motivation, that kills their drive. Avoid making these mistakes so that your team stays inspired. (Negativity)

Why Great Leaders are More Risk Averse Than You Think Are you a risk taker? Great leaders are ones to look to mitigate risk for their company, rather than increase it. Taking a chance is going to happen at some points in your career, but risky gambles should be avoided. Here are some ways in which leaders help avoid risks for their companies. (Shoot bullets, not cannon balls)

Why Leadership is Like a Three-Legged Stool Research breaks leadership down to 30% genetics, and 70% lessons learned through personal experience. Using this as a base, professors narrowed leadership development to these three main traits. (Readiness, willingness, and ability)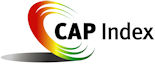 Tip of the Day
Sponsored by Vector Security
A career spans over 30 years and while it seems to start out slow, inevitably it goes by like a speeding bullet. Therefore, the objective has to be to have a plan and think about your career as an investment with the strategy being to maximize your investment and manage your plan proactively. Everyone agrees that education is the #1 vehicle and performance is the fuel that provides the distance. But regardless of how far you go, the real importance is what you do, how you did it and how many you helped!

Just a Thought,
Gus Downing






Upcoming Events

LPRC Impact Conference
October 13-15, 2014
Gainesville, FL

CLEAR Fifth Annual Training Conference
October 13-16, 2014
San Diego Marriott-Mission Valley, CA

Northeast Regional Conference on LP
October 28, 2014
Monroe Twp, NJ
---
Recruiting?
Get your job e-mailed to everyone... everyday
Post on our Featured Jobs Board!
Reach your target audience in 2014 every day!
Request our 2014 Media Kit
update account / change e-mail
unsubscribe FEEDBACK
www.downing-downing.com

Advertise With The D&D Daily




36615 Vine Street, Suite 103
Willoughby, OH 44094
440.942.0671
copyright 2009-2019
all rights reserved globally