The D&D Daily Mobile Edition
October 13,

2014



The LP Industry's #1 News Source - Informing, Educating and Instilling a sense of community


News Brief
Sponsored by WG Security Products, Inc.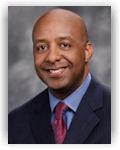 Marvin Ellison was named President and Chief Executive Officer for JCPenny. Marvin, a 49-year-old retail industry veteran, will become Penney's president Nov. 1. He will add the role of CEO next August. Marvin spent the past 12 years at Home Depot, where he has served as the executive vice president of U.S. stores since 2008. In 2002, he joined Home Depot as Vice President of Asset Protection. With this industry announcement, Ellison makes history for the LP industry and for each executive in the LP community - one that shows that even LP executives can reach the absolute top spot. For the full story, see our Special Report here.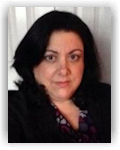 Linda Chiappone was named Director of Analytics for The Zellman Group, LLC. Linda was previously Senior Manager, Corporate Fraud Investigations for Bed Bath & Beyond. Before that, she held the position of Corporate Manager of Investigations for the same retailer. Prior to joining BB&B, Linda worked in Loss Prevention and Human Resources at Pathmark Stores for a number of years. Earlier this year, she was named 'Woman of the Year' by the National Association of Professional Women. Congratulations, Linda!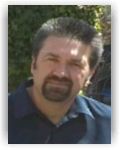 Tony Hentges, LPC was promoted to Director, Corporate Security for T-Mobile. Tony has been a leader in loss prevention industry for over 20 years. He has been with T-Mobile since 2005. Since then, he has held the titles of Senior Manager, Corporate Security; Director, Loss Prevention; Senior Manager, Loss Prevention; and Senior Manager, Fraud Prevention. Prior to that, Tony held positions at AT&T, Verizon Wireless and Vodafone/AirTouch. Congratulations, Tony!

Day One Update - LPRC's 2014 IMPACT Conference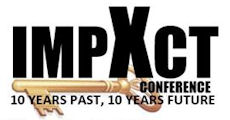 There were over one hundred people on hand for the opening day of the Loss Prevention Research Council's 2014 IMPACT conference, with a total of 170 from 41 different retail chains anticipated for tomorrow. The mission and directive of the event is to explore and dissect issues - in order to define and guide the research of the LPRC working groups and action teams. King Rogers was the keynote speaker today, addressing gathered members with a session titled "10 years past, 10 years future." Another highly anticipated session included a retail panel discussion, featuring Kevin Larson, Tim Fisher, Rick Peck, John Voytilla and Brian Bazer. Submitted by Garret King, Cam Connections, Inc.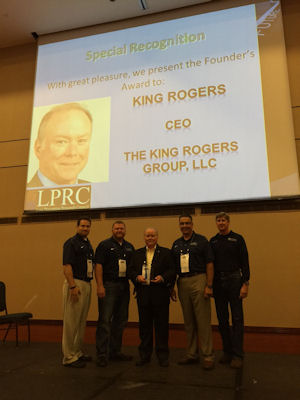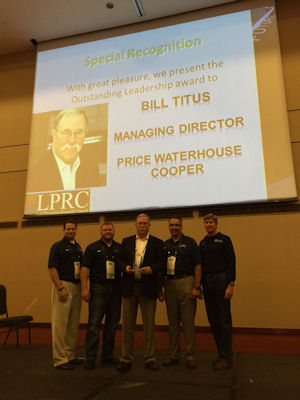 (Pictured left) King Rogers accepts the Founder's Award from the LPRC. (Pictured right) Bill Titus accepts the Outstanding Leadership Award from the LPRC. Both men were recognized for their commitment to the retail LP industry and mission of the LPRC.

Former Target Asset Protection executive Named Chief Executive at J.C. Penney - Marvin Ellison former EVP Stores for Home Depot J.C. Penney said on Monday that it was bringing in a Home Depot executive, Marvin Ellison, as president and as its next chief executive. Mr. Ellison, currently executive vice president for stores at Home Depot, will join Penney's on Nov. 1 and will also be a board member. He will succeed Myron E. Ullman III as chief executive on Aug. 1, 2015, when Mr. Ullman will become executive chairman for one year, the company said. Before his 12-year tenure at Home Depot, Mr. Ellison served for 15 years in various positions at Target. (Source nytimes.com) (Source wsj.com)

ISIS's Canadian Unnamed Mall Threat & Oklahoma's Food Distributor - Fired Employee Beheading - LP's National Responsibility As reported in our Canadian Push column on Friday, an NBC News report said Canadian authorities have heard would-be terrorists discussing potential ISIS-inspired "knife and gun" attacks against Canadian and US targets in Canada with "One unnamed shopping mall was reportedly potential target." Couple that with the recent beheading in an Oklahoma food distribution center and what you have is the potential for another incident during the holidays. Needless to say that such a horrific incident in a mall during the holiday shopping season could have a huge national impact on mall traffic and sales. Not to mention the terrible impact on everyone even remotely connected to the incident. Point being that we all have to be even more watchful now than ever before even with the recently reported FBI report showing the increase in active shooters. This is a dangerous time right now and it may be beneficial to review our physical security efforts, review mall security procedures, review the processes for employee terminations, and certainly increase our attention to employee behavior that should be called out. And while everyone is out there visiting stores and malls everyone should be listening and watching and calling things out. Just a thought - Let's Keep Them Safe Out There!

Data breach at Kmart compromised payment data Sears Holding Co. late Friday said it recently discovered that point-of-sale registers at its Kmart stores were compromised by malicious software that stole customer credit and debit card information. The company says it has removed the malware from store registers and contained the breach, but that the investigation is ongoing. "Yesterday our IT teams detected that our Kmart payment data systems had been breached," said Chris Brathwaite, spokesman for Sears. "They immediately launched a full investigation working with a leading IT security firm. Our investigation so far indicates that the breach started in early September." According to those investigators, Brathwaite said, "our systems were infected with a form of malware that was currently undetectable by anti-malware systems. Our IT teams quickly removed that malware, however we do believe that debit and credit card numbers have been compromised." Brathwaite stressed that the data stolen included only "track 2″ data from customer credit and debit cards, and did not include customer names, email address, physical address, Social Security numbers, PINs or any other sensitive information. See this notice on kmart.com. (Source krebsonsecurity.com)

ATM's hacked worldwide - according to Kapersky Labs The blog on the company's website says "At the time of the investigation, the malware was active on more than 50 ATMs at banking institutions in Eastern Europe. Based on submissions to VirusTotal, we believe that the malware has spread to several other countries, including the U.S., India and China." (Source retailfraud.com)

Dollar General receives second request from FTC regarding acquisition of Family Dollar - The biggest retail fight in years - Who ends up owning Family Dollar? Dollar Tree or Dollar General? Dollar General Corporation Friday announced that, as expected, it has received a request for additional information ("Second Request") from the Federal Trade Commission ("FTC") relating to Dollar General's proposed acquisition of Family Dollar Stores, Inc. Editors note: Given Family Dollar's poor performing quarterly results released late last week it would seem logical if the shareholders just might take Dollar General's offer a little more seriously then before. This is one of the biggest fights in the retail industry over the last few years. As it will consolidate one of the fastest growing sectors in retail in the U.S. and would make the winner more viable long term when considering Wal-Mart's Neighborhood Markets expansion. (Source businesswire.com)

Retailers' Lines Blur on Outlet Stores - They've been fueling growth since the 'great recession' Retailers long built walls around their outlet businesses to keep the bargain hunters from the gates of their full-price stores. Now, those walls are coming down. Desperate for growth at a time when outlet stores are a rare bright spot for shopper traffic, chains are taking the once unthinkable step of putting outlets near their mainline stores in cities and suburban malls and even putting full-price stores in outlet malls. Outlet stores cropped up in the 1930s as a way for manufacturers and retailers to clear unsold goods. These days, overruns only account for a small portion of outlet merchandise. The rest is specially designed and made—cheaper versions that compete more directly with full-priced stores. It is easier now for shoppers to toggle between the two. Outlet centers had long been located miles outside of major cities, but 70% of the ones that opened in 2013 were in metropolitan areas with populations of 1 million or more, up from 50% in 2011. Developers are fueling the trend by turning troubled regional malls into outlet malls. (Source wsj.com)

PCI 3.0 is a wake-up call
Most merchants who have been validating their PCI compliance for a few years now probably know which SAQ type applies to them. In PCI 2.0, it has been fairly simple. And now we are facing PCI 3.0. My, how things have changed. There are several new SAQ types, and a major change has occurred with one of the old standards that we all came to know. SAQ C looks nothing like its previous incarnations. Merchants should be prepared to increase their security measures if they are going to comply with the PCI 3.0 standard. (Source retailcustomerexperience.com)

Banks harvest callers' voiceprints to fight fraud
The caller said her home had burned down and her husband had been badly hurt in the blaze. On the telephone with her bank, she pleaded for a replacement credit card at her new address. "We lost everything," she said. "Can you send me a card to where we're staying now?" The card nearly was sent. But as the woman poured out her story, a computer compared the biometric features of her voice against a database of suspected fraudsters. Not only was the caller not the person she claimed to be, "she" wasn't even a woman. The program identified the caller as a male impostor trying to steal the woman's identity. The conversation, a partial transcript of which was provided to The Associated Press by the anti-fraud company Verint Systems Inc., reflects the growing use of voice biometric technology to screen calls for signs of fraud. Two major U.S. banks, JPMorgan Chase & Co. and Wells Fargo & Co., use voice screening, also known as voice biometric blacklists, according to three people familiar with the arrangements, all of whom spoke on condition of anonymity because the system was meant to remain secret. (Source ktar.com)

Wal-Mart shooting death has Ohio lawmakers changing air rifle rules A state lawmaker says he wants to explore potential ways to help first responders tell the difference between weapons and toy guns following the fatal shooting of a man by police inside an Ohio Wal-Mart this summer. Republican Rep. Rick Perales of Beavercreek told The Dayton Daily News that he is open to ideas about preventing incidents like the Aug. 5 shooting in his hometown. "Any way that we can help emergency responders to readily discern a toy versus a weapon, should be something we are looking into," Perales said. A special grand jury in the racially charged case has decided that the Beavercreek police officers' actions were justified. Police responded to a 911 call that a man was waving what appeared to be a rifle. Officers have said John Crawford III, who was black, was shot after he didn't respond to repeated commands to drop his weapon. It turned out to be an air rifle. Crawford, 22, had been talking on a cellphone and carrying the air rifle he picked up from a shelf as he walked through the store. Wal-Mart Stores Inc. says pellet guns have been pulled from shelves at the Beavercreek store near Dayton. The newspaper reports that there are no state regulations for the use and sale of air rifles, BB guns and others that resemble deadly rifles. Federal rules require airsoft guns - which are different from air rifles - to be sold with an orange tip to avoid confusion with real guns. But that regulation does not apply to BB or pellet guns. (Source 13abc.com)

Jo-Ann Fabric and Craft Stores to hire 3,000 for holidays


Last week's most popular news article --

Director of Loss Prevention job open for The Children's Place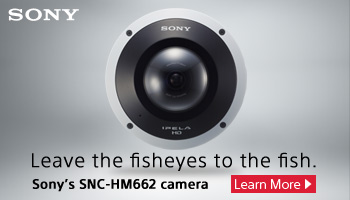 All the news - One place - One Source - One Time
The D&D Daily respects your time
& doesn't filter retail's reality
Report Your News!
(content subject to approval)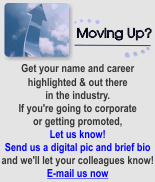 Loss Prevention News Network

Scott Sanford, Director of Investigations & Training for Barnes & Noble, discusses where he thinks the loss prevention industry is going and how we're making progress in the fight against Organized Retail Crime. A subject matter expert on the topic, Scott has a unique gift and ability at resolving ORC cases and has been extremely involved in the national effort for many years. Learn how you can be better prepared to combat the North American epidemic that is ORC.

Filmed at the D&D Daily's 2014 "Live in NYC" Broadcast Event.

To view other episodes in our Organized Retail Crime Series, click here.




Joan Manson

Sponsored By:


Bass Security





Sponsored By:



Keith White & Michael Nelson

Sponsored By:


Dan Faketty and Professor Bob Hanson

Sponsored By:


The NRF's LP Legislative Committee, a National Update





Jeff Fulmer & Jon Gold


Sponsored By:


Preparing - Training - Responding to the Active Shooter





Rich Mellor


Sponsored By:

Cyber Security's Increasing Impact on Retail & the Role of Loss Prevention

Tom Litchford
Sponsored By:

Stan Welch, VP of LP, JCPenney



Sponsored By:



In case you missed it ...
Click here to view all the episodes from
"Live in Ft. Lauderdale at the NRF LP Show."

Solution Providers, have a video or commercial you want to publish? Contact us.

e-commerce

Sponsored by The Zellman Group
Leading retailers collaborate to curb fraud
Home shopping brand QVC and Shop Direct, which owns Very.co.uk and Littlewoods.com, have signed up to a new initiative aimed at cracking down on customer fraud by sharing transactional data. The new scheme from Transactics, Trade, allows retailers to share and view real-time information related to customer behaviors, including order processing, identity verification, goods lost in transit, returns and other activities to provide a broader pattern of customer behavior across a much larger range of transactions. The scheme also draws on data not just on individual consumers but on addresses so that, through data matching, retailers can detect fraudsters using multiple identities across several organizations and other tactics for masking dishonest activities. The aim of the fraud and loss prevention coalition is to better equip retailers to identify, investigate and challenge potential threats and fraudsters, while strengthening processes that ensure genuine customers receive better service. It has also been designed to provide members with all the information they need to quickly decide how to proceed at any point in the customer journey, from their initial contact with the company to registration to order and payment to fulfillment. (
Source fashionunited.co.uk
)
North American e-retailers lag in using card-based fraud prevention tools
Services such as Verified by Visa and MasterCard SecureCode combat fraud by requiring shoppers to authenticate themselves when making a purchase online. Requiring shoppers to authenticate themselves when making a purchase online—via card-based fraud prevention tools such as Verified by Visa and MasterCard SecureCode - is one way retailers can fight back against online fraud. But only 57% of merchants use or support those programs, according to a new report by Cardinal Commerce. The report found that North American retailers - which dominate the sample set - brought down the percentage of retailers using consumer authentication; only 43% of North American merchants use consumer authentication, far less than those in the European Union (61%), Asia-Pacific (61%), South America (55%), Eastern Europe (56%), Middle East (64%) and Africa (62%). (
Source internetretailer.com
)
"Fraud is not a person - it is a dynamic grouping of statistics that deviate from the norm."
Stuart B. Levine, CFI, CFCI
CEO, The Zellman Group & Zellman Fraudnet


ORC News
Sponsored by Security Resources
Fencing Operation - 3 Men stock shelves with $50,000 of Rite Aid stolen loot from warehouse Three men have been arrested for allegedly stealing $50,000 in merchandise from a Bucks County Rite Aid warehouse and using the goods to stock an illegal store run from the basement of a Philadelphia home. The caller told investigators that a Rite Aid tractor-trailer had pulled into a darkened parking lot and that people were unloading items from the trailer into a pickup truck. Officers reportedly found Rite Aid storage totes in the truck bed and backseat containing about $2,000 worth of personal care merchandise, cleaning supplies and paper products. Also taken into custody was tractor-trailer driver Miguel Ortiz, 43, who allegedly admitted that he agreed to meet Agosto and sell him merchandise stolen from the Rite Aid Distribution Center on the unit block of Geoffrey Drive. Burgos, Agosto and Ortiz are believed to be responsible for thefts from the Rite Aid warehouse totaling $50,000, police said. (Source philly.com)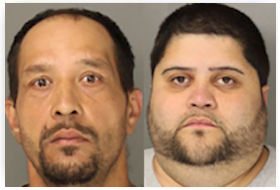 6 member ORC gang busted for $25K - 65 gift cards - fraud in Greenville, S.C. - Two employees of Home Depot The Sheriff's Office said they received a complaint from the management of the Home Depot on South Pleasantburg Drive that they suspected two employees, Ashley Brown and Keisha Huff, of completing fraudulent refunds at the store with merchandise that had never been purchased in order to obtain gift cards. (Source wyff4.com)

Three ORC males hit Walmart store for $12,000 in cell phones in Champaign County, IL Authorities released surveillance images of the suspects who walked in, took the merchandise and left the store without paying. They left in a vehicle just described as a "minivan." The suspects are described as black men, ranging in age from late teens to early 30's. (Source illinoishomepage.net)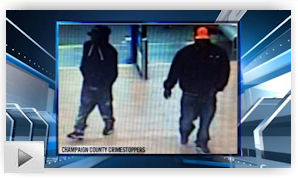 String of Walgreens robberies in Salt Lake City sparks probe Three Walgreens pharmacies in three counties were robbed this weekend and two of the heists apparently were committed by different robbers. In Logan and Salt Lake City, two locations were robbed by men with similar descriptions, said Salt Lake Police Lt. Lance Vandongen. The Salt Lake Walgreens robbery happened at 9:30 p.m. Saturday at 909 E. 2100 South. The man entered the store, passed a note to the clerk indicating a robbery and asked for Oxycontin. On Sunday at 10:38 a.m., a black male wearing a gray hoodie sweatshirt, black ball cap and white surgical mask robbed the Logan Walgreens pharmacy. Later that afternoon, a robber wearing a Sons of Anarchy hoodie and black ball cap passed a note demanding narcotics at the Walgreens pharmarcy at 2600 S. U.S. 89 around 5 p.m. (Source ksl.com)

'Telephone man' robber strikes three more stores on Saturday in Las Vegas Three robberies Saturday evening at wireless phone stores across the valley may be a continuation of a string of robberies that Metro has dubbed "the telephone man." Metro watch commander Lt. Ken Romaine said the robberies occurred at stores on Craig Road in the northwest, on South Maryland Parkway and on East Tropicana. The first robbery in the string was Sept. 9. Police say the suspect enters the store and acts like a customer. He then pulls a handgun and demands money. (Source mynews3.com)

Truck with 36,000 pounds of Crisco inside stolen in St. Petersburg St. Pete Police are on the lookout for a tractor-trailer filled with Crisco sticks that was stolen from Coastal Towing on 118th Avenue North Sunday morning. Police say the tractor-trailer had approximately 36,000 lbs of Crisco sticks inside that was to be delivered to the Publix distribution center in Lakeland. In addition to the theft of the tractor-trailer, a number of boxes were opened and their contents removed from a trailer at the Amazon distribution center in Ruskin. (Source bradenton.com)

Phoenix Police seek 2 women for credit card fraud Police say they are looking for two women who tried to use fraudulent credit cards at a Phoenix pharmacy. Shortly after 7:30 p.m. on July 20, a woman used a counterfeit credit card containing a male victim's account information at the CVS Pharmacy. She was accompanied by another woman, who tried to make a purchase with a different credit card. That card was declined. (Source azfamily.com)

Robbers steal $35K in cigarettes, cash from Westbury, NY grocery store Police are searching for suspects in an overnight grocery store robbery. Approximately $35,000 in cigarettes, $2,500 in cigars and an undetermined amount of printed lottery tickets were stolen from Old Country Food Mart, police said. The grocery store, which is located on 962 Old Country Road in Westbury, was closed and secured by a male employee at 12:30 a.m. When the same employee returned at 7:15 a.m., he noticed the alarm was already off. Upon entering the store, the employee found one of the registers were opened and emptied of its cash. Money from the store's New York State Lottery register and an ATM machine was also taken, police said. (Source pix11.com)

Do you have an ORC case to share?
Share your ORC news and help the industry grow


Retail Crime News

Sponsored by NuTech National
Dollar General Armed Robbery in Columbus, OH ends with 2 suspects shot and killed by Police The family of a robbery suspect shot and killed by Columbus Police is speaking out, sharing their grief over his death, and their confusion about the circumstances surrounding it. Sunday night Columbus Police released the names of the two robbery suspects killed by officers Friday night. They said 20-year-old Elisha Glass and 18-year-old Qusean Whitten were involved in an armed robbery. Suspects held employees of a Dollar General Store at gunpoint. Glass and Whitten were shot by police as they tried to get away. (Source 10tv.com)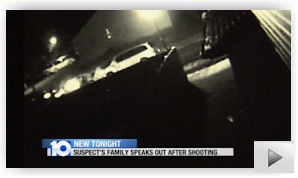 Columbia, MO Police investigating downtown shooting that injured one Columbia police are investigating a shooting that happened downtown early Sunday morning. Just before 1:30 a.m., police responded to the 1000 block of East Broadway after callers reported hearing shots fired. Officers found a cartridge casing in the area. Employees at both Jimmy John's and Hot Box Cookies told ABC 17 News police closed the section of Broadway around 1:20 Saturday morning. A manager at Hot Box Cookies said his employee closed the store early due to the police scene. Shortly after the reported shooting, a man arrived at UMC ER in a personal car with a gunshot wound to the shoulder. (Source abc17news.com)

Home Depot employee stabbed by an attacker behind the store in Newark, DE Delaware State Police are investigating an attempted robbery at a Home Depot in Newark that left a 24-year-old man injured. Police say a Home Depot employee was walking around the exterior of the store on Peoples Drive at around 3:30 p.m. on Saturday when he was approached by a man who asked him several questions. Police say when the employee began walking away the man pulled out a knife and stabbed the employee multiple times. The employee was able to wrestle the knife away from his attacker, who fled on foot into a nearby wooded area. Police say the victim was taken to an area hospital, where he was treated for his wounds. (Source washingtonpost.com)

Two men arrested following Armed Robbery at Staples in Seekonk, MA Two men connected to an armed robbery at Staples on Highland Avenue are now in police custody. According to Seekonk police, one man entered the store while the other stayed in the car parked outside just before 4 p.m. on Sunday. One suspect allegedly asked a store employee for assistance, before leading the employee outside while he stole various electronics. The suspect then jumped in the car with the other suspect and took off, police said. The employee immediately went back inside the store and called police. (Source wpri.com)

Thieves breach cinderblock wall at Best Buy in Upper Moreland, PA Upper Moreland police said thieves made off with an undetermined amount of merchandise from the Best Buy electronics store at 1130 N. Easton Road after breaking through a cinder block wall late Friday night. While police have not officially confirmed the exact worth of the items taken, several residents of the nearby Knock N Knoll townhouse development said they were told it totaled more than $100,000 when they were interviewed by police Saturday morning. (Source theintell.com)

Man hides on a shop shelf for two hours in failed robbery attempt An unsuccessful robbery plot was caught on camera at a dollar store in Houston, Texas, last week with one policeman commenting that the whole event was "comical". Footage shows two men entering the store near to closing time. One of the men bends down to a lower shelf in one of the aisles, removes some boxes, and then crawls onto the shelf. His accomplice then walks by and puts the boxes back into place, thus concealing his partner. The latter individual then went and bought a few items before leaving the store, leaving the hidden man in the store, where he waited for two hours until the store shut. (Source independent.co.uk)

Bat-wielding man shot, injured by California Highway Patrol officer in Artesia strip mall A bat-wielding suspect was hospitalized after a California Highway Patrol officer shot him outside an Artesia strip mall early Saturday morning. At around 1:30 a.m., authorities said a CHP officer saw a fight break out between two men in the parking lot of the Artesia Center strip mall north or Artesia and Pioneer boulevards. The officer intervened, telling the man to put the bat down. Officials said the man did not heed those commands, and the officer shot him. The exact circumstances surrounding the shooting remain unclear. (Source abc7.com)

$500K in counterfeit goods seized from eastside Indianapolis flea market Sunday

Goodwill warehouse broken into twice in one week in Nashville, Tenn.

Bomb Threat At Nebraska City Walmart

Charleston, West Virginia police officer does good deed for accused shoplifter

Security upgrades prove fruitful for Orange Co., FL gas station plagued by crime

Bismark, ND Man Faces Robbery Charge After Shoplifting and Punching a Walmart Loss Prevention agent

Fifteen Guns Reported Stolen In Thomasville, GA After Burglary

Helzburg Diamonds in the Southlake Mall, Morrow, GA the victim of a Smash and Grab, merchandise totaling over $31,000

Attempted Burglary at Kay Jewelers in the Rolling Oaks Mall, San Antonio, TX, no merchandise stolen

Kay Jewelers in the Las Vegas Premium Outlet hit with a $15,000 Rolex watch theft

Robberies and Burglaries
● BP - St Louis, MO - Armed Robbery/Shooting - clerk shot suspect
● Dollar General - Ocala, FL - Armed Robbery
● Freedom Express - Lessburg, IN - Armed Robbery
● Golda's Mart - Kingsport, TN - Armed Robbery
● Hitech Gadgets - Seatac, WA - Burglary
● Kmart Pharmacy - Clarksville, TN - Robbery
● One Stop - Decatur, AL - Burglary
● Mac's - Thunder Bay, ON - Robbery
● Rite Aid - Mahanoy City, PA - Armed Robbery
● Turkey Hill - Wilkes-Barre, PA - Armed Robbery
● Valley Dairy - Grand Folks, ND - Armed Robbery
● Walgreens - Uniontown, PA - Armed Robbery
● Walgreens - Charleston, SC - Armed Robbery
● Walgreens - Logan City, UT - Robbery
● 7-Eleven - Hampton, VA - Armed Robbery

Vendor Spotlight




Making Good Customers Feel Bad is Bad for Sales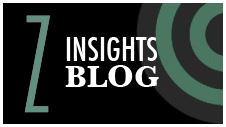 "We think you may be a cheater. Oops, you're not? Uh, sorry about that. By the way, we truly value you as a customer."

75% to 90% of manually-reviewed orders are eventually approved. As merchants spend more time and money on manual reviews, you might expect rejection rates to be rising. Not so.

The number of rejected orders remained essentially unchanged in 2011. The reality is that most manual reviews are unnecessary. More than half of merchants report that 90% of manually-reviewed orders are ultimately approved. In fact, the average approval rate for manually-reviewed orders is 75%.

Think about the impact that this high level of wrongly reviewed orders has on sales. You've just spent a lot of time, money, and effort to attract a new customer, but then you treat him or her like a second-class citizen. Can you afford to have a significant percentage of your customers feeling less than delighted with their experience on your website? Perhaps even insulted? And what about the delays that customers experience if their order is manually reviewed? Won't that hurt repeat sales? And how about competitors who are able to approve their orders more quickly than you can, without so many manual reviews? Will your customers eventually decide to take their business to them?

Having the right eCommerce fraud tool in place provides a number of ROI elements to consider. Zellman Fraudnet can reduce manual reviews to between 1-2% of all orders. Additionally, Zellman Fraudnet can mitigate cart abandonment while preserving customer satisfaction and ultimately brand image with sub-second response time (250 - 350 Milliseconds).

For more information about eCommerce Fraud Detection please contact sales@zellmangroup.com.

Featured Job Listings
Sponsored by Cam Connections
Feature Your Job Here For 30 Days -
70% Aren't On the Boards
Group VP of LP
Retained Search
New York, NY
Gus Downing
Sr. Director, Field LP
Ross Stores
Dublin, CA
Ross Stores
Director of LP
The Children's Place
Secaucus, NJ
The Children's Place
Director of LP
Performance Food Group
Richmond, VA/Denver, CO
Performance Food Group
Director of LP
Restoration Hardware
Corte Madera
Restoration Hardware
ORC Investigations Mgr
The Home Depot
Atlanta, GA
The Home Depot
Regional Director, AP
Rite Aid
NY Metro, NY
Rite Aid
Corporate Investigator
Confidential
San Francisco Bay, CA
Confidential
DC LP Manager
Brookstone
Mexico, MO
Brookstone
National Account Manager
Vector Security, Inc
TBD
Vector Security, Inc
LP Agent
JONS Markets
Los Angeles, CA
JONS Markets
Bilingual AP Specialist
Bi-Lo Holdings
Miami, FL
Bi-Lo Holdings
AP Associate
Ralph Lauren
Orlando, FL
Ralph Lauren
LP Investigator
Lamps Plus
Chatsworth, CA
Lamps Plus
LP Investigator
Tom Thumb
Dallas, TX
Safeway
National Account Mgr
Confidential
Northeast
Downing & Downing

Limited Time Only - Post Your Multi-Unit LP jobs for FREE - Learn More Here

Daily Job Alerts


Sponsored by Cam Connections
Appearing One Day Only
View our Internet Jobs Archives here
AP Manager in Training
Walmart
Spirit Lake, IA
Wal-Mart
AP Manager in Training
Walmart
Borger, TX
Wal-Mart
AP Manager in Training
Walmart
Carlisle, PA
Wal-Mart
AP Manager in Training
Walmart
St. Pauls, NC
Wal-Mart
AP Manager in Training
Walmart
Sturtevant, WI
Wal-Mart
AP Manager in Training
Walmart
Fayetteville Strickland, NC
Wal-Mart
AP Manager in Training
Walmart
New Bern, NC
Wal-Mart
AP Manager in Training
Walmart
Gaylord, MI
Wal-Mart
AP Manager in Training
Walmart
Willmar, MN
Wal-Mart
AP Manager in Training
Walmart
Howell, NJ
Wal-Mart
AP Manager in Training
Walmart
Napa, CA
Wal-Mart
AP Manager in Training
Walmart
Oakland, MD
Wal-Mart
AP Manager in Training
Walmart
Greenville W, NC
Wal-Mart
AP Team Leader
Target
Knoxville, TN
Target
AP Team Leader
Target
Rossford, OH
Target
AP Team Leader
Target
Buffalo, NY
Target
ETL Assets Protection
Target
San Jose, CA
Target
ETL Assets Protection
Target
Braintree, MA
Target
Multi Unit LP Manager
Kmart
Lebanon, TN
Sears Holdings Corp
LP Manager Hrly
Kmart
Martinsville, VA
Sears Holdings Corp
LP Manager Hrly
Sears
Ann Arbor, MI
Sears Holdings Corp
LP Manager Hrly
Sears
Billings, MT
Sears Holdings Corp
LP Manager
CVS Caremark
Huntington Station, NY
CVS Caremark


Home of the Industry's Original
On the Move

Marvin Ellison was named President and Chief Executive Officer for JC Penny.
Linda Chiappone was named Director of Analytics for The Zellman Group, LLC.
Tony Hentges was promoted to Director, Corporate Security for T-Mobile.
Josh Winner was promoted to Regional Manager of Investigations for Bloomingdale's.
Dawn Roller was named Regional Loss Prevention Investigator for The Great Atlantic & Pacific Tea Co.
Joshua Frazer was named Divisional Asset Protection Manager for Boddie-Noell Enterprises.
Michael Mayernik was named Area Loss Prevention Manager for ULTA Beauty.
Post Your New Job or Promotion!
See all the Industry Movement

Your Career
Sponsor this section of the Daily
The Perfect Elevator Pitch: In 20 Seconds or Less, Tell Me What You Do When explaining to someone about your line of work, or products you develop or sell, it can be hard to narrow it down to just a twenty second description. It's important to be able to accurately and effectively describe what you are trying to sell, so use these tips! (What makes you unique?)

3 Weird Things Breakfast Does to Your Brain They say breakfast is the most important meal of the day, but they failed to tell you when and what you eat is also important as it can transform how your mind behaves during the day. (Make sure you're making the most of your meals)


Last week's most popular articles--

9 Ways Leaders Insult Their Employees
You have the skills, and the experience to lead your team to success but if you're not respecting your employees, you won't go very far. The key is having self-awareness to know when you've crossed the line and how it will affect those around you. Be mindful of these common insults to employees. (Don't be a hypocrite)

An Infographic Every Boss Should Read
Everyone knows that if your team is happy and loves what they do, they will get more work done. If you kill their motivation, that kills their drive. Avoid making these mistakes so that your team stays inspired. (Negativity)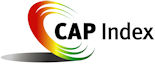 Tip of the Day
Sponsored by Vector Security
#1 Roadblock to Success: Tech Fear

Some people and companies fear it.
Some struggle with it.
Some embrace it.
But the great ones - Pursue it!

Where are You?
And don't let anyone tell you it's not your responsibility. Get involved with every aspect of it, if you can. Just a thought from someone it almost defeated but who learned how to use it.

Just a Thought,
Gus Downing






Upcoming Events

LPRC Impact Conference
October 13-15, 2014
Gainesville, FL

CLEAR Fifth Annual Training Conference
October 13-16, 2014
San Diego Marriott-Mission Valley, CA

Northeast Regional Conference on LP
October 28, 2014
Monroe Twp, NJ
---
Recruiting?
Get your job e-mailed to everyone... everyday
Post on our Featured Jobs Board!
Reach your target audience in 2014 every day!
Request our 2014 Media Kit
update account / change e-mail
unsubscribe FEEDBACK
www.downing-downing.com

Advertise With The D&D Daily




36615 Vine Street, Suite 103
Willoughby, OH 44094
440.942.0671
copyright 2009-2019
all rights reserved globally