The D&D Daily Mobile Edition
October 16,

2014



The LP Industry's #1 News Source - Informing, Educating and Instilling a sense of community


News Brief
Sponsored by WG Security Products, Inc.
White House Plans Major Announcement on Card Security - President Obama 'deeply concerned'
The White House is prepping a major announcement that will require agencies that issue benefits on payment cards to use cards outfitted with an EMV chip according to a report in The Hill citing anonymous sources. The White House move comes on the heels of major data breaches at JPMorgan, Home Depot and elsewhere that have caught the administration's attention. It's not clear if the White House will require agencies to use EMV chip cards for internal purposes or if the administration will also mandate that benefits cards be outfitted with unique pin numbers as they are in Europe, according to The Hill. Retailers are already facing an October 2015 deadline to switch to EMV chip cards or face a penalty if the cards are used for fraud. The president was scheduled to make the announcement on Friday, the Hill reported, but that was delayed by a series of emergency cabinet meetings on the worsening Ebola crisis. Obama was reportedly deeply concerned by the JPMorgan hack, meeting with officials several times on the topic and pressing them for any intelligence on the source of the intrusion. While card breaches have ramped up in the U.S. in recent months they're much rarer in Europe where chip and pin is common. (
Source politico.com
)
Russian Hackers Made $2.5 Billion Over The Last 12 Months
The Russian hacking industry brought in $2.5 billion between mid 2013 and mid 2014, thanks in large part to the Target breach, according to a report released today by Group-IB. Other bad news: ATM hacks are on the rise. Spamming still pays well. New criminal groups are hitting the scene, specializing in mobile threats. And POS attacks will only get worse, because they can deliver data that's 10 times more profitable than your average plaintext credit card number. Also, while financial fraud is still a big earner -- accounting for $426 million -- it's being surpassed by the simple buying and selling of credit card data. The carding business brought in $680 million. All of this is evidence of the growing sophistication of the Russian cybercrime industry. (Group-IB defines this as "the market of computer crimes committed by Russian citizens, by citizens of the [countries in the Commonwealth of the Independent States, created when the Soviet Union was dissolved] and the Baltic states, as well as by citizens of other countries from the former Soviet Union.") As the report describes it: The market for stolen credit card data in the last 10 years has finally been structured and now features mass automated distribution channels in the form of electronic trading platforms. (
Source darkreading.com
)
Target breach cards directly tied to Russian underground card sales
A hacker based in Odessa, Ukraine has become the main provider of data stolen from compromised credit cards, a new study claims. According to Russian cyber-security consultancy Group-IB, a person or persons operating under the pseudonym "Rescator" (AKA Helkern and ikaikki) uploaded details of over five million cards onto the SWIPED online carder marketplace. A hacker based in Odessa, Ukraine has become the main provider of data stolen from compromised credit cards, a new study claims. "Rescator is not the owner of SWIPED, he is active seller at this card shop," Dmitry Volkov, head of threat prevention & investigation department at Group-IB claimed. He claimed in a conversation with El Reg: "But Rescator has his own card shop - Octavian.su - where he also sells compromised bank cards. [Rescator] was on our 'radar' because he is one of main members of Darklife team. It's a Russian-speaking hack team and they have closed forum. For example, he was the second user who was registered on darklife.ws. "We always insert [a plant] in any well professional hack communities, especially if they are Russian-speaking. "Rescator lives in Ukraine, but he does not sell compromised cards of Russian or Ukrainian banks. No local victims - no criminal case," he added. Group-IB looked at a sample of cards traded through SWIPED - all of which were originally stolen from the retail chain Target. The Russian security consultancy found that 80 per cent of payments on SWIPED are currently made using Bitcoin, with other crypto-currencies also playing a role as convenient tools for illegal transactions. (
Source theregister.co.uk
)
FBI warns of cyberattacks linked to Chinese government
The U.S. Federal Bureau of Investigation issued a warning to companies and organizations on Wednesday of cyberattacks by people linked with the Chinese government. The advisory, issued privately, contains "information they can use to help determine whether their systems have been compromised by these actors and provides steps they can take to mitigate any continuing threats," according to an FBI statement. The warning comes a day after security companies said they've been working closely together to enable their products to detect several hacking tools used by a China-based group against U.S. and other companies over several years. "The FBI has recently observed online intrusions that we attribute to Chinese government affiliated actors," according to the FBI statement. "Private sector security firms have also identified similar intrusions and have released defensive information related to those intrusions." (
Source csoonline.com
)
FBI Director Calls Encrypted 'Dark' Devices - like the new iPhone - a Hindrance to Solving Crimes
In his first major policy speech as director of the F.B.I., James B. Comey on Thursday plans to wade deeper into the debate between law enforcement agencies and technology companies about new programs intended to protect personal information on communication devices. Mr. Comey will say that encryption technologies used on these devices, like the new iPhone, have become so sophisticated that crimes will go unsolved because law enforcement officers will not be able to get information from them, according to a senior F.B.I. official who provided a preview of the speech. The speech was prompted, in part, by the new encryption technology on the iPhone 6, which was released last month. The phone encrypts emails, photos and contacts, thwarting intelligence and law enforcement agencies, like the National Security Agency and F.B.I., from gaining access to it, even if they have court approval. The F.B.I. has long had concerns about devices "going dark" — when technology becomes so sophisticated that the authorities cannot gain access. But now, Mr. Comey said he believes that the new encryption technology has evolved to the point that it will adversely affect crime solving. (
Source nytimes.com
)
New Florida law a response to breaches in data security
Florida residents have a new safeguard in the form of a state law requiring companies and government agencies to protect individuals' personal information stored electronically. The Florida Information Protection Act of 2014, which took effect July 1, was the program topic Wednesday at the Tallahassee Technology Alliance luncheon. Attorney William Dillon of law firm Messer Caparello, P.A., gave an overview of the law's intent and various provisions. Much like the Privacy Rule of HIPAA, the federal government's Health Insurance Portability and Accountability Act, Florida's FIPA is a consumer protection measure. What the state Attorney General's Office is concerned about is in cases where there is a release or improper disclosure of consumer information or a data breach does occur, that victims are notified and that they do not suffer further harm. (
Source tallahassee.com
)
NRF Releases Report Debunking Myths Surrounding Retail Wages
The National Retail Federation released an in-depth study yesterday authored by a University of Georgia economist who found that retail jobs pay wages highly competitive with those in other industries despite long-held misconceptions to the contrary. "The retail industry finally has definitive data to bolster the argument we've been making all along - that wages in our industry rival those of other industries when properly compared," NRF President and CEO Matthew Shay said. "This report shows that careers in the retail industry are financially rewarding and that those who make a full-time career in retail can rise from entry-level positions to well-paid management and executive jobs." (
Source nrf.com
)
European retailers pledge support for higher wages for Asian factory workers
Workers in Asia's cheapest garment-production hubs are increasingly agitating for better pay, and some big foreign clothing brands say they are willing to help finance wage increases. In Cambodia, which has a $5.5 billion garment industry, a number of European retailers, including Hennes & Mauritz and Zara parent Inditex, wrote to the government in September pledging to pay more to local factory owners so they can, in turn, increase workers' salaries. That is a new tack for major retailers, which typically have steered clear of involvement in salary talks, contending such discussions are a matter for governments, manufacturers and workers' representatives. "It's unprecedented. It's a recognition of the role they play," said David Welsh, Cambodia program director for the Solidarity Center. (
Source wsj.com
)
Walmart CEO vows to end minimum wage pay in future
Wal-Mart Stores Inc plans to improve opportunities for its employees so that in the future there will no longer be a few thousand workers on its payroll making minimum wage, the chief executive of the world's top retailer said on Wednesday. The act of upgrading minimum wage positions would be largely a symbolic move for Wal-Mart. Currently only about 6,000 workers make the minimum out of its U.S. workforce of 1.3 million. Wal-Mart says its average full-time hourly wage is $12.92, compared with the federal minimum wage of $7.25. Wal-Mart is the largest private employer in the U.S. and a prime target of labor activists who say it doesn't pay workers a living wage. (
Source reuters.com
)
Walmart slows physical expansion in U.S.
A much anticipated acceleration of small format Walmart stores failed to materialize on Wednesday when the retailer announced plans to curtail domestic new store growth in 2016. Walmart said it will end its current fiscal year with 240 new Neighborhood Market stores, below the range of 270 to 300 opening that had been forecast earlier in the year. The number of supercenters that will open this year is expected to be 120 units, slightly higher than the projection shared at the beginning of the year. (
Source retailingtoday.com
)
Sears, Amazon Pull Nazi Rings From Sites After Outcry
Sears Holdings Corp. and Amazon.com both pulled men's rings featuring a Nazi swastika from their websites after a social media outcry about the sale of the item. Sears apologized on Tuesday, saying the item was posted for sale by one of its independent third-party vendors in violation of its product guidelines. "Like many who have connected with our company, we are outraged that more than one of our independent third-party sellers posted offensive items on Sears Marketplace," Sears said in a statement. Amazon, in contrast, has not issued any public statements about the ring. A check of its website Wednesday afternoon showed it continues to sell other products on its website from third-party vendors that contain Nazi-affiliated images. (
Source wsj.com
)
Questions raised over Century 21 plan to leave NJ, request for tax breaks
A New York landowner who had discussions with Century 21 about the company building a major distribution center on his property said Wednesday he did not think the discount clothing retailer was serious about coming to the Empire State. New Jersey's Economic Development Authority awarded $40 million in tax incentives to Century 21 Tuesday to persuade the company to remain in the state and expand its operations in Secaucus, keeping 931 jobs here and adding 261. In applying for the incentives, Century 21 said it is considering moving to Hamptonburgh, N.Y., and two-thirds of the grant was awarded based on the authority's assessment that the 931 New Jersey jobs were "at risk" of leaving the state. (
Source northjersey.com
)
Amazon to Hire 80,000 Workers for Holidays
Amazon's Jeff Bezos tops list of best-performing CEOs in the world
Dunkin' Donuts opening 40 locations in Michigan
Dollar General to Build New Distribution Center in San Antonio, Texas
All the news - One place - One Source - One Time
The D&D Daily respects your time
& doesn't filter retail's reality
Report Your News!
(content subject to approval)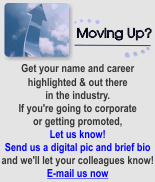 Loss Prevention News Network

"Internal Growth - Positioning Yourself for Promotion"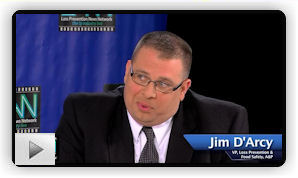 Jim D'Arcy, VP of Loss Prevention & Food Safety for A&P stores, talks about the keys to success in positioning yourself for internal growth and promotion within a company. Over the last five years, Jim has been promoted four times at A&P. Here he discusses what it means to eat, sleep and breathe a company's culture - and why a lateral move isn't always a move backwards.
Filmed at the D&D Daily's 2014 "Live in NYC" Broadcast Event.

To view other episodes in our Leadership & Development Series, click here.




Joan Manson

Sponsored By:


Bass Security





Sponsored By:



Keith White & Michael Nelson

Sponsored By:


Dan Faketty and Professor Bob Hanson

Sponsored By:


The NRF's LP Legislative Committee, a National Update





Jeff Fulmer & Jon Gold


Sponsored By:


Preparing - Training - Responding to the Active Shooter





Rich Mellor


Sponsored By:

Cyber Security's Increasing Impact on Retail & the Role of Loss Prevention

Tom Litchford
Sponsored By:

Stan Welch, VP of LP, JCPenney



Sponsored By:



In case you missed it ...
Click here to view all the episodes from
"Live in Ft. Lauderdale at the NRF LP Show."

Solution Providers, have a video or commercial you want to publish? Contact us.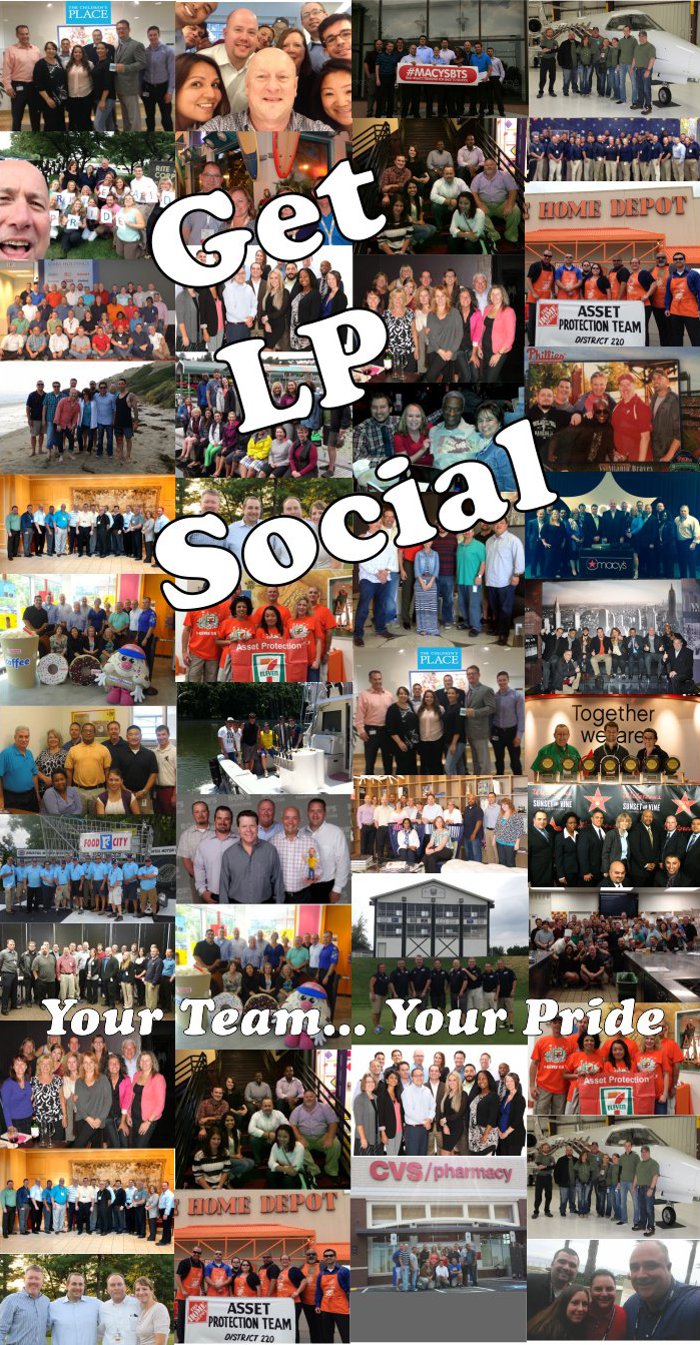 e-commerce

Sponsored by The Zellman Group
"Fraud is not a person - it is a dynamic grouping of statistics that deviate from the norm."
Stuart B. Levine, CFI, CFCI
CEO, The Zellman Group & Zellman Fraudnet


ORC News
Sponsored by Security Resources
Walmart Baby-Formula Theft Leads to San Diego-area Police Chase The alleged getaway driver for a man suspected of stealing baby formula from a National City Walmart led police on a chase that ended in a crash Wednesday. Andrea Cox, 22, of San Diego, was expected to be charged with felony evading in the chase, which ended along state Route 94, according to National City police. Terrell Freeman, 33, of San Diego, is expected to charged in the chase and the theft. Cox refused to stop when a police officer tried to pull over the car as she drove away from the store. The chase led onto northbound Interstate 5, then merged onto I-15, I-805 and eastbound SR-94, Sgt. Alex Hernandez said. A few moments later, the white 2004 Chevrolet Impala skidded out of control, overturned, crashed over a barrier on the north side of the freeway and went down an embankment. (Source 10news.com)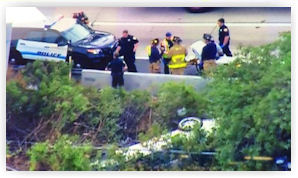 Woman jailed for alleged Walmart computer theft; tied to multi-state thefts A northern Illinois woman remained in the Racine County Jail Wednesday night, accused of stealing a computer from Walmart in Mount Pleasant -- one of a string of alleged thefts in two states. Tiffany A. Broude was charged Jan. 3 with one felony count of being a party to the crime of retail theft for allegedly helping to steal a computer from Walmart on March 27, 2013. She and Christopher M. Streicher placed a $998 computer in a shopping cart in the store, took off the security wrap, and headed for the exit. A Mount Pleasant police officer began investigating the theft, discovering video of the pair stealing a flat-screen TV on March 27, 2013, from Walmart in Kenosha, as well as unspecified items on March 28, 2013, from both a Zion, Illinois, Walmart and a Gurnee, Illinois, Sears, according to the complaint. (Source journaltimes.com)

Pair accused of stealing phones from Sprint store in Oklahoma City - Could be same suspects involved in similar thefts Police are searching for two people after cellphones were stolen from a Sprint store on W. Memorial Road, officials said. According to a police report, one suspect is a woman in her 20s, last seen wearing a pink T-shirt. Police said security cameras placed the woman in the store around 11 a.m. Saturday. In her initial visit the woman asked a female employee questions, including whether she worked at the store alone, the report said. A few hours later she returned with a man. The employee said when she turned her attention to a phone call the two suspects used wire clippers to steal two display phones. Other cellphone thefts have been reported in the same area. (Source koco.com)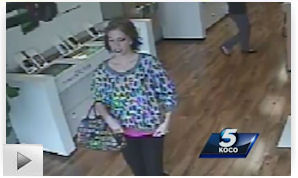 Do you have an ORC case to share?
Share your ORC news and help the industry grow


Retail Crime News

Sponsored by NuTech National
Brooklyn, NY thieves caught taking apart ATM in international scam ring Two con-artists were caught tampering with an ATM machine in Brooklyn which halted an international scam, cops said Thursday. Elvin Pineda, 25, and his pal Luis Fernandez were taking apart an ATM machine at a TD Bank on Bay and Shore parkways Wednesday at 1:30 a.m. when cops on patrol caught them in the act, said police. The duo told investigators they had tampered with the machines before and regularly shipped the ATM parts to China to be duplicated and used for skimming devices, according to police. Pineda told cops he had more skimming equipment in his Coney Island pad so they went for a look and uncovered several hundred credit cards, laptops, special printers and laminators, police said. Pineda was charged with multiple counts of criminal possession of a forgery device, possession of a forged instrument and possession of a skimmer device, and criminal mischief, cops said. (Source nypost.com)

Seven thieves smash into store in Houston, steal ATM Houston police are searching for a seven people involved in a smash and grab at a convenience store in north Houston. It happened around 2:15am at a Phillips 66 location on West Montgomery and West Little York. A clerk and customer inside the store say the thieves used a Ford pickup truck to smashed into the front of the building. The truck hit the front wall three times, and then the driver and six other people inside the truck jumped out. They then grabbed the ATM inside the store, put it in the truck and drove off. The truck was found abandoned a few blocks away, but the ATM is still missing. (Source abc13.com)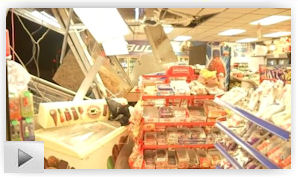 UK: Milton Keynes raiders start fires before $1.6 Million jewelry store burglary An estimated £1m of jewelry has been taken from a Milton Keynes shopping centre by thieves who started fires as a "distraction", police said. The burglary at Leslie Davis Jewellers in Eagle Walk in centre:mk happened at about 03:00 BST. Police said the raiders deployed "planned distraction and deterring tactics" such as using metal ropes to halt vehicles and starting small fires. (Source bbc.com)

Thieves steal $33K in jewelry during break-in at Fort Mill, SC store Deputies are looking for three people who smashed a brick wall to gain entry to a Fort Mill-area jewelry store Wednesday before leaving with $33,000 in gold and silver items. York County Sheriff's Office investigators responded to Eshaan Jewelers on Andrew L. Tucker Road off S.C. 51 near the state line Wednesday morning in reference to a burglary. A hole had been smashed in the rear brick wall of the building sometime around 4 a.m. Wednesday, according to a Sheriff's Office report. Surveillance video showed silhouettes of the burglars holding flashlights in the building. (Source heraldonline.com)

Buffalo, NY man sentenced in credit card scheme: restitution of $28,215 A Buffalo man has been sentenced by U.S. District Court Judge Richard J. Arcara to time served and four years probation after admitting to his role in a credit card scheme, U.S. Attorney William J. Hochul Jr. announced Wednesday. Avery D. Gill, 56, who pleaded guilty in May to bank fraud, also was ordered to pay restitution of $28,512.78. Prosecutors said Gill and two co-defendants, Calvina Myles, 28, and David Johnson, 41, both of North Tonawanda, used the names and personal information from two people to apply for two Capitol One credit cards in those names. Investigators said they used the credit cards to purchase merchandise and gift cards between September 2012 and March 2013. They said Gill also used a credit card to make ATM withdrawals. Capital One's total loss was $29,454. (Source buffalonews.com)

COACH employee and 2 others arrested for $80,000 theft in Lake Arrowhead, CA Three persons, including a store employee, have been arrested in what authorities say is the theft of approximately $80,000 worth of merchandise from the Coach store in Lake Arrowhead Village. Sheriff's Capt. Rick said the thefts, which he termed an inside job, involved numerous items being rung up and then voided on the cash register, with the items then being taken from the store by the male cashier's two female accomplices. (Source mountain-news.com)

Three men suspected in rash of Central Fla. robberies arrested - One says he's 'sorry' Deputies arrested three men they said committed at least 10 robberies throughout Orange and Seminole counties. Joshua Ruiz, 24, Antonio Sanchez, 18 and Steven Holt, 26, were arrested Tuesday evening. They faced a judge Wednesday and were denied bond. As Ruiz was being escorted to a deputy's cruiser, he said he was "sorry for everything." According to deputies, the men are responsible for a string of gas station and pharmacy robberies last month, some of which were in the tourist area on International Drive. Deputies said the men confessed to eight robberies in Orange County and two in Seminole County. The trio allegedly hit two Circle K gas stations, Hess station, 7-Eleven and a CVS Pharmacy. (Source wftv.com)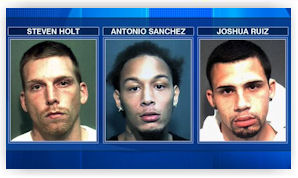 HuHot Mongolian Grill employee in Sheridan, CO accused of skimming customers' credit card info Sheridan police say they arrested an employee at HuHot Mongolian Grill who is accused of stealing customers' credit card information. Sheridan Police Chief Mark Campbell said investigators arrested 31-year-old Michael Alexander Stephens on Wednesday afternoon. He works at the HuHot Mongolian Grill in the Sheridan shopping district. Stephens was being held on investigation of felony possession of identity theft tools at the Arapahoe County Jail. His bond was set at $3,000. Campbell said a key break came when a female restaurant employee told managers she saw Stephens with a credit card reader that takes photographs. Police are now trying to figure out just how many people may be affected. (Source thedenverchannel.com)

More than $10K in merchandise stolen from Paul Stuart store Chicago Loop Thieves stole more than $10,000 in merchandise from a high-end men's clothing store in the Loop, police said. Burglars smashed a glass revolving door around 6:30 a.m. Wednesday at Paul Stuart in the 200-block of South LaSalle. Police are trying to figure out if this incident is linked to other recent smash and grab robberies. (Source abc7chicago.com)

Cowboys RB Joseph Randle fined $29K for shoplifting The Dallas Cowboys fined running back Joseph Randle over $29,000 following his arrest for shoplifting Monday. Coach Jason Garrett said he plans to play Randle Sunday against the Giants. Randle apologized to his teammates Wednesday morning for the arrest, according to Clarence Hill of the Fort Worth Star-Telegram. Cowboys head coach Jason Garrett said Randle took full responsibility for his actions and will face consequences, but will play on Sunday. (Source si.com)

Buffalo woman admits attempted burglary at Bon Ton A Buffalo woman, who hid in the stock room of the Lockport Bon Ton store last year in an effort to pull off an after-hours theft, pleaded guilty Wednesday in Niagara County Court. Catrina M. Contrereaz, 27, of Winter Street, admitted to a reduced charge of attempted third-degree burglary. The pregnant mother of two faces as long as four years in prison when she is sentenced Jan. 26 by Judge Sara Sheldon Farkas. Assistant District Attorney Heather A. Sloma complimented the police work of the Niagara County Sheriffs Office. She said Contrereaz was done in by the discovery of a couple of fingerprints and her DNA on a water bottle found in the stock room. Contrereaz will have to pay $1,303 in restitution for the items taken in the July 21, 2013, caper: perfume, jewelry and "money soap," bars of soap with cash inside. (Source buffalonews.com)

Jared in the Brandon Town Center, Brandon, Florida the victim of a Burglary Cutting a hole in the roof and smashing showcases, thieves were able to flee with over $400,000 in merchandise.

Suspect Sought for Credit Card Fraud at Forest, VA Food Lion

Arson suspected in Wholesale Store fire in Mountain Home, AR

Boston man arraigned for stealing $89K shotgun

Robberies and Burglaries
● Antique Specialty Mall - Albuquerque, NM - Burglary - suspect arrested
● CVS - Virginia Beach, VA - Armed Robbery
● CVS - Alameda, CA - Theft/ Robbery - suspect sprayed mace
● Dollar General - Tulsa, OK - Armed Robbery - 2 arrested
● Dollar General - Marshall, TX - Armed Robbery - suspect arrested
● Dollar General - Murfreesboro, TN - Armed Robbery - suspect arrested
● GameStop - Port Richmond, PA - Armed Robbery
● Halloween Express - Greenville, NC - Armed Robbery - manager injured
● LKQ Auto Parts - Bakersfield, CA - Burglary
● Minute Shop - Smith Co, TX - Armed Robbery
● Sooner Shop - Norman, OK - Armed Robbery
● T-Mobile - Harris Co, TX - Armed Robbery
● 7-Eleven - Waynesboro, PA - Armed Robbery - 2 charged
● 7-Eleven - Crystal Lake, IL - Armed Robbery - suspect arrested

Vendor Spotlight



Checkpoint Systems Enhances Its Check-Net Print Shops; Can Now Print, Encode, Test One Million RFID Labels in 24 Hours
Significantly Boosts Ability to Rapidly Produce Accurate, High-Quality RFID Labels for Apparel Retailers' Source Tagging Initiatives
THOROFARE, N.J. - Oct. 16, 2014 - Checkpoint Systems, Inc., a leading global supplier of merchandise availability solutions for the retail industry, today announced that its Check-Net print shops have implemented significant new printing capabilities that allow them to quickly print, encode and test RFID labels for apparel retailers and manufacturers employing its source tagging capabilities.

Check-Net's unique new system is eight times faster than industry-standard thermal transfer printers and offers higher accuracy (99.9%) and quality, including multicolor RFID label printing. This makes Checkpoint's source tagging program ideal for apparel retailers with global operations that require a large number of labels for their stores around the world. In fact, Check-Net can now print and encode one million RFID labels in 24 hours.

Check-Net increases operational efficiency by delivering unprecedented value to retailers in handling source tagging initiatives. From managing Hard Tag @ Source programs to replenishing stock items such as self-adhesive radio frequency (RF) labels on rolls and woven or printed apparel labeling solutions, the service facilitates the complete ordering process and ensures the right products are delivered at the right time.

Along with the new printing systems, Check-Net offers new processes and quality controls, including individual re-serialization for EPC codes. EPC testers are attached to printers, and Checkpoint follows strict manufacturing processes to ensure that the RFID labels that are not used are destroyed. In addition, Checkpoint uses anti-static solution packing to avoid RFID chips being damaged.

Read more here.


Featured Job Listings
Sponsored by Cam Connections
Feature Your Job Here For 30 Days -
70% Aren't On the Boards
Group VP of LP
Retained Search
New York, NY
Gus Downing
Sr. Director, Field LP
Ross Stores
Dublin, CA
Ross Stores
Director of LP
The Children's Place
Secaucus, NJ
The Children's Place
Director of LP
Performance Food Group
Richmond, VA/Denver, CO
Performance Food Group
Director of LP
Restoration Hardware
Corte Madera
Restoration Hardware
ORC Investigations Mgr
The Home Depot
Atlanta, GA
The Home Depot
Regional Director, AP
Rite Aid
NY Metro, NY
Rite Aid
Director, Pharmacy LP
Rite Aid
Camp Hill, PA
Rite Aid
Corporate Investigator
Confidential
San Francisco Bay, CA
Confidential
DC LP Manager
Brookstone
Mexico, MO
Brookstone
National Account Manager
Vector Security, Inc
TBD
Vector Security, Inc
LP Agent
JONS Markets
Los Angeles, CA
JONS Markets
Bilingual AP Specialist
Bi-Lo Holdings
Miami, FL
Bi-Lo Holdings
AP Associate
Ralph Lauren
Orlando, FL
Ralph Lauren
LP Investigator
Lamps Plus
Chatsworth, CA
Lamps Plus
LP Investigator
Tom Thumb
Dallas, TX
Safeway
National Account Mgr
Confidential
Northeast
Downing & Downing

Limited Time Only - Post Your Multi-Unit LP jobs for FREE - Learn More Here

Daily Job Alerts


Sponsored by Cam Connections
Appearing One Day Only
View our Internet Jobs Archives here
Director, Loss Prevention
Harbor Freight Tools
Calabasas, CA
Harbor Freight Tools
Regional LP Manager
CVS Caremark
Honolulu, HI
CVS Caremark
District Mgr Investigations
Macy's
Columbus, OH
Macy's
LP Manager
Macy's
Loveland, CO
Macy's
LP Supervisor
Burlington Stores
Atlanta, GA
Burlington Stores
LP Supervisor
Burlington Stores
West Allis, WI
Burlington Stores
LP Manager Hrly
Sears
Winchester, VA
Sears Holdings Corp
LP Manager Hrly
Sears
Horseheads, NY
Sears Holdings Corp
LP Manager Hrly
Kmart
Milledgeville, GA
Sears Holdings Corp
LP Manager Hrly
Kmart
Pittsburgh, PA
Sears Holdings Corp
LP Manager Hrly
Kmart
Metairie, LA
Sears Holdings Corp
LP Manager Hrly
Kmart
Sumter, SC
Sears Holdings Corp
LP Manager Hrly
Kmart
Birmingham, AL
Sears Holdings Corp
AP Team Leader
Target
American Fork, UT
Target
AP Team Leader
Target
Augusta, ME
Target
AP Manager in Training
Walmart
Bottineau, ND
Wal-Mart
AP Manager in Training
Walmart
Marshall, TX
Wal-Mart
AP Manager in Training
Walmart
Wheat Ridge, CO
Wal-Mart
AP Manager in Training
Walmart
Surprise, AZ
Wal-Mart
AP Manager in Training
Walmart
Moulton, AL
Wal-Mart


Home of the Industry's Original
On the Move

None to report.

Post Your New Job or Promotion!
See all the Industry Movement

Your Career
Sponsor this section of the Daily
How to Master Your Morning for Peak Productivity You may think your morning has to be a race against the clock just to get out of the door, but it doesn't have to be like that. Make your mornings more relaxing, less stressful, and give yourself a leisurely morning at least every once in a while! (Take less time)

7 Tips for Battling--and Even Embracing--Procrastination It's an uphill battle, it seems every day we all encounter our arch enemy, procrastination. Use these tips to overcome your desire to do anything but work, and turn procrastination into productivity! (Find an alternate distraction)

How to See More Productive Smiles at Work Creating a good, and effective company culture is important for any organization. Fixing the problem starts with the leaders, but you have to decide to act. Don't find yourself denying that your company's culture isn't up to par, use these tactics to fix your problems. (Cure your culture)

How to Create a High-Energy Workforce
You, as the leader, can't be the only one working hard, and putting in the time and energy; you need your employees to be active and engaged as well and sometimes that means helping them unleash their energy. Use these ways to help them out! (Build a sense of fellowship)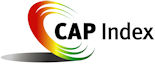 Tip of the Day
Sponsored by Vector Security
Flexibility and molding to the environment you're in is the first step towards integration and inclusion. In order to be absolutely effective, an executive must first become one with his or her surroundings and mold to what it is as opposed to expecting them to mold to you. Seeing and hearing those subtle differences is the key and changing to it becomes the objective. Once modified, you then have the freedom to influence change and make a difference.

Just a Thought,
Gus Downing






Upcoming Events

CLEAR Fifth Annual Training Conference
October 13-16, 2014
San Diego Marriott-Mission Valley, CA

Northeast Regional Conference on LP
October 28, 2014
Monroe Twp, NJ
---
Recruiting?
Get your job e-mailed to everyone... everyday
Post on our Featured Jobs Board!
Reach your target audience in 2014 every day!
Request our 2014 Media Kit
update account / change e-mail
unsubscribe FEEDBACK
www.downing-downing.com

Advertise With The D&D Daily




36615 Vine Street, Suite 103
Willoughby, OH 44094
440.942.0671
copyright 2009-2019
all rights reserved globally