The D&D Daily Mobile Edition
LP, AP & IT Security's #1 News Source



---
Moving Up
Sponsored by Controltek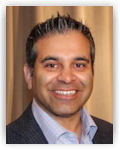 Aashish Amin named Director, Strategy and Tech Services for Office Depot
Aashish was previously the Director of Loss Prevention Strategy and Analytics for over a year for the retailer, before taking this new role, and was also their Senior Manager, LP Operations and Shortage Control for over 12 years, starting in 2004. Aashish earned his Bachelor of Science in Management and his Masters of Business Administration in Marketing from Case Western Reserve University. Congratulations Aashish!

Anthony Aloisio, CFI named Loss Prevention Director for Floor & Decor
Anthony was previously the Senior Manager of Asset Protection for Walmart before taking this new role. He also held a variety of different asset protection leadership positions for The Home Depot such during his 15 years there, including AP Supervisor, Regional LP Manager, District AP Manager, Corporate Manager - Internal Investigations, and Corporate Manager AP Resources. Congratulations Anthony!

---

The D&D Daily's Publicly Reported
Q3 2017 Robbery & Burglary Report
Robberies & Burglaries Down 1.3% YTD
Down 17% From Q3 2016
Hurricane Harvey Impact - TX Robberies Down 49% Since '16
California Sees 12% Increase & Takes 1st Place From TX
Year-to-Date
& Quarterly Comparison
2016 vs. 2017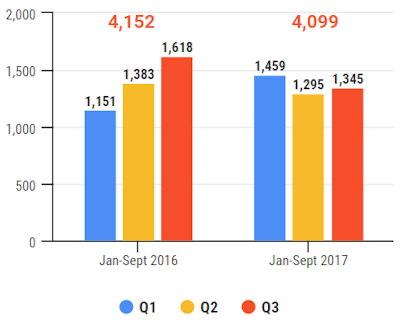 Year to Date 2017
• 4,099 incidents Down 1.3%
• *Hurricane Harvey Impact
• Robberies down 49% in TX
Q3 2016 vs. Q3 2017
• Q3 2016 vs. Q3 2017 Down 17%
• Down 273 incidents overall
• Down 77 in Texas

---
Robberies & Burglaries by Store Type
Of the top 15 retail locations with the highest number of robberies & burglaries in Q3, the graph below shows, by percentage, which store category they fall under.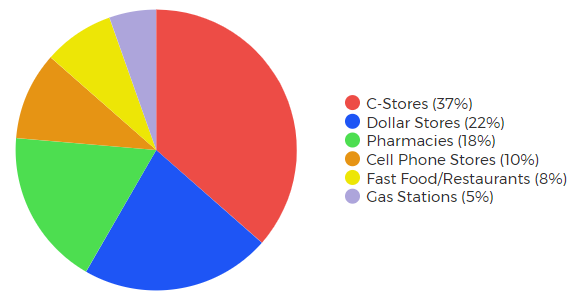 ---
Suspects by Gender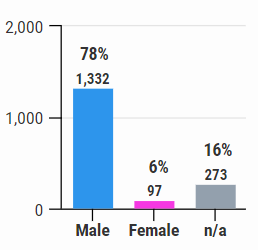 Armed vs. Unarmed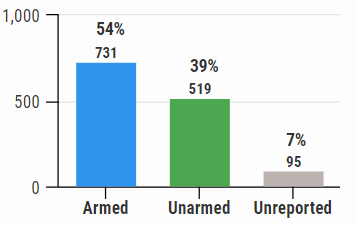 ---
Robberies & Burglaries by Weekday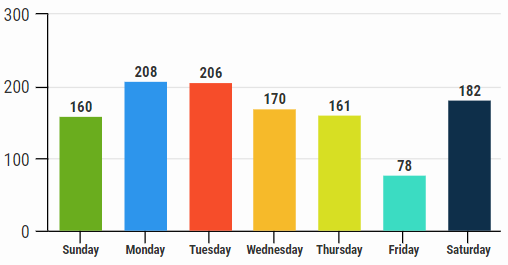 *Not all incidents reported a weekday
Tuesday Makes Top Three List -1st Time
*Monday, Tuesday, and Saturday lead weekday robberies, replacing the Saturday, Sunday, Monday trend. Friday, payday, remains the lowest day for seven quarters.
---
Robberies & Burglaries by Time of Day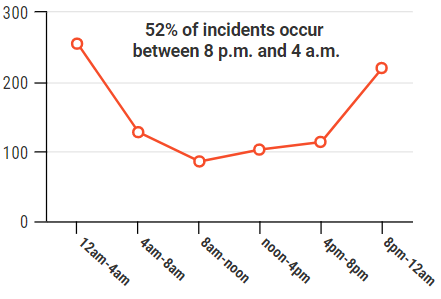 *Not all incidents reported a time
---
Robberies & Burglaries by State
Q1 Highest:
1. California (125)
2. Texas (103)
3. Ohio (88)
4. Pennsylvania (77)
5. Florida (74)
Q2 Highest:
1. California (106)
2. Florida (86)
3. Texas (84)
4. Ohio (73)
5. Pennsylvania (69)
Q3 Highest:
1. California (137)
2. Florida (100)
3. Texas (79)
4. Ohio (56)
5. Georgia (50)

Q3 2016 & 2017 Comparison by State of Top 5 States
California: Q3 2016 - 122; Q3 2017 - 137 - up 12%


Florida:

Q3 2016 - 101; Q3 2017 - 103 - up 1.9%


Texas

: Q3 2016 - 156; Q3 2017 - 79 - down 49%


Ohio:

Q3 2016 - 85; Q3 2017 - 56 - down 34%


Georgia:

Q3 2016 - 49; Q3 2017 - 50 - up 2%



*California sees 12% increase
*Hurricane Harvey impacts Texas and entire Q3



Top States 2016 & 2017


-California moves from 2nd in 2016 to 1st in 2017
-Texas holds 2nd place in 2017 down from 1st in 2016
-Florida holds 3rd place two years running
-Ohio holds 4th place in 2017

---
Robberies & Burglaries by City
Q3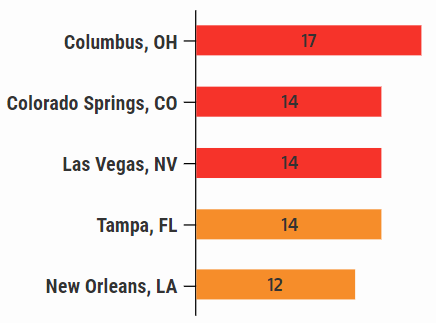 Q3 Highest:
1. Columbus, OH (17)
2. Colorado Springs, CO (14)
3. Las Vegas, NV (14)
4. Tampa, FL (14)
5. New Orleans, LA (12)

Q2 Highest:
1. Tulsa, OK (21)
2. Houston, TX (17)
3. Colorado Springs, CO (16)
4. Columbus, OH (15)
5. Cleveland, OH (14)

Q1 Highest:
1. Houston, TX (23)
2. Shreveport, LA (19)
3. Tulsa, OK (17)
4. Colorado Springs, CO (15)
5. Oklahoma City, OK (12)

Houston - The Robbery Capital of America
1st time ever Houston not listed in Top 5 - Hurricane Harvey impact

Columbus, Ohio - Did we push robberies to Columbus?
*Most experts attribute Ohio as one of the epicenters for the opioid epidemic and with the prescription crack down and increased heroin on the market, this could be the contributing factor for Columbus topping the chart. Additionally, Dayton, Ohio, one hour west of Columbus, ranked 3rd on the Top 15 cities for robberies in 2016. So has law enforcements & retail LP's robbery prevention efforts merely displaced the robberies to Columbus?

Share on Facebook



Share on Twitter



Share on LinkedIn


Methodology: The Daily collects this retail store specific information from public news media sources throughout the United States and reports it daily in our Retail Crime column. We do not survey any retailers or third parties nor collect information from any retail executive. All of this information is available through public news media outlets. We do not claim nor does it represent all such incidents or deaths that may occur in retail locations or retail corporate facilities as many may not be reported in the news media depending on a number of variables outside of our control. We are not responsible for the accuracy of the information reported in the various news media outlets. We do not name any retailer, retail executive, suspect, or victim.

Copyright: We reserve the rights to this industry exclusive report and do not authorize its republication or reproduction without written consent which may include a fee. By re-publishing or reproducing this report or any parts of it without authorization the party agrees to pay a fee determined by the D&D Daily.

---
News Brief
Sponsored by WG Security Products, Inc.

This Could Be What Fuels a Federal ORC Law
ORC Impact State Legislation Stopping or Regulating Non-Receipted Returns?
Time for all retailers to get out in front of this?
With the opioid epidemic taking center stage in the media and all of the federal pressure, new laws, and regulations how far will it go?

The article below clearly shows how one judge is reacting and getting the PA Attorney General involved and targeting the nation's largest retailer, Walmart.

Now given the press coverage, the increased funding, and every police officer in the country knowing exactly how these addicts are funding their addictions, and coupled with the increased retail robberies, we might be seeing the very beginning of a wave of states possibly looking at regulating non-receipted returns.

If enough momentum and awareness builds across the nation, and given Trumps stance on supporting Law Enforcement, this could actually fuel a federal ORC law.

All it takes is some viral social media posts and the major news networks picking up on the story and the two trade associations, working together I might add, and we may be able to get a Federal ORC law.

Now obviously this will take every LP and AP executive's efforts - support- and their retailer's support, in the nation, but this may be the moment in time when it could happen. It's up to all of us to make sure it is!

Similar to the pseudoephedrine movement a few years ago. Putting all of it behind the counter and requiring ID's and signatures for purchases due to the sky rocketing meth labs all over the country we could see states enacting similar statues around this issue. Which would be great for the LP industry and retailers. Just a thought Gus Downing

Judge takes on Wal-Mart in opioids fight - Blames ORC
PA Judge Calls Wed.'s "Walmart court" day for Drug Pleas
Non-Receipted Returns Policy Feeds Opioid Epidemic
Hardly a sector of society has escaped being touched by the opioid epidemic. But when it comes to large retail chains, the focus has been primarily on pharmacy policies — until now.

A Westmoreland County judge has raised an issue that she calls "the elephant in the room" — fraudulent merchandise returns that drug users make to fund their addictions.

At a recent meeting with Pennsylvania Attorney General Josh Shapiro, Judge Meagan Bilik-DeFazio singled out Wal-Mart for criticism and suggested the state be more proactive in addressing the issue.

This is a real problem that nobody's really talked about," she said in an interview. "Wal-Mart has to know that they are a huge part of the problem … that they are contributing to this epidemic."

Bilik-DeFazio said she has noticed a spike in such cases in the past few years, so much so that she has taken to calling Wednesday, the day set aside for drug pleas, "Wal-Mart court."

The chief culprit, she said, is the chain's non-receipted return policy, which allows drug users to exchange stolen merchandise for cash or a gift card. They then trade the card for drugs or redeem the card for cash, usually for pennies on the dollar, at a gift card exchange kiosk, she explained.

Other major retailers that allow returns without a receipt, often in exchange for a gift card, store credit or other compensation, include Home Depot, Lowe's, Macy's, Target, Kohl's and T.J. Maxx, according to online reports and published company policies.

Opioid-related cases from Target, Kohl's and other retailers "pale in comparison" to the Wal-Mart cases, Bilik-DeFazio said.

"What I'm hearing from people in addiction is that they know all this, so they take turns. They beat the system," she said. "With the amount of fraudulent returns I'm seeing, the volume is on a scale that has to be enormous. I don't understand how Wal-Mart can't know that this is a means to an end for an addict. This is how addicts are paying for their drugs."

Lt. Rod Mahinske of the North Huntingdon Police Department said that Wal-Mart, although part of the problem, shouldn't be singled out for criticism.

"We've seen it," he said, "but we've seen it across all the stores. These people are desperate, they're trying to get money in any way, shape or form. ... To single one store out — they're probably the biggest and most popular right now, so they probably have more than their share. But it's not just them. We're seeing retail thefts in all stores."

Wal-Mart and other large retailers spend billions of dollars annually on loss prevention and can track chronic illegal refunders through companies such as Retail Equation. But there is a paucity of research on the more recent problem of drug addicts who support their habits through chronic illegal refunding, said Professor Emeritus Richard Hollinger of the University of Florida.

Wal-Mart is not the only area retailer feeling the effects of the opioid epidemic.

Bilik-DeFazio said simply requiring a receipt would make a difference. "Wal-Mart's got to change with the times," she said. "I would love to have them sit down at the table with us and look at maybe changing some policies." triblive.com

AIG, Office Depot Case May Limit Coverage In Fraud Cases
Could Lead to Widespread Coverage Denials for Fraud-Based Claims
AIG has asked the Ninth Circuit to affirm that a California law precluding coverage for willful acts means Office Depot can't be indemnified for defense and possible settlement costs in a suit alleging it overbilled public agencies, and attorneys say a decision in favor of the insurer could lead to widespread coverage denials for fraud-based claims.

Office Depot is challenging U.S. District Judge Stephen V. Wilson's ruling accepting AIG Specialty Insurance Co.'s argument that California Insurance Code Section 533 — which precludes coverage for a policyholder's willful acts — applies to the entire underlying California False Claims Act action against the office supply giant, including allegations of reckless and negligent conduct.

In an August appellate brief, Office Depot asserted that Judge Wilson stretched Section 533 beyond its intended bounds, given that the company has not actually been found liable for any violations of the CFCA. law360.com

'Hell on earth': Northern CA. Death toll mounts to 41
Most Fires Under Control Now
Fires consume 217,566 acres statewide. - An army of 11,000 firefighters - Total evacuated since Oct. 8 100,000+ - Statewide, more than 5,700 structures burned - Including 3,000 homes in Santa Rosa. 25,000 Residents allowed to return home Sunday. Most Fires are under control as of Monday morning. sacbee.com

Worldwide Adoption of Facial Recognition
South American Mall Owner Having Significant Success With Facial Recognition
Rio de Janeiro, Brazil, October 13, 2017 -- CyberExtruder's UK-based partner Allevate has reported its resellers in Brazil are seeing significant success with BRMalls, one of the largest shopping mall chains in South America, and an early adaptor of the Face-Searcher cloud service.

BRMall's Security Manager Jesse Barbosa, having used the integrated system in their flagship mall in Rio de Janeiro since July, said, "The identification of five criminals already has proved to us how effective it is in supporting our daily operations." In further comments, Mr. Pampurre, head of Security for BRMalls, said the system "...is a crucial tool to support us in combatting criminality." pr.com

45% of retailers expect holiday sales increase
80% hiring the same or more seasonal workers than last year
Optimistic that holiday sales will increase this year, retailers are stepping up their seasonal hiring plans. This was according to a new Korn Ferry retailer survey. The study, which was conducted in September, is based on responses from 20 major U.S. retailers representing $160 billion in sales, and 1 million employees.

According to data, nearly half of the respondents (45%) said they expect to see an increase in holiday sales in 2017, and none of the respondents expect a decrease in sales. To meet this expected demand, 80% are planning to hire the same or more seasonal workers than last year. chainstoreage.com

How to Help Staff Cope With Disaster-Related Stress and Anxiety
LP & AP Can Play a Role Here & Help
Recent hurricanes, the Las Vegas mass shooting, and the California wildfires might have your workforce on edge. These disasters and tragedies can affect your employees in different ways, even if they were not directly impacted.

"Because people spend the majority of their waking hours at work, then some of that is obviously going to spill over in the workplace." "Even though it might not be something directly affecting that organization, it's affecting people that are working there, so it does have implications."

How organizations can help employees cope with any extra stress or anxiety related to these recent events:

Acknowledge and normalize reactions. "It's important to acknowledge that people are having a variety of reactions to this—and that it's normal to have any number of reactions to this."

Promote employee assistance programs. EAPs often give employees access to mental health professionals free of charge. "Following a crisis is a good time to put out some reminders, [such as] 'Hey, this resource is available at no cost to you.'"

Remind staff about self-care. "When people are stressed out, it's really easy to forget to engage in those self-care activities or to feel like you don't have time, because you're too stressed out, ironically, to do the things that will actually help you."

Connect staff with ways to help. Even if the disaster or tragedy didn't hit close to home, organizations can connect their staffs with ways to help from afar. For example, "sharing information with employees about how they can volunteer, help, or donate to the response of whatever the crisis was."

By investing in employees and offering them resources to manage stress, Ballard said organizations are not only doing the right thing for their workforce but also for their business. "[I]t will help the organization function better; it will help people in the organization be more resilient when crises do occur; and it will create an environment where it's a good place to work—where people want to come to work—and that helps you attract and retain top-quality workers," he said.

Editor's Note: LP and AP usually visit more stores then anyone in an organization and have the uncanny ability to observe store employees almost as an objective party. So if high levels of stress or anxiety exist in a store or with a group it's important to help those impacted individuals and help the store and company get back to normalcy. associationsnow.com

Job candidates are waiting longer in 2017
To get all the way through the job interview process, according to new research from Glassdoor.

The Mill Valley, Calif.-based employer review site concluded that the average interviewing time (from start to finish of the hiring process) for the first half of the year has been 23.8 days, almost a full day more compared with 2014's average of 22.9 days.

One reason for the lengthened hiring process, experts agree, is that companies are conducting more background checks, pre-hire assessments and additional interview rounds.

As team and panel interviews become more popular, the cumbersome nature of consensus-driven decision-making can become a major culprit in hiring delays. "Everyone feels they need to give their opinion on the candidate." shrm.org

Dollar Stores Immune From Amazon?
Amazon.com is a threat to many businesses, but the one channel that many see as immune to the e-tail giant's advances are dollar stores. The typical dollar store customer spends less than $10 per visit and usually has numerous nearby locations to shop. The combination of low prices and convenience offered by dollar stores makes it a tough opponent for Amazon to match. qz.com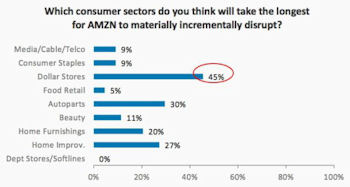 Sears Canada gets court approval for liquidation

Online retailer Zappos offers to help cover funeral costs of every Las Vegas victim

'Top LP Leaders' Video Series - Running all week in our LPNN column below

Wells Fargo Continues Building it's Compliance Teams Nationwide

Last week's #1 article --

5 Retailers Struggling as We Head Into the Holiday Season
RLPSA Connect

Nov 2 - Atlanta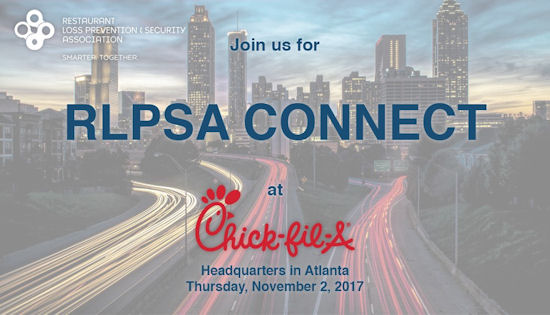 Attend RLPSA CONNECT on Thursday, November 2, 2017 in Atlanta. RLPSA CONNECT is a one-day power workshop for LP, Security & Safety teams focused on criminal activity against Quick Service Restaurants (QSR), casual dining restaurants and other food service providers.

The workshop is designed to not only connect restaurant security practitioners and local law enforcement professionals, but is also designed to develop awareness on trending issues and foster open discussion and solutions among the attendees.

Check out more of the value-packed agenda, and register here: http://www.rlpsaannualconference.com/rlpsa-connect/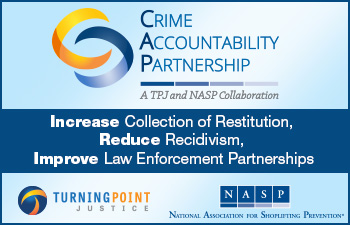 All the News - One Place - One Source - One Time
The D&D Daily respects your time
and doesn't filter retail's reality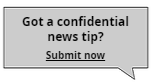 ---
Spotlight on Stanley Security

Effectively Leveraging Data Streams in Retail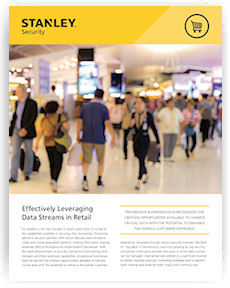 Successfully Harnessing Crucial Data to Improve Business
For retailers, a lot has changed in recent years when it comes to the capabilities available in securing their businesses. Previously, premium security solutions with robust features were limited to costly and closed proprietary systems, making information sharing extremely difficult throughout an entire system's framework.

For tips on how retailers can effectively utilize key data to improve business, click here.
---

---

Regulators need to develop global cyber security standards
Governments need to develop global cyber security standards and increase information sharing on cyber threats, Daniel Pinto, chief executive of JPMorgan's corporate and investment bank, said on Saturday.

Pinto, speaking during a panel at the Institute of International Finance meeting in Washington, said global banks have to comply with a hodgepodge of cyber security standards across different countries, increasing costs and risks. Pinto said cyber security laws and the way banks are supervised on cyber security had to change.

"All the banks are very focused on the payments space," Staley said. "That may be where the battleground for finance is fought over the next 15 years." reuters.com

Pizza Hut was hacked, company says
Pizza Hut told customers by email on Saturday that some of their personal information may have been compromised. Some of those customers are angry that it took almost two weeks for the fast food chain to notify them. The "temporary security intrusion" lasted for about 28 hours, Oct.1 to midday Oct. 2, the notice said, and it's believed that names, billing ZIP codes, delivery addresses, email addresses and payment card information meaning account number, expiration date and CVV number — were compromised for those placing an order on their web site or mobile app. They're estimating it impacted less than 1% of their visits. A call center operator told McClatchy that about 60,000 people across the U.S. were affected. miamiherald.com

Don't Discount Benefits of a Cybersecurity Audit
After Equifax - Time for an Audit?
As companies recalculate their cybersecurity strategies in the wake of the Equifax Inc. breach, one thing they should consider is an audit of their programs once they implement any changes, says the head of one data-protection company. "Once you think you have your plan, you should reach out to audit firm and have them review it," said Mohamad Ali, chief executive of Carbonite Inc. "They'll tell you if you are missing anything, if you have any big holes." wsj.com

53% Using Cloud Storage Inadvertently Expose Data
10 Major Cloud Storage Security Slip-Ups (So Far) this Year
One of many concerning security trends from 2017 is the accidental exposure of cloud data via misconfigured Simple Storage Service (S3) buckets from Amazon Web Services. This year has been marked with several data leaks from major organizations, most recently Accenture.

Here's Why: The trend underscores a dangerous problem common among businesses of all sizes, as well as the third parties with which they entrust sensitive information. Many don't take steps to properly configure their cloud storage accounts or don't take the time to verify the security practices of third-party firms. As a result, they compromise customers' data.

Every company that deals in sensitive or valuable data should have an information assurance program that risk rates their vendors, monitors them for security and other factors, and provides governance to the company regarding their third party and the risk appetite set by the company." darkreading.com

Security No. 1 Inhibitor to Microsoft Office 365 Adoption
Security is the primary reason businesses are hesitant to switch to the cloud-based Microsoft Office 365, but adoption continues to grow despite fears of spearphishing and ransomware attacks.

In April 2017, data protection firm Barracuda Networks polled 1,100+ organizations to learn about the trends around Office 365 adoption and usage, including the factors and concerns customers face when deciding whether to migrate or stick with their existing business software platform.

Results say adoption is increasing overall. Researchers found 63% of respondents currently use Office 365 and among the remaining respondents, some 49% plan to migrate to it. This marks a 20% jump from a similar study in 2016, when 42% of businesses surveyed were using Office 365.

Security concerns are the top inhibitor for 44% of businesses deciding against Office 365, primarily because of email-based threats like phishing, spearphishing, and ransomware. Exchange Online is the most commonly used tool in Office 365, with 87.3% usage, followed by OneDrive for Business (70.9%), and SharePoint Online (56.8%). darkreading.com

Risk Manager, Fraud Investigations for Amazon Web Services - Seattle, WA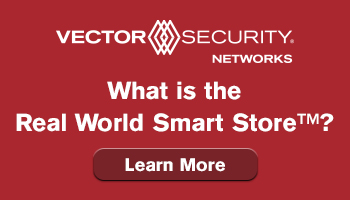 ---


Managing the Change Process from Loss Prevention to Asset Protection
Transforming to 'Omni AP'
Kevin Colman, Group VP of AP, Macy's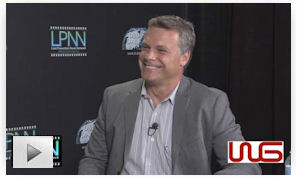 Originally Published 9-1-15
Macy's is not only the largest department store chain in the U.S., but it is now also the 7th largest online retailer. To keep pace with the rapidly changing business model, Macy's Asset Protection team has reinvented itself to address the many challenges that cybersecurity and omni-channel retailing presents.

Kevin Colman, Group Vice President of Asset Protection for Macy's, tells us about the department's transformation to 'Omni AP', where protecting the brand and increasing profits is just as important as preventing shrink.

Solution Providers, have a video or commercial you want to publish? Contact us.
---

---

---
e-commerce
Sponsored by The Zellman Group

eCommerce Merchants Face Growing Costs Amid Rising Identity Theft Fraud
A recent study by Javelin Strategy & Research revealed that identity fraud increased 16% from 2015 to 2016, impacting a record 15.4 million U.S. consumers at a cost of $16 billion. Yet a MagnifyMoney survey found that 96% of consumers never had to pay a dime in credit card fraud losses, since banks and merchants absorbed the costs. Chargebacks911, a leading dispute mitigation and loss prevention firm, warns that rising identity theft fraud will lead to growing losses for eCommerce merchants unless they take direct action to identify and halt fraudulent orders.

According to the Javelin study, the number of U.S. fraud victims rose by 2.3 million from 2015 to 2016, while fraud losses climbed by $700 million. Account takeover fraud alone cost $2.3 billion in 2016, a 61% increase over the prior year, while the incidence rate jumped 31%. And though point-of-sale (POS) fraud remained virtually unchanged from 2014 and 2015 levels, Javelin reported that card-not-present (CNP) fraud soared 40% year-over-year. Meanwhile, the MagnifyMoney survey found that more than 1 in 5 consumers (22.1%) had experienced credit card fraud. In most cases—93%—consumers were victims of account takeover rather than identity takeover, meaning that fraudsters made purchases on an existing account as opposed to opening a new account in the victim's name. businessinsider.com

Merchants Should Integrate Bots, Gamification in E-Commerce Payments: Report
New checkout innovations leveraging chatbots and gamification are becoming an increasingly important part of online commerce as more merchants are describing themselves as "mobile first," according to a new report from Ingenico and InternetRetailing. But, while three-quarters of retailers agree that a frictionless mobile experience is essential in the current commerce environment and 51 percent are already investing in it, 57 percent admit their first priority still is having a responsive Website for desktop and mobile. One in five even describe mobile as an "add on" for their business, the report said.

The Impact of Innovation in the Mobile Customer Journey also looks at the importance of enabling merchants to accept online payments in news ways and where retailers are on that journey. The report noted that only 15 percent of retailers are investing in gamification of their mobile sites and 16 percent in messaging bots. Over the next two years, however, that jumps to 30 percent for gamification and 54 percent for bots. The report's authors urged merchants to look at both technologies for payments. cardnotpresent.com

E-retailers beware: Amazon may dominate online Halloween sales

New government data suggests e‑commerce sales jumped 15.7% in Q3

How Online Retailers Can Prepare for Black Friday and Cyber Monday

Global B2C E-Commerce to Reach $1.84 Trillion in 2017: Report

Amazon to Build DC In Memphis, TN And Shelby County, TN

"Fraud is not a person - it is a dynamic grouping of statistics that deviate from the norm."
Stuart B. Levine, CFI, CFCI
CEO, The Zellman Group & Zelligent
---
ORC News
Sponsored by NEDAP Retail

Manheim Township, PA: Distraction Team hits for $100,000 at Dave's Collectibles
Police are investigating a theft that occurred Saturday afternoon, at Dave's Collectibles, on Fruitville Pike. Police say five unknown female suspects entered the store and distracted the clerk, while another female entered the rear of the business, and gained access to the safe. According to investigators, approximately $100,000 worth of cash and other valuables were stolen. wgal.com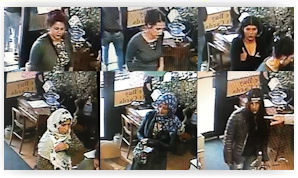 New York City: Fake Messenger Flees With $58,000 Worth of iPhones From Apple Store
The unidentified man walked into a store in Manhattan's Chelsea neighborhood on Thursday and told an employee he was a messenger there for a pick-up. The NYPD says the employee gave the man three boxes with approximately $58,000 worth of iPhone 7s. The man then fled the location in a white Ford van. nbcnewyork.com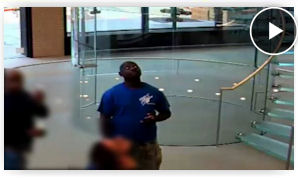 Macon, GA: $11K in designer sunglasses stolen from Sunglass Hut in The Shoppes at River Crossing
A group of four skinny jeans-wearing young men had been in the Sunglass Hut for all of 15 seconds before they started grabbing designer sunglasses off the shelves and tables. Prada, Versace and Gucci glasses were among the 38 pairs they stole, totaling a more than $11,000 loss for the store. An employee who was working at the time told police she suspected the men were the same thieves that had recently robbed Sunglass Hut stores in Atlanta. macon.com

Submit your ORC Association News

Visit the ORC Resource Center

---

---
Retail Crime News
Sponsored by ADT/Protection 1


---

---
Home of the Industry's Original
On the Move



Danielle Gunville promoted to Asset Protection Investigations Supervisor for Price Chopper Supermarkets
Sean Huggins promoted to Regional Investigations Manager for CVS Health
Submit Your New Hires/Promotions
or New Position
See all the Industry Movement
---

---
Featured Job Listings
Sponsored by NuTech National
Feature Your Job Here For 30 Days -
70% Aren't On the Boards

Featured Job Spotlights
---


Senior Vice President, US Security Operations
Los Angeles, CA
This is the top security executive in the US Region. The role reports to the Head of Westfield's Property Group with a strong dotted line reporting to the Head of Global Security who is based in Sydney. This role will oversee and coordinate all Corporate/physical security efforts across the US Operations...

Director of Fraud, Risk and Identity
San Francisco, CA
This position will manage fraud and risk operations, analyze, investigate and identify solutions to prevent and mitigate third party fraud and is responsible for proactively identifying sources of and patterns of fraud, to minimize the company's total exposure to financial and reputational risk associated with fraud...


Director Global Security Programs and Strategy
Seattle, WA
• Manages and develops a team of physical security and other program and project managers responsible for managing and delivering the Global Security, strategic multi-year programs...


Director Loss Prevention
New York, NY
Responsibilities:
● Leads, supervises, and directs the Loss Prevention team with responsibility for all retail stores, distribution center and office facilities.
● Recommends new and manages current initiatives to reduce company shrinkage, general liability claims, and the security and safety of our associates and our assets...



Director Loss Prevention
Nashville, TN
Develop and manage strategic initiatives and projects in conjunction with the LP/Shrink Improvement groups to produce gross margin impact, shrink reduction, and process improvements...


District Asset Protection Manager - Metro NY and Long Island, NY
Garden City, NY
Amazing opportunity! High profile, fast paced district available for a Multi-Unit Asset Protection professional with operational savvy or a General Manager passionate about Asset Protection and Safety. As the District Asset Protection Manager you will lead administration of Asset Protection programs and training for an assigned district in order to drive sales, profits, and a customer service culture...

Featured Jobs
---
• Smart and Final - Manager Information Security, Los Angeles, CA
• Penske - Director of Safety, Corona, CA
• Penske - Director of Safety, Reading, PA
• Hertz - Manager Corporate Security, Estero, FL
• CDW - Manager, Global Security and Safety, Vernon Hills, IL
• REI - Senior Security Shared Services Manager, Bellevue, WA
• Sony Interactive Entertainment Playstation - Sr. Manager, Corporate Security, San Mateo, CA
• KPMG - Director, Cyber Security Services - Dallas, TX
• PWC - Cybersecurity & Privacy - Director, Various Locations
• Superior Grocers - Manager of Investigations, Santa Fe Springs, CA
• 7-Eleven - Director, IT Security, Irving, TX
• Raising Cane's - Director IT Security, Plano, TX
• Living Spaces - Director of Inventory Control, Rialto, CA
• Americas Mart - Vice President of Security, Atlanta, GA
• iKeyless - Director of Loss Prevention, Louisville, KY
• Office Depot - Director Retail Loss Prevention and Safety, Boca Raton, FL
• 7-Eleven - Sr. Director, Data & Analytics, Irving, TX
• Hallmark - Director of Information Security, Kansas City, MO
• Barnes & Noble - Director, Shortage Control Operations, New York, NY
• REI - Director Information Security and Data Privacy, Bellevue, WA
• Home Depot - Sr. Manager-AP Forensics & BI, Atlanta, GA
• Weis Markets - Organized Retail Theft Investigator, United States - Various Locations
• Walgreens - Manager, Investigations & Internal Audit, Deerfield, IL
• Ross Stores - Director, Loss Prevention Initiatives, Dublin, CA
• Wireless Vision - Director of Loss Prevention, Greater Detroit Area

---

---
Daily Jobs
Appearing One Day Only
View our Internet Jobs Archives here


Sponsor this section of the Daily
---


---
Your Career
Sponsored by Wilson Safe Company

You Probably Need a Public Portfolio Even If You're Not a Freelancer or a "Creative" Everyone benefits from having a page that lays out your accomplishments and not just your work history. A public portfolio can help you in more ways than one, so here's what you need to get one started! Go beyond LinkedIn

Here's What Recruiters Want to See From You Online Now more than ever, having a solid online presence is absolutely necessary to landing any job. Most recruiters go online first when they get a candidate application, so making sure your online presence looks its best is critical. Here's what you can do to stand out. Search for yourself

Last week's #1 articles --

You've Got 60 Seconds to Impress. 5 Ways to Make Your Resume Stand Out There are tons of tips on what you should and shouldn't put on your resumes, but lies is a huge no-no. Avoid these resume blunders, to make sure you stand out from the other applicants. Skills front and center

Remarkable You: Here's the Best Way to Stand Out and Make a Lasting Impression Everyone is good at something. The challenge is, however, how can you set yourself apart from everyone else, show you're truly special? To beat any competition, find what makes you memorable. Show off your super powers

---
Submit Your Group LP Selfie Today!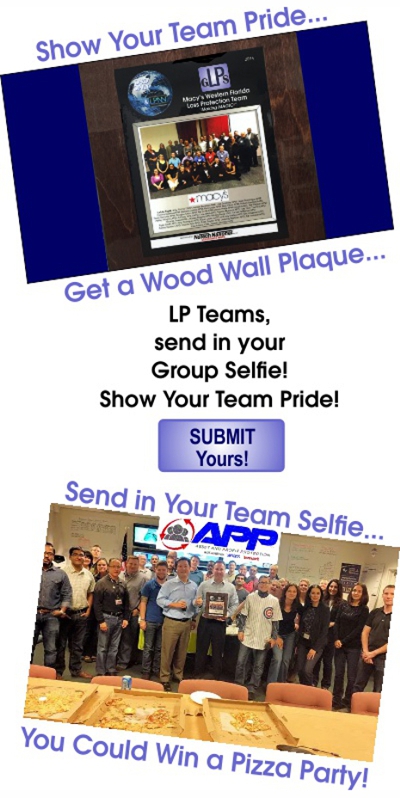 ---
Tip of the Day
Sponsored by Vector Security Networks

Getting involved in a process is an obligation and taking it seriously is absolutely critical to your success regardless of what the process involves. Whether it's looking at a job or sitting on a company committee. Once you've committed, your reputation, your image, your future is at stake. Minimizing it won't decrease the impact nor will it reduce the expectations of others. Because when you become part of a process, other people are either looking at you or they're counting on you to be your best or give your best. So once you've committed, follow through and deliver your best.

Just a Thought,
Gus



(content subject to approval)
---
---
Upcoming Events
---
Recruiting?
Get your job e-mailed to everyone... everyday
Post on our Featured Jobs Board!
---
Reach your target audience in 2017 every day!
Request our 2017 Media Kit
---
Not getting the Daily?
Is it ending up in your spam folder?
Please make sure to add d-ddaily@downing-downing.com to your contact list, address book, trusted sender list, and/or company whitelist to ensure you receive our newsletter.
Want to know how? Read Here


36615 Vine Street, Suite 103
Willoughby, OH 44094
440.942.0671
copyright 2009-2019
all rights reserved globally