The D&D Daily Mobile Edition
October 17,

2014



The LP Industry's #1 News Source - Informing, Educating and Instilling a sense of community


News Brief
Sponsored by WG Security Products, Inc.
Ebola and Retail - What could it mean to your company and holiday sales? Will it drive traffic down even further? As everyone waits to hear the next news update and how this dreaded disease may be starting to spread in North America we all have a responsibility to our company's, our associates and our customers. As the retailers' 'First Responders' in most cases, the Loss Prevention industry has an obligation to first become educated and to arm ourselves with as much information as possible. That's why we've included the CDC links below and hope each one of you takes the time to research and learn as much as you can in the event that this does become an epidemic. Obviously as one of the nation's leading employers, the retail industry could very likely encounter an individual exposed or actually infected with Ebola. With the odds being rather high that the brave medical community workers, who are treating these individuals, have relatives or friends that are working or shopping in the retail industry. With the former actually increasing the possibility of exposure we have a huge risk in front of us. And if one retailer is connected to the spreading of this illness the impact will be catastrophic for that company, for that location, and for neighboring stores. As the Dallas hospital has already seen a 2/3rds drop in patients and we would estimate that to drop even more before the day's end. So what do we do as an industry, individually and collectively? How do we prepare for the worst without seeming to over react? But more importantly how do we make sure we're providing a safe working and shopping experience for everyone. Because with one case in a store - comes store closures - no customers - and the ripple effect. Do we survey our employee population about any connections to health care providers? And do we monitor our own employees health? The obvious first thing in our opinion is to issue a statement to the entire organization in support of the CDC and merely to inform your employees that if they feel as though they've been exposed in anyway then you support their 21 day isolation and self-monitoring. Some may say that this article is an over reaction. But given the 17% declining traffic in retail last month, the increases in active shooters, the ISIS possible unnamed Mall threat that Canada reported last week, can we really afford not to respond. One incident and the media will bury that store potentially forever. What are you doing? Just a thought.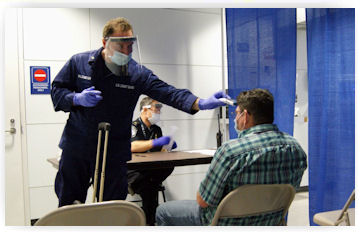 Ebola Virus - The CDC's Facts & What You Need to Know The 2014 Ebola epidemic is the largest in history, affecting multiple countries in West Africa. One imported case from Liberia and associated locally acquired cases in healthcare workers have been reported in the United States. CDC and partners are taking precautions to prevent the further spread of Ebola within the United States.

Latest CDC Outbreak Information

Ebola: #FactsNotFear

Here's The Worst-Case Scenario For Ebola - The Fear Factor - Sales Drop 20 to 40% - Do You Have a Plan? While the ultimate death toll may be limited, the economic impact could potentially be significant. The "'fear factor' associated with Ebola appears more significant than in past instances of pandemic concern, in our view," Goldman Sachs' Kris Dawsey writes. For the downside scenario, we think the example of the September 11 terrorist attacks could be informative. In the aftermath of the attacks, demand for air travel temporarily dried up, while some people reportedly preferred to avoid crowded public places such as subway stations, shopping malls, etc. At the time, concerns were further exacerbated by limited-scale anthrax attacks unrelated to the September 11th attacks themselves. If the Ebola situation was to worsen much more than expected, it is possible to imagine that a similar atmosphere of fear could arise. In terms of worst-case tail risk scenarios, the example of the SARS outbreak in Hong Kong during 2003 is worth considering. During this time, Hong Kong retail sales dropped roughly 10% from their peak, while air traffic plummeted even more than that seen after the September 11 attacks. Incidentally, the World Bank cites shopping centers in Lagos, Nigeria - which has largely contained the Ebola outbreak at 19 confirmed cases - reporting sales down 20 to 40%. So far, the impact on consumer sentiment appears to be negligible. (Source businessinsider.com)

What are you doing? What are your recommendations for the industry?
We at the Daily would like to share your thoughts, suggestions, ideas with your collogues - anonymously of course. Please feel free to email directly with your thoughts and lets get involved and help prepare so that the LP industry can help lead the way. Here's one senior LP executive's question - "Is the Daily putting anything out about the growing concern regarding Ebola?" i.e. - How to manage the concerns/panic, pandemic plans, what companies are doing around travel, dealing with potentially infected customers/associates, potential staff shortages - managing to the perception/ not necessarily the reality that Ebola will be a wide spread outbreak. Get involved and help develop our response as a community. gusd@downing-downing.com

Dollar Tree racks up 48 workplace-safety violations in last 12 months - $866K in fines - Could be highest ever for a retail chain
Discounter Dollar Tree Inc. has racked up more workplace-safety violations this year at its stores than nearly any other business in the country, according to federal regulators, a surprise for a chain of retail outlets that had no explosion or worker fatality. The company has received 48 violations in the past 12 months for problems such as teetering boxes, unsecured gas tanks and blocked electrical outlets that safety officials said make working in the stores unsafe. The federal Occupational Safety and Health Administration on Wednesday fined the company $262,500 for violations at a store in Watauga, Texas, near Dallas. The fine was Dollar Tree's fourth of more than $100,000 since May and brought the company's total to $866,000 since last October. OSHA chief David Michaels said Dollar Tree's recent fines and number of violations could be the highest ever issued for a retail chain. Rivals Dollar General Corp. and Family Dollar Stores Inc. each accumulated fines of less than $50,000 over the past year, even though both chains are larger than Dollar Tree. (
Source wsj.com
)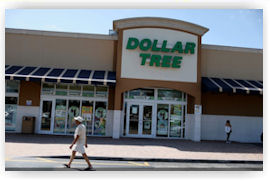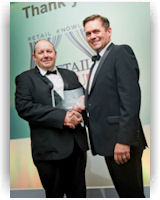 UK: Ray Palmer from British retailer B&Q named 'LP Director of the Year' Ray Palmer, former Head of Asset Protection at B&Q PLC, now Group Profit & Asset Protection Director at Fawaz Alhokair Group, won the prestigious title of 'Loss Prevention Director of the Year' at the Volumatic Fraud Awards held in Leicester last week. The decision to award Ray the LP Director of the year award was a unanimous one by the judges and all were agreed that Ray's contribution to the industry has been outstanding. See the rest of the categories and winners here. (Source retailfraud.com)

'Cybercrime As a Service' on the Rise - Organized Crime Rings Making Malware Readily Available "Cybercrime as a service" and the globalization of attacks are two of the trends noted by cyber-intelligence firm Group-IB in its third annual High-Tech Crime Report. Cybercriminals are waging attacks against the global economy from countries where law enforcement often turns a blind eye to the establishment of websites that are designed to spread or sell malware. This is why cross-border collaboration among law enforcement is becoming increasingly critical. It's also why businesses and governments must keep an eye on how criminals are exploiting new technologies, such as the virtual currency Bitcoin, to sell information and services in the underground economy. In the U.S., where retail network attacks that compromise point-of-sale data have become common, law enforcement should focus on how cybercriminals market their services in carding forums and other underground networks, Tushkanov says. But he contends that retailers and financial services organizations throughout the world are just as vulnerable as those in the United States. That's because organized crime rings are making malware readily available throughout the world. Organized crime rings also have made it easy for criminals to buy and sell information, such as stolen credit card data and other illicit goods, in underground forums. And it's proving challenging for law enforcement to shut these sites down, Tushkanov says. (Source govinfosecurity.com)

Visa Kicks Off U.S. Chip Card Education for Retailers and Consumers - Only 60% of chains will be EMV-ready by the 2015 deadline Visa Inc. is kicking off a national awareness and education effort that will reach millions of U.S. cardholders and merchants with information about chip technology designed to make electronic payments more secure. The campaign, delivered through partnerships with financial institutions and merchants, will support the next stage of chip adoption in the U.S. by ensuring consumers and merchants have the information they need to use and accept chip cards. In a recent study conducted by Visa, 52% of consumers and 84% of small- and medium-sized merchants said they were aware of chip technology and believe it will further enhance the security of their payments. Among merchants, 71% believe accepting chip technology would benefit their businesses and 39% of merchants believe their current card reader is already chip-enabled. Payment Security Taskforce projected more than 575 million credit and debit cards would be chip-enabled by the end of 2015. Javelin Strategy and Research forecast that 60% of the U.S. retailers employing 2,500 or more employees will be EMV-ready by the 2015 deadline, representing 27% of U.S. retail establishments. (Source businesswire.com)

Checkpoint Systems Enhances Its Check-Net Print Shops - Can Now Print, Encode, Test One Million RFID Labels in 24 Hours Checkpoint Systems, Inc., a leading global supplier of merchandise availability solutions for the retail industry, today announced that its Check-Net print shops have implemented significant new printing capabilities that allow them to quickly print, encode and test RFID labels for apparel retailers and manufacturers employing its source tagging capabilities. Check-Net's unique new system is eight times faster than industry-standard thermal transfer printers and offers higher accuracy (99.9%) and quality, including multicolor RFID label printing. (Source businesswire.com)


Holiday Predictions

What They're Forecasting
Total online Thanksgiving Day sales to top $1 billion Total online Thanksgiving Day sales will top the $1 billion mark this year for the first time ever, increasing year-over at least 23.4%, with most purchases made after 6 p.m. (Source chainstoreage.com)

ICSC: Holiday shopping to begin early; electronics to be most popular gift - $677 average spend About 35% of consumers have or will have started their holiday shopping by the end of October. Roughly three out of five shoppers will begin shopping by Thanksgiving this year, and by the end of the Thanksgiving weekend 86% will have started making purchases. "Consumers seem to be interested in getting out to stores early this season." On average, consumers expect to spend about $677 on holiday-related items this season, with $559 going towards gifts and $118 going towards other holiday-related items (e.g. decorations). About 70% of these shoppers said they plan to spend the same or more than last year. A change in the number of people they need to purchase gifts for and a change in their holiday budget (regardless of job status or income), were the two main reasons for a shift in expectations. Only 19% of consumers attributed a spending shift to a modification in job status or income. (Source chainstoreage.com)

NRF: Per-person holiday spending to rise 5%, with 44% of shopping done online - $804.42 average spend The average person celebrating Christmas, Kwanza and/or Hanukkah will spend $804.42, up nearly 5% from 2013's actual $767.27, according to the National Retail Federation's 13th annual Holiday Consumer Spending Survey, conducted by Prosper Insights & Analytics. In other results, the average shopper plans to do 44% of their holiday shopping online, the most in the survey's history. (Source chainstoreage.com)
Wal-Mart to slow U.S. growth in favor of online sales - cutting super center growth 50% from LY Wal-Mart is opening 60 to 70 super centers in fiscal year 2015. Far fewer than the expected 120 stores this year. With plans to open 200 Neighborhood Markets next year. It's been a very difficult period for Wal-Mart Stores Inc. Its discount stores have not recorded growth in revenue at locations opened at least a year for six straight quarters. (Source bizjournals.com)

Technology driving Domino's growth at home and abroad - 70% of sales conducted online & 49.3% with mobile device

Wet Seal in cost-cutting mode, announces 78 headcount reductions = 24% at corporate & 20% in field management

Radio Shack still aiming to close 1,100 stores according to one source

Office Depot cutting 1,100 jobs in Europe

Judge to hear arguments over Arizona ID theft laws

FBI director demands access to private cell phone data

26 arrested for protesting outside Walmart billionaire's New York home

Apple Pay Begins Monday at More Than 220,000 Retail Locations


Quarterly Same Store Sales Results

Supervalu Q2 Save-A-Lot up 6.5%, Retail Food segment up 0.4% with net sales up 1.8%
All the news - One place - One Source - One Time
The D&D Daily respects your time
& doesn't filter retail's reality
Report Your News!
(content subject to approval)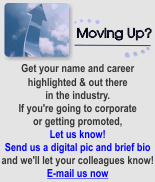 Loss Prevention News Network

"Internal Growth - Positioning Yourself for Promotion"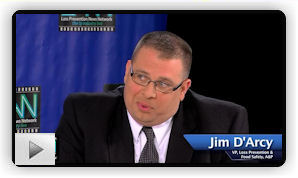 Jim D'Arcy, VP of Loss Prevention & Food Safety for A&P stores, talks about the keys to success in positioning yourself for internal growth and promotion within a company. Over the last five years, Jim has been promoted four times at A&P. Here he discusses what it means to eat, sleep and breathe a company's culture - and why a lateral move isn't always a move backwards.
Filmed at the D&D Daily's 2014 "Live in NYC" Broadcast Event.

To view other episodes in our Leadership & Development Series, click here.




Joan Manson

Sponsored By:


Bass Security





Sponsored By:



Keith White & Michael Nelson

Sponsored By:


Dan Faketty and Professor Bob Hanson

Sponsored By:


The NRF's LP Legislative Committee, a National Update





Jeff Fulmer & Jon Gold


Sponsored By:


Preparing - Training - Responding to the Active Shooter





Rich Mellor


Sponsored By:

Cyber Security's Increasing Impact on Retail & the Role of Loss Prevention

Tom Litchford
Sponsored By:

Stan Welch, VP of LP, JCPenney



Sponsored By:



In case you missed it ...
Click here to view all the episodes from
"Live in Ft. Lauderdale at the NRF LP Show."

Solution Providers, have a video or commercial you want to publish? Contact us.


e-commerce

Sponsored by The Zellman Group
Wal-Mart to invest more than $1.2 billion in e-commerce next year
Wal-Mart Stores Inc. announced the company will spend on e-commerce and digital initiatives an estimated $1.2 to $1.5 billion in fiscal year 2016, up from approximately $1.0 billion in fiscal 2015. The investments will go toward technology, infrastructure and other areas to support the company's growing online business, said Charles Holley, Wal-Mart's executive vice president and chief financial officer, at the company's annual investor meeting. While it invests more in e-commerce, the world's largest retailer will slow the growth in its bricks-and-mortar stores: Wal-Mart will add between 26 and 30 million retail square feet worldwide next year, a decrease from 32 to 34 million square feet this year. (
Source internetretailer.com
)
PayPal: Mobile payments on the rise in Canada
Canadians are eager to embrace future-forward payment options like wearable devices and smartwatches, according to a new study by PayPal Canada that was conducted by Nielsen. Close to a third of Canadians (29%) have used their mobile phone to make an online purchase while on-the-go, and nearly a quarter (23%) having used their mobile phone in-person at a store to make a purchase. The PayPal study also reveals enthusiasm for emerging technologies, with almost half (45%) agreeing that Canadians are ready to embrace methods such as mobile payments via wearable devices. This readiness to experience the next and the new is clear with almost one in two Canadians (47%) wishing retailers offered more safe and secure mobile payment options. (
Source chainstoreage.com
)
Online sales up by just 7% in September's warm spell
Starbucks launches mobile ordering - full U.S. rollout in 2015
Infographic: How Halloween impacts e-Commerce retailers
"Fraud is not a person - it is a dynamic grouping of statistics that deviate from the norm."
Stuart B. Levine, CFI, CFCI
CEO, The Zellman Group & Zellman Fraudnet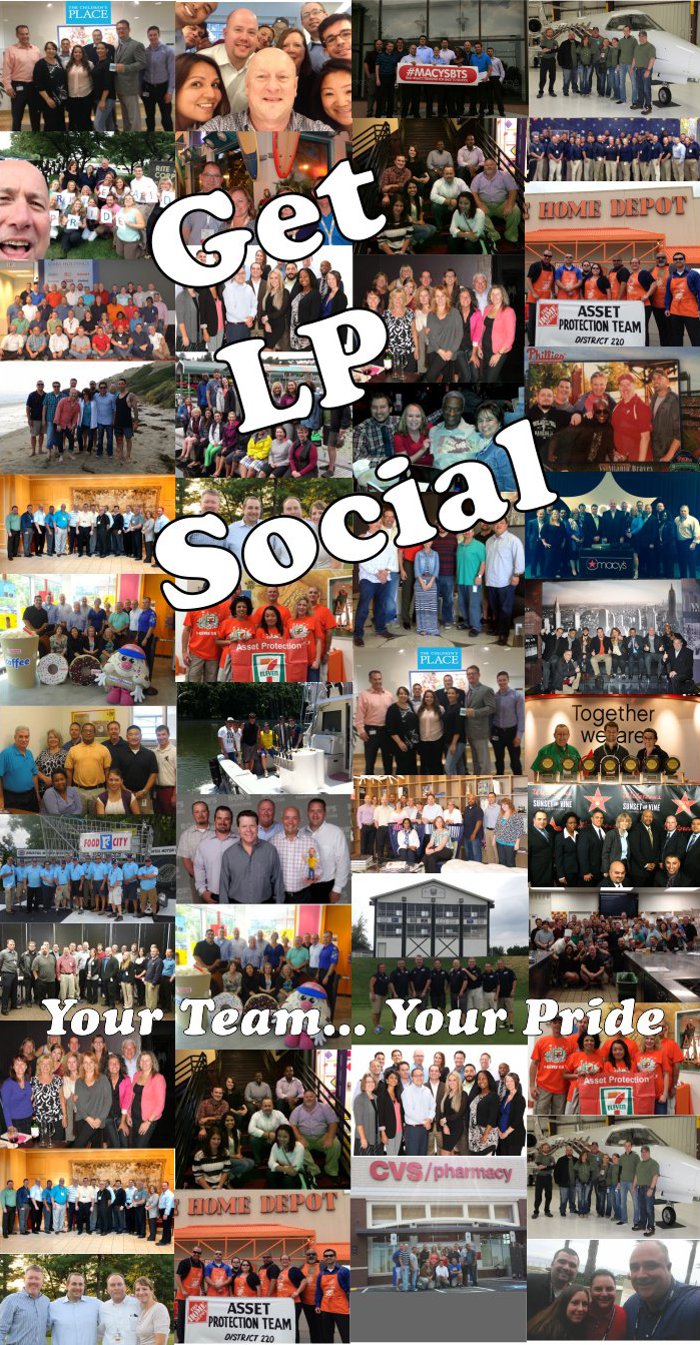 Canadian Push
Sponsored by Vector Security
Dollarama's 1-student-in-store policy called discriminatory - Loss Prevention Policy - To Stop Shoplifting A downtown Toronto Dollarama store's policy to only allow one student in at a time to prevent stealing isn't sitting well with local high school students who pop by the shop for a treat on their lunch hour. The Dollarama, located in Toronto's Annex neighbourhood near Bloor Street West and Bathurst Street, only permits one high school student to enter at a time. Two hired security guards enforce the policy, while other customers walk in and out without being stopped. Human rights lawyer Kate Sellar says Dollarama's actions count as discrimination. But Dollarama says the large-group policy is in place at all of its stores. At the Annex location, high school students happen to be the ones coming in large groups because of the store's proximity to schools with big student populations. (Source cbc.ca)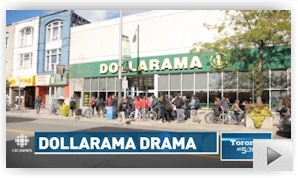 Retail salespersons job leads job demand & job creation list in Toronto for next 5 years The Toronto region is expected to create more than half a million jobs in the next five years, but some will be low-paying, temporary or contract jobs without benefits. Across all the regions including Toronto, retail salespersons lead the list. (Source thestar.com)

Wetaskiwin RCMP investigating downtown bomb threat at Value Drug Mart Wetaskiwin RCMP were dispatched to the Value Drug Mart on Main Street at about 4:15 p.m. after the store had received a bomb threat via telephone call. The store was evacuated and members from Wetaskiwin and Maskwacis RCMP contained the area around the store to ensure public safety, while local fire services and EMS were placed on standby. K Division's explosive disposal unit was contacted and provided direction in the search of the business. By 5:45 pm, the search of the store was concluded and the area deemed safe. Employees were allowed to return and businesses re-opened. (Source wetaskiwintimes.com)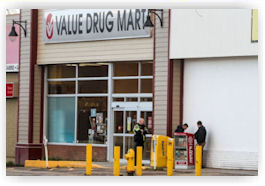 O.P.P.'s Western Region investigating 13 Pharmacy Smash and Grabs The OPP have come to the conclusion that a group of thieves is targeting pharmacies for late-night break-in. There have been 13 smash-and-grab break-ins in the OPP's Western Region so far this year. One recently occurred at the Pharmasave in Port Rowan. OPP says the thieves always hit in the early morning hours and are most interested in prescription narcotics. "OPP investigators are asking all pharmacists and store owners to make sure all medication is locked up, especially narcotics which have been left out for next-day delivery," Const. Ed. Sanchuk, spokesperson of the Norfolk OPP, said in a news release Tuesday. "These medications are sought after by these vandals and become easy targets when not secured. (Source simcoereformer.ca)

Five suspects arrested in Aberdeen convenience store robbery.

Windsor Police investigating Armed Robbery/Shooting at Sunny Variety; no injures

Edmonton Police launch new mobile app


ORC News
Sponsored by Security Resources
Romanian Man Sentenced for Role in International Fraud Scheme; selling $320,000 worth of cars on the internet A Romanian man was sentenced today to 24 months in prison for his role in receiving and sending overseas approximately $320,000 in illicit proceeds derived from an international fraud scheme involving online marketplace websites. Assistant Attorney General Leslie R. Caldwell of the Justice Department's Criminal Division and U.S. Attorney David Rivera of the Middle District of Tennessee made the announcement. U.S. District Judge Aleta A. Trauger of the Middle District of Tennessee imposed the sentence. Alexandru Stanciu, 36, of Bucharest, Romania, was indicted by a federal grand jury in August 2013 and pleaded guilty to one count of conspiracy to commit bank and wire fraud in February 2014. In addition to his prison term, Stanciu was ordered to pay $305,106 in restitution. According to statements at his plea hearing, Stanciu's co-conspirators fraudulently listed vehicles for sale at online marketplaces such as eBay. When victims expressed interest in purchasing the vehicles, co-conspirators responded with emails directing the victims to wire payments to specified bank accounts. These bank accounts were opened by Stanciu, using false identities and fraudulent documents, including counterfeit passports, between December 2011 and July 2013. In total, 17 victims sent approximately $321,389 to accounts opened by Stanciu. Stanciu subsequently sent the bulk of the money to co-conspirators located overseas. (Source imperialvalleynews.com)

All The Gear You Need For ATM Skimming
The arrest of two men in a TD Bank ATM area in Brooklyn early Wednesday morning led to the discovery of a robust ATM skimming operation involving cooperation from China. According to the NYPD, officers spotted two men tampering with an ATM around 1:30 a.m. yesterday at the TD Bank on 630 Shore Parkway in Bath Beach. After observing them allegedly using tools to remove parts from the ATM, cops arrested the men and took them to the precinct for questioning. Police have identified the suspects as Elvin Pineda, 25, and Luis Fernandez, 28. At the police station, they were interrogated by an officer with the Financial Crimes Task Force, who determined that they were removing ATM parts "and shipping them to China to be duplicated and used to accommodate skimming devices." Pineda also revealed that he "had additional materials at his residence commonly used for skimming." Officers obtained a search warrant and tossed his apartment; here is what they found: 2 embossers, 2 re-encoders, laminator , 2 color printers, tipper machine, 6 laptops, HP Computer, CD Writer, 7 flash drives, an iPad, A high definition printer, 2 signature pads. In addition, the search turned up 127 blank Capital One credit cards, 76 blank American Express cards, 338 blank Citibank Cards, 200 blank credit cards and 41 forged New York and out of state driver's licenses. (Source gothamist.com)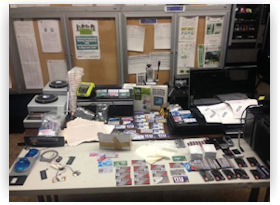 3 Californians accused of $13,000 spending spree on counterfeit credit cards arrested in Beaverton, OR Three Californians were arrested in Beaverton on suspicion of racking up at least $13,000 on counterfeit credit cards during a spending spree at Oregon businesses. The trio left Sacramento Friday in a rented Chevy Impala, traveled along Interstate 5 and crossed into Oregon Saturday. They hit Home Depot, Best Buy, Macy'sand Rent-A-Center stores, among others, buying laptops, gift cards, clothing and other items until they were arrested on Tuesday. Police discovered more than 20 credit cards that contained a group member's name, but had credit information that belonged to other people. Authorities also found evidence of other credit cards cut into pieces. Beaverton police detectives learned Monday that Paulo Cuevas, 23 used a counterfeit credit card to buy $1,295 in items from a Home Depot in Tigard, then used the same card for a $1,099 purchase from a Nordstrom at Tigard's Washington Square. He also tried to use the card at a Nordstrom Rack in Beaverton. The card had Cuevas' name on it, but the information on the card belonged to a woman from Minnesota. Police later discovered that $3,037 had also been charged to the card at a Home Depot in Oregon City. (Source oregonlive.com)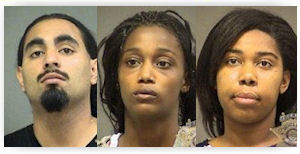 Clarksville, TN shoplifter hits Sears Loss Prevention agent with her car A Clarksville woman allegedly hit an officer with her car while trying to flee the mall with stolen merchandise. Quanesia Hoskins entered Sears in the Governors Square Mall Monday with two other female subjects, according to reports. Using a large bag, Hoskins allegedly stuffed merchandise from the kids, mens and juniors departments as well as the sales floor before walking out of the store. According to reports, the unpaid merchandise amounted to $2,137.29. In her attempted escape, Hoskins allegedly yelled vulgar remarks to the loss preventions officer before striking the officer in his leg with her car. Hoskins then hit one of the officer's vehicles as she fled the scene of the crime, according to reports. The officers were able to record the car's tag number before she fled. (Source theleafchronicle.com)

Women steal $1,500 worth of Michael Kors purses from Marshalls in Cordova, TN Two women are on the run with $1,500 worth of stolen purses. Marshalls in Cordova wasn't open for more than an hour-and-a-half Thursday when police said two women started grabbing as many purses as they could and bolted. Police said their getaway ride parked out front was a gold Infiniti with Florida tags. The female duo took $1,500 worth of Michael Kors handbags. Police first told WREG in an email, "video of the incident will be available upon request." (Source wreg.com)

Over $1,000 in Michael Kors purses stolen from TJ Maxx in Murfreesboro, TN It took two subjects less than 15-minutes to steal 24 designer purses from TJ Maxx on Old Fort Parkway in Murfreesboro. A loss prevention worker reported the theft on Wednesday. The female walked out with four Michael Kors purses. The second thief, a man, evidently left the store with a trash bag filled with 20 purses of various styles and prices, but all Michael Kors brand. (Source wgnsradio.com)

Chicago woman charged in Victoria's Secret bra theft worth $1,300 in Peru, IL A Chicago woman is charged with felony retail theft of $1,317.50 in merchandise, 24 bras from Victoria's Secret, Peru Mall. And Latasha L. Childs, 29, is a person of interest in four other retail thefts from July 12 to Sept. 4 at the Peru lingerie shop in which roughly $7,700 in goods were stolen, said Doug Bernabei, Peru police chief. In the most recent incident Thursday night, Peru police officers responded to a 911 call at 7:34 p.m. Officers found Childs near a restroom in the theater and arrested her, Bernabei said. Where was the loot? Officers searched the mall and inside a trash can found a Nike bag containing 24 bras. (Source newstrib.com)

Woman Caught On-Camera Stealing Hundreds of Dollars of Clothes From Long-Island Store Security cameras at The Island, a Lilly Pulitzer clothing store in Garden City, Long Island, caught a woman stuffing item after item into her large handbag. Store owner Carol Mangels estimates the woman shoplifted $800 to $900 worth of merchandise. (Source cbslocal.com)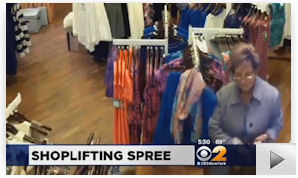 Great Falls, MT Woman confesses to Walmart theft after photos circulated

Two Home Depot thieves charged in Waukegan, IL

Shoplifters steal $540 in video games from Target in Rock Hill, SC

Do you have an ORC case to share?
Share your ORC news and help the industry grow


Retail Crime News

Sponsored by NuTech National
Boost Mobile robber in Pensacola, FL facing up to 45 years Florida State Attorney Bill Eddins announced that Vincent Johnson pled guilty Thursday to two counts of robbery without a weapon, aggravated battery on a pregnant person and resisting an officer without violence. The plea was made straight up to Circuit Judge Michael Allen with no agreement regarding sentence. (Source pnj.com)

Suspect sought after Aldi grocery store robbery; Indianapolis school lockdown lifted An Indianapolis school was placed on lockdown Thursday after a nearby grocery store was robbed at gunpoint. Officers responded to the Aldi grocery store at 2955 Madison Ave. on a report of a robbery. The search for the suspect started just before 3 p.m. Thursday. The Christel House Academy located nearby was placed on lockdown as a precautionary measure. The lockdown was lifted at 4 p.m. There have been no reports of injuries, and a description of the suspect has not been released. (Source fox59.com)

T-Mobile store robbery in Houston prompts standoff Sheriff's deputies are searching for three men who staged a brazen daylight armed robbery at a northeast Harris County cell phone store. They struck about 3:15 p.m. on Wednesday at a T-Mobile store along the 4800 block of Wilson near North Sam Houston Parkway East. "They demanded the phones from the business. The manager complied," said sheriff's deputy Thomas Gilliland. The robbers forced about 10 customers and store employees into the back of the store. One of the robbers hit a manager with a pistol during the holdup. The Sheriff's High Risk Operations Unit was called to the scene because it wasn't clear if the robbers had left the store. (Source khou.com)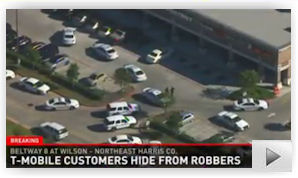 ATM Service Tech shot outside store in Jackson, MS, police chase leads to school A man and woman are in custody in connection with an attempted robbery and a shooting during a second robbery in Jackson. The man was arrested Thursday afternoon outside Chastain Middle School. The school was placed on lockdown when the manhunt began earlier in the day. The manhunt began about 1 p.m. after a man was robbed and shot outside Cash for Gold at 359 Fortification St., police said. "There was a gentleman there servicing an ATM," said Chief Lee Vance. "Once he exited the store, he was approached by at least four individuals. Money was taken from him and one of the individuals shot him." (Source wapt.com)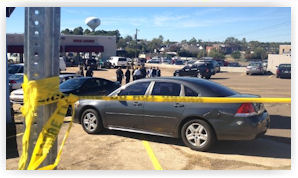 Two University of North Alabama football players accused of shoplifting Two University of North Alabama football players were arrested on Wednesday for shoplifting. According to Florence police, both were seen shoplifting by Belk Loss Prevention. When officers arrived, both suspects were in custody. Police say Devan Parker stole two beanie hats valued at $50 and Wesley Bohannon stole a shirt valued at $47.99. Bohannon had also shoplifted at Dillards just before the incident at Belk, investigators say. The University of North Alabama Department of Athletics released a statement in regards to the arrest of the players: "University of North Alabama football players Bohannon and Parker have been suspended indefinitely from all football-related activities", according to UNA Athletic Director Mark Linder. (Source waff.com)

Wichita Police investigate iPad burglary at Best Buy Wichita police are investigating a burglary at the Best Buy store. The burglary happened at about 4 a.m. Wednesday, according to Lt. James Espinoza, spokesman for the Wichita Police Department. Espinoza said Thursday morning during a media briefing that the person or persons who burglarized the business took 14 iPads valued at over $22,000. "At this time, we have no suspect information," Espinoza said. "Police are investigating the robbery for possible connections to other robberies." Nearly two weeks ago, the Best Buy store suffered a similar robbery. A burglar broke in and stole 11 MacBooks worth more than $15,000. (Source kansas.com)

Suspected burglar arrested at Target in Valencia, CA; possible link to 6 other Target burglaries Santa Clarita Valley deputies arrested a 27-year-old suspected burglar Thursday at a Target store in Valencia and said they have linked the man to six other burglaries at Target stores around the county. The man, whose name was not immediately release because he was still being processed into the jail at the Santa Clarita Valley Sheriff's Station, was arrested at about 7:30 p.m., said Lt. Bill Moulder. The man was being booked on suspicion of burglary, as opposed to shoplifting, because he allegedly entered the store "with the intent to steal." "It's different from, say, a person who goes into a store and sees something they can't afford and steals it. Generally, it's entering with the intent to steal that makes it different," Moulder said. (Source signalscv.com)

Cricket Mobile Employee charged with Burglary in San Antonio A suspect identified as Cassey Morado, 25, is accused of entering a Northwest Side Cricket Wireless store where she worked and stealing cell phones from the business. The crime was caught on camera at a neighboring business, according to an arrest affidavit. The affidavit stated that the manager of the Cricket store viewed the surveillance video and identified the two people in it as Morado and her boyfriend. The video shows the pair using a key to enter the business on Sept. 11, then exiting some time later, the affidavit stated. San Antonio police said it appeared that while they were inside, the couple also tried to pry open the safe. The affidavit stated that the boyfriend also had applied for a job at the Cricket store recently so police were able to obtain his personal information and locate him. Under questioning, they said he confessed to the burglary and identified Morado as the woman in the surveillance video, the affidavit stated. Morado was arrested Thursday on a burglary charge. (Source ksat.com)

Former Employee charged with 2010 theft at Marshall's Shoe's A Bridgeport woman was arrested on a warrant by Trumbull police for an incident that allegedly took place while she was working at a Westport business. Kiera Keene, was charged Tuesday with fourth-degree larceny. Keene is suspected of "perpetrating internal theft in 2010 while employed at Marshall's Shoe Store," according to a police report. She was held in lieu of $5,000 and is scheduled to appear Oct. 17 in court. (Source westport-news.com)

Pair stole $45k in luggage from Sea-Tac Airport

Robberies and Burglaries
● AutoZone - Margate, FL - Armed Robbery
● Dollar General - Erie, PA - Shooting - no injuries
● Domino's - South Jordan, UT - Robbery
● Guitar Shop - South Jordan, UT - Burglary
● Rite Aid - Toledo, OH - Armed Robbery - suspect arrested
● Rite Aid - Lafayette, LA - Armed Robbery
● Saxonburg Pharmacy - Saxonburg, PA - Armed Robbery
● Short Stop - Millersburg, MO - Burglary
● Sunnyside Pharmacy - Fresno, CA - Armed Robbery
● Thornton's - Louisville, KY - Armed Robbery - cashier shot/stable
● Twice Daily - Charlotte, NC - Armed Robbery
● 7-Eleven - Glen Burnie, MD - Armed Robbery
● 7-Eleven - Hampton, VA - Armed Robbery - suspect charged

Vendor Spotlight


Stop 'Wardrobing' with WG's Proven Seal Tag

See sales increase and returns reduced dramatically

All while keeping your customers happy and honest!

They'll even thank you for it!

Retailers are already seeing increased sales
Recently, news outlets such as ABC News, Bloomberg Businessweek, Fox, and even the Daily Mail in the U.K., published stories about the new and exciting method Bloomingdale's has initiated to fight the scourge of wardrobing. According to these stories and citing the National Retail Federation, wardrobing is a form of fraud that cost retailers $8.8 billion last year. While Bloomingdale's is to be commended for an outside-the-box way to reduce shrinkage, what you don't know is that this revolutionary wardrobing prevention plan was a collaborative effort between Bloomingdale's and WG Security Products Inc., the California-based company that has developed a reputation over the last 15 years for innovative and original EAS technologies.

The device in use at Bloomingdale's locations throughout the nation to stop wardrobers in their tracks is the Seal Tag, available now from WG. It is not an EAS tag, but a one-time use device which is typically applied at the point of sale, to a noticeable area of the garment. Customers are instructed that removal of the Seal Tag voids any return policy. This prevents customers from wearing the garment for a day and attempting a return, therefore ensuring honest returns. The Seal tag is very easily removed by hand and once removed, cannot be re-applied. It can be personalized, with your business logo imprinted on the front, adding a degree of elegance. You can watch our video for more information about wardrobing and the Seal Tag.
As seen around the nation in
dozens of news channels!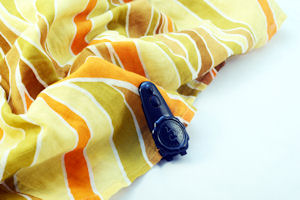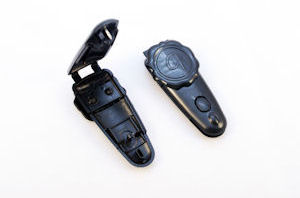 With 'wardrobing' costing you millions - the Seal Tag is the answer
Contact info@wgspi.com
& Stop Wardrobing Today!


Featured Job Listings
Sponsored by Cam Connections
Feature Your Job Here For 30 Days -
70% Aren't On the Boards
Group VP of LP
Retained Search
New York, NY
Gus Downing
Sr. Director, Field LP
Ross Stores
Dublin, CA
Ross Stores
Director of LP
The Children's Place
Secaucus, NJ
The Children's Place
Director of LP
Restoration Hardware
Corte Madera
Restoration Hardware
ORC Investigations Mgr
The Home Depot
Atlanta, GA
The Home Depot
Regional Director, AP
Rite Aid
NY Metro, NY
Rite Aid
Director, Pharmacy LP
Rite Aid
Camp Hill, PA
Rite Aid
Corporate Investigator
Confidential
San Francisco Bay, CA
Confidential
DC LP Manager
Brookstone
Mexico, MO
Brookstone
National Account Manager
Vector Security, Inc
TBD
Vector Security, Inc
LP Agent
JONS Markets
Los Angeles, CA
JONS Markets
Bilingual AP Specialist
Bi-Lo Holdings
Miami, FL
Bi-Lo Holdings
AP Associate
Ralph Lauren
Orlando, FL
Ralph Lauren
LP Investigator
Lamps Plus
Chatsworth, CA
Lamps Plus
LP Investigator
Tom Thumb
Dallas, TX
Safeway
National Account Mgr
Confidential
Northeast
Downing & Downing

Limited Time Only - Post Your Multi-Unit LP jobs for FREE - Learn More Here

Daily Job Alerts


Sponsored by Cam Connections
Appearing One Day Only
View our Internet Jobs Archives here
Director, AP
Macy's Logistics
Tulsa, OK
Macy's
Dept Mgr LP & Safety
Lowe's
Redding, CA
Lowe's
Dept Mgr LP & Safety
Lowe's
Kendall, FL
Lowe's
LP Manager
Bloomingdale's
Wayne, NJ
Bloomingdale's
LP Manager
Kmart
Daytona Beach, FL
Sears Holdings Corp
LP Manager
Kmart
Modesto, CA
Sears Holdings Corp
LP Manager Hrly
Kmart
Olean, NY
Sears Holdings Corp
DC LP Manager
Sears
Manteno, IL
Sears Holdings Corp
AP Manager in Training
Walmart
Ontario, OR
Wal-Mart
AP Manager in Training
Walmart
Morgan Hill, CA
Wal-Mart
AP Manager in Training
Walmart
Encinitas, CA
Wal-Mart
AP Manager in Training
Walmart
Hickory W, NC
Wal-Mart
AP Manager in Training
Walmart
Gastonia, NC
Wal-Mart
AP Manager in Training
Walmart
High Point, NC
Wal-Mart
AP Manager in Training
Walmart
Winston-Salem, NC
Wal-Mart
AP Manager in Training
Walmart
Schererville, IN
Wal-Mart
AP Manager in Training
Walmart
Charlotte, NC
Wal-Mart
AP Manager in Training
Walmart
Greensboro, NC
Wal-Mart


Home of the Industry's Original
On the Move

Michael Bice was promoted to Executive Team Leader of Asset Protection for Target.
Post Your New Job or Promotion!
See all the Industry Movement

Your Career
Sponsor this section of the Daily
8 Ways to Be a Truly Memorable Boss
Everyone has had a bad boss that made them want to leave their job, but it takes a truly remarkable person to make you want to stay. Make sure you possess these 8 qualities so you will be a memorable boss, one that will stick out in the heads of your employees for years to come. (Be a believer and take risks)

5 Unexpected Benefits of Opening your Books Open-book management may be an option to think about when the going gets tough, like this leader's company did. He opened the books to his employees and not only did the company survive, they flourished. (Your team can see their value)

Why You Must Lead Differently as Your Team Grows Everything changes: your team develops as a unit, and individually, situations that have been presented to you get altered, and when you think you've got it all figured out, that's when it really takes a turn. Keep your team united and focused around a shared purpose. (Use this leadership approach to be a successful team leader)

10 Things Employees Want More Than a Raise The money is probably a nice bonus, but employees value things more than money. If they are treated right, have their opinions and suggestions heard, and feel less stressed, they don't need the extra money. (10 desires)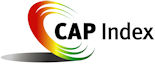 Tip of the Day
Sponsored by Vector Security
When anyone goes for an interview you've got to play to win. You should not allow: any outside variable, any future promotion thoughts or promises, your guilt feelings towards your current employer or boss, your preconceived opinions of the possible future employer, or any miss-step in the process on the part of the future employer disrupt or impact your performance. All interviews have long range implications on your career. The executives interviewing you are part of a community and you'll run into them again at another company. So if you do get involved and go for an interview, commit yourself all the way and play to win. It doesn't mean you've got to take the job. It just means you have to perform at 100%.

Just a Thought,
Gus Downing






Upcoming Events

Northeast Regional Conference on LP
October 28, 2014
Monroe Twp, NJ
---
Recruiting?
Get your job e-mailed to everyone... everyday
Post on our Featured Jobs Board!
Reach your target audience in 2014 every day!
Request our 2014 Media Kit
update account / change e-mail
unsubscribe FEEDBACK
www.downing-downing.com

Advertise With The D&D Daily




36615 Vine Street, Suite 103
Willoughby, OH 44094
440.942.0671
copyright 2009-2019
all rights reserved globally