The D&D Daily Mobile Edition
October 20,

2014



The LP Industry's #1 News Source - Informing, Educating and Instilling a sense of community


News Brief
Sponsored by WG Security Products, Inc.
First Retailer Impacted by Ebola - Rite Aid in Hackettstown, NJ temporarily closes after customer shows potential symptoms
A Rite Aid in Warren County, N.J. was closed for about an hour after a man inside the store showed possible signs of Ebola, police said. The incident happened around 4:50 p.m. Friday at the Rite Aid in the 200 block of Mountain Avenue in Hackettstown. Police said they and the Hackettstown Rescue Squad responded "in reference to an ill male who was possibly showing the signs of Ebola." Officers closed off the area and advised people inside the store that they had to stay there. Officials from the Warren County Health Department and Hackettstown Rescue Squad evaluated the male and determined he did not have Ebola. The male refused any further medical assistance, police said.
wfmz.com
app.com
nj.com
Bridal store in Akron, OH closed after Ebola-stricken nurse visited
A bridal store visited by Ebola patient Amber Joy Vinson last weekend closed its doors Thursday afternoon. Television cameras peered into the windows of Coming Attractions Bridal and Formal, as a man in a suit exited only to say that the store was closed and that Vinson had visited over the weekend. The man said Vinson, 29, who was in Akron visiting family last weekend, was looking for bridesmaid dresses at the store. He did not know when the store might reopen.
cleveland.com
Texas, Ohio school districts close campuses due to Ebola fears
WHO: 10,000 New Ebola Cases Per Week Could Be Seen
Latest CDC Outbreak Information
Obama Urges Retailers to Mandate Chip-and Pin - Signs Executive Order to bolster federal credit card security
On Friday, at the headquarters of the Consumer Financial Protection Bureau, President Obama
signed an Executive Order
that will add chip-and-PIN protections (EMV) to federal credit cards starting in January. The President encouraged the financial and retail sectors to follow suit. According to the White House, Wal-Mart, as well as Target and Home Depot, are just a few of the larger retail outlets that will be transitioning to chip-and-PIN in 2015. Furthermore, American Express is expected to launch a $10 million program geared towards helping small businesses upgrade their payment processing. "Retailers applaud the President's action to advance card security," said RILA president Sandy Kennedy. "Today's announcement should serve as a catalyst for widespread adoption of chip and PIN card security." The National Retail Federation also praised the move. "We applaud the administration for taking proactive and positive steps by adopting PIN and chip technology for government-issued debit and credit cards, among other things," stated NRF president and CEO Matthew Shay.
chainstoreage.com
whitehouse.gov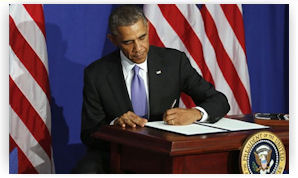 Station Island, NY Judge dismisses $400 million wrongful-death suit stemming from alleged shoplifting incident at Burlington Coat Factory
A Port Richmond woman has no legal standing to file a $400 million lawsuit on behalf of her daughter and granddaughter, who were believed to have drowned in a swollen North Carolina creek three years ago while being chased by a store security officer, ruled a federal judge. In dismissing Annette Johnson's lawsuit against Burlington Coat Factory, Senior District Judge Edward R. Korman said she has not received the requisite letters of administration nor been named executor of the estates of her daughter, Gracie Nell Johnson, and granddaughter, Rianna Tarell Johnson, who are former borough residents. "Because (Annette Johnson) is not the administrator of the two estates on whose behalf the complaint is filed, although she has had more than three years to obtain letters of administration, she has no standing to bring this action," wrote Korman, who sits in Brooklyn. A legal source said Ms. Johnson could re-file the suit if and when she's appointed administrator of her kin's estates, provided she does so within any applicable statute of limitations to commence the action. Ms. Johnson filed the wrongful-death and civil-rights lawsuit in August of last year in Brooklyn federal court. She alleged her daughter, Gracie Nell Johnson, 43, and her grandaughter, Rianna Tarell Johnson, 16, were "savagely beat(en)" to death while being pursued from Burlington Coat Factory in Charlotte on Aug. 5, 2011, on suspicion of shoplifting $39 in merchandise.
silive.com
U.S. Data Breach Notification Law Unlikely in 2014
Despite President Obama's urgent call to lawmakers to enact a national data breach notification law, such legislation will not likely be voted upon before the current Congress recesses. Obama, in signing an executive order to promote speedy adoption of chip-and-PIN credit cards, called on Congress "to act with urgency on data breach legislation" because of a slew of recent high-profile data breaches. "And even though I'm taking action today without Congress, Congress needs to do its part, as well," Obama said.
"Today, data breaches are handled by dozens of separate state laws, and it's time to have one clear national standard that brings certainty to businesses and keeps consumers safe."
But despite the president's call and growing interest in Congress in enacting a national data breach notification law, no such bill has reached either the Senate or House floors in the current Congress. People familiar with the legislative process point out that business groups and consumer advocates with allies in Congress cannot agree on key provisions of data breach notification measures. Generally, businesses want less stringent data breach notification rules than do consumer advocates.
govinfosecurity.com
President Obama's credit card rejected at New York restaurant
According to The Washington Post on Friday, even the leader of our nation has a problem sometimes when it comes to credit cards. President Barack Obama gave remarks at the Consumer Financial Protection Bureau while he was there to sign an executive order to protect consumers from identity theft. During his remarks, the president told the audience that his credit card was declined at a restaurant in New York last month, but First Lady Michelle had her card and paid the bill for the meal they had just enjoyed. He reasoned that he probably didn't use the card enough, and he guess the waitress thought some fraud was going on. President Obama concluded, "Even I'm affected by this."
examiner.com
MasterCard and Zwipe launch first contactless, fingerprint payment card
MasterCard has partnered with Norwegian startup Zwipe to launch a contactless payment card that has an fingerprint authentication sensor. This is the first card to combine biometric security authentication with contactless payment technology. This may be a solution to the challenge of finding a payment option that does not compromise security. "We should be able to identify ourselves without having to use passwords or PIN numbers. Biometric authentication can help us achieve this. However, our challenge is to ensure the technology offers robust security, simplicity of use, and convenience for the customer," Ajay Bhalla, president of enterprise security solutions at MasterCard, said in a statement. Cardholder fingerprint data are stored directly on the card, not in an external database. The fingerprint would replace the need for a PIN number entry.
cnbc.com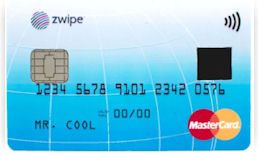 Spike in Malware Attacks on Aging ATMs
A recent spike in malicious software capable of infecting and jackpotting ATMs is shifting the focus away from innovative, high-tech skimming devices toward the rapidly aging ATM infrastructure in the United States and abroad. Last month, media outlets in Malaysia reported that organized crime gangs had stolen the equivalent of about USD $1 million with the help of malware they'd installed on at least 18 ATMs across the country. Several stories about the Malaysian attack mention that the ATMs involved were all made by ATM giant NCR. To learn more about how these attacks are impacting banks and the ATM makers, KrebsOnSecurity reached out to Owen Wild, NCR's global marketing director, security compliance solutions. Wild said ATM malware is here to stay and is on the rise. "What we're finding is these types of attacks are occurring on standalone, unattended types of units where there is much easier access to the top of the box than you would normally find in the wall-mounted or attended models."
krebsonsecurity.com
Non-Compete Agreement: Jimmy John's bans employees from making sandwiches for two years after leaving
From the Jimmy John's non-compete contract: "Employee covenants and agrees that, during his or her employment with the Employer and for a period of two (2) years after ... he or she will not have any direct or indirect interest in or perform services for ... any business which derives more than ten percent (10%) of its revenue from selling submarine, hero-type, deli-style, pita and/or wrapped or rolled sandwiches and which is located with three (3) miles of either [the Jimmy John's location in question] or any such other Jimmy John's Sandwich Shop." The company requires all employees to sign this non-compete agreement, which also stipulates that they cannot, within a year of being fired or quitting, become a Jimmy John's franchisee, or working at another Jimmy John's franchise.
deathandtaxesmag.com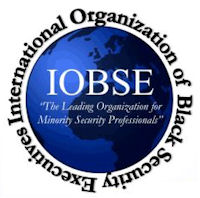 Home Depot to host IOBSE's 2015 Spring Conference in Atlanta
The International Organization of Black Security Executives has announced that Home Depot will host the IOBSE 2015 Spring Conference next year, from April 29 - May 1, 2015 at the retailer's headquarters in Atlanta, Georgia. IOBSE's most recent conference was held this past spring at the corporate offices of Ross Stores in Pleasanton, California. They are the leading organization for minority security professionals. They remain dedicated to providing quality security-management-focused educational programs for minorities worldwide. To learn more about the IOBSE conference, its history and goals,
see our recent LPNN interview
with Keith White, SVP Loss Prevention for Gap Inc., and Michael Nelson, Regional Dir. of LP for Kohl's - who have both taken leadership roles with the organization over the years.
iobse.org
IAI Helps Interviewers Strengthen Their Rationalizations
The International Association of Interviewers (IAI) just released 10 new rationalizations to help interviewers strengthen their interviewing tool box. Members of IAI have access to more than 80 rationalizations via the "Rationalization Matrix" on its Website,
www.certifiedinterviewer.com
. During an interview rationalizations are used for many different reasons, for example it helps the subject minimize what they have done, save face, makes it easier for them to admit, gives them hope, and it promotes the benefit of cooperation.
certifiedinterviewer.com
Cowboys' Randle gets underwear deal after theft arrest
Dallas Cowboys reserve running back Joseph Randle, who was recently arrested for shoplifting underwear and cologne, landed an endorsement deal with MeUndies. After Randle was arrested for stealing from a Texas Dillard's last Monday, the Cowboys fined him $29,500. ESPN reported that MeUndies is giving Randle enough sponsorship money to pay the fine and supply him with underwear. Randle is reportedly donating $15,000 worth of underwear and clothing to children in need through the sponsorship. "Joseph felt the need to turn a negative situation into a positive and teamed up with MeUndies to give back to his community and help families in need," MeUndies head of marketing Dan King said. "As a young company, MeUndies is faced with difficult challenges all the time. It's up to us to turn a negative situation into a positive one, almost on a daily basis. How you learn from your mistakes fast is how you find success in our business and those lessons are applicable in all walks of life."
torontosun.com
Mojix Announces Key US Patents for Sensor Networks and Passive RFID
Last week's most popular news article --

Toronto CN: Security cameras captured Eaton Centre shooter 'dozens and dozens and dozens' of times, court hears
It may go down as the most meticulously documented crime in Canadian history
: A shooting in a busy mall on a bustling summer night caught in minute detail on camera after camera after camera. From the time Christopher Husbands entered Toronto's Eaton Centre - a tourist magnet smack in the middle of downtown - on June 2, 2012 until the time he ran out less than an hour later, he was tracked. Cameras caught him coming in. They showed him buying skates. They saw him pull a gun. They watched him kill two men. Husbands has pleaded not guilty to two counts of first-degree murder and five others of aggravated assault linked to the shooting that night. (His bullets also wounded five bystanders). His lawyers admit he pulled the trigger. But they deny he planned to kill anyone that day. On Tuesday, the second day of his trial, Husbands watched passively from the middle of the courtroom as jurors watched clip after clip of the shooting and its aftermath. For a time, he doodled on a notepad. Occasionally, he looked back into the gallery, where his father sat on one side and relatives of his victims on the other.
nationalpost.com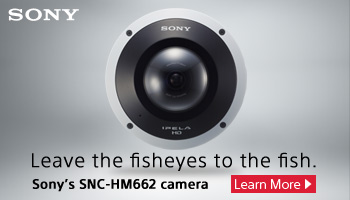 All the news - One place - One Source - One Time
The D&D Daily respects your time
& doesn't filter retail's reality
Report Your News!
(content subject to approval)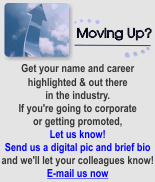 Loss Prevention News Network

Greg DeTardo, President of NuTech National, talks about the history of his company and how it has grown into one of the largest alarm service networks in North America. With the primary goal of delivering complete customer satisfaction, NuTech National has embraced technological change over the years, adapting to the evolving needs of the retail industry. Greg reveals why NuTech's model has been so successful.
Filmed at the D&D Daily's 2014 "Live in NYC" Broadcast Event.




Joan Manson

Sponsored By:


Bass Security





Sponsored By:



Keith White & Michael Nelson

Sponsored By:


Dan Faketty and Professor Bob Hanson

Sponsored By:


The NRF's LP Legislative Committee, a National Update





Jeff Fulmer & Jon Gold


Sponsored By:


Preparing - Training - Responding to the Active Shooter





Rich Mellor


Sponsored By:

Cyber Security's Increasing Impact on Retail & the Role of Loss Prevention

Tom Litchford
Sponsored By:

Stan Welch, VP of LP, JCPenney



Sponsored By:



In case you missed it ...
Click here to view all the episodes from
"Live in Ft. Lauderdale at the NRF LP Show."

Solution Providers, have a video or commercial you want to publish? Contact us.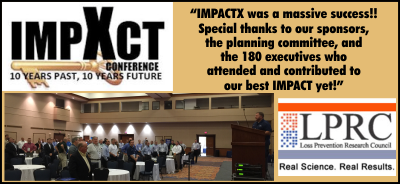 e-commerce

Sponsored by The Zellman Group
Online book seller Sourcebooks suffers credit-card data breach
Today's disclosure comes from online book seller, Sourcebooks. Unfortunately it does not appear that their information security had managed to keep current. What happened you ask? Well, it appears that we have a case of web security failing and another shopping cart getting compromised by unknown attackers. If memory serves this is the third large one in a week of this type.
csoonline.com
Report: Only 5% of retailers have fully executed omnichannel strategy
Few companies (5%) believe they are "advanced" when it comes to omnichannel capabilities, and between 35% and 40% believe they are lagging, according to a report by SPS Commerce, a provider of enterprise retail cloud services. The benchmark study revealed the following about the retail industry: Both retailers and suppliers feel significant pressure from rising consumer expectations, with 75% of retailers experiencing increased demand for more rapid fulfillment and 44% of suppliers reporting greater demand for more robust item information.
chainstoreage.com
Apple Pay Faces Lighter Compliance Than Paypal, Google
Apple Inc. didn't have to set up an anti-money laundering program for its new Apple Pay service set to launch Monday, experts said, in contrast with competitors such as PayPal or Google. The service, which Apple first announced in September, doesn't collect transaction information that can be tied to a user, and isn't itself involved in a transaction at all - money moves directly between a user, the merchant and the user's bank, Apple said Thursday. As a result, Apple Pay comes under much less regulatory scrutiny than other mobile payment market players.
wsj.com
Apple Pay Rolls Out, With Holes in System
Digital retail heads back to the future with old-fashioned stores
44% of U.S. holiday shoppers will shop online - new record
"Fraud is not a person - it is a dynamic grouping of statistics that deviate from the norm."
Stuart B. Levine, CFI, CFCI
CEO, The Zellman Group & Zellman Fraudnet


ORC News
Sponsored by Security Resources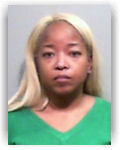 Sears distribution center clerk steals $3.7 million in merchandise, arrested in Logan, NJ Police here have charged a woman for allegedly selling stolen goods out of the Sears Distribution Center at 2100 Center Square Rd. Logan officers arrested Kim Watson, 32, of Clementon, on Friday. A long-term investigation by the Gloucester County Prosecutor's Office, Logan police and Sears' loss prevention team led detectives to believe Watson, an inventory clerk, had been taking cash payment and barter services in exchange for high-end merchandise. That merchandise, police said, included everything from bedding to to kitchen appliances. The operation served a network of people around the tri-state area. The merchandise totaled roughly $3.7 million in retail value, leaving the Sears company with about a $2.6 million net loss. Watson was charged with second degree theft. She was held at the Salem County Jail in default of $50,000 bail. Capt. Robert Leash of the Logan police said the investigation was ongoing. "We are still looking into this," he said. "We know she had a network. She didn't do this alone, and these people knew they were receiving stolen goods." nj.com Investigation Ongoing, More information to follow tomorrow

Women arrested in Chino Hills store burglary of $4,000 worth of sunglasses Two women from Moreno Valley were arrested by Chino Hills Police on suspicion of stealing around $4,000 worth of sunglasses from a store at The Shoppes at Chino Hills. Keyosha Chapple, 31, and Akeila Jefferson, 30, were booked Oct. 10 on $15,000 bail in Rancho Cucamonga, according to Deputy Steve Spagon. Deputies went to the store at 13800 City Center Drive on a report of a commercial burglary. The name of the store was not provided. The deputies learned two women walked into the business, grabbed merchandise from a display case, and fled without paying. Police detectives and their Major Enforcement Team identified one of the women and were led to an apartment complex in Moreno Valley. A search of the woman's apartment unit resulted in the recovery of stolen merchandise valued at approximately $4,000 and the two arrests. championnewspapers.com

UK: Mother and daughter crime duo sold thousands in stolen goods on Facebook Dawn Bainbridge and daughter Claire Bainbridge were locked up by a crown court judge yesterday for their part in a 'well planned and professional operation'. The pair had previously pleaded guilty to conspiracy to steal. Another daughter, Caitlyn Bainbridge, has also pleased guilty to the same charge and will be sentenced next month. Newcastle Crown Court was told the three stole more than $11270.00 of goods from retailers across the North East and Yorkshire from January 1 until June 4 of this year, before selling them on Facebook for less than their value under the business name Designer Goods North East. The scam was uncovered when a investigator from Next made two test purchases from the Facebook site. She received the clothes from Caitlyn Bainbridge by post and matched them up with unique store codes on the goods - which revealed they had been stolen. Police carried out a raid at the family home in The Crescent, and found a haul of clothing worth $10744.00. A total of $2,341 of goods was from Next stores; $1,032 from House of Fraser stores; $1.078 from Marks and Spencer; $624 from British Home Stores; $739 from Hollister, $584 of goods from Asda and $417 from M and C stores. Neil Pallister, prosecuting, said the three were arrested in March and bailed, but when police visited the home on another matter they found the shoplifting scam was still running and found another haul of clothes worth more than $1449. Police also uncovered a list of customers and even a debters' ledger at their home with names and the amounts owed to them from sales online. sunderlandecho.com

Six Romanians convicted in South Florida on $340,000 skimming scheme Six Romanian citizens were found guilty of bank fraud and convicted in the state of Florida, in the U.S. They were sentenced to three to seven years in jail, according to The United States Attorney's Office. The six suspects admitted they had installed devices to access credit card data on ATMs in Florida, a scheme known as "ATM skimming". Using the electronic data stolen from their victims' credit cards and the PIN numbers, which they recorded with miniature cameras, they made new cards which they used to draw money out of the victims' bank accounts. American authorities found that they stole a total of USD 340,000 from 314 bank accounts. romania-insider.com

Australian Criminals pay up to $30,000 for valid identity documents from vulnerable people A report being tabled in the Australia's federal Parliament on Tuesday will urge people to protect their passports, driving licenses, Medicare cards, and other identity documents. It warns that criminals are expected to increasingly single out vulnerable people, such as nursing home residents, long-term hospital patients and jail inmates, to buy their identities. It also details the going rate criminals are paying for fake identity documents. The report says criminal groups pay up to $30,000 for a legitimately issued passport bearing fake details. Professional forgers charge $1500 to alter a genuine passport. The report also warns of a flourishing black market for fake Medicare cards, birth certificates, driving licenses, tax file numbers and credit cards. A fake credit card can be bought for $1000, a fake driving license for $350, a fake birth certificate for $250 and a fake Medicare card for $80. Justice Minister Michael Keenan is expected to table the report on Tuesday. heraldsun.com

Do you have an ORC case to share?
Share your ORC news and help the industry grow


Retail Crime News

Sponsored by NuTech National
Officer shoots, kills GameStop robbery suspect in Indianapolis, IN Indianapolis Metro Police say an officer was forced to use his weapon as several people tried to rob a video game store on the south side. It happened about 8:30 p.m. in 3000 block of East Street at a strip mall. According to police, some citizens called 911 and reported seeing three people with guns and masks going into the GameStop store in the Felbram Plaza North. Police say within minutes of the 911 call, officers who had been in the area, got to the GameStop and surrounded the building. According to police, the three suspects inside were terrorizing employees in the store, holding them at gun point. Police say officers gave loud verbal commands for the suspects to drop their weapons. They captured two suspects, but a third tried to run out the back door and pulled a gun on police, who were waiting outside. Officers told the suspect to put the gun down, but the suspect refused to drop his weapon and pointed it at the officers. Responding officers immediately fired their weapons at the suspect striking him in the upper torso. The suspect was taken to Eskenazi Hospital in serious condition but later died. The two other suspects were taken into custody. No police officers were injured and the people inside the Game Stop were not hurt. wthr.com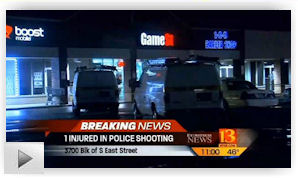 Burglar crashes after fleeing Verizon store in Coral Springs, FL After attempting to break into a Verizon Store in Coral Springs late Saturday night, a man led police on a 5-mile chase into Tamarac, where he crashed into a police cruiser and two cars, police said Sunday. "He was arrested and charged with seven crimes related to the chase and hitting the police car," said Coral Springs Police Lt. Brad McKeone. "The charges related to the burglary will be added later." Police said Juan Carlos Cardoso, 41, tried to enter the Verizon Store in the 2200 block of North University Drive by digging a hole from an adjacent business, only to set off the alarm. sun-sentinel.com

Security guard accidentally shoots woman at Md. McDonald's A security guard in College Park, Md. shot at two suspects after they attacked him and accidentally shot a woman close by early Sunday morning at a McDonald's, Prince George's County Police Department said. Police received the call around 3:45 a.m., authorities said. The security guard shot at two suspects, however accidentally shot a woman who was not involved in the incident, police said. The woman suffered non-life threatening injuries, according to police. wusa9.com

Three men rob Gunderson's Jewelry Store in Omaha, NE Omaha police officers responded to a robbery at Gunderson's Jewelry Store near 17th and Davenport streets around 7:50 p.m. Saturday. Officers arrived and found out that three robbers entered the store and started to hammer a display cabinet, making off with several pieces of jewelry and fleeing on foot from the location. The three robbers are reportedly all black males between 20-25 years old. ketv.com

Arson suspected at Spirit Halloween store in Waldorf, MD; estimated damage over $500,000 A team of investigators with the Office of the State Fire Marshal, Charles County Sheriff's Office and the Bureau of Alcohol, Tobacco and Firearms are actively investigating an early morning fire at the Spirit Halloween store located at 2875 Crain Highway in Waldorf. The store is located next door to the Fred's Sporting Store that was intentionally set on fire after a burglary on October 13, 2014. At 12:07 a.m. a passerby observed a fire in the front of the Spirit Halloween store and notified 911. Nearly 40 firefighters responded from Waldorf, Laplata, Brandywine, Baden, Hughesville and Bryans Road Fire Departments and extinguished the fire located just inside the front door within 5 minutes. Smoke and heat created by the fire spread throughout the store and caused approximately $400,000 in damage to the contents. An additional $100,000 is damage is estimated to the structure at the front of the business. No injuries were reported during the incident. thebaynet.com

Shoplifter threatens Wal-Mart security officer in South Jordan, UT South Jordan police responded to reports of a robbery at the Wal-Mart located at 11328 S. Jordan Gateway, Thursday around 4 p.m. Wal-Mart security employees tried to stop two men suspected of shoplifting, police said. One of the men allegedly told the security officer he had a gun, although one wasn't seen. The men drove away, but police officers located their vehicle and followed it. Both men entered the Harmons store but were arrested as they exited. Marcel Gregory Redding, 28, and Salvador Joe Manzano, 25, were booked for investigation of charges related to aggravated robbery. Investigators recovered about $500 worth of movies and clothing they said was stolen from the Wal-Mart. They were waiting for a warrant to search the men's car for a possible gun. ksl.com

Bloomingdale's associate arrested for theft of $1,300 in merchandise in Willow Grove Park Mall, Philadelphia

Trio of Guernsey County, OH residents charged in theft of $454 from Walmart

Zales in Brandon, FL. the victim of a Grab and Run - 2 gold chains total value $7,999

Robberies and Burglaries
● Boost Mobile - Omaha, NE - Armed Robbery
● Cumberland Farms - Indian Orchard, MA - Armed Robbery
● Cumberland Farms - Willimantic, CT - Armed Robbery
● CVS - Orlando, FL - Armed Robbery
● Dollar General - Darlington Co, SC - Burglary
● Dollar General - Las Vegas, NV - Armed Robbery
● Karl's Market - Utica, NY - Armed Robbery
● Kum & Go - Sioux Falls, SD - Armed Robbery
● One Stop - Rome, GA - Armed Robbery - 3 people shot
● Pell City Pharmacy - Pell City, AL - Armed Robbery
● Radio Shack - Hudson, NC - Robbery - suspect sentenced to 1 year
● Rite Aid - Sylvania, OH - Robbery
● Salvation Army - Skokie, IL - Armed Robbery
● Sheetz - Indiana, PA - Armed Robbery
● Sun Mart - Willimantic, CT - Armed Robbery
● Sutherland Pharmacy - Saskatoon, CN - Armed Robbery
● Turkey Hill - York, PA - Armed Robbery
● 7-Eleven - Baltimore, MD - Robbery

Vendor Spotlight




Analog to IP: Discover the Truth about Video Migration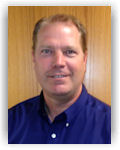 By: Scott Hendrickson
Video Product Manager
Checkview Corporation

Truth #1: It is Cost Effective.
In today's world of technology, balancing the performance of a video system with budget constraints has been a challenge that has kept many systems in the analog realm. The lower cost and performance of analog video may allow Loss Prevention Managers to put more cameras in more stores, but with the declining costs associated with current IP cameras, higher resolutions and system flexibility with open architected network video recorders, the case to move from analog to IP is a strong one. While some retailers can make the jump to IP with complete replacements of existing video infrastructure, most find that a migration path from analog to IP is done in stages and proper planning for the future. Consider the following key components regarding your present video system and make the move towards an IP video system.

Truth #2: Cabling is Key.
The first item to consider is the current cabling infrastructure. Coaxial cable with a power wire? Structured cabling, Category 3, 5, 5e, 6 or other? If you are still installing analog video systems with coaxial cable, then at the very minimum, you need to move into Ethernet standard Category 5e or 6 (Unshielded Twisted Pair – UTP) using baluns to transmit analog video, power and data (for PTZ's) as soon as possible. Baluns are small transceivers that live at each end of a UTP run to convert the analog signal and transmit over Cat5e/6. Different baluns are used for varying run lengths, but it is important to know for future IP considerations that Ethernet standards have a maximum run distance of 100M (328') between IP devices (switch, PC, IP Camera). If you are installing analog today with baluns, to be ready for IP in the future, the Cat5e/6 cabling must adhere to TIA Ethernet standards of 100M or less, or include proper intermediate junctions and proper Ethernet terminations.

See Truths #3 and #4 here.


Featured Job Listings
Sponsored by Cam Connections
Feature Your Job Here For 30 Days -
70% Aren't On the Boards
Group VP of LP
Retained Search
New York, NY
Gus Downing
Sr. Director, Field LP
Ross Stores
Dublin, CA
Ross Stores
Director of LP
The Children's Place
Secaucus, NJ
The Children's Place
Director of LP
Restoration Hardware
Corte Madera
Restoration Hardware
ORC Investigations Mgr
The Home Depot
Atlanta, GA
The Home Depot
Regional Director, AP
Rite Aid
NY Metro, NY
Rite Aid
Director, Pharmacy LP
Rite Aid
Camp Hill, PA
Rite Aid
Corporate Investigator
Confidential
San Francisco Bay, CA
Confidential
DC LP Manager
Brookstone
Mexico, MO
Brookstone
National Account Manager
Vector Security, Inc
TBD
Vector Security, Inc
LP Agent
JONS Markets
Los Angeles, CA
JONS Markets
Bilingual AP Specialist
Bi-Lo Holdings
Miami, FL
Bi-Lo Holdings
AP Associate
Ralph Lauren
Orlando, FL
Ralph Lauren
LP Investigator
Lamps Plus
Chatsworth, CA
Lamps Plus
LP Investigator
Tom Thumb
Dallas, TX
Safeway
National Account Mgr
Confidential
Northeast
Downing & Downing

Limited Time Only - Post Your Multi-Unit LP jobs for FREE - Learn More Here

Daily Job Alerts


Sponsored by Cam Connections
Appearing One Day Only
View our Internet Jobs Archives here
Field LP Manager
Staples
Valley Stream, NY
Staples
LP Supervisor
JC Penney
Chicago, IL
JC Penney
LP Supervisor
JC Penney
Barboursville, WV
JC Penney
LP Specialist
Amazon
New Castle, DE
Amazon
LP Manager Hrly
Kmart
Savannah, GA
Sears Holdings Corp
LP Manager Hrly
Sears
Lafayette, IN
Sears Holdings Corp
LP Manager Hrly
Sears
Yonkers, NY
Sears Holdings Corp
ETL Assets Protection
Target
Dublin, CA
Target
AP Team Leader
Target
Lake Jackson, TX
Target
AP Team Leader
Target
High Point, NC
Target
AP Manager in Training
Walmart
Old Bridge, NJ
Wal-Mart
AP Manager in Training
Walmart
South Charleston, WV
Wal-Mart
AP Manager in Training
Walmart
Ponderay, ID
Wal-Mart
AP Manager in Training
Walmart
Hawaiian Gardens, CA
Wal-Mart
AP Manager in Training
Walmart
Camarillo, CA
Wal-Mart
AP Manager in Training
Walmart
Anaheim, CA
Wal-Mart
AP Manager in Training
Walmart
Torrance, CA
Wal-Mart
AP Manager in Training
Walmart
Palm Desert, CA
Wal-Mart
AP Manager in Training
Walmart
Scarborough, ME
Wal-Mart
AP Manager in Training
Walmart
Bedford, TX
Wal-Mart
AP Manager in Training
Walmart
Stone Mountain, GA
Wal-Mart
AP Manager in Training
Walmart
North Smithfield, RI
Wal-Mart
AP Manager in Training
Walmart
El Reno, OK
Wal-Mart
AP Manager in Training
Walmart
Sacramento, CA
Wal-Mart


Home of the Industry's Original
On the Move

Allen Flower, CFI was named Regional Loss Prevention Manager for Sterling Jewelers.
Gary Evaniuk, CFI was named Regional Loss Prevention Manager - Western Canada for Town Shoes Ltd.
Brenda Anderson was named District Loss Prevention Manager for Rite Aid.
Tom Counts, LPC, CFI was named District Loss Prevention Manager for Dick's Sporting Goods.
Jamie Bourne was named Sr. Investigator for TJ Maxx.
Post Your New Job or Promotion!
See all the Industry Movement

Your Career
Sponsor this section of the Daily
Build a Career Worth Having
In today's society, we suffer from a chronic dissatisfaction in the workplace: 70% of working Americans feel unfulfilled with their jobs, in a recent study. How can you see your job differently? Create a career with a continued sense of purpose, meaning and fulfillment. (Your career is not linear)

5 Ways You Might Be Sabotaging Your Career You spent your formative years learning things you were told would help you be successful, things that would come in handy some day, but in fact you never used them! Here are some things you SHOULD do, if you're not already, to keep yourself successful. (Saying "Thank You" is never outdated)

Last week's most popular articles--

9 Ugly Truths Bosses Hide from Employees To be an effective boss, you need to keep some thoughts and feelings to yourself. Some things are just not meant to be shared with your team members. These nine common thoughts are best kept to yourself, not said out loud. (Speak no evil)

The Perfect Elevator Pitch: In 20 Seconds or Less, Tell Me What You Do When explaining to someone about your line of work, or products you develop or sell, it can be hard to narrow it down to just a twenty second description. It's important to be able to accurately and effectively describe what you are trying to sell, so use these tips! (What makes you unique?)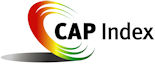 Tip of the Day
Sponsored by Vector Security
Active listening is absolutely critical if you really expect to influence change or modify behavior. You've got to hear what they're saying before you can plan or expect to do virtually anything. And hearing what they're saying is not simply hearing the words it's all about hearing the meaning and the intentions behind the words. Because words have a tendency to hide the true meanings and beliefs. As truth is often cloaked in humor so is meaning hidden in words. With the number one obstacle being one's self hearing is often drown out by how we want others to view us. So if you can leave your self at the door so to speak you can then begin to focus on hearing what they're saying.

Just a Thought,
Gus Downing






Upcoming Events

Northeast Regional Conference on LP
October 28, 2014
Monroe Twp, NJ
---
Recruiting?
Get your job e-mailed to everyone... everyday
Post on our Featured Jobs Board!
Reach your target audience in 2014 every day!
Request our 2014 Media Kit
update account / change e-mail
unsubscribe FEEDBACK
www.downing-downing.com

Advertise With The D&D Daily




36615 Vine Street, Suite 103
Willoughby, OH 44094
440.942.0671
copyright 2009-2019
all rights reserved globally