The D&D Daily Mobile Edition
October 21,

2014



The LP Industry's #1 News Source - Informing, Educating and Instilling a sense of community


News Brief
Sponsored by WG Security Products, Inc.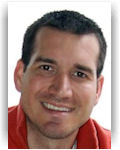 Jonathan Price was named Senior Manager, Safety & Loss Control for Denny's. Jonathan was previously Director of Security & Risk for Taco Bueno Restaurants. Prior to joining Taco Bueno, he was a Senior Police Officer for the city of Euless, Texas. Jonathan is also currently a Reserve Police Officer for Tarrant County in Texas. He attended the University of Texas at Arlington, studying Business Management. Congratulations, Jonathan!


The Ebola Number You Haven't Heard: 80% Of U.S. Ebola Patients Have Survived The Ebola survival rate in Guinea might be somewhere around 30%. The Ebola survival rate in Liberia is likely similar. But in the United States, the Ebola survival rate is 80%. Among the five Ebola patients with a known clinical outcome, four have been successfully discharged — three from Emory University Hospital in Atlanta, one from Nebraska Medical Center. The U.S. Ebola survival rate will probably improve before it gets worse, too. Ashoka Mukpo, the NBC News cameraman who contracted Ebola in Liberia, is doing "quite well." Mukpo's expected to get discharged from Nebraska Medical Center in the next few days. There's a lot to celebrate here. But before we go any further, let's acknowledge an obvious criticism: Measuring Ebola in the United States means relying on a tiny sample size. U.S. hospitals have handled just a handful of Ebola patients, while Liberia and Guinea have treated thousands of patients in this Ebola outbreak. Just two bad outcomes and the U.S. survival rate for Ebola wouldn't be much better than the survival rate in West Africa. forbes.com

Staples POS Data Breach - Credit & Debit Card Fraud Patterns in Northeast lead to Staples Monday evening, investigative journalist Brian Krebs reported that multiple banking sources were seeing a pattern of credit and debit card fraud. The common thread between each case were purchases made at Staples Inc. stores in the Northeastern U.S. They said the fraudulent transactions were traced to cards that made purchases at Staples stores in Pennsylvania, New York City, and New Jersey. "Staples is in the process of investigating a potential issue involving credit card data and has contacted law enforcement. We take the protection of customer information very seriously, and are working to resolve the situation. If Staples discovers an issue, it is important to note that customers are not responsible for any fraudulent activity on their credit cards that is reported on a timely basis." - Mark Cautela, Senior Public Relations Manager, Staples. Given the pattern in recent months, it's possible that Staples has fallen victim to Backoff, a malware family that targets POS systems, or a similar variant. The fraudulent charges occurred at other (non-Staples) businesses, such as supermarkets and other big-box retailers. This suggests that the cash registers in at least some Staples locations may have fallen victim to card-stealing malware that lets thieves create counterfeit copies of cards that customers swipe at compromised payment terminals. csoonline.com krebsonsecurity.com

Justices Ponder Whether FLSA Requires Pay For Warehouse Workers' Anti-Theft Screening - A more detailed look at the arguments Labor Department and an employee leasing company that operates warehouses for online retailers Oct. 8 urged the U.S. Supreme Court to rule the Fair Labor Standards Act doesn't require warehouse workers to be paid for time spent going through anti-theft security screens. Representing Integrity Staffing Solutions Inc., which staffs warehouses fulfilling Amazon.com orders, lawyer Paul D. Clement said the post-shift security screen is "classic postliminary activity" under the Portal-to-Portal Act that isn't "integral and indispensable" to the workers' principal activities and therefore doesn't have to be compensated. But Mark R. Thierman, a Reno, Nev., lawyer representing the employees, said the anti-theft screen is a "principal activity" for which the FLSA requires payment. - A more detailed look at the two arguments in this write up. bna.com

Half of US shoppers likely to avoid data-breached retailers Almost half of U.S. shoppers, 45 percent, said they would avoid holiday shopping at stores that were affected by data breaches in the past year. 29 percent said that they would probably not shop at a retailer where personal information was exposed, while 16 percent said they would definitely no longer shop there. fierceretail.com

Apple Pay - Witnessing the Next Step in Money - Walgreens - Office Depot - Whole Foods Markets Accepting Apple Pay Commerce experts say they believe that the involvement of Apple, which helped revolutionize the mobile industry, could be the impetus that moves mainstream consumers to digital payments. Think of Apple Pay as taking the card out of credit card. After entering their credit card information into the latest iPhones, customers can wave their phone in front of a properly equipped payment terminal at retailers like Whole Foods and McDonald's. Customers verify the transaction with the iPhone's fingerprint scanning hardware. Apple's largest difficulty could be to persuade thousands of retailers to accept Apple Pay at the checkout line. Many believe the new terminals being rolled out for EMV will also accept payments from Near Field Communication-enabled devices like the iPhone 6. "People will already have to invest in new E.M.V.-enabled machines. N.F.C. is just a few bucks more." Apple is working with major credit card companies like Visa, American Express and MasterCard to integrate a so-called tokenization system into Apple Pay. The technology sends a secure code to merchants instead of a credit card number, which experts say will make credit card data theft less likely. Every transaction will also come with a unique encoded passcode that will help determine whether a transaction is legitimate. nytimes.com

Sears Will Lease Retail Space in Northeast to U.K.'s Primark Primark, a British budget-clothing retailer that's expanding in the U.S. will set up shop in seven Sears stores in the Northeast, according to a statement today. Separately, Hoffman Estates, Illinois-based Sears announced a rights offering that could generate as much as $625 million for general corporate purposes. "Sears Holdings is strategically transforming one of the largest retail real estate portfolios in the United States over time while continuing to operate its existing stores in large, but rationalized selling space," Jeff Stollenwerck, president of real estate for Sears, said in the statement. bloomberg.com

Supreme Court upholds convictions of former Duane Reade Drug Stores CEO & CFO - Inflating Income & Reducing Expenses in Filings

Amazon piloting 3 pop-up stores - San Francisco - Sacramento - Manhattan

Family Dollar Sets October 30 as Record Date for Special Meeting of Stockholders to Approve Dollar Tree Transaction

Family Dollar urged to take 'clearly superior' Dollar General bid

Sears to close 5 Pennsylvania stores - Bloomsburg, Chambersburg, Frackville, Lebanon, Pittsburgh Mills

Dubai IKEA To Open Middle East's Largest Distribution Centre In Dubai


Quarterly Same Store Sales Results

Rent-A-Center Q3 up 1.9% with revenues up 2%
Steve Madden Q3 retail down 7.4% with total net sales down 0.7%
McDonalds Q3 globally down 3.3% with consolidated revenues down 5%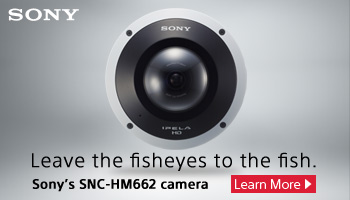 All the news - One place - One Source - One Time
The D&D Daily respects your time
& doesn't filter retail's reality
Report Your News!
(content subject to approval)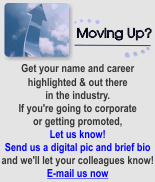 Loss Prevention News Network

Greg DeTardo, President of NuTech National, talks about the history of his company and how it has grown into one of the largest alarm service networks in North America. With the primary goal of delivering complete customer satisfaction, NuTech National has embraced technological change over the years, adapting to the evolving needs of the retail industry. Greg reveals why NuTech's model has been so successful.
Filmed at the D&D Daily's 2014 "Live in NYC" Broadcast Event.




Joan Manson

Sponsored By:


Bass Security





Sponsored By:



Keith White & Michael Nelson

Sponsored By:


Dan Faketty and Professor Bob Hanson

Sponsored By:


The NRF's LP Legislative Committee, a National Update





Jeff Fulmer & Jon Gold


Sponsored By:


Preparing - Training - Responding to the Active Shooter





Rich Mellor


Sponsored By:

Cyber Security's Increasing Impact on Retail & the Role of Loss Prevention

Tom Litchford
Sponsored By:

Stan Welch, VP of LP, JCPenney



Sponsored By:



In case you missed it ...
Click here to view all the episodes from
"Live in Ft. Lauderdale at the NRF LP Show."

Solution Providers, have a video or commercial you want to publish? Contact us.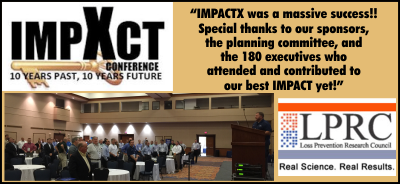 Big Data
Sponsored by Verint
Are data breaches creating smarter consumers? A slew of recent security breaches doesn't appear to be rattling Wall Street or shoppers. But they might be leading to smarter consumers, a new survey shows. Of those who had credit cards, one in eight consumers said they are more likely to shop with credit cards instead of debit cards this holiday season in the wake of the recent data breaches, according to a survey released Monday by CreditCards.com. Nearly half of people surveyed (48%) said they would cut their chances of fraud altogether by paying in cash. Consumers were divided on how they would treat the retailers that have recent breaches. 45% of people with credit cards or debit cards said they either definitely would not, or probably would not, shop at retailers that have had a security breach. 41% of consumers said they would probably still shop at those stores and 11% said they definitely would. Cybersecurity has been generating more attention in recent weeks after significant breaches exposed the information of millions of consumers. washingtonpost.com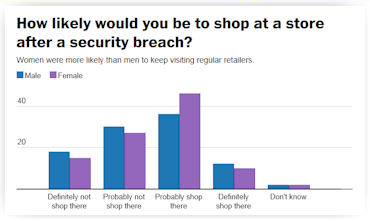 Cost of a Data Breach Jumps by 23%
Paging the incident response team: It now takes a large organization an average of 31 days at a cost of $20,000 per day to clean up and remediate after a cyberattack, with the total price tag for a data breach now at nearly $640,000. That's an increase of 23% over last year, says Larry Ponemon, chairman and founder of the Ponemon Institute. Ponemon, which surveyed 257 large companies in seven countries, measured the costs of more than 1,700 attacks suffered by the firms. The average cost of an attack is $639,462, according to the report. darkreading.com

Experts weigh in on Kmart breach

Survey: Retailers use competitive data for pricing

Survey: Many consumers will anonymously share data


e-commerce

Sponsored by The Zellman Group
Showrooming dips, but 'webrooming' surges, according to survey
The complex interplay between online and in-person shopping in the US has tilted slightly in favor of bricks-and-mortar retailers, according to GfK's 2014 FutureBuy global study of shopping habits and preferences. Incidents of smartphone "showrooming" - seeing a product in a store, then buying it online from another retailer using a smartphone - dropped from 37 percent in the US last year to 28 percent in 2014. But "webrooming," in which consumers buy in a store after researching a purchase online using a smartphone, was reported by an even higher proportion of respondents, 41 percent.
retailcustomerexperience.com
Ikea makes online push for growth
Ikea, whose stadium-sized furniture stores draw shoppers from miles around, is going where its shopper are: online. The CEO of Ikea Group, the world's largest furniture chain, is pushing for sales growth, while making its ready-to-assemble furniture more accessible to customers increasingly looking for more convenience. The move comes as Ikea, which operates 315 stores in 27 countries, has been slow to respond to the changing shopping habits of shoppers who are increasingly researching and buying on their smartphones or tablets.
philly.com
U.S. mobile payments to double this year, reaching $3.5 billion
Alibaba's Alipay Wallet Hits 190 Million Active Users
3 Reasons Amazon Can Succeed in Brick-and-Mortar Retail
"Fraud is not a person - it is a dynamic grouping of statistics that deviate from the norm."
Stuart B. Levine, CFI, CFCI
CEO, The Zellman Group & Zellman Fraudnet

Press Release


Halloween Safety Tips from National Wholesale Liquidators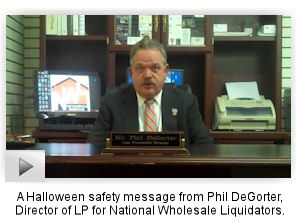 October 20, 2014 - West Hempstead, NY - National Wholesale Liquidators, located at 111 Hempstead Turnpike, West Hempstead, NY, is pleased to announce that all of our retail stores will be putting the focus on Halloween safety this year.

Implementing this safety event was important to Scott Rosen, President and CEO of National Wholesale Liquidators. "Halloween is always a fun time for children. However, it is also a time we need to implement some safety tips. We will be posting safety flyers in all of our retail stores. If you're a motorist out on Halloween, please think safety and slow down. We've posted a video and safety tips on our website and Facebook page, so please take a few minutes to review them," said Mr. Rosen.

The family owned and operated company, founded by Eva Rosen in 1984, operates stores in the New York metro area – Cross County Shopping Center (Yonkers); Bay Parkway (Brooklyn); Co-op City (Bronx); Flushing (Queens), West Hempstead (New York); Long Island City (Queens), Lodi (New Jersey) Jersey City (New Jersey); Middletown,( New York), Dorchester, MA and Weymouth, MA.

For additional information about National Wholesale Liquidators, please visit our newly launched website at www.nationalwholesaleliquidators.com where you can find super web-only deals, and remember to Follow us on Facebook, Instagram and Twitter.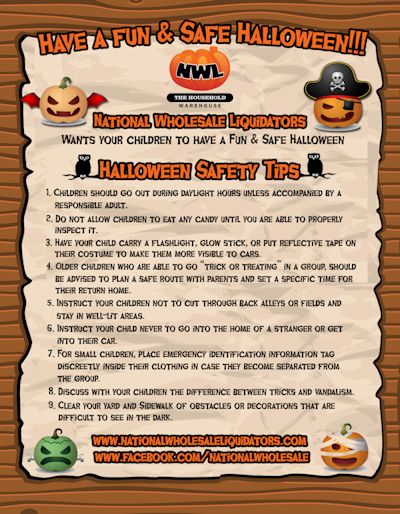 Thank you to Phil DeGorter, Director of Loss Prevention, National Wholesale Liquidators, for this submission.

ORC News
Sponsored by Security Resources
Miami-Dade Police ORC Task Force Honored for $2.1M - 23 Suspects busted - 14-month Investigation The efforts of a five-officer team investigating retail thefts in the Miami-Dade Police Hammocks District paid off with $2.1 million confiscated and the arrest of 23 subjects. Their efforts earned Officer of the Month citations for each during the district's Sept. 24 Citizens Advisory Committee (CAC) meeting. Increasing reports of chain store drug thefts in the district caused Maj. Arnold Palmer to appoint the team that concluded a 14-month investigation in March by seizing 41 bank accounts of a large-scale fencing operation. It all began with the theft of diabetic strips from CVS Pharmacies, noted Maj. Palmer who appointed the unit to aid nationwide enforcement and tracing of over-the-counter medication thefts, now a "$2 billion nationwide industry," he said. communitynewspapers.com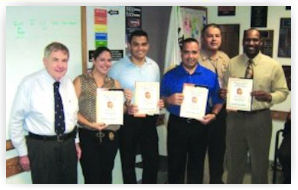 Alabama Police warrant turns up $25,000 in stolen merchandise A Houston County judge revoked the bail Monday for a Kinsey man based on a felony charge alleging the distribution of stolen property. Circuit Court Judge Kevin Moulton granted a request by the Houston County District Attorney's Office to revoke the bail for 37-year-old Christopher Lee Dozier. Court records show Kinsey police arrested Dozier last month and charged him with felony first-degree receiving stolen property. As a result of the investigation, Kinsey Police Chief Tim Hurd obtained a search warrant and searched Dozier's home. He said police found hundreds of T-shirts worth $22,722 and $2,300 worth of various retail items ranging from power tools to purses to shoes to watches. At the time of Dozier's arrest last month he was out on bail for three pending felony theft charges. dothaneagle.com

Female ORC thief on the loose - $10,000 in high-end razors, cosmetics hitting retailers in West Michigan Holland Police on Monday, Oct. 20, released surveillance photos of a woman whom they say has been stealing high-end razor blade kits, dental cosmetic projects and other cosmetics. She is suspected in a string of shoplifting cases in Ottawa, Kent, Ionia and Muskegon counties, police said. She has targeted pharmacies and department stores. Police think she may have gotten away with more than $10,000 in merchandise. Anyone who can identify the woman is asked to contact Ottawa County Silent Observer at 877-88-SILENT (745368) or submit a tip on line by visiting www.mosotips.com and clicking on "WebTips." Or call Holland Department of Public Safety at 616-355-1100. mlive.com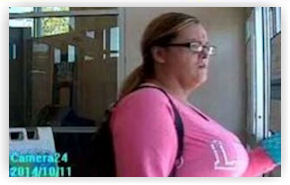 Henrico, VA Police Arrest Three In Shoplifting Scheme Henrico County Police were able to shut down a shoplifting scheme that led to the arrest of three people on a variety of charges, including identity fraud and possession of heroin. According to police, 32-year-old Crystal Dawn Brumfield, 35-year-old Tonya Ann King, and her brother-in-law, 39-year-old William Andrew King, Jr. are accused of shoplifting from the Kroger grocery store in the 4800 block of South Laburum Avenue and then returning the items at the store for gift cards. "Brumsfield was charged with two counts of petit larceny 3rd offense, conspiracy to commit larceny, possession of heroin, identity fraud, and had one outstanding warrant from Henrico," a police spokesman said in an email. "Mr. King was charged with two counts of petit larceny third offense, conspiracy to commit larceny, and possession of heroin." Mr. King has been detained on two outstanding warrants from other jurisdictions, police said. wric.com

Two Ex-Convicts Arrested On Fake Credit Card Charges in Noroc, Ca Two ex-convicts were arrested Friday on charges stemming from the use of fake credit cards more than three dozen times, Riverside County authorities said. William Eger and Joseph Avilia tried to use the cards for a 39th time on Friday, according to Riverside County sheriff's Sgt. Mike Portillo. They were arrested on suspicion of burglary, receiving stolen property and other other charges. Sheriff's detectives began an investigation following a rash of fraudulent credit card thefts from a business in Norco dating back to early September. They learned the suspects had equipment for making fake credit cards at a home in Ontario, and served a search warrant there, Portillo said. The equipment was seized, and the filing of additional charges against the men was recommended. cbslocal.com

Alert Best Buy employee stops theft - 2 arrested for credit-card fraud Two 24-year-old men from Miami Gardens were arrested Sunday in Davie and accused of credit-card fraud. Jonathan Antonio Ferguson is facing one count each of grand theft, forgery of a credit card and fraudulent use of a credit card. Marvin Darrell Davis is facing one count of forgery of a credit card. A cashier at Best Buy, 2200 S. University Drive, told police he noticed something suspicious as Ferguson was trying to buy two iMacs.. The cashier walked over and swiped Ferguson's Visa debit card, which was declined. The cashier then gave the card and Ferguson's ID to the store's manager, who called police. The cashier told police Ferguson and Davis were together. Police found a Capital One Quicksilver credit card in Davis' pocket. The card had the same name and account number as the one used by Ferguson. Following his arrest, Ferguson admitted to police that he had used a fraudulent credit card to try to buy the computers, according to the affidavit. Davis told police he didn't know where the Capital One card came from and that Ferguson had handed it to him to hold while they were in the store. sun-sentinel.com

Charlene M. Sutton, 39, Richland, PA., charged - retail theft & receiving stolen property - $2,000 of baby formula from Wal-Mart multiple times

Do you have an ORC case to share?
Share your ORC news and help the industry grow


Retail Crime News

Sponsored by NuTech National
West Babylon man pleads guilty to involvement in $10M high-tech burglary crew - Arrested for DSW Shoe Warehouse burglary A West Babylon man pleaded guilty to all charges he faced for playing a leading role in a high-tech burglary crew that stole $10 million in cash and goods from Long Island homes and businesses, prosecutors said Monday. Investigators found that Margiellos was linked to a crew stealing cash and property from 51 residences and commercial establishments between 2009 and 2011, including 21 in Nassau, 28 in Suffolk, one in Queens and one in Westchester. Margiellos, along with two co-defendants, Gerald Camarano, 55, of Valley Stream, and Trung Lu, 33, of Ridgewood, was arrested in January by the Nassau County Police District Attorney Squad in connection with a May 2012 burglary at DSW Shoe Warehouse in Carle Place and a June 2012 burglary at Scents Forever in Hicksville. Margiellos is due back in court to be sentenced on Dec. 1, and is expected to get 5 years in prison for the 2009 burglary and 21/3 to 7 years in prison for the 2012 burglaries. newsday.com longislandpress.com

Sneaker World Roof-Top burglars nabbed after wild rooftop chase in Yonkers Yonkers police said two brazen would-be thieves cut a hole in the roof of a retail store on New Main Street early Monday morning and lowered a ladder inside, only to be nabbed after a wild rooftop chase. It's pretty brazen to cut a hole in the roof and do a burglary. He said the two men appear to have attempted to break into the cash register at the store, but fled before succeeding. He said both fought with officers when they were caught. Police had to call in Yonkers firefighters so that the suspects could be brought down to street level on a ladder truck. lohud.com

Raeford, NC man arrested in multiple Family Dollar and Dollar General Armed Robberies/Kidnapping A Raeford man is accused of robbing three Hoke County stores at gunpoint in the span of a week, the Hoke County Sheriff's Office said. Robert Dwayne Lewis, 42, of the 7000 block of Laurinburg Road, was charged Sunday with three counts of robbery with a dangerous weapon and five counts of second-degree kidnapping, a Sheriff's Office release said. The robberies were reported from Sept. 21-28 at two Dollar General stores and a Family Dollar store, the release said. Investigators determined that one person was responsible for the robberies, the release said. Investigators received information Sunday that resulted in executing a search warrant at Lewis' home and vehicle and his arrest. fayobserver.com

Des Moines, IA woman robbed Walgreens by claiming children in danger A woman robbed a Des Moines pharmacy by telling an employee that a man threatened to hurt her children if she didn't come back with drugs, officials said. Andrea Kay Small, 32, walked into Walgreens, around 4 a.m. Monday. She approached the pharmacy and said a man was outside the store, in a car with her children, and had threatened to hurt them if she didn't bring him Dilaudid, a narcotic painkiller. A pharmacist gave her six bottles containing 542 pills, police reports show. Small and 3 others have been arrested. desmoinesregister.com

Police arrest KFC, Game Stop robbery suspect in Rio Rancho, NM Rio Rancho police say a dangerous suspect is off the streets after someone recognized him from recently-released surveillance pictures. Police say employees at a Walgreens in Rio Rancho called 911 on Saturday saying there was a man inside the store acting suspiciously. He's been identified as 47-year-old Wayne Allen Decker. When officers arrived, they noticed he looked a lot like a man who ordered a KFC employee on Southern to give him cash last Monday. The employee told officers the man flashed a gun hidden under his jacket. On Thursday, police say the same man hit a Game Stop on Unser near Southern. They say he had a gun and demanded money again. On Saturday, police say Decker had a baseball bat hidden in his pants and finally confessed to the recent armed robberies. krqe.com

Dover, DE Police team with Retailers and Social Media to reduce shoplifting All it takes is a simple search on the Dover Police Department website and you can find a list of the week's sticky finger criminals. It's an initiative the department launched back in August to fight shoplifting. Stores, like Dick's Sporting Goods, have taken advantage of the website. 19-year-old Stephon Rivera is wanted for shoplifting nearly $4,000 worth of Northface brand jackets from the store. Police say an employee from the store recognized Rivera from being on the Dover Police Weekly Shoplifting Post for the week of October 9th-16th. According to police, the employee had printed the post and checked to be certain it was Rivera. When the employee offered to assist Rivera in the store, he quickly declined and continued to roam the store with another suspect. A short time later, both Rivera and the other suspect removed a total of 30 Northface brand jackets and fled into a silver Honda and left the parking lot. wboc.com

Central Michigan University Football star to be sentenced for larceny and credit card fraud One of college football's top running backs faces sentencing in a Michigan theft case. Central Michigan's Thomas Rawls is to be sentenced Tuesday in Isabella County Trial Court. The 21-year-old from Flint is accused of stealing a woman's purse at a casino and using her credit cards. He had been charged with felony counts of larceny and credit card fraud, but pleaded guilty last month to a misdemeanor charge of attempted larceny. Authorities say the theft happened April 8 at Soaring Eagle Casino in Mount Pleasant. The team suspended Rawls after the charges and reinstated him following the plea. idahostatesman.com

Multi-state Cargo Theft ring probed in Georgetown, KY A semi trailer, found stripped of its cargo north of Georgetown, offers investigators from several states and the FBI a potential lead that could break a multi-state theft ring, court records show. The trailer was found Sept. 16 in an area behind the Pilot Truck Care Center on Triport Circle near northbound I-75 above Exit 129, about 10 days after it was stolen. Missing were several thousand dollars worth of Logitech computer accessories. news-graphic.com

Hastings robbery in Helena, MT - Police investigating possible shooting and stabbing Two male suspects are custody and police are still searching for one female suspect after an alleged shooting occurred in North Helena. Authorities have recovered a firearm believed to have been involved in the incident. Streets and roads in the area of Ten Mile and Treasure State subdivisions are being reopened, however officers will continue to be in the area speaking with witnesses and recovering evidence. According to Captain Curt Stinson, the Helena Police Department responded to a call from Hastings at 3215 North Montana about 12:57 pm, concerning a possible theft from the store. Initial calls to the police department indicated a person had possibly been stabbed in the theft attempt. beartoothnbc.com

$50K-$100K in phones, computers stolen from Garden Grove, CA tech store Burglars in Garden Grove made off with between $50,000 and $100,000 worth of phones and computers Tuesday morning. Garden Grove police say three suspects broke into OzTek Wireless located on the 10700 block of Westminster Avenue at about 2:20 a.m. According to officials, the thieves used a bolt cutter and smashed through glass to break into the store. Investigators described the suspects as being in their 20s. According to reports, about 100 iPhone 6s were taken, as well as about 20 iPads and a number of laptop computers. abc7.com

Loomis armor car robbery outside Walgreens 7:30 a.m. Monday morning in south Houston - two suspects escaped

Chico, CA Jewelry store reopens after smash and grab robbery; Jewelry heist remains unsolved despite surveillance video

Aberdeen, MD Police arrest a woman with 45 phony credit cards

Algonquin Wal-Mart evacuated after bomb threat

Robberies and Burglaries
● Community Pharmacy - Tyrone, PA - Armed Robbery
● CVS - Orange Co, FL - Armed Robbery - Pictures released
● Dollar General - Columbia, TN - Armed Robbery
● Dollar General - Darlington, SC - Burglary
● EZ Buy & Sell - Willow Grove, PA - Robbery
● Metro PCS - Houston, TX - Burglary
● Metro PCS - Wilmington, DE - Robbery
● Motorcycle Ave. - Boynton Beach, FL - Shooting/Burglary - owner shoots 1 suspect
● Pajarito Corner - Albuquerque, NM - Armed Robbery - 1 suspect shot and killed
● Papa John's - Columbia, TN - Armed Robbery - One employee killed
● Rite Aid - Upper Dublin, PA - Armed Robbery - 2 arrested
● Shop & Save - Burke Co, NC - Armed Robbery - shot fired
● 24 Seven - Brighton, NY - Armed Robbery - clerk struck w/ hammer


Featured Job Listings
Sponsored by Cam Connections
Feature Your Job Here For 30 Days -
70% Aren't On the Boards
Group VP of LP
Retained Search
New York, NY
Gus Downing
Sr. Director, Field LP
Ross Stores
Dublin, CA
Ross Stores
Director of LP
The Children's Place
Secaucus, NJ
The Children's Place
Director of LP
Restoration Hardware
Corte Madera
Restoration Hardware
ORC Investigations Mgr
The Home Depot
Atlanta, GA
The Home Depot
Regional Director, AP
Rite Aid
NY Metro, NY
Rite Aid
Director, Pharmacy LP
Rite Aid
Camp Hill, PA
Rite Aid
Corporate Investigator
Confidential
San Francisco Bay, CA
Confidential
DC LP Manager
Brookstone
Mexico, MO
Brookstone
National Account Manager
Vector Security, Inc
TBD
Vector Security, Inc
LP Agent
JONS Markets
Los Angeles, CA
JONS Markets
Bilingual AP Specialist
Bi-Lo Holdings
Miami, FL
Bi-Lo Holdings
AP Associate
Ralph Lauren
Orlando, FL
Ralph Lauren
LP Investigator
Lamps Plus
Chatsworth, CA
Lamps Plus
LP Investigator
Tom Thumb
Dallas, TX
Safeway
National Account Mgr
Confidential
Northeast
Downing & Downing

Limited Time Only - Post Your Multi-Unit LP jobs for FREE - Learn More Here

Daily Job Alerts


Sponsored by Cam Connections
Appearing One Day Only
View our Internet Jobs Archives here
District LP Manager
Sears
Phoenix, AZ
Sears Holdings Corp
LP Manager Hrly
Kmart
Easton, PA
Sears Holdings Corp
LP Manager Hrly
Kmart
Key Largo, FL
Sears Holdings Corp
Dept Mgr LP & Safety
Lowe's
Homestead, FL
Lowe's
Dept Mgr LP & Safety
Lowe's
Wichita Falls, TX
Lowe's
Dept Mgr LP & Safety
Lowe's
Hamilton, NJ
Lowe's
Dept Mgr LP & Safety
Lowe's
Greeneville, TN
Lowe's
AP Team Leader
Target
Edwardsville, IL
Target
AP Team Leader
Target
Helena, MT
Target
AP Team Leader
Target
Williamsville, NY
Target
AP Team Leader
Target
Lansing, MI
Target
AP Manager in Training
Walmart
San Diego, CA
Wal-Mart
AP Manager in Training
Walmart
Colorado Springs, CO
Wal-Mart
AP Manager in Training
Walmart
Moscow, ID
Wal-Mart
AP Manager in Training
Walmart
Richardson, TX
Wal-Mart
AP Manager in Training
Walmart
Mexico, ME
Wal-Mart
AP Manager in Training
Walmart
Pampa, TX
Wal-Mart
AP Manager in Training
Walmart
Bell Gardens, CA
Wal-Mart


Home of the Industry's Original
On the Move

Jonathan Price was named Sr. Manager, Safety & Loss Control for Denny's.
Paul Schorlemmer was named Regional Loss Prevention Manager for Skechers.
Gary Fields was named Manager Analytics and Reporting, Compliance for Walmart.
Post Your New Job or Promotion!
See all the Industry Movement

Your Career
Sponsor this section of the Daily
Unhappy Employees Outnumber Happy Ones by Two to One Worldwide If you're not satisfied with your current position, don't worry because you're not alone. According to a recent report by Gallup, only 13% of workers felt connected with their jobs. Gallup put together a list of statements to see where workers fell into being engaged or not. (Where do you stand?)

How to Give Feedback that Inspires Improvement It just simply won't work if you just threaten your employees with being fired if they don't perform well, you have to provide them with feedback, but it has to be specified and direct. Use these tips the next time you need to provide some insight. (Light a fire)

If There is a Key to Success, This is It
The success of a business depends on how well the members make and enforce high quality decisions at every opportunity. Each decision that is made, impacts your company's perception, so make sure you're providing the right tools to let your teams make the right decisions every day. (It's in your employees' hands)

To Find Success, First Write your Failure Resume Sounds counterintuitive doesn't it, but failures are very important to overcome and learn from. If you learn from your failures, and own them, it will help you move on, and you can enhance your own brand in the process. (Come to terms with your setbacks)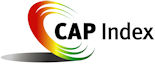 Tip of the Day
Sponsored by Vector Security
Repetition is one of the keys to success. Developing and evolving your approach, your message, your actions and processes and focusing on repetitively delivering them, you'll be able to almost transcend your message and focus on its delivery as opposed to its action. We all have core things we do every day and if you can develop repetitive responses, that ensures continuity, you can then begin to master what you do and truly make an impact on the group you're working with.

Just a Thought,
Gus Downing






Upcoming Events

Northeast Regional Conference on LP
October 28, 2014
Monroe Twp, NJ
---
Recruiting?
Get your job e-mailed to everyone... everyday
Post on our Featured Jobs Board!
Reach your target audience in 2014 every day!
Request our 2014 Media Kit
update account / change e-mail
unsubscribe FEEDBACK
www.downing-downing.com

Advertise With The D&D Daily




36615 Vine Street, Suite 103
Willoughby, OH 44094
440.942.0671
copyright 2009-2019
all rights reserved globally