The D&D Daily Mobile Edition
October 21,

2015



The LP Industry's #1 News Source - Informing, Educating and Instilling a sense of community



History of ORC Associations -
Their History and Stories
Sponsored by Nedap

History of Alaska Organized Retail Crime Alliance

By Detective Jackie Conn, AKIAC/APD
I am a Detective with the Anchorage Police Department (APD) in Anchorage, Alaska. I started as a patrol officer in January 1997. When I responded to shoplift calls, I started to notice how much information Loss Prevention Officers (LPO) had about theft suspects. I realized this information was not being shared with law enforcement. In September 2007, I became a detective in the Theft Unit. I was told there had been a meeting in the past with Law Enforcement (LE) and LPO's in order to share information and this meeting was organized by a Loss Prevention Manager (LPM) of a local store. After several months of not having a meeting occur, I asked my sergeant if I could start a meeting and he agreed.

On November 13th, 2008 we had our first meeting. The meetings were held monthly to share information about the prolific retail theft suspects that had been identified and also share surveillance pictures of who had not been indentified. I was receiving so much information from LPO's; I ended up mainly having a case load of retail theft cases. I kept stats for the first 3 years, until I transferred out of the Theft Unit. In that time period, I handled over 75 cases of retail theft. In those, over 100 people were arrested with more than 300 criminal charges. Even though I have changed positions at the APD, I still continue to facilitate the LPO and LE partnership. The partnership has proven beneficial to the private retail companies and LE.

The benefits of having an LE and LPO partnership go beyond the arrests for thefts. As many of you know, the people committing retail thefts are often the same people committing other crimes such as robberies, assaults, and homicides. I have been able to use the knowledge I have gained through working with LPO's to help in several of these types of crimes. For example, I was able to help with two homicide cases by informing the case detectives about vehicles and associates of the suspects involved. This information was given to me by LPO's reporting a theft because they had stolen from a store a few days prior to the homicide. In a separate case, I was able to solve a shooting within a few hours of it happening because of prior knowledge I learned through a past retail theft case I investigated.

There are several LPO's I have worked with closely since the first meeting. All of the cases I have investigated with retail theft would not have happened prior to this partnership with LPO and LE. LPO's have also helped us with locating people with outstanding warrants. There are times I send out information about people LE is looking for and when LPO's see the person come into the store, they call APD. In fact, I was told from a source, that they heard some inmates talking about a local store having facial recognition software because every time they walk into the store, they get arrested. They really don't have facial recognition software. We just share information so they can help with finding people with warrants or to know who to watch for a potential theft.

There are many cases we have worked on together, that would have never happened without the partnership we have with LPO and LE. One that comes to mind was a big case started by an LPO with Sportsman's Warehouse. Because he followed up on some information a customer gave him and he passed that information on to me, we eventually ended up seizing well over $10,000 worth of stolen merchandise from the suspect's garage. He was known in his neighborhood for having great garage sales. The neighbors just didn't know it was all stolen property. This had been going on for years and we were able to end it.

At the beginning of our partnership we mostly communicated through the monthly meetings and email. Now we have also added a website for LE and LPO's to share information: Alaska Organized Retail Crime Alliance (AKORCA). Another detective and I help to administer the AKORCA website. This website allows LPO's to notify all AKORCA members regarding an incident immediately and provides a conduit for retailers to communicate directly. We also continue to meet with LPO's quarterly. There are other agencies who often participate in our meeting. Agencies such as the District Attorneys Office, the Municipal Prosecutors Office, Juvenile Justice, banks, and Probation Officers. Usually 20-50 people attend the meetings. The sharing of information is imperative to the success of this partnership. I look forward to continuing this successful partnership and I would recommend a similar partnership to other LE and LPO's.

News Brief
Sponsored by WG Security Products, Inc.
Death blow to federal ORC law? Can we even get the remaining 20 States to pass ORC laws with this new push?
Police Leaders Join Call to Cut Prison Rosters & Change Court Rulings - Calls Out Shoplifting Crimes Specifically
More than 130 police chiefs, prosecutors and sheriffs - including some of the most prominent law enforcement officials in the country - are adding their clout to the movement to reduce the nation's incarceration rate.

Asserting that "too many people are behind bars that don't belong there," the officials plan to announce on Wednesday that they have formed a group to push for alternatives to arrests, reducing the number of criminal laws and ending mandatory minimum prison sentences. Members of the group are scheduled to meet Thursday with President Obama. The group includes the police chiefs of the nation's largest cities, including William J. Bratton of New York.

But the group, Law Enforcement Leaders to Reduce Crime and Incarceration, represents an abrupt public shift in philosophy for dozens of law enforcement officials who have sustained careers based upon tough-on-crime strategies.

The organization will release a report on Wednesday. "With momentum for criminal justice reform accelerating, we want to leave no doubt where the law enforcement community stands: We need less incarceration, not more, to keep all Americans safe," the group said.

The organization is counting on its members' more than 1,000 years of law enforcement experience to help persuade the public, courts and members of Congress and state legislatures to roll back tough laws and rigid judicial practices that have built a criminal justice system with one of the highest incarceration rates in the world and costing $80 billion a year to maintain.

Police departments and district attorneys have a great deal of discretion when it comes to making arrests and filing charges for minor crimes. But because the public and government officials demand zero tolerance for crimes like shoplifting and possession of small quantities of drugs, such offenses continue to be prosecuted and often come with jail sentences.

The organization says its proposals will not hinder the ability of law enforcement to arrest and prosecute people who have committed violent acts or other serious crimes.

The law enforcement officials point out studies showing that more than one-third of prison and jail inmates have mental health or substance abuse problems, and are often in jail for crimes like drug possession and shoplifting.

The law enforcement officials said they would press Congress and state legislatures to reclassify some nonviolent felonies as misdemeanors and to eliminate some petty offenses from criminal codes. These changes, they said, would allow them to focus resources on those who have committed serious and violent crimes. nytimes.com

Six Dead & 13 Others Injured in Thrift Store Collapse - "a tragic day that will always be etched in the memory of the city of Philadelphia."
Mixed Verdict for Contractor in 2013 Philadelphia Thrift Store Collapse While Employees & Customers Were Shopping
A demolition contractor was convicted Monday of six counts of involuntary manslaughter in the 2013 collapse of a Salvation Army thrift store in Philadelphia's downtown that killed six people and injured 13 others. A portion of a four-story building that was being razed fell onto the neighboring thrift store while employees and customers were inside on June 5, 2013.

Mr. Campbell was also convicted of 13 counts of recklessly endangering another person, one count of causing a catastrophe and one count of aggravated assault. A woman who was trapped in the rubble lost both of her legs. Prosecutors say Mr. Campbell could receive a 91-year prison term when he is sentenced in January.

The federal Occupational Safety and Health Administration fined the contractors nearly $400,000 after the incident. The agency said it found "egregious" safety violations, including the alleged removal of structural support, leaving unsupported walls that crushed the thrift store. Editor's Note; Safety is oftentimes the neglected step child of Loss Prevention and this incident along with the continued audit findings of blocked fire exits and overstock being piled too high in backrooms are constant reminders of why we all need to keep focused on safety in our stores across North America. Certainly it would seem only logical that a contractor and the city would notify all adjacent buildings and retailers of any demolition being done close by, but in this case obviously the contractor failed to do so and six deaths were the result. wsj.com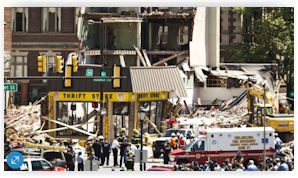 Cargo Thefts Decline in Q3 in North America to $22.5 million from $45.8 million during the same period last year, according to CargoNet
There were 213 cargo theft incidents from July to September, a 23% decline from the same time in 2014. Despite the decline, theft of cargo from trucks parked along the sides of roadways increased 144%. Truck-stop theft dropped 60%, according to the company. "We advise carriers to avoid leaving their trucks along the roadside - especially in Florida and California, where roadside thefts were highest," CargoNet said in a statement.

Cargo theft declined 43% in California but was still the area of the country with the most thefts. New Jersey had the second most cargo theft with 30 reported, but total thefts there dropped 73%, the largest decline.

In the third quarter, food and beverage theft increased 20%, thefts of household items, including appliances, dropped 74%, and electronics thefts declined 45%. The company said the decline in electronic thefts is abnormal since "electronics are usually a desired item that's easy to sell for a high value." ttnews.com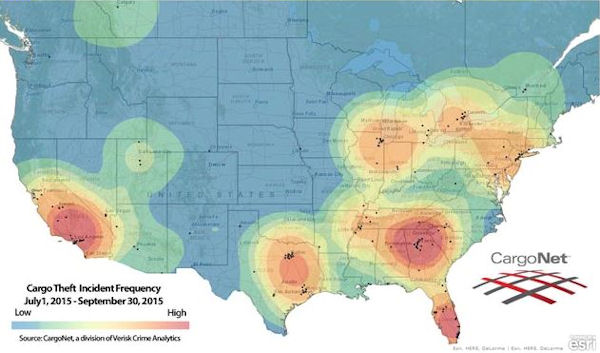 Calif. Watchdog Sides with CVS Cashiers in Requiring Suitable Seating While Working - State Supreme Court Case
This Could Have State Wide Impact on providing seating for all cashiers long term
California's top labor watchdog on Tuesday said that whether a worker requires seating is dependent on looking at particular tasks and not the job as a whole, siding with workers in suits against JPMorgan and CVS for which the state high court sought the agency's advice.

The Division of Labor Standards Enforcement submitted the amicus brief after the California Supreme Court asked the agency to weigh in on implementation of key parts of the century-old seating standard. In the filing, the DLSE says the requirement is a minimum workplace standard that needs to be applied with an eye on the nature and characteristics of tasks in a particular position, which runs counter to the holistic approach that JPMorgan Chase Bank NA and CVS Pharmacy Inc. both called for previously.

The DLSE said that the "nature of the work" must be looked at flexibly and, when appropriate, be evaluated for the particular duties or tasks of an employee where the seating standard may apply. law360.com

Wal-Mart puts the squeeze on suppliers to share its pain as earnings sag
Suppliers of everything from groceries to sports equipment are already being squeezed for price cuts and cost sharing by Wal-Mart Stores . Now they are bracing for the pressure to ratchet up even more after a shock earnings warning from the retailer last week.

On Wednesday, Wal-Mart stunned Wall Street by forecasting that its earnings would decline by as much as 12 percent in its next fiscal year to January 2017 as it struggles to offset rising costs from increases in the wages of its hourly-paid staff, improvements in its stores, and investments to grow online sales. This at a time when it faces relentless price competition from Amazon.com Inc , dollar stores and regional supermarket chains. Keeping the prices it pays suppliers as low as it can is essential if it is to start to claw back some of this cost hit to its margins. channelnewsasia.com

Yesterday's NRF Holiday Shopping Report - Bad News for Retailers - 'Shoppers not spending, shifting online'
The Biggest Omni Xmas Ever - It'll be a Smartphone Driven Consumer
A survey of nearly 7,300 consumers indicates that average spending per person this year will be essentially flat with the prior year, increasing about .04% to $806 compared to $802 last year. That is the highest amount in the survey's 14 year history but the marginal increase - should it prove accurate - is disappointing news to retailers and contradicts an earlier NRF forecast. The trade group projected in early October that total holiday sales would increase by 3.7% to $630.5 billion and online sales would increase between 6% and 8% to represent $108 billion, or a little more than 17% of the total. The forecast of 3.7% growth was based on various economic factors and released while the consumer research was ongoing Oct. 5-13.

The consumer research also revealed what most retailers already know - this will be the most omnichannel Christmas ever. The survey found that 21.4% of smartphone owners will use their device to purchase holiday merchandise this year, the highest seen since NRF first asked in 2011. Additionally, more will use their smartphone to research products (37.9% vs. 35.8% last year) and to look for a way to connect with a retail store by looking up retailer information like store hours and directions (28.4% vs. 26.9% last year). One in five (20.3%) will specifically use their smartphone to look up product availability in a store. retailingtoday.com

Lowest Forecast Yet - ShopperTrak reports 2015 holiday season will see only 2.4% increase from last year & Shopping Earlier
The analytics firm predicts that Black Friday 2015 will surpass Black Friday 2014 due to the shopper who is motivated by sales and exhibits a growing tendency toward shopping earlier. In addition, an early Hanukkah, which begins 10 days sooner this year than last, will generate November sales at the expense of December. Here's what ShopperTrak sees as the high-volume shopping days this holiday season:

1. Nov. 27 - Black Friday
2. Dec. 19 - Super Saturday
3. Dec. 26 - Day after Christmas
4. Dec. 12 - Second Saturday before Christmas
5. Nov. 28 - Saturday after Thanksgiving
6. Dec. 20 - Sunday before Christmas
7. Dec. 5 - Saturday after Cyber Monday / First Saturday in December
8. Dec. 21 - Monday before Christmas
9. Dec. 13 - Second Sunday before Christmas
10. Nov. 29 - Sunday after Black Friday chainstoreage.com

FBIC Group Forecast U.S. Holiday 2015 spending to rise between 3% and 4% over 2014 levels - between $626 billion to $633 billion

Holiday Hiring 'Shifting Away From Stores and Into the Warehouses'
- Amazon to hire 100K for the holidays, up 25% from last year
Amazon plans to hire 100,000 people for the holidays, a 25 percent jump from last year that reveals a shift in the way we shop. The online retailer said Tuesday that it will be hiring across the country for jobs in its fulfillment and sorting facilities. The Seattle company recently hired more than 25,000 people for regular, full-time positions. "It used to be that the bulk of holiday hires would be in customer-facing positions on the sales floor and behind the cash register, said CEO said John Challenger. "These extra workers would also help pick up the slack in the backroom, helping to receive and stock increased deliveries. Now, as more and more shopping is completed online, the holiday hiring is shifting away from stores and into the warehouses." Wal-Mart is hiring 60,000 holiday employees, Target about 70,000 and Macy's 85,000, which are all about flat compared with last year. Kohl's his hiring about 2,000 additional workers. J.C. Penney and Toys R Us are hiring fewer, while GameStop is hiring about 12 percent more workers. Amazon.com Inc. has more than 90,000 full-time employees at its more than 50 fulfillment centers and 20 sorting facilities in the U.S. abcnews.com

OSHA Implements New Whistleblower Training Program for Investigators - Focused on Improving Whistleblower Protection Program
Recent audit conducted by Inspector General (OIG) concluded that the training provided to OSHA whistleblower complaint investigators could be improved in material respects. It found that the absence of an official training directive combined with complex statutes, policies and procedures created an environment where training was lacking.

On October 8, 2015, OSHA responded by detailing an official and mandatory training program to ensure nationwide consistency with respect to the training provided to investigators. Investigators will now be required to complete a Whistleblower Investigation Fundamentals course during the first year of the investigator's career. In the second and third years, investigators will be required to complete technical courses focusing on: Interviewing techniques; Written communication and report writing; Legal concepts; and Whistleblower complaint resolution and settlement negotiations. oshatoday.com

Former Korn/Ferry Recruiter Convicted for Stealing Trade Secrets & Violating Computer Fraud and Abuse Act - Database Info of Candidates
It's about time recruiting firms databases are protected and treated as 'Trade Secrets'
Former Korn/Ferry International recruiter David Nosal urged the Ninth Circuit on Tuesday to reverse his conviction for stealing trade secrets and violating the Computer Fraud and Abuse Act, arguing that gaining access to a computer through a willingly provided password doesn't constitute hacking under the CFAA.

After Nosal left Korn/Ferry and started a rival recruiting business, he lost his ability to access the company's databases. Instead, he asked another employee to look up information and provide it to him, court records show. "Is there any doubt that the company had rescinded Nosal's permission?" Judge McKeown asked.

Jenny Ellickson with the U.S. Department of Justice argued that the statutory definition of trade secrets is information that derives independent value from not being generally known or accessible to the public. Korn/Ferry's client lists qualified, and the jury agreed, she argued.

This isn't the first time Nosal's case has gone before the Ninth Circuit. The federal government hit Nosal with a 20-count indictment in 2008, including multiple violations of the CFAA after he convinced three of his former staffers to access the company's proprietary database and take lists of candidates he wanted for his new company. Following a two-week trial in April 2013, a California federal jury found Nosal guilty of six remaining charges against him. law360.com

Prospective Employees Consider Corporate Reputations
A survey of 1,012 U.S. adults by Corporate Responsibility Magazine and Cielo Healthcare found 86% of women who responded said they wouldn't join a company with a bad reputation, compared with 65% of men. And 92% of men and women said they would consider leaving their present jobs to join a company with an excellent reputation. wsj.com

Director of Global Security, VF Corporation, reporting into legal department, in Greensboro, N.C.
The primary responsibility of the Director of Global Security is to develop, implement, direct and manage cost-effective security programs, policies, procedures and processes to protect the company from internal and external threats to its people, businesses, information and reputation. This is the most senior executive position in the Corporate Security Department with global responsibility.

Today, VF is an $12 billion apparel and footwear powerhouse, with an incredibly diverse, international portfolio of brands and products that reach consumers wherever they choose to shop. VF is more than the world's largest apparel company. We're a dynamic, global powerhouse with $12 billion in annual revenues, over 30 dynamic lifestyle brands and approximately 57,000 associates working in locations across the globe. Our brands are sold in more than 150 countries through 47,000 retailers in all channels of distribution, from mass to department to specialty retailers. In addition, we own and operate more than 1,100 retail stores. Many of our brands also sell products directly to consumers over the Internet.

Editor's Note: This may be their first actual corporate effort that came to the market looking for an external executive. vfc.com

Over a dozen active shooter drills scheduled across the U.S. over the next week - probably the fastest mobilization effort yet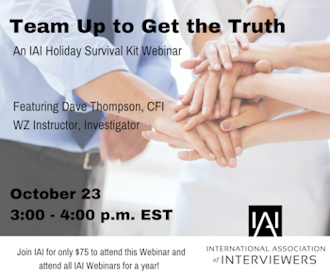 All the News - One Place - One Source - One Time
The D&D Daily respects your time & doesn't filter retail's reality
Report Your News!
(content subject to approval)


PayPal News

$1M fraud reported by owners of Cabot Creamery
The PayPal North American Global Asset Protection Investigations team assisted the US District Attorney's Office in Virginia with their investigation into the affairs of Ronald Rup. Rup, the former head of technology at Agri-Mark's office in Montpelier, will plead guilty to wire fraud in connection with the theft of at least $1 million from the company that owns Cabot Creamery, federal court records show. Rup is accused of purchasing unneeded property for the company and converting the items to his own use or selling them and pocketing the proceeds, according to court records. burlingtonfreepress.com wcax.com

For further information on PayPal GAP Team, email inquiries to lawenforcement@paypal.com.



FRAUD ALERT - Homemade Dual-Chip Credit Cards Used to Hack Chip-and-PIN Systems
French computer security researchers have published a paper detailing a unique case of credit card fraud in which criminals outsmarted chip-and-PIN systems with a seamless chip-switching trick using a slip of plastic that's almost indistinguishable from a normal credit card. Five French citizens were arrested in 2011 and 2012 for using a clever workaround to spend nearly 600,000 euros (about $680,000) from stolen credit cards in spite of the cards' chip-and-PIN protections. Acting on a hunch and based on research carried out by Cambridge University scientists, the French researchers suspected that the fraudsters managed to cram two different chips inside the stolen credit cards. Analysis using X-Ray imagery and a closer look at the credit card chips' electrical activity proved they were right. According to their research paper, the French hackers bought FUNcard chips, and using glue, they managed to attach them on top of the original, stolen credit card chip. When a transaction would be initiated, this dummy chip would interfere with the normal payment processing operation, but only when the PoS terminal would "ask" the credit card (original) chip if the entered PIN was correct. The dummy chip would slip in between the PoS terminal and the original chip, and answer "Yes," allowing the transaction to go through. This was a classic MitM (Man in the Middle) attack but carried out in a medium where you wouldn't normally guard against one. Forensic researchers note that the vulnerabilities used by the French fraud they analyzed have since been fixed - at least in Europe - though they declined to fully detail the new security measures. wired.com softpedia.com

CSO, Chief Security Officer's salaries expected to sky rocket - CSOs will range from $140,250 to $222,500 in the New Year
2016 may emerge as the year of the chief security officer, as another new study reveals that pay for CSOs is rising faster than most every other IT job. According to the 2016 Technology Salary Survey released this month by Robert Half Technology, top CSOs can now expect to earn just under a quarter million dollars in base pay. To be more specific, salaries for CSOs will range from $140,250 to $222,500 in the New Year. This represents an average pay increase of 7.0 percent, the fourth highest in the entire salary study. Only wireless network engineers (at 9.7 percent), big data engineers (at 7.5 percent) and data security analysts (at 7.1 percent) will see larger pay hikes.

CSO pay increases will also be significantly higher than other IT executives in 2016. According to the Robert Half study, the percent of salary increase in the top ranks of IT will be 4.9 percent for CIOs; 5.2 percent for CTOs; 5.1 percent for vice presidents of IT; 5.1 percent for technology directors; and 4.9 percent for IT managers.

Most CISOs tend to make between $175,000 to $225,000, with a 25 percent bonus potential, and strong equity package ($25,000 to $75,000 annually); though larger (Fortune 100) clients and major financial firms can pay upward of $300,000," Borre says. Adding greatly to a CSO's earnings potential is their experience with security incidents.

Also putting pressure on CSO salaries is simple supply and demand, and smart CSOs know they hold the upper hand. There is a shortage of talent with industry-specific knowledge, so employers are willing to offer extremely competitive compensation and benefits packages to recruit and retain these professionals.

But the good news doesn't stop at the CSO level. There is plenty of bounty to go around in the IT security ranks. Taken as a whole, IT security jobs have the highest pay increase percentage heading into 2016 of any IT job group. "Security will continue to be a major driver of hiring, as security is continuing to remain at the forefront of the minds of business leaders." csoonline.com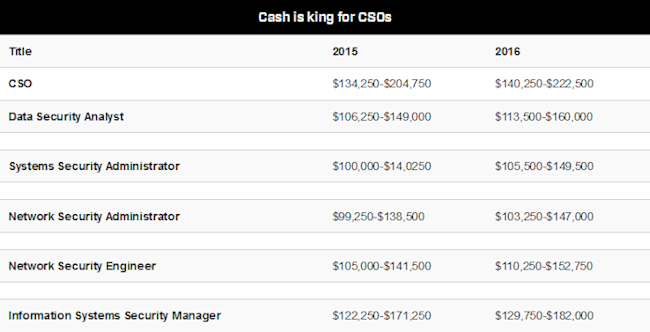 "It doesn't matter how much money you spend - you're still going to get compromised"
Addressing the (ISC)2 conference in Munich, David Jacoby challenged delegates to cast aside any sense of complacency they had about security, warning the audience that their management had to relies that it didn't matter how much money companies were going to spend on security technology ,they were still going to get compromised.

And furthermore it was becoming harder to detect whether the increasing number of attacks were successful. He also added, somewhat ominously, "Often we have no idea about these vulnerabilities. We know what we should do but we [typically] don't do it." Jacoby also voiced a strong opinion on the general approach to dealing with incidents which he said was often a process of going back to square one. Mainly because of the tendency, said, the research, to "sometimes just fix everything. infosecurity-magazine.com

Groups Slam Bid To Use Cybersecurity Bill To Expand CFAA
A coalition of privacy groups and security experts on Tuesday bashed a U.S. senator's bid to tack proposed revisions to the Computer Fraud and Abuse Act onto a controversial cybersecurity information-sharing bill, saying that the maneuver would change the law in "dangerous and unpredictable ways." law360.com

EMV Credit Cards 'Overwhelming' for Small Retailers
A gift shop owner told Congress today that making the change to chip-and-signature credit cards has been "overwhelming" for many small businesses and that owners are disappointed that without PINs they are being pressured to make an expensive investment without receiving the full level of security that could be provided.

Lipert testified today on behalf of the National Retail Federation before the House Small Business Committee during a hearing on how Europay MasterCard Visa cards will affect small businesses. The hearing follows this month's deadline set by the card industry for merchants to install chip-card readers or face increased fraud liability if a chip card is used in a non-chip reader. Lipert said a key concern is that the EMV cards being issued by banks in the United States are chip-and-signature cards rather than the chip-and-PIN cards used in virtually all other countries where EMV cards are used. nrf.com

Researchers publish chip-and-PIN fraud report, $680,000 stolen by clever crooks
The underlying flaw has been fixed, but the incident proves that criminals will always find a why to commit crime. In a research paper published by the École Normale Supérieure University in Paris, France, and the Centre Microélectronique de Provence (CEA), researchers outlined the forensic analysis they conducted on evidence used in a fraud case four years ago.In 2011, a banking group in France noticed that a dozen stolen EMV cards were being used in Belgium. Given that the use of EMV, or chip-and-PIN, is supposed to prevent fraud, the bankers launched an investigation. Law enforcement eventually tracked the criminals down, but not before they were able to steal 600,000 euros ($681,600) with 40 forged cards by conducting 7,000 fraudulent transactions. Read how they did it. csoonline.com

Report: Target continues internal IT focus with $1B investment and 1,000 new global technology jobs
The switch to DevOps falls under Target's broader $1 billion effort to revitalize its technology infrastructure. Among the benefits DevOps offers is a reduction in need for IT outsourcing, which has also been a major focus of Target this year. In addition, Target plans on hiring 1,000 new global technology workers. 500 IT workers at its Minneapolis headquarters and 500 at its technology facility in Bangalore, India. The retailer wants to bring technology development in-house to better take advantage of proprietary knowledge and applications. chainstoreage.com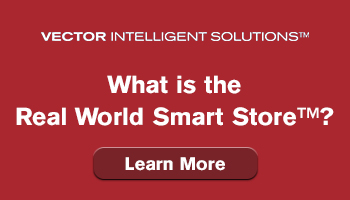 Spotlight on Verisk Retail

Solutions to Reduce Risk and Enhance Profits
Verisk Retail - a leading source of information about risk - provides systems and services to help retailers prevent loss, manage risk, and ensure compliance with laws and regulations.


Data Management and POS Analytics
Verisk offers data management and analytical services to help retailers manage and analyze their own data.



Exception-based reporting for retail loss prevention
Aspect Loss Prevention serves retailers with advanced analytical systems that can identify fraud, suspicious activity, employee compliance issues, and more. Aspect also offers web-based reporting, protection for credit card transactions, linking of transaction data with security camera footage, integration with case management systems, and more.


Data management and advanced analytics
The Asset Protection Information System (APIS) is a case and data management platform used by loss prevention and risk management divisions at many of the world's leading retailers.

Databases for Crime Prevention
Verisk offers two unique crime databases that collect, share, and analyze crime data to support law enforcement and reduce the economic effects of crime for retailers and their supply chains.

Combating organized retail crime
The Law Enforcement Retail Partnership Network (LERPnet) is a national database and secure information-sharing system for retail crime incidents. The system allows retailers to share and analyze retail crime data in a controlled and secure environment. LERPnet connects retailers with local, regional, and national law enforcement agencies.





The cargo theft prevention and recovery network
CargoNet is a national database and information-sharing system managed by crime analysts and subject matter experts. The system is designed to prevent cargo theft and improve recovery rates through secure and controlled information sharing among theft victims, their business partners, and law enforcement.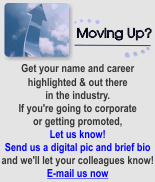 Want to be a Senior Leader?
There's a Price
Bob Oberosler, Group Vice President, Asset Protection, Rite Aid, has traveled several times throughout the U.S. for his career, worked seven days a week building an LP program from scratch and spent more hours than he can count taking on extra projects and responsibilities to help him advance in his career. If there's an executive who's paid the price, Bob is it. In this LPNN interview, Bob shares just what it takes to be a senior leader in the LP industry. From volunteering for extra tasks at work to choosing a house you can resell quickly, learn the things executives don't always think about when moving up in an organization.
---
From the latest retail products and trends on the NRF Big Show floor to a super-dated reference to Walkmans, Jackie Andersen, Director, Retail Strategic Accounts, MultiSight, and Joe LaRocca talk technology in this LPNN Quick Take.
Solution Providers, have a video or commercial you want to publish? Contact us.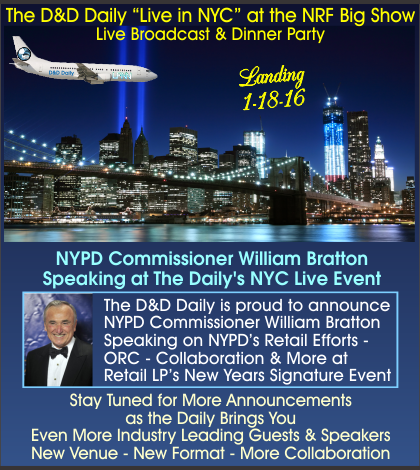 e-commerce

Sponsored by The Zellman Group
Majority of online shoppers are afraid of being hacked while buying online
According to a study conducted by IT company Experian, 73% of respondents fear having their identity stolen when using personal banking websites. About two-thirds of the more than 1,000 US adults surveyed said they have that fear when shopping online. Almost half of all survey respondents said they are taking more security precautions than they did previously to prevent identity theft. Still, the survey found, they are not taking some simple measures that can make a big difference to their security. For instance, more than 50% do not check for an icon of a lock to see if a website is secure; 50% do not password-protect their smartphones; 55% do not close the web browser when they are finished using an online account, which is necessary to prevent some types of hacks; and 15% keep a written record of passwords and PINs in their wallet or on a mobile device or computer. Despite these security fears, it appears there will be little effect on the volume of online activity going forward, as a full 80% of survey respondents said they would like to be more connected than they already are. thepaypers.com

7 Tips to Reduce e-Commerce and Retail Fraud over the Holidays
Holidays are a critical-and fun--time for e-commerce store owners. The holiday season gives merchants a chance to showcase new products and services that can increase their bottom lines. Sales generated during this period also generally contribute to the bulk of a company's annual revenues. However, the holidays can also be scary for store owners considering the amount of theft and chargeback disputes that happen during the period. It is estimated that retailers are one and a half times more susceptible to consumer chargeback fraud during the holiday season between Thanksgiving and New Year's. To protect profit margins, business operations and overall reputation, merchants should follow these seven simple steps to minimize chargebacks during the holiday season.

Plan for the Big Event: Before the holiday season starts, have an internal meeting well in advance with all departments including marketing, fulfillment, customer service and operations to keep them aware of the promotions and of the company's sales projections.

Be Vigilant about Fraud Orders: Fraudulent orders will affect the bottom line of a retailer, since they lead to consumer dispute and revenue loss most of the time. Implement a strong fraud management protocol and review all the orders being placed online.

Monitor News for Trends that Increase Fraud: Criminals will continue to search for the soft underbelly of commerce to continue their fraud. This means that online Card Not Present (CNP) is expected to increase significantly as fraud shifts online. E-commerce and retail businesses whose livelihood depends solely on online financial transactions may be the most significantly impacted.

Read the other four steps here. pointofsale.com

Pinterest's Payments Push, Documents Leaked

Why Apple Pay's second year will be harder than its first: Forrester

"Fraud is not a person - it is a dynamic grouping of statistics that deviate from the norm."
Stuart B. Levine, CFI, CFCI
CEO, The Zellman Group & Zelligent


ORC News
Sponsored by NEDAP
The Real ORC Founding Fathers - The Mafia in Long Island
Even the Mafia back in the 70's & 80's from "Goodfellas" movie about the '78 Lufthansa Heist - were committing ORC
Vincent Asaro, who is now on trial in Brooklyn in connection with the holdup outside a terminal at Kennedy International Airport on a December night in 1978. They made off with $6.25 million in cash, as well as the jewelry and German bank notes. The Lufthansa heist, one of the biggest cash robberies in United States history, went unsolved for decades.

In announcing the indictment of Mr. Asaro and several others last year, federal prosecutors said they had finally been able to pursue the charges against the men after developing several cooperating witnesses within the ranks of organized crime, including Mr. Valenti.

Despite a movie (Martin Scorsese's "Goodfellas") a book (Nicholas Pileggi's "Wiseguy") and a library of articles about the robbery, neither Mr. Asaro, who has pleaded not guilty, nor Mr. Valenti had been widely linked to the crime. Little of the money was ever recovered.

The prosecution is something of a coda to an era when the Mafia was a more visible, and more violent, force in New York City, and Mr. Valenti's remarks took the courtroom back to those times. Mr. Valenti, a cousin of Mr. Asaro's, spoke of his long history with the defendant and recounted not only the Lufthansa scheme but also other feuds, crimes and escapades.

There was the holdup of a truck full of minks, which turned out to be a truck filled with bras and shoes from Filene's Basement. nytimes.com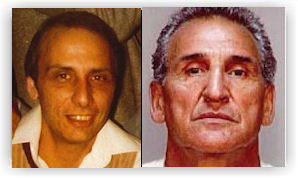 Queens Apple Store worker steals nearly $1M in gift cards from employer: DA
A worker at a Queens Apple Store ripped off nearly $1 million in gift cards from his employer, according to the Queens District Attorney's office. Prosecutors said Ruben Profit, 24, tried to turn his own tidy profit by using his tech skills to change the value of American Express and Visa gift cards, and then used those to buy $992,000 worth of gift cards from the Apple Store in Queens Center Mall.

When cops picked up Profit, he had 51 of the manipulated credit cards and seven Apple gift cards valued at $2,000 each on him, authorities said. Investigators said he told them he was selling the gift cards for $200 a pop to another individual. The alleged fraud began in July. Profit was arraigned Friday on charges of second-degree grand larceny, first-degree criminal possession of a forged instrument and third-degree criminal possession of stolen property. nydailynews.com

Fencing Operation: Seattle, WA: Police busts Beacon Hill couple with $150,000 of stolen merchandise; purchased from shoplifters
Seattle police recovered more than 400 pairs of denim, not to mention other items such as perfume, toiletries, purses and shoes - all of which are believed to have been initially stolen, then purchased by a Beacon Hill married couple at downtown open-air markets. Seattle police recovered 1,590 items, with a total retail value of $150,000 from their home in Beacon Hill. Police also found stolen loot in a storage locker rented by the couple. Most of the items came from downtown retail locations. The Seattle Police Department reports that they had an eye on the suspects - a 63-year-old man and a 58-year-old woman - since a sweep through downtown in April as part of its 9.5 half blocks campaign. Detectives have since been building a case on the couple who they believe had been buying shoplifted goods at five-finger-discounts. Police said that the couple would place orders for items, which shoplifters would then steal for them. Detectives believe that the couple is responsible for "a significant amount of trafficking in the downtown core." mynorthwest.com
Atlanta, GA: Five men headed to prison in stolen ink cartridges; hitting Office Max and Office Depot
Prosecutors believe the men, who were members or associates of the Broad Street Boys gang in Atlanta, intended to use the stolen ink cartridges to produce counterfeit money. "On twelve different occasions," officials said in the statement, "one or more co-conspirators entered a retail store, filled large garbage bags with ink cartridges from store shelves, and then fled without paying." Those cartridges, prosecutors said, were sold to a fence. The fence, identified as Jeffrey Chijioke Enujioke, 30, of College Park, used his legitimate business at Atlanta Metro Mall as a front to move the stolen property, according to the statement. ajc.com

Twin Falls, ID: Police bust up an Organized Retail Crime Ring
Back in July a Loss Prevention worker for Home Depot passed along information to the Twin Falls Police Department about a possible Organized Retail crime operation. Meanwhile, in August, 29 year old Jeana Amero was interviewed while in custody at the county jail. She told police how she and Michael Pulizzi would steal items from stores, like Target, Walgreens and Harbor Freight. They would steal dvd's from Albertsons then turn around and sell them to Hastings. One of the schemes this group was running, is they would find receipts in the parking lot Wal-Mart, enter the store, take those items off the shelf and walk up to the return counter expecting to get cash. They would also come to the Home Depot, find an expensive item such as a saw and replace the price tag with something much cheaper. The two researched UPC codes to find matching codes from different stores. Then they'd steal an item from one store and return it to the other. At J.C. Penney, Sears, K-Mart and Macy's they stole clothing for personal use. Amero also told police that Pulizzi would steal items for other people and sell it to them for half the ticket price. Amero was arraigned Monday and her bond has been set at $50,000. kmvt.com
Fort Wayne, IN: Shoplifter hits Macy's 6 times
getting away with thousands in merchandise
Police were called to the Macy's store at Glenbrook Mall on Tuesday on a report of a theft of clothing. There, store loss prevention associates told police a man had walked in and gathered 13 items of clothing - some $1,000 worth - and ran out of the store. The associates said the suspect is one they have been looking for months, accused of similar heists over the last eight months. Police believe the same suspect and an accomplice were behind similar thefts of clothing from Macy's on Sept. 6, May 11, March 18, March 9 and Feb. 12 in which the suspect and the accomplice commonly piled stacks of designer brand polo shirts and other high-dollar items and walked out of the store; merchandise totaling over $5,600. wane.com
Do you have an ORC case to share?
Share your ORC news and help the industry grow

Retail Crime News

Sponsored by Security Resources
Richmond, VA: Parking lot Altercation leads to Shooting at Food Lion
On Tuesday, around 6 p.m., Police responded to a call for shots fired at a Richmond Food Lion. Police said a fight broke out and a man was found shot between the Family Dollar store and the Food Lion in the 5600 block of Hull Street. He has been transported to the hospital with life-threatening injuries, according to police. The shooting took place in the parking lot where unsuspecting witnesses saw and heard the altercation unfold. wtvr.com
West Lubbock, TX: Employee injured during shoot out with Robbers at Gun Store
Three armed men wearing ski masks exchanged gunfire with a gun store employee during a robbery Tuesday afternoon in West Lubbock. One employee at Fred's Gun Emporium was shot in the ankle and fired shots back at the robbers during the incident that happened around 4:30 p.m., said Lubbock police Lt. Ray Mendoza. The employee was transferred with non-life-threatening injuries to University Medical Center. The suspects got away with money and several other store items, Mendoza said. He did not give any additional details about the stolen merchandise. lubbockonline.com

Palm Springs, FL: Man critically wounded in shooting in front of Walmart
A shooting is under investigation in Palm Springs. Police say the victim, identified as Moises Gomez, is being treated for life-threatening injuries at Delray Medical Center as the result of multiple gunshot wounds to his torso. The shooting happened in front of a Walmart store near 10th Avenue and State Street. One lane of traffic is blocked by crime scene tape. The road block has traffic backed up all the way to Interstate 95. Police say they are searching for the person who fired the shots. cbs12.com


Las Vegas, NV: 6 Person Flash Rob hits local convenience store
Police are seeking six people in connection to a convenience store robbery in the east end of the Las Vegas Valley. According to Las Vegas Metro police, the group entered the store near Nellis Boulevard and Sahara Avenue on Sept. 27. One of the three women in the group jumped over the counter and demanded cigarettes. The woman struck the clerk several times while also trying to take merchandise in the store, police said. fox5vegas.com

Grand Folks, ND: Kmart burglary leaves puzzling clues
Grand Forks police are investigating an early morning break-in at Kmart. Police responded to reports of a burglary around three-thirty Tuesday morning. Someone allegedly made off with a significant amount of merchandise from the store. Video inside the store showed one person wearing a hooded sweatshirt. Employees are going through inventory to figure out just how much was stolen. Investigators are puzzled because they say there was no sign of forced entry into the store. It is possible the suspect hide in the store after closing. kvrr.com
Helena, MT: Big Lots fire believed to be Arson; Police find "person of interest'
The two persons of interest have been located. Identities have not be revealed. The Helena Fire Department and Helena Police Department responded to a fire in the Big Lots store on Prospect Ave. this Sunday. Officials said the small blaze had already been put out with fire extinguishers by store staff and patrons. Through the investigation, it was determined that the fire was intentionally set. The store was open and occupied at the time. No one was injured. helenair.com
Warr Acres, OK: Video released of Suspect in a $40,000 Jewelry store Burglary
A burglar stole about $40,000 worth of luxury jewelry from a Warr Acres store and police are asking for the public's help in finding him. The burglary happened between 1 p.m. to 3 p.m. Oct. 12 in the 5700 block of Northwest Expressway. news9.com

Greenville, NC: Robinson Jewelers releases surveillance tape of 3 caret Diamond heist
Around noon on Monday, a man walked into Robinson Jewelers on Red Banks Road and asked about upgrading an engagement ring he had previously purchased. Police say the man was sitting down and looking at rings with an employee, when he suddenly stood up and ran out of the store with a 3 karat diamond ring in his hand. It had a diamond oval center surrounded by a ring of smaller diamonds and an 18 karat white gold band. witn.com

Meriden, CT: Middletown man charged in Hannoush Jewelers Store Robbery: merchandise valued at $33,000
Joseph Hill, 31, was taken into custody on a warrant Monday. He was charged with first-degree larceny and third-degree larceny. About 9:30 p.m. on Sept. 3, Police responded to Hannoush Jewelers in the Westfield Meriden Mall after receiving a report of a stolen engagement ring. Two hours earlier, Hill was in the store looking at rings. A sales associate told Police that she was showing Hill two rings. When she turned around to look at a calendar, one of the rings fell off the counter. Initially, she thought the ring had fallen between display cabinets, the warrant says. Hill left his contact information with the associate and told her to call him when she found the ring. Store surveillance footage showed that Hill knocked the ring over himself, picked it up and put it in his pocket before leaving. myrecordjournal.com

Las Vegas, NV: Police involved shooting at stripe mall: Police say suspect wanted to die

Harrisonville, MO: Social media helps nab man believed to have shot a Phillip 66 clerk during robbery

Owasso, OK: Police Department Facebook page helps nab Felony Shoplifter from Academy Sports

Nashville, TN: Employee accused of stealing from Military Surplus Store

Augusta, GA: 2 men sought after Armed Robbery at Walmart

Waldorf, MD: Jared in the Waldorf Marketplace was the victim of a Grab & Run Tuesday evening, merchandise totaling $1,895

Clarksville, TN: Police conduct active Shooter training at Movie Theater in Governor Square Mall

UK: Fireworks worth over $12,000 stolen from Middlesbrough shop


Robberies and Burglaries
● Bakersfield Paint – Bakersfield, CA – Burglary
● Casey's General – Columbia, MO – Robbery
● CVS – Wilmington, NC – Armed Robbery
● CVS – Plymouth, NH – Robbery
● Dollar General – Painter, DE – Armed Robbery
● Dollar General – Pelion, SC - Robbery
● Dollar General – Delhi Twp, OH – Armed Robbery
● Family Dollar – Richmond, VA - Shooting
● Family Video – Madison, WI – Robbery
● Grocery Outlet – Petaluma, CA – Armed Robbery
● Pit Stop – Riverton, WY – Armed Robbery
● Quick Meds - Oxford, AL - Robbery
● Rite Aid – Bakersfield, CA – Armed Robbery
● Royal Farms – Anne Arundel Co, CA – Armed Robbery
● The Hazy Hippo – Loveland, CO – Armed Robbery
● T-Mobile – Hemet, CA – Burglary
● Walgreens – Tulsa, OK – Armed Robbery
● White River Bait – Bedford, IN - Burglary
● Wooden Camera – Burbank, CA – Burglary
● YSI Mini Mart – Meriden, CT – Burglary


Featured Job Listings
Sponsored by NuTech National
Feature Your Job Here For 30 Days -
70% Aren't On the Boards
VP of Sales/Client Relations
More details coming soon
Confidential - Retained Search
Nationwide
Gus Downing
VP AP & Global Facilities
lululemon athletica
Vancouver, BC, Canada
lululemon athletica
Dir LP
A'GACI
San Antonio, TX
A'GACI
Dir Safety & LP
Harbor Freight Tools
Calabasas, CA
Harbor Freight Tools
Director of Safety & Security
Southern Wine & Spirits
Greenwood, IN
Southern Wine & Spirits
Director, LP
Save Mart Supermarkets
Modesto, CA
Save Mart Supermarkets
Dir AP
99 Cents Only Stores
Commerce, CA
99 Cents Only Stores
Reg Dir LP
Sears
Hoffman Estates, IL
Sears Holdings Corp
Dir LP
Pier 1 Imports
Fort Worth, TX
Pier 1 Imports
LP Dir
BevMo
Concord, CA
BevMo
Dir LP
Lane Bryant
Columbus, OH
Lane Bryant
Dir LP (Western Canada)
Walmart Canada
Calgary, CA
Walmart Canada
Dir LP
Cracker Barrel
Lebanon, TN
Cracker Barrel
Dir Safety AP Solutions
Walgreens
Deerfield, IL
Walgreens
Territory LP Dir.
Burlington Stores
Los Angeles, CA
Burlington Stores
Director of LP
Pacific Sunwear
Anaheim, CA
Pacific Sunwear
Market AP Specialist
REI
Seattle, WA
REI
Loss Prevention Openings
Downing & Downing
Nationwide
Karl Glatt

Daily Job Alerts


Appearing One Day Only
View our Internet Jobs Archives here
LP Supervisor
Burlington Coat Factory
Plano, TX
Burlington Coat Factory
Area LP Mgr
Ross Stores
Casselberry, FL
Ross Stores
Dept Mgr LP & Safety
Lowe's
Fairfax, VA
Lowe's
Dept Mgr LP & Safety
Lowe's
Augusta, ME
Lowe's
Dept Mgr LP & Safety
Lowe's
Albuquerque, NM
Lowe's
LP Manager Hrly
Kmart
Albany, GA
Sears Holdings Corp
LP Manager
Sears
Mesa, AZ
Sears Holdings Corp
LP Manager Hrly
Kmart
Griffith, IN
Sears Holdings Corp
LP Manager Hrly
Sears
Victoria, TX
Sears Holdings Corp
Multi Unit LP Mgr
Sears
Mesa, AZ
Sears Holdings Corp
LP Manager Hrly
Kmart
Gillette, WY
Sears Holdings Corp
ETL Assets Protection
Target
Olympia, WA
Target
ETL Assets Protection
Target
Buffalo, NY
Target
ETL Assets Protection
Target
Hanford, CA
Target
ETL Assets Protection
Target
Holyoke, MA
Target
ETL Assets Protection
Target
Akron, OH
Target
ETL Assets Protection
Target
Columbus, OH
Target
ETL Assets Protection
Target
Orange City, FL
Target
AP Team Leader
Target
Springfield, PA
Target
AP Team Leader
Target
Cambridge, MN
Target
Store AP Mgr
Home Depot
Encinitas, CA
Home Depot
AP Manager in Training
Walmart
Evergreen, CO
Wal-Mart
AP Manager in Training
Walmart
Cibolo, TX
Wal-Mart
AP Manager in Training
Walmart
Chicago, IL
Wal-Mart
AP Manager in Training
Walmart
Converse, TX
Wal-Mart
AP Manager in Training
Walmart
Des Moines, IA
Wal-Mart
LP Supervisor
TJ Maxx
Pittston, PA
TJX Companies


Home of the Industry's Original
On the Move

| | |
| --- | --- |
| | Xavier Soule was named Loss Prevention Detective for TJ Maxx. |
Post Your New Job or Promotion!
See all the Industry Movement


Your Career
Sponsor this section of the Daily
Could Your Willpower Be Destroying Your Productivity? The idea that having self-control is constantly reinforced as a good trait to have. However, according to new research, while willpower can help you be happier, it can also drain your productivity. Brain drain

The Three Biggest Differences Between Being Busy and Being Productive These two words couldn't be more different. Unless you're accomplishments are helping you get closer to a goal, you're just staying busy. Here's how to be productive in just three steps. Short to-do list

11 Changes You Can Make to Boost Employee Productivity in 1 Week If you see that your team's productivity is starting to wane, there are steps you can take to bring it back to life. Start with implementing these 11 changes and watch efficiency grow. Escape with music

How Boosting Your Productivity Can Be as Simple as Flipping a Switch Night keeps closing in earlier and earlier, and with this time of year comes working all through the sun-lit parts of the day. To keep your teams productive and fighting Seasonal Affective Disorder, think about changing the lighting. No artificial light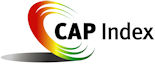 Tip of the Day
Sponsored by Vector Security
The thrill of the chase intoxicates us all in the beginning and keeps most of us here for a life time. But ultimately it can also hold us back because it legitimizes our separateness and virtually eliminates the need to evolve with the retail business. Recognizing it and forcing yourself to learn beyond your specialty and embracing the relationships around you will poll vault your career and help you stand out even more.

Just a Thought,
Gus





Upcoming Events
---

Recruiting?
Get your job e-mailed to everyone... everyday
Post on our Featured Jobs Board!
Reach your target audience in 2015 every day!
Request our 2015 Media Kit
update account / change e-mail
unsubscribe FEEDBACK
www.downing-downing.com

Advertise With The D&D Daily




36615 Vine Street, Suite 103
Willoughby, OH 44094
440.942.0671
copyright 2009-2019
all rights reserved globally