The D&D Daily Mobile Edition
October 26,

2015



The LP Industry's #1 News Source - Informing, Educating and Instilling a sense of community




2015's GLPS's - Group LP Selfie's
Your Team - Your Pride - Our Industry
One Team at a Time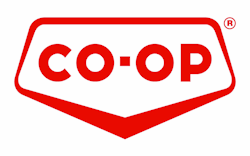 Co-op Retailing System - Asset Protection Leaders

"Protecting People, Property and Brand"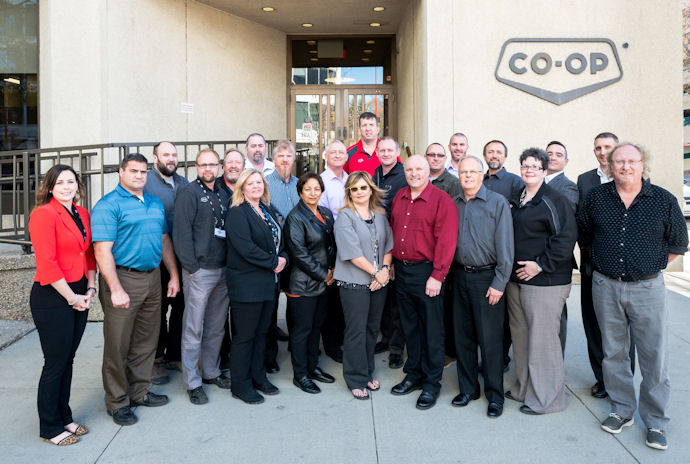 Back L- R – Marc Cayer, Interim Asset Protection Manager, Heritage Co-op; Bruce Browne, Safety & Loss Prevention Officer, Otter Co-op; Bob Young, Asset Protection Coordinator, FCL Home Office Asset Protection

Middle row L-R – Dave Monohan, Asset Protection Manager, Wetaskiwin Co-op; Greg Bell, Health & Safety/Loss Prevention Manager, Pembina West Co-op; Brian Cook, Health & Safety, Maintenance & Security Manager, New Horizon Co-op; Ray Ruiters, Asset Protection Analyst, FCL Home Office Asset Protection; Jeff Haubrich, Asset Protection Manager, Borderland Co-op; Stephen Elley, Asset Protection Manager, Wild Rose Co-op; Ken Doerksen, Security Systems Support Coordinator, FCL Home Office Asset Protection; Albert Bedard, Asset Protection Coordinator, FCL Home Office Asset Protection; Trevor Pfeifer, Asset Protection Manager, FCL Home Office Asset Protection

Front row L-R – Nicole Anderson, Security Systems and Support Analyst, FCL Home Office Asset Protection; Rick Myall, Loss Prevention/Safety Supervisor, Red River Co-op; Travis Legare, Asset Protection Manager, Moose Jaw Co-op; Arlene Whyman, Asset Protection Officer, Interlake Co-op; Veena Channan, Corporate Asset Protection Manager, Central Alberta Co-op; Debbie Peterson, Loss Prevention & Safety Manager, Swan Valley Co-op; Denis Sunderland, Asset Protection Manager, Prairie North Co-op; David Knouse, Environmental Risk Manager, Prince Albert Co-op; Heather Smith-Schenkey, Safety and Loss Prevention Coordinator, Medicine Hat/South Country Co-op; Ron Wells, Occupational Health & Safety, Asset Protection Coordinator, North Central Co-op
---
Retail LP Teams, send us your new
Group LP Selfies!

Have some fun, show your team pride, get a plaque,
and maybe win some free pizza!

News Brief
Sponsored by WG Security Products, Inc.
Florida Retail Federation Hosts 2nd Annual
Loss Prevention Conference
Law Enforcement Officers Recognized for Efforts in ORC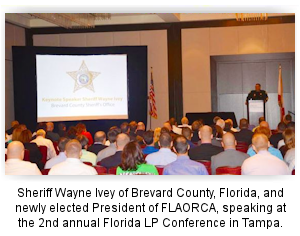 The 2nd Annual Florida Retail Federation Loss Prevention Conference took place on October 13th in downtown Tampa, attracting 200 attendees comprised of retailers and law enforcement. Sheriff Wayne Ivey keynoted the conference (see picture) and stressed how important it is to continue to promote law enforcement and to stand firmly behind what they provide to their respective communities. He also stressed the importance of collaboration and the sharing of information. Ivey is the newly elected President of the Florida Organized Retail Crime Association (FLAORCA). There were 12 breakout sessions and some of the more well attended include "Using Social Media in Investigations", "Anatomy of A Critical Incident ( Active Shooter)", and "New Technology for ORC Investigations". According to conference organizers, the feedback from attendees was very positive and the conference was successful.

Held in conjunction with the 2015 Florida Retail Federation Loss Prevention Conference was the FRF's Law Enforcement Officer of the Year Award Dinner. Detective Jason Friday of the Sarasota County Sheriff's Office was selected as the 2015 Florida Retail Federation Law Enforcement Officer of the Year (LEOY). Selected as the Runner-Up was Master Deputy Jeffrey Newcomb of the Orange County Sheriff's Office. Both are being recognized in part for their work in preventing organized retail crime. Two officers were selected to receive Honorable Mentions and will be recognized locally. They are: Detective Kenneth DeWeese of the Polk County Sheriff's Office and Detective Marcos Rodriguez of the Miami-Dade Police Department.

The Florida Retail Federation Law Enforcement Officer of the Year program has been an annual event since its inception in 1974. The purpose of the program is to support and encourage outstanding law enforcement work throughout the state, and to recognize the important contributions made by Florida's law enforcement professionals, particularly as it relates to the retail industry.

For more information on the award winners, the event or the LEOY program, visit www.frf.org.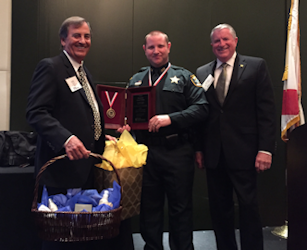 FRF Law Enforcement Officer of the Year Sarasota County Sheriff's Detective Jason Friday with FRF Chairman Sandy Fortin (left) and FRF Loss Prevention Chair Dennis Wamsley of Publix (right)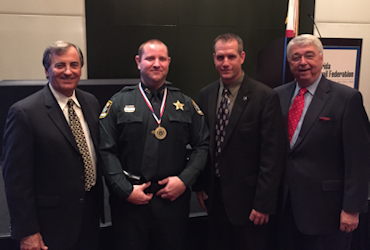 FRF Law Enforcement Officer of the Year Sarasota County Sheriff's Detective Jason Friday and to his left, Runner-Up Orange County Sheriff Master Deputy Jeffrey Newcomb joined by FRF Chair Sandy Fortin (far left) and FRF President/CEO Rick McAllister (far right)

Hy-Vee post Assistant Vice President, Loss Prevention position in West Des Moines, IA
Accountable and Reports to: Senior VP Government Affairs & Business Innovations. Positions that Report to you: Asst. Director Loss Prevention; Loss Prevention Supervisor; Administrative Assistant; EBR Loss Prevention Analyst; Supply Chain Security Manager; Corporate Security Supervisor; Corporate Security Officers; Distribution Center Security. ziprecruiter.com

With sales of $8.7 billion annually, Hy-Vee ranks among the top 25 supermarket chains and the top 50 private companies in the United States, employing 75,000 employees. Its more than 235 stores are located in eight Midwestern states: Iowa, Illinois, Missouri, Kansas, Nebraska, South Dakota, Minnesota and Wisconsin. Distribution centers are in Chariton, Iowa, and Cherokee, Iowa, with a third perishable operation in Ankeny, Iowa. Hy-Vee's corporate office is located in West Des Moines, Iowa. hy-vee.com

Search Firm TriQuest Business Services, LLC - post Director of Loss Prevention position in retail in San Antonio
Reports to: Chief Operating Officer - As The Director Of Loss Prevention, You Will - ●Responsible for the execution of Loss Prevention initiatives ●Responsible for the execution of shrink reduction programs in high shrink locations ●Participates in store associate training regarding approved Loss Prevention initiatives and workshops. Salary Range: 80-100K

Editor's Note: The list continues along the same lines of typical Loss Prevention responsibilities in a retailer. This may be the A'GACI position we reported on earlier. As they may have just hired a recruiting firm to handle it. linkedin.com

Update: Director of Global Security, VF Corporation, reporting into legal department, in Greensboro, N.C.
According to sources a lot of what they're looking for requires IT Security experience. Hence the 'Security' term used in the title.
The primary responsibility of the Director of Global Security: develop, implement, direct and manage cost-effective security programs, policies, procedures and processes to protect the company from internal and external threats to its people, businesses, information and reputation. This is the most senior executive position in the Corporate Security Department with global responsibility.

Today, VF is an $12 billion apparel and footwear powerhouse, with an incredibly diverse, international portfolio of brands and products that reach consumers wherever they choose to shop. VF is more than the world's largest apparel company. We're a dynamic, global powerhouse with $12 billion in annual revenues, over 30 dynamic lifestyle brands and approximately 57,000 associates working in locations across the globe. Our brands are sold in more than 150 countries through 47,000 retailers in all channels of distribution, from mass to department to specialty retailers. In addition, we own and operate more than 1,100 retail stores. Many of our brands also sell products directly to consumers over the Internet.

Editor's Note: This may be their first actual corporate effort that came to the market looking for an external executive. vfc.com

Sr. Director Global Safety and Security - Marriott Vacations Worldwide Corporation in Orlando, Florida
The Senior Director of Safety and Security will report directly to the Vice President of Resort Operations. The vast Scope of this position will frequently require this role to work directly with other Department leaders and individual Executive Committee Members. As a member of the Loss Prevention organization, he/she contributes the highest level of safety, security and risk management knowledge and expertise through their interactions with all resorts and/or business offices. mvwcareers.com

Securitas set to acquire Diebold division for $350m
Securitas has agreed to buy Diebold's North America-based electronic security division for $350 million. The divestiture by Diebold is aimed to better position it to pursue growth in the self-service industry, it said. Diebold has current annual revenue of about $330 million, it said in a prepared statement. It has about 1,100 employees, 55,000 monitored customer locations and 200,000 sites serviced. It will retain all its physical and consumer transaction security businesses related to its core financial market, including automated teller machine security, anti-fraud card solutions, bank branch facility and drive-up systems, and related services, according to a prepared statement. securitysystemsnews.com

Wal-Mart Shrinks the Big Box, Vexing Vendors - Wal-Mart's Merchandising Plan - Great Article of Where They're Going
At the U.S. chief's direction, the retail behemoth has already removed about 15% of store displays over the past year, and the average Wal-Mart supercenter-home to around 120,000 products-has about 2,500 fewer items than a year ago. In the process, Wal-Mart will revive its efforts to target more affluent customers' households. "Globally we know growth will disproportionately come from middle- and upper-income households in the years ahead," said Wal-Mart CEO Doug McMillon in mid-October. In the past, Wal-Mart has tried to boost sales by uncluttering aisles, targeting wealthier shoppers and cutting down on merchandise-to disastrous effect.

Separately Wal-Mart is shaking up its store management around the country. About 30% of its regional stores managers have left, said Mr. Foran in mid-October, speaking to investors. Several months ago a "few hundred" stores didn't have managers, but the company is filling those vacancies quickly, he said. "I'm guessing we've probably got 300 or 400 [stores] out there that I would really rate as a fantastic shopping experience," said Mr. Foran. "Then we have got a whole group in the middle that have improved, but we have got room to go further." wsj.com

55% of Retailers Filing Bankruptcy Over Last Ten Years End Up Liquidating - The Slippery Slope Has Become Even More Slippery
According to a new study by AlixPartners advisory firm, 55 percent of all U.S. retailers that have filed for bankruptcy over the past 10 years have ended up in liquidation. By comparison, less than 5 percent of nonretail filings over that period have had the same result.

In the old days a retailer would go into Chapter 11... [and] they would get rid of all their bad locations by terminating the leases. They'd come out smaller, leaner, meaner and they would negotiate a repayment plan with creditors," said Ken Rosen, who leads the bankruptcy, financial reorganization and creditors' rights department at Lowenstein Sandler law firm. "We don't see that anymore."

U.S. Bankruptcy Code in 2005 condensed the timeline in which retailers had to garner approval for a sale or reorganization before they were pushed into liquidation. Whereas retailers used to be able to spend a year or longer in bankruptcy they now have 210 days to decide whether to hold onto or dispose of a store lease.

While that sounds like a tight timeline, it's even tighter in practice. Because it can take 90 days to hold a going-out-of-business sale, senior lenders often attempt to make a decision as to whether they should liquidate or reorganize a debtor in as little as 120 days.

A recent study found that among the 16 retail filings over the last 18 months, only one - Brookstone Holding Corp. - successfully reorganized. By comparison, 10 of the 16 resulted in liquidation, and five were sold. Editors Note: There's more reasons listed in the article. Leave it to say that if you're retailer is possibly facing this you may wish to read this article. cnbc.com

Another Off-Price store coming - Find@Lord & Taylor - 1st 30,000 sq.-ft. store in Paramus, N.J. -= HBC's 2nd one
HBC, owner of Saks Off Fifth is opening another off-pricer with 7 stores planned on opening by Dec. '16. Find @ Lord & Taylor is going after younger shoppers in their 20s and 30s. (Thus the @ symbol, which is meant to resonate with shoppers who have grown up in the digital age.)

As the off-price space becomes more crowded-24 new Off 5th Stores are scheduled to open in 2016, bringing the total to 110.

Sales at the major off-price chains are expected to total $42 billion in 2015, up from $27 billion in 2009. While those receipts lag behind the $59 billion in sales the major department-store chains are expected to have in 2015, the gap is narrowing. Department-store sales have declined by 8% since 2009, when they totaled $64 billion. wsj.com

Take a tour of Microsoft's new Fifth Avenue flagship store
Microsoft's first flagship retail store is opening its doors tomorrow in New York City, located on Fifth Avenue and 53rd Street, just a few blocks from Apple's iconic cube store. This isn't your typical Microsoft store: It spans five floors in a grand building, and it'll sport a glass facade that offers a direct view inside. You definitely won't miss it while walking down the street. Upon entering the store, it's not hard to feel a sense of deja vu from Apple's retail style. engadget.com
Between 700,000 and 750,000 new seasonal positions will be filled this holiday season - See the List

J. Crew has agreed to end on-call shifts nationwide

Pep Boys enters merger agreement with Bridgestone - accelerating the global growth strategy of Bridgestone Corp. - world's largest tire and rubber company and parent of Bridgestone Americas


Last week's most popular news article --

Penney cuts 300 HQ jobs in cost reduction move; The layoffs at J.C. Penney represent about nine percent of the company's headquarters staff
All the News - One Place - One Source - One Time
The D&D Daily respects your time & doesn't filter retail's reality
Report Your News!
(content subject to approval)



Companies need to start making security part of their brands, experts say. Especially with IoT coming
As the number of cyberattacks continue to mount, security experts said Monday that consumers are starting to demand that companies show they are taking the issue seriously and are going to punish those that don't. Cisco Chief Information Security Officer Steve Martino said companies also need to ensure that security is considered from the moment they design and build a new product - rather than waiting for something to go wrong and rolling out fixes.

"I think the vendor who is building that needs to have a process to say what am I building, how I am protecting it and making a secure environment," Martino said, adding that he envisions a time when security, like the endurance of a product, will help anchor a company's reputation.
"Security is going to be an element of your brand," he continued. "Very shortly, you are going to start to see companies say security is part of that brand. It's quality. It's security. That is where it moves into the board, into the company's strategy." foxnews.com

Consumers Don't Believe Retailers Will Keep Data Safe
Unfortunately, a recent report shows that there's a short supply of public faith in retail cybersecurity. According to Capgemini Consulting's newest report, "Privacy Please: Why Retailers Need to Rethink Personalization," 93 percent of more than 220,000 consumers surveyed expressed serious doubts over retailers' abilities to protect consumer data in the event of a cyberattack. Moreover, the study found that retailers themselves acquired a negative connotation related to data security when engaging in certain activities consumers viewed as overtly negative, namely in-store traffic monitoring (84 percent) and facial recognition (81 percent). pymnts.com

Home Depot has spent $232M in expenses related to data breach - Figure will grow as legal fights continue
More than 50 lawsuits filed since the company disclosed in September 2014 it had been hacked have been consolidated into two suits, each seeking class action status - one for consumers and the other for financial institutions such as banks and credit unions. Experts say Home Depot is likely to settle out-of-court to both avoid the millions in costs it will take to fight the litigation and the public relations damage it could suffer if either case went to trial.

Home Depot so far has sought to quash the lawsuits, which have not yet been certified as class actions - a key step that would raise the stakes. Home Depot's attorneys argued for dismissal of the suits Thursday in U.S. District Court in Atlanta. A decision is pending. They called the litigation frivolous and said plaintiffs for customers had not demonstrated harm to shoppers. As for financial institutions, they said covering losses from stolen cards is a normal course of business.

Attorneys for consumers and the banks countered that Home Depot was negligent in protecting consumer information, despite being warned by workers that its security was inadequate. ajc.com

Target Internal Probe Docs Largely Shielded In Breach Dispute
A Minnesota federal judge on Friday largely rejected a class of banks' bid to force Target to produce documents generated during its internal investigation of its massive data breach, allowing only communications updating the board of directors about the incident to be revealed.

In his order, U.S. Magistrate Judge Jeffrey J. Keyes weighed in on the parties' dispute over hundreds of entries on Target Corp.'s privileged document log that the retailer contended were protected by either attorney-client privilege or work-product protection because they related to internal investigations that Target directed a specially formed task force as well as a Verizon unit to carry out to help it prepare for and respond to the inevitable onslaught of post-breach litigation. law360.com

The Eye-Scanning ATM Is Here
Citigroup, Diebold to unveil new technology that eliminates the need for cards. Citigroup Inc. is testing new technology with automated-teller-machine maker Diebold Inc. that would allow customers to withdraw money with an eyeball scan or a code on a smartphone instead of a card swipe.

Citigroup's experiment involves a new kind of cash machine that lacks a screen or touchpad. Instead, customers would first check the bank's mobile app on their smartphone or tablet ahead of time to sign in and select how much money they want to withdraw. Then, they would approach the machine, which would quickly scan their iris to verify their identity. The machine, which connects to the mobile app, would spit out the right amount of cash. wsj.com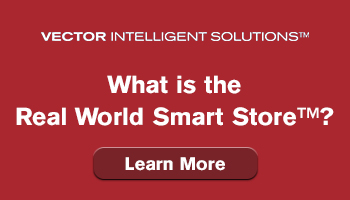 Spotlight on Instakey

A Rekeyable Lock Program for the Retail Industry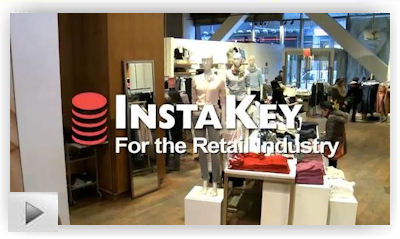 InstaKey Security Systems is the number one KeyControl Program among Retailers! With over 29 years' experience in the industry, InstaKey has been providing Retailers with an effective and affordable key management system that has improved accountability and the overall security of their stores.

The InstaKey KeyControl Program eliminates the need for costly locksmith callouts and inopportune core swaps when it's necessary to rekey. With high employee turnover rates, Retailers face this inevitable challenge quite frequently. Stop spending money that's affecting your bottom line - instead, change your locks with the simple turn of a key! Locks can be reset up to 9 times before the cylinder needs to be replaced, and the do-it-yourself replacement takes just seconds! Keys are restricted, so duplicates cannot be made which means that when a key is returned, there's no need to rekey! Keys are also serialized with a unique identifier that you can track to the location and key holder it's assigned to, using patented SecurityRecords.com software available via the internet 24/7. Through use of this exclusive software, you can view the rekey history for any particular location so you know how many have taken place, as well as a visual dashboard display of your KeyControl Program by way of charts and graphs in "real-time" - right on your homepage!

Hear what InstaKey customers have to say by viewing our brief video here.

Op/Ed

Roadmap for New LP Executives

Part 11: Document Your Journey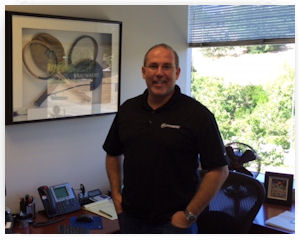 By Mike Nagyhazy
Senior Director of Loss Prevention,
24 Hour Fitness

Questions or comments can be emailed to mnagyhazy@24hourfit.com


As a new Loss Prevention Executive, you will get a TON of things thrown your way. Some may be projects from other company executives, your boss, things that you observe yourself – it will hit you from all directions, at times. That's why you're in this role; because you're strategic, you have the right attitude, and you can handle it!

It's important that you document what you've accomplished in your new role, as it happens. There have been many times that I sit at my laptop during the company's self-review process, trying to think back on what happened 3 quarters prior. With everything that we handle within Loss Prevention, remembering projects and improvements accomplished from 3 quarters ago can be quite taxing!

Now that you're at a different level of Loss Prevention Leadership, your reviews and your compensation plan have hopefully forced you to take the process very seriously. Gone are the days of externals and internals – now you have to creatively earn your seat at the table each and every day. Having said all of this, it's important that you Document Your Journey. This can be as easy as an ongoing Word document, Excel spreadsheet, notes on your tablet, or a good ol' fashion notepad – whatever your style may be, make quick notes as things happen. This will assist you during 1:1 meetings with your boss, it will help with quarterly business updates, and it will certain help you write your review, in order to maximize your personal financials. A few examples of brief notes/accomplishments may be as simple as:

Aug. 2015 – Created Company Shrink Awareness Program, along with Marketing Team, yielding a 12% shrink reduction trend (may be something that you're still monitoring through the year, but document its' inception, anyway!)

Sept. 2015 – Engaged and assisted Procurement Team to renegotiate bulk CCTV pricing, reducing annualized spend by 8% ($47K)

Oct. 2015 – Implemented auditing via tablet for entire LP team, resulting in office supply spend reduction of $32k
Etc., etc., etc.

Your list is your list. It should mirror the hard work that you're doing, it should reflect the cost savings that you may be bringing to the table, and should highlight the strategic projects that you've worked on. When it comes to self-reviews, and sharing your hard work, sell yourself! Don't be shy and don't hold back. You're at a level where others may not overtly praise you on a regular basis, and no one will know what you've accomplished like you will. Make great things happen, and Document Your Journey!

Read the Introduction and Parts 1-10 here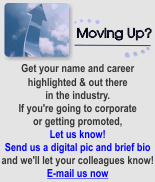 Kroger's LP
Adding Value to a Retailer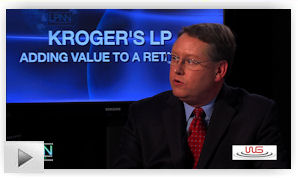 In 2008, Karl Langhorst became the first Director of Loss Prevention for The Kroger Co., a decentralized monolithic retailer that never had a true corporate LP program or function. Thus began a 2-year transformation that involved rolling out the district LPM position, taking the LP Specialist job in-house, managing corporate rollouts, and developing relationships throughout the organization both corporately and in 18 different divisions. Hear how Karl was able to build a successful LP program at Kroger through strong partnerships and realigning the company's thinking on loss prevention.
---
LPNN Quick Take #17


Amber and Joe

talk with Tarik Sheppard, Sgt. NYPD, Grand Larceny Analytical Unit, in this LPNN Quick Take. Sgt. Sheppard was instrumental in helping set up NYC's first public-private ORC partnership last year. Hear how LAAORCA's model on the West Coast helped influence the newly formed NYMORCA.
Solution Providers, have a video or commercial you want to publish? Contact us.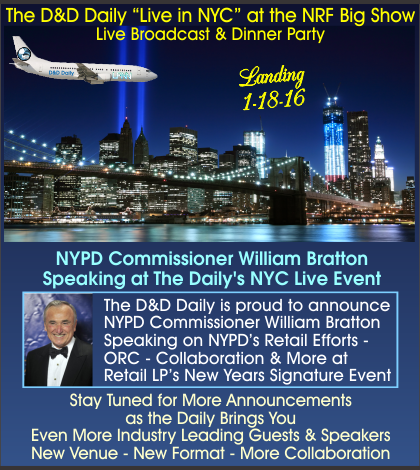 e-commerce

Sponsored by The Zellman Group
Dealing with financial threats to online transactions
One third of banks and payment services have failed to provide a secure channel for all online payments. That's the latest finding from a survey conducted by Kaspersky Lab and B2B International. Despite the increase in online tools to make payments, the survey's results find that many banks and payment companies are finding it hard to shield both themselves and their customers from the ever-present risk of fraud. Going into greater detail, 65% of the organisations said that customers are using a greater variety of devices to pay online but only 53% have introduced two-factor authentication and only half have introduced specialised, real-time solutions to combat fraud. Further findings discovered that 42% extended this sort of solution to customer devices while only 67% implemented secure connections for all online payments. Last year, Kaspersky Lab and Interpol also found that about 500,000 users had encountered Android malware which was designed to steal money at least once. The amount of banking malware had risen 8.89 percentage points to 75.63% of all financial malware attacks in 2014. The same report also found that in 2014, financial phishing attacks (for targets such as banks, payment systems and e-shops) accounted for 28.73 of all phishing attacks. thestack.com

Fight in global B2C e-commerce delivery gets tougher
According to the findings of secondary market research specialist yStats.com of Germany, free shipping still remains the number one priority for almost two thirds of online shoppers worldwide. In Asia, around half of digital buyers would add items to a cart in order to qualify for the free shipping service and in North America more than half of all online shoppers would choose longer delivery times, as of early 2015. On the other hand, delivery speed is also a major concern of global online shoppers. In response to this demand, online retailers attempt to offer express delivery options, such as same day and next day delivery. This leads to increased investment and intensified competition among the merchants and logistics providers, as yStats.com's report shows. indiatimes.com

Blockchain Alliance forms to tackle bitcoin crime
The Chamber of Digital Commerce and Coin Center recently announced the formation of a public-private forum for the bitcoin community, the Blockchain Alliance. The Alliance is made up of several companies and institutions that are meeting in Washington, DC to discuss how to combat bitcoin and blockchain related crime, according to a press release. The goal of the Alliance is to act as a resource for law enforcement for technical knowledge on preventing bitcoin crime. It is also designed to act as a forum for dialogue between law enforcement and the bitcoin community. mobilepaymentstoday.com

"Fraud is not a person - it is a dynamic grouping of statistics that deviate from the norm."
Stuart B. Levine, CFI, CFCI
CEO, The Zellman Group & Zelligent


ORC News
Sponsored by NEDAP
Boise, Idaho: Multi-State Traveling Mexican Fraud Gang Member Sentenced to 12 Months Federal Prison
According to the plea agreement, Miranda-Molina admitted that in March of 2015, he and two co-defendants traveled together from Mexico, through Montana, to Idaho in a vehicle rented in Sonora, Mexico, for the purpose of using counterfeit credit cards to make fraudulent purchases of merchandise and gift cards.

In Montana, each defendant engaged in a number of transactions, using credit cards that the defendants knew to be counterfeit, at stores such as Auto Zone, TJ Maxx, Home Depot, Ulta, and others. The defendants jointly and fraudulently obtained merchandise valued at approximately $8,184.01. In Boise, the defendants again engaged in a number of transactions, using credit cards the defendants knew to be counterfeit, at stores such as Lowe's, Sports Authority, Barnes and Noble, Nordstrom Rack, JC Penney, and others. The defendants fraudulently obtained merchandise valued at approximately $5,117.63. The defendants were arrested in possession of approximately 84 counterfeit credit cards embossed with their names, but encoded with victims' credit card numbers, as well as merchandise purchased with the counterfeit credit cards, including GoPro Hero 4 Cameras, Samsung Galaxy Nooks, and video game systems. justice.gov

7 suspects arrested for local Victoria Secret thefts - combined loss of $50,000
From October 20-23, 2015, Polk County Sheriff's Organized Retail Crime (ORC) Unit detectives, working with Lakeland Police Officers, Lake Wales Police Officers, and retail loss prevention personnel, arrested seven people during an investigation of organized retail theft at two different Victoria's Secret stores. In October 2015, PCSO ORC Detectives were contacted by loss prevention partners from the two stores - one located at Lakeside Village in the city of Lakeland, and the other one located at the Eagle Ridge Mall in the city of Lake Wales - in reference to recent thefts taking place. The Victoria's Secret loss prevention officers documented 26 separate thefts since July 2015 - 18 at Lakeside Village, and 8 at Eagle Ridge Mall - for a combined loss of approximately $50,000. "It looks like we were able to stop this 'panty raid' just in time. These suspects traveled here to Polk County to steal from our merchants, meanwhile some of them are collecting government assistance. They clearly haven't gotten the message that we do not tolerate theft of any kind in our county. If you're going to steal, stay out of Polk County." - Sheriff Grady Judd. wtsp.com
Riverside, IL: Chicago man grabs $5,000 of Cigarettes from a Delivery Truck
Northwest Side man was arrested for stealing $5,000-worth of cigarettes in west suburban Riverside last week. Jesus A. Sanchez, 34, was arrested on Oct. 19. On Oct. 16, Sanchez hopped into a delivery truck that was parked on East Quincy Street near Harlem Avenue in Riverside and made off with boxes of cigarettes. While he was running to his getaway car, a bystander spotted him, yelled out and chased him, police said. Sanchez dropped the boxes before getting into the car, which then sped away, but not before the bystander was able to snap a picture of the car's license plate and report the incident to police. suntimes.com

Mt. Juliet, TN: 2 arrested in connection to $3,500 Walmart theft
Walmart employees in Mt. Juliet helped stop shoplifters trying to get away with more than $3,500 in merchandise. Two men are accused of stealing from the store on Thursday. Authorities said they came back Friday and that's when employees recognized the two and phoned police. A computer, a go-pro camera and 18 bottles of cologne was recovered from their car. wkrn.com


Petaluma, CA: Police Seek Kohl's Burglar who Stole $2K Worth of Vacuums
Police are seeking a person in connection with a burglary at a Petaluma department store Friday evening, in which over $2,000 worth of merchandise was taken. At 5:38 p.m., officers responded to a report of a burglary at a Kohl's Department Store. When officers arrived, officers learned a man had walked into the store and went to the vacuum display area of the store. The man then chose three vacuum cleaners and placed them in his shopping cart. The man walked to the back of the store with the shopping cart and exited the building through a fire exit. The suspect then ran to a waiting pickup truck nearby. patch.com

Loves Park, NY: Police Look For Theft Suspects Caught on CVS Surveillance Video
Police need our help catching the people who stole hundreds of dollars worth of items from a CVS Pharmacy in Loves Park. Surveillance cameras caught these women in the CVS on two separate occasions. The first was on October 18, then the women returned on October 21. Police say the ladies took more than $1,000 in merchandise. wifr.com
Waynesboro, VA: Kohl's hit for $400 in electronics caught on tape
Police are requesting help in locating a man who allegedly stole over $400 in electronics from the Kohl's store in Waynesboro. On Oct. 9, 2015, an unidentified white male entered the Kohl's store in Waynesboro and walked to the electronics department. According to the Waynesboro Police Department, he allegedly stole a set of Beats headphones, a Jam headset, and a wireless speaker by removing them from their packages and concealing the property before leaving the store. whsv.com
North Canton, OH; Gabriel Brothers $227 shoplifting spree ends in a car crash for 3 Cleveland women
Three Cleveland women accused of shoplifting at Gabriel Brothers, one of whom was pregnant, crashed as they pulled out of the parking lot and into oncoming traffic Thursday. The pregnant suspect was taken to an area hospital to be evaluated and one of her friends hid some of the stolen goods in a nearby business entryway as investigators found more merchandise (possibly fro Marshall's) that they believe had been stolen from other Jackson Township businesses. cantonrep.com
Racine, WI: Man with Past Drug Problem Steals 18 Inhalers
According to the criminal complaint, store security at Pick 'n Save was notified by management that the inventory of Benzedrex inhalers was being depleted too quickly. Surveillance video showed a man - later identified as Finneran - in a white baseball hat with another individual who used a store loyalty card to purchase items while Finneran stole inhalers. Finneran is accused of stealing 18 inhalers at $4.99 each for a total of $94.40. racinecountyeye.com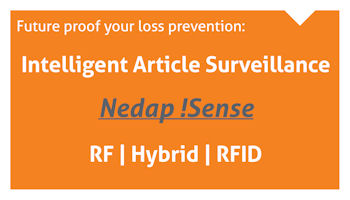 Do you have an ORC case to share?
Share your ORC news and help the industry grow

Retail Crime News

Sponsored by Security Resources
Waukesha, WI: Armed robbery at Verizon Wireless in Waukesha leads to lockdown, evacuation of Walmart in New Berlin; two in custody
An armed robbery in Waukesha, and a subsequent pursuit of the suspect vehicle led to a lockdown at the Walmart store on Greenfield Avenue in New Berlin on Saturday, October 24th. It all began around 3:20 p.m. when New Berlin police were advised of an armed robbery that had just occurred in Waukesha. Waukesha police responded to Verizon Wireless on Silvernail Road. Three suspects fled the store in an SUV. The suspect turned into a Walmart parking lot, 1 suspect was immediate taken into custody, a second was arrested following a short foot chase. The third suspect was believed to have enter the Walmart store. Police evacuated the store. The third suspect remains at large. fox6now.com
Livermore, CA: Manhunt under way for 2 suspects in CVS Pharmacy Shooting
The gunman, who fatally shot one person and injured the other at a CVS pharmacy in Livermore, remains on the loose after several officers raided a home just before 6 a.m on Sunday. A SWAT team stormed a house where 18-year-old Jason Alexander Brown lives with his family, but the suspect was not found. The manhunt for an 18-year-old man suspected of fatally shooting a man and wounding another at a Northern California shopping center continued Sunday after a search of his Oakland home came up empty. wfla.com

Lexington, KY: Shooting outside Dillards at Fayette Mall
A man wanted for shooting another man in the groin during a robbery on Friday has finally been arrested. Officers say they arrested Stephon R-Kel Vanzant, 19, on Saturday at the Dillards in Fayette Mall. On Friday, Vanzant and another man allegedly met for a drug deal in a parking lot off Bright Avenue. Authorities say Vanzant tried to rob the other man and then shot him. Vanzant is charged with robbery and possession of cocaine. lex18.com


Farrell, PA: Local Grocery store Shoplifter has Attempted Homicide warrant
Southwest Mercer County Regional police responding to a shoplifting ended up arresting a man wanted for attempted homicide by McKeesport police. Jeremy D. Carson, 19, of Pittsburgh was charged with attempted homicide, aggravated assault, carrying a firearm without a license, reckless endangerment and conspiracy in connection with a Sept. 19 incident in McKeesport. Southwest said they were dispatched at 12:44 p.m. Wednesday to Farrell Golden Dawn on the retail theft report. Carson, Kwame Washington, 20, and Davon Jones, 20, all of Pittsburgh, ran from the store. They were arrested within minutes carrying store merchandise worth $50. sharonherald.com

New Lebanon, NY: Police arrest man for multi-state ATM skimming operation
A man is arrested in Columbia County, accused of being part of a widespread ATM skimming operation. Ilie Sitariu was arrested in New Lebanon. Authorities say he used a skimming device to rip off customers at Berkshire Bank, and a First Niagara ATM in Chatham. They say he made off with hundreds of thousands of dollars from ATM users. Investigators say he was part of an operation targeting banks in New York, New Jersey, Massachusetts, and possibly other states as well. wnyt.com

Jared the Galleria, The Pointe at North Fayette, Pittsburgh, PA - Armed Robbery/ Smash & Grab - $673,079.78
On Friday at 8:44pm, three subjects entered the Jared store while the fourth subject stayed behind in the vestibule and held the doors open. The three suspects then went to the diamond bay and began smashing the showcases with mini sledge hammers that they carried into the store. The suspects removed several components of diamond rings as well as loose stones. The suspects then exited the store at 8:48pm carrying the merchandise in their hands.
Washington, DC: Credit card fraud protection is confusing, even for FBI
The FBI took a step backward over the past week in the effort to combat credit card fraud. First, the agency told consumers a week ago that new microchip-installed credit and debit cards designed to better thwart fraud might still be vulnerable. Don't just sign your receipt, was the message of its initial warning. Use your PIN with the new chip cards because "these cards can still be targeted by fraud." But the FBI had to reverse field a bit this past week: It turns out that most of the new chip cards in the U.S. don't use PINs. The newly designed chip cards are known as EMV, a partnership of Europay - a European credit card company - MasterCard and Visa to establish an international security system for detecting credit card fraud. The technology in the cards enables it to block information about a person's credit card account, if hacked, from being used to replicate a counterfeit card for more purchases. U.S. banks were supposed to issue new chip-installed cards by Oct. 1 to avoid fraud liability. The microchip has already been in use in Europe and elsewhere around the world. The recent hacks of Target, Neiman Marcus and other big retailers have drawn attention to how widespread credit card fraud has become. In 2012, of 23.8 billion credit card transactions, less than 1 percent - 13.5 million, or about .057 percent - were fraudulent, according to a study by the Federal Reserve System. Likewise, less than 1 percent - .027 percent - of debit, prepaid and ATM transactions, which require PINs, were fraudulent. detroitnews.com

Australia: University student paid for her degree by Shoplifting from Department stores and selling goods on eBay; 370 items sold in 8 months
A university student who was found with $11,000 worth of stolen brand name clothing in her dormitory had already sold thousands of dollars worth of loot on ebay before she was apprehended. Amanda Alice Monks, from Wollongong, south of Sydney, faced Port Kembla Local Court on Friday after it was discovered she had been stealing designer goods from local department stores, including retail giants Myer and David Jones. The University of Wollongong student was able to turn a considerable profit from the scheme after selling the stolen items to the highest bidder on ebay. dailymail.co.uk
Lexington, KY: Road closed for 2 hours, Beeping Foiled covered EAS tag found on the roadway
A section of Man o' War Boulevard at Clearwater Way was closed for about two hours Sunday night after a man reported a suspicious package near the road. The man described the object as being wrapped in aluminum foil with several wires poking out. The man also said the object was beeping. The site was near Tates Creek Road. The hazardous devices unit checked out the object and determined that store security tags had been wrapped in aluminum foil in an attempt to prevent store alarms from sounding, according to Police. It is unclear what store the tags came from because they did not have identifying markers, Police said. kentucky.com

UK: 'Mortified' blind woman is told to leave Asda by a Security Guard for bringing her Guide Dog into the supermarket

UK, Manchester: Woman bites Security Guard and two Police Officers at Marks and Spencer

Sandusky, OH: Macy's Loss Prevention Agent assaulted during attempted apprehension: suspect fled

Saskatchewan, CN: Post Office Robbed for the first time in 50 years

JB Robinson, Cottonwood Mall, Las Vegas, Nevada was the victim of a Grab & Run, merchandise valued at $1,459


Robberies and Burglaries
● AT&T - Miami, FL - Burglary
● Citgo - Lake Wales, FL - Armed Robbery
● Dollar General - Clarksburg, WV - Armed Robbery
● Dollar General - Shrewsbury, PA- Armed Robbery
● Family Dollar - Norfolk, VA - Robbery
● Family Dollar - Calhoun, LA - Armed Robbery
● Fast Mart - Lynchburg, TN - Armed Robbery
● Hilltop General - Tippecanoe, IN - Robbery
● In and Out - Toledo, OH - Armed Robbery
● Kangaroo Express - Greenville, NC - Armed Robbery/ Clerk Shot
● Kwik Fill Port Crane, NY - Armed Robbery
● La Mexicana - Fort Myers, FL - Shooting
● Mac's - Moose Jaw, Sask, CN - Armed Robbery
● Mapco - Chattanooga, TN - Robbery
● On the Run - Spartanburg, SC - Armed Robbery
● Pantry Quik - West Hazelton, PA - Armed Robbery
● Stop & Buy - Lafayette, LA - Armed Robbery/ Clerk Shot
● Sunoco - Dayton, OH - Armed Robbery
● Sunray Express - Willmar, MN - Armed Robbery
● Sylvania Food Mart - Toledo, OH - Armed Robbery
● Trio - Bronx, NY - Shooting/ 1 killed
● Turkey Hill - Kingston, PA - Armed Robbery
● Walgreens - West Chester, PA - Robbery
● 7-Eleven - Sanford, ME - Armed Robbery


Featured Job Listings
Sponsored by NuTech National
Feature Your Job Here For 30 Days -
70% Aren't On the Boards
VP of Sales/Client Relations
More details coming soon
Confidential - Retained Search
Nationwide
Gus Downing
VP AP & Global Facilities
lululemon athletica
Vancouver, BC, Canada
lululemon athletica
Dir Global Security
VF Corporation
Greensboro, NC
VF Corporation
Dir LP
A'GACI
San Antonio, TX
A'GACI
Dir Safety & LP
Harbor Freight Tools
Calabasas, CA
Harbor Freight Tools
Director of Safety & Security
Southern Wine & Spirits
Greenwood, IN
Southern Wine & Spirits
Director, LP
Save Mart Supermarkets
Modesto, CA
Save Mart Supermarkets
Dir AP
99 Cents Only Stores
Commerce, CA
99 Cents Only Stores
Reg Dir LP
Sears
Hoffman Estates, IL
Sears Holdings Corp
Dir LP
Pier 1 Imports
Fort Worth, TX
Pier 1 Imports
LP Dir
BevMo
Concord, CA
BevMo
Dir LP
Lane Bryant
Columbus, OH
Lane Bryant
Dir LP (Western Canada)
Walmart Canada
Calgary, CA
Walmart Canada
Dir LP
Cracker Barrel
Lebanon, TN
Cracker Barrel
Dir Safety AP Solutions
Walgreens
Deerfield, IL
Walgreens
Territory LP Dir.
Burlington Stores
Los Angeles, CA
Burlington Stores
Director of LP
Pacific Sunwear
Anaheim, CA
Pacific Sunwear
Market AP Specialist
REI
Seattle, WA
REI
NEW TODAY Regional LPM
Signet Jewelers
NJ/Long Island
Mark Neapolitan
NEW TODAY Regional LPM
Signet Jewelers
Washington/OR
Mark Neapolitan
NEW TODAY Regional LPM
Signet Jewelers
Virginia
Mark Neapolitan
NEW TODAY Regional LPM
Signet Jewelers
Eastern PA/Philly
Mark Neapolitan
NEW TODAY Regional LPM
Signet Jewelers
AR/LA/AL/MS
Mark Neapolitan

Daily Job Alerts


Appearing One Day Only
View our Internet Jobs Archives here
LP Manager
Amazon
Kent, WA
Amazon
District LP Mgr
Dick's Sporting Goods
Chicago, IL
Dick's Sporting Goods
Safety Mgr
dressbarn
Mahwah, NJ
dressbarn
Store AP Mgr
Home Depot
Clarksville, IN
Home Depot
Safety & Security Mgr
IKEA
Round Rock, TX
IKEA
LP Supervisor
JC Penney
Visalia, CA
JC Penney
LP Specialist
Fry's Food Stores
Mesa, AZ
Kroger
LP Specialist
Fry's Food Stores
Phoenix, AZ
Kroger
LP Specialist
Ralphs
Compton, CA
Kroger
Mgr Safety & AP DC
Lowe's
Adairsville, GA
Lowe's
Dept Mgr LP & Safety
Lowe's
Hicksville, NY
Lowe's
Dept Mgr LP & Safety
Lowe's
Silverdale, WA
Lowe's
Dept Mgr LP & Safety
Lowe's
Kenosha, WI
Lowe's
Dist Center - LP Specialist
Marshalls
Atlanta, GA
TJX Companies
Area Mgr AP
All facilities
Plainview, TX
Wal-Mart
Area Mgr AP
All facilities
London, KY
Wal-Mart
AP Mgr in Training
Walmart
Arkansas City, KS
Wal-Mart
AP Mgr in Training
Walmart
Commerce, TX
Wal-Mart
AP Mgr in Training
Walmart
Parkesburg, PA
Wal-Mart
AP Mgr in Training
Walmart
Columbia, SC
Wal-Mart
AP Mgr in Training
Walmart
Springfield, MO
Wal-Mart
LP Manager Hrly
Kmart
Gulfport, MS
Sears Holdings Corp
LP Manager Hrly
Sears
Boise, ID
Sears Holdings Corp


Home of the Industry's Original
On the Move

| | |
| --- | --- |
| | Ron Taylor, CFI was promoted to Senior RAPM for Regis Corporation. |
| | Brian Keefer, CFI was promoted to Senior RAPM for Regis Corporation. |
| | Justina Reading, CFE was named Regional Loss Prevention Manager for DSW Inc. |
| | Curt Steele, CFI was named District Loss Prevention Manager for TJX Companies. |
Post Your New Job or Promotion!
See all the Industry Movement


Your Career
Sponsor this section of the Daily
3 Easy Ways to Quickly Grow Your Professional Network If you want to really improve your network of contacts, you need to spend time each day reaching out to new people and building new relationships. Grow your network and enjoy the benefits in just three steps. Up and down the ladder
The 7 Biggest Networking Myths, Busted
You can't believe everything you're told, and the same rings true with networking. Networking has become misunderstood due to the images associated with it. Here are 7 common myths and why they're false. The Law of Reciprocity
Last week's most popular articles--
7 Things that Make Great Bosses Unforgettable Have you ever had a leader or boss who you will never forget? Maybe that is because of how they helped you see what you could accomplish or igniting passion inside of you. Whatever the case here is what you need to become an unforgettable boss. Play chess
8 Successful People Share How Not to Find a Mentor There is a right and a wrong way when it comes to finding a perfect mentor to help you navigate your way in your career and achieve success. The best mentoring happens without even using the label "mentoring". Avoid these mistakes when finding your mentor. Don't just look up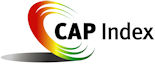 Tip of the Day
Sponsored by Vector Security
When anyone goes for an interview you've got to play to win. You should not allow: any outside variable, any future promotion thoughts or promises, your guilt feelings towards your current employer or boss, your preconceived opinions of the possible future employer, or any miss-step in the process on the part of the future employer disrupt or impact your performance. All interviews have long range implications on your career. The executives interviewing you are part of a community and you'll run into them again at another company. So if you do get involved and go for an interview, commit yourself all the way and play to win. It doesn't mean you've got to take the job. It just means you have to perform at 100%.

Just a Thought,
Gus





Upcoming Events
---

Recruiting?
Get your job e-mailed to everyone... everyday
Post on our Featured Jobs Board!
Reach your target audience in 2015 every day!
Request our 2015 Media Kit
update account / change e-mail
unsubscribe FEEDBACK
www.downing-downing.com

Advertise With The D&D Daily




36615 Vine Street, Suite 103
Willoughby, OH 44094
440.942.0671
copyright 2009-2019
all rights reserved globally