The D&D Daily Mobile Edition
October 28,

2015



The LP Industry's #1 News Source - Informing, Educating and Instilling a sense of community




2015's GLPS's - Group LP Selfie's
Your Team - Your Pride - Our Industry
One Team at a Time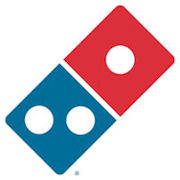 Domino's Safety and
Loss Prevention Team

"Protecting the brand, our business, and the people who make it happen"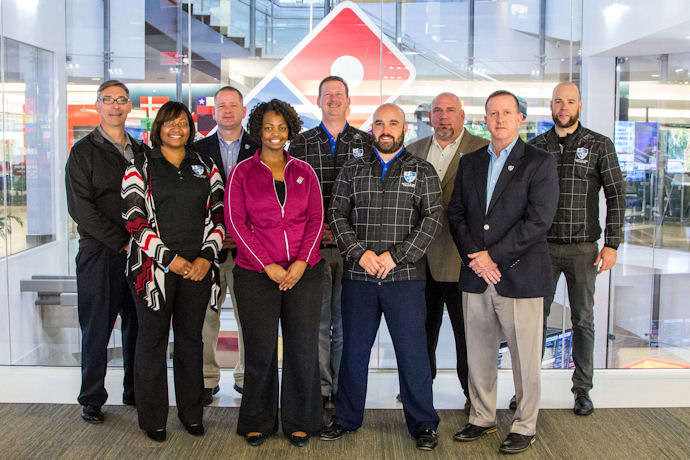 In Picture from L to R - Van Carney, National Director, Safety and Loss Prevention, Tykiesha Clifton, TUSA LP CCTV Analyst, John Gregg, Safety and Loss Prevention Regional-South, Cleopatra Kilonzo, Loss Prevention Admin, Ryan Berkey, Audit and Loss Prevention Manager, Tad Dack, Safety and Loss Prevention Specialist, Tim Erb, Safety and Loss Prevention Regional-West, John Minick, TUSA Safety and Loss Prevention Manager, Matt Egnot, Loss Prevention Analyst
---
Retail LP Teams, send us your new
Group LP Selfies!

Have some fun, show your team pride, get a plaque,
and maybe win some free pizza!

News Brief
Sponsored by WG Security Products, Inc.
Are we losing the Cyber Crime War?
If you listen to the FBI & Secret Service, YES We Are!
One day we have the FBI in Boston saying "Pay Up" to ransomware and the very next day we have the Secret Service in Miami saying that cybercrime and credit card fraud "is the biggest threat to the financial infrastructure of the United States of America by far."

In our recent presentation at CLEAR's ORC conference in Baltimore we showed the nexus between cyber crime and ORC and actually coined "ORC is Cybercrime's Stepchild," with the internet not only fueling it but actually creating and instigating it. Now certainly we understand the debate here, but one fact is indisputable: the actual growth of the internet virtually parallels the growth of ORC, a point we'll show throughout our series on ORC's Publically Reported Analysis report in the ORC column.

While our industry doesn't have the answer to these problems, we now have the biggest force in history to combat it, one that didn't exist just ten years ago: over 15,000 law enforcement and loss prevention executives working together in the 40+ ORC associations now operating in the United States. That in and of itself is something to be proud of.

"Robbery-related violence being the leading cause of death in the retail industry"
NIOSH: Convenience stores lack precautions to deter robberies, prevent violence in Dallas & Houston
Despite that claim many Texas convenience store owners fail to take precautions that could prevent robberies and protect workers from violence, according to a new NIOSH study.

Researchers examined a random sample of nearly 594 convenience stores in Dallas and Houston. Store managers were interviewed for store ordinance requirements from August to November 2011. Data were collected in 2011 and analyzed in 2012-2014.

They evaluated the level of compliance to CPTED guidelines specified by convenience store safety ordinances effective in 2010 in Dallas and Houston, Texas, USA.

Overall, 9% of stores were in full compliance with Crime Prevention Through Environmental Design guidelines, although 79% reported being registered with the police departments as compliant. Compliance was consistently significantly higher in Dallas than in Houston for many requirements and by store type. Compliance was lower among single owner-operator stores compared with corporate/franchise stores. Compliance to individual requirements was lowest for signage and visibility.

The two precautions least likely to be taken by employers were posting warnings signs about security cameras and ensuring unobstructed views between the cash register and windows and doors. Researchers theorized that store owners may not institute such precautions because they believe it is more important to comply with other requirements, or they may place a greater value on advertisement signs rather than warning signs.

In Houston and Dallas compliance was higher for some CPTED requirements but not the less costly approaches that are also the more straightforward to adopt.

NIOSH researchers next plan to compare crime rates before and after convenience stores adopted the regulations to determine if those rules are effective. The study was published in September in the journal Injury Prevention. bmj.com safetyandhealthmagazine.com

Walgreens buys Rite Aid in $17.2 billion deal
Upon completion of the merger, Rite Aid will be a wholly owned subsidiary of Walgreens Boots Alliance, and is expected to initially operate under its existing brand name, with collaborative decisions being made over time regarding the integration of the two companies, with the ultimate goal of creating a fully harmonized portfolio of stores and infrastructure. drugstorenews.com

Dick's Sporting Store Can Sell Guns Again, Tenn. Judge Rules
A Tennessee federal court on Monday ordered the Bureau of Alcohol, Tobacco, Firearms and Explosives to reinstate a Dick's Sporting Goods store's firearm license, concluding the company was not attempting to skirt federal law when it sold a shotgun to the wife of a man prohibited from buying guns.

An ATF compliance inspection uncovered Brady's 2012's rejected application and his wife's purchase and concluded that the firearm was given to Brady and that he was the actual buyer. The agency issued a violation report to the store finding that it had failed to enter the true identity of the gun buyer in its records and allowed the transfer of a firearm to someone prohibited from owning one. In 2013, ATF seized the shotgun and revoked the store's license. In May 2014, Dick's brought its case before the federal court, appealing the agency's decision. law360.com

Foot Locker, Asst. Managers Settle Overtime Wages FLSA Suit For $600K
Under the agreement, Foot Locker will shell out $596,150.70 to settle claims that it violated the FLSA and New York state labor law by failing to compensate assistant managers and sales workers for unpaid and overtime wages. law360.com

U.S. Court Rules Whistleblowers Can Sue Board Members
U.S. District Court Judge Joesph Spero in the Northern District of California ruled that although it was a "close call" and few courts had taken up the issue before, the financial regulation laws Sarbanes Oxley and Dodd-Frank didn't intend to shield directors who retaliate against an employee. "The Court concludes that Congress intended that Dodd-Frank provide for individual liability that is at least as extensive as that of Sarbanes-Oxley, and therefore, that directors may be held individually liable for retaliating against whistleblowers under Dodd-Frank," he wrote. wsj.com

Could the Traditional Shopping Trends Completely Change? Disruption is 'In' with Millennials
'Store pickup is in, Black Friday is out this holiday season'
A new holiday shopping survey reveals major disruptions in holiday shopping traditions, largely due to digital engagement. Deloitte's 30th annual holiday survey of consumer spending intentions and trends finds that some shopping traditions are losing their luster.

More than half (52%) of surveyed consumers say they do not rely on Black Friday as much as they did in the past; 41% say the same of Cyber Monday, up five percentage points from last year. Nearly seven in 10 (69%) plan on "webrooming" - look at items online first, then go to a store to see the item before completing a purchase - jumping from 58% last year. Roughly half (52%) expect to engage in "showrooming" - going first to a store to look at an item, then search online for the best price before completing a purchase. chainstoreage.com

"Millennials have not chosen to go to department stores and its a big challenge to get them back"
Retailers Get Tough Love From MasterCard's Sarah Quinlan at WWD Apparel & Retail CEO Summit 2015
She pointed out that small businesses were stealing market share from the larger chains. "So, it's saying I don't need a discount to shop. 'Make me look different' is what the shopper is telling you," said Quinlan. "Create something special and unique. Quinlan told the audience that the economy wasn't the problem, just that the dollars were going to experiential things like restaurants and travel.

Restaurants are the number one category for spending. She suggested retailers bring the restaurant experience wherever they can into the shopping experience. She also noted that the Millennials have not chosen to go to department stores and it's a big challenge to get them back in.

Looking ahead to holiday, Quinlan again stressed that the economy was good and that holiday sales should see growth of 3.8 percent. "I think things are better than expected." She told the audience that it's the Saturday after Thanksgiving that is the number one day, not Black Friday. Then there is the two-week lull in the beginning of December, except for e-commerce because consumers worry about receiving the package in time. The only negative spot she foresaw for holiday was department stores. wwd.com

Director of Security position posted for Sterling Jewelers in Akron, OH.
The Director of Security is responsible for developing and directing security, safety and loss prevention strategies for Signet's team members, contractors, and visitors as well as Signet's physical assets and products. Along with securing our local campus and New York offices, the Director oversees a staff of proprietary security officers who provide loss prevention, safety, and special security services including company related investigations.

Sterling, the largest specialty retail jeweler in the country, operating more than 1,500 jewelry stores throughout the nation. We are part of Signet Jewelers Ltd, which is publicly traded on the New York Stock Exchange as SIG. pcrecruiter.net

Kroger expands click & collect - Called ClickList


Quarterly Same Store Sales Results
Arby's Q3 comp's up 9.6% with
Walgreens Boots Alliance Q4 U.S. comp's up 6.4%, retail up 1.5%, pharmacy up 9.3%, with net sales up 49.7% (inclusion of Alliance Boots results)


National Retail Federation 2015 Return Fraud Survey

We invite you to participate in the 2015 NRF Return Fraud Survey. And as a thank you, those who participate by November 10th will be entered into a random drawing to receive one full registration pass to NRF Protect 2016. Your feedback is pertinent in developing best practices in all areas of retail asset protection and helping our leaders in Washington understand the gravity of some of our industry's issues.

So as to not duplicate answers from companies, we ask that only the most senior loss prevention officer or equivalent within your company complete the survey in order to limit responses to one per company. NRF will also make sure to send survey respondents a copy of the full report once it is released in December. Please contact Bob Moraca for a PDF copy of the survey or a direct link moracar@nrf.com

All the News - One Place - One Source - One Time
The D&D Daily respects your time & doesn't filter retail's reality

Report Your News!
(content subject to approval)


PayPal News

One Direction T-shirt faker made $93,000
The PayPal European Global Asset Protection Investigations team assisted the United Kingdom's Brighton & Hove City Council Enforcement Unit with their investigation into the affairs of Russell Potts. Potts was being investigating by Trading Standards for the sale of counterfeits goods - illegal merchandise, pins, t-shirts which related to the logos of celebrities: One direction, Jessie J, Justin Bieber, Little Mix, The Wanted and JLS. The suspect admitted seven counts of trading in counterfeit goods, was jailed for 12 months at Wolverhampton Crown Court. He must serve half before being released. Under the Proceeds of Crime Act he must pay the council 61,177 pounds. He was also ordered to pay 13,250 pounds in costs.

For further information on PayPal GAP Team, email inquiries to lawenforcement@paypal.com.


Senate Passes Cybersecurity Information Sharing Act (CISA)
The Senate on Oct. 27 passed by an overwhelming margin the controversial Cybersecurity Information Sharing Act of 2015, which provides businesses with liability protections if they voluntarily share cyber threat information with each other and the federal government. The vote was 74-21.

Now the measure must be reconciled with two related bills passed earlier by the House, ironing out discrepancies and combining them into one measure to present to President Obama (see House Oks 2nd Cyberthreat Info Sharing Bill).

The bill also establishes a "portal" at the Department of Homeland Security as the primary government agency to accept cyber-threat indicators and defensive measures.

Supporters of CISA, including the Financial Services Roundtable and the U.S. Chamber of Commerce, among other business groups, argued it will help pave the way for an increase in the sharing of cyber threat information that could be used to help prevent breaches

The Retail Industry Leaders Association (RILA) is also behind the bill.

"Today was a win for retailers and those committed to stepping up the fight against overseas hackers and cyber thieves targeting American businesses and our customers," said Nicholas Ahrens, RILA's vice president of privacy and cybersecurity. "Cyber-attacks are not going away; in fact, hackers are only growing more sophisticated in their ability to attack businesses, institutions and governments."

He added, "Common-sense legislation that gives businesses the tools and legal protections needed to share cyber-threat indicators is a step in the right direction to thwart future attacks. We urge Congress to finish the job and get this legislation to the President's desk as quickly as possible."

Before Congress can send the bill to President Obama's desk to be signed into law, the House and Senate must resolve differences between their respective bills, including a discrepancy between incorporating mandatory and voluntary requirements. infosecurity-magazine.com govinfosecurity.com

U.S. Secret Service Message on Credit Card Fraud "Cybercrime originating from Eastern Europe is the Biggest threat to the financial infrastructure of the U.S.A. by far"
Secret Service Agent Robert Villanueva, who heads the Electronic Crimes Task Force in South Florida, spoke this week at a conference focused on credit card fraud. Miami-Dade County is number one for such crimes, Villanueva told the audience, and just earlier this month his unit shut down a large operation in Kendall that was printing counterfeit credit cards with numbers purchased off the Deep Web.

Most of that data was acquired through major security breaches, such as the one at Target in December of 2013 and Home Depot last year. Overseas hackers, almost exclusively Russian nationals or other Russian speakers living around the world, take the information and sell it in bulk to vendors who then parse it out online to anyone looking to buy.

"I'm not talking about people hacking into your computer networks to steal intellectual property or hacking the Department of Defense for national secrets. These are cybercriminals, cyberthieves that are online. They're in it for the profit, period." fiu.edu

First Ever 'Insider Threat' type Class Action Law Suit for Retail - 'The UK's Morrisons to be sued by 2,000 employees after data breach' by disgruntled employee - senior internal auditor
It follows the posting on the internet of the bank, salary and National Insurance details of almost 100,000 members of staff by a disgruntled former colleague.

Andrew Skelton, who worked as a senior internal auditor at Morrisons' Bradford head office, was jailed for eight years in July following a trial at Bradford Crown Court which heard that he sent the information to newspapers and placed it on data sharing websites.

More than 2,000 of his ex-colleagues are now to pursue a group claim against the supermarket following a hearing at the High Court in London.

"Whenever employers are given personal details of their staff, they have a duty to look after them. That is especially important given that most companies now gather and manage such material digitally and, as a result, it can be accessed and distributed relatively easily if the information is not protected." theretailbulletin.com

Walmart Exec Foresees Holiday 'Anarchy' From Credit Card Conversion
Speaking at a Money20/20 payment conference on Monday, Walmart payment services senior director John Drechny said the changeover is already "forcing anarchy" on the payments world, and that checkout delays will only grow worse during the busy holiday season as shoppers and seasonal workers get stymied at the counter.

The problem: The new EMV (Europay, MasterCard and Visa) smart cards must be dipped and held in place within the new card readers, rather than swiped, which adds time, and often confusion, to the process. twice.com

Casey's General Stores Confirms Discovery of Credit Card Skimming Devices at Six Stores in Nebraska and One Store in Iowa
Upon discovery of the first device, Casey's launched a company-wide examination of all fuel pumps at approximately 1,900 stores across 14 states, which subsequently led to the discovery of additional devices. Casey's immediately removed the devices and notified law enforcement authorities and credit card companies, and has instituted additional company-wide pump inspection procedures at all stores. businesswire.com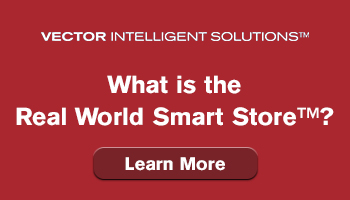 Spotlight on Intelligent Loss Prevention

White Paper - Specialty Beauty Retailer Offender, Shopper, Employee Feedback Study: LM Tag
The Loss Prevention Research Council (LPRC) conducted a series of in-person survey interviews in the Gainesville, FL. A specialty beauty retailer's StoreLab in order to understand the impact of the LM Tag on associates, shoppers and shoplifters. This research focused on the LM Tag's impact on protecting high end fragrances, one of the specialty beauty retailer's high loss products.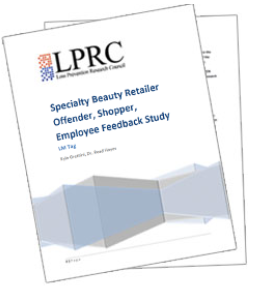 Shopper Feedback

93% of customers rated the LM Tag's effectiveness above a 5, indicating they think the LM Tag is effective at preventing theft.

Employee Feedback

90% of the associates surveyed agreed that they like the LM Tag and that it is easy to apply.

Offender Feedback

In this study, all 7 shoplifters indicated they would not attempt to steal a product that was protected by the LM Tag.


Click here to download the complete report.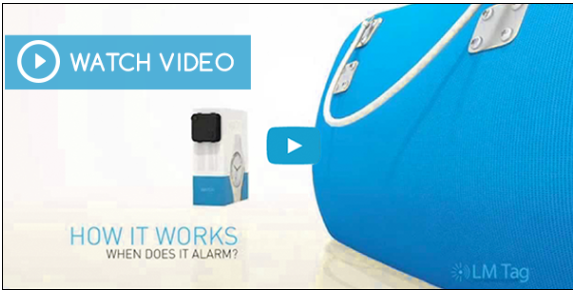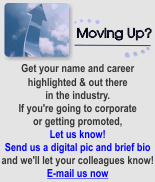 PwC's Loss Prevention Strategy & Analytics Team
A client-specific advanced risk/analytical model

A thorough and transformative approach to LP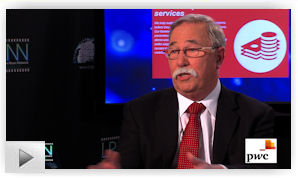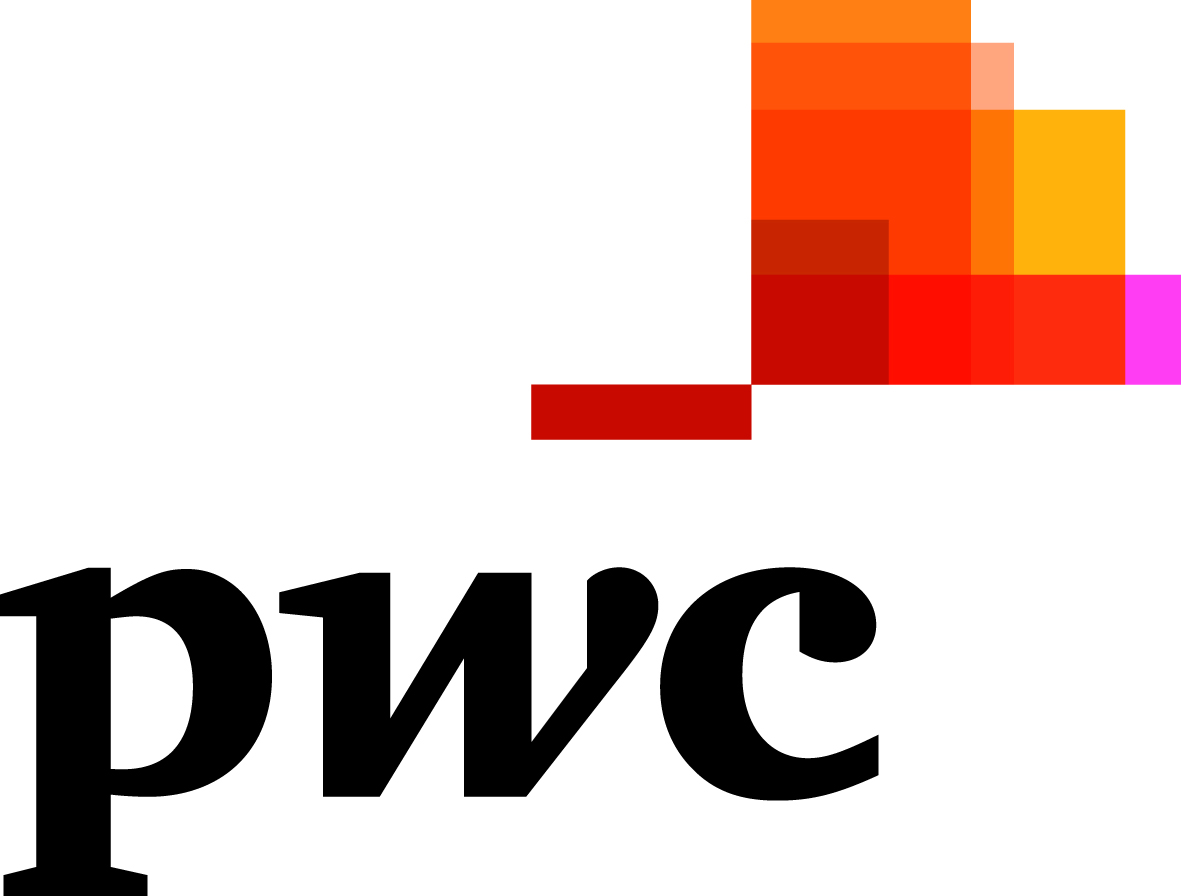 PwC's Loss Prevention Strategy and Analytics (LPSA) team helps organizations understand where their loss prevention function is today and how to move closer towards the goal of continuous improvement by performing a cross functional analysis of the processes that impact loss or operational performance. Bill Titus, Managing Director, PwC, talks about the evolution of the LPSA program in this LPNN interview. Working with 80% of the Fortune 1000 retail and consumer businesses and over 20,000 partners and staff dedicated to the retail and consumer practice, PwC can offer a wealth of resources to any LP or AP team.

---
In this LPNN Quick Take, Amber shares some staggering stats on cybersecurity and Joe shares his strong point of view on the subject.
Solution Providers, have a video or commercial you want to publish? Contact us.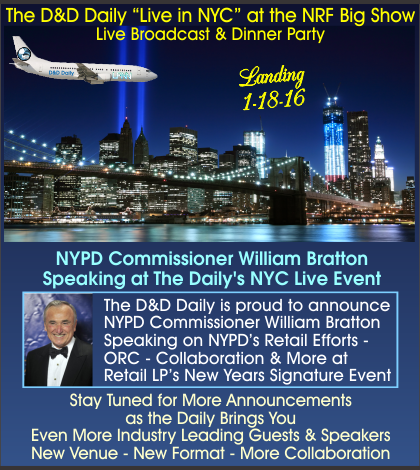 e-commerce

Sponsored by The Zellman Group
Online card fraud poses major problem
It appears fraudsters are shifting their tactics online even in advance of the migration of in-store POS to EMV compliance.

The U.S. Retail Fraud Survey 2015 has reported a substantial increase in online credit card fraud. Published by Retail Knowledge and sponsored by cash handling technology provider Volumatic, the survey shows the biggest area of online loss remains, overwhelmingly, from the fraudulent use of credit cards (66%).

The cost of online credit card fraud to retailers is an estimated $1.88 billion. Currently, online sales account for an average of 6% of sales. In the next three years, retailers are estimating to achieve 15% of sales to be made online.

In addition, while retailer spending on online fraud prevention has doubled in the last two years, 58% of them are still more concerned about the ability of monitoring and analytics to deal effectively with the fraudsters by identifying and stopping them. chainstoreage.com

SEC Drops Inquiry Into Alibaba Counterfeit Claims
The U.S. Securities and Exchange Commission has decided not to begin an enforcement action against Alibaba Group Holding Ltd. after concluding an inquiry into a Chinese regulator's report that the e-commerce giant had allowed counterfeits on its sites, Alibaba announced Tuesday. law360.com

Amazon Doubles Up on Robots - Expects 14% to 25% growth in Q4
Amazon at the end of September had roughly 30,000 robots in operation at 13 fulfillment centers, up from 15,000 in 10 fulfillment centers at the end of 2014, and 1,300 in May 2014. The technology comes from Amazon's purchase of robotic logistical provider Kiva Systems Inc. in 2012 for $775 million. An estimate from Janney Capital Markets says using the robots enables fulfillment workers to pick items two or three times faster than filling orders manually.

Holiday outlook: Amazon says it expects net sales of between $33.5 billion and $36.75 billion, or growth of between 14% and 25%, in the fourth quarter. internetretailer.com

Why Apple Pay Is Our Best Hope To Stop Online Fraud
When the barrier to entry is so low, it's no surprise that online fraud is a huge problem. In fact, according to the authoritative annual True Cost of Fraud report from LexisNexis/Javelin Group, fraud losses as a percentage of revenue for retailers grew to 1.32 percent in 2015, nearly doubling from 2014. To make matters worse, the past year has been a perfect storm for online criminals, which will sharply escalate the rate of e-commerce fraud in the coming years. This begs the question: What will it take to bring Apple Pay (or a similarly secure solution) mainstream, and save online merchants and banks from huge losses due to fraud?

Merchants could offer discounts and rewards to customers who choose to pay with Apple Pay, rewarding them for using a more secure payment system. And Apple will apparently support this in the future. While it may marginally cut into their revenue in the short-term, they'll see an impact on the bottom line due to lower fraud (and fewer chargebacks from banks).

Getting consumers to adopt secure payment solutions should be a priority for every online merchant in today's fraud-heavy market. Apple Pay is an incredibly secure system that has serious potential to reduce online fraud - but that won't matter if no one is using it. To stop the coming surge of fraud, it's time for all parties to double-down on making secure payment systems work for the consumer. techcrunch.com

Amazon Faces Lawsuit Over Whether On-Demand Delivery Workers Are Employees

Alibaba says its 'winning in mobile' as sales boosted by smaller screens

Moms migrating more of their purchases to mobile

US M-Payments Market Set To Triple To $27B In 2016

FedEx projects a 12.4% jump in e-commerce holiday shipments to a record 317 million


"Fraud is not a person - it is a dynamic grouping of statistics that deviate from the norm."
Stuart B. Levine, CFI, CFCI
CEO, The Zellman Group & Zelligent


ORC News
Sponsored by NEDAP
ORC's 'PRC' Report

Organized Retail Crime's Publicly Reported Cases Report
Over the last four years we've been reporting ORC cases that appear in the local media across North America and this series of articles will show you the trends and actual numbers that we've been able to document. Starting with the actual number of cases that have been reported and the actual case values.

Of special note is the significant increases between 2012 and 2014. Which we'll detail in tomorrow's Daily.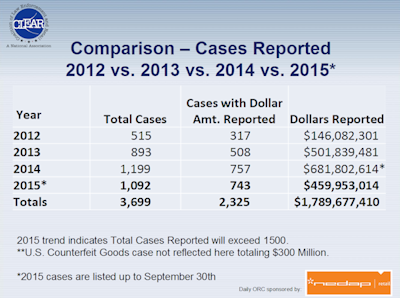 North Canaan, CT: XtraMart store employee accused of stealing $6,700 in goods
Ellen Reilly, 28, was charged by state police from the Troop B barracks on a warrant with third-degree larceny. According to a report from Trooper Michael Tranquillo, a representative from Global Partners, the owner of XtraMart, told him that between June 13 and August, there were "17 significant daily shortages" that totaled nearly $6,700. Tranquillo subsequently reviewed surveillance footage that revealed a pattern of times and days of the week when Reilly would commit the larcenies. rep-am.com

Twin Falls, ID: Man charged with Grand Theft from Wal-Mart - needed to pay his lawyer
Police in Twin Falls have charged a resident with six counts of Burglary and one count of Grand theft. Frank Cantu, 47 is charged with going to Wal-Mart in Twin Falls on six occasions and taking merchandise valued at $1,000.91. Wal-Mart employees notified police that they had caught Cantu on surveillance video stealing items. Cantu told authorities that he had hired an attorney with a retainer of $1200 because of a child custody dispute. kmvt.com

Summit Co, OH: Hi-Way Distributing employee steals merchandise, sells it on Ebay
An investigation was started after Hi-Way Distributing contacted the Summit County Sheriff's Office regarding possible theft by an employee. Hi-Way Distributing told police the employee, identified as Richard Taylor, was suspected of taking items from the company's warehouse and selling the merchandise on Ebay. The Sheriff's Office executed a search warrant at Taylor's home in New Franklin on Monday. Several items were seized including clothing, die-cast cars, electronics, toys, and knives. Taylor, 32, was arrested for theft. He was taken to the Summit County Jail. Additional charges are pending. newsnet5.com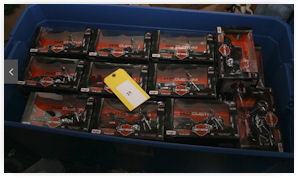 Florence, AL: A Birmingham woman is facing theft charges from a number of Police Departments in the Southeast
Florence police said they've charged Bonita Heath, 55, with second-degree theft. Heath was in jail in Springfield, Tenn., at the time she was charged, according to police records. Florence police said Bonita Heath stole from stores and used the tags to return cheaper items later. Police said Heath stole merchandise from stores, removed the tags and then placed them on clothes she obtained from secondhand stores. They said Heath would then return the items for the higher price. waaytv.com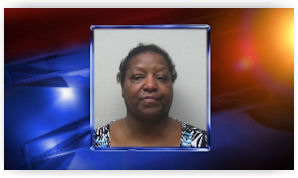 Trumbull, CT: Shoplifters receive lifetime ban from Westfield Trumbull Mall
A pair of shoplifters were arrested for criminal trespassing in the second degree and larceny in the fifth degree at Westfield Trumbull Mall at 8:32 p.m. Tuesday, Oct. 20. Police said Willaneshia Beverly, 25, and Dorothy Smith, 25, each stole more than $500 worth of clothing from Victoria's Secret in the mall and were stopped in the corridor between the lingerie store and JC Penney. According to a report, Beverly was previously banned for life from the mall for shoplifting in 2011 and Smith had received a two-year ban in April for shoplifting. trumbulltimes.com

North Attleboro, MA: RI pair charged with $1,680 shoplifting spree, no show at court
Two shoplifting suspects face charges for allegedly stealing $1,680 worth of clothing and merchandise from stores at the Emerald Square mall. Stephanie Santiago, 25 and Eleanor Wilcox, 21, both of Providence, were arrested by police in woods near the mall. They were scheduled to be arraigned today in Attleboro District Court on charges of larceny and shoplifting but failed to appear in court. A warrant was ordered to issue for their arrests. thesunchronicle.com

Evesham, NJ: Police seek help IDing Burlington Coat Factory shoplifters
Township police have released surveillance images of a man and woman who stole $400 worth of jackets from the Burlington Coat Factory on Route 73 on Thursday. burlingtoncountytimes.com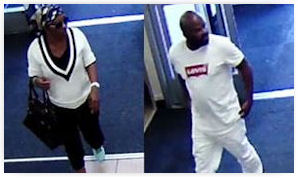 Knoxville, TN: Shoplifters confess after store owner shames them on Facebook
It might not be the most conventional way to deal with shoplifters, but it worked for this boutique owner. After a couple of teenage girls were caught on were caught on security video stealing from Spoiled Rotten last week, owner Rhonda Gordon gave them a second chance before going to the cops. Gordon posted screen grabs from security video on the store's Facebook and Instagram pages, asking the thieves to come forward. The public shaming worked. local8now.com

Hartford, CT: Cargo Theft: Truck driver sentenced to 17 years; stole over 100 weapons from Smith & Wesson Firearms in Springfield

UK: Gibraltar: Three Romanian men shoplift for multiple stores; arrested with Foil booster bags, get 3 weeks in jail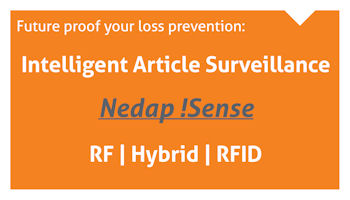 Do you have an ORC case to share?
Share your ORC news and help the industry grow

Retail Crime News

Sponsored by Security Resources
Altamonte Springs, FL: Publix shooting suspect in custody; Lilburtie Willis, 23, charged with attempted murder of Loomis Armored Car Guard
Altamonte Springs Police arrested the man wanted in connection with the shooting of a money carrier at a Publix store last week, police said Tuesday. The shooting happened last week inside the store right across from the Altamonte Mall. The money carrier is still fighting to stay alive. "I have some news we've all been waiting for in the case of the Publix shooting. We have the shooter in custody," said Altamonte Springs police Lt. Rob Pelton in a news conference on Tuesday. wesh.com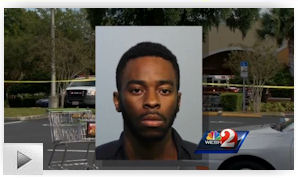 Phoenix, AZ: Police ID suspect shot and killed by Armed Security Guard at the Penny Pincher Auto Parts store
Phoenix police have identified the man who was shot and killed during an armed robbery attempt on Monday. The incident occurred around 2:30 p.m. on Monday at the Penny Pincher Auto Parts store near 24th Avenue and Van Buren Street. 30-year-old Juan Rosas-Morales entered the store with a gun and demanded money. An armed security guard in the store got in a physical fight with the suspect before pursuing him outside. Police say the suspect got in his truck then turned around and pointed his gun at the security guard. Investigators say that's when the guard fired back. The suspect was pronounced dead at the scene. There were about 30 people inside the store at the time of the armed robbery attempt. abc15.com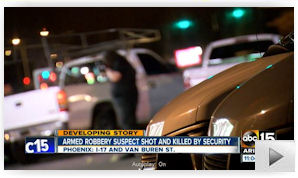 Colma, CA: Target Asset Protection officer pleads no contest to stealing nearly $9,000 of electronics
A security officer at Target pleaded no contest on Monday to grand theft for stealing thousands of dollars worth of electronics from his employer, prosecutors said Tuesday. Alex Nguyen, 26, of Daly City, entered the plea in the courtroom of Judge Leland Davis in exchange for a sentence of no more than 90 days in jail. Nguyen was working as a security officer at the Target store when in February managers noticed numerous thefts of electronics. In March, after a thorough inventory of merchandise in the electronics department, the managers set up a second security camera. That camera captured Nguyen lifting himself to the ceiling and disabling the first camera, prosecutors said. Other Target security officers followed Nguyen to his car, where he took stolen items, including cellphones and battery packs, from a lunch box and put them in his car trunk. In all, they found 11 stolen items worth $8,649.81, prosecutors said. smdailyjournal.com

Chicago, IL: Burglars shoot-out Store windows in Albany Park neighborhood
Police are warning store owners on the Northwest Side of two recent business burglaries in the Albany Park neighborhood. In both incidents, two suspects shattered the front window of a business by firing three or four gunshots, then entered the business and stole jewelry, according to a community alert from Chicago Police. The most recent burglary happened at 2:17 a.m. Oct. 26 and the other burglary occurred at 2:48 a.m. Oct. 25, police said. Both robberies occurred in the 4800 block of North Kedzie. suntimes.com

Greeley, CO: Safeway employee Arson suspect continued to light blazes after firefighters responded to scene
A Safeway employee accused of arson is suspected of lighting several fires inside of the store early Monday morning, even after Greeley firefighters responded to the scene. About 4 a.m., Greeley firefighters responded to Safeway. After extinguishing all three blazes, fire investigators called in Greeley police officers after two charred bottles of lighter fluid were discovered near one of the ignition points, reports stated. Fire investigators estimated the blaze caused about $50,000 in damage. Officers reviewed the store's surveillance system and saw 18-year-old employee Christopher Adame standing near the employee entrance of the pharmacy with two bottles of lighter fluid, shortly before the fire alarm went off, according to reports. greeleytribune.com

Kansas City; MO: Nail Salon owner charged in Arson fire that killed 2 Firefighters
Kansas City police have arrested an alleged pyromaniac whose most recent blaze killed two veteran firefighters. The two fallen firefighters were killed on Oct. 12 after responding to a burning building, where they pulled two people out of the second floor's flames. An investigation revealed the fire was set on purpose, by a nail salon owner who had a history of fanning flames, Jackson County prosecutor Jean Peters Baker said. The alleged arsonist, Thu Hong Nguyen told detectives she's benefited from insurance money with fires in the past. nydailynews.com

Upper Darby, PA: Homeless man sentenced
for setting blaze at Payless ShoeSource
A homeless man who started a blaze inside the 69th Street Payless ShoeSource in July was sentenced Tuesday to 11½ to 23 months at the county prison in Concord. delcotimes.com

Appleton, WI: Detroit Credit Card Fraud Gang Busted in Wisconsin
Four Michigan men are behind bars in Appleton. Police say they used stolen credit card information in several area cities. Appleton Police Sergeant Dave Lund said the four men were arrested thanks to an Appleton store clerk who noticed a transaction was off. "The individual rang several gift cards up separately and put them on separate credit cards," Lund explained, saying that action raised red flags. The clerk then called police. wbay.com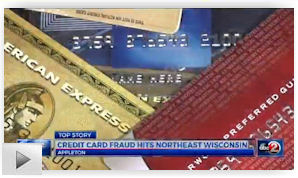 Baltimore, MD: Multiple Cases Of ATM Fraud Reported
Scammers stealing big bucks-and your personal information. Now they're doing it at your local ATM machines. ATM fraud is soaring across the country-with a recent spate here in Baltimore. Scammers attach skimming devices to ATMs to instantly steal all your info. In the first half of the year, cases at bank ATMs soared 174%. At non-bank ATM's, it's up 317%. cbslocal.com

Tampa Bay, FL: 50 pieces of Jewelry missing; customers concerned about shipping out warranty work

Berks Co, PA: New York man found not guilty in robbery of Berkshire Mall Jewelry store

Claremont, NH: Hubert's Family Outfitter employee charged with Felony Theft


Robberies and Burglaries
● Alaska Fur Gallery - Park City, UT - Burglary/ $50,000
● Bracey Pharmacy - Ashland, PA - Robbery
● Cave Co. Beverages - Bowling Green, KY- Armed Robbery
● Colonial Trading - Stoneham, MA - Armed Robbery
● CVS - Deland, FL - Robbery
● CVS - Bakersfield, CA - Armed Robbery
● CVS - Chesterfield Co., VA - Robbery
● Family Dollar - Lexington Park, MD - Theft
● Flat Shoals Grocery - Atlanta, GA - Armed Robbery
● Game Stop - Chicago, IL - Armed Robbery/ suspect charged
● GNC - Thomasville, GA - Armed Robbery
● Kahler Pharmacy - Toledo, OH - Robbery
● Red Apple Kwik Fil - Lyons, NY - Robbery / Assault
● Skymart - Virginia Beach, VA - Armed Robbery
● Time Wise - Houston, TX - Burglary
● Trading Times - Morganton, NC - Burglary
● Verizon - Pewaukee, IL - Armed Robbery
● Walgreens - New Orleans, LA - Burglary
● 7-Eleven - Denver, CO - Armed Robbery / 2 stores in 15 mins


Featured Job Listings
Sponsored by NuTech National
Feature Your Job Here For 30 Days -
70% Aren't On the Boards
VP of Sales/Client Relations
More details coming soon
Confidential - Retained Search
Nationwide
Gus Downing
VP AP & Global Facilities
lululemon athletica
Vancouver, BC, Canada
lululemon athletica
Dir Global Security
VF Corporation
Greensboro, NC
VF Corporation
Dir LP
A'GACI
San Antonio, TX
A'GACI
Dir Safety & LP
Harbor Freight Tools
Calabasas, CA
Harbor Freight Tools
Director, LP
Save Mart Supermarkets
Modesto, CA
Save Mart Supermarkets
Dir AP
99 Cents Only Stores
Commerce, CA
99 Cents Only Stores
Dir LP
Pier 1 Imports
Fort Worth, TX
Pier 1 Imports
LP Dir
BevMo
Concord, CA
BevMo
Dir LP
Lane Bryant
Columbus, OH
Lane Bryant
Dir LP (Western Canada)
Walmart Canada
Calgary, CA
Walmart Canada
Dir LP
Cracker Barrel
Lebanon, TN
Cracker Barrel
Director of LP
Pacific Sunwear
Anaheim, CA
Pacific Sunwear
Market AP Specialist
REI
Seattle, WA
REI
Regional LPM
Signet Jewelers
NJ/Long Island
Mark Neapolitan
Regional LPM
Signet Jewelers
Washington/OR
Mark Neapolitan
Regional LPM
Signet Jewelers
Virginia
Mark Neapolitan
Regional LPM
Signet Jewelers
Eastern PA/Philly
Mark Neapolitan
Regional LPM
Signet Jewelers
AR/LA/AL/MS
Mark Neapolitan
NEW TODAY Zone Mgr, LP & Safety
Lumber Liquidators
Pomona, CA
Lumber Liquidators
NEW TODAY Zone Mgr, LP & Safety
Lumber Liquidators
Sandston, VA
Lumber Liquidators

Daily Job Alerts


Appearing One Day Only
View our Internet Jobs Archives here
Sr Mgr Environment, Health & Safety
Apple
Santa Clara Valley, CA
Apple
AP & Safety Mgr
Cabela's
Greenville, SC
Cabela's
Regional AP Mgr
Dollar Tree
San Francisco, CA
Dollar Tree
Multi Unit LP Mgr
Home Depot
Quincy, MA
Home Depot
LP Supervisor
JC Penney
Eugene, OR
JC Penney
Dept Mgr LP & Safety
Lowe's
Amsterdam, NY
Lowe's
DC LP Mgr
Nordstrom
Gainesville, FL
Nordstrom
LP Specialist
Publix
Columbia/Charleston, SC
Publix
AP Manager
Sam's Club
Cleveland, OH
Wal-Mart
Area Mgr AP
All Facilities
Johnstown, NY
Wal-Mart
AP Manager in Training
Walmart
Elko, NV
Wal-Mart
AP Manager in Training
Walmart
Brownsville, TN
Wal-Mart
AP Manager in Training
Walmart
Heath, OH
Wal-Mart
AP Manager in Training
Walmart
Roseville, CA
Wal-Mart
AP Manager in Training
Walmart
Eastman, GA
Wal-Mart
AP Manager in Training
Walmart
Lewis Center, OH
Wal-Mart
AP Manager in Training
Walmart
Lebanon, IN
Wal-Mart
LP Manager
Sears
Rochester, NY
Sears Holdings Corp
LP Manager
Sears
Lawrenceville, NJ
Sears Holdings Corp
LP Manager Hrly
Kmart
Tifton, GA
Sears Holdings Corp
LP Manager Hrly
Kmart
Bloomington, MN
Sears Holdings Corp
LP Manager Hrly
Sears
Brockton, MA
Sears Holdings Corp
LP Manager Hrly
Kmart
Portland, TX
Sears Holdings Corp
LP Manager Hrly
Sears
Des Moines, IA
Sears Holdings Corp
LP Manager Hrly
Sears
Metairie, LA
Sears Holdings Corp
AP Specialist
Wegmans
Williamsville, NY
Wegmans
Market AP Mgr
Stage Stores
Cincinnati, OH
Stage Stores
Market AP Mgr
Stage Stores
Lafayette, LA
Stage Stores


Home of the Industry's Original
On the Move

None to report.
Post Your New Job or Promotion!
See all the Industry Movement


Your Career
Sponsor this section of the Daily
Listening Is an Art, and Mastering it Will Make You a Great Leader Leaders listen carefully. They listen to their colleagues, friends and staff. To master this art, not only will it help your business skills, but it will help you become a better leader. Follow these steps to be a powerful listener. No distractions

10 Culture-Building Mistakes All Great Leaders Avoid Having a great work culture helps breed great results. Great leaders should focus on implementing and maintaining a great culture just as much as they focus on the business itself. Avoid these mistakes to create a culture that will get you the results you want. Thinking in silos

Coaching Skills Every Leader Needs to Master Leaders are becoming more eager to adopt a coaching style in their work environments. Coaching helps your employees become empowered to make their own decisions and increases team motivation. Use these tips to integrate coaching successfully. Power of the question

A Good Manager has to Be a Good Coach Helping your team evolve their skills and increase their success is one of the most important things you can do as a manager. To do so, you need to know what drives them. This is where good coaching skills come in handy as they allow you to help your team hone their skills. Build bonds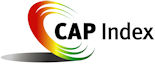 Tip of the Day
Sponsored by Vector Security
The speed of the day and today's economic pressures often tempts even the most defined professional to take shortcuts and risk exposures that ultimately they have to mentally deal with and occasionally have to face the consequences for. There is no better use of the adage, It's the Tortoise vs. the Hare, and the tortoise always wins, that applies here. Staying grounded in your principals, committed to your mission and being a professional is what should drive every executive every day – remembering that long term actions speak louder than words and the tortoise always wins will hopefully rule the day.

Just a Thought,
Gus





Upcoming Events
---

Recruiting?
Get your job e-mailed to everyone... everyday
Post on our Featured Jobs Board!
Reach your target audience in 2015 every day!
Request our 2015 Media Kit
update account / change e-mail
unsubscribe FEEDBACK
www.downing-downing.com

Advertise With The D&D Daily




36615 Vine Street, Suite 103
Willoughby, OH 44094
440.942.0671
copyright 2009-2019
all rights reserved globally