The D&D Daily Mobile Edition
November 2,

2015



The LP Industry's #1 News Source - Informing, Educating and Instilling a sense of community



History of ORC Associations -
Their History and Stories
Sponsored by Nedap

History of Georgia Retail Association Organized Retail Crime Alliance (GRAORCA)
Written by:
Chad McManus, RLPM, T-Mobile and Vice-Chair of Georgia Retail Association Loss Prevention Council (GRALPC); Dave Magersupp, National Manager of LP, Verizon Wireless and GRALPC Council Member; Rory Stallard, ORC Manager, The Home Depot and GRAORCA Chair
The Georgia Retail Association Loss Prevention Council (GRALPC) was formed in 2010 after the successful passage of the Georgia Smash and Grab act. This legislation was developed, lobbied, and enacted into law as a direct result of the GRA formed coalition of Retail Loss Prevention, Corporate and Regional leaders. The GRALPC's mission was to provide guidance to its membership and law enforcement partners in the areas of education, professional networking, legislative initiatives and community outreach. As part of the GRALPC's roadmap for success, establishing and maintaining an Organized Retail Crime Alliance was something the members felt was a necessary and an important step in bringing together law enforcement and retailers to help with the ever increasing challenge of Organized Retail Crime.

In 2012, the Georgia Retail Association Organized Retail Crime Alliance (GRAORCA) became a reality. Since its inception, GRAORCA membership has continued to grow and currently includes over 600 law enforcement and retail loss prevention professionals from major retailers, specialty chains, and law enforcement jurisdictions in the state of Georgia and the surrounding Region. The platform for the alliance is graorca.org, a secure website which allows approved GRAORCA members to share intelligence relating to the businesses and communities we serve. Information includes, but is not limited to, organized theft crimes, robberies, counterfeiting, check and credit fraud, prescription fraud, identify theft and other activities perpetrated by organized crime groups. The GRAORCA website not only enables members to communicate about ORC, but also saves the information in a written and mapped format, searchable by crime and suspect type. This gives all members the ability to search the website, connect cases and establish patterns and trends. In addition members may upload photographs and crime bulletins to share with the GRAORCA community. GRAORCA also holds a monthly forum to network and share intelligence, and provide enhanced training in regards to ORC.

As a result of the intelligence sharing and monthly forums, there have been multiple success stories. The majority of our successes have started with simple information sharing between retailers and resulted in multi- jurisdiction arrests and elimination of ORC groups.

Here are two recent success stories since GRAORCA was formed in 2012:
●

A multi-retailer case was identified and developed with Atlanta PD and the Fulton County DA, which resulted in a local drug dealer arrest who was also acting as a fence buying OTC and laundry detergent from boosters and reselling to local bodegas. Arrests were made, cash drugs and guns seized and the realized retail impact was over $300,000.
● Another multi- retailer case involved a traveling ORC group that affected multiple states. An ORC crew was breaking into locked showcases and taking electronics and designer goods to resell at flea markets across the Southeast and online. Three major ORC players were arrested and charged under the RICO statute in metro Atlanta, the retail impact was over $400,000.
The GRALPC and GRAORCA also look to make additional impacts in the state of Georgia. Recently GRAORCA held its 5th Annual Retail Crime Conference at AmericasMart in downtown Atlanta. The annual conference brings together 400-500 Law Enforcement and Retail Security professionals for a full day of networking and training, in an effort to combat Organized Retail Crime groups that negatively impact the security and safety of the communities that we do business in. As part of the conference and mission statement of the GRALPC and GRAORCA, over $30,000 has been donated to nonprofit organizations such as the Police Athletic League of Atlanta and Care for Cops. The GRALPC and GRAORCA have also recently partnered with the Criminal Justice Department of Kennesaw State University to provide scholarships to students interested in a career in Retail Loss Prevention. GRAORCA also holds various ORC trainings for law enforcement jurisdictions and leads GRAORCA "Road Shows", most recently in Savannah where retailers and law enforcement partners held a meeting to discuss ORC impacts and partnerships outside Metro Atlanta.

As GRAORCA continues to grow, we are focused on continuing to develop partnerships between Law Enforcement and Retailers in fighting ORC in the State of Georgia and beyond. GRAORCA also has plans for additional roadshows in 2016, as well as holding a law enforcement only conference in early 2016. Plans are also being set for the 6th annual Retail Crime Conference to be held in August of 2016.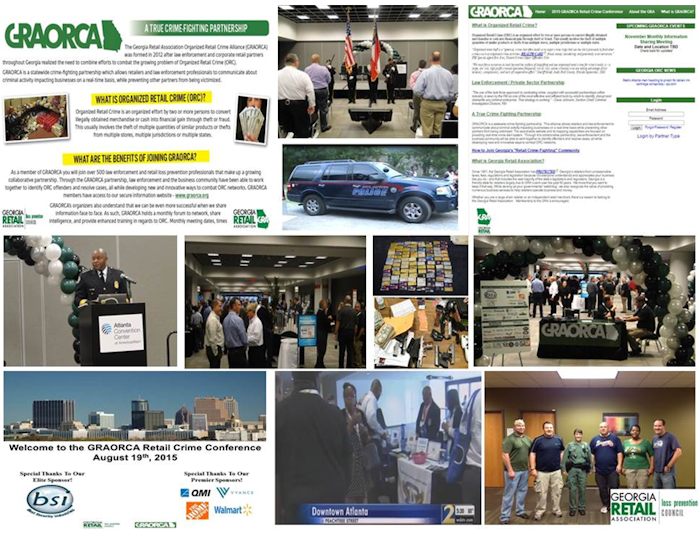 News Brief
Sponsored by WG Security Products, Inc.

ORC's 'PRC' Report

Organized Retail Crime's
Publicly Reported Cases Report
Publicly Reported ORC Cases Expected to Hit All-Time High in 2015
Trends indicate that 2015 will exceed 1,500 ORC Cases Reported. At the close of September, the D&D Daily had already reported on 1,092 cases in 2015. For the past 3 years, trends show an increase in ORC activity leading into the holiday season. We can only guess 2015 will follow suit. In comparison, the D&D Daily had reported on 1,200 cases in 2014; 893 in 2013; and 525 in 2012.

Obviously the two takeaways are that ORC cases have seen a huge increase this year and that cases remain rather flat year-long other than during the summer and in November when we see slight dips. Do summer vacations play a role in case resolution during the summer and is Thanksgiving playing a role with the family impact? Just a thought.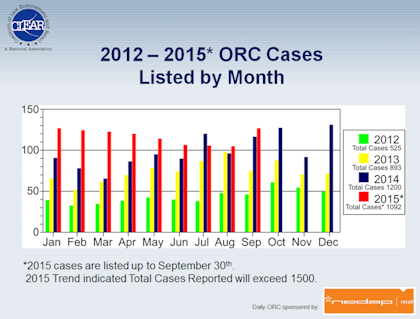 Drug offenders, once considered highly dangerous, to see early releases under new federal sentencing guidelines
Drug criminals once described by prosecutors as unrepentant repeat offenders are among those poised to benefit from new sentencing guidelines that are shrinking punishments for thousands of federal prisoners, according to an Associated Press review of court records. The first wave, some 6,000, is due around Nov. 1, with most released from halfway houses or home confinement. Others will be released to immigration authorities for deportation. Federal officials say roughly 40,000 prisoners will be eligible for reductions in coming years. nydailynews.com

Fed's releasing 6,000 inmates on early release - for drug offenses - 43% will return to prison - Is an Uptick in ORC Coming?
Expecting to release as many as 40,000 over the course of this new early release program from federal prisons. Each inmate's case is reviewed by a judge and approved. The one comment made by the media during the news coverage Friday was that the many of the drug offenders had theft offenses as well.

Additionally they stated that while 47% of those inmates who served their entire sentence did return to prison they pointed out that only 43% of those released earlier returned to prison. A fact they used in support of the program. Which potentially means that 2,580 inmates released in this first wave may in fact commit a crime.

The question is now, how does this impact ORC? And one has to wonder how many were indeed involved in ORC as a means of supporting their habits and do we see an uptick?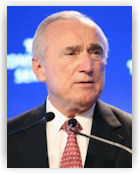 Releasing inmates early from prison could free dangerous criminals, says NYPD Commissioner Bill Bratton - Speaking at the Daily's Live in NYC at the NRF Big Show event on Jan. 18, 2016
Police Commissioner Bill Bratton warned Sunday that efforts to reduce mass incarceration could put dangerous criminals on the street. "We have to be very concerned about who we're letting out," he said on John Catsimatidis' "The Cats Roundtable" on AM970.

There's a major effort underway to let a lot of people out of jail, ostensibly less violent offenders," he said. "But one of the issues of concern is when people go to jail, oftentimes they go to jail with negotiated charges, if you will, so that somebody that is in jail that seems that they're a nonviolent drug offender may in fact have crimes of violence in their record."

Judges need to, and district attorneys, and we the police, the public need to take into account that some people, I'm sorry, they're criminals," he said. "This guy had been given more chances to deal with his drug addiction problem. He failed at every time, consciously failed it. Some people are bad people, and we need to separate the bad people from the good people."

He said there should be changes to the way sealed arrest records are handled, since they may prevent officials from realizing when a suspect has a history of violence.

Bratton has raised concerns about the federal prisoner release before, saying that the rushed effort will leave ex-cons without the services they need to avoid returning to crime, and without adequate supervision. Editor's Note: Let's ask him directly what he feels the impact might be on ORC in retail at the upcoming "Live in NYC at the NRF Big Show" event the Daily has each year, as he's the keynote speaker. nydailynews.com

Profitect CEO to Speak at Retail Industry Leaders Association Conference
Profitect Inc., the leading prescriptive analytics provider for the retail industry, today announced its CEO Guy Yehiav will be speaking to attendees from 15 of the leading retail brands at the upcoming Retail Industry Leaders Association (RILA) Horizons conference. The event, held Nov. 3-4, 2015 at Carnegie Mellon University in Pittsburgh, PA, features executives from retailers across verticals in the U.S., who come together for industry-specific problem solving and the sharing of best practices.

As one of a select few technology vendors speaking at the conference, Yehiav will be presenting on the critical need for retailers to turn big data into action. From loss prevention to sales, retailers can benefit from prescriptive analytics across the organization. pointofsale.com

DSW Worker A 'Whistleblower' For Calling Cops About Shoplifters, She's Protected - Judge Rules
An Illinois federal judge has handed a victory to a former DSW employee who claimed she was wrongly fired after reporting potential shoplifters to police instead of the store's loss-prevention department, saying whistleblower protections extend to workers who report suspected wrongdoing by third parties.

U.S. District Judge Rebecca M. Pallmeyer on Thursday flatly disagreed with DSW Shoe Warehouse Inc.'s main argument that the Illinois Whistleblower Act was only intended to protect employees who report supposedly illegal acts of an employer, not those of a third party, saying there was nothing in the legislative history of the act supporting those limitations.

The judge went on to reject DSW's argument that the worker, Melissa Coffey, was unreasonable to suspect that a group of three or four women were previous shoplifters who may have been planning to steal from the Chicago-area store again, saying nothing in the record showed Coffey was incorrect in her suspicions.

In the suit, Coffey claimed DSW fired her in 2009 in direct retaliation for calling local police to conduct a walk-through when she suspected repeat shoplifters were in the store only days after a theft was committed at the same location. Coffey had been the assistant store manager for several months and claimed she was not familiar with the retailer's "zero-tolerance" policy regarding employees' going outside of DSW loss-prevention to apprehend shoplifters.

Although the retailer had claimed its "no apprehension policy" regarding shoplifting is long-standing, DSW did not include the policy in its employee handbook or in required paperwork given by store managers to new employees to review, which supports Coffey's claim that she was unaware of the rule, according to Thursday's order. law360.com

Chipotle Shuts 43 Restaurants in Northwest After E. Coli Outbreak
Health authorities are investigating 19 cases of illness related to the bacteria in Washington and three cases in Oregon, involving an unknown type of food. Eight people have been admitted to the hospital, officials said. No one has died.

"There have been links made to six restaurants in the Seattle and Portland areas," said Chris Arnold, the communications director for Chipotle, in an emailed statement on Monday. "We have closed 43 restaurants in those markets out of an abundance of caution." nytimes.com

The Wet Seal Estate Wins Ch. 11 Plan Confirmation
- They will continue as a business
Delaware bankruptcy judge agreed Friday to confirm the Chapter 11 plan for clothing retailer The Wet Seal Inc.'s estate, marking the final chapters of one of the few modern retail cases to include a going-concern transaction rather than liquidation in going-out-of-business sales. law360.com

HEB Grocery Chain to Give Stock to 55,000 Employees
The Butt family, which founded the San Antonio-based grocer 110 years ago, is handing an estimated 15 percent of the company's shares to employees over 21 years old who have worked at least a year at the retailer, and clocked at least 1,000 hours in a calendar year. Under the plan, workers are able to cash out when they leave or retire from the company, and will also receive dividends based on the retailer's earnings.

But HEB's outright gifting of shares to a wide swath of employees is unusual. Starting in January 2016, eligible workers - the retailer calls its workers "partners" - are set to receive a grant of nonvoting shares valued at 3 percent of their salary, as well as $100 in stock for each year of continuous service. nytimes.com

American Apparel Asks Bankruptcy Court To OK $2.3M 'Essential' Staff Retention Bonuses for 82 - ranging from 10 to 40% of base salaries

American Apparel Seeks Court Approval to Shutter 13 Stores, Rid Itself of Oak Brand

Macy's will open on Thanksgiving Day

Sprouts Slated To Unveil A Dozen New Stores Early Next Year

Quarterly Same Store Sales Results
Publix Q3 comp's up 4.2% with sales up 6.3%
Canada's The Second Cup Q3 comp's down 2.9%


Last week's most popular news article --

Hy-Vee post Assistant Vice President, Loss Prevention position in West Des Moines, IA
Accountable and Reports to: Senior VP Government Affairs & Business Innovations. Positions that Report to you: Asst. Director Loss Prevention; Loss Prevention Supervisor; Administrative Assistant; EBR Loss Prevention Analyst; Supply Chain Security Manager; Corporate Security Supervisor; Corporate Security Officers; Distribution Center Security.

With sales of $8.7 billion annually, Hy-Vee ranks among the top 25 supermarket chains and the top 50 private companies in the United States, employing 75,000 employees. Its more than 235 stores are located in eight Midwestern states: Iowa, Illinois, Missouri, Kansas, Nebraska, South Dakota, Minnesota and Wisconsin. Distribution centers are in Chariton, Iowa, and Cherokee, Iowa, with a third perishable operation in Ankeny, Iowa. Hy-Vee's corporate office is located in West Des Moines, Iowa. ziprecruiter.com





National Retail Federation 2015 Return Fraud Survey
We invite you to participate in the 2015 NRF Return Fraud Survey. And as a thank you, those who participate by November 10th will be entered into a random drawing to receive one full registration pass to NRF Protect 2016. Your feedback is pertinent in developing best practices in all areas of retail asset protection and helping our leaders in Washington understand the gravity of some of our industry's issues.

So as to not duplicate answers from companies, we ask that only the most senior loss prevention officer or equivalent within your company complete the survey in order to limit responses to one per company. NRF will also make sure to send survey respondents a copy of the full report once it is released in December. Please contact Bob Moraca for a PDF copy of the survey or a direct link moracar@nrf.com

All the News - One Place - One Source - One Time
The D&D Daily respects your time
& doesn't filter retail's reality

Report Your News!
(content subject to approval)




CISA won't do much to turn threat intelligence into action
With the Cybersecurity Information Sharing Act (CISA) the feds are trying to make it more attractive to share threat intelligence, but it won't do much to help businesses deal with the high cost of sorting through what can be an overwhelming flow of possible security incidents and find which ones need to be checked out. And deciding what data to share, what threat intelligence feeds to subscribe to and what tools are needed to turn potentially valuable information into action takes sizeable resources, experts say.

"They really have to put some bodies on it," says Scott Crawford, information security research director for 451 Research, and that can be expensive, putting in-house analysis beyond the reach of many organizations. But some of the sorting and aggregation can be automated with threat intelligence platforms, he says, from vendors such as BrightPoint Security, ThreatConnect and ThreatStream. csoonline.com

NFC: The Next Big Fraud Vector?
Near Field Communications technology basically throws some longstanding security measures out the window. No wonder it's such a juicy target for hackers.

Fraud detection techniques overall differ between "Card Present" and "Card Not Present" scenarios, which hugely simplifies matters when it comes to preventing fraud. But with NFC, this ever important differentiation gets obliterated.

With NFC or digital wallet apps, users use their "Card Not Present" information to register for a service like Google Wallet or Apple Pay in order to make "Card Present" transactions. Essentially, these apps bridge the two scenarios and allow fraudsters to take credentials from "Card Not Present" transactions and use them in the real world, where buying high-value items is much easier. Note that purchasing credentials in the underground economy for making real-world purchases like this gets very pricey, making NFC even more lucrative to hackers. With this, it's no surprise that Apply Pay was exploited by fraudsters shortly after its inception. business2community.com

The Morning Risk Report: One-Size-Fits-All on Cyber Risk
Whether it's teenagers, a disgruntled employee, activists or a country, companies face cyberattacks from many different directions. Companies have to protect themselves from all of them, but their tactics can be "mostly the same" no matter the adversary, one expert says.

Joseph DeMarco, a cybersecurity attorney with the firm DeVore DeMarco LLP, said it all comes down to risk profile. A company can start its protective regimen by identifying the data it collects, and determining whether it's customer or business-facing. "The truth of the matter is, much, though not all, of what you would do to protect against a nation-state, as opposed to kids in a garage, is mostly the same," he said. In addition, companies can use leverage, such as monitoring or the threat of termination, over a disgruntled employee if they suspect the person is the culprit, he said. No matter who intrudes, a company will still have to go through the same process after a cyber incident, said Mr. DeMarco. wsj.com

Expect More Cyber Class-Action Lawsuits
As the U.S. federal courts grapple with whether to limit class-action lawsuits against companies, one area insurance experts don't think will be affected is cybercrime. While the U.S. Supreme Court this summer agreed to hear a case involving Tyson Foods Inc. that could limit class-action lawsuits-and tossed out a gender discrimination lawsuit against Wal-Mart Stores Inc. in 2011, recent cases have shown support for class actions brought by people victimized by cybercrimes. wsj.com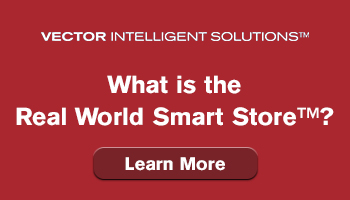 Spotlight on NuTech National

The top Fortune 500 companies use NuTech
We offer a range of security services to fit any large retail operation. Find out why it's worth the switch.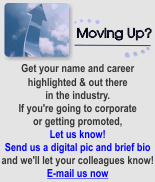 Keith White
SVP of LP, Gap Inc.
Leadership & Development Series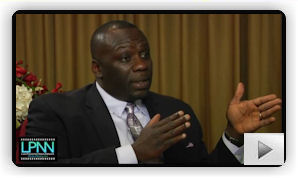 In a ground-breaking interview spanning a multitude of topics, Keith White, Senior Vice President of Loss Prevention for Gap Inc., sits down with LPNN for a one-on-one discussion about his philosophies on leadership, professional development and the state of retail Loss Prevention. Keith recounts his managerial transition from single store – to regional – to corporate – to an eventual directorship. He talks about the critical first six months of a directorship – and his strategy involving team members, policies and procedural changes. As one of the first LP executives to set up an ORC program, Keith tells us what makes a successful one and how to react to the emerging technological trends. This highly informative interview offers a wealth of knowledge for the LP professional at any stage of his or her career.
Solution Providers, have a video or commercial you want to publish? Contact us.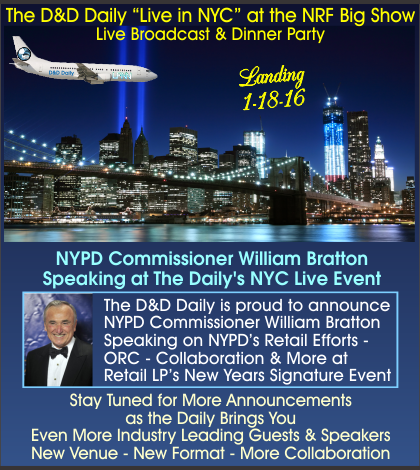 e-commerce

Sponsored by The Zellman Group
Mobile attacks more vicious than ever, report shows - Cyber Blackmail most common type of malware
As mobile devices become more deeply woven into the fabric of our personal and work lives, cyber criminals are taking increasingly vicious and disturbingly personal shots at us, according to the 2015 State of Mobile Malware Report from Blue Coat Systems, Inc., a enterprise security company. Cyber blackmail (mobile ransomware attacks) leads the way as a top malware type in 2015, along with the stealthy insertion of spyware on devices that allows attackers to profile behavior and online habits. The new Blue Coat report describes the latest trends and vulnerabilities in mobile malware, provides advice for strengthening corporate defenses and educating mobile device users, and offers predictions about the future of mobile threats. "The implications of this nefarious activity certainly carry over to corporate IT as organizations rapidly adopt cloud-based, mobile versions of enterprise applications, opening up another avenue for attackers. A holistic and strategic approach to managing risk must extend the perimeter to mobile and cloud environments - based on a realistic, accurate look at the problem - and deploy advanced protections that can prioritize and remediate sophisticated, emerging and unknown threats." retailfraud.com

Survey: The Northeast city with the most online chargebacks is...
Risk management firm Chargebacks 911 has identified the U.S. cities in the Northeast where the highest percentage of e-commerce transactions result in a chargeback. Visa and Mastercard have set 1% as acceptable chargeback threshold, and these ZIP codes far exceed that figure.

● 17% chargeback rate: Port Washington, New York (11050)
● 15% chargeback rate: Astoria, New York (11105)
● 13% chargeback rate: Plainview, New York (11803)
● 12% chargeback rate: Danvers, Massachusetts (01923); Carteret, New Jersey (07008); Point Pleasant Beach, New Jersey (08742); East Elmhurst, New York (11370); Massapequa Park, New York (11762); Albany, New York (12203); and Philadelphia (19115) chainstoreage.com

Lawsuit highlights importance of ADA compliance
Earlier this month, Reebok was hit with a proposed class action alleging that the company's website violates the Americans with Disabilities Act because it is not accessible to the blind. The plaintiffs argue that Reebok.com contains "thousands of access barriers" that make it difficult - if not impossible - for blind customers to use the site.

Because of this, the plaintiff is asking the court to require Reebok to fix its site and pay damages. Although these types of cases have been on the rise in recent years, they still come as a surprise to people who are used to thinking of the ADA only in terms of things like wheel chair ramps and handicapped parking spaces.

The ADA
Title III of the ADA makes it unlawful to discriminate against the disabled "in the full and equal enjoyment of the goods, services, facilities, privileges, advantages, or accommodations of any place of public accommodation." To ensure the disabled have full and equal enjoyment of the goods and services of places of public accommodation, the ADA also requires companies to make certain "reasonable modifications," including providing auxiliary aids, to ensure effective communication. Some states have laws that impose similar requirements.

This language of the statute has posed two broad questions for companies. First, is a website a "place of public accommodation" subject to the requirements of the ADA? And, if so, what reasonable modifications are required to help websites comply with the law? chainstoreage.com

"Fraud is not a person - it is a dynamic grouping of statistics that deviate from the norm."
Stuart B. Levine, CFI, CFCI
CEO, The Zellman Group & Zelligent


ORC News
Sponsored by NEDAP
2nd Suspect in Saks Fifth Ave. Greenwich store $50,000 Fur Heist Is Caught
It was nearly a year ago that a man swiped more than $50,000 in furs from the Saks Fifth Avenue store on Greenwich Avenue. A second suspect wanted for the brazen daytime theft of more than $50,000 worth of furs from the Saks Fifth Avenue store on Greenwich Avenue in November 2014 has been arrested. It was on Thanksgiving Eve, Nov. 26, 2014, when a man grabbed seven fur jackets, a chinchilla vest and at least three rabbit fur vests valued at more than $50,000 and ran from the 205 Greenwich Ave. store and jumped into a waiting black Dodge Charger, police said at the time. patch.com

Wrentham, MA: $31K in goods allegedly shoplifted from Wrentham Village Premium Outlets
The arrest of two women for shoplifting at the Wrentham Village Premium Outlets led to the recovery of over $31,000 in merchandise, money, gift cards, electronic devices used for retail theft, and charges against two other suspects believed to be tied to a major shoplifting ring, police said. Laneisha Munford, 22, and Dejeuner Knight, 28, both from Brooklyn, were arrested after they allegedly used fraudulent payment methods to purchase items at the Burberry store. Police also arrested 2 people in the parking lot and seized the get-a-away car. Both are facing charges of felony credit card fraud and receiving stolen property. Local detectives and a U.S. Secret Service agent executed a search warrant on the vehicle and recovered more than $31,000 worth of merchandise, prepaid money cards and gift cards, police said. Charges have been filed in several other jurisdictions, police said. One bank contacted Wrentham Police indicating 37 accounts were allegedly compromised by the ring, police added. Two weeks ago, local police arrested three shoplifters from Hartford who they said may be linked to an organized crime ring and recovered thousands of dollars in merchandise at the outlet mall. thesunchronicle.com

Lemon Grove, CA: Quick-thinking Home Depot employee was key in Statewide Credit Card Fraud bust
Authorities arrested two people for credit card fraud in Lemon Grove last week. Lasaro Quijano, 30, and Bunthi Im, 29, were arrested after officers found numerous fraudulent credit and ID cards, meth and other drugs and a stolen handgun. A search of the couple's vehicle revealed credit card making materials and items purchased with the fraudulent cards. Lemon Grove Home Depot employees called the Sheriff's Department after one of the suspects made a purchase with a fake card. The employees then saw him enter a hotel room across the street. The couple is suspected of conducting numerous similar credit card frauds at Home Depot stores throughout the state. nbcsandiego.com

Absecon, NJ: 4 Arrested at Home Depot, charged with Theft, Robbery and Assault of Loss Prevention Officer
Absecon Police were notified at 1:20 p.m. Saturday that four people were suspected of shoplifting and that they assaulted employees while escaping the store. The four fled, but drove into instant karma when they got caught by a red light at the Route 30 drawbridge which was about to rise. One rider fled on foot from the stopped Tahoe seconds before the driver drove the SUV around the traffic-control gates. Atlantic City police officers spotted and pulled over the Tahoe a few minutes later. shorenewstoday.com

Peoria, IL: Baby Dropped During Shoplifting Incident at Walmart
Police say a shoplifter dropped a baby as she was walking out of a store on the north side of Peoria. Authorities say the woman was among three suspected shoplifters spotted at the Walmart on Allen Road just after noon on Thursday. "Upon leaving the store with the stolen merchandise, the baby was dropped. The three females continued on, fleeing towards the parking lot," says Peoria Police Public Information Officer Amy Dotson. Officer Dotson says it appears the baby is fine. One woman is in custody, although it's not clear if she's the one who dropped the baby. 1470wmbd.com

Chicopee, MA: Man arrested after he uses cable cutters to steal drill from Home Depot
Police arrested a 57-year-old city man Saturday morning after he allegedly attempted to steal a $300 power drill from a display case at the Home Depot on Memorial Drive. A loss prevention officer spotted the suspect enter the store shortly before 11 a.m. and kept an eye on him because he has been known for prior "issues" there, Michael Wilk, public information officer for the department, said. The suspect approached the display case, took a pair of cable cutters out of his pocket and used them to remove a DeWalt cordless drill, Wilk said. masslive.com

Solon, OH: Solon Police and Giant Eagle Loss Prevention identify Akron-based organized retail crime ring
The Solon Police Department Bureau, in partnership with Giant Eagle Loss Prevention, have identified the following members of an Organized Retail Crime ring, based in the Akron, Ohio area. Arrest warrants for David Shadeck,43, and Jessica Scalera-Pacheco, 30, have been issued. wkyc.com

Leon Co, FL: Leon County Sheriff's Office arrest serial Shoplifter, wanted on 9 thefts over $770 in merchandise
In January, the Leon County Sheriff's Office began investigating a series of retail thefts from local businesses. Detectives were able to link the crimes, due to the suspect description, and the common items stolen which were bottles of high end liquor. This trend continued with one or two incidents per month from different stores throughout the county. While investigating these incidents, detectives obtained surveillance video from numerous stores. The videos show the thefts were being committed by the same suspect. On October 29, 2015, Mr. David Patterson, 41, was taken into custody for multiple counts of retail theft and dealing in stolen property. Over the course of the past ten months, Mr. Patterson stole over $770.00 worth of liquor and cigarettes. leoncountyso.com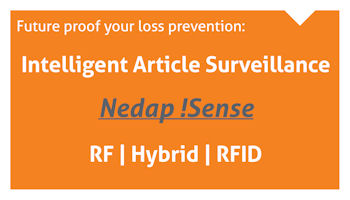 Do you have an ORC case to share?
Share your ORC news and help the industry grow

Retail Crime News

Sponsored by Security Resources
Hoover AL: Home Depot Employee Charged with Killing Co-Worker
A former co-worker is in jail and charged with murder in the ambush killing of a Home Depot employee who was gunned down nearly two months ago outside the U.S. 280 store in Hoover. Kareem Dacar Gaymon, 23, was arrested by Hoover police on Friday, authorities announced today. He is charged in the Sept. 5 shooting death of Xavier Montrez Beasley. Beasley was shot multiple times as he left work early that Saturday morning. Hoover police said today that it appears jealousy led Gaymon, who left work two hours earlier that night, to hide in the parking lot and then open fire on Beasley in what authorities described as a vicious attack. "Throughout the course of this investigation, detectives interviewed more than 50 Home Depot employees. Xavier was such a friendly and likable guy and he got along well with everyone,'' said Hoover police spokesman Capt. Gregg Rector. "There was only one employee, Kareem Gaymon, who ever had anything negative to say about Xavier. We never felt like those comments were legitimate." The shooting happened about 12:31 a.m. Sept. 5. Hoover police received a 911 call reporting shots fired at the Home Depot on U.S. Highway 280. Officers arrived on the scene and found Beasley lying in the parking lot. He had been shot multiple times, Rector said, and was pronounced dead on the scene by Hoover Fire Department paramedics. al.com wsfa.com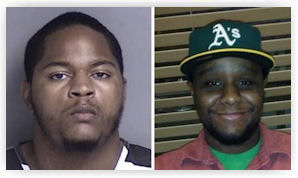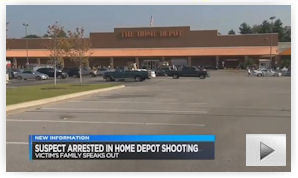 Sanford, FL: Man accidentally shot in leg inside Cracker Barrel
A man was shot during breakfast at a Cracker Barrel in Sandford. The Cracker Barrel off I-4 near State Road 46 was closed down for hours as deputies investigated the cause for the shooting. According to the Seminole County Sheriff's Office, there was no malicious intent behind the shooting; it was completely accidental. A spokesperson with the sheriff's office said a customer was on his way to the register to pay for his meal when his legally carried firearm fell from his holster onto the floor, discharged one round and struck a man in the lower leg. The injury was non-life threatening and the man was transported to a local hospital. The sheriff's office has decided not to press any criminal charges. The Cracker Barrel is now up and running again. mynews13.com

San Diego, CA: Two shot dead, another wounded in the parking lot of World Foods Supermarket
Two men were shot dead, and a woman wounded, in a car at a convenience store parking lot on El Cajon Boulevard in East San Diego Saturday night. Police were called shortly after 12:15 a.m. and found three people shot while sitting in a Nissan sedan near a market at 5229 El Cajon Blvd., in the Talmadge neighborhood. Two men and one woman were found in the car suffering from gunshot wounds to their upper body, according to San Diego Police Department Lt. Paul Rorrison. Officers removed the two men from the vehicle and performed life-saving measure, but they died in the parking lot. sandiego6.com

Orlando, FL: Man injured in shooting in Best Buy parking lot
Authorities said the victim was taken to Orlando Regional Medical Center with multiple gunshot wounds after being shot in the lot across the street from the Florida Mall. His injuries do not appear life-threatening, deputies said. There have not been any reports of arrests, and it is unclear what sparked the shooting. wesh.com

Elmwood Place, OH: Police arrest Store Owner who fired shots in the air, thinking he was going to be robbed by teens
Police arrested a store owner they said fired multiple shots into the air to scare off a group of teens he thought was robbing him Sunday night. The man admitted to taking out a machete and then a gun, and firing between eight and 10 shots. Police Chief William Peskin said they were charging the man with discharging a firearm in city limits. "Bullets do come down," Peskin said. "They don't just go up and stay up. They come down and there's always a potential of hitting somebody." Police were going through surveillance tape to see what the group of juveniles was actually doing, Peskin said. wcpo.com

8 skimming suspects face federal charges
The eight suspects who authorities say are responsible for incidents of "skimming" at West Michigan gas stations this summer are now being charged in federal court. Yunier Cudell-Albelo, Juan Estrada-Galvez, Raul Gonzalez Falcon, Yaimari Gonzalez-Santos, Elisabe Hernandez-Perez, Juan Antonio Ledesma, Manuel Perez-Cabrera and Micheles Velasquez-Gregori face federal charges in connection to skimming incidents at gas stations across the state.

Federal authorities say their cases trace back to a few months ago when skimming devices were found at gas stations in West Michigan. The first set of suspects was arrested at a hotel in Grandville. Later, three more suspects were arrested in Wyoming after they were caught with skimming devices, authorities say. woodtv.com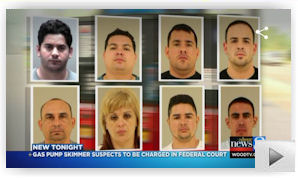 Boynton Beach, FL: Macy's employee busted
for cash/merchandise theft over $10,000
According to a probable-cause affidavit made public Friday, Katiana Suprius would "eat consumable goods, shoplift merchandise for herself and others, remove cash from her till, and would create fraudulent gift cards" at the store, at Congress Avenue and Old Boynton Road. Loss-prevention officers at the store told police they had documented 24 instances of shoplifting worth $3,902.11 and "several occasions" of taking cash worth $7,079.25 from her drawer since Suprius starting work at the store in November 2014. palmbeachpost.com

Natick, MA: National Tire & Battery Associate charged with $2,400 Felony Refund scheme
A now-former National Tire & Battery employee has been charged with three counts of larceny after he reportedly falsified several merchandise returns valued at more than $2,400 from a store in Natick, Mass. The man asked his superiors not to report the theft to police, but was not able to pay back the stolen amount. On two occasions on July 7, and a third on July 12, the 23-year-old, who worked the cash register at the store, falsely entered returns from a customer into the computer, refunding the money directly to his own credit card, according to reports. Two days after the final theft, he quit his job. tirereview.com

Kennewick, WA: Businesses fight theft in the Tri-Cities
Local stores are being targeted by thieves, and one area is being hit especially hard. Clearwater avenue is always bustling with activity, which makes it easier for shoplifters to take advantage of local stores. "When people come in and take stuff and leave it kind of feels like they're disrespecting you in a way," said Brandon Stark, an employee at the 7-Eleven on Clearwater. Brandon Sparks has worked at the 7-Eleven on Clearwater for nine months. During one of his shifts, he noticed unusual activity. "There was a lot of people in the store and basically I just saw the kid going around a bunch of different corners, getting close to his friend and then they would laugh look at me and just shoot around the corner again," said Sparks. Sparks told his manager as soon one of the kids bolted out of the store. He and his manager later saw on camera footage, that the kids stole candy from the store. Now that he has seen theft firsthand, he is being proactive in stopping it. keprtv.com

Chicago, IL: Arson: Three men attempt to rob, set fire to Humboldt Park business
Three men attempted to rob and torched a Humboldt Park business on the West Side Saturday night. The men entered a business at about 8:30 p.m. and demanded money. There was a struggle between the men and the business clerk, police said. The three men ran out of the store without taking anything, but they were seen "throwing an object" that is believed to have caused the fire, police said. suntimes.com

Philadelphia, PA: Attempted C-store Armed Robbery ends with 2 Suspects shot and killed by Owner, no charges

Chicago bodega Customer shoots, kills Armed Robbery suspect; robber's gun was fake

Greenville, OH: Man arrested in connection to Pharmacy robbery and Criminal Trespass

Caldwell, ID: Police say 14-year-old charged with grand theft of Pastry Perfection van

New Cumberland, PA: Man attempted to walk out with $539 worth of merchandise from Walmart

Toronto, CN: Police issue warning after Brampton, Ont. firearms theft

'Shoplifter' sprints for freedom - straight into revolving door

Robberies and Burglaries
● Airport Mobile - Albany, NY – Robbery
● Boost Mobile – New Orleans, LA - Armed Robbery
● Conoco – Welsh, LA – Armed Robbery/Clerk Stabbed
● CVS – Georgetown, SC – Robbery
● CVS – Tulsa, OK – Armed Robbery
● Dollar General – Lubbock, TX - Robbery/2 Employees injured
● Dollar General – Augusta, GA – Robbery
● Dollar General – Dayton, OH – Armed Robbery
● Double Quick – Helena, AR – Armed Robbery
● Fairlawn – Pawtucket, RI – Armed Robbery
● Family Dollar – Lexington Park, MD – Theft
● Fireworks – Las Vegas, NV – Armed Robbery
● Flora Gems – Decatur, IL – Burglary
● Hannaford – Rutland, VT – Theft
● Honey Stop – Orange, TX – Robbery
● Kangaroo – Fayetteville, NC - Armed Robbery
● Latino's - Philadelphia, PA – Armed Robbery/2 suspects killed
● Orchard Supply – Portland, OR – Burglary
● Paramore's Pharmacy, Marianna, FL – Robbery
● Quick Save Mart – Newport News, VA - Armed Robbery
● Speedway – Dayton, OH – Armed Robbery
● Subway – Dayton, OH – Robbery
● U-Stop – Tulsa, OK – Robbery
● Watch Warehouse – Calgary, AB, CN – Burglary


Featured Job Listings
Sponsored by NuTech National
Feature Your Job Here For 30 Days -
70% Aren't On the Boards
VP of Sales/Client Relations
More details coming soon
Confidential - Retained Search
Nationwide
Gus Downing
VP AP & Global Facilities
lululemon athletica
Vancouver, BC, Canada
lululemon athletica
Dir of Security
Sterling Jewelers
Akron, OH
Sterling Jewelers
Dir Global Security
VF Corporation
Greensboro, NC
VF Corporation
Dir LP
A'GACI
San Antonio, TX
A'GACI
Dir Safety & LP
Harbor Freight Tools
Calabasas, CA
Harbor Freight Tools
Director, LP
Save Mart Supermarkets
Modesto, CA
Save Mart Supermarkets
Dir AP
99 Cents Only Stores
Commerce, CA
99 Cents Only Stores
Dir LP
Pier 1 Imports
Fort Worth, TX
Pier 1 Imports
LP Dir
BevMo
Concord, CA
BevMo
Dir LP
Lane Bryant
Columbus, OH
Lane Bryant
Dir LP (Western Canada)
Walmart Canada
Calgary, CA
Walmart Canada
Director of LP
Pacific Sunwear
Anaheim, CA
Pacific Sunwear
Market AP Specialist
REI
Seattle, WA
REI
LP Officer
Bi-Mart Corp.
Yakima, WA
Bi-Mart Corp.
Zone Mgr, LP & Safety
Lumber Liquidators
Pomona, CA
Lumber Liquidators
Zone Mgr, LP & Safety
Lumber Liquidators
Sandston, VA
Lumber Liquidators

Daily Job Alerts


Appearing One Day Only
View our Internet Jobs Archives here
District LP Manager
Kohl's
Columbia, SC
Kohl's
District LP Manager
Kohl's
Antelope, CA
Kohl's
LP District Investigator
Victoria's Secret
West Palm Beach, FL
L Brands
AP Manager
Walgreens
Sacramento, CA
Walgreens
Field Investigator, ORC
Walgreens
San Diego, CA
Walgreens
Sr Spec, Cyber Investigations
Best Buy
Richfield, MN
Best Buy
Dept Mgr LP & Safety
Lowe's
Saint Clairsville, OH
Lowe's
Dept Mgr LP & Safety
Lowe's
Birmingham, AL
Lowe's
Dept Mgr LP & Safety
Lowe's
Batesville, MS
Lowe's
Dept Mgr LP & Safety
Lowe's
Cincinnati, OH
Lowe's
Dept Mgr LP & Safety
Lowe's
Sylva, NC
Lowe's
LP & Safety Specialist
Lowe's
Hialeah, FL
Lowe's
LP & Safety Specialist
Lowe's
Flanders, NJ
Lowe's
LP & Safety Specialist
Lowe's
Staten Island, NY
Lowe's
LP & Safety Specialist
Lowe's
Syracuse, NY
Lowe's
LP Manager
Kmart
Clifton Heights, PA
Sears Holdings Corp
LP Manager (Hrly)
Kmart
Louisville, KY
Sears Holdings Corp
LP Manager (Hrly)
Sears
Las Vegas, NV
Sears Holdings Corp
LP Manager (Hrly)
Sears
Wayne, NJ
Sears Holdings Corp
AP Team Leader
Target
Kingsport, TN
Target


Home of the Industry's Original
On the Move
Sponsored by Civil Demand Associates
| | |
| --- | --- |
| | Jake Welch, CFI was promoted to Regional Loss Prevention Manager - South Central Region for ULTA Beauty. |
| | Ryan Roby, CFI was named District Manager - EHS, Loss Prevention, Risk Management for Vail Resorts. |
| | Jason Patrick Hamilton was named Loss Prevention Manager for Bloomingdale's. |
Post Your New Job or Promotion!
See all the Industry Movement


Your Career
Sponsor this section of the Daily
Rules for Designing an Engaging Workplace
It's true that good design has a powerful influence on how we think and behave. Your workplace is the same way: if your environment is designed in such a way as to increase performance and will help you focus on your daily tasks, then success will follow. Here are some ideas for designing such a workspace. Add some color

3 Principles Leaders Must Follow to Build Employee Engagement Employee engagement is the one competitive advantage that turns good organizations into great ones. If your employees go that extra mile and are willing to change with the environment, success will be yours. Keep them engaged with this advice. The Three C's
Last week's most popular articles --
How to Avoid Burnout at Work in 5 Steps It's easy to become vulnerable to stress: workloads pile up and yet time seems to get shorter, pressures increase and sometimes it seems that you will just need a miracle to get it all done. Here are some tips on how to keep going when you're at wits' end. "Can do" attitude
7 Speaking Hacks to Make You a Better Leader If you want to be respected and appreciated as a leader, you'll need to have clear communication skills to make sure your team is on the same page. Use these seven hacks to make sure your communication is clear and engaging. Slow it down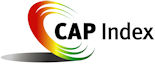 Tip of the Day
Sponsored by Vector Security
Getting involved in a process is an obligation and taking it seriously is absolutely critical to your success regardless of what the process involves. Whether it's looking at a job or sitting on a company committee. Once you've committed, your reputation, your image, your future is at stake. Minimizing it won't decrease the impact nor will it reduce the expectations of others. Because when you become part of a process, other people are either looking at you or they're counting on you to be your best or give your best. So once you've committed, follow through and deliver your best.

Just a Thought,
Gus





Upcoming Events
---

Recruiting?
Get your job e-mailed to everyone... everyday
Post on our Featured Jobs Board!
Reach your target audience in 2015 every day!
Request our 2015 Media Kit
update account / change e-mail
unsubscribe FEEDBACK
www.downing-downing.com

Advertise With The D&D Daily




36615 Vine Street, Suite 103
Willoughby, OH 44094
440.942.0671
copyright 2009-2019
all rights reserved globally