The D&D Daily Mobile Edition
LP, AP & IT Security's #1 News Source


---
Group LP Selfies
S
ee all the selfies here
2018 GLPS - Group LP Selfies
Your Team - Your Pride - Our Industry
Building Industry Pride - One Team Selfie at a Time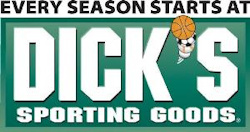 Dick's Sporting Goods VP
and Director Team

During Annual Q4 Offsite Meeting
"Every Season Starts at
Dick's Sporting Goods"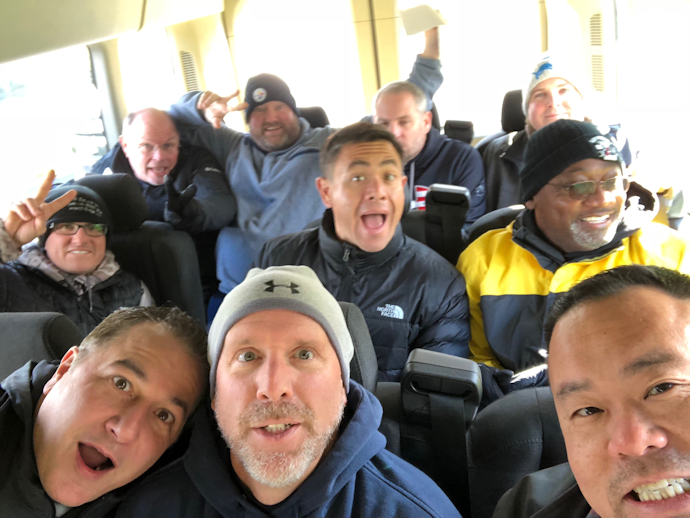 First row: Denny DeMarcy, Ken Parsons, Jih-Hao Cheng

Second row: David Lund, Tommy Conaway, Keith Hunter

Third Row: Michael Jackson, Kevin Dodson, Brian Brunker, Jake Gillette
---
Got a picture of your team
on your cell phone?

Send it to us!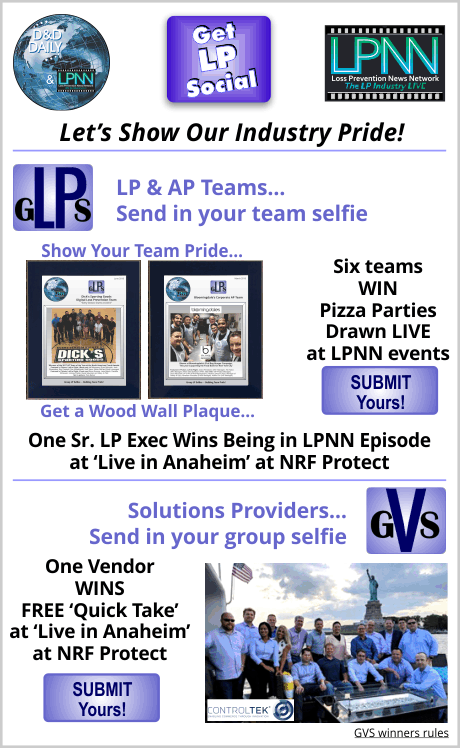 ---
Top Industry News

Gateway Crime's Poster Child
Credit Card Fraud Helped Finance 9/11 Attacks
Ringleader Tied to 9-11 Attacks
Madrid: Spanish Police Bust 19 Member Fraud Ring
Led by Algerian Who Helped Finance 9/11 Attacks
Spanish police say they have busted a crime ring that cloned credit cards and was headed by a man who had previously been found guilty of helping finance the September 11th attacks in 2001.

Police said Saturday they have arrested 19 people, including a 49-year-old Algerian man who had served a prison sentence in Spain for using cloned credit cards to help fund the 2001 attacks in the U.S. Police would not reveal the name of the individual.

All 19 suspected members of the ring were arrested in Madrid.

Spain's National Police said the group created fake credit cards by skimming and cloning them, and were responsible for up to 5 million euros ($5.68M U.S.) in fraudulent use of the cards at commercial establishments and ATMs.

A dramatic video shows police entering a building and breaking down the door in a raid on the Madrid operation. The video protects the identity of a man handcuffed and taken into custody during the raid, while showing boxes of credit cards, passports and other equipment on display.

The Algerian ring leader was convicted of helping to finance the 2001 attacks.

At least 18 people were found guilty in 2005 during trials in Spain, where they were accused of meeting with Egyptian Mohamed Atta – the lead hijacker in the airplane attacks on the U.S. – and Ramzi bin al-Shibh of Yemen, along with other suspected members of the Al Qaeda terrorist organization. breitbart.com
africantimes.com

2 dead after Amazon warehouse wall collapse, fire chief says
Two people are dead after a wall collapsed late Friday at an Amazon warehouse in Baltimore, the city's fire chief said. Earlier, one person was reported dead and one was missing. The missing person was found under heavy debris by the Baltimore City Fire Department early Saturday morning, Fire Chief Roman Clark said.

It is unclear if the incident is related to the severe weather that hit the city, but Clark said the area was getting strong winds and rain at the time. cbsnews.com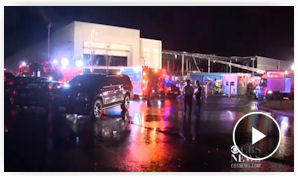 Deterring Copycats
Controlling Public Information after Mass Shootings
Americans want to know everything about such a horrific incident – why it happened and exactly how police responded. However, the public's thirst for knowledge may have a detrimental effect on public safety going forward. While the media certainly has an obligation to report news to the public, certain facts should not be released to media sources, including the tactics and weapons used in a mass assault.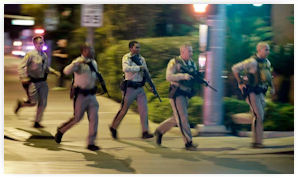 When it comes to trying to stop these horrendous acts of violence, it is in the best interests of the general public and public safety agencies to not publish such information to deter potential copycats. It doesn't take rocket science to realize that anyone intent on committing a serious act of violence will research how previous attacks were carried out. Knowing the specific types of weapons used gives insight to those who may be contemplating carrying out a similar incident about what worked well for the last active shooter.

Most law enforcement agencies will explain that they do not release pertinent information about a crime while their investigation is ongoing. However, certain aspects about how an active shooter incident unfolded should not even be remotely discussed with the general public. It is information that the public does not need to know.

With the growing number of active shooter incidents, it is in the public's best interest for law enforcement and, indeed, the media to withhold such information. Instead, the news media should focus on the lives that were lost.

When individuals contemplating committing such crimes have no knowledge of a shooter's arsenal or police tactics, law enforcement has the upper hand in managing these situations and the general public will remain safer. edmdigest.com

Google Walkout Protesters Numbered 20,000 Workers in 50 Offices Worldwide
CEO Sundar Pichai meeting with his team Monday about addressing their demands
According to its organizers, a protest put together over the last week pulled together 20,000 workers in 50 Google offices around the world. engadget.com

They Have Prison Sing-A-Longs
Biggest 5 Year Internal Fraud Case in History of Retail
Pilot Flying J Entire Sales Team Ripping Off Truckers $50M in Rebates
Update: No Christmas break from prison for Ring Leader Hazelwood, ex-Pilot Flying J president
Former Pilot Flying J president and ring leader Mark Hazelwood was sentenced to more than 12 years in prison and fined $750,000.

Open your presents, sing "Silent Night" — but do it from behind bars.

That's the message a federal judge laid down last week when he denied former Pilot Flying J president Mark Hazelwood's plea to skip reporting to federal prison for a fraud sentence until after Christmas — and New Year's, too.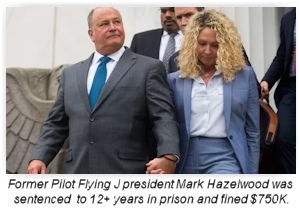 What's next? U.S. District Judge Curtis Collier asked. Valentine's Day? Easter?

The ruling means Hazelwood, 59, will report Nov. 26 to begin serving a 12-and-a-half year sentence for cheating trucking customers out of millions of dollars at the diesel pump. A federal jury convicted him in February of wire fraud, witness tampering and conspiracy to commit wire fraud.

Pilot staffers kept two sets of books, bragged about the fraud in emails and talked openly about the scheme at sales meetings — in front of an undercover informant wearing a wire for the FBI.

Seventeen former Pilot Flying J staffers pleaded guilty in the case and await sentencing. Two others received immunity.

Pilot Flying J's board paid a $92 million criminal penalty, along with an additional $85 million to resolve trucking customers' claims. knoxnews.com

Editor's Note: Hazelwood tried everything in the book to get out of this or keep delaying his jail time. From hiring a very popular local attorney to defend him to once convicted firing him for 'cause' which wasn't accepted by the courts. Then hiring a big NYC law firm to reduce his jail time even after the federal judge an African American heard Hazelwood's racist taped tirade on tape during a sales team meeting making fun of Haslam's Cleveland Browns. The bottom line here is that this is the biggest coordinated entire sales team internal fraud committed against customers we've ever heard of or reported on and Haslam walks away scot free even though Pilot paid $93M in fines and admitted criminal wrongdoing.

---

Facial recognition to grow by more than 26% through 2025
Technological advancements in facial recognition biometrics, more mobile devices equipped with cameras and the rising popularity of media cloud services are among the drivers that will push the image recognition market to $86 billion in annual revenue by 2025, according to a new report from Allied Market Research
The report, which focuses on various aspects of the Image Recognition Market from 2018 to 2025, says the market generated $17.91 billion in 2017, and will grow at a 21.8 percent CAGR.

While object detection is the largest technology segment, with 33 percent in 2017, facial recognition is forecasted to have the highest growth rate, with a 26.1 percent CAGR, with both law-enforcement and non-law enforcement applications increasing. The non-contact process and easy deployment of facial recognition makes it widely preferred over other biometric modalities, Allied says.

A 2017 report from Technavio suggested the global facial recognition market will grow by 23 percent from 2017 to 2021

North America contributed nearly half of the global market's revenue in 2017, but the Asia-Pacific region will have the highest growth, at a CAGR of 25.4 percent, due to anti-terrorism and e-governance projects. biometricupdate.com

NRF's President & CEO Matt Shay
These Three Factors Will Shape Retail's Future
"If you can't measure it, you can't improve it"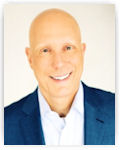 As this evolution continues, many experts are now questioning the value of long-standing metrics like same-store sales and wondering how the new retail industry can be measured more accurately.

What data and metrics can retailers provide to give analysts a better picture of what they're investing in, what the returns could be and what the overall landscape looks like? Where will retail penetration and online/in-store parity settle, and how should retailers be investing as a result?

Measuring a reimagined retail: Companies are turning to new metrics for the new retail environment. These next-gen metrics recognize that the holistic shopping experience – whether online, in-store or both – is more important than any one channel. Comp sales that include digital, market share and net promoter scores are increasingly seen as painting a more complete picture than traditional metrics, particularly because they capture the "halo" effect of in-store and online and reflect an increasingly channel-agnostic consumer.



Understanding new entrants: What does the growing number of new entrants and business models mean for today's retail climate? Their diverse paths spoke to the vibrancy and overall health of today's retail industry, which features an unprecedented variety of business models and approaches.

Evaluating effective investments: Retailers are seeing investments made five and even 10 years ago begin to pay off, particularly those in technology, omnichannel capabilities and digital. Now, companies are turning to the next wave of investments, including those in advanced data and analytics, artificial intelligence and product curation. The goal is to better understand the customer and deliver the products and experiences they want, laying the foundation for success over the next 10 years. linkedin.com

"People are scared right now,"
Mail Bombs & Other Threats Have Wealthy Cranking Up Security
Specific threats and a general sense of anxiety, security experts say, are causing more people to seek the services of private security firms; some are hiring bodyguards and drivers trained to protect them in case of peril.
At Pinkerton, a private security and detective agency founded in 1850, requests for executive security have increased 20 to 30 percent annually over the last five years, said its vice chairman, Tim Williams. And people are looking for safeguards in all areas of their lives that pose risks, experts say, including information technology and social media.

According to Mr. Williams, a trained driver can cost from $2,000 to $10,000 a day, which may include an armored car, countersurveillance and armed guards. A full-time bodyguard from a well-established firm costs between $150,000 and $300,000 per year, said other industry executives.

Corporations, too, are more willing to foot the bill for prominent figures, especially those considered to be potential targets in today's hyperpartisan political environment. In 2017, Facebook spent $7.3 million to protect its chief executive, Mark Zuckerberg, which included security at his homes, access to private airplanes and protection while traveling, according to news reports. And this year, the company reported it would pay him an additional $10 million for security.

"As world events get more traumatic," he said, "reality is going to meet perception, and you are going to see even more people hiring security." nytimes.com

Law enforcement faces dilemma in assessing online threats
Among more than 550 police departments across the country surveyed several years ago by the International Association of Chiefs of Police, about three-quarters said they regularly searched social media for potential threats.

It's very time consuming, it's very staff and resource intensive and you have humans involved in the process so there is the potential that law enforcement can miss something," Cook said, adding that departments can't rely on social media alone. The community needs to be involved to report any suspicious behavior.

"Everyone has to be our extra eyes and ears out there," he said.

Social media rants did not affect their ability to buy guns. When purchasing a firearm, criminal background checks only look for any records showing a criminal past or mental health problems that led to an involuntary commitment.

There have been some changes, however, to make it easier to alert authorities to warning signs. "Red flag" laws have been enacted in 13 states in the past couple of years, allowing relatives or law enforcement with concerns about a person's mental health to go to court and seek to have firearms removed at least temporarily. apnews.com

AmazonGo's retail productivity:
Sales at $2700/sq ft & 50 inventory turns/year
Behind Only #1 Apple Stores
Amazon has designed a store that maximizes customer throughput and sales to produce exceptional results. In fact, AmazonGo stores produce more sales per square foot than virtually any other retailer except Apple and a few other specialty stores.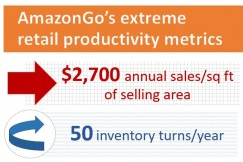 Based on our colleague's observations of the Seattle store, we estimate the annual sales per square foot of the selling area was $2,700, even in the early days of operation. As impressive as this number is, it's likely to go higher as:

● More customers become aware of the convenience of shopping these stores
● Amazon finds ways to drive even more sales from the modest footprint

Inventory turns

AmazonGo also outperforms on inventory turns. Based on the same observations mentioned above, we estimate that the Seatle AmazonGo store is generating about 50 inventory turns per year – 4 to 5 times what's typical in other retail operations. Expect inventory turns to increase also as more customers shop the store.

Since there's nothing similar operating at the same level in the US, Amazon is now free to roll these stores out with no direct competition – and that's exactly what Amazon looks for and needs to continue to drive the very rapid growth of their enterprise. brickmeetsclick.com

3 cities in 'late-stage' talks to win Amazon HQ2:
NYC - Dallas - Crystal City, Va.
Amazon has reportedly advanced to "late-stage talks" with three finalist cities - New York, Dallas and Crystal City in Arlington County, VA - for its planned second headquarters (HQ2), according to The Wall Street Journal, The Washington Post and others. smartcitiesdive.com

Transgender Applebee's Employee Gets $100k From Franchisee - Sex Discrimination & Retaliation

Update: It Wasn't JCP VP Job Posted Last Week - They're Rumored to be Paying $250k to $300K BTW

Dollar General Looking For Urban Stores - Wow - New Look - New Approach

New Toys R Us Owners to Open 600 Holiday Pop Ups in Kroger Stores

Destination Maternity closing up to 67 stores while boosting online sales

Lowe's to shut 51 underperforming stores in the US and Canada

Amazon opens another 4-star store in Berkeley, California


Quarterly Results

Alibaba September Quarter revenue up 54%, hits $12,398 million
● core commerce increased 56% year-over-year to US $10,553 million.
● cloud computing increased 90% year-over-year to US $825 million.
● digital media and entertainment increased 24% year-over-year to US $865 million.
● innovation initiatives and others increased 20% year-over-year to US $155 million.

Shake Shack Q3 comp's down 0.7%, total sales up 26.5%

Last week's #1 article --

72 Retailers Closed for Thanksgiving - Here's the Official List


VOTE RETAIL on Election Day
Midterm elections matter a great deal – especially to retail. When you vote on Election Day, remember to think retail when choosing your elected representatives.

Know the Candidates. See which candidates are on the ballot in your area and learn which incumbents have been recognized by NRF for their support of the retail industry.

Know the Issues. Learn more about retail's key issues and educate yourself on which candidates most closely align with NRF's policy agenda focused on jobs, innovation and consumer value.

Your voice matters. VOTE RETAIL on Tuesday, November 6.
---

---

---
---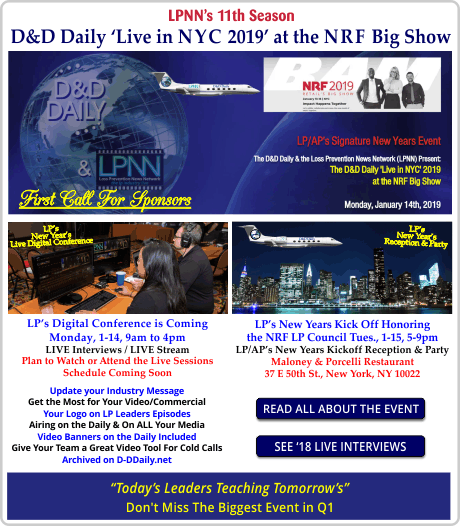 ---
Spotlight on Stanley Security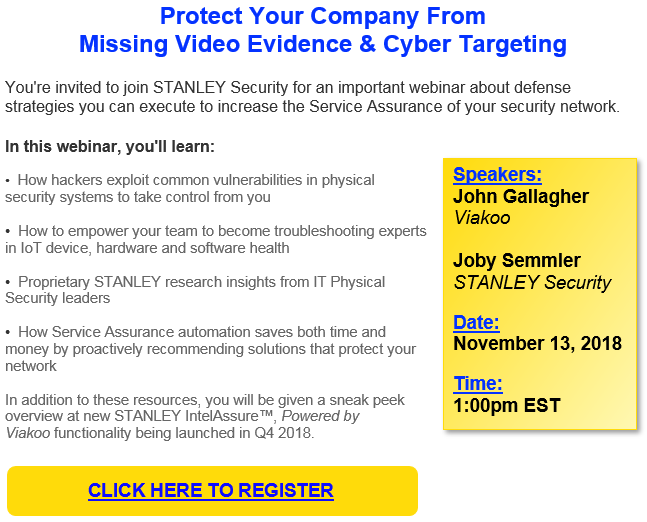 ---

---

Here's a Wake-Up Call For Boards - Sr. Retail Executives - CSOs
U.S. Senator Introduces Bill With Hefty Fines & 20-Yr Prison Terms
For Executives Who Violate Privacy & Cybersecurity Standards
A senior Democratic U.S. senator on Thursday unveiled draft legislation that would allow hefty fines and as much as 20-year prison terms for executives who violate privacy and cybersecurity standards.

Senator Ron Wyden released a draft of legislation that would grant the Federal Trade Commission authority to write privacy regulations. The measure would also allow maximum fines of 4 percent of revenue - matching European rules adopted earlier this year.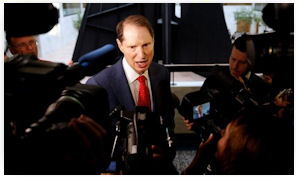 "It's time for some sunshine on this shadowy network of information sharing," Wyden said in a statement. "My bill creates radical transparency for consumers, gives them new tools to control their information and backs it up with tough rules."

Data privacy has become an increasingly important issue since massive breaches compromised the personal information of millions of U.S. internet and social media users, as well as breaches involving large retailers and credit reporting agency Equifax Inc.

Wyden would also create a national "Do Not Track" system to stop companies from tracking internet users by sharing or selling data and targeting advertisements based on their personal information. The bill would also subject senior executives at companies with privacy violations to fines of $5 million or more.

Facebook Inc., the world's largest social media network, said earlier this year that the personal information of about 70 million U.S. users was improperly shared with political consultancy Cambridge Analytica. It said last month that cyber attackers stole data from 29 million Facebook accounts using an automated program that moved from one friend to the next.

In September, Amazon, Alphabet (Google), Apple, AT&T, Charter Communications and Twitter Inc all told senators they would back new federal privacy regulations.

The Trump administration is also seeking comments on how to set nationwide data privacy rules.

Breaking EU privacy laws can result in fines of up to 4 percent of global revenue or 20 million euros ($22.8 million), whichever is higher, as opposed to a few hundred thousand euros. reuters.com

In Case You Missed It Friday
Have Canadian Stores?
Canada's Mandatory Breach Notification Rules Now in Effect
Since 2001, Canada's PIPEDA privacy law has applied to private sector organizations. "The act ... sets out rules that organizations must follow when collecting, using or disclosing personal information in the course of their commercial activities," according to a Canadian government overview. "The Office of the Privacy Commissioner (OPC) enforces PIPEDA by overseeing whether organizations are complying with the act's obligations."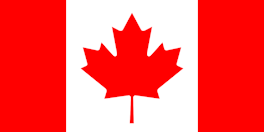 Over the last three years, however, Parliament has been tweaking PIPEDA to add mandatory breach notification (see: Preparing for PIPEDA).

Ahead of the new PIPEDA rules going into effect, the OPC on Monday released its final guidance on the new PIPEDA rules as well as a new form for reporting breaches.

Organizations must keep a report of all breaches, but only need to report breaches "that pose a real risk of significant harm (legal definition below), and to keep records of all breaches of security safeguards," the OPC says. But the privacy commissioner can request these reports at businesses at any time.
What is real risk of significant harm (RROSH)?
Significant harm includes bodily harm, humiliation, damage to reputation or relationships, loss of employment, business or professional opportunities, financial loss, identity theft, negative effects on the credit record and damage to or loss of property.

Factors that are relevant to determining whether a breach of security safeguards creates a real risk of significant harm include the sensitivity of the personal information involved in the breach of security safeguards and the probability the personal information has been/is/will be misused.
The privacy commissioner would be given the power to fine rule breakers up to $30 million under a private member's bill sponsored by Liberal MP Nathaniel Erskine-Smith, who is a vice chair of the Commons privacy committee, CTV News reports. govinfosecurity.com

Editor's Note: Canada takes their privacy laws much more seriously than the states and almost to an extreme from a U.S. prospective. So much so that it rippled down into the investigative processes at store level and significantly impacted all of their Organized Retail Crime efforts and is why you don't see the ORC Association groups we have here in the States.

In Canada, the protection of Personal Information Privacy had long been a restriction on Retailers until June of 2015 when Bill S-4 was passed. Without getting into the pages of information on Bill S-4 and PIPEDA (Personal Information Protection and Electronic Documents Act) the restriction pertaining to Retail Loss Prevention prevented the sharing of any information on a suspect without Law Enforcement being directly involved in an investigation.

So with this new Breach Notification rule you can expect it to be enforced. The issue there is that they haven't really funded the program. Just a thought - Gus Downing

Apple's little iOS is rapidly changing the retail industry
'We are seeing industry-wide adoption of iOS at thousands of retailers, from neighborhood boutiques to many of the best-known retailers in the world,' says Apple CFO Luca Maestri.

With nine of the top 10 global retailers using iOS devices in their business, it's clear Apple's mobile devices are what we expect to find when we go shopping.

"Deployment of iOS devices is growing steadily as retailers replace their traditional point-of-sale systems and use custom iOS apps on iPhones and iPads to provide highly personalized shopping experiences."

Retail is no different than any other sector when it comes to the adoption of new technologies. Enterprise choice schemes are quite naturally prompting enterprises from SMB's to corporations to invest in iOS.

Even giant U.S. retailer Walmart is giving augmented reality a try – just this week it introduced a new AR scanning tool to its iPhone app. computerworld.com

Targeted Cyberattacks Doubling+ over 2017
Security Team's Fighting 30 Successful Security Breaches A Year
Tackling Cybersecurity from the Inside Out
The good news, according to Accenture's 2018 State of Cyber Resilience report, is that organizations are experiencing far more success in detecting and blocking them.

The study found that organizations that take cyber threats seriously are managing to prevent 87% of all focused attacks, compared with 70% in Accenture's 2017 report. However, 13% of such attacks are making their way through the corporate defenses: organizations deal with an average of 30 successful security breaches per year that result in damage or the loss of high-value assets.

"Only one in eight focused cyberattacks are getting through versus one in three [the previous year], indicating that organizations are doing a better job of preventing data from being hacked, stolen, or leaked."

Organizations are performing better at mitigating the impact of cyberattacks, they still have more work to do. Building investment capacity for wise security investments must be a priority for those organizations who want to close the gap on successful attacks even further. For business leaders who continue to invest in and embrace new technologies, reaching a sustainable level of cyber resilience could become a reality for many organizations in the next two to three years. That's an encouraging projection."

There's another bright spot: Security breaches are taking less time to detect, from months and years to now days and weeks. In the study, an average of 89% of respondents reported that their internal security spotted attacks within one month, as opposed to only 32% of IT teams the previous year. According to this year's survey, just over half (55%) of organizations detected breaches in a week or less, compared with 10% in last year's report.

Although today's companies are quicker to detect breaches, security teams are still finding only 64% of them — a number similar to last year's — and using external help to find the remaining ones. This underscores the importance of collaborative private/public sector cooperation to stop cyberattacks. When asked how they unearthed attacks that their security team failed to find, respondents indicated that more than one-third (38%) were found by white-hat hackers or a peer or competitor (up from 15% in 2017's report). Interestingly, law enforcement uncovered a mere 15% of breaches, down from 32% the previous year.

On average, respondents said their cybersecurity program safeguards only two-thirds (67%) of their organization. With internal attacks and accidentally published information are among the top three cyberattacks with the highest frequency and impact.

Respondents said that cyber-threat analytics and security monitoring (46% each) are the two capabilities they need the most to plug the holes in their cybersecurity solutions, but most (83%) acknowledge that other technologies — such as AI, machine or deep learning, user behavior analytics, and blockchain — are key to optimally securing the organization.

For companies, fighting back with a data-centric approach based on AI and machine learning is essential. It's no longer enough to pit your smartest people against the equally brainy bad guys. In the digital era, cybercriminals are leveraging the same tools as their targets, so cyber defense needs to catch up.

Instead of treating security as a bothersome cost, the smartest enterprises will make online security a regular part of doing business and use it to differentiate themselves from their competitors who are still behind the curve. darkreading.com
---

---

---

---

---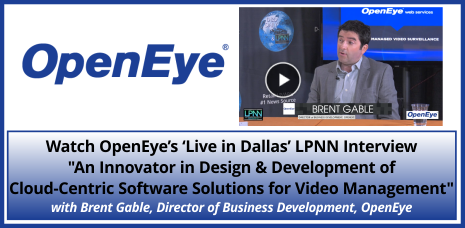 ---
e-commerce
Sponsored by The Zellman Group

ECOMMERCE SITES EXPERIENCE INCREASE IN FORMJACKING
Formjacking is the use of malicious JavaScript code to steal credit card information as well as other data entered in the payment form of e-commerce and other service-oriented websites. This technique has been done in the past, and perhaps being used in small-scale operations, but Symantec said it saw an "uptick" of attacks since the data breach of high-profile companies such as the British Airways, Feedify, Newegg, and Ticketmaster.

As soon as customers click "submit" after providing necessary information, the malicious JavaScript code injected on the site does it work and harvest that information redirecting it to the attackers' server.

From the research Symantec did to gain insights of what businesses were potential targets, it examined "1,000 instances blocked by Symantec over a three-day period from Sept. 18 to 20, where it found out that 57 individual websites were affected.

The sites are online retail sites that range from small niche sites to larger retail operations. backendnews.net

Increased CNP transactions still provide fraudulent opportunities, report says
A joint report of MAG, CMSPI and Fiserv has found that growth in the card payments market and increased CNP transactions continue to provide fraudsters with opportunities.

The 2018 Global Fraud Trend Analysis and Review report examines global payment and fraud trends across the world, analyzes contributing factors behind shifting card fraud patterns, and identifies various fraud management solutions available to merchants.

CMSPI and MAG conducted a survey of US and Europe-based retail merchants with questions regarding CNP fraud mitigation measures and card-present (CP) fraud. Of merchants who were exposed to CNP fraud, 81% stated they used in-house risk-based anti-fraud measures, and 76% said they used external measures to protect against CNP fraud, often as supplementary measures. Merchants exposed to CP fraud were asked what was their most important consideration when choosing an EMV authentication method, and five recurring responses were identified: cost, risk, customer experience, speed, and complexity. thepaypers.com

Cyber Monday on pace for big sales jump
Cyber Monday is on pace to set a new record as the largest and fastest-growing online shopping day of the year with $7.7 billion in sales, a 17.6% increase year-over-year. Online sales between 7 p.m. and 10 p.m. PST on Cyber Monday are expected to drive more revenue than an average full day in 2018. Conversions will hit the highest rate of the year (7.3%) during these hours. chainstoreage.com

65% of shoppers say retailers should respond to customers' online reviews

Amazon drops free shipping minimum, heating up fierce holiday competition
"Fraud is not a person - it is a dynamic grouping of statistics that deviate from the norm."
Stuart B. Levine, CFI, CFCI
CEO, The Zellman Group & Zelligent
---

---
ORC News
Sponsored by Auror


Submit your ORC Association News

Visit the ORC Resource Center

---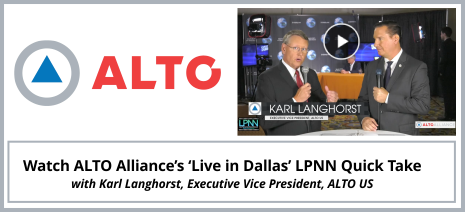 ---
Retail Crime News

Shootings, Stabbings & Deaths
Albuquerque, NM: Deputies say Walmart receipt an store video led them to murder suspects
A Walmart receipt led investigators to a couple accused of murder. Deputies found Mark Pena's body in a ditch in the South Valley last week. They say his car had been abandoned in the southeast. Deputies found the receipt while searching the car and watched the store's surveillance video. On it, they saw Rose Montano driving Pena's car. Investigators say she and her boyfriend, Tommy Rodriguez, shot and stabbed Pena over drugs, dumped his body, and planned to take off to Mexico. krge.com

Houston, TX: C-Store clerk shot and killed
Police say the shooting happened around 8 p.m. at Sunny's Food Store on South Dairy Ashford. Witnesses told police three men entered the store and demanded money from the clerk. The men then shot the clerk multiple times. The suspects were then seen running from the store. Authorities currently have no descriptions of the suspects. abc13.com

Stamford, CT: Women charged after Store Clerk stabbed over Refund
Police said the fight occurred when the clerk refused to give a refund to Davette Wash for an item she had recently purchased at AA Grocery on Greenwich Avenue. Wash became violent and knocked items around the store, forcing the 62-year-old clerk to try to defend himself with a bat. Another woman, Yeverette Dixon, 28, then came into the store to try to separate the two and take the baseball bat from the clerk. Wash grabbed cash and two credit card's from the clerk's pocket and slashed his right palm with her knife before fleeing the store with Dixon, police said. newcanaannewsonline.com

Pittsburgh, PA: 23-year-old victim identified after late-night shooting in Pittsburgh's Knoxville neighborhood at Uni-Mart
The victim was reportedly shot in the chest around 10:30 p.m. Friday on Brownsville Road near McKinley Street. Police said they found Loughlin lying on the pavement of the Uni-Mart parking lot. They believe he was standing outside a vehicle when someone came out of the store and shot him. wtae.com

San Jacinto County, TX: Man shot by police after failed Dollar General robbery
Just before closing time, three men walked in and held up the chain store's Cleveland-area location, according to the San Jacinto County Sheriff's Office. But law enforcement had been tipped off in advance about the possibility of a robbery and were already in the area around 8:45 p.m. when the call went out, according to authorities. Multiple sheriff's deputies and a state trooper rushed to the dollar store's location. "They intercepted these robbers as they came out," sheriff's office Capt. Joe Schultea told reporters at the scene. All three suspects were armed, and at least one allegedly pointed a gun at police. chron.com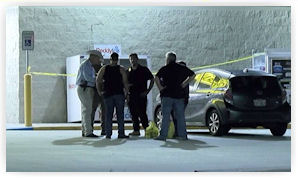 Bibb County, GA: McDonald's Armed Robber accidentally shot himself
Saturday night at about 11 p.m. a man wearing a wig entered the restaurant on Gray Highway and asked for the manager. He brandished a handgun and told the manager to take him to the back office and open the safe. The manager complied, but while in the office the manager and another employee ran to the front of the store. They heard a gunshot, then saw the robber flee out of the restaurant.

A short time later, witnesses reported hearing a man screaming for help, and the man was found wearing only his boxers. He was lying near a wig, several articles of clothing and money, all connected to the robbery. The suspect, Donte Sherrod Grayer, 26, of Macon, was shot in the left thigh and evidence showed he accidentally shot himself during the robbery. macon.com

Brooklyn, NY: Dad, 27, shot outside club after defending waitress from harassment "always gave a helping hand," family says

Waco, TX: 2 injured in C-Store shooting, gunman at large

Colorado Springs, CO: Shooting under investigation at a store in southeast Colorado Springs
---



Robberies, Incidents & ID Thefts

Mount Pleasant, SC: Armed Robbery at a Harris Teeter pharmacy


Mount Pleasant Police are responded to reports of a armed robbery at a grocery store Sunday afternoon. The incident occurred at the Harris Teeter grocery store, located at 1981 Riviera Dr in the Seaside Farms shopping center, according to Charleston County Consolidated Dispatch. The incident took place in the pharmacy of the store, according to a spokesperson for Harris Teeter. live5news.com

Major Identity Theft Ring Busted in Nashville, TN
Two Georgia men busted stealing mail making fake ID's and obtaining multiple credit cards in the name of unsuspecting victims. When police searched Wright, he had 17 credit cards in his pocket. He admitted to police that he didn't know any of the people whose names were on the credit cards. Investigators said when they searched Wilder and Wright's room, they found a bag with shredded fake licenses. Police say the IDs have many names but all of them had Stephen Wilder's photo. Detectives told News 2 they are currently contacting victims; their banks and this case could go federal. wkrn.com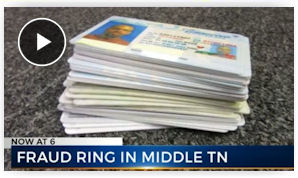 New Lenox, IL: New Lenox Police and Walmart build case again ID Thief
Police have apprehended a 28-year-old New Lenox man suspected of using a stolen credit card to do some illegal shopping at the Walmart store in New Lenox. Raymond Arnold was captured late last week by Will County Sheriff's deputies on an outstanding bench warrant seeking his felony arrest. patch.com

Westport, CT: Cleaning Crew caught stealing $8900 of merchandise from AT&T store
---
Sentencings & Charges

Iowa Park, TX: Lowe's Armed Robber sentenced to 25 years for December 2017 incident


An Iowa Park man who police said pulled a large hunting knife on a store employee and customers trying to stop him after a robbery has been sentenced to prison. Andrew Raymond Lunsford, 33, was sentenced to 25 years in prison and also two years in state jail for a drug charge. In December 2017, police were called to Lowe's on Kell Boulevard about a theft in progress where an employee and some customers had chased a man stealing power tools. When officers arrived, they found the suspect surrounded by several people in the parking lot of Aldi's grocery next door. The witnesses told police when they found him he had a large knife out, trying to cut off the audible anti-theft devices which were going off. The witnesses then tackled Lunsford and took his knife. texomashomepage.com

Broken Arrow, OK: Sherwin- Williams Arson Suspect sentenced to 5 years
An inventory of the contents revealed that several items, including ladders and paint sprayers, had been stolen from the store sometime before the fire was started. It was later discovered that several items were pawned by Matthew Evan Smith within days of the blaze. tahlequahdailypress.com

Florence, AL: Man denied parole in 2011 C-Store Armed Robbery case
Lauderdale County District Attorney Chris Connolly said Shawn Lee Russum, 28, 209 Ironside St., Florence, will not be eligible to apply for early release until 2021. In a letter opposing the early release, Connolly pointed out that Russum had several disciplinarians against him since he has been in jail. timesdaily.com

Abilene, TX: 2nd suspect arrested in string of 7 convenience store robberies

Queens, NY: Man Sentenced to 30 Months for Smuggling Counterfeit Apparel into the US from China

Robberies and Burglaries
Sponsored by Scarsdale Security Systems
• AT&T Saint Joseph, MI – Burglary
• Boost Mobile – Montgomery County, TX – Burglary
• C-Store – Harlingen, TX – Robbery
• C-Store – Waco, TX – Armed Robbery
• C-Store – Council Bluffs, IA – Robbery
• C-Store – Porterville, CA – Armed Robbery
• C-Store – Columbus, GA – Armed Robbery
• Cellphone – Bronx, NY – Armed Robbery
• Cellphone – Lakeview, IL – Burglary
• CVS – Lincoln, NE – Robbery
• Dollar General – Cincinnati, OH – Armed Robbery
• Dollar General – San Jacinto County, TX – Armed Robbery
• Family Dollar – Erie, PA – Armed Robbery
• Gas Station – Nile, IL – Armed Robbery
• Grocery – Mount Pleasant, SC – Armed Robbery
• Grocery – West Chester, PA – Armed Robbery
• Grocery – Holbrook, NY – Robbery
• Jewelry – Chico, CA - Armed Robbery
• Jewelry – Washington, IA – Robbery
• Liquor Store – Shawnee County, KS – Armed Robbery
• McDonalds – Bibb County, GA – Armed Robbery
• McDonald's – Blackfoot, ID – Robbery
• McDonald's – Bexar County, TX – Armed Robbery
• 7-Eleven – Vancouver, WA – Armed Robbery
• 7-Eleven – Manteca, CA – Armed Robbery
Daily Totals:
• 22 robberies
• 3 burglaries
• 0 shootings
• 0 killings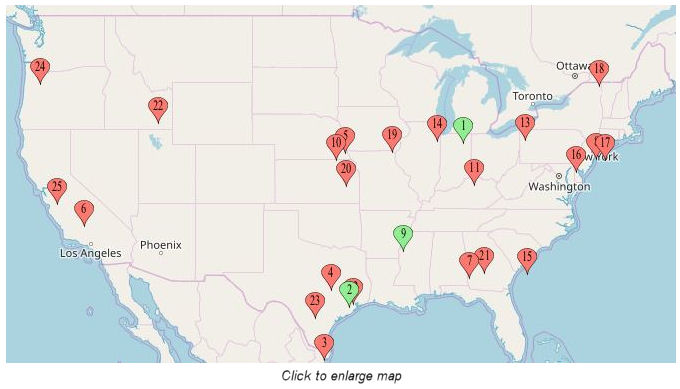 ---

---

---
Home of the Industry's Original
On the Move




Rene Gonzalez named Area Loss Prevention Manager for Ross Stores



Michelle Ramirez named Regional Asset Protection Manager for BJ's Wholesale Club



Michael Fotrune, CFI named Asset Protection Manager for JC Penney


Ralph Johnson named Loss Prevention Associate for Burlington Stores

Scott Bohm named Business Development Manager for ZKTeco USA
Scott will be focusing on the development & promotion of ZKTeco entrance control products which currently is comprised of walkthrough metal detectors, turnstiles, and x-ray baggage scanners. Scott comes to ZKTeco USA with over 25 years of Loss Prevention managerial experience while employed with some of the largest nation-wide retailers in the USA. Congratulations, Scott!


Neal Katz named Central Regional Sales Manager for ZKTeco USA
Neal has over 25 years' experience in biometric technology and a proven track record in business development & entrepreneurship. He'll be supported by a team of 10+ ZKTeco manufacturers reps in his region. Congratulations, Neal!
Submit Your New Hires/Promotions
or New Position
See all the Industry Movement
---

---

---

---
Featured Job Listings
Sponsored by Delta Lock
Feature Your Job Here For 30 Days -
70% Aren't On the Boards
Post your job listing

Featured Job Spotlights
---

SOC Director
Scottsdale, AZ
ADT Cyber Security is searching for a Senior level security practioner/manager with extensive experience in providing a multi-tenant or Enterprise equivalent customer focused 24x7x365 Managed Security Service. This opportunity encompasses the day-to-day operation of the Security Operation Center and will have primary responsibility for customer satisfaction driven by the service provided through the SOC...

Divisional Loss Prevention Director
Florida
Provides strategic loss prevention management for a division of 2,000+ stores with sales volumes totaling +/- $4B. Maximizes profits by developing and executing programs to reduce and prevent the loss of company inventory/assets and managing Regional Loss Prevention Managers within an assigned geographical area...

Regional Asset Protection & Safety Manager
Bellevue, WA
The Regional Asset Protection and Safety Manager will lead the Region in shrink reduction and profit maximization efforts. The position will proactively seek to bring economic value to the company, promoting profitable sales and world class customer service while ensuring a safe place to work and shop...

Regional Loss Prevention Manager
Baltimore MD
This position is responsible for managing all aspects of loss prevention for a geographic area to reduce and control shortage and other financial losses in 120 to 140 company stores. The coverage areas average $550 million in sales revenue and $3.5 million in shrink losses annually...

Auditor, Profit Protection Analyst
Philadelphia, PA
This position will conduct a range of field audits within a base of 60 retail stores to ensure compliance to operational standards to drive Operational Excellence and preserve profitability...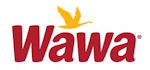 Loss Prevention Investigator
Wawa, PA
The Loss Prevention Investigator is responsible for utilizing proper investigative techniques and act as the primary liaison with field operations management. Conducts investigations into cash losses, deposit shortages, associate theft, overall shrinkage, and other matters...

Featured Jobs
---
• Goodwill Southeast Georgia - Director Asset Protection, Savannah, GA
• iHerb - Director, Safety and Security, Perris, CA
• iHerb - Director, Safety and Security, Irvine, CA
• Novia Scotia Liquor Corporation - Director, Loss Prevention, Halifax, NS, Canada
• Amazon Corporate Security - Senior Manager, Global Programs and Governance, Seattle, WA
• TBC Corporation - Sr Director of Enterprise Security, Palm Beach County, FL
• Fred's Pharmacy - VP Loss Prevention, Memphis, TN
• Pay-O-Matic - Director of Security, Springfield Gardens, NY
• BJ's Wholesale Club - Vice President Asset Protection, Westborough, MA
• Hyatt - Director, Loss Prevention and Claims, Chicago, IL
• Associated Grocers - Director of Risk Management, Baton Rouge, LA
• MedMen - Director of Safety, Culver City, CA
• Domino's - Director, Safety Supply Chain Services, Ann Arbor, MI
• Conn's Home Plus - Director of LP, Inventory Control & Fraud, Spring, TX
• Netflix - Director of Data Privacy and Security, Legal - Los Angeles, CA
• Food Lion - Director of Asset Protection, Salisbury, NC
• Ahold Delhaize USA - Manager | Corporate Investigations - Retail Business Service, Salisbury, NC
• T-Mobile Express Stores - LP Operations Manager, East Brunswick, NJ
• Living Spaces - Director of Safety, California
• Kings - LP Investigator - Northern New Jersey
---

---

---

---
Daily Jobs
Appearing One Day Only
View our Internet Jobs Archives here


Sponsor this section of the Daily
---

---

---
Your Career

Avoid These Common Traps When Giving and Receiving Feedback
One of the more difficult aspects of leading your team, giving and getting feedback is also one of the best ways to form better relationships with your team and helps develop their performance and skills. There are good and bad ways to give and receive feedback, so avoid these pitfalls. Constructive approach

A Better Way to Give Feedback
Whether you're giving feedback to your team, or just telling yourself what you could do better, remembering that the most effective feedback involves two-way communication helps make sure you keep your conversation focused and impactful. Here's what you can do. Open floor discussion

Last week's #1 articles --

How to Write a Cover Letter that Stands Out from 500 Applicants
The average number of applicants to a job is about 59, which means your cover letter needs to stand out. One that hooks the reader immediately, telling your story and focusing only on three of your attributes can help push you to the top of the stack! Make it personal

6 Signs That Clearly Prove You Are Meant to Lead People
According to new research from a survey done by Randstad US, great leadership makes all the difference. 58% of workers said they'd stay at jobs with lower salaries if that meant working for a great boss. Here's how to know if you're truly meant to be a great leader! Drive a culture of learning
---

---

---
Tip of the Day
Sponsored by Vector Security Networks

A lot of articles talk about "How to impress your boss" and give you tips on how to accomplish this. But at the end of the day, it's all about supporting them, helping them reach their objectives, and not trying to merely impress them. Impressing a person is great, but usually short lived. Supporting and helping them reach their goals requires a long-term effort that, at times can truly test your resolve and stamina.

The thought has always been that if your boss gets promoted, then you might as well -- as long as you are the one helping them get ahead.

Just a Thought,
Gus



(content subject to approval)
---
---
Upcoming Events
---
Recruiting?
Get your job e-mailed to everyone... everyday
Post on our Featured Jobs Board!
---
Reach your target audience in 2018 every day!
Request our 2018 Media Kit
---
Not getting the Daily?
Is it ending up in your spam folder?
Please make sure to add d-ddaily@downing-downing.com to your contact list, address book, trusted sender list, and/or company whitelist to ensure you receive our newsletter.
Want to know how? Read Here


36615 Vine Street, Suite 103
Willoughby, OH 44094
440.942.0671
copyright 2009-2019
all rights reserved globally