The D&D Daily Mobile Edition
November 10,

2015



The LP Industry's #1 News Source - Informing, Educating and Instilling a sense of community



Moving Up
Sponsored by Stanley Security
See all "Moving Ups" Here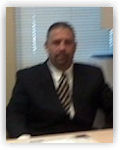 Tony Alongi was recently promoted to Director of LP/Safety for Petsmart Inc. Tony started with Petsmart in 2007 supporting LP/safety efforts in their distribution center in Atlanta GA, earning a promotion in 2012 to Sr. LP/Safety Manager for the distribution network and most recently earning the promotion to Director of Petsmart's LP/Safety department supporting their supply chain. Tony graduated with his bachelor's degree in Occupational Safety and Health with a minor in Criminology from Columbia Southern University. Congratulations Tony!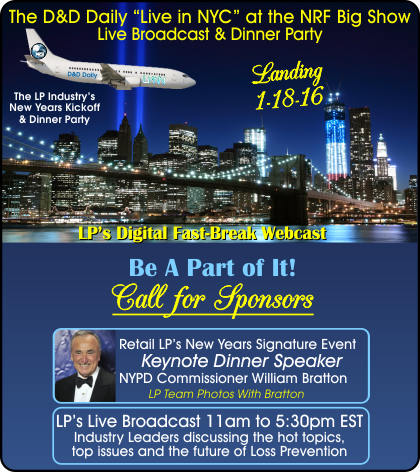 News Brief
Sponsored by WG Security Products, Inc.
A CALL TO ACTION - Retailers Association of Massachusetts Responds to Shoplifting Sentencing Reform
In October, the Massachusetts Legislature's Judiciary Committee held a public hearing on two identical pieces of legislation which seek to reform sentencing guidelines for some drug offenses and certain non-violent property crimes. The Justice Reinvestment Act (S.64/H.1429), is particularly concerning for retailers as it would increase the merchandise value thresholds found in certain property crimes. For example, the threshold for misdemeanor shoplifting which currently stands at $250 would be increased to $1,300 with no corresponding increase to the punishment or fines. Similar increases would occur in the state's larceny, stolen credit card, receipt of stolen property and damage to personal property laws.

The Retailers Association of Massachusetts (RAM) will be submitting testimony in opposition to the proposals, however it is expected that the Judiciary Committee will refrain from taking action on the bills until a recently announced, 25-member, bipartisan working group completes its analysis of the state's criminal justice system. The group's recommendations are not scheduled to be submitted until January of 2017. The task force will be led by governor's chief legal counsel Lon Povich, a former RAM board member, as well as Sen. William Brownsberger and Rep. John Fernandes, chairs of the Judiciary Committee.

RAM staff will continue to monitor the situation and will keep LP committee members apprised of any new developments. For your convenience, here are links to a copy of the legislation, an editorial by the Boston Globe on the issue, and a piece by State House News regarding the Task Force Announcement. As always please feel free to contact RAM with any questions or concerns you may have. - Ryan Kearney, General Counsel, RAM. Thank you to Jeff Fulmer, VP of LP for Barnes & Noble and Chair of the NRF's Legislative Committee for this submission.

Fast-Food Strikes, Protests Hit 270 Cities - Largest 'Fight for $15' demonstration yet
U.S. fast-food workers kicked off a nationwide protest in New York on Tuesday backing higher wages and union rights in a campaign they hope will catch the attention of candidates in the 2016 elections. A couple hundred protesters marched in downtown Brooklyn, blocking traffic and carrying banners reading "A living wage = quality care" and "On strike for work that sustains families." The protesters stopped to rally outside a McDonald's restaurant. Spokespeople for the campaign say it plans to launch one-day worker strikes in 270 cities on Tuesday, its largest demonstration yet. In the past, many of these worker walkouts have been negligible -- single digits in small towns, made visible only with the help of community activists. But others, in cities such as New York and Chicago, have been significant enough to disrupt service or even temporarily shut down restaurants, forcing major chains to publicly address the issue of poverty wages. Organizers of the Fight for $15 campaign say the protests will be followed by rallies in 500 cities by low-wage workers in such sectors as fast food and home and child care. huffingtonpost.com reuters.com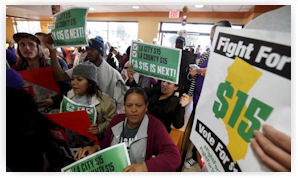 Bath & Body Works Strikes $2M Deal To End Calif. OT Class Action - Pays for off-the-clock security inspections
Bath & Body Works Inc. has agreed to pay $2.25 million to some 29,000 workers to end a putative class action in California federal court over unpaid overtime and off-the-clock security inspections, according to a motion filed Friday.

The proposed deal includes $675,000 in attorneys' fees and $20,000 in expenses, settlement administration costs of $125,000 and $13,000 in incentive awards to class representatives Adam Jones and Brooke Johnson. The company will also pay $7,500 from the settlement funds to the California Labor and Workforce Development Agency under the state's Private Attorney General Act.

Jones filed suit in Los Angeles Superior Court in June 2013, alleging the retailer underpaid him and other California sales associates for overtime worked, and required them to submit to off-the-clock security inspections, among other violations. law360.com

What the future of product safety looks like - Wal-Mart Product Safety - "Leveraging technology to keep customers safe"
Shoppers will take for granted that the products they buy are safe this holiday season, but behind scenes it requires a tremendous amount of effort to deliver on that expectation. Join Walmart, the Consumer Products Safety Commission and ICIX for a look at what's next in the world of product safety during an upcoming webinar on Nov. 13 at 1 p.m., EST.

Product safety is one area where consumers' expectations have always been high and there is no room for compromise. When a customer puts an item in their physical or digital cart they do so with a belief that usage of the product will not cause harm.

Delivering on that expectation is a complex challenge. It requires clear standards, effective communication, a culture of compliance and tight coordination and innovation among the ecosystem suppliers, retailers, government agencies, product testing labs and third party solutions providers. To learn what market leaders are doing now and how the world of product safety is evolving, be part of a webinar on Nov. 13 at 1 p.m., EST, to hear from:

Robert J. Howell, Jr., deputy executive director, safety operations, U.S. Consumer Products Safety Commission on the topic of, "An update on existing product safety efforts and new initiatives at the CPSC."

Ken Hinson, senior director, U.S Product Safety and Compliance, Wal-Mart Stores, Inc., on the topic of, "Product safety at Walmart: leveraging technology to keep customers safe."

Matt Smith, founder and chief strategy officer, ICIX, on the topic of, "A best practice approach to establishing a product safety program." To register for this event, click here.

"Shoppers fighting back against 'shopping while black' profiling with social media, lawsuits" - Bad press, allegations continue for retailers
If you don't know what shopping while black means, here's what it looked like last month when it happened to Milwaukee Bucks player John Henson. He wrote about it on Instagram. On Oct. 19, Henson, who is black, went to buy a Rolex at a high-end jewelry store in the mostly all-white community of Whitefish Bay, Wisconsin. He said that as he walked up to the store, employees locked the door even though it was regular business hours. He rang the doorbell twice and no one answered, he said. What he didn't know: An employee inside was calling 911 to report that Henson and three of his friends were outside the store and could be the suspicious people spotted in front of the store the week before. Henson said that when the police arrived they too watched him, then questioned him about the car he was driving, thinking it might be stolen. "This was one of the most degrading and racially prejudice(d) things I've ever experienced in life and wouldn't wish this on anyone," the NBA player wrote on Instagram.

In a 2007 Gallup survey, 47 percent of black people surveyed said they don't think they are not treated equally by retailers. More than one-quarter of those surveyed felt they were targeted because of their race while shopping in the last month.

The issue of shopping while black has gathered widespread attention in recent years as victims speak out - blogging about it, sharing experiences on social media - and, in a growing number of cases, filing lawsuits against retailers. The list of companies sued for racially profiling customers is long and growing, including Macy's, Barney's, Ross Dress for Less, Dillard, Walmart, Best Buy, Walgreens, Eddie Bauer and, most recently, CVS.

In early June, four former security guards at CVS stores in New York filed a federal lawsuit alleging that their supervisors regularly told them to tail black and Hispanic shoppers. According to the National Association for Shoplifting Prevention, there is no profile for a typical shoplifter. David Gottlieb, an attorney for the plaintiffs, told The New York Times that "this is the first time a group of employees has banded together to provide an inside account and expose the blatant racial profiling policy at one of the largest retailers in the world." CVS issued a statement saying that it was shocked by the allegations and would "defend against them vigorously." The company said it rigorously enforces its nondiscrimination policies. kansascity.com

U.S. Security Associates LP Experts Attend Goodwill Industries Loss Prevention & Safety Conference
Professionals in the fields of loss prevention, safety, retail and IT are converging on Indianapolis this week for the 2015 Goodwill Industries Loss Prevention and Safety (GILPS) Conference. The event takes place from November 8 to 10 at the Indianapolis Hyatt Regency Hotel. Representatives from the Retail Loss Prevention division of U.S. Security Associates, an Atlanta-based national security company, are traveling to Indianapolis for the event. The GILPS Conference is the one time each year that U.S. Security Associates and other loss prevention vendors have the opportunity to showcase their products and services to Goodwill staff from different locations. Likewise, for Goodwill professionals, it's the one time set aside annually to learn from industry leaders exhibiting at the event and to explore newly available business tools and practices. The GILPS Conference is attended by Goodwill staff members at every level, from the organization's executive leaders to its retail store managers. prweb.com

Jamison RFID and CYBRA Announce CYBRA-Hawk LP Solution for Retail Supply Chain
Jamison RFID (a division of Jamison Door Company) the leading manufacturer and integrator of rugged, purpose-built RFID portals and communications enclosures, and CYBRA Corporation, the developer of award- winning MarkMagic Bar Code Labels, RFID Tags, Electronic Forms, and Report Writing Software and EdgeMagic Integrated RFID Control Software, announced today the introduction of their new CYBRA-Hawk RFID-based EAS (Electronic Article Surveillance) loss prevention and inventory management solution custom designed for the special requirements of retailers. businesswire.com

Spain's Mango to shut 450 U.S. sales outlets
Spanish fashion chain Mango will close 450 sales outlets in the United States early next year after ending a five-year deal to display its clothing lines at department store J.C. Penney, a spokesman said. The unlisted retail chain, which competes with Inditex brands such as Zara as well as Sweden's H&M, will not be renewing the expiring agreement and will close the outlets around February, the spokesman said. Mango will still have seven stores in the United States, including ones in New York and Miami, and it plans on expanding there again, focusing on key cities such as these. reuters.com

Department Stores Burned Over Warm Weather
The warmer weather might be good for heating oil bills, but it's not welcome for the department stores that are filled with cold weather outerwear. wwd.com

Pacific Sunwear reposts Director of Loss Prevention position based in Anaheim, CA., on LinkedIn today - Been open for 6 months?
They've been running this position for quite some time on LinkedIn and obviously are having a difficult time filling it. On LinkedIn alone they've had 238 applicants apply.

Pacific Sunwear of California, Inc. and its subsidiaries is a leading specialty retailer rooted in the action sports, fashion and music influences of the California lifestyle. The Company sells a combination of branded and proprietary casual apparel, accessories and footwear designed to appeal to teens and young adults. As of September 8, 2015 the Company operated 609 stores in all 50 states and Puerto Rico. PacSun's website address is www.pacsun.com. linkedin.com

Albertsons bidding for three dozen Haggen stores

Toys R Us open from 5 p.m. Thanksgiving to 11 p.m. Friday night

Ports See 'Dramatic Difference' From Last Year as Holiday Merchandise Arrives

Amazon Echo Coming to Thousands of Retail Locations Across the U.S.


October Same Store Sales Results
Gap - Gap Global down 4%, Banana Republic Global down 15%, Old Navy up 2%

Quarterly Same Store Sales Results
Jamba Juice Q3 system-wide comp's up 5.6% with total revenue up 39.1%
Gap Q3 Gap Global down 4%, Banana Republic Global down 12, Old Navy up 4%, with net sales down 3%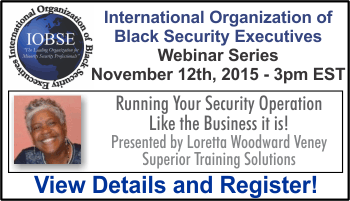 National Retail Federation 2015 Return Fraud Survey
We invite you to participate in the 2015 NRF Return Fraud Survey. And as a thank you, those who participate today, November 10th will be entered into a random drawing to receive one full registration pass to NRF Protect 2016. Your feedback is pertinent in developing best practices in all areas of retail asset protection and helping our leaders in Washington understand the gravity of some of our industry's issues.

So as to not duplicate answers from companies, we ask that only the most senior loss prevention officer or equivalent within your company complete the survey in order to limit responses to one per company. NRF will also make sure to send survey respondents a copy of the full report once it is released in December. Please contact Bob Moraca for a PDF copy of the survey or a direct link moracar@nrf.com

All the News - One Place - One Source - One Time
The D&D Daily respects your time
& doesn't filter retail's reality

Report Your News!
(content subject to approval)



eBay News

eBay GAP Team Attends National Cyber Security Symposium
Attendance at the National Cyber Security Symposium: GAP Investigators attended the National Cyber Security Symposium at the Salt Lake City FBI Field Office. There were approximately 50 local law enforcement and private sector investigators in attendance. The purpose of the event was to enhance collaboration between private sector institutions and federal law enforcement entities on cyber security. To gain further insight into the capabilities within the FBI, a better understanding of cyber security threats, and information about how to incorporate collaboration with law enforcement.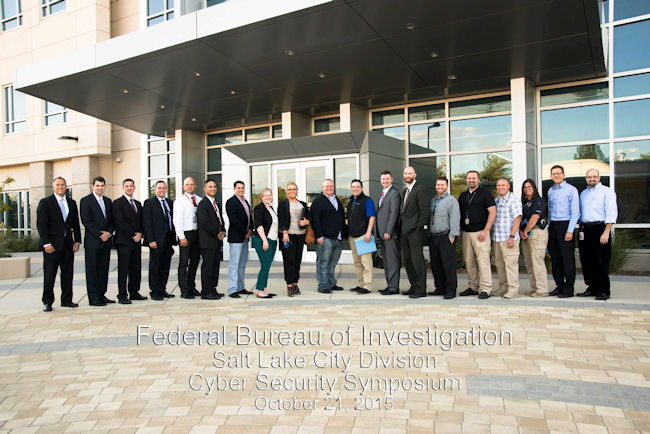 FBI, eBay and PayPal Investigators attendees at the Cyber Security Symposium

For further information on PROACT, email inquiries to PROACT@eBay.com.
eBay Direct - Click Here - (notify - info - questions)


A Must Read - Is this new 'smart' store model the future of retail? The 3k sq-ft mobile store that can be shipped anywhere worldwide
Retail logistics start-up ShopWithMe (formerly called OrderWithMe) has opened an interactive retail store on M. Michigan Avenue in Chicago, devoted to merchandise from Toms Shoes and Raven+ Lily.

The merchandise is displayed on smart fixtures, and customers will experience futuristic fitting rooms that engage with the customers via interactive mirror displays, allowing customers to make purchases or request alternate products without leaving their room. Shoppers can check out on their own via a mobile app.

ShopWithMe wants to build a network of smart stores all across the world which retailers can activate and deactivate within days. This will allow brands to go from zero stores to fifty overnight and then down to zero again a few weeks later, the company said. This will allow brands to go from zero stores to fifty overnight and then down to zero again a few weeks later, the company said.

The 3,000 sq. ft. mobile structure allows different brands to temporarily inhabit a technologically advanced, interactive, and consumer-centered space. The structure is made up of four self-contained units connected by a bridge spanning 43 ft. The store itself is completely mobile, and designed to be mass-produced so it can be deployed across the US or shipped anywhere around the world.

ShopWithMe plans to bring its store concept to Chicago, New York, Dallas, Los Angeles, San Francisco, Houston and Miami in the coming months. The company said it begin shipping stores globally at the first of the year. chainstoreage.com

Lucky Brand RFID-Tagging All Inventory at Two of its Stores
The clothing retailer is RFID-tagging all inventory at two of its stores, so that customers can access information about a garment by holding it near the screen, as well as request assistance. The retailer sought a solution that would help bridge the physical store and online products, since the stores don't have all of Lucky Brand's product line in stock; considerably more is available via online ordering. The two new stores are about twice the size of most Lucky Brand locations, each at about 5,000 square feet, according to Jason Richard, Lucky Brand's CIO. Because of that extra size, he explains, there was room for a large screen on the sales floor. Goods arrive at the stores from a variety of vendors. When each item is received, staff members use a Zebra Technologies ZT410 printer-encoder to print an RFID tag, which is then attached to the product's existing hangtag. (The retailer is using RFID tags from a variety of suppliers, including Smartrac.) A worker uses a Catalyst handheld device with a built-in RFID AdvanScan reader from Keonn to encode the tag with a unique ID number and link that ID to that particular product's stock-keeping unit (SKU). The items are then displayed on sales floor fixtures.

In the long term, Lucky Brand wants to use the RFID tags for more than just smart mirrors, but also for inventory management and business analytics. The stores can also use the handheld readers for inventory tracking, though they have not done so yet. The company plans to benchmark the system for inventory management against a manual inventory count in January 2016, Richard says. rfidjournal.com

Hackers Claim FBI Information-Sharing Portal Breached
A group of hackers claims to have breached an FBI information-sharing portal and gained access to numerous sensitive systems, including records of individuals who have been arrested by U.S. federal agencies as well as tools for sharing information between U.S. federal agencies and partners located both domestically and abroad. CWA appears to have breached the FBI's Law Enforcement Enterprise Portal - or LEEP - which the bureau describes as being "a secure, Internet-based information sharing system available to agencies around the world that are involved in law enforcement, first response, criminal justice, anti-terrorism, intelligence and related matters." govinfosecurity.com

Execs Fear Passwords, Physical Theft
Businesses overwhelmingly fear that standard security precautions create a false sense of security for laptop and mobile users, according to new research. According to the Alertsec SMB 2015 Encryption Study, more than two-thirds of executives (68%) believe auto-saved passwords are not secure. Nearly half (48%) of SMB executives believe never logging out of user profiles decreases security, followed by having four- to six-digit passcodes (45%).

"Computer manufacturers and software vendors offer a variety of built-in solutions that seem to protect you, but they are no match for the run-of-the-mill cyber-criminal. That's why encryption is so important. Losing data could cause a problem of catastrophic proportions for any individual and any company." infosecurity-magazine.com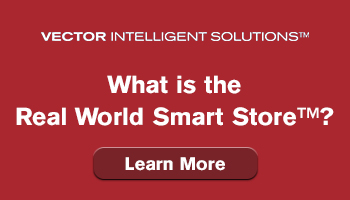 Spotlight on NuTech National


Laser Focused - Relentlessly Delivering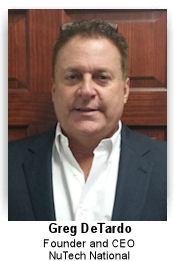 All successful organizations have common denominators that transcend their area of subject matter expertise and in effect make them successful, whether it's a retailer selling goods or a solution provider selling their equipment and services.

But the truly great ones are always defined by their leader, their team, and their unwavering commitment to their customer, their partner, the ones they serve. Those organizations are laser-focused on not just exceeding expectations, but on continually redefining their business models, their deliverables, and the actual industry they're in.

Such is the case at NuTech National, an organization that over the last 33 years has demonstrated how aggressively pursuing technology while developing a customer-facing culture has enabled their partners to 'experience more' for less. A simplistic phrase that at NuTech National actually reflects an entire team's culture and commitment to relentlessly delivering customized solutions; that exceed expectations, seamlessly fits within each individualized culture, and at the best possible price.

Starting over 30 years ago with helping an owner of 42 Pizza stores who had been repeatedly victimized, Greg DeTardo, NuTech's founder and CEO, who was in college at the time and a customer of the pizza shop, was bitten by the LP bug just like the rest of us. The sincere desire he had to help that small business operator and the gratification he felt when stopping those violent crimes fueled his young entrepreneurial spirit and gave him a mission that his team continues to carry to this day.

Grounded on building 'relationships' and not just customers and focused on their 'needs' and not just their expectations, Greg's entire team is genuinely focused on adding value to a retailer's overall Loss Prevention effort and providing proactive flexible solutions that utilize the most advanced technology available on the market.

This high-energy team built over the last 33 years and comprised of family members from multiple generations continues to reflect that youthful entrepreneurial spirit they were founded by. With being grounded in the ideals of the highest of ethical standards, professionalism and honesty, this group wants to make a difference and they want to make retail a safer place to work and shop.

Making such claims is easy to do, but that young college student who jumped up to help still lives today, and his pursuit of always trying to find that next best solution lives on as well. The difference now is, he's got a team that believes in the same principles.

Today, NuTech has become one of the largest alarm companies in the United States, and the largest dedicated to retail - through purely organic growth. With millions of dollars in revenue per month, this solution provider protects numerous brands throughout the country, servicing and monitoring tens of thousands of retail locations. With a reputable brand and a well-known name, NuTech continues to bring innovative, industry-leading technology to retailers at an affordable price.
Laser Focused - Relentlessly Delivering
For the Best Possible Price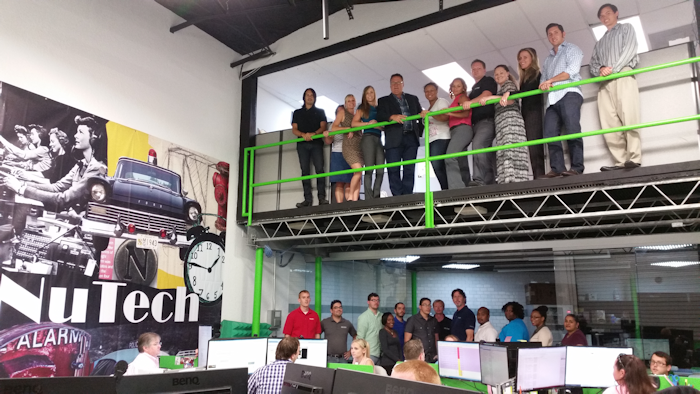 The NuTech National team at their corporate office in Maitland, Florida.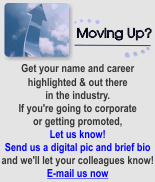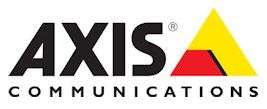 The introduction of network video has revolutionized the way retail professionals work with loss prevention, store optimization, fraud detection, security and customer service. Axis Communications was the first company in the world to launch a network camera in 1996, initiating the shift from analog to digital technology. Today, they are the world's leading provider of network video solutions for professional installations. In this video, learn about some of the opportunities and challenges of this technology, as Hedgie Bartol, Retail Business Development Manager - North America, Axis Communications, shares some practical advice for LP execs looking to convert from analog to IP video.

---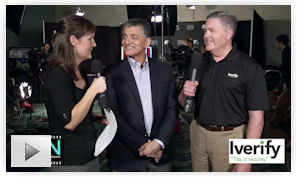 With its recent acquisitions of Checkview and TransAlarm, Iverify has assembled a team of talented, experienced professionals - with a product line that allows them to service the entire spectrum of a retailer's risk profile. CEO Steve Champeau and President Nicholas Khalil join Amber in this LPNN Quick Take to talk about Iverify's expanded solution set and the unequaled synergies they now offer customers.
Solution Providers, have a video or commercial you want to publish? Contact us.


e-commerce

Sponsored by The Zellman Group
Debit Card Account Takeover and Online Fraud, Side Effects of EMV, on the Rise, says Auriemma Consulting Group
Fraudsters are exploiting a closing window of opportunity to counterfeit debit cards - and turning to alternative methods of attack - as the US transitions to EMV, Auriemma Consulting Group (ACG) said today.

Counterfeit card use is still the largest source of fraud and financial loss for issuers, representing more than half of total claims by dollar amount according to the consultancy's Debit Fraud Benchmark Study. But that same study shows that shifts in activity to other categories - a long-anticipated side effect of EMV - are beginning to materialize: card-not-present (CNP) fraud, which includes online and mobile attacks, grew by 20 percent quarter-over-quarter in Q2, while account takeover (ATO) fraud, a smaller category with relatively low incident rates, jumped 280 percent.

As EMV infrastructure expands in coverage, and POS fraud becomes less feasible, fraudsters will focus their efforts on other vulnerabilities in the payments ecosystem, including e-commerce and m-commerce channels. Chip cards provide an additional layer of authentication at POS, but do not protect against fraudulent transactions using compromised cardholder data online. Issuers are investing in CNP fraud mitigation technologies including risk-based authentication and transaction alerts. In addition to CNP fraud, financial institutions are on alert for increasing check, deposit, and wire transfer schemes. Fraudsters will also target personal data on an increasing scale to commit ATO fraud, a form of identity theft. These incidents are already growing in severity and levels of financial loss. globenewswire.com

Facebook posted yesterday - Global Security Manager, Investigations position in Menlo Park, Calif. - Reporting to Manager, Global Business Intelligence
Conducts investigations into any direct or implied threat to Facebook executives to include brand or proprietary risk issues. Coordinates Facebook's response to workplace threats, and executes various types of investigative activities to support business requests and external inquiries. Interfaces with Company personnel across multiple business units and countries. Implements proactive and responsive investigative solutions. Promotes a positive environment compliant with laws, regulations, and Company policies, processes, procedures, and guidelines. However the post also shows: "This job is no longer accepting applications." linkedin.com

Major U.S. retailers team up for Alibaba's 'Singles Day'

Robust Growth for Mobile Payments Predicted but Security Concerns Act as Potential Inhibitor

Holt Renfrew beefs up online presence ahead of holidays

Holiday Digital Shopping Sales to Grow Throughout Thanksgiving Weekend

"Fraud is not a person - it is a dynamic grouping of statistics that deviate from the norm."
Stuart B. Levine, CFI, CFCI
CEO, The Zellman Group & Zelligent


ORC News
Sponsored by NEDAP
ORC's 'PRC' Report
Organized Retail Crime's Publicly Reported Cases Report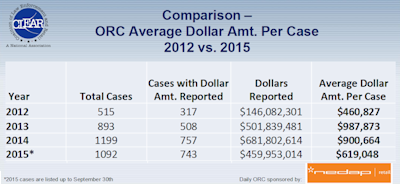 *2015 data only through September 30th



Orlando, FL: Twelve Arrests made in alleged cellphone theft ring
Orlando Police and the Bureau of Alcohol, Tobacco, Firearms and Explosives have arrested 12 people, charged with racketeering and conspiracy to engage in racketeering as part of "OPERATION CAN YOU HEAR ME NOW?" Investigators say the suspects, who range in age from 17 to 24, have been stealing cellphones. They have warrants for four more individuals. "These are not just kids stealing cellphones. This is organized street crimes. Instances these kids have driving 3-4 hours in a stolen car or in a rental car with a switched tag to commit these crimes," said Detective Sharon Ring, with OPD's Gang Unit. fox35orlando.com

Thomasville, NC: Verizon store robbed; 4 charged, More than 60 stolen iPhones seized
Four people face charges after customers were forced into a bathroom during an armed robbery at a Verizon store, police said. Natasha Nicole Heaton, 30, of Sophia; Isaiah Dashon Smith, 24, of High Point; and Mark Anthony Walker, 44, of High Point, all face charges following an incident around 8:45 p.m. Monday at Cellular Sales at 1042 Randolph St. in Thomasville. The store is an authorized Verizon Wireless retailer. Thomasville police said Tuesday they're looking for a fourth suspect, though no further information about that suspect has been released. No one was injured in the incident, and no shots were fired, police said. wxii12.com
Lexington Co, KY: Investigators seek Multiple Credit Card Fraud suspects: over $11,0000 in charges
Multiple suspects are wanted for allegedly spending more that $11,000 on fraudulent credit cards. According to Lexington County Sheriff's Department officials, two men and two women have been using stolen credit cards at multiple stores across the Lexington area. One of the male suspects has tattoos on his arms and the backs of his hands. One of the female suspects is a brunette and the other is a blonde. The brunette has tattoos on her right calf, left thigh and right chest. Store security cameras captured the four suspects on video making a series of fraudulent purchases over the course of multiple days. coladaily.com

Tulsa man charged with 68 counts of identity theft
Police say Wisam Hibri, 33, stole 841 documents from the U.S. Department of Justice. Officers arrested Hibri Monday afternoon near 91st and Yale at a home in South Tulsa. Police found stolen checks, stolen mail, more driver's licenses, printers and computers. A larger identity theft ring helped police track down Hibri. Hibri has spent several years in prison for similar crimes. Tulsa police arrested a man on 68 counts of identity theft Monday. fox23.com

UK London: Smash & Grab Gang caught due to bravery of have-a-go hero
Baby-faced gang behind a 500,000 pound smash-and-grab spree caught when one of the machete-wielding robbers was tackled by a have-a-go hero after raid on diamond store. Moped gang carried out series of raids in London and Manchester. They targeted London jeweler last year where a brave manager intervened. One of them was later arrested and others detained after investigation. They have now admitted conspiracy to rob and face lengthy jail terms. dailymail.co.uk
Do you have an ORC case to share?
Share your ORC news and help the industry grow

Retail Crime News

Sponsored by Security Resources
Dearborn, MI: Shots fired inside Fairlane Town Center; began as an Armed Robbery of Orange Julius
Dearborn Police confirmed shots were fired Monday afternoon inside Fairlane Mall, prompting a lockdown at the mall. Police say shots were fired about 4:30 p.m. near the Diamond Jewelers on the Macy's side of the mall. People at the mall were under a shelter-in-place order. There were no injuries. Police said it was a dispute between two people who knew each other. No arrests have been made. Local 4 spoke with a man inside the LA Fitness who said they were under a shelter-in-place order, too. "They started moving everybody to the back and we had no knowledge of what the situation was at all," said Matt from inside the LA Fitness. "We didn't see any police ... (the staff at LA Fitness) said there was a shooting at the mall." Matt said there were about 30 or 40 people in the LA Fitness who were waiting for the shelter-in-place to be lifted. clickondetroit.com
New York City, NY: One killed, two wounded in shooting at McDonald's near Penn Station
An argument that began inside a midtown McDonald's restaurant early Monday erupted in gunfire at the steps of a nearby subway entrance when a gunman shot three men, one fatally, near Penn Station, authorities said. The three victims, all men in their 40s, were drinking coffee when a heavy-set man in a black hooded sweatshirt engaged them in a brief conversation, left the restaurant and then waited for them to exit, following the group into a subway station, where he fired four times, NYPD Chief of Detectives Robert Boyce said. nydailynews.com

Fargo, ND: Former Taco John's Worker Accused in Store Shooting & Robbery
One of the 5 suspects in the armed robbery of Taco John's in September was a former employee. Police say Calvin Brown waited outside in a getaway car as two other men robbed the restaurant. Two others acted as lookouts. An employee was shot in the leg during the robbery. Police say they were alerted to a home where three of the five men were arrested Friday night after music videos made by the suspects were posted on YouTube. The final two suspects were arrested Saturday in Moorhead. kvrr.com
Tewksbury, MA: Dunkin Donut and Mobile Mart
employees fake Armed Robberies
Tewksbury police say an armed robbery of a Dunkin Donuts and Mobil Mart on Sunday night was "staged'' by the two store clerks who conspired with a cousin to commit the bogus theft using a butter knife. In Lowell District Court on Monday, Dunkin Donuts clerk Alexander Griffin, 19, and Mobil Mart clerk Corey Goodwin, 20, have been charged. Tewksbury police responded at 10:50 p.m. on Sunday to a panic alarm triggered at the Mobil Mart gas station at 940 Andover St. Police were told that the same suspect, armed with a knife, robbed the two stores. Goodwin told police that the robber stood at the Mobil counter wielding a knife and demanding cash. Goodwin handed over more than $1,000, which was an unusually large amount to have on hand, police allege. When police questioned Griffin, he said a man came into Dunkin Donuts holding a knife and demanded cash. The suspect walked out with $200. lowellsun.com

Redding, CA: Ex-UPS driver pleads no-contest to grand theft
A former United Parcel Service delivery driver accused of stealing an estimated $242,000 in gold and silver bars and coins pleaded no contest on Monday to six felony counts of grand theft and a related enhancement. redding.com


Dallas, TX: Shoplifting suspect with bra full of hardware
bit worker at Home Depot
A Dallas woman was arrested last week after police say she bit a Home Depot employee who caught her shoplifting hardware supplies in her bra. Vivian Isedeh, 30, was booked Thursday on a charge of robbery of a business. She was released on bond the following day. Police were called about 4 p.m. Thursday to the Home Depot store where they found Isedeh and a loss-prevention employee with a visible bite wound. "It hurt like hell!" said the reporting person, who told police that Isedeh bit him during a struggle over her purse. Officers recovered several items from the purse and from Isedeh's bra, including a copper SharkBite adapter and a wood cutting wheel. dallasnews.com

Mission Viejo, CA: Three men charged in The Shops jewelry store robbery
Three men were charged Monday for allegedly robbing a Mission Viejo jewelry store and tossing stolen items out a car window onto I-405. Levon Tippit, Devan Howard and Marshawn Marshall are each charged with multiple felonies, including robbery, assault with a semiautomatic firearm, unlawful taking of a vehicle, receiving stolen property and false imprisonment. On Oct. 21, the three suspects armed themselves with a semiautomatic gun and entered the Fredric H. Rubel Jewelry store where they threatened employees and smashed glass display cases. The trio fled with jewelry and Rolex watches. About 30 minutes later, the men were fleeing in a 2002 Chevy Tahoe on the northbound I-405 when they tossed a bag of stolen items, which contained tracking devices, onto the freeway. The items were later recovered. Witnesses on the freeway called authorities, and on Nov. 4 Orange County Sheriff's deputies arrested Tippet and Howard . Marshall was arrested two days later. ocregister.com

Cargo Theft: Bayonne, NJ: Man charged with stealing $10K in paper products from his company
A 25-year-old city man has been accused of stealing $10,000 in paper products from his company, a local paper and janitorial supply business in Bayonne. Police took Daniel R. Santiago of West 53rd Street into custody last Wednesday after investigating the theft of six pallets of paper products from Liberty Paper & Janitorial Supply Co. The theft was reported two days prior to Santiago's arrest. Santiago has been charged with theft and the unlawful taking of means of conveyance, and police have listed him as the "leader of a cargo theft network," police said. Neither the Bayonne Police Department nor the paper company could immediately be reached for further information about the incident, including who else has been implicated in the theft of the paper products. nj.com

Jared, Pineville, NC: Attempted Armed Robbery/ Smash & Grab
Four subjects exited the vehicle and entered the store. The first subject placed a rock at the base of the outer door to hold it open. The other three entered the store, as soon as they entered the store, they saw the Armed Security Guard and turned around and fled the location.

Kay Jewelers, Circle Center Mall, Indianapolis, IN was hit with a Grab & Run, Men's diamond ring valued at $1,799

Coldwater, MI: Two men arrested after gas pump skimmers found

Fort Myers, FL: Man Tasered, robbed two women at a Redbox outside CVS


Robberies and Burglaries
● Afrstrom's Pharmacy - Cedarville, MI - Armed Robbery
● Antiquities of California - Pier 39 San Francisco, CA - Burglary
● CVS - Manchester, NH - Armed Robbery
● Dunkin Donuts - Tewksbury, MA - Armed Robbery/ Employees Involved
● Family Dollar - Shreveport, LA - Armed Robbery
● Flash Market - Blytheville, AR - Armed Robbery
● Fred's Dollar - Jackson, MS - Robbery
● Giant - Fairfax Co, VA - Armed Robbery
● Krazy Kaps - Pier 39 San Francisco, CA - Burglary
● Lone Star Store - Sherman, TX - ATM Theft
● Quik Stop -Waco, TX - Robbery
● Safeway - Salem, OR - Robbery
● Valero - Corpus Christi, TX - Armed Robbery
● Woodlands Express - Columbus, OH - Shooting/ one killed
● 7-Eleven - Fort Collins, CO - Armed Robbery
● 7-Eleven - Hampton, VA - Robbery
● 7-Eleven - Woodbridge, VA - Armed robbery


Featured Job Listings
Sponsored by NuTech National
Feature Your Job Here For 30 Days -
70% Aren't On the Boards
VP of Sales/Client Relations
More details coming soon
Confidential - Retained Search
Nationwide
Gus Downing
VP AP & Global Facilities
lululemon athletica
Vancouver, BC, Canada
lululemon athletica
Dir Global Security
VF Corporation
Greensboro, NC
VF Corporation
Dir LP
A'GACI
San Antonio, TX
A'GACI
Dir Safety & LP
Harbor Freight Tools
Calabasas, CA
Harbor Freight Tools
Director, LP
Save Mart Supermarkets
Modesto, CA
Save Mart Supermarkets
Dir AP
99 Cents Only Stores
Commerce, CA
99 Cents Only Stores
Dir LP
Pier 1 Imports
Fort Worth, TX
Pier 1 Imports
LP Dir
BevMo
Concord, CA
BevMo
Dir LP (Western Canada)
Walmart Canada
Calgary, CA
Walmart Canada
Director of LP
Pacific Sunwear
Anaheim, CA
Pacific Sunwear
Market AP Specialist
REI
Seattle, WA
REI
LP Officer
Bi-Mart Corp.
Yakima, WA
Bi-Mart Corp.
Zone Mgr, LP & Safety
Lumber Liquidators
Pomona, CA
Lumber Liquidators
Zone Mgr, LP & Safety
Lumber Liquidators
Sandston, VA
Lumber Liquidators

Daily Job Alerts


Appearing One Day Only
View our Internet Jobs Archives here
Supervisor LP & Safety
Ross Stores
Shafter, CA
Ross Stores
DC LP Specialist
TJ Maxx
Pennsylvania
TJX Companies
ETL Assets Protection
Target
Reno, NV
Target
ETL Assets Protection
Target
Sand City, CA
Target
Deputy Director AP
Holt Renfrow
Toronto, Canada
Holt Renfrow
Store LP Mgr
H-E-B
Kyle, TX
H-E-B
Dept Mgr LP & Safety
Lowe's
Radford, VA
Lowe's
Dept Mgr LP & Safety
Lowe's
Lincoln, NE
Lowe's
Dept Mgr LP & Safety
Lowe's
Silverthorne, CO
Lowe's
Regional LP Mgr
Sephora
Santa Barbara, CA
Sephora
LP Manager Hrly
Sears
Silver Spring, MD
Sears Holdings Corp
Multi Unit LP Mgr
Sears
Burlington, NJ
Sears Holdings Corp
LP Manager Hrly
Sears
Irving, TX
Sears Holdings Corp
AP Manager in Training
Walmart
Winslow, AZ
Wal-Mart
AP Manager in Training
Walmart
Carthage, TN
Wal-Mart
AP Manager in Training
Walmart
Coolidge, AZ
Wal-Mart
AP Manager in Training
Walmart
Woodstock, IL
Wal-Mart
AP Manager in Training
Walmart
Oroville, CA
Wal-Mart
AP Manager in Training
Walmart
Leesburg, FL
Wal-Mart
AP Manager
American Girl
Kansas Store
Mattel



Home of the Industry's Original
On the Move
Sponsored by Civil Demand Associates
| | |
| --- | --- |
| | Tony Alongi was recently promoted to Director of LP/Safety for Petsmart Inc. |
| | Sam Ajami was named Regional Loss Prevention Manager for Family Dollar. |
Post Your New Job or Promotion!
See all the Industry Movement


Your Career
Sponsor this section of the Daily
3 Timeless Rules for Making Tough Decisions
If we mapped it out, we would probably be surprised at how much time we spend weighing choices and making decisions between what seem to be equally attractive options. Don't get bogged down with decision fatigue, use these tips to handle all kinds of decisions with efficiency. Use your habits

When Leading Through Change, Adopt These 4 Strategies In any organization, the one guarantee is that there will always be change. It's up to the leader to create a workplace environment of effective adaptation. Here are some strategies you can use with your own team to lead them through change. Driven by purpose

When You Start to Doubt Yourself, Ask This Question We all face doubt at some point in our lives: we ask ourselves what would have happened if we did this instead, but how will you ever know how far you can go if you don't try? No matter how bad things get, don't stop pushing yourself. Ask yourself this question when you want to throw in the towel. How far will you go?

4 Lessons From the KC Royals on How Teams Win Under Pressure There are high-pressure situations that every team faces, whether it's having to make a decision on the spot, or tackling heavy workloads. Take these tips from the Kansas City Royals on how to coach your team to overcome the pressure. Manage emotions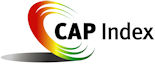 Tip of the Day
Sponsored by Vector Security
The difference between success and failure is in the planning and the execution. Taking something from a thought or idea to a reality can be a long and painful process lined with failures and detractors. But a great idea is only as good as the plan you have to bring it to life and the execution everyone delivers to give it a life. Because without the two the great idea never existed. As one "C" level executive once told me - He never saw a bad great idea as it was always the failed plan to roll it out and the poor execution that killed it.

Just a Thought,
Gus





Upcoming Events
---

Recruiting?
Get your job e-mailed to everyone... everyday
Post on our Featured Jobs Board!
Reach your target audience in 2015 every day!
Request our 2015 Media Kit
update account / change e-mail
unsubscribe FEEDBACK
www.downing-downing.com

Advertise With The D&D Daily




36615 Vine Street, Suite 103
Willoughby, OH 44094
440.942.0671
copyright 2009-2019
all rights reserved globally