The D&D Daily Mobile Edition
November 13,

2014



The LP Industry's #1 News Source - Informing, Educating and Instilling a sense of community


News Brief
Sponsored by WG Security Products, Inc.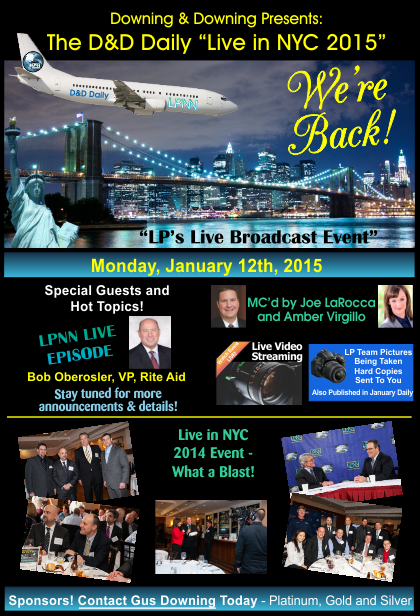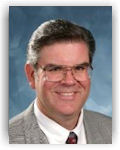 David Jones, CFI was promoted to VP - Global Security Lead & Regional Head Latin America for DHL Supply Chain. David was previously DHL / Exel Supply Chain's VP - Regional Security Head - Americas until he received this promotion! He has also held other executive leadership positions for such companies as Tommy Hilfiger, USA, Inc. as VP Corporate Loss Prevention and Security, Home Shopping Network as Director of Loss Prevention, Tiffany & Company as Director of Loss Prevention and Macy's East as Regional Director of Loss Prevention. David earned his Bachelors of Arts degree in Social Science from Montclair State University. Congratulations David!

Retailer Breaches Put Spotlight on Vendor Contracts The report last week that Home Depot Inc. had information of more than 50 million customer accounts stolen, after hackers swiped a password from one of the retailer's vendors, is bringing back into the spotlight contractual language defining who is responsible for a breach and what happens in its aftermath. Last year's Target Corp. data breach also saw hackers enter the retailer's computer network via the network of a third-party contractor. The two incidents are serving as a strong reminder for companies to review the liability protections in their vendor contracts, said Bob Brewer, an attorney at Bass, Berry & Sims in Nashville, Tenn. Companies need to make sure vendor agreements have spelled out in great detail the minimum security requirements for vendor partners. Contracts should include auditing provisions both to make sure vendors are doing what they said they would do and that their systems are capable of protecting data in the manner the contract specifies, said Mr. Brewer. Once such provisions are in place, it's important for companies to utilize them, said Mr. Brewer, recalling instances where companies fought to include audit language but never conducted any audits. Companies also need to educate vendors about security measures, and have the vendors educate their employees about the importance of protecting data and maintaining privacy, he said. Liability can be a contentious issue. Companies want vendors to accept unlimited liability for costs that come from breaches. Vendors say they shouldn't be the insurance policy for a company, especially when the cost of a contract can be dwarfed by the costs associated with fixing a breach, notifying customers and other affected parties and dealing with any lawsuits that may arise, Mr. Brewer said, "especially if it is not something they can protect against." wsj.com

Execs underestimate damage of data security breach Information security is low down on the list of risks to the business, a new report from global information security and risk management company, NTT Com Security, reveals. The Risk:Value report, based on a survey of 800 senior business decision-makers globally, was designed to determine the level of risk in large organizations and the value that senior executives place on data and information security. While nearly two-thirds (63%) of respondents expected to suffer a security breach at some point, less than one in ten (9%) saw 'poor data security' as the greatest risk to their business. Respondents were more likely to see risks coming from competitors taking market share, lack of employee skills and decreasing profits. Senior executives also failed to recognize the long-term damage - both in terms of time and money - that a security breach might have on their business. retailfraud.com

Top U.S. cities for credit card chargebacks
The community of Show Low, Arizona leads all U.S. cities in rates of chargebacks for credit card disputes, with a 2.2% chargeback rate. According to a new study from Chargebacks 911, a division of Global Risk Technologies, the top five cities (including multiple ties) are listed below. The study's chargeback statistics reflect the number of credit card disputes resulting in chargebacks as a percentage of total transactions, with the results tallied by cardholders' billing ZIP codes. chainstoreage.com

| | |
| --- | --- |
| 1. | 2.2% chargeback rate: Show Low, Arizona 85901 |
| 2. | 1.7% chargeback rate: Port Washington, New York 11050 |
| 3. | 1.5% chargeback rate (three-way tie): San Jose, California 95131; Astoria, New York 11105; and Miami 33145 |
| 4. | 1.4% chargeback rate (two-way tie): Chicago 60646 and Sherman Oaks, California 91423 |
| 5. | 1.3% chargeback rate (nine-way tie): Sarasota, Florida 34234; Los Angeles 90057; Woodland Hills, California 91364; Orlando, Florida 32836; Whittier, California 90603; Alhambra, California 91801; Plainview, New York 11803; North Hollywood, California 91602; and Houston, Texas 77067 |
Many Major Retailers Behind On Fraud-Deterring Chip Technology Target and Home Depot have beefed up security in other ways, but said their chip card terminals won't be ready to accept EMV cards until next year. Kmart said only that it is "taking the necessary steps" to incorporate the technology, but gave no time estimate for when it will be available. And despite reporting as many as 1.1 million cards may have been exposed in its data breach last year, Neiman Marcus said only, "We are not conducting any interviews on this topic." Interestingly enough, Walmart - which hasn't had a customer data breach - is the only major retailer that does have an EMV system. But the question remains as to how much customers care about data protection, and whether it will actually affect how they shop. cbslocal.com

Wal-Mart Issues Urgent Memo Begging Managers To Fix Supply Problems Wal-Mart wants managers to do a better job stocking grocery shelves. Last month, the retailer sent out a memo instructing managers across the country to improve their dairy, meat, and produce departments, according to a New York Times report. The memo was in response to customer complaints. In the document, Wal-Mart "tells stores to be sure to 'rotate' dairy products and eggs, which means removing expired items and adding new stock at the bottom and back of display cases." The Times reporters paid a visit to a New York Wal-Mart, where they observed "dented and dirty" milk cartons and a poorly stocked produce section. The Times said the memo was leaked by a Wal-Mart manager who was unhappy about understaffing. businessinsider.com

Wal-Mart Instructs Store Managers to Match Online Prices With Amazon Wal-Mart Stores Inc has informed managers of its roughly 5,000 stores across the United States that they can match prices with Amazon.com Inc and other online retailers, the head of the company's U.S. business said on Thursday. Greg Foran said the directive was meant to formalize a practice already in place in many stores. wwd.com

Target acquisition to bring 'Amazon-like shopping experience' to in-store customers Target Corp. has acquired a Pittsburgh company that says its software platform brings "an Amazon-like shopping experience" to in-store customers. Powered Analytics co-founder Collin Otis and a spokesman for Minneapolis, Minnesota-based Target confirmed the deal Wednesday. Terms were not disclosed. Powered Analytics' Fabric product uses mobile technology, location data and machine learning to connect a retailer's app to the in-store shopping experience. The system uses the store's layout and product locations to deliver customized recommendations and messaging to customers. washingtonpost.com

88 percent of U.S. customers frustrated by self-service technology Glory Global Solutions found that the overwhelming majority of U.S. consumers using self-service machines (88%) have felt frustrated by the technology, this according to the company's latest research study on the use of self-service technology. The study comes on the heels of similar research conducted by the company in the U.K. in May, which found that a similar proportion of British consumers (93%) have been frustrated by self-service technology. In the United States, women and men feel equally frustrated by self-service machines; 89% females compared to 88% of men. Despite these frustrations, the majority of people are open to the idea of using self-service machines when they are available, for instance at the grocery store, post office or bank. 73% of U.S. adults use self-service at least some of the time. chainstoreage.com

Food shoppers opt for brick-and-mortar over online, says research Although consumers are changing how they shop for food and beverages, most prefer to make perishable purchases in tradition brick-and-mortar locations. According to a survey by Technomic, most shoppers (61%), including the 25% who already shop for groceries online, rate traditional brick-and-mortar retailers significantly higher on a large number of key attributes, including convenience, local community support, quality of perishables, service, experience, price, variety and loyalty programs. chainstoreage.com

This is what Sears will look like in the future
A mixed-use retail development in South Florida may provide a glimpse at the future of Sears Holdings Corp. The department-store chain said today that it will convert its location in Aventura, Florida, into an open-air development that includes dining, other retailers and a scaled-down Sears store. The project, called Esplanade at Aventura, will repurpose the site's parking lot, auto center and department store into a more inviting property, containing a hotel and offices. The move fits with Sears's strategy of squeezing more value out of its extensive real estate holdings. bloomberg.com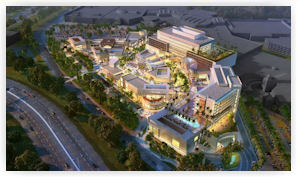 JCPenney dramatically narrows loss, as Q3 revenue slips JCPenney Co. Inc. managed to shrink its third quarter net loss more than Wall Street expected in the third quarter of fiscal 2014, but missed projections with weaker-than-expected net sales. Penney reported a net loss of $188 million, narrowed from $489 million the same period a year earlier and significantly smaller than analysts had forecast. The results are considered a weighty step in the right direction by industry watchers and Wall Street analysts. Same-store sales were flat for the third quarter, as revenue slipped 0.5% to $2.76 billion, from $2.78 billion last year. chainstoreage.com

Holiday Shoppers to Spend More than $31 Billion on Gift Cards This Year, According to NRF Survey The growth in gift card popularity is irrefutable, and this holiday season spending on tiny plastic or digital gift cards will top all previous records. According to NRF's Gift Card Spending Survey, the average person buying gift cards will spend $172.74, up from $163.16 last year. Total spending is expected to reach $31.74 billion. In an October NRF survey 62 percent of shoppers said they would like to receive a gift card, making gift cards the most requested gift item eight years in a row. nrf.com

Forter raises $15M as it takes care of fraud detection for online retailers We might have hit data-breach fatigue, but online fraud and security is still a huge concern and resource drain for retailers. Forter, a Tel Aviv, Israel-based company, provides a fraud prevention solution with a real-time decision engine (it decides whether a transaction is legitimate or fraudulent) for online retailers. The company's solution differs from the common approach that creates both additional steps and annoyance for shoppers, and puts the burden of processing fraud alerts in the hands of the retailers. Instead, retailers integrate Forter into their system and let it accept and deny transactions based on the fraud detection engine it has built using various kinds of data and patterns. venturebeat.com

Woman Claiming McDonalds Coffee Scalded Her Hand Now Facing Fraud Charges A California woman has been charged with fraud for falsely saying she was badly scalded by McDonald's coffee and using photos copied off the Internet to make it appear she suffered second-degree burns on her hand, officials said. Selena Edwards, 38, of Victorville, faces 21 felony counts of fraud for filing an injury claim in which she said she was handed a cup of coffee at a McDonald's drive-through with an improperly secured lid that allowed the hot liquid to spill on her hand, the California Department of Insurance said in a statement on Monday. The case against Edwards comes 20 years after a well-known product liability lawsuit in which Stella Liebeck won a $2.9 million civil judgment in New Mexico over burns she suffered at age 79 from hot coffee she bought at McDonald's. reuters.com

Belgian tax authorities investigating Anheuser Busch

U.S. weather agency reports cyber attacks on four websites

Why Panera's CEO Wrote A 20-Page Memo About How He Would Destroy Panera

Quarterly Same-Store Sales Results

Ace Hardware Q3 up 3.7%, with revenue up 9.1%
Loblaw Q3 up 2.6%, with revenue up 36%
Shoppers Drug Mart Q3 up 2.5%
Ahold Q3 up 1.2% in U.S.
Wal-Mart Q3 up 0.5% - first growth in 7 quarters
JCPenny Q3 flat, with revenue down 0.5%
Dillard's Q3 down 1%, with net sales down 0.6%
Macy's Q3 down 1.4% with net sales down 1.6%
Kohl's Q3 down 1.8%, with net sales down 1.6%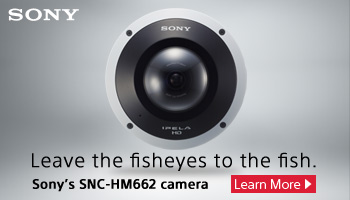 All the news - One place - One Source - One Time
The D&D Daily respects your time
& doesn't filter retail's reality
Report Your News!
(content subject to approval)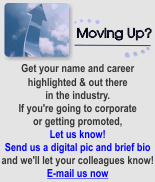 eBay News

Truck driver pleads guilty to theft and resale of $470k of stolen designer items, as eBay's PROACT team worked with Law Enforcement and Retail partners
A truck driver and his buddy who stole more than $470,000 worth of designer merchandise from his delivery route, then sold the items online, pleaded guilty to their crimes this week. Gewan Ramtahal, 36, of Miramar, and former Hollywood resident Debbie Caricola, 59, were arrested earlier this year. Ramtahal's job was to deliver designer Tory Burch creations to authorized stores but he admitted he stole more than 1,500 items from the truck and shipped them to Caricola's new home in Kannapolis, N.C. in 2012 and 2013. Caricola then listed the items for sale at discount prices on eBay and shared some of the profit with Ramtahal. Authorities seized more than $200,000 from their bank accounts and unsold designer shoes, purses and jewelry from their homes.

Read more here.

For further information on PROACT, email inquiries to PROACT@eBay.com.
eBay Direct - Click Here
(notify - info - questions)

Loss Prevention News Network

"The New Customer
Bill of Rights"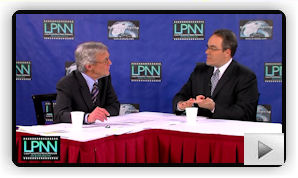 Ted Potrikus

, Exec. VP and Director of Gov't Relations for the Retail Council of New York State, discusses the new Customer Bill of Rights, which was drafted and implemented last holiday season after high-profile accusations of racial profiling in NYC stores shook the retail industry, causing every LP program in the country to review its practices and policies. Ted talks about the NYPD's stop-and-frisk policy, his interaction with civil rights leaders and how the LP industry can move forward in a positive way from this hot-button issue.

Filmed at the D&D Daily's 2014 "Live in NYC" Broadcast Event.





Joan Manson

Sponsored By:



Bass Security



Sponsored By:



Keith White & Michael Nelson

Sponsored By:


Dan Faketty and Professor Bob Hanson

Sponsored By:


The NRF's LP Legislative Committee, a National Update





Jeff Fulmer & Jon Gold


Sponsored By:


Preparing - Training - Responding to the Active Shooter





Rich Mellor


Sponsored By:

Cyber Security's Increasing Impact on Retail & the Role of Loss Prevention

Tom Litchford
Sponsored By:

Stan Welch, VP of LP, JCPenney



Sponsored By:



In case you missed it ...
Click here to view all the episodes from
"Live in Ft. Lauderdale at the NRF LP Show."

Solution Providers, have a video or commercial you want to publish? Contact us.



e-commerce

Sponsored by The Zellman Group
Security concerns may influence online shopping season for 2014
Consumer concerns about online security and privacy could impact shopping behaviors for the 2014 holiday season, a recent survey reveals. According the results of a Web.com Group report, 25% of respondents would be likely to change their online shopping behavior and 32% would seriously consider changing their online shopping behavior compared to 2013. The survey also shows that consumers are more than twice as concerned about online security at large retailers (27% concerned) than small business retailers (12% concerned). Because of security worries, 65% of consumers are influenced to shop more on small business websites for 2014's holiday season.
thepaypers.com
Online fraud cases and financial losses register growth
According to a study by ReportsnReports.com, industries having monetary transactions are the prime target of fraudsters. Banking, financial sector, insurance, and public sector are among such industries and hence demand for solutions is significantly high in these industries. Retail, telecommunications, manufacturing, transportation, real estate, healthcare and education are other industries where penetration is observed to be high. Findings reveal that the rise in online transactions fraud attacks, cards-related fraud attempts and insurance claim fraud are the prime factors which are driving growth rates in banking and financial services, insurance, and retail sectors. Authentication would remain major revenue generating pocket but fraud analytics would be rising at higher growth rate.
thepaypers.com
Study: Amazon doubles overall e-commerce same-store sales in Oct.
Index says Walgreens, Amazon, Pizza Hut and eBay have the best retail apps
How Macy's combines fashion, mobile technology to target younger shoppers
"Fraud is not a person - it is a dynamic grouping of statistics that deviate from the norm."
Stuart B. Levine, CFI, CFCI
CEO, The Zellman Group & Zellman Fraudnet

ORC News
Sponsored by Security Resources
Ringleader in $1.1 million ID theft ring pleads guilty, facing 245 years in prison The ringleader of a Philadelphia bank fraud and identity theft ring pleaded guilty today to a laundry list of charges after five days of a trial. Benjamin "Shaft" Easley, 36, admitted his role in a scheme that stole -- or attempted to steal -- more than $1.1 million from a group of local banks, federal prosecutors said. Easley, of Drexel Hill, obtained the personal information of bank customers and recruited a dozen "check runners" who were given counterfeit IDs. The runners were sent banks throughout the region to cash bogus checks, conduct fraudulent withdrawals or make illegal wire transfers from the accounts of their victims. The scheme, which began in Nov. 2009, came to an abrupt end in Dec. 2011 when Easley was arrested attempting to conduct a bogus transaction at a Radnor Township bank. Today, Easley pleaded guilty to seven counts of bank fraud, 15 counts of aggravated identity theft and one count of conspiracy. He faces up to 245 years in prison and a fine of up to $11 million when he is sentenced. phily.com

'Lowe's ladies' nabbed in Alton, IL
Lowe's Loss Prevention and city Police Wednesday expected an alleged, prolific ring of four St. Louis female shoplifters to return to Alton, then nabbed them as they left the store. "Four (women) have been hitting Lowe's stores in the past couple of weeks, they have taken about $3,000 in merchandise from each of the stores" said Chief Jason "Jake" Simmons of the Alton Police Department. "They have been hitting all the Lowe's stores in the area (region) - Bridgeton, St. Charles, O'Fallon (Mo.), Fairview Heights, Maplewood, Kirkwood, Glen Carbon and Granite City." It is possible the women may have stolen from other similar hardware stores, as well, he said. "I give credit to Lowe's security department, I applaud them," he said of the company's investigation that resulted in the women's arrests Wednesday afternoon. Since the group operates in a geographic pattern, Simmons said Lowe's security team expected them to come back to Alton on Wednesday afternoon. Lowe's security staff - including the Alton store's loss prevention manager Rich Brown, retired East Alton police chief - met with Alton police to work out details of the impending bust. Lowe's subsequently brought in a number of its security guards inside the store to await the women's arrival. thetelegraph.com
Shoplifter hid baby formula in her dress; Rocklin, CA Police say they busted an ORC operation. The thieves targeted containers of baby formula, which can retail for between $20 and $30. Last Friday, Rocklin police responded to a call from the loss prevention team at a Bel Air grocery store in the 2300 block of Sunset Boulevard. As officers arrived, two people got away in a vehicle. A third was taken into custody at the scene, police said. Elena Zatreanu, 32, was booked into the Placer County Jail on suspicion of conspiracy, shoplifting, possession of burglary tools and presenting false identification. Zatreanu was wearing a "a booster dress" at the time of her arrest, which is a dress with specially designed pockets or areas for hiding stolen goods, said Rocklin police spokesman and Capt. Lon Milka. The crew was attempting to steal about $1,000 worth of baby formula likely with the goal of reselling it online or at local flea markets, Milka said. According to a Rocklin PD Facebook post, officers "quickly discovered the theft was related to numerous other organized retail crimes throughout the Sacramento Valley and (the) Bay Area." kcra.com
Man arrested for theft of more than $2K in turkeys from Kroger An Arkansas man has been charged with a pre-Thanksgiving time theft accused of selling frozen turkeys from Kroger without the store's permission, police said. James Frazier, 52, of Marked Tree, Ark., has been charged with theft of property between $1,000 and $10,000. According to an affidavit, Kroger contacted detectives with the Memphis Police Cargo Theft Task Force and told officers that the suspect, a general manager at Americold, was allegedly selling their turkeys from the refrigerated warehouse business in the 2300 block of Spottswood without the store's permission. The Kroger employee posed as a member of a church and arranged to buy the turkeys from Frazier at Americold. Once at the business, the suspect brought out 50 cases of frozen turkeys on a fork lift to load on a truck, according to police. Detectives moved in and the turkeys valued at $2,609.17 were seized and officers arrested Frazier. Frazier told police that he made an arrangement with an associate named "Gus" to sell the 50 cases of turkeys to a church and that he would receive a portion of the money. commercialappeal.com

36 Blue-Ray DVD players stolen from BJ's in East Caln Twp. PA Police are searching for a suspect after someone stole 36 Blue-Ray DVD players from a township retailer last week, according to the Downingtown Police Department. Police said someone entered the BJ's Wholesale store around 1:20 p.m. on Nov. 6 in the 1000 block of East Lancaster Avenue and stole various Sony and Samsung electronics off the shelf. The total value of the stolen items was $3,309, according to police. dailylocal.com

3 arrested in elaborate Diesel Fuel thefts in Marion Co, FL Three people are facing charges after police said they stole diesel from multiple gas stations across Marion County. Investigations said the trio siphoned fuel and drove off without paying for it. It was frustrating for employee Dayana Solis and the owner of the small mom-and-pop gas station S N Food Mart on Maricamp Road when they found out thieves had stolen more than 300 gallons of diesel, which cost about $1,000. But they weren't alone. Investigators said Roilan Linares, Alondra De La Caridad and Dan Gonzalez also stole hundreds of gallons of fuel from a Kangaroo Express and a Kwik King gas station. Investigators said the thieves would sneak into the gas stations while they were closed, drive to the ports and siphon all the fuel they could carry in special containers inside their vehicle. wftv.com
Do you have an ORC case to share?
Share your ORC news and help the industry grow


Retail Crime News

Sponsored by NuTech National
Police Shoot and Kill Carjacking Suspect at Concord, CA Mall Officers shot and killed a carjacking suspect who they said tried to ram a stolen car into a Concord police patrol vehicle in a dramatic chase that spanned two malls. At 8:43 p.m. on Wednesday, Contra Costa County Sheriff's deputies and Concord police began following a stolen vehicle from near Sun Valley Mall, according to Concord police spokesman Lt. David Hughes. The man driving the stolen vehicle ditched the car at the mall, and then ran on foot eastward towards the nearby Willows Shopping Center, located across from Interstate Highway 680. The suspect tried to carjack two other vehicles and failed, but he ultimately gained control of a car on his third attempt, Hughes said. Concord police confronted the man in the back of the shopping center's parking lot near REI before he could flee. The suspect then used the recently stolen vehicle to ram into a police car, according to Hughes. Officers shot the suspect several times in defense of themselves and the public, Hughes said. Police immediately called in emergency medical aid, but the suspect died from his injuries. nbcbayarea.com
Security Guard shoots at 2 men outside the Minyard Food Store in Dallas Police say two people were shot in an incident involving a security guard at a supermarket in South Dallas late Wednesday night. Emergency personnel were called to the Minyard Food Store at the corner of Ledbetter Drive and Lancaster Road shortly before 10 p.m. According to preliminary information, at least two people were wounded in the gunfire that stemmed from an altercation inside the store, which moved to the parking lot. Police say two men, and possibly a third, were fighting when one of the men went to his car and pulled out a gun. He shot one of the men, and that's when the security guard stepped in. While trying to stop the fight, he fired at the men and wounded one of them. All of the suspects in the fight managed to get away. Police don't think their injuries are life-threatening, but they will need medical attention. wfaa.com
NYC Diamond District Robbery video released by Police The two men who allegedly robbed a midtown jewelry store at gunpoint and pistol whipped an employee were still on the loose Wednesday, a day after the violent attack shut down a busy stretch of the Diamond District, police said. Authorities released a video of the two suspects Wednesday, showing the suspects before and after the attack. In the video, the two men are seen separately, pacing in front of the stores along the well-trafficked street, apparently before the robbery. After the attack, the first man appears to walk away quickly and the second man tries to keep his head down, holding his cap. amny.com
Reeds Jewelers' heist in Fayetteville linked by DNA to Mississippi robbery The three robbers were brazen after using sledgehammers to smash the glass cases at Reed's Jewelers on the afternoon of Oct. 22 and running off with 33 Rolex watches valued at more than $360,000. Police say the trio jumped a fence at Cross Creek Mall and switched vehicles three times in a short stretch of blacktop. What they didn't count on was the GPS tracker attached to one of the Rolexes. Fayetteville police and store employees were able to follow their every move, according to search warrant affidavits. The three men - two from Detroit and one from Arizona - were caught in Dillon, South Carolina. Police say this was not their first smash-and-grab. Officers had help from several local police departments, as well as the Federal Bureau of Investigation, eventually nabbing 24-year-old Brandon Phillip Wilkerson, 21-year-old Darion Savon Thompson and 25-year-old Dajuan Cortez Marcellus, according to accounts by law enforcement. fayobserver.com

UK: New South Wales duo set to be sentenced over 'amateurish' $426,000 Louis Vuitton store robbery Two men will be sentenced today after making a bungled attempt to rob a Sydney designer store of nearly half a million dollars worth of goods. The actions of Adam Achrafi, 19, and Naef Chaouk, 21, were described as "amateurish and foolhardy" by their barrister, Brett Eurell. He spoke at a hearing at Downing Centre District Court yesterday, with the defendants returning to the court on Friday to hear their fate. The pair pleaded guilty to aggravated break and enter, damaging property and attempting to steal a car following the robbery attempt at the Louis Vuitton store last August. More than 70 items worth $426,000 including luxury leather goods and jewellery were later found in a fire escape at the back of the building. During the break-in, they also caused $13,000 damage before being arrested by police in the area. 9news.com

SWAT Team Called In For Reported Burglary At Kohl's in Laguna Niguel, CA A search for possible burglary suspects at a Laguna Niguel department store came up empty Wednesday, authorities said. Police responded to a Kohl's store located along the 27300 block of Heather Ridge Road around 5:30 a.m. after employees reported hearing noises and believed burglars were in the back of the store, according to Orange County Sheriff's Lt. Jeff Hallock. Sheriff's deputies and a SWAT team conducted a search of the store, but no suspects were located. cbslocal.com
Wallet dropped at Jefferson County, AL crime scene leads Police to suspect in string of pharmacy robberies A man suspected in a string of robberies - as many as six - throughout Birmingham and Jefferson County was captured today. Tommy Leon Stewart, 28, was identified after he dropped his wallet at one of the crime scenes, said Jefferson County sheriff's Chief Deputy Randy Christian. He is also the same suspect who jumped out of the drive-thru window when fleeing two CVS robberies in late October. Stewart is accused of carrying out four robberies in Birmingham businesses: CVS, Dunkin Donuts, Easy Money and Title Cash. al.com

Four West Palm Beach, FL men sentenced for roles in Cargo Theft Ring Four men were sentenced in federal court this week on charges of participating in a Palm Beach County-based cargo theft ring, the U.S. Attorney's Office said Wednesday. A federal judge handed down sentences to Eliesky Sanchez, 31, Reinaldo Garcia Suarez, 39, and Alien Moya, 30, all of West Palm Beach. The men all pleaded guilty to conspiracy to buy or receive goods stolen from an interstate or foreign shipment. Reinaldo Llabona Jr., 26, of Miami, was also sentenced for his role in the theft ring. Sanchez was sentenced to five years, while Suarez received a sentence of four years and two months. Moya was sentenced to three years and eight months in prison, while Llabona was given an 18-month sentence. palmbeachpost.com

Houston Police catches suspect trying to burglarize Macy's at Almeda Mall A suspect is in custody after police say he caught attempting to burglarize a Macy's department store in southeast Houston later Wednesday. According to the Houston Police Department, it happened around 10:45 p.m. at the store located at Almeda Mall just off the Gulf Freeway. Investigators say they received a call from security alarm company they had an alarm go off in the store and that they could see someone inside the store on the security cameras. When police arrived at the scene, they sent in a K-9 unit and found the suspect hiding inside the department store. According to HPD, the suspect was inside Macy's before it closed. He apparently hid inside the store and waited for them to close. Police said he thought would be able to take stuff after being locked inside, but he was having trouble finding a way out. khou.com

Montreal, CN: Jewelry robbery targets Birks in Fairview Pointe Claire shopping mall Montreal police are looking for four suspects who robbed a Birks jewelry store at the Fairview Pointe Claire shopping mall. Police say four masked men went into the store at 8:15 p.m. on Wednesday. They smashed the jewelry cases using hammers, grabbed merchandise, and then sprayed people in the store before fleeing on foot. Police Const. Simon Delorme says investigators are asking for help from the public to identify the suspects. "There's many witnesses to meet and if anyone saw something special or have taken some pictures of the scene they can call the police station nearby," said Delorme. Delorme said people with information can also call the police Info-Crime line. The value of the stolen jewelry is not yet known. cbc.ca
After serving 90 days a St Charles, MO Man shoplifts, goes back to jail same day as released After serving 90 days in jail for retail theft, an Aurora man last week stole a bottle of liquor - sending him back to jail, according to a St. Charles police report. David John Sasko, 56, of the 600 block of River Street, was charged Nov. 4 with felony retail theft, a Class 4 felony, for reportedly taking whiskey from Meijer. Sasko was released from jail that day after serving time for an Aurora shoplifting case, police reported. Additionally, the report noted, his criminal history included 12 arrests and eight convictions for larceny. mysuburbanlife.com

13 puppies stolen from Thornton, CO area pet shops More than a dozen puppies were stolen overnight in two separate north-metro pet shop burglaries. Police say two puppies were stolen from a Thornton pet store around 2 a.m. Thirty minutes later, a Northglenn pet shop was broken into and nine puppies were stolen from there. Owners of the two shops believe the burglaries are connected. The first burglary occurred at Pet Ranch located at 3823 E. 120th Ave. in Thornton. Four English bulldog puppies valued at $11,000 were taken from a locked play pin. The crooks were in and out of the business in 60 seconds, according to security footage. The owner of Pet Ranch told 9NEWS that the red and white bulldogs had only been at the store a little over 24 hours before they were stolen. Two of the dogs had homes already. 9news.com
Fire damaged Bealls in Bastrop, TX reopens to the public Local department store Bealls on Texas 71 in Bastrop reopened its doors to the public Thursday morning, featuring an entirely new stock of items after being closed nearly two months following a fire. Police arrested 51-year-old Eric Wayne Prachyl in connection with the fire and other alleged crimes committed that evening, charging him with arson. statesman.com

Two Accused of Stealing from Rugged Warehouse in Catawba Co, NC

Kay Jewelers in the Alamance Crossing, Burlington, NC the victim of a Grab and Run; 3 items total value of nearly $9,000

Kay Jewelers in the Pearland Towne Center, Pearland Texas; one suspect fled during a Grab and Run with a 1 CT solitaire Ring valued at $6,699


Robberies and Burglaries
• Allied Cash - Grand Haven, MI - Armed Robbery - suspect interviewed by Police
• Casey's General - Beaver Dam, WI - Employee theft
• Cricket Wireless - Tulsa, OK - Armed Robbery
• CVS -Center Point, AL - Armed Robbery - suspect arrested
• Dollar General - Ashburn, GA - Armed Robbery
• Dollar General - Memphis, TN - Armed Robbery
• Empson Drugs - Ashland City, TN - Armed Robbery - suspect in custody
• Food Mart - Albany, NY - Armed Robbery
• Grab-N-Go - Dougherty, Co, GA - Burglary
• Kangaroo - Chattanooga, TN - Armed Robbery
• MacNet - Maui, HW - Burglary
• Noxapater Hardware - Noxapater, MS -Burglary - 2nd suspect arrested
• Rite Way Foods - Pompano Beach, FL - Armed Robbery
• Walgreens - Louisville, KY - Armed Robbery
• 7-Eleven - Hampton, VA - Armed Robbery
• 7-Eleven -Yakima, WA - Armed Robbery


Vendor Spotlight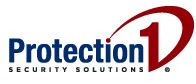 Protection 1 Launches HALO, its Home Automation and Video Verification Platform Protection 1 Takes Connected Home to the Next Level As the Only Provider of Video Verified Response and Solar Production Tracking
Protection 1, the largest full-service business and home security company in the U.S., has announced the advancement of its home automation platform, HALO. The HALO platform, which includes a fully integrated suite of connected home solutions available through a single app, has added new Central Station operator video alarm verification along with new energy efficiency features like solar power and energy monitoring to its list of capabilities. Powered by Alarm.com's leading cloud-based software platform for the intelligently connected home, HALO gives Protection 1's residential customers a comprehensive suite of secure connected home solutions. From a single mobile app, users can control and manage interactive security, video monitoring and energy management solutions as well as a broad ecosystem of connected devices. Using persistent monitoring and adaptive learning, Protection 1 customers get improved security, intelligent automation and effortless energy management capabilities. Read more here.
Brite Energy, Protection 1's Solar Arm,
Launches its Residential Business in San Diego
Phased Roll Out Planned to Allow Company to Scale Smart
Protection 1 announced its solar arm, Brite Energy, has launched in its first market, San Diego, Calif. Over the next several months, Brite Energy plans to execute a phased, market by market launch strategy that will allow the company to scale quickly delivering the industry-leading customer experience Protection 1 is known for. "Like Protection 1, Brite Energy will be distinguished by the quality of customer experience and speed of installation that differentiates us in the security business," said Timothy J. Whall, Protection 1 CEO. "We know that our customers are looking for a solar offering that parallels the experience and support we provide at Protection 1 and we are prepared to deliver exactly that. We believe our customer-first brand of service will allow us to quickly take a leadership position in the solar marketplace as we have in security and we are pleased to announce this milestone." Read more here.


Featured Job Listings
Sponsored by Cam Connections
Feature Your Job Here For 30 Days -
70% Aren't On the Boards
VP of Sales
Checkview
Chanhassen, MN
Checkview
Sr. Director, Field LP
Ross Stores
Dublin, CA
Ross Stores
Director of LP
Tourneau
New York, NY
LinkedIn
Director of LP
Fred Meyer Jewelers
Portland, OR
Kroger
National Account Executive
Checkview
Northeast Region
Checkview
National Account Executive
Checkview
United States
Checkview
Director, Pharmacy LP
Rite Aid
Camp Hill, PA
Rite Aid
Corporate Investigator
Confidential
San Francisco Bay, CA
Confidential
National Account Manager
Vector Security, Inc
TBD
Vector Security, Inc
Supervisor LP DC
Ascena Retail Group
Greencastle, IN
Ascena Retail Group
AP Agent
Ralph Lauren
Sunrise, FL
Ralph Lauren
LP Agent
JONS Markets
Los Angeles, CA
JONS Markets
National Account Mgr
Confidential
Northeast
Downing & Downing

Limited Time Only - Post Your Multi-Unit LP jobs for FREE - Learn More Here

Daily Job Alerts


Sponsored by Cam Connections
Appearing One Day Only
View our Internet Jobs Archives here
Area LP Manager
dd's Discounts Store
Houston, TX
Ross Stores
Area LP Manager
Ross Stores
Jacksonville, FL
Ross Stores
Area LP Manager
dd's Discounts Store
Orlando, FL
Ross Stores
Dept Assistant LP
Ross Stores
Dublin, CA
Ross Stores
LP & Safety Supervisor
Ross Stores
Rock Hill, SC
Ross Stores
AP Manager
Sam's Club
Clarksville, IN
Wal-Mart
AP Manager in Training
Walmart
Salinas, CA
Wal-Mart
AP Manager in Training
Walmart
Rio Grande, NJ
Wal-Mart
AP Manager in Training
Walmart
Ponca City, OK
Wal-Mart
AP Manager in Training
Walmart
Schererville, IN
Wal-Mart
AP Manager in Training
Walmart
Carrollton, KY
Wal-Mart
LP Manager Hrly
Sears
Pittsburgh, PA
Sears Holdings Corp
LP Manager
Sears
Montclair, CA
Sears Holdings Corp
LP Manager Hrly
Kmart
Kenosha, WI
Sears Holdings Corp



Home of the Industry's Original
On the Move

David Jones, CFI was promoted to VP - Global Security Lead & Regional Head Latin America for DHL Supply Chain.
Darren Martel, CFI was named Regional Asset Protection Investigator for Regis Corporation.
Michael Segreto was named Regional Loss Prevention Manager for Tractor Supply Company.
Thomas Darling was named Department Manager of Loss Prevention & Safety for Lowe's.
Post Your New Job or Promotion!
See all the Industry Movement


Your Career
Sponsor this section of the Daily
You Don't Get What You Don't Ask For
Most people are afraid to ask for things because there is a chance that someone will say no. We don't like rejection and it keeps us from things we want. Don't let rejection keep you from trying things or getting what you want by following these tips. Just ask

5 Ways to Get the Appreciation You Deserve When your work gets noticed and when you you're appreciated chances are you will enjoy your job more and your level of productivity will rise. If you know you're doing good work and aren't feeling the gratitude, maybe it's time to take a look inside. Ask yourself these questions and feel good about what you've accomplished! Give yourself credit

7 Ways to Get People to Believe, Like and Respect You Whether you're the boss, colleague, or new hire, there are some simple principles that can build a positive reputation and keep your credibility intact. Here are some ways to show that you're an honest and respectable professional. Admit mistakes

To Motivate Employees, Help Them Do Their Jobs Better Employee engagement is a hot topic right now and most research has found that employees who are engaged perform better. Does the higher performance come from being engaged or are high-performing employees simply more engaged to start off? In this study they tested just that and found that both are true! By-product of success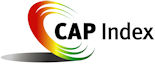 Tip of the Day
Sponsored by Vector Security
While progress is a slow process comprised of small intentional steps it requires a deep focus and an unwavering commitment towards always accomplishing the basics and integrating the change or evolution methodically. While your eyes remain locked on your end result one must always look inward and be able to see or realize the miss-steps or the mistakes along the way or else you'll never reach the goal. Without the ability or willingness to admit self-failure progress will always be elusive. For it is through failure that we learn how to win and both play their equal parts in progress.

Just a Thought,
Gus







Upcoming Events
---
Recruiting?
Get your job e-mailed to everyone... everyday
Post on our Featured Jobs Board!
Reach your target audience in 2015 every day!
Request our 2015 Media Kit
update account / change e-mail
unsubscribe FEEDBACK
www.downing-downing.com

Advertise With The D&D Daily




36615 Vine Street, Suite 103
Willoughby, OH 44094
440.942.0671
copyright 2009-2019
all rights reserved globally