The D&D Daily Mobile Edition
November 13,

2015



The LP Industry's #1 News Source - Informing, Educating and Instilling a sense of community



News Brief
Sponsored by WG Security Products, Inc.
Walmart employees launch 15-day fast in protest for higher wages
An organization that advocates for higher wages for Walmart employees said Thursday it plans to stage a fast starting 15 days before Black Friday. The effort by "Our Walmart" has been dubbed Fast for 15 as a play on the name of the Fight for 15 movement, which demands a minimum wage of $15 an hour. Participants in the fast, which begins Friday, will include current and former Walmart employees and concerned citizens. So far over 100 current Walmart employees and more than 900 others have signed up. The protesters have pledged to fast for varying numbers of days -- only some will attempt to go all 15 days, according to the group. A core group of fasters will consume only liquids.

Fasts will also be held at the homes of Walmart heirs. The first is planned for November 16 to 20 in New York City near the home of Alice Walton. Another will be held on November 24 outside the California home of Walmart heir and chairman Greg Penner. The group also plans to fast outside some Walmart stores. cnn.com

Fraudsters Often Pose as Seniors - Report reveals characteristics of online fraud
The capability to profile potential cybercriminals, along with the implementation of chip-and-pin credit cards, may produce a reduction in the amount of money lost to online fraud each year. But that doesn't mean the threat will go away entirely. What makes an online fraudster? Can you tell by looking at their age? Gender? Billing address? When they shop? The answer is both yes and no, according to a recent report called "The United States of Fraud," produced Sift Science, a fraud detection and prevention software company. They identified factors including age, billing address, shipping address and purchase value that are more likely to signal fraud. For this study, Sift Science analyzed 1.3 million transactions with shipping or billing addresses in the U.S. from August 2014 to August 2015, transactions that were drawn from their customers' servers (they work with AirBnB, OpenTable and Pebble, to name a few). Sift Science then cross-referenced with third-party data from FullContact to identify gender and age.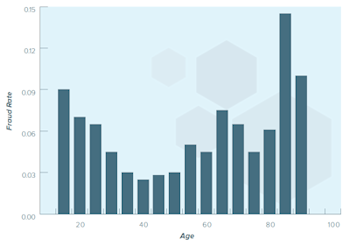 Some of the findings were surprising, even bizarre. For example, the report found that users identifying as 85 to 90 years old have the highest rates of fraud. They are two-and-a-half times more likely to be fraudsters than the average user. This doesn't mean your grandparents are ripping people off. "We think it might be that, for a lot of online businesses, they will be more forgiving if you look like an older person because they're unlikely to be fraudsters," Tan says. "Maybe fraudsters have figured that out and are trying to sneak themselves in by using that forgiveness."

The study also found that men are slightly more likely than women to be fraudsters. They identified when fraud is more likely to happen, too: 3 a.m. is the most likely fraudulent time of day, but they also found that fraudsters are more likely to transact online during the workweek than legitimate users. As for value, the study found that purchases worth $20 or less are 2.16 times likely to be more fraudulent.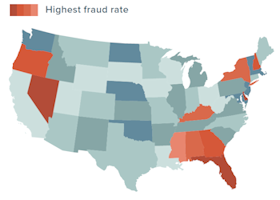 The report looked at geography, too: Orders shipped to Delaware, Florida and Georgia have the highest fraud rate based on shipping address. Alaska, Delaware and Arizona have the highest fraud rate based on billing address. County with the highest fraud rate: Miami-Dade County in Florida. "Oftentimes what we see if that fraudsters will use [an] intermediate address that is in the United States because a lot of time, online businesses are mistrusting of an international address," says Tan. "They ship that electronics, that camera that they bought with a credit card to a U.S. based address first so it doesn't flag any suspicion, and then they reship it from there to somewhere else." Alaska, he says, could be high on the list simply because, with drop-down menus used to fill out billing information, Alaska is typically listed first. cio.com

Tips on eliminating Black Friday fraud and chargebacks
Chargebacks in the past have acted as a form of consumer protection to provide remedy to individuals who have been victims of identity theft, merchant errors or unethical business practices. However, an increasing number of chargebacks are fraudulent, with some consumers obtaining products without paying for them - a process known as friendly fraud. On a retail day where normal shopping behaviors are put aside, finding and stopping friendly fraud from Black Friday sales is like finding a needle in a haystack. To help online merchants eliminate Black Friday fraud and chargebacks, Monica Eaton-Cardone has provided some tips for incoming orders:

● Require a Card Security Code: For all credit card orders, be sure to obtain a valid card verification code (CVC). Not only does this help prevent cybercriminals from placing fraudulent orders with stolen card data, but it can serve as valuable evidence in a chargeback dispute.

● Collect and Compare IP Addresses to Physical Addresses: By capturing a customer's IP details, merchants can identify the physical location associated with an IP address and confirm if it matches the billing and/or shipping address. This information can be used to flag suspicious orders as well as help prove the legitimacy of a disputed transaction.

● Use Both Automated and Manual Analysis: Manually approving all transactions can be costly and time consuming, while automated systems may decline legitimate orders or miss potential fraud. For optimal results, choose a risk management solution/partner that combines both advanced technology and human expertise. retailfraud.com

South Africa - Malls go hi-tech and share data to outwit gangs
The retail sector is under siege, with the latest crime statistics showing a record 805 armed robberies taking place in South Africa during the 12 months to the end of March. But companies are increasingly organizing to fight back, with encouraging results. According to the Consumer Goods Council of SA, which represents about 12,000 retailers, the five largest chains saw a 25% jump in robberies experienced at their outlets, which translated to a 36% increase in cash losses. Jewelers experienced a 39% rise in robberies and an astonishing 300% increase in cash losses. This is coming on top of a rise in retail robberies of almost a third during the previous 12-month period that ended in March last year and a similar surge in truck hijacking incidents.

New strategies are needed, says Consumer Goods Council of SA crime risk initiative head Graham Wright, and business must become as organized as the gangs. There is evidence to back this up: despite a dearth of reliable police intelligence, retail property groups that have invested in technology and share information among shopping malls have managed to buck the trend and suppress the crime rate affecting their tenants.

Mr Wright of the Consumer Goods Council says there is a trend, as is the tendency of organized criminals, to shift attention from one retail group to another. The response of the council's crime risk initiative has been to emphasize collaboration across companies and sectors by widening focus from the Big Five retail companies and jeweler stores to include insurers - which possess a wealth of useful data derived from claims - as well as clothing shops and petrol stations. The emphasis, says Mr Wright, is on sharing sector-specific intelligence, especially persuading shopping malls to co-operate across ownership affiliations so their successes can be replicated, and they can learn how others have tackled similar problems. bdlive.co.za

Sports-fashion retailer JD reports losses down 50% with new tagging system
Tim Edwards, Profit Protection Director at JD Sports has collaborated with a Swiss manufacturer, Agon Systems and it's two Danish inventors to produce a new EAS tag called the Concept Tag. The tags have been introduced in JD's flagship stores in London's Oxford Street, Manchester's Trafford and Arndale Centre and Birmingham's famous Bull Ring, as well as Glasgow, Stratford, Newcastle, Amsterdam, Nice, Marseille and Lyon. Following extensive trials, JD has seen a 50% reduction in losses at their Oxford Street store, as well as the displacement of crime to other stores; including JD stores not using the new Concept Tag. It is calculated that a roll out of this innovation across the group would equate to a loss reduction in the region of £5M, which is about the same as a 5% increase in pre tax profits. The Concept Tag is the product of six years of R&D to solve the problem of EAS tag removal by criminals, who it is widely recognised can easily acquire detachers for conventional tags online for a small sum and then use them for illicit tag removal and theft. Additionally shoplifters have found various ways to remove current tags even without a detacher. retailfraud.com

LPRC 2016 Research Update
This week, the Loss Prevention Research Council team corroborated on future projects and research for the 2016 year. So far, each working group and action team has been very well-represented as each group has already come up with several project ideas! From developing Industry standards to combat shrinkage, advances in merchant protection, as well understanding Organized Retail Crime as a whole - 2016 is looking to be the best year yet! Keep up the great work everyone.

JC Penney To Pay $50M To Settle False Discount Claims
J.C. Penney Corp. on Tuesday agreed to pay $50 million to settle a class action accusing the retailer of tricking customers into believing they were getting larger discounts on apparel than they actually were, according to a filing in California federal court. law360.com

Macy's could close stores, redevelop flagships
Macy's could close stores and take on tenants at flagship locations as the department store chain struggles to meet financial expectations ahead of the holiday season. Macy's CEO Terry Lundgren said the company could close more stores and redevelop some flagship locations, including its State Street property in Chicago's Loop, once the flagship for Marshall Fields.

Macy's is looking for ways to monetize its real estate, and would consider taking tenants in these buildings, in the form of joint venture or other deal structures, according to the Chicago Tribune. "We are just beginning an exploration to see what else we can do with the underutilized space in the building beyond the store." fierceretail.com

Apple apologizes to black students who were asked to leave a store because they 'might steal something'

Department store magnate and Target co-founder Bruce Dayton dies at 97

Target signs lease for lower Manhattan store - coming Oct. 2016 - 48,242 sq-ft

NRF: 57% of Holiday Shoppers Already Making Dents in Their Lists

U.S. retail sales rose 0.1% in Oct vs 0.3% rise expected

Quarterly Same Store Sales Results
Sally Beauty Q4 comp's up 3.5, full year comp's up 2.9%, with Q4 net sales up 2.1% and full year up 2.2%
Nordstrom Q3 comp's up 0.9% with sales up 6.6%
Party City Q3 comp's down 3.6% with sales up 4.1%
bebe Q1 comp's down 4.1% with net sales down 5.7%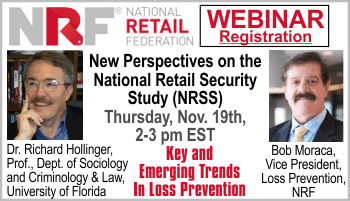 RLPSA CONNECT Event in New Orleans Features Mayor, Chief of Police and District Attorney
RLPSA follows success of Houston crime workshop by connecting restaurant loss prevention and security professionals with valuable law enforcement representatives

The Restaurant Loss Prevention & Security Association (RLPSA) will hold a one-day security workshop at the Renaissance Pere Marquette Hotel in New Orleans Tuesday, November 17, featuring New Orleans Mayor Mitchell J. Landrieu, Superintendent of Police Michael S. Harrison, and District Attorney Leon Cannizzaro.

Other workshop events include a session conducted by CAP Index on restaurant crime statistics in the greater New Orleans area, a discussion of how to use technology to defend against theft and robbery, an open forum on restaurant security practices, and a panel on law enforcement and government issues.

The first "crime workshop" was held in Houston and its success led to a new strategy for a series of workshops now known as RLPSA CONNECT. "Our crime workshop series, RLPSA CONNECT, will help connect attendees with their peers within the restaurant LP communities, and establish networking opportunities for connecting with local law enforcement, and government and food service practitioners," said RLPSA Executive Director Jim Forlenza, "Our Houston program sold out, which is an indication of how important this topic is to restaurant security at all levels."


Click here to see the full event agenda.

Registration for the workshop is required using the attached reservation form. Seating is limited to the first 90 registrants.

Hotel reservations can be made at the special RLPSA rate of $149, click here.


All the News - One Place - One Source - One Time
The D&D Daily respects your time
& doesn't filter retail's reality

Report Your News!
(content subject to approval)




Over 90 million attacks detected and stopped in Q3 2015
More than 90 million attacks were detected and stopped in real time in Q3 2015, a recent study shows. According to a report conducted by ThreatMetrix, a 20% increase over Q2 2015 has been registered. Aside from potential brand and reputation impact, these attacks represent billions of USD in financial losses that were avoided for customers across the globe. Organizations are working harder than ever to protect and maintain profitable relationships with their customers. Also, fraudsters replay stolen identities using proxies, device / location spoofing to cloak the true digital identity, and hijacking user sessions with malware or Man-in-the-Middle attacks. Three of the top five attack originators are from Western Europe, while the US is one of the biggest players in cyber fraud origination. Cybercriminals are using bots to increase the efficiency of attacks on confidential data such as login and payment details. Customer experience is further compromised as botnets run identity testing sessions to try and penetrate fraud defenses. thepaypers.com

Ex-NYPD Commish Says Companies Must Up Cyber Defenses
While financial institutions and other companies have been talking about hardening their cyber defenses in the wake of several high-profile attacks, the reality has been a bit more uneven, leaving the companies and their customers vulnerable, former New York Police Commissioner Raymond W. Kelly says.

Kelly, a newly minted vice chairman at corporate investigations firm K2 intelligence, said in an interview with Law360 that all too frequently, companies do not put in place strict enough policies and procedures and sufficiently thorough training of their employees to effectively defend themselves from the multitude of threats to their computer systems.

Kelly said that companies need to have firm cybersecurity policies in place and that all employees must be trained on them. The former New York City police commissioner said that new employees should be put through that training before doing any work for a company at all - a prospect at which many companies bristle. law360.com

Lack of Skilled Personnel: Biggest Barrier to Security Implementations
The majority (59%) of companies may want to implement better cybersecurity tools to protect their network assets and data, but are faced with a dearth of qualified personnel who can adequately select, design and implement an automated solution. And the result is a legion of organizations that have gaping security holes to contend with.

The demand for cybersecurity tools and resources has doubled since 2014, but a lack of skills and dedicated resources are the main obstacles to implementing them, meaning that discovering and acting on cybersecurity incidents and breaches is a difficult task, at best.

A full 35% of organizations cite a lack of centralized reporting and remediation controls as a barrier to identifying cybersecurity incidents. And worse, a quarter (26%) still can't understand and baseline "normal" cybersecurity behavior, making it difficult for them to identify and block abnormal behaviors. infosecurity-magazine.com

The Importance of Security in Omnichannel Retailing
Data breaches put brand reputations on the line, which makes security a top priority for retailers gathering customer information. Uniting an ever-growing number of channels, devices and players, omnichannel retailing opens the door to powerful new possibilities. It also exposes businesses to unwanted visitors and threats. Retail IT leaders grasp the seriousness of the problem. Almost all (97 percent) ranked security as their top priority for 2015, according to a December 2014 survey by Forrester Research and the National Retail Federation. This doesn't mean that they're backing off from omnichannel initiatives, however. In fact, more than three-quarters of respondents identified it as their second priority for the year. The trick is balancing those priorities -- protecting the business while innovating. The challenges and the stakes associated with securing data are too high for many businesses to address alone. A trusted partner can perform a security risk assessment for retailers, test their networks and help them create a customized risk management plan. biztechmagazine.com

JPMorgan Hackers Breached Anti-Fraud Vendor G2 Web Services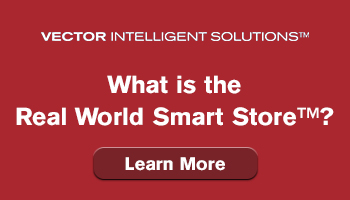 Spotlight on Detex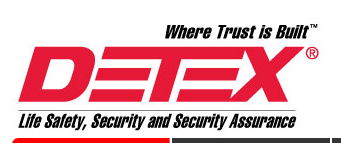 Detex offers the broadest line of life safety and security door hardware designed to meet the durability and performance requirements of the retail industry - without compromise. We offer solutions for every life safety and security door, with more options for specific applications. Whether your business is a group of big box stores or a single fashion outlet, life safety and security door hardware is a necessity. Not just for back doors, Detex door hardware is engineered precisely for certain retail situations, but also provides choices for a wide range of functions and costs. Our retail customers are often surprised to learn that we can supply most of their hardware needs.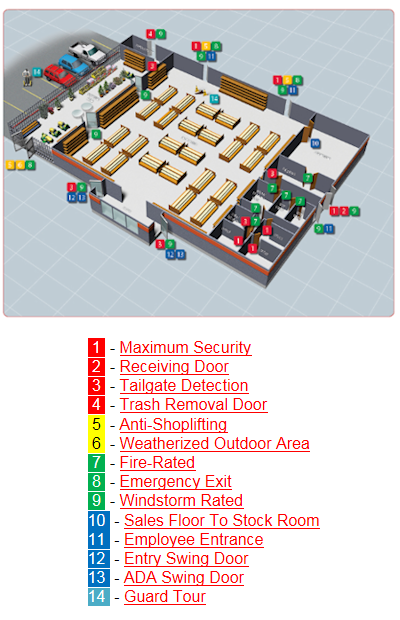 Learn more at www.detex.com


Canadian Push
Sponsored by Vector Security
Shopping malls gear up for Black Friday
- It's taking off in Canada after only 3 years - America's Impact
One key difference between Black Friday in Canada versus the U.S. is that Americans get the day off. "In the U.S., Black Friday really heralds the start of the holiday shopping and it's taken a few years to really catch on in Canada," said Connor.
"But we're beginning to see that Black Friday is really the unofficial start in Canada as well."
In a survey of its own shoppers, Yorkdale Shopping Centre found that
90% of respondents intend to shop on Black Friday, up from 80% last year and 53% from 2013.
In addition, 93% of those surveyed said they're more likely to shop in Canada than in the U.S. because of the exchange rate.
It's an incredible rise for a shopping event that didn't exist in Canada just four years ago, and was created to stem the tide of cross-border shoppers.
"[The growth] really does mean that Black Friday is a big, meaningful shopping event for consumers in Canada," said Flannagan.
marketingmag.ca
Walmart Canada admits photo centre customers' data hacked - May affect 750,000 Canadians
Walmart Canada has told customers who used its photo centre from June 2014 to July 2015 that their credit card data and other personal information has been compromised.
Last July, the retailer took down the photo centre website and mobile applications operated by PNI Digital Media, based in Vancouver and owned by Staples Inc. It also notified those who used the photo centre during the period of a possible data breach.
In new emails dated Nov. 4, Walmart said its investigation showed an unauthorized party used "malware" - or malicious software - on some of PNI's servers supporting its retail clients, including some servers that hosted the Canadian photo centre site.
thestar.com
Starbucks Canada targets youth unemployment
with program to hire at-risk young people
Starbucks Canada is expanding a program to address "a crisis" in youth unemployment by committing to hire 10 per cent of its work force from among the country's disadvantaged young people. The Opportunity Youth program was launched as a pilot in Toronto in April. Starbucks will expand the program, starting in Montreal and Vancouver, and eventually reaching across Canada, employing 3,500 people between the ages of 16 and 24, who are not working, in school or in a training program.
financialpost.com
RCMP to recognize 20 people for bravery in 2014 Ottawa terror attack
Reported phone thefts in Toronto fell 40% in 2014
Sears Canada's downsizing deepens as it sells more real estate, including $100M distribution centre
Canada Post braces for record holiday volume - e-Commerce deliveries up 18%
Retail Fast Facts: October 2015
Highlights:
● Total monthly retail sales changed by 1.4 per cent over the comparable month last year.
● Total sales excluding food, automotive and gasoline changed by 2.2 per cent over the comparable month last year.
Read more
Calgary, AB, CN: Police charge 2 Seniors in connection with alleged Steal-to-Order ring; $56,000 of items recovered
A retailer who spotted some of their merchandise being sold at a local flea market tipped off police, who have laid charges against two people in connection with the stolen goods. Police responded to the initial complaint by visiting the flea market, which was being held at the Hillhurst Community Association hall on Oct. 25, and spotted a vendor selling clothing and toiletries that appeared to be new and possibly stolen. Information gathered by investigators led them to a property where they executed a search warrant on the residence and a van at the address on Oct. 28. Officers found stolen clothing, toiletry items and camping equipment worth an estimated $56,000 during their search. Police believe the items had been stolen from local retailers for the purpose of illegally reselling them. Sonia Kereluk, 75 and William Henry Fisher, 69, both of Calgary have been charged with possession of stolen property for the purpose of trafficking and trafficking in stolen property.
calgaryherald.com
Calgary, AB, CN: Six month investigation ends with 4 arrested in Organized Credit Card Fraud scheme
The Calgary Police Economic Crimes Unit has laid charges against four people accused of using stolen credit card data to commit identify fraud. Acting on reports of numerous frauds to obtain merchandise, pre-paid credit cards, and vehicles from rental companies, police initiated an in-depth investigation which has since resulted in the arrests of four people. On October 22, police at the Calgary International Airport were alerted to a group of three people who were attempting to rent a vehicle with a fraudulent credit card. When the individuals were caught and searched, police found forged credit cards, government-issued ID, and altered cards. Last week police were led to a home in Midnapore where they found counterfeiting equipment, more credit cards, some meth, a handgun and a stolen vehicle. There was also a significant amount of stolen property and $1,063 in cash found. ctvnews.ca
Toronto: Woman arrested for fraudulent high-end handbag sales, posed as a Holt Renfrew employee online
Toronto police have arrested a woman for the fraudulent sale of high-fashion items in a scheme targeted at Toronto's Vietnamese community. The woman allegedly posed as an employee of luxury retailer Holt Renfrew in an online fashion market forum where she befriended victims and offered help to get them discounts of up to 40 per cent on high-end shoes and handbags. Police say the woman had interested buyers transfer the money for the items online or meet her to deliver the money in person. When the victims handed her the cash, the accused reportedly left without returning. A 21-year old woman has been charged with fraud over $5,000, four counts of fraud under $5000 and fraud affecting the public market. She was scheduled to appear in court Thursday morning. cbc.ca

Windsor, ON: Macs Convenience robbed at knifepoint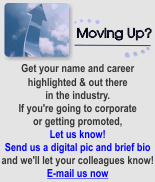 The Unwritten Rules of Corporate America
Keith White, SVP of LP, Gap Inc.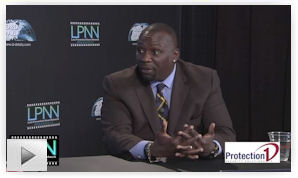 Keith White, Senior Vice President of Loss Prevention for Gap Inc., shares some of the unwritten rules of Corporate America and how you can apply them to help better navigate your career in this LPNN interview. From taking responsibility and accountability as a leader - to making yourself approachable by listening to others - to building a team that embodies your values and attributes - learn the simple yet powerful advice that has helped Keith and other C-Suite executives throughout their retail careers. And learn how emotional intelligence is the driving force behind it all.
---
As a theatre graduate and regular LPNN co-MC extraordinaire, Hedgie Bartol, Axis Communications, shares the secret to his on-camera charm, Amber provides some social media advice and Joe "Periscopes" from his phone in this LPNN Quick Take.
Solution Providers, have a video or commercial you want to publish? Contact us.


e-commerce

Sponsored by The Zellman Group
Mobile wallets, fraud and behavioural solutions
Mobile wallets are enjoying increasing adoption. Payments made via mobile devices in the United States are expected to total $90 billion by 2017, a big jump from the $12.8 billion spent in 2012, according to Forrester Research. There are two different types of mobile payments. The first type works through contactless technologies such as Near Field Communication (NFC) built into mobile phones. The second type of mobile payment is a mobile application (mobile wallet) that allows payment to be processed through the mobile carrier's network, as is the case with banks. With the near-ubiquity of mobile devices, banks are under pressure to come out with their own mobile banking apps, but security fears abound.

But where to begin? With a company's bottom line, brand reputation and customer loyalty on the line, how can institutions secure payments via mobile wallets? They need to really trust the user behind the device by verifying the user based on behavior. Deploying advanced user behavioral analytics will allow the organisation to detect genuine good users more accurately and improve the customer experience. There are at least 20 mobile wallet systems currently in use. This expands the threat landscape significantly. Relying on a single layer of defence at a single point in the transaction chain is always going to end badly. Profiling across multiple channels, using analysis from billions of transactions, provides the insight needed to more accurately detect mobile wallet fraud. Behavioural analytics offer banks the insight they need in order to protect themselves and their customers from fraudulent activity. planetbiometrics.com

Consumers Are Aware of Data Breaches, but Worry Less About Fraud This Holiday Season
More than half (54 percent) of consumers recognize an increase in data breaches this year compared to last, according to TransUnion's second annual Holiday Identity Theft survey. Despite the increased awareness, consumers' concern about identity theft is down from 63 percent in 2014 to 52 percent in 2015. Only 35 percent of survey respondents said they plan to change their shopping behavior this year because of the rise in breaches.

The TransUnion survey also found that as consumers embrace and use new payment and protection technologies, they also feel more personal accountability for their own security. New technologies like EMV credit cards contributed to consumers' sense of security and protection. This year, U.S. card companies began full-scale migration to chip-enabled or EMV credit cards, which use built-in computer chips to authenticate card transactions. TransUnion's survey found that more than two-thirds of consumers are aware of this new technology and, of them, 59 percent said they feel more secure using chip-enabled cards than magnetic strip ones. marketwired.com

eCommerce in 2016: Mobile makes up for 30% online traffic, Stores don't disappear

H-E-B makes 50,000 products available on website

US Bank takes mobile payments to the skies

Free Trumps Speed for Holiday Shipping Policies

Growing mobile wallet use drives significant gains for egift cards

"Fraud is not a person - it is a dynamic grouping of statistics that deviate from the norm."
Stuart B. Levine, CFI, CFCI
CEO, The Zellman Group & Zelligent


ORC News
Sponsored by NEDAP

ORC's 'PRC' Report
Organized Retail Crime's Publicly Reported Cases Report
List of Organized Retail Crime Associations throughout the U.S.
The number of Organized Retail Crime Associations has grown steadily in recent years, demonstrating an increased effort on the part of retailers and law enforcement to share information at the local and regional levels, as well as an acknowledgement of the scope and severity of organized retail crime. For your investigative purposes, we've compiled a list of current ORCA's throughout the United States should you need assistance in any specific locality or wish to join their group.

If you have another group or groups to add to the list, let us know! Help raise awareness about the resources available to LP practitioners and investigators throughout the country - as we, as an industry, continue to strengthen our collaboration in the fight against this national epidemic.

Chicago, IL: Daughter pleads guilty in $4.2M Organized toy theft spree
When workers tried to stop her parents from fleeing an Oklahoma Barnes & Noble after an alarm began to wail, Julia Bogdanov helped them get away, prosecutors said. When a detective for the bookstore - this time in Maryland - fingered Branko and Lela Bogdanov as thieves and tried to stop them from absconding with as many as 10 mini-American Girl dolls possibly stuffed under Lela's skirt, Julia ran interference and told the detective her mother was a cancer patient. Julia Bogdanov joined her parents as they allegedly targeted toy stores all across America and fetched $4.2 million selling the stolen goods on eBay. But Thursday, Julia Bogdanov was joined only by her attorney as she pleaded guilty in front of U.S. District Judge Andrea Wood to conspiring with her parents to commit the crime spree. She faces as many as five years in prison at her sentencing hearing, which is set for March 3. Her ultimate sentence is more likely to fall between 18 and 24 months. Branko and Lela Bogdanov are set to plead guilty Friday. The three Bogdanovs were arrested in March 2014 by the U.S. Secret Service, which teamed up with investigators from Toys "R" Us, eBay and Barnes & Noble to nab the family. Assistant U.S. Attorney Renato Mariotti told the judge authorities found $74,698 in merchandise in the family's tony Northbrook home. suntimes.com

Daytona Beach, FL: Haynes Brothers Furniture owners, employee charged in $24 Million theft ring
Three family members in Haynes Brothers Furniture here have been charged with racketeering and grand theft in a $24 million printer toner resale ring. The Daytona Beach News-Journal reported David Haynes and his two sons, Jason and Kyle Haynes, of the five-store Haynes Brothers chain, along with employee Bryan Day, were each charged with racketeering and three counts of grand theft of more than $100,000. A state investigation determined they each made about $800,000 reselling toner belonging to Xerox Corp., the report said. Convicted sexual predator Robert Fisher also is wanted in connection with the theft, the report said. The three Haynes family members and employee allegedly defrauded the Xerox Co. in a scheme that started in 2008, lasted until 2013 and involved establishing two ghost companies. Xerox initially estimated its loss at about $7 million, but after a Florida Department of Law Enforcement investigation, the loss was bumped up to nearly $24 million. The Hayneses and Day initially set up an HDH Graphics company as a legitimate side business. "But after they discovered how easy it was to order toner from Xerox, the focus shifted to ordering toner and selling it on eBay." furnituretoday.com

Racine, WI: Woman faces felony theft charges for stealing $1,600 of baby formula; hit Walmart and Pick N Save
A Racine woman faces four counts of theft, including two felonies, after allegedly stealing more than $1,600 worth of baby formula over eight days earlier this fall. Shaunese N. Felton, 35, was scheduled to be in court Thursday for her initial appearance on two counts of felony retail theft and two counts of misdemeanor retail theft. She allegedly stole more than 64 cans of baby formula worth $1,627 between Aug. 26 and Sept. 2. But Felton was ill, court records showed, and her initial appearance was rescheduled for Dec. 3. Mount Pleasant Police officers discovered that Felton and an accomplice allegedly stole 28 cans of baby formula from Pick 'n Save on Aug. 26; six cans from the same store on Aug. 29; and 30 more cans on Aug. 30. On Sept. 2, the duo allegedly took an undetermined amount of formula from the Walmart Superstore in Burlington. journaltimes.com


Clearfield, PA: The Lawrence Township Police Department is investigating an alleged "push out" retail theft incident that occurred at the Wal-Mart Supercenter in Clearfield
According to police, the alleged theft occurred between 3:50 a.m. and 4:10 a.m. July 12. Asset protection personnel told police that an assistant manager allegedly found a man walking out of the garden center's fire door with a tote full of merchandise at 4:10 a.m. Asset protection personnel told police that after reviewing surveillance video, they allegedly watched the man put tablets, laptops and routers in a large storage tote that was being pushed in a cart. He also allegedly took a computer and monitor before exiting the fire door in the garden center without paying for the merchandise. The total value of the stolen items is $1,985.84, police said. Asset protection personnel told police that they contacted the Dubois Wal-Mart store, which confirmed the male appeared to be the same suspect in recent retail thefts there. gantdaily.com

Buffalo, NY: Cuban woman admits to making counterfeit credit cards
A Cuban woman could be deported after pleading guilty to her part in a counterfeit credit card operation. The U.S. Attorney's office in Buffalo says 22-year-old Claudia Diaz Diaz pleaded guilty in federal court Thursday to conspiracy to commit bank fraud. Prosecutors say she is among six Cuban nationals accused of stealing the credit and debit card numbers of dozens of victims and encoding them on counterfeit cards, which they then used at western New York stores. Three others were convicted earlier and charges are still pending in the other two cases. The conspiracy charge carries a maximum prison term of 30 years. According to court documents, it's also a removable offense and deportation is likely. poststar.com

Huber Heights, OH: 3 Florida residents busted in Ohio with 50-100 fraudulent credit cards
Police have arrested three people they suspect were using stolen or fraudulent credit cards in the region. Lizan Hernandez, Heidy Estevez and Elvis Fonseca were arrested at the Kohls, 8301 Old Troy Pike, on Nov. 6 and were found to be in possession of between 50-100 stolen or fraudulent credit cards, according to police. Police said the trio were visiting the area from Florida. nationalcybersecurity.com


Tulsa, OK: Tulsa Co Deputies make 5th arrest in massive forgery, ID theft investigation
Tulsa County Sheriff's Office investigators have made another arrest in a massive forgery case. Kaitlin Elizabeth Lemons, 29, of Tulsa was booked into the Tulsa Jail on Thursday on a litany of complaints, including 155 counts of second-degree forgery, 24 counts of possession of an altered driver's license, six counts of identity theft, three counts of uttering a forged instrument, two counts of knowingly concealing stolen property, conspiracy to commit a felony and destroying evidence, jail records indicate. Lemons was arrested after deputies went to the Motel 6 on Nov. 5 to conduct a follow-up to a fraud report, according to an arrest report. Once there, deputies served a search warrant and arrested Nicholas Russell and Courtney Chadwick on 111 counts of second-degree forgery. In the room, detectives found computers, printers, laminate paper, a camera, a shredder containing what appeared to be Oklahoma driver's licenses, mail from multiple addresses and other materials commonly used for forgery, along with drugs and drug paraphernalia. tulsaworld.com

Louisville, KY: Man accused of stealing 45 cartons of cigarettes from grocery store

Palm Desert, CA: Thief Preyed on Apple Store Customers, following customers and stealing new electronics from their cars
Do you have an ORC case to share?
Share your ORC news and help the industry grow

Retail Crime News

Sponsored by Security Resources
Aurora, CO: One person shot in Safeway parking lot
One person suffered non-life threatening injuries after a shooting in a Safeway parking lot in Aurora, police said. The person was shot in the leg, authorities said. Police said witness reports lead them to believe the shooting was not accidental. denverpost.com

Superior, MN: Coin Store Owner shoots Armed Robber
The Superior Police Department says a robbery suspect was taken to a local hospital for treatment after being shot by a store clerk Thursday afternoon. Police said initial reports indicate two people armed with knives tried to rob Superior Coin & Currency on Belknap Street shortly before 5 p.m. Police said a store clerk shot a 20-year-old male suspect, who does not appear to have life-threatening injuries. The other suspect, an 18-year-old male, fled the scene but was taken into custody without incident around 7 p.m. wdio.com


Crofton, MD: Kmart employee calls in 16 bomb threats to commit robbery; ordered to pay restitution to Kmart and County first responders
A Kmart employee called in 16 bomb threats in order to steal from the store, Anne Arundel County police said. Between December 2014 and March 2015, police said 47-year-old Leslie Elton Cranston called the Kmart located in the Crofton Center 16 times saying there was a bomb located inside the building. Each time, store officials evacuated the building and emergency crews responded to the scene. Cranston was arrested after police learned that he was an employee and had been stealing appliances from the store. Police said he also admitted to one of the bomb threat calls and pled guilty to one count of theft scheme and one count of false statement of a destructive device. He was ordered to pay restitution to the Anne Arundel County Police and Fire Departments for the unnecessary use of first responders. Cranston was also ordered to pay restitution to Kmart. wusa9.com

Omaha, NE: Hy-Vee Store Manager accused of scheming to rob his own grocery store
A robbery last week at a southwest Omaha grocery store was an inside job planned by a manager at the store, police said. The robbery was carried out by another man who, dressed as a Rochester Armored Car Co. guard, walked with members of the store's management into the cash room of the Hy-Vee, police said. Once in, just after 10 a.m. on Nov. 5, the man pulled a gun and ordered the others to empty the safe and cash machines, police said. Keet Wiyual, 21, was booked on suspicion of robbery, use of a gun in a felony and felon in possession of a gun. Deng J. Lual, who worked as a manager at the store, is accused of assisting with the planning and commission of the robbery and receiving cash taken in it, police said. Lual, 21, was booked Tuesday on suspicion of aiding the consummation of a felony and conspiracy to commit robbery. omaha.com


El Paso County, CO: Sheriff's office searching for credit card fraud suspect
The El Paso County Sheriff's Office is trying to track down a credit card thief. In late October, a woman stole a wallet from an unlocked truck in Widefield. Stolen cards were later used at Sears, Burger King, Walgreens, Lowes, and paid a phone bill in Alabama. The suspect is a white female, in her early 20's, with long dark hair, and is possibly pregnant. koaa.com

Memphis, TN: Thieves burrow through walls to break into businesses, stealing money drugs and shoes
Dr. Ivory Taylor, owner of Taylor Brown Apothecacy came into his pharmacy on East Shelby Drive Thursday morning only to discover it had been trashed and burglarized. MLGW workers came out to restore the lights after police said thieves cut the power off to the building. He said they smashed a hole into the back of the store and entered through the bathroom. The same night, just 10 minutes away, police said a similar robbery took place the same way. Thieves broke a hole through the back of Footlocker on South Perkins. wmcactionnews5.com
Minneapolis, MN: Police release video connecting Pharmacy robbery spree
Police are looking at surveillance video from three Uptown pharmacies that were robbed Wednesday evening within 35 minutes. The robberies took place between 5:44 p.m. and 6:18 p.m. The Walgreens on South Hennepin Avenue was where officers were first called on a report of a robbery in the pharmacy. Reports on a robbery at the Cub Foods pharmacy on Lagoon Avenue and another Walgreens on West Lake Street would soon follow. kstp.com

Determined business owner follows alleged thief 30 miles to retrieve stolen merchandise
A man's odds were stacked against him Wednesday when he decided to steal a pricey saw from the wrong business owner, who subsequently followed the man for approximately 30 miles until authorities could detain him. Just before noon, 39-year-old Homero Duran Duran allegedly stole a STIHL concrete cutting saw valued at $650 from Glen's Mobile Repair shop in Littlefield, Arizona. The owner of the repair shop contacted authorities and was fast on Duran's tail, following him from Littlefield onto Interstate 15 and into St. George. Mohave County Sheriff's deputies pulled Duran over in his Kia SUV, which was smoking from the hood, presumably from reaching high speeds on the freeway while attempting to flee with the stolen saw. The business owner was able to identify the saw and Duran as being the one who took it. stgeorgeutah.com
Orlando, FL: Puppy thief arrested
A woman police said was caught on camera stealing a puppy from an Orlando pet store is in jail. Officers said Carolina Mejia Urbina stole a 12-week-old Yorkie Wednesday from The Puppy Stop. The store owner said Thursday the $1,300 dog was dropped off in a dumpster behind the business and Urbina called the store hoping to not get in trouble. The owners agreed to meet up with her, but told police where they could find her. wftv.com

Charlotte, NC: Police charge man with shooting into a Circle K store

Manchester, NH: Man accused of stealing Christmas trees from Home Depot last month

Kay Jewelers in the Burnsville Center, Burnsville, MN was the victim of a Grab & Run Wednesday evening, a pair of 2ct diamond earrings were stolen valued at $7,799


Robberies and Burglaries
● CVS - Dallas, TX - Burglary
● CVS - Greenfield, IN - Robbery
● CVS - Marietta, GA - Robbery
● Danzey's Discount - Cleveland, OH - Burglary/ATM
● Marathon - Hopkinsville, KY - Burglary
● Mi Tierra Multi Services - Bristol, CT - Armed Robbery
● Nipgen Mini-Mart - Ross, Co, OH - Armed Robbery
● O'Reilly's Auto - Macon, GA - Armed Robbery
● Outpost Guns - Sturgis, MI - Burglary
● Sally Beauty - Spokane, WA - Armed Robbery
● Scotchman - Lexington, SC - Armed Robbery /same guy 3x
● Starbucks - Arapahoe Co, CO - Armed Robbery
● Superior Coin & Currency - Superior, MN - Armed Robbery/suspect shot
● Turkey Hill - Ephrata, PA - Robbery
● Walgreens - Exeter, NH - Robbery


Featured Job Listings
Sponsored by NuTech National
Feature Your Job Here For 30 Days -
70% Aren't On the Boards
VP of Sales/Client Relations
More details coming soon
Confidential - Retained Search
Nationwide
Gus Downing
VP AP & Global Facilities
lululemon athletica
Vancouver, BC, Canada
lululemon athletica
Dir AP Solutions
Walgreens
Earth City, MO
Walgreens
Dir Global Security
VF Corporation
Greensboro, NC
VF Corporation
Dir LP
A'GACI
San Antonio, TX
A'GACI
Dir Safety & LP
Harbor Freight Tools
Calabasas, CA
Harbor Freight Tools
Director, LP
Save Mart Supermarkets
Modesto, CA
Save Mart Supermarkets
Dir AP
99 Cents Only Stores
Commerce, CA
99 Cents Only Stores
Dir LP
Pier 1 Imports
Fort Worth, TX
Pier 1 Imports
LP Dir
BevMo
Concord, CA
BevMo
Dir LP (Western Canada)
Walmart Canada
Calgary, CA
Walmart Canada
Director of LP
Pacific Sunwear
Anaheim, CA
Pacific Sunwear
Market AP Specialist
REI
Seattle, WA
REI
LP Officer
Bi-Mart Corp.
Yakima, WA
Bi-Mart Corp.
Zone Mgr, LP & Safety
Lumber Liquidators
Pomona, CA
Lumber Liquidators
Zone Mgr, LP & Safety
Lumber Liquidators
Sandston, VA
Lumber Liquidators

Daily Job Alerts


Appearing One Day Only
View our Internet Jobs Archives here
AP Specialist
7-Eleven
Boston, MA
7-Eleven
Safety & Security Team Leader
IKEA
Denver, CO
IKEA
ETL Assets Protection
Target
Pleasant Prairie, WI
Target
AP Team Leader
Target
Cedar Rapids, IA
Target
Safety Mgr
CVS Health
Springfield, VA
CVS Health
District 1 LP Specialist
Kroger
Nashville, TN
Kroger
Dept Mgr LP & Safety
Lowe's
Plainville, CT
Lowe's
Dept Mgr LP & Safety
Lowe's
Mckinney, TX
Lowe's
Dept Mgr LP & Safety
Lowe's
Tuscaloosa, AL
Lowe's
LP Manager Hrly
Sears
Cedar Rapids, IA
Sears Holdings Corp
LP Manager Hrly
Sears
Memphis, TN
Sears Holdings Corp
LP Manager Hrly
Sears
Fayetteville, AR
Sears Holdings Corp
Multi Unit LP Mgr
Sears
Beavercreek, OH
Sears Holdings Corp
AP Mgr in Training
Walmart
San Angelo, TX
Wal-Mart
AP Mgr in Training
Walmart
Cheboygan, MI
Wal-Mart
AP Mgr in Training
Walmart
Sacramento, CA
Wal-Mart
AP Mgr in Training
Walmart
Amarillo, TX
Wal-Mart
Store LP Mgr
H-E-B
Corpus Christi, TX
H-E-B
Sr Mgr AP, DC
99 Cents Only Stores
Los Angeles, CA
99 Cents Only Stores



Home of the Industry's Original
On the Move
Sponsored by Civil Demand Associates
| | |
| --- | --- |
| | Matthew Tracy was named Regional Loss Prevention Manager for Kate Spade & Company. |
Post Your New Job or Promotion!
See all the Industry Movement


Your Career
Sponsor this section of the Daily
How Distrust Can Help Your Team's Performance A recent study found that a dose of distrust can help teams actually work better and avoid making some mistakes that can be caused by too much unconditional trust. Not only does it increase awareness it also spurs critical thinking. Just keep people on their toes

7 Ways to Create an Inspired Team
Leaders understand that employees are one of the greatest assets their organization has, and as such, great leaders understand the importance of keeping their teams inspired and their workplace filled with positivity. Here are some great ways to keep everyone inspired. Keep promises

How to Use Rituals to Boost Your Team's Performance Rituals are powerful things. Every team has them in the workplace setting: morning team meetings, hiring practices, employee recognition and inspiring motivation amongst teams. Rituals that produce connection can help boost their performance. Team chemistry

Praising Employees Can Boost Productivity According to a new study from Harvard Business School, reminding people of their best work and telling employees they have done a wonderful job can go a long way to increasing performance and help reduce emotional exhaustion. Increase 'best-self activation'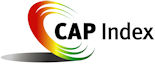 Tip of the Day
Sponsored by Vector Security
Social networking sites have in essence dissolved any distance between the professional and the personal life of an executive. They enable employers to see every aspect of one's life at any given moment and can show historical patterns that resumes may not overcome in the future. What a person does on the net stays on the net, what is written will be read and, as time goes on, background checks will include social networks that go well beyond Linkedin. On the flip side, one could do well to maintain a sense of professionalism in every thing they do on the net and their profiles.


Just a Thought,
Gus





Upcoming Events
---
Recruiting?
Get your job e-mailed to everyone... everyday
Post on our Featured Jobs Board!
Reach your target audience in 2015 every day!
Request our 2015 Media Kit
update account / change e-mail
unsubscribe FEEDBACK
www.downing-downing.com

Advertise With The D&D Daily




36615 Vine Street, Suite 103
Willoughby, OH 44094
440.942.0671
copyright 2009-2019
all rights reserved globally