The D&D Daily Mobile Edition
November 21,

2014



The LP Industry's #1 News Source - Informing, Educating and Instilling a sense of community


News Brief
Sponsored by WG Security Products, Inc.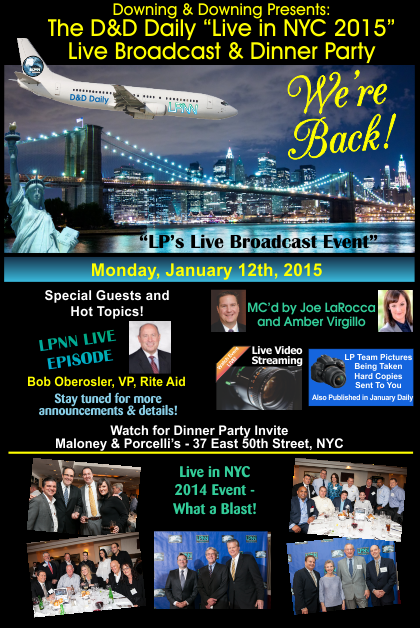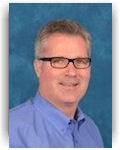 Bryan Hoppe was named Vice President, Asset Protection for TBC Corporation. Bryan was previously the Vice President, Store Operations for Pep Boys before taking on this new role. He had been with Pep Boys for over six years, and was also the Vice President, Asset Protection. Bryan's experience comes from his leadership roles at such retailers as Advance Auto Parts as Vice President, Risk Management, Director, Risk Management, Regional Risk Services Manager, and Loss Prevention Auditor, and General Manager at Western Auto Supply Company. Bryan earned his Bachelor of Arts degree from University of Mississippi and then acquired his MBA from University of Massachusetts at Amherst - Isenberg School of Management. Congratulations Bryan!
Cory Birkemeyer was named Director, Corporate Security for Target. Cory has worked at Target for over ten years, and has held various positions such as Lead Financial Analyst, Manager - Strategic Pricing, Group Manager - Store Operations Finance and his most recent role as Director, Assets Protection. Prior to joining Target's team, he was at General Mills as a Senior Financial Analyst - Capital Investments, and had also been their Team Leader, Research and Development Pilot Plant and Project Manager. Cory served in the US Navy as a Submarine Warfare Officer. He earned his Bachelor of Science in Mechanical Engineering from University of Minnesota - Twin Cities, and went on to earn his MBA from University of Minnesota - Carlson School of Management. Congratulations Cory!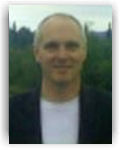 Douglas Fessenden was promoted to Director of Loss Prevention of West and West Central Regions for Sears Holdings Corporation. Douglas was previously the Director of Loss Prevention - West Coast for the retailer, and has held other leadership positions in his 17 years of working there. He has also been a Region Manager of Loss Prevention and Director of Loss Prevention - North West & West Central. Douglas has also worked at Timberland Retail as a Regional LP Manager, Home Depot as Multi Unit LPM and J Crew as District LP Manager. Douglas also served in the United States Marine Corps for a few years. He earned his Bachelors of Science in Business Management from the University of Phoenix. Congratulations Douglas!


Ex-TigerDirect, Systemax President & Director Charged In
$9M Kickback Plot
Two former senior executives for consumer electronics retailer TigerDirect Inc. and corporate parent Systemax Inc. were charged Thursday in Florida federal court on securities fraud and tax evasion charges related to a $9 million kickback scheme, prosecutors said. The Fiorentino brothers were aggressive entrepreneurs who grew a small direct-mail catalog company into what is today CompUSA, a national electronics chain owned by a Fortune 1000 company. Then greed got in the way. Former TigerDirect President Carl Fiorentino and his brother, former Systemax Director Gilbert Fiorentino, are accused in separate indictments of steering hundreds of millions of dollars in TigerDirect business to the company's computer parts suppliers in exchange for cash payments and other perks, according to authorities. While serving as a senior executive of TigerDirect, Carl Fiorentino received millions of dollars in payments from a TigerDirect supplier, including more than $3 million to pay for his own waterfront residence in Gables Estates, and millions of dollars-worth of luxury furnishings. Their employees and vendors eventually grew tired of the games and turned them in. A whistleblower investigation disclosed last March launched the demise of the Fiorentino brothers. U.S. Attorney Ferrer stated "Gilbert and Carl Fiorentino put their financial gain and lavish lifestyle ahead of their responsibilities as corporate officers and directors. They accepted kickbacks, driving up the price of the consumer electronics and passing the price increase to customers." palmbeachpost.com fbi.gov law360.com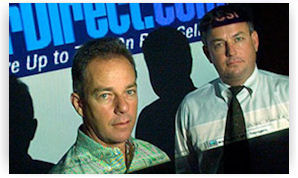 Manage holiday season return fraud through power of data The NRF's 2013 return fraud survey estimated that it cost retailers $9 billion - $3 billion during the holiday season. One of the ways of reducing return fraud without compromising the customer experience is through the power of data. By collecting and analysing data at various points across the business, companies can reduce fraud without innocent customers being inconvenienced. There are many points within the returns/exchange process that can and should be monitored closely. From the point of qualifying whether an item is eligible for return or not, to where in or out of the store the newly returned product will reside, it is important that accurate information be available quickly, to not only manage the process, but also to identify unusual patterns that can help stem the tide of fraud and abuse without the need for more stringent return policies. For example, patterns of returns by the same customer or executed by the same associate time after time should create a red flag for the retailer. But collecting, correlating and analysing all that data requires an automated system. Comprehensive retail fraud systems do just that - analysing millions of data points instantly, detecting anomalies and patterns that signal the threat of fraud, often before it even happens. retailfraud.com
As U.S. goes EMV, fraud will go online - as it did in the U.K. and other countries As the second largest market for online revenues, when the US moves to EMV technology at 'brick and mortar' POS, we can expect a transition from offline fraud to online channels such as the desktop and mobile, as fraudsters increase their fraudulent activities. Figures from the UK Card Association show how this occurred in the UK after it adopted EMV technology - a trend that played out in other countries across the world. The difference between then and now though is that ecommerce is now a retail phenomenon. According to eMarketer, over $200 billion of additional spending could flow through CNP transactions globally by 2017, presenting a vast world of opportunity to online fraudsters looking for a piece of the pie. retailfraud.com

"Fraud doesn't go away, it just goes somewhere else, and that somewhere else is always online" The main advantage to EMV cards is that they will cut down on counterfeiting, which accounts for 37 percent of all U.S. credit card fraud, according to a 2014 report by Aite Group. However, they're expected to diminish with the spread of EMV technology in the U.S. Although the transition to EMV is expected to lead to less counterfeiting of cards, it will also encourage fraudsters to move to new areas of vulnerability. If counterfeiting physical cards is more trouble, criminals will naturally turn to buying items online with stolen credit card numbers. "Fraud doesn't go away, it just goes somewhere else, and that somewhere else is always online," says online fraud expert Brian Krebs. "The thieves can still steal the card number and expiration date, which still can be used online. So that's generally what will happen. We'll see a pretty big uptick in card-not-present fraud." creditcards.com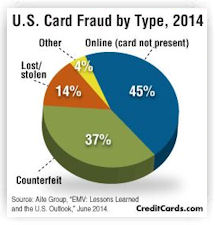 Compliance - Regulators Try New Penalties Amid View Fines Don't Work Monetary fines for compliance failures are not changing the underlying behavior of companies, as many corporations are viewing these fines as a cost of doing business, according to a new report by Thomson Reuters. Because fines alone have yet to change corporate behavior, regulators are tacking on additional penalties, like targeting senior executives and holding them accountable for their behavior and using clawback provisions to bring the financial hits closer to home. In some cases, regulators are forcing companies to increase their liquidity, which can put them at a competitive disadvantage to their peer companies that follow the rules, according to the report, which is based on a survey of compliance professionals. In the worst-case scenarios, these additional penalties can dwarf the impact of any monetary fines, as they can result in a business lines being shut down, the loss of the ability to sell certain products and possibly even the closing of the entire company, the report said. wsj.com

Five Steps to Data Breach Prevention
IT decision makers and high-level executives are recognizing the need for better security policies and strategies. The best we as security professionals can do is continue to evolve and create innovative solutions to help better protect our customers' data. Here are five key initiatives retailers must do to effectively secure consumer financial data: 1) Know Exactly Where Your Business is Being Conducted: It is critical for retailers to understand how and where customer data - especially payment information - is being accessed, handled, and most importantly, how it is being secured. 2) Recognize Data at Rest: Data stored on portable devices such as laptops or archived on servers is often forgotten and - as a result - becomes a prime target for hackers. Retailers must encrypt all data at rest. 3) Track Moving Data: Retail brands need to have a clear understanding of how their customer's data is moving through its infrastructure. This allows for retailers to adjust security measures in response to a potential threat. 4) Join Forces with a Security Expert: A partner can monitor and implement the most appropriate security measures in response to both current and emerging threats. 5) Implement an Encryption Policy: Retailers need an encryption policy that is mandatory yet manageable. Routine and ongoing audits are also always recommended to ensure that a company's data security and encryption polices are constantly being enforced. chainstoreage.com

About 300 U.S. malls facing a choice between re-invention or oblivion Most are middle-market shopping centers being squeezed between big-box chains catering to low-income Americans and luxury malls lavishing white-glove service on One Percenters. It's a time of reckoning for an industry that once expanded pell-mell across the landscape armed with the certainty that if you build it, they will come. Those days are over. Malls like Steeplegate Mall in Concord, N.H., either rethink themselves or disappear. wwd.com

Amazon's new Manhattan space to become same-day shipping hub, warehouse & the company's first brick-and-mortar store Amazon.com agreed to lease 470,000 square feet of space in midtown Manhattan from Vornado Realty Trust, including a site people familiar with the matter say will serve as a same-day shipping hub, warehouse and the company's first customer-facing brick-and-mortar location. Amazon is planning to convert some of the space into a mini-warehouse, with limited inventory for same-day delivery within New York, product returns and exchanges, and pickups of online orders, according to people familiar with the matter. wsj.com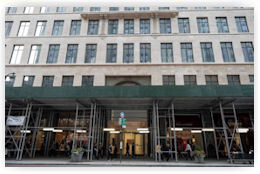 61% of Americans will shop Thanksgiving weekend

12 security problems that EMV and tokenization won't solve

Quarterly Same-Store Sales Results

Foot Locker Q3 up 6.9%, with total sales up 6.7%
Ross Stores Q3 up 4%, with revenue up 8%
Fresh Market Q3 up 3.3%, with net sales up 15.1%
Stein Mart Q3 up 3.1%, with total sales up 4.5%
Children's Place Q3 up 0.2%, with net sales down 1%
Gap Stores Q3 down 2%, with total sales up 1% - Banana Republic flat, Old Navy up 1%
Gamestop Q3 down 2.3%, with total global sales down 0.7%
Ann Inc. Q3 down 4.3%, with net sales down 1.6%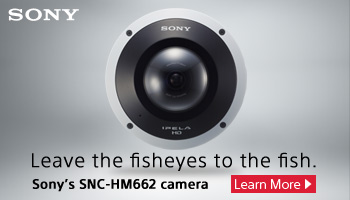 All the news - One place - One Source - One Time
The D&D Daily respects your time
& doesn't filter retail's reality
Report Your News!
(content subject to approval)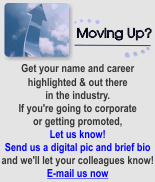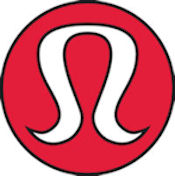 lululemon athletica
Asset Protection Field Team

"When we govern ourselves according to the practice of Asteya, we will enhance our culture of honesty and integrity and naturally achieve our asset protection goals."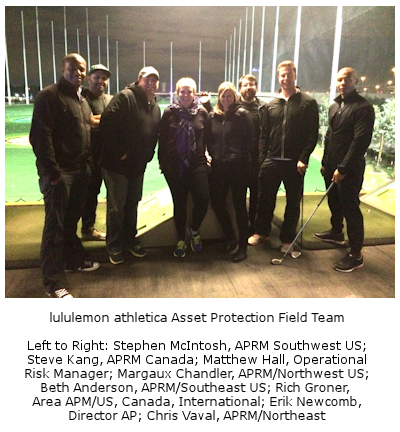 Canadian Push
Sponsored by Vector Security
Shopping season in Canada sees increase in shoplifting It's a problem that costs Canadian retailers $3.6B dollars, which is magnified around the holidays. Even though Canada doesn't traditionally see the mayhem that comes with door crashing in the U.S., the increased traffic can lead to challenges. There are no numbers to show specifically how much is stolen during the holidays, but the yearly losses are staggering. 660news.com

DSW launching Canadian e-commerce site and stores in conjunction with 49.% purchase of Canada's Town Shoes Town Shoes President and CEO Bruce Dinan runs DSW's Canadian operations. In April of 2014, DSW bought a 49.2% stake in Town Shoes, paving the way for DSW's entry into Canada. Buying Town Shoes was a strategic move on the part of DSW. Not only does DSW gain Town Shoes' Canadian market expertise, it also secures its pre-existing national distribution network. The 62 year old Town Shoes brand will also continue to grow and expand in Canada, as will company-owned The Shoe Company, Shoe Warehouse, and Sterling Shoes. retail-insider.com

Walmart Canada lays off 210 head office, field management employees Walmart Canada says it has laid off 210 people, most at its head office in Mississauga, Ont., just west of Toronto. The retail giant handed out the pink slips earlier Tuesday, with both management and non-management positions affected. retailinsider.com

Will they stay or go? Target's future in Canada far from certain Target's most senior leaders said this week every single store across its struggling Canadian chain must make a "step-change" in performance. Dictionaries define step-change as a significant improvement. For a chain that has rapidly inflated to 133 stores and is burning through cash in the process, the pressure is accelerating. It's perhaps mostly intensely coming from inside Target and at the very top. Brian Cornell, Target's new leader, said Wednesday he is evaluating now whether the money-losing Canadian chain is worth keeping, and will provide an updated view "early next year." globalnews.ca

Target Corp. says Christmas sales could make or break Canadian operation

Sears Canada more than doubles net loss in Q3

Canadian holiday retail sales expected to be up 3.3% and hit $33B

1 in 3 Canadian consumers will shop Black Friday, Cyber Monday

Vancouver Police warn drug users after East Vancouver pharmacy robbed

Security Guard Tasered at Polo Park Mall in Winnipeg, CN A man attempting to make off with $380 in merchandise from a Polo Park department store Tasered a security guard who tried to stop him on Sunday. Winnipeg police were called to Polo Park Shopping Centre at around 12:10 p.m., where a loss prevention officer tried to stop the man as he was leaving the store without paying. The suspect began to fight with the officer when two other guards came to his aid. The suspect used a Taser and stunned one of the guards in the lower body. Despite the scuffle, the suspect was able to be held for police. Michael William Redden, 23, of Winnipeg has been charged with three counts of assault with a weapon, theft under $5,000, carrying a concealed weapon or ammunition, unauthorized possession of a prohibited or restricted weapon and possession of a weapon. chrisd.ca

Toronto Police Release CCTV Footage in $500,000 Jewelry Store Robbery Two men in Canada, who wore burkas and robbed a jewelry store in Toronto, are "very difficult" to be identified. Staff Inspector Mike Earl spoke about the hurdles of the identification, while police released the CCTV footage of the robbery on Wednesday, Nov 19. Mona-Clara Jewellers in the York Mills Rd. and Leslie St. area was robbed at 11 am on Oct 14. The robbers were covered from head to toe when they took jewelry worth $500,000 from the store. It took them less than five minutes to perform the entire act. One burka-clad man took out a handgun, while the other locked the main door with the help of a female employee, The Star reported. They eventually left the store through the back door. According to police, there could be a getaway car waiting for them. Earl said that there was not much to help the investigation as the robbers were completely covered. However, what could give an outside chance of identifying the offenders is the amount of jewellery they took on that day. "The biggest clue is going to be the amount of jewelry they took that day, whether they're bragging to family members and friends, or if somebody saw something that jogs their memory," Earl said. One of the suspects is believed to be 6' 3'' tall, while the other who seemed to be black, was 5' 11". One of them forced an employee to open the display case, while both of them took a number of jewels off it and put those in their bags. The CCTV footage released by police also shows one of the robbers clearing out the cabinets, The Globe and Mail reported. ibtimes.com
Man charged with Robbing Birks Jewelry stores in 2012, 2002 One man has been tracked down and charged with the armed robbery of jewelry stores going back to 2002. Laval police arrested 46-year-old Dimitrios Batzakis this week and he was in court Thursday to be charged with the crimes. Raids were conducted in multiple locations including Ste. Adele, St. Jerome, Val-Morin and Montreal. Batzakis is accused of the armed robbery of a Birks jewelry store in Laval in 2012, and with robbing another Birks store in St. Bruno in 2002, and making off with more than $1,000,000 in jewelry. In July 2012, two men smashed display cases at Carrefour Laval and grabbed jewelry before fleeing the store. At the time witnesses said one of the two men was armed with a handgun. A Birks store in Pointe Claire was robbed by a gang last week. ctvnews.ca

Retail Fast Facts: October 2014

Highlights:
● Total monthly retail sales changed by 2.5 per cent over the comparable month last year.
● Total sales excluding food, automotive and gasoline changed by 3.1 per cent over the comparable month last year. retailcouncil.org

e-commerce

Sponsored by The Zellman Group
How to Avoid Gift Card Fraud This Holiday Season Gift cards will be the most requested gift this holiday season for the eighth consecutive year, the National Retail Federation reports. Unfortunately, this also creates an opportunity for fraudsters who want a piece of an industry worth hundreds of billions of dollars per year. Gift card fraud can happen when a gift card is purchased or redeemed, according to Pete Kledaras, chief risk officer at CashStar, a gift card platform that works with hundreds of major retail brands. Thieves can purchase a physical or digital gift card using a stolen credit card or simply steal the gift card number and PIN and leave the physical gift card. In the latter case, thieves will typically use the balance themselves. "Once cards are stolen, there are any number of ways that thieves can turn that into money for themselves," Kledaras says. "They can resell them on the secondary market, or they can go into the store and purchase physical goods that they can sell." Another example of gift card fraud is when a thief tries to return stolen merchandise, and the retailer issues a gift card as a refund. Then the schemer might turn around and sell that gift card for cash on a secondary market such as eBay or a specialty gift card resale site. To make sure you don't become a victim of gift card fraud this season, follow these tips. usnews.com

E-commerce sales increase 16.2% in Q3
E-commerce sales continue to grow and grab a larger share of total retail sales, according to estimates released by the U.S. Commerce Department. It says U.S. e-commerce sales totaled $78.1 billion in the third quarter, up 4.1% from $75.0 billion in the second quarter of 2014, and up 16.2% from $67.2 billion on a year-over-year basis. internetretailer.com

Will Apple Pay Increase Online Sales?

Target grows web sales 30% in Q3

Gap reports a 5.4% increase in web sales in Q3
"Fraud is not a person - it is a dynamic grouping of statistics that deviate from the norm."
Stuart B. Levine, CFI, CFCI
CEO, The Zellman Group & Zellman Fraudnet

ORC News
Sponsored by Security Resources
"Operation Holiday Steals" makes 75 arrests and establishes more ORC leads - Broward Co. FL Law Enforcement teams up with Retailers As the holidays approach, Broward Sheriff's Office deputies are remaining on high alert to stop retail thieves and keep the public safe. Retail theft is ranked number two in the nation in the state of Florida, and due to those high numbers, BSO is cracking down as part of a three-day operation. Dozens have been arrested as part of Operation Holiday Steals. The sheriff's department teamed up with retailers such as Saks Fifth Avenue, Publix, Home Depot, eBay and PayPal during the three days. Among those arrested, one man at a Home Depot in Hollywood, Wednesday evening. Officials said he attempted to leave the store with a large quantity of items worth hundreds of dollars. A search of the arrested man's history showed that he had been arrested more than a hundred times prior in connection to retail theft. "It's a very serious crime, and we have to do something to combat it [and] we have," said BSO Sheriff Scott Israel. "Retail and law enforcement are making a statement together, and we're saying, 'Hey, look, we're not gonna put up with this. We're gonna keep our customers safe," said Tom Jackson, a spokesperson for the Retailers Association. Another team was able to find a group of six women, Wednesday evening, at a Victoria's Secret at the Broward Mall, who, according to officials, used booster bags in an attempt to steal thousands of dollars in merchandise. Two of those women were arrested. Loss prevention experts were able to collaborate ideas and compare between those arrested. "This particular crew, there was six of them. Two of them were caught and arrested and charged with grand theft, possession of an anti-shoplifting device," said BSO Sgt. Rich Rossman. Surveillance cameras from the store caught the women entering the store with booster bags. "Very brazen, just without any hesitation, just wheeled out a vanity and a bunch of other items," said Rossman. "It effects every American household. It really does because the consumer ultimately has to pay the price for what's stolen and prices go up," said Israel. According to detectives, several booster crews have been broken up. "We're tired of the losses, the huge losses that the retail community has experienced," said Jackson. The companies that were involved include Rite Aid, CVS, Toys R Us, Gap, JC Penney, Sports Authority, Marshall's, Publix, Target, Walmart, The Home Depot, Lowe's, Macy's, Saks Fifth Avenue, Discover, Capital One, and eBay Proact. Update: estimated 75 arrests and multiple ORC leads established. wsvn.com sun-sentinel.com
Harris County, TX Sheriff's Office Investigators charge 4 in National Robbery case targeting Cellphone stores Harris County Sheriff's Office Robbery Division investigators have charged four men believed to be part of a national robbery group responsible for numerous robberies in east Harris County, Beaumont and the West Orange area. They are identified as: Jeremiah Palmer, Kirk Jones, Zachary Johnson and Anthony Nichols. Palmer and Jones are charged with aggravated robbery for the October 16, 2014 robbery of an AT & T store in the 2100 block of US 90. There they stole about $33,000 worth of merchandise. Investigators say that Palmer and Zachary Johnson allegedly robbed the Verizon store in the 15300 block of Wallisville Road a few hours later. All four men are part of a crew that has robbed businesses in the east Houston area to southeast Texas and have ties to a criminal enterprise in the Atlanta, Georgia area that purchases stolen merchandise. All four men were armed when they entered the stores demanding cash and merchandise, specifically iPhone 6 and Android phones. The four suspects netted over $56,000 worth of phones in their robberies. Authorities in the Atlanta, Georgia area recovered stolen phones from two of the suspects in an unrelated incident. The phones and information on a stolen vehicle that was recovered in the east Harris county robberies broke the case for HCSO investigators. All four suspects are currently in the Jefferson County Jail in Beaumont on aggravated robbery charges, awaiting extradition to Harris County. yourhoustonnews.com

Organized Theft Ring targeting Ross and TJ Maxx in Beaverton, OR Police arrest 3; $22,000 of merchandise recovered from vehicle Three suspects who have been targeting TJ Maxx and Ross Stores throughout Oregon have been arrested. Beaverton officers responded to a report of three people stealing merchandise from a TJ Maxx on SW 117th Ave Wednesday night. When officers arrived at the store, loss prevention told them that two of the suspects had left in a vehicle and the third suspect was walking away. The suspect on foot was arrested near the store. The vehicle with the two other suspects was stopped at SW TV Highway and SW Murray, and they were arrested. Approximately $22,000 worth of stolen merchandise including clothing, shoes, purses and perfumes were recovered in the suspects vehicle. Police say the three suspects left California on the 19 and had hit TJ Maxx and Ross stores from Medford to Beaverton. The items they stole were likely going to be taken back to California to be sold. The suspects were identified as Alicia Flores, 42, Valeria Blanco, 22, both from San Jose, CA, and Rafael Valencia-Guzman, 33, of Santa Ana, CA. All three suspects were taken to Washington County Jail on multiple charges of theft 1 and organized retail theft. kptv.com
Social media sting takes down $7,700 ORC operation in Oakwood, GA When you post your alleged criminal activity on social media sites there is a good chance police will find your information, then exploit it. That is exactly what Oakwood police said happened to Torinto Christian. Cpl. Danny Sridej said Christian shoplifted thousands of dollars in merchandise. Investigators said Christian is part of a shoplifting ring that steal very specific high-dollar items such as Rogaine, Zantac, probiotics, and batteries, then sell them to another person at a discounted price. "The store price would be $20. He is selling it for $4," Sridej said. Police investigators used social media to lure Christian to a gas station parking lot. Christian was under the assumption someone was going to buy his stolen goods. Instead, police swarmed his vehicle. It was full of $7,700 worth of merchandise. "We were able to convince him that we would like to purchase the items you have in your possession for whatever price," Sridej said. A majority of the stores hit have been Publix grocery stores. At least four across the metro area have been hit. Investigators said they are working to track down an accomplice who helped shoplift the items and are trying to find another buyer that was purchasing the stolen goods. At this point, investigators don't know if the stolen items were being sold online, in flea markets, or a home. Investigators believe other stores may be victims of the shoplifting crew but don't know it. Christian was just released from prison after serving 12 years for armed robbery. myfoxal.com
Police search for crew of three violent shoplifters in King and Pierce Co. Washington Police say three women shoplifters most recently hit the Eileen Fisher store at 5th and Pine in downtown Seattle. When store employees tried to stop them from taking $2,600 worth of clothing, things went from bad to worse. "The suspect with the clothing kicks the clerk in the groin, smacks her in the head, tries to pull her clothing off of her and another employee steps in and she also gets smacked by one of the suspects," Crime Stoppers of Puget Sound Executive Director Myrle Carner said. "I think it's crazy. To beat someone up after you're stealing from their store. You already know that you're wrong," shopper Ashaunti Martin-Smith said. Police have already identified two of the three suspects, who they identified as Precious Shabazz and Valerie Heard, but they still need to know who the third woman is dressed in all black. Police say they target high-end shops in King and Pierce counties and are known to drive a 1999 Mercedes Benz ML320. q13fox.com
Fencing Operation: Sam's Big Apple Convenience Store in Ocala, FL accused of dealing in stolen property: $60,000 over last 2 years Sheriff's detectives arrested an employee of an Ocala convenience store on suspicion of organized dealing in stolen property and possessing Viagra pills -- for sale at $5 a pop -- without a prescription. Samer Abuokab, 51, was arrested Wednesday after detectives followed up on a tip from Wal-Mart's loss prevention office regarding gift cards. Wal-Mart had received a tip that Sam's Big Apple, a convenience store at 1943 W. Silver Springs Blvd. in Ocala, had been buying its gift cards from people at a price far below their actual value, according to a Marion County Sheriff's Office arrest report. The tipster said people were stealing items from one Wal-Mart and returning them to another in exchange for gift cards. According to an MCSO news release, detectives confirmed that Sam's Big Apple had used gift cards over the past two years to buy nearly $60,000 in merchandise from Sam's Club. They worked with a confidential informant, who sold gift cards or new cellphones to Abuokab at the store on three different occasions, according to the report. On Wednesday, the informant sold him nine iPhones, each worth $699, for a total of $600. The informant allegedly told him about stealing from Wal-Mart. ocala.com
Do you have an ORC case to share?
Share your ORC news and help the industry grow

Retail Crime News

Sponsored by NuTech National
Rite Aid Security Guard Shoots Would-Be Robber in Philadelphia Gunfire rang out during a knife point robbery inside a pharmacy Thursday night leaving a would-be robber in critical condition, according to Philadelphia Police. A security guard shot a 33-year-old man during the heist inside the Rite Aid store at E Mount Airy and Stenton avenues in the city's West Oak Lane neighborhood just before 8:30 p.m., said investigators. Police said the gunshot victim was carrying a knife when the guard shot him multiple times. Medics rushed the would-be robber to Einstein Medical Center in critical condition. Police recovered the knife and kept the would-be robber under police watch at the hospital. Police didn't initially say if the guard could face any charges. nbcphiladelphia.com
Three Chicago men Arrested; American Express - Target account fraud scheme Three men have been charged in a credit card fraud scheme allegedly carried out in Northwest Indiana and the Chicago area, federal court records show. Tandika Jackson, DeJuan Raine and Darius Raine each face one count of knowingly using stolen credit card numbers, according to U.S. District Court records. The investigation began when someone contacted authorities after finding six credit cards with Jackson's name on them and suspected the cards may have been used in a fraud scheme, according to an affidavit. Investigators determined the six credit card numbers did not belong to Jackson, court records state. Authorities allegedly identified other suspects after reviewing transaction receipts. The men are accused of transferring funds from stolen American Express accounts to American Express for Target prepaid devices. They allegedly opened American Express for Target accounts and then funded the accounts using fraudulently obtained American Express card numbers. They then used the prepaid cards to make purchases or withdraw cash from ATMs in the Chicago area and Northwest Indiana, including a bank in the 4000 block of Indianapolis Boulevard in East Chicago, according to court records. nwitimes.com

Family Dollar Assistant Manager accused of helping plan robbery in Louisville, KY Four people are facing robbery charges after police said they robbed a Louisville discount store. Twenty-five-year-old Jessica Ashford, 21-year-old Sean Taylor, 19-year-old Damon Griffin and 21-year-old Darrell Hubbert were arrested early Thursday morning at a Days Inn on Cane Run Road. According to a police report, Taylor, Griffin and Hubbert robbed the Family Dollar store on Greenwood Road. Police said the three men were armed when they entered the store Nov. 19 and demanded money. During the investigation of the robbery police said they discovered Ashford, the assistant manager who was working during the time of the robbery, helped plan the heist. All four suspects are charged with robbery. whas11.com
Police arrest man at Mall in Columbia, MD who said he had gun A Silver Spring man was arrested Wednesday at The Mall in Columbia after shoppers reported he said he had a gun, according to Howard County police spokeswoman Sherry Llewellyn. Llewellyn said officers responded to the mall and found that the man did not have a weapon. Elijah Johnson, 18, of the 11600 block of Elkin Street, was charged with disturbing the peace, Llewellyn said. The incident comes less than a year after a deadly shooting at the mall killed three, including the gunman. baltimoresun.com

Shoplifter bit, kicked security at Evansville, IN Target store Police arrested an Evansville man Wednesday evening for shoplifting and assaulting a loss prevention officer. According to an Evansville Police Department affidavit, Stacy Ryan Mangold, 23, stole several items at Target Greatland on East Lloyd Expressway and bit and kicked a loss prevention officer who tried to intervene. Officers arrived at Target at around 11 p.m. and found Mangold in the department store's security office. Security personnel told police Mangold was being unruly and combative. According to the affidavit, Mangold attempted to walk out the store with a cartload of board games. Loss prevention officers caught up to Mangold at the north exit and placed him in handcuffs. Once in handcuffs, Mangold kicked a loss prevention officer in the stomach and bit another on the hand in an ensuing struggle on the ground. The bitten employee had an open, bleeding injury when officers arrived, according to the affidavit. securityinfowatch.com

Warning Issued About Increase in 'Red Zone' Truck Cargo Thefts "Integral to lowering risk is the adherence to the practice of never stopping in the 'red zone,' defined as the first 200 miles from the shipment's origin," read a recent FreightWatch bulletin. "In the past three weeks, there have been three full truckload thefts reported in the United States directly attributed to staging cargo within the red zone." FreightWatch is studying how thieves operated in these incidents, including geographical patterns and organized criminal involvement. It noted that, historically, a vast majority of cargo theft occurs within the first 200 miles of transport, and these thefts continue to follow that pattern. truckinginfo.com


St Louis woman arrested in Jewelry store Grab and Run in Iowa City; $7000 Diamond ring recovered Authorities have accused a St. Louis woman of stealing a ring from a jewelry store. Taneesha Wise, 23, was charged Nov. 18 with second-degree theft. According to online court documents, Wise entered a store to inquire about jewelry. Once the store clerk showed her a large $7,000 ring, Wise grabbed it and ran for the door. She was unable to leave the store because employees stopped her. Wise later reportedly admitted that she was planning on stealing a whole tray of earrings but decided to just steal the ring instead. press-citizen.com

Deutsch & Deutsch Jewelry store Robbery suspect arrested in Laredo, TX There is new information on the case of a robbery at a jewelry store Wednesday night. Police arrested 34-year-old Marcella Dunbar who police believe was one of four responsible in the foiled robbery at Deutsch & Deutsch. On Wednesday night, police believe Dunbar, along with three others attempted to break through the display cases with tools to try and snatch some watches. Police later located Dunbar downtown where an officer questioned him and arrested him after he exposed himself to police. Police don't know at this point why Dunbar began to take off his clothes. He is still being questioned by police and is charged with indecent exposure. kgns.tv

Jared Vault in the Grand Prairie Outlet, Grand Prairie Texas hit with a Distraction Theft, a 1.5 ct diamond solitaire ring valued at $6999 was stolen


Robberies and Burglaries
• AT&T - Huntsville, AL - Burglary
• CVS - St Louis, MO - Armed Robbery
• Casey's General - Fargo, ND - Armed Robbery - 5th robbery in the area
• Chrome City - Little Rock, AR - Burglary
• Circle K - Monongalia Co, WV - Armed Robbery - suspect arrested
• Citgo - Houston, TX - Armed Robbery - customer shot
• Coastal Mart - Wichita, KS - Armed Robbery
• Family Dollar - Hanover Twp, PA - Police Shooting - suspect tried to run down Officers
• Kum & Go - Council Bluffs, IA - Armed Robbery - clerk defeated suspect w/ bat
• Nabalis's IGA - Dayton, OH - Shooting
• Needs - Dartmouth, NS, CN - Robbery - 2 arrested
• Rite Aid - Merchanicville, NY - Robbery - sentenced to 6 years
• Sam's Mart - Poughkeepsie, NY - Armed Robbery
• Sherwin Williams - Toledo, OH - Armed Robbery
• Stater Bros. - Victorville, CA - Robbery
• Verizon - Warsaw, IN - Burglary - 2 arrested
• Walgreens - Virginia Beach, VA - Larceny - multiple stores
• West Main Pharmacy - Buffalo, NY - Armed Robbery
• 7-Eleven - Temple Terrace, FL - Armed Robbery


Press Releases


Envysion Ranked Number 338 Fastest Growing Company in North America on Deloitte's 2014 Technology Fast 500
Attributes 249% Percent Revenue Growth to Envysion's leadership position in a rapidly emerging market.

Louisville, Colorado - November 13, 2014 - Envysion today announced it ranked 338 on Deloitte's Technology Fast 500, a ranking of the 500 fastest growing technology, media, telecommunications, life sciences and clean technology companies in North America. Envysion grew 249% percent during this period.

Envysion's chief executive officer, Matt Steinfort, credits Envysion's leadership position in a rapidly
emerging market with the company's 249% revenue growth. He said, "The market is exploding as customers understand the power of video intelligence and how it can impact brand execution, employee coaching and training, customer experience - and ultimately their profit margins."

"The companies ranked on the 2014 Deloitte Technology Fast 500 continue to set the bar for their industry higher each year," said Eric Openshaw, vice chairman, Deloitte LLP and U.S. technology, media and telecommunications leader. "There are so many exciting products and smart thought leaders driving this list. We congratulate the Fast 500 companies and look forward to seeing them continue their momentum into 2015."

"For 20 years, the Deloitte Fast 500 rankings have honored the innovation that is part of these companies' DNA," added Jim Atwell, national managing partner of the emerging growth company practice, Deloitte & Touche LLP. "We're glad to be serving these high-growth companies, and helping the technology sector recognize the great strides and transformation these companies are making in their respective areas."

Overall, 2014 Technology Fast 500 companies achieved revenue growth ranging from 135 percent to 123,678 percent from 2009 to 2013, with an average growth of 1,640 percent.

Read the rest of the press release here.

Learn more about Envysion here.


Featured Job Listings
Sponsored by Cam Connections
Feature Your Job Here For 30 Days -
70% Aren't On the Boards
VP of Sales
Checkview
Chanhassen, MN
Checkview
Sr. Director, Field LP
Ross Stores
Dublin, CA
Ross Stores
Director of LP
Tourneau
New York, NY
LinkedIn
LP Director
CarMax
Tolleson, AZ
CarMax
LP Manager
Disney
Anaheim, CA
Disney
National Account Executive
Checkview
Northeast Region
Checkview
National Account Executive
Checkview
United States
Checkview
Corporate Investigator
Confidential
San Francisco Bay, CA
Confidential
National Account Manager
Vector Security, Inc
TBD
Vector Security, Inc
Supervisor LP DC
Ascena Retail Group
Greencastle, IN
Ascena Retail Group
AP Agent
Ralph Lauren
Sunrise, FL
Ralph Lauren
LP Agent
JONS Markets
Los Angeles, CA
JONS Markets
National Account Mgr
Confidential
Northeast
Downing & Downing

Limited Time Only - Post Your Multi-Unit LP jobs for FREE - Learn More Here

Daily Job Alerts


Sponsored by Cam Connections
Appearing One Day Only
View our Internet Jobs Archives here
Regional LP Manager
DSW Inc
Northridge, CA
DSW Inc
Regional LP Manager
GameStop
Roseville, CA
GameStop
LP Manager
Ralphs
Compton, CA
Kroger
Dept Mgr LP & Safety
Lowe's
Appleton, WI
Lowe's
AP Manager in Training
Walmart
Ontario, CA
Wal-Mart
AP Manager in Training
Walmart
Topeka, KS
Wal-Mart
AP Manager in Training
Walmart
Eagle Point, OR
Wal-Mart
AP Manager in Training
Walmart
Murfreesboro, TN
Wal-Mart
AP Manager in Training
Walmart
Pembroke Pines, FL
Wal-Mart
AP Manager in Training
Walmart
Trinidad, CO
Wal-Mart
AP Manager
Sam's Club
Saint Louis, MO
Wal-Mart
Director 2 LP Ops
Sears
Hoffman Estates, IL
Sears Holdings Corp
AP Team Leader
Target
Lansing, MI
Target
ETL Assets Protection
Target
Manhattan Beach, CA
Target
LP Supervisor
Burlington Coat Factory
Virginia Beach, VA
Burlington Coat Factory
LP Specialist
Home Depot Canada
Coquitlam, BC, Canada
Workopolis


Home of the Industry's Original
On the Move

Bryan Hoppe was named Vice President, Asset Protection for TBC Corporation.
Cory Birkemeyer was named Director, Corporate Security for Target.
Douglas Fessenden was promoted to Director of Loss Prevention of West and West Central Regions for Sears Holdings Corporation.
Post Your New Job or Promotion!
See all the Industry Movement



Your Career
Sponsor this section of the Daily
2 Ways We can Shift Our Own Attitudes to Be More Productive The way we perceive ourselves, the way we look at the world can guide our actions. Our mind-sets can have the power to push or hinder us in our daily lives. Here are two mind-sets that should be greatly embraced. Expectations shape reality

What To Do When You Have Too Much to Do and Too Little Time We have all been in that position where if someone gives you one more task, it will put you over the edge. Our days become jam-packed with items on our to-do list, and there's never enough time to get it all done. The trick is saying this simple word. You can't do it all

2 Easy Changes That Will Stress-Proof Your Brain Stress isn't going anywhere. Try as hard as you can to reduce it, it won't really work. What you can do, though, is to train your bodies to efficiently recover from the power of stress. Implement these two simple changes, and your body will thank you. It only takes a minute

How to Work With Different Productivity Styles The way in which people get things done varies across the board. Someone may need to write with a certain pen, others may need to jot down all their tasks for the day before they can get started. Here are four productivity styles. Which one are you? Planner, Prioritizer, Arranger, Visualizer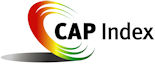 Tip of the Day
Sponsored by Vector Security
A survey showed that executives with "mentor's" were more satisfied, got promoted more quickly, and even made more money than those who didn't have them. With this finding, it's obvious everyone should have one. It's a serious obligation and a serious relationship. Make sure your mentor is one that you want to emulate and one that will take it seriously. Finding a good mentor will be a difficult task and should not be taken lightly. Check them out on the web first because you can find out everything about everyone in about three minutes now on the web.

Just a Thought,
Gus







Upcoming Events
---
Recruiting?
Get your job e-mailed to everyone... everyday
Post on our Featured Jobs Board!
Reach your target audience in 2015 every day!
Request our 2015 Media Kit
update account / change e-mail
unsubscribe FEEDBACK
www.downing-downing.com

Advertise With The D&D Daily




36615 Vine Street, Suite 103
Willoughby, OH 44094
440.942.0671
copyright 2009-2019
all rights reserved globally