The D&D Daily Mobile Edition
November 25,

2014



The LP Industry's #1 News Source - Informing, Educating and Instilling a sense of community


News Brief
Sponsored by WG Security Products, Inc.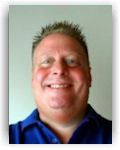 Troy Bentley was promoted to Director of Training and Development Sears Outlet for Jabez LLP. Troy was previously the Sears Hometown & Outlet MIT for Jabez LLP before receiving this new promotion. He has been with Sears Hometown Stores & Outlet, Inc for over seven years and has been with Sears since 1997 and has held such positions as Transition Team Leader and Merchandise Analyst/Replenishment Specialist. Troy earned his degree in Criminal Justice from Texas State University - San Marcos. Congratulations Troy!


LPRC drives research and collaboration
with ORC Working Group
Innovate, Collaborate, Evaluate. Let's take it to the next level. That's what the LPRC Board of Advisors has declared for the members of the Loss Prevention Research Council and its research team. The advisors are driving that mandate by guiding and staffing a set of working groups and action teams. With the growing threat of organized retail crime, the LPRC has appropriately set up an ORC Working Group - with the mission of reducing the impact of ORC on retailers through collaborative research of data and emerging trend analyses, while sharing best practices. The ORC Working Group's objectives are (a) to provide a universal document which can be used by retailers to interview suspected boosters and (b) to better measure the impact that ORC has on the retail industry.

At least 29 different retailers are currently participating in the initiative, with leadership coming from veterans throughout the LP industry - including Group Leader John Hawthorne (Publix) and Co-Leaders Denny Dansak (Kroger), Tony Sheppard (CVS), Shane Hunter (Walmart) and Kevin Morrison (Lowe's).

The LPRC ORC Working Group is coordinating with industry associations to produce more ORC impact data, as well as enhanced ways to ID detained boosters. They will soon be releasing an ORC Booster Form, designed for store-level LP personnel to help identify if a shoplifter is linked to ORC. We at the Daily will be helping to distribute and circulate this important industry tool once it is complete. To learn more about the ORC Working Group or how you can participate, contact Kyle Grottini at Kyle@lpresearch.org.
NY Attorney General Announces Indictment Of Three Brooklyn Pharmacies, Pharmacy Owners, And Pharmacists For Alleged $5 Million Medicaid Fraud Pharmacies Allegedly Used Pharmacist Barred From Medicaid And Billed Medicaid For Medications Never Dispensed While Hiding The Identity Of The True Owner Who Lived In Pakistan. The pharmacies were allegedly paying customers for prescriptions obtained from a local doctor and then billed Medicaid for the drugs even though they were never dispensed. Corporate defendants Perfect Gift US, Inc., d/b/a Central Pharmacy, located at 397 Mother Gaston Blvd., Princess RX, Inc., d/b/a Hastings Drug Corp., located at 2061 Atlantic Ave., and Bright RX, Inc., d/b/a Buffalo Drugs, located at 183 Buffalo Ave., and their owners and operators, Munir A. Khan, Beenish Daha, and Muhammed Z. Khan, a/k/a Sean Chris, were indicted for committing various felonies, including Grand Larceny in the First Degree, Grand Larceny in the Second Degree, and Offering a False Instrument for Filing in the First Degree. In addition, two pharmacists, Louis A. Pisani and Kenneth Brown, were indicted on similar charges. Two others, Chaudury M. Yaqoob and Jose Cepeda, were also indicted for various felonies. ny.gov

Best Buy runs Black Friday drills to gird for the frenzied A few hours past dawn on the Saturday before Thanksgiving, the vestibule of Best Buy in Robinson was packed from door to door. The crowd, listening for the go-ahead from store general manager Jason Barranti to hit the sales floor, had been awaiting the moment since before 7 a.m. with the aid of energy drinks and good old fashioned enthusiasm. Employees positioned strategically at displays for top-selling desktops and tablets girded themselves for the rush. Mr. Barranti raised his hand to quiet the crowd. All right, we're ready on three," he boomed. "One. Two. Three. Shop!" The crowd was made up of dozens of blue-shirted employees Mr. Barranti had designated mock shoppers for the store's annual Black Friday dry run exercise. post-gazette.com
Home Depot faces 44 breach-related lawsuits Home Depot faces at least 44 lawsuits in the United States and Canada over a massive data breach earlier this year that affected 56 million debit and credit cards. The company said earlier this month after announcing third-quarter earnings that it anticipates a fourth-quarter breach-related expense of about $27 million, but only about $6 million after insurance. Home Depot has a $100 million insurance policy for breach-related expenses. That comes with a $7.5 million deductible. cnsnews.com

Saks' NYC flagship valued at $3.7 billion-more than Hudson's Bay paid for entire company Saks Fifth Ave. The Canadian giant, HBC, said it would take out a $1.25B 20-year mortgage on the ground portion of the Fifth Avenue flagship Saks Fifth Avenue store in New York City after an appraiser valued the property at C$4.1 billion ($3.65 billion). HBC is scheduled in early 2015 to begin a $250-million renovation at the flagship Saks Fifth Avenue store to boost productivity and the value of the asset. chainstoreage.com

Wet Seal hires team to analyze potential strategic and financial alternatives

Fayetteville Police set up mobile command post at Cross Creek Mall Calling last year's deterrent initiative successful, Fayetteville Police will again boost their presence in the city's largest retail corridor during the holiday shopping season. A mobile command post has been set up in the parking lot at Cross Creek Mall and will be used solely to process anyone who is charged with shoplifting, stealing or robbing shoppers, Chief Harold Medlock said Monday. Police did not have any numbers from last year's effort, but Lt. Todd Joyce said he thinks it helped keep crimes down. Representatives from retailers showed support by attending Monday's news conference held in the mall parking lot at the Skibo Road entrance near Sears. Security will be heightened with officers patrolling the parking lots and using binoculars to watch activities, he said. fayobserver.com
Number of online shoppers looking for counterfeit goods on the rise The latest study found that the number of bargain-hunters has grown with a ratio of 28 deal-seekers to every fake-seeker in the U.S. and Europe. retailfraud.com

40% of physical store sales this Christmas 'will be digitally influenced' The term "digitally influenced" means consumers will use some form of digital technology to inform or facilitate their purchase, and Deloitte says. essentialretail.com

Shoppers want help and aren't getting it - Good Customer Service = Sales According to 2014 Sales Associate Interaction Study by Tulip Retail, 40% of shoppers say getting help and advice is the most important reason for them to shop in physical stores. Unfortunately, 74% of those report their biggest frustration comes from speaking with associates who do not have the information they need. The research found a direct correlation between levels of help and consumer purchases. 92% of shoppers who said the service they received was "very helpful" made an in-store purchase and 97% wound up spending as much or more than they planned as a result. 68% of shoppers who did not find sales associates to be helpful did not make a purchase. retailwire.com


Quarterly Same Store Sales Results
Citi Trends Q3 up 6.7% with total sales up 7.8%
Tiffany Q3 up 4% with worldwide net sales up 7%
DSW Q3 up 2.6% with sales up 5.8%
Fred's Q3 up 0.3% with total sales up 3%
Brown Show Q3 - Famous Footwear down 0.2% with sales up 1%
Chico's Q3 down 1.6% with net sales up 1.5%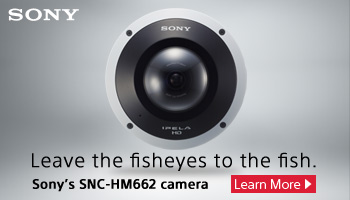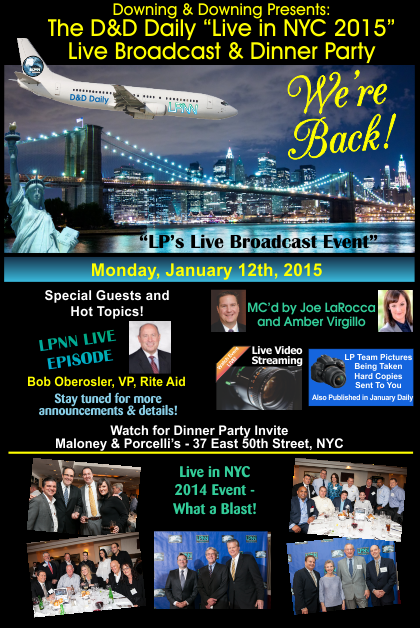 All the news - One place - One Source - One Time
The D&D Daily respects your time
& doesn't filter retail's reality
Report Your News!
(content subject to approval)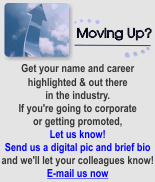 Loss Prevention News Network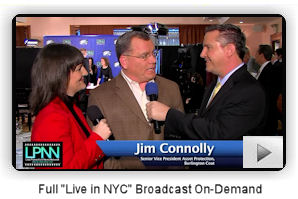 The Loss Prevention industry's first-ever live broadcast. With over 2,000 viewers and great Guests, Cast and Crew, the D&D Daily's "Live in NYC" event covered timely subjects and delivered valuable information for the LP viewers. MC'ed by two dynamic and absolutely energized industry executives, the event was a huge success and showed how the Daily continues to lead the way in "Educating, Informing & Instilling a Sense of Community" for the LP industry.

Visiting with LP Leaders of various Solution Providers, Retailers, Academia, and Trade Associations, the sessions covered a wide array of timely and critical subjects that can have an impact on your career and add value to your performance.




Joan Manson

Sponsored By:


Bass Security





Sponsored By:



Keith White & Michael Nelson

Sponsored By:


Dan Faketty and Professor Bob Hanson

Sponsored By:


The NRF's LP Legislative Committee, a National Update





Jeff Fulmer & Jon Gold


Sponsored By:


Preparing - Training - Responding to the Active Shooter





Rich Mellor


Sponsored By:

Cyber Security's Increasing Impact on Retail & the Role of Loss Prevention

Tom Litchford
Sponsored By:

Stan Welch, VP of LP, JCPenney



Sponsored By:



In case you missed it ...
Click here to view all the episodes from
"Live in Ft. Lauderdale at the NRF LP Show."

Solution Providers, have a video or commercial you want to publish? Contact us.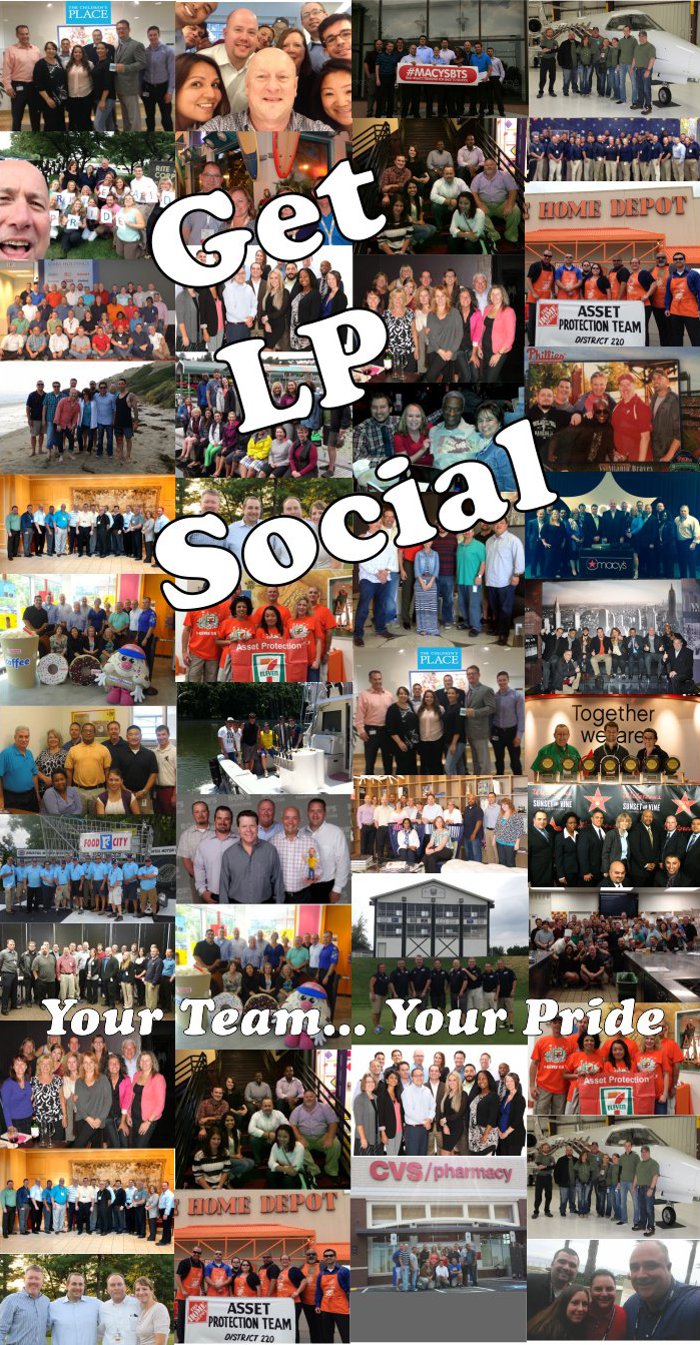 Big Data
Sponsored by Verint
'The next big data breach already happened' ... the affected retailer just doesn't know it yet A year after a pre-Christmas data breach at Target Corp., which affected 40 million debit and credit card records, the chance of another large retailer suffering an attack is highly likely, said Chris Hart, operational risk director for Cincinnati-based First Financial Bancorp. In fact, Hart says the next big data breach already happened, but the affected company just doesn't know it yet because it can take weeks to months to detect. Due to the magnitude of compromised data in 2014, the bigger concern for holiday shoppers than the next hack is how their already stolen information - such as credit card numbers, usernames and passwords - will be used during the busy spending season, Hart said. "That loss of personal information is now going to be leveraged by fraudsters who will combine different pieces of that information in opening up unauthorized lines of credit and leveraging it for highly profitable fraudulent endeavors." daytondailynews.com

Manage holiday season return fraud through power of data One of the ways of reducing return fraud without compromising the customer experience is through the power of data. By collecting and analyzing data at various points across the business, companies can reduce fraud without innocent customers being inconvenienced. There are many points within the returns/exchange process that can and should be monitored closely. From the point of qualifying whether an item is eligible for return or not, to where in or out of the store the newly returned product will reside, it is important that accurate information be available quickly, to not only manage the process, but also to identify unusual patterns that can help stem the tide of fraud and abuse without the need for more stringent return policies. retailfraud.com

Inside the Hacker's Head - How cyber-criminals look for opportunities to wreak havoc Hacking isn't always about causing damage, destruction or for financial gain. The objective of many hackers, especially 'hacktivists' is purely to raise awareness, influence or to send a political message. When information is power, however, the theft of sensitive data is often the target for malicious attackers. In August 2014 Russian hackers seized 1.2 billion login combinations and more than 500 million e-mail addresses, according to a US security firm. In order to maximize the damage done or to capture as much data as possible, hackers often choose targets whose business model is based around holding large amounts of data - such as retailers. information-age.com

Best Practices in the Face of High-Profile Breaches

Customers not that worried about data breaches, according to study

AT&T: Investigators need a warrant to gather cellphone data

e-commerce

Sponsored by The Zellman Group
Stores: The next frontier for mobile technology Retailer interest in using mobile technologies in stores is only increasing, as evidenced this week by two new deals. The first sees a Top 500 e-retailer, Best Buy Co. Inc., using a third-party mobile app to provide its shoppers with cash-back deals. The second sees Groupon, the daily deals company, acquiring an in-store analytics company. Best Buy will offer consumers who spend more than $100 in-store or online a $5 cash-back reward in the Ibotta shopping app. The Ibotta shopping app has 5 million users in the United States who have generated more than $1 billion in sales for brand and retailer clients, Ibotta says. While Best Buy is looking to lure more shoppers to its physical stores with promotions, Groupon added to its considerable mobile arsenal with the purchase of an analytics and customer engagement platform called Swarm. Swarm uses Bluetooth, infrared and Wi-Fi wireless technologies to track shoppers while they're in bricks-and-mortar stores and uses that information to target promotions. internetretailer.com

With data breaches in sight, consumers start to rely more on security measures According to a recent study conducted by the Ponemon Institute, 62% of respondents said they do not trust systems or websites that only rely on passwords to identify and authenticate users or consumers. The same percentage did not trust systems or websites if identity and authentication procedures seem too easy. Findings indicate that consumers already expect security in their online financial actions. The highest expectations were logged for filing a tax return, making mobile payments and banking. Conversely, shopping, watching a video or listening to music, and using social media had the lowest expectations of security. The data reveals that 63% of respondents thought voice verification would be an acceptable method of biometric authentication, and more than half believed biometrics and software tokens embedded in a smartphone or tablet would be a preferred authentication method. thepaypers.com

Online sales rise 19% pre-Thanksgiving weekend

Digital cash: The new, lowest cost payment type

Petco fetches deal with e-retailer
"Fraud is not a person - it is a dynamic grouping of statistics that deviate from the norm."
Stuart B. Levine, CFI, CFCI
CEO, The Zellman Group & Zellman Fraudnet

ORC News
Sponsored by Security Resources
Investigative Report: America's Silent Crime: Organized Retail Fraud spreading As the Christmas shopping season gets underway, police and retailers are keeping close watch on what is called the nation's silent crime: Shoplifting. Shoplifting has grown into a $30 billion industry; an economic drag that can no longer be dismissed as the traditional "five-finger discount.'' It is more organized, more professional and far more pervasive than people think. Only about 20 percent of shoplifters are prosecuted, according to law enforcement estimates in Michigan. "Organized Retail Crime is not shoplifting. It's a premeditated crime committed by sophisticated criminals,'' said William J. Hallan, chief operating officer for the Michigan Retailers Association in Lansing. "They know what they're searching for and they often go in with a shopping list of items,'' Hallan said. "They're stealing it to resell to further other criminal activities.'' Smaller, pricier items that can be easily concealed are targeted. The list includes teeth whitening strips, iPhones, cologne and medications. "A lot of times I'll take orders from people and steal what they want,'' said Douglas Loran Vanwyk, 32, to Grandville police after they arrested him in February for stealing glasses frames from Pearle Vision, according to a police report. Vanwyk said he resells the frames at half-price to help pay child support. wzzm13.com
$4,000 Booster Bag Shoplifter arrested at Macy's South Shore Plaza, Braintree, MA A Boston woman made it out of a department store with about $3,000 worth of stolen merchandise but was arrested when she went back for more, police said. Officers arrested Stevee Davenport, 25, of Dorchester on Saturday night after personnel at the Macy's store in South Shore Plaza reported that she was shoplifting, according to police. The store's loss-prevention staff told police that they saw Davenport leave the store with stolen items and put them into a vehicle in the parking lot. She then went back inside and picked up more merchandise before store employees confronted her. When confronted, Davenport had more than $1,000 in merchandise and three so-called "booster" bags, which are used to conceal merchandise and defeat sensor tags, police said. Police said Davenport had 125 items with a value of almost $4,000. She was arrested and charged with larceny over $250 and possession of clonazepam. patriotledger.com

Monroe, LA Police search for Pecanland Mall thieves Monroe Police have released photos of three females and one male who are wanted for felony theft at Champs in Pecanland Mall to ask for the public's help in identifying the suspects. The theft occurred shortly after 6 p.m. Nov. 11, when they selected several items from the store and concealed them in bags. The suspects left the store without paying for the merchandise only to return around 8 p.m. and steal more clothing. After discovering the shortage, footage of the suspects were observed on CCTV. The suspects were seen splitting up and talking with sales associates within the store to provide a distraction. Video captured the suspects stealing more than $1,500 in clothing from the store. thenewsstar.com

Man sentenced in $1000 baby formula theft from Target in Cottage Grove, MN A Minneapolis man was sentenced to prison for trying to walk out of the Cottage Grove Target store without paying for more than $1,000 in stolen baby formula. A Target employee told police Sept. 9, 2013, that a man had filled a plastic tote with baby formula containers and tried to leave the store. A police officer saw the suspect, later identified as 25-year-old Deontae Maurice Jackson, walk out of the store but turn around after apparently spotting the cop, according to the criminal complaint. Jackson was arrested for felony theft when he was found in possession of 56 cans of baby formula hidden in the tote. The total value of the merchandise was $1,040. Jackson was sentenced Oct. 30 in Washington County District Court. He was ordered to complete a 19-month prison sentence, with credit for 221 days already served, and he will be on five years probation. swcbulletin.com

Macy's employee accused of stealing $3K from retailer in Boynton Beach in false refunds charged with organized fraud
Do you have an ORC case to share?
Share your ORC news and help the industry grow

Retail Crime News

Sponsored by NuTech National
Theft at Target believed to be inside job
A 22-year-old Athens woman is suspected of stealing more than $1,300 while working as a cashier at Target on Atlanta Highway, Athens-Clarke County police said. The woman was hired Nov. 14 as a seasonal employee, and reportedly undercharged suspected accomplices for their purchases. A store loss-prevention officer told police that on Friday the suspect charged a suspected accomplice $8.83 for items totaling more than $700 in value. The security official said the store would seek a warrant charging the former employee with felony theft by taking, according to a police report. onlineathens.com

Tulsa, OK Police Release Surveillance Video Of Gordmans Armed Robber Tulsa Police released surveillance video of an armed robbery that took place earlier this month at a midtown store in hopes that the public can help them track down the men who committed the crime. Two men entered the Gordmans at 21st and Yale at 9:15 p.m. Tuesday, November 18. Video shows the two men, whose faces were covered, enter the store. One is armed with a long gun. Several customers and employees were in the store, and the armed man points his weapon at several people, who lie down on the floor. You then see the two men running out the front door with an undisclosed amount of money. newson6.com
Darien, CT Police Seek Help Finding Suspects In Credit Card Theft Darien police have released surveillance photos of two women believed to be involved in the theft of credit cards that were used to purchase thousands of dollars worth of items in Darien, Stamford Greenwich and Norwalk. The theft was reported on Saturday, Nov. 8 at the Panera Bread in Darien. A 70-year-old Fairfield woman told officers that her wallet was stolen out of her purse after she bought food, according to police. The wallet contained numerous credit cards, which were used to purchase a total of $3,572.06 worth of goods at various locations throughout the day. Surveillance footage shows two women using the cards at the Walmart in Norwalk, where $955.02 worth of items were charged to the card. Police have also released photos of one of the women using a card at the Target in Stamford, where $637.04 worth of merchandise was purchased. dailyvoice.com

Two Men caught cutting security cables to high-dollar headphones at Target in Decatur, AL Two Decatur men face theft charges after police said they were caught on tape stealing high-end headphones from a local Target store. Loss prevention employees reported the theft of three pairs of headphones totaling in excess of $500 from the store on Nov. 18. Video surveillance footage showed two men enter the electronics department and proceed to sever the security cables wrapped around the headphone packaging. The men then concealed the headphones into their jackets and left the store. Police identified the men as Charles Edward Kirk Jr. and Brodrick Lamaul Kirk. waff.com

Syracuse man charged with identity theft after tipsters ID him in Walmart security photos State police say they arrested a Syracuse man on identity theft charges after several people identified him as the man in the brown leather jacket in Walmart security photos. Timothy A. Scott, 45, of 120 E. Matson Ave., was charged Thursday with two counts of first-degree identity theft, a felony, state police said. State police last week released security photos of two men they wanted to talk to regarding an identity theft investigation that occurred Oct. 21 at Walmart on Basile Rowe in the village of East Syracuse. Investigators quickly began to receive tips that led them to arrest Scott, the man they say was wearing a brown leather jacket and pushing a shopping cart in the security photos. syracuse.com

Bastrop, TX Police investigates H-E-B fire as Arson The Bastrop Police Department is investigating a fire at H-E-B that forced the store to close its doors for nearly a week as an arson case. The Bluebonnet Area Crime Stoppers and H-E-B are offering a $10,000 reward for information that leads to the arrest of the person or people responsible for setting the fire. Chief Perry said smoke damage occurred in "100 percent of the store." Fire damage was restricted to about "2 or 3 percent," and water damage from the sprinkler system and from fire hoses was "probably 50 percent." statesman.com

5 Wanted in Jeff's Jewelry store robbery in Conroe, TX Conroe police are looking for a group of five people who broke into a jewelry store and tried to rob it. They didn't get away with anything because a store employee confronted them with a gun. At approximately 9:09 a.m. Monday, Conroe police said they received a call of an aggravated robbery at Jeff's Jewelry at 4890 W. Davis. Officers said the group smashed the front glass door before the store opened, then they threatened employees with a gun and other weapons. Police said they tried to break the glass cases to steal jewelry, but an employee with a gun confronted them. click2houston.com

Nurse who had Ebola asks Akron, Ohio bridal shop for refunds - After the owner voluntarily quarantined the store after the nurse visit that infamous weekend A request from the bride-to-be at the center of the recent Ebola scare has left an Akron bridal shop owner feeling jilted. An attorney representing Texas nurse Amber Vinson is asking Coming Attractions Bridal & Formal shop to refund a total of $480 in deposits and payments that four of her bridesmaids made for their dresses. The Akron bridal shop closed for several weeks last month after being notified Vinson tested positive for the deadly viral disease within days after visiting the store with her bridesmaids. Owner Anna Younker said the store lost tens of thousands of dollar s because of the closure and frightened customers' canceled orders. So when she first saw the letter, she figured it was an apology. Instead, Dallas attorney Stephen F. Malouf requested the refund and notified Younker that Vinson has decided to use another bridal store for her nine bridesmaids' dresses "in order to minimize additional public scrutiny." "Would you kindly advise whether this is agreeable to Coming Attractions?" Malouf asked. "If it is not, would you ask your attorney to contact me to discuss this matter?" "Are you kidding me?" Younker thought as she read the letter. ohio.com

Wal-Mart cashier accused of stealing $12K from store - loading thousands onto her personal money network card in Gainesville, FL

Three Kmart employees accused of stealing from Bennington VT., store

Man brandishes knife while stealing TV at Stevenson Ranch Walmart store in Santa Clarita

Fayetteville Woman Arrested After Stealing $4 of Jewelry Merchandise from Kohl's


Robberies and Burglaries
• CVS - Oklahoma City, OK - Armed Robbery - suspect arrested
• CVS - Temple, TX - Armed Robbery
• Eagle Stop - Columbia, MO - Armed Robbery
• El Globo - Hickory, NC - Armed Robbery
• Exxon - Temple, TX - Armed Robbery
• EZ Pawn - Waco, TX - Armed Robbery
• Family Dollar - Framingham, MA - Armed Robbery
• Handy Mart - West Point, MS - Armed Robbery - Twice in 1 night
• Quick Pick - Belton, TX - Armed Robbery
• Rite Aid - Lansing, MI - Armed Robbery - suspect arrested
• Rite Aid - Caldwell, ID - Armed Robbery
• Southwest Travel Center - Temple, TX - Armed Robbery
• St Elizabeth Pharmacy - Dayton, OH - Armed Robbery - suspect pleads guilty
• Taylor's Cefco - Temple, TX - Armed Robbery
• Video Cellar - Winnipeg, CN - Armed Robbery - 2nd time in a week


Vendor Spotlight




Holiday Shopping Season 2014: 5 Tips for Loss Prevention
The holiday shopping season is the busiest time of year for retailers. This increase in traffic and sales often means that loss prevention departments across the country kick things into high gear in order to stay on top of shrink. To help you prepare for the hectic season, I put together a short list of tips. From a general retail standpoint they may seem a little obvious, but I put an Asset Protection twist on each of them that may prevent a headache or two down the road.

Take some time to review your return policies

This tip may seem a little unnecessary, mainly because nearly every retailer already has a comprehensive return policy in place. However, the raise of e-receipts and e-commerce over the last few years have thrown a wrench into some of these policies. Between the increasing ability of fraudsters to reproduce and modify e-receipts, and the fact that many experts are hinting at a major increase in e-commerce sales this year, return fraud is bound to cause major headaches for retailers who don't prepare. Heading into this holiday season it's vital that you comb through your return policies now and nip the problem in the bud.

Plan promotions accordingly

More often than not promotional planning falls in the hands of some other department outside of loss prevention, but that doesn't mean you shouldn't get involved. Promotions that aren't planned well can lead to unbalanced tills, missing inventory, poor crowd control, and damaged goods; in other words, poorly planned promotions generate loss. In order to prevent a good portion of this shrink before it ever occurs, you and your team should get involved at some point in the promotions process. Some easy ways to help include testing promotions before they roll out chain wide, or suggesting spacing out promotions which would help keep traffic under control.

Properly staff your stores and website

Many retailers have already gotten the ball rolling on seasonal hires, making this as good a time as ever to review your hiring practices. We all know that one of the main objectives for bringing on more people this time of year is crowd control. Ensuring that customers can get in and out of your stores as quickly and efficiently as possible goes a long way towards preventing potential loss. It's also important in today's world to ensure that your holiday staffing efforts extend to your e-commerce websites and applications. This again comes back to traffic control, because understaffed sites can lead to delayed orders and abandoned shopping carts.


Click here to see LP Holiday Tips #4 and #5.


Featured Job Listings
Sponsored by Cam Connections
Feature Your Job Here For 30 Days -
70% Aren't On the Boards
VP of Sales
Checkview
Chanhassen, MN
Checkview
Sr. Director, Field LP
Ross Stores
Dublin, CA
Ross Stores
Director of LP
Tourneau
New York, NY
LinkedIn
LP Director
CarMax
Tolleson, AZ
CarMax
LP Manager
Disney
Anaheim, CA
Disney
National Account Executive
Checkview
Northeast Region
Checkview
National Account Executive
Checkview
United States
Checkview
Corporate Investigator
Confidential
San Francisco Bay, CA
Confidential
National Account Manager
Vector Security, Inc
TBD
Vector Security, Inc
Supervisor LP DC
Ascena Retail Group
Greencastle, IN
Ascena Retail Group
AP Agent
Ralph Lauren
Sunrise, FL
Ralph Lauren
LP Agent
JONS Markets
Los Angeles, CA
JONS Markets
National Account Mgr
Confidential
Northeast
Downing & Downing

Limited Time Only - Post Your Multi-Unit LP jobs for FREE - Learn More Here

Daily Job Alerts


Sponsored by Cam Connections
Appearing One Day Only
View our Internet Jobs Archives here
Sr Associate Global Security Ops
Abercrombie & Fitch
New Albany, OH
Abercrombie & Fitch
Dept Mgr LP & Safety
Lowe's
Timonium, MD
Lowe's
Regional LP Manager
Payless ShoeSource
Seattle, WA
Payless ShoeSource
Field LP Manager
Staples
Scottsdale, AZ
Staples
ETL Assets Protection
Target
Fresno, CA
Target
ETL Assets Protection
Target
Bakersfield, CA
Target
LP Manager
Kmart
Great Falls, MT
Sears Holdings Corp
LP Specialist
HEB
Spring, TX
HEB
LP Specialist
HEB
Corpus Christi, TX
HEB
EHS Manager
Harbor Freight Tools
Calabasas, CA
Harbor Freight Tools
LP Supervisor
JC Penney
Lakeland, FL
JC Penney
AP Manager in Training
Walmart
Berea, KY
Wal-Mart
AP Manager in Training
Walmart
Columbia, MS
Wal-Mart
AP Manager in Training
Walmart
Hartford, CT
Wal-Mart
AP Manager in Training
Walmart
Oakdale, LA
Wal-Mart
AP Manager in Training
Walmart
Centerville, IA
Wal-Mart
AP Manager in Training
Walmart
Springfield, MO
Wal-Mart
AP Manager in Training
Walmart
Morristown, TN
Wal-Mart
AP Manager in Training
Walmart
New Tazewell, TN
Wal-Mart
AP Manager in Training
Walmart
Lake Charles, LA
Wal-Mart
AP Manager in Training
Walmart
Niles, MI
Wal-Mart
AP Manager in Training
Walmart
Saginaw, TX
Wal-Mart


Home of the Industry's Original
On the Move

Troy Bentley was promoted to Director of Training and Development Sears Outlet for Jabez LLP.
Greg Murphy, CFI was promoted to Regional Human Resources Director for CarMax.
Wallace Phillips, CFI was named District Asset Protection Manager for Saks Fifth Avenue.
Post Your New Job or Promotion!
See all the Industry Movement



Your Career
Sponsor this section of the Daily
5 Unique Ways to Show Thanks to Your Employees With Thanksgiving right around the corner, it should serve as a reminder to say thanks to those you're grateful for. Show your employees that you appreciate all they do by using some of these ideas. Go that extra mile

When You Give Your Team a Goal, Make it a Range Everyone has goals both in their professional and personal lives. It provides motivation and reward but the key is to set the goal at a high-low range so it challenges your team and at the same time is doable. Perfect balance

How to Make your Employees Happier, Healthier and More Productive You spend the most time around your coworkers so it's important to have good relationships with them. Strong social connections improve health and happiness. Here are tips to help. Admit mistakes

Encourage Employees to Encourage Each Other Your employee's interactions can impact their productivity and stress levels. Peer feedback is just as impactful especially when it's constructive. Here are some tips to giving feedback that will help each other out. Step in their shoes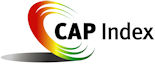 Tip of the Day
Sponsored by Vector Security
If you ever think your job is in jeopardy, then you're probably right. Hearing the footsteps isn't a pleasant thing, but not hearing them is a fatal blow and probably means you're not listening. It's always important to keep your ears to the floorboards and read your environment as best you can every day, because as we've seen over the last few years, no one is immune in this economy and what you've done for them today drives where you'll be tomorrow. That "Doing More With Less" philosophy isn't just an expression for the masses, it's for every executive in every job and what more can you be doing?

Just a Thought,
Gus







Upcoming Events
---
Recruiting?
Get your job e-mailed to everyone... everyday
Post on our Featured Jobs Board!
Reach your target audience in 2015 every day!
Request our 2015 Media Kit
update account / change e-mail
unsubscribe FEEDBACK
www.downing-downing.com

Advertise With The D&D Daily




36615 Vine Street, Suite 103
Willoughby, OH 44094
440.942.0671
copyright 2009-2019
all rights reserved globally