The D&D Daily Mobile Edition
November 26,

2014



The LP Industry's #1 News Source - Informing, Educating and Instilling a sense of community


Spotlight on Leadership
Macy's Thanksgiving Day Parade
A look behind the scenes of the Macy's Thanksgiving Day Parade from an LP operational perspective. Giving you a look at the complexity of coordinating large-scale national events with law enforcement and the measures taken by LP to protect the brand.
The 86th Macy's Thanksgiving Day Parade took place on Thursday, November 22nd 2012 at 9:00 am in New York City. It is estimated that upwards of 3 million viewers line the parade route from the starting point at 77th Street down to its final destination at the Macy's Flagship Herald Square store at 34th Street. In addition, the audience on NBC's nationwide broadcast allows another 50 million people to make the parade part of their Thanksgiving tradition.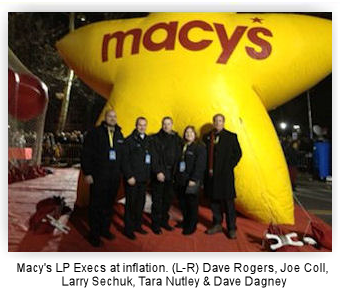 Macy's Loss Prevention plan is put together by Larry Sechuk-VP Law Enforcement Outreach/Special Operations, Walter Avelin- LP Operations/Law Enforcement Liasion and Dave Dagney-LP National Events. The planning process begins in February. There are four distinct operations; rehearsal, balloon inflation, parade and dismantling/deflation. They are spread over four days. As the safety of attendees is of paramount importance meetings are held with NYPD, FDNY, Port Authority Police, FBI and DHS to identify potential issues and develop contingency plans. Starting in September Sechuk provides monthly updates to Tom Roan-Group Vice President / LP. A final review of the Loss Prevention plan is presented to senior management by Roan and Sechuk two weeks before the parade.

The Loss Prevention Team must also coordinate crowd control and protection for talent during rehearsals at Herald Square on the three nights before the actual parade. One of the busiest crosstown streets, 34th Street, is closed each night to allow performers and the camera crews to coordinate timing and ensure that the marks are hit.

The Balloon Inflation takes place on Wednesday at 77th and Central Park West. This has become a major event as well. It draws tens of thousands of onlookers who want to get a sneak peek at the balloons. At 10:00 pm the process of clearing the inflation viewing audience from the perimeter around the Museum of Natural History begins. Once this is accomplished Central Park West must be made ready to stage the float convoy. This year 55 floats were part of the parade. The convoy is escorted by Macy's LP, and Police through 45 of busiest streets in Manhattan get to their destination on Central Park West.

During the overnight hours Macy's LP must prepare access routes for guests who have tickets to the grandstands. They must also maintain a secure perimeter from 67th Street to 86th Street to keep unauthorized personnel out of the staging areas. At the same time a separate LP operation seals off 34th Street outside the Herald Square store to allow construction of the grandstands.

Thanksgiving morning presents its own set of challenges.

| | |
| --- | --- |
| ● | Macy's grandstands uptown and downtown allow over 17,000 ticketed guests to view the parade from some of the best viewing locations along the route. Macy's LP partners with the Stapleton Group and their Vapor Wake K-9 dogs to screen all guests prior to reaching the stands. |
| ● | Thousands of volunteers who march in the parade must be brought to secure locations to be costumed and then brought to the start line at Central Park West. |
| ● | A separate operation for the 800 children who ride the floats must be staffed and managed by the LP team. |
| ● | A 'frozen zone' from 34th Street to 39th Street and from Broadway to 8th Avenue must be created and maintained to facilitate the dismantling of floats and deflation of the balloons. |
| ● | All celebrities who ride the floats must be escorted at all times during the parade. |
After months of preparation and planning it is finally time for a parade! Over 150 Macy Loss Prevention executives team up with the FBI, DHS, FDNY and thousands of New York's finest to ensure that the parade goes according to plan without incident and that Santa arrives at Herald Square promptly at 12 noon.

In addition to the parade in NYC Sechuk and his team are also involved with the planning and safeguards at Macy's events nationwide during Thanksgiving week. These include; 2 additional parades, 5 tree lightings and 6 window unveilings. All of this in addition to normal 4th Quarter activities that the team is involved with!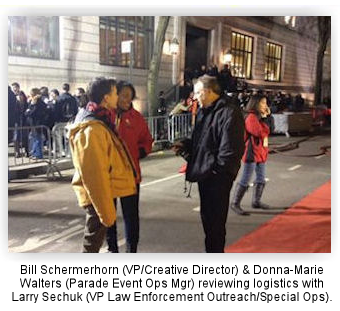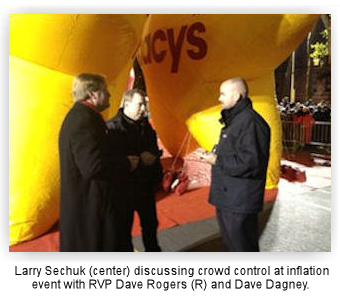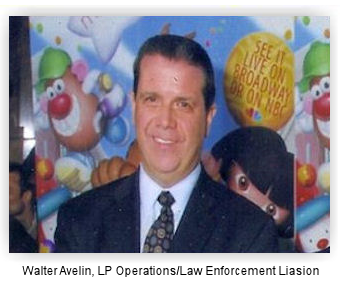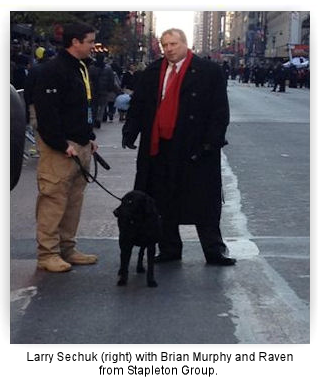 *This article was originally published on November 29, 2012.

News Brief
Sponsored by WG Security Products, Inc.
Macy's Loss Prevention Plays Key Role in Delivering a Safe and Successful 88th Macy's Thanksgiving Day Parade Now in its 88th year, the Macy's Thanksgiving Day Parade has been entertaining millions of Americans and ushering in the start of the holiday shopping season for generations. A 1929 large outdoor float of Captain Nemo makes its way down the street during the Macy's Thanksgiving Day Parade in New York City, on Nov. 28. Originally known as the Macy's Christmas Parade, the Thanksgiving Day parade started in 1924. lazer1033.com

Protests Across U.S. - 45 arrests Tuesday night in Ferguson - A 'Much Better Night' Protests spread across the United States late Tuesday and more than 2,000 National Guard troops were deployed in the St. Louis area to prevent a second night of rioting and looting. Despite the beefed up military presence in Ferguson, a police car was torched near City Hall as darkness fell, and police fired smoke bombs and tear gas to scatter protesters. Elsewhere in the city, protests were smaller and more controlled than on Monday. National Guardsmen surrounded businesses damaged in Monday's violence. Groups of men also gathered on the roofs of some boarded-up stores to protect the buildings from further damage. Armed with fire extinguishers and, one said, guns, they plan to stay all night. Protests swelled from Los Angeles to Washington on Tuesday. In New York, police used pepper spray to control the crowd after protesters tried to block the Lincoln Tunnel and Triborough Bridge and marched to Times Square. In Oakland, California, and in Atlanta, protesters blocked traffic, while in Boston others marched past a correctional facility where inmates taped Brown's name on a window in solidarity with the marchers outside. reuters.com nytimes.com

10 arrested in NYC during Ferguson protest
The NYPD says 10 people were arrested as thousands protested for a second night. The arrests occurred Tuesday night in Times Square. Four people were charged with resisting arrest and six with disorderly conduct. There were no injuries. Police say the protests were largely peaceful. crainsnewyork.com

Army and Air Force Exchange Service Loss Prevention on alert for thieves as shopping season kicks into high gear The exchange service ended fiscal 2013 with a shortage of approximately $27.7 million in inventory, about a third of which is estimated to be the direct result of shoplifting. Approximately $3 million is believed to be the result of shoplifting in the Pacific, which includes the exchange stores in Japan, Korea and Guam. While Ramstein Air Base does the largest volume of sales worldwide, Kadena's exchange is second, and Camp Foster is usually fourth or fifth. At Kadena Air Base's sprawling exchange, a retired Marine John Keith sits behind a humming console of 10 screens with access to 112 cameras that cover the department store inside and out. "Our main charge is to get out there and serve the servicemen and their dependents," said Allen Wykle, the Pacific region's loss prevention manager. "If you're out there and you're wanting to shoplift, we're going to catch you and we don't want that to happen. Rank and station doesn't enter into it. During his career in loss prevention, Wykle has seen diplomatic personnel and even an undersecretary of the Army caught shoplifting. The consequences for a service member can be devastating - even if it's a dependent who steals, Keith said. The service member can also be charged with the theft. Dependents have been barred from base for 10 years, which in some cases led to the destruction of their families through divorce or separation. Service members who steal can be prosecuted and discharged. The community also suffers because exchange earnings support morale, welfare and recreation installation programs. The exchanges have contributed more than $2.4 billion to military quality-of-life programs in the past 10 years. stripes.com
Black Friday gun buys test the FBI's NICS background check system - After 3 days buyers can purchase regardless of background "We have a perfect storm coming," says Kimberly Del Greco, a manager in the FBI division that helps run the system, known as NICS. On Black Friday, the rush accelerates to nearly two checks a second, testing the limits of the National Instant Criminal Background Check System. Much of the responsibility for preventing criminals and the mentally ill from buying guns is shouldered by about 500 men and women who run the system from inside the FBI's criminal justice center, a gray office building with concrete walls and mirrored windows just outside Bridgeport, West Virginia. By federal law, NICS researchers must race against the clock: They have until the end of the third day following an attempted firearm purchase to determine whether or not a buyer is eligible. After that buyers can legally get their guns, whether or not the check was completed. The clock ran out 186,000 times last year. NICS did about 58,000 checks on a typical day last year. That surged to 145,000 on Black Friday 2013. They're bringing in 100 more workers than usual for the post-Thanksgiving rush this year. With a 71% instant approvals that leaves 29% that have to be managed. But the whole system is only as good as the data. States voluntarily submit records, which are often missing information about mental health rulings or criminal convictions, and aren't always rapidly updated to reflect restraining orders or other urgent reasons to deny a sale. It's a particular problem on Black Friday, when so many background checks are done at once. There are more than 48,000 gun retailers in the U.S., from Wal-Mart stores to local pawn shops. Store clerks can use the FBI's online E-Check System, which federal officials say is more efficient. But nearly half the checks are phoned in. Three call centers - in Kentucky, Texas, and Wheeling, W.Va. - take these calls from 8 a.m. to 1 a.m. every day but Christmas yahoo.com

Home Depot spent $43 million on data breach in just one quarter The $43 million was spent on investigations, providing identity theft protection services to consumers, increased call center staffing and other legal and professional services. csoonline.com

27% of shoppers will only shop at 'Breached Retailers' if they can't find the product elsewhere - 8% won't even shop there KPMG 2014 Holiday Shopping Survey shows payment security is will impact holiday shopping behavior, with more than a quarter of consumers (27 percent) indicating they will only shop at a store that previously experienced a cyber-attack if they cannot find the product elsewhere, and 8 percent refusing to shop at these stores all together. mobilepaymentstoday.com

Texas lawmaker wants to get tough on cargo theft Rep. Allen Fletcher, R-Cypress, has filed a bill for consideration during the upcoming regular session that would establish cargo theft as a specific offense and impose escalating fines and punishment based on the value of goods. Offenders would face felony charges that range from six months behind bars for loads valued at less than $10,000 to as much as life in prison for loads valued at more than $200,000. Any damage to the truck or trailer would also be included in the value of the load. Fletcher's bill, HB102, can be considered during the session that begins Jan. 13, 2015. A Georgia law that took effect in July also addresses the issue. Offenders who steal cargo from trucks could receive prison sentences as long as 20 years and/or fines up to $1 million. landlinemag.com

Another Guilty Plea In Record $80M Enfield, Conn., Eli Lily Drug Heist - Becoming the 5th guilty plea in the case Rafael Lopez, 50, said he helped set up the 2010 burglary of an Eli Lily warehouse, but did not participate directly in the break-in. Four other Miami-area men - Amaury Villa, Amed Villa, Yosmany Nunez and Alexander Marquez - made elaborate plans for the burglary and actually carried it off in early 2010 by disabling security devices, cutting a home through the roof and using ropes to rappel into the building. The burglars were caught because one of them left a plastic water bottle with his fingerprints inside the warehouse. courant.com

Could eBay Force Sellers to Ship to Stores for Pickup?

Quarterly Same Store Sales Results
Cracker Barrel Q1 restaurant up 3.3% - retail up 6.1% with total revenue up 5.3%
Books-A-Million Q3 up 1.8% with revenue up 1.2%

Potential for Ferguson-Related Demonstrations at Area Shopping Malls (November 28-30)
On 11/24/14, a St. Louis County Missouri Grand Jury decided not to indict Ferguson Police Officer Darren Wilson in relation to the shooting of Michael Brown. Following that outcome, there have been a number of protests nation-wide including several in Massachusetts, one of which drew as many as 1,500 individuals. Some individuals and groups involved in Ferguson-related protests are now encouraging demonstrations at malls (especially "upscale" malls according to one posting) and other shopping centers nation-wide to coincide with "Black Friday" and the period from 11/28-11/30. No planned events have been posted as of 1100hrs, but an online form has been created to collect information on planned demonstrations, and at least one social media user has suggested that demonstrators "Stand in front of entrances. Meet [shoppers] face to face. Turn them away."

Options for Consideration:
● Ensure communication and coordination between mall management and security officials and local law enforcement, in the event that a public safety response is required.
● Review response protocols for public safety concerns such as blocked ingress/egress, overcrowding, and traffic congestion.
● Mall owners/operators may wish to monitor social media postings for any mentions of events on or around their properties. Planned Black Friday events may be posted to: http://fergusonresponse.tumblr.com/ or be found on various social media sites with the keyword #boycottblackfriday.

The information in this bulletin is being provided for public safety planning purposes only. Any reporting on constitutionally protected activities is solely for operational planning in the interest of assuring the safety and security of the demonstrators and the public.

Read the full PDF here.

Thank you to Sean Huggins at Rite Aid for sharing this with us.
We won't be publishing tomorrow or Friday so stay safe on the roads and we at the Daily would like to wish you, your team and your family a very happy Thanksgiving, and we hope you all have a safe and profitable Black Friday. See you Monday!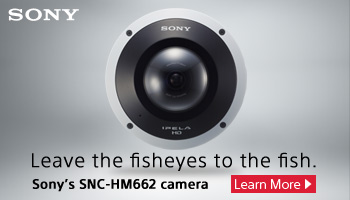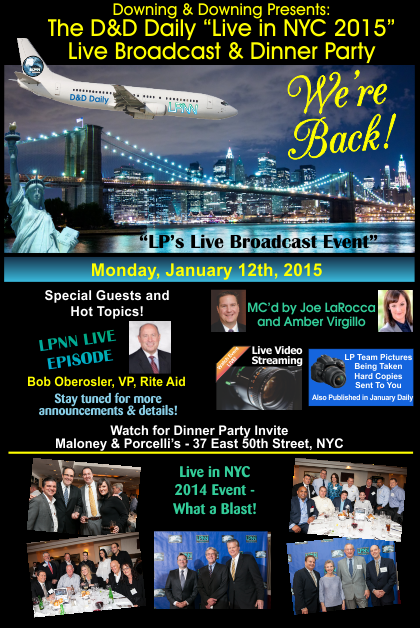 All the news - One place - One Source - One Time
The D&D Daily respects your time
& doesn't filter retail's reality
Report Your News!
(content subject to approval)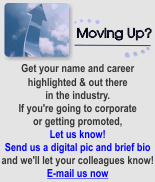 Loss Prevention News Network

Roger Leyden, Founder, President and CEO of Se-Kure Controls, and John Mangiameli, VP of Business Development, discuss the diversified approach Se-Kure Controls takes as a solution provider in the retail LP industry. With a variety of technologies that display products, create a safe environment and defend against theft, this international company offers over 800 security products in its extensive catalogue of solutions. Roger and John talk about Se-Kure Controls' ability to respond quickly to customers' requests, while providing unique solutions tailored to retailers' specific problems.




Joan Manson

Sponsored By:


Bass Security





Sponsored By:



Keith White & Michael Nelson

Sponsored By:


Dan Faketty and Professor Bob Hanson

Sponsored By:


The NRF's LP Legislative Committee, a National Update





Jeff Fulmer & Jon Gold


Sponsored By:


Preparing - Training - Responding to the Active Shooter





Rich Mellor


Sponsored By:

Cyber Security's Increasing Impact on Retail & the Role of Loss Prevention

Tom Litchford
Sponsored By:

Stan Welch, VP of LP, JCPenney



Sponsored By:



In case you missed it ...
Click here to view all the episodes from
"Live in Ft. Lauderdale at the NRF LP Show."

Solution Providers, have a video or commercial you want to publish? Contact us.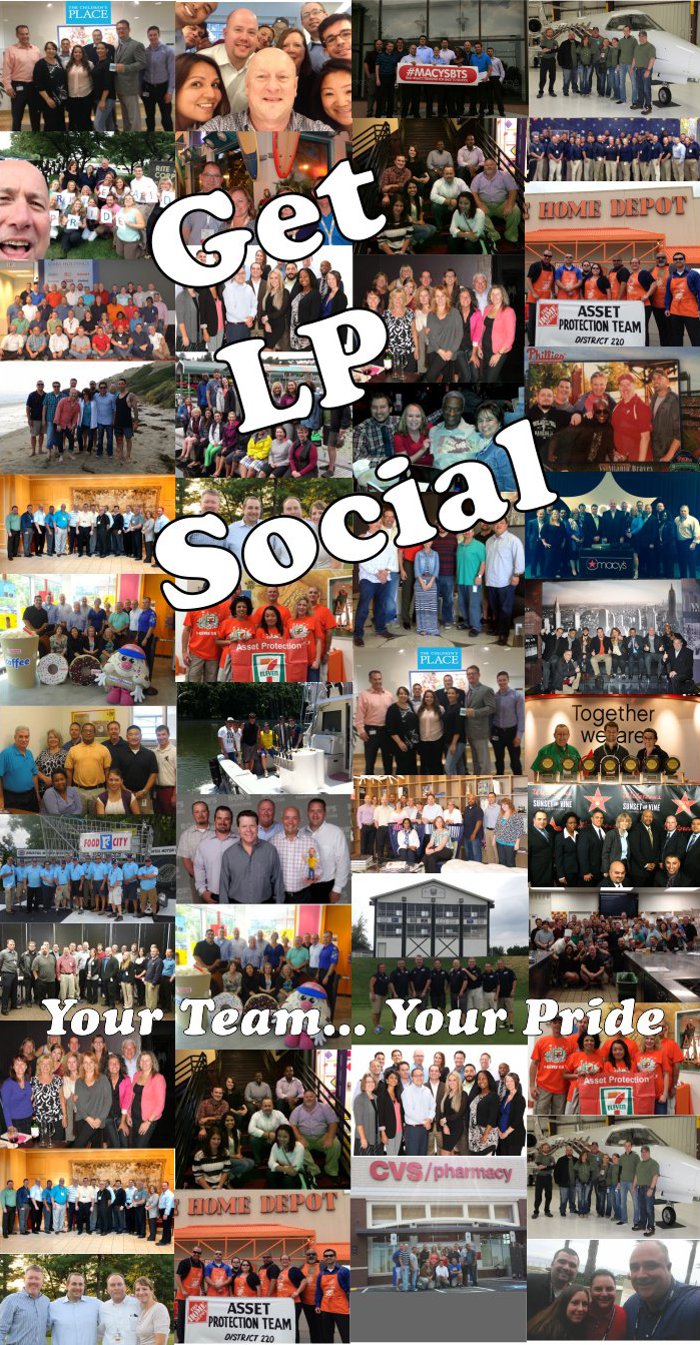 Canadian Push
Sponsored by Vector Security
U.S. Retailers changing Holiday Shopping across Canada - Fully embracing 'Black Friday' with 61% planning to shop Canadians have now fully embraced the U.S. shopping phenomenon of Black Friday, which has long been when holiday sales in the U.S. began in earnest. About one in five Canadian retailers are planning a dedicated Black Friday sale this year, and a recent survey from Accenture found that 61 per cent of Canadian shoppers are planning to hit the stores that day too. The shopping landscape has changed so much in recent years, Black Friday is beginning to overshadow Boxing Day (day after Christmas) he said, getting people out to stores earlier. ctvnews.ca

Calgary retail space demand reaches all time high - 50 projects - 12.1 million square feet in planning "Alberta, and Calgary in particular, has become the 'poster child' market for affluence, consumer spending, employment growth, nation-leading incomes and abundant population growth - all the necessary ingredients for a healthy and robust retail economy," said the report. calgaryherald.com

Canadian retailers are getting their butts kicked online by U.S. retailers Fresh estimates suggest the likes of Amazon, Walmart and Apple among others whose owners reside south of the border are collecting most of the money we spend making online purchases. That trio alone takes in about half of the $21.6 billion in Canadian e-commerce sales annually, according to some estimates. Add in computer maker Dell alongside other big U.S. sellers of electronics and general merchandise who operate in Canada, such as Staples, Costco and Best Buy, and the total share of the billions being spent online this holiday season swings heavily in favour of retailers with U.S.-based addresses. globalnews.ca

Reitmans closing 107 Smart Set stores - converting some The Montreal-based clothing company will convert 76 of those stores to its other brands, while 31 will be closed. Reitmans also operates stores under the banners Reitmans, RW & Co., Penningtons, Thyme and Addition Elle. financialpost.com

Upscale retailer Simons opening 5 new stores

Whole Foods CEO Confirms Aggressive Canadian Expansion - Currently has 10 opening 30 more

Drug addiction behind armed robberies in Saskatoon

Riverview convenience store robbed by man wielding knife

Shubenacadie pharmacy robbed with hypodermic needle

Electric guitar stolen from Tom Lee Music in Langley

Thieves used forklift to steal $25,000 spa

Armed robbers steal 25 iPhones from Rogers in Winnipeg

Westmount pharmacy held up in Montreal

Sunday's Pharmacy Robbery third in Saskatoon so far this fall Saskatoon police are looking for the man who robbed a pharmacy in River Heights on Sunday night. The man, described as about six-feet tall with a medium to large build, walked into a drugstore in a strip mall at Assiniboine Drive and Warman Road around 11 p.m. and went directly to the pharmacy, where he demanded drugs, police stated in a release. No weapon was shown or seen by the staff. The man then left on foot with an undetermined amount of narcotics. His direction of travel was not observed. A police canine unit and several patrol units were dispatched to the area, but could not locate the suspect, police said. Two other Saskatoon pharmacies were robbed of narcotics recently. On Oct. 31, a man with a scarf over his face robbed a pharmacy in the Stonebridge neighborhood. Nearly two weeks earlier, on Oct. 19, a man with a neck warmer pulled up over his face robbed a pharmacy in the Sutherland area. thestarphoenix.com

e-commerce

Sponsored by The Zellman Group
Fraud Transactions to Jump as e-Commerce Spikes - Especially in 'buy online and pick up in-store' The holiday shopping season is upon us, and it's expected that over the Thanksgiving to Cyber Monday weekend, US merchants will experience an increase of 20% in transaction volume and value, compared to the same period in 2013. And that means gold for cyber-criminals looking to push through millions in bogus transactions. Fraud attempts during this holiday season, will account for 2.5% of all sales. A large percentage of this increase is likely to be focused on 'buy online, pick up in-store' sales as well as last-minute purchase options, such as digital downloads and virtual gift cards just prior to Christmas. Also noteworthy is the increased popularity of the 'buy online and pick up in-store' phenomenon, which is growing 18% year-over-year. This option ensures that consumers don't have to pay for (or wait for) shipments, or spend time in stores, locating their items. It is also extremely attractive to fraudsters who can also collect their orders within an hour of purchase. infosecurity-magazine.com

Black Friday The No. 1 Day For Consumer Fraud Obviously, fraudsters are big spenders. When a card is not present, the average fraudster spends about $900 per card in five days, but when the card is present the fraudsters take seven days to spend an average of $450. When the card is not present (CNP), fraud spikes in November; when the card is present (CP) fraud spikes on Black Friday. In 2013, the 10 days with the most CNP fraud occurred in November. More than three times more CNP fraud occurs in November than in June, the month with the least CNP fraud. None of the top CNP fraud days in November fell on Black Friday because they were busy with CP fraud. Shoppers and fraudsters flood brick-and-mortar retailers on Black Friday, making it the day with the most CP fraud. mediapost.com

Will Omnicommerce Drive Black Friday Sales?
"Fraud is not a person - it is a dynamic grouping of statistics that deviate from the norm."
Stuart B. Levine, CFI, CFCI
CEO, The Zellman Group & Zellman Fraudnet

ORC News
Sponsored by Security Resources
Former Subway franchisee gets 18 months in prison for accessing Subway POS devices, loading up gift cards A California man was sentenced last week for remotely accessing point-of-sale (POS) machines that he sold to Subway restaurant franchises, and loading at least $40,000 onto gift cards – which were later used or sold. Shahin Abdollahi, who operated under the name Sean Holdt, was sentenced on Friday to 18 months in prison with two years supervised release, and also must pay $34,712 in restitution, according to a Department of Justice release. Abdollahi owned and operated Subway restaurant franchises in Southern California for roughly three years beginning in 2005, and during that time gained experience with Subway POS systems and gift cards, according to an indictment filed in March 2013. Most or all of the POS machines were loaded with a remote desktop application known as "LogMeIn," according to the indictment. Beginning in 2011, Abdollahi, along with co-conspirator Jeffrey Wilkinson, used LogMeIn – typically in the early morning hours – to access the POS devices and load up funds onto Subway gift cards, the indictment indicates. In the end, the loads totaled at least $40,000. "Abdollahi and Wilkinson used fraudulently loaded gift cards at Subways in California," according to the indictment. "Wilkinson sold fraudulently loaded Subway gift cards to buyers who were usually in Southern California. He advertised discount gift cards on websites such as eBay and Craigslist and then hand-delivered the fraudulently loaded cards to his buyers." Wilkinson, also of California, pleaded guilty for his role in the scheme in February, and in May was sentenced to six months in prison, according to the release. scmagazine.com

'Sweep Week' continues with 4th city wide shoplifting sweep - 'Operation Fade to Black Friday' in Mesa, AZ nets 49 arrests Mesa police arrested dozens of people, accused of having sticky fingers, during their second annual Operation Fade to Black Friday. "It's the holidays," said Mesa police Det. Steve Berry. "Times are tight for everyone. And, we're all looking for the best deal we can get. And, one of the best ways to do that is to keep the crooks out of the stores." Berry said officers arrested 49 suspected shoplifters, who swiped thousands of dollars worth of merchandise, between Friday, Nov. 21 and Sat., Nov. 22. Three arrests were for organized retail theft, he said. The department is also investigating four other cases of possible organized retail theft, as a result of the operation. The Operation was successful with the teamwork of Law Enforcement and the following retails: Walmart, Target, CVS Pharmacy, Home Depot, JC Penney and Kohl's. "We're looking for all the criminals," said Berry. "And, we're not just looking for the little guy, the big guy - we're looking for them all." kpho.com
Three suspects arrested for felony theft from Pecanland Mall, Monroe, LA Police say they arrested 29-year old Clay Smith, 25-year old Tynedria Meneweather, and 21-year old Sharmane L. Jones. Police say all three have been arrested for felony theft and conspiracy in reference to the theft from Champs in the mall. We're told more arrests are expected. Police say it appeared that the crime was well planned and organized. The suspects were seen splitting up and even observed talking with sales associates within the store to possibly distract any suspicions, according to police. Video captured the suspects bagging up over $1,500 in clothing from the store. myarklamiss.com

Kansas City Area Police expecting rise in Organized Retail Theft Police in Overland Park say they are expecting an increase in small thefts and organized crime this holiday season. When stores are crowded and operation hours are extended, Oak Park Mall is one of the city's biggest targets for crime this time of year, police say. "While this is a busy shopping season, it is also a busy stealing season," Capt. Bob Kolenda said. "It is because people are using this as a time for crime of opportunity." Kolenda said more undercover cops will be inside the mall, keeping watch for organized criminals that travel in groups stealing merchandise in bulk. He said groups in the past have traveled from as far as California and try to sell the stolen items online. The organized criminals don't typically target individual shoppers. But, police say they should also be on the lookout for thefts that typically occur outside the store. "Shop in a group, conceal your packages, be aware of your surroundings," Kolenda said. kctv5.com

Ulta Beauty $1,000 fragrance heist ends with crash in Corte Madera, CA Two Richmond residents were arrested Tuesday after a perfume heist in San Rafael led to a police pursuit and crash in Corte Madera. Mikela Sims, 23, was booked into Marin County Jail on suspicion of robbery, burglary and resisting arrest. Her bail was set at $75,000. Michael Reid, 20, was booked on suspicion of burglary and resisting arrest. His bail was $15,000. The alleged robbery occurred at about 11:30 a.m. at Ulta Beauty, a store on Francisco Boulevard West. A woman and a man entered and the woman grabbed a bag containing more than $1,000 in perfume, the store reported. The woman made threats to employees and then fled in a Pontiac, and the store called 911. A San Rafael police officer happened to be in the area, spotted the Pontiac and initiated the pursuit, Sgt. Raul Aguilar said. marinij.com
Do you have an ORC case to share?
Share your ORC news and help the industry grow

Retail Crime News

Sponsored by NuTech National
Homeland Security Warns Of Holiday Gift Scams In South Florida Homeland Security Investigations held a press conference Tuesday morning in Doral, warning South Floridians about this year's holiday shopping season. They asked consumers to exercise caution as they gift shop for loved ones because some bargains are just too good to be true. Robert Hutchinson is a deputy special agent for Homeland Security. He spoke to the local press in a room filled with merchandise that, when put together, would be worth about $35 million - if it were all authentic. The items, from G-Shock watches to Beats By Dre headphones to Miami Dolphins caps, were all confiscated in South Florida. "The criminals are using store fronts, the internet, or they may just be selling it out of a flea market or the back of their car," said Hutchinson. "They become very skilled that you may not be able to tell that something is counterfeit." He says people are drawn to these counterfeit gifts because of their lower prices when compared to the legitimate prices. Some of the items are even a potential threat to people's safety, like perfumes that cause skin rashes and toys that contain excessive amounts of lead. wlrn.org

Dulles Town Center's Fink's Jewelry Store hit by smash-and-grab robbery A group of men smashed a jewelry case with sledgehammers and took a large number of high-end wristwatches from a jewelry store in the Dulles Town Center on Tuesday. The Loudoun County Sheriff's Office says that at about 2:40 p.m. four men entered the Fink's Jewelry Store with the sledgehammers and made off with an undisclosed number of watches. They took off in a Jeep Cherokee that had been reported stolen in Fairfax County and abandoned it near the Dulles Eastern Plaza. The sheriffs say they then left in another vehicle. wtop.com

Chicago Police investigate Cisco NYC smash 'n grab robbery Burglars made off with jeans and shoes early Wednesday after driving a car through a West Side storefront. Police said officers responded to a burglar alarm just after 4 a.m. at Cisco NYC at 4025 W. Madison St. When they arrived, they found a car had crashed through the front of the building, and someone had stolen an unknown amount of jeans and shoes. The burglars had fled the scene before police arrived. Police were not speculating whether the smash-and-grab burglary could be a copycat crime, after a series of similar heists involving cars driven into Luis Vuitton stores in Northbrook and Oak Brook. cbslocal.com
Women arrested after pepper spray, robbery incident at The Buckle in Lancaster, OH Four women were arrested after a shoplifting attempt at River Valley Mall that nearly turned violent when one of the suspects tried to pepper spray store employees, police said. The pepper spray wouldn't discharge, but three of the women were able to leave The Buckle, a clothing store at the mall, to a waiting vehicle where a fourth woman was waiting for them in a car on Thursday. The women drove west on Memorial Drive toward Columbus - where they are from - until Fairfield County Sheriff's Office deputies stopped their car on U.S. 33 at Gender Road. The women, who were riding in a blue 2006 Subaru Tribeca, were taken back to the mall by police, identified by store employees and arrested. The women were arraigned on charges in Fairfield County Municipal Court on Monday on the following charges. lancastereaglegazette.com
Jackson, TN Man faces judge for alleged Target thefts A man was in Jackson City Court Tuesday for accusations of stealing more than $460 worth of merchandise from Target. Kaine Householder is charged with theft of property under $500 after police say he attempted to steal a TV and several fragrances from the store, according to court documents. The Nov. 17 incident was captured on store surveillance video. A Target loss prevention officer reported the alleged shoplifting. The officer said a man put a 32-inch Vizio TV and six types of fragrances in a shopping cart and then left the store without paying, the documents state. The total value of the merchandise is listed as $462.93. Householder was developed as a suspect and when interviewed admitted to stealing the merchandise, according to the documents. wbbjtv.com

5 charged in break-in at Family Dollar Store in Hamden Five people were arrested Tuesday on charges that they broke into the Family Dollar Store on Dixwell Avenue. Police said the front glass door of the 1245 Dixwell Ave. store was shattered and the five people were seen on surveillance footage going inside after damaging the door with a pipe. "Once inside, it appears that several of the individuals attempted to open a cigarette storage locker, but were unsuccessful," Capt. Ronald Smith said in a press release. "They then quickly exited the store. It does not appear that anything was taken," Smith said. nhregister.com

Store owner recounts theft caught on video at NAPA Auto Parts in Kingwood Dave Edson's first reaction last week to seeing the smashed front door of his NAPA Auto Parts store was one of caution. Edson's store at 1700 Northpark Drive was burglarized last Thursday, Nov. 13 around 11:30 p.m. "This time, I at least stayed out and waited for an assistant manager," Edson explained. "We then looked around the outside of the store and waited for the police." Edson recalled a break-in two years ago executed by an employee. The employee - who has since been arrested - had also smashed the front door to enter the building before stealing cash. After that burglary, he immediately entered the store once he discovered the damage. Police agencies recommend waiting outside until authorities arrive in the event the suspect is still inside. Montgomery County Sheriff's Office responded to his shop last Friday to take a report on the incident. The attempted burglary and the suspect's faces were caught on surveillance video. Two men can be seen looking through office drawers, the refrigerator and the file cabinet. At one point, one of the suspects begins striking the office safe with a sledge hammer. After realizing they will not get into the safe, they leave. The suspects did not steal anything from the office, but they did not leave empty-handed. "They took seven dollars and some change," Edson said. "They also got two gallons and a pressure washer that retails for about $250." yourhoustonnews.com

Willow Grove man pleads guilty to robbing East Norriton Walmart's pharmacy A Willow Grove man pleaded guilty on Monday to robbing a Walmart pharmacy of over $2,000 in East Norriton in April. Charles Atkins, 57, of the 300 block of Gilpin Road, pleaded guilty to one count of robbery on Monday afternoon in front of Judge Wendy Demchick-Alloy. Atkins will be remanded to prison while waiting to be sentenced. He will be sentenced after a pre-sentencing investigation report is complete. The reports, which outline a defendants personal background, criminal history, mental health and drug use, are completed by the adult probation department and can take up to three months to complete. timesherald.com

Paris Cartier jewelry heist ends after chase and armed robbers taking hostages in hair salon - surrendered after two hours standoff


Robberies and Burglaries
• CVS - Blairsville, FL - Armed Robbery
• Chanel Stop - Palestine, TX - Armed Robbery
• Dollar General - Canal Place, MS - Armed Robbery
• High's - Frederick, MD - Armed Robbery - 2 arrested
• Jewel-Osco - Woodbridge, IL - Armed Robbery - suspect arrested
• Las Vegas Discount Golf & Tennis - Foley, AL - Employee Theft/ Robbery - suspect arrested
• Lillian Pharmacy - Lillian, AL - Armed Robbery - suspect arrested
• Loaf N Jug - Pueblo, CO - Officer involved Shooting - one man killed
• Mid-Town Market - Daytona Beach, FL - Armed Robbery/Shooting
• Rite Aid - Caldwell, ID - Armed Robbery - suspect arrested
• Salermo Jewelers - Elizabeth, NJ - Armed Robbery
• Shell - Daleville, IN - Trespassing - 2 homeless veterans forced to leave
• Sunoco - Westmorland Co, PA - Armed Robbery - suspect arrested
• Verizon - Howard Beach, NY - Armed Robbery
• Walgreens - Orlando, FL - Armed Robbery
• 7-Eleven - Visalia, CA - Armed Robbery - 1 of 2 arrested


Vendor Spotlight




LP Meets IT for Complete Managed Business Infrastructure, Security and Intelligence
New whitepaper from Vector Security



The advent of sophisticated, integrated technologies and smarter analytics has shifted the role of the loss prevention professional beyond "catching the bad guys."

Top LP professionals today take a strategic look at the systems and data in their stores to identify how they can support cross-organizational business goals. They think beyond loss prevention and theft, and work collaboratively with the IT department to guarantee infrastructure, store operations and merchandising needs are also fulfilled.

This whitepaper is designed to help LP professionals better navigate the evolving retail landscape, and uncover the customer experience and business intelligence opportunities afforded by IT collaboration.


Featured Job Listings
Sponsored by Cam Connections
Feature Your Job Here For 30 Days -
70% Aren't On the Boards
VP of Sales
Checkview
Chanhassen, MN
Checkview
Sr. Director, Field LP
Ross Stores
Dublin, CA
Ross Stores
Director of LP
Tourneau
New York, NY
LinkedIn
LP Director
CarMax
Tolleson, AZ
CarMax
LP Manager
Disney
Anaheim, CA
Disney
National Account Executive
Checkview
Northeast Region
Checkview
National Account Executive
Checkview
United States
Checkview
Corporate Investigator
Confidential
San Francisco Bay, CA
Confidential
National Account Manager
Vector Security, Inc
TBD
Vector Security, Inc
Supervisor LP DC
Ascena Retail Group
Greencastle, IN
Ascena Retail Group
AP Agent
Ralph Lauren
Sunrise, FL
Ralph Lauren
LP Agent
JONS Markets
Los Angeles, CA
JONS Markets
National Account Mgr
Confidential
Northeast
Downing & Downing

Limited Time Only - Post Your Multi-Unit LP jobs for FREE - Learn More Here

Daily Job Alerts


Sponsored by Cam Connections
Appearing One Day Only
View our Internet Jobs Archives here
AP Specialist
Cabela's
Hamburg, PA
Cabela's
District Operations Mgr
Home Depot
Tampa, FL
Home Depot
District LP Manager
City Market
Glenwood Springs, CO
Kroger
LP Specialist
Kroger
Atlanta, GA
Kroger
LP Specialist
Kroger
Marietta, GA
Kroger
Dept Mgr LP & Safety
Lowe's
Dover, DE
Lowe's
Dept Mgr LP & Safety
Lowe's
Orangeburg, NY
Lowe's
LP Asst Manager
Neiman Marcus
Troy, MI
Neiman Marcus
District LP & Safety Mgr
Office Depot
Chicago, IL
Office Depot
AP Manager
Sam's Club
Hiram, GA
Wal-Mart
AP Manager in Training
Walmart
Sayre, PA
Wal-Mart
AP Manager in Training
Walmart
Kenedy, TX
Wal-Mart
AP Manager in Training
Walmart
Floresville, TX
Wal-Mart
AP Manager in Training
Walmart
Camillus, NY
Wal-Mart
LP Lead
Sears
Ocala, FL
Sears Holdings Corp
District LP Manager
Sears
Hanover, PA
Sears Holdings Corp
District LP Manager
Sears
Columbus, OH
Sears Holdings Corp
AP Team Leader
Target
Newington, CT
Target
Senior ORC Investigator
TJX Companies
Dallas, TX
TJX Companies
LP Manager
Old Navy
Gilbert, AZ
Gap Inc


Home of the Industry's Original
On the Move

Ana Hernandez was named District Loss Prevention Manager for National Stores Inc.
Post Your New Job or Promotion!
See all the Industry Movement



Your Career
Sponsor this section of the Daily
5 Thoughts that Crush Success
Successful people don't think differently, what differs is how they react and identify the same negative thoughts that everyone else has. Here are some thoughts that will crush your chances at success, but if you catch them and turn them around, success can still be yours! Not an expert

10 Top Things to Do to Make You Successful Success doesn't come easy; it takes a lot of hard work, dedication and time. In order to get success, you need to find out what successful people are doing right and mirror them. Here are 10 mantras successful people live by. No Excuses

Great Mentors are Essential for Success, But How Do You Find Them? Professionals are encouraged to have a mentor, but how do you find a mentor? The challenge is that many people don't have a network wide enough to include people who are able to provide mentorship. Here's one platform to help. MentorCloud

5 Ways to Succeed at Work By Enjoying Your Life We don't realize how what we do after work is done can impact our productivity in the workplace. Here are some tips on how to have a fulfilling evening and also be successful and productive at work the next day.

Start a journal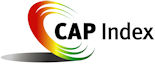 Tip of the Day
Sponsored by Vector Security
Perception becomes reality slowly on a macro level and it's difficult to change it if it's incorrect or doesn't portray the truth. It's the same reason law enforcement separates witnesses to ensure clarity and truth. The group mind becomes influenced by opinion and agendas and distorts the true reality. One can only rely on daily vigilance based on doing what's right to hopefully impact the individuals one works with on a daily basis to carry the experience forward and be witness to what is right.

Just a Thought,
Gus







Upcoming Events
---
Recruiting?
Get your job e-mailed to everyone... everyday
Post on our Featured Jobs Board!
Reach your target audience in 2015 every day!
Request our 2015 Media Kit
update account / change e-mail
unsubscribe FEEDBACK
www.downing-downing.com

Advertise With The D&D Daily




36615 Vine Street, Suite 103
Willoughby, OH 44094
440.942.0671
copyright 2009-2019
all rights reserved globally