The D&D Daily Mobile Edition
December 3,

2015



The LP Industry's #1 News Source - Informing, Educating and Instilling a sense of community



Moving Up
Sponsored by Stanley Security
See all "Moving Ups" Here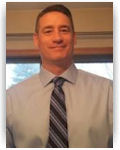 Paul Trickett was named National Manager of Distribution Services and Supply Chain Loss Prevention for TJX Canada/Winners Merchants International LP. Paul was previously the Sr. Regional Loss Prevention and Safety Manager for PetSmart in Canada. He has also held other loss prevention leader positions such as Regional Assets Protection Team Leader and Senior Group Manager Assets Protection for Target Canada, Divisional Manager of Asset Protection Supply Chain, Merchandising & Environmental Stewardship, RLPM, DLPM and LPM for Home Depot Canada, Regional Loss Prevention Manager for Walmart, Corporate Investigator Internal and Fraud Investigations for Eatons and Investigator for Sears Canada. Congratulations Paul!


2015's GLPS's - Group LP Selfie's
Your Team - Your Pride - Our Industry
One Team at a Time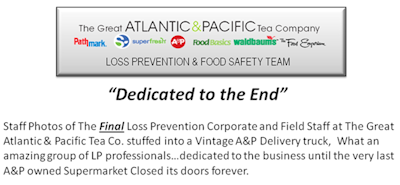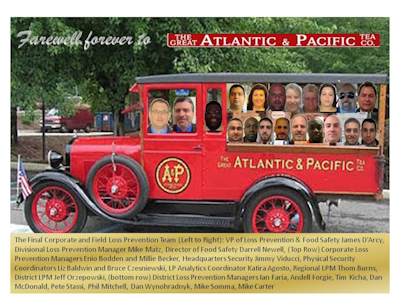 ---
Retail LP Teams, send us your new Group LP Selfies!

Have some fun, show your team pride, get a plaque,
and maybe win some free pizza!

News Brief
Sponsored by WG Security Products, Inc.
How Often Do Mass Shootings Occur? On Average, Every Day, Records Show
That is how often, on average, shootings that left four or more people wounded or dead occurred in the United States this year, according to compilations of episodes derived from news reports. A total of 462 people have died and 1,314 have been wounded in such attacks this year, many of which occurred on streets or in public settings, the databases indicate.

It is impossible to know whether the number of such shootings has risen in recent years because the databases go back only a couple of years. More data is available for mass shootings calculated by a different standard, one used by congressional researchers and other experts who study mass killings: four or more dead. But experts fiercely debate whether mass shootings by that more deadly standard have remained level or ticked up slightly in recent years.

Two databases that track mass shootings that leave four or more dead or wounded - shootingtracker.com and gunviolencearchive.org - depend on news accounts and are not official. Nonetheless, they give an indication of the widespread nature of such episodes. Since January, there have been at least 354 such cases in about 220 cities in 47 states, according to shootingtracker.com. nytimes.com

The Shoplifting ROI of Facial Recognition - the Marketing Value - the Future - Straight from the CEO of FaceFirst
In an interview with Find Biometrics Joe Rosenkantz, CEO, FaceFirst answered the question: Can you describe how that ROI is achieved? FaceFirst: Yes. So, generally for x number of shoplifters entered into a FaceFirst system, a large percentage of them show up back at the brand who entered them into the system, typically within 30 days. We have statistics that show that a high number of those people continue to come back into that store indefinitely and each time that they come back into the store that is armed with a FaceFirst system, they end up being approached after a few seconds by somebody, and subsequently asked to leave. So we are actually preventing the next crime.

FB: On the retail side, there seems to be another growing segment: marketing apps using facial recognition in order to deliver messages to potential customers. Is your company involved in this area? FaceFirst: We are seeing growing interest on the marketing side. Our latest software release now includes demographic analysis and people counting so we can now offer value on the marketing side of the business. Our customers can understand trends in the demographic makeup of people that are entering the stores. For instance: after placing an ad for a certain product, you may have increase in female traffic that comes in and turns to the right subsequent to running a particular ad campaign. That kind of information is definitely valuable although we have yet to see mass adoption on the marketing side.

FB: When you look down the road, how will facial recognition be used in five years' time? FaceFirst: Well, I'm going to start with where it is being used today. Today it is being used in loss prevention, in asset protection, theft prevention and demographic analysis. It is also being used for access control and general watch list identification. What we see evolving now are analytics of people and traffic, demographics, and post event forensic analysis. Geofencing is also going to be very common in the future. The ability to understand where somebody is and alerting on their location is important. Whether it is alerting that somebody has stepped out of bounds of a secure facility or alerting that somebody has stepped into a particular area where we can market to them because they have arrived at a mall for instance. We believe that is a future growth area. findbiometrics.com

Macy's Imprisons Minority Customers and Extorts Them for Bogus Fines: Suit
The class-action lawsuit estimates that thousands of customers have been targeted using a similar "money collection scheme" that lawyers say preys upon black, Hispanic and other minority customers using a "shopkeeper's privilege" rule in New York's General Business Law that allows retailers to detain customers they believe tried to shoplift and ask them to pay a civil penalty without proving them guilty.

The Palmer, Reifler and Associates website touts its background as a "leading civil recovery law firm in the loss prevention/asset protection industry" and adds that it helps large retailers craft a plan to crack down on would-be shoplifters. Orellana is not the first accused shoplifter to take on a major retailer's use of the "shopkeeper's privilege" law. dnainfo.com

December is National Identity Theft Prevention and Awareness Month
And for millions of consumers, this time of year serves as a bitter reminder of the massive data breaches that swept the American retail space in recent memory, especially during the holidays.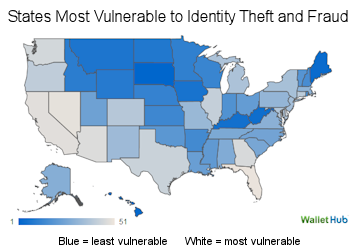 Since then, Corporate America and the government alike have taken more aggressive measures to improve our cybersecurity. But the fight remains far from over. A total of 690 breaches with access to more than 176 million records have taken place thus far in 2015, according to the Identity Theft Resource Center's most recent Data Breach Report.

Among this year's biggest hacks involved Anthem, CVS and the U.S. Office of Personnel Management, proving that even the federal government - with presumably some of the most sophisticated security systems in place - isn't completely immune to hackers and thieves.

To identify the states in which residents are most likely to be exposed to such crimes, WalletHub's analysts compared the 50 states and the District of Columbia across nine key metrics, ranging from the total number of identity theft complaints per 100,000 residents to total cybercrime-related dollar losses per capita. Our findings, a detailed methodology and additional expert commentary can be found below. wallethub.com

Most Identity Theft Complaints per Capita

Most Credit-Card Fraud Complaints per Capita
T-1. Florida
T-1. Washington
T-1. District of Columbia
4. Oregon
5. Missouri
1. Florida
2. District of Columbia
3. California
4. Nevada
5. New York


GNC Facing Another Class Action Over 'Spiked' Supplements
GNC has been hit with another putative class action accusing it of misleading consumers by selling dietary supplements "spiked" with two illegal and potentially dangerous ingredients, according to a complaint filed in Pennsylvania federal court Tuesday. law360.com

Will Kroger speed up acquisitions?
With half a dozen deals in two years, Kroger is on an acquisition spree. Its latest proposed acquisition is Milwaukee-based Roundy's, which will add 150 stores in Wisconsin and Chicago for $800 million. Analysts say Kroger's latest deal could also signal a new willingness to acquire troubled rivals that it has avoided for years." If they get them into new territory at the right price, Kroger would be willing to do more deals," said Morningstar analyst Ken Perkins. cincinnati.com

Director - Store Loss Prevention with Michaels in Irving, TX., posted
Under the direction of the Sr. Director Loss Prevention and Safety, develop, implement and maintain programs to control inventory shrink, workers compensation and general liability cost in the stores organizations. Work closely with the Head of Stores, District Managers and management teams in all divisions to achieve the agreed goals and objectives. Extensive travel to ensure direct reports are providing the direction and support needed to achieve goals. hrsmart.com

Manager - Global Security Operations position posted for Abercrombie & Fitch in New Albany, OH
Reporting to the Director, Asset Protection. The Manager of Global Security Operations Center (GSOC) is a key business partner to many areas of the enterprise including human resources, asset protection, risk management, travel, supply chain, store maintenance and store operations. This individual is responsible for all global security operations team development, service, operations and strategy. This person will ensure that the global security operations team is a leader in supporting the Abercrombie & Fitch enterprise and will successfully support the needs of key business partners. This person will play a key role in reinforcing Abercrombie & Fitch's awareness of and resilience to global threats. This person will successfully leverage technology and intelligence products to increase the team's capabilities. This person will build a strong team, developing current and future team leaders. taleo.net

The Busiest Retailers on Black Friday
November Same Store Sales
L Brands up 7%
Fred's up 1.7% with sales up 8%
Cato up 1%
Rite Aid up 0.9%, front-end up 1.2%, pharmacy up 0.7%
Costco flat
Stein Mart down 4.8%
The Buckle down 7.9% with net sales down 6.8%

Quarterly Same Store Sales Results
American Eagle Outfitters Q3 comp's up 9% with net revenue up 8%
Express, Inc. Q3 comp's up 6% with sales up 10%
Kroger Q3 comp's without fuel up 5.4% with total sales up 5.5% excluding fuel
New York & Company Q3 comp's up 4.9% with net sales 4.5%
Tilly's Q3 comp's up 3.9% with net sales up 7.9%
Dollar General Q3 comp's up 2.3% with net sales up 7.3%
Sears Canada Q3 comp's up 0.4% with revenue down 5.1%
Destination Maternity Q3 comp's down 3.6% with net sales down 4.7%
Sears Holdings Corp. Q3 comp's down 8.6%, Kmart down 7.5%, Sears domestic down 9.6% with revenue down 20%
Aeropostale Q3 comp's down 10% with net sales down 20%
All the News - One Place - One Source - One Time
The D&D Daily respects your time
& doesn't filter retail's reality

Report Your News!
(content subject to approval)



Target settles MasterCard fraud claims for $39 million - How much will the data breach end up costing? $400M+?
Target Corp. has tentatively reached another milestone in its continuing efforts to remediate financial losses caused by its massive 2013 data breach.

Target has reached a settlement with MasterCard Inc. and a number of issuing banks. In papers filed in federal court in Minneapolis, Target said it would reimburse a total of $39 million in the settlement. That figure would include about $20 million for issuing banks not covered in other class action suits against Target and about $19 million to the MasterCard Account Data Compromise program.

Target also reached an approved $67 million settlement related to the breach with Visa and issuing banks in August 2015. Target's data breach, which exposed financial data of as many as 40 million customers, has proven costly for the retailer. The discounter recently estimated it has spent $290 million in breach reimbursements, with insurers expected to reimburse $90 million.

Target still has pending settlements with two other major payment card networks and also reached an approved $10 million settlement of a class action consumer suit. A lawsuit in Canada was dismissed but is being appealed. Other steps the retailer has taken include installing EMV-compliant payment card readers in all stores. chainstoreage.com

Insurance companies will crack down on cyber security in 2016: Report
Cyber security insurance has had to rapidly evolve to cater to the growing complexity and unpredictability of cyber-attacks. Cyber security insurance is set to become more sophisticated in 2016, forcing enterprises to meet new security requirements to be eligible for coverage, according to a new report.

Predictions by combined company, Raytheon/Websense, said cyber insurance will move toward a 'must have' and 'evidence based' model with new minimum level requirements in place for policies. This is expected to disrupt the cyber security industry and place new challenges on IT workers, while also driving improvements in companies' ability to handle threats. csoonline.com

Cybercriminals to target new payment technologies
Mobile wallets and new payment technologies will introduce additional opportunities for credit card theft and fraud
Hacks targeting mobile devices and new payment methodologies will impact payment security more than EMV. The increase in non-traditional payment methods on mobile devices or via beacons and smart carts will open up the doors for a new wave of retail data breaches.

Cybersecurity insurers will create a more definitive actuarial model of risk - changing how security is defined and implemented
Insurance companies will mature their offerings with qualifications, exceptions and exemptions allowing them to refuse payment for breaches caused by ineffective security practices, while premiums and payouts will become more aligned with underlying security postures and better models of the cost of an actual breach. Further, insurance companies will greatly affect security programs, as requirements for insurance become as significant as many regulatory requirements (PCI, HIPAA, ISO 27001). net-security.org

New cybersecurity legislation would shield companies from public records laws
A legislation which passed both houses of Congress, but has not yet signed into law by the president, aims to encourage companies and organizations to share with the U.S. government information about cyberattacks and cyberthreats they experience -but critics say there is a catch: the legislation would severely restrict what the public can learn about the program.

The legislation would exempt the information the companies share with the government from public records laws, and would allow the companies to determine for themselves what information they want to government to keep secret. homelandsecuritynewswire.com

Congress Probes Mobile Payments Security
Experts Debate Whether More Regulatory Oversight Is Needed. The main takeaway from the hearing, which included testimony from PayPal, Samsung Pay and the Merchant Customer Exchange, is that while most mobile payments options provide stronger user authentication and convenience, they do not have the same legal and legislative protections as other payment methods. It did not announce plans to take any legislative action, but encouraged stakeholders to submit additional comments and concerns about mobile security over the next 30 days. govinfosecurity.com

Samsung to equip 70% of its household appliances with iOT technology by 2017 & in all products by 2020
Samsung is also positioned to connect drones to its smartphones, VR gear, and other products that it offers. twice.com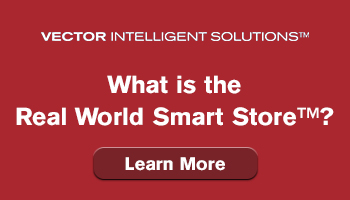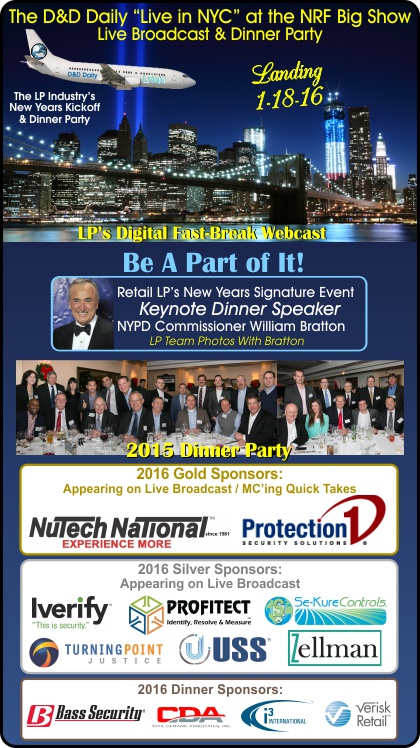 Spotlight on Checkpoint

Clothing Retailer JBC Rolls Out Checkpoint Systems' RFID Across all Stores
17 Million RFID-Enabled Items for 144 Stores in Belgium, Luxembourg, Germany;
Enables Omni-Channel Accurate Inventory Management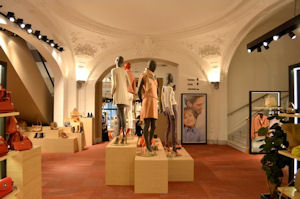 THOROFARE, N.J. - Dec. 1, 2015 - Checkpoint Systems, Inc., a leading global supplier of merchandise availability solutions, and JBC, Belgium's largest clothing retailer, today announced that they rolled out radio-frequency identification (RFID) throughout JBC's entire supply chain, from point of production through its distribution center (DC) to its 144 stores in the region.

JBC is pioneering the adoption of RFID technology in Belgium to provide accurate merchandise visibility through its supply chain with the objective of enabling omni-channel retailing and enhancing its shoppers' experience. JBC now tracks over 17 million items a year, from the moment of production of its 100 suppliers around the world up to the time they are sold in its 144 stores in Belgium, Luxembourg and Germany. This technology investment allows JBC to optimize its stock of 1.5 million hanging garments and 15.5 million flat-packed garments to minimize out-of-stocks and enhance its shopper's experience online or in-store.

Read more here.
---
Checkpoint Systems Chosen by DECATHLON to Further Extend RFID Source Tagging Program for Millions of Products in all Its Global Stores
RFID Large-Scale Deployment Improves DECATHLON Merchandise Availability
and Boosts Loss Prevention Efforts
THOROFARE, NJ - Nov. 23, 2015 - Checkpoint Systems, a leading global supplier of merchandise availability solutions for the retail industry, today announced that it has been partnering with DECATHLON, the second largest global sports and leisure goods retailer, to roll-out radio frequency identification (RFID) solutions in more than 400 stores globally and further extend its RFID source tagging program for millions of products in all its stores around the world.

Checkpoint will deliver RFID labels to DECATHLON in five days through its network of service bureaus around Asia and Europe. The service, which complies with DECATHLON requirements for high-speed and high-quality printing, as well as corporate and environmental social responsibility, ensures that 100 percent of RFID labels delivered to vendors are encoded accurately.

Read more here.

Loss Prevention Research Council

LPRC Research in Action Report - November 2015


The Loss Prevention Research Council is aware of how critical research is to help guide you and your team to sell more and lose less. Each month the D&D Daily publishes brief summaries of loss prevention research from the LPRC and other researchers across the globe. This research covers a wide range of topics and includes basic types of research, such as benchmarking, as well as more applied research. Both types are beneficial: basic research helps us understand complex loss prevention issues and the environmental context in which you work, while applied research builds on this to provide us with more concrete deliverables.

This month's Research In Action report focuses on retail credit card fraud. Aims are to better prevent, detect, and apprehend credit card fraud cases.


Distributed Data Mining in Credit Card Fraud Detection
Large scale data mining is used in an attempt to improve upon the state of the art in commercial credit card transaction safety practices. Efficient fraud detectors can be garnered from massive data sets, but timely and efficient data mining techniques must be utilized. The current research evaluates several proposed data mining and cleaning techniques. Read the report summary here. Read the full report here.

Credit Card Fraud Detection Implications
The following brief analyzes multiple meta-analyses experiments whose goal aims to detect the best credit card fraud classifier in meta-learning. These experiments analyze current implications and issues with meta-learning strategies given real-world data sets on credit card fraud transactions. Click here to access the report. (LPRC membership required)

A Case Study in Credit Card Fraud Detection
Very large databases with skewed class distributions and non-uniform cost per error are not uncommon in real-world data mining tasks. This research devised a multi-classifier meta-learning approach to address these issues. The empirical results from a credit card fraud detection task indicate that the approach can significantly reduce loss due to illegitimate transactions. Click here to access the report. (LPRC membership required)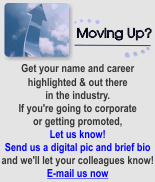 With over 3,500 service locations and 10,000 professionally qualified technicians serving national chain store clients, NuTech National is one of the largest alarm service networks in North America. With a commitment to making sure their clients always Experience More, NuTech stays on the leading edge of technology. Tony Mancino, National Account Manager, NuTech, tells us about the company's latest offerings - from its Smart Retail Alert, an all-in-one text messaging service designed to help LP managers in the field be more effective, to its geo-fencing safety application called Employee Watch.

---
In this LPNN Quick Take, Craig Cunningham, VP Business Development, Universal Surveillance Systems, talks with Amber and Joe. Craig elaborates on USS' unique "blending strategy," his experience as a 30-year veteran in the retail industry, and some helpful advice for the next generation of LP executives coming up in the business.

Solution Providers, have a video or commercial you want to publish? Contact us.

e-commerce

Sponsored by The Zellman Group
$1 Billion a day online every day from Dec. 1st - Dec. 18th
From Thanksgiving Day through Cyber Monday, consumers spent $11 billion online. This marked a 15% increase from Cyber Week in 2014 and represented 30% of a total $39.5 billion in November online sales. Adobe predicts consumers will spend $1 billion a day online every day from Dec. 1- Dec. 18. chainstoreage.com

Amazon Dominated 36% of Online Black Friday Sales, Says Slice
Amazon dominated online Black Friday sales, accounting for 35.7 percent in e-commerce spending on November 27. A distant second, Best Buy brought in 8.23 percent of total online revenue, followed by Macy's at 3.38 percent, Walmart at 3.35 percent and Nordstrom at 3.11 percent. techcrunch.com

A staggering 24% of consumers have been duped by online counterfeiters
Almost one quarter of consumers have bought a product online that turned out to be counterfeit, including fashion or footwear, electronics and digital content. This is according to new research commissioned by MarkMonitor. When it comes to general shopping behaviour, the study found that consumers do just over one-third (34%) of all their shopping online, which increases by 15% during the festive season. The research actually showed that 70% of consumers would not buy counterfeit goods, with 64% of that subsample stating they wanted the real thing. Nearly half (48%) said they thought buying fake products was morally wrong. retailfraud.com

Cut fraud through greater industry collaboration
According to the UK Cards Association, UK retailers lost a staggering 328.7 million pounds to card fraud in 2014. More than two-thirds of these losses (69%) were from remote purchases, up from just 30% a decade ago. What's more, the research shows, there has been a 55% increase in estimated annual card fraud losses from eCommerce between 2012 and 2014.

Fraud bureaux are a common resource within the financial services sector, where banks and insurance companies will work together with other financial institutions to pool their fraud data and ensure that any emerging trends can be shared across the sector. Retailers would do well to consider doing likewise: information can be shared across a broad data sharing community that considers all the potential frauds retailers can face.

Sharing data and collaborating brings a number of benefits. For a start, fraudsters often move from one target to the next, employing the same techniques and often using the same data each time. In a fraud bureau, once a fraud has occurred, any data associated with the fraudsters can be flagged in the alert system to avoid further frauds being committed across the community. Working as a group means you can act faster and reduce fraud losses. It also enables retailers to create a better experience for those you collectively trust. retailfraud.com

How many online sales are retailers losing?
According to the new Pymnts.com Checkout Conversion Index (CCI), retailers stand to lose as much as 36% of online sales due to frictions that remain from discovery through checkout, and could lose additional sales during payment processing. The first CCI Index score is a 62, which means that in terms of converting shoppers to buyers, the average e-commerce site is performing only slightly better than average. retailingtoday.com

The UK's newest shopping day, Black Friday, surges with nearly 36% online sales growth

Study: Revenue from mobile devices jumps nearly 10% year-over year
"Fraud is not a person - it is a dynamic grouping of statistics that deviate from the norm."
Stuart B. Levine, CFI, CFCI
CEO, The Zellman Group & Zelligent


ORC News
Sponsored by NEDAP
Miami Cuban skimming gang of ten indicted for 'skimming' credit cards at Michigan gas pumps
The government alleges that separate out-of-state crews hid skimming devices inside gas pumps in West Michigan that read credit-card account information. The scams ran from early July to September, the FBI says. Prosecutors say she and others in her alleged organization are Cuban citizens who were living in the Miami area when arrested.

Police arrested them in September after they allegedly encoded stolen-credit card information onto other cards to buy thousands in pre-paid debit cards at the Meijer store on East 16th Street in Holland. They were staying at Comfort Inn Suites at 4520 Kenowa Ave. SW in Grandville.

Police recovered "a cache" of gift cards, packaging and re-encoded cards. Police also found multiple keys to gas pumps. In one of the rooms, police found a skimming device, a laptop computer and credit cards. Ledesma, who consented to a search of his room, which turned up the property, is also wanted in Colorado for fraud and identify theft, the FBI said. Hotel workers also found another 30 credit cards that had been hidden in a mattress.

Members of the other group, believed to be from Texas, are facing the same charges as the others. mlive.com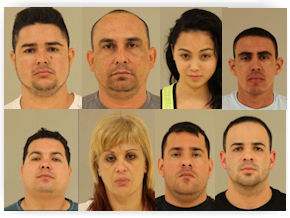 Long Island, NY: Smash-and-Grab Burglar Stole Over $200K From Nassau County Businesses; 10 commercial robberies in a 6 month span
A Queens man was arraigned in Nassau County Court on Wednesday for stealing more than $200,000 in jewelry, cash and lottery tickets from approximately 10 Nassau County businesses between January and June of this year. Joseph Borelli, 42, of Howard Beach, was arraigned on a 21-count indictment and was charged with 10 counts of third degree burglary, ten counts of second degree criminal mischief and possession of burglar's tools. Borelli's "smash-and-grab" burglary spree ended when members of the Nassau Co. Police arrested him in June following a 6-month-long investigation. Authorities obtained warrants, and used video surveillance and court-authorized GPS tracking to put Borelli and his co-conspirators, Edan Balila and Rotem Balila, both from Great Neck, into custody. patch.com

Salem, NH: 5 charged with running organized retail crime enterprise, arrested outside Macy's
Five people have been charged with operating an organized retail crime enterprise after police say they stole merchandise from the Macy's at the Mall at Rockingham Park for a virtual store they were running. Police say they responded Wednesday to a report of three shoplifters found concealing thousands of dollars of merchandise inside the store. Police nabbed the two adults and one juvenile as they left the store with the items. Two other suspects were arrested as they were waiting in the parking lot for the trio. Further investigation revealed the groups was taking orders for items they sold online. All five were charged with running an organized retail crime enterprise and some face additional charges. nh1.com
Beaverton, OR: California couple arrested with $31K in counterfeit cash
A man and woman from California who have passed counterfeit money in at least three states were arrested in Beaverton with $31,000 in counterfeit cash, a stolen gun and methamphetamine. Beaverton Police detectives began an investigation on Nov. 17 after taking a report of counterfeit money. The suspect's car was spotted Tuesday back in Beaverton and officers conducted a traffic stop. The two people in the car, identified as Clinton Cury Jr., 31, and Sabrina Acedo, 26, both of California, were taken into custody. A search of the vehicle led to the discovery of counterfeit $100, $20 and $10 bills, as well as a loaded handgun that was stolen in California, gift cards and new merchandise, including clothing. Investigators said Cury and Acedo would purchase expensive items with the counterfeit money and then return the items at a different store in exchange for real cash. Police believe they have been using counterfeit money in Oregon, California and Arizona. kptv.com
Auburn, ME: New York woman admits to $7,500
of purchases on counterfeit credit cards
A New York woman on Wednesday admitted to using counterfeit credit cards to make purchases at stores in several area cities and towns, including Auburn. Xiu Fang Zhang, 21, of New York City pleaded guilty in U.S. District Court to conspiring to commit credit card fraud. Prosecutors said between Jan. 3 and Jan. 6, Zhang and others used counterfeit credit cards to make purchases at retail stores and pharmacies at various Maine locations. According to court records, Zhang used the bogus cards to purchase over $7,500 worth of items from Lowe's, Home Depot, Bon-Ton, Rite Aid and Sears. She was paid by a co-conspirator for each fraudulent purchase, investigators said. 4-traders.com

Orlando, FL: Over $25,000 in Drones stolen during Smash & Grab
Surveillance video shows three masked people robbing an Orlando drone store. The robbers kicked their way through the front door and grabbed everything they could get their hands on. Seminaro was inside the CineDrones store on Sand Lake Road across from the Florida Mall early Wednesday morning when it was robbed. Surveillance video shows three masked people dressed in all black, breaking in through the front door and then clearing the counters. "They took all of that, and they took a big airplane. Yeah, they took a lot of stuff." The thieves took 15 to 17 drones. Each drone is worth $1,000 to $3,000. wesh.com
Naperville, IL: Woman recruited youths to help her steal from Dick's Sporting Goods
A woman with a history of shoplifting is back in jail, after she recruited two youths to help her and an associate steal merchandise from a sporting goods store in Naperville. Ashley M. Robinson is being held in DuPage County Jail on bail of $56,000, stemming from the incident in Naperville and four other criminal matters in DuPage and Kane counties. Robinson, 25, was arrested by Naperville police with a friend, Tina J. Perry. The women were arrested at 6:39 p.m. Nov. 25, after police were called to investigate a report of shoplifting at Dick's Sporting Goods. Further investigation revealed Robinson "possessed wire cutters suitable for cutting off security devices and price tags on clothing" in the store. She also "directed two youths under the age of 18 in the commission of the (crime)," according to records. Records showed. Robinson has a list of prior theft charges from incidents at Macy's Kohl's, JC Penney, and Walmart dating back as far as 2010. chicagotribune.com

Cambridge, OH: Marietta man accused of shoplifting nearly $2K in merchandise from Walmart
A Marietta man accused of trying to steal more than $1,700 worth of merchandise from the Cambridge Walmart Sunday night. Brian T. Long, 21, is facing one count of theft, a fifth-degree felony, for the alleged incident just after 8:30 p.m. Officers were dispatched to Walmart after an employee reported a man tried to shoplift merchandise fled in a Ford van when confronted by an assistant manager. The suspect, later identified as Long, reportedly abandoned the merchandise totaling $1,703.15 at the store when confronted by the manager. daily-jeff.com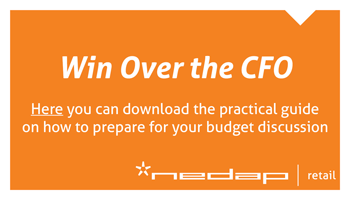 Do you have an ORC case to share?
Share your ORC news and help the industry grow


Retail Crime News

Sponsored by Security Resources
Lumberton, SC: Woman shot near Biggs Park Mall
A woman was shot after someone opened fire on her vehicle around 7 p.m. in the alley near Drugs America Pharmacy beside the Biggs-Park Mall in Lumberton. The woman was traveling through the alley, someone opened fire on her vehicle and she was struck, according to Police. Nothing occurred inside the mall but the woman went into the mall to have someone call 911 for her. Lumberton Police Captain Terry Parker says the only description of the suspect is that he is a male wearing dark clothes. The woman is being treated at the hospital. Officers are processing the car at the scene. wmbfnews.com

Austin, TX: Armed suspect on the run after HomeGoods robbery
Police are investigating an incident at a shopping center off of 183 and Lakeline that sent one person to the hospital Wednesday evening. Austin Police say the call came in as a robbery at 8:31 p.m. Authorities say the possible suspect fled the scene before police arrived. A police helicopter is in the air searching for the suspect. EMS transported one man with non-life threatening injuries from an assault. kxan.com
Mayfield Hts. OH: Theft suspect sparks Taser at Bath & Body Works, four arrested
Officers responded to Bath & Body Works Nov. 23 for a report of a woman that had sparked a Taser when an employee questioned her about a potential theft. The woman and two other suspects were located in the area and three stolen purses were recovered. The Cleveland woman, 19, was arrested for aggravated menacing, theft and criminal tools. Another Cleveland woman, 21, was charged with theft and criminal tools. A third suspect, a 16-year-girl, was released to her grandmother and may be filed on in juvenile court. A fourth suspect was also involved, but was said to have driven away when officers arrived. cleveland.com


Salt Lake City, UT: Wal-Mart guard hospitalized after attack
A store security worker was hospitalized Tuesday after confronting a thief at a Wal-Mart store, police said. The security guard confronted Fred Rodriguez Jr., 36, as he was attempting to steal a heater. He then allegedly attacked the guard at the store shortly before 10 p.m. Tuesday and fled. Police apprehended him on 300 West. He was uncooperative with arresting officers and had to be physically restrained. Rodriguez was booked on robbery charges. The security guard, a 45-year-old man, suffered bruises and lacerations to his head. deseretnews.com

Wood River, IL: Walgreens employee arrested for drug theft; car seized
A Brighton woman is facing two felony charges and possible loss of her car after authorities alleged she was stealing addictive drugs from a Walgreen's Pharmacy where she worked. Charged with unlawful possession of a controlled substance with the intent to deliver and felony theft is Megan R. Wright, 24. The charges allege she possessed between one and 15 grams of hydrocodone, an addictive pain medication, and that she stole more than $500 worth of drugs from the store. An officer stated in the document that police seized her car and found an assortment of addictive drugs and other controlled substances. The statement also says she admitted taking the items from the store. The suit is filed under a state law that allows forfeiture of cars or other property used in the drug trade. thetelegraph.com

Eau Claire, WI: Police report holiday retail theft is Up
The Eau Claire Police Department says thefts are up this holiday season. "We see retail theft numbers increasing across the board," said officer Kyle Roder. To keep getting the best deals on holiday gifts Roder says the department is taking a pro-active approach. Roder said, "Our department works very closely with a number of loss prevention specialists in order to devise plans as to how best to not become a victim as a store." To prevent theft the department works with the stores that have the highest number of cases. weau.com

Paramus, NJ: Rapper, Fetty Wap throws wads of money over balcony to fans at mall
Rapper Fetty Wap gave fans a run for his money this weekend, tossing wads of cash over a balcony at a New Jersey mall to the delight of screaming onlookers. Videos posted to social media show the Paterson native throwing money Saturday as he walked through the Garden State Plaza mall in Paramus. The rapper posted on Twitter that he was so happy to be shopping with his daughter that he threw $2,000 to fans. He tweeted: "never no who needed it." abcnews4.com

Woman called in bomb threat to Swatara Twp. Wal-Mart in custody dispute: Police

Naperville, IL; Walgreens shoplifter strikes Police Officer

Hickory, NC: Shoplifter charged with theft and felony possession of methamphetamine

UK: Primark breastfeeding lie: Mother who falsely accused Security Guard of grabbing baby is spared jail

South Africa: G4S Armored Truck sprayed with bullets, 2 guards injured, $565,000 stolen


Robberies and Burglaries

● BP - Madison, WI - Armed Robbery
● CineDrones - Orlando, FL - Armed Robbery
● Country Store - Coleman, MI - Armed Robbery
● CVS -Newtown, PA - Armed Robbery
● Dollar General - Middleburg, SC - Armed Robbery
● Dollar General - Kittrell, SC - Armed Robbery
● Dollar General - Davenport, IA- Armed Robbery
● High Five Discount - Kingstree, SC - Armed Robbery/ Assault
● KFC - Middleburg Hts. OH - Burglary/ Employee arrested
● Kmart - Redding, CA - Theft/ Armed Robbery
● Mass Appeal - Atlanta, GA - Burglary
● Midwest Petroleum - O'Fallon, MO - Armed Robbery
● Phillip 66 - Goshen, IN - Armed Robbery
● Ross - Redding, CA - Theft/ Armed Robbery
● The Avenue- Elmwood Park, NJ - Armed Robbery
● 7-Eleven - Gloucester, NJ - Armed Robbery
● 7-Eleven - Winter Park, FL - Armed Robbery
● 7-Eleven - Antioch, CA - Armed Robbery/ clerk shot
● 7-Eleven - Fort Myers, FL - Armed Robbery


Featured Job Listings
Sponsored by NuTech National
Feature Your Job Here For 30 Days -
70% Aren't On the Boards
VP of Sales/Client Relations
More details coming soon
Confidential - Retained Search
Nationwide
Gus Downing
Dir LP
Sephora
San Francisco, CA
Sephora
Dir LP
True Religion Brand Jeans
Manhattan Beach, CA
True Religion Brand Jeans
LP Manager
Natural Grocers
Lakewood, CO
Natural Grocers
VP AP & Global Facilities
lululemon athletica
Vancouver, BC, Canada
lululemon athletica
NEW TODAY Director Store LP
Michaels
Irving, TX
Michaels
Sr Mgr Corp Investigations
US Foods
Chicago, IL
US Foods
Dir LP
A'GACI
San Antonio, TX
A'GACI
Dir Safety & LP
Harbor Freight Tools
Calabasas, CA
Harbor Freight Tools
Director, LP
Save Mart Supermarkets
Modesto, CA
Save Mart Supermarkets
Dir AP
99 Cents Only Stores
Commerce, CA
99 Cents Only Stores
Dir LP
Pier 1 Imports
Fort Worth, TX
Pier 1 Imports
LP Dir
BevMo
Concord, CA
BevMo
Dir LP (Western Canada)
Walmart Canada
Calgary, CA
Walmart Canada
Director of LP
Pacific Sunwear
Anaheim, CA
Pacific Sunwear
Market AP Specialist
REI
Seattle, WA
REI
LP Officer
Bi-Mart Corp.
Yakima, WA
Bi-Mart Corp.
Zone Mgr, LP & Safety
Lumber Liquidators
Pomona, CA
Lumber Liquidators
Zone Mgr, LP & Safety
Lumber Liquidators
Sandston, VA
Lumber Liquidators

Daily Job Alerts


Appearing One Day Only
View our Internet Jobs Archives here
AP & Safety Spec
Cabela's
Oklahoma City, OK
Cabela's
Sr AP Specialist
Cabela's
Tualatin, OR
Cabela's
AP & Safety Mgr
Cabela's
Gonzales, LA
Cabela's
ETL Assets Protection
Target
Lancaster, PA
Target
AP Team Leader
Target
Fort Wayne, IN
Target
AP Team Leader
Target
Prescott, AZ
Target
LP Manager
Younkers
Green Bay, WI
Bon Ton Stores Inc
Dept Mgr LP & Safety
Lowe's
Victorville, CA
Lowe's
District 7 LP Specialist
Kroger
Decatur, IL
Kroger
LP Manager Hrly
Sears
Metairie, LA
Sears Holdings Corp
LP Manager Hrly
Kmart
Bloomington, MN
Sears Holdings Corp
LP Manager Hrly
Kmart
Clinton Township, MI
Sears Holdings Corp
LP Manager
Kmart
Elkton, MD
Sears Holdings Corp
AP Mgr in Training
Walmart
Morgan City, LA
Wal-Mart
AP Mgr in Training
Walmart
Orlando, FL
Wal-Mart
AP Mgr in Training
Walmart
Sherman, TX
Wal-Mart
AP Mgr in Training
Walmart
Columbia, SC
Wal-Mart



Home of the Industry's Original
On the Move
Sponsored by Civil Demand Associates
| | |
| --- | --- |
| | Paul Trickett was named National Manager of Distribution Services and Supply Chain Loss Prevention for TJX Canada/Winners Merchants International LP. |
| | Leigh Kohlhaas was named Regional Loss Prevention Manager for J. Crew. |
| | Brian Farrar was promoted to Regional Loss Prevention Manager - Midwest for National Stores, Inc. |
| | Joseph Rapacz was named Regional Loss Prevention Manager for Spencer Gifts. |
Post Your New Job or Promotion!
See all the Industry Movement


Your Career
Sponsor this section of the Daily
Lead with Thoughts of Abundance, Not Scarcity One of the most important responsibilities you have as a leader is that of managing the organization's mindset. The way you're being, your mindset, creates the world around you. That being said, it's important that you keep an abundance-based mentality. See what is possible

5 Amazing Leadership Lessons You Can Learn from Playing Volleyball Playing volleyball is so much more than getting a ball over a net to score points. It teaches you a variety of lessons about communicating, collaboration, and decision-making. Here are some lessons you can use to improve your leadership skills, just by playing volleyball. Own your mistakes

What Makes a Leader?
This simple question seems to always keep us thinking of the perfect answer. Is it based on personality, experience, skills, values? It may seem almost impossible to come up with one definition for the word, but by understanding what it is not, you can come up with a solid groundwork for what a leader should be. Mindset in action

5 Behaviors of the Most Successful Leaders
As the year comes to a close, it's a good idea to review your leadership techniques. Finding some new ways to get employees inspired and achieve company goals benefits everyone. Here are some behaviors you may want to incorporate in your own leadership style. Give feedback consistently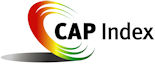 Tip of the Day
Sponsored by Vector Security
"Leadership is a matter of having people look at you and gain confidence, seeing how you react. If you're in control, they're in control." - Tom Landry
1. Lead in the moment. 2. Stay calm. 3. Add value.

Just a Thought,
Gus





Upcoming Events
---
Recruiting?
Get your job e-mailed to everyone... everyday
Post on our Featured Jobs Board!
Reach your target audience in 2016 every day!
Request our 2016 Media Kit
update account / change e-mail
unsubscribe FEEDBACK
www.downing-downing.com

Advertise With The D&D Daily




36615 Vine Street, Suite 103
Willoughby, OH 44094
440.942.0671
copyright 2009-2019
all rights reserved globally