The D&D Daily Mobile Edition
December 5,

2014



The LP Industry's #1 News Source - Informing, Educating and Instilling a sense of community


News Brief
Sponsored by WG Security Products, Inc.
What's ahead for retail in 2015
I Want It Now - Same day delivery is officially on steroids. Get it in gear or get left in the dust. Shoppers want their "stuff" in a nanosecond, or so it seems. Gone are the times when ordering something online meant waiting two to three business days. Who has that kind of patience today? Where Is It Now, Where Is It Going, When Will It Get There? - Inventory management is the new black, and its smarter sibling - distributed order management - is emerging as one of the biggest levers retailers need to pull in the quest for omnichannel success. Inventory management is one of the secret ingredients in the omnichannel soufflé; without it the strategy is doomed to collapse. Rapid fulfillment is a hurdle companies will have to address and drop-ship is gaining ground. Today's environment requires fulfillment flexibility and accurate and consistent information; without it, everything falls apart. Hey You, Migrate to the Cloud - Squeezed budgets - combined with the need for speed and soaring consumer expectations - will underpin the rise of the cloud as an IT essential. The cloud allows retailers to move closer to the goal of greater connectivity in the workplace, e.g. managing files, internal messaging, scheduling and business intelligence and analytics. Mobile Payments: Will It Blend - This segment will reach an inflection point with dramatic change to follow, but the path to large-scale adoption is steep. Worldwide mobile payments are projected to grow by 61 percent to 47 billion transactions between 2013 and 2015. Mobile payments must be monitored closely. You Ain't Seen Nothing - Tired of being the underdog, stores will strike back with technology-infused environments that turn "traditional" on its ear. Six Degrees of Retail - The Internet of Things will become ubiquitous in the months to come as network costs, radios and sensors tumble in price and storage availability rises. Connecting the Dots - Big Data will get bigger and supply chains will get more complex as serving the needs of today's shoppers and business partners - operating in diverse contexts and environments - creates endless data streams. Imagining the Future - There are overarching megatrends and then there are lots of microtrends - all with the potential to shake up retail in the coming year. nrf.com

Bebe Stores confirms payment card security breach Bebe said it detected a hacking attack on its payment processing system that could have compromised data from cards swiped in its stores in the United States, Puerto Rico and U.S. Virgin Islands. The exposed data may have included cardholder names, account numbers, expiration dates and verification codes, the women's apparel retailer said on Friday. Bebe, which also operates stores in Canada, said the affected transactions were made between Nov. 8 and Nov. 26, the day before Thanksgiving. Bebe said online transactions were not affected. We moved quickly to block this attack and have taken steps to further enhance our security measures," Chief Executive Jim Wiggett said in a statement on Friday. Bebe said it has engaged a leading computer security firm and worked with them to block the attack from continuing. The retailer will credit monitoring services for one year at no cost to customers who made a purchase using a payment card at a U.S., Puerto Rico or U.S. Virgin Islands store during the breach time frame. According to the security blog Krebs on Security, numbers for cards that had been used at Bebe stores in the U.S. between Nov. 18-28 were being offered for sale on an underground website called Goodshop in a "Happy Winter Update" on Dec. 1. Card prices ranged from $10 -$27. reuters.com chainstoreage.com

bebe stores, inc. Identifies and Stops Payment Card Security Incident - Bebe's Actual press release

DOJ To Launch New Cybercrimes Unit
The U.S. Department of Justice plans to create a dedicated cybercrimes unit in the wake of recent hacking incidents. Assistant Attorney General Leslie R. Caldwell said the new unit would be a part of the Criminal Division's Computer Crime and Intellectual Property Section, or CCIPS, which was created in 1996. law360.com

New wave of credit card fraudsters opt for in-store pickup option - 'Site to Store' Becomes 'Fraudster at Your Door' Taking advantage of the loosened security that comes with the holiday gift-buying rush, recent traffic on underground card fraud websites indicates that payment card fraud rings are using data from major retail system breaches in a campaign of fraudulent online purchases. But instead of directing the shipments to drop points that might draw the attention of fraud detection algorithms and law enforcement, they're taking advantage of the latest "gotta have it now" approach to online shopping-the "in-store pickup" option. Some of the new fraud campaigns this year are targeting major retailers with in-store pickup options. "What's interesting now is that they're getting brazen," said Alex Heid, Security Scorecard's chief research officer, in an interview with Ars. "They're walking right to the store." The shift comes as stores have begun to frequently block shipments to addresses other than a credit card's billing address, and the practice of using a controlled delivery point to collect fraudulent purchases has become increasingly risky for fraud rings. The fraud rings, which are mostly operated from within Eastern Europe aim to use stolen credit card numbers to purchase items that can quickly be resold for near retail value. This sort of fraud has been aided and abetted by recent credit card breaches that have leaked not just card data but the billing address ZIP code associated with them. Using the ZIP code data, fraudsters can target retail locations close to the billing address of a stolen card number-reducing the likelihood that fraud prevention systems will block the transaction. The shift to in-store purchases is partially because the old ways of doing credit card fraud have gotten increasingly riskier. While some aspects of the business remain the same-using mostly services such as Western Union and MoneyGram to move cash around, with some movement to Bitcoin and Perfect Money. By recruiting someone in the same area as a victim's billing address and providing them with the data required to create a fraudulent credit card, the criminal organizations dodge computer-based fraud detection algorithms and put the risk of detection largely on the shoulders of the person trying to pick up the item in the store. Much of the year, that might be a coin-toss for success. But as Heid put it, "The fall isn't just the shopping season for the holidays-it's the shopping season for fraudsters" because seasonal retail employees often aren't trained to spot fake credit cards and retailers are more concerned with dealing with volume than clamping down on potentially bad transactions. arstechnica.com

Over 100 arrested as NYC protests rage on over choke hold of cigarette smuggler Thousands protest the Eric Garner decision flooding into Manhattan Thursday night, with scores being arrested for shutting down the Brooklyn Bridge, West Side Highway, and major streets. A similar scene played out at Union Square with hundreds of protesters chanting "Hands up, don't shoot." On Wednesday night more than 100 were arrested. nypost.com
Protesters Fill the Streets Across the Country Over Decision in Eric Garner Case The protests drew crowds in New York, Boston, Chicago, Pittsburgh and Washington. Many chanted the last words of the man, Eric Garner, 43, of Staten Island: "I can't breathe." In some places, they grew disruptive, snarled traffic on major arteries and lay down in the streets. nytimes.com

Nationwide Protests Call for $15 Wage
Thousands of low-paid workers and their supporters marched in protests on Thursday that called for a $15-per-hour minimum wage, with some walking off their jobs, USA Today reported. Employees of dollar and convenience stores, home health care aides and certain airport workers joined the protests, which occurred in 190 cities in 35 states. The "Fight for $15" campaign held its first protests in cities such as Jackson, Miss.; Knoxville, Tenn.; and Buffalo, N.Y., and approximately 650 federal contract workers walked off fast-food jobs at major landmarks. Events were also planned at airports in New York, New Jersey, Los Angeles, Philadelphia, Boston, Minneapolis, Oakland, Calif., Fort Lauderdale, Fla., Seattle and Atlanta. csnews.com

FCC Panel Targets Smartphone Thefts - 1 Million a year in U.S. - Holding Carriers Responsible More than a million smartphones are stolen every year and federal regulators want wireless carriers to do more to deter the thefts. That was the theme of a report released Thursday by a Federal Communications Commission advisory panel. The group focused on how the wireless industry can better work with law enforcement and other groups to cut down on thefts by making stolen smartphones less useful. The report, using Federal Bureau of Investigation and other law-enforcement data, estimates that more than 10% of thefts and robberies in the U.S. in 2013 were associated with mobile devices. FCC Chairman Tom Wheeler, speaking Thursday at a meeting of the panel, called smartphone theft "a national problem" that requires a national solution. Wheeler plans to write to the chief executives of the wireless carriers Thursday, sending them a copy of the report and asking to hear back within 30 days on their plans for implementing the recommendations. wsj.com

Global Bitcoin network spends $296M on Black Friday and Cyber Monday - 9th biggest payment network in U.S. Visa, MasterCard, American Express and PayPal were the leading payment methods, while Black Friday saw $152 million spent on Bitcoin compared to $144 million on Cyber Monday. That's impressive when taking into account the currency is only five years old and is still growing with respect to merchant and consumer adoption. Industry observers are cautious about
the emergence of bitcoin into the payments landscape and there are few established retailers that have adopted it as a way for their shoppers to transact. essentialretail.com

Apple Inc. global supply manager sentenced in California federal court 1 yr. prison - ordered to pay $4.5 million in restitution After pleading guilty to taking $2.2 million in kickbacks from the company's Asian suppliers. law360.com

Retail Sector Employment Has Nearly Reached Prerecession Levels, Ahead of Critical Holiday Season There were 15.4 million retail workers in October, just shy of the record of 15.5 million workers reached in 2007. Before dismissing all of these new jobs as low-skilled, low-paying sales clerk and cashier jobs, remember that the shift toward online shopping means retailers are hiring more and more app developers, IT security professionals, online and social media marketing teams (and) logistics engineers as analysts to collect, sort and interpret all of that data collected with each mouse click," Challenger Chief Executive John A. Challenger said in a news release. Editor's Note: We highlighted IT Security professionals for a reason. wsj.com

Feuding continues in the Family Dollar - Dollar General - Dollar Tree love triangle Editor's Note: This is one of the biggest fights in retail and will impact thousands of people and hundreds of stores. It's end result will have a huge impact on the retail landscape. As the small store push in retail right now is really the only growth channel available in the U.S. And once Walmart Neighborhood Markets gets going with their pharmacies and all the grocery stores continue their pharmacy push we might see a similar fight in the drug store

dELiA*s, Inc. To Liquidate

Hadley, Mass., police called to disperse 50 Ferguson, Garner protestors Thursday night after disturbing Walmart employees and customers

November Same Store Sales Results
Gap Inc.'s up 6%, Gap Global down 4%, Banana Republic Global up 2%, Old Navy Global up 18%

Quarterly Same Store Sales Results
Ulta Beauty Q3 up 9.5% with total sales up 20.5% - e-commerce comparable sales up 46.7%
Canada's Dollar Rama Q3 up 5.9% with sales up 12%
J Crew Q3 up 4% with revenue up 6%
Genesco Q3 up 3% with net sales up 8%
Five Below Q3 up 1.5% with sales up 25%
Big Lots Q3 up 1.4% with net sales up 0.2%
Sears Hometown and Outlet Stores Q3 down 2.3% with net sales up 0.7%
American Eagle Q3 down 5% with net revenue down slightly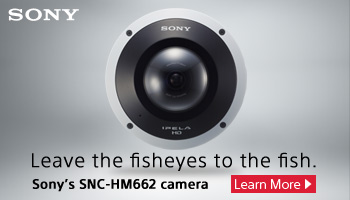 All the news - One place - One Source - One Time
The D&D Daily respects your time
& doesn't filter retail's reality
Report Your News!
(content subject to approval)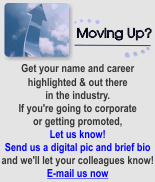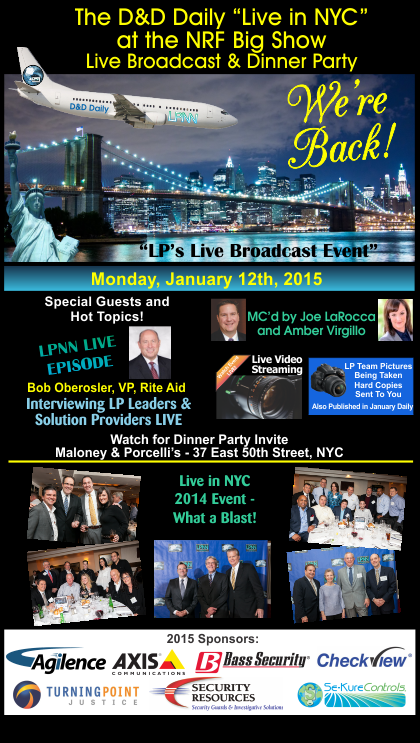 Loss Prevention News Network

Leadership & Development Series:
Dan Doyle, Chief Human Resources Officer, Beall's, Inc.

His story, advice and vision of tomorrow's successful LP executive profile


Newly inducted into the NRF's honorary "Ring of Excellence," Dan Doyle, Chief Human Resources Officer at Beall's Inc., provides his vision of leadership as a 25+ year veteran of the LP industry. Describing loss prevention, at its core, as a "people business," Dan talks about the difference between passion and emotion and how maintaining an even keel helps one navigate the unpredictable nature of the retail business.
---
In this LPNN Quick Take, Amber meets up with Protection 1's Rex Gillette, the VP of National Accounts Retail. Hear from Rex about Protection 1's breaking news and how they keep their staff's skills sharp and in the know.




Joan Manson

Sponsored By:


Bass Security





Sponsored By:



Keith White & Michael Nelson

Sponsored By:


Dan Faketty and Professor Bob Hanson

Sponsored By:


The NRF's LP Legislative Committee, a National Update





Jeff Fulmer & Jon Gold


Sponsored By:


Preparing - Training - Responding to the Active Shooter





Rich Mellor


Sponsored By:

Cyber Security's Increasing Impact on Retail & the Role of Loss Prevention

Tom Litchford
Sponsored By:

Stan Welch, VP of LP, JCPenney



Sponsored By:



In case you missed it ...
Click here to view all the episodes from
"Live in Ft. Lauderdale at the NRF LP Show."

Solution Providers, have a video or commercial you want to publish? Contact us.


Stay Tuned for our New 2015 Get LP Social Column!

---



LP Team Group Selfie Recap

Check out our submissions from this year as we showcase each one again!
We have a lot of exciting new ideas coming in 2015 so get your
LP Teams together for a picture!
Your team could be seen right here on the D&D Daily!
eam
PetSupermarket's LP Team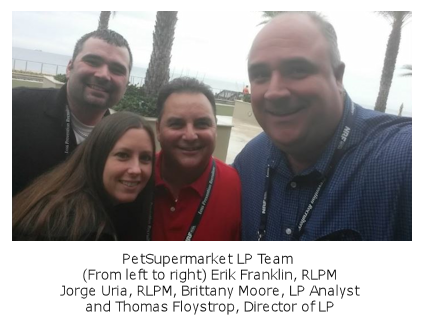 *Originally published on July 3, 2014

View all the selfies here!

Three 2014 Group Selfie LP Teams have the chance to win Pizza Parties! Drawing will be at our Live in NYC event on January 12th.

Canadian Push
Sponsored by Vector Security
Lowe's plans aggressive Canadian expansion
The company just announced three new locations, adding to its current 37 Canadian stores. Retail-insider interviewed Lowe's Canadian president, who tells us that the retailer could as much as triple its current Canadian store count. retai-insider.com

Ottawa approves Tim Hortons-Burger King deal with conditions

Teen who allegedly robbed convenience store to fund terrorism was Facebook friends with man who ran down soldier

Swift Current Police Investigate Jewelry store Break-in and Theft

RCMP urge caution after woman attacked and robbed in central Alberta RCMP in central Alberta are warning women to be on guard for their own safety after a young woman was kidnapped, robbed and sexually assaulted. Police say a 20-year-old woman was leaving her job shortly after midnight at a hotel on Red Deer's gasoline alley, when a man came to her driver's side door and brandished a knife. According to police, the man forced the young woman to get in the passenger seat and he drove to a bank where he took her to the ATM and forced her to withdraw money from her account. RCMP say he then took her to a rural location near Penhold where he sexually assaulted her before driving her back to Red Deer and dropping her off at a convenience store. Police say he then left with her vehicle. The woman's SUV was later recovered at a construction site on the west side of gasoline alley. globalnews.ca
Lens & Shutter the victim of an over night burglary in Kelowna, BC; tens of thousands of dollar of inventory stolen After losing tens of thousands of dollars of equipment in an overnight break-in is warning other retailers to stay vigilant. Store Manager Jaime Paniagua says he got a call shortly after 4 a.m. that the alarm at the store was ringing. "I made my way there and the RCMP were here already," says Paniagua, who notes the culprits were already gone. "They broke the lock and then made their way through the store. They took some GoPros, and then they went into two of our cabinets, and behind the counter, removed the glass...and took professional high-end cameras and lenses." The stolen goods taken were primarily out of box, new cameras and lenses by Nikon, as well as boxed GoPro cameras. Besides the loss of product, the store also suffered damage to the door and glass shelves within. castanet.net

Retail Fast Facts: November 2014

Highlights:
● Total monthly retail sales changed by 7.1 per cent over the comparable month last year.
● Total sales excluding food, automotive and gasoline changed by 5.7 per cent over the comparable month last year. Read more retailcouncil.org


e-commerce

Sponsored by The Zellman Group
Hackers Prime Target: Apple Pay
The Inquirer quotes a Kaspersky report which says that as Apple Pay gains in popularity- it will make its European debut next year-attempts to breach its security measures will grow as well. The report notes that NFC systems have been attacked prior to Apple Pay's launch, but the gains made by criminals have been limited by the limited use of such systems. The report noted Apple Pay's focus on security, "but we'll be very curious to see how hackers will exploit the features of this implementation." pymnts.com

The Invisible ATM Skimmer
Cyberthieves are now bypassing traditional ATM "skimmers" and wiring directly into a cash machine's own card-reading hardware through a hidden hole in the ATM, TechCrunch reported on Monday (Dec. 1). According to the European ATM Security Team (EAST), banks in two European countries recently reported ATM breaches that work like this: Thieves cut a small hole in the front of the ATM near the card reader, at a point normally covered by a decal or sticker. They then insert a wiretapping device through the hole, wire it into the the card reader, and finish up by covering the hole with a new decal. The wiretap device is then removed later by the thieves to harvest card data. Unlike most skimmers, which either overlay or slide into a card-reading slot, physically connecting to the ATM's own read head will likely be undetectable, at least without poking at the replacement decal. pymnts.com

Cyber-criminals get smart as cybercrime is expected to evolve in 2015

Survey: Online shoppers don't feel safe

"Fraud is not a person - it is a dynamic grouping of statistics that deviate from the norm."
Stuart B. Levine, CFI, CFCI
CEO, The Zellman Group & Zellman Fraudnet

Op/Ed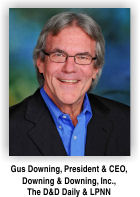 Reporting of ORC Skyrockets as New Laws Force Feed Reporters Nationwide With A New Phrase - 'Organized Retail Crime' For so many years the retail LP community and the retailers themselves have struggled, debated, and fought over the subject and extent of organized retail crime in the U.S. In the 90's it actually divided our industry. With one group refusing to give it any special recognition and fighting over giving it it's own phrase and assigning actual positions to fight it. Then in the 2000's we saw a group of retailers start to develop the effort and teams that allowed the retail industry as a whole to clearly see that indeed ORC not only exists but that its a major component of our nations shrinkage issues. Simultaneously of all of this the internet and online auction sites sprang up and to put it mildly, all hell broke lose. ORC took off and the criminals found their fountain of youth. No longer were they relegated to flea markets, pawn shops, convenience stores and back alleys. Now they had the internet and the ability to unload their loot anywhere any time and to anyone world wide. And to add to all of this we had a new criminal pop up. The honest guy jumped in and became the 'seller.' Before the internet the vast majority of these people would have never gotten involved. They didn't have the guts or nerve required to actually go out and sell stolen merchandise on the street. But what they did have was a computer and the nerve to go shoplifting. Now most may have indeed become criminals sooner or later but the net gave them a push and it sucked them right in. With that development we saw ORC take off like never before and the recession in 2008 played a big role in it's growth as well, that we're all dealing with today. Now with 26 states finally having ORC laws on the books, a movement that only began in 2005, what we're seeing is a gradual educational process, a nationwide public awareness to ORC is beginning to take hold. With the nations reporters starting to see ORC cases traveling through the judicial system they're now starting to report on it. Where as before they reported it as shoplifting, serial shoplifters, professional shoplifters, and repeat offenders. While that still happens in most cases we are starting to see the term ORC used more and more in the nations news agencies. And quite frankly right now we're seeing a huge uptick in the phrase virtually everywhere. In effect these new laws, the actual growth of ORC, and all the work the 30+ ORC associations are doing, is making an impact and making a difference. The nations journalist are becoming aware of the problem and they're reporting on it more and more. In our opinion the reporting of ORC has skyrocketed in this quarter alone. And that Ladies and Gentlemen will help significantly with educating the legislators in the remaining 26 states and ultimately at the federal level as well. What we need next - Coming next week. Gus Downing

ORC News
Sponsored by Security Resources
Skyrocketing numbers of ORC cases since mid-November In the last few weeks the Daily has highlighted the efforts of major ORC Operations in Florida and Arizona; 'Operation Holiday Heist' in Polk County, Florida, 'Operation Holiday Steals' in Broward County, Florida and 'Operation Fade to Black' in Meza, Arizona teamed Retailers and Law Enforcement together to record 159 arrests. While these high profile operations send a strong message to the communities, they also build the teamwork efforts between retailers and law enforcement, and identify ORC groups and fencing operations, but we at the Daily wanted to take a minute to compile the numbers from the rest of the country. Since mid- November, 57 cases of Organized Retail Crime have been reported in 29 states, 123 arrests and a total of $3,448,959 was reported recovered. Florida leads the way with 8 additional ORC cases reported, New York with 5 and Michigan and Texas at 4. But not every ORC cases happens in the high profile states; Wisconsin, Ohio, New Hampshire, Idaho, and Utah as well as many others have reported major cases.

| | |
| --- | --- |
| Florida - 8 | New Hampshire - 2 |
| New York - 5 | Utah - 2 |
| Michigan - 4 | Pennsylvania - 2 |
| Texas - 4 | Ohio - 2 |
| California - 3 | Minnesota - 2 |
| Wisconsin - 3 | Louisiana - 2 |
| Massachusetts - 2 | Additional cases in 16 other states. |
This message is not to downplay the importance of high profile Operations, but to focus of ORC skyrocketing numbers across the country. In many companies, Loss Prevention has been tasked to do more with less and it appears that Nationwide the bad guys are not always winning the fight.

Gangs Flying Shoplifters Into Britain - People Trafficking - Modern Slavery According to a report in the Independent, Eastern European victims of people trafficking are being exploited by criminal gangs to carry out weekends of high-end shoplifting before being returned home on block-booked budget airline flights, in a new trend of modern slavery identified by Scotland Yard. UK-based gang leaders are marshalling groups of up to 20 people brought over from countries such as Poland and Lithuania on cheap flights to target designer shops during trips lasting just a few days, detectives said yesterday. The gangs accept a 20 per cent arrest rate as the cost of a "weekend trafficking" operation that can secure items worth up to 100,000 pounds that are then taken out of the country for resale. Suspected thieves who have given statements have told police that they have been coerced into carrying out crimes out of fear about what would happen to their families if they refused. ukcrs.com


The Black Market for Stolen Baby Formula is Booming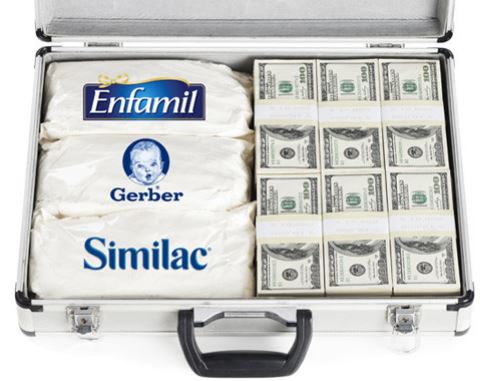 Organized crime rings are making millions peddling the most innocuous white powder there is, and the street value is surging. Ubiquitous and with a surging street value, infant nutritional supplements remain one of the most shoplifted items in the U.S., fostering a steady stream of organized crime syndicates that confound law enforcement agencies and retailers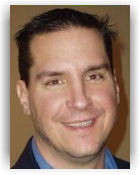 across the country. "In the big spectrum of retail crime, infant formula is one of the top items," says Joe LaRocca, formerly of the National Retail Federation, now with RetaiLPartners. "Grocery chains will tell you that formula is targeted so often that in some cases they have locked it up, moved it behind the cash register, strategically put it on the floor, and in some cases they put a limited supply on the shelves. With individual cans going for as much as $10 on the black market, drug addicts and other low-level thieves stalk the aisles of Walmarts and other retail chains looking to swipe Enfamil or Similac, which can sell for as much as $100 in stores. In the last month alone, baby formula bandits have cropped up in California, Michigan, Texas and New Jersey. Some of the more enterprising crooks go to great, and even comic, lengths to turn a tidy profit. One brazen mother-daughter team in Michigan last month allegedly filled garbage cans with baby formula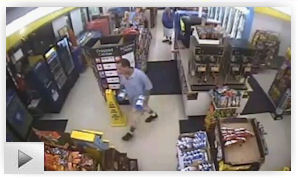 inside the stores they targeted, stealing up to 30 cans at a time. In July, two men dressed in women's clothing were busted at a Rite Aid in Glendale, California, after trying to walk out with their purses full of formula. In July, a Florida sting dubbed "Operation Got Milk" netted at least 23 arrests and toppled a $2 million baby formula syndicate led by a middle-aged woman. Authorities in Oregon stopped a similar scheme in 2010 when they arrested a couple that had traveled up and down the West Coast stealing $2.5 million in baby formula. In recent years, raids in California, Texas and Arizona have disbanded other lucrative rings. vocativ.com
Update - Online ad for Canada Goose jackets leads police to parka theft suspects arrest in Winnipeg - Actual Smash & Grab posted on Daily An online ad offering Canada Goose jackets for sale and publication of suspect photos have led to the arrest of four people. More than 40 Canada Goose jackets worth more than $15,000 were stolen from an outdoor clothing store in the 2000 block of Corydon Avenue on Nov. 16. Thieves got into the business by smashing the front window, police said. A 35-year-old man was arrested after an online ad offering Canada Goose jackets for sale led police to a business in the 700 block of Selkirk Avenue where the parkas had been taken. The man was charged with possession of property obtained by crime. After police made surveillance photos of two women public on Monday, a 29-year-old woman was arrested and also charged with possession of property obtained by crime under $5,000. Police then searched a suite in the 500 block of Young Street at about 2 p.m. Tuesday and charged another man and woman in connection with the crime. globalnews.ca

ORC Duo arrested for counterfeit credit cards, prescription fraud, skimming, distribution of drugs, stolen identities - over 100 charges Vincent Leo, 37, was arraigned in Essex Superior Court on dozens of charges. The schemes involved fraudulent prescriptions, thousands of oxycodone tablets and numerous counterfeit credit cards, and compromised more than 50 identities, according to the AG's office. According to authorities, Leo was involved in a credit card fraud scheme with Deana Vitale, who used a skimming device at Copper House Tavern in Waltham to capture customers' credit card information. Vitale then allegedly gave the device to Leo, who used the information to create fraudulent credit cards in those customers' names. "We allege that this defendant ran various sophisticated schemes involving fake prescriptions, the distribution of drugs, stolen identities and counterfeit credit cards," Attorney General Martha Coakley said in a statement. "This lengthy and extensive investigation has led to more than 100 charges in connection with his illegal activities." wickedlocal.com

ORC male duo arrested targeting major retailers throughout Florida with counterfeit checks The two men had extensive criminal histories and had amassed more than 45 arrests with 107 criminal charges between the two of them; mostly for fraud and identity theft related crimes. The suspects also indicated that they had intended on shopping in Lee County. A search of the vehicle revealed a large amount of counterfeit checks containing the banking information of unsuspecting victims. These checks were made by the suspects with legitimate bank routing numbers belonging to victims of identity theft. The suspects both had fraudulent driver's licenses matching the names on the checks. The licenses had their photographs on them. The suspects had failed to mention that they were planning on shopping using other people's banking information when they were stopped. In total, 21 counterfeit checks were recovered saving local retailers tens of thousands of dollars in losses as well as the victims whose account numbers were used. The investigation revealed that the suspects were operating throughout Florida targeting major retail establishments. The investigation revealed the driver, Terrance Haines of Bradenton, and passenger Dontrell Warren of Tampa were traveling from the Tampa to Fort Myers when they were stopped. nbc2.com

ORC Duo arrested hitting Sam's Club multiple times in Panama City, FL 29 year old, Anthony Keith Council, 33 year old, Javier Vargas Vazquez and 33 year old, Jessica L. Garrett, all of Panama City, were arrested for hitting Sam's Club on two days and charged with felony retail theft, possession of stolen property, and another separate burglary. mypanhandle.com

Possible theft ring hits Ada, OK Walmart
Authorities are investigating the theft of nearly a dozen Apple iPads from a local department store Ada police were called to Wal-Mart in Ada Wednesday morning. The Loss Prevention officer "stated two males used keys to enter a locked case in electronics, while two other males kept other associates busy who came near the area." "He stated there have been numerous reports of the same thing happening in more Wal-Mart stores around the state of Oklahoma," Reid said theadanews.com

Surveillance cameras capture ORC trio stealing thousands of dollars in designer frames from Suburban Opticians in University Place, Wash. "Organized shoplifting really does seem to be on the rise," said Pierce County Sheriff's Detective Ed Troyer. "People coming in groups and teams and distracting people or shoplifting all at the same time and getting in and out before anybody realizes what's happened." Surveillance cameras caught the three coming in and gave investigators a good look at their faces. After seven minutes, the team walked out with at least half a dozen frames priced as high as $500 each. Investigators say the items will probably be sold online to unsuspecting shoppers looking for a bargain. kirotv.com
ORC female duo hit Macy's CityPlace in West Palm Beach for $2,600 in Michael Kors purses

$10K in drones stolen during store burglary in Las Vegas
Do you have an ORC case to share?
Share your ORC news and help the industry grow

Retail Crime News

Sponsored by NuTech National
10 to 20 year prison term upheld for man convicted of threatening Bon Ton Loss Prevention officer with butcher knife in PA According to court records, Paul Matthews, 61, of York, was tracked on security cameras trying to steal three polo shirts from the Bon-Ton in Springettsbury Township in March 2013. When he left without paying for the shirts, loss prevention officer Peter Fouad detained him and brought him back into the store. Matthews became agitated while in the store security office, "brandished a large butcher knife, holding it above his head in apparent preparation to stab Fouad," and demanded that the officer release him, Judge Victor P. Stabile wrote in the state court's opinion on the case. Matthews fled, but was soon captured by police. He was convicted of robbery, simple assault and retail theft during a non-jury trial before county Judge Richard K. Renn. In the state court opinion, Stabile rejected Matthews' argument that the evidence wasn't sufficient to support his robbery conviction. pennlive.com

FBI offers $15K reward to help nab 'Oxycodone bandit' hitting Va. drugstores - hitting CVS & Rite Aid Investigators think one person is responsible for the robberies, which have occurred in Henrico, Hanover, Arlington, and Prince William; and the cities of Fredericksburg, Williamsburg, Hampton and Newport News. The robber, who has targeted CVS and Rite-Aid drugstores, approaches the pharmacy counter with a white cloth over his face and reveals a black handgun tucked in his waistband to the pharmacist. The suspect then demands Oxycodone pills and cash from the register before running from the store.
● July 15 - CVS located on Woodman Road in Henrico County
● July 26 - CVS located on Charter Gate Drive in Mechanicsville
● August 13 - CVS located on Jefferson Davis Highway in Fredericksburg
● Sept. 26 - CVS located on Richmond Road in Williamsburg
● Oct. 10 - Rite Aid on South Joyce Street in Arlington
● Oct. 10 - CVS on Touchstone Circle in Woodbridge
● Oct. 26 - CVS on West Mercury Boulevard in Hampton
● Nov. 17 - Rite Aid on J. Clyde Morris Boulevard in Newport News wtvr.com
Ex-employee embezzled nearly $300,000 from store at Pismo Beach, CA outlets A former employee of the As Seen On TV store in Pismo Beach was ordered Thursday to pay close to $300,000 in restitution for embezzling money during the four years she worked there as a manager. Kwi Eng Ee, 60, of Nipomo had pleaded no contest in July to two charges of grand theft over $950. According to a court document, Ee, also known as Irene Ee, was hired as a supervisor in 2009 for $11 an hour, working 30 hours a week. In 2013, however, she was fired for misconduct. The store's co-owner, James Foss, told police Ee had created a hostile work environment that exposed the employer to potential liability. Around that time, Foss and his wife, Stacey, began to look at Ee's timecards and sales sheets. They determined that of the $875,172 in cash taken in between September 2009 and June 2013, the store was short $286,742. Stacey Foss said Ee told customers that she owned the store, which was formerly located at the Pismo Beach Premium Outlets. Once charged, Ee took responsibility early on, said Ee's attorney, Matt Guerrero. After entering her plea, she was sentenced to a year in jail and five years probation. At Thursday's restitution hearing, Superior Court Judge John Trice ordered Ee to pay the Fosses close to $300,000. sanluisobispo.com

Wal-Mart employees arrested on theft charges in Portage, IN Two Wal-Mart employees were arrested Thursday and a third is suspected in the theft of hundreds of dollars of merchandise from the store. The three had been seen on surveillance video on several occasions "price matching" and voiding items for one another and others at each other's cash registers. The three are thought to have stolen more than $750 in merchandise. nwitimes.com

Newport News man arrested for 12 counts of fraud following rash of credit card thefts in York County in October and November Police said more charges could be coming for Leandro Reye-Aguiar, 22. Anyone with information on these crimes should contact the sheriff's office tip line at 757-890-4999 or the Crime Line at 1-888-LOCK-U-UP. dailypress.com

Two men steal 4 big screen TVs from Hermitage, TN Walmart Tuesday
According to police, the two men drove up in a Chevy Silverado and stole two 50 inch televisions, a 46 inch television and a 60 inch television. wkrn.com

Possible suspect in armed robbery of Fresno, CA gun store arrested Fresno police arrested a man who may be one of two armed bandits who robbed a north Fresno gun store Thursday morning. Two men wearing masks - one with a Mardi Gras-type mask - and armed with semiautomatic handguns entered Fresno Firearms at 6573 N. Blackstone Ave. around 10:30 a.m. and took an unknown number of weapons. A suspect, identified as Nick Delt, was taken into custody at the home, Lt. Joe Gomez said. Gomez said Delt is being questioned as a possible suspect in the gun store robbery. abc30.com
Eureka, CA Police recover Stolen merchandise following store break-in The Eureka Police Department is investigating the break-in and theft of merchandise from an Old Town Eureka clothing store. Police said on December 2, 2014 around 6:30 a.m. officers responded to a commercial burglary alarm at a store on the 200 block of F Street. Officers discovered two unknown suspects had forced their way inside the business and had taken off carrying numerous items of Merchandise. The following day around 8:36 p.m., officers along with detectives of the Problem Oriented Policing unit responded to an apartment on the 800 block of A Street. They conducted a probation search as part of a follow-up investigation to the burglary. Officers said when they knocked on the door and announced themselves, the suspects took off. Officers forced entry and detained three subjects. During a search of the residents and associated garage, detectives found numerous articles of designer clothing with tags still attached. The owner of the store was later contacted and identified the clothing as property stolen from the store. krcrtv.com

Police Seek 4 Suspects In Bethel Park, PA Jewelry Store Attempted Robbery Police in Bethel Park are looking for four men who threatened employees during an attempted robbery at a jewelry store. It all started around 6:30 p.m. Thursday when the first suspect entered the Louis Anthony Jewelers store on North Highland Road. Bethel Park Police say he was armed with a mini sledgehammer. cbslocal.com

Woman, 25, arrested after pocket-dialing 911 and is overheard describing crime This is one cellphone butt-dial that backfired, big time. Ashley Malcom allegedly stole a variety of crystal meth ingredients from a New Smyrna Beach, Florida Walmart and then had the bad fortune to pocket-dial 911 while riding in a car away from the scene of the alleged crime. The 911 operators proceeded to listen as Malcolm, 25, allegedly described to the car driver how she needed to get rid of the items she had shoplifted to make crystal meth. Apparently, Malcom was attempting to enlist the driver's help in moving the items. However, the driver wasn't charged in the case. On the 911 call, Malcom is heard saying to the driver: "You weren't inside Walmart stealing. They don't have your face. They don't have anything." Ah, but they did. Just prior to Malcom's unknown 911 call, a Walmart loss prevention officer had called 911 to report the shoplifting. Putting two and two together, deputies were soon on Malcom's tail. pennlive.com

UK: Bizarre 'Hypnosis Robbery' at Shop in London A thief apparently put a shopkeeper in a hypnotic trance before stealing the day's takings at a store in Highgate, north London. Security footage shows the man, wearing black bomber jacket, gently tapping shop owner Aftab Haider - who is known to friends as Aziz - on the arm, before making a stabbing gesture with his hand at eye level that appears to leave Mr Haider in a trance. The man then reaches inside the shopkeeper's trouser pocket, pulling out his wallet. He then squeezes his shoulder before miming the gesture of a pregnant woman's belly before Mr Haider turns to face him, at which point he reaches into his other pocket and takes hundreds of pounds in cash. breitbart.com
String of six retail burglaries in last two weeks has Hanford, CA., police warning retailers

Police investigating double shooting at a strip center in Winston-Salem

Officer-involved Shooting at West Monroe, LA convenience store

Fencing stolen items earns Augusta man prison term, no parole

Man Accused Of Stealing Scrap Metal From Rooftop Of Delaware Shopping Center

Lebanon County, PA women sentenced for fraud involving food stamps

Robber holds up Wyandotte, MI Rite Aid store; second drugstore heist over three-day period

Verizon burglary suspect in Wllington, FL attempted Miami break-in hours before; 3 of 5 in custody

Robberies and Burglaries
● Bouchard's - Milwaukee, WI - Armed Robbery
● Citi Trends - Albany, GA - Armed Robbery
● CoGo's - Rostraver Twp., PA - Armed Robbery
● Dan's Liquor - Racine, WI - Armed Robbery
● Family Dollar - Charleston, SC - Armed Robbery - suspect arrested
● Family Dollar - Tucson, AZ - Armed Robbery
● Go Go Food Store - Doerun, GA - Armed Robbery
● Pequot Liquors - Fairfield, CT - Armed Robbery - suspect arrested
● Quick Mart - Hudson, NY - Armed Robbery
● Stoppers One Shop Market - Salisbury, MD - Armed Robbery
● University Market - Flint, MI - Armed Robbery - suspect arrested
● Walgreens - Mt. Juliet, TN - Armed Robbery
● 7-Eleven - Rock Hill, SC - Armed Robbery
● Zales Jewelers - Quincy, IL - Robbery



Featured Job Listings
Sponsored by Cam Connections
Feature Your Job Here For 30 Days -
70% Aren't On the Boards
VP of Sales
Checkview
Chanhassen, MN
Checkview
Sr. Director, Field LP
Ross Stores
Dublin, CA
Ross Stores
Director of LP
Tourneau
New York, NY
LinkedIn
LP Manager
Disney
Anaheim, CA
Disney
Market AP Specialist
REI
Bay Area, CA
REI
National Account Executive
Checkview
Northeast Region
Checkview
National Account Executive
Checkview
United States
Checkview
Corporate Investigator
Confidential
San Francisco Bay, CA
Confidential
National Account Manager
Vector Security, Inc
TBD
Vector Security, Inc
Supervisor LP DC
Ascena Retail Group
Greencastle, IN
Ascena Retail Group
AP Agent
Ralph Lauren
Sunrise, FL
Ralph Lauren
LP Agent
JONS Markets
Los Angeles, CA
JONS Markets
National Account Mgr
Confidential
Northeast
Downing & Downing

Limited Time Only - Post Your Multi-Unit LP jobs for FREE - Learn More Here

Daily Job Alerts


Sponsored by Cam Connections
Appearing One Day Only
View our Internet Jobs Archives here
LP Supervisor
JC Penney
Rochester, MN
JC Penney
Mgr Safety AP DC
Lowe's
Plainfield, CT
Lowe's
AP Manager in Training
Walmart
Missouri City, TX
Wal-Mart
AP Manager in Training
Walmart
Oak Grove, MO
Wal-Mart
AP Manager in Training
Walmart
San Antonio, TX
Wal-Mart
AP Manager in Training
Walmart
Pleasanton, CA
Wal-Mart
LP Manager
Sears
Baton Rouge, LA
Sears Holdings Corp
Multi Unit LP Manager
Sears
Bradenton, FL
Sears Holdings Corp
LP Manager Hrly
Sears
Leechburg, PA
Sears Holdings Corp
LP Manager Hrly
Kmart
Rutland, VT
Sears Holdings Corp
AP Team Leader
Target
Bullhead City, AZ
Target
ETL Assets Protection
Target
Baldwin Park, CA
Target
AP Specialist
Family Dollar
Brooklyn, NY
Family Dollar
LP Manager DC
CVS Caremark
Somerset, PA
CVS Caremark


Home of the Industry's Original
On the Move

Jaime Saenz was named Asset Protection Manager/Market Retail Security Expert for Walgreens.
Robert Williams was named Asset Protection District Manager for Rite Aid.
Charles Broe was named Regional Loss Prevention & Safety Specialist for Domino's Pizza.
Post Your New Job or Promotion!
See all the Industry Movement


Your Career
Sponsor this section of the Daily
7 Even More Ways to Become a Better Leader As we look into the new year, it's a good idea to start reflecting on your own leadership skills. Maybe there's room for improvement or relationships you could build on. Here are some other ideas on how to amp up your leadership expertise! Remember to smile

5 Responsibilities for Leading Elite Teams
While this is no easy task and requires constant professional development, it can be done. Being a leader comes with a lot of responsibilities, but there are five key ones that need to definitely be in your company's culture. Get through the rough spots

The Two Most Common Mistakes New Managers Make Becoming a new manager, or taking on a new leadership role is a difficult transition. For first time managers it requires a huge change in focus and and huge responsibility. Here are two common mistakes new managers make, so try to avoid them. Don't try so hard to be liked

Great Apologies Make Great Leaders
Great apologies, when they are heartfelt, genuine and open have such strong powers. For a leader to apologize well requires confidence, courage and smarts and it certainly makes the recipient feel heard and understood. When a mistake occurs, take responsibility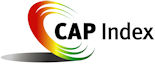 Tip of the Day
Sponsored by Vector Security
"Keep It Simple." What a phrase that we've all heard a million times and, quite frankly, most of us don't take it seriously enough. So many tend to over think and over do that, at times, we just don't get things done. Ken Blanchard said in one of his books that if you expect or even want perfection, you'll never get anything done. We all tend to over think and in our desire to do what's best, we can get lost in details and stand in the way of moving forward - most of which is as a result of just plainly not having enough confidence in one's self to just risk it and go for it. Hesitation is human nature and wanting to make sure you get things exactly perfect - well somebody's going to pass you by with the answer - that's simple, but brilliant. So keep it simple and have faith in the bird on your shoulder.

Just a Thought,
Gus







Upcoming Events
---
Recruiting?
Get your job e-mailed to everyone... everyday
Post on our Featured Jobs Board!
Reach your target audience in 2015 every day!
Request our 2015 Media Kit
update account / change e-mail
unsubscribe FEEDBACK
www.downing-downing.com

Advertise With The D&D Daily




36615 Vine Street, Suite 103
Willoughby, OH 44094
440.942.0671
copyright 2009-2019
all rights reserved globally