The D&D Daily Mobile Edition
December 9,

2014



The LP Industry's #1 News Source - Informing, Educating and Instilling a sense of community


News Brief
Sponsored by WG Security Products, Inc.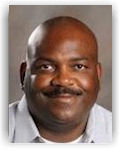 Ken D. Gladney, CFI was named Director of Security for Taco Bueno Restaurants, L.P. Ken was previously the Manager of Loss Prevention and Security for Half Price Books. Ken has worked in the LP profession for over 25 years, for such companies as RadioShack, Target, United Supermarkets, and Bloomingdales. Ken is also an United States Marines Corps. Combat Veteran. Ken earned a Bachelor of Arts degree in Criminal Justice from American Military University. Congratulations Ken!

Supreme Court: No pay for Amazon warehouse security checks The Supreme Court ruled Tuesday that warehouse workers who fill orders for retail giant Amazon don't have to be paid for time spent waiting to pass through security checks at the end of their shifts. The unanimous decision is a victory for the growing number of retailers and other companies that routinely screen workers to prevent employee theft. The justices said federal law does not require companies to pay employees for the extra time because it is unrelated to their primary job duties. Writing for the court, Justice Clarence Thomas said the screenings are not the "principal activity" which the workers are employed to perform. Integrity Staffing did not employ its workers to undergo security screenings, but to retrieve products from warehouse shelves and package those products for shipment to Amazon customers," Thomas said. Thomas also said the security checks were not "integral and indispensable" to the employees' duties as warehouse workers. He based his decision on a federal law called the Portal-to-Portal Act, which specifically exempts employers from paying for pre- and post-work activities such as waiting to pick up protective gear or waiting in line to punch the clock. Justice Sonia Sotomayor wrote a separate opinion, joined by Justice Elena Kagan, to clarify her understanding that a principal job activity could potentially include more than one activity. But she agreed that in this case, the security checks were activities that Congress deemed to be part of entering or leaving a workplace that are not compensable. "JUSTICE THOMAS delivered the opinion of the Court. The employer in this case required its employees, warehouse workers who retrieved inventory and packaged it for shipment, to undergo an antitheft security screening before leaving the warehouse each day. The question presented is whether the employees' time spent waiting to undergo and undergoing those security screenings is compensable under the Fair Labor Standards Act of 1938(FLSA), 29 U. S. C. §201 et seq., as amended by the Portal to-Portal Act of 1947, 251 et seq. We hold that the time is not compensable. We therefore reverse the judgment of the United States Court of Appeals for the Ninth Circuit." See the actual ruling here - supremecourt.gov komonews.com

Two former Dallas American Eagle Outfitters employees beat, bound, strangled and set afire co-worker who ID'ed them for August theft Two former American Eagle Outfitters employees beat, bound, strangled and set afire a former co-worker who had identified them as possible suspects in an $18,000 August theft at the store, according to court documents. After the slaying on Nov. 28, Fort Worth police believe Carter Carol Cervantez, 25, and her boyfriend, Clarence "David" Mallory, 19, stole Ashlea Ann Harris' keys to the Hulen Mall store, where she worked as an assistant manager, with plans to steal tens of thousands of dollars collected from Black Friday sales. Police, however, had the couple under surveillance and thwarted their plans when they confronted Mallory waiting in the mall parking lot the morning of Nov. 29 and arrested him for not having a driver's license. Both Mallory and Cervantez were later questioned by homicide detectives but denied involvement in the planned theft. The couple were arrested this weekend for capital murder - Cervantez in Fort Worth and Mallory in Amarillo - on warrants accusing them of capital murder for Harris's slaying and theft $1,500 to $20,000 for the August theft at the American Eagle store. Harris was found dead the morning of Nov. 28 in the bedroom of her River Ranch apartment in the 4700 block of King Ranch Road by Fort Worth firefighters responding to an alarm. When firefighters were summoned to the apartment about three hours later, they found a small fire inside the bedroom and Harris's body. Her feet and hands had been bound with duct tape. Her body was face-down on the floor at the foot of the bed with obvious trauma to her face, head, neck and throat. "Her body was partially burned along with several areas of her bedroom which included her mattress," the affidavit states. "An empty bottle of rubbing alcohol was found near the body." A neighbor who lived below Harris told police that he heard a loud thump, followed by screaming and heavy breathing, at about7:30 a.m. Minutes later, he told detectives, his carbon monoxide detector went off and water started leaking through his ceiling from Harris's fire sprinklers. The neighbor called 911 and looked out his window in time to see a black, two-door Infiniti G35 leaving from the parking spot in front of Harris' apartment with its lights off. dallasnews.com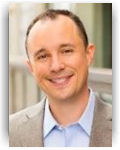 Why Lumber Liquidators is Building a China Compliance Team After years in corporate security, Ray Cotton now spends his days making sure Lumber Liquidators Inc.'s flooring business meets compliance standards. Mr. Cotton was hired last year to oversee security and investigations, but compliance was soon added to his job duties. He joined the company shortly after its headquarters were raided by federal U.S. law-enforcement officials in September 2013 as a part of a probe involving flooring imports. The company said the investigation is ongoing and declined to comment further. His role has led to some interesting adventures so far, like traveling across China and building a sustainability website that address the concerns of non-governmental organizations. Mr. Cotton says his team of 35 people around the world works with an eye towards the fast-growing potential of the $1.6 billion company. You do a lot of business in China. What are your compliance efforts like there? Mr. Cotton: I have a compliance team being built in China as we speak. The way business runs in China, compliance is a hot topic. It's been super challenging... When I took the role, I wanted to see our operations firsthand. I literally traveled all over China all the way to the Russian border. I turned over stones and opened a lot of doors to see the processes in motion. You oversee compliance and sustainability. How do the two overlap? Mr. Cotton: Compliance and sustainability are linked. For instance, we take compliance and sustainability up a notch by engaging an outside firm to do DNA testing of our product to make sure that what we're sourcing is actually what it is. We can't be at the stump every time a tree is cut down. (Read our recent 'Spotlight on Leadership' article here on Ray's efforts as an LP senior executive turned Chief Compliance Officer.) wsj.com

More than 150 arrested in California during protests More than 150 protesters were arrested in California overnight after shutting down a major freeway in another outbreak of nationwide demonstrations against police use of deadly force on minorities. Across the other side of the country late on Monday, basketball stars in New York including Cleveland Cavaliers forward LeBron James joined the protests by wearing shirts emblazoned with "I can't breathe" -- the last words of Eric Garner, a black man who died after a police chokehold. Several hundred people stormed onto Interstate 80 in the college town of Berkeley near San Francisco on Monday night snarling traffic in both directions. Outside the Barclays Center in Brooklyn, a group of about 300 protesters blocked streets and chanted, "I can't breathe." In downtown Phoenix, about 200 protesters marched to police headquarters over the killing of another unarmed black man by a white officer in what authorities described as a struggle last week. chicagotribune.com

More Protests Planned Throughout Jacksonville, Fla., Tuesday More protesters are gearing up for more demonstrations Tuesday. Over a dozen were arrested after blocking traffic on the Hart Bridge. actionnewsjax.com

ACFE survey found workplace fraud rises 20% during holidays - Monitoring Public Records After You Hire Employees A 2013 survey by the Association of Certified Fraud Examiners found workplace fraud rises 20% during the holidays, and the Federal Bureau of Investigation says workplace stealing costs companies more than $37 billion a year. Raj Ananthanpillai, chief executive of of InfoZen, a company that is preparing to release next year a system to monitor the public records of employees after they have been hired. While many businesses conduct pre-hiring background checks, most stop doing those checks after workers are employed. By tracking employees for arrests or anything in a public file that may indicate a potential risk or change in their circumstances, companies will better be able to act, he said. "Most retailers hire people seasonally and do cursory background checks, then lose sight of those employees," Mr. Ananthanpillai said. "They don't do anything about it, they are focused more on sales and other issues and forget about it. But it's a huge problem. wsj.com

Wal-Mart Canada's Corporate 220+ Job Elimination Process A few weeks ago Wal-Mart Canada eliminated approx. 220 corporate positions and the actual process was quite interesting and reduced risk significantly. On the day of the process all of the go-forward employees received emails to proceed to one of the 21 school buses parked outside of their building and were taken to the Congress Center convention facility. Once there and registered they received wrist bands and took part in a corporate function. The approximately 200+ other employees remaining at the corporate office were convened in the auditorium and were given their separation agreements.

Pilot Flying J attorneys deny CEO's involvement in rebate scam of millions Attorneys for Pilot Flying J CEO Jimmy Haslam are asking for a federal judge to dismiss a lawsuit brought by two trucking companies alleging that Haslam directed a fuel-rebate fraud scheme for his family's truck stop chain. Federal investigators launched an investigation into Pilot's rebate program based on testimony from informants. The FBI and IRS raided company offices in Knoxville, Tenn., in April 2013, and also searched homes and properties of individuals. A series of lawsuits followed the raid and the publication of a telling affidavit about the conduct of certain company officials and sales staffers concerning the rebate program. In the summer of 2014, Pilot Flying J agreed to pay a $92 million penalty as well as $85 million in restitution to 5,000 rebate customers to avoid prosecution. landlinemag.com

Bitcoin has no chargeback mechanism and all consumer payments are final - No Fraud Risk The apparatus of card fraud management brings costs - fraud vendor fees, 3DSecure fees, the cost of manual review, the cost of potentially rejecting good orders, acquirer chargeback fees, and not to mention the cost of the stolen goods. All of these expenses go away if a customer pays with bitcoin as opposed to a card. In fact, a simple cost/benefit exercise for most merchants would show that it is in their interest to financially incentivise a consumer to pay with bitcoin in order to realize the savings in having eliminated fraud risk. More than 50 million pounds of transactions are typically made every day using bitcoin - not bad for a payment scheme that is only a few years old and that no one owns or controls. Merchants should consider accepting bitcoin as a way to manage risk as well as attracting new customers, both of which will help the bottom line. retailfraud.com

Kohl's Stores Open Around the Clock from December 19 through Christmas Eve

Jewel-Osco held in contempt in 2011 EEOC case - Failed to provide accommodations to 3 fomrer employees attempting to return to work

Quarterly Same Store Sales Results
Neiman Marcus Group Q1 comparable revenues up 5.5% with sales up 5.3%
Burlington Coat Q3 up 5.2% with net sales up 8.7%
Pep Boys Q3 service center up 3.7% - retail down 1.8% with sales up 2.1%
Hudson's Bay Corp Q3 up 1.7% with sales 'nearly doubling' due to acquisition of Saks Fifth Ave
Conn's Q3 down 1% with consolidated revenues up 19%|
Kohl's Q3 down 1.8% with total sales down 1.6% with web sales growing roughly 30%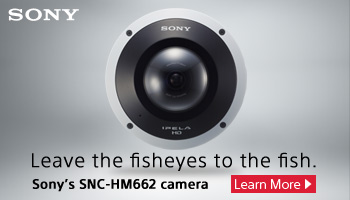 All the news - One place - One Source - One Time
The D&D Daily respects your time
& doesn't filter retail's reality
Report Your News!
(content subject to approval)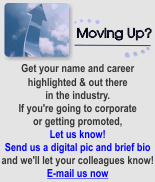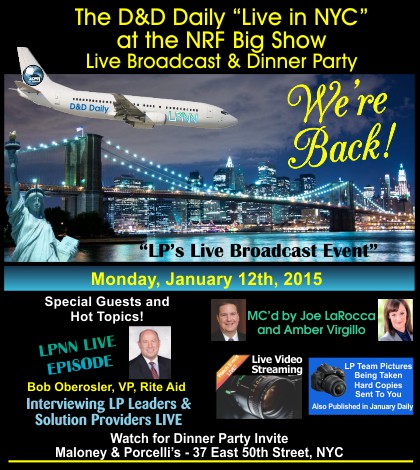 Live in NYC Episode Schedule


Robert Oberosler, Group Vice President, Asset Protection, Rite Aid




Karl Langhorst, Corporate Director, Loss Prevention, The Kroger Co.
Loss Prevention - Adding Value to a Retailer





Ken Warfield, Vice President of Asset Protection, Regis Corp.
Building a Best in Class LP Team from Scratch
Van Carney, Director of Safety and Loss Prevention, Domino's Pizza

Delivering LP Services in a Franchise Environment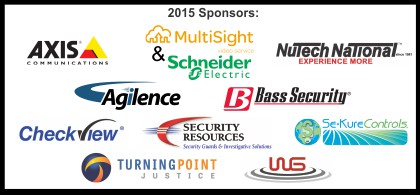 Loss Prevention News Network

Protection 1 - Award Winning Security Solutions for Business


Bob Dale, SVP Sales for Protection 1, and Rex Gillette, VP National Accounts Retail, talk about Protection 1's immense growth in the retail security market, since entering the segment four years ago. With a customer-focused culture, Protection 1 is redefining the installation world with its highly successful SEAL Team conversion process. Hear from Bob and Rex about the company's unique eSuite platform and get an exclusive scoop on what Protection 1 will be bringing to the market next.
---
In this LPNN Quick Take, Joe and Amber discuss what the Fusion Center is at the conference. They also continue discussing the day's upcoming sessions and agenda along with Protection 1's breaking news.




Joan Manson

Sponsored By:


Bass Security





Sponsored By:



Keith White & Michael Nelson

Sponsored By:


Dan Faketty and Professor Bob Hanson

Sponsored By:


The NRF's LP Legislative Committee, a National Update





Jeff Fulmer & Jon Gold


Sponsored By:


Preparing - Training - Responding to the Active Shooter





Rich Mellor


Sponsored By:

Cyber Security's Increasing Impact on Retail & the Role of Loss Prevention

Tom Litchford
Sponsored By:

Stan Welch, VP of LP, JCPenney



Sponsored By:



In case you missed it ...
Click here to view all the episodes from
"Live in Ft. Lauderdale at the NRF LP Show."

Solution Providers, have a video or commercial you want to publish? Contact us.


Stay Tuned for our New 2015 Get LP Social Column!

---

2014 LP Team Group Selfie Review

Showcasing each team in order!
Be on the lookout for our new Get LP Social 2015.

Your Team - Your Pride

PacSun's LP Team at Crystal Cove State Beach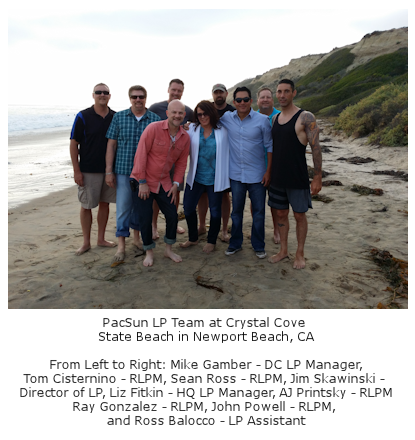 *Originally published on July 8, 2014
View all the selfies here!

Three 2014 Group Selfie LP Teams to win Pizza Parties!
Drawing at our Live in NYC at the NRF Big Show, January 12th.
Make sure you're watching!

Big Data
Sponsored by Verint
Why Detection is More Important Than Prevention in Data Breaches CISOs want to believe if they get prediction and prevention right, then it's all going to work. Sophisticated CISOs understand that life actually gets better if they admit that one way or another, their network will get compromised, it's simply inevitable. Target had prevention methods in places, but was completely overwhelmed by the number of alerts (false positives) being generated. So much so, that it muted some of the noise and ultimately missed the attack which at the time seemed benign. There is no way for Target (or anyone else for that matter) to completely prevent malware attacks from taking place. As such, it is incumbent upon enterprise security professionals to adopt a new paradigm: one that continues to leverage intelligent prevention methods, tools and technologies, and augment those with solutions that emphasize detection. If Target had put more emphasis on detecting threats that were already beaconing out, (an actual compromised device and not a potential false positive) they could have potentially avoided one of the most costly breaches in history. information-age.com

Looking Beyond Big Data in 2015
Love it or hate it, the term Big Data has resonated. It has been noted here that senior executives have expressed a widespread dislike for the term Big Data, believing it to be unhelpful, insufficiently specific, overblown, or generally devoid of substantive meaning. That being said, Big Data has been the right term for the right topic at the right time, which is why it has resonated both broadly and deeply. Let's be clear that Big Data is not a magic bullet, a surefire path to success, or a breakthrough that all alone addresses a long challenging set of business issues. Big Data is however a "big idea" which has galvanized widespread interest and attention, resonating with a large non-specialist audience. Largely because of Big Data, data as a subject area has been transformed from a field for specialists and technologists, to a topic of interest among the general population, from CEOs to casual observers. wsj.com

Infographic: The Many Faces of Today's Hackers

New Florida data breach law impacts retail stores

Senate passes bill to secure federal data

GameStop's Business Strategy is Powered by Customer Data

e-commerce

Sponsored by The Zellman Group
California May Crack Down On Bitcoin
The California state government is debating whether to regulate Bitcoin-and other digital currencies-after legally concluding that they have the authority to do so, BusinessWeek is reporting. The issue is whether an existing state law that governs money transmitters-such as Western Union-would now apply to digital currencies. "The consensus among staff is that the department and commissioner could regulate virtual currency, to some extent, under current state law," Tom Dresslar, a spokesperson for the California Business Oversight Department, told BusinessWeek. "Consumers would be the prime concern of any regulatory structure we build - making sure they are fully aware of the risks associated with virtual currency and providing effective, reasonable safeguards against those risks." pymnts.com

Survey: Omnichannel boosts customer expectations Omnichannel retailing is increasing the reach companies have to their customers, but the strategy is also increasing customer expectations. According to a survey of marketing decision-makers in omnichannel consumer products organizations from SAP, 86% of respondents agree that omnichannel has meant that customer and consumer expectations of the organization have increased. Eighty-six percent also agree that the benefits of investing in an omnichannel approach to consumer sales clearly outweigh the challenges. As a result of having a multi-channel strategy to sales, most companies say that their organization has experienced increased sales (74%), increased consumer loyalty/acquisition (64%), competitive advantage (62%) and better consumer experience (57%). Just 16% of businesses say that they are currently meeting all business and analysis needs for consumer experience via omnichannel. retailingtoday.com
"Fraud is not a person - it is a dynamic grouping of statistics that deviate from the norm."
Stuart B. Levine, CFI, CFCI
CEO, The Zellman Group & Zellman Fraudnet


ORC News
Sponsored by Security Resources
ORC duo - hitting stores in Bellevue, Wash.
A couple pretending to shop recently ripped off Ulta Beauty in Factoria Mall. All told, she and the man with her in a Seahawks beanie stole $2,195 worth of goods. Organized retail theft is a huge problem in the Puget Sound and it raises prices for everyone else. So we'd like to get these suspect's identified and arrested," said Officer Tyler. Both are in their early 20's. The woman is possibly Native American. If you can tell Bellevue Police the names of either of the suspects. q13fox.com
ORC male duo busted in U-Haul truck filled with merchandise in Upper Merion, PA UMPD units responded for a suspicious U-Haul truck. A male came in asked for salt and the nearest hospital. When the man got back in the truck it looked like he punched someone. The truck was stopped at Goddard Blvd. and North Gulph Road. It was learned that the subjects had numerous ID's and were going to Toys R Us, Home Depot and Wal-Mart to return items without receipts to get gift cards in exchange. Two subjects were arrested with one being wanted by Gloucester County, N.J. for failure to appear on retail theft charges. mainlinemedianews.com

ORC twin-brothers in court today in Madison, Wis. Former Badger football player and his twin brother are due in Dane County Circuit Court Tuesday. Both Jack and William Ikegwuonu have preliminary hearings scheduled. In this case filed by the state, the brothers are charged with retail theft for stealing from Wal-Mart stores throughout September. Jack faces three counts, including two misdemeanors and a felony. William faces four counts, three misdemeanors and a felony. The Ikegwuonus are also charged federally in the robbery of the Klinke Cleaners on North Gammon Road in Middleton in November. Police say some of the money stolen was used by buy heroin. wkow.com

Suffolk woman sentenced to 5 yrs prison for $99,000 credit card fraud hitting department stores Dana J. Boente says 56-year-old Sheila Clark Lewis also must pay more than $99,000 in restitution. According to court records, Lewis acquired about 200 patients' identity information and used it to make fraudulent credit card purchases at department stores between November 2012 and September 2013. The information was obtained from co-defendant Shavika Thompson's employer, a telephone answering and messaging service that catered to medical service practices and doctors. wric.com

Cumming, GA Walmart theft arrests 'only a matter of time'; Suspects shoplifted nearly $5K in merchandise Although two men suspected of shoplifting nearly $5,000 worth of merchandise from the Cumming Walmart remain at large, authorities say they have identified - and will eventually catch - them both. It also appears the men may have been planning similar crimes at area Walmarts. Doug Rainwater, a spokesman for the Forsyth County Sheriff's Office, said neither suspect lives in the county, nor are they thought to still be within its limits. "We know who they are," Rainwater said. "The warrants are out, so it's only a matter of time." According to a Cumming police report, three men fled the store at 1500 Market Place Boulevard in a car loaded with electronics, clothes and other items, some retailed at hundreds of dollars each, about midnight Dec. 3. Sheriff's deputies were alerted and pursued the vehicle. The male driver was apprehended but the other two suspects ran away after the vehicle stopped. forsythenews.com
Several Arrested in Wal-Mart Theft Ring Bust in Perry Co, IN A big theft ring busted in Perry County, Indiana. Several people in custody, and it may just be the beginning. Police say the operation was unraveled at the Wal-Mart on Highway 66 in Tell City. Workers called 911 when suspects were caught allegedly stealing cart loads of merchandise worth more than $2,000. Police make seven arrests in the Tell City and Cannelton area. Charges range from theft to conspiracy to commit theft. Police believe items were stolen from Wal-Mart then resold. Tell City Police expect more charges and more stolen property to be recovered. tristatehomepage.com

Organized Retail Crime on the rise in the Puget Sound area of Washington Take a look around you the next time you are in a store packed with people this holiday season. One or two of those might be a member of an organized theft retail ring, police say. "We get a lot of thefts at stores from the mall or other locations during the holidays just because there's so many people walking around that these thieves can blend in with other shoppers and they're harder to spot," said Officer Seth Tyler with Bellevue Police. A couple pretending to shop recently ripped off Ulta Beauty in Factoria Mall. "You can watch her in the store actually taking the cosmetics off the shelves, looking around to make sure no one is watching and then putting them in the bag," said Tyler. All told, she and the man with her in a Seahawks beanie stole $2,195 worth of goods. "That brings this from a 3rd degree theft to a 2nd degree theft which is a more serious crime," said Officer Tyler. As the two suspects left the store, they set off the security alarm and a clerk ran after them. The two got away though. "Organized retail theft is a huge problem in the Puget Sound and it raises prices for everyone else. So we'd like to get these suspect's identified and arrested," said Officer Tyler. Both are in their early 20's. The woman is possibly Native American. local8now.com

UK: Gang of thieves steal $1,400 of scented candles A gang of thieves escaped with more than $1,400 worth of scented candles after calmly strolling around Malmesbury Garden Centre loading them into bags and a rucksack. One member of staff chased the raiders from the premises before climbing into his car and scouring the area in a spirited though unsuccessful bid to find them. swindonadvertiser.co.uk

Male ORC Trio hit Victoria's Secret in North Gulph Road in Upper Merion, PA for entire display of underwear Dec. 3rd

Victoria's Secret in Dekalb Pike hit for $1,350 in panties

Rockingham, NC Police arrest suspect of felony theft charges at Walmart
Do you have an ORC case to share?
Share your ORC news and help the industry grow

Retail Crime News

Sponsored by NuTech National
Cargo thief gets 21 yrs & 10 months prison for $1.3M - 14-years of stealing commercial trucks & cargo in Kansas City Forty-three-year-old Kenneth Borders of Kansas City received the punishment on Monday. He was also ordered to pay nearly $1.3 million in restitution to 27 victims. Borders and two other men in February were convicted of stealing trucks and trailers in Missouri, Kansas, Florida, Arkansas, Oklahoma and Nebraska since 1998. The men stole $125,000 worth of frozen ribs, nearly $60,000 in chicken wings and about 21,000 pounds of Little Sizzler sausages. Authorities say they sold the items cheaply to anyone who would buy it, sometimes out of the back of the trailer. kctv5.com

Jewel thieves make off with $500K in sparkly spoils - It was "Ocean's Eleven" meets "Fargo" Thieves allegedly tailed a van of jewelers 350 miles from a Chicago trade show - then nabbed them at an interstate rest stop near Rochester and escaped with at least $500,000 in jewels. It was "Ocean's Eleven" meets "Fargo." Authorities are still searching for the suspects, who abandoned their own van a mile up the interstate. "It happened pretty quick," said Capt. Scott Behrns of the Olmsted County Sheriff's Office. "We're talking 90 seconds and this deal was done." He said authorities responded to a disturbance at the Marion rest stop on I-90 just after midnight on Monday. Behrns said a man there told police that he and six employees had been traveling back from a jewelry trade show in Chicago when they pulled into the rest stop so that five could go inside and use the bathroom. The other two in the group stayed in the van, according to Behrns. A yellow and orange van sped up next to them and four men dressed in black jumped out, smashed the victims' windows and grabbed several suitcases filled with jewelry and loose diamonds, Behrns said. Witnesses didn't report seeing any weapons. There are organized groups that definitely target the jewelry industry and this is an example," Cumicek said. "... They target jewelry trade shows because they're advertised, they know there's value, they know there's people in the industry. It's certainly not uncommon. startribune.com
HSI seizes more than $1.6 million in counterfeit goods from Detroit retailer U.S. Immigration and Customs Enforcement's (ICE) Homeland Security Investigations (HSI) seized more than 6,000 counterfeit items with a manufacturer's suggested retail price of $1.6 million from a Detroit business Thursday. The seized items included counterfeit designer clothing and luxury accessories. ice.gov
Authorities Raid Spokane Vending Operation Tied To EBT Scam Police and state welfare officials raided the office of a Washington State vending operation accused of buying discounted black market EBT cards used to purchase snacks for machine stocks. According to local press reports, authorities raided the offices of Video Plus/Keystone Vending (Spokane, WA) to gather evidence of the alleged scam. The allegations against the couple, Kathleen A. Hagy, 68, and Charles A. Hagy, 71, charge that they purchased EBT cards in order to purchase inventory for their company's machines. vendingtimes.com

Pharmacist in Cheyenne, WY Shoots Robbery Suspect Who Waved Toy Gun The Cheyenne Police Department continues to investigate a robbery that occurred at Medicap Pharmacy at 1947 Bluegrass Circle on December 6 at 9:47 a.m. Nathan Mundt, 30, of Cheyenne, was shot while he allegedly used a gun to rob the pharmacy. Mundt entered the pharmacy wearing a black face mask, pointed a black handgun at employees, and demanded Percocet and Oxycodone. Pharmacist Jackson Quick, 42, of Cheyenne, shot Mundt one time in the chest with a Taurus Judge revolver. The gun Mundt was brandishing was later found to be an airsoft pistol with the orange tip taken off. kgwn.tv

Saskatoon Police arrest 2, three wanted in credit card fraud scheme Saskatoon police have arrested two men accused of running a card-skimming scheme across the Prairies, and are searching for three other suspects. Fraudsters had been stealing customers' credit card information by "skimming it" during otherwise legitimate transactions at several locations in Alberta, Saskatchewan, and Manitoba as far back as July, according to police. Video surveillance allowed police to identify four people from Saskatoon who were possibly involved in the scheme. Last week, police with a warrant searched an apartment on the 600 block of Confederation Drive, and found several things they believed were fraudulently obtained. They also found ammunition and two improperly stored guns. thestarphoenix.com

Crime spree at retailers in Kansas City area has shoppers concerned Crimes at three different shopping areas this weekend have some concerned about their safety when they shop. On Sunday, a man shot a woman to death in a Lowe's parking lot on State Ave. in Kansas City, Kan. Olathe police also had to lock down the Hen House at 153rd for six hours on Sunday while they searched unsuccessfully for an armed robber. A third incident occurred in front of shoppers at Independence Center, a shopping mall busy in the middle of the holiday season. Police pulled their weapons when two shoplifters ran into several cars in an attempt to get away from police. Shoppers also remember, in 2010, a gunman opened fire in Independence Center and injured two people. Some said those incidents may make them think twice about where they shop. But in reality, police told 41 Action News crime is very low at Independence Center. At a police substation, off duty officers and cameras all help keep the shopping mall relatively quiet. Still, a mall knows that a shopper's perception is a retailer's reality, and that can hurt the bottom line. Kansas City police said Ward Parkway Mall also has little crime. Detectives said it had little crime back in 2007 when a gunman went on a shooting rampage and killed two people. Still, the mall remained empty and shoppers thought it had high crime rates stayed away. RED Development bought the property soon after and had to convince businesses that high crime was just a perception, not a reality. kshb.com
Simple shoplifting arrest in an Albuquerque, NM mall leads to gang member with a loaded handgun A man accused of stealing a hat at an Albuquerque store could be looking at years behind bars after the simple shoplifting case escalated. Donovan Bookout was checking out the merchandise at a hat store in Coronado Mall when a store employee said an LA Kings hat went missing. The store called police and officers arrived as Bookout was leaving. When they asked him to stop, police said he started yelling, cursing and screaming loudly. When police caught up to him and put Bookout's hands behind his back, they felt a gun. "We found a loaded handgun on his person with a full magazine," Officer Simon Drobik said. koat.com

Police searching for suspects in 4 Pharmacy Armed Robberies in Spokane and Coeur d'Alene, Washington In the past month there have been four pharmacy robberies - three in Spokane, one in Coeur d'Alene - and without any arrests for those robberies yet, law enforcement wonders if it might be the same person. Last Thursday, at a Shopko in Coeur d'Alene, where a masked man jumped over the counter, rummaged around and took off with drugs. On Sunday, the Spokane County Sheriff's Office said that around 4 p.m. a masked man walked up to the Shopko pharmacy counter in Spokane Valley and also demanded drugs. "It's reported that he had a tire iron or crowbar type weapon with him," Spokane County Sheriff's Deputy Mark Gregory said. kxly.com

Phony designer watches, sunglasses lead to Sacramento sting An undercover operation in Sacramento involving counterfeit goods has resulted in the arrest of a Los Angeles man and the confiscation of $300,000 worth of phony Gucci, Dior, Prada and other high-end branded sunglasses. The confiscation was one of the largest seizures in the state in the last few years of counterfeit merchandise. Armando Robledo, 34, was arrested in Los Angeles Nov. 21 on five counts of suspicion of counterfeiting. He has been ordered to appear in a Sacramento County court later in December. His arrest began with a private investigation company specializing in the theft of intellectual property contacting the state's Tax Recovery and Criminal Enforcement (TraCe) task force. He was suspected of selling thousands of watches with brand names such as Rolex, Breitling and Chanel. sacbee.com

Walmart employee accused of stealing $10K in gift cards, cash in Nashville

EZ Pawn shop smash & grab hit in Southwest Side Chicago

Smash & Grab thieves take half of Red Bull's F1 trophies from team's factory

Man sentenced 1 yr for selling cloned credit cards on Facebook

Fired Dysarts Travel Shop Employee Admits to Armed Robbery of Newburgh, NY Store

Men follow Madeira, OH shopper home, steal $14000 in merchandise

Thief steals $10k in guitars from Portland shop: 'It's been a nightmare

Meijer Shoplifting attempt in Holland Twp. MI becomes Armed Robbery

Round Rock, TX Hospital employee caught on camera using stolen credit cards

Police Investigate 9-Year-Old for Alleged Credit Card Theft


Robberies and Burglaries
● AT&T - Knoxville, TN - Armed Robbery
● Brentwood Pharmacy - Corbin, KY - Burglary
● Bronze Point Tanning - Penn Twp, PA - Burglary
● Country Corner - Yavapai Co, MI - Burglary
● CVS - Greenfield, MA - Theft -$500 of Oral B toothbrushes
● Dollar General - Richland Co, SC - Armed Robbery
● Downtown Grocery - Meadville, PA - Armed Robbery
● Food Basics - Paterson, NJ - Armed Robbery
● Mac's - Saanich, CN - Armed Robbery
● Midway Grocery - Wardell, VA - Armed Robbery
● Shell - Chicago, IL - Armed Robbery
● T-Mobile - Las Cruces, NM - Burglary
● Walgreens - Burley, ID - Armed Robbery
● Walgreen - Winston-Salem, NC - Armed Robbery



Vendor Spotlight



The Vector Security Home Security Blog Celebrates Its First Year and 100th Post
PITTSBURGH, PA - December 9, 2014 - Vector Security, a leading provider of home security systems and home automation offerings announces the one year anniversary of its home security blog. The Intelligent Home Security Blog offers insight into home security solutions, as well as a look at residential security trends, products and news. Over the past year, the blog has focused content on: tips for security and safety; home emergency preparedness; and smart home automation solutions.

During the month of December, the Company will post its 100th blog article. The Intelligent Home Security Blog can be viewed at www.vectorsecurity.com/blog

"We launched our blog to provide a resource for homeowners to find tips, research and information on home security and home automation," said Art Miller, VP of Marketing for Vector Security. "Our main goal has been to create a resource homeowners can reference for insights into evolving home security technologies and smart home offerings, as they make decisions related to protecting and automating their homes."

The Intelligent Home Security Blog is read by thousands of subscribers each week and blog articles have been shared thousands of times across social media. In addition to individual blog articles, the site also hosts eBooks on topics like "Smart Homes: The Basic of Home Automation" and "Mobile Home Security: A Starter Guide."

About Vector Security
For more than 40 years, Vector Security, Inc. (http://www.vectorsecurity.com) has been a premier provider of intelligent security solutions tailored to the needs of the customer. Headquartered in Pittsburgh, the company offers a full suite of electronic security services for residential, business and national account customers across North America and the Caribbean through a network of branches and authorized dealers. Vector Security is a sister company of the Philadelphia Contributionship, a mutual insurance company founded in 1752, and currently provides costeffective, technology-based security solutions to nearly 300,000 homes and businesses.

Featured Job Listings
Sponsored by Cam Connections
Feature Your Job Here For 30 Days -
70% Aren't On the Boards
VP of Sales
Checkview
Chanhassen, MN
Checkview
Sr. Director, Field LP
Ross Stores
Dublin, CA
Ross Stores
Director of LP
Tourneau
New York, NY
LinkedIn
Sr. Mgr, Internal Investigations & ORC
Rite Aid
Philadelphia, PA
Rite Aid
LP Manager
Disney
Anaheim, CA
Disney
Market AP Specialist
REI
Bay Area, CA
REI
National Account Executive
Checkview
Northeast Region
Checkview
National Account Executive
Checkview
United States
Checkview
Corporate Investigator
Confidential
San Francisco Bay, CA
Confidential
National Account Manager
Vector Security, Inc
TBD
Vector Security, Inc
Supervisor LP DC
Ascena Retail Group
Greencastle, IN
Ascena Retail Group
AP Agent
Ralph Lauren
Sunrise, FL
Ralph Lauren
LP Agent
JONS Markets
Los Angeles, CA
JONS Markets
National Account Mgr
Confidential
Northeast
Downing & Downing

Limited Time Only - Post Your Multi-Unit LP jobs for FREE - Learn More Here

Daily Job Alerts


Sponsored by Cam Connections
Appearing One Day Only
View our Internet Jobs Archives here
LP Manager Hrly
Kmart
Mantua, NJ
Sears Holdings Corp
LP Manager Hrly
Sears
Brooklyn, NY
Sears Holdings Corp
Multi Unit LP Manager
Sears
Mesa, AZ
Sears Holdings Corp
LP Manager Hrly
Kmart
North Versailles, PA
Sears Holdings Corp
AP Manager in Training
Walmart
Ephrata, PA
Wal-Mart
AP Manager in Training
Walmart
Jennings, LA
Wal-Mart
AP Manager in Training
Walmart
Skokie, IL
Wal-Mart
AP Manager in Training
Walmart
Woodville, TX
Wal-Mart
AP Manager in Training
Walmart
Nacogdoches, TX
Wal-Mart
AP Manager in Training
Walmart
Beatrice, NE
Wal-Mart
AP Manager in Training
Walmart
North Highlands, CA
Wal-Mart
AP Manager in Training
Walmart
Kennewick, WA
Wal-Mart
AP Manager in Training
Walmart
West Hills, CA
Wal-Mart
AP Manager in Training
Walmart
San Leandro, CA
Wal-Mart
AP Manager
Sam's Club
Buford, GA
Wal-Mart
Dept Mgr LP & Safety
Lowe's
Thibodaux, LA
Lowe's
Dept Mgr LP & Safety
Lowe's
Orangeburg, NY
Lowe's
AP Manager
Lord and Taylor
Skokie, IL
Lord and Taylor
Asst. LP Supervisor
Macy's
Pittsburgh, PA
Macy's
LP Manager
Macy's
Woodbridge, NJ
Macy's
Asst. LP Supervisor
Macy's
Syracuse, NY
Macy's



Home of the Industry's Original
On the Move

Ken Gladney, CFI was named Director of Security for Taco Bueno Restaurants.
Matt Dowling was named Assets Protection District Manager for Rite Aid.
Post Your New Job or Promotion!
See all the Industry Movement


Your Career
Sponsor this section of the Daily
The Career Hazard You Never Expected: Your Email With emails and work available at our fingertips, it's no wonder that whenever our phones go off we're ready to respond. This "telepressure" and need to feel like we always have to be connected to our work isn't good for our bodies. Here are some tips to keep it from getting you. Set a time

Align Your Time Management With Your Goals At the end of a busy day you may find yourself wondering where the time went? What goals did you accomplish? This excerpt from the book Getting Work Done helps with prioritizing your work and looking at how you actually use your time. List your goals

How to Tell if You've Made a Good Decision
It's not like you get a notification on your phone or some sort of sign to tell when a decision you've made is good or not. So many things go through our heads when we are faced with different options it's hard to tell right away when the choice we made is a good one. Here is some advice to help you out. Look at results

11 Ways to Avoid Distractions and Stay Focused As many hours as there are in one day, there are probably just as many interruptions and distractions to take our attention away from our goals. What can you do to stay focused on your work? Here are some suggestions you should use! Turn off the phone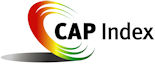 Tip of the Day
Sponsored by Vector Security
Managing your career upwards is also about simply managing your boss so to speak. While everything out there talks about managing direct reports, managing your relationships, managing your time, and managing your job, you've also got to be aware of the fact that you need to manage your boss as well. As a matter of fact, managing your boss may be the most critical part of managing your career upwards and most don't approach it that way. That being said, one must be careful here because most bosses don't want to be managed.

Just a Thought,
Gus







Upcoming Events
---
Recruiting?
Get your job e-mailed to everyone... everyday
Post on our Featured Jobs Board!
Reach your target audience in 2015 every day!
Request our 2015 Media Kit
update account / change e-mail
unsubscribe FEEDBACK
www.downing-downing.com

Advertise With The D&D Daily




36615 Vine Street, Suite 103
Willoughby, OH 44094
440.942.0671
copyright 2009-2019
all rights reserved globally