The D&D Daily Mobile Edition
December 10,

2015



The LP Industry's #1 News Source - Informing, Educating and Instilling a sense of community



Moving Up
Sponsored by Stanley Security
See all "Moving Ups" Here
Jared Hammans, CFI was promoted to Director of Corporate Risk Manager from Loss Prevention and Safety Manager for Goodwill Industries of Kansas. Congratulations Jared!

News Brief
Sponsored by WG Security Products, Inc.
San Bernardino, CA: Enrique Marquez, who bought rifles used in San Bernardino attack, worked in retail Loss Prevention
The ties between San Bernardino mass shooter Syed Rizwan Farook and his shy, younger neighbor ran deep long before last week's massacre at the Inland Regional Center. Enrique Marquez spent countless hours next door tinkering on old cars in the driveway of Farook's Riverside home. Marquez converted to Islam, Farook's religion, and made trips to pray in a local mosque. He married a member of Farook's extended family, a Russian emigre. And ultimately, federal authorities say, Marquez bought the two assault-style rifles Farook and his wife, Tashfeen Malik, used in the worst terror attack on U.S. soil since Sept. 11, 2001. Marquez, described by several neighbors as a good friend of Farook, bought the two .223-caliber rifles legally, according to the US Bureau of Alcohol, Tobacco, Firearms and Explosives. Employees at a Walmart in Corona, Calif., 20 minutes by car from Riverside, said Marquez has been working there as an asset protection and customer specialist for about six months. He was last seen there on Nov. 29, they said. Marquez, who had checked himself into a psychiatric facility after the shooting, was questioned by the feds after they raided his home in Riverside on Saturday. He has not been charged. nypost.com

Naples, FL: Mercato Mall to hold 'active shooter situation' training
Letters went out to employees Wednesday asking anyone and everyone to come to free training sessions. The Collier County Sheriff's Office will be teaching clerks, bartenders, and anyone who wants to learn how to respond in an active shooter situation. abc-7.com
Study Says America Lost 400,000 Jobs Because of Walmart's Imports between 2001 and 2013
The Economic Policy Institute recently published a study estimating how many jobs Walmart has effectively eliminated or displaced as a result of its contribution to the U.S. trade deficit with China. The study states that between 2001 and 2013, the inflated deficit eliminated or displaced 3.2 million U.S. jobs. As the world's largest retailer, it seems to follow that U.S.-based Walmart would be a key contributor to the climbing deficit and subsequent job losses. The EPI estimates that the retailer's Chinese imports account for 15.3% of trade deficit growth in that time period. The study states that, in total, the U.S. trade deficit resulted in a net job loss of nearly 1 million in 2001; that number rose to over 4 million by 2013. It estimates Walmart alone contributed to over 400,000 job losses over those 12 years, and speculates that about 75% of those were manufacturing jobs which offer better pay and benefits than other affected industries, particularly for workers who lack a college education.

Walmart announced in 2013 its plans to increase sourcing of U.S.-made products by $50 billion in the following 10 years, the New York Times reports. The EPI's study denounces that program claiming that 100 jobs are displaced by the company for every one job created. The EPI utilized information from a 2007 report to construct these estimates and, since the breakdown of a company's imports aren't publicly released, it relied on guesswork.

A spokesperson for the company criticized the study: "We are very proud of our U.S. manufacturing initiative and the results speak for themselves. By investing in products that support American jobs, we are able to bring new products to our shelves while bringing new jobs to local communities in Ohio, Tennessee, California, and many others. Unfortunately, this is an old report with flawed economic analysis that assumed that imports equal job losses and does not take into consideration that countless jobs are added through the global supply chain, distribution and logistics, among other areas of business." fortune.com nytimes.com

Anti-shoplifting program making a difference in Port St. Lucie, FL - Wal-Mart LP, Police show teens surveillance footage
At the beginning of 2015, Stacy Paton, Port St. Lucie Police Department's crime prevention specialist, knew something needed to be done. Every year since 2009 juvenile shoplifting had been on the rise. At that time, she said shoplifting accounted for 22 percent of juvenile crime. By 2014, the percentage of shoplifting cases had risen to 52 percent of all juvenile crimes in the Juvenile Restorative Justice Initiative program. The police department's solution was to educate Port St. Lucie teens, so Paton said they created STOPlifting, an education presentation that has evolved since it was started in February. The program's goal is to provide children with information about the consequences of committing retail theft. Initially, the Port St. Lucie Police Department planned to visit only ninth-grade students, but after the first presentation, the target audience was expanded to students in the fifth through ninth grades. The target age was expanded because the first visit was eye-opening, Paton said. It all changed the moment she made one request: Raise your hand if you know someone who has shoplifted. Roughly 90 percent of the students raised their hands.

A partnership with Wal-Mart's loss prevention department has allowed the police to show pre-teens and teens how clear surveillance footage is and how often stores are watching. While viewing the footage, one can even read a text message on someone's phone, Paton said, adding that the technology is amazing. So far, the work seems to have paid off because juvenile retail theft is declining in Port St. Lucie. In February, there were 20 retail theft cases, but that number dropped to six in August and remained that low in September and October. That number represents the lowest the juvenile retail theft caseload has been in 18 months. palmbeachpost.com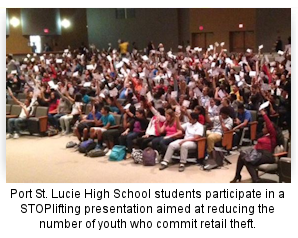 Axis Introduces Two New Bullet-Style HDTV Network Cameras for Difficult Light Conditions
Axis Communications, the global leader in network video surveillance, introduces two new bullet-style HDTV network cameras for day and night 24/7 video surveillance. AXIS P1435-E and AXIS P1435-LE feature Axis' Zipstream technology that lowers bandwidth and storage requirements by an average of 50 percent or more compared to standard H.264 compression. Lightfinder technology enables AXIS P1435-E and AXIS P1435-LE to capture color video even in very low-light conditions. Wide Dynamic Range (WDR) - Forensic Capture technology allows the cameras to handle complex scenes with high contrast. businesswire.com

NACS Releases Skimming and Payments Security Resource
NACS and Conexxus have jointly developed and published an online resource to offer context and tips to mitigate the risk of skimming at stores. The online resource, Skimming and Payments Security, provides resources and best practices for retailers to review to reduce the likelihood of skimming at their stores. "We developed these resources for retailers and the general public, to both offer helpful tips for how to spot a skimmer and to put the issues related to payments security in context," said Jeff Lenard, NACS vice president of strategic industry initiatives. "These resources also help clarify how potential skimming at the gas pump is just one of many potential concerns related to payment security across all retail channels." nacsonline.com

Black Market Wholesale Drug Distributor Charged in $100M Fraud Scheme
From early 2010, when Crowell established his business, to at least July 2012, he ran a licensed wholesale distributor based in southwest Utah and bought drugs at a fraction of their original price before selling them as new to pharmacies all over the country, the DOJ said.

Rather than buying medication from manufacturers or legitimate authorized distributors at full price, scheme participants targeted the cheapest possible source of supply -- Medicaid patients and other people who received monthly prescriptions for little or no costs and who were willing to sell them rather than take them. These people sold their medications to so-called "collectors" who worked on street corners and in stores and paid as little as $40 to $50 in cash for each bottle, the DOJ said.

The collectors then sold the secondhand drugs to people who then sold them to those with direct access to legitimate distribution channels, including corrupt wholesale companies like Crowell's business, the DOJ said. These wholesalers then sold them as new to pharmacies, potentially the same locations that initially dispensed them at full price. law360.com

Nike Ends Short-Lived Non-Compete Row Over
Ex-Designer's Move to Ralph Lauren
The company didn't disclose the terms of the deal, but a docket entry on Wednesday showed the dispute had been resolved and a future hearing had been canceled. law360.com

Dick's To Pay Up To $10M To End Asst. Managers' OT Suits
The parties said in a memorandum supporting their joint motion for approval of the deal that it would provide a fair recovery for about 2,200 assistant managers who Dick's allegedly misclassified as exempt from overtime, as well as proposed classes who alleged violations of state wage and hour laws in Pennsylvania, Illinois and New York. law360.com

Bed Bath, Nordstrom, others settle US false labeling charges
Four U.S. retailers agreed to pay $1.3 million of fines to settle U.S. civil charges that they deceived consumers by falsely labeling and advertising textile products as containing bamboo, when they were actually made from rayon. Bed Bath & Beyond Inc will pay $500,000, Nordstrom Inc will pay $360,000, J.C. Penney Co will pay $290,000 and outdoor gear maker Backcountry.com LLC will pay $150,000 to settle, the Federal Trade Commission said on Wednesday. None of the retailers admitted wrongdoing. aol.com

Home Depot CEO Touts U.S., Digital Growth Opportunities
The Home Depot will not pursue international expansion or new acquisitions as part of its efforts to reach $101 billion in sales by 2018, Chief Executive Craig Menear said Tuesday at the company's 2015 Investor and Analyst Conference. Instead, Home Depot will focus its efforts on North America and a renewed emphasis on the online marketplace. Menear says Home Depot is the top home improvement retailer in Canada and Mexico, in addition to the $80 billion it has generated in U.S. sales. The retailer estimates it has a 15% market share of a $550 billion U.S.-based home improvement industry. We believe we have a greater opportunity to grow sales in North America," Menear said. Aside from the $101 billion sales target, the retailer targeted a compounded annual sales growth rate of 4.7%, an operating margin of about 14.5% and a return on invested capital of about 35% by fiscal year 2018. In addition, Home Depot reaffirmed guidance for its 2015 fiscal year, with sales projected to increase by 5.7% and earnings per share set to increase 14% to $5.36. foxbusiness.com

Worker dies after fall at Kroger distribution center
A man fell to his death at a Kroger distribution center in Forest Park on Tuesday, police said. The incident happened just before 6 p.m. a distribution center located at 2000 Anvil Block Road. According to the Forest Park Police Department, 27-year-old Leonardo DeJesus, a contract employee, was working in an area of the warehouse under construction. He fell while using a platform lift. The Forest Park Police Department and the Occupational Safety and Health Administration are investigating the death. oshatoday.com

String of New Projects, Rising Rents Fuel Retail Developers' Optimism
The holiday shopping season may be hit-and-miss so far, but real estate executives are bullish about 2016 and beyond. From Manhattan to Mexico City and elsewhere, developers are plotting projects and seeing demand in ways they haven't seen in some time. Property owners are feeling positive enough to expand existing projects with a focus mainly on urban markets. The Prudential Center in Boston is building a new 17-floor tower at 888 Boylston Street, with retail at the base, while the Mall of America in Bloomington, Minn., plans to create a luxury wing called The Collection. Joseph Chetrit, the real estate mogul who paid $1.1 billion for the Sony building at 550 Madison Avenue, is planning to convert all or part of the trophy tower to luxury condominiums with new retail space at the base.

Big-box retailers have been trying to squeeze into downtown urban areas with smaller boxes. Target's 35,000-square-foot prototype is being used to fill in the area between two full-size Target units. Petco has a new smaller concept called Unleashed and Kohl's is introducing a 35,000-square-foot store for different types of trade areas and a 25,000-square-foot to 35,000-square-foot Off-Aisle off-price store design. Besides the 14 or so gateway cities that most retailers target, Buono said there's a deep list of secondary markets that are quite viable. "Detroit, Pittsburgh, Cleveland, Oahu, the Bishop Arts District in Dallas, are some of the cities," he said. "There's a whole revolution going on there in retail." wwd.com

DEA to conduct pharmacy diversion awareness conference in Pittsburgh; open to Loss Prevention
DEA will host a Prescription Drug Awareness Conference (PDAC) in Pittsburgh as part of the agency's ongoing 360 Strategy to address prescription opioid and heroin abuse in Western Pennsylvania. The PDAC is designed to assist pharmacy personnel in identifying and preventing diversion activity. The PDAC is a free training offered to pharmacists, pharmacy technicians, and loss prevention personnel employed by pharmacies, hospitals, and clinics that are registered with DEA in the state of Pennsylvania. The 1-day training, which will be offered on December 10th and December 11th, will be held at the Pittsburgh Marriott City Center from 8:30 a.m. to 5:00 p.m. pharmacist.com

Pep Boys snubs Bridgestone offer for Carl Icahn

"I'm deeply sorry": Chipotle CEO apologizes on national TV for E. coli outbreak

Retail exec bringing upscale vibe to Apple stores

Douglas Tompkins, 72, North Face Founder, Dies in Kayaking Accident


Quarterly Same Store Sales Results
Men's Wearhouse Q3 comp's up 5.3% - down 14.6% at Jos. A. Bank - net sales down 2.8%
Francesca's Q3 comp's up 4% with net sales up 19%
Ollie's Bargain Outlet Q3 comp's up 3.2% with sales up 16.4%
Ingles Markets Q4 comp's up 3.1% with net sales up 2.8%
Vera Bradley Q3 comp's down 9.5% with total sales up 7.9%
All the News - One Place - One Source - One Time
The D&D Daily respects your time
& doesn't filter retail's reality

Report Your News!
(content subject to approval)



Consumers Won't Shop with Breached Firms - Report
Almost two-thirds of global consumers won't shop with a brand that has suffered a data breach, with over half believing their personal details have a higher chance of being stolen during the Christmas shopping season, according to Gemalto.

The bad news for retailers with a poor handle on security is that they're likely to lose 64% of potential customers if they suffer a data breach where financial information is stolen. A slightly smaller number-49%-claimed they'd feel the same way if a breach exposed their personal information.

The current busy shopping season is a particularly nervous time for these shoppers-59% said they felt the threat to their personal information was greater in the run-up to Christmas, while 18% believe they'll actually become a breach victim during this period. Only a quarter said they thought companies take the protection of their data seriously.

In a wake-up call to companies that don't pay close enough attention to customer data security, around a quarter of respondents (23%) who have been the victim of a breach claimed they'd consider legal action against the company. infosecurity-magazine.com

Why Data Needs a Seat at the Corporate Table
Treating data as a critical asset, with a dual mandate to protect it and enhance its value, is one of the great organizational redesign opportunities at hand. To that end, a company should give one C-level executive the responsibility for sustaining a comprehensive information-governance program. The payoff from comprehensive data ownership at the C-level can be huge, and organizations won't become cyber-secure without it. Other benefits include lower compliance and litigation risk, stronger controls, reduced storage and other expenses, and higher return on data and information assets. cfo.com

The 6 Lawsuits All General Councils Face After A Data Breach
Consumer class actions are the most ubiquitous of post-breach litigation, but the plaintiffs in these suits still face an uphill climb to establish their standing to sue.

Financial Institutions: "The card-issuing banks usually didn't have any direct relationship to the retailer, so it was difficult for them to sue, and most of the time in the past, they haven't done so." "But I suppose Target involved enough money for them that it made it worthwhile to give it a shot." However the Target settlement will embolden banks to start regularly suing retailers for data breaches that exposed card information, particularly against smaller companies or in cases of smaller breaches. The recovery would probably be limited to the limits of the retailer's cyberinsurance policy.

Insurers: Most companies that handle personal and financial information have seen the writing on the wall and invested in cyberbreach insurance. However, it's not always clear what policies cover or require of the insureds. "There will certainly be litigation over what cybersecurity insurance really covers,"

Shareholders: Following a breach, companies face massive related costs, including litigation outlays. Some shareholders are starting to go after directors and officers for breaches of fiduciary duty - namely, failing to adequately protect sensitive data in a world where data thefts are commonplace, and mishandling the litigation and enforcement fallout from a breach.

Employees: If breaches expose employee information, companies may face suits from workers.

The Government: Both federal and state enforcement authorities may come knocking after a breach, depending on the nature of the breach, the information it compromised and the readiness and response of the company in question. The Federal Trade Commission also can sue companies for failing to live up to their stated security standards, a deceptive trade practice, or not providing adequate security - an unfair trade practice. law360.com

Wyndham Agrees to Settle FTC Breach Case
- Hotel Chain Must Maintain 'Comprehensive' Security Program for 20 Years
Wyndham Worldwide Corp. has agreed to a settlement with the Federal Trade Commission over charges stemming from the hotel chain's three security breaches in 2008 and 2009 that exposed 619,000 payment cards and other personal information (see FTC Sues Hotel Chain for Card Breaches).

No financial penalty is mentioned in the settlement. The agreement requires Wyndham to maintain a comprehensive security program designed to protect cardholder data and conduct annual security audits to ensure it maintains compliance with PCI Data Security Standard, according to a Dec. 9 FTC statement. If Wyndham suffers another data breach that affects more than 10,000 payment cards, it is required to have an assessment of the breach conducted and provide it to the FTC within 10 days. The company's obligations under the settlement extend 20 years. govinfosecurity.com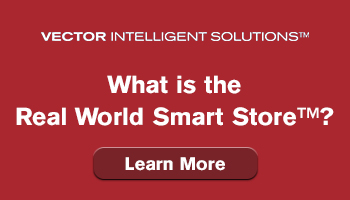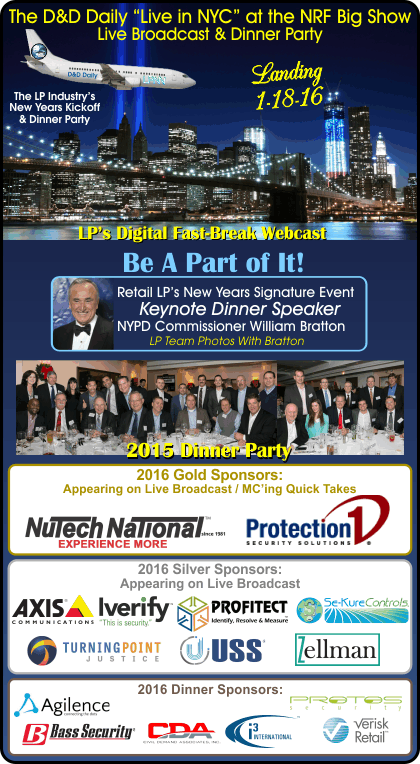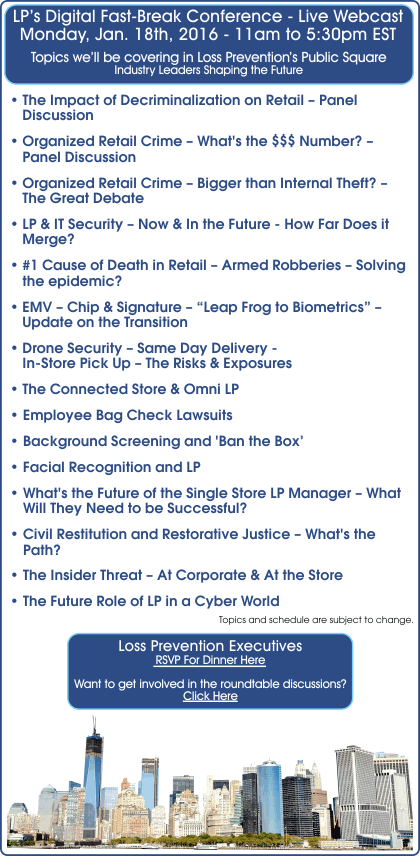 Press Releases


NeWave's Smart Shelf™ Wins CES® 2016 Innovation Awards Honoree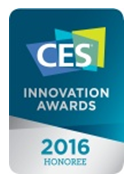 Plain City (Columbus), Ohio - December 8, 2015 - NeWave Sensor Solutions, LLC, in conjunction with Wistron NeWeb Corporation, is excited to announce their Smart Shelf RFID system was selected as a CES 2016 Innovation Award Honoree in the new "Unmanned Systems and Accessories" category. This award was also officially announced on the CES website on November 10, 2015.

The prestigious Innovation Awards are sponsored by the Consumer Technology Association (CTA), the producer of CES 2016, the global gathering place for all who thrive on the business of consumer technologies, and have been recognizing achievements in product design and engineering since 1976. The CES Innovation Awards is an annual competition honoring outstanding design and engineering in consumer technology products.

Entries are evaluated on their engineering, aesthetic and design qualities, intended use/function and user value, how the design and innovation of the product directly compares to other products in the marketplace and unique/novel features present. The CES Innovation Awards are based upon descriptive materials submitted to the judges.

NeWave's Smart Shelf system provides information on shelf item movement in seconds using its unique patented Wave® RFID antenna technology. In simple terms, when an item leaves the shelf, NeWave's Smart Shelf sees it even when it is not tagged. Based on criteria set by the retailer for low inventory limits, the Smart Shelf software signals an alert in real time that can be sent on-site to store managers, or remotely to merchandising and loss prevention personnel as well as suppliers The Smart Shelf can also trigger an audio alarm message and a video capture alert within the store. The system strives to make it easy to get real time in or out of stock shelf information available anytime to any authorized person or group.

The Smart Shelf is the first system/technology to provide on shelf merchandise availability without the need for tagging the products on the shelf, greatly lowering use costs. The award winning Smart Shelf will be showcased at the Wistron NeWeb Corporation (WNC) booth located in the LVCC South Hall #21000 during CES 2016 January 6–9, 2016 in Las Vegas.

About NeWave® Sensor Solutions:
NeWave Sensor Solutions is a leading provider of optimized solutions for today's most challenging item-level Radio Frequency Identification (RFID) problems. The company develops industry-standard RFID technology based on the patented Wave Antenna that sets a new standard for accuracy, versatility and efficiency. The Wave is the first and only antenna specifically designed to be used only for item-level RFID solutions. NeWave's core technology was developed by the world-class ElectroScience Laboratory (ESL) of The Ohio State University, a pioneer in RF research and development under the direction of NeWave's Chief Technical Officer (CTO), and is produced in partnership with Wistron NeWeb Corporation (WNC), the Taiwan-based global leader in antenna manufacturing. NeWave's management team leverages a strong technical and international business heritage in a variety of industries for accomplishing its mission of providing optimized solutions to today's greatest RFID challenges. For more information, please visit us at www.newaverfid.com. *NeWave®, Wave® and Smart Shelf are trademarks of NeWave Sensor Solutions, LLC Plain City (Columbus), Ohio USA

Spotlight on Cam Connections

The Perfect Answer to An Imperfect World

Cam Connections, Inc. a division of Protection 1 has been providing loss prevention solutions to regional and national retail organizations since our inception. CCI recognizes that your security needs are unique and require a personalized touch; security solutions which are carefully planned and executed, not forced. Our depth of experience with electronic security systems in retail loss prevention applications, makes us a solid choice to help you protect your business from loss.

We have experience in various systems including:

●
Analog and IP Video Surveillance Systems
●
Video Analytics
●
Intrusion and Fire Alarm Systems
●
Integration to Electronic Article Surveillance Systems
●
Access Control Systems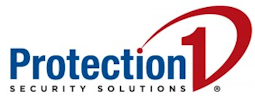 CCI is a custom systems provider, not a manufacturer. We are free to select the most appropriate products available in the marketplace and, thereby, we can offer you the highest quality security solutions that demonstrate exceptional value. We partner with each client in performing a comprehensive facilities, financial, human, and overall security risk assessment. Our team of dedicated professionals then design, install, and service electronic security systems that are custom tailored to fulfill each individual client's needs.

CAM CONNECTIONS, INC. a division of Protection 1
3970 S. Pipkin Road - Lakeland, FL 33811-1422
Tel. 863.583.3343 - Fax. 863.583.3349 - Toll Free. 888.544.1085
www.camconn.com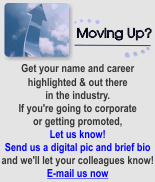 Turning Point Justice is a rapidly growing cloud technology company that provides collaborative solutions to retail theft that cultivate positive change through restorative justice. Lohra Miller, CEO, Turning Point Justice, tells us about the Cloud Justice Platform, which provides consistent, quality reporting based on retailers' individual policies and procedures, while Barbara Staib, Director of Communications, National Association for Shoplifting Prevention, tells us how the proactive approach of TPJ's Court Alternative Program is a win-win-win for retailers, their communities, and the offenders who are given the opportunity to change their lives.

---
As the solution provider portion of the Daily's "Live in NYC" 2015 broadcast concludes, Amber provides a rundown of what's to come in a jam-packed LPNN schedule full of leading loss prevention leaders speaking on a variety of high-impact topics. Stay tuned!
Solution Providers, have a video or commercial you want to publish? Contact us.


e-commerce

Sponsored by The Zellman Group
Merchants Spending Millions to Combat Card-Not-Present Fraud
According to The Impact of Fraud and Chargeback Management on Operations, merchants specializing in digital good spend an average of $10.1 million every year on fraud-related costs, and that's in addition to typical fraud costs, such as the loss of goods and chargeback fees. Nearly three in four merchants dealing in both digital and physical goods say fraud and chargebacks have a major financial impact, accounting for 13% to 20% of their operational budgets each year.

Much of the rise in fraud costs can be attributed to the increasing popularity of online shopping and digital goods, such as e-books and digital gift cards. These card-not-present (CNP) transactions require security that many existing platforms, built for point-of-sale transactions, aren't equipped to handle. As a result, card-not-present fraud and related costs are on the rise.

Many merchants are concerned that the United States' transition to EMV this year will make the problem worse. Digital goods merchants especially worry that the increased security at physical transaction points will encourage fraudsters to move to less-secure CNP channels. More than half of digital goods merchants (51%) expect fraud and chargeback costs to increase over the next 12 months.

The study suggests that outsourcing could help merchants combat the problem. Personnel costs represent more than 35% of fraud/chargeback spending for all merchants, but that's especially true for digital goods merchants. Merchants selling digital goods employ nearly five times the fraud personnel as physical goods merchants and nearly twice as many as hybrid merchants. Additionally, many merchants reported that finding qualified personnel for fraud and chargeback management is difficult. multichannelmerchant.com

Walmart launches Walmart Pay - Dropping an Atomic Bomb on Apple Pay Competitor CurrentC
Walmart, the largest retailer in the world, has just fired the biggest salvo in the mobile payment wars since last year's launch of Apple Pay. The Bentonville, Ark. giant announced it is starting to rollout Walmart Pay, a smartphone-based payment solution that will work with all credit cards, debit cards and Walmart gift cards at its own U.S. stores. Walmart Pay will run on both Android and iOS and should be available nationwide by the middle of next year.

But the big news, which Walmart neglected to mention in its press release, is that in dropping this midnight bomb just two weeks before Christmas, the retailer isn't targeting Apple Pay. Instead, it's essentially blowing up MCX, the Walmart-led consortium that was formed in 2012 and has been desperately trying to roll out an Apple Pay competitor called CurrentC. Walmart has essentially taken the technology behind MCX and rolled out a single-merchant version for its own stores. It works a little different than both Apple Pay and Google's equivalent Android Pay. With Walmart Pay, you open an app on your phone and scan a barcode on the register screen at checkout. That sends a signal to the register you will pay via the app and allows the backend system to send you an itemized receipt of your purchases to the smartphone. It also means payment is handled seamlessly by whatever credit or debit card you've linked to the app. The implementation is a bit clunkier in that you have to trigger the app and complete a scan. But the receipt functionality isn't yet available from Apple and is a nice addition. forbes.com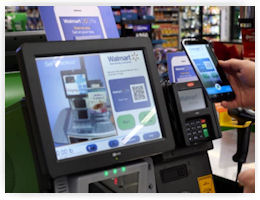 "Fraud is not a person - it is a dynamic grouping of statistics that deviate from the norm."
Stuart B. Levine, CFI, CFCI
CEO, The Zellman Group & Zelligent


ORC News
Sponsored by NEDAP
Twelve NJ suspects charged in ID fraud ring that stole $3M
A dozen people face first-degree money-laundering charges after they allegedly stole about $3 million from banks in an elaborate scheme involving fake identities, bad checks and hundreds of credit cards, state acting Attorney General John J. Hoffman said Wednesday. Many of those charged are from Secaucus or Jersey City, and all but one have been arrested, Hoffman said. The group allegedly created "synthetic" identities by combining real Social Security numbers with fake names and birth dates so they could open numerous checking and credit card accounts online. Authorities allege that through bad checks, the accused deposited money into the accounts, which they then used to pay off credit cards, increasing the cards' credit limits. They allegedly also withdrew the money from ATMs and via money orders before the bad checks were discovered. False "merchants" created shell businesses solely to participate in the scheme, Hoffman said. Those businesses swiped the fraudulent credit cards for nonexistent purchases, then received reimbursement from credit card processing companies. "While the credit card holders, businesses and purchases in this scheme were fictitious, the losses suffered by the banks were very real and totaled an alarming $3 million," Hoffman said. The scam was active from 2012 to 2015 and involved hundreds of credit cards and millions of dollars in fake transactions, said state Division of Criminal Justice Director Elie Honig. northjersey.com
Upper East Side, NYC, NY: Husband & wife stole hospital patient info to pay for $300,000 High-end shopping spree
A former Manhattan hospital worker and his wife are charged with stealing the personal information of patients, and using it to fund orders for designer merchandise at luxury retailers. The employee, 30-year old Kyle Steed and his wife, 30-year old Krystle Steed, are named in a 193-count indictment. She allegedly made more than $300,000 in fraudulent purchases, and attempted to make more than $1 million in additional purchases at Saks Fifth Avenue. The two were indicted on charges of first-degree attempted grand larceny, second-degree grand larceny, and first-degree identity theft, among other charges. They allegedly used stolen information to take control of victims' bank accounts, and place fraudulent orders for hundreds of thousands of dollars' worth of merchandise. In at least one instance, a patient died at Lenox Hill Hospital only two hours before Krystle Steed took control of the patient's bank account and began making fraudulent charges, authorities say. abc7ny.com

4 New Yorkers busted trying to buy iPhones with fake ID's in Kansas City at AT&T store
Four New Yorkers, from the Bronx, are in the Johnson County Jail, charged with stealing people's identities in order to steal cellphones. The case started Friday and came to the attention of Overland Park's Organized Retail Crime Unit. Two of the suspects spoke no English and needed Spanish-speaking interpreters to explain the process. The investigation is ongoing. kmbc.com

Atlanta, GA: 8 sentenced for $600,000 Lenox Square Mall smash and grab Armed Robbery at Mayor's Jewelers
Eight members of a Detroit-based traveling robbery crew were sentenced to prison for their roles in the June 2013 smash-and-grab robbery of the Mayors Jewelry Store in Lenox Square Mall. In June 2013, the robbery crew planned to travel from Detroit to Atlanta to commit a "smash-and-grab" style robbery using sledgehammers at the Mayors Jewelry Store in Atlanta. Mayors has locations in several states that offer a wide selection of Rolex watches. The robbers' plan was to steal the watches and return to Detroit, where they could be sold to dishonest jewelry dealers through unreported cash transactions. The "fences" would then sell the stolen merchandise on the black market, including to buyers overseas. bizjournals.com

Cargo Theft: Mississauga, CN: 495 TVs, Trailer stolen from Mississauga truck lot on Sunday; Toronto Police found the empty trailer on Tuesday
Peel Regional Police are looking into the theft of 495 LG 55-inch TVs and a truck trailer from a commercial truck depot on Columbus Rd. in Mississauga. A suspect or suspects - police aren't sure how many are involved - managed to drive off with the load last Sunday. Toronto Police eventually found the empty trailer Tuesday. It seems whoever stole the shipment brought their own truck - Peel Regional Police say it appears none of the lot's trucks were missing after the thefts. The TVs are worth a total of $375,000. thestar.com

Boca Raton, FL: Macy's supervisor at Boca mall arrested in $30,000 fraud case
A supervisor at the Macy's store in Boca Raton faces 34 counts of fraud after being accused of defrauding the store of more than $30,000. Police arrested Lloyd Watson II, 30, at the store Tuesday. Investigators said that between June 22 and Dec. 3, Watson made 19 refunds and 14 price adjustments for "non-existent" purchases. The transactions added up to $30,450.33. Loss-prevention staff at the store at the Town Center mall, said an internal investigation revealed Watson had asked a co-worker to make a return, which went to his credit card. That credit card belonged to an "import-export" company partly owned by Watson. sun-sentinel.com

Genoa Twp, MI: Kohl' shoplifter pleads Guilty to $1,000 Organized Retail Theft and eluding
Marcus Lowell Hunter, 47, pleaded guilty Wednesday as charged to organized retail crime, first-degree retail fraud, and fleeing and eluding. Police said a deputy responding to a retail fraud complaint at Kohl's in October spotted Hunter loading an estimated $1,000 or more in electronic merchandise into a Ford Taurus. As the deputy tried to make contact with Hunter, he fled on Interstate 96 at speeds exceeding 100 mph. Hunter managed to elude immediate capture. livingstondaily.com

Batavia, IL: Police searching for 2 suspects in ORC theft of nearly $1,000 in cosmetics
At about 9:25 p.m. Dec 1, one male and one female entered the Walgreens at 1918 W. Fabyan Parkway in Batavia, police said. Video surveillance shows the two people concealing between $500 to $1,000 worth of cosmetics in a purse and leaving the store without paying for the items, Batavia Detective Kevin Bretz said. "They were in the store for about three minutes," Bretz said Wednesday. kcchronicle.com

Lee's Summit, MO: Task force successful in taking down shoplifters
Lee's Summit Police is happy with how their newest task force is combating shoplifting in the area's most attractive shopping centers. Stemming from their Crime Reduction Team, Sargent Chris Depue says the unit is a Swiss Army Knife for the department. Currently operating at shopping districts through the New Year, their main objective since thanksgiving has been detecting and arresting shoplifters. So far they've made at least 40 arrests in areas such as Summit Fair and Summit Woods Crossing. kshb.com

Cadillac, MI: Missouri woman charged with organized retail crime
Stephanie Lee Long, 30, of St. Charles, MO was charged in 84th District Court in Wexford County for her alleged connection with an organized retail crime incident on April 4 in Haring Township. cadillacnews.com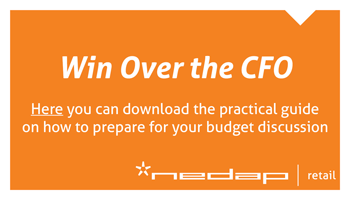 Do you have an ORC case to share?
Share your ORC news and help the industry grow


Retail Crime News

Sponsored by Security Resources
Clarksville, TN: JC Penney Loss Prevention Agents threatened at gunpoint by fleeing Shoplifters
Police are searching for a man and woman accused of stealing clothes and threatening loss prevention officers with a gun in Clarksville Tuesday. It happened at the JCPenney on Wilma Rudolph Boulevard around 5:30 p.m. Clarksville police reported a female stole a felony amount of clothing from the store. When she was confronted by loss prevention officers as she attempted to exit the store, a white sedan pulled up and a man exited the vehicle. The female suspect reportedly yelled to the driver "get the gun...shoot them!" The man allegedly retrieved a silver handgun from inside the sedan and pointed it at the loss prevention officers. Both suspects fled the scene in the white sedan, described as possibly a Honda with Florida tags. wkrn.com

Charlotte, NC: One arrested in Arboretum GAP Armed Robbery / Kidnapping
Charlotte-Mecklenburg Police have made one arrest in the Arboretum GAP store robbery. Detectives have charged 21-year-old Ariel Terry with three counts of robbery with a dangerous weapon and one count each of second-degree kidnapping, conspiracy to commit robbery with a dangerous weapon and misdemeanor larceny in connection with the late-November crime. The incident happened on a Saturday night around 8 p.m. at the store on Providence Road. The group of robbers walked in wearing masks and wielding guns, stealing from both the store and its customers. There were eight people inside the store at the time of the incident, most of which were customers. wcnc.com

Springfield, MO: Shoplifters arrested at Walmart in Springfield are wanted for shooting in California
A man and a woman who were arrested for shoplifting on Tuesday night at Walmart are also suspects in a shooting in central California. Police officers are still looking for a second man who was with them and is also a suspect in that shooting in California. Police say all three people were shoplifting at the Walmart store when the man who is now on the run fired a gun at police who were called to arrest them. The two arrested people are Billy Littlefield and Peyton Garnica. They're in the Greene County jail. Those three people are suspects in a shooting on the day after Thanksgiving in Los Banos, Calif., about 40 miles southeast of San Jose. According to a Los Banos Police Department news release last month, the three face charges that include attempted homicide, conspiracy, and felon in possession of a firearm. Springfield police arrested Billy Littlefield and Garnica after responding to a shoplifting call that came in just after 7:30 p.m. Tuesday. At least two officers started chasing the Littlefields and Garnica before they say Carl Littlefield fired a shot at them and then fled out a back door of the store. ky3.com
Glendale, AZ: Shoplifting suspect tosses gun into Santa area at Arrowhead Mall
Video shows a man on the ground after he was arrested for shoplifting at the Arrowhead mall's JC Penney. "While officers and loss prevention employees responded, two plain clothed loss prevention officers confronted the male suspect near the exit of the store. The male suspect displayed a firearm, pointed it at a male loss prevention officer and punched a female loss prevention officer in the face with his fist. He then ran out of the store," stated Officer Tracey J. Breeden of the Glendale Police Department. Authorities say as the suspect fled from security on the second floor, he tossed the weapon over the side railing. That gun landed right next to the line to see Santa Claus, so a bunch of children were there as the gun hit the first floor -- and you could hear them crying in the background. "An adult picked up the gun and immediately made it safe. After throwing the gun over the 2nd level, the male suspect attempted to flee with his child. He was immediately taken into custody without incident," added Breeden. fox10phoenix.com
Colorado Springs, CO: Woman robbed at gunpoint outside a Safeway store
Two people robbed a woman at gunpoint in front of a Safeway on Wednesday before leaving in a getaway car, Colorado Springs police said. A man approached the woman and pointed a gun at her while another man yanked a purse off her shoulders from behind, police said. No shots were fired. gazette.com

Victorville, CA: Man arrested following Armed Robbery attempt at Lowe's; used simulated weapon
San Bernardino County Sheriff's said Wednesday a man was arrested after allegedly simulating that he had a weapon to threaten and rob a Lowe's late Tuesday. Craig Thomas Berry, 33, was arrested on suspicion of robbery, felony grand theft and violation of parole Tuesday. Calls reporting an armed robbery at the Lowe's Home Improvement store were first received shortly before 8 p.m. Tuesday. A suspect, later identified as Berry, allegedly entered the store and began robbing merchandise by simulating that he had a weapon, Sheriff's Sgt. Dave Burgess said. "(Berry) threatened the cashier of the store and pushed a basket filled with about $2,000 worth of merchandise out of the store," Burgess said. Loss prevention officers at the store quickly responded to the incident, and detectives from the Sheriff's department who were in the area quickly set up a perimeter in the area near the store. Berry was found in a nearby dirt field and was detained, where the simulated weapon was found to be a flashlight, Burgess said. vvdailypress.com

Colorado Springs, CO: Couple tried to set bank night deposit box on fire to cover up Circle K thefts
Investigators suspect a couple tried to set a Wells Fargo drop box ablaze using a jar of gasoline - all to cover up a heist at a Colorado Springs Circle K store. Bank surveillance video of a man on a BMX bike led investigators to suspect the manager of a Circle K store at Maizeland Road and Academy Boulevard concocted the scheme with her live-in boyfriend, according to Colorado Springs police. After a months-long investigation, Joy Tomlinson, 26, and Lee Laurie, 32, were arrested and booked into the El Paso County jail on suspicion of theft and arson, both felonies. gazette.com


UK: London shoplifter escapes on a hoverboard
The man, wearing a grey tracksuit top and bottoms, was caught on camera entering the store before grabbing a case of sports drink. He is then seen checking to ensure he isn't being followed before free-wheeling out of the store and taking off down the street. nydailynews.com


Bhiwandi, India: 62 employees arrested for theft from a Distribution Center; The inspector said the items at the warehouse belonged to e-commerce companies like Flipkart, Sandeal, Amazon


Robberies and Burglaries
● Causey's Pharmacy - Natchitoches, TX - Burglary
● CVS - Shaker Hts, OH - Burglary / ATM
● CVS - Putnam Co, WV - Armed Robbery
● CVS - Mays Landing, NJ - Theft / Assault on Police Officer
● CVS - Brighton, NY - Robbery
● CVS - Visalia, CA - Armed Robbery
● Dollar General - Beckley, WV - Robbery
● Dollar General - East Chicago, IN - Armed Robbery
● Ernie's Pharmacy - Muskogee, OK - Armed Robbery / Kidnapping
● Family Dollar - Calabash, NC - Armed Robbery
● Fresh Start - Rapid City, SD - Armed Robbery
● Sally Beauty - New Braunfels, TX - Armed Robbery
● Shif-T - Mesquite, TX - Armed Robbery
● Stop & Shop - Yarmouth, , MA - Armed Robbery
● Verizon - Port Arthur, TX - Armed Robbery
● Walgreens - Batavia, IL - Theft


Featured Job Listings
Sponsored by NuTech National
Feature Your Job Here For 30 Days -
70% Aren't On the Boards
NEW TODAY VP of LP
Mattress Firm
Houston, TX
Mattress Firm
NEW TODAY Asset Protection Specialists
Southeastern Grocers
AL, FL, MS
Paris Freeman
Dir Corp. Investigations
US Foods
Chicago, IL
US Foods
Dir LP
Conn's Home Plus
The Woodlands, TX
Conn's Home Plus
Sr. Mgr. Global Corp. Security
Avon
New York, NY
Avon
AVP Mgr of AP Operations
BJ's Wholesale Club
Westborough, MA
BJ's Wholesale Club

Director Store LP
Michaels

Irving, TX
Michaels


Dir LP
Sephora
San Francisco, CA
Sephora
Dir LP
True Religion Brand Jeans
Manhattan Beach, CA
True Religion Brand Jeans
LP Manager
Natural Grocers
Lakewood, CO
Natural Grocers
Sr Mgr Corp Investigations
US Foods
Chicago, IL
US Foods
LP Officer
Bi-Mart Corp.
Yakima, WA
Bi-Mart Corp.
Zone Mgr, LP & Safety
Lumber Liquidators
Pomona, CA
Lumber Liquidators
Zone Mgr, LP & Safety
Lumber Liquidators
Sandston, VA
Lumber Liquidators
Dir Safety & LP
Harbor Freight Tools
Calabasas, CA
Harbor Freight Tools
Director, LP
Save Mart Supermarkets
Modesto, CA
Save Mart Supermarkets
VP AP & Global Facilities
lululemon athletica
Vancouver, BC, Canada
lululemon athletica
Dir AP
99 Cents Only Stores
Commerce, CA
99 Cents Only Stores
LP Dir
BevMo
Concord, CA
BevMo
Dir LP (Western Canada)
Walmart Canada
Calgary, CA
Walmart Canada

Daily Job Alerts


Appearing One Day Only
View our Internet Jobs Archives here
ETL Assets Protection
Target
Pennsylvania
Target
LP Supervisor
Bloomingdale's
Livermore, CA
Bloomingdale's
LP Manager Hrly
Kmart
Milton, FL
Sears Holdings Corp
LP Manager Hrly
Kmart
Beckley, WV
Sears Holdings Corp
LP Manager Hrly
Kmart
Knoxville, TN
Sears Holdings Corp
LP Manager Hrly
Sears
Joplin, MO
Sears Holdings Corp
LP Manager Hrly
Kmart
Gastonia, NC
Sears Holdings Corp
Regional LP Mgr
Wireless Advocates
Southern CA
LinkedIn
AP Mgr in Training
Walmart
West Palm Beach, FL
Wal-Mart
AP Mgr in Training
Walmart
St Louis, MO
Wal-Mart
AP Mgr in Training
Walmart
Camby, IN
Wal-Mart



Home of the Industry's Original
On the Move
Sponsored by Civil Demand Associates
Jared Hammans, CFI was promoted to Director of Corporate Risk Manager from Loss Prevention and Safety Manager for Goodwill Industries of Kansas.
Post Your New Job or Promotion!
See all the Industry Movement


Your Career
Sponsor this section of the Daily
Reduce Stress this Holiday Season
Along with cookies, gift exchanges, and work parties, this time of year can bring increased stress as employees try to balance preparing for the holidays and keeping up with work. Here are some ways to keep everyone calm. Look ahead

Is Stress as Deadly as We Believe?
Stress is impossible to avoid, but it can only hurt you if you truly believe it can. According to psychologist at Stanford, Kelly McGonigal, most of our interactions with stress don't have to be bad. If we know how to use it it can make us smarter and happier! Your body is saying you care

What Every Leader Should Know about Stress If you think that leaders experience the most stress, studies show that belief is false! Non-leaders experience greater stress and in many cases causes a negative effect on their performance. 'Challenge Stress'

4 Strategies to Regulate Your Emotions in Stressful Situations We all encounter situations where pressures increase. How we handle our emotions in these times of stress sends us clues about how we manage the pressure of leadership. If you can get through it without blowing up, you've won the battle. Executive Presence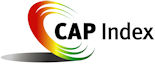 Tip of the Day
Sponsored by Vector Security
Sometimes you've just got to draw the line on what advice to follow and who you ask. Certainly getting advice is important on any issue or decision. But at the end of the day you've got to own your own decision and listen to the bird on your shoulder. We all have one and oftentimes it's muted by our friends and family members. At 5 am staring into that mirror is usually when the bird whispers the clearest. The only problem then is if you don't hear it because you're not listening.

Just a Thought,
Gus





Upcoming Events
---
Recruiting?
Get your job e-mailed to everyone... everyday
Post on our Featured Jobs Board!
Reach your target audience in 2016 every day!
Request our 2016 Media Kit
update account / change e-mail
unsubscribe FEEDBACK
www.downing-downing.com

Advertise With The D&D Daily




36615 Vine Street, Suite 103
Willoughby, OH 44094
440.942.0671
copyright 2009-2019
all rights reserved globally