The D&D Daily Mobile Edition
December 11,

2015



The LP Industry's #1 News Source - Informing, Educating and Instilling a sense of community




2015's GLPS's - Group LP Selfie's
Your Team - Your Pride - Our Industry
One Team at a Time

maurices Loss Prevention Team

"Perform as an active and valued partner in driving positive shrink results through timely and effective communication and training, while maintaining exceptional customer service to all
maurices associates."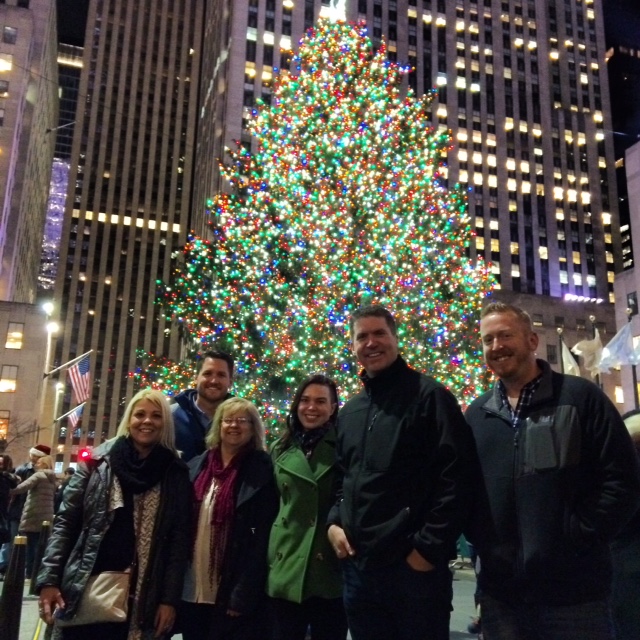 Pictured from left to right: Denise Degeldere (RLPM), Matt Cain (RLPM), Carol Koelsch (RLPM),
Lea Tamarack (RLPM), Chad Hixon (AVP, LP), Dave Harben (SR RLPM)
---
Retail LP Teams, send us your new Group LP Selfies!

Have some fun, show your team pride, get a plaque, and maybe win some free pizza!

News Brief
Sponsored by WG Security Products, Inc.
Send in Your 2015 Group LP Selfie Today
One Retail LP Team Member to
Win a Trip to NRF Protect Philadelphia
Live Drawing on Jan 18th at 3 p.m.

Three teams will be selected on Monday Jan. 18th at the Daily's 'Live in NYC at the NRF Big Show' event at 3 pm. to win pizza party's sponsored by NuTech National. One retail LP team member from all of the submissions will be selected to win an all-expense-paid trip to attend the NRF Protect Conference in Philadelphia this coming June. GLPS submissions must be made by Jan 12th, 2016.

You've got a month to get them in and maybe this NRF learning experience may be the one time you meet that one executive who makes a difference in your career! The winner must have corporate approval in writing to attend the event.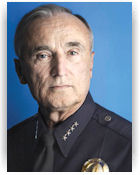 NYPD Commissioner Bratton confirms speaking at The Daily's 'Live in NYC at the NRF Big Show' dinner party
Bratton's office indeed confirmed his attendance yesterday and expressed their support for the Loss Prevention efforts for the retailers. Certainly their involvement in the new NYC Metro ORC Association shows their commitment and just yesterday their CO of the grand larceny unit met with one of our LP industry leaders to reaffirm their support. We'll be working with Bratton's office on his comments and hope to be able to provide LP attendees at the dinner the opportunity to have their LP team picture taken with Commissioner Bratton at 7 p.m. RSVP for dinner here.

Sears Holdings Asset & Protection Associates Receive LPC Certification Scholarships to Support Career Advancement
Sears Holdings, in partnership with the Loss Prevention Foundation (LPF) today awarded 14 Sears Holdings Asset & Profit Protection Associates scholarships designed to support their career advancement and personal development while working at SHMC. Sears Holdings takes great pleasure in every opportunity to invest in the development of their teams. SHMC awarded the scholarships for certification-review courses and the final LPCertified (LPC) examination which will earn them a widely-recognized certification within the loss prevention industry. Scott Glenn, Vice President and CSO noted: "It is a tremendous honor to be able to invest in the future leaders of our industry. The associates selected for these scholarships are the future of our organization and I am proud of each of them."

Congratulations to the following recipients of the LPCertified (LPC) Scholarships:

● Dave Huhner -
Manager, Shrink Operations
● Kazi Ohara -
Sr. Analyst, AP
● Corey Bowman - AP Manager
● Robert Leonard - AP Manager
● Andrew Trumbour -
Zone Manager, AP
● John Fitton - Zone Manager, AP
● Randall Stirewalt -
Area Manager, AP
● Sherri Reid - Zone Manager, AP
● Kristen Kurek - Investigator
● Dee McClure - National Manager Learning & Development, AP
● Stephen Feldman - Area Manager, LP
● Brian Gross -
Zone Manager, AP
● Justin Henkenberns - National Manager Learning & Development, AP
● Jason Montgomery - Zone Manager, AP
LPRC and University of Florida Collaborate - Research Projects for 2016 Aligned
The Loss Prevention Research Council has been hard at work prepping for the 2016 year. The joint LPRC and University of Florida initiatives have led the team to meet and discuss the research projects with several departments at the University of Florida, including: UF Engineering, UF Cyber Security, and the David F. Miller Center for Retailing Education & Research departments. As a joint effort, the LPRC and UF will be working shoulder to shoulder to help push and make the research project initiatives succeed way beyond expectations. We are looking forward to working alongside the University of Florida here at the LPRC in 2016!

This week, the last touches and finalized tweaks to the Research and Direction for 2016 were completed. Thanks to all of our members' input and feedback on the Research and Direction survey, the LPRC team was able to collectively pinpoint which direction the research focus will take next year. 2016 is looking to be the most innovative and ground-breaking year for research yet!

The Role of Phony Returns in Gift Card Fraud
On any given day, there are thousands of gift cards from top retailers for sale online that can be had for a fraction of their face value. Some of these are exactly what they appear to be: legitimate gift cards sold through third-party sites that specialize in reselling used or unwanted cards. But many of the more steeply discounted gift cards for sale online are in fact the product of merchandise return fraud, meaning consumers who purchase them unwittingly help thieves rob the stores that issued the cards. This type of scam mainly impacts brick-and-mortar retailers that issue gift cards when consumers return merchandise at a store without presenting a receipt.

A look at the available Petco gift cards for sale via one gift card tracking site - giftcardgranny.com - shows Petco cards routinely sell for at least 25 percent off their value. Cards from Petsmart, a competitor that also offers merchandise return cards, generally sell at 20 percent off their value. Clothier H&M's cards average about 30 percent off.

According to a study conducted jointly by KingRogers International and The Return Exchange, approximately nine percent of all returns in the United States are fraudulent. The National Retail Foundation estimates that the problem will cost U.S. retailers nearly $11 billion this year.

Investigators say the crimes very often are tied to identity theft rings and drug addicts. Last month, authorities in Michigan convicted a 46-year-old father of four for running a large-scale fencing operation that used teams of prostitutes, heroin users, parolees and panhandlers to steal high-priced items from local Home Depot stores and then return the goods to a different Home Depot location in exchange for store debit cards. krebsonsecurity.com

Protect Your Fuel Dispensers from Card Skimming Devices Being Installed
InstaKey presents its latest addition to Convenience Stores, Fuel Centers and the Grocery Marketplace - The InstaKey Fuel Dispenser Lock Program. Protect your profits from fuel theft and your customer's data from credit card skimming with the same unique technology used to secure your stores. This program consists of restricted keys that are individually serialized, rekeyable lock cylinders that can be rekeyed with a simple turn of a key, cloud-based key tracking software, and audit reporting capabilities. Is it time to change your locks in your fuel dispensers? Click here to learn more.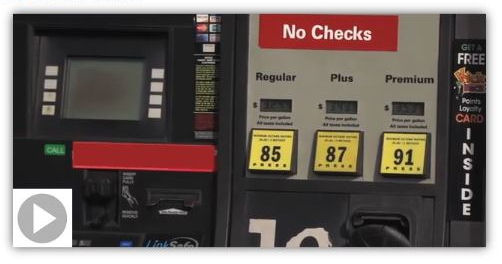 MSPA-NA Welcomes New Board of Directors 2016
The MSPA-NA (formerly known as the Mystery Shopping Providers Association of North America), the trade association representing the Mystery Shopping & Customer Experience industry, would like to announce its Board of Directors for 2016. Michael Mershimer, President and COO, HS Brands International, is going into the first year of his term as the association's President. Mr. Mershimer was elected to the Board of Directors in 2014 and has also served as Vice President & Chair of the Membership Committee. yahoo.com

First half of holiday season shows solid growth
- Retail sales up 0.5% in November
The first half of the holiday season is officially under wraps and it appears holiday shoppers in November were out in full force, according to the National Retail Federation's latest retail sales data. Sales in November excluding autos, gas and restaurants increased 0.5 percent seasonally adjusted over the previous month and 3.0 percent unadjusted year-over-year. nrf.com

Department Store Sales Flat in November
Sales at specialty stores and general merchandisers rose in November, but remained flat at department stores, according to the U.S. Commerce Department's monthly report released Friday. Sales at apparel and accessories stores rose a seasonally adjusted 0.8 percent to $21 billion, while sales at general merchandise stores, a category that includes discounters and department stores, rose 0.7 percent to $57.2 billion last month. Department store sales were unchanged for the month at $13.7 billion. wwd.com

Sycamore Partners completes purchase of Belk

Warren Buffett buys 8% stake in Sears REIT

Kitson L.A. boutique chain closing all 17 stores


Quarterly Same Store Sales Results
Restoration Hardware Q3 comp's up 7% with net revenues up 10%
Hudson's Bay Company constant currency basis consolidate comp's up 2% with sales up 34.1%
- Department Store Group ("DSG") same store sales increase of 5.1%
- Saks Fifth Avenue same store sales decrease of 3.6%
- Saks Fifth Avenue OFF 5TH ("OFF 5TH") same store sales increase of 2.8%
- HBC Europe (GALERIA Kaufhof, Galeria INNO and Sportarena) same store sales increase of 6.6% for the one month of ownership


The D&D Daily to launch ORC Resource Center website Monday, December 14th - Supported & Sponsored by Nedap
This new resource will provide both current ORC cases and legislative actions throughout the U.S. and will be highlighting industry leaders, teams, and efforts that are making a difference. Designed to provide research capabilities, this resource will dive deep into the details, the surveys, the laws, and the people who are helping to fight this growing epidemic. Open to input and wanting to make it as interactive as possible, we invite all LP executives and law enforcement to get involved and help build this ORC Resource Center.
All the News - One Place - One Source - One Time
The D&D Daily respects your time
& doesn't filter retail's reality

Report Your News!
(content subject to approval)



Retailers: House Data Bill is Red Tape Masquerading as Security - Criminal Background Checks for Tens of Millions of Retail Employees?
​​​​In a letter sent to members of the House Financial Services Committee today the Retail Industry Leaders Association (RILA), along with thirteen other industry trade groups, expressed strong opposition to H.R. 2205, the Data Security Act of 2015. "While retailers strongly support efforts to safeguard financial data and protect consumers from hackers and cyber thieves, this legislation is a step in the wrong direction," said RILA Executive Vice President for Government Affairs Jennifer Safavian.

One provision of the bill would require anyone that touches sensitive account information, defined as a credit or debit card, to first pass a criminal background check. This would subject tens of millions of frontline employees, such as retail employees working at cash registers, waiters and waitresses at restaurants, and even taxi cab drivers, to pass criminal background checks.

Haphazardly slapping rules that were written 15 years ago for the financial industry on retailers, restaurants and thousands of small businesses is not the kind of data security legislation that will safeguard our economy. This is red tape masquerading as security." rila.org

Retail data breaches threaten customer loyalty
A high percentage of Americans would change their shopping habits if their favorite retailer was hit by a data breach according to a new study. Data security specialist Vormetric commissioned the survey over 1000 US adults from Wakefield Research which found that for 85 percent of respondents the significant personal consequences that can result from a breach would cause them to find a new place to shop. Factors that would cause them to take their business elsewhere are, if money was taken from their checking account (67 percent), unauthorized charges appearing on their credit card (62 percent), leakage of personal information (57 percent), and damage to their credit score (54 percent). betanews.com

'Spy Lights' - Target testing beacons installed in LED light bulbs in 100 stores
From Target to Kroger, grocery stores want to figure out what makes customers tick - and they're using methods that seem straight out of a James Bond movie to find out. In November, Target expanded its test of beacons installed in LED light bulbs that provide shoppers with in-store location information via their cellphones in 100 stores. With the system, wireless signals travel between customers' Android devices and the stores' LED lights, providing navigation assistance on the app's store map, like a GPS for your local Target location. This helps customers find products without having to ask Target employees for assistance, as well as giving the company more data about customers' foot traffic within the store.

The expansion to about 100 stores makes this the largest deployment of what lighting publication Lux calls "spy lights" by any retailer (Target contests the use of the term "spy lights" as overstating the functions of the technology).

Beacons of all kinds are transforming the retail business. A BI Intelligence report predicts that beacon-triggered messages will directly influence up to $4.1 billion in total US store sales this year. Next year, the figure is predicted to grow to more than ten times this, reaching $44 billion. businessinsider.com

FBI director renews push for back doors, urging vendors to change business models

Companies scramble to fix lack of encryption on mobile apps

What cyber trends to expect in 2016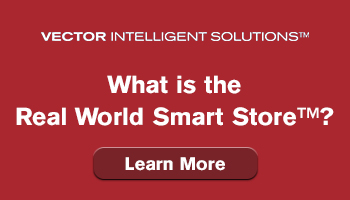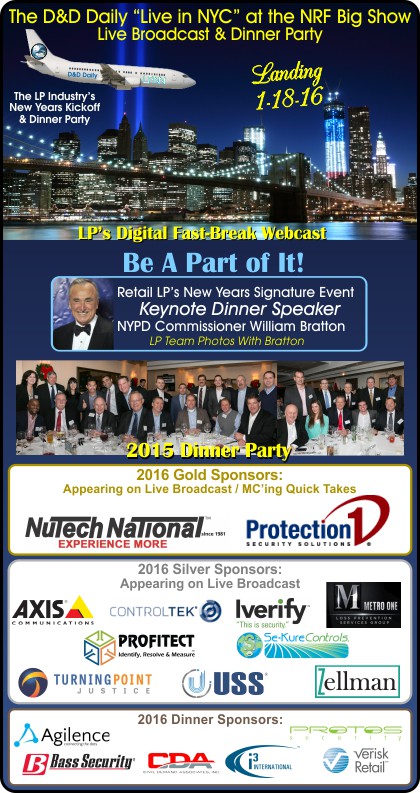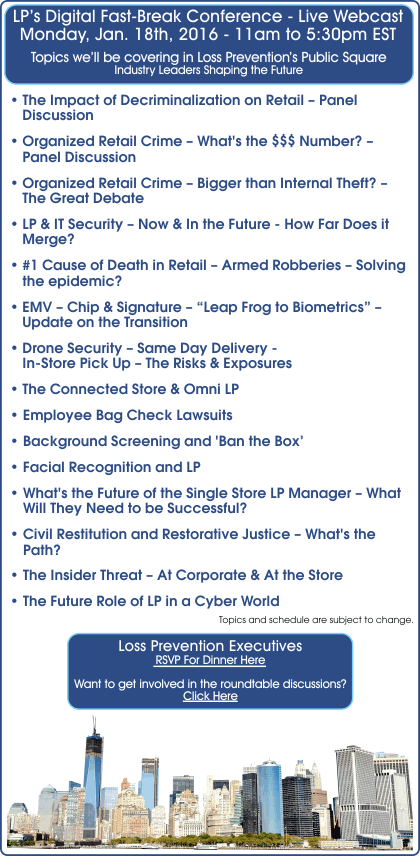 Spotlight on Cam Connections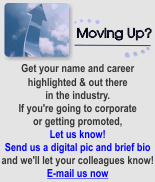 State of the Industry
& NRF Protect 2015 Update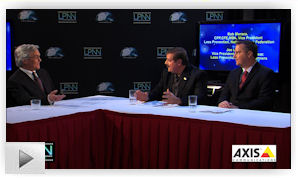 Bob Moraca, VP of Loss Prevention, National Retail Federation, and Joe LaRocca, VP & Senior Advisor, Loss Prevention, RetaiLPartners, sit down with LPNN to discuss the state of the LP industry. From data breaches to increased ORC activity, the e-commerce impact on stores, mobile payments, store closings and protests all around the country, technology is completely transforming the LP industry as we know it. Bob and Joe tell us where loss prevention is headed and how an LP executive can position him or herself for success. Bob also provides a preview of the exciting things to come at this year's re-branded NRF Protect 2015 conference in June.
---
Hedgie Bartol, Retail Business Development Manager - North America, Axis Communications, returns to the mic to co-MC with Amber in this LPNN Quick Take. Hear what Axis is doing to get in on the "selfie" game and learn about the challenges of bringing LP solutions to the franchise world.
Solution Providers, have a video or commercial you want to publish? Contact us.



Canadian Push
Sponsored by Vector Security
Calgary, AB: Bitcoin ransom demanded by hackers of Calgary wine store; Hackers demand $500 in bitcoin after encrypting database with malware
Calgary liquor store paid a ransom this week to regain access to its computers after hackers infected its database with a virus - and even got an unofficial receipt thanking it for its involuntary "purchase." The Kensington Wine Market's database was attacked with ransomware - a type of malware. "It doesn't take your data, it doesn't steal it, but it locks it so that you can't use it," said owner Andrew Ferguson. "Whoever has done this is going to hold it for ransom to try to get a quick buck out of you to get it back."

The hackers demanded $500 in bitcoin - a form of digital currency. "Our I.T. guy had to go out for us and purchase bitcoins in order to pay what these guys are demanding," said Ferguson, who speculates they wanted the virtual money as it's more difficult to trace. He says he paid the ransom because his employees could no longer open email, lookup inventory or process sales - a big problem during the busy holiday season. cbc.ca

Cargo Theft Reporting Program to Launch in Western Canada
On Tuesday, the Alberta Motor Truck Association (AMTA), the Insurance Bureau of Canada (IBC), which represents insurance companies, and provincial police are set to offer details on the expansion of the successful cargo theft reporting program to Western Canada. This program will help raise awareness of and combat the growing problem of cargo theft, which includes stealing trucks and trailers containing merchandise.

The program appears to be similar to one kicked off earlier this year in the Atlantic Provinces involving the Atlantic Provinces Trucking Assocation (APTA), among others. todaystrucking.com globalnews.ca
Canadian Black Friday Getting More Popular -
Consumers Purchasing Almost Doubles
The study noted that last year, 51% of adult Canadians actively browsed and bought - similar to 2013. This year, however, 70% of the adults questions said they participated in Black Friday sales. While browsers who didn't purchase remained constant at 24%, the increase in participation came from the 44% who stated that they have bought an item - up from 25% last year. retail-insider.com

Quebec-based jewelry and accessories brand Bizou to open 5 stores in '16 - now at 125 locations

Dollarama achieves major retail milestone with 1,005 stores

Montreal recommends plastic bag ban by 2018

Grinch arrested by Calgary police for holiday theft warning

Retail Fast Facts: November 2015
● Total monthly retail sales changed by 2.5 per cent over the comparable month last year.
● Total sales excluding food, automotive and gasoline changed by 4.7 per cent over the comparable month last year. Read more

Hamilton, ON: Pharmacy robbery numbers on track to triple this year; 20 Hamilton pharmacy robberies in 2015
Yet another Hamilton pharmacy was robbed over the weekend, as the number of narcotics thefts in the city this year soars. It happened on Sunday around 9:30 p.m., police say, at a pharmacy at 1395 Upper Ottawa Street. Witnesses told police that a man walked into the pharmacy with a small knife and demanded narcotics. He stole an "undisclosed" amount of drugs, police say, and then ran off. The pharmacy's employee wasn't hurt during the robbery. Police have been called in to investigate 20 pharmacy robberies so far this year, compared to seven in all of 2014. In all of the robberies, thieves targeted prescription narcotics. In some cases, the same pharmacy was hit more than once. In an interview last month, Staff Sgt. Emidio Evangelista told CBC News that it's tough to say whether this spike is indicative of a wider trend. "It could be two or three people that all of a sudden do four or five robberies, and then that's the increase," he said. "I arrest them, and then it goes back to the average." cbc.ca

Saskatoon, CN: Ontario man charged in Sask. Jewelry store and Pharmacy Robberies
An Ontario man is facing more than a dozen charges and potentially more after a lengthy crime spree across several Saskatchewan towns. The 37-year-old, who on Thursday allegedly robbed a jewelry store in Moosomin and a pharmacy in Indian Head before stealing a car in Outlook and gas in Rosetown, was only arrested after Mounties laid out a spike belt just south of Biggar. ctvnews.ca

Cargo Theft: Mississauga, CN: 495 TVs, Trailer stolen from Mississauga truck lot on Sunday; Toronto Police found the empty trailer on Tuesday
Peel Regional Police are looking into the theft of 495 LG 55-inch TVs and a truck trailer from a commercial truck depot on Columbus Rd. in Mississauga. A suspect or suspects - police aren't sure how many are involved - managed to drive off with the load last Sunday. Toronto Police eventually found the empty trailer Tuesday. It seems whoever stole the shipment brought their own truck - Peel Regional Police say it appears none of the lot's trucks were missing after the thefts. The TVs are worth a total of $375,000. thestar.com

Sudbury, ON: $13,000 Tandem axle Fuel Tanker stolen; one arrested
A 44-year-old man from Temiskaming Shores was arrested and charged on Dec. 8 in relation to a trailer theft. Sudbury OPP were dispatched to a theft occurrence at a business at Highway 144 in Cartier Township on Dec. 8. Investigation revealed that a tandem axle fuel trailer containing fuel and assorted tools was stolen from the parking lot. As a result of the investigation, police were able to recover the stolen trailer with its contents and identify the individual responsible for the theft, which was valued at approximately $13,000. northernlife.ca

Penticton, BC: RCMP suspects Arson in Save On Foods fire
RCMP are investigating a potential arson after an early morning blaze at the Save On Foods which closed the grocery store until noon Dec. 8. The fire department and the forensic identification section of the RCMP are currently investigating the incident and searching for video surveillance of the scene. Around 5:45 a.m. Penticton Fire crews were called to Save On Foods and were met with heavy smoke and flames coming from a tractor trailer parked in the back loading bay. Witness Skylar Noe-Vack reported that crews found paper and cardboard products ablaze under the trailer. pentictonwesternnews.com

e-commerce

Sponsored by The Zellman Group
10 eCommerce Trends That Will Impact Canadian Retail in 2016
The 10 Trends that will shape Canadian eCommerce in 2016:

1. Click & Collect is Becoming Standard
A MUST for online retailers who operate brick-and-mortar stores: in-store pick-up will be offered by an increasing number of retailers.

2. The Rise of In-Store Digital
In 2016, more and more stores will see the introduction of innovative digital technologies on the sales floor.

3. Social Media Profitability
Social Media ROI is constantly improving and smart retailers will continue to (or begin) investing in their social presence.

4. Brands Creating More Content
Brands will create more original content than ever before.

5. B2B Overtaking B2C
As the tools continue to evolve, B2B eCommerce is expected to see a phenomenal growth in the next few years.

6. Globalization: More Canadian Retailers Expanding Worldwide
Several prominent Canadian retailers will leverage their digital infrastructure to expand into foreign markets, most notably the U.S.

7. Product Information management
As customer behaviour shifts towards "pre-purchase research", retailers will invest in product information management solutions (PIM).

8. The Simplification of Order Processing
More transactions means more processing. To achieve sustainable profitability, retailers will invest in Order Management Systems (OMS) to cope with the increased demand in processing and logistics.

9. Client Data For All
Merchants who invest in solutions that make it possible to profile clients and to personalize the shopping experience will gain market share.

10. Fraud - And the Tools to Fight it - on the Rise
Fraud is a growing problem for Canadian retailers. As fraudulent methods evolve, the tools to fight it are also becoming more accessible. newswire.ca

Fraud - the game of cat and mouse
Fraud can cost advertisers billions of their digital ad spend annually, and as such the online advertising industry is on a mission to uncover fraudulent activity. However, both buy and sell sides of the industry are benefitting from the new technologies that make it easier for fraudsters to hide.

Bots obviously have every reason to remain undetected to attract as much advertising spend as possible. The best way to achieve this is to appear as human-like as possible. So, logically to be able to identify bots, we need to ask the right questions to reveal their non-human qualities.

Rather than expose every single bot, and prevent it from being served impressions; we can identify co-ordinated behaviour among the bots in their browsing patterns. Usually, this reveals clusters of websites that are used by the bots to generate traffic. By labelling these websites as fraudulent and giving them a low ranking in our ratings advertisers will reduce or even stop serving impressions on these websites. Additionally, through diverting impressions away from these fraudulent websites, we essentially chip away at the bot owners' business model. A logical step for them is to set up a new cluster of websites for the bots to visit, but we will just as quickly label them as fraudulent. And setting up new websites takes time, money and effort. And so the game of cat and mouse is established. thedrum.com

In-store mobile payments grow by more than three times in 2015: report

Ikea CEO: Online sales to drive 10% of revenue by 2020

With online ordering surging, UPS on-time deliveries suffer

"Fraud is not a person - it is a dynamic grouping of statistics that deviate from the norm."
Stuart B. Levine, CFI, CFCI
CEO, The Zellman Group & Zelligent


ORC News
Sponsored by NEDAP
Waterbury, CT: Police raid Stolen Merchandise Warehouses; call on Retailers to help ID Hundreds of Thousands in merchandise
The Statewide Narcotics Task Force and Waterbury Detectives discovered a major stolen merchandise distribution operation while serving search warrants in Waterbury. Police say it ran through two warehouses and a personal home, and they are looking for other locations. Deputy Chief Fernando Spagnolo of the Waterbury Police Department says they brought in a 45-foot long semi tractor-trailer to load up with the evidence. "There is over-the-counter medication, personal hygiene products, clothing, construction equipment, electronics, there were fireworks in there," said Spagnolo. Spagnolo says it's like a distribution center, and the thieves were pushing the merchandise online. Also seized from the warehouse were an electroshock weapon, Oxycodone, a loaded .380 caliber handgun holding 11 rounds of ammunition, and 106 cases of consumer grade fireworks. Police arrested 25-year-old Sorrell Porter, and arrest warrants are being issued for two other people. To help with recovery, police asked Home Depot, Stop and Shop, CVS, Walgreens and TJ Maxx, among other retailers, to help identify the items. "Oh they are pretty happy. We had a few merchants in here and we're talking recoveries of upwards of $100,000 for some of them. They are ecstatic," said Spagnolo. wtnh.com nbcconnecticut.com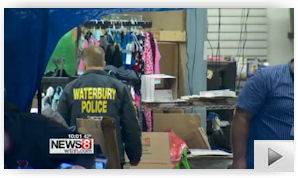 Norwalk, CT: Man charged with larceny in fraudulent returns scheme at Home Depot
A Norwalk man was charged with larceny at Home Depot following an alleged fraudulent returns scheme. According to Norwalk Police, on August 26, 2015, Thomas Palmer, 54 was observed purchasing a wet tile saw, then leaving the store and passing the receipt to an accomplice outside the store. The unknown accomplice then came back into Home Depot with a loaded lumber cart and selected some items-including a wet tile saw- before pushing the cart to the returns desk and returning the saw for cash after allegedly presenting the receipt he had received from Palmer. Police said that Palmer was known at the store as someone who had made fraudulent returns in the past. On Dec. 9, an NPD officer arrested Palmer on a warrant. Palmer was in the parking lot of Lowe's. thehour.com

Rock Hill, SC: 2 with N.Y. ties charged in Best Buy credit card fraud, identity scheme
Suspects both on probation from similar scam in Pennsylvania tried to make $5,400 purchase at Best Buy in Rock Hill. Rock Hill police found more than 100 credit cards in 2015 Maserati worth more than $100,000. One suspect is from N.Y., the other from Charlotte; others from out of state previously charged. heraldonline.com

Woodstock, IL: Menard's busts Pneumatic Nail Gun thief
A man has been charged with stealing two pneumatic nail guns Wednesday afternoon from a Menards in northwest suburban Woodstock. Garry D. Bielefeldt, 30, from Rockford, faces one count of retail theft over $500, a Class 3 felony; unlawful possession of a controlled substance, a Class 4 felony; and one misdemeanor count of resisting a peace officer. suntimes.com

Scottsdale, AZ: Lottery ticket Grab & Run thief
charged with Organized Retail Theft
A man accused of stealing more than $1,300 worth of lottery tickets from Phoenix-area stores is in custody. Scottsdale police say 27-year-old Robert James Fischer was arrested Wednesday on suspicion of numerous counts of organized retail theft and trafficking in stolen property. They say Fischer targeted convenience stores in Scottsdale, Phoenix, Tempe, Mesa and Chandler. He allegedly stole Arizona Lottery tickets and then redeemed the winning tickets for cash. Police say Fischer would enter a convenience store and ask the clerk for lottery tickets, then grab the tickets and run out of the store without paying. abc15.com

Monroe, LA: Ouachita Parish SCAT team focuses on shoppers safety this holiday season
In a matter of minutes of being at Pecanland mall the Ouachita Parish Special Crimes Apprehension team or SCAT arrested 27-year-old Kevin Davenport. SCAT team Lieutenant David Crain says after running Davenport's name they realized there was a warrant for his arrest in Indiana for distributing cocaine. "From during this time of year from Black Friday until January first we dress down we wear casual clothes, just change our appearance from what we look like while we are in uniform that way we can blend in with the shoppers," says Crain. The sheriff's office wants shoppers to know their around, but going undercover has it's advantages. knoe.com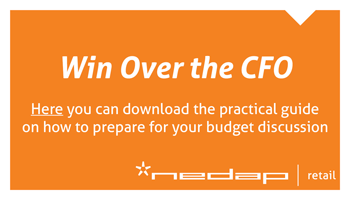 Do you have an ORC case to share?
Share your ORC news and help the industry grow


Retail Crime News

Sponsored by Security Resources
Hemet, CA: Police shoot and kill man with gun in strip mall parking lot
Hemet Police Officers shot and killed a man in a strip mall parking lot after he pulled out a handgun on Thursday morning, according to Hemet Police Lieutenant Dean Evans. Two officers saw a vehicle in a strip mall parking lot with a man in it who "looked a little strange," Evans said, acting "suspicious and agitated." The officers contacted the man. "Initially he was cooperative, but he grew more and more agitated as the contact [with police] went on," Evans said. A third officer arrived on the scene after police called for backup, Evans said. The man in the car pulled out a handgun and officers gave him several commands to drop the weapon, Evans said, but after he didn't comply, he was shot and killed. He was on parole and had an active felony warrant out for his arrest, Evans said. The man's gun was recovered at the scene, his name wasn't being released.
scpr.org

Memphis, TN: Teen arrested in shooting at Oak Court Mall
A 17-year-old has been arrested in an incident of gunfire at the Oak Court Mall parking garage, police said Thursday. He is charged with reckless endangerment and unlawful possession of a weapon. No one was hit by the shots fired shortly after noon Wednesday, said Memphis police spokesman Louis Brownlee. commercialappeal.com

Flint, MI: Teen charged in Toys R Us shooting faces 7 criminal counts
A man accused of shooting another man in a Toys R Us parking lot over "a look" has been arraigned on seven criminal counts related to the confrontation. Daquarius Quantrel Fisher, 18, faces three counts of assault with intent to murder, a count of carrying a concealed weapon and three counts of felony firearm. The charges stem from an incident that occurred outside Toys R Us in Flint Township on Monday evening, Dec. 7, where "a look" sparked an argument between two people in the store. mlive.com

La Ceiba, Honduras: Player for Honduras National Soccer Team Shot Dead at Mall
A player for the Honduran national soccer team was shot to death Thursday in a shopping mall parking lot in his hometown of La Ceiba on the country's Caribbean coast, police said. In a statement, police said Arnold Peralta was killed outside the Uniplaza mall. He was in his hometown on vacation following the conclusion of his professional club's season. Police said no suspects were in custody and the motive for the attack was unknown. abcnews.go.com

Paris, France: Chopard store Robbed at Gunpoint, over $1M of jewelry stolen
An armed robber snatched an estimated one million euros ($1.10 million) worth of jewelry from a Chopard store in Paris, in a brazen heist carried out just a few doors away from France's presidential palace. Paris police headquarters confirmed that, "an older individual entered the store a little before midday and was handed the jewels after holding [store assistants] at gunpoint." Police investigating the robbery have not confirmed whether the weapon was real or fake. vice.com

Austin, TX: Man arrested for string of Central Texas Armed Robberies; Hitting four Sally Beauty's and three GameStops in 5 days
Police have arrested a man they say is responsible for a string of robberies that targeted Sally Beauty Supply and Gamestop stores. Police say Rusty Jordan, 43, is charged with aggravated robbery. Investigators say they were able to identify Jordan from surveillance video from a robbery in Marble Falls. The Lone Star Fugitive Task Force tracked him to an Austin-area motel where he was arrested. Police say Jordan confessed to the robberies, with the exception of to a New Braunfels incident he is also accused of. keyetv.com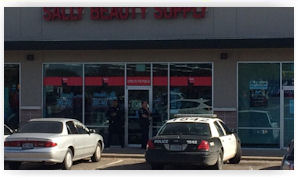 Austin, TX: 3 of 4 warrants issued for suspects in Armed Robbery of a Radio Shack
Austin police have issued arrest warrants for three of four suspects behind an armed robbery at a Radio Shack on North Lamar on Nov. 28. That day, the Austin Police received a call from a woman who said that she was on the phone with her husband who was at the Radio Shack, when she heard him state, "We are being robbed." Shortly after, officers reported to the scene and found seven alleged victims at the business. kvue.com

Torrance, CA: Fire destroys a Big 5 Sporting Goods store
A huge fire gutted a Big 5 Sporting Goods store Thursday in Torrance, sending flames 15 feet into the air and forcing the shutdown of Hawthorne Boulevard. The blaze, which began shortly after 8:30 p.m. at the building at 18308 Hawthorne Blvd., went to a third alarm. Forty-eight firefighters battled the blaze at its height. dailybreeze.com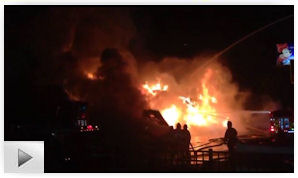 NYC, NY: ATM skimming device found at Midtown McDonalds
Investigators released a surveillance photograph of a man suspected of installing a bank-card-skimming device on an ATM at a Midtown McDonald's. A technician working on the machine at the Golden Arches on Third Avenue near East 50th Street on Aug. 20 discovered the device and alerted authorities. nypost.com

Hanford, CA: Ulta Beauty shoplifter threatens employee with a pair of scissors to make his escape; busted

Kansas City, KS: Police still searching for 2 suspects in Ulta Beauty cologne theft, photos released

Kay Jewelers in the Main Street Commons, Cartersville, GA was the victim of an Attempted Burglary Wednesday night; Rear door was damaged but the store was not breeched


Robberies and Burglaries
● Advance America - Clemson, SC - Armed Robbery
● Aldi -Piqua, OH -Robbery
● Dollar General - Pine Bluff, AR - Armed Robbery
● Duane Reade - NYC, NY - Armed Robbery
● Family Dollar - Killeen, TX - Armed Robbery/ shot fired
● Jet Pep - Birmingham, AL - Armed Robbery
● Johnson Siding - Rapid City, SD - Armed Robbery / Employee Theft
● Marathon - Jackson, MS - Armed Robbery
● Paul's Market - Boise, ID - Armed Robbery/ sentenced to 20 yrs
● QT - Berkeley, MO - Arson
● Radio Shack - Austin, TX - Armed Robbery
● Scotchman - Horry Co, SC - Armed Robbery
● Sinclair - Las Vegas, NV - Armed Robbery
● Verizon - Omaha, NE - Armed Robbery
● Walmart (Pharmacy) - Berlin, VT - Robbery
● World of Smokes - St Joseph, MO - Armed Robbery


Featured Job Listings
Sponsored by NuTech National
Feature Your Job Here For 30 Days -
70% Aren't On the Boards
VP of LP
Mattress Firm
Houston, TX
Mattress Firm
Asset Protection Specialists
Southeastern Grocers
AL, FL, MS
Paris Freeman
Dir Corp. Investigations
US Foods
Chicago, IL
US Foods
Dir LP
Conn's Home Plus
The Woodlands, TX
Conn's Home Plus
Sr. Mgr. Global Corp. Security
Avon
New York, NY
Avon
AVP Mgr of AP Operations
BJ's Wholesale Club
Westborough, MA
BJ's Wholesale Club

Director Store LP
Michaels

Irving, TX
Michaels


Dir LP
Sephora
San Francisco, CA
Sephora
Dir LP
True Religion Brand Jeans
Manhattan Beach, CA
True Religion Brand Jeans
LP Manager
Natural Grocers
Lakewood, CO
Natural Grocers
Sr Mgr Corp Investigations
US Foods
Chicago, IL
US Foods
LP Officer
Bi-Mart Corp.
Yakima, WA
Bi-Mart Corp.
Zone Mgr, LP & Safety
Lumber Liquidators
Pomona, CA
Lumber Liquidators
Zone Mgr, LP & Safety
Lumber Liquidators
Sandston, VA
Lumber Liquidators
Dir Safety & LP
Harbor Freight Tools
Calabasas, CA
Harbor Freight Tools
Director, LP
Save Mart Supermarkets
Modesto, CA
Save Mart Supermarkets
VP AP & Global Facilities
lululemon athletica
Vancouver, BC, Canada
lululemon athletica
Dir AP
99 Cents Only Stores
Commerce, CA
99 Cents Only Stores
LP Dir
BevMo
Concord, CA
BevMo
Dir LP (Western Canada)
Walmart Canada
Calgary, CA
Walmart Canada

Daily Job Alerts


Appearing One Day Only
View our Internet Jobs Archives here
LP Supervisor
TJ Maxx
Queens, NY
TJX Companies
ETL Assets Protection
Target
Waynesboro, VA
Target
AP Team Leader
Target
Oakdale, MN
Target
LP Specialist - Beaumont
H-E-B
Spring, TX
H-E-B
LP Specialist - South/Central Houston
H-E-B
Spring, TX
H-E-B
Dept Mgr LP & Safety
Lowe's
Riverhead, NY
Lowe's
LP Manager
Fred Meyer
Bend, OR
Kroger
LP Specialist
Fred Meyer
University Place, WA
Kroger
LP Manager Hrly
Kmart
Williamsburg, VA
Sears Holdings Corp
LP Manager Hrly
Kmart
Newark, DE
Sears Holdings Corp
AP Manager in Training
Walmart
Chamblee, GA
Wal-Mart
AP Manager in Training
Walmart
San Antonio, TX
Wal-Mart
AP Manager in Training
Walmart
Plainview, TX
Wal-Mart
LP Manager
Sally Beauty
Atlanta, GA
Sally Beauty



Home of the Industry's Original
On the Move
Sponsored by Civil Demand Associates

Robert Wayman was promoted to Senior Asset Protection Specialist for Acme Markets.
Post Your New Job or Promotion!
See all the Industry Movement


Your Career
Sponsor this section of the Daily
12 Leadership Behaviors that Build Team Trust Without trust there is no leadership. When trust is established between a leader and the team, it truly shows through their performance, motivated work, and their communication. Here are some behaviors that need to be displayed to earn the trust of your team. Walk the talk

12 Days of Questions for Optimizing Your Leadership, Honoring Yourself and Crafting a Powerful 2016 Now's the time to really think about what you accomplished this year, who you became and what you want to do in the future. Here are some questions to help guide your goals for next year. Happy reflection

Great Leaders Know They're Not Perfect
Many of us struggle to accept that we're not perfect, that flaws and mistakes are just part of being human. There is no perfect leader, in fact, knowing that you're not perfect not only builds strength in your team, it also creates a positive environment in which to work. Just be who you can be

10 Leaders Share the Best Advice They Ever Received Sometimes the best advice we get is just a small tidbit, meant to help motivate us and inspire us to reach success. Here are some of the best pieces of advice that helped get these leaders through challenges they encountered or to help build their careers. "Forget 'having it all'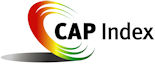 Tip of the Day
Sponsored by Vector Security
Sometimes when you're moving so fast and dealing with the mistakes of the day, the frustration levels peak and one can tend to forget that sometimes you've just got to stop, listen and take a breath and maybe talk to a friend about it all. If it's a good friend, they'll bring you back into focus and make sure you don't react too aggressively and make the mistakes even worst. There aren't many friends like that nor ones that you can absolutely trust. But if you've got a couple, make sure you thank them as well for taking the time.

Just a Thought,
Gus





Upcoming Events
---
Recruiting?
Get your job e-mailed to everyone... everyday
Post on our Featured Jobs Board!
Reach your target audience in 2016 every day!
Request our 2016 Media Kit
update account / change e-mail
unsubscribe FEEDBACK
www.downing-downing.com

Advertise With The D&D Daily




36615 Vine Street, Suite 103
Willoughby, OH 44094
440.942.0671
copyright 2009-2019
all rights reserved globally