The D&D Daily Mobile Edition
December 15,

2015



The LP Industry's #1 News Source - Informing, Educating and Instilling a sense of community




2015's GLPS's - Group LP Selfie's
Your Team - Your Pride - Our Industry
One Team at a Time

Bi-Mart Loss Prevention Team


"Achieving Results Through Teamwork"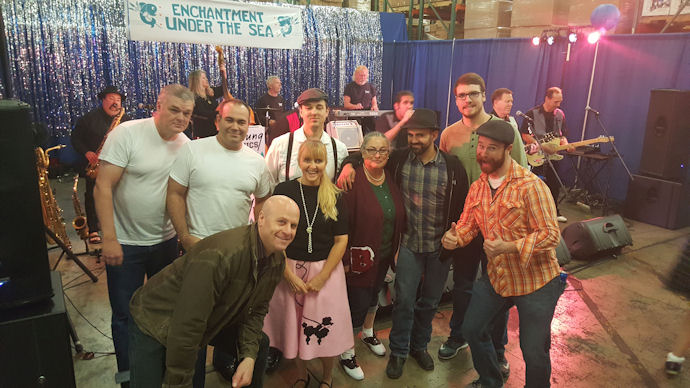 Back row L-R: Greg Spencer, LPDM; Seth Gilmer, LPDM; Jeremy Grahn, Corp. Manger; Aaron Likens, LPO

Front row L-R: Barry Bartholomew, LPO; Sharon Wright, Liabilities Clerk; Kim Jacques, LP Secretary; Aaron Baca, LPO; Orlo Flock, LPO

News Brief
Sponsored by WG Security Products, Inc.
AP: Global supermarkets selling shrimp peeled by slaves
Pervasive human trafficking has helped turn Thailand into one of the world's biggest shrimp providers. Despite repeated promises by businesses and government to clean up the country's $7 billion seafood export industry, an Associated Press investigation has found shrimp peeled by modern-day slaves is reaching the U.S., Europe and Asia. U.S. customs records show the shrimp made its way into the supply chains of major U.S. food stores and retailers such as Wal-Mart, Kroger, Whole Foods, Dollar General and Petco, along with restaurants such as Red Lobster and Olive Garden. It also entered the supply chains of some of America's best-known seafood brands and pet foods, including Chicken of the Sea and Fancy Feast, which are sold in grocery stores from Safeway and Schnucks to Piggly Wiggly and Albertsons. AP reporters went to supermarkets in all 50 states and found shrimp products from supply chains tainted with forced labor. ap.org

More than 900 schools in Los Angeles closed by 'credible threat' of violence
Officials closed all Los Angeles Unified School District campuses Tuesday morning after receiving a "credible threat" of violence involving backpacks and packages left at campuses. Authorities said they plan a search operation of all of LAUSD's more than 900 schools, including charter schools and special education centers. The nation's second-largest school district, LAUSD has more than 700,000 students. "I think it's important to take this precaution based on what has happened recently and what has happened in the past," LAUSD Superintendent Ramon Cortines said. Fearing for the safety of schools and students, Cortines said he couldn't take a chance, so he asked police to search all campuses, adult school and early-education centers. Officials said the threat came in electronic form and was made to numerous but unspecified campuses. As a result, they made the decision to close all campuses for the day. latimes.com

Alexander McQueen, Kering Hit With Racial Discrimination Lawsuit - 3rd complaint of racism in stores in less than 3 years
Alexander McQueen and its parent company Kering, which also operates luxury fashion houses Gucci, Balenciaga and Stella McCartney, are facing a racial discrimination lawsuit. The complaint, filed on Dec. 9 in New York, states that the French fashion house "systematically rejects African-American job applicants who seek positions on the sales floor where they can be seen by customers or positions where they might have authority over white employees, relegating the few African-Americans who are hired to menial positions behind the scenes."

According to the lawsuit, plaintiffs Christopher Policard and Duane Davis, who are both African-American, began their employment at the luxury label's 747 Madison Avenue location approximately one and two years ago, respectively. And, the complaint states, "the only time that Policard and Davis are seen by customers is when Kering searches them for theft in front of the other employees and customers, which is done on the floor during business hours." The suit states that white employees, however, are screened for theft "after closing and in private."

A rep for Alexander McQueen issued the following statement to THR: "We take these allegations very seriously and are investigating, however, we don't comment on current litigations."

This is the third time in less than three years that Alexander McQueen has been accused of racism in its stores. In July 2013, a black security guard at the West 14th Street location, Othman Ibela, filed a complaint to the Equal Employment Opportunity Commission alleging that other employees mocked him with racially demeaning jokes. He said the treatment by various bosses at Alexander McQueen was so appalling, he wanted to commit suicide. Later that year, Moselle Blanco, a Hispanic saleswoman who, like Ibela, worked at the brand's Meatpacking District location, filed a suit claiming her sales manager called her "Goya princess" and "burrito face" before ultimately firing her. hollywoodreporter.com thinkprogress.org

Illinois Court Finds 'Shoplifting and No Apprehension' Policy Vulnerable to Whistleblower Claims
A retail employer is liable under the Illinois Whistleblower Act ("IWA") when it terminates an employee for violating its "shoplifting and no apprehension" policy prohibiting employees from calling law enforcement directly about suspected shoplifting, an Illinois federal court has found. Coffey v. DSW Shoe Warehouse, Inc. a/k/a DSW, Inc., No. 14 C 4365 (Oct. 29, 2015).

Under the IWA, employers are prohibited from retaliating against employees who report unlawful activity - committed by anyone - which they have reasonable cause to believe is occurring or has taken place, to a government or law enforcement agency. Coffey provides incentive for retailers and other employers to revisit handbook and policies on reporting illegal conduct.

Although the court did not expressly find DSW's policy in violation of the IWA, the statutory language appears to prohibit such policies. The safest course may be to eliminate such "chain of command" criminal reporting requirements, thereby minimizing the likelihood that an unwary supervisor would discipline an employee for directly reporting criminal activity to law enforcement. natlawreview.com

The Top IP Video Trends (Or Challenges) This Holiday Season
By Hedgie Bartol, Business Development Manager, Retail, for Axis Communications
During the holiday shopping season, many retailers are taking time to evaluate their surveillance systems to figure out how they can become more efficient and more secure: Essentially, do more with less, and leverage the intelligent capability afforded through technology today. Retailers are exploring IP-based video systems and their accompanying technologies to protect their business. Now, the question is, what trends within the IP-based video space will we see this holiday season? Cybersecurity - Retailers need to have a strong cybersecurity strategy in place to ensure that critical data doesn't get into the wrong hands. Many people don't realize that cybercriminals can gain access to a network via the point of sale (POS) system or even your HVAC system, leaving the information on the network vulnerable. Any network enabled system must follow that cyber strategy. According to a recent IHL survey, PCI and data breach protection take 35 percent of the overall loss prevention focus for an organization. bsminfo.com

FAA to Begin Requiring Registration of Drones Starting Dec. 21st
Starting next Monday, drone owners must register with the Federal Aviation Administration before taking flight. The idea is to try to make sure people know drones are not toys. Drone owners must pay a $5 registration fee; and provide their name, mailing address, and email. Registration is free for the first 30 days. One new report shows 158 incidents in the last two years in which a drone came within 200 feet of another aircraft. In 28 of those incidents, the pilot was forced to take evasive maneuvers. "I think the FAA was struggling with how do we educate new users, and by creating this registry, we now have a direct link to every user, which will allow us to do a tremendous amount of education," former FAA assistant administrator Scott Brenner said. cbslocal.com

The Drone That Will Chase Thieves: Security UAV will follow invaders to make sure they are on camera
A Japanese security company has unveiled a new method of surveillance and it will chase down intruders, and even take pictures of their faces and license plates. The Secom crime-fighting drone is equipped with a surveillance camera and LED light, and will send images to a control center for tracking. Secom says it's the first in the world to produce this type of flying autonomous monitoring service, and the drone will combine both image and sensing technology. While the flying robot isn't particularly fast, reaching a top speed of six miles-per-hour, it could help to identify suspicious people and cars outside the range of a fixed camera. By following the suspect for more detailed images, security in the control panel could get a look at the face, body type, and clothing of a potential invader, along with a closer view of the car. dailymail.co.uk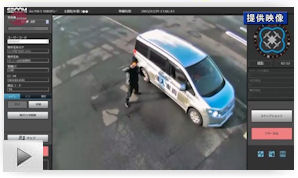 UPS drivers are making deliveries in U-Haul trucks - and people are panicking and calling the police
UPS is renting out hundreds of U-Haul trucks across the county as it faces mounting pressure to deliver packages on time ahead of Christmas. The trucks are a "cost-effective way to expand our delivery fleet," UPS spokesman Brian Hughes told Business Insider. He said it's common for UPS to rent additional trucks during the holidays. The UPS-driven U-Haul trucks have been spotted rolling through neighborhoods across the country, and in some cases they have caused some alarm.

Edward Jones analyst Brian Yarbrough told Business Insider that he was a little concerned when he saw a U-Haul truck park outside his house recently. He said he kept an eye on the driver as he emerged from the truck and pulled a package out of the back, before realizing he was a UPS worker. In Louisville, Kentucky, some people started calling 911 after spotting U-Haul trucks near their homes, WDRB.com reports. Residents said they were worried that criminals could be dressing as UPS drivers to fool them into opening their doors. Concern escalated when rumors circulated online claiming terrorists were using UPS uniforms to deliver bombs, according to WDRB.

UPS is expanding its truck fleet as it faces an unexpected surge in online purchases this year that's resulting in some shipping delays. businessinsider.com



ISCPO hosting roundtable discussion on Fictitious Pick-Ups on Jan. 14th
The International Supply Chain Protection Organization (ISCPO) will be holding a round table discussion on January 14th in Dallas, TX regarding the topic of Fictitious Pick-Ups. We are limiting this event to 15 industry experts who have either experienced this within their business or have investigated these incidents. The information learned at the meeting will be published in a white paper and also shared at ISCPO's 2016 conference. If you are interested in attending, please contact Glen Master at gmaster@newgistics.com

While some retailers slim down, Toys 'R' Us tries "full and chunky" stores
More than a decade after Toys "R" Us Inc. was acquired in a leveraged buyout, the retailer is still struggling with a chronic problem: running out of goods during the important holiday season. To tackle the issue, Chief Executive David Brandon, who took the helm in July, asked engineers to design an algorithm to better predict when goods will run low. He also is filling shelves with more products -- a move that is counter to the get-lean mind-set of Wal-Mart Stores Inc. and other retailers. "If a customer can't find what they're looking for at your store 60% of the time, they will shop somewhere else and never come back," the 63-year-old Mr. Brandon said in a recent interview. "We want our stores to be bulkier," he said of the effort to stuff shelves with more goods. "We call it full and chunky." Retailers walk a fine line between having enough merchandise, but not too much. The latter requires markdowns to clear unsold goods, which hurts profits. The former results in missed sales. wsj.com

Kohl's to stay open more than 170 straight hours from Dec. 17-24

A&P reaches deal to sell Patterson store, others

Destination Maternity rejects takeover bid

'Hoverboard' fires being probed by feds

Man convicted of stealing workers' comp - let coworkers put floor buffer on chest


Quarterly Same Store Sales Results
99 Cents Only Q3 comp's down 3.9% with net sales up 2.8%
Neiman Marcus Q1 comp's down 5.6% with total revenue down 1.8% - first decline in 6 years
Perfumania Q3 comp's down 22.1% with net sales down 8%
All the News - One Place - One Source - One Time
The D&D Daily respects your time
& doesn't filter retail's reality

Report Your News!
(content subject to approval)


eBay News

GAP Partners with Pittsburgh Police in identifying unfilled eBay order that lead police to potential $1 million theft of collectibles
An unfilled eBay order for collectible Bhutan stamps led police to a theft they said could amount to more than $1 million. Colleen Carroll-Dean, 40, of Carrick was charged Tuesday with one count each of theft by unlawful taking and receiving stolen property. Carroll-Dean worked as an administrative and accounting assistant at Creative Products International from November 2011 through July 2014. The company, an import-export and new product company, deals in children's products, pet toys, housewares, direct mail products and Bhutan stamps. An audit of CPI's inventory showed that approximately 137,000 stamps valued at about $266,000 were missing in addition to stamps considered priceless family heirlooms. eBay's GAP team worked with the Detectives to provide records on this seller to which showed she received more than $28,000 for stamps she sold online. Detectives found some collectible stamps in Carroll-Dean's home. He said the total value of the stolen items could be in excess of $1 million. Carroll-Dean is in the Allegheny County Jail awaiting arraignment.

Read more here

For further information on PROACT, email inquiries to PROACT@eBay.com.
eBay Direct - Click Here - (notify - info - questions)


Phishing attack hits jewelry retailer Pandora customers
Shoppers making purchases from specialty jewelry retailer Pandora may find an unwelcome holiday greeting in their inbox. According to a new advisory from cybersecurity firm Comodo's Antispam Labs team, a malware attack is specifically targeting businesses and consumers who make purchases from Pandora, which is headquartered in Denmark but conducts operations globally, including in the U.S.

The email promotes a phony extreme sale and is designed to capture credit card and financial information from business or consumers who try to make a purchase. It arrived from the sender address custserv@aquae.kao6161.com with the subject line "Pandora Clearance." The email appears to be from a fictitious jewelry reseller advertising a Pandora jewelry sale. The links provided should have pointed to Pandora.net, however, the target links are directed to Bestpandorajewelry.com/index.html.

Retailers need to be aware that fraudsters are targeting their customers with scams and attacks that happen completely outside a retailer's firewall or infrastructure. Ideally, Pandora will post a warning about this scam on its website or even email recent customers to notify them. Harried shoppers looking through volumes of email for discounts are easy prey for this type of attack, and fairly or not will likely blame the retailer if they are victimized. chainstoreage.com

Hackers' One-Two Punch: Malware + Ransomware
Malware that's tailored to steal money has usually been designed for maximum stealth, and FireEye has just detailed a malware family called "Nemesis," which is programmed to run when a PC starts up, before the operating system gets loaded. That makes the malware especially difficult to either detect or eliminate, and the longer the malware stays undetected, the greater the amount of sensitive data attackers can potentially exfiltrate.

Increasingly, however, attackers seeking maximum profits use a one-two punch: First they infect systems with malware designed to steal financial and online account data, typically by using an automated exploit toolkit such as Angler, Neutrino or Nuclear Pack. After a suitable period of time for ransacking infected systems, many attackers then deploy ransomware to forcibly encrypt all user data, after which they demand a one-time payment - often payable in bitcoins potentially worth hundreds of dollars or more - to provide the decryption key.

Security experts and law enforcement officials recommend never paying ransoms, as well as maintaining offsite, disconnected backups so that any ransomware-infected systems can be easily restored. govinfosecurity.com

Wauwatosa, WI: Secret Service Steps in After Hundreds of Burger King Customers Report Credit Card Fraud
The United States Secret Service has reportedly stepped in after hundreds of residents in Wauwatosa, Wisconsin, reported money missing from their bank accounts. The missing funds have been linked to a local Burger King location on North 124th Street, where each of the victims used their credit cards earlier in the fall. An ongoing investigation points to a computer virus implanted on this particular restaurant's computer software, which was likely been used to leak financial information. Although authorities subsequently hired professionals to scrub the system in October, shortly after customers first began calling to complain of missing funds, the virus has yet to be stopped.

So far, a total 1,061 bank accounts have been accessed by the virus, and the total losses have reached $163,491, according to Fox6 News. In response to Burger King's compromised software security, some banks have put a hold on the use of their patron's credit cards at the location in question. thedailymeal.com

Arrest Made in VTech Toy Security Breach
Police in the United Kingdom said today they have arrested a 21-year-old man as part of an investigation into a cyberattack against children's educational toy maker VTech, which the company said potentially exposed the private information of millions of adults and children. The man, who has not been charged, was not identified by police. He is being held on suspicion of unauthorized access to a computer to facilitate the commission of an offense, according to a statement from police. The arrest was made by the South East Regional Organized Crime Unit (SEROCU) in Bracknell, a town about 30 miles west of London. Craig Jones, head of the cybercrime unit at SEROCU, said in a statement posted online officials are still in the early stages of the investigation. It was unclear what led police to the 21-year-old man and no further details were provided. VTech makes kid-friendly gadgets, including the InnoTV, which is a gaming system, tablets under the InnoTab brand, and a smartwatch and action camera under its Kidizoom line. abcnews.go.com

No Major Uptick in Retail Attacks Over Black Friday/Cyber Monday

13 Million MacKeeper Users Exposed

Twitter warns some users of possible state-sponsored cyber attack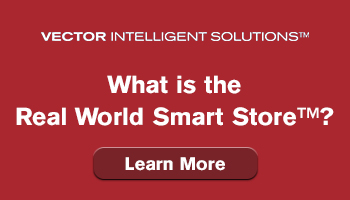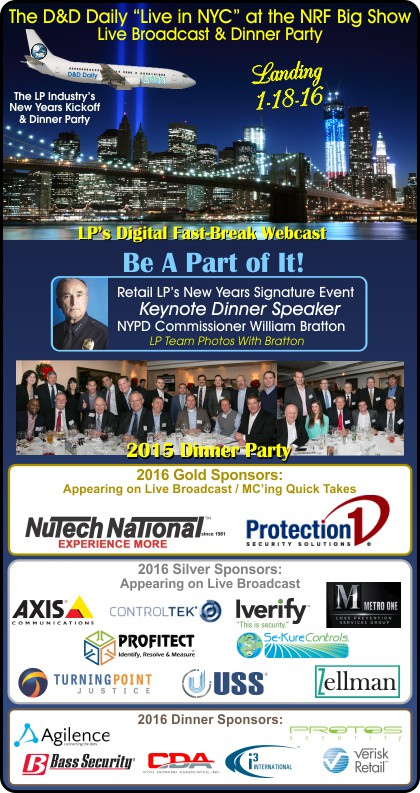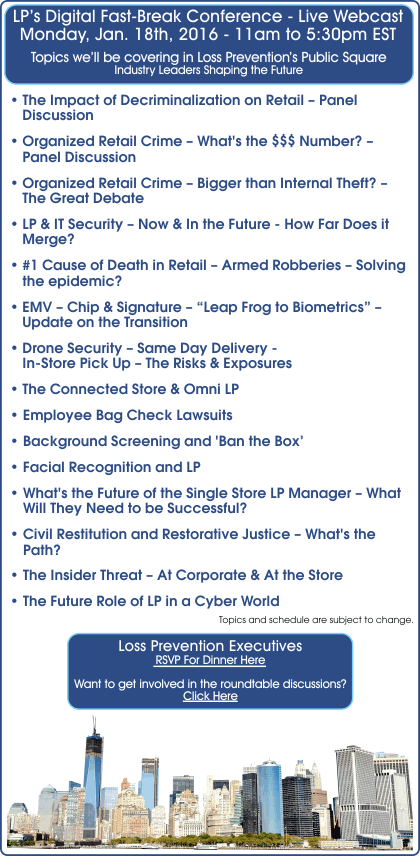 Spotlight on USS

Sports Authority and the USS Foundation Surprise 100 Denver Children with Bikes and Helmets
Local nonprofit Helmet Heads attended event to educate children on helmet safety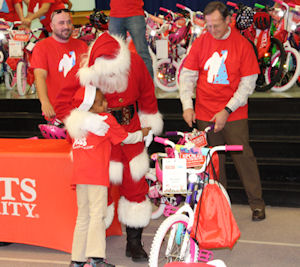 Englewood CO. (December 14, 2015) – Sports Authority, one of the largest full-line sporting goods retailers in the United States and Puerto Rico, recently partnered with the USS Foundation and its Adopt-a-Bike program to provide 100 outstanding students at the Richard T. Castro Elementary School in Denver with bikes and helmets on December 11.

"Sports Authority is a proud supporter of this community and believes in bettering the lives of its children," said Paul Gaudet, Executive Vice President of Store Operations, Sports Authority. "Our partnership with the USS Foundation and its Adopt-a-Bike program provided us the opportunity to reward 100 local children for their hard work, academic efforts and good behavior."

"Sports Authority's generous donation of bikes and helmets to the USS Foundation will help these students feel a sense of accomplishment for their good behavior," said Adel Sayegh, founder of the USS Foundation. "The children selected by the school have outstanding records of attendance, academic effort and good behavior, and we hope this recognition will help them continue on a positive path forward."

Helmet Heads, a Denver-based volunteer organization which has taught more than 1,500 students over the past five years about helmet safety, was on site to educate students and demonstrated what can happen if helmets aren't worn. The 100 outstanding students were personally fitted for their helmet during the event and were able to ride their new bikes immediately.

This is the second year Sports Authority and the USS Foundation have teamed up for the Adopt-a-Bike program. Last year, their partnership provided 100 Miami students with bikes.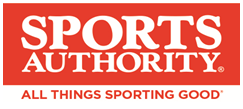 About Sports Authority
Headquartered in Englewood, CO, Sports Authority is one of the largest full-line sporting goods retailers, with 467 locations across 41 states and Puerto Rico. Sports Authority offers a broad range of sporting goods from leading brands and is the active family's destination for footwear, apparel, fitness, team sports and outdoor recreation. The League by Sports Authority, a free and easy rewards program, offers members 5% back after they earn 100 points or more during a qualifying period. For a list of store locations and information, or to shop online, visit sportsauthority.com. Follow Sports Authority on Facebook facebook.com/SportsAuthority and Twitter twitter.com/SportsAuthority.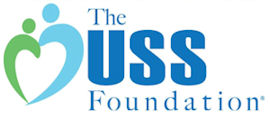 About USS
USS is a U.S.-based, privately-held global leader in product protection and security solutions. USS is a leading integrator of video surveillance systems, access control, EAS tags and RFID and EAS systems. USS is dedicated to innovation and has more than 100 patents issued and pending. For more information, visit www.ussinnovate.com.

About The USS Foundation
The USS Foundation is a charitable, non-profit organization dedicated to helping less fortunate children to have the tools, skills and knowledge to build a better life with a hope for a brighter tomorrow. Visit the USS Foundation at www.ussfoundation.org.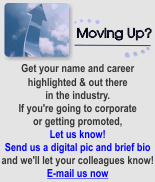 How Technology is Changing the
Regional LP Job & How Can They Increase Their Impact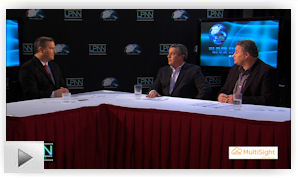 Maurice Cloutier, VP of Loss Prevention, Ann Inc., and Gary Johnson, VP of Loss Prevention, The Vitamin Shoppe, tell us how technology has changed the profile of the successful RLPM, particularly among specialty retailers, in this LPNN interview moderated by Joe LaRocca. Many of the advancements in retail technology have been advantageous to the LP profession. Learn why such technology should be utilized and how breaking out of the LP silo and understanding the holistic business can help make an LP professional more effective in their role.
---
Hedgie Bartol, Retail Business Development Manager - North America, Axis Communications, returns for another fun, unscripted Quick Take with Amber Virgillo. Hear what some of their favorite 'Group LP Selfies' published on the Daily have been so far.
Solution Providers, have a video or commercial you want to publish? Contact us.



e-commerce

Sponsored by The Zellman Group
Why 2015 Is The Most Secure Holiday On Record
"Payment fraud is an unfortunate fact of life," Stephanie Ericksen, Vice President of Risk Products at Visa, recently told PYMNTS. "And when shopping volume spikes, as it does around the holidays, so, too, does the threat posed by fraudsters and criminals."

According to Visa data, the amount spent on the holidays in the U.S. this year will be significant. On the most recent Thanksgiving Day alone, in fact, Visa accountholders stateside made $1.5 billion in online purchases — a 22 percent increase from the 2014 holiday, when they spent $1.2 billion.

Although one might assume that with more spending comes more risk, Ericksen states that, thanks to several recent payment innovations, "2015 is shaping up to be the most secure [holiday] shopping season on record."

What will help that prognostication come to bear, Ericksen attests, is merchant and consumer awareness of potential fraud areas, as well as the security features that can help combat criminals who are targeting the payments system during the holidays.

Card-Present Security
While card-present counterfeit fraud represents about 70 percent of in-store fraud, Ericksen notes that EMV chip cards — and the unique, one-time code that they generate, thus preventing the creation of counterfeit cards by cybercriminals — are "leading the charge" against it.

Mobile Payments Security
Through services like Apple Pay, Android Pay and Samsung Pay, mobile payments — and the convenience and speed they provide to consumers — are on the rise.

Central to their security is tokenization, which Ericksen sees as beneficial in part because the process of replacing sensitive payment account information (including the card number) with a unique digital identifier is "largely invisible to the consumer."

Beyond the tokenization that all mobile payments provide, specific services like Apple Pay provide the additional security of using the accountholder's fingerprint to authenticate the user, which Ericksen notes is "a convenient and secure alternative to signatures or PINs."

ECommerce Security
"Technologies like Visa Checkout," says Ericksen, "provide consumers with a fast and secure alternative to filling out online form fields. Once consumers sign up and enroll their cards, they can complete online transactions with a single account, across multiple devices."

Ericksen goes on to describe additional security features that Visa provides to its customers, such as Visa Advanced Authorization, which "takes into account up to 500 parameters, from geographic location to transaction history, [and] provides Visa card issuers with a valuable tool to use before deciding whether to authorize a purchase."

Furthermore, Visa encourages consumers and its partners in the payments ecosystem to fight holiday fraud by "spreading the word about simple tools and techniques that can really make a difference," says Ericksen. Such tools include transaction alerts that warn accountholders of potentially fraudulent activities via text or email, as well as Mobile Location Confirmation, "wherein cardholders … can register their mobile device's geolocation data to serve as an additional input into Visa's predictive fraud analytics." pymnts.com

Credit Union Bitcoin Fraud Tied to JPMorgan Hack

Samsung Pay swipes in gift cards for deeper retail integration

More cybercriminals will target Apple devices in 2016

Mobile payments growth exceeds ecommerce

HBC near deal to buy online retailer Gilt Groupe Inc. for $250M
"Fraud is not a person - it is a dynamic grouping of statistics that deviate from the norm."
Stuart B. Levine, CFI, CFCI
CEO, The Zellman Group & Zelligent


ORC News
Sponsored by NEDAP
Volusia Co, FL: 'Operation Plastic Paradise'; $2M flowed through illegal gift card-for-cash ring, 23 suspects charged
Roughly $2 million in a year flowed through an illegal cash-for-gift-card ring dismantled in Volusia County, leading to charges against 23 people, officials announced Monday. Members of the ring shoplifted a wide range of items — everything from sports bras to plumbing fixtures — from big-box stores and then returned the items in exchange for store credit on gift cards, investigators said. The shoplifters then sold the cards for roughly half the value at two Cash For Gift Card businesses, one in Deltona and the other in Daytona Beach, officials said. The stores would then resell them in bulk to online companies, investigators said. "This is an attack on every consumer," Florida Attorney General Pam Bondi said in a statement. Bondi joined Volusia County Sheriff Ben Johnson on Monday to reveal details of the seven-month operation dubbed Operation Plastic Paradise. Eighteen people were arrested, including owners of the business, father-son duo Dale Holcombe, 52, and James Holcombe, 27. Four of their employees were arrested. The other 12 suspects shoplifted the items, targeting such stores as Lowe's Home Improvement, Target, Walmart, The Home Depot or Toys R Us, investigators allege. The shoplifters even recruited homeless people into their operation by coercing them to steal items from the store and then return them, according to Sheriff's Office spokesman Gary Davidson. In the first eight months of this year, the Cash For Gift Card stores bought 16,870 cards, Davidson said. wftv.com
Lewisville, TX: Multiple suspects rob Lewisville Kohl's of more than $100,000 in jewelry
Police said multiple suspects robbed a local store around 3 a.m. Friday. According to police, two suspects broke into Kohl's located at 1001 Valley Ridge Blvd and stole approximately $140,000 of jewelry. It appears that the suspect's primary target was high-end watches, gold and sterling silver necklaces. After entering the store, the suspect in the grey sweater shattered several glass display cases while the second suspect stood at the front watching for police. As the suspects were exiting the business, they placed the bags of stolen jewelry on the stores wheelchair and left the location. At this time, there is no vehicle description. Kohl's loss prevention team said this is the fifth incident in the Metroplex involving one of their stores being broken into and jewelry being stolen. starlocalmedia.com

Portland, OR: Police say 6 arrested in multi-state theft ring; $26,000 in gift cards
Authorities say they have arrested six Seattle-area suspects in what they are calling a theft ring that victimized 110 people across seven states. The Oregonian reports five adults and a 15-year-old girl were arrested Nov. 29. They all face several charges, including organized retail left and fraudulent use of a credit card. Police say the suspects were arrested in West Linn after reports that six people were using stolen credit cards to purchase more than $11,000 in Apple gift cards. Authorities stopped an SUV carrying the suspects along Interstate 205. The suspects are accused of buying more than $26,000 in gift cards in the stolen credit card scheme. The credit card numbers were linked to victims in Oregon, Washington, Hawaii, New Jersey, Texas, Colorado and Wisconsin. kptv.com
Natick, MA: $2,000 in Stolen Merchandise, Rental Car, Leads to NY Trio's Arrest
Three from New York are facing theft charges after the group was stopped in a stolen rental car, allegedly after stealing $2,000 worth of merchandise from Natick stores. Karina Porras, JeanPierre Tobon and Nolan Lopez, all from New York, were arrested and charged with receiving stolen property. The trio was stopped Saturday around 5 p.m. in Natick with the merchandise in their car, none of which they would claim. The three remained detained at the Natick police station until they were brought to court on Monday morning. While it is not clear if the three are part of any organized retail crime, Natick police did say that similar crimes are increasingly popular in Massachusetts, particularly Natick. patch.com
2 women arrested for shoplifting $1,427 worth of merchandise from Annapolis Mall
Police arrested two women suspected of shoplifting $1,427.23 worth of merchandise at the Annapolis Mall Saturday. On Dec. 12 at approximately 2:43 p.m., police responded to the mall for reports of a shoplifting in progress. The suspects, 22-year-old Diasiah Chapman and 21-year-old Daysaja Nickleson, attempted to leave a retail store with merchandise and flee the scene in their vehicle, when a nearby citizen observed what was happening and blocked the suspects from leaving with their car. Police say the suspects rammed the other vehicle and then attempted to pull the driver from car. The suspects then fled the scene on foot. Patrol officers then found Chapman and Nickleson hiding in a nearby parking lot and took them into custody. Chapman was charged with second degree assault, attempted carjacking and theft. Nickleson was charged with first and second degree assault, reckless endangerment, theft and conspiracy to carjack. wjla.com

North Miami Beach tackles evolving economic crimes
The police department in North Miami Beach announced the creation of two new units—a gang unit and an economic crime unit. Both will work in conjunction with gangs and street crimes. "We're finding that the gangs these days are a lot more sophisticated," police Capt. Richard Rand said. "In order to generate revenue for their enterprise, they steal people's identity. They steal people's Social Security numbers. They take credit card numbers, clone the numbers, or install skimmers at gas stations at ATMs." miamiherald.com
Do you have an ORC case to share?
Share your ORC news and help the industry grow


Retail Crime News

Sponsored by Security Resources
Sacramento, CA: Flare gun discharges in Walmart store during clash with alleged shoplifter, LP Agent injured
A flare gun discharged inside a Walmart store in south Sacramento Monday evening as the store's asset protection team detained a teenager suspected of shoplifting. The flare gun went off when the youth, 15, struggled with the team inside Walmart, said Sacramento County sheriff's spokesman Deputy Tony Turnbull. The evacuation followed. "During the detention, the suspect struggled and the flare gun went off, which caused the evacuation," Turnbull said. One of the loss prevention officers was injured in the face when the flare gun discharged. He was transported to the hospital. The juvenile was booked into juvenile hall. sacbee.com

San Jose, CA: Teen shot, carjacked near Oakridge Mall in South San Jose
San Jose police are investigating a carjacking and shooting near Oakridge Mall in San Jose. Police said it happened near Winfield Boulevard and Coleman Road. Roads were blocked off in the area but has since reopened. Police said the victim is a 17-year-old girl. She suffered a grazed bullet wound and is expected to survive. According to police, the teen saw the suspect walk up to her car, get inside it, and then he shot her and took off in her car. The teen's car was recovered nearby, but police will not release exactly where they found it since there is an ongoing investigation. kron4.com

San Diego, CA: Triple Homicide Suspect Appears at Mental Competency Trial: 2013 Mission Valley Mall shooting
The California man accused of killing three people on Christmas Eve in 2013, two in the parking lot of a San Diego mall, appeared in court Monday for a mental competency trial to determine whether he can face murder charges. The attorney for Carlo Mercado, 30, requested another trial delay because he said his client cannot aid in his own defense. Mercado is suspected of killing Salvatore Belvedere, 22; his brother Gianni Belvedere, 24; and Gianni's fiancée Ilona Flint, 22. Salvatore and Flint were fatally shot Dec. 24, 2013 in the parking lot of the Mission Valley Westfield Mall. Two weeks later, Gianni's body was found in the trunk of a car in Riverside, more than 100 miles away from San Diego. For six months, the shootings remained a mystery to San Diegans. Then, on June 20, 2014, SDPD officers arrested Mercado, who has since pleaded not guilty to three counts of first-degree murder. nbcsandiego.com

Fountain Valley, CA: Police shooting of suspected Rite Aid burglar was justified
The shooting death of suspected burglar Dean Genova by Fountain Valley police on April 26 was justified, the Orange County District Attorney's Office has determined. The office said in a statement Monday that Fountain Valley Police Department Officer Shaun McKay acted in a "reasonable" manner because he believed Genova posed a threat to officers on the scene. Genova, 45, of Corona, was killed around 4 a.m. in a Rite Aid after police say he attempted to burglarize the business. ocregister.com

Springfield, MO: Walmart shooting suspect arrested in California after pursuit in stolen vehicle
The individual that police say fired a shot in a south Springfield Walmart last week while being confronted over suspected shoplifting has been arrested in California. Carl W. Littlefield, 20, was arrested Monday by California Highway Patrol following a short pursuit, Littlefield was driving a vehicle that had been reported stolen out of Los Banos in late October, police said. Springfield police have said that Littlefield, his brother Billy Ray Littlefield, 21, and Peyton Sierra Garnica, 20, were being confronted by officers of suspected shoplifting in the Walmart Supercenter about 7:30 p.m. on Dec. 8. Billy Littlefield and Garnica were arrested on the scene, police say, but Carl Littlefield fired a shot while being pursued and escaped through a back door. The incident prompted the evacuation of the store. At the time, all three were wanted in connection with the investigation of a Nov. 27 shooting in Los Banos, California. David Contreras, 35, was shot in the 600 block of I Street, according to the Los Banos Police Department, but survived. news-leader.com

Burlington, VT: 70 incidents of Shoplifting reported since Nov.1
Burlington police have investigated almost 70 incidents of shoplifting since Nov. 1, the department said Monday, and are looking for the public's help to identify suspects. Police have arrested 33 people on suspicion of committing retail thefts. Four suspects face felony charges, based on the value of items taken, police said. Chief Brandon del Pozo said in a statement that police often witness an increase in retail thefts during the holiday season. More advanced security cameras and other surveillance tools help identify suspects, the chief said. burlingtonfreepress.com
Millburn, NJ: $1,200 Drone Stolen From Apple Store At The Short Hills Mall
On December 13, 2015 Millburn Police Officer Manuyag responded to Apple at The Mall at Short Hills on a theft report. Apple personnel report noticing a DJI Phantom 3 Professional camera drone (valued at $1259.95) missing from a shelf. tapinto.net

Traverse City, MI: 3 Teens busted stealing child size Mannequin
Traverse City police turned to the public Monday to find as many as three teen girls suspected of stealing a child-sized mannequin from a store at the Grand Traverse Commons - and were able to track down the suspects. traverseticker.com

Deltona, FL: CVS Shoplifter breaks into home, takes nap in homeowner's pajamas
A 72-year-old woman awoke from her slumber late Sunday morning to quite a surprise. She found a young woman in the guest bedroom, sleeping in her husband's pajamas. The homeowner initially thought her husband was having an affair with the female intruder, but that turned out not to be the case. She even ordered him home from the golf course for an explanation, and he told the truth. The Volusia County Sheriff's Office identified the young woman as 22-year-old Eryn Rice. Investigators said she broke out of her handcuffs after getting arrested for shoplifting earlier that morning. Authorities said Ryce walked out of a CVS Pharmacy with a handful of cosmetics without paying for them. Deputies said Ryce broke into the woman's home, took a shower, washed her clothes in the washing machine and slipped into some flannel pajamas which belonged to the homeowner's husband. Rice then took a nap in the guest bedroom before police hauled her off to the slammer. Ryce now faces charges of retail theft, resisting an officer with violence, battery on a law enforcement officer, giving a false name, escape, burglary and petty theft. kutv.com
UK: Homeless veteran caught shoplifting inspires Tesco staff to help people living on the streets
When staff at a Sheffield supermarket found a homeless veteran stealing food from their shelves, they didn't call the police. Instead, they provided the hungry man with tea, cake and a roast turkey dinner – and listened to how he came to be living on the streets. His story inspired staff at Tesco on Savile Street, in Burngreave, to do more to help the homeless men and women in the city. And on Friday evening they took to the streets of the city centre to hand out food and hot drinks. Rachel Liszka, the store's community champion, said: "We have recently noticed the rise in homeless people in Sheffield and decided it is time to help. thestar.co.uk
Countryside, IL: Man out on parole steals $480 worth of plumbing fixtures from The Home Depot

Fred Meyer Jewelers in Kent, WA was the victim of a theft Sunday afternoon - a suspect broke into a window display case, fleeing with over $10,000 in merchandise


Robberies and Burglaries
● Citgo – Jonesboro, AR – Burglary / $1000 in cigarettes
● CVS –Shelbyville, IN – Robbery
● Discount Drug – Columbia, LA – Burglary
● Dollar Tree – Columbus, OH – Robbery
● Eastside – Pawtucket, RI – Armed Robbery/ clerk injured
● Forest Package Store – Columbus, GA – Armed Robbery
● Goodwill – Rapid City, SD – Burglary
● Gulf – Bolton, CT – Armed Robbery
● Kum & Go – Springfield, MO – Armed Robbery
● O'Brien's Town and Country – Williston, VT – Armed Robbery
● Quickway – Hartwick, NY - Burglary
● RD Mart – Fredericksburg, VA –Armed Robbery
● Rogers Family Pharmacy – Petal, LA – Burglary
● Speedway – Greenville, NC – Armed Robbery
● Smokin' Decks – Albuquerque, NM – Burglary
● SV Mini Mart – Scranton, PA – Armed Robbery
● Walgreens – Murrieta, CA - Robbery
● Walgreens – New Orleans, LA – Armed Robbery
● 7-Eleven – Newark, NJ – Armed Robbery
● 7-Eleven – Phoenix, AZ – Armed Robbery
● 99 Cent Store – Levittown, NY – Armed Robbery


Featured Job Listings
Sponsored by NuTech National
Feature Your Job Here For 30 Days -
70% Aren't On the Boards
Regional LP Mgr
Tractor Supply Company
Minneapolis, MN
Tractor Supply Company
Regional LP Mgr
Tractor Supply Company
Omaha, NE
Tractor Supply Company
VP of LP
Mattress Firm
Houston, TX
Mattress Firm
Asset Protection Specialists
Southeastern Grocers
AL, FL, MS
Paris Freeman
Dir Corp. Investigations
US Foods
Chicago, IL
US Foods
Dir LP
Conn's Home Plus
The Woodlands, TX
Conn's Home Plus
Sr. Mgr. Global Corp. Security
Avon
New York, NY
Avon
AVP Mgr of AP Operations
BJ's Wholesale Club
Westborough, MA
BJ's Wholesale Club

Director Store LP
Michaels

Irving, TX
Michaels


Dir LP
Sephora
San Francisco, CA
Sephora
Dir LP
True Religion Brand Jeans
Manhattan Beach, CA
True Religion Brand Jeans
LP Manager
Natural Grocers
Lakewood, CO
Natural Grocers
Sr Mgr Corp Investigations
US Foods
Chicago, IL
US Foods
LP Officer
Bi-Mart Corp.
Yakima, WA
Bi-Mart Corp.
Zone Mgr, LP & Safety
Lumber Liquidators
Pomona, CA
Lumber Liquidators
Dir Safety & LP
Harbor Freight Tools
Calabasas, CA
Harbor Freight Tools
VP AP & Global Facilities
lululemon athletica
Vancouver, BC, Canada
lululemon athletica
Dir AP
99 Cents Only Stores
Commerce, CA
99 Cents Only Stores
LP Dir
BevMo
Concord, CA
BevMo
Dir LP (Western Canada)
Walmart Canada
Calgary, CA
Walmart Canada

Daily Job Alerts


Appearing One Day Only
View our Internet Jobs Archives here
AP Sr Specialist
Cabela's
Wichita, KS
Cabela's
LP Supervisor
JC Penney
Billings, MT
JC Penney
Store LP Supervisor
Henri Bendel
New York, NY
Lbrands
AP Manager
Sam's Club
Hodgkins, IL
Wal-Mart
AP Manager in Training
Walmart
Smithville, TN
Wal-Mart
AP Manager in Training
Walmart
Raleigh, NC
Wal-Mart
AP Manager in Training
Walmart
Saline, MI
Wal-Mart
AP Manager in Training
Walmart
Lamar, MO
Wal-Mart
AP Manager in Training
Walmart
Bellevue, WA
Wal-Mart
AP Manager in Training
Walmart
Watertown, NY
Wal-Mart
AP Manager in Training
Walmart
Avon, CO
Wal-Mart
AP Manager
Sam's Club
McAllen, TX
Wal-Mart
AP Manager
Sam's Club
Jefferson City, MO
Wal-Mart
ETL Assets Protection
Target
Silverdale, WA
Target
AP Team Leader
Target
Kelso, WA
Target
LP Mgr Hrly
Sears
Anderson, SC
Sears Holdings Corp
LP Mgr Hrly
Sears
Lakewood, NY
Sears Holdings Corp
LP Mgr Hrly
Sears
Jamestown, NY
Sears Holdings Corp
LP Mgr Hrly
Kmart
Minot, ND
Sears Holdings Corp
LP Mgr Hrly
Kmart
Mission, TX
Sears Holdings Corp
Safety & AP Mgr
Schneider
Elwood, IL
Schneider
LP Manager IV
Exchange
Hawaii
Exchange




Home of the Industry's Original
On the Move
Sponsored by Civil Demand Associates


Dave Anatra was named Regional Loss Prevention Supervisor for Goodwill Industries of Upstate/Midlands South Carolina.
Post Your New Job or Promotion!
See all the Industry Movement


Your Career
Sponsor this section of the Daily
You Need to Practice Success Before You Are Successful The bigger the goal you want to reach, the further you have to go outside of your comfort zone. The key to being successful is to practice it before you reach it. Watch this video for tips on how to practice success. Change your environment

3 Reasons Why Believing In Yourself is The First Step to Success In order to be successful, there are times when you'll be pushed to your limits, or outside of your comfort zone. In order to get past all of the challenges and failures, you'll need an unwavering belief in yourself. Here's why courage is the first step to success. Trust yourself

The 10 Most Important Things to Prioritize If You Want to Be Successful When you care about something, you are driven to do your very best. If you want to be successful, it's important to be thoughtful about what you're caring about. Here are some things worth caring about to succeed. Scaring yourself

Can Compassion Contribute to Success?
Acts of kindness generate a ripple effect in a team, or organization. One simple act of compassion has the incredible ability to impact more than just the person doing the act. If the ripple extends outside the workplace, it can contribute to the success of the organization. Make lives and livings better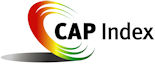 Tip of the Day
Sponsored by Vector Security
Passion is a trait that can't be bought and paid for. Either it exists or it doesn't and corporate America thrives on passion. It's the one trait that is worth its weight in gold. If you've got it, show it. If you don't, try to find it every day because it is a game changer and it will fuel your tomorrow.

Just a Thought,
Gus





Upcoming Events
---
Recruiting?
Get your job e-mailed to everyone... everyday
Post on our Featured Jobs Board!
Reach your target audience in 2016 every day!
Request our 2016 Media Kit
update account / change e-mail
unsubscribe FEEDBACK
www.downing-downing.com

Advertise With The D&D Daily




36615 Vine Street, Suite 103
Willoughby, OH 44094
440.942.0671
copyright 2009-2019
all rights reserved globally