The D&D Daily Mobile Edition
December 16,

2015



The LP Industry's #1 News Source - Informing, Educating and Instilling a sense of community




2015's GLPS's - Group LP Selfie's
Your Team - Your Pride - Our Industry
One Team at a Time

Toys R Us Regional Asset Protection Managers, Central Region

"Aligning Asset Protection team with the customer experience.
To create a safe working and shopping environment for our team members and customers, and to positively impact profitability of the company through shortage reduction and operational efficiency, while systematically identifying, investigating and resolving internal and external theft."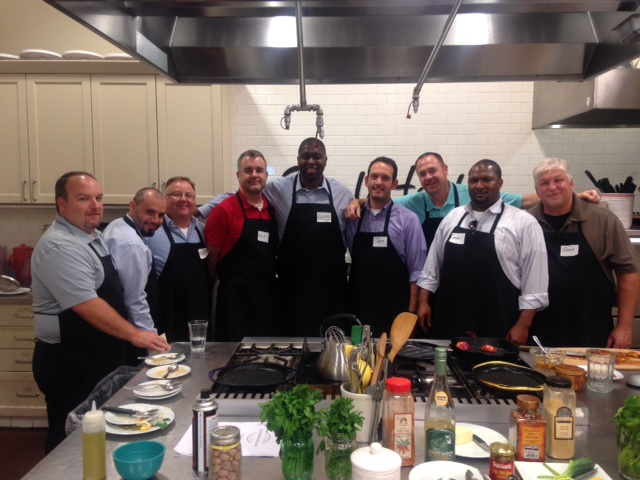 Pictured from left to right: Jay Tubaugh, Henry Sacasa, Mike Jensen, Matt Sincic, Kenny Smith, Jon Barnett, Matt Kellogg, Cordell White, John Fritsch

News Brief
Sponsored by WG Security Products, Inc.
Black Lives Matter protestors invade Center City Philly stores - "No stores are safe until we get justice"
A group of demonstrators marched their way through Center City in Philadelphia, entering stores and restaurants, to protest police brutality. The marchers assembled around 5:00 p.m. Tuesday at Dilworth Park then began walking along Walnut Street toward Rittenhouse Square. About 50 members of the group Black Lives Matter were joined by relatives of 26-year-old Brandon Tate-Brown, who was fatally shot by police during a traffic stop that turned into a violent struggle in Mayfair on Dec. 15, 2014. Soon, the protesters abandoned the streets and made their way into the Devon Seafood Grill restaurant in Rittenhouse Square yelling obscenities at startled patrons who were having dinner. Protesters also made their way into the Gap and also the Apple store on Walnut. Action News asked Black Lives Matter representative Asa Khalif why he felt the protest had to go into stores and restaurants. "Because black lives matter, period. Our lives are on the line and desperate measures call for desperate actions," Khalif said. "No stores are safe until we get justice, when we say no justice, no peace, that's exactly what we mean." 6abc.com
The fear factor - Impacting mall traffic like never before
In France we have consumers avoiding the big hypermarkets and shopping in smaller, easier-to-navigate and quicker-to-exit stores. In the U.S. we've got malls that according to reports are experiencing significant declines in consumer traffic. Everyone predicted the online sales impact and expected less traffic, but these unofficial and yet to be documented reports are suggesting declines never seen before numbers and coming at the most critical time for retailers.

Yesterday we had the second largest school district in the nation closing schools because of a 'credible' threat. Last night the Presidential Republican candidates declared war on ISIS and said that our current government is not protecting us, that we're in imminent danger, and that law enforcement doesn't have the tools to prevent future terrorist attacks.

The fear factor is playing out in front of all of us and the nation's malls and strip centers are feeling the consequences. The growth and ease of online shopping is now being hyper-driven by an Uber-society consumer fear factor never seen before. The end result will be played out within a few months and while the numbers for e-commerce will be the largest increase in history for many brick and mortars, it'll be decimating. When we have LP executives reviewing active shooter protocols with family members before they go out shopping, we have a real and nationwide problem.

Retailers Banking on 'Super Saturday' to Spark Holiday Surge
Holiday shopping has yet to slip into high gear but traffic returned to relatively normal patterns last weekend, lifting retailers out of their early December doldrums and raising hopes for a big weekend ahead. Stores are on track for 3 percent holiday sales gains on average, and Dec. 19, otherwise known as "Super Saturday," could be the biggest volume day of the year, according to store executives and industry experts contacted Monday. While no one has been ecstatic over selling results thus far, the upside is that most consumers still have to complete their gift shopping - and many haven't even begun.

Retailers said to be performing best this season include Victoria's Secret, Lululemon, American Eagle Outfitters, Costco, TJX Cos., Ross Stores, Best Buy, Express, Kay Jewelers and Zale Corp., as well as dollar stores. Wal-Mart and Target are said to be experiencing OK, not great, results.

Department and luxury stores - including Saks Fifth Avenue, Neiman Marcus, Macy's and Bloomingdale's - are said to be on the softer side, continuing trends seen last quarter. Neiman's on Monday reported weak results for the third quarter ended Oct. 31, fueling views that the luxury segment has struggled this fall even before Christmas trading. The specialty store sector has been mixed as far as performance for holiday. wwd.com

30 online retailers, including Amazon, agree to stop selling realistic toy guns in New York
While Congress continues to dither over strengthening gun control, state Attorney General Eric Schneiderman Tuesday morning announced settlements with 30 online companies that sold more than 5,000 illegal toy guns to customers in New York. State law prohibits the sale of toy guns that look too much like the real thing. But Schneiderman's office found that 30 online retailers from across the country used Amazon.com to skirt the law. The third-party sellers offered the products through Amazon's retail marketplace platform. "When toy guns are mistaken for real guns, there can be tragic consequences," Schneiderman said. "I will continue to enforce this law so that we can avoid putting both children and law enforcement officials at risk." State law requires that toy guns be either brightly colored or have a colored stripe down the barrel, making it easier for law enforcement to recognize them as fakes. Schneiderman several months ago announced a $309,000 settlement with Walmart, Kmart, Amazon.com, Sears and other major retailers, who were found to also be selling illegal toy guns. nydailynews.com

RILA pledges retail support for FAA's new drone regulations
Drone sales are expected to set a new sale record this holiday season and create all sorts of new privacy, security and safety challenges in the process. No wonder regulations regarding the recreational use of drones are drawing support from the Retail Industry Leaders Association (RILA). RILA, in response to an interim final rule issued by the Federal Aviation Administration (FAA) on Dec. 15, pledged its support of what appears to be a common sense requirement. "With the holiday shopping season in full swing, consumers' demand for innovative products like drones is high. Retailers fully support the FAA's effort to enhance public safety and educate consumers on flight safety practices" said Kathleen McGuigan, RILA's senior vice president of legal and regulatory affairs. "The FAA's new on-line registration process is an efficient and effective way to accomplish these goals while ensuring the security and privacy of registrants' personal information."

According to the trade group, the rule requires owners of drones weighing from about half a pound up to 55 pounds that were purchased after December 21, to register their drone prior to its first outdoor flight. Current owners of drones would have until February 19, 2016 to register. Registrants must be at least 13 years old and registration will be good for three years, according to the proposed regulations. Registrants will be given a unique identification number to affix to drones prior to flight. The normal registration fee of $5 will be waived for the first 30 days, until January 20, 2016. chainstoreage.com

Securing Self-Service Checkouts
As retailers seek to ring the changes with self-service checkouts to keep a lid on their operational costs, this is opening up new loss prevention challenges. In such a scenario staff may struggle to pick out suspicious activity, and the automatic systems built into the checkout can generate too many false alarms, so when a real incident happens it may simply fall under the radar. According to Daniel Wan, channel marketing manager at Honeywell, a large proportion of all stock losses are a result of theft or fraud by customers: "These come from a wide range of sources from simple shoplifting to fraud at point of sale, either with or without the collusion of retail staff." Wan says that the key to successful prevention of this is to identify and tackle theft as it happens, with strong evidence to support any conviction: "This not only prevents the event from happening but also discourages others to try when word gets around." securitynewsdesk.com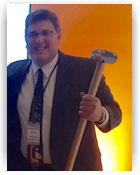 Security executive Tony Gallo wins award for 'Most Influential Person in the Cannabis Industry'
"I am honored to have won the 2015 Southwest Cannaward for the "Most Influential Person in the Cannabis Industry" and want to thank everyone who voted for me. As we all know, security and safety is a significant concern for most consumer based industries. This 5 lb sledgehammer award represents the "breaking down of barriers in the cannabis industry" and I am glad to be part of the dedicated group of professionals who have influenced the future of security and safety as we continue to grow this industry. This award is a great way to end a great year and I look forward to 2016." - Tony Gallo, Sapphire Protection LLC

Jewelers' Security Alliance to Honor Mutual Executive, Federal Agent
The Jewelers' Security Alliance (JSA) will honor two individuals for their "outstanding" assistance to the safety and security of the industry at an awards ceremony in New York in January. David J. Sexton, vice president for loss prevention consulting at Jewelers Mutual Insurance Company, will receive the 11th Annual Industry Service Award at JSA's yearly luncheon at the Harmonie Club on January 9. Sexton is one of the leading experts in the U.S. on loss prevention for jewelers and serves on the boards of JSA, Jewellers Vigilance Canada, and on the security systems council of Underwriters Laboratories (UL), according to a JSA statement December 14. He has also been JSA's "point person" at Jewellers Mutual. Senior special agent James K. Liscinsky of the U.S. Justice Department's Bureau of Alcohol, Tobacco, Firearms and Explosives will be presented with the 17th annual James B. White Awards for his "outstanding" work on jewelry-related cases, including an investigation that resulted in the arrest and conviction of eight gang members working out of Virginia who stole from travelling jewelry salespeople causing losses of at least $4.6 million. This is the first time JSA has honored an agent from the bureau, the alliance's president John Kennedy said. diamonds.net



ISCPO hosting roundtable discussion on Fictitious Pick-Ups on Jan. 14th
The International Supply Chain Protection Organization (ISCPO) will be holding a round table discussion on January 14th in Dallas, TX regarding the topic of Fictitious Pick-Ups. We are limiting this event to 15 industry experts who have either experienced this within their business or have investigated these incidents. The information learned at the meeting will be published in a white paper and also shared at ISCPO's 2016 conference. If you are interested in attending, please contact Glen Master at gmaster@newgistics.com

Whole Foods denies its shrimp is prepared by slave labor
Whole Foods has denied that it sells shrimp that's has been peeled by slave labor in Thailand. "After thorough investigation, we're confident Thai Union shrimp at our stores did not come from [an] illicit processing facility," the retailer tweeted Tuesday morning. Whole Foods has a built its business on attracting customers who are willing to pay for high-quality food, such as organic meat and dairy products. But the store was also one of the retailers named in an extensive investigation by the Associated Press, which found workers in Thailand who were kept as slaves to clean shrimp that's sold at many major U.S. retailers. cnn.com

Michael Jordan donates $8.9M Dominick's settlement to Chicago nonprofits

Walmart customers shocked as secret donors pay off $486K in layaway tabs

NRF: 90% of Holiday Shoppers Still Have Lists to Wrap Up

5 stores that offer customers the fastest returns


Quarterly Same Store Sales Results
Toys R Us Q3 comp's up 0.6% with net sales flat
All the News - One Place - One Source - One Time
The D&D Daily respects your time
& doesn't filter retail's reality

Report Your News!
(content subject to approval)



Skimming Scheme Uncovered at Safeway
- Skimmers found on POS terminals at stores in California and Colorado
- Other retailers could be hit by same group, Safeway says
- Probable inside job
Sources at multiple financial institutions say they are tracking a pattern of fraud indicating that thieves have somehow compromised the credit card terminals at checkout lanes within multiple Safeway stores in California and Colorado. Safeway confirmed it is investigating skimming incidents at several stores. Banking sources say they've been trying to figure out why so many customers in the Denver and Englewood areas of Colorado were seeing their debit cards drained of cash at ATMs after shopping at Safeways there. The sources compared notes and found that all of the affected customers had purchased goods from one of several specific lanes in different compromised stores.

Safeway spokesperson Brian Dowling said the fraud was limited to a handful of stores, and that the company has processes and procedures in place to protect customers from fraudulent activity. "We have an excellent track record in this area," Dowling said. "In fact, we inspect our store's pin pads regularly and from time to time find a skimmer, but findings have been limited and small in scale. We immediately contact law enforcement and take steps to minimize customer impact."

Dowling said the problem of checkout skimmers is hardly limited to Safeway, and he hinted that perhaps other retailers have been hit by this same group. "This is not unique to our company, and we understand some other retailers may have been more significantly impacted," Dowling said, declining to elaborate.

Safeway would not name the affected locations, but bank industry sources say the fraud was traced back to Colorado locations in Arvada, Conifer, Denver, Englewood and Lakewood. In California, banks there strongly suspect Safeway locations in Castro Valley and Menlo Park may also have been hit. Those sources say ATM fraud has been linked to customers using their debit cards at those locations since early September 2015.

In order to steal card data and personal identification numbers (PINs) from Safeway customers, the thieves would have had to open up the card processing terminals at each checkout lane. Once inside, the thieves can install a device that sits between the keypad and the electronics underneath to capture and store PINs, as well as a separate apparatus that siphons account data when customers swipe their cards at the register. Either that, or the skimmer crooks would have to secretly swap out existing card terminals at checkout lanes with pre-compromised terminals of the exact same design. In any case, skimming incidents involving checkout lanes in retail locations generally involve someone on the inside at the affected retailer. krebsonsecurity.com

2016 Predictions: Boardroom shuffles in the cards as cyber threats rise
The escalating threat from cybercrime is set to force companies into upping the skills of their boardroom executives in 2016, a global security and risk management consulting firm has predicted. "There is a lack of specialist cyber skills in boardrooms worldwide, including Britain's, which is likely to become increasingly clear as 2016 progresses," said Ed Stroz, executive chairman of Stroz Friedberg. "Companies are under growing pressure from investors, customers and regulators seeking reassurance that cyber risks are being actively managed and that they have the capability to deal with the aftermath of an incident." Stroz believes cyber trends - from hacktivist and insider threats to implications of potential cyber legislation in 2016 - will push corporate boards into reviewing their options to ensure they are better informed and comfortable making risk management decisions. sourcewire.com

41% of retail managers worried about intelligent machines
threatening their job in next 5 years
The vast majority (84 percent) of managers believe intelligent machines will make them more effective and their work more interesting, according to a new study by Accenture. However, more than one-third (35 percent) fear cognitive computing and intelligent machines will threaten their job. A new Accenture Strategy report, Managers and machines, unite!, features findings from a study of more than 1,700 managers in 14 countries - including those from the C-suite, middle and front lines - about their attitudes toward and expectations of cognitive computing on their current job roles and skills, as well as their positions in the workforce of the future.

Managers spend much of their working day on the tasks that the study's authors believe intelligent machines will be most suited to do in the future. When asked about the tasks they spend the most time on, in their current position, 81 percent of respondents said planning and coordinating work, followed by solving problems and handling exceptions (65 percent), monitoring and reporting performance (52 percent), maintaining routines and standards (51 percent) and analyzing and sharing information (45 percent) were the most consuming.

Intelligent machines will increasingly free managers from these time-consuming tasks to focus on work that is more uniquely human, or "judgment work," such as complex thinking and higher-order reasoning. Yet more than half (57 percent) are uncertain whether they have the skills to succeed in their role over the next five years and many are concerned about the impact on their jobs. Managers in electronics and high tech are most concerned that intelligent machines could threaten their positions (50 percent), followed by 49 percent of banking managers, 42 percent in the airline sector and 41 percent of those in retail. businesswire.com

FBI Busts Comcast Hacking Suspects - Targeted Records of 60 Million People

The year in fraud: 2015 in 13 numbers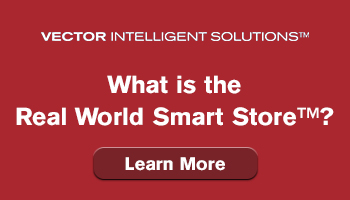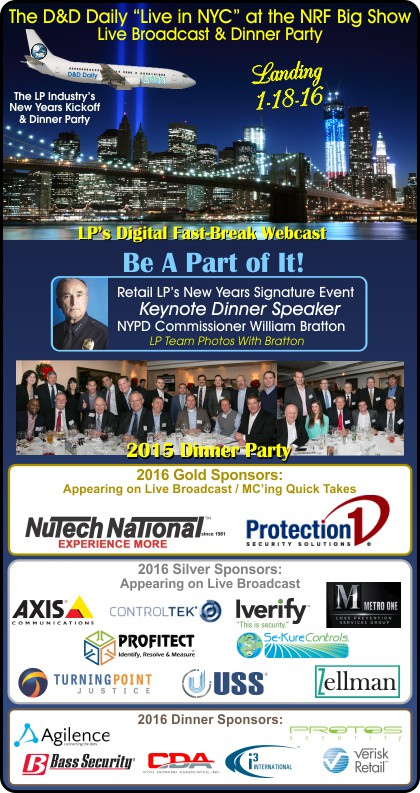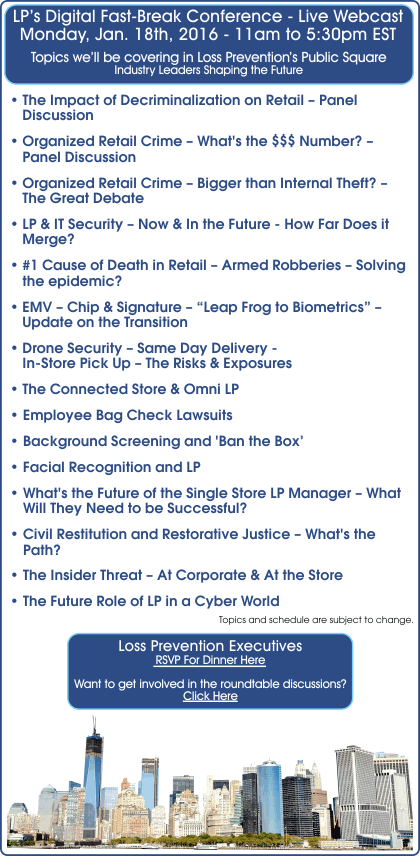 Press Releases

Associate Alerting Platform (AAP) by Tally Retail Asset Protection Highlighted at Recent LPRC Conference
Associate Alerting Platform, the future of in-store retail technology, examined

Gainesville, Florida - December 8, 2015 - Tally Retail Asset Protection, a technology design and product development firm, today announced its TRAPLINE suite of retail technologies and solutions beginning with TRAPLINE Shelf, an electronic retail shelf and fixture solution that instantly alerts in-store personnel to any operational or suspicious loss prevention activity as it occurs at the shelf. The LPRC conducted a study to assess and record the reactions of shoplifters to this new platform. The results were presented at the most recent LPRC Impact Conference held at The University of Florida.

"Retailers have long struggled to leverage their most valuable existing resource, in-store personnel and sales associates to address shrinkage and operational issues. Study after study demonstrates that the most effective and lowest cost loss prevention tool is an aware and engaged store associate. Over the years we have seen just how difficult it can be to engage sales associates and merchandisers in loss prevention activities. TRAPLINE can make this possible with instant in-store announcing, text, e-mail and video clip up-loads sent to designated personnel," said Sean Ryan, Tally's Customer Acquisition Director.

"The results of the initial offender interviews for Tally's TRAPLINE shelf were positive, receiving the highest scores for 'Get It' and 'Fear It.' We look forward to additional testing and research as the TRAPLINE shelf is deployed by more retailers in the coming months," stated Dr. Read Hayes, Director, Loss Prevention Research Council. "It has long been known that associate interaction is one of the best deterrents to theft. The TRAP's unique ability to alert store personnel in real time while potential theft activity is occurring at the shelf is worth additional research and consideration."

"The future of in store retail technology will leverage the ever increasing availability of low cost sensors and communications technology with information available through a single point platform," said Trey Ryan, Lead Technologist at Tally. "Using the most modern technologies to augment and integrate with existing retail fixtures and systems will help unite the three pillars of merchandising, operations and loss prevention on a common operational and loss prevention information portal. Guiding retailers and their associates through this process is our passion and drives us everyday."

Study Excerpts:
"Offenders seemed particularly deterred by the interventions once they learned that they involved an associate's engagement. They were perceived as complicated, unpredictable and difficult to defeat interventions. Overall, associate interventions are considered to be an effective crime prevention technology."

Below are some offender comments regarding its effectiveness:

● This looks complicated, complex
● This is a really good idea
● I wouldn't go anywhere near this thing
● Anyone with any sense would be deterred by this
● This is smart because I had no idea it was here. You'd have caught me.

*For a free copy of the entire LPRC Research visit http://tally.solutions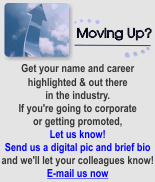 2014 Group LP Selfie Awards

Pizza Party Drawing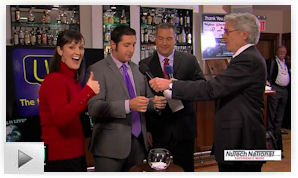 Gus, Amber, Joe, and Tony Mancino of NuTech National announce the three winners of the 2014 Group LP Selfie Awards. The Daily's "Get LP Social" program all started last summer when Chad McIntosh of Bloomingale's sent in a picture of he and his LP team, jokingly calling it a "group selfie." In just a few months, over 60 LP teams from across North America joined in on the fun, showing their pride to the industry with "Group LP Selfies" of their own. Find out which three LP teams won free pizza parties in our LIVE drawing from NYC this past January.
Solution Providers, have a video or commercial you want to publish? Contact us.



e-commerce

Sponsored by The Zellman Group
Alibaba customers exposed in targeted phishing attack
Customers of the online retail company Alibaba have been specifically targeted with a phishing scam.

The Comodo Antispam Labs said some Alibaba customers have been victimized by a phishing scam where the e-mail uses a spoofed address - feedback@service.alibaba.com – and a message that attempts to get people to verify their account information. The e-mail contains links to a dummy website that asks for usernames and passwords, which are then appropriated.

Comodo said the phishing campaign has been in progress for about a week, but it could not say how many people may have been impacted. thepaypers.com

Cybercriminals used different fraud tools for users and businesses in 2015
According to Kaspersky Lab's review of corporate threats, they included greater exploitation of legitimate software programs and malware being signed with valid digital signatures to keep malicious files hidden for longer. There was also a rise in the number of corporate users attacked by ransomware.

Kaspersky Lab's experts found that in 2015 58% of corporate PCs were hit with at least one attempted malware infection, up three percentage points on 2014. One in three business computers were exposed at least once to an internet-based attack; with the exploitation of standard office applications seen three times as often as in consumer attacks.

Point-of-sale terminals, used by retailers and other consumer-facing organisations were another target for attack in 2015, with Kaspersky Lab products blocking more than 11,500 attempts to hack into PoS devices. The company knows of ten families of programs designed to steal data from PoS terminals, and seven of them appeared for the first time in 2015. thepaypers.com

Fraud attempts on the rise: Website, mobile, and call center fraud intensifies
Based on results from our 3rd Annual Fraud Report, information theft (from 19% in 2014 to 39% in 2015) and account takeover (from 33% in 2014 to 39% in 2015) activity is on the rise. Coupled with the increase in suspected fraud attempts year over year, credit unions realize the clear need to employ necessary identity verification and fraud prevention solutions to ensure a customer is indeed a legitimate customer and not a fraudster with "perfect" identity information in hand. Website applications continue to bear the brunt of attempted fraud. As EMV continues to gain traction in the United States, it's expected that fraud will shift to website applications since Chip-and-Pin technology is more difficult to duplicate than the current magnetic-stripe variety in use. Mobile fraud has become increasingly top of mind for credit unions as the use of smartphones gain in popularity and usage. With the convenience of smart devices being able to access personal accounts, security is becoming more and more of a priority. cuinsight.com

Real-Time Payments A Reality By 2017's End?
"Fraud is not a person - it is a dynamic grouping of statistics that deviate from the norm."
Stuart B. Levine, CFI, CFCI
CEO, The Zellman Group & Zelligent


ORC News
Sponsored by NEDAP
Alaska Organized Retail Crime Alliance showcases its alliance with local Retailers
Area residents learned that names, phone numbers, work histories and credentials are only a click away during a background check workshop held Tuesday. Hosted by the Soldotna Chamber of Commerce and coordinated by Alaska State Troopers Director Colonel James Cockrell and Lt. Dane Gilmore, the workshop held at the Kenai National Wildlife Refuge Visitor Center addressed the various methods of checking an individual or company's background for law enforcement, business and personal use. Leon Morgan of the Alaska Information Analysis Center demonstrated how to use the Alaska Organized Retail Crime Alliance, a site dedicated to information sharing for businesses and law enforcement groups to prevent retail crimes. The site is accessible only to registered businesses who have proved that they are working with local police to monitor and stop thefts and other retail crimes. "Retail loss prevention officers, or managers within, like, a Target or a Fred Meyer or something, that have access to pretty good surveillance systems, can post incidents onto the site in almost a real-time environment," Morgan said. Once registered, businesses can post pictures and other details when they are victims of theft for other retailers and police groups to see. The goal is for those entities to be able to track repeat offenders or be on the lookout for those who commit crimes and migrate to other towns, Morgan explained. peninsulaclarion.com
Galloway Twp, NJ: 13 indicted in $100,000 South Jersey shoplifting ring targeting Marshalls and TJ Maxx
A total of 13 people are accused of taking part in a shoplifting ring that operated in southern New Jersey, netting more than $100,000 worth of clothing items. Police say the ringleaders were Alicia Blackburne, 27, and Robert Campbell, 29, both of Galloway Township. The New Jersey Attorney General's office says the ring would target Marshalls and TJ Maxx stores in Atlantic, Burlington, Camden, Cape May, Cumberland, Gloucester, Ocean and Monmouth counties. Investigators say Campbell would drive Blackburne to one of the stores, where she would allegedly put items into a large shoulder bag and head to a bathroom. While in there, she would allegedly remove all security devices and leave the store. The stolen items would then be handed off to a third person, the AG's office said, who would go back to the store and return the items for a gift card. Then, the ringleaders would allegedly take those gift cards to a pawn shop, where they would receive half the amount in cash. 6abc.com
Louisville, KY: Kroger ORC Unit works with Kentucky State Police and Louisville Metro in Fencing raid
Police Officers raided a neighborhood corner store Tuesday, where they said stolen items were being sold. Unmarked white cars pulled up to the corner of Denmark Street and Cliff Avenue a little before 10 a.m. Tuesday. A Kroger representative said stolen baby formula and energy drinks were being re-sold at the store in the Oakdale neighborhood. Kroger said when items like the ones found Tuesday are stolen, it costs them millions of dollars. A representative for the grocery chain said it's tough to pinpoint exactly how much money is lost. He said, in a statement, "Organized retail crime is a significant issue for our industry, when it goes unchecked it costs everyone through higher prices. At Kroger we have made it a priority to stop these individuals." They said no one has been arrested, but the investigation is ongoing. wlky.com
Circleville, OH: Indictment against multi-county 'Band of Thieves'; ATM Smash and Grab and Organized Crime
The Pickaway County Sheriff's Office helped make the case against a group of seven people indicted last week as part of a multi-county theft ring. The group, dubbed the "Band of Thieves" by investigators, are charged with crimes in Clark, Darke, Delaware, Miami, Montgomery, Pickaway, Preble and Shelby counties. The 74-count indictment against the suspects was handed down by the Clark County Grand Jury on Dec. 8 and includes a break-in at Bubba's Corner in Pickaway County. Charges in the indictments include engaging in a pattern of corrupt activity, burglary, breaking and entering, safe cracking, vandalism, theft and receiving stolen property. pickawaynewsjournal.com
Napa, CA: Police Arrest 2 Suspected Of Stealing Pricey Wine From Stores
Napa police arrested two San Jose residents Monday on suspicion of stealing $4,000 worth of expensive wine from stores in Napa and in several different counties. Police responded around 7:10 p.m. Monday to a report of a wine theft at the Nob Hill food store, Lt. Debbie Peecook said. A store employee detained one of the suspects but two others fled in a vehicle, Peecook said. A Napa County sheriff's deputy who stopped the vehicle and found 14 bottles of wine allegedly stolen from the food store and 60 more bottles of wine valued at more than $4,000 in the vehicle. cbslocal.com

Watertown, NY: $3,000 Shoplifting spree at Salmon Run Mall ends with 1 to 3 years in prison
Najah M. Fields, 21, Syracuse, pleaded guilty to fourth-degree grand larceny. She had been charged with stealing more than $3,000 worth of merchandise during a shoplifting spree at multiple businesses at the Salmon Run Mall. She is expected to be sentenced Jan. 8 to one to three years in prison. watertowndailytimes.com

Peoria, IL: Gander Mountain reports the theft of $1,500 in merchandise
Four women reportedly stole $1,500 worth of clothing from a store Friday evening. About 8:20 p.m. Friday, four women in their 20s dressed in dark clothing entered Gander Mountain, went up to a clothing display and started putting various types of clothing into their large handbags, according to a police report. They then left the store and entered a black, four door sedan without paying for the merchandise. The clothing was damaged and torn in their attempts to remove security devices. pjstar.com

Tampa, FL: Two suspects sought in drone theft from University Mall shop
The Hillsborough County Sheriff's Office has released surveillance images of two men shoplifting a drone worth about $800 from a North Tampa hobby shop. About 7:06 p.m. Friday, the men went into My Tobbies, inside University Mall. tbo.com

Des Moines, IA: Four women busted at Kohl's in Ames, IA
The four women were arrested Monday after two of the women entered the store and walked out with various clothing items valued at just under $200. All four women were charged with third-degree theft. Webster and Sumlin were also charged with the misdemeanor of possession of a theft detection removal device. amestrib.com


Do you have an ORC case to share?
Share your ORC news and help the industry grow


Retail Crime News

Sponsored by Security Resources
Dallas, NC: Man killed fleeing store after check fraud
Authorities in North Carolina say Police Officers shot and killed a man who was trying to get away after two accomplices were caught trying to pass fraudulent checks at a grocery store. Police said while the two suspects in the store were apprehended, the third suspect, who was waiting in a car in the parking lot, drove away. Buckner said the suspect's car struck a patrol car and officers then opened fire. Officers pulled the suspect from the car. He was pronounced dead at the scene. journalnow.com

Detroit, MI: 1 dead, 2 injured in gunfire outside strip mall
A man in his 20s was killed and two others were injured after an argument in a strip mall parking lot erupted in a shooting on Tuesday night, Detroit Police announced. Few details were released, but the three victims were in the parking lot near Chicago and Fitzpatrick around 5:30 p.m. Tuesday when two suspects approached and started arguing with them, said Sgt. Cassandra Lewis, a police spokesperson. Police did not say why the argument started, or whether the assailants and victims knew each other. But bullets struck three victims: a man in his 20s who was killed, a 21-year-old woman who was non-critically injured, and a 25-year-old man, whose condition was not known. freep.com

Houston, TX: Customer killed trying to stop an Armed Robbery at Food To Go
A man was killed Tuesday during an attempted robbery at a Food To Go in southeast Houston. Police said two men entered the store on Almeda Genoa Road at about 9:30 p.m. One of men was armed and held a customer at gunpoint. The customer, 37- year-old Joe Hillsman, began to tussle with the would-be robber when the gun was fired, shooting the customer. Both robbers ran from the store to a waiting car with a driver inside, according to police. The customer was taken to Ben Taub Hospital in critical condition where he later died. click2houston.com
Bent Co, CO: Man armed with machete robs NAPA Auto Parts store, ties up victims
The Bent County Sheriff's Office says the suspect stopped in Las Animas around noontime Tuesday, first stopping at a gas station to ask how to get to California. Deputies say the suspect then robbed the NAPA Auto Parts store, which sits next to the Sheriff's Office just north of town. The suspect, armed with a machete, tied up victims before leaving in an SUV. 9news.com

New York, NY: Workers threw away $5M in diamonds from Midtown jewelry store
The mystery of how nearly $5 million in diamonds went missing from a Midtown jewelry store has been solved. As it turns out, some workers at J. Birnbach Inc. were helping their boss move to another floor and tossed three weathered wooden boxes filled with diamonds in a heap of trash without bothering to look inside, law enforcement sources said. But a building security guard patrolling the third floor allegedly did take a peek and discovered the mother lode: a cluster of expensive stones, including one worth $3.2 million. Wilfred Martinez, 47, sold some of the booty to a jeweler in the same building where he found them, but not the 17-carat diamond that was the $3.2 million crown jewel of the collection. He has now turned over that piece to cops, along with two smaller diamonds and $10,000 in cash. Authorities are trying to track down the rest of the stones, law enforcement sources said. nypost.com

Sacramento, CA: Police searching for 2 men in Jewelry store burglary
The Sacramento Police Department is searching for two men in connection with a burglary Friday at a jewelry store. Officers said the men broke into Berelian Fine Jewelers and stole highly valuable jewelry from the display cases. The men ran from the store before police arrived. kcra.com
Pasadena, TX: Best Buy employee accused of stealing gift card funds
An inside job at a Best Buy store landed a worker in jail for stealing thousands of dollars in gift cards. Pasadena police said Sky-Lyn Lozano, 18, worked at the Best Buy off Fairmont Parkway. The former employee created fraudulent refunds, took those refunds and then placed them on gift cards for herself. click2houston.com

Hays, KS: Four arrested at Walmart breaking into a cash register; all with prior criminal records
The report of a theft at the Hays Walmart SuperCenter eventually resulted in the arrest of four people in Goodland, Hays Police Chief Don Scheibler said. The theft was reported at 5:24 p.m. Dec. 11. The four were arrested later that day. Police learned four people had worked together to break into a cash register, getting away with $600. The LP staff contacted other area stores and later that afternoon 2 of the suspect walked into the Walmart in Goodland. The two were soon arrested at the Goodland Walmart, and the other two were located at a motel a short distance away. Scheibler said all four have had previous arrests, ranging from one to 15 previous convictions for theft. hdnews.net

Buffalo, NY: Cuban National sentenced to federal prison for credit card fraud; $13,000 restitution
A Buffalo man was sentenced Tuesday to 31 months in federal prison term and ordered to make $13,785.29 in restitution by U.S. District Judge Richard J. Arcara on his July 30 guilty plea to conspiracy to commit bank fraud. Eduardo Hernandez Quinones, 46, a Cuban national and a former resident of Miami, fraudulently obtained the credit or debit card numbers of cardholders, then encoded that information onto counterfeit cards he used to purchase merchandise at retail stores throughout Western New York. He also used counterfeit cards to purchase gasoline at area gas stations and then resell the gas for cash. buffalonews.com

Springfield, MA: Macy's $500 Jewelry Thief turns himself in
The man accused of stealing $500 worth of jewelry from the Eastfield Mall Macy's has turned himself in to police. Springfield Police Sgt. John Delaney told 22News 29-year-old Michael Ryder of South Hadley has been charged with armed robbery in connection with the crime. Ryder allegedly stole the jewelry and then pulled a knife on a store security officer when he was trying to get away. Sgt. Delaney said Ryder turned himself in after seeing a surveillance photo of himself posted the Springfield Police Facebook Page. wwlp.com

Denver, CO: Grand Jury indicts "Randy the Purse Guy" on Felonies
A man accused of illegally selling knock-off purses and other merchandise for years has been indicted by a Denver Grand Jury for trademark counterfeiting and tax crimes. The indictment was unsealed on Monday and is the result of work by the U.S. Immigration and Customs Enforcement's Homeland Security Investigations and the Denver Police Department and the Denver District Attorney's Office. Randy Lynn Hastings has been charged with two counts of tax violation, two counts of tax evasion and five counts of trademark counterfeiting. The indictment alleges that between Jan. 1, 2013 and Nov. 4 of this year, Hastings, 59, promoted himself as "Randy The Purse Guy" and sold counterfeit merchandise including purses, wallets, watches and sunglasses. He also failed to collect and pay taxes. cbslocal.com

Oconee County, Woman, 89, accused of shoplifting NyQuil, other meds; facing felony charges for 3 strike rule
An 89-year-old woman was arrested and charged with shoplifting after she allegedly walked out of a Wal-Mart in Oconee County with more than $100 worth of medications, including NyQuil and DayQuil and Advil. Bingham had been stopped twice previously for alleged shoplifting, according to the sheriff's report, but the store chose not to prosecute her because of her age, authorities said. The charge against her is a felony because Bingham had more than three previous shoplifting convictions. ajc.com

Cincinnati, OH: Gas Pump credit card skimmers a 'growing trend' in Southwest Ohio


Robberies and Burglaries
● Bailey's Jewelers – Bossier City, LA – Attempted Burglary
● Bolton Gas – Bolton, CT – Armed Robbery
● Center Deli Mart – Bristol, CT –Robbery
● CVS – Omaha, NE – Robbery
● Dollar General – Thomasville, GA- Armed Robbery / video released
● Dollar General – Falling Waters, WV – Armed Robbery
● Dollar General – Aiken, GA – Burglary
● Food To Go – Houston, TX – Armed Robbery / Customer killed
● Food Town – Bossier City, LA – Burglary
● GameStop – Nassau, Co, NY – Armed Robbery
● Gas Mart – Roseland, CA – Robbery
● Kangaroo Express – Bessemer, AL – Armed Robbery/ Employee shot and killed
● NAPA – Waterloo, IA – Burglary
● Speedway – Lexington, KY – Armed Robbery / 2x this week
● T-Mobile – NYC / Stuyvesant Town, NY – Robbery
● Triple JJJ – Bossier City, LA – Burglary / ATM
● 7-Eleven – Phoenix, AZ – Armed Robbery


Featured Job Listings
Sponsored by NuTech National
Feature Your Job Here For 30 Days -
70% Aren't On the Boards
Regional LP Mgr
Tractor Supply Company
Minneapolis, MN
Tractor Supply Company
Regional LP Mgr
Tractor Supply Company
Omaha, NE
Tractor Supply Company
VP of LP
Mattress Firm
Houston, TX
Mattress Firm
Asset Protection Specialists
Southeastern Grocers
AL, FL, MS
Paris Freeman
Dir Corp. Investigations
US Foods
Chicago, IL
US Foods
Dir LP
Conn's Home Plus
The Woodlands, TX
Conn's Home Plus
Sr. Mgr. Global Corp. Security
Avon
New York, NY
Avon
AVP Mgr of AP Operations
BJ's Wholesale Club
Westborough, MA
BJ's Wholesale Club

Director Store LP
Michaels

Irving, TX
Michaels


Dir LP
Sephora
San Francisco, CA
Sephora
Dir LP
True Religion Brand Jeans
Manhattan Beach, CA
True Religion Brand Jeans
LP Manager
Natural Grocers
Lakewood, CO
Natural Grocers
Sr Mgr Corp Investigations
US Foods
Chicago, IL
US Foods
LP Officer
Bi-Mart Corp.
Yakima, WA
Bi-Mart Corp.
Zone Mgr, LP & Safety
Lumber Liquidators
Pomona, CA
Lumber Liquidators
Dir Safety & LP
Harbor Freight Tools
Calabasas, CA
Harbor Freight Tools
Dir AP
99 Cents Only Stores
Commerce, CA
99 Cents Only Stores
LP Dir
BevMo
Concord, CA
BevMo
Dir LP (Western Canada)
Walmart Canada
Calgary, CA
Walmart Canada

Daily Job Alerts


Appearing One Day Only
View our Internet Jobs Archives here
LP Supervisor
JC Penney
Montgomery, AL
JC Penney
Dept Mgr LP & Safety
Lowe's
Ashland, KY
Lowe's
Dept Mgr LP & Safety
Lowe's
Tilton, NH
Lowe's
Dept Mgr LP & Safety
Lowe's
Trotwood, OH
Lowe's
Dept Mgr LP & Safety
Lowe's
Graysville, AL
Lowe's
AP Team Leader
Target
Melbourne, FL
Target
LP Manager Hrly
Kmart
Portland, TX
Sears Holdings Corp
LP Manager Hrly
Kmart
Nashville, TN
Sears Holdings Corp
Mgr AP
Walgreens
New Hyde Park, NY
Walgreens
AP Manager in Training
Walmart
Flanders, NJ
Wal-Mart
AP Manager in Training
Walmart
Helena, MT
Wal-Mart
AP Manager in Training
Walmart
Albuquerque, NM
Wal-Mart
AP Manager in Training
Walmart
North Augusta, SC
Wal-Mart
AP Manager in Training
Walmart
Aurora, CO
Wal-Mart
AP Manager in Training
Walmart
Odessa, TX
Wal-Mart
Market AP Manager
Sam's Club
Columbus, OH
Wal-Mart
Area AP Mgr
Best Buy
Kansas City, KS
Best Buy




Home of the Industry's Original
On the Move
Sponsored by Civil Demand Associates
None to report.
Post Your New Job or Promotion!
See all the Industry Movement


Your Career
Sponsor this section of the Daily
7 Things Every Leader Should Have Learned in 2015 Every so often, you'll encounter some leadership advice that is off the charts, some real jewels of wisdom that you can't find in books, or on any websites. Here are some of the best of the best leadership tips from Inc. Know your 'why'

5 Timeless Leadership Lessons From Abraham Lincoln Sometimes the greatest teacher you can use is history. Past events show us what not to do, and what works time after time. Certainly tools have changed since Lincoln's time in office, but here are lessons that can be applied to any generation and workspace. Be a Person for the People

Four Counterintuitive Habits of Effective Leaders There are all sorts of different opinions on what makes good leaders. It's only recently that science has uncovered research to turn conventional wisdom upside down. Here are some habits that the most effective leaders share. Must be liked

The 3 C's Confident Leaders Possess
What drives confidence in leaders? While the list could go on and on forever, there are 3 common traits that generate confidence in leaders and drive high-performing and successful organizations and work cultures. Here's what qualities confident leaders have in common. Competency, Consistency, Care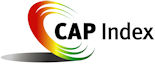 Tip of the Day
Sponsored by Vector Security
Sometimes you've just got to draw the line on what advice to follow and who you ask. Certainly getting advice is important on any issue or decision. But at the end of the day you've got to own your own decision and listen to the bird on your shoulder. We all have one and oftentimes it's muted by our friends and family members. At 5 am staring into that mirror is usually when the bird whispers the clearest. The only problem then is if you don't hear it because you're not listening.

Just a Thought,
Gus





Upcoming Events
---
Recruiting?
Get your job e-mailed to everyone... everyday
Post on our Featured Jobs Board!
Reach your target audience in 2016 every day!
Request our 2016 Media Kit
update account / change e-mail
unsubscribe FEEDBACK
www.downing-downing.com

Advertise With The D&D Daily




36615 Vine Street, Suite 103
Willoughby, OH 44094
440.942.0671
copyright 2009-2019
all rights reserved globally