The D&D Daily Mobile Edition
December 17,

2015



The LP Industry's #1 News Source - Informing, Educating and Instilling a sense of community




2015's GLPS's - Group LP Selfie's
Your Team - Your Pride - Our Industry
One Team at a Time

Family Dollar, Group 50, Loss Prevention Team

"Win as 1"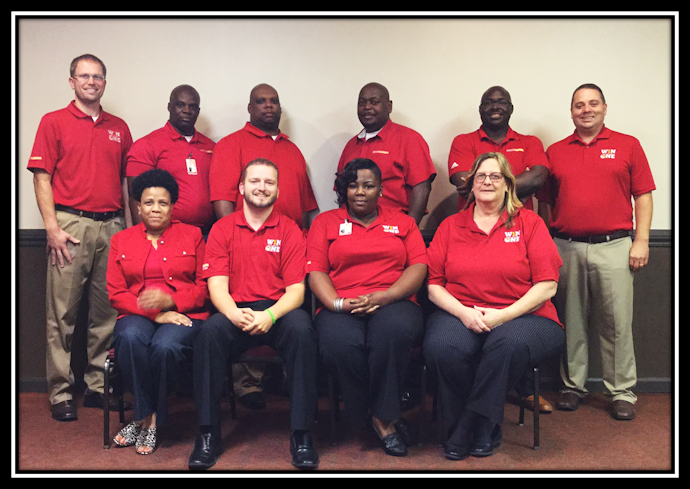 Top to Bottom, left to right: Pete Hohlwein (Director LP, Group 50), Damon Wells (Market Auditor, LP), Bernard Peterson (Regional LPM), Christopher Lewis (Region LPM), Fred Brewster (Region LPM), Chris Pomerleau (Regional Vice President, LP), Juliette Gendricks (Region LPM), Jon Rhoads (Region LPM), Lakeisha Hagan (Market Auditor, LP), Denise Kelley-Weltzien (Region LPM)

News Brief
Sponsored by WG Security Products, Inc.
Retailers Estimate Holiday Return Fraud Will Cost $2.2 Billion in 2015
- 3.5% of holiday returns will be fraudulent
- Total return fraud in 2015 = $9.1 Billion
Retail fraud comes in many shapes and sizes and is especially rampant during the holiday season when online and in-store traffic grows significantly. One of the biggest issues throughout the holiday season: return fraud. According to NRF's latest Return Fraud Survey, retailers estimate that 3.5 percent of their holiday returns this year will be fraudulent, up slightly from the estimated 3 percent reported last year. Holiday return fraud is expected to cost retailers $2.2 billion, up from approximately $1.9 billion last year.

Retailers surveyed estimate that total annual returns will reach $260.5 billion, or 8 percent of total retail sales, with $9.1 billion of retailers' annual returns expected to be fraudulent, or 3.5 percent of the industry's total returns.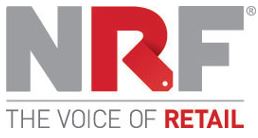 "Return fraud remains a critical issue for retailers with the impact spanning far and wide, in-store and online," said NRF Vice President of Loss Prevention Bob Moraca. "While technology has played a significant role in deterring many in-person fraudulent transactions that would have otherwise gone unseen, there is little that can be done to prevent a determined criminal who will find a loophole one way or another. When it comes to retail fraud, retailers can build taller walls, but criminals continue to find taller ladders."

When it comes to specific instances of return fraud, one problem stands out as the biggest offender: nine in 10 retailers surveyed (91.9%) said they have experienced the return of stolen merchandise, similar to last year's 92.7 percent. Wardrobing, or the return of used, non-defective merchandise, also presents a unique challenge year after year for retailers: three-quarters (72.6%) of those polled said they have experienced wardrobing in past year, on par with last year's 72.7 percent.

The report does offer a glimmer of optimism though. According to the survey, fewer retailers in 2015 have experienced specific instances of return fraud, including:

● 75.8 percent have experienced the return of merchandise purchased on fraudulent tender, down from 81.8 percent in 2014;
● 71 percent have experienced return fraud made by known organized retail crime groups, down from 78.2 percent last year;
● 77.4 percent of retailers surveyed have experienced employee return fraud or collusion with external forces, down from 81.8 percent in 2014. nrf.com
Sephora Says Palmer Reifler Is Liable For Shoplifting Suit
Sephora slapped Palmer Reifler & Associates PA with a lawsuit Tuesday in California federal court demanding reimbursement for a proposed class action arising out of the firm's agreement to represent the cosmetics retailer in pursuing damages for shoplifting. Sephora USA Inc. said it hired Palmer Reifler to pursue damages and civil penalties for theft offenses such as shoplifting and that their agreement requires the firm to indemnify Sephora for any suits arising from its negligence or improper conduct.

But when Sephora was hit with a lawsuit last year in California state court that the retailer said was based entirely on allegations of Palmer Reifler's misconduct, the firm refused to pay up. "Sephora has incurred substantial expense as the result of a claim directly arising from the alleged improper conduct of PRA. Despite proper and timely demand, PRA has refused to honor its indemnity obligation, and is therefore in breach of contract," Sephora alleged. law360.com

Home Improvement Co. Under Fire Over Employee Handbook
Home improvement chain Menards has been hit with a National Labor Relations Board charge for allegedly having an overly broad handbook that interferes with or restrains employees' rights under the National Labor Relations Act. The Office & Professional Employees International Union Local 153 said in an amended charge filed Monday with the NLRB that Menards' Team Member Information Booklet has provisions that are too broad and can restrain or coerce the exercise of employee rights. law360.com

New technology may protect credit cards, but signal return to old ways for thieves - Mail theft, home burglaries, car 'smash and grabs'
With holiday shopping well underway, multiple law enforcement agencies are warning against an increase in theft. They're concerned that as it becomes more difficult for criminals to steal merchandise or personal information via credit cards, they'll turn to stealing actual items from stores, porches and cars. "We do see an increase in mail theft and specifically package theft during the holiday season," said Ashley Glover, a crime prevention specialist at the Kern County Sheriff's Office.

"We're already seeing an increase in mail theft, (theft of) packages delivered and 'smash and grabs' of cars," Kern County Deputy District Attorney David Wolf said. "I really think 'smash and grabs' are going to be our biggest problem." What Wolf describes as "smash and grabs" are thefts resulting from people leaving valuable items, whether they were purchased while Christmas shopping or regularly left in the car. Thieves smash the window, grab the items and flee before they're seen or caught.

Wolf attributes the increase in such crimes to the use of new credit cards that use microchip technology to battle identity theft. Despite the cards helping combat fraud and identity theft when used at stores, Wolf said people are still vulnerable when purchasing products online. bakersfield.com

UK: Source Tagging... Where The 'Steaks' Are High This Christmas
According to the Centre for Retail Research, malicious losses - theft - could account for almost $1.5 billion in the UK this Christmas, a figure that will cost every UK household $60. Although the majority of external theft will be targeted at easily concealable and wearable items, including fashion and beauty products, high-value consumables such as alcohol, cheese, salmon and meat will also dramatically eat into retailer's takings. Indeed, the stakes have never been higher when it comes to combating meat theft in Europe's supermarkets - a symptom, perhaps, of the fact that because the cost of steak is so high, it remains the third most consumable stolen item across the globe.

One UK Loss Prevention Director for a major supermarket said, "If you speak to some of our store managers, it is a major issue, as they are in certain risk-demographic areas where there is a profitable black market in the sale of high-value meat. We tend to lose steaks and legs of lamb, which retail at around the 10 pound mark, and for the thieves, there is a quick turnaround in business in the pubs, if you are in the know of where to go. "We apply the tags in store on high-value products, such as steaks, because what is clear is that it is all about high-value cuts of meat. This view was shared with another supermarket head of loss prevention (LP), who said, "We do still have issues, although this is less so since we commenced source-tagging our meat. This has reduced our losses in conjunction with our other solutions. esmmagazine.com

In case you missed it - U.S. Department of Homeland Security Updates National Terrorism Advisory System
In case you missed our D&D Daily Special Report this morning, the Department of Homeland Security activated the National Terrorism Advisory System for the first time Wednesday, warning the public of "self-radicalized actors who could strike with little or no notice." The bulletin, which marks the addition of a new level of public warning to the system, will be in effect for the next six months, or until events dictate otherwise. The DHS is "especially concerned that terrorist-inspired individuals and homegrown violent extremists may be encouraged or inspired to target public events or places," the bulletin stated. However, there is current specific information about a pending attack. Under the amended advisory system, periodic bulletins will be issued to inform the American public of more general threats identified by national security officials. dhs.gov usatoday.com

Wal-Mart to Spend $64M on Raises, Other Workforce Investments in Arkansas
Wal-Mart Stores Inc. of Bentonville said its $2.7 billion plan to invest in its domestic workforce includes about $64 million in Arkansas, including raises for 39,000 of its employees here. The company said Thursday that by February, the full-time average hourly wage for workers in Arkansas will be $12.80. The average for part-time workers will be $10.37. arkansasbusiness.com

Largest U.S. furniture retailer Ashley HomeStore celebrates milestone 600th store - with 100 more on tap
Ashley HomeStore celebrated the grand opening of its 600th store - in Hanoi, Vietnam. The fast-growing furniture store brand has added more than 50 new HomeStores worldwide this year and is planning to open more than 100 additional locations in 2016. Ashley currently has 600 locations in 28 countries. chainstoreage.com

CEO of discount department store chain going 'undercover' on popular TV show
A CEO who took over family business when he was 27 years old is the next retailer to be spotlighted on the CBS television show, "Undercover Boss." Sam Dushey heads up Shoppers World, a family-owned and -operated full-line discount department store chain headquartered in New York City. In his 10-year stint as CEO, Dushey has grown the business from eight stores to 40 locations across 11 states and up to $250 million in annual retail sales. Dushey is now looking to expand the company to 500 stores. chainstoreage.com

Guardian Alarm doubles Florida footprint with buy
Guardian Alarm, a super-regional company based in Southfield, Mich., has acquired SVI Systems, based in Stuart, Fla., nearly doubling its size in that state. Guardian is acquiring the entire company, including 3,000 accounts and 22 employees, and it's renewing the lease on SVI's current building. The accounts are about 60 percent commercial, 40 percent residential, he said. securitysystemsnews.com

CVS Health finalizes the $1.9B 1,672 Target pharmacies deal in 47 states

Huge shopper turnout expected this Super Saturday Weekend

Google Maps now displays store 'rush hours'

Feds working 'non-stop' on 'hoverboard' fires

Top 2015 monitoring trends: ASAP, DIY, PERS and cloud


Quarterly Same Store Sales Results
Rite Aid Q3 retail pharmacy comp's up 0.9%, front-end up 0.3%, pharmacy up 1.2% - revenues up 21.8%
Pier 1 Imports Q3 comp's down 0.7% with sales down 1.4% on constant currency basis
All the News - One Place - One Source - One Time
The D&D Daily respects your time
& doesn't filter retail's reality

Report Your News!
(content subject to approval)


PayPal News

Ex - custodian pleads guilty to stealing instruments from schools & students
The PayPal Global Asset Protection Investigations team assisted the Ipswich Police with their investigation into the affairs of Paul Bedard. Bedard, the former head of custodians for the Ipswich Public Schools Division, admitted in court to stealing musical instruments, electronics and other pieces of technology from the district and from students. The defendant sold the stolen items on an online marketplace and used PayPal to receive the funds. Bedard was sentenced to a year in jail, received supervised probation, and ordered to pay back $44,848, of which all will go back to the victims. Bedard was further ordered to stay away from all school functions and property.

For further information on PayPal GAP Team, email inquiries to lawenforcement@paypal.com.

Spotlight on Zellman Group

The Zellman Group Launches New Website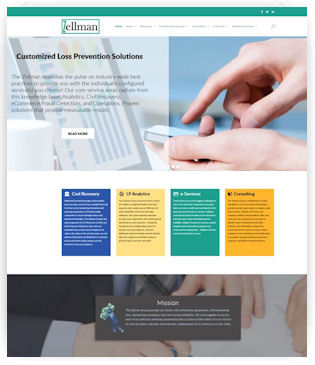 The Zellman Group, LLC, a national leader in Civil Recovery, LP Analytics and eCommerce Fraud detection is proud to announce the release of their new website. The Zellman Group supports retailers of all sizes, customizing loss prevention solutions to fit client's needs through adhering to their mission, vision and values. The new website highlights these and the brand refresh is closely aligned with the company's strategic vision for growth and their focus on core services for their clients. Each offering has a dedicated page which provides a clear overview to aid in the decision making process.

The new clean, modern design offers easy navigation to the information most important to both potential and current clients. The blog and whitepapers provide a glimpse into industry trends and best practices to educate readers. Throughout the website prospective clients have the opportunity to schedule a demo to learn more about Zellman's core services and current clients can access links to frequently used tools. Short videos illustrate their leading recovery service and award winning eCommerce tool. The new version of the website also puts the Zellman team front and center so you can learn more about the executive team.

You can checkout the new website HERE.


Congress Set to Enact Cyberthreat Information-Sharing Law
Congress is poised to vote on a measure this week that would incentivize businesses to voluntarily share threat data with the federal government and with one another. It establishes a process for the government to share threat information with businesses. Although business groups generally favor the legislation, many privacy and civil liberties advocates have voiced strong opposition to it.

The House scheduled a vote on the legislation for Friday, with Senate action expected shortly thereafter if the lower chamber passes the measure. President Obama is expected to sign the legislation should it clear both houses.

Known as the Cybersecurity Information Sharing Act of 2015, the measure is a conglomeration of three bills, two passed by the House and one by the Senate earlier this year (see Senate Passes Cybersecurity Info-Sharing Bill). The chairs of both houses' intelligence committees and House Homeland Security Committee, as well as congressional leaders, worked out the final details of the legislation behind closed doors. govinfosecurity.com

Business Alert: Rasomware attacks targeting businesses increase 9 times in two weeks - suggesting one cybercrime gang
Over the past two weeks the number of TeslaCrypt infection attempts detected by Symantec went up from around 200 a day to 1,800, suggesting that one cybercriminal group is ramping up its use of this malicious program. The group's preferred method of infection is through spam emails with malicious attachments. The subject lines of these emails begin with "ID," followed by a random number and a request related to alleged invoices, successful orders or wire transfers.

Judging by these topics, the attackers are targeting businesses -- a new trend for ransomware attacks in general that's fueled by businesses being more willing to pay to recover important files. csoonline.com

80% of Companies Had a Security Incident in 2015 - Ransomware TOPS concerns in 2016 - IT Security worried about hackers, rogue employees and organized crime groups
Interestingly, malware attacks were reported by 51% of IT professionals in 2015, followed by phishing and spyware incidents at 38 and 34% respectively. This aligns closely to the percentage of organizations that are concerned about these incidents in 2016. However, 53% said they're concerned about ransomware in 2016, but only 20% of organizations experienced a ransomware incident in 2015.

Thirty-nine and 37% of IT professionals also expressed concern about data theft and password breaches respectively, but only 5% of organizations experienced an incident of data theft in 2015 and only 12% experienced a password breach.

About half (49%) said they're concerned about independent hackers, 36% cited rogue employees and a quarter (25%) said organized crime groups. infosecurity-magazine.com

Top Four Retail Tech Predictions for 2016
2016 will be the year of collaboration for brands and retailers. Brands and retailers will realize in 2016 that collaboration is the only way to understand shifting consumer shopping behavior, create and optimize great content for omnichannel, and respond with one excellent shopping experience.

E-commerce departments will be broken off as standalone organizations. Brands will launch their e-commerce departments as standalone organizations to concentrate expertise and maximize the success of new channel sales.

Brands will launch their own marketplaces. By 2030, 30% of all purchases will be made through an online community.

Amazon drone armies will become self-aware. Amazon drones are poised to become self-aware, e-commerce driving machines that will decide what you want and just deliver it. Their parting line will always be: "We'll be back." chainstoreage.com

Target scrambles to revamp wish list app after security flaw exposed

Safeway: Credit card skimmers found at Bay Area stores

Ohio says identity theft complaints up over 2014

Passwords Will Be Eliminated Within 10 Years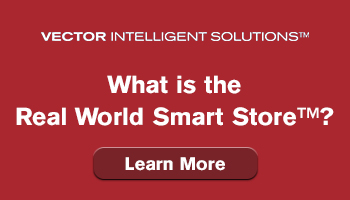 Press Releases

Tally Retail Asset Protection's New Solution for Detecting and Deterring Credit Card Device Tampering Gaining Acceptance
Solution Provides Visual Verification and Tracking of an Attempted Data Device Intrusion
Boca Raton, FL. – December 16, 2015 – Tally Retail Asset Protection, today announced it's Digital Device Protection (DDP), an innovative approach to detecting, tracking and deterring credit card device tampering attempts, is being deployed in two supermarkets chain wide, with more deployments planned in 2016.

Credit card fraud and consumer identity theft are rapidly growing problems, particularly in the United States. According published reports, while the U.S. accounts for roughly 23% of credit card volume, it is responsible for 47% of credit card fraud.

"Credit card fraud and identify theft are two of the most pressing problems retailers and consumers face every day in the U.S.," stated Sean Ryan, Tally's Customer Acquisition Director. "With the introduction of DDP, we are giving retailers and consumers alike confidence in knowing if their information may have be compromised."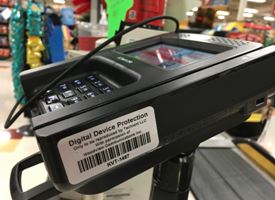 DDP will give retailers the ability to visually verify and track if their credit card device intrusion labels or remote payment terminal labels are secure and safe. DDP is comprised of encoded tamper evident intrusion labels that can be secured to the separation point of devices and displays a watermark if tampered with, or leaves visual residue on the device if removed. The encoded intrusion labels are difficult to counterfeit and information related to the label, device, and location is securely stored for immediate verification by any authorized smart device.

In addition to securing the in-store device, Tally also leverages its TRAP Associate Alerting Platform AAP to register the intrusion label, which is tracked by store number and device location. Through the use of a Smartphone or Tablet and the DDP app, retailers can quickly and easily register the labels and use the cloud based TRAP platform for auditing and alerting. Auditing the labels condition from audit to audit gives the retailer a containment window of a possible breach.

Retailers can choose to set up an audit schedule for each of the labels to ensure that they are still intact and un-tampered. If the audit does not take place at the scheduled time, an alert can be sent to the corporate security or IT department informing them of the missed audit.

The key to this approach lies not only in the encoded customer-specific serialized tamper evident label that can be affixed to any credit card device but also in the proprietary database used to verify the authenticity and location of the label", commented Trey Ryan, Lead Technologist at Tally. "Often times even the best technology solutions fall short due to the human factor, with DDP we are assisting retailers and their employees in maintaining compliance with strict IT security and auditing procedures."

The DDP solution is available immediately.

For more information on Tally Retail Asset Protection, visit http://tally.solutions or contact Sean Ryan at sean.ryan@tally.solutions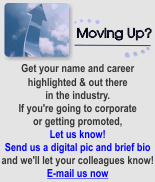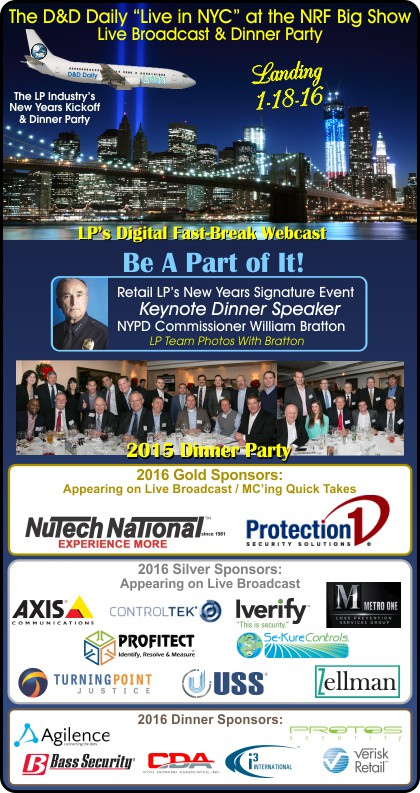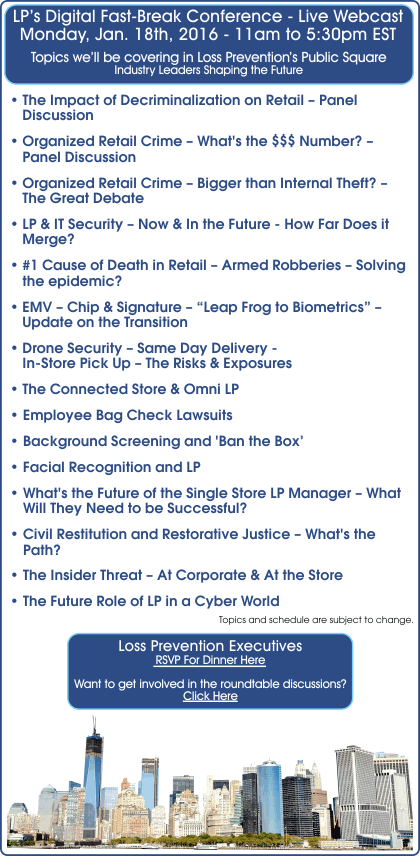 Want to be a Senior Leader?
There's a Price
Bob Oberosler, Group Vice President, Asset Protection, Rite Aid, has traveled several times throughout the U.S. for his career, worked seven days a week building an LP program from scratch and spent more hours than he can count taking on extra projects and responsibilities to help him advance in his career. If there's an executive who's paid the price, Bob is it. In this LPNN interview, Bob shares just what it takes to be a senior leader in the LP industry. From volunteering for extra tasks at work to choosing a house you can resell quickly, learn the things executives don't always think about when moving up in an organization.
---
From the latest retail products and trends on the NRF Big Show floor to a super-dated reference to Walkmans, Jackie Andersen, Director, Retail Strategic Accounts, MultiSight, and Joe LaRocca talk technology in this LPNN Quick Take.
Solution Providers, have a video or commercial you want to publish? Contact us.


e-commerce

Sponsored by The Zellman Group
More Vulnerable Than Ever? - Study finds e-commerce is driving retail fraud losses
Just when you thought retailers were finally getting a handle on fraud costs, it turns out they're not — and they may be more vulnerable than ever. That was the conclusion of the 2015 True Cost of Fraud study from LexisNexis, which found that revenue lost to retail fraud this year was nearly double last year's amount, due largely to increases in online and mobile fraud.

Moreover, fraud mitigation costs are being driven up because nearly half of all fraudulent transactions are manually reviewed by retailers, despite widespread use of automated systems that flag potentially fraudulent transactions. There are a host of other factors at play as well. Card skimming is moving to small merchants, who have fewer resources to invest in the data protection measures being implemented by larger retailers and thus become easier targets. And contrary to what m-commerce merchants experienced in 2015, financial industry executives don't consider mobile to be problematic and expect minimal fraud despite initially high fraud rates with Apple Pay.

Fraud is already moving online as merchants install chip readers in their stores. Online generated 55 percent of fraud experienced by merchants that accept online payments, up from 42 percent in 2014, even though online sales increased only 5 percent in the past year. Overall, retailers lost an average 1.32 percent of revenue to fraud, almost double the 0.68 percent seen in 2014, an indication that fraud prevention investments were not effectively utilized.

Overall, merchants prevented more fraudulent transactions this year, but online, mail-order and telephone transactions were more challenging. Due to their anonymity and the ability to conduct more transactions in a shorter period of time, it is seven times more difficult to prevent fraudulent transactions through these channels.

Large e-commerce retailers are able to get their fraud rate down to almost the same level as the average bricks-and-mortar merchant, but spend more than 15 times as much on fraud mitigation to do so, the report said. While online merchants face exposure to credit card fraud, physical stores have to deal with issues such as fraudulent pickups, which account for roughly a quarter of lost or stolen merchandise. Fraud on alternative payment services such as PayPal, Google Checkout, eBillme and Bill Me Later accounted for 21 percent of fraudulent transactions in 2015 but fluctuate from year-to-year. nrf.com

Speed, Compliance and Encryption Can Combat Holiday Payments Fraud

Enhanced fraud prevention with launch of card Token Service: Visa

Zappos leads in holiday shipping speed

E-retail sales grow 35% in China year to date
"Fraud is not a person - it is a dynamic grouping of statistics that deviate from the norm."
Stuart B. Levine, CFI, CFCI
CEO, The Zellman Group & Zelligent


ORC News
Sponsored by NEDAP
Osceola Co, FL: 14 busted in $31K Victoria's Secret panty theft
Victoria's Secret stores in Central Florida are missing a lot of bras and panties. A gang of 14 people accused of running an extensive shoplifting ring were arrested after making off with more than $50,000 in merchandise from several retailers, police said. Hardest hit was Victoria's Secret, which lost more than $30,000 worth of products in 10 separate incidents. During that time, 1,432 pairs of panties and 374 bras were taken, an Osceola County Sheriff's Office investigation report said. Also hit were Ralph Lauren Polo, Abercrombie & Fitch, Value Pawn, T-Mobile and Home Depot, police said. wftv.com
Cleveland, OH: As many as 100 Kirby Vacuums (total value near $30,000) stolen from UPS Freight in Cleveland over past several years
A Cleveland man and three other Cleveland-area residents have been indicted on charges related to a major vacuum theft ring. Shawn Burke, 28, stole as many as 100 Kirby vacuums over the past several years with help from his co-worker, Wilson Perea, Jr. The crimes took place at UPS Freight in Cleveland where Burke and Perea, Jr. worked. "It's an expensive machine; people don't realize that Kirby sells from $2,600 to $3,000," said Fletcher Brown, owner of Parma Vacuum. Brown said he often has people try to re-sell Kirby vacuums to him. Some of them even have the serial number filed off, an indicator that it is stolen. Sources say Burke sold the vacuums out of his garage or put them up for sale on Ebay. Asad Ibrahim of Brookpark and Fawzi Ibrahim are indicted for helping to sell the stolen merchandise online. A spokeswoman for UPS said Burke and Perea, Jr. are no longer working at UPS. The company is cooperating with law enforcement on the case. newsnet15.com
Norfolk, VA: Man charged with stealing nearly $22,000 worth of 5-hour Energy drinks
A man accused of stealing energy drinks has been charged with felony burglary, conspiracy and grand larceny. Antonio Dewight Massey allegedly stole $22,000 worth of 5-hour Energy drinks from the MDV Nash Finch warehouse on December 5, according to police. Massey's bail determination sheet says he was a former employee of MDV Nash Finch. Detectives are investigating numerous thefts from the same warehouse over a nine month period. Over $100,000 worth of products have been taken from the warehouse, according to the bail determination sheet. Massey is in Norfolk City Jail without bond. Police are still looking for a second suspect in the crime. wtkr.com

Portland, OR: Tualatin Police arrest duo in $17,000 Fred Meyer crime spree
Two people were arrested Tuesday in what authorities describe as an organized retail crime operation throughout the Portland metro area and the state. Raymond E. Johnson, III and Miranda V. Johnson appeared in court Wednesday after being charged with aggravated ID theft and 1st-degree theft. The investigation started several months ago, police said. The duo is accused of making $17,000 in fraudulent purchases from Fred Meyer stores in Washington, Clackamas, Multnomah and Deschutes counties. They would then return the items that were purchased for cash and got at least $7,000 back from the retailer. koin.com
Franklin, TN: 4 Women Arrested For Theft At Cool Springs Galleria
Four women have been arrested on charges of felony theft at Cool Springs Galleria. Officers posing as shoppers saw the four suspects stealing at Victoria's Secret. The officials then followed the women around the mall and to their vehicle. Authorities said they stopped the women and recovered around $2,000 in stolen merchandise from a variety of stores at the Galleria. The stolen items included 71 bottles of lotion, body spray, candles, and cologne, as well as multiple items of clothing. All four women were from Chattanooga. newschannel5.com
Macomb Co, MI: Three men connected to iPhone fraudulent purchases at Target in Detroit Metro
Macomb County Sheriff's deputies are seeking information about three men who used fraudulent identification to purchase iPhones from a Target store in Macomb Township last week. Sheriff Anthony Wickersham reports the three men entered the Target store, located on Hall Road twice within minutes on Dec. 12 and inquired about the purchase of iPhones. They spoke with a clerk, provided fraudulent identification and purchased two iPhones with a value of $1,500. The phones were added to an existing cellular phone contract. The account holder on that account resides in Baltimore, Maryland, and he reported to authorities there that he is a victim of identity theft. Target Loss Prevention personnel were able to review videotape and extract photographs of the three suspects. Loss Prevention officers reported the same individuals attempted to purchase phones from other Target stores in Troy, Southfield and Warren. macombdaily.com


Do you have an ORC case to share?
Share your ORC news and help the industry grow


Retail Crime News

Sponsored by Security Resources
Second suspect charged with attempted murder in Trenton grocery store robbery
A second suspect wanted in connection with an attempted murder that followed a grocery store robbery earlier this year was apprehended Tuesday morning. Hector Roman, 43, is charged with attempted murder, robbery and weapons offenses in connection with an incident that happened on March 30. According to police, two men carrying weapons entered a grocery store on Beatty Street and forced an employee to give them an undisclosed amount of cash from the register. The suspects then fled in a gold-colored car, and one of the store employees followed them in his personal vehicle. Police say the suspects stopped at the intersection of Tremont and Hancock streets, and one of them stepped out of the car and fired gunshots at the employee who followed them. No one was hit by gunfire, police say, and the victim then stopped his pursuit of the suspects. trentonian.com

Camarillo, CA: Police Shooting; Man steals cell phone from 7-Eleven, calls 911 to say he wanted to kill himself
A man suspected of charging at a Ventura County sheriff's deputy with a knife was killed Wednesday in a deputy-involved shooting in Camarillo. "Upon further inquiry, the male subject told the dispatcher that he needed the police to his location because he wanted to kill himself," Deputy Gonzalez with the Ventura Co. Sheriff's said. Officials said the suspect stole a cellphone from a 7-Eleven convenience store and he used that cellphone to call 911. When the deputy arrived, he saw a 23-year-old man on the sidewalk who approached the deputy in the patrol car. The suspect pulled out a knife and threatened the deputy. The suspect then charged at the deputy with the knife and a deputy-involved shooting occurred. "As the deputy moved back, the male subject got too close and the deputy had to discharge the firearm several times at his body," Gonzalez said. abc7.com

Cargo Theft: Miami, FL: Armed Hijackers rob an Amazon Delivery Truck
Robbers hijacked an Amazon delivery truck after it left a warehouse full of packages to be delivered. The incident occurred on Wednesday - the white panel truck that was leased by Amazon was found empty by Miami-Dade Police on the side a road. "I got robbed by a man with a shotgun in his hands.", said the driver Arturo Ramos. Strewn all along the shoulder of the roadway around the van were bright colored plastic crates that had held about a hundred packages Ramos was to deliver. An Amazon spokesperson told EcommerceBytes in an emailed statement, "We take incidents of this nature very seriously and are grateful the delivery service provider's driver is safe. We are cooperating with the police investigation and will work with customers to resolve any issues." cbslocal.com
Fort Oglethorpe, TN: Woman arrested for theft, pulling a knife in Walmart
A Chattanooga, woman is behind bars for allegedly pulling a knife and threatening people after being confronted for shoplifting in Fort Oglethorpe. Juanita Michelle Barker, 44,, was arrested Dec. 7 on two counts of aggravated assault, possession of meth, shoplifting, two counts of terroristic threats and acts, obtaining or attempting to obtain dangerous drugs by fraud, affixing windows or windshield, failure to dim headlights, giving a false name/information to police officers, and driving on a suspended or revoked license. The incident occurred just before 10 p.m. at the Walmart when police responded to shoplifter threatening the store staff. northwestgeorgianews.com

Limerick Twp, PA: 3 men busted at Philadelphia Premium Outlets with over 100 bogus credit cards/ prepaid cards and card-making
Limerick Township police have arrested three Reading men after they were found with more than 40 counterfeit credit cards and a card-making machine, detectives said Wednesday. Police responded to Philadelphia Premium Outlets off Route 422 about noon Sunday after three men used a stolen credit card at a store. They were taken into custody nearby and when officers searched them and the vehicle, they found a cache of bogus credit cards and more than 100 fraudulently obtained prepaid debit cards, the card-making machine and blank magnetic strips. readingeagle.com
Dothan, AL: Walgreens employee charged with theft of over $7,000
Dothan Police arrested a man on Tuesday and charged him with stealing over $7,000 from the Walgreens store where he worked. Dothan Police Lt. Will Glover said police arrested Christopher Keith Baker, 23, and charged him with felony first-degree theft of property. Glover said police charged Baker with stealing $7,083 while he worked at a local Walgreens store between Oct. 2 and Dec. 7. Glover said the police investigation showed the thefts occurred after 13 fraudulent returns were discovered totaling the $7,083. dothaneagle.com

Atlanta, GA: Men's clothing store burglarized a second time in 3 months
The owners of an upscale northwest Atlanta menswear store likely had a sense of déjà vu Thursday as they cleaned up the damage caused during a second smash-and-grab burglary in just three months. Burglars smashed out a front window of shortly after 3 a.m. Thursday. Atlanta police spokesman Warren Pickard said surveillance video showed three male suspects entering the store and stealing six iPads, several boxes of tennis shoes and the cash register, which contained $700 in cash. On Sept. 7, surveillance video showed seven thieves looting the store of an estimated $15,000 in merchandise after backing a Ford Taurus through the front doors. Following that incident, the store's owners installed large concrete posts in the parking lot to keep vehicles from being able to drive through the front of the store. In Thursday's break-in, the thieves heaved pieces of concrete at the store's large double-paned front glass window, but were only able to shatter the outer pane of glass. ajc.com
Morehead, KY: Dad arrested during Shop With A Trooper
Kentucky State Police say a father tried to steal items from the Morehead Walmart while his child was shopping with state troopers in the store during part of the annual Shop with a Trooper program. Police said before dad made it out the door Walmart's loss prevention team caught him with a drill we're told didn't cost more than 40-dollars. Police say trying to steal a drill landed the man in the Rowan County Jail this holiday season. His identity we're choosing not to reveal for the safety of his children. local8now.com
UK: Edinburgh, Scotland: Louis Vuitton hit for $120,000 in handbags in smash & grab

Madison, WI: Another big cigarette burglary in Madison; about 200 cartons stolen in two weeks

Indiana State Excise Officers seize suspected counterfeit merchandise in LaGrange County

Columbus, OH: Ohio says identity theft complaints up over 20 % from 2014

Willington, CT: Traffic Stop leads to 32 Counterfeit Credit Cards

Stanton, CA: Investigators Determine Cause Of Stanton Reptile Store Fire Accidental

Riverbank, CA: Police arrest two in identity theft scheme used to purchase cell phones


Robberies and Burglaries
● A Ma Maniere - Atlanta, GA - Burglary /2x in 3 months
● Cavendish General - Cavendish, VT - Armed Robbery
● Chito's Taco - Escondido, CA - Burglary/ ATM Theft
● CVS - York, PA - Robbery
● Crosstown Liquor - Freeport, NY - Armed Robbery
● Dollar General - Setters Center, KY - Armed Robbery / suspect indicted
● Exxon - Cleveland, OH - Armed Robbery / Clerk killed
● Exxon - York, PA - Robbery
● Exxon - N. Philly, PA - Armed Robbery
● Family Dollar - Anderson, SC - Armed Robbery
● Mini Mart Citgo - Staatsburg, NY - Armed Robbery
● River Mart - Burlington, IA - Armed Robbery
● Rite Aid - New Orleans, LA - Robbery / Security guard injured
● Subway - Jefferson Co, AL - Armed Robbery
● Super K - The Woodlands, TX - Armed Robbery
● Tobacco Road - Lubbock, TX - Armed Robbery
● Texaco - Conyers, GA - Armed Robbery
● Turkey Hill - York, PA - Robbery
● T-Mobile - Harbor Gateway, CA - Armed Robbery
● United Dairy Farm - Dayton, OH - Armed Robbery
● Walgreens -Chattanooga, TN - Robbery
● Walgreens - New Orleans, LA - Armed Robbery /linked to Bank Robbery


Featured Job Listings
Sponsored by NuTech National
Feature Your Job Here For 30 Days -
70% Aren't On the Boards
Regional LP Mgr
Tractor Supply Company
Minneapolis, MN
Tractor Supply Company
Regional LP Mgr
Tractor Supply Company
Omaha, NE
Tractor Supply Company
VP of LP
Mattress Firm
Houston, TX
Mattress Firm
Asset Protection Specialists
Southeastern Grocers
AL, FL, MS
Paris Freeman
Dir Corp. Investigations
US Foods
Chicago, IL
US Foods
Dir LP
Conn's Home Plus
The Woodlands, TX
Conn's Home Plus
Sr. Mgr. Global Corp. Security
Avon
New York, NY
Avon
AVP Mgr of AP Operations
BJ's Wholesale Club
Westborough, MA
BJ's Wholesale Club

Director Store LP
Michaels

Irving, TX
Michaels


Dir LP
Sephora
San Francisco, CA
Sephora
Dir LP
True Religion Brand Jeans
Manhattan Beach, CA
True Religion Brand Jeans
LP Manager
Natural Grocers
Lakewood, CO
Natural Grocers
Sr Mgr Corp Investigations
US Foods
Chicago, IL
US Foods
LP Officer
Bi-Mart Corp.
Yakima, WA
Bi-Mart Corp.
Zone Mgr, LP & Safety
Lumber Liquidators
Pomona, CA
Lumber Liquidators
Dir Safety & LP
Harbor Freight Tools
Calabasas, CA
Harbor Freight Tools
Dir AP
99 Cents Only Stores
Commerce, CA
99 Cents Only Stores
LP Dir
BevMo
Concord, CA
BevMo
Dir LP (Western Canada)
Walmart Canada
Calgary, CA
Walmart Canada

Daily Job Alerts


Appearing One Day Only
View our Internet Jobs Archives here
ETL Assets Protection
Target
Honolulu, HI
Target
LP Supervisor
Kohl's
Middletown, NJ
Kohl's
Dept Mgr LP & Safety
Lowe's
Tuscaloosa, AL
Lowe's
Dept Mgr LP & Safety
Lowe's
Avondale, PA
Lowe's
AP District Mgr
Rite Aid
Lexington, KY
Rite Aid
LP Manager Hrly
Kmart
Morristown, TN
Sears Holdings Corp
LP Manager Hrly
Sears
College Sta., TX
Sears Holdings Corp
Area AP Mgr
All Facilities
Williamsburg, VA
Wal-Mart
AP Mgr in Training
Walmart
Chesapeake, VA
Wal-Mart
AP Mgr in Training
Walmart
Cranston, RI
Wal-Mart
AP Mgr in Training
Walmart
Lehigh Acres, FL
Wal-Mart
AP Mgr in Training
Walmart
Little Falls, MN
Wal-Mart
Regional AP Mgr
West Marine
San Francisco, CA
LinkedIn
Regional LP Mgr
Food Lion
Charleston, SC
Food Lion




Home of the Industry's Original
On the Move
Sponsored by Civil Demand Associates


Jeremy Willis was named Senior Executive Team Leader for Target.
Post Your New Job or Promotion!
See all the Industry Movement


Your Career
Sponsor this section of the Daily
11 Tweaks to Your Morning Routine Will Make Your Entire Day More Productive The way you start your day has tremendous impact on how the rest of your day plays out. If you spend your morning hours doing the right things first, you'll feel more productive and positive. The power of lemon water

7 Ways Super Productive People Use the Holiday Season to Get Ahead It's easy to get distracted with all the holiday festivities, but this is the best time to steam ahead and take advantage of everyone else's distraction. Here are some of the best practices of super productive people. Be selective

Boost Your Productivity Today with These 6 Psychological Hacks If you can match your tasks to your mindset you will see your productivity skyrocket. Your brain has natural rhythms, and the better you can flow with them, the easier it is to make the most of your day. Use these six tips to help. Use the first 3 hours wisely

Read This Google Email About Time Management Strategy A Google employee teaches his colleagues how to set aside "make time." His email offers great advice on how to be disciplined when making time for projects. "You need to define precisely when and where you'll reserve Make Time for your projects." Commit to it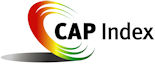 Tip of the Day
Sponsored by Vector Security
For those who believe, no explanation is necessary and, for those who don't, no explanation will suffice.

A quote from an old friend

Just a Thought,
Gus





Upcoming Events
---
Recruiting?
Get your job e-mailed to everyone... everyday
Post on our Featured Jobs Board!
Reach your target audience in 2016 every day!
Request our 2016 Media Kit
update account / change e-mail
unsubscribe FEEDBACK
www.downing-downing.com

Advertise With The D&D Daily




36615 Vine Street, Suite 103
Willoughby, OH 44094
440.942.0671
copyright 2009-2019
all rights reserved globally